Looking for this year's Midwest Vanlife Gathering?
Head on over to this page for more information about upcoming events. Or, read on for a reflection about the 2018 event!
Every time I've tried to write a reflection of our first Midwest Vanlife Gathering, I've ended up typing one or two generic sentences before suddenly feeling frozen in time. How do you verbally explore a weekend so powerful and moving? Saying the weekend was "awesome" or a "great success" or that we had an "absolute blast" barely scratches the surface of how we were feeling as we rolled away from that muddy-ass field in Slabtown, MIssouri. As with most things in life, the best parts of the gathering were the things we could have never prepared for. The parts that made the weekend as beautiful and true as it was were the things we didn't script out. We didn't walk away from the weekend saying how well-organized the raffle table was. We weren't raving about all the new stickers we got. We were all glowing about the connections we made with complete strangers so opposite, yet so similar to ourselves.
On paper, it sounded like a horrible weekend.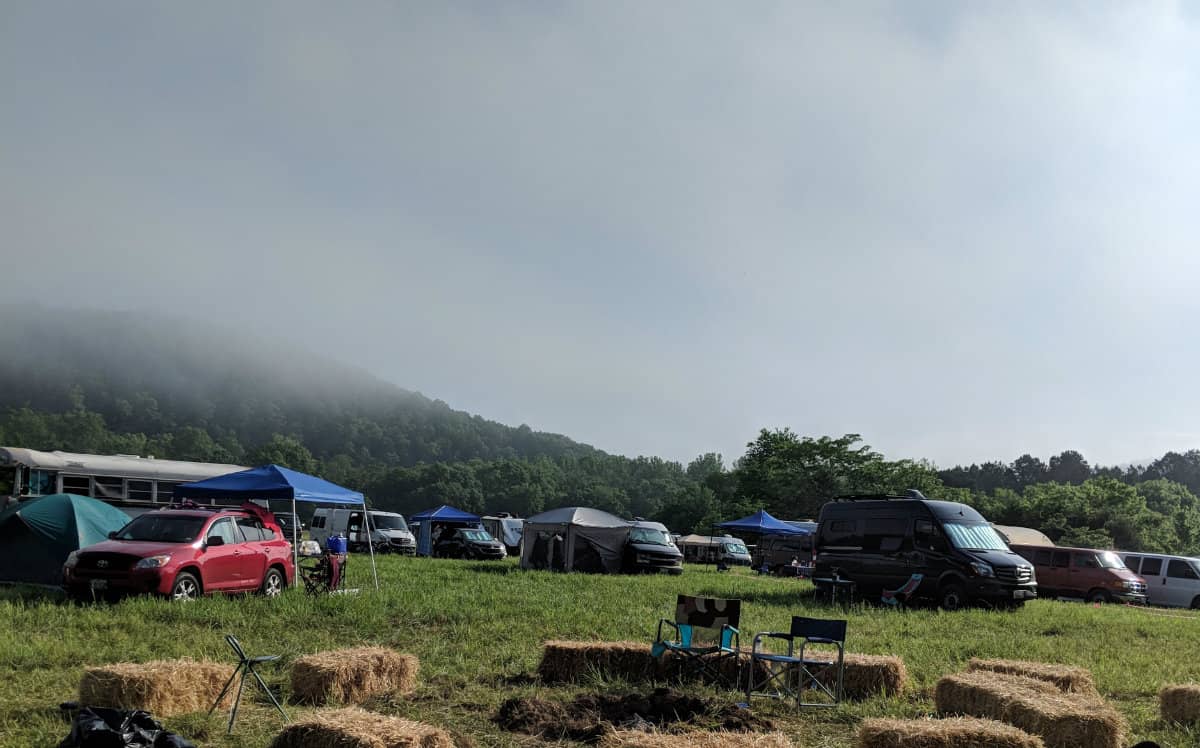 The grass was a bit overgrown, which made it hard for some to navigate, and cut up the feet and ankles of others. There were ticks about, and we encouraged frequent tick checks with tick keys and tweezers on hand. Not one, not two, but three gnarly thunderstorms rolled through – causing us to clean up everything in a rush right before large events like the swap meet and the raffle, and everyone retreated to their vehicles for an hour here or there each time it stormed.
Luckily for us, the weather did not mirror the attitudes of the attendees. Everyone's spirits remained high.
Some of us danced outside while the rain trickled down on our skin. Others hooted and hollered out of their vans – badgering the thunderstorms with shouts of, "Is that all you got!? C'mon!!" Some of us stared at the sky in awe – watching as the electricity pulsed through the clouds almost in synchronicity with the blood in our veins. One severe thunderstorm would ruin and cancel most events. But for us wild vanlifers – it surged us with an energy that could never be defeated. We came out here to party as a community, dammit! Ain't nothin' gonna stop us now!
We have a million thanks to give and don't know where to begin.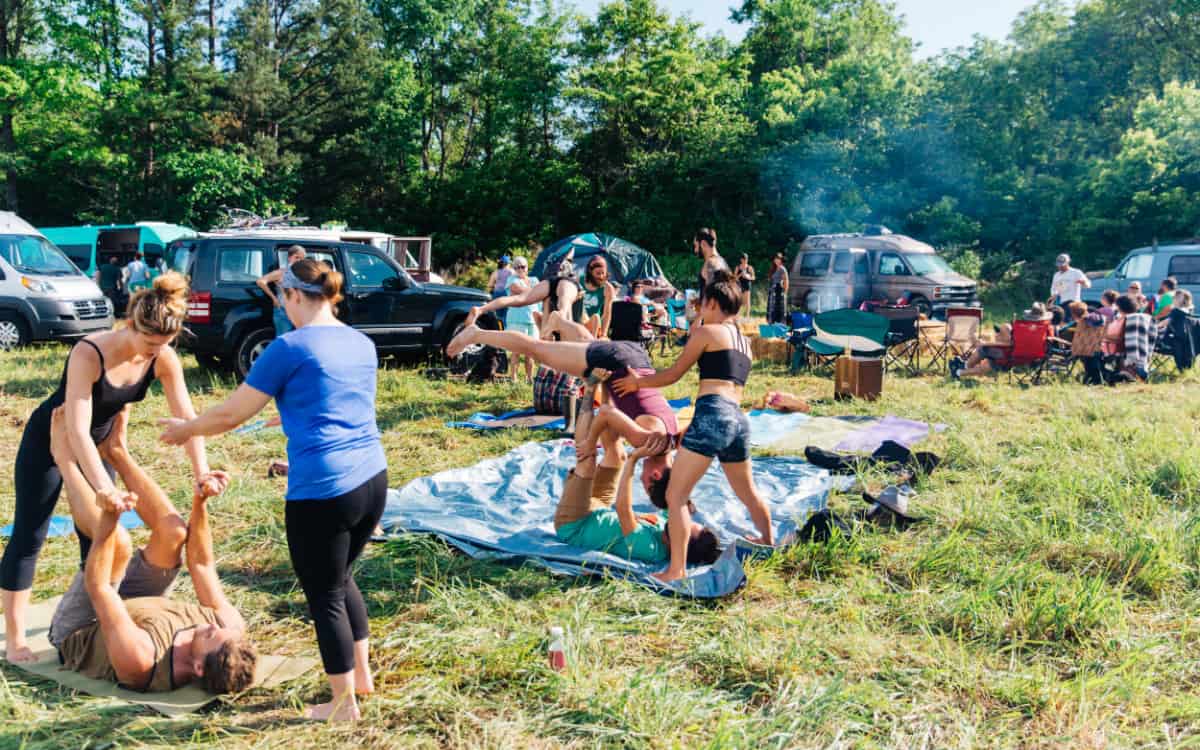 First and foremost – thank you to all of our awesome sponsors, whose generous donations to the raffle helped us raise over $6,000 for Adventure Works. And also to the sponsors who provided activities like stand up paddleboarding, yoga, cold brew coffee on Sunday morning, and a kid friendly activity area we deemed the "Kidz Korner." We also want to thank the US Forest Service. I could write at least three blog posts on how helpful they were since the very first day I contacted them with this wild idea to find a spot in the woods for 100+ vans. They not only found a spot for us but they helped us line up all the legalities we needed (permits, insurance, etc), as well as found us inexpensive porta-potties and a local guy to drop off a truckload of wood.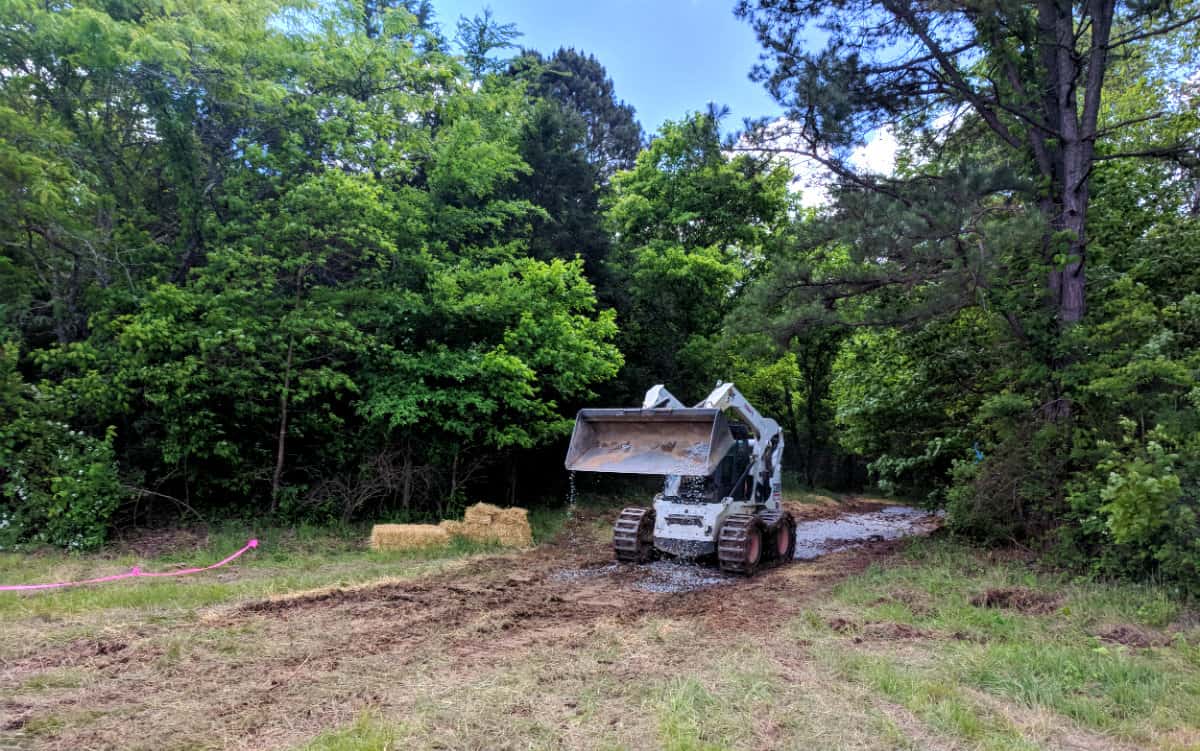 When the rain had made the entrance to the property too muddy to get vans through, they showed up with a pile of gravel and a bulldozer and made a brand new road that all of our attendees could drive on – including skoolies! AND they were incredible enough to pop in on us and give us a heads up anytime a new storm was in the forecast. We truly cannot thank the Forest Service enough. These people do a killer job, and they love what they do. Thank you, thank you, thank you US Forest Service!
Last but not least – we want to thank each and every one of you who attended.
As we said during our opening remarks – if it weren't for you guys, it would just be John and I camping out in the middle of the woods with four gallons of cold brew coffee all to ourselves. You guys made this event what it was. You all showed up in your individualized camper vans – full time rigs, part time vans, even tents and cars – and you all made the weekend such a killer success just because of your attitudes. Every time John and I exited our van after a storm I was nervous I would receive a barrage of complaints about the lack of shelter or the damp ground, and every single time it was proven to me the dangers of living in a nonexistent future. I never needed to be nervous. You all took every trial as some sort of victory. The reaction was never, "Are you kidding me – it's gonna rain again!?" It was always "Sweet! This will help cool it down a bit! Plus I needed a nap – see you all in an hour!" And as soon as it passed, you'd pop out of your vans, cold beers in hand, smiles smacked across your faces, with an appetite for more good times.
We wish we had more time to speak to every single one of you. Those of you we did connect with, we will carry the stories you shared with us in our hearts every day.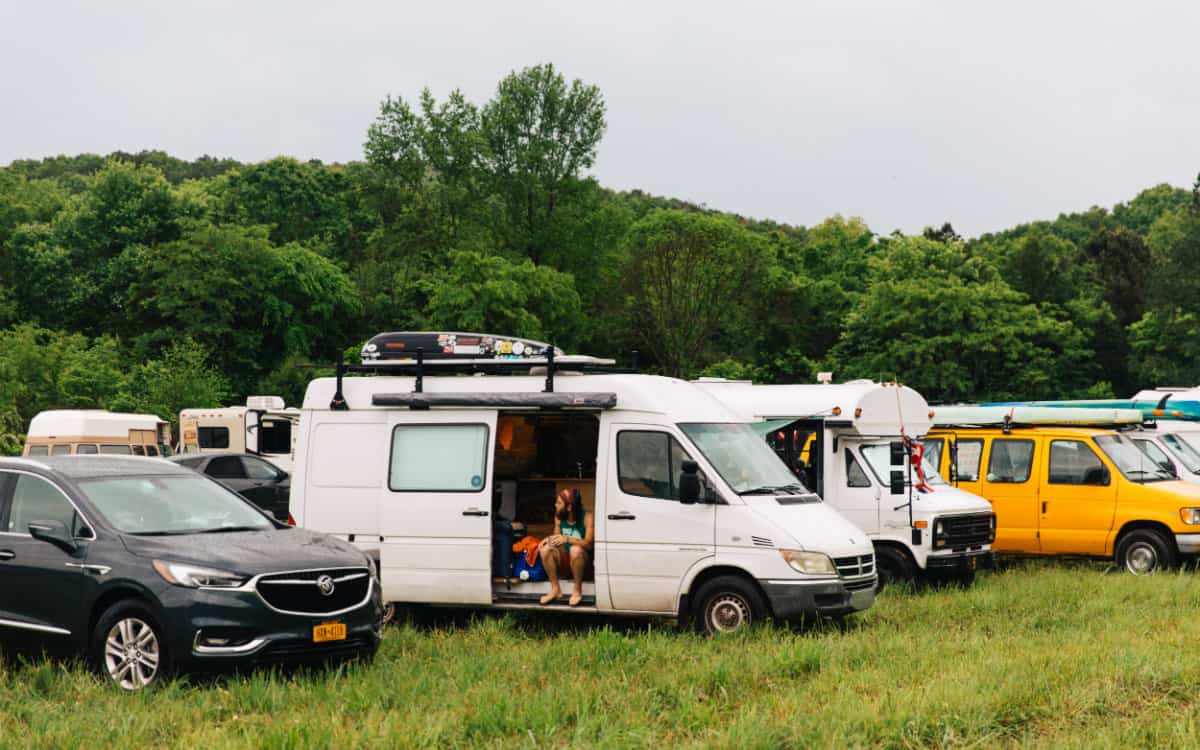 Your heartbreaks, your struggles, your disasters and setbacks, as well as your triumphs and celebrations, your accomplishments and your hard work – these stories never stopped at our ears, but vibrated into our souls, and we will never forget all that you chose to share with us. We are so grateful you chose to share such delicate parts of your story with us and we plan to carry them with us in our travels with grace and gentleness.
So again – thank you all so damn much for being the kickass community we've been telling all of our friends and family about!
We love you all. You all are incredible. If you didn't make it out this time, we hope you join us for next year's Midwest Vanlife Gathering. And we promise you that next year will (somehow) be even BETTER than this year! And as always — feel free to contact us if you have any ideas or wish to help.
For updates on our plans for next year, and for detailed build guides and vanlife tips, be sure to follow us on Instagram @gnomad_home and on Facebook. We hope to catch you on the road sometime and at next year's gathering! Cheers!