We could not be more honored to write this sponsored post for our friends over at Best Self Co. Their awesome SELF Journals help us stay focused and achieve our goals every single day, and we highly recommend checking them out! This post also contains affiliate links.
When you're traveling and living in a van – or, heck, even working a 9-5 job – having a daily routine is incredibly valuable. We all have short term and long term goals, and those goals just won't get accomplished without working towards them every day. And developing a focused daily routine around your goals and centered in gratitude is a great way to accomplish your next big thing.
When we were about to embark on our van life journey, we sat down and discussed the goals we wanted to set for ourselves in this new life. John wanted to see exponential growth in his online business, whereas I wanted to focus on myself more. In the past year I had quit smoking – a huge step – but I wanted to take it further. I wanted to practice yoga more deeply, enhance my meditation practice, start eating healthier and exercising more.
After a long and stressful van build week, John sat me down and opened up a package he had ordered. It contained two simple black boxes (one for me, one for him), and inside each box was a beautifully bound journal.
This was my first introduction to the SELF Journal from Best Self Co, and we've been using these journals every day since we hit the road over two months ago. Our days are now more focused, and we've made more progress towards our goals than ever before. And just as important, we're more aware of our accomplishments and all that we have to be grateful for in this life.
What is the SELF Journal?
At its most basic the SELF Journal is a goal-setting journal, but it's so much more than that. The journal is designed to break achieving your goals into manageable steps. It also allows you to track your progress, celebrate your victories, note lessons learned, and reflect on gratitude.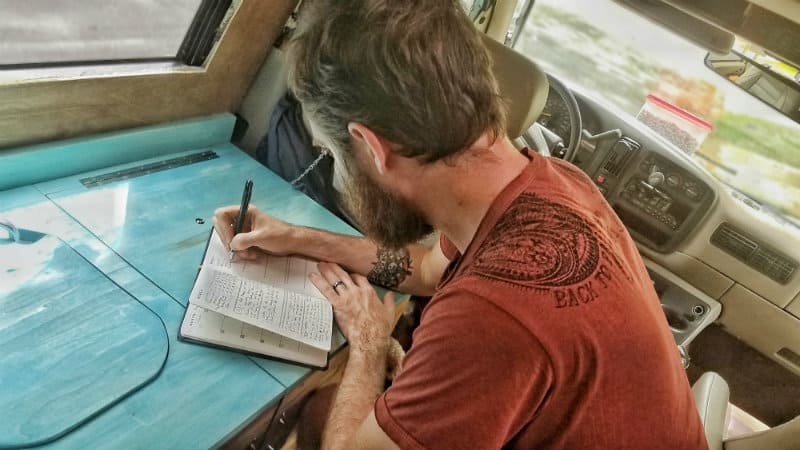 Studies have shown that 88% of people that set a New Year's resolution end up breaking it. So instead of setting lofty year-long goals, the SELF Journal encourages you to set a more manageable 13-week goal (or about 3 months), after which you can get a new journal and set your next goal.
The goals you set can be personal goals, work-related goals, or anything else you want to achieve. They could be anything from get 100,000 Instagram followers, to learn to play the ukulele, to grow business revenue by 25%. And the creators of the SELF Journal know that keeping the target in your sights is a huge motivator, so they incorporate daily goal reminders to help you set your daily schedule around your goals.
The journal is broken down into big picture goals, month, week, and day by day. Let's start by going over the 13-Week Roadmap.
Disclaimer: You may be about to discover your new favorite journal.
The 13-Week Roadmap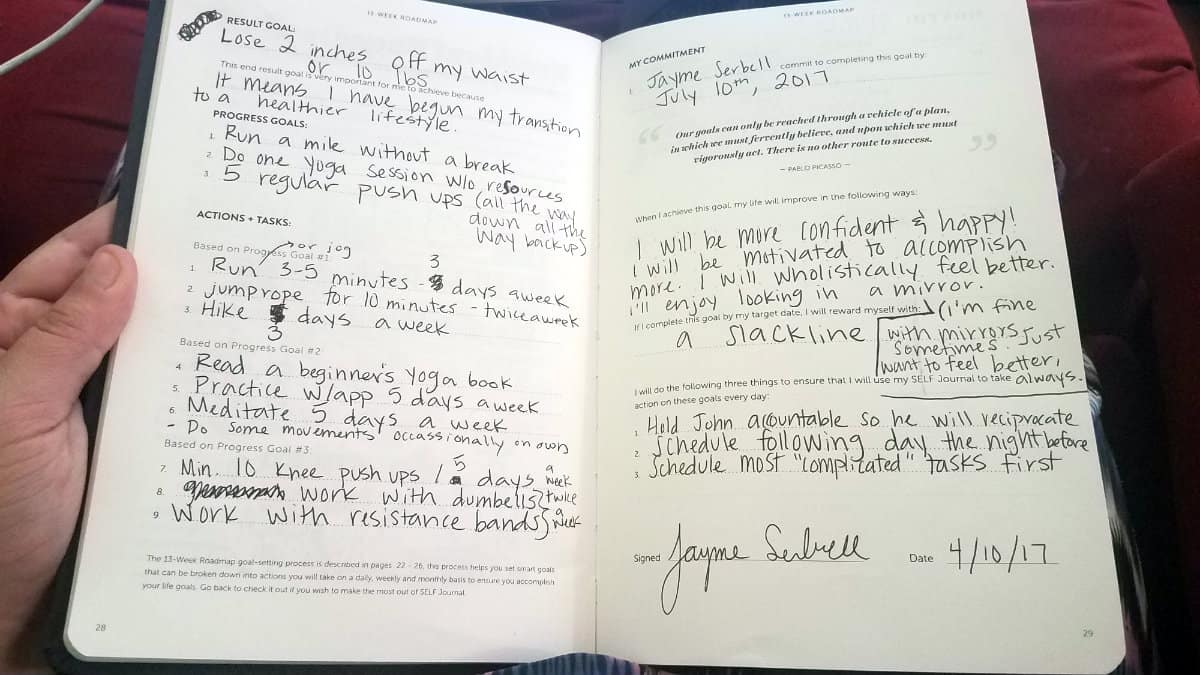 The SELF Journal begins by giving you a place to decide on your big, overarching goal for the 13 weeks (there's also space at the back if you have more than one big goal). This is for that HUGE goal, the one that you're working towards accomplishing. Run a marathon. Hit 200k in revenue with the next product launch. Drop 20 pounds. Whatever it is that you want to achieve.

But you don't just write down your goal. You explain why it's important to you to reach your goal. You also come up with three "progress goals," which are stepping stones to achieving your big goal. Run 10 miles. Increase sales conversions by 15%. Lose 7 pounds.

Then you break these down further into your "Actions + Tasks." These are the steps that you'll take every day, and what you'll write down in your daily planner. Stretch every morning. Make 10 cold calls per day. Do 5 pushups before each meal.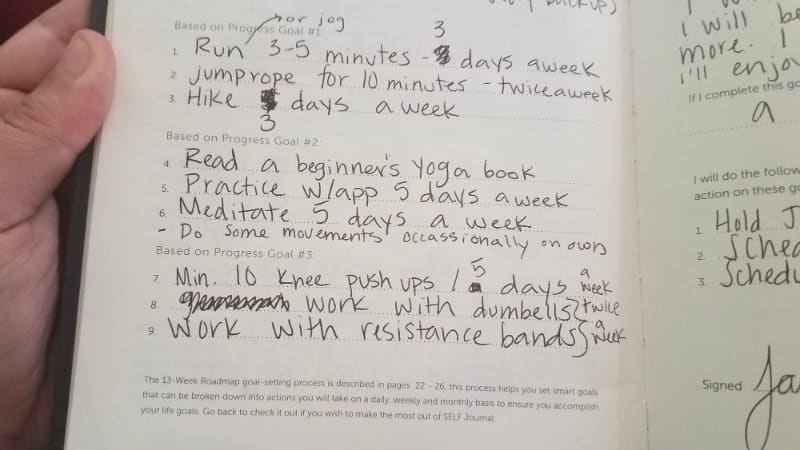 Next is your commitment page. This is where you state your name, the date, explain how hitting this goal will affect your life, describe what you will reward yourself with if you achieve your goal, and detail three things you will do every day to work towards your goal.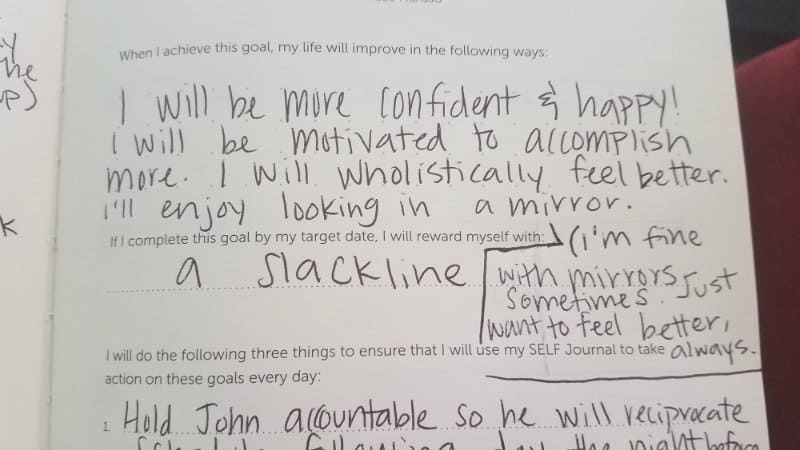 Finally, you sign and date your commitment to hold yourself accountable.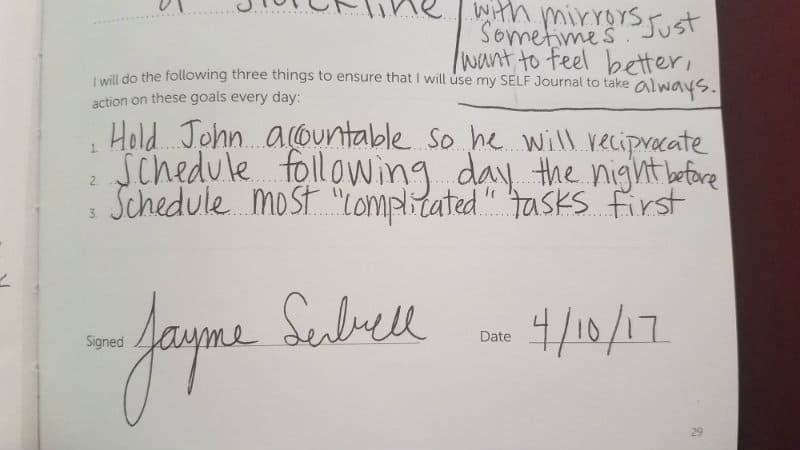 Daily Planning with the SELF Journal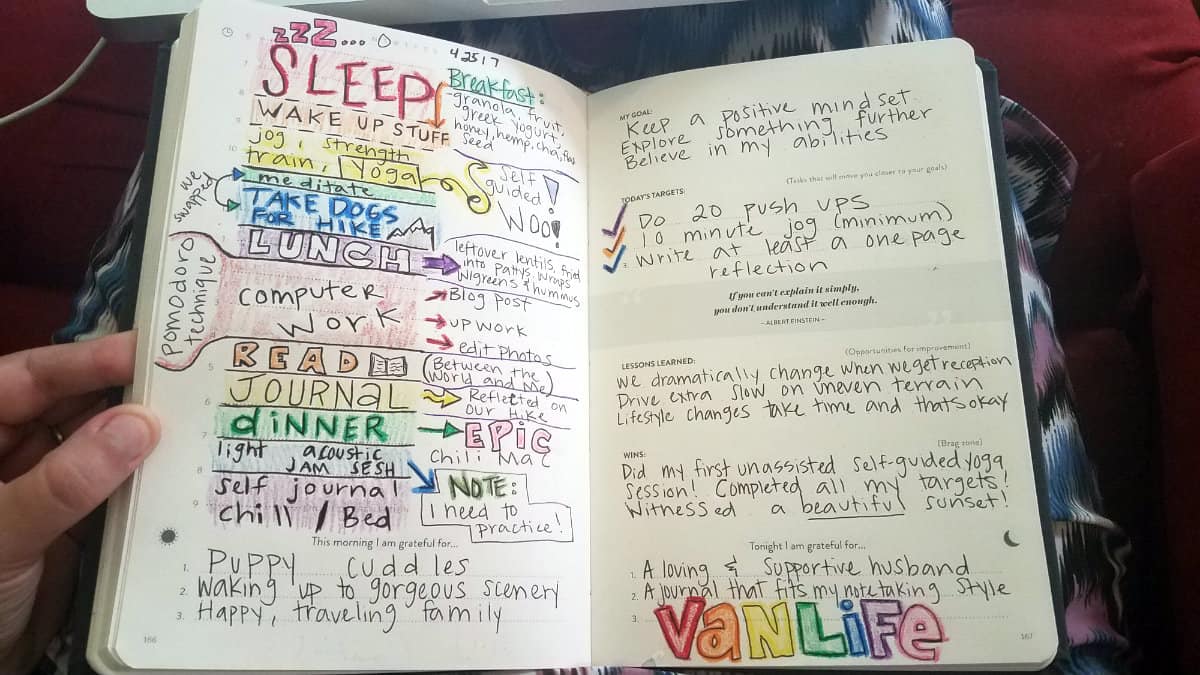 Now for the fun part! Well, for me the whole thing is fun – but I'm a big nerd when it comes to sweet, interactive journals. You will go through the same procedure in your SELF Journal every day. The first part is the easiest – fill out the day and date. Next, you plot your entire day on the daily timeline. The folks at Best Self Co suggest leaving zero blank spots in your timeline so that you will stay focused and no time is unaccounted for.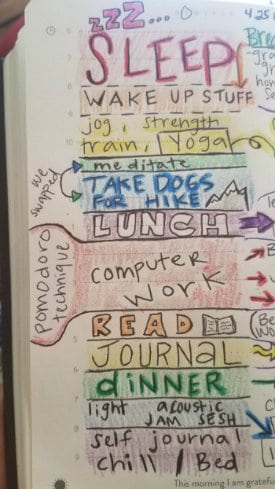 You may not be able to 100% plan every single day, especially with such a freeform lifestyle as van life. But you can try your best to map out your day and edit accordingly if things change. I even put things on my schedule like "scroll through Instagram," which doesn't sound like an ideal thing to plan. But when I do, I find myself randomly scrolling through Instagram a whole lot less throughout the day.
So, it helps to do your best to fill out the entire schedule. You can block out times however you wish. Sleep, workout, breakfast, hike, work, dinner, read, etc. You can just write your plans, you can use arrows, you can doodle. There's a lot of freedom with how you can schedule your day.
To the right of the daily timeline is a blank open area where you can take notes or expand on anything. I normally use this spot for listing what I've eaten for every meal, what I did (or plan to do) for my workout routine, and any other random notes (i.e. Nymeria had a run in with a snake today! **insert doodle of snake**).
You can fill out your schedule first thing in the morning if you wish, but John and I like to plan our day the night before. That way, we wake up already having an idea of what the day has in store for us.
Gratitude and Daily Targets
Next, we have our morning gratitude, where we list three things we are grateful for. We try our best to mix them up, but we always have some recurring items like puppy cuddles, having the flexibility of a mobile home and happy family.

We truly have seen a noticeable impact on our days when we start them with such positivity. Even on our more challenging days, we've learned that there's always something to be grateful for, even if it's just waking up.
At the top of the following page is a place to write down a goal reminder. Repetition is proven to help bring success into your life. Reminding yourself every single day that you want to run a marathon will keep you focused and help you get one step closer to crossing that finish line.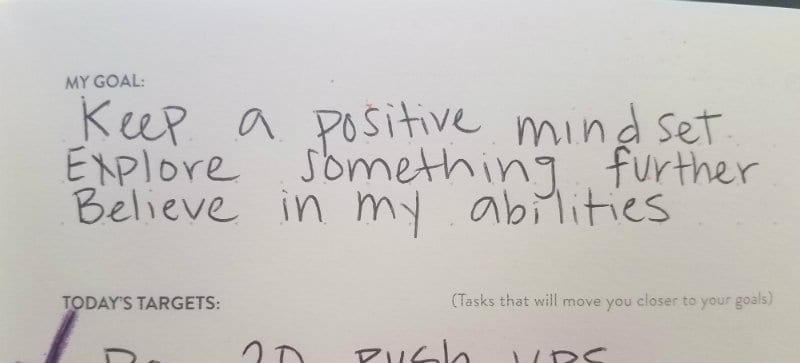 Next is a spot to list three targets, or tasks, for the day that will help bring you closer to your goal. Do 10 pushups. Run 6 miles. Send out 5 client proposals. These are your biggest priorities for the day, the things that will do the most to help you achieve your goal.

Best Self Co suggests putting the biggest task first – if you get the biggest headache out of the way first, the rest of your day will be dramatically easier. Make sure to write your targets into your daily planner!
Wrapping up the morning, we have a daily quote. They range from the motivational to the inspirational, and deal with things like dreams and happiness and success. I think it's a beautiful, pleasant touch. Just one of those little things I truly appreciate about these journals.

John and I always share and discuss what we write with each other. This helps us hold each other accountable. And it's a lot of fun setting goals and talking about gratitude together. Then we set our journals aside for the time being.
We don't put them away, though. I suppose it's up to you, but for us we do our best to keep them by us at all times. We double check our schedule frequently to make sure we are sticking close to our plans for the day, and we add in little notes as the day passes, like if we rearranged something on our schedule, or jotting down what we had for dinner.
We have noticed that the more involved we are with "checking in" with our journals, the more successful we are with what we want to accomplish that day.
Evening Reflection and Gratitude
At the end of our day, once we are finished with dinner and beginning to unwind, we open our journals one final time for the evening reflection. The first part we fill out is Lessons Learned. This is where we write down opportunities for improvement based on our learning experiences throughout the day. For example, don't leave the keys in the ignition overnight (John learned that one the hard way) or I feel much better when I am disconnected or make sure to set realistic daily targets.

It's okay to acknowledge when something did not go according to plan, or just flat out failed. But it's important to pay attention to how you react to these situations. This part of the journal allows us to learn from these situations and then move on from them.
The next section is one of my personal favorites: the "Wins" section. Also known as the brag zone. Anything big you accomplished, any asses you kicked, go in this section. I wrote 3 blog posts today! One of our Instagram photos got featured! My product made $1,000 in sales today! Yay for little victory dances!

Then, we wrap up our day the same way we started it – with positivity and gratitude. We list three things we are grateful for from the day. We try to keep these separate than our morning gratitude list. This time it might be hiking through gorgeous scenery, having the ability to make anywhere our backyard, or finding someone with jumper cables in the middle of this canyon.

Then, same as in the morning, we share what we have written and reflect on our day together. It's the perfect way to wrap up our days!
Reflecting On Your Week and Beyond
There's more! It's not just a daily journal! There are also weekly check in and reflection pages, so you can track your goals and habits from week to week.
The first section allows you to track up to five habits or activities that you want to do regularly. Let's say you want to do yoga, read, journal, and practice the ukulele 3 days a week, and meditate 6 days a week.

You write down your target number, then check off each day that you do the activity. Then at the end of the week, you total everything up. This makes it super simple to keep track of your habits and make sure you're hitting your targets.
Note: Be sure to double check this page as you fill out your daily schedules so that you can make sure you're hitting your goals for each activity.
Next, you rate your happiness for the week on a scale of 1-10.

Then it asks you to list your three big wins for the week. Maybe you connected to more potential clients, beat your record time for a 5-mile run, or successfully meal prepped for the entire week – put it on your big wins list! It's a great way to give yourself props for your biggest accomplishments that week.

Next, you review and assess the progress you've made towards your goal. This really helps to keep you on track and zone in on what you need to be doing. Did you spend enough time on important things? Is there anything you would do differently about the following week? I find it very important to keep reminding myself where I am and where I want to be, and ask myself what else I can do to get there.

The last part is a reflection on your biggest lesson learned from that week. Mine normally tends to be something on the personal, emotional side. Don't be so hard on myself, allow myself time to see progress, anything beautiful and necessary cannot be rushed too quickly, have patience and an open mind – all that fun stuff.

Near the back of the SELF Journal there are some blank "Freedom Pages." These are a blank canvas. You can doodle, jot down poems, brainstorm a project, or anything else you want to get down on paper. Right now I have been using my spare pages to jot down positive interactions with complete strangers – I want to remember all the awesome people we've met throughout our travels.
At the front there are also three full month-long calendar pages (since the journal only lasts 13 weeks) for any additional big picture planning. I'm still messing around with how I want to use this. I'm not sure yet, but so far I have been using it to plan out my "Habits/Activities" so I can make sure I'm hitting my weekly goals.
The SELF Journal also comes with a 13-week wall calendar to hang up. We don't have ours hung up in the van, but I know that we would if we had more wall space! It's just another great tool to keep yourself on track and accountable.
An Essential Tool for Van Life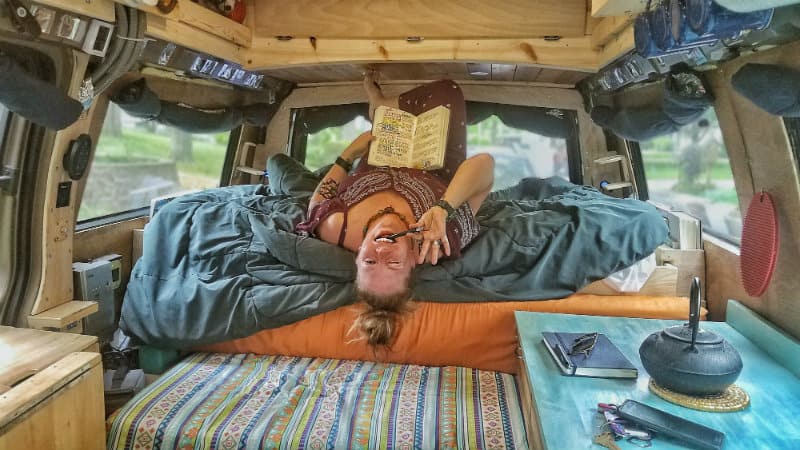 Living the van life, we've found that writing down goals, planning our time, and holding ourselves accountable is even more important than it was in our previous lives.
A big part of the reason we quit the 9-5-hamster-wheel-suburban-life (aside from adventure and travel) was to have more time for self-improvement, to learn new things, to build businesses that can sustain us through van life and beyond. But when your days are an open canvas it can be tough to stay focused on the things you need to do regularly to achieve your goals.
That's where the SELF Journal has really made an impact in our lives. It helps us to live intentionally, to keep ourselves focused, to make progress on our goals, all while still enjoying the unexpectedness of living on the road. And because of the daily gratitude sections, we begin and end each day in awe of all that we have to be thankful for. And that's something that everyone can benefit from.
For more van build tutorials, musings, and updates from the road, be sure to follow us on Instagram @gnomad_home and on Facebook. Namaste.