Limited Time Offer
50% Off Vanlife Solar Basics Ebook
As a special thanks for attending the Vanlife Summit, grab our detailed ebook on mobile electrical systems for just $14! (regular price $29)
Dropping October 1st. Offer only valid until 10/1.
Pre-Order Now
Finally – a guide to van electrical systems that actually explains everything
Diving into the intricate world of van electrical systems can feel as daunting as navigating a dark forest with no map.
Around every corner there's another piece of advice, another influencer dishing out conflicting opinions, and a flurry of technical jargon that might as well be in another language.
Sifting through the barrage of information to find a trustworthy guide seems nearly impossible. It's no wonder you feel intimidated and paralyzed with uncertainty – and you're not alone.
Many vanlifers start out with the dream of creating a perfect mobile oasis, only to find themselves tangled in a web of electrical complexities. From figuring out the right components to understanding how to connect things safely and correctly, it's easy to get lost in a maze of wires and circuits.
But what if I told you there was a clear path that cuts through the noise and offers a straightforward, step-by-step approach to understanding, designing, and installing your van's electrical system? A solution that acknowledges your concerns and directly addresses them, ensuring you're empowered every step of the way?
Introducing Vanlife Solar Basics: Designing and Understanding Your Mobile Electrical System.
Vanlife Solar Basics is your definitive guide to your van's power system, taking you from electrical novice to empowered van owner fully equipped with the knowledge to design and install an efficient – and safe – solar system in your van.
Vanlife Solar Basics will help you:
Demystify electricity. Break down complex electrical concepts and principles into easily understandable fundamentals, tailored specifically for living in a camper van.
Plan your system. Size your system and components to your needs, and understand how everything fits together.
Choose your components. Learn exactly what to look for when selecting everything from solar panels to batteries and more.
Tailor your design. Discover how to customize your solar setup to fit your unique lifestyle and travel needs.
Focus on safety. Make sure your system is installed safely and properly fused to avoid dangerous issues.
Work within your budget. Guidance on options for different budget levels helps you fit your needs without breaking the bank.
This detailed ebook is the result of years of accumulated knowledge and experience installing and living with off grid electrical systems.
I'm John Serbell, and I run the OG vanlife website Gnomad Home. I was in your shoes when I built out my first van back in 2016. I had never done any electrical work before, and I couldn't tell you the difference between an Amp and a Watt.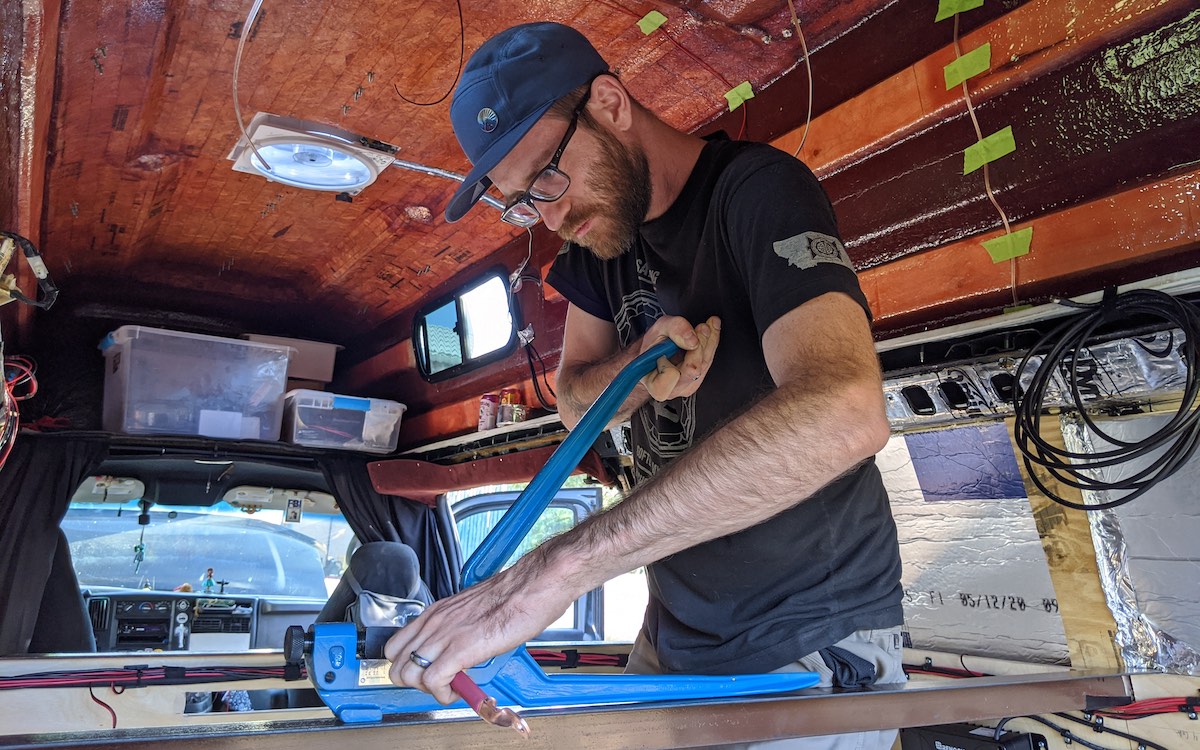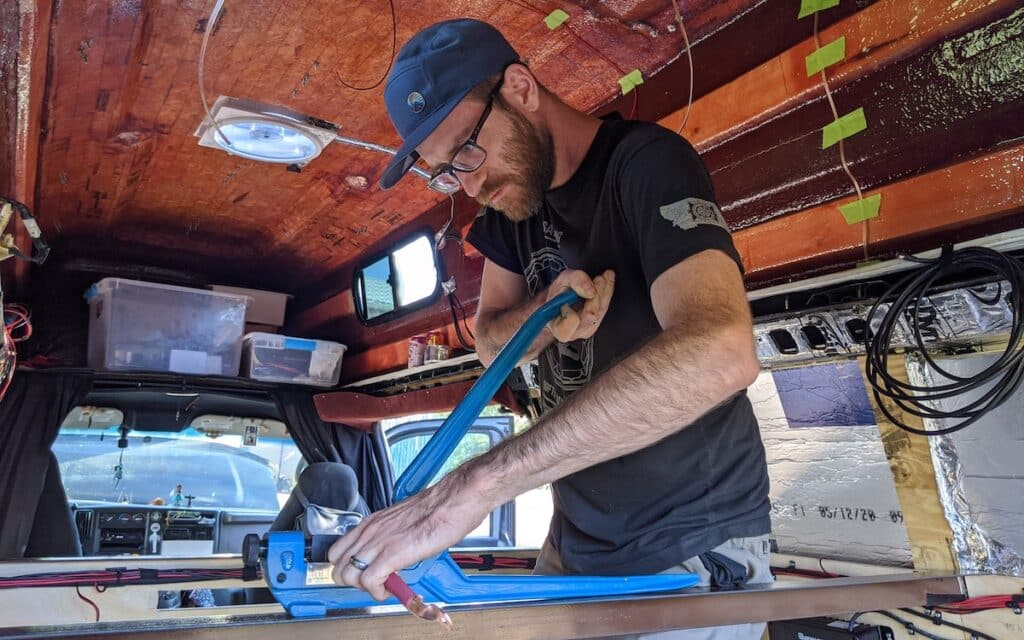 Through pain, sweat, and tears – and tons of research – I taught myself what I needed to know, and more. I made a lot of mistakes, and I learned from them. And together with my wife and two dogs, I lived full time on the road for three years before embarking on another off grid adventure – this time on a solar-powered rural property in northern New Mexico.
With hands on experience I've learned what it takes to safely install an off grid electrical system that will meet real life needs. I've actually lived with those systems. I've used that knowledge to help friends wire up their rigs. And now I'm here to share this all with you, so you can skip past the frustration and confusion that me and so many others have been through.
After reading Vanlife Solar Basics, you'll no longer feel intimidated by all the wires and fuses and components that you need to wrap your head around. Instead, you'll feel empowered to safely install an electrical system that's perfectly aligned with your needs and budget.
Don't let confusion, misinformation, and lack of confidence keep you from the freedom that life on the road can bring.
Here's what some of our readers have said:
"You guys are really helping me at the start of my often daunting journey and making it all seem more possible! thank you x"  –@tgpickup
"Currently getting lots of helpful info about electrics. I'm definitely in the 'can just about flip on a light switch' group so it's beyond daunting trying to figure out what we need and how to go about setting up and installing an inverter. So so thankful for your resources 🤗"  – @tia_the_talbot
"Thanks so much! Y'all really made us believe this was possible for us! Y'all really helped my parter and I figure out the technical aspects of going off the grid with the van affordably and we will forever be so appreciate for it!"  – @ourhomeonthemove
"Our go-to resource for designing and building out our electrical system in our most recent van build. Not only do they explain the process in simple terms so anyone can understand, they also map out all of the products they use so you don't have to waste time searching endlessly for the perfect product."  – @alwaystheroad
Here's your chance to transform confusion into confidence, conquer what's been holding you back, and expertly design and install the perfect solar electrical system for your needs. 
Don't let another day go by feeling overwhelmed and lost. Your dream of a fully-equipped, self-sustained campervan is closer than you think. Click the button below to pre-order Vanlife Solar Basics and take the first step in powering your adventures on the road.
Pre-Order Now
Vanlife Solar Basics is more than a good deal—it's a game-changing investment for anyone eager to embrace a nomadic lifestyle. 
Think about it: for less than the cost of a tank of gas, you're gaining lifetime access to expert guidance, foolproof strategies, and detailed examples that would otherwise take you countless hours and potentially hundreds of dollars to compile from various sources.
Instead of sifting through contradicting opinions and enduring trial-and-error mishaps, you can have all the reliable information you need, right at your fingertips.
Why gamble with the safety and functionality of your mobile home? The average cost of a solar panel setup for a campervan can range from hundreds to thousands of dollars, not to mention the emotional investment you've made in your dream of life on the road.
For a tiny fraction of that cost, Vanlife Solar Basics empowers you to make informed decisions, avoid costly mistakes, and ultimately ensure that your solar-powered campervan setup is both efficient and safe. 
Take the guesswork out of your electrical installation—pre-order now to illuminate your road ahead.
Why This Book Is Different
Vanlife Solar Basics focuses on giving you precisely what you need. It empowers you with the knowledge to not just install, but to truly understand your van's electrical system.
Who Is This For?
Whether you're a seasoned traveler looking to upgrade your van or a newbie preparing for your first adventure, this guide is for you.
Regularly Updated
With a single purchase you'll get access to all future updates, guaranteed.
50% Off Special Launch Offer
Until October 1st, we're offering Vanlife Solar Basics at 50% off for Vanlife Summit attendees. While this deal lasts, you can snag this book for just $14 (regular price $29). Secure your discounted copy now!
Peace of Mind Guarantee
We understand that diving into the world of vanlife solar power can feel like a leap. That's why we have a 30-day money-back guarantee. If you feel the guide hasn't delivered on its promise, simply reach out and we'll refund your purchase, no questions asked.
Ready to Power Your Adventures?
Click below to purchase Vanlife Solar Basics and start your journey towards understanding and building your own solar-powered van.
Pre-Order Now