Hello there everybody! It's about TIME my parents gave me the opportunity to introduce myself! My name is Nymeria and according to them, I am the cutest pup in the entire WORLD! It's a pretty heavy title to hold, but I do my best to throw around puppy dog eyes and sneak attack kissies whenever I can.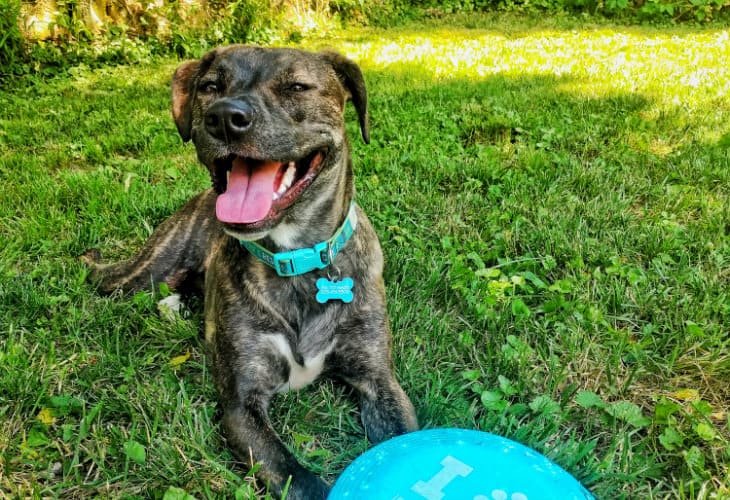 I am SO excited to have you all along for the ride. I'm not too sure what's coming next, but Mommy and Daddy seem excited, so of COURSE I am, too!
Here's a bit of my backstory.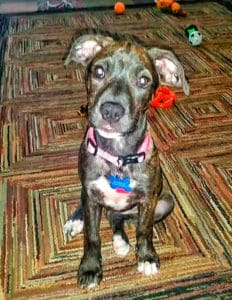 My parents rescued me from Stray Rescue of St. Louis, where I was born. My dog mom was a pregnant stray dog living on the streets when they took her in, cleaned her up, and helped her throughout her pregnancy.
I first met my legal parents (Jayme and John) at a Petco rescue event when I was about 12 weeks old. They had decided they wanted a pet, and thought they should get a kitten because they didn't have time to care for a dog (silly humans!).
When they were entering the store, my foster mom (Shout out to Diane and Kiarra – LOVE YOU GIRLS!) were taking me outside to go potty. I got distracted on the way out by a giant *SCREECH* and looked up to see Jayme covering her mouth, looking at me and squealing (She's…literally a nerd) (<– Love you, Mom!).
She turned to John and asked for permission to pet me, even though they "were there to look at cats." John giggled and said "of course" and when they both crouched down, I was just TOO darn excited and hopped up to give them some lovin'!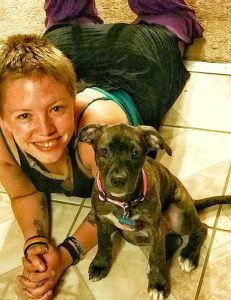 They chatted with my foster mom for a bit and I overheard them saying that they were in the market for a cat (sad face) and could not take on the responsibility of a dog – yet alone a puppy – at the moment. Jayme kept whining and "Aww"-ing as they walked away, and she said to me – "We're not going to forget about you, baby girl!" Thank god they went in though because MAN did I have to pee!
I went back to my spot with my foster mom and went back to being bored, chewing on my antler, and watching strangers "Ooh" and "Aww" as they walked past. I started to smell something odd and familiar, and looked up to see Jayme and John walking toward me with big grins on their faces.
Talk about one of those times when you want your tail to play it cool, but it just won't!
That tail of mine was wagging, and wagging, and wagging! Jayme sat down right next to me and I immediately jumped up on her lap to give her more lovin'! I accidentally bit her ear, trying to get to the jewelry hanging from it and Jayme let out the best sounding giggle! After that, I was on a mission to keep biting at her ears until I had received ALL of the best sounding giggles!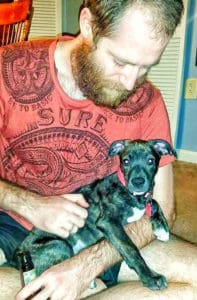 I heard John and Diane (my foster mom) talking about a lot of "steps" that needed to be taken and she handed him a clipboard with a bunch of papers on it. Jayme immediately swapped me for the clipboard and said something about his "sloppy handwriting." Which I think means he's a dirty eater, because I get called sloppy all the time.
Now I got to play with John and he was so much fun! He was making funny noises, playing with other toys, and had the best laughter! I could not stop chasing him and his toys.
They eventually left and I was back with my foster mom. I was pretty sad to see them go, I even couldn't help but whine with my ears straight back on my head. I could hear their laughter for days when I would sleep.
One day, my foster mom and I got in the car, but it was different this time.
She had tears in her eyes and seemed sad, but didn't seem hurt. It was like a happy-sad. That same feeling like when you destroy a toy! You're so happy because you have conquered the toy and dominated it! But then Mom and Dad go "Ooohh….giirrllll…" and throw it in the stupid trash can.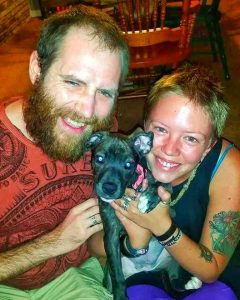 We pulled up to this big house, and immediately Jayme and John came walking out to the car. It was the humans from the Petco! Oh boy, was I excited! They talked with my foster parents for about an hour, and finally my foster parents gave me a BIG ole hug, and left me with these random people.
It was a little weird at first. None of us knew exactly what to do. Jayme kept picking me up and squealing – telling me how cute my little belly is, my little paws are, my little nose is, my little face is — like, geez Mom!
At one point in the evening, Daddy and I invented a game that is literally my FAVORITE GAME EVER to this day! We call it table laps. How it works, is Dad takes one tiny step towards me. That's my cue to run and grab a toy of my choice – ANY toy! Then we walk or run laps around the table! It doesn't matter how fast or slow we go, just as long as I don't let Dad catch me.
IT'S SERIOUSLY SO MUCH FUN! We play it all of the time now! We can actually play it anywhere, too. In the backyard, we play "Shed Laps," at Grandma and Grandpa's we play "Patio Laps", in the woods we play "Tree Laps." It's a very versatile game!
From that day on everything has been perfect!
We go and play in the woods a lot, sometimes we even sleep there! I have a bunch of friends that I don't even know if I can name them all!
Let's see, there's Crow, Baby, Delilah, Harry, Fergie, Girl, Sammy, Oscar, Rocky, Trooper, Remy, Jackson, Snickers, Ainsley and all of the random dogs I have met at dog parks all over the place! I love that every creature I meet is immediately my best friend! I LOOOVEE making friends!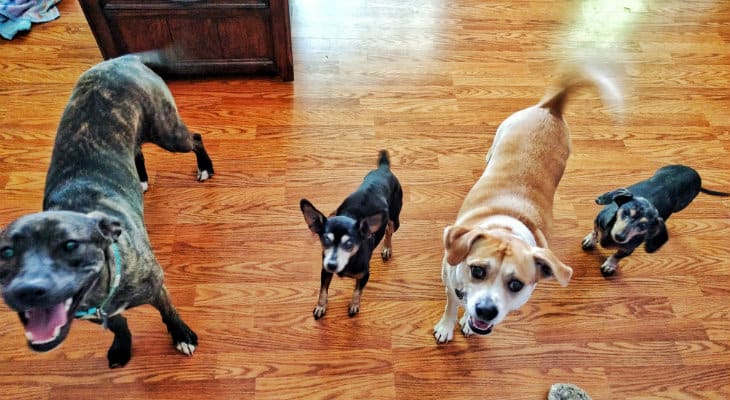 About a year after I moved in with my parents, Crow moved in as well. Crow is Mom's daughter from childhood. Mom was 11 when she got her as a little puppy (hard to believe she was ever smaller than she is now!).
Crow lived with Grandma while Mommy and Daddy were figuring out their lives together. Once they were all ready, they invited Crow to move in with us and she accepted! So now not only do I live with my human best friends, I also live with one of my DOG BEST FRIENDS!! (Oops…there goes that tail of mine again, hah!)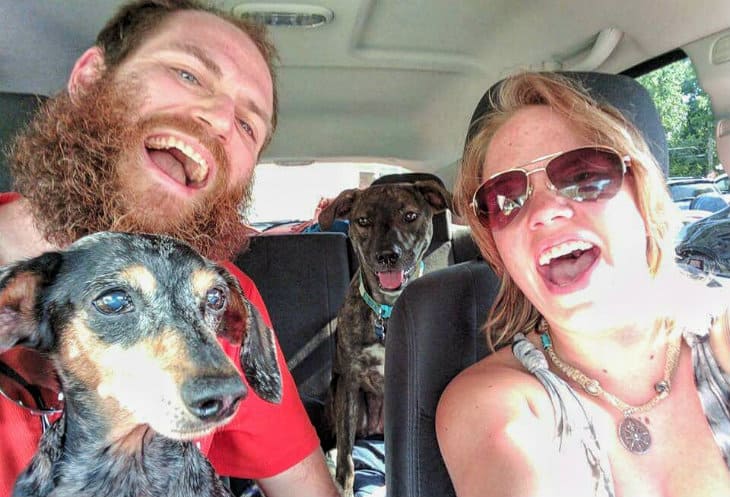 We have SO much fun together! Most of the time it's just me trying to get Crow to play, while she swats me away and goes back to bed. But, if you get her tired enough, she'll let you cuddle up RIGHT ON HER without her getting up and moving away from you! She's the best! I'm so glad we're best friends!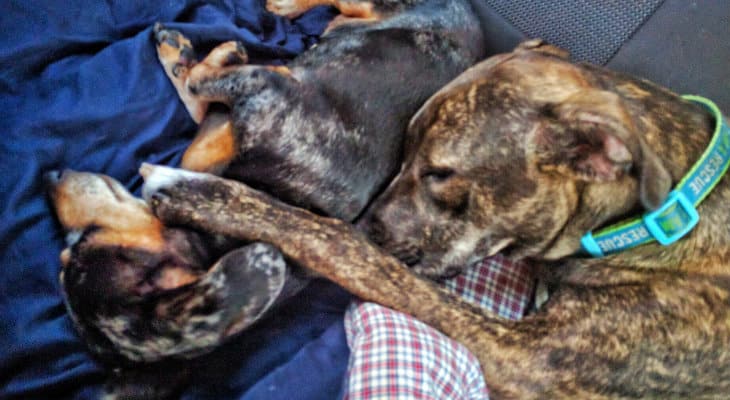 I'm not exactly sure what is happening now.
Mom and Dad have been extra busy ever since they brought this new gold dog "Gnomie" home. I've never seen a dog with wheels instead of paws, nor does it have a tail, but Mom and Dad always tell me not to judge a book by it's cover.
It's MUCH larger than me, and can be a little loud. I sometimes wonder if Mom and Dad are going to put solar panels on me too? That might be fun! They keep telling me it's going to be our new home but I just don't understand living inside of a dog – sounds kind of odd to me.
If living inside of the big dog in the driveway means we will get to be in the woods way more, as they say it will, then I am ALL FOR IT!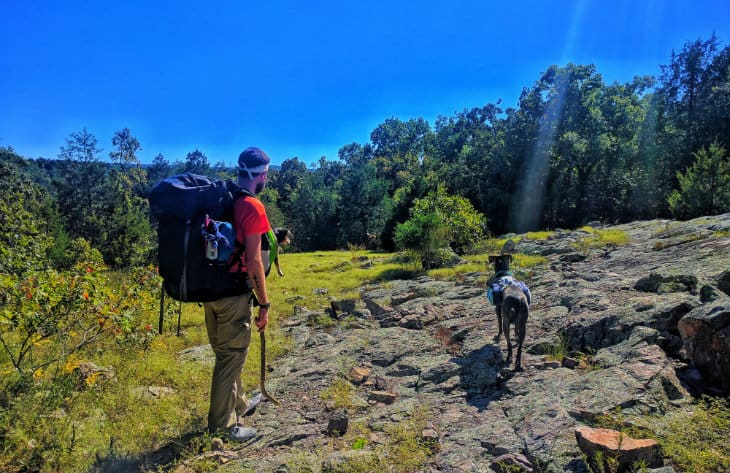 Anywho! That's all I have to say right now! Be sure to check up on random updates brought to you by yours truly! Excited for whatever there is coming up for me and my family! Love you all and don't forget to follow us on Facebook or Instagram! Woof!