Hellooo favorite humans! I have missed you guys so stinkin' much and I can't wait to tell you how fun everything has been since the last time we talked! It seems like we're somewhere different almost every day and there are so many new smells I can't stand it. Oh, and Crow had to wear a cone for a few days – it was just TOO silly to watch!
And the best part is – Gnomie and I are officially best friends! He is so dope! I can't believe I didn't like him at one point. We spend almost every day together. He makes shade for me when it's really hot, I eat meals next to him, and he lets us all cuddle inside him when it's dark or rainy.
I even tell him jokes I make up, like – "Hey, Gnomie, what's black and flies? A FLY – GET IT?" Haha, that's too good! And Gnomie can't get enough of 'em! He just sits there waiting for me to tell him some more!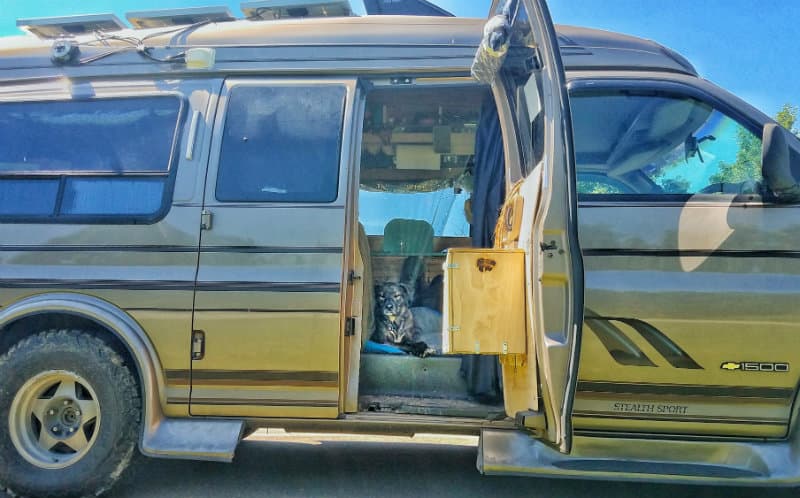 I can't believe where we are now compared to where we were just a few months ago.
I remember Mommy and Daddy sitting me down to talk about what I could bring along on our adventures with Gnomie.
They picked up my rope toy and asked, "Do you want to keep this one?" and I said, "Yep! Please!" and they would say, "Okay!" and set it aside. Then they picked up my ball and I said, "Well of course I want that one!" and Daddy said, "Okay," while Mommy gave him the "we can't take everything" look.
Then they held up my puzzle toy and said, " Do you want to keep this one?" I said "You know I'm not going to say no!" and Daddy said, "You're so cute," while Mommy giggled and said, "This is getting us nowhere!"
They did make me get rid of a lot of things though. They said I didn't need more than one of anything, and if I hadn't played with it recently there's no sense in keeping it. I wish I could tell you how much I miss the things I said bye to, but the truth is I don't remember what all I used to have. I hate it when Mom and Dad are right!
But everything I really like and use a lot I got to keep. Here's what I packed to be the happiest little pup in all of vanlife!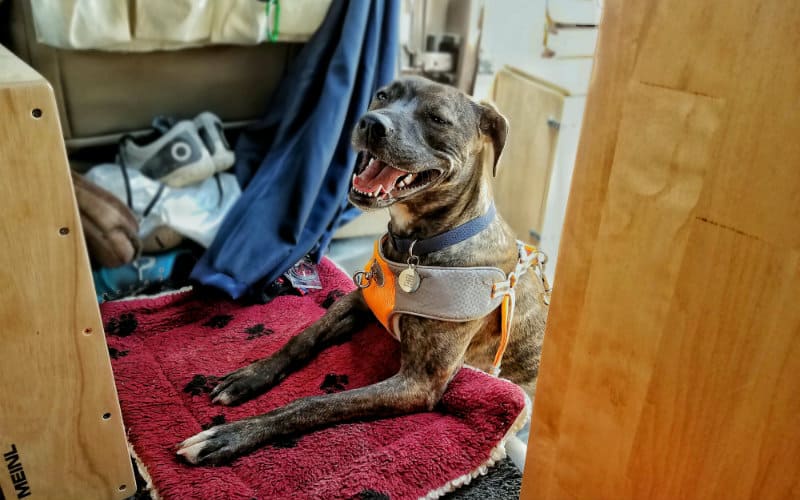 I use my harness, tether, and tie out a whole lot on the road. I'm not the biggest fan of them, and neither are Mom and Dad. But I have to put them on when we sleep in places with more neighbors, like state parks or campgrounds.
Mom and Dad say they trust me but they don't know how other people will be in certain situations. I'm not sure what they mean, though. Whenever I see other people they're instantly my best friends!
It's not too bad though. The harness is made out of this super comfy material, and it's even all shiny so Mom and Dad can see me at night. And the tether is really long, so I barely even notice I'm on it – until I get tangled around something and Dad has to come rescue me. Thanks Dad!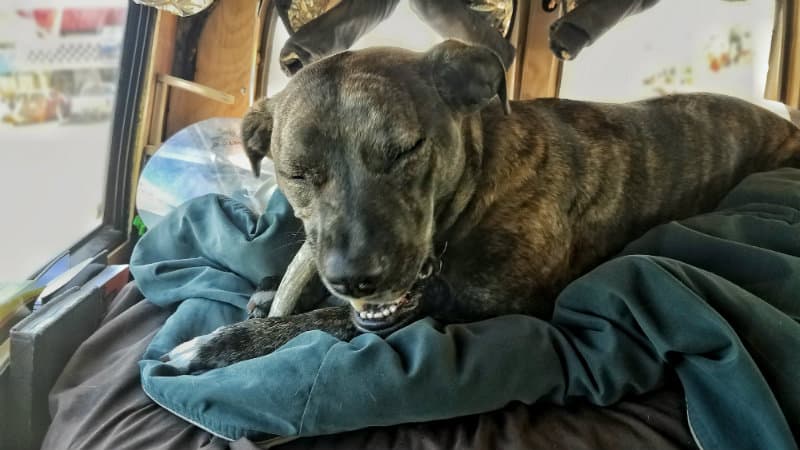 I also brought my antlers – because (other than humans) antlers are basically a dog's best friend. They taste so stinkin' good, and they last forever! I can chew and chew and chew, and they keep looking like they came straight off the forest floor.
I just love my antlers! They're perfect on those days when it won't stop raining and we get stuck inside the van all day. I have both a deer antler and a water buffalo horn. The buffalo horn is a lot of fun to chew, but I always drop it whenever I try to get Daddy to chase me around. It's just so darn hard to hold onto sometimes!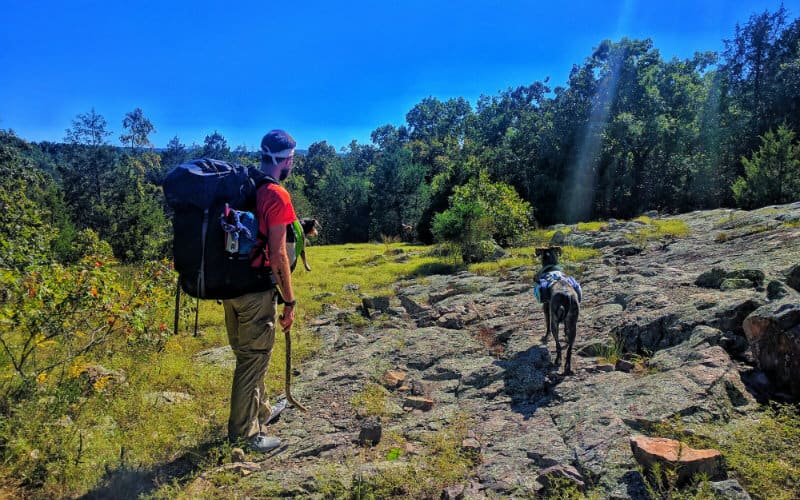 Sometimes we go on really long hikes where we all sleep under the stars for a night or two before going back to Gnomie. On these days, Mommy and Daddy put me in charge of carrying all the stuff for Crow and I!
So I have this AWESOME backpack that fits all our food, treats, extra poopy bags, and anything else that Crow and I need. I can even squeeze in a toy sometimes! I love it, and it's super comfortable. I feel so proud that Mom and Dad trust me to carry all this important stuff, and it fits everything we need perfectly!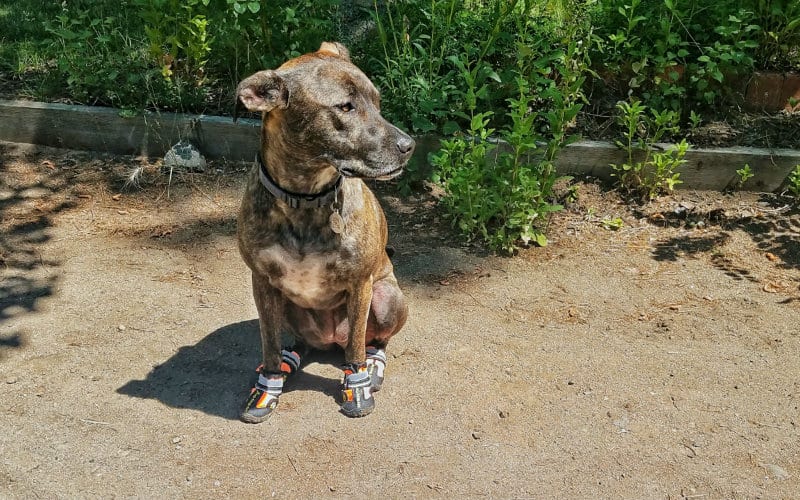 I haven't had a chance to use my dog boots too much yet, but Mommy and Daddy say these will come in handy when the ground is just too hot, or cold, or pointy for my little paws. I definitely don't want to miss out on any awesome hikes, so I'm pretty excited about these.
Oh, and they're so pretty! The ones I got are bright orange, so they match my harness. I like them so much I even chewed a hole in one of them! Mom and Dad were a little upset, but the boots still work. Now I just need to learn to walk in them!
I also brought my oh-so-comfy Chuckit! Travel Dog Bed! It's perfect for just about any situation you can think of. One side is all slick and waterproof, and the other side is soft and comfy for me to lay on. And when we're not using it, it even comes with its own stuff sack, just like Mommy and Daddy's sleeping bags!
When we drive around in the van, it stays on the floor so Crow can lay on something comfy. Then whenever we arrive somewhere it goes back out into the world right next to Gnomie so I can lay next to him whenever I want. The best is when Crow lays on it with me!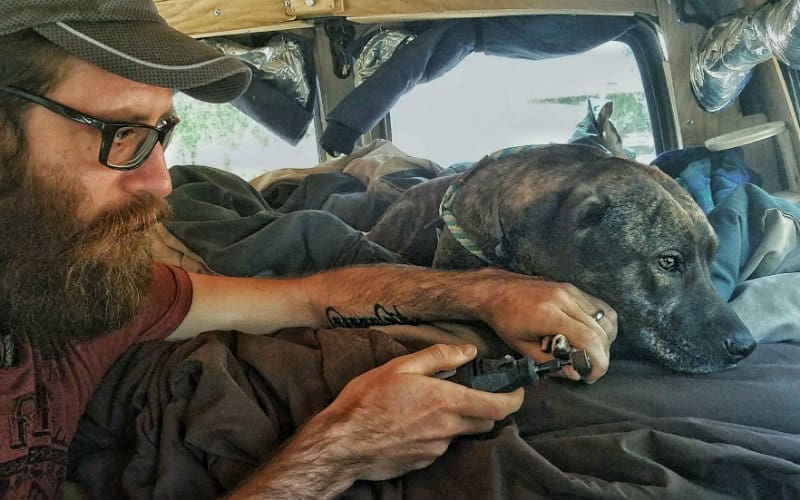 This item wasn't at the top of my list, but it's super important all the same. Mom said that when she was a kid, they used to cut Crow's toenails (…Crownails?) with something like scissors. But since her nails are black, sometimes they would cut too short and she would bleed. Ouch!
But they don't use scissors on me or Crow now. Instead they use a Dremel tool to give us manicures and pedicures. It feels a little funny, but I don't really mind. If I just lay down and let them do it they give me treats. Not a bad trade! My nails are all pretty and short, and my paws don't hurt like they do when my nails are too long.
Last but not least, I brought my best friend Crow.
Adventures are a whole lot more fun with your best friends. Gnomie is cool and all, but Crow is my homegirl for life and she's so much fun!
Sometimes she yells at me, like when I really want to play and she's just too tired. Actually, she yells at me any time I really want to play. Hm, I guess Crow doesn't like playing all that much!
But she sure does like cuddling.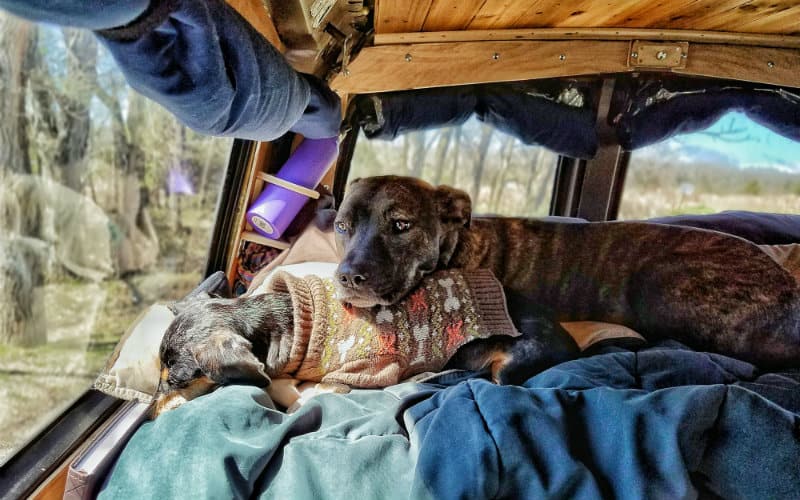 Welp, those are the main things I brought with me on these adventures! And it's really all I need. When it comes right down to it, I don't need all that much. Just give me a big stick, a pile of leaves, my best friends, and an open area to run, and I'm the happiest of all pups.
Are there any animals out there that follow us? If so, I would love to meet you sometime and hear what your humans packed for you!
That's it for me this week! Don't forget to follow me and my best friends on Instagram @gnomad_home and on Facebook. Mommy and Daddy have more awesome posts coming up, all about building Gnomie and the sweet adventures we have together. Woof!