Our Story / Our Rig / Press / Contact Us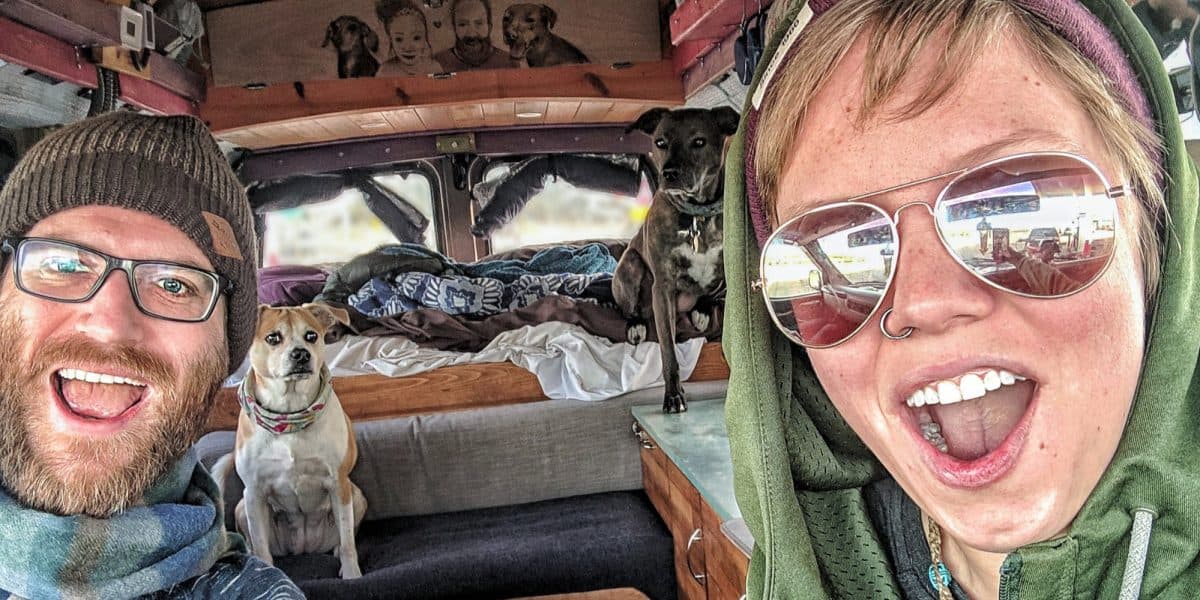 We're a quirky family of four (two humans, two dogs) that love traveling, new experiences, exploring the outdoors, and finding the joy in life. We don't love being tied down or squeezed into "little boxes" – which is why we decided to sell everything we owned, move into a van, and adventure with our pups.
We bought our van in August 2016, converted it into a badass off grid mobile dwelling, hit the road in early 2017, and spent nearly three years living on the road. In that time, we've learned a thing or two about building vans and living in them.
We started this website as a fun way to document our build and share what we learned with other vanlifers along the way. But we quickly realized that there wasn't a whole lot of helpful, accurate information about vanlife and building a van on the web. So we set out to change that.
This site has grown into a top resource for van builders everywhere. Our guides have helped many people break out of their comfort zones and embark on their own vanlife journeys – which we love hearing about when you all reach out to us.
We also organize and host the annual Midwest Vanlife Gathering each May, bringing together nomads from all over the Midwest and beyond for a weekend of community, fun, and giving back. The event is a fundraiser, and we donate 100% of the proceeds to nonprofits that reflect the priorities of the vanlife community.
Currently, we are hunkered down on our off grid property in northern New Mexico, which we purchased in late 2019 to serve as a home base and van build spot. We spend our time researching and experimenting with van build techniques, learning about off grid homesteading (which we'll be writing about soon), enjoying the abundant natural wonders that surround us, playing way too many board games, working on starting a family, and planning our next adventure on the road.
We are grateful every day that we get the opportunity to change lives for the better – and have a blast doing it. Thanks for visiting our site, and we hope it helps you create your path!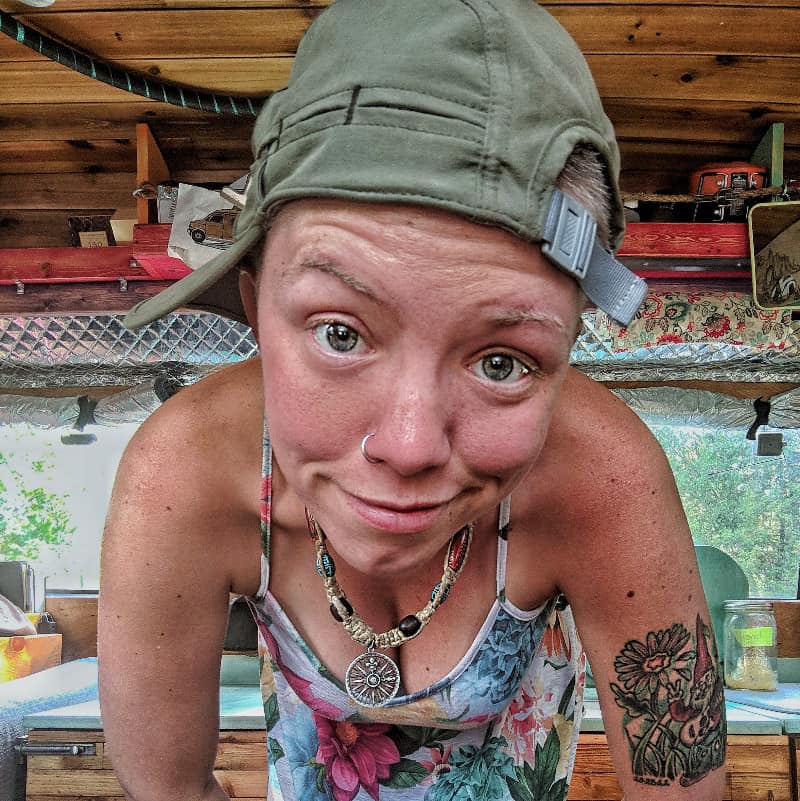 Jayme
Jayme is the dreamer. The one that says "I have this wild idea…" then helps John make it come to life. She runs our PR and outreach, is the head organizer of the Midwest Vanlife Gathering, writes for this site, and runs our social media platforms. She is driven by the desire to learn, change and grow as deeply as she can, and works to inspire others to pursue whatever it is in life that makes them come alive.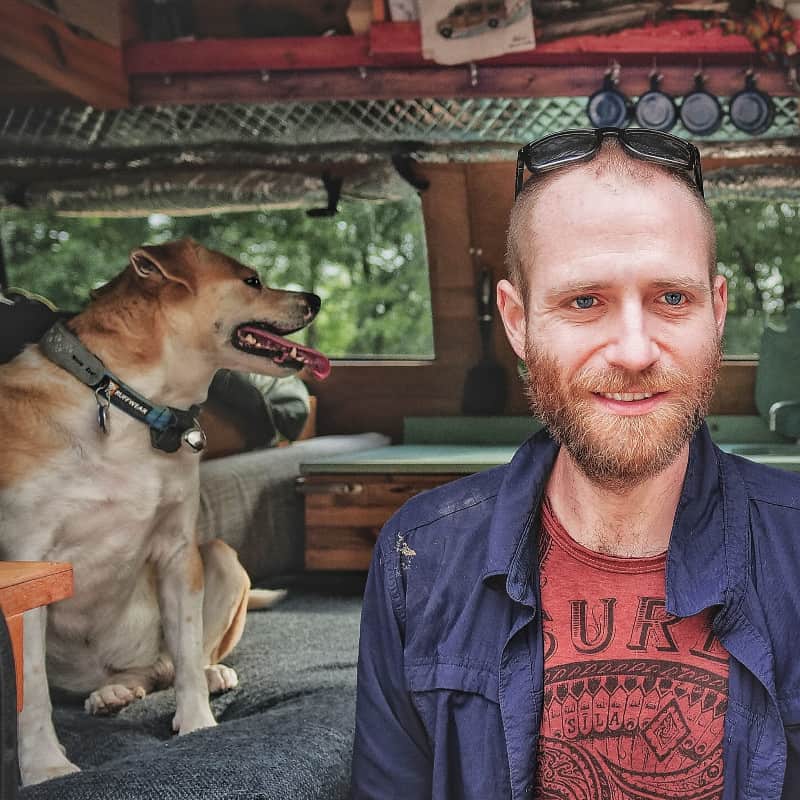 John
John is the doer over at Gnomad Home. The one who grabs Jayme's wild ideas from thin air and pulls them back to this earth to make them a reality. He is our construction manager, our web developer, our tech guy, our graphic designer, our researcher and main writer for the site. He has a true passion and devotion towards creation, whether it be building a website or a tiny house, writing a book, playing music, or illustrating a piece.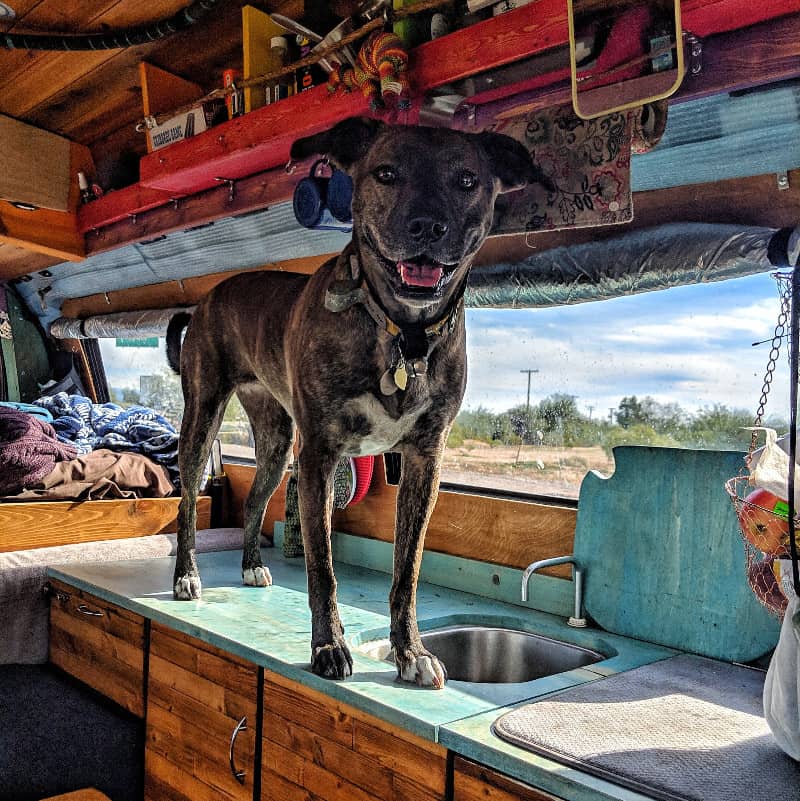 Nymeria
Nymeria is the heart of the group. We adopted her as a puppy back in 2015, and she immediately became our soulmate. Seeing how much she longed to be outside in the wild was one of the main reasons we decided to build our van. She now basks in the glory of the great outdoors every day – splashing about in oceans and creeks, soaring over fallen trees, and running as fast as her legs will take her. She sure wears herself out in the wild, but we always say a tired pup is a happy pup!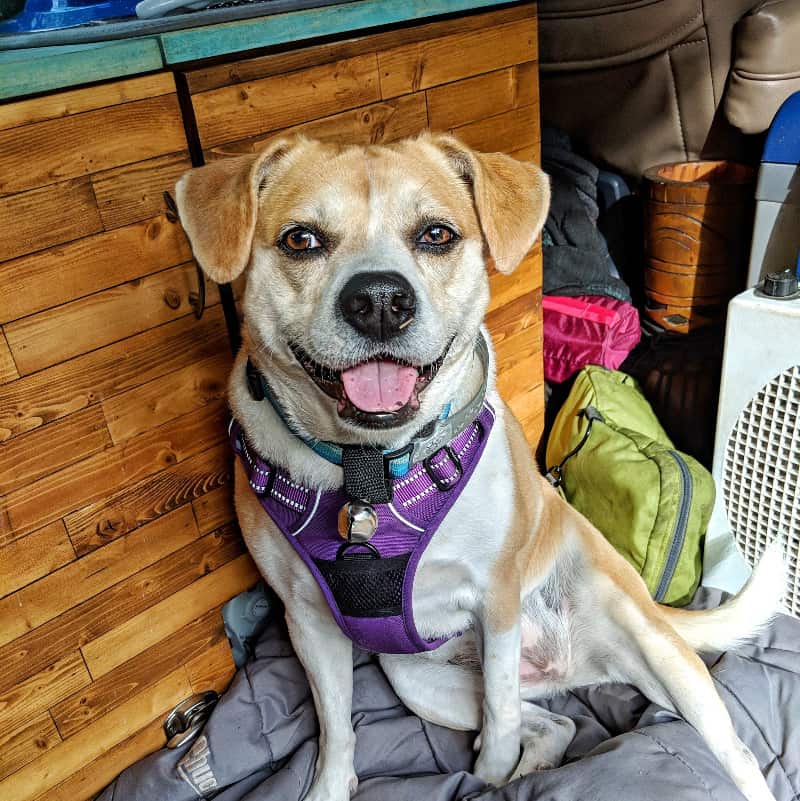 Delilah
Delilah is our newest addition, although we've known her for her entire life. Through an unfortunate circumstance, we took her in from a family member in 2018. In Delilah's prior life she was "a runner," and would bolt outside whenever a door was left open a second too long. Since we've exposed her to life in the wild she's had every bit of her curiosity filled, and she now stays loyally by our side. She loves exploring and smelling all of the crazy smells her snout has never sniffed, but her favorite thing in the world will always be food!
Gnomie
Gnomie is our Hom(i)e. Our chariot. Our noble steed. He is a 1996 Chevy Express 1500 conversion van, complete with a high top and a set of badass all terrain tires. He takes everything we throw at him like it's nothing – from steep grades to desert sands to uneven forest roads normally traversed by 4×4 vehicles. He enjoys new moon nights in the middle of nowhere, with the subtle light of the milky way shining down upon him. See more details about Gnomie.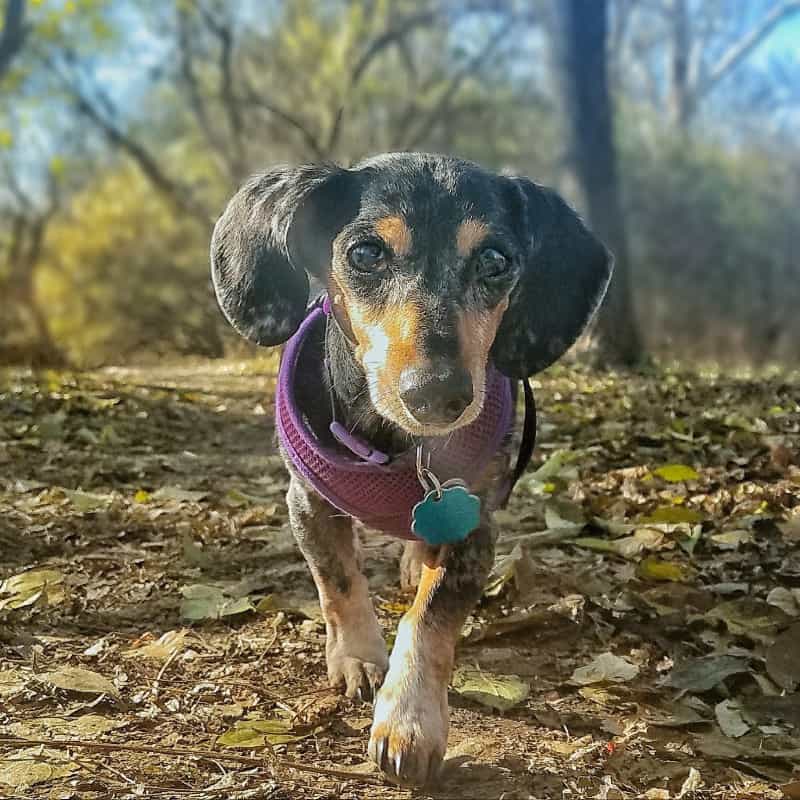 Crow (RIP)
A very young Jayme adopted Crow way back in 2001, but she lived with Jayme's parents until 2016 when we were able to take her in. Crow was a true badass, and very loyal. She loved nothing more than being by our sides. We laid her to rest in May 2018, just shy of her 17th birthday. But she still travels with us in our hearts.
Our Story
We met in 2010 in lovely Perry Point, MD while serving in AmeriCorps NCCC (National Civilian Community Corps), and we immediately hit it off.
For those of you who don't know, AmeriCorps NCCC is an awesome national service program where you travel around the country in a 15-passenger van with a team of ten people, working for various nonprofit organizations and responding to natural disasters.
You could say our experience in AmeriCorps primed us for living a vagabond existence out of a big van.
In 2011 John served a second year in NCCC, this time as a Team Leader, and Jayme moved back home to St. Louis, so we decided to try the whole "long-distance relationship" thing. We spent most of that year traveling to see each other–John traveling to St. Louis, and Jayme traveling to wherever John happened to be at the time.
When John's service term was up, he packed his belongings and moved to St. Louis. But we didn't stop traveling. Our passion for travel led us on many trips around the United States, as well as adventures in Thailand, Cambodia, Vietnam, and Ireland.
To say we had the travel bug was certainly an understatement. Every time we got back from one trip we were planning the next adventure.
Against our better judgment, we eventually settled into the 9-5 suburban lifestyle that many refer to as "The American Dream."
Because we had limited time off from work, travel had to be very short and strategically planned. Before the new year would come around, we were already trying to figure out when exactly we could take each trip that we wanted to. It was obviously never enough.
We both grew weary of this lifestyle, and our "successes" just felt empty.
John was working an office job and was getting raises and promotions while Jayme got jobs of passion and flexibility. We had the ideal two story house in the perfect neighborhood with the best neighbors. But as soon as we got off work we felt drained and unfulfilled.
We had always talked about doing "one last big trip" before we had kids – mainly thinking about another international backpacking trip. That is, until we adopted Nymeria and Crow – the best two doghters (get it?) we could've asked for.
That's when we decided to travel around the United States and North America.
And instead of doing a temporary "trip," we decided to make a complete transition to a vagabond lifestyle. At first the idea was to live out of a small SUV and camp, stay with friends, or Airbnb-it around the country.
But the more we found out about vanlife, the more we became drawn to the idea of living out of a van.
In August of 2016, after extensive research and a lot searching, we finally bought a van and got to work building it out into our new home.
Read more about our "pre-vanlife" story here, and follow all the steps of our van build here.
We finally hit the road full time in early 2017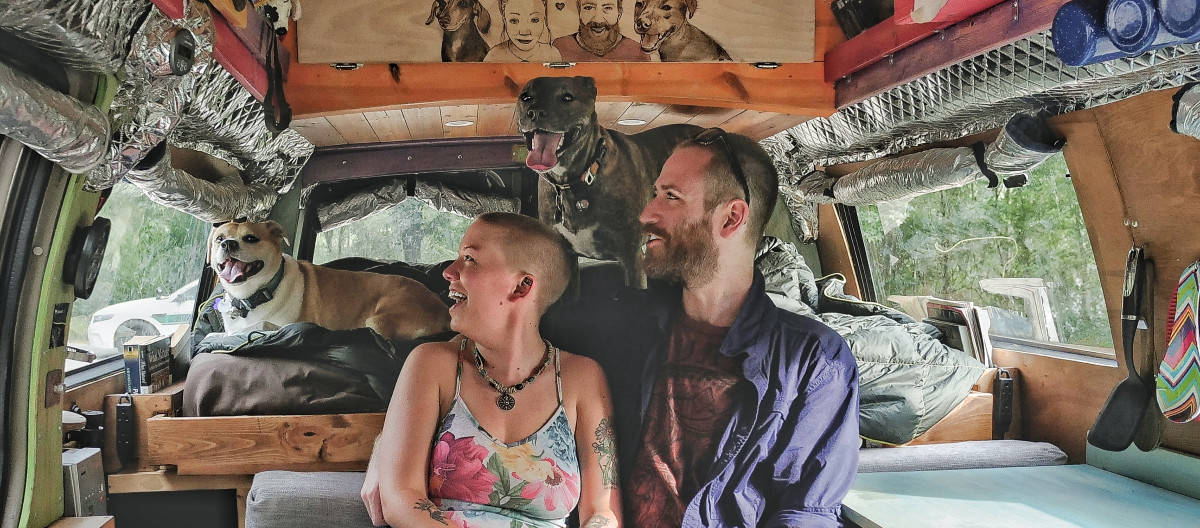 During our time on the road full time, we drove from the East Coast to the West Coast and back again several times. We saw incredible beauty, went on crazy adventures, met an amazing community of nomads, and grew deeply as human beings.
Our lives became more healthy and positive than ever before, and we're constantly excited for the new experiences that each day brings.
John got back into long distance running, and Jayme quit drinking permanently (which was a huge, yet successful battle)! We picked up new hobbies and habits, from mountain biking to meditation, and found a new dedication to exploring ourselves musically.
Life on the road isn't always pleasant, but it's always filled with opportunities for growth.
We experienced hardships from having to put Crow down, to Jayme contracting a (luckily temporary) tick-borne illness, to having to replace the transmission in our van. But especially when things get tough, the nomadic lifestyle has a way of encouraging gratefulness and a positive attitude.
Through living in a tiny space together, we learned a lot about open communication and the importance of practicing patience, flexibility, and compassion.
We've sat two (and a half) 10-Day Vipassana courses (and counting), which have guided us down a path of radical self-discovery and growth. We met strangers from all over the world, and every story we've heard is forever stamped on our hearts.
We are entirely different people than we were when we first hit the road.
From our writing to our photo editing, from our desires to our goals – this lifestyle has truly transformed us. We thank the beautiful discomforts of the road for teaching us and guiding us down this wonderful and necessary path of growth.
We are passionate about vanlife, and all the benefits that it has for our world, our mindsets, and the people who live this lifestyle.
We are also hardcore van build geeks, constantly learning about new tools, products, and techniques for building DIY campervans. And we love sharing this knowledge with others, and facilitating those who want to live this lifestyle.
In 2019, an unexpected pregnancy changed everything.
In the spring of 2019, we found out that we were pregnant. We had planned to start a family soon but we weren't trying at that exact moment, so this was a bit of a surprise.
Since we lived in a van, we had a bit of a scramble to find doctors/midwives, and to figure out where we were going to have this baby. We had always planned to settle down on an off grid piece of land somewhere in the wilds of North America, but now our timeline had been accelerated.
We ended up losing the pregnancy at 9 weeks, which was emotionally devastating. But we decided to push forward finding a sweet place to make our home base and transition to part time vanlife. We already knew the region we wanted to be in, we just needed to find a place.
After weeks of searching, we found an awesome off grid spot in the pinon and juniper woodlands of mountainous northern New Mexico, and made it our home in the fall of 2019.
After nearly three years on the road we now had a place to call our own, where we could fulfill our longer term dreams of off grid homesteading and raising a family surrounded by nature.
We were in the midst of a very long and painful journey to start a family. We got pregnant again soon after moving into our place, but we lost this pregnancy as well at 10 weeks.
After taking a step back and doing a lot of work on ourselves to prepare for the next one, we got pregnant again in the summer of 2020 – this time with twin boys!
But this joy was soon followed by pain when we lost our boy Killian at 19 weeks and 4 days (we've shared much about this on our Instagram page). His brother Seamus made it through the rest of the pregnancy, and we welcomed him into the world on March 10, 2021. The birth was beautiful and powerful, but afterwards Jayme had severe postpartum hemmhorage and nearly died. After a difficult three days in the ICU, we were finally able to go back to our home as a family.
Except we realized that this beautiful place was not our home. Once we had a child, it was painfully clear how far away we were from everyone we knew and loved. This place had been a peaceful sanctuary for us during one of the most painful periods of our lives, but after two years it was time to move on. So we made the very difficult decision to uproot ourselves again and move back to St. Louis, MO, where our journey began.
We enjoyed our time off grid, and we had the opportunity to experiment with van build and off grid concepts.
Throughout it all, we were looped into the local off grid community. We helped friends with their builds and installed their electrical systems. And our property served as a Covid sanctuary for van friends during the height of the pandemic. This was an incredible experience for us, and we learned a whole lot.
Even though we're no longer full time on the road or living off grid (at least for now) we're still immersed in the vanlife community and the van build world. We're still installing electrical systems in vans, teaching others how to wire up their rigs, and testing out new products and techniques. We've downsized our own rig to Gnomie 2.0 – a badass AWD Toyota Sienna that we're gradually turning into a camper. And we're planning a larger rig for our next extended adventure. We still have the travel bug, so we'll definitely be out on the road for long stretches, this time with a child in tow. We hope to see you out there!