We are a quirky family of four (two humans, two dogs) that love traveling, adventures, new experiences, and finding the joy in life. We don't love being tied down or squeezed into "little boxes," which is why we decided to sell everything and travel the country with our dogs and our van.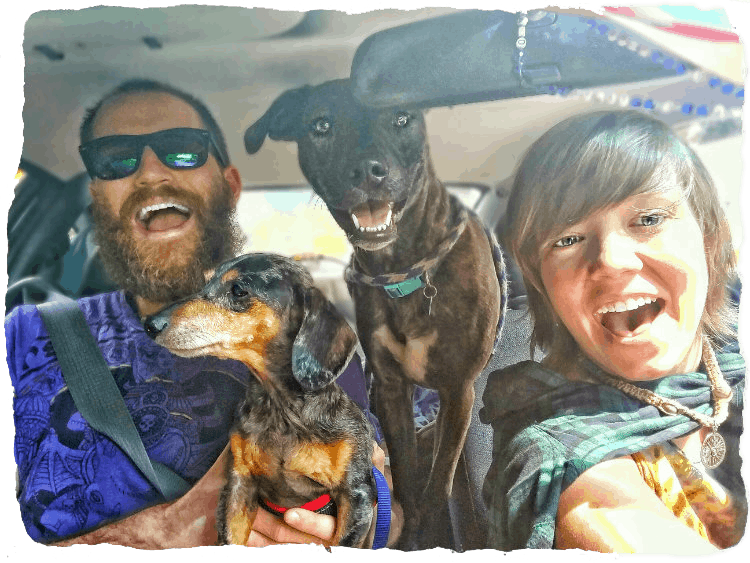 We started this blog to share our adventures every step of the way. We hope to connect with, inspire, and be inspired by other like-minded people, and to contribute what we can to changing the nature of life, work, and society into something more balanced and sustainable.
John and Jayme met in 2010 in lovely Perry Point, MD while serving in AmeriCorps NCCC (National Civilian Community Corps). They immediately hit it off.
For those of you who don't know, AmeriCorps NCCC is an awesome national service program where you travel around the country in a 15-passenger van with a team of ten people, working for various nonprofit organizations and responding to natural disasters. You could say this experience primed them for living a vagabond existence out of a big van.
In 2011 John served a second year in NCCC, this time as a Team Leader, and Jayme moved back home to St. Louis, so they decided to try the whole "long-distance relationship" thing. They spent most of that year traveling to see each other--John traveling to St. Louis, and Jayme traveling to wherever John happened to be at the time.
When John's service term was up, he packed his belongings and moved to St. Louis to be with Jayme. Their passion for travel led them on many trips around the United States, as well as adventures in Thailand, Cambodia, Vietnam and Ireland. To say they had the travel bug was certainly an understatement. Every time they got back from one trip they were planning the next adventure.
John and Jayme eventually settled into the 9-5 suburban lifestyle that many refer to as "The American Dream." Because they had limited time off from work, travel had to be very short and strategically planned. Before the new year would come around, they were already trying to figure out when exactly they would take each trip they wanted to. It was obviously never enough.
They both grew weary of this lifestyle, and felt empty about their "successes" in adulthood. John was working for a great company and was getting raises and promotions while Jayme got jobs of passion and flexibility. They had the ideal two story house in the perfect neighborhood with the best neighbors. But as soon as they would get off work they felt drained and unfulfilled.
They always talked about doing "one last big trip" before they had kids, and mainly talked about an international trip. That is, until they got Nymeria and Crow - the best two doghters (get it?) they could've asked for.
That's when they decided to travel around the United States and North America. And instead of just doing a temporary "trip," they decided to make a complete transition to a vagabond lifestyle. At first the idea was to live out of a small SUV and camp, stay with friends, or Airbnb-it, but the more they found out about it the more they became drawn to the idea of living out of a van.
After extensive research and a lot searching, they finally bought a van and got to work. That is where this part of their story begins.
Read more about their story here.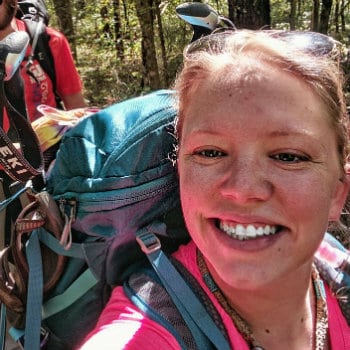 Jayme worked in the service industry since her very first job at 16. She worked in retail or restaurants for almost every job she's ever had. She was never drawn to the 9-5 office type of lifestyle, especially the part about planning your life around vacation days.
Jayme always had a fire in her that burned hotter and hotter every time she was planning an adventure. She did little trips around the US growing up and went to Australia in 2007. In 2010, she joined AmeriCorps NCCC, traveled around the United States and met John. She always struggled to accept the idea of "The American Dream", and disagreed with it frequently.
Jayme absolutely loves learning, and always enjoys museums, parks, and books as great forms of education. Now she looks forward to exploring what the country has to offer while also exploring herself.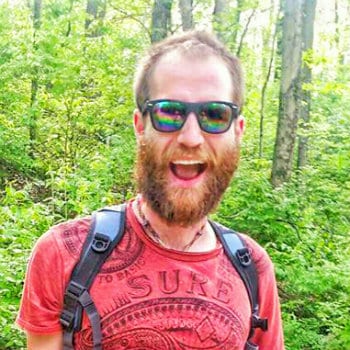 John grew up in CT and went to college in Boston. After he graduated, he didn't know what he wanted to do with his life but he was pretty sure what he didn't want to do: work a 9-5 office job and contribute to consumerism. John wanted to spend his time traveling and helping others, and when he heard about AmeriCorps NCCC he knew it was perfect for him.
He shipped off in February 2010, and it was an absolute blast. He built houses, responded to disasters, traveled to new places, met the closest friends he's ever had, and found the love of his life (Jayme!). He had so much fun that he went back for a second year, this time as a Team Leader, before moving to St. Louis at the end of 2011.
If you had told John five years ago that he would spend untold hours of his life working a corporate job in the finance industry, he wouldn't have believed you. But life is funny like that. Luckily he fell into a job with a great company, but from day 1 he knew that mode of living wasn't for him. Four-and-a-half years later, John is excited to turn in his tie and live a more freeform lifestyle
Nymeria (named after Arya Stark's wolf in Game of Thrones) is the heart of the group. She is the constant reminder for us all to stay young, keep searching for adventure, and even that some of the most challenging times end up being great experiences. It is very difficult to be bored when you are with her.
John and Jayme rescued her from Stray Rescue of St. Louis when she was about 13 weeks old. One month after John and Jayme got her, they took her on her first camping trip and she was immediately hooked.
She absolutely loves exploring new wooded areas. She loves pushing herself to see if she can run faster, jump higher, lunge further, crawl deeper, regardless of Jayme getting minor heart attacks from time to time watching her.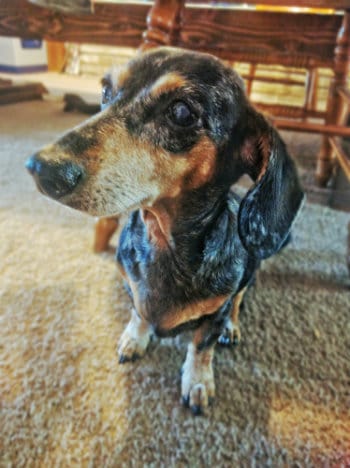 Crow is the old lass of the group. Jayme originally adopted her in 2001, but she stayed with Jayme's parents for a few years after Jayme moved out. She started permanently living with Jayme and John in March 2016, and has been the happiest and most fit she has ever been.
She used to spend the majority of her life lying on couches, watching TV, and begging to eat food, but since then she has become quite the backpacker. She loves going on hikes in the middle of the woods. She will even squirm and whine if you try to carry her! For the longer, more treacherous hikes though, John and Jayme have a front carrying pack that they named "The Crow's Nest".
Crow normally takes her time, paying close attention to the outdoors surrounding her and taking the time to really embrace and check everything out. Every once in awhile, when she thinks no one is watching, you'll catch her puppy spirit as she will start prancing through the woods.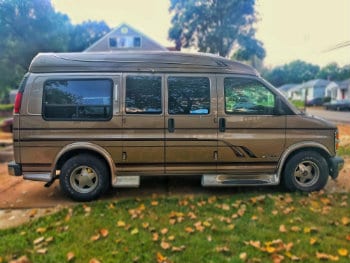 When John and Jayme started hosting on Airbnb, they came up with idea of calling their place "Gnomad Home." Jayme and John inherited all of Jayme's grandmother's gnomes when she passed away, over 50 gnomes! They spread them around their house and they have been a part of their lives ever since.
They wanted their Airbnb to feel warmer than just "a room in a house"and Gnomad Home was the perfect combination of two of their biggest loves: gnomes and travel. When they decided to buy a van and live out of it, they felt like they finally found what "Gnomad Home" was supposed to be about.