With all the hype around #vanlife and #rvlife these days, it's no surprise that you may be thinking about hitting the open road for your next vacation. Or maybe you're intrigued by these alternative lifestyles and want to test drive them for yourself before diving all the way in.
In either case, renting a camper van, RV, or travel trailer can allow you to see beautiful sights, explore the wonders of nature, and test out living in a smaller space – all without the expense and hassle of staying in a hotel or tent camping.
If you're new to the world of vanlife or RV travel, you probably have a lot of questions. How exactly do you go about renting a camper van or RV? How much does it cost to rent an RV? Where do you park it at night? What are the best camper van rental companies to deal with? Are there any special rules, tips, or tricks that you should follow?
In this post, we break down all the ins and outs of how to rent a camper van, RV, or travel trailer. We go over exactly how the process works, the pros and cons, and what you need to prepare for, so you'll be ready for your experience traveling in your new rolling hotel.
Test Drive Vanlife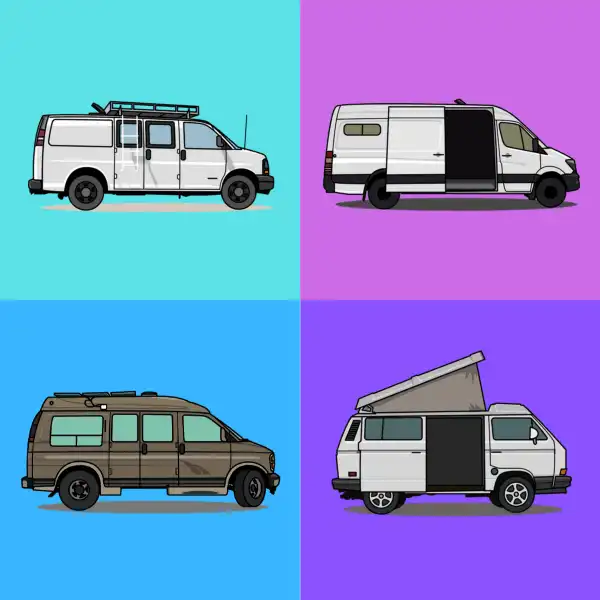 Rent a Campervan or RV on Outdoorsy
Take vanlife for a testdrive with a campervan or RV rental from Outdoorsy. Available nationwide.
Use coupon code GNOMADHOME for up to $40 off your booking.
Explore Rentals on Outdoorsy
We earn a commission if you click this link and make a purchase (at no additional cost to you).
Is Renting a Camper Van or RV or You?
While traveling via camper van rental is a great way to intimately explore some awesome areas, it may not be for everyone. This section goes over the pros and cons of renting a camper van or RV, so you can decide if it's the right move for your needs and budget.
Why Rent a Camper Van?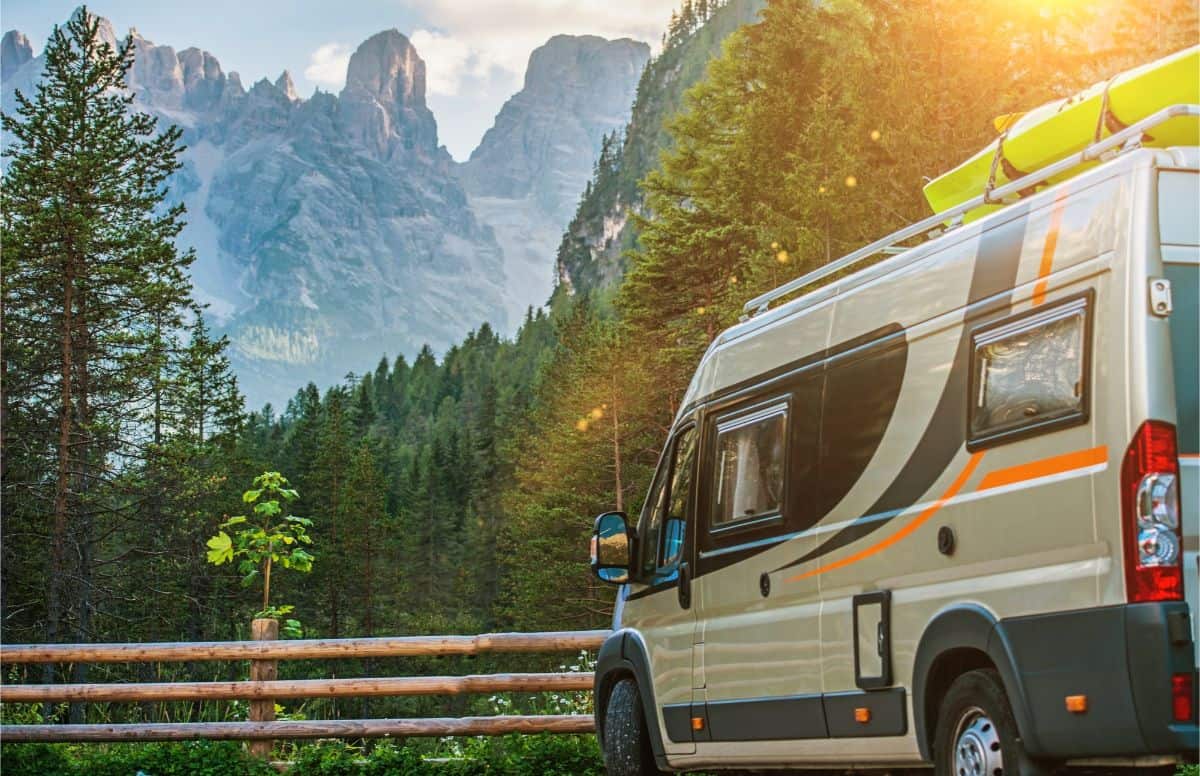 Renting a camper van is much cheaper than buying one.
So you think you're ready to go hard into the road trip lifestyle, and you want a vehicle to match. But what if you're wrong? RVs and camper vans can get pretty expensive, with some brand new models costing tens of thousands of dollars or more. For shorter or less frequent trips, it ends up being much cheaper in the long run to rent a camper van or RV than to buy one.
If you shell out the cash to buy yourself a new toy but only take it out once a year – you're losing a ton of money on depreciation alone, not to mention RV storage fees, insurance, maintenance, and upkeep. Camper vans (especially self-built ones) might be less expensive to buy and maintain than a huge RV, but they can still cost thousands of dollars plus a lot of your time.
Campervan rentals allow you to test out #vanlife or #rvlife before going all in.
With the growing popularity of nomadic lifestyles on social media, you may be thinking that diving into life on the road full time is the solution to all your problems. But mobile tiny living is much harder than it looks on Instagram, and you'll be faced with many unexpected challenges.
Renting a campervan or RV is a great way to test out the lifestyle and decide if it's really for you. If this is your goal, we highly recommend taking a van rental out for an extended trip so that you can fully get immersed in life on the road.
Maybe you'll decide that nomadic living is fun for a short period, but isn't for you long term – and that's fine! Or maybe you'll decide that it's what you were born to do – in which case testing out a variety of vehicles can help you narrow down what kind you want to commit to. Either way, you will have gained a better understanding of your wants and needs by testing things out first.
You can rent just about any type of vehicle from almost any place you can think of.
Peer-to-peer camper van rental sites like Outdoorsy have opened up a world of opportunity for people looking to travel on the road. There are camper van and RV owners in pretty much any location you might need, and there are all sorts of vehicles available to rent – beautiful Sprinter vans with HGTV-worthy interiors, tiny teardrop trailers you can tow behind your Subaru, giant 5th wheels or Class A motorhomes, humble American-style van builds, toy haulers, pop-up trailers, and more. Whatever your needs, you should be able to find camper van rentals to match.
There's nothing quite like the freedom of experiencing a place from the road – and having your lodging with you at all times.
Visiting a place via road travel is a wonderful treat. You have the freedom to go where you want, when you want. You can stop at the roadside attractions along a scenic I40 road trip, take that random side road through a canyon, and generally explore as you please. And since you have your lodging with you at all times when you rent a camper van, you're not tied down to a hotel reservation. If you get sidetracked and don't make it as far as you had planned, you can always find an RV park, a Walmart, or some public land to rest your head.
You can bring your pets along for the ride!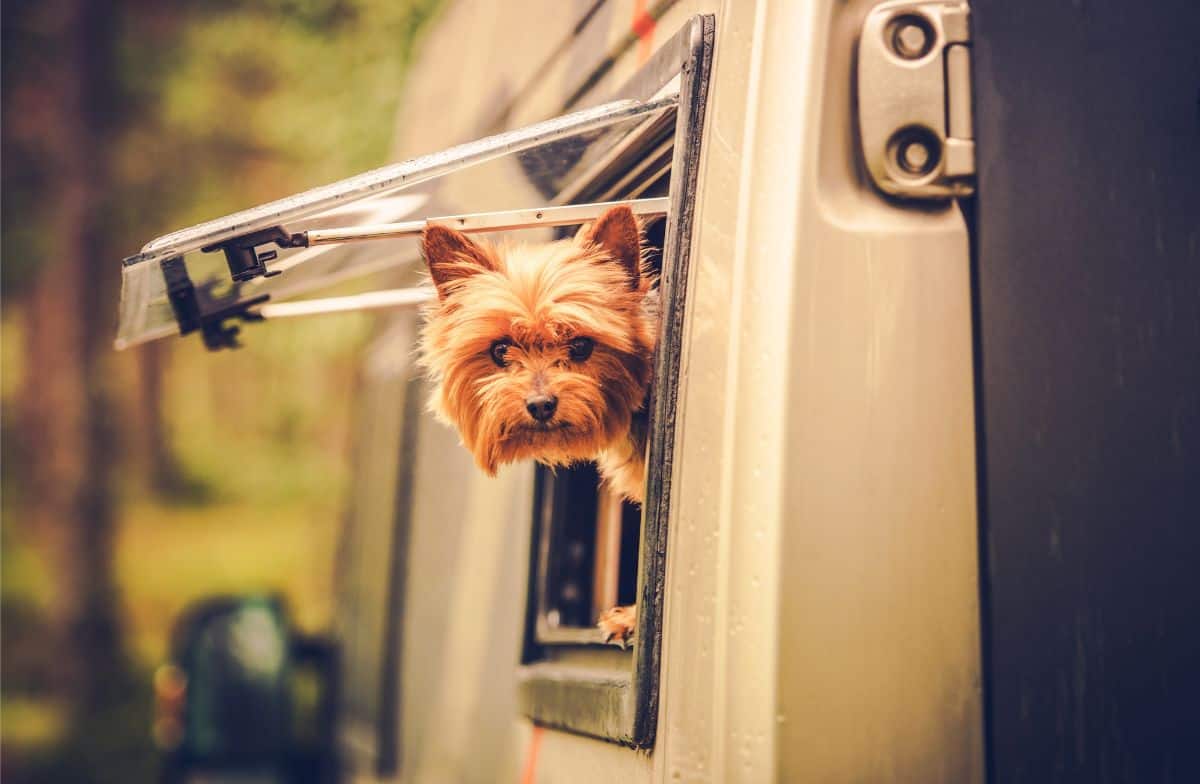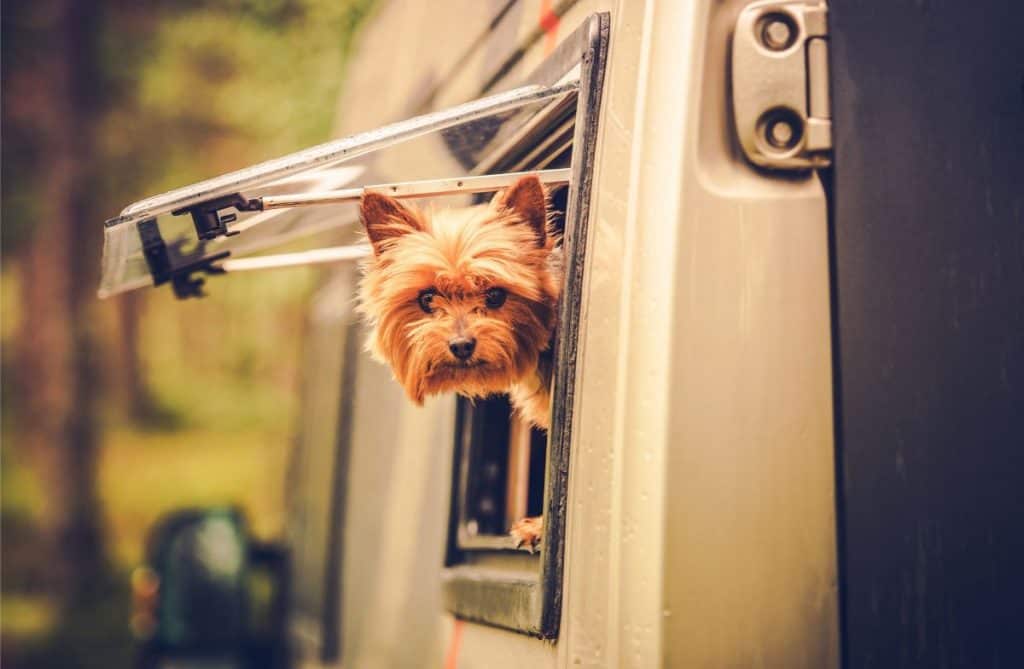 It's no fun leaving your dog at home when you go on vacation. Luckily, many camper van rentals are dog-friendly, so you can bring your best friend with you on your travels! You can specifically search for pet-friendly vehicles on sites like Outdoorsy and RVShare, but it's a good idea to confirm with the vehicle owner before booking. Bringing your dog also means that you can save money on pet boarding fees!
There's no need to constantly pack and unpack whenever you change locations.
When you go on a hotel-hopping road trip or travel by air, you need to either live out of your suitcase or constantly pack and unpack your things whenever you change locations. Not so with van life travel. When you rent a camper van for your trip, you just need to unpack once, then your lodging moves along with you!
You'll have your own space to stretch out and enjoy.
No matter where you're traveling, you're bringing your own space with you. This really allows you to stretch out and feel at home in your camper van rental. Try doing that in a hotel or a tent – especially when you're constantly driving around seeing the sights.
You can save money on eating out by cooking your own meals.
RV and camper van rentals are usually equipped with at least a refrigerator and a stove, and sometimes even an oven and a microwave. This means that you can grocery shop and cook your own meals – which is much cheaper and often much healthier than eating out for every meal.
You'll have the freedom to camp right near where you want to be.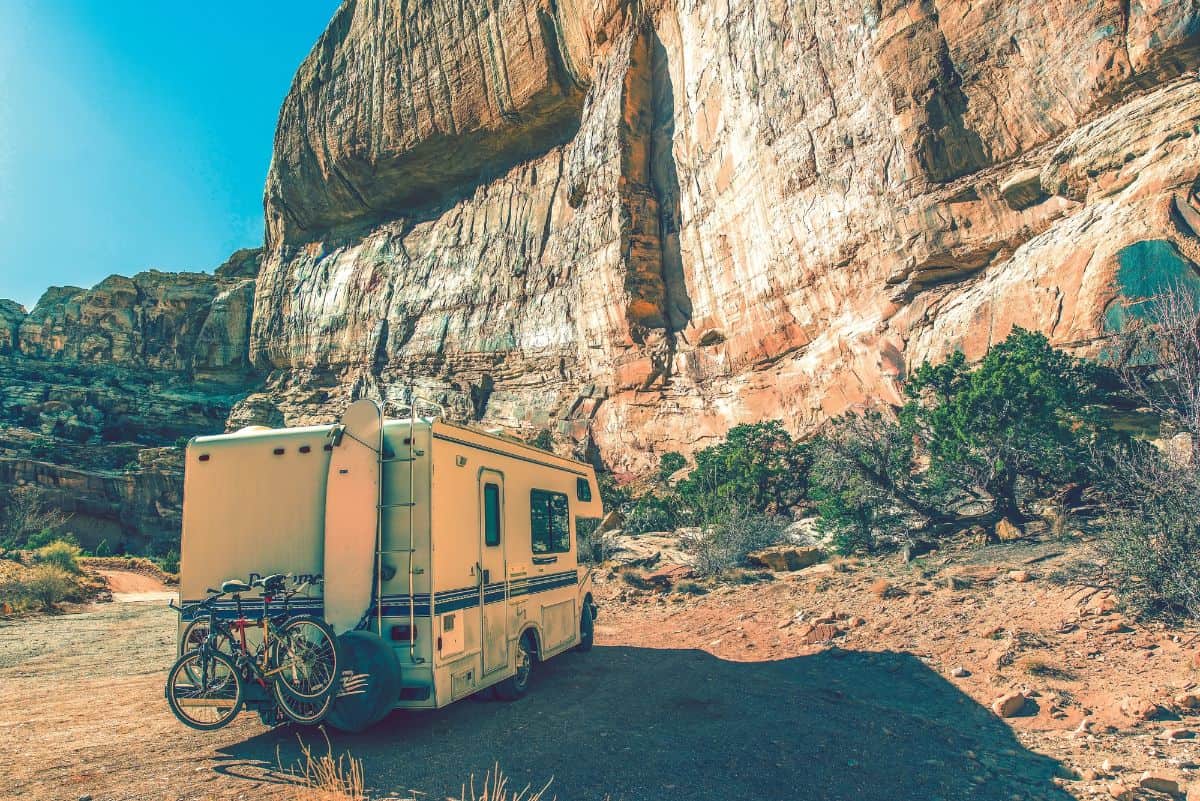 No more being at the mercy of where you can find a hotel or Airbnb. With an RV or campervan rental, you can park right close to the action. Visiting a National Park? Well, now you can camp right inside the park instead of having to drive in daily from a hotel outside the park boundaries. Hiking a fourteener in the morning? When you rent a campervan or RV, you can wake up at the trailhead or on nearby public land. Whatever your outdoor plans are, renting an RV allows you to stay closer to where you want to be.
You can save money on hotels/lodging.
When the vehicle that you're traveling in is your lodging, you won't need to spend money on hotels or Airbnbs – which could end up saving you money. But, this does depend on the type of camper van rental you get and where you stay. Renting a small campervan and staying on public lands will be much cheaper than renting a giant Class A and staying in resort campgrounds, so make sure to plan accordingly with your budget.
Meet awesome people – both the locals and your campground neighbors.
Traveling via campervan rental gives you the chance to slow down and really become a part of the places you visit. You may end up meeting a lot of interesting people – from the locals in the small towns you pass through, to the friendly neighbors at the next camp site. For us, the people we've met traveling have been an awesome part of living on the road full time.
Why Not to Rent a Camper Van or RV?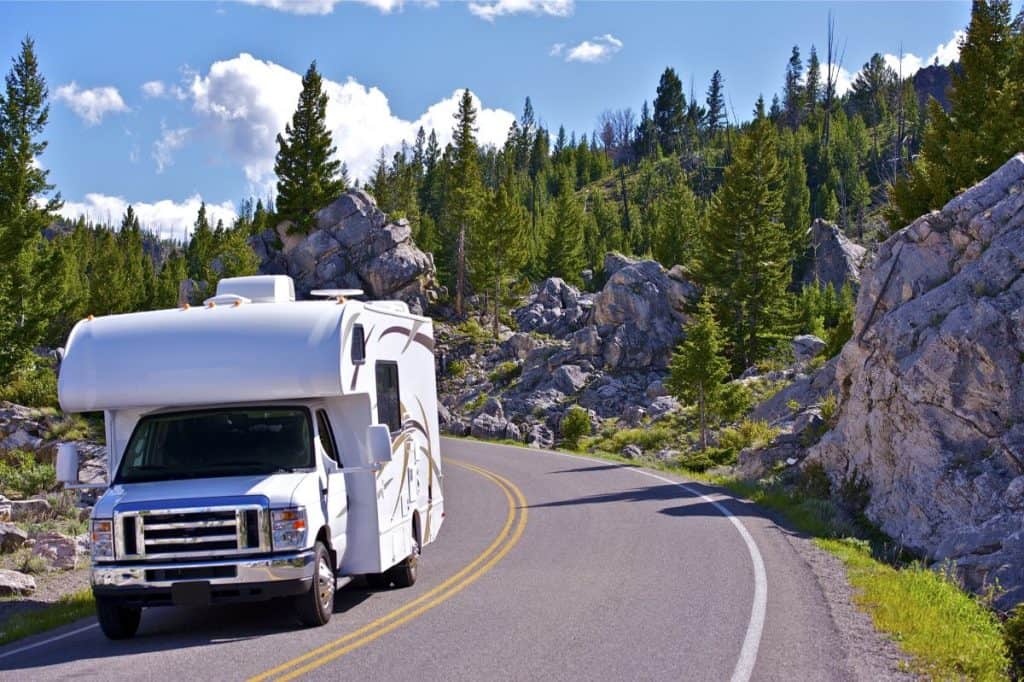 Big vehicles come with higher fuel costs.
RVs and full-size vans are not known for their fuel economy. Renting an RV or camper van means that you could end up spending a lot of money on fuel costs – not to mention the environmental costs of burning all that gas. The bigger the vehicle the more fuel it needs – so go with a smaller vehicle if this is a concern to you.
Depending on the RV you rent, running errands and parking in towns might be a headache.
Maneuvering large vehicles like Class A motorhomes and 5th wheels can be extremely cumbersome in towns, cities, and tight gas station parking lots. Even camper vans are bigger and more unwieldy than regular cars. Getting groceries, running errands, and enjoying town might be a headache, especially if you're not used to driving big vehicles.
If you're not careful, renting a camper van could cost more than other forms of travel.
Remember that camper van rentals with additional costs that can add up quickly – campground fees, fuel costs, dump station fees, propane costs, and more. If you rent a large vehicle, drive long distances, and stay at expensive resort-style campgrounds, you may find yourself spending more money than renting a car and hotel hopping. It's all in how you travel.
You are completely responsible for cleaning and upkeep.
Rental vans don't come with a maid service. You will be entirely responsible for cleaning up, washing the sheets, dealing with trash, emptying grey and black water tanks, and refilling propane and drinking water.
Like your privacy? Campgrounds can be cramped and crowded.
Campgrounds and RV parks aren't exactly known for their privacy, and many pack you in like sardines. If you prefer to have total privacy and seclusion, then you can always camp off grid on public lands – but some camper van owners may not want you taking their vehicle off pavement, and many just don't have off grid capabilities to begin with.
What Kinds of Vehicles Can You Rent?
There are several different types of camper vans and RVs you can rent. In this section, we break down the types and sizes of van life rental vehicles to help you decide on the best one for your needs.
Campervans for Van Life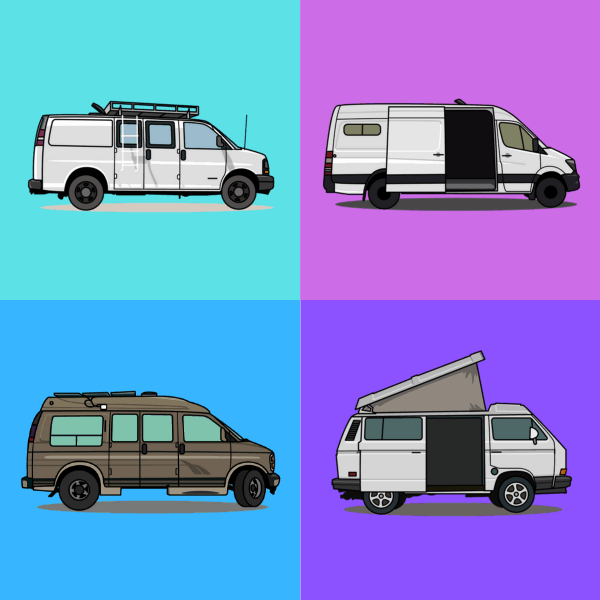 If your goal is to test out van living before diving into it yourself, there's nothing like renting a camper van that's purpose-built for vanlife. While you could technically consider these to be a type of RV, in our opinion campervans designed for van life are in a class of their own.
Vanlife campervans are typically full-size vans that have been converted into a mobile tiny home either by the owner or by a small-scale van conversion company (i.e. not a large RV manufacturer). The most popular vans used for vanlife in the US are Mercedes Sprinter, Ford Transit, Ram Promaster, Chevy Express, and Ford Econoline.
Vanlife campervans are relatively small (16' – 22' or so), easy to maneuver, and fit into a standard parking space. They may also feature many unique innovations to improve space efficiency, and some are very high quality and at the cutting edge of mobile living design.
That said, being more "self-built" means that quality can also vary greatly, so if you're renting through a peer-to-peer marketplace like Outdoorsy, you'll want to make sure you properly vet the van that you're considering – read the reviews, look at the photos, ask questions, etc. Renting a van from dedicated camper van rental companies will get you more consistency, but you'll lose out on the uniqueness and variety of builds available.
Vanlife campervans also vary widely in the amenities included. Some may have a full setup including toilet/shower, kitchen, and large sleeping area, while others won't include much more than a bed and some storage.
Where's the best place to rent a #vanlife camper van? Outdoorsy features the largest marketplace of vanlife vehicles for rent on the internet. If you prefer a dedicated camper van rental company, Escape Campervans has awesome vehicles, great service, and convenient locations throughout North America.
Motorhomes
Motorhomes are what traditionally come to mind when you think of an RV. But there are several different sizes of motor homes that you can rent. Here's a quick rundown of the various types:
Class A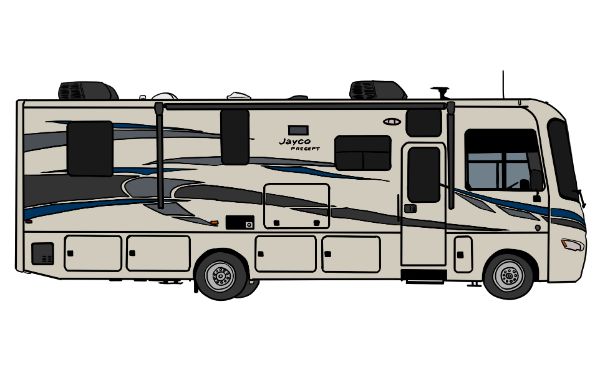 Class A motorhomes are the big ones. They are vehicles built by RV manufacturers specifically to be mobile homes. They range in size from 21' to a whopping 45', and the biggest ones often resemble coach buses. Class A RVs usually feature all of the amenities – full bathrooms and kitchens, multiple sleeping areas, and plenty of space to spread out. The nicest ones may have additional extras. Class As tend to be the largest RVs out there, and will also put the biggest dent in your wallet.
Class B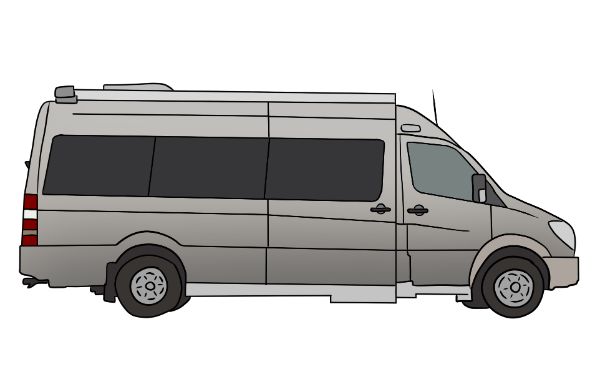 Class B motorhomes look very similar to vanlife camper vans – the difference being that they are built by traditional RV manufacturers. They are full-size vans that have the interior converted into a mobile home. Some may have extended bodies or high tops for additional space. Class B RVs usually come with the essentials – like a kitchen, convertible sleeping space, and a small bathroom/shower situation.
Class C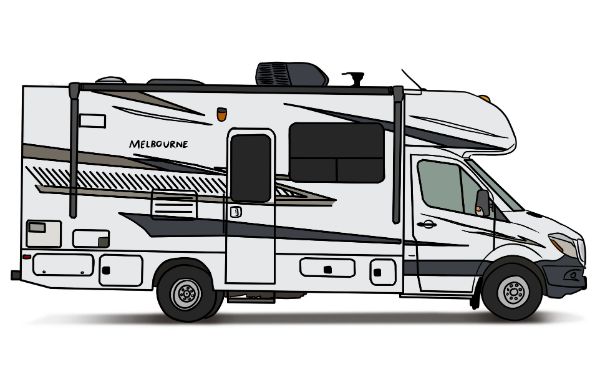 Class C motorhomes are a hybrid between Class A and Class B. They have a van/truck cab and frame, with a rectangular RV body mounted onto the rear. They range greatly in size – some are not much bigger than your average Class B, and some rival the biggest Class As. Class C RVs typically feature a sleeping area above the cab, an additional convertible sleeping area, and full amenities including a kitchen and toilet/shower.
Travel Trailers
Travel trailers are towable RVs that come in a range of shapes and sizes, from small 12-footers to monster trailers that are 25' or longer. Travel trailers are often cheaper to rent than motorized RVs, since you may need to tow them with your own vehicle. All travel trailers connect to your vehicle with a standard ball hitch.
Travel trailers and other towable RVs take a bit more work on your part, since you'll have to unhitch them from your vehicle and level them when setting up camp. They are also more difficult to drive, especially if you're not used to driving with a trailer.
But, one huge advantage to travel trailers (and towable RVs in general) is that you can drop them at your campsite and have a smaller vehicle to drive around to the sights or into town.
Large Travel Trailers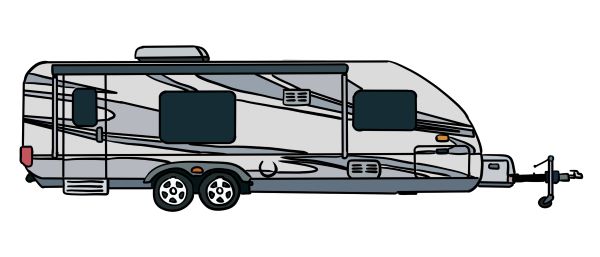 The largest travel trailers are essentially towable Class As – they have the full range of amenities, multiple sleeping areas, full kitchens and bathrooms, and plenty of room to spread out. You'll need a vehicle with a hefty towing capacity to rent one of these, and they tend to be very unwieldy to drive (in the large towable category, 5th wheels are more manageable). But if you need a towable with room for the whole family, a large travel trailer might suit your needs perfectly.
Lightweight and Teardrop Trailers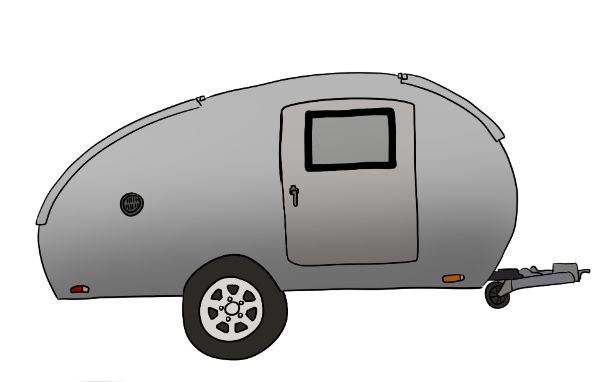 Designed for the more minimalist RV travelers, lightweight trailers are smaller, lighter, and much easier to maneuver than bigger travel trailers. You may even be able to tow them with a small SUV like a Subaru Forester. Teardrop trailers are a type of lightweight trailer that features a recognizable "teardrop" shape. Lightweight trailers may lack amenities like bathrooms and storage, but typically have kitchens. They are also some of the cheapest RVs to rent, both in rental fees and fuel costs.
Airstreams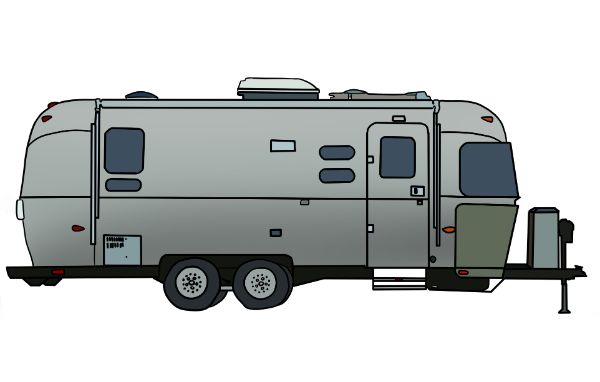 Airstream RVs deserve their own mention because they have such a cult following. They are bullet-shaped silver travel trailers that represent the very high end of RV manufacturing. Airstreams have been around for a long time, and recently it's become trendy to restore classic models or build out a new, innovative interiors. You may be able to find an old Airstream on Outdoorsy with a unique, self-restored interior. Airstreams typically feature the full range of amenities, but this also varies with the size.
Toy Haulers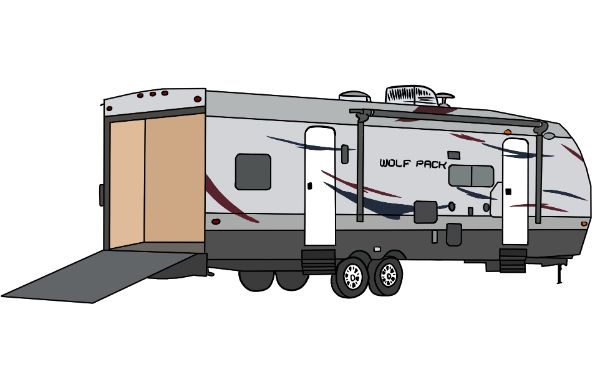 A toy hauler is a large travel trailer combined with a cargo trailer. They have living space for the entire family, and also a rear "garage" with a foldout door where you can safely store your toys – think four-wheelers, motorcycles, mountain bikes, and other bulky outdoor vehicles you may need to transport. If you're bringing this type of gear with you on your travels, a toy hauler might be just what you need. And as a bonus, you can even prop up the loading ramp and use it as a porch!
5th Wheels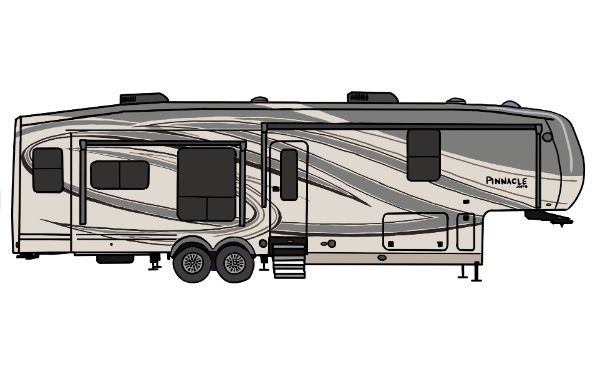 5th wheels are another type of towable RV that is very similar to Class As in terms of amenities. They have a lot in common with larger travel trailers – the main difference being the hitching point. Travel trailers connect to your vehicle using a standard ball hitch, while 5th Wheels hitch to the bed of a pickup truck.
The big advantage to 5th Wheels over travel trailers is that because a big portion of the RV rests over your truck bed, you can get the equivalent living space of a large travel trailer with a much shorter overall vehicle length.
Foldable Trailers (Pop Up Campers)
Another type of towable RV, foldable trailers are compact and lightweight, and they expand (or "pop up") into a full-sized living space when you set up camp. There are two general types of foldable trailers: soft-sided pup up campers and A-frame pop up campers.
Soft-sided Pop Up Campers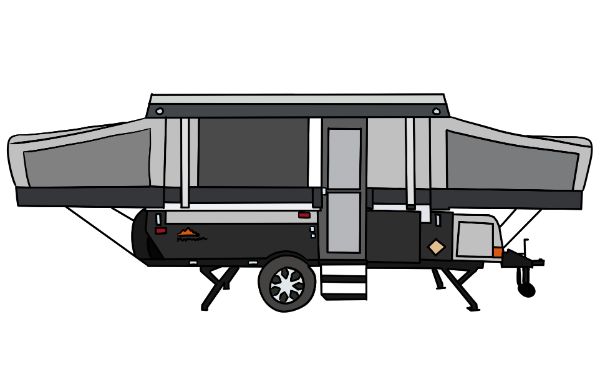 Tent life meets RV life. Soft campers combine the best benefits of a towable RV with the feeling of being outdoors that you get from a tent. These trailers typically have two sleeping areas (one on either side), a nice living space, and a kitchen. They generally don't have bathrooms, and because they're soft-sided you'll be more exposed to the elements.
A-Frame Pop Up Campers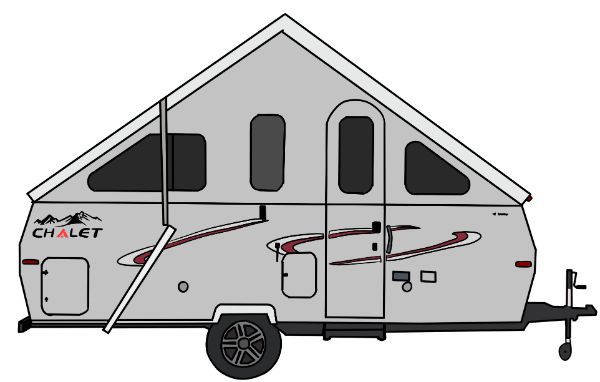 These are hard-sided campers that pop up into an A-frame structure. You still get the light weight and ease of maneuvering that you get with a soft-sided camper, but the structure is a little more substantial so you're protected from the elements. A-frame campers typically don't have bathrooms.
Truck Campers and Overlanding Vehicles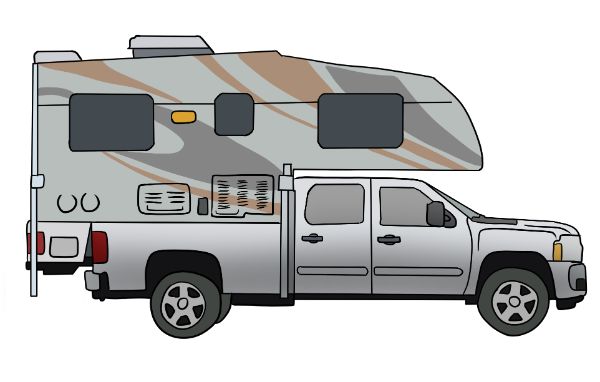 You can find both of these vehicles under the broad "Truck Camper" category on Outdoorsy, but there are some differences between the two. Both truck campers and overlanding vehicles can be used for "overlanding" – which means traveling over rough terrain to deep wilderness camp spots.
A truck camper is a camper shell that fits directly in the bed of a pickup truck. You can find just the camper shells for rent (meaning you need your own truck), or truck and camper combos. Truck campers are essentially mini RVs that sit on your truck, so they may contain amenities like a kitchen and a sleeping area over the cab. Some of the nicer ones may even have a small bathroom.
Overlanding vehicles are typically 4×4 SUVs (like Toyota 4Runners or Land Rovers) that have been decked out with all kinds of gear that help with off road performance. As far as sleeping, these vehicles may have built out interiors, or they may be fitted with rooftop tents. With overlanding vehicles, amenities may be slim, and you'll end up doing a lot of your living outside.
Where to Rent a Camper Van or RV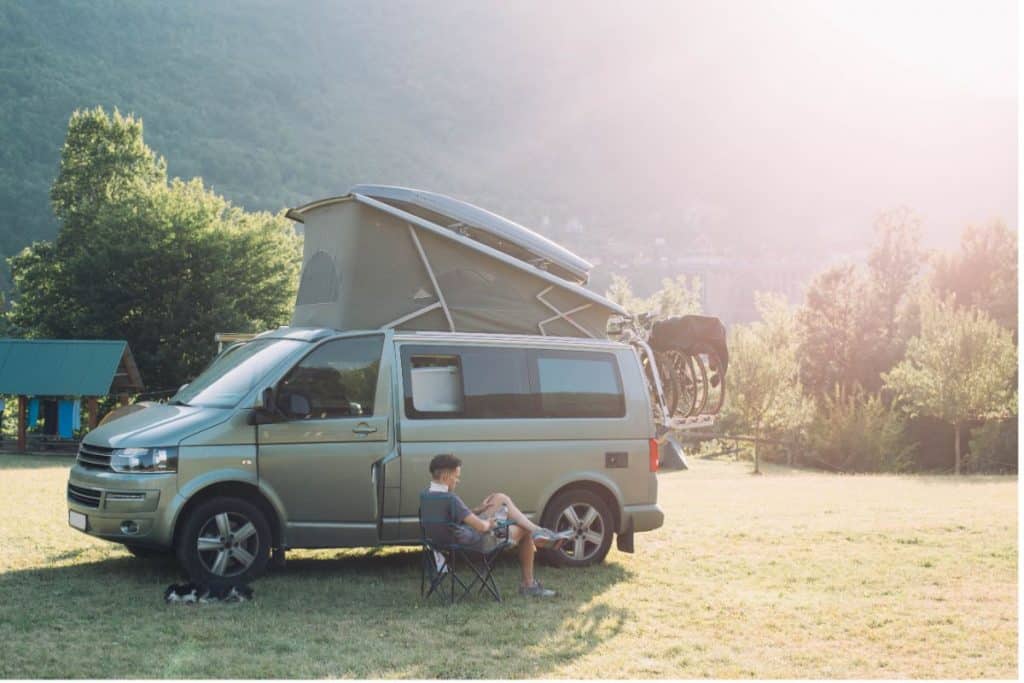 So where exactly do you go when you want to rent a camper van or RV? There are two main categories of RV and camper van rental companies from: peer-to-peer marketplaces and dedicated rental companies.
Read More: Top 61+ Camper Van Rental Companies in the US
Renting an RV from a Peer-to-Peer Marketplace
Peer-to-peer RV and camper van rental marketplaces bring the power of the share economy to the world of RV rentals – think Airbnb but with RVs. When you go this route, you're renting a vehicle directly from a private owner. Typically the marketplace provides insurance protection, roadside assistance, and other guarantees for both parties.
Peer-to-peer marketplaces have a huge selection of different kinds of vehicles in many different places, and your dollars are supporting individual vehicle owners. The downside, though, is that since you're dealing with individual owners rather than a rental company, there may be inconsistencies in your experiences.
The two main marketplaces are Outdoorsy and RVShare.
Renting a Camper Van or RV from a Dedicated Rental Company
If you prefer going the more traditional route, you might consider renting your van or RV from a dedicated rental company. Rental companies will have a fleet of different vehicles available, and the biggest ones have several locations, or hubs, where you can schedule to pick up your rental.
Since you're dealing with an actual company instead of an individual RV owner, the experience is more likely to be consistent. But that isn't necessarily a good thing. Some of the most popular RV rental companies have less-than-stellar customer reviews (and bad BBB ratings as well). When you're dealing with a large corporate rental company, caring and compassionate customer service often falls by the wayside.
Some notable exception to this comes from the vanlife world. Camper van rental companies like Escape Campervans are well known for having excellent customer service, and customers generally rave about them. But, since they only rent campervans and truck campers, they can't help you if you're looking for an RV rental.
The most popular RV rental companies with national networks are Cruise America, El Monte RV, and Roadbear RV. The most popular campervan rental company with a national network is Escape Campervans. There may also be local rental companies in your area.
Best Camper Van Rental Companies and Marketplaces Compared
Below are our top picks for renting a camper van nationally. Further down, we dig into smaller local and regional rental companies.
Outdoorsy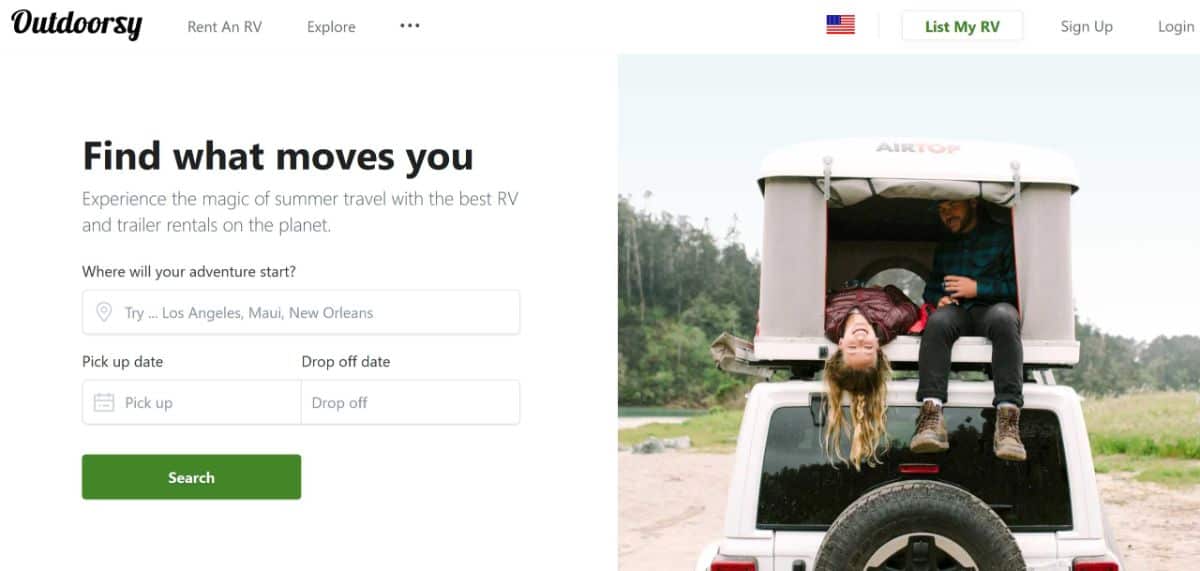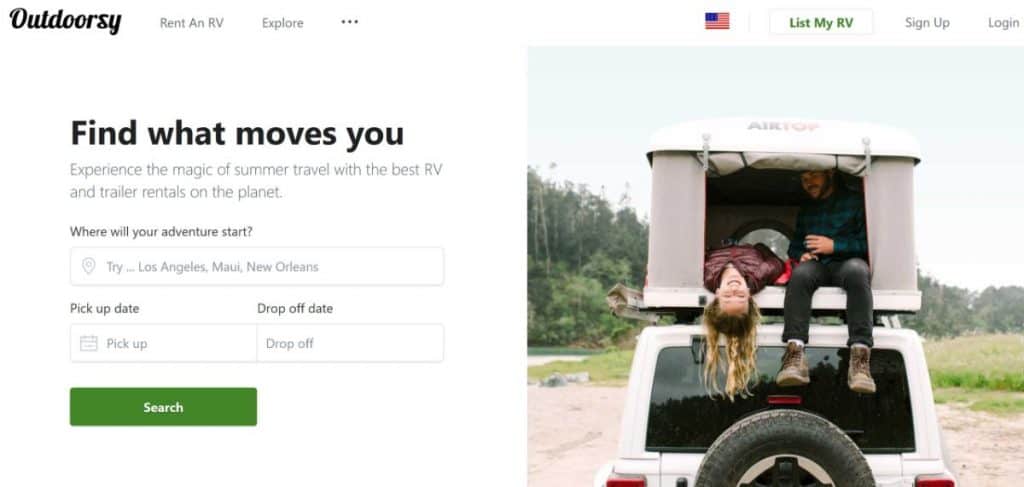 Our top choice for renting a campervan or RV is Outdoorsy. Not only do they have the largest selection of self-converted camper vans listed anywhere, they have excellent customer service and as a company have been extremely supportive of the vanlife community.
Test Drive Vanlife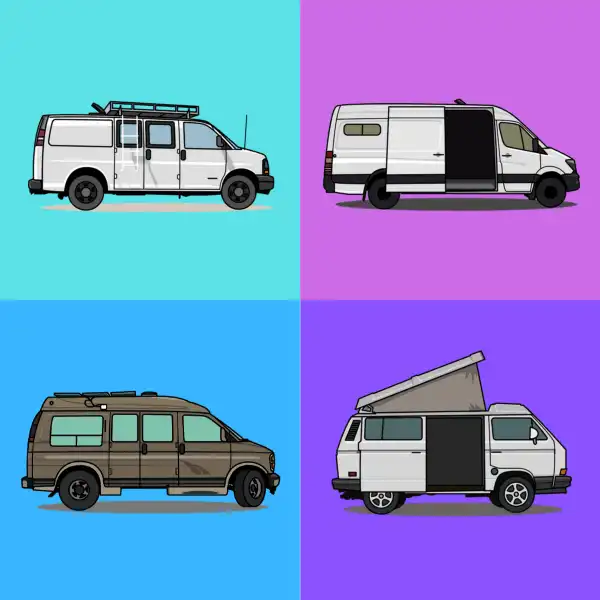 Rent a Campervan or RV on Outdoorsy
Take vanlife for a testdrive with a campervan or RV rental from Outdoorsy. Available nationwide.
Use coupon code GNOMADHOME for up to $40 off your booking.
Explore Rentals on Outdoorsy
We earn a commission if you click this link and make a purchase (at no additional cost to you).
Outdoorsy is a peer-to-peer rental marketplace that connects RV/campervan owners and people who want to travel in an RV. Launched in 2014, the platform was developed by full time RVers seeking to fill two unmet needs: making it easier for people to experience the outdoors, and helping RV owners offset the costs of storing and maintaining their vehicles when not in use.
With thousands of RVs for rent in the US and Canada, you can find some truly unique vehicles out there. And when you use Outdoorsy, you're renting an RV from actual owners. This person-to-person experience gives you the opportunity to make great connections, and is far more personable than dealing with a faceless RV company.
Pros
Easy-to-use platform connects you to a huge selection of vehicles in a wide variety of places.
You're supporting actual RV owners with your dollars.
Largest selection of built out camper vans by far.
Listings feature reviews from prior renters, so you can decide if the vehicle (and the owner) will be a good fit for you.
Excellent customer service and user reviews. A+ rating with the BBB and 9.1/10 rating on Trust Pilot.
Top notch protection plans available through Liberty Mutual
24/7 roadside assistance available through Coachnet
Cons
Since you're dealing directly with individual RV owners, you could face some inconsistencies in response times, vehicle quality, and the overall experience. Just like with Airbnb, make sure to perform due diligence and read through all reviews for any red flags or concerns.
Roadside assistance plans cost extra.
If you need onsite repairs or servicing during your rental, you could be on the hook for parts and labor costs.
Outdoorsy offers a streamlined way of connecting you with RV and campervan owners, and offers a wide variety of both RVs and quirky campervans out there. And they are an awesome company with generally great customer service. This is why Outdoorsy is our top recommendation for finding campervan rentals.
RVShare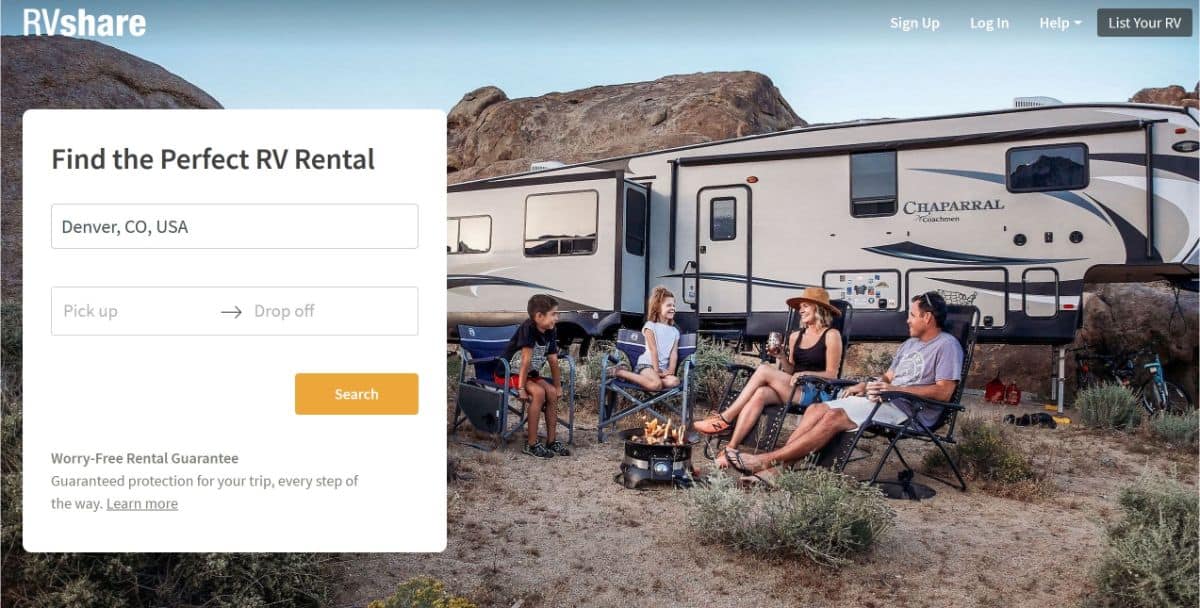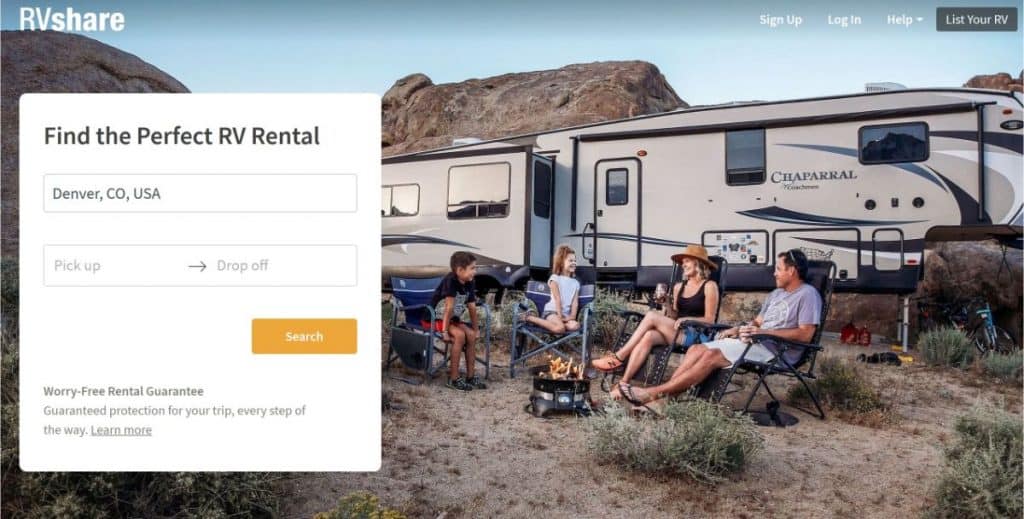 RVShare is another peer-to-peer rental platform that has a huge selection of RVs available for rent. Although they've been around longer than Outdoorsy, they seem to have had more hiccups with their customer service (although they have gotten much better) – which is why Outdoorsy is generally our top pick.
RVShare was started in 2012 by co-founders Mark and Rachel. After buying an RV for their honeymoon trip, they realized that it would spend most of the year sitting unused and costing them money. They also realized that they could offset their cost of ownership by sharing their RV with others who want they experience of RV travel without the hassles of actually owning one. They quickly saw an opportunity to create a peer-to-peer RV rental marketplace, and RVShare was born.
Like Outdoorsy, RVShare features a huge selection of available RVs. But, as their name implies, the platform places a bigger emphasis on RVs over camper vans. This may not matter if you're looking to rent a motorhome or travel trailer. But if you're looking to test out vanlife with a legit built out campervan, then we recommend looking at Outdoorsy.
Pros
User-friendly rental platform featuring a huge selection of vehicles.
Roadside assistance is included in the cost of your booking.
Allows RV dealers to list their RVs for rent – meaning you can test out that new RV you've been eyeing before you pull the trigger.
Generally positive reviews. A+ rating with the BBB and 8.2/10 rating on Trust Pilot.
Cons
Listings do not have reviews from prior renters (although this feature is coming soon).
Peer-to-peer marketplace means that response times and interactions with owner may be inconsistent.
More RV-focused, which means fewer camper van listings.
Customer reviews generally not as good as Outdoorsy.
Escape Campervans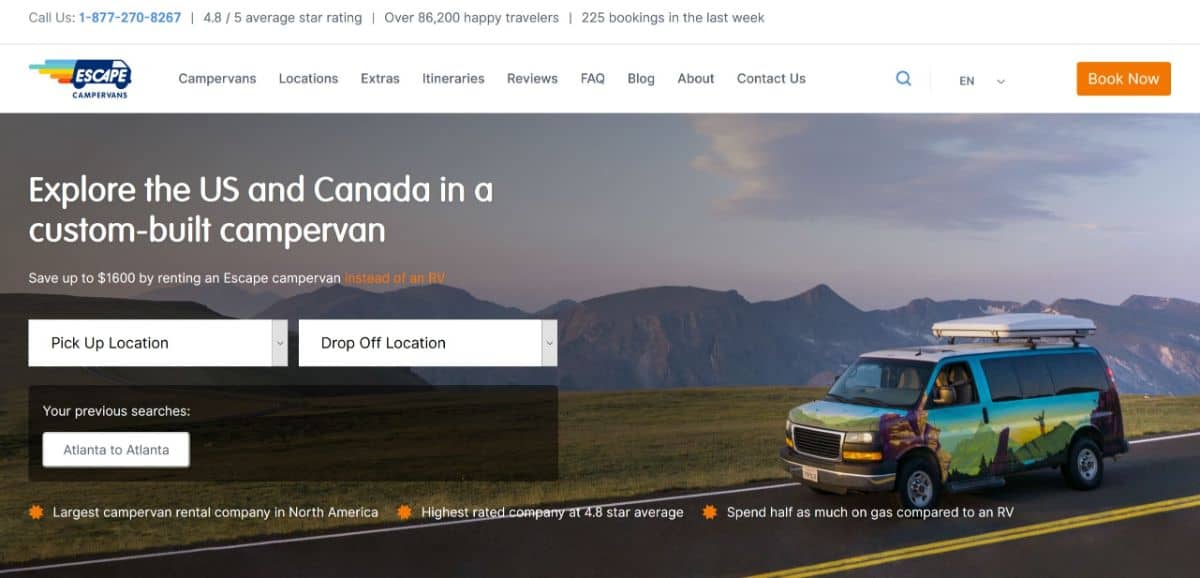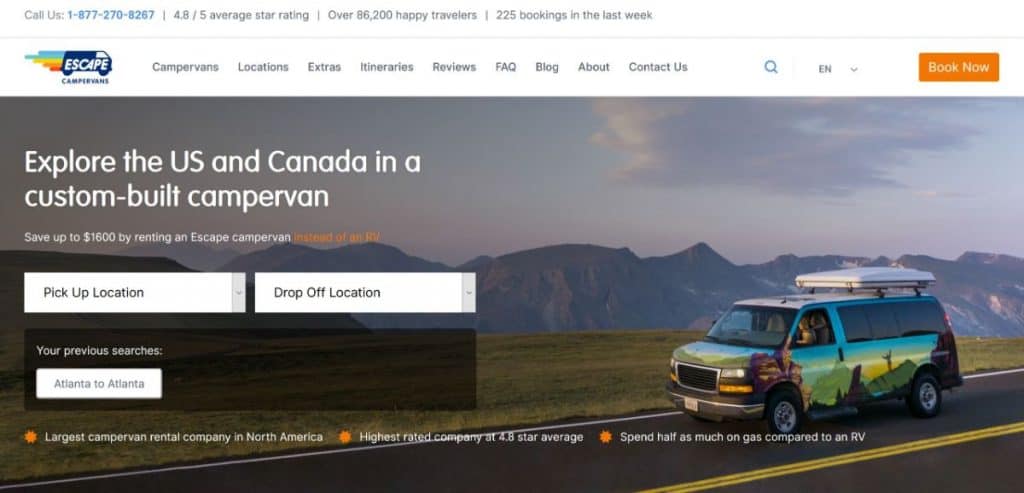 Escape Campervans is a rental company that rents out awesome, no-frills campervans for travellers who want the perfect vehicle for their outdoor adventure. They offer a few different styles of campervans and truck campers with a variety of amenities, and all their campervans feature incredible paint jobs from local artists. They offer convenient rental locations near popular destinations in North America.
Founded in 2003 in New Zealand by three friends who wanted to offer people an easier way to get outside, Escape Campervans crossed the ocean to North America in 2009. With that kind of longevity, they have a lot of experience in the van rental business, and it shows. As a company they are well-known for their customer service, and they frequently elicit rave reviews from customers.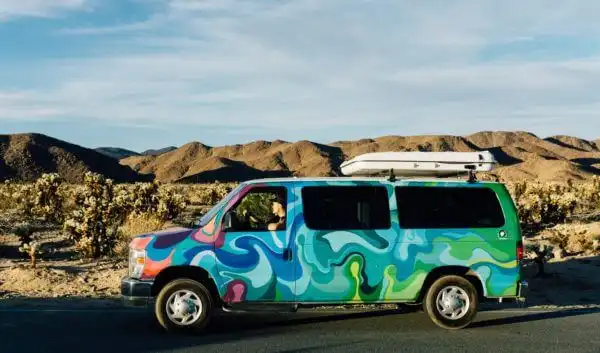 While Escape Campervans offers a great experience, they do have a limited number of campervan models for rent – so if you're looking for a truly unique vehicle or if you have different needs you might want to take a look at renting a campervan on Outdoorsy. But, if Escape Campervans has what you're looking for, it's safe to say that they'll provide a great experience.
Pros
Rent a campervan from an experienced company with a history of excellent customer service
Consistency – you'll know exactly what you're getting, both in terms of the rental vehicle and the customer service experience.
Their vehicles have everything you need and nothing you don't – and include sweet paint jobs!
Excellent customer reviews. 4.6/5 rating on Facebook, and 4.5/5 rating on Yelp (they are not listed on BBB or Trust Pilot).
Convenient pickup locations near popular destinations in the US and Canada, and they're adding more all the time.
Cons
Only a few different vehicle models available. If you have wants/needs that their vehicles don't fill, we recommend looking on Outdoorsy.
Since you need to pick up from their rental hubs, their vehicles are not available everywhere.
Go Camp
Go Camp is a newer peer-to-peer rental marketplace. There aren't nearly as many vehicles available as on Outdoorsy or RV Share. However, their offerings are all van life campervans, whereas the two bigger marketplaces include a slew of RVs and other vehicles for rent. This means it might be easier to find exactly what you're looking for.
Go Camp also has a relationship with van converter Storyteller Overland. So if you're looking to buy a Storyteller van, you can find a rental to try out first through Go Camp. Go Camp also features vehicles from a wide variety of professional upfitters that you can try out, then connect directly with the upfitter to build out your own van.
From a van owners perspective, renting out your van on Go Camp also automatically lists it on Outdoorsy, which is a great feature for increasing your listing's exposure and managing it across multiple platforms.
Go Camp is new to the game, but we're keeping our eye on it.
Local and Regional Camper Van Rental Companies
There are several smaller companies that rent vans locally or regionally across the US. Here's a quick roundup.
Boho Camper Vans (AZ & CA). Of Shark Tank Fame, Boho Camper Vans builds unique campers in a wide variety of vehicles. They also have a fleet of vans for rent that you can pick up from their rental locations in Phoenix, AZ or San Diego, CA.
Native Campervans (CA, CO, NV, UT). Native Campervans rents Ram Promaster and Promaster City vans, as well as some badass teardrop trailers. They have rental locations in LA, Las Vegas, Salt Lake City, and Denver.
Moterra Campervans (CA, MT, NV, UT, WY). Moterra Campervans provides luxury Sprinter van rentals in the mountain west. They have both pop top and high roof models available, and rental locations in San Francisco, Salt Lake City, Las Vegas, Whitefish, MT, and Jackson, WY.
Hawaii Surf Campers (HI & CA). If you're looking for a camper van rental on your island vacation, Hawaii Surf Campers can hook you up. They feature a wide variety of classic VW Vanagons for rent (and a Ford Transit), and they recently added a rental location in San Diego for your mainland travels.
Campervan North America (CO, MT, NV, WA). Campervan North America offers a variety of desirable vehicles (including Promasters, Transits, Sprinters, and Nissan NVs), relatively affordable rates, and five convenient rental location throughout the West (Denver, Las Vegas, Seattle, and Bozeman, MT).
Lost Campers (CA). Lost Campers is all about affordability. They offer cheap van rentals, including a variety of minivans, from their rental locations in LA and San Francisco.
Trekker Vans (CA). Trekker Vans rents fully-equipped Ford Transits for relatively low rates, with rental locations in LA and San Francisco.
Vintage Surfari Wagons (CA). Vintage Surfari Wagons rents out classic VW camper vans for California coastal adventures from their rental location in Costa Mesa, CA.
Rocky Mountain Campervans (CO & NV). Rocky Mountain Campervans rents VW Eurovans, classic Vanagons, and Ram Promasters from their rental locations in Denver and Las Vegas.
Van Craft (CA, CO, UT). Van Craft rents out long and short wheelbase Mercedes Sprinter vans, as well as Nissan NV200 micro campers. They have rental locations in San Diego, Salt Lake City, and Denver.
Roamerica (OR). Roamerica will pick you up from the airport in Portland, OR, drop you in one of their Ford Transit or Econoline camper van rentals, and send you off on your adventure exploring all over North America.
Peace Vans (WA). Pacific Northwest camper van rental company Peace Vans offers classic VW vanagons as well as Mercedes Metris pop top campers from their rental location in Seattle.
Ondevan Campervan (FL). Ondevan Campervan rents out a fleet of decked out E-350 and Promaster camper vans from their rental locations in Miami, Fort Lauderdale, and Miami.
Voyager Campervans (MN). Voyager Campervans offers Ram Promaster and Promaster City campervan rentals from their base in Minneapolis.
Vander (DC). Vander specializes in smaller camper vans built on Ram Promaster City and Dodge Caravan platforms. Renting from their location in Washington, DC.
Corporate RV Rental Companies (Cruise America, El Monte RV, Roadbear RV)
If you're looking to rent a recreational vehicle and don't want to go through an individual owner, a corporate rental companies are options. The service experience at these companies may feel a lot more like you're renting a car, with highly scheduled pick up and drop off times and locations, as well as employees with varying levels of enthusiasm about their jobs.
These companies also have more standardized vehicles, so you'll know what you're getting. And they should be maintained and serviced regularly, so they shouldn't have surprises. Another reason to consider renting from a company is if you need to do a one-way or cross country trip, since peer-to-peer marketplaces typically don't offer this option.
The three main RV rental companies are Cruise America, El Monte RV, and Roadbear RV. In general, we recommend going with a peer-to-peer RV rental vs a corporate rental company. Based on customer reviews and BBB ratings, the experience is generally better and more personalized when you rent through a peer-to-peer marketplace.
The cost of renting an RV from a rental company tends to be much higher than going with a peer-to-peer rental through Outdoorsy or RVShare.
Camper Van & RV Rental FAQ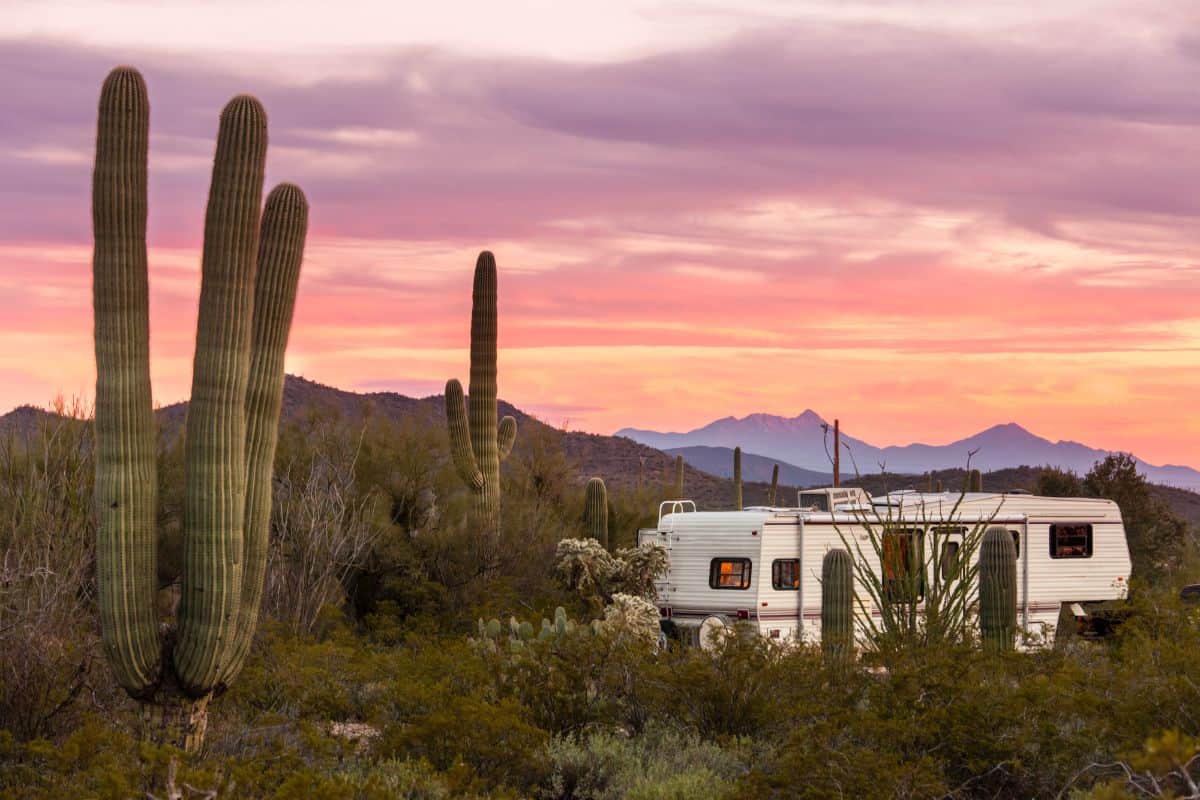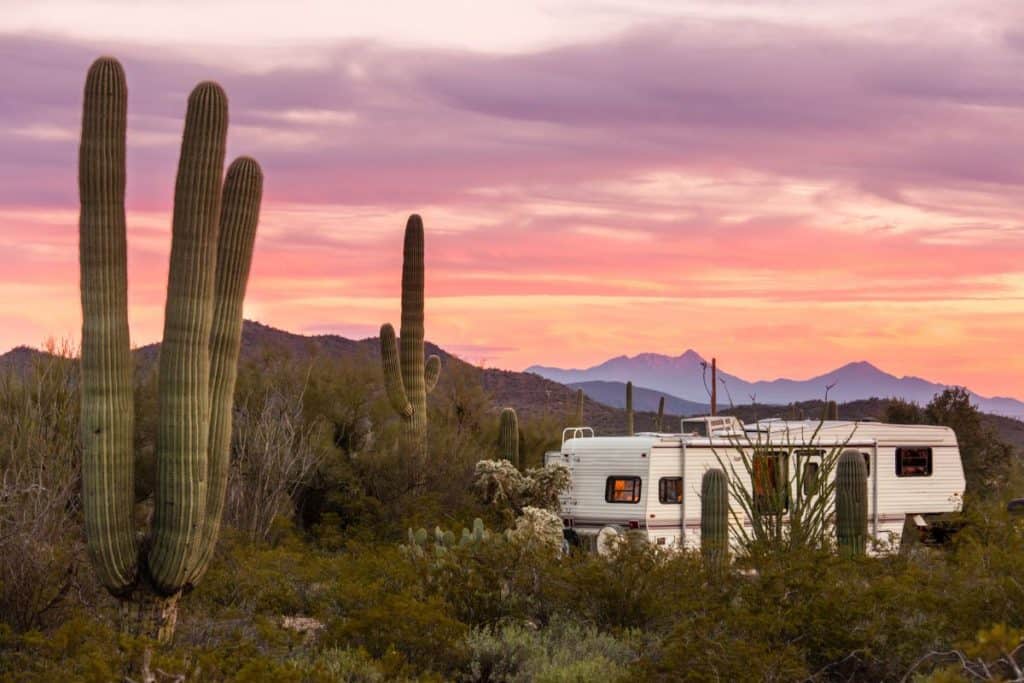 How Old Do You Have to Be to Rent an RV?
Renting an RV or campervan is very similar to renting a car. Generally, you need to be 25 or older with a valid driver's license and major credit card in your name.
But there are a few companies that may rent to you if you're under 25. Escape Campervans, El Monte RV, and some Cruise America locations will allow you to rent one of their vehicles if you're 21 or older. Roadbear RV may be flexible with their age requirement if you contact them for prior authorization (and are over 21).
Do You Need a Special License to Rent an RV?
In general, no. Although some RVs are incredibly large, you shouldn't need a special license (or CDL) to rent or drive these vehicles. However, laws do vary by state – make sure to ask your RV rental company if there are any special requirements in the location you're traveling to.
What Documents Do You Need to Provide?
Generally, you will need to provide a valid driver's license and a major credit card in your name. Most camper van rental companies will run a DMV check on your license to make sure you don't have any violations or DUIs. Any additional drivers on the reservation will also need to provide their licenses.
How Much Does it Cost to Rent an RV?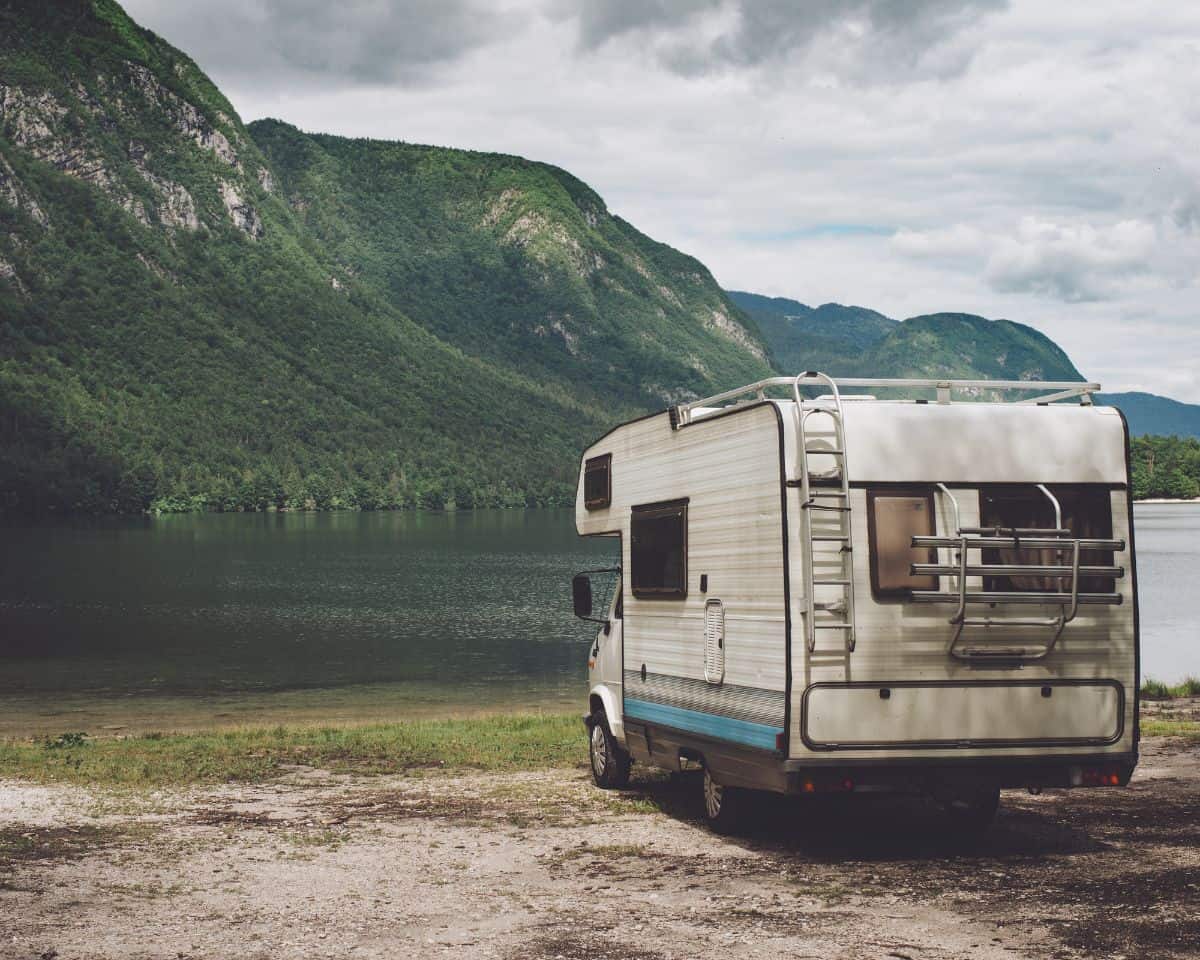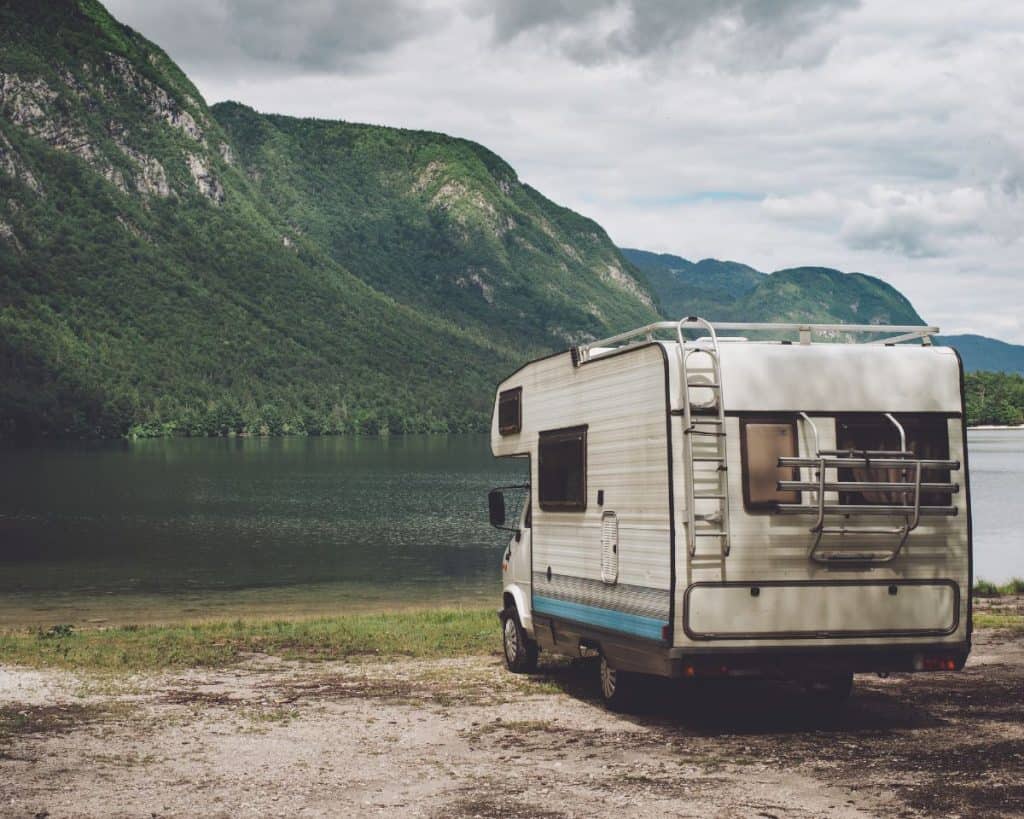 How much you'll pay for an RV rental varies depending on the type of vehicle, the length of your trip, the rental location, and the company you rent it from. Bigger RVs cost more. Longer trips usually mean a lower nightly rate. Peer-to-peer marketplaces (like Outdoorsy or RVShare) tend to be cheaper than rental companies. There might also be additional charges if you exceed the mileage limits for your rental.
All-in-all, the average cost to rent an RV or camper van is about $150 per night. Below is a breakdown of the average cost of renting each type of vehicle from a peer-to-peer marketplace like Outdoorsy.
| Vehicle Type | Avg. Nightly Rate |
| --- | --- |
| Campervan | $75 - $150 |
| Class A | $175 - $275 |
| Class B | $75 - $200 |
| Class C | $150 - $200 |
| Travel Trailer | $50 - $125 |
| Fifth Wheel | $60 - $150 |
| Pop Up Camper | $50 - $100 |
| Toy Hauler | $100 - $200 |
Expect to pay more than this if you're renting your RV through a traditional rental company.
What Other Costs Are There?
The nightly rate isn't the only cost of renting an RV. You'll also need to plan for some or all of these additional expenses:
Camping fees. It costs money to park at campgrounds, so if you plan on doing this make sure to factor it into your budget.
Cleaning fees. Some RV owners may charge a one-time cleaning fee as part of the rental cost.
Mileage fees. RV rentals usually include a base mileage as part of the nightly rate. But if you exceed this mileage, you'll be on the hook for fees (usually about $0.25 – $0.75 per mile). If your rental includes a generator, this may also apply to generator hours.
Setup/Delivery fees. Some owners offer optional setup/delivery services, where they deliver your rental to a campground and set it up for you. This comes with an added fee.
Taxes. You'll be on the hook for sales taxes in the state where you pick up your RV.
Gas. The bigger the RV, the more this will cost you, so make sure to factor this in.
Upon booking your rental, you'll also need to put down a deposit, typically 25% – 50% of the total cost of the booking. The rest will be charged after you begin your trip.
How to Rent an RV for Cheap?
Are you on a tight budget for your RV vacation? Don't worry, there are ways to rent yourself a campervan or RV without breaking the bank. Here are some tips:
Go small. The smaller the RV, the lower the cost – of both your rental and your overall trip. A small RV or basic campervan is going to be much cheaper than a huge Class A. It will also use less gas, and can save you money on camping costs.
Go with a trailer. If you have a vehicle with a ball hitch, consider renting a trailer. Trailer rentals tend to be much cheaper than motorized RVs, and you can save even more by going with a small teardrop or pop up trailer.
Don't pay for camping. Campground fees can really add up. To keep the costs of your rental experience lower, try finding free places to camp whenever possible.
Consider a relocation rental. If you can do a one-way trip, try finding a relocation rental on imoova.com for cheap. This is where you move a vehicle from one place to another for the owner, often for free or a very low rate on your part. Roadber RV also offers heavily discounted one-way specials.
Don't rent during peak season. Rental rates are higher during peak season. Some camper van rental companies offer deals if you book with them on the off season.
How to Rent an RV for a Cross Country or One Way Trip?
If you need to rent an RV for a one-way cross country trip, your best bet is going to be renting through a traditional RV rental company, since peer-to-peer marketplaces currently don't have this option available. El Monte RV, Cruise America, and Roadbear RV all offer one-way rentals (Roadbear RV even offers one-way specials for a discounted rate). Another option is finding a relocation rental on imoova.com.
How to Travel in Your RV Rental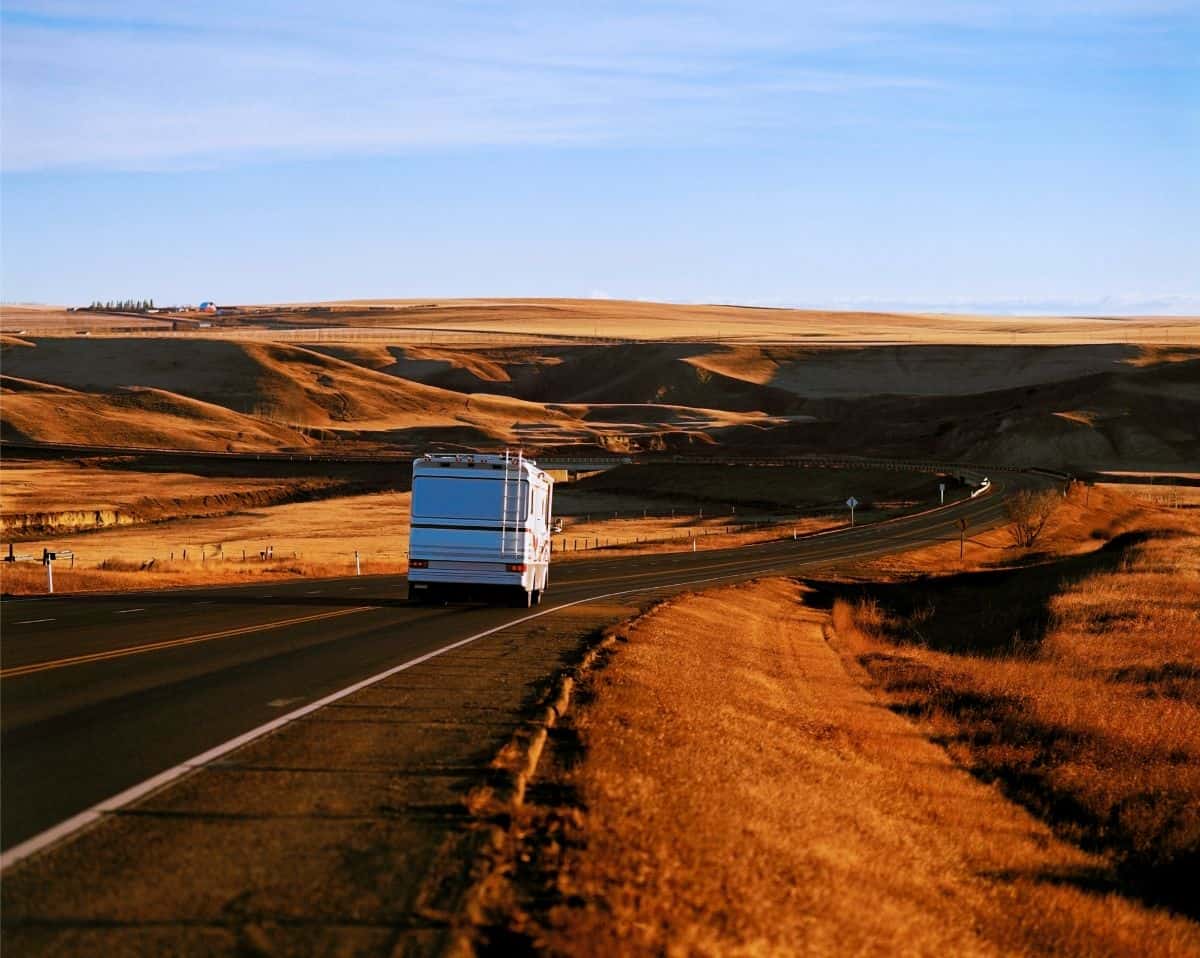 So you've decided to rent an RV. Now what? In this section, we cover some tips, tricks, and destinations for your travels.
Awesome Camper Van Destinations
Where exactly should you travel in your camper van or RV? Or, where are some good locations to fly into and pick up your RV rental? Below are some of the top van life travel destinations out there.
Las Vegas, Nevada
Las Vegas is a whole lot more than casinos and neon lights. The surrounding area is incredibly beautiful and offers great camping and outdoor recreation. As a starting point for your RV adventure, Las Vegas provides easy access to the Grand Canyon, and incredible locations in Utah like Bryce Canyon, Canyonlands, Arches, and Zion National Parks. And if casinos and lounge singers are your thing, many Vegas hotels have nearby RV parks.
Salt Lake City, Utah
Salt Lake City is surrounded by the awesome beauty of Utah, and also serves as a jumping off point for many outdoor adventures. A short drive to the south will get you to Bryce Canyon, Canyonlands, Arches, and Zion National Parks. And to the north, you have Grand Teton and Yellowstone National Parks, as well as the camping mecca of Idaho.
Dallas, Texas
Dallas is a natural starting point for van life exploration of the Lone Star State. There's a lot to see and do in Texas, and renting an RV is a great way to explore the state. Check out Palo Duro Canyon, the second-largest canyon in the entire country, near Amarillo. Or explore the stunning landscape of Big Bend National Park. Or simply check out all the cool cities – Austin, San Antonio, Dallas, El Paso – all while stopping to visit small towns and unique areas along the way.
Denver, Colorado
Colorado is a huge outdoor playground, and Denver is the top place to pick up your RV or campervan before you go exploring. Rocky Mountain National Park is right nearby, and driving west will take you through some of the most dramatic and awe-inspiring mountain scenery the US has to offer.
Los Angeles, California
LA is less of an RV destination and more of a place to pick up an RV before you go exploring the wonders of California. There's a lot to do in the area, from exploring Joshua Tree National Park, to checking out the mountain scenery of the Eastern Sierras, to exploring Death Valley and the Mojave Desert, to taking a drive up to Northern California or even east to Las Vegas or the Grand Canyon.
Knoxville, Tennessee
The Smoky Mountains are a nature-lover's paradise in the Southeast, and Knoxville is a great place to start your trip. Great Smoky Mountains National Park is nearby, as are the hill country of North Carolina, Virginia, West Virginia, and Tennessee. The hippie mountain town of Asheville, NC is a short drive away, or you can go the other direction and check out Nashville or Memphis.
Seattle, Washington
The Pacific Northwest is another great place to visit via RV or van travel. To the west, the Olympic Peninsula offers incredible scenery, pristine lakes, ocean access, interesting communities, and the wonders of the Hoh Rainforest and Olympic National Park. In the other direction, there are all kinds of wooded and mountainous areas to check out – or you can drive south to Oregon or north to British Columbia. With Seattle as your starting point, the options are endless.
Phoenix, Arizona
The Southwest is a truly awesome area to explore, and Phoenix is central to it all. Head south to check out Saguaro National Park and the Sonoran Desert. Or head west to Joshua Tree National Park and Southern California. Or head north to Flagstaff, the Grand Canyon, Lake Havasu, or Las Vegas. Or simply post up in the middle of the desert and enjoy the incredible pastel sunsets right outside your front door.
Miami, Florida
If the beaches of Florida are more your speed, Miami is the place to begin your explorations. From there you can head south and scope out the Florida Keys. Explore Everglades National Park and Ocala National Forest (watch out for bears!). Or simply find a beachside campground and soak up the sun and surf.
Where to Park Your RV at Night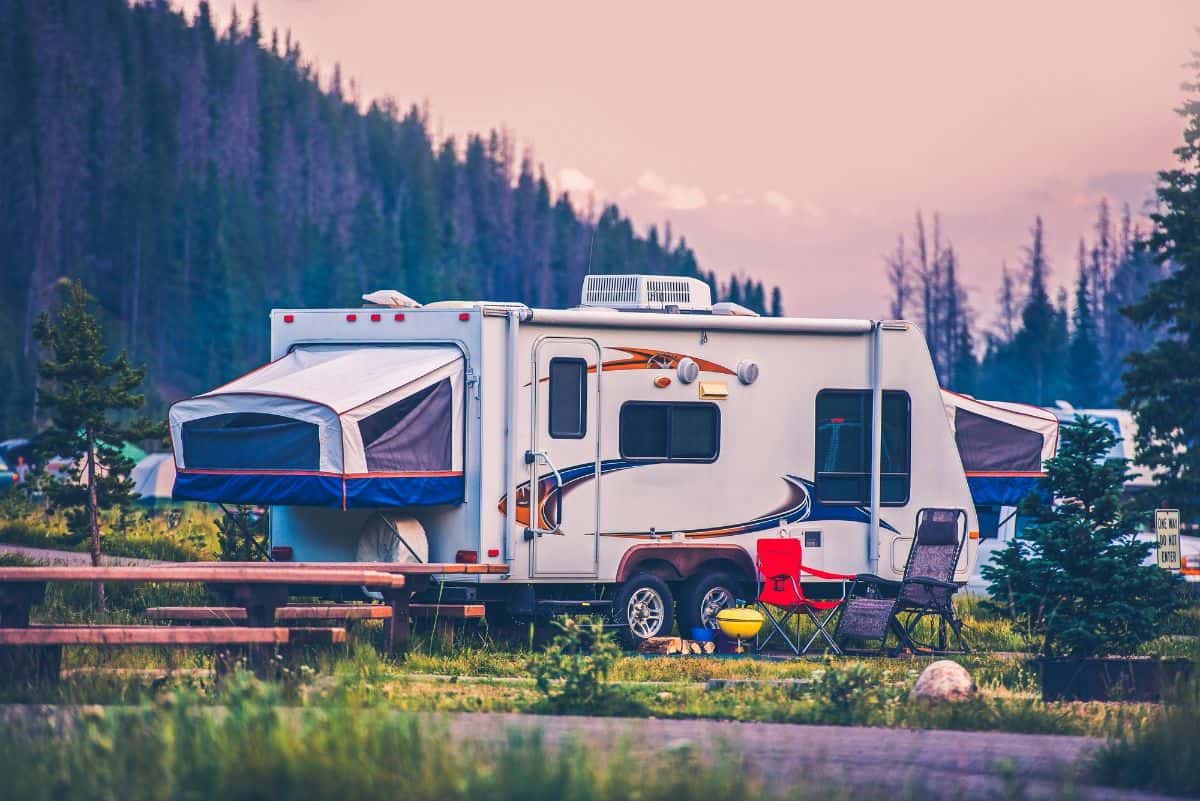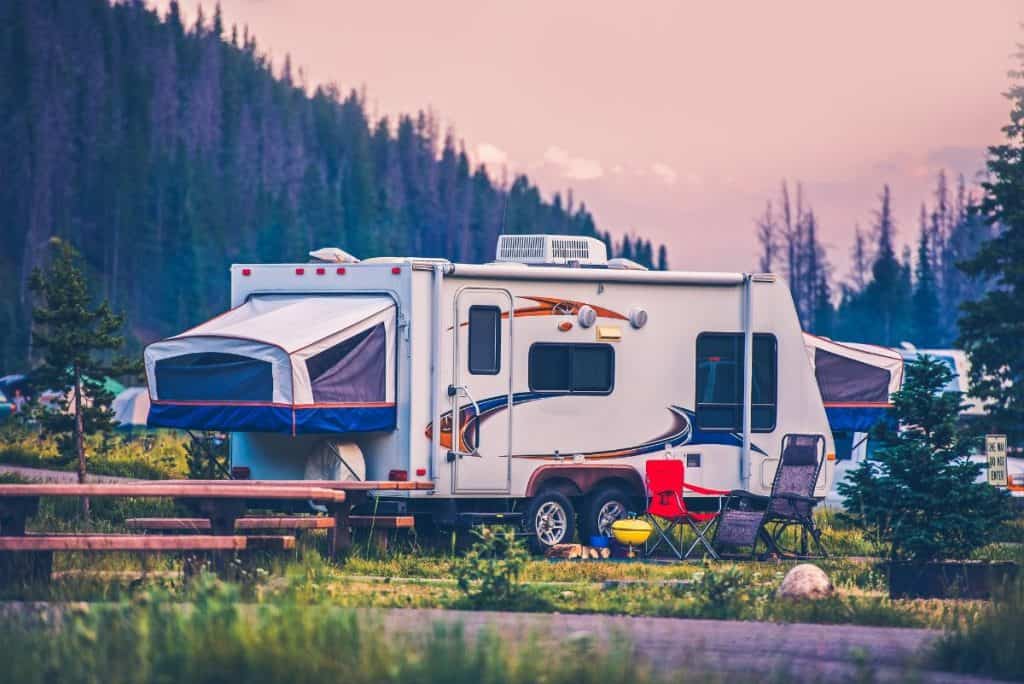 Now that you've got your RV rental – where do you actually park it when you need to go to sleep? Luckily, there are quite a few options.
RV Parks and Established Campgrounds
The most common places to park when you're traveling in an RV are RV parks and established campgrounds. These are facilities that offer you a parking space for your RV, provide hookups (at least water and electric, often sewer, and sometimes even cable TV), and also have bathrooms and shower facilities. RV parks really vary in terms of niceness and spaciousness. Some are little more than gravel lots that pack you in tight, while some offer beautiful, well-spaced, scenic campsites. Some even have a resort feel, complete with a pool, hot tub, mini golf, and more.
Staying in RV parks is by far the most expensive way to travel in your camper van or RV. Basic sites (no hookups) range anywhere from $20 – $40, while full hookup sites can cost anywhere from $30 to $75+, depending on the campground and the location.
Again, the quality of RV parks varies widely, but if you're looking for consistency, consider staying at a KOA. There are KOAs just about everywhere you might want to travel, and you generally know what you're getting when you stay at one.
Where do you find RV parks? Our favorite resources are AllStays Camp & RV and Park Advisor.
Public Campgrounds (State Parks, National Forest/BLM Campgrounds, and National Park Campgrounds)
Public campgrounds are another common place to camp in your van or RV. These include state and national parks, as well as campgrounds run by the Forest Service, BLM, and other state/federal agencies. Many of these campgrounds are in beautiful natural areas, and may be surrounded by recreational opportunities such as hiking, mountain biking, boating, and more.
Public campgrounds are generally much cheaper than RV parks, and your camping fees ultimately go towards supporting public lands (bonus!). These campgrounds typically have fewer full hookup campsites (and some have none at all), so you may need to fire up that generator for your electricity (or rent an RV that has solar). Some public campgrounds may only have pit toilets, while others may have flush toilets and full shower facilities.
Where do you find public campgrounds? Our favorite resources are FreeRoam, AllStays Camp & RV, and Park Advisor.
Boondocking on Public Lands (National Forest and BLM Land)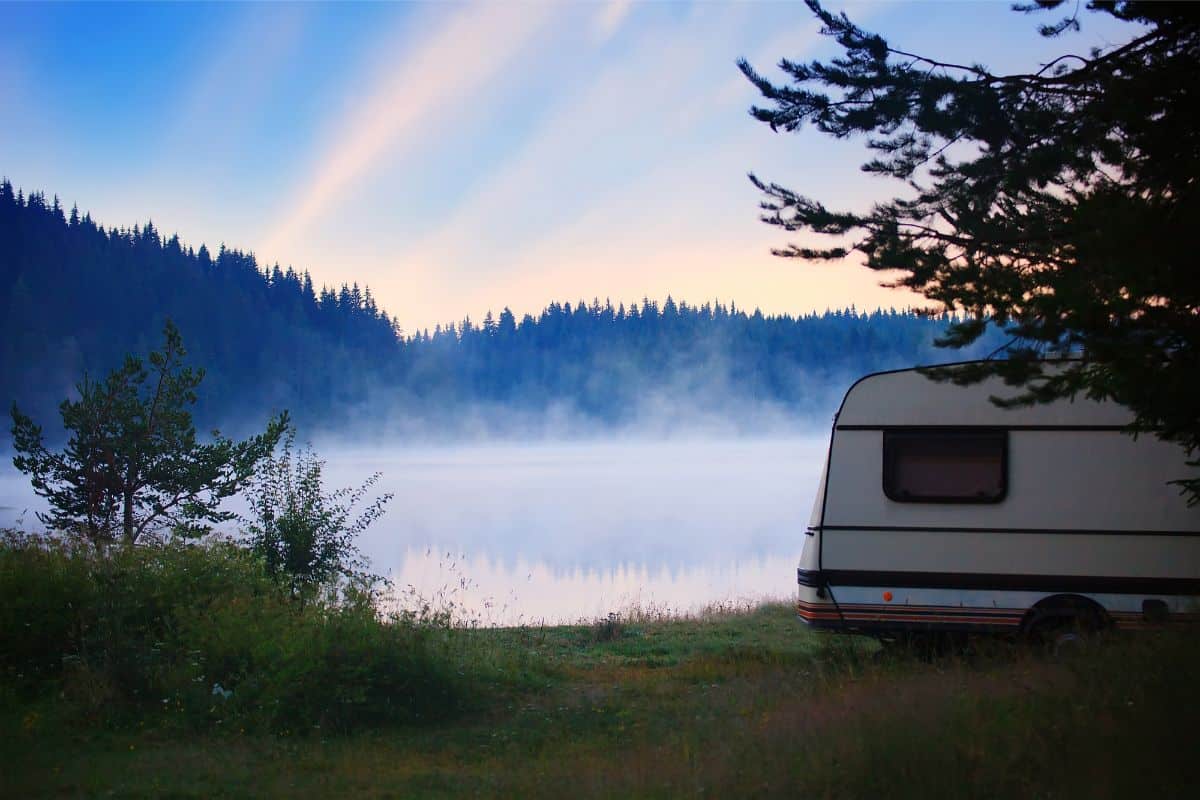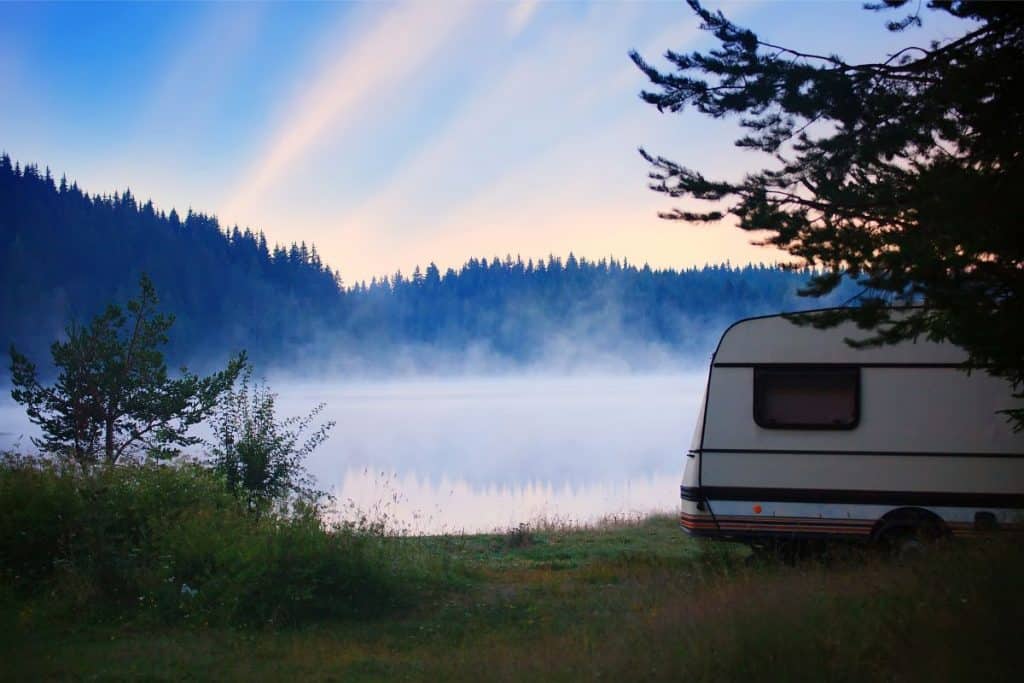 Did you know that you can camp on public lands for free? That's right! This is where we try to spend most of our time – it's a great way to save money, enjoy the wonders of nature, and find secluded campsites away from everyone else.
This type of camping is called "boondocking" or "dry camping." There are no amenities, no bathrooms, no hookups – you'll have to pack in everything you need, and pack everything back out when you leave. If you need electricity, make sure to rent an RV with a generator or solar – and also make sure the RV owner will allow you to take their vehicle off paved roads.
When boondocking, you can generally stay for up to 14 days in any one spot.
Where do you find places to boondock? Our favorite resources are FreeRoam and Freecampsites.net.
Parking Lot Camping (Walmart, Cracker Barrel, Cabela's, etc.)
If you're on the way from one place to another and need a place to crash for the night, there are several friendly businesses that allow RVers and van travellers to park overnight in their parking lots. Businesses that typically allow overnight parking are: Walmart, Cracker Barrel, Cabela's, and Bass Pro Shops. Just make sure to call and ask ahead of time, because not every location allows camping in their parking lot.
Camping on Private Land
Another option for finding camping in your RV is camping on private land. There are a few apps and membership programs out there that connect you with private landowners who will allow you to camp on their property, sometimes for free.
Harvest Hosts. For a yearly fee, Harvest Hosts connects you with wineries, breweries, and farms that will allow you to camp for free. As a general rule, you are expected to buy something from your hosts. For 15% of your Harvest Hosts membership, click this link and enter the code HHFRIENDS15 at checkout.
Hipcamp. Hipcamp is like the Airbnb of camping, and you can find a lot of really cool campsites on here. New to Hipcamp? Sign up using this link and get $10 towards your first stay.
Boondockers Welcome. For a $30 yearly fee, Boondockers Welcome connects you with private property owners who will allow you to boondock on their property for free. Campsites can range from secluded farmland to someone's driveway in town.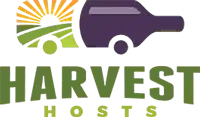 Get 15% Off Harvest Hosts
Yearly membership that allows you to camp at wineries, breweries, and farms throughout North America - for free!
Join using the button below for 15% off your membership.
Join Harvest Hosts
We earn a commission if you click this link and make a purchase (at no additional cost to you).
Want more info on the best places to camp in your RV or van? Read more here: Guide to Sleeping, Camping, and Overnight Parking
Tips/Tricks/Things to Keep in Mind When Renting an RV or Camper Van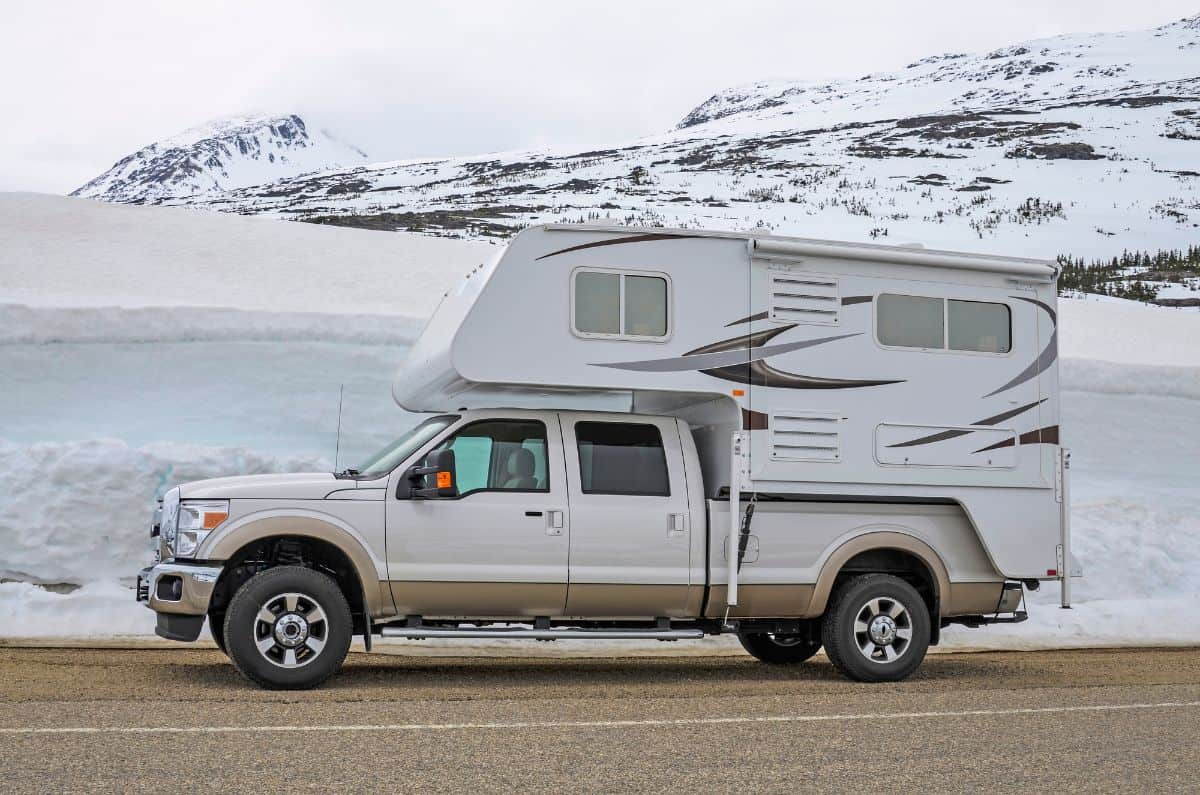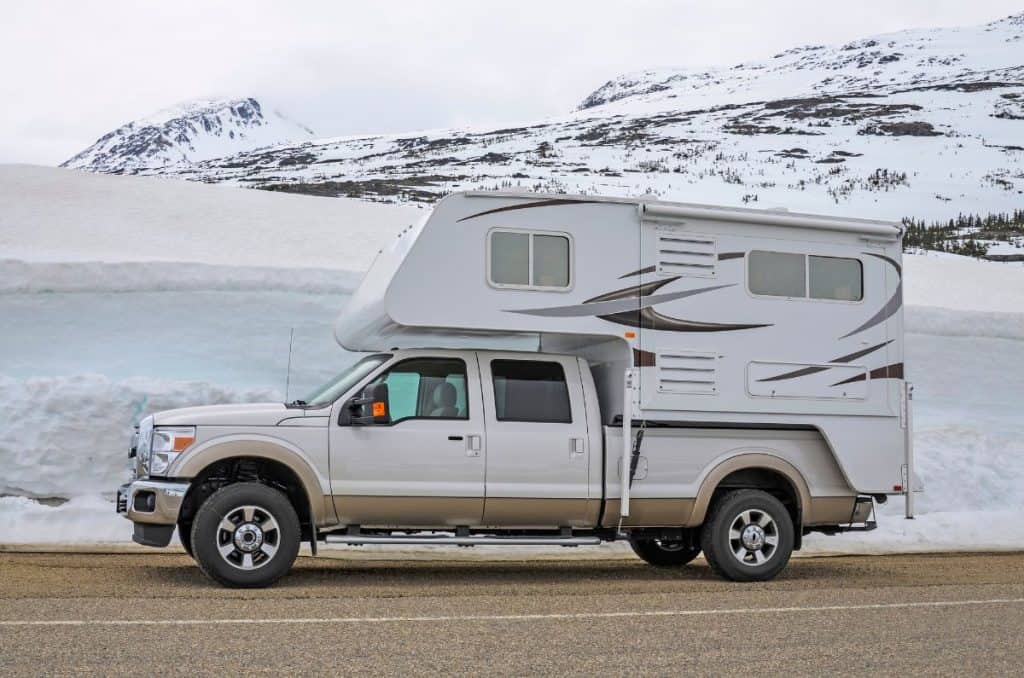 Choose the Right Type and Size of RV
Nothing will ruin your vacation faster than renting the wrong type of vehicle for your needs and budget. There's no sense using a cannon to kill a mosquito, as the saying goes, and there's no sense renting a huge Class A for only two people.
To make sure you're happy with your RV rental experience, make sure to consider a few things when selecting your vehicle:
Number of people you're traveling with. Are you a solo traveller, a couple, or a huge family of eight? Make sure whatever RV you rent has enough space for everyone in your party – but also not too much. Bigger RVs are more costly and difficult to maneuver, so if you can get away with a camper van or something else small, then it's probably a good idea.
Comfort level driving big or towable vehicles. Driving a Class A that's the size of a bus is much different than driving an SUV-sized camper van. Likewise, towing a giant 5th Wheel is much different than towing a small teardrop trailer (or not towing anything at all). Make sure you go with a vehicle that you'll feel comfortable driving.
Are you bringing any pets with you? Not all RV rentals are pet-friendly. If you're bringing your pups along for the ride, make sure to confirm with the RV owner that they'll be welcome.
What's your budget? Bigger RVs are not only more expensive to rent, they also cost a whole lot more in gas and campground fees. If you're on a tighter budget, go smaller.
What's your destination? How far will you be driving from the pickup point? The farther the drive, the higher the fuel costs (and sometimes mileage charges on the rental). What kind of camping do you plan to do? If the RV you rent needs hookups you'll need to shell out for full hookup campsites, which are more expensive. If your RV has solar or a generator included, you can save money by boondocking or staying at basic campsites.
Learn How the Vehicle Works Before You Hit the Road
The way that RVs and camper vans function can be much different than sticks-and-bricks homes, and they sometimes have little space-saving innovations that may not be obvious to someone new to the experience.
Make sure you know a few basic things before taking off in your RV rental:
How to refill the fresh water tank.
How to refill the propane.
How to empty the grey water and black water tanks.
How much amperage the electrical system can handle.
And be sure to ask the owner to show you any innovations or quirks about the vehicle, like how to work any convertible beds. Especially if you go with a self-built camper van, there might be a lot of little things to know about.
Make Sure You're Comfortable Driving and Parking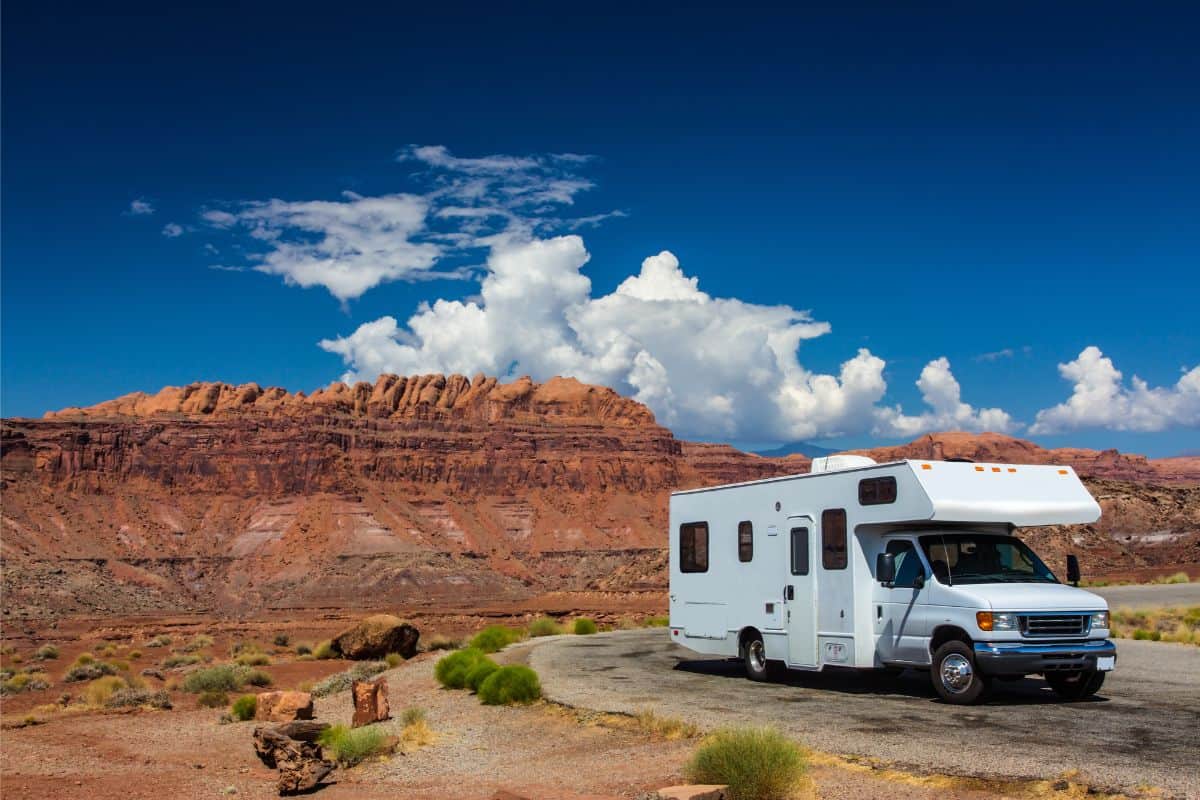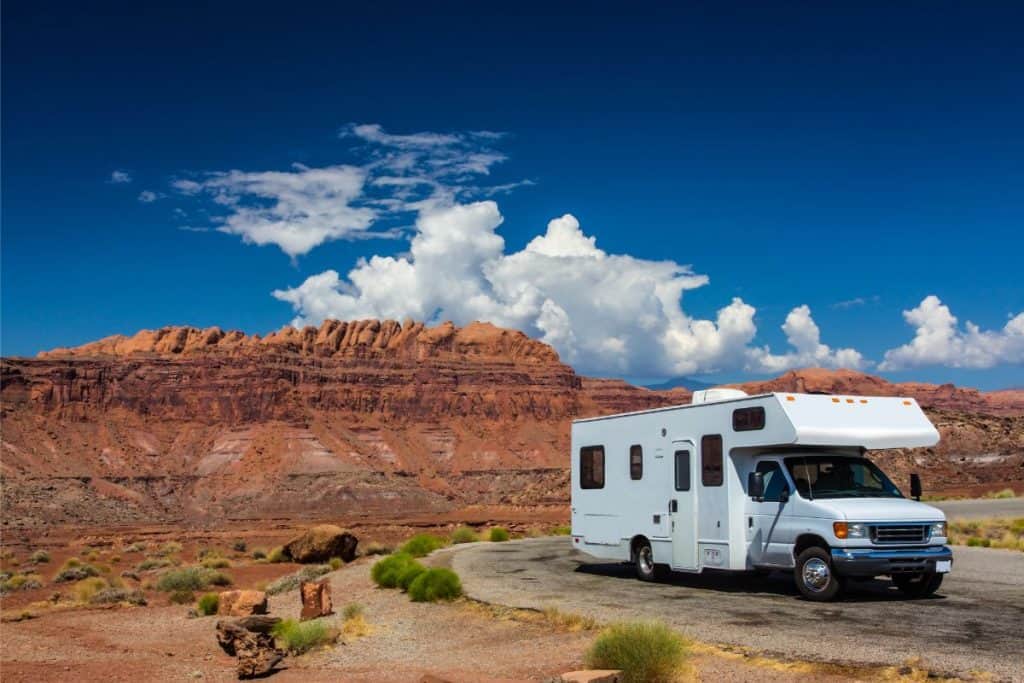 If you're renting a type of vehicle you don't have a lot of experience driving (such as a huge motorhome or towable trailer), make sure you practice driving, parking, and backing up before you officially hit the road on your trip. You don't want the first time you reverse your rented 5th wheel to be when you're trying to get into your campsite in front of everyone!
Budget Properly for Your Trip
Renting an RV is not the only expense here, and it's important to make sure to set a realistic budget for your trip. Beyond the rental fees, you may need to pay for:
Campgrounds ($20 – $60+ per night)
Propane or cooking fuel
Groceries
Park entrance fees
Activity costs
Fuel costs (the bigger the vehicle, the more this will cost).
Planning out all aspects of your budget will help you have a successful trip.
Where to Go from Here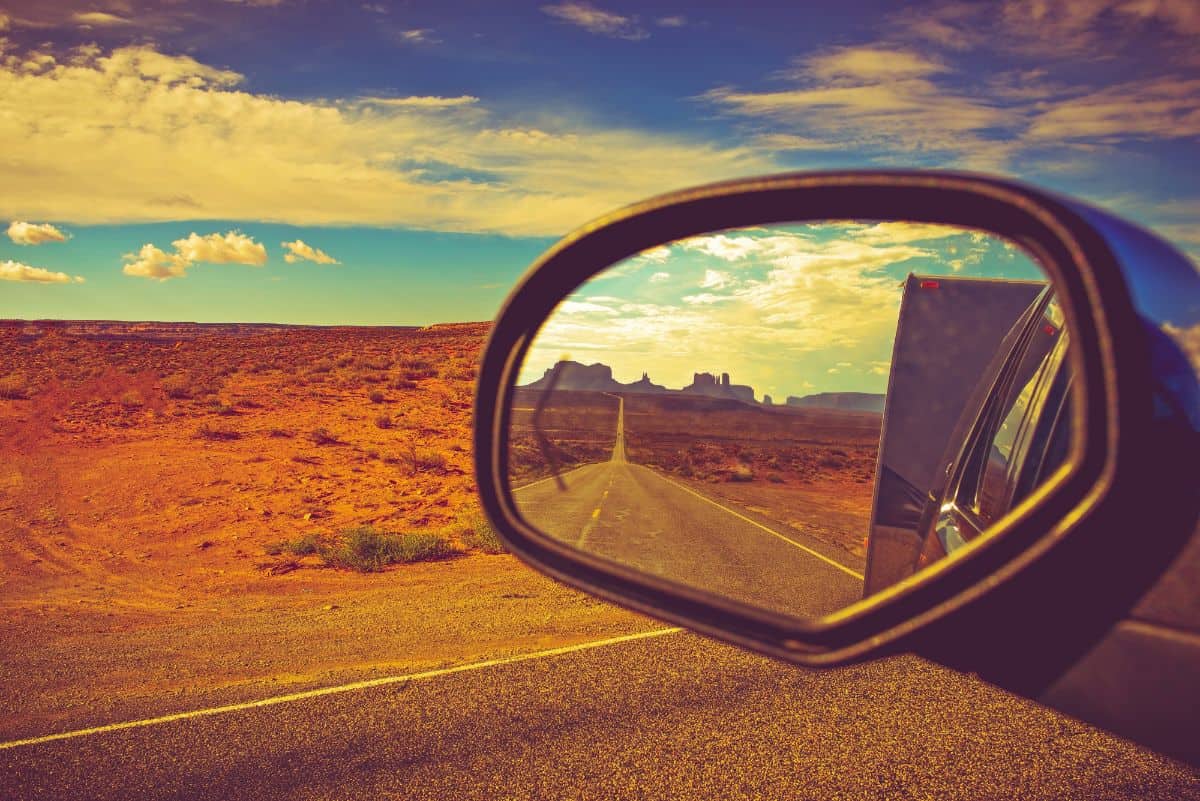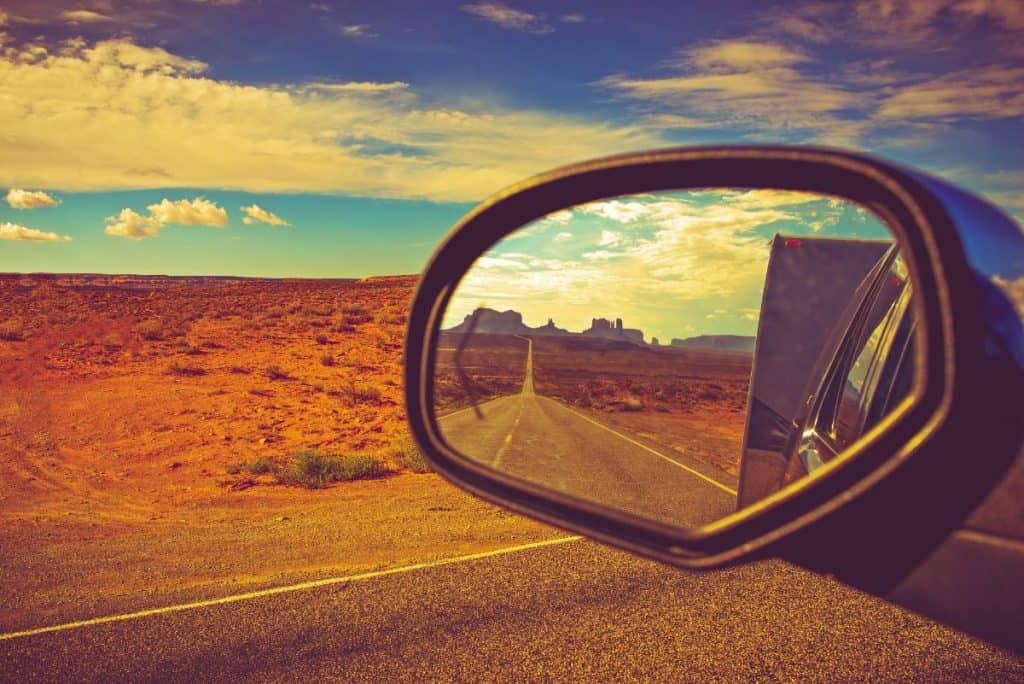 Now that you know everything you need to know about renting an RV or campervan, go ahead and explore the listings on Outdoorsy and RVShare (or Escape Campervans if you're strictly looking for a van). You should be able to find the perfect vehicle for your needs, whether you're taking two weeks to explore some National Parks or are looking to test out #vanlife or #rvlife. Now get out there on the road!
Test Drive Vanlife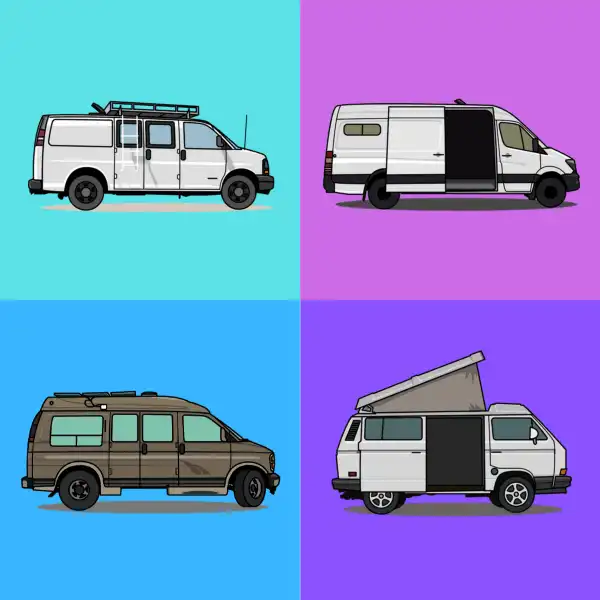 Rent a Campervan or RV on Outdoorsy
Take vanlife for a testdrive with a campervan or RV rental from Outdoorsy. Available nationwide.
Use coupon code GNOMADHOME for up to $40 off your booking.
Explore Rentals on Outdoorsy
We earn a commission if you click this link and make a purchase (at no additional cost to you).