Having reliable refrigeration is key to full time vanlife. But a good 12V refrigerator can be one of the most expensive items in any DIY campervan build. Top-of-the-line models, like those from Dometic and ARB, can cost you $1,000 or more – which is tough to stomach when you're on a budget, or just don't want to spend that much.
Enter BougeRV and their 53-qt (50L) portable refrigerator/freezer. BougeRV is a Chinese company that sells solar components, RV accessories, and 12V refrigerators in the US and elsewhere. They've gotten a lot of attention in the vanlife community lately due to their low prices and surprising quality.
BougeRV offered to send us one of their refrigerators to test out and review, and we took them up on it so that we could see if this cheap 12V refrigerator can stand up to life on the road.
Can the BougeRV portable refrigerator compete with our top picks for best vanlife refrigerators, including much more expensive fridges from top brands? Is it worth your hard-earned money, or should you hold out for something else? Is it energy efficient or a power hog? And how does it hold up to the rigors of fulltime vanlife?
To answer these questions, we tested the BougeRV fridge in different scenarios, all while tracking power usage. Read on for our thoughts on the BougeRV 53-quart portable 12V refrigerator.
Disclaimer: BougeRV was kind enough to send us a refrigerator for this review. However, our thoughts are our own, and the content of this post is not sponsored by BougeRV.
Note: In order to run a fridge in your van, you need electricity. Check out our epic post on vanlife electrical for info on setting up your system.
About the BougeRV Portable Fridge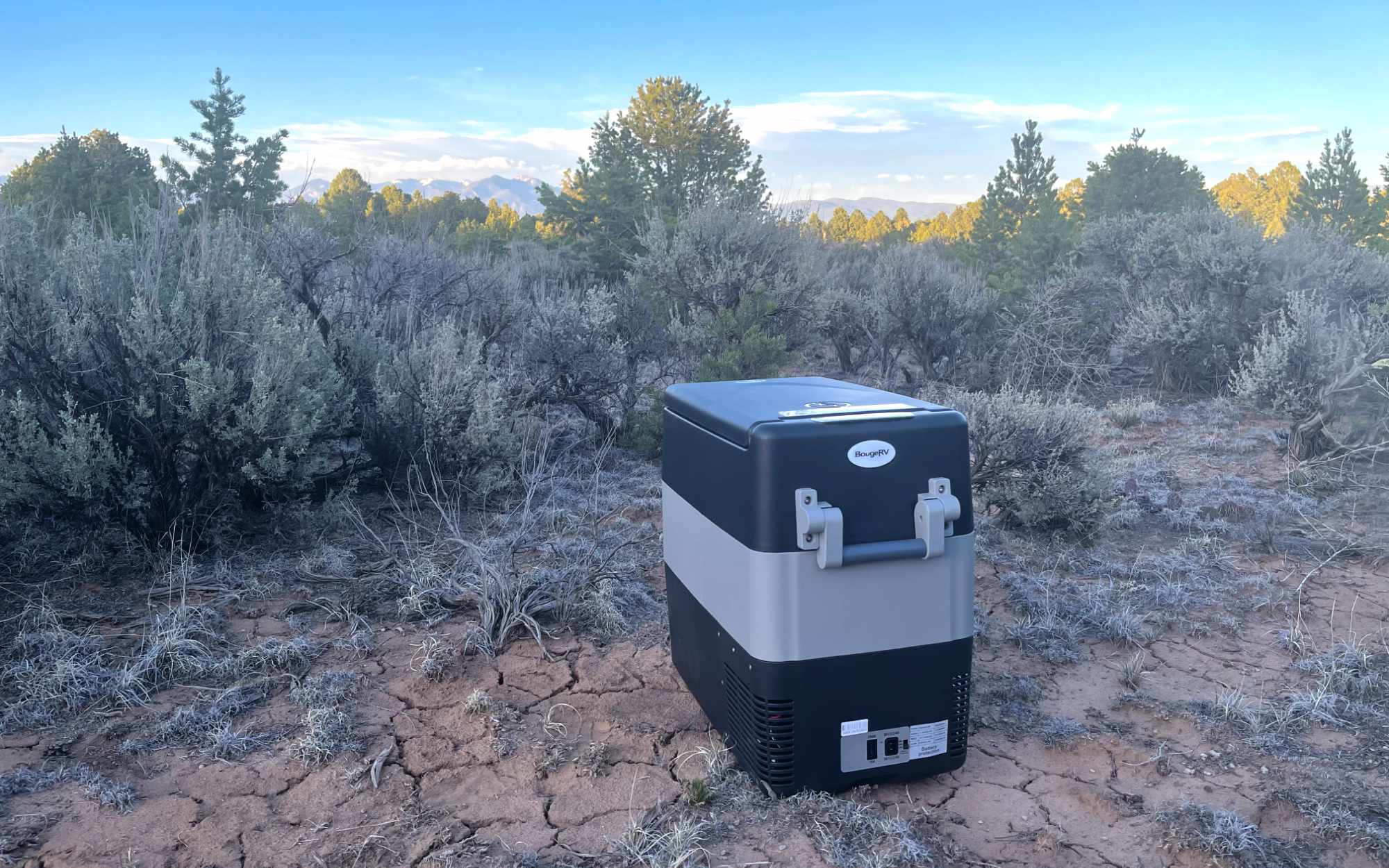 BougeRV refrigerators are the latest in a slew of cheap, mass-produced 12V fridges that have entered the market in the past few years.
While BougeRV is fairly new on the scene, they seem committed to becoming a reputable brand and are playing the marketing game well. They've gotten themselves featured and reviewed on the platforms of several prominent influencers in the outdoors, off grid, RV and vanlife spaces.
BougeRV makes a variety of products aimed at the vanlife and RV crowd, including solar panels, accessories, and, of course, 12V refrigerators. Their products have thus far performed well and received positive reviews from both testers and everyday users.
With that in mind, let's kick off our hands-on review of the BougeRV 50L portable 12V refrigerator.
What's In the Box
The BougeRV vanlife fridge comes double boxed in sturdy cardboard with foam padding. Unboxing is frankly a bit strange, because there is no branding to be found anywhere except for the fridge itself.
Aside from the fridge, here's what's included:
12/24V DC cigarette lighter adapter
120V AC power adapter
Attachable handle kit: parts and a t-handle allen key tool for putting the handles on the fridge
Instruction manual
The BougeRV comes packaged with attachable handles (tool included) that are really solid and have powerful springs. We're assuming that making the user put the handles on shaves off some cost, and also makes the shipping box a few inches smaller.
Design
The BougeRV fridge looks like a generic ABS plastic 12V refrigerator. However, it seems pretty solid – but doesn't feel as rugged as our (much more expensive) ARB 50L refrigerator.
The top of the fridge has a latch on one side, and a touchpad control panel on the other. The way this is configured is actually kind of annoying, because the control panel is on the opposite side from the lid opening.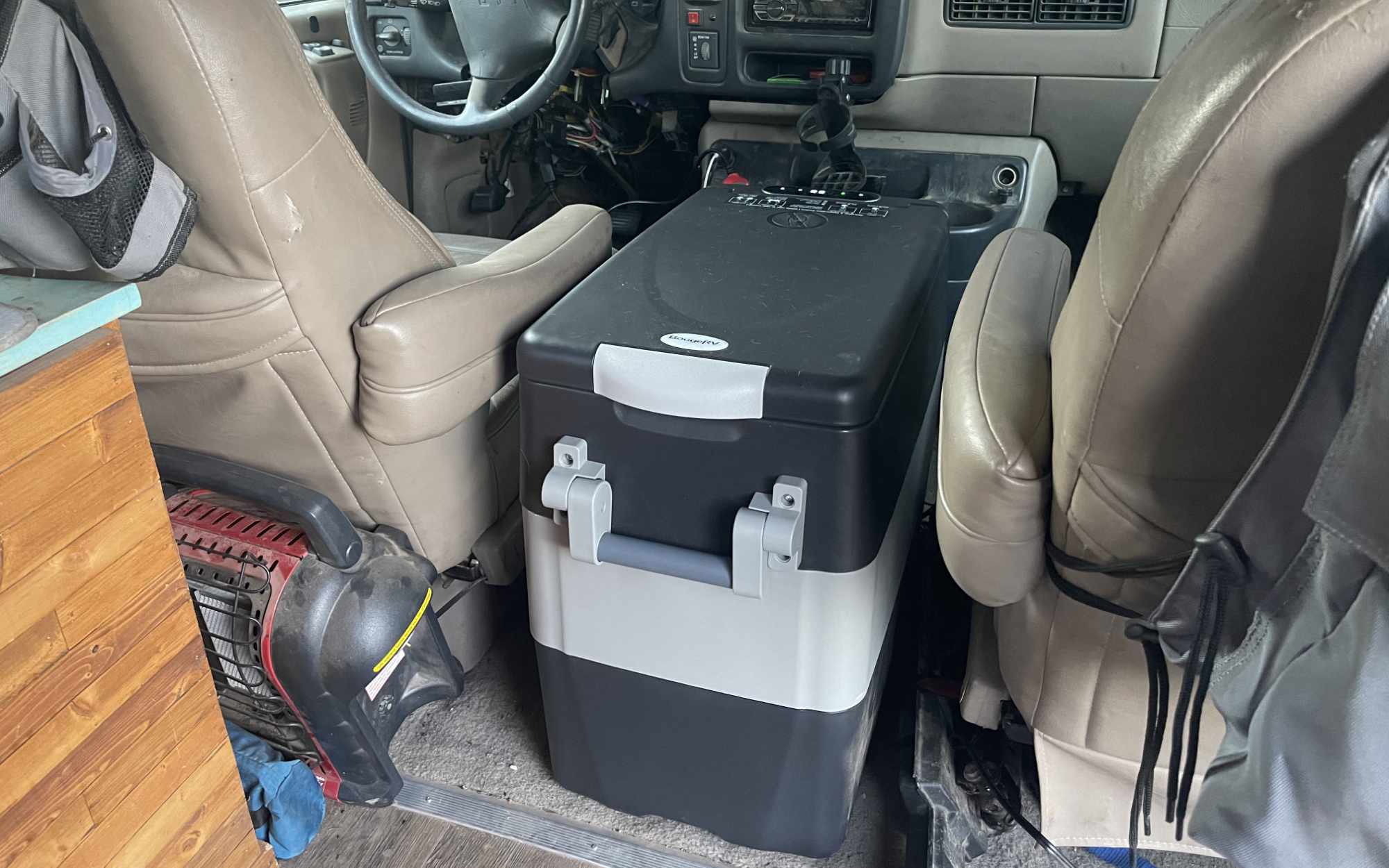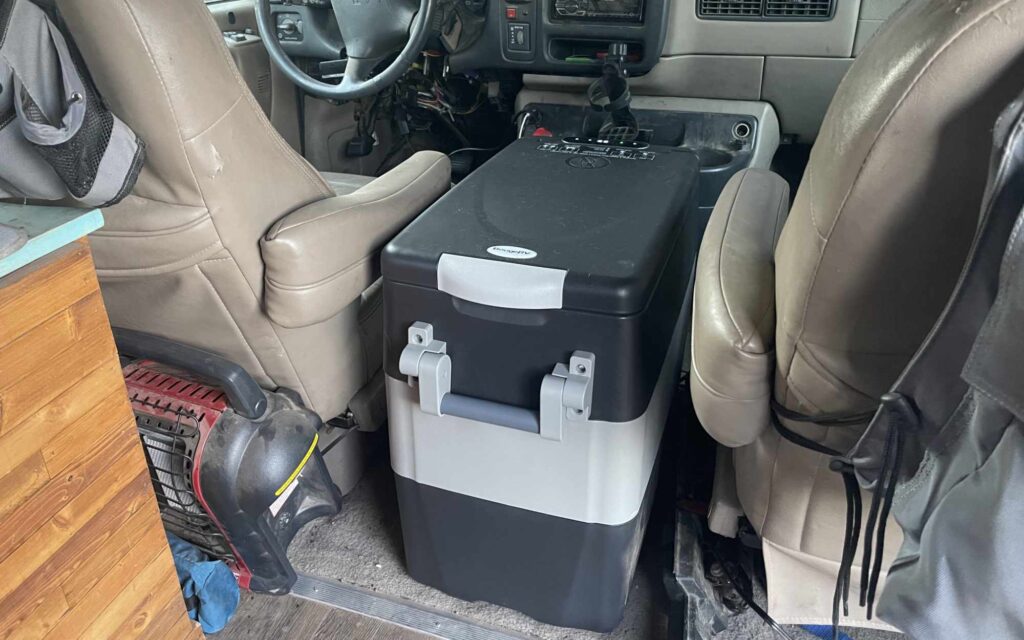 We keep our fridge between our front seats in our van, and to reach the control panel on the BougeRV we need to lean all the way over the fridge and adjust the controls upside down. This also makes it harder to keep tabs on temperature. This isn't necessarily a huge deal, but the controls really should be on the same side as the latch for better usability (or at least oriented towards the latch).
The interior of the fridge contains two compartments – a 10L "refrigerator" compartment and a 40L "freezer" compartment. How you actually use the compartments depends on your temperature settings. Set it low enough, and they'll both function as a freezer. Set it high enough, and you'll have two fridge compartments (one colder than the other).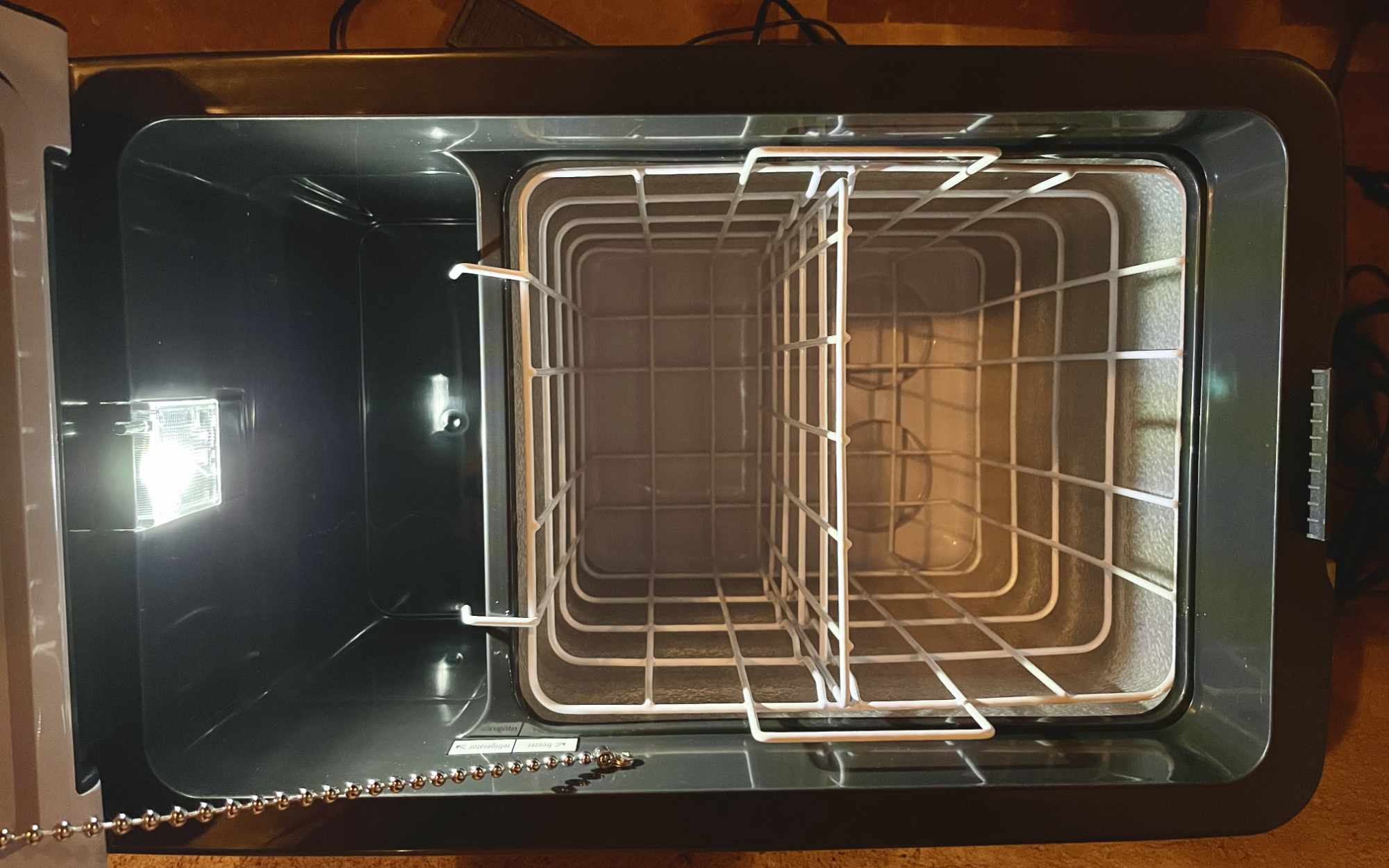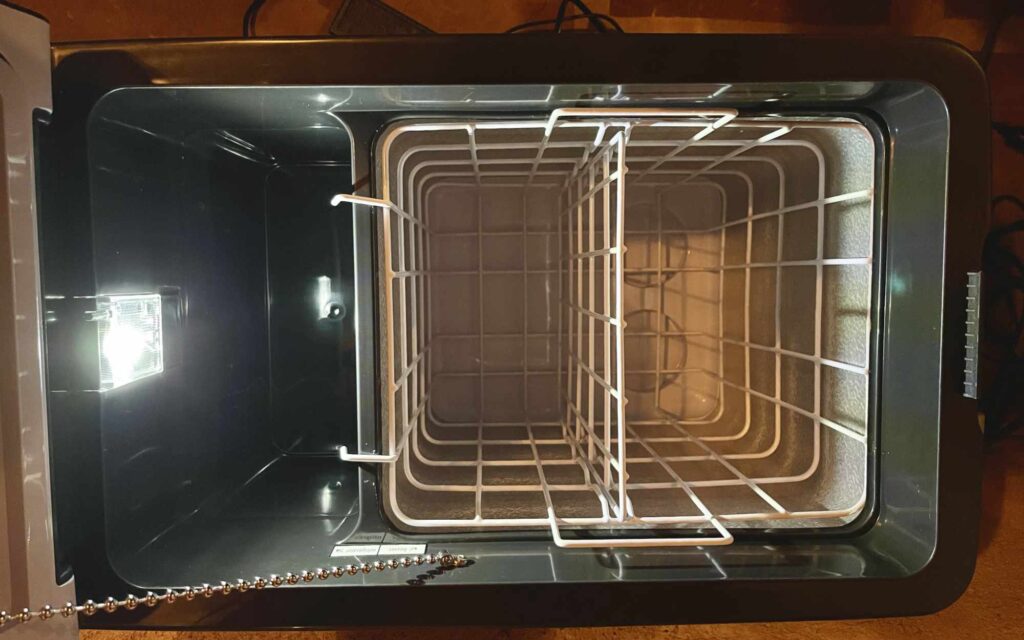 The larger compartment has a removable basket with a divider, which is pretty standard on fridges like this. There's also an interior LED light that turns on when the lid is open – which is always helpful when you're grabbing that midnight snack.
Dimensions
Dimensions are an important consideration when incorporating a fridge into your van build. And the BougeRV fridge has a different dimensional form factor than most vanlife refrigerators we've seen.
Most 12V refrigerators are slightly wider than they are tall, or at least close to the same. The BougeRV, on the other hand, is significantly taller than it is wide.
Here are the exact dimensions that we measured:
Exterior dimensions: 22.75" long (26" with handles attached) x 13" wide x 21" tall
That's at least a couple inches taller than equivalent-size fridges from other brands – which, again, tend to be wider than they are tall.
This is all a matter of personal preference and how these dimensions work with your build. A narrower/taller fridge will save you a little bit of floor space. However, it will also be a bit more difficult to dig things out of the bottom of the fridge, since the food compartments are also deeper and narrower.
Features & Specs
Aside from the design and dimensional specs we mentioned above, there are several other features to note.
Max and Eco modes. Max mode gets you fast and powerful cooling at the expense of greater power consumption. Eco mode gets you better power consumption at the expense of some cooling performance.
Temp range: -4F to 50F. This means you can set your fridge to be a super deep freezer, or to keep several bottles of wine just chilled.
Three battery protection modes. This turns the fridge off when your batteries hit a certain voltage, so that you don't drain your batteries. The BougeRV fridge features three modes (Low/Medium/High) so that you can customize the cut in/cut out voltages to your needs.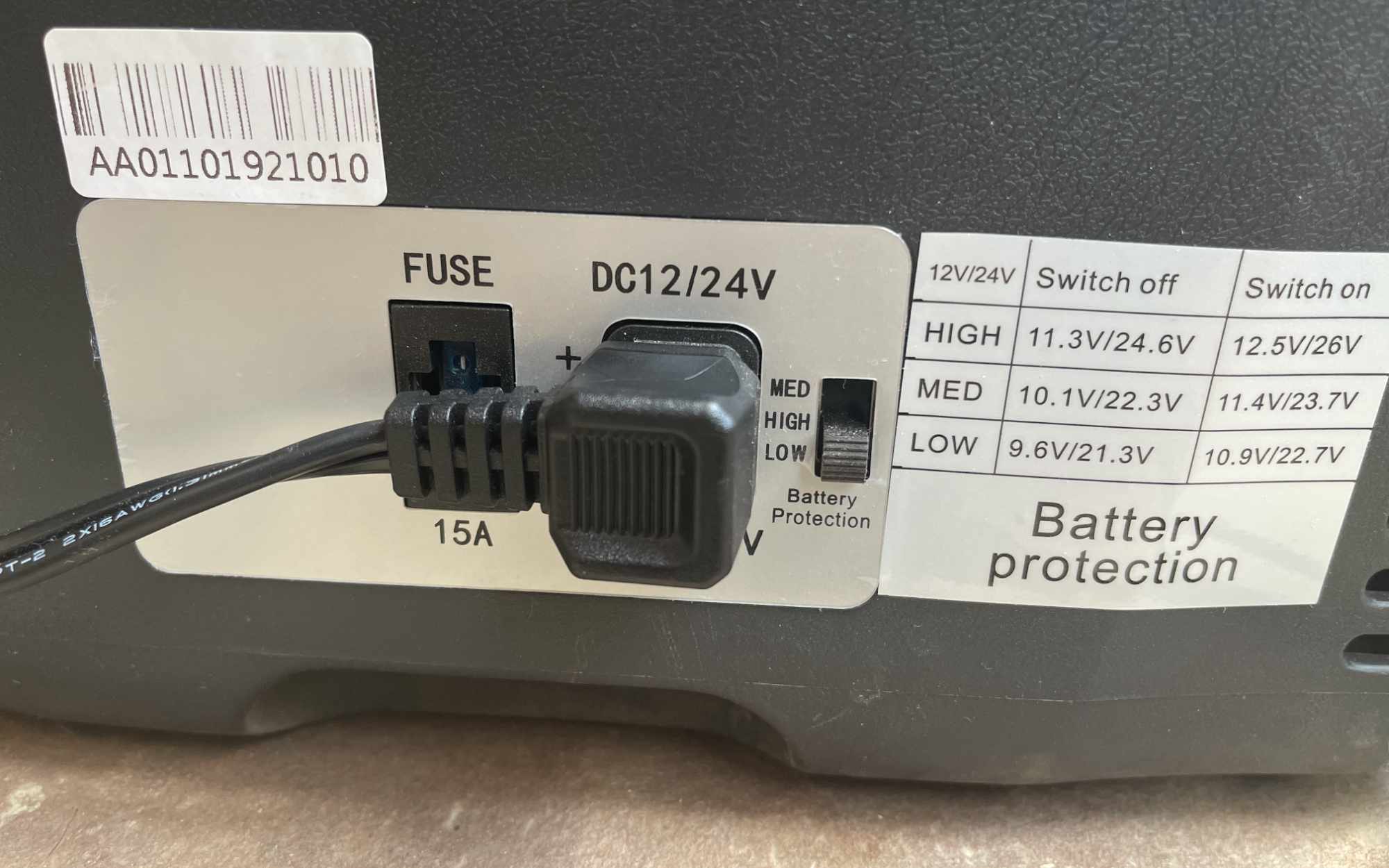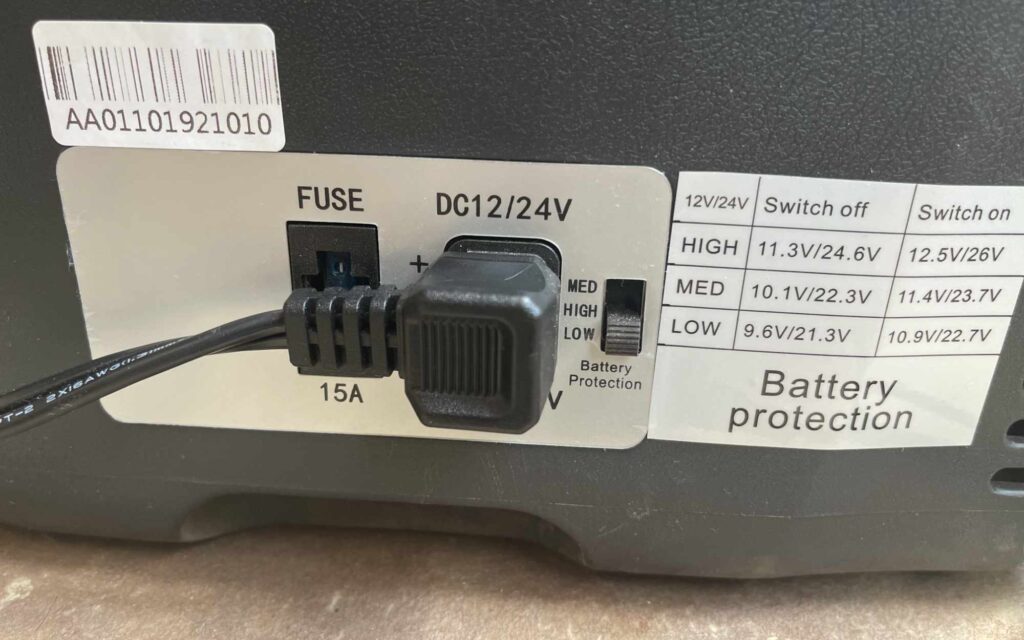 Can function at up to a 30 degree incline. The BougeRV fridge will work just fine even after getting knocked around on those gnarly forest roads.
Relatively quiet (45 decibels or less). This is quiet enough to barely be audible from a few feet away, and the noise easily fades into the background. We verified this through our own testing with a sound meter app.
Wancool ACV25FC compressor. From what we gather, this compressor is similar in design to a Danfoss SECOP compressor, but is cheaper.
2-year warranty (upgradeable to 3-year). The BougeRV fridge includes a 2-year standard warranty, upgradeable to a 3-year warranty if you register your fridge through their BougeRV Club. Not bad.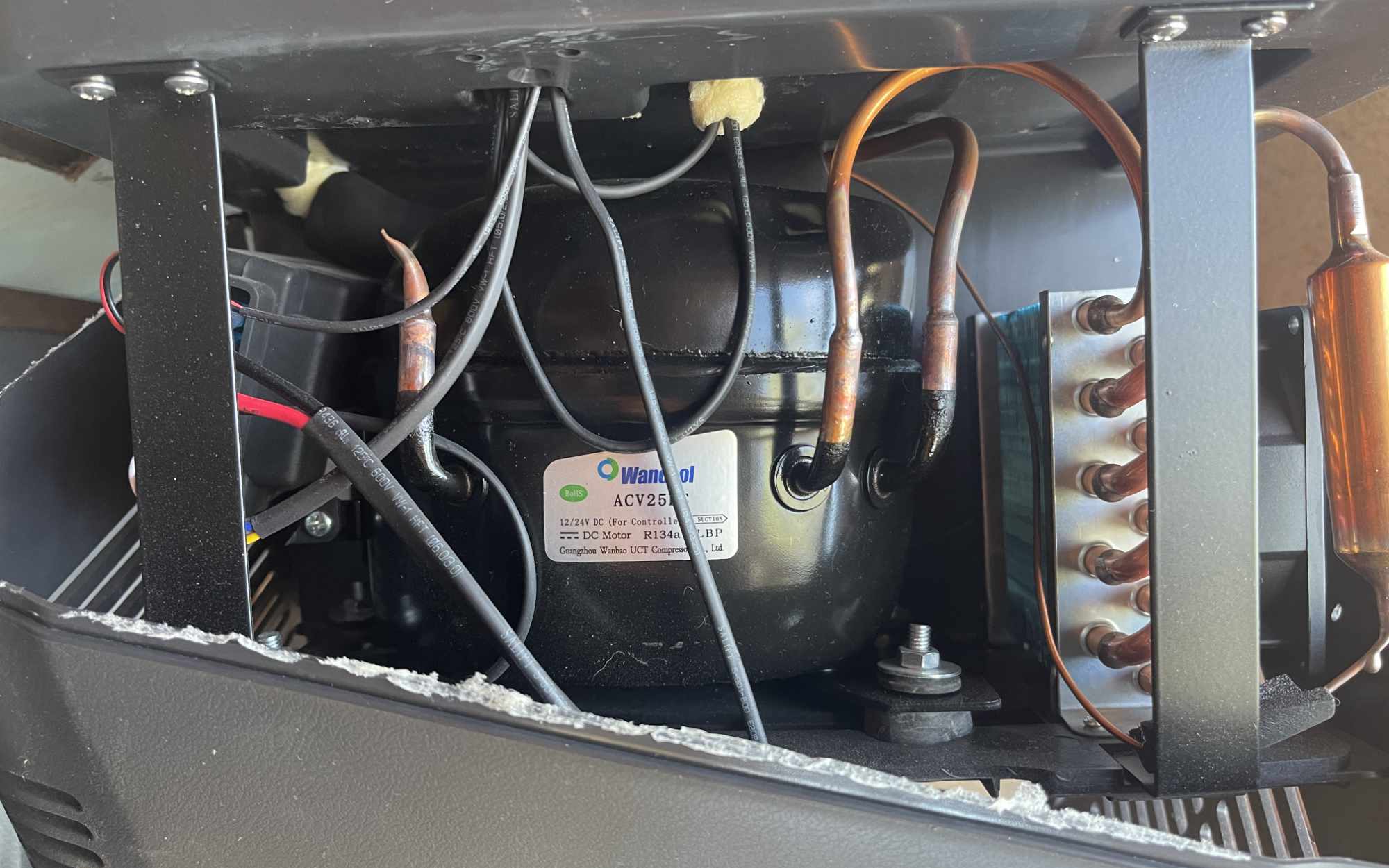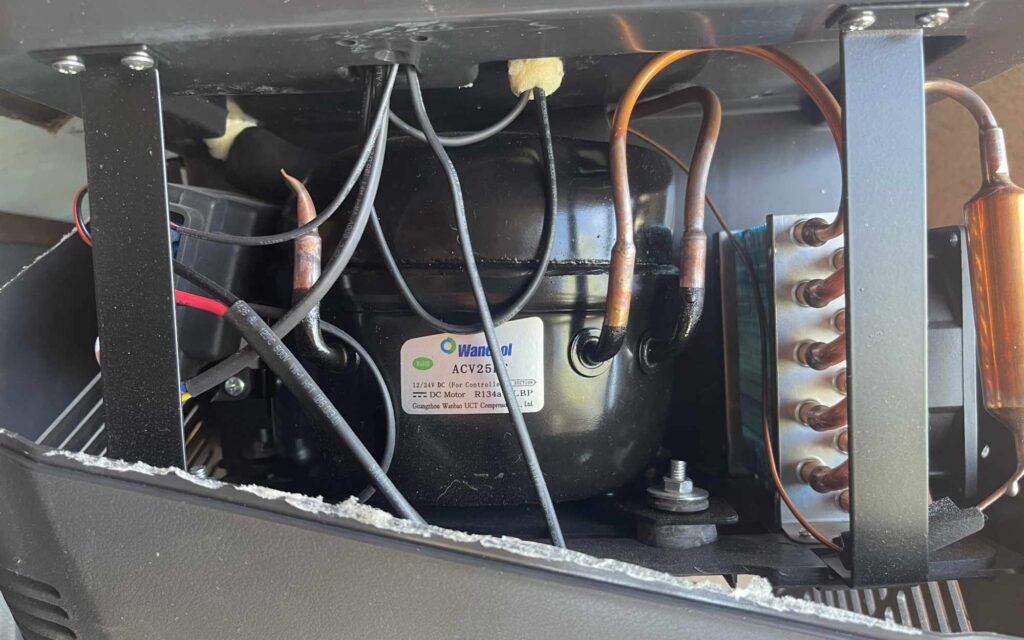 There are no Bluetooth or other smart capabilities – which is to be expected at this price point.
Other Sizes
We're reviewing the 50L (53 quart) model here, but BougeRV offers a range of sizes all the way down to 22L (23 quart).
In general, we've found that a 50L fridge is a good size for two people (our 50L fridge holds about a week's worth of fresh food for us). If you're solo, a 40L (or even 28L) fridge should be more than adequate. However, your individual needs may vary.
How the BougeRV Fridge Performs
The BougeRV has a pretty solid set of features and specifications, especially for the price. But how does it actually perform?
We tested the BougeRV in late spring in northern New Mexico. During the testing, daytime temps ranged from the mid to upper 70s, and nighttime temps got down to the mid to upper 60s. We performed the rapid cooldown tests during the day with ambient temps in the mid 70s, but 24 hour tests saw the full range of temperatures.
24-hour Power Consumption
First we tested the power consumption of the BougeRv fridge while maintaining a set temp over 24 hours. This is probably the most important test as far as vanlife goes, because this is a good indicator of how much power a fridge will draw on average.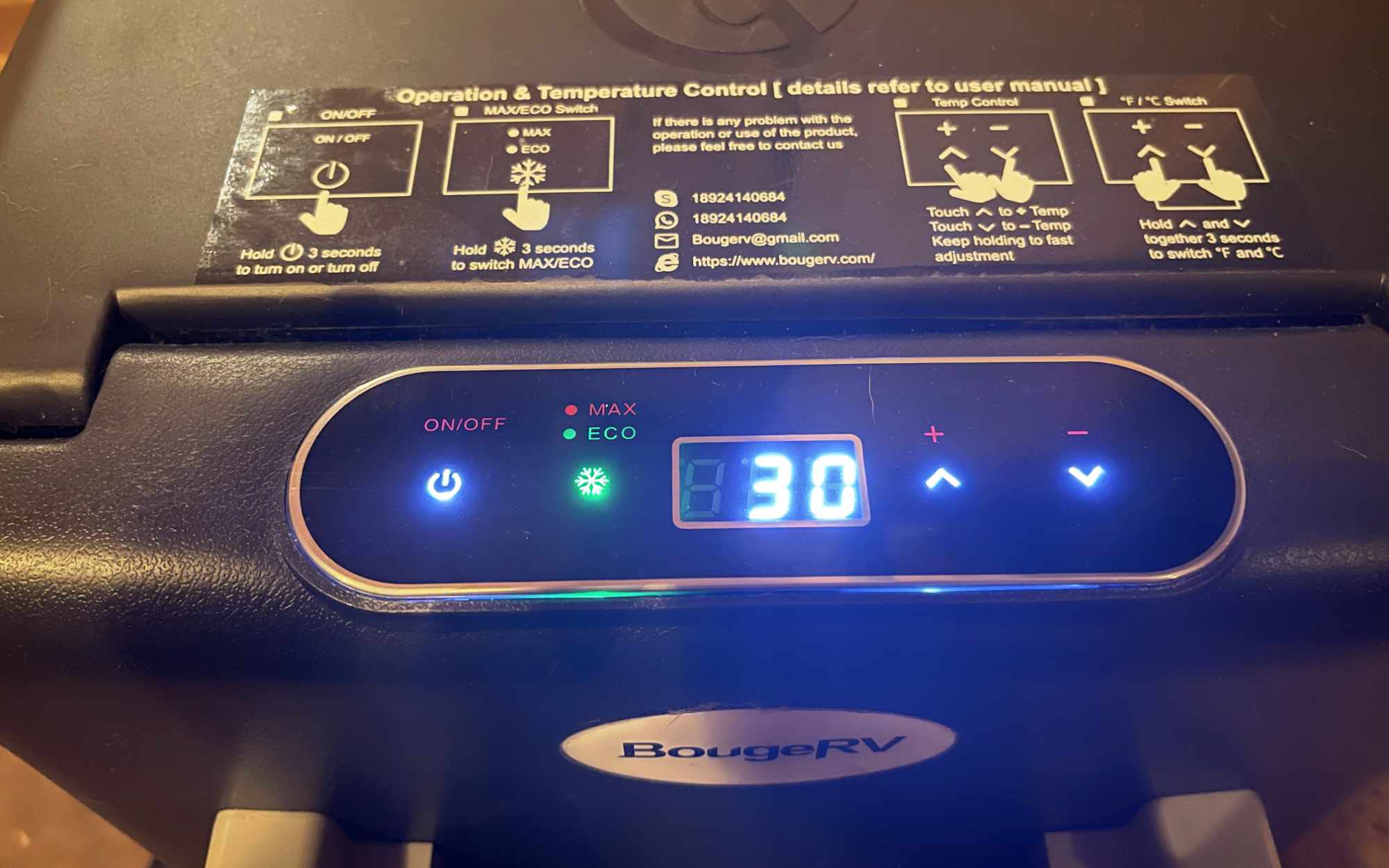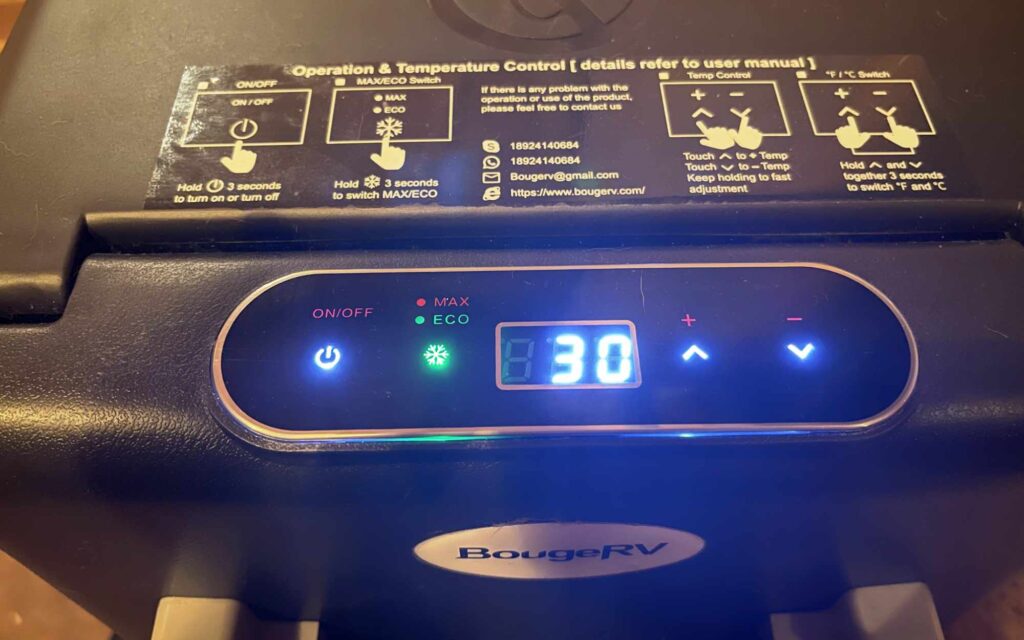 We ran these tests with a full fridge in both Eco and Max modes. If you're more concerned about power consumption, you would probably run this fridge in Eco mode.
We also basically set the temp and let the fridge do its thing. In real world usage, you would be opening and closing the lid as you grab food from it throughout the day, which means it needs more power to maintain the set temp.
Here are the results:
Eco mode: 280Wh over 24 hours. This equates to an average of 0.97A per hour on a 12V system (23.2Ah total).
Max mode: 384Wh over 24 hours. This equates to an average of 1.33A per hour on a 12V system (32Ah total).
The BougeRV fridge proved to have a low power draw. It's slightly less efficient than some of the high end fridges, but not enough to really matter.
Keep in mind that we ran these tests with an ambient temperature topping out in the upper 70s. If you're uing this fridge in hotter weather, it will likely use more power, and you may even reach a point where Max mode is necessary.
Rapid Cooldown Performance
Next, we tested the BougeRV's rapid cooldown abilities, in both Eco mode and Max mode, with the fridge empty.
Here are the results:
Max mode: Cooled from 72F down to 28F in 37 minutes, and used .04 kWh (40Wh, or 3.33Ah on a 12V system).
Eco mode: Cooled from 72F down to 30F in 51 minutes, and used .04 kWh (40 Wh, or 3.33 Ah on a 12V system).
On the rapid cooldown tests, the BougeRV fridge did its job and performed as expected.
We then ran another test with the fridge filled with room temperature liquids in Max mode. You probably wouldn't be doing this type of cooling in your van, but we just wanted to see how it handled this challend. The fridge cooled from 72 down to 30 in about 2:47, and used 400kWh (about 33Ah on a 12V system).
Temperature Consistency
During temperature maintenance, the temp fluctuated about 2-3 degrees from the set temp in Max mode, and 2-5 degrees F from the set temp in Eco mode. For example, for a temp set at 28F, we saw a display temperature ranging from 26F to 33F in Eco mode. This is normal, and helps with efficiency – the compressor kicks on only when the temperature goes outside a set window.
Here's what the actual temperatures looked like inside the fridge. In fridges like this, the temperature will always be coldest at the bottom of the fridge, warmer at the top, and even warmer in the "fridge" compartment.
Here's what we measured with the fridge temp set to 28F (and reading 26F on the display):
Bottom of main compartment: hovering around 28F
Top of main compartment: hovering around 30F
Fridge compartment: hovering around 52F
This is fairly consistent overall, and the entire freezer compartment was within 2 degrees of the set temp. The fridge compartment will always be warmer – so if you're using the main compartment as a fridge just be aware of what you're storing in the "fridge" compartment because it will warmer than your set temp.
Overall, the BougeRV fridge maintained temperature well (with expected fluctuations), and had internal temperatures within 2 degrees F of the set temperature.
Is the BougeRV 12V Portable Refrigerator Worth Getting?
The BougeRV 50L fridge does seem like a quality unit, and it's an inexpensive way to add refrigeration capabilities to your van – which is a HUGE upgrade if you've been rocking a cooler.
The big question to answer, though, is do you get what you pay for? How can a refrigerator this cheap compete with more expensive brands? Are you better off getting a fridge from Dometic or ARB or Iceco?
Let's be real – the BougeRV fridge is a generic 12V fridge mass-produced in a Chinese factory, and white-labeled under the BougeRV brand name. You can find pretty much the same fridge under other brand names (perhaps with some small differences). But that's par for the course at this price point.
And the fact is, the BougeRV fridge does perform well, and it seems to be good quality. Is it as nice as a Dometic CFX3? No. But it's also much, much cheaper.
After discounts, the BougeRV fridge is less than 1/3 the price of high end units from top brands like Dometic and ARB, and almost half the price of the equivalent Iceco fridge.
BougeRV discount codes: Use Gnomad90 for $90 off the 53-qt model. Use Gnomad15 for 15% off all other fridges).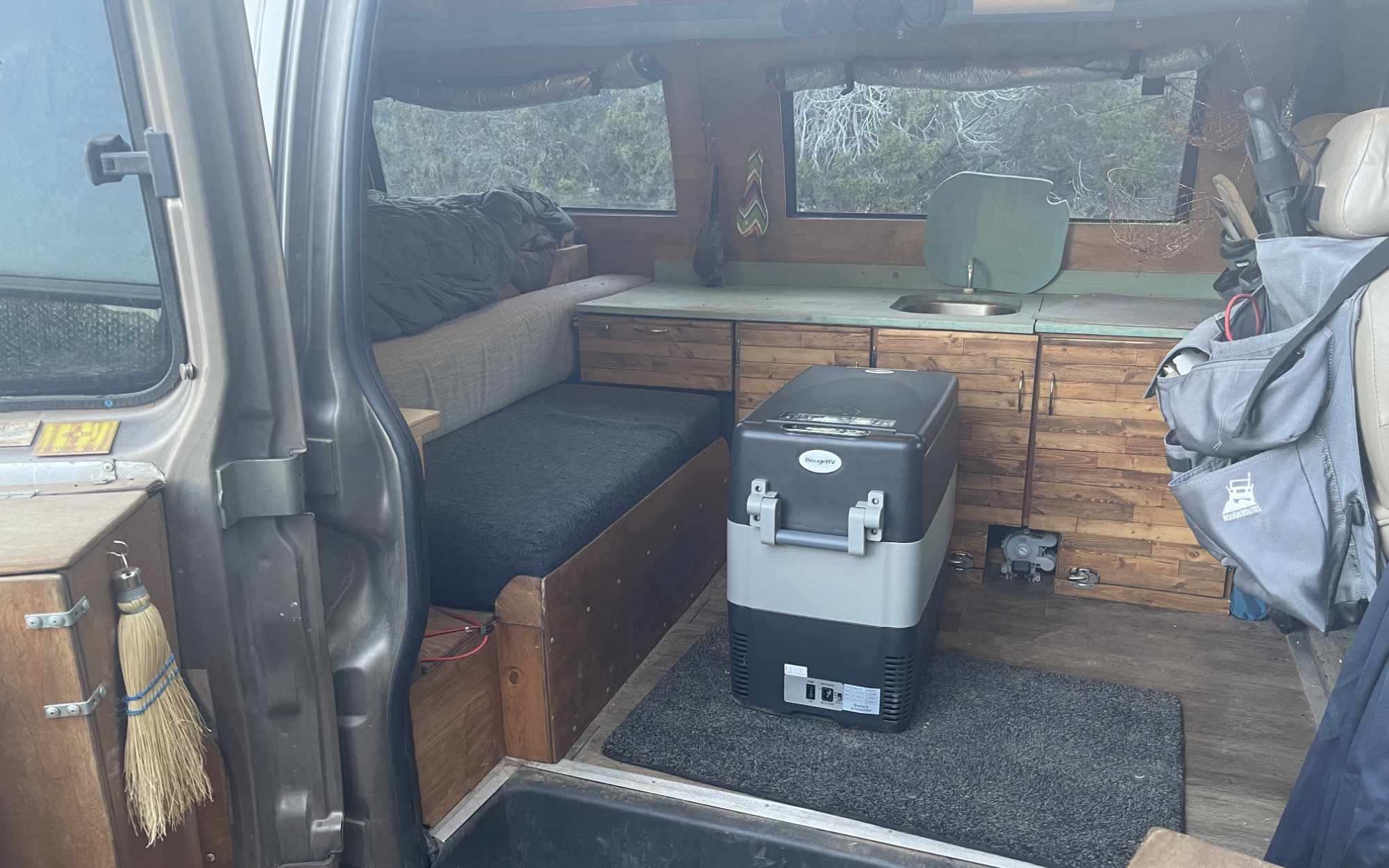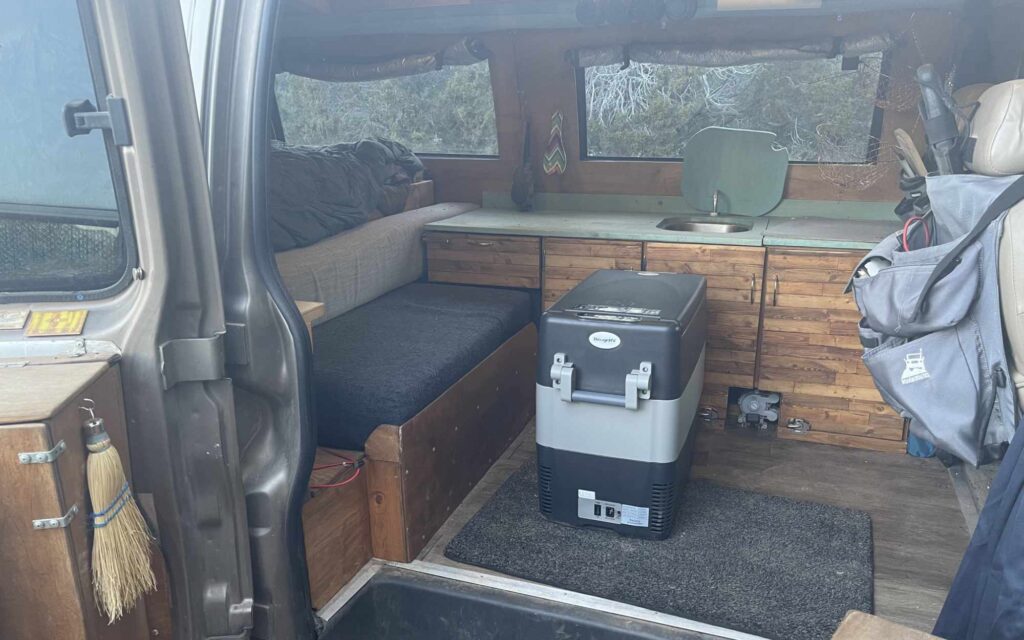 BougeRV vs the Expensive Brands
High end vanlife refrigerators may be "better" than the BougeRV – more efficient, more rugged, and more reliable – but is it enough to justify the cost premium? Depending on your needs and priorities, maybe not.
Even if the BougeRV fridge only lasts, say, two years before crapping out on you, you're still only paying about $13 per month for a refrigerator. This is an insanely cheap way to get refrigeration in your van.
Contrast that with the Dometic CFX3, our top pick for a high end vanlife fridge. First off, you'll need to shell out a lot more money upfront. And to cost you an average of $13 per month, the CFX3 would have to last you over 7 years – much longer than the warranty. What's more, you'd have to actually use it for those 7 years to get full value from it – and who knows if you'll be doing vanlife for that long?
Our best value picks Iceco VL-series and Iceco JP-series fare slightly better – the equivalent size Iceco would need to last you 3.5 years to compete with the BougeRV on average monthly cost.
(Iceco, however, uses top notch Danfoss compressors with a 5-year warranty, which is why Iceco is such a great value.)
TL;DR The BougeRV refrigerator's low price – along with good quality and performance – equals bang for your buck that the expensive fridges can't match. Even if the BougeRV only lasts you a couple years, it will still work out to be cheaper for the majority of people who only do vanlife for a year or two. Fridges from Dometic, ARB, and Iceco are "better," but may not be worth the cost premium for everyone.
Conclusion
The BougeRV 12V portable refrigerator is a solid choice if you're on a budget, or just frugal and don't want to spend too much money on your rig.
The best vanlife fridges from top brands like Dometic and ARB are certainly better fridges than inexpensive generic models like the BougeRV. They use better components, and the companies behind them have solid track records. If you have the money for these fridges and feel like they're worth it, then go for it.
But if you're on a tight budget, or aren't planning on vanlife for longer than a year or two, or don't want to spend more on the small fridge in your van than a full size house fridge costs, then you should take a hard look at BougeRV.
The BougeRV refrigerator is a solid performer that includes most of the features of the big boys for a fraction of the cost. At the end of the day, vanlife is all about getting on the road and creating your path. It's not about buying the right brands, or spending the most money on your rig, or doing things for the 'gram. And the BougeRV fridge will get you on the road (with refrigeration) cheaply and easily. Which, in our minds, makes this a good choice for your rig.
In order to run a fridge in your van, you need electricity. Check out our epic post on vanlife electrical for info on setting up your system.