Decommissioned ambulances are an interesting option that many van lifers are turning to for a unique and functional DIY camper van conversion.
Used ambulances are commercial vehicles that are made to last. Ambulances have a top of upsides for van life, with few drawbacks. These robust vehicles often come with diesel engines, they benefit from regular fleet maintenance, and they offer sturdy construction and built-in outside storage options.
A gutted ambulance is a blank canvas with tons of interior space and often a boxy shape that makes building out a camper conversion much simpler. And used ambulances can be more affordable than cargo vans like Ford Transits, Ram Promasters, or Sprinter vans, since not as many people are in the market for them as a base for a DIY camper conversion.
Everything has downsides, and the cons to retired ambulance conversions include lack of stealth, more difficulty maneuvering and parking the vehicle, and complex electrical systems and sirens built in that make the gutting process more of a headache
If you are considering turning an ambulance into a camper, check out these ten innovative ambulance camper conversions that we love. They just might give you inspiration and help you decide if a used ambulance RV is the right vehicle for your van life adventure.
Build Your Van
The Ultimate Van Build Guide
Planning a van build? Read our free guide. We cover just about everything you need to know – from planning, to insulation, to solar and electrical, to picking appliances, to essential tools. Get started today so you can get out there on the road!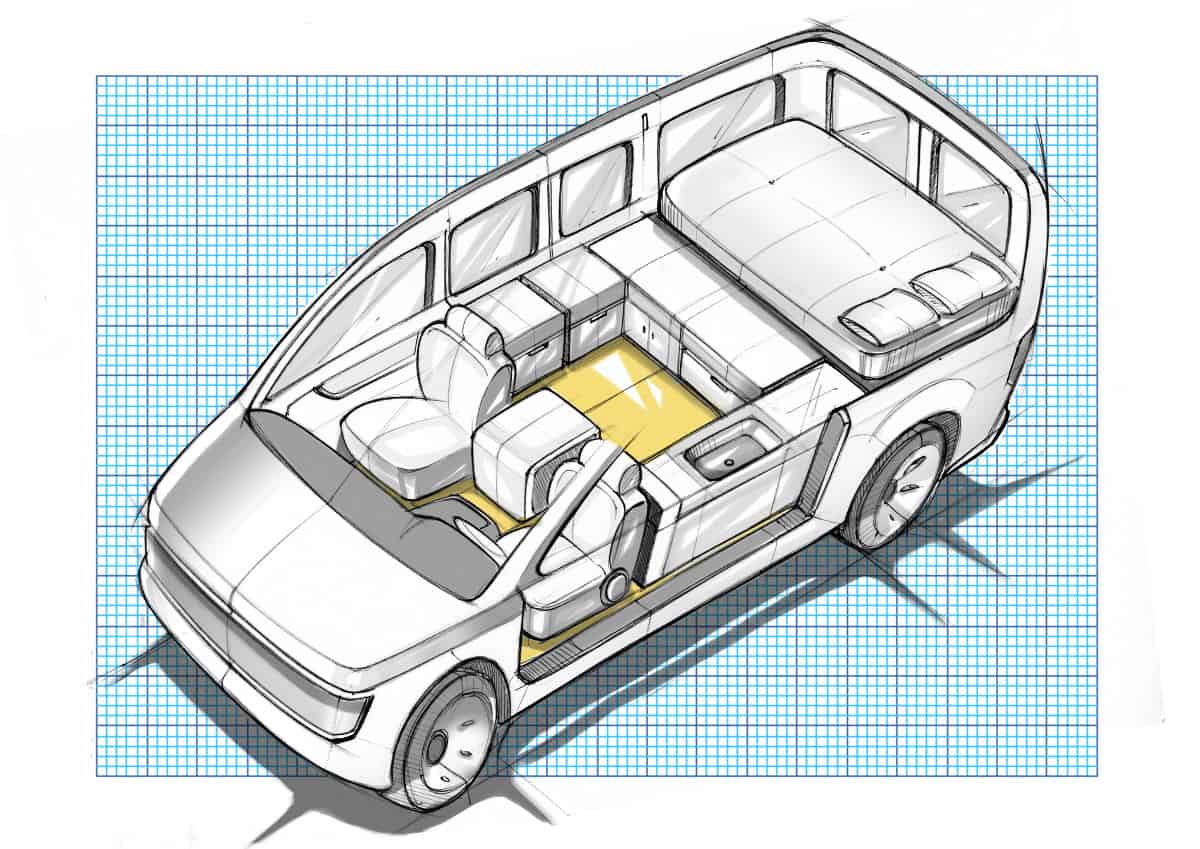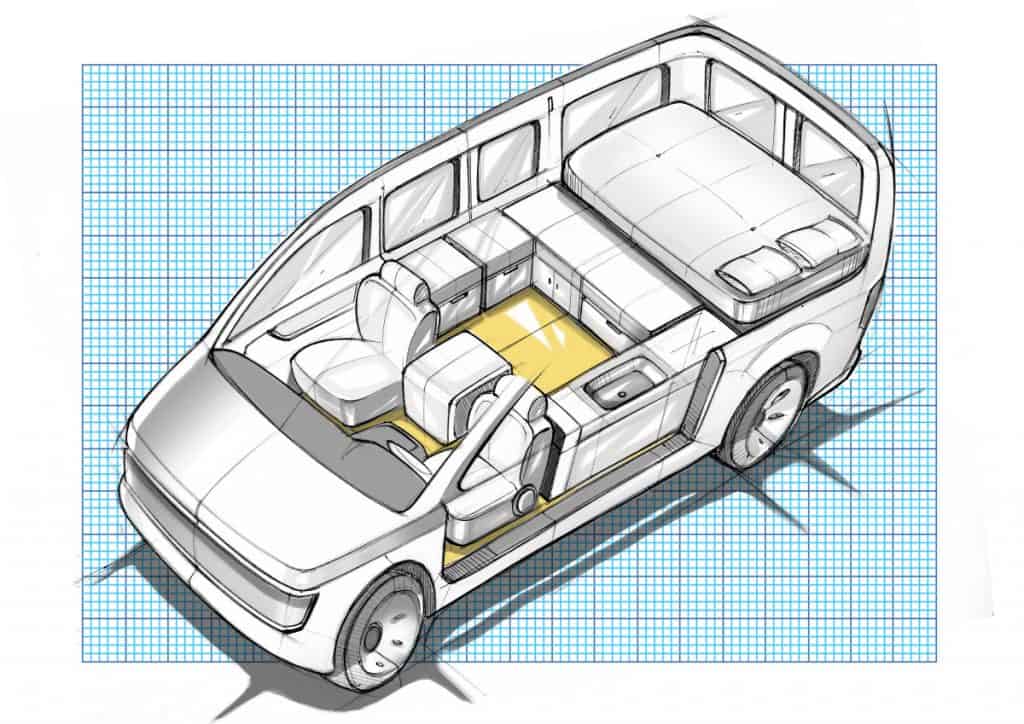 1. This practical ambulance conversion from @amandalemay.ca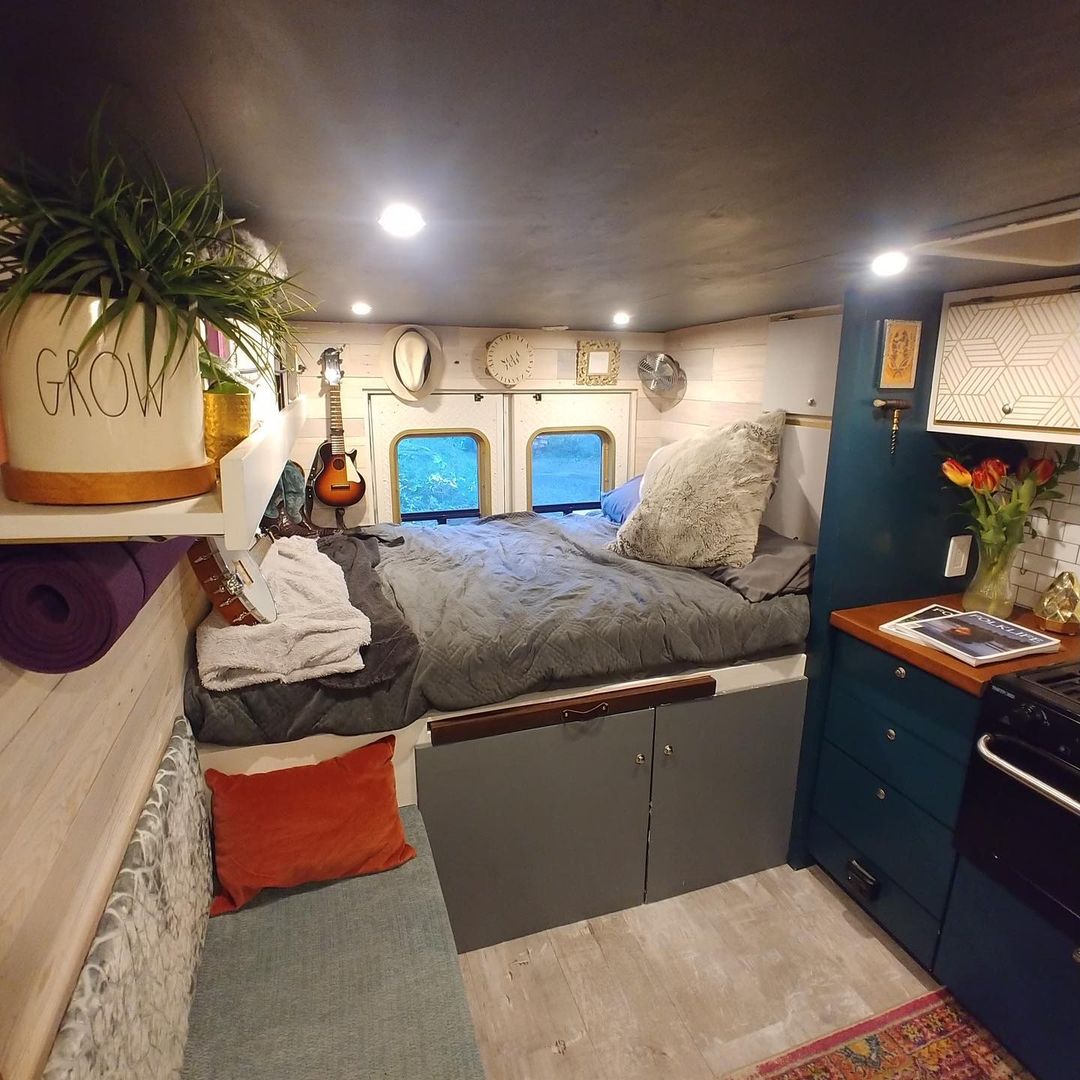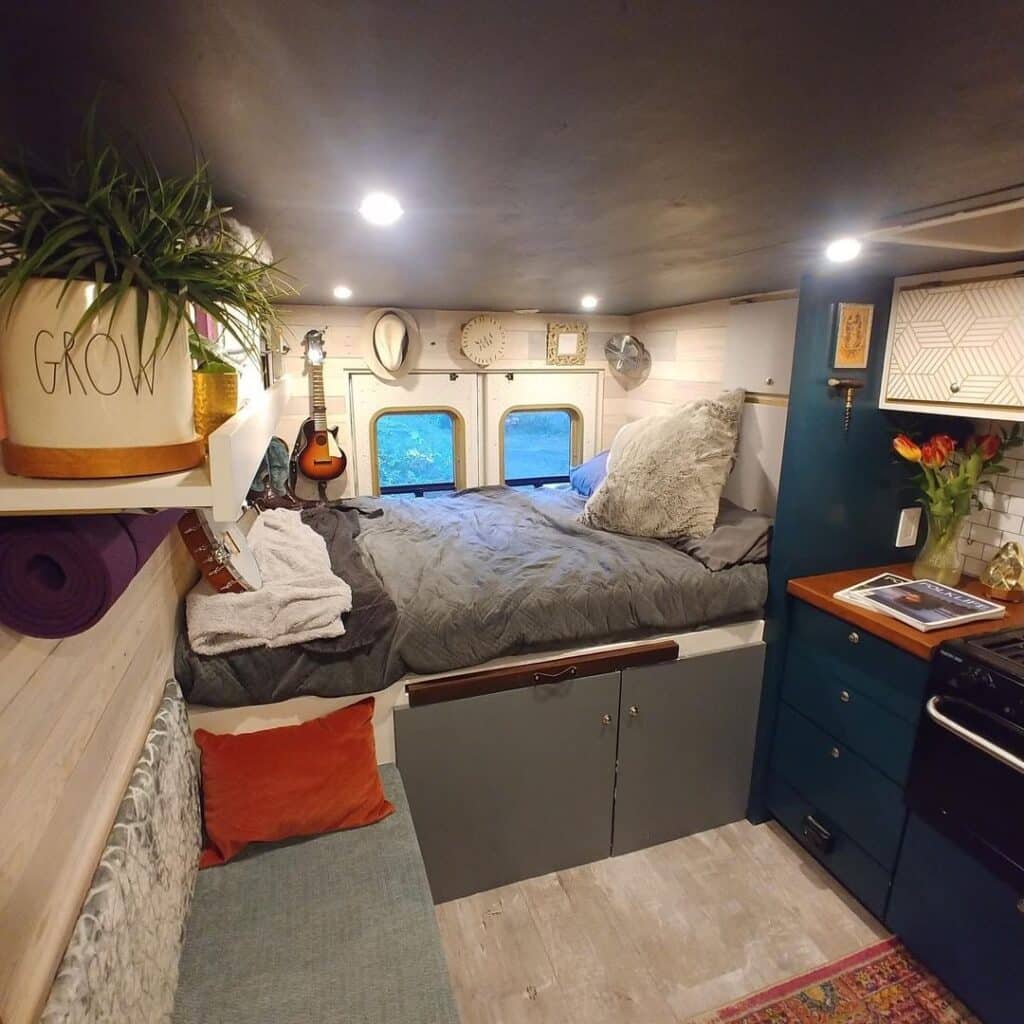 Amanda converted her 2006 Ford E-350 Cutaway ambulance into a camper van to live in full-time. The conversion was done over the course of seven months with help from Amanda's dad. It cost her about $10,000 to purchase the vehicle and another $10,000 to convert it into her tiny home on wheels.
Amanda and her dad tried to reuse or repurpose as much of the ambulance's original build as possible, using the cupboards that were already there and covering them with peel-and-stick wallpaper to match the interior look Amanda was going for.
The kitchen has a two-burner stove and oven. There is a Berkey water filter system set up by the sink rather than running water. There is a 26-gallon gray water tank located beneath the sink.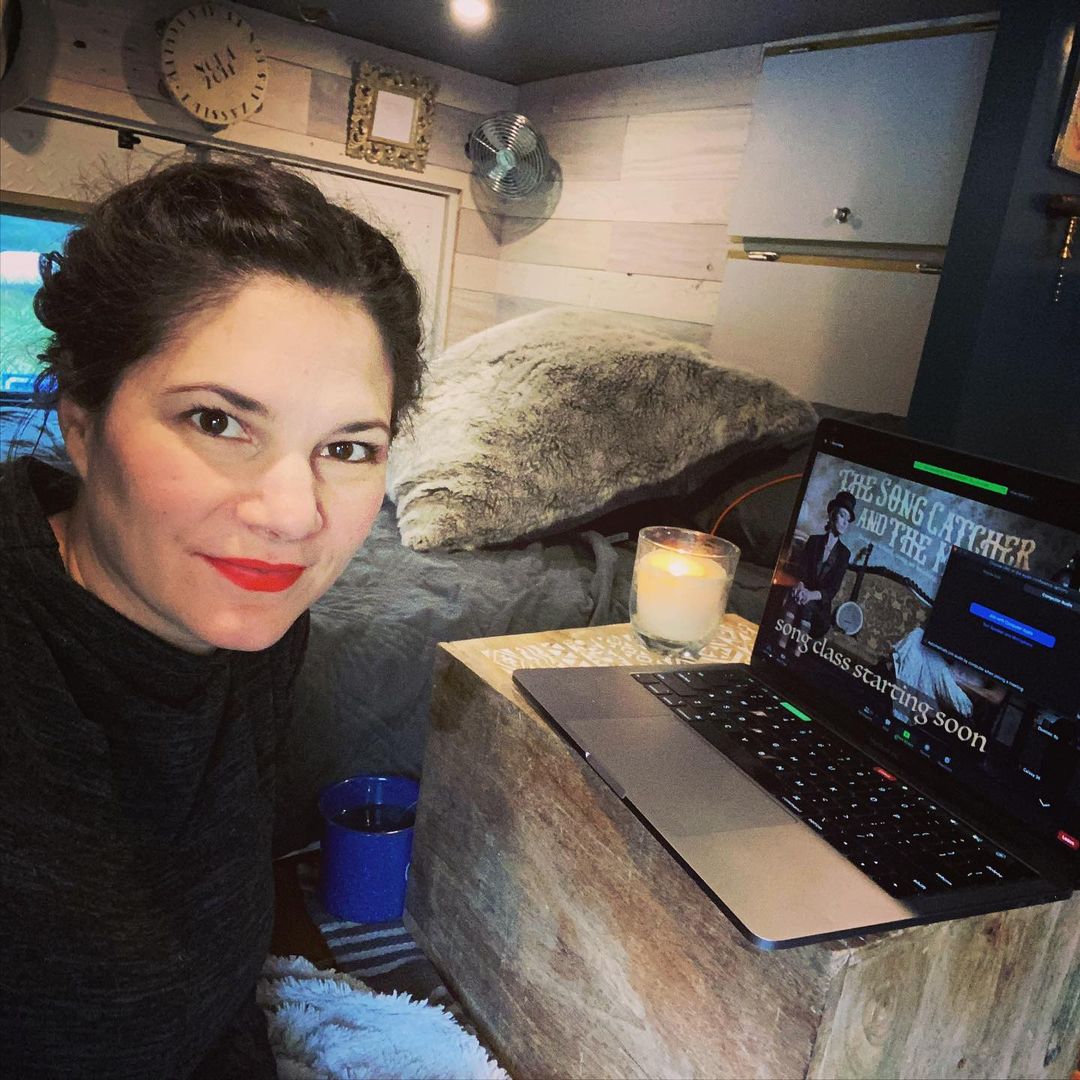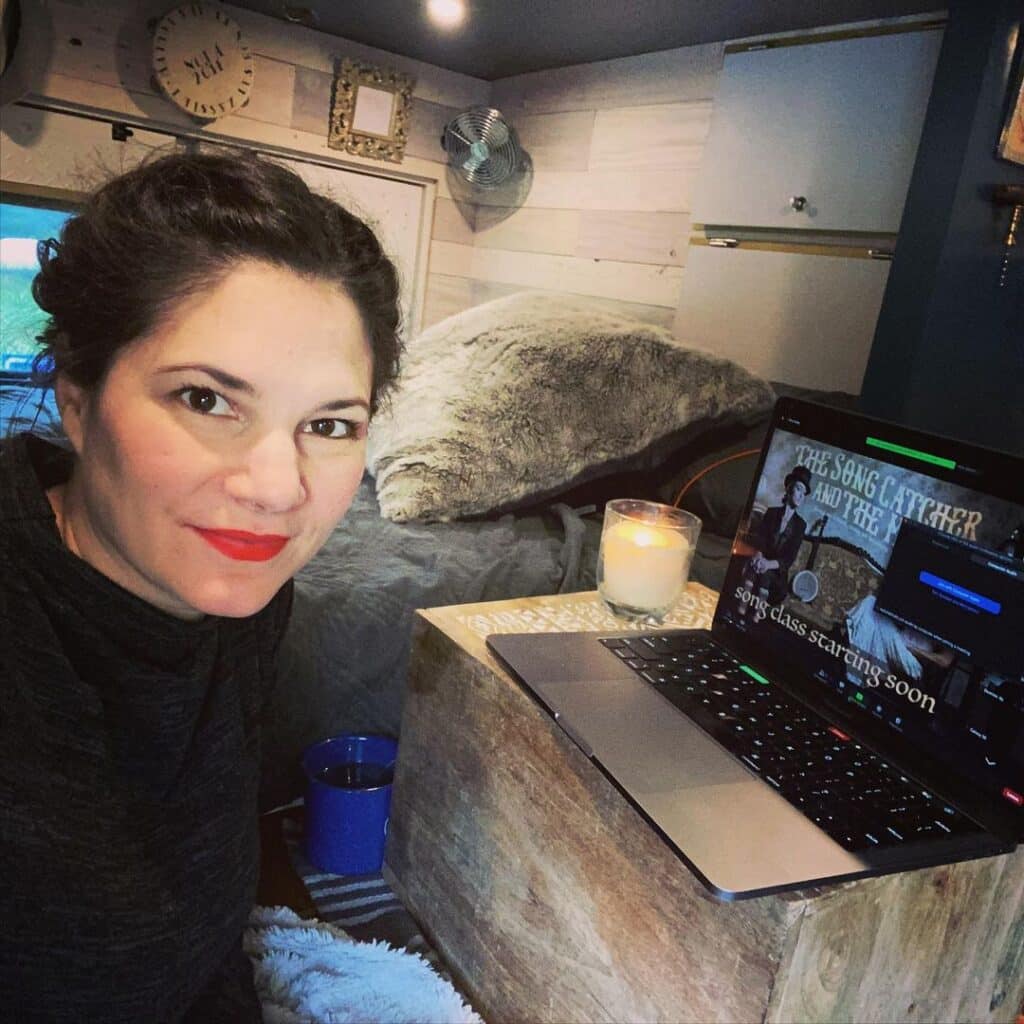 The raised platform bed is fixed width-wise in the back of the ambulance conversion, and it provides plenty of storage underneath. A slide-out table extends from the bed frame for work and dining, with a bench seat on one side. The fridge is stored beneath the bed and doubles as a second seat. There are also van solar panels on the roof and a full van life electrical system installed.
There is access to the cab through a door in the front of the vehicle. Otherwise, the living space is completely separate from the cab.
2. This thrifty used ambulance camper conversion from Josh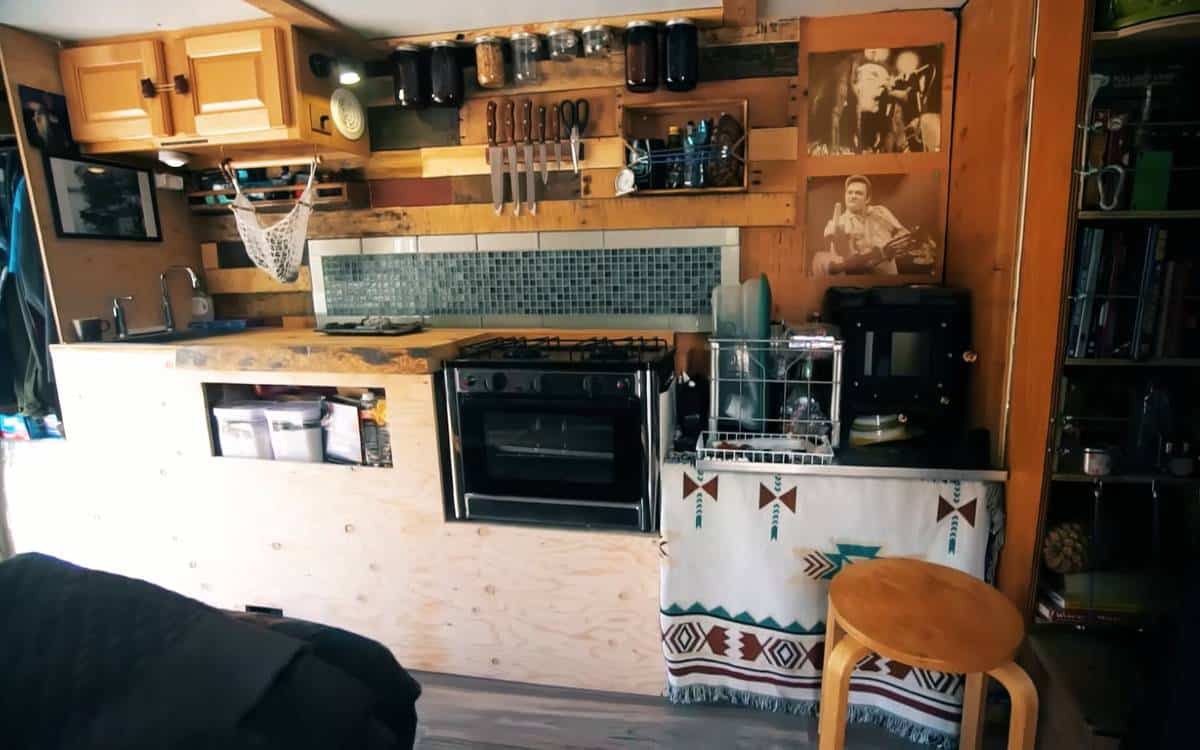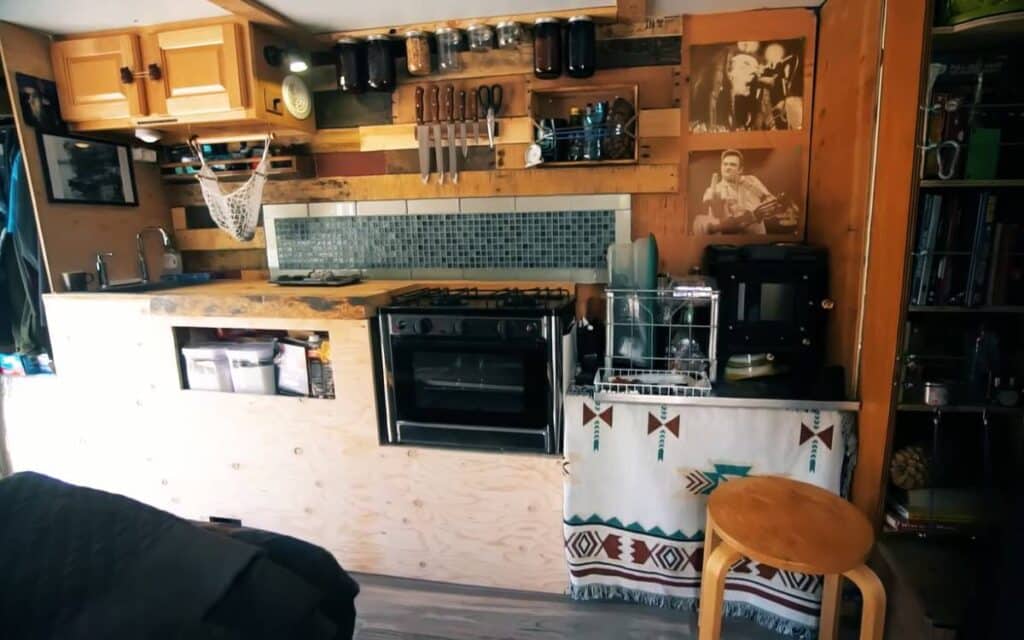 Josh converted an ambulance to live in full-time. A lot of aspects in his conversion were salvaged or purchased second-hand, making this a very budget-friendly and eco-conscious build.
In the interior space, there are shelves that provide room to hold a small book collection and sentimental items. Josh took wall pallets and sanded and re-stained them to put up for the interior walls. He used different tinted stains for a warm and unique look.
In the kitchen, there are magnetic strips and small shelves above the counter to store various kitchen products and tools. The kitchen faucet is powered by a foot pump. There is a partition between the kitchen and the back of the van, making a small closet space for hanging clothes.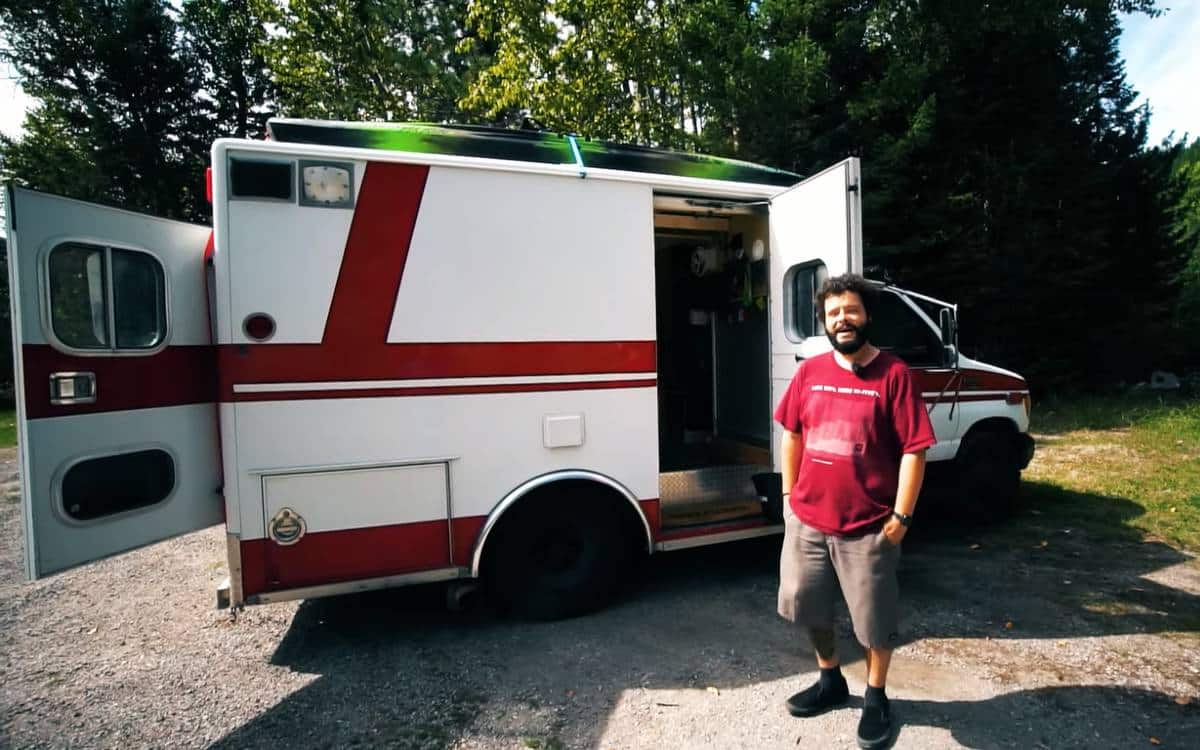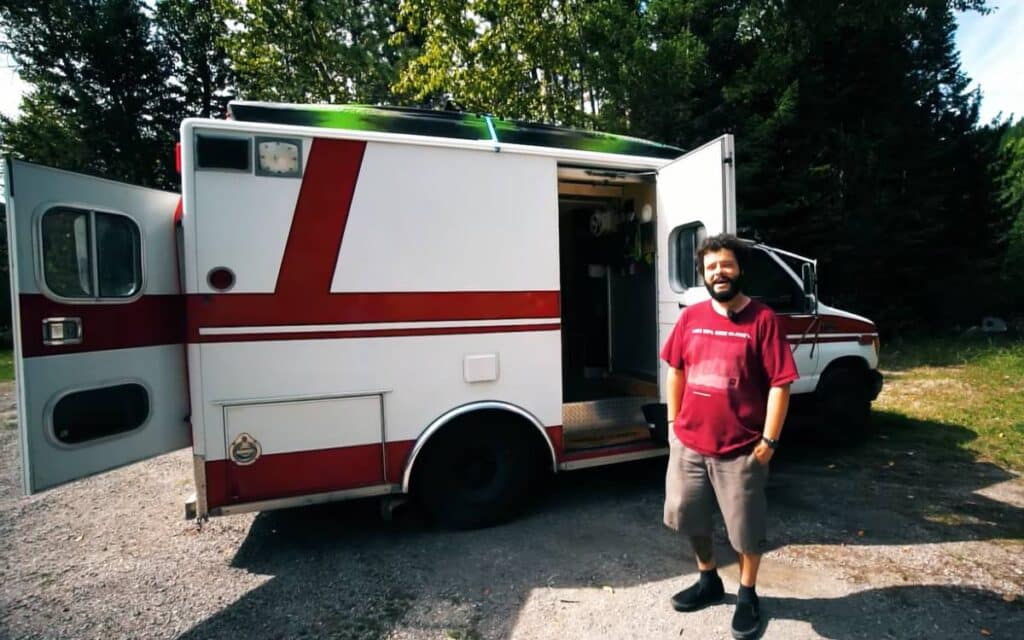 The bed is on a futon-style frame, running lengthwise on the passenger side. Josh built the frame himself with a pulley system to lift it into couch mode. There is storage under the bed for clothes, shoes, and winter gear.
There is a built-in compartment by the side door where the Dometic fridge is housed. The space has a slide-up door and is well-insulated. The ambulance camper conversion also has storage compartments that can be accessed from the exterior. Josh uses these compartments to store tools, cleaning supplies, and his water tanks.
3. This simple ambulance camper van build from Carl and Maddie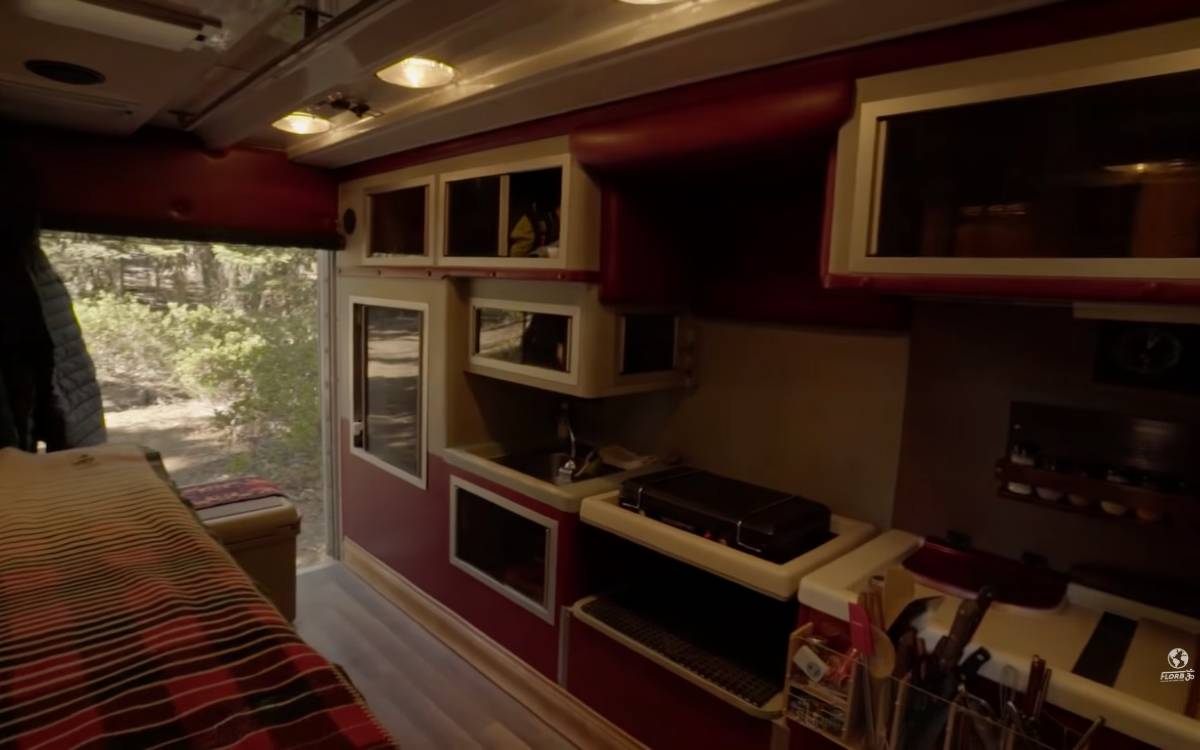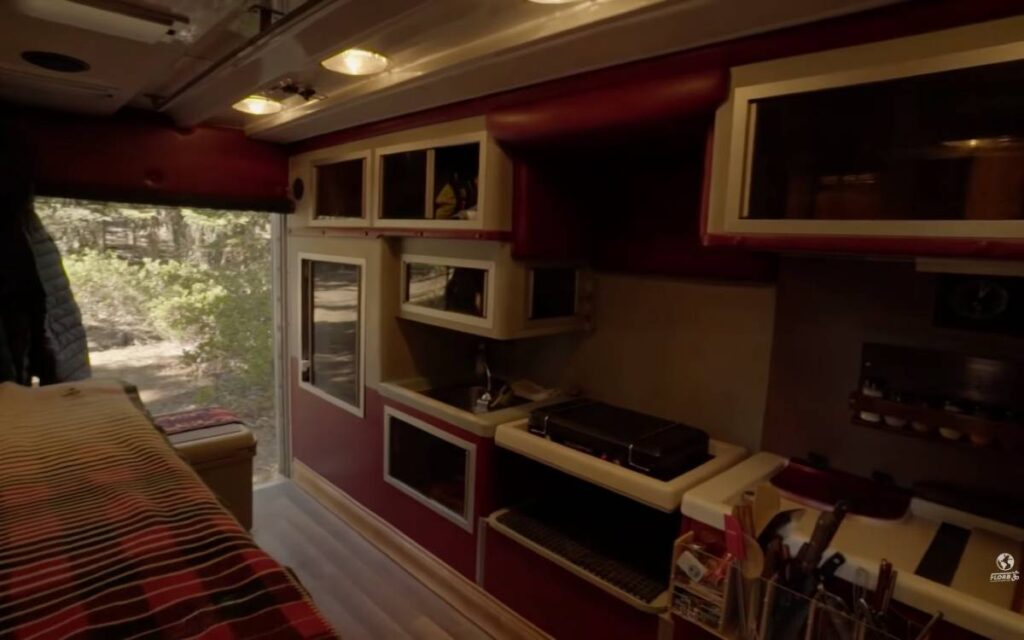 Van lifers Carl and Maddie converted a 1997 Chevrolet K3500 ambulance to live in full-time. One of the big upsides for the couple is the ample storage outside of the ambulance, which is used to store climbing gear, tools, water jugs, and other outdoor equipment.
All of the cabinets in their ambulance came with it originally, so they already had a great interior storage system built into the camper as well. In the living space, the couple has a large closet for storing their clothes and shoes. There is a trash chute for throwing away trash. The trash bag is stored in one of the compartments accessible from the outside, but because of the chute's location in the interior of the van, they are able to dispose of waste inside while keeping it stored outside, which we think is pretty cool!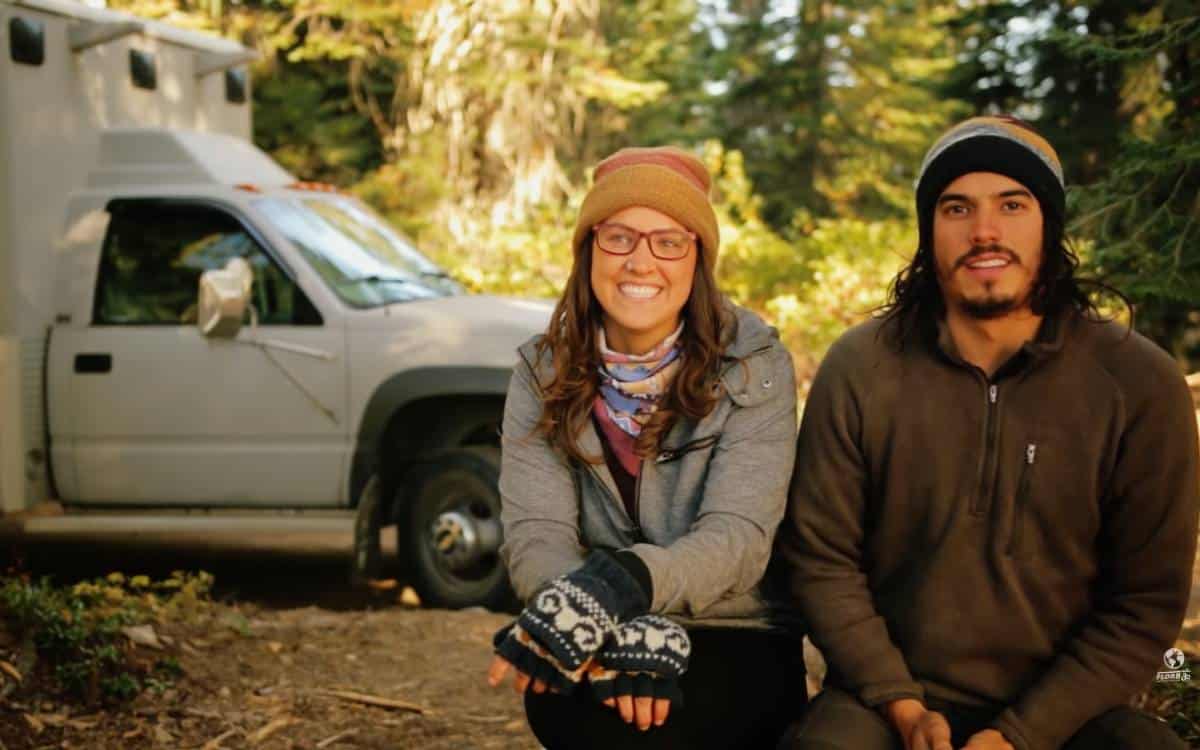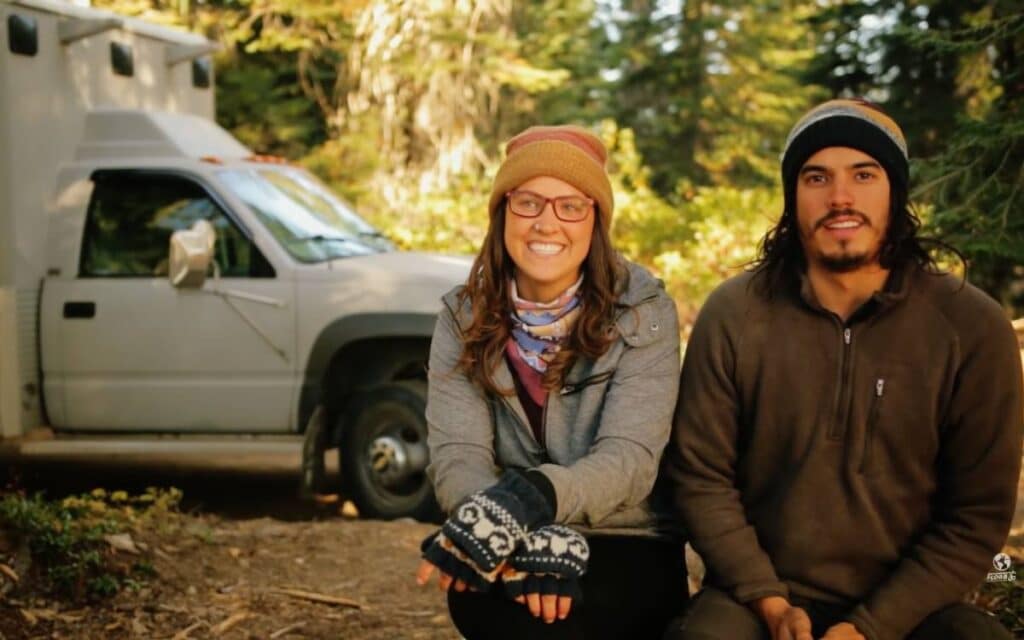 The full-sized bed frame runs lengthwise across the van's passenger side and acts as a couch during the day. At night, the base under the mattress can be unfolded and supported by table legs that are placed beneath it. The mattress can then be pulled down to comfortably sleep two.
4. This as-is ambulance conversion from @nanbulance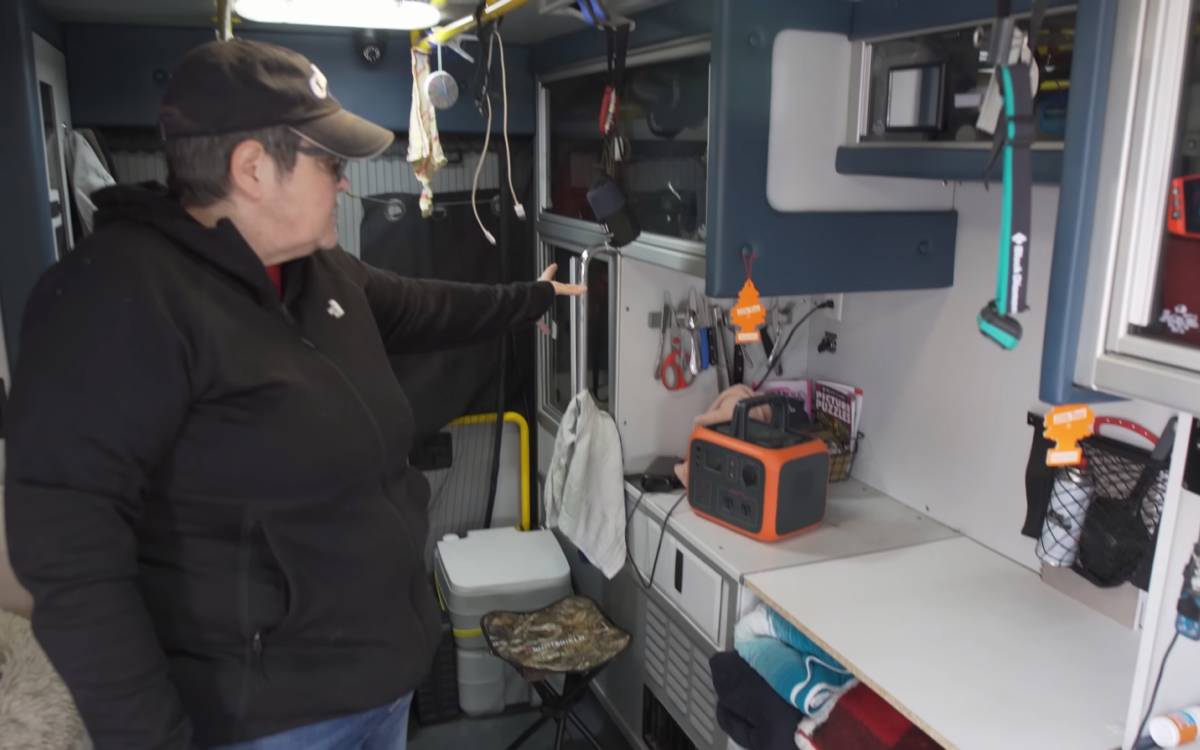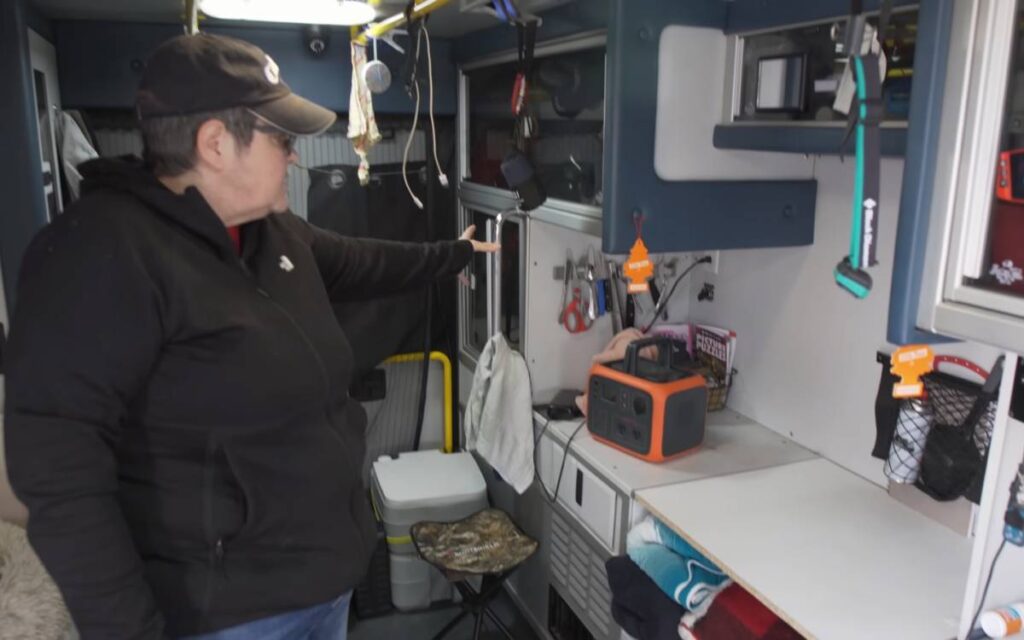 Nancy decided to get an ambulance camper to travel and see all the things she hadn't yet seen. She is in her 60s and has worked most of her life. She had not been able to travel much and realized that an affordable camper conversion was an economical option for her to do so.
She purchased her used ambulance as-is, with built-in cabinets and lighting included throughout the interior. Because of all the storage and counter space included in the camper, she was able to move in without having to make any big changes. This type of pre-built purchase is great for people who aren't able to build out the interior themselves.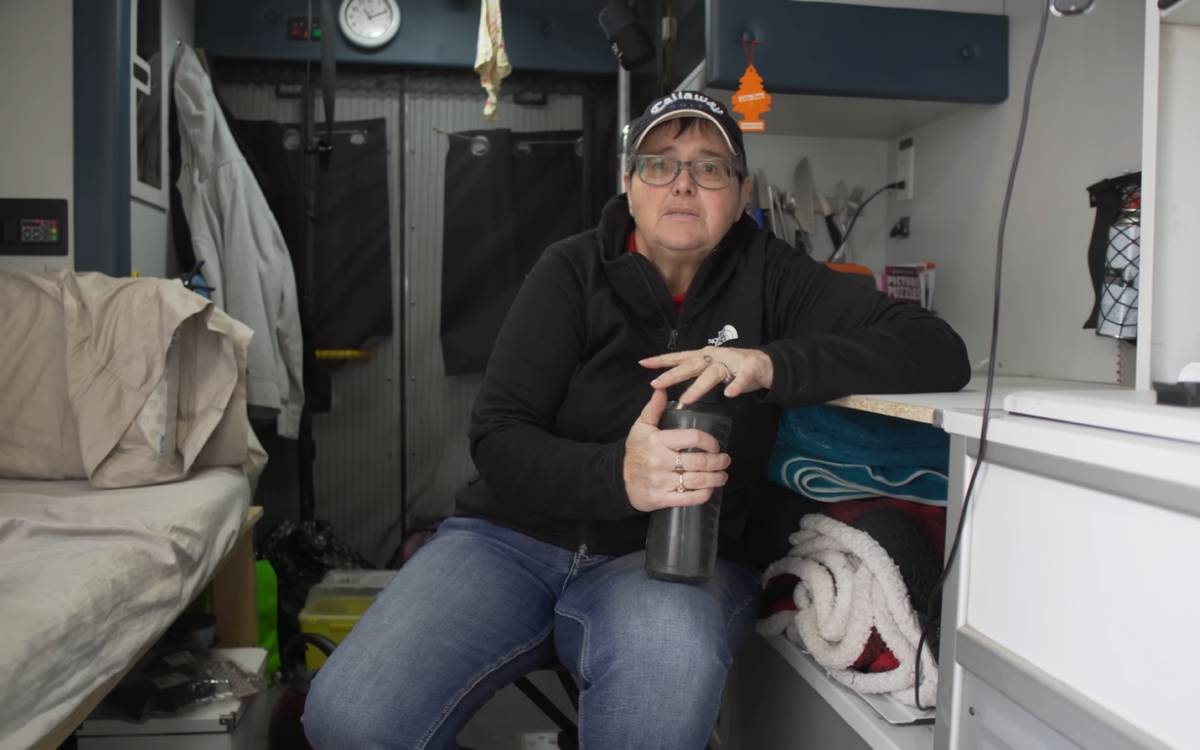 There is a portable power station in the conversion that powers most of her electronics. She charges the power station when she drives and has been able to power everything that way rather than opting for solar panels. Her bed is on a futon-style frame that is a couch during the day. At night, the frame can be pulled out, and the mattress slides down to lay flat.
5. This pet-friendly used ambulance conversion from Kojo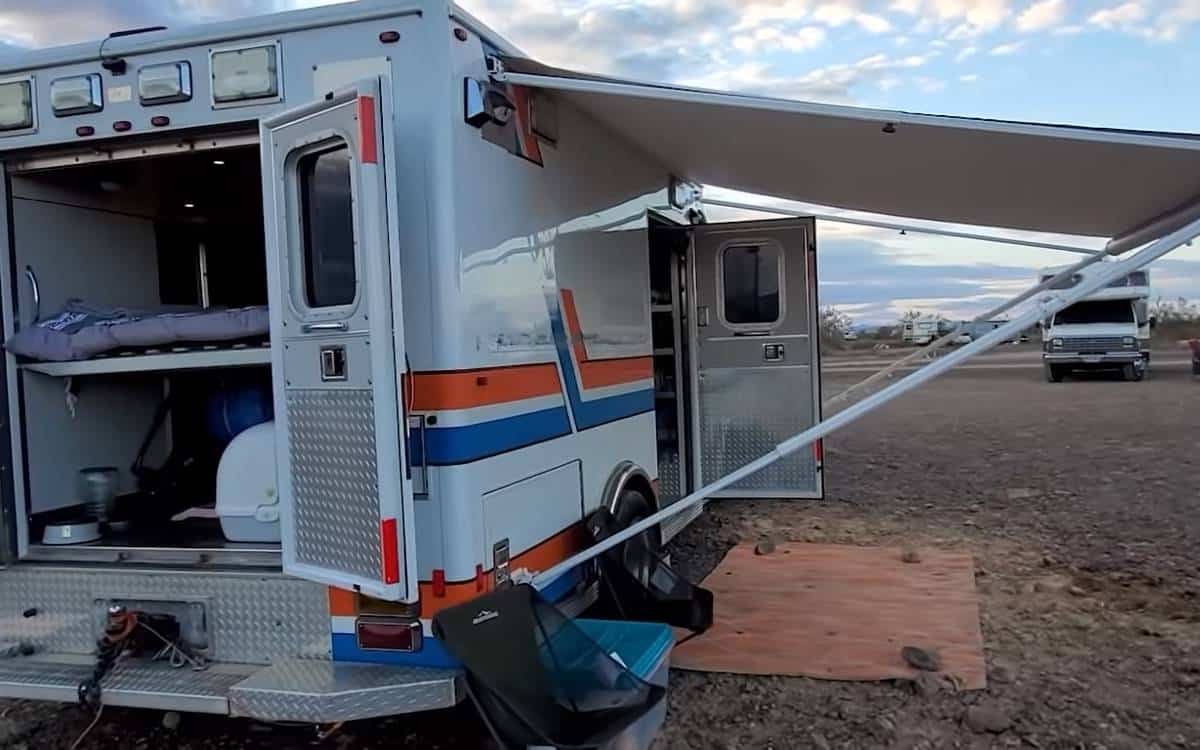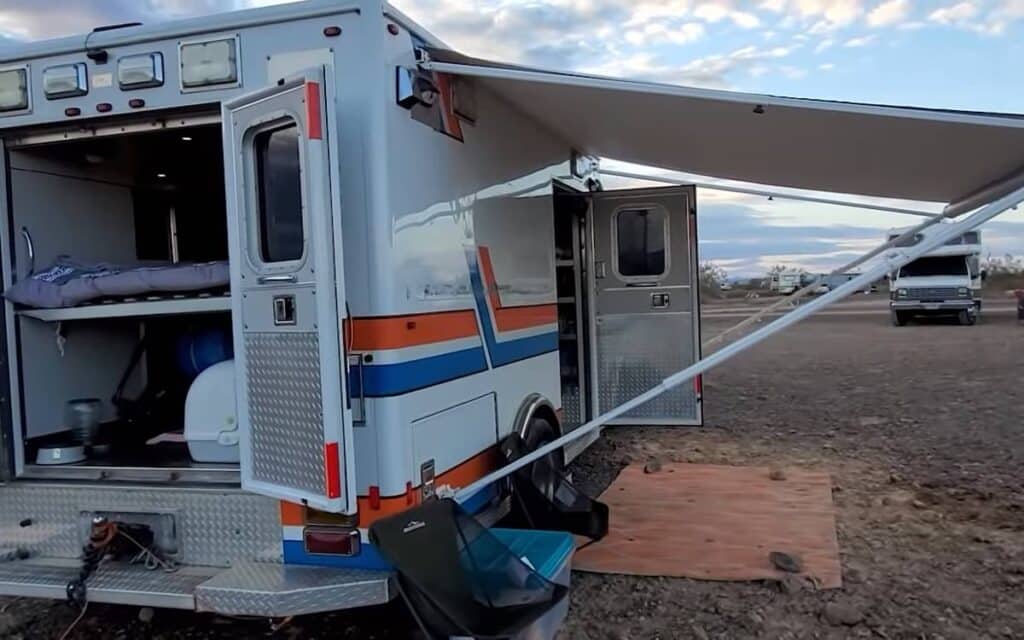 Kojo is a snowbird who spends her springs and summers in an RV in Minnesota. She spends her falls and winters in a self-converted ambulance traveling in warmer climates. The ambulance conversion has tons of great features, like two electrical systems, an air conditioning and heater unit, and lots of storage.
Kojo installed cedar wood on the ceiling for a lightweight, aromatic option that makes the living space cozy. She also travels with her cat and her dog, so the air conditioning and heating unit is helpful for keeping the living space comfortable for her and her pets.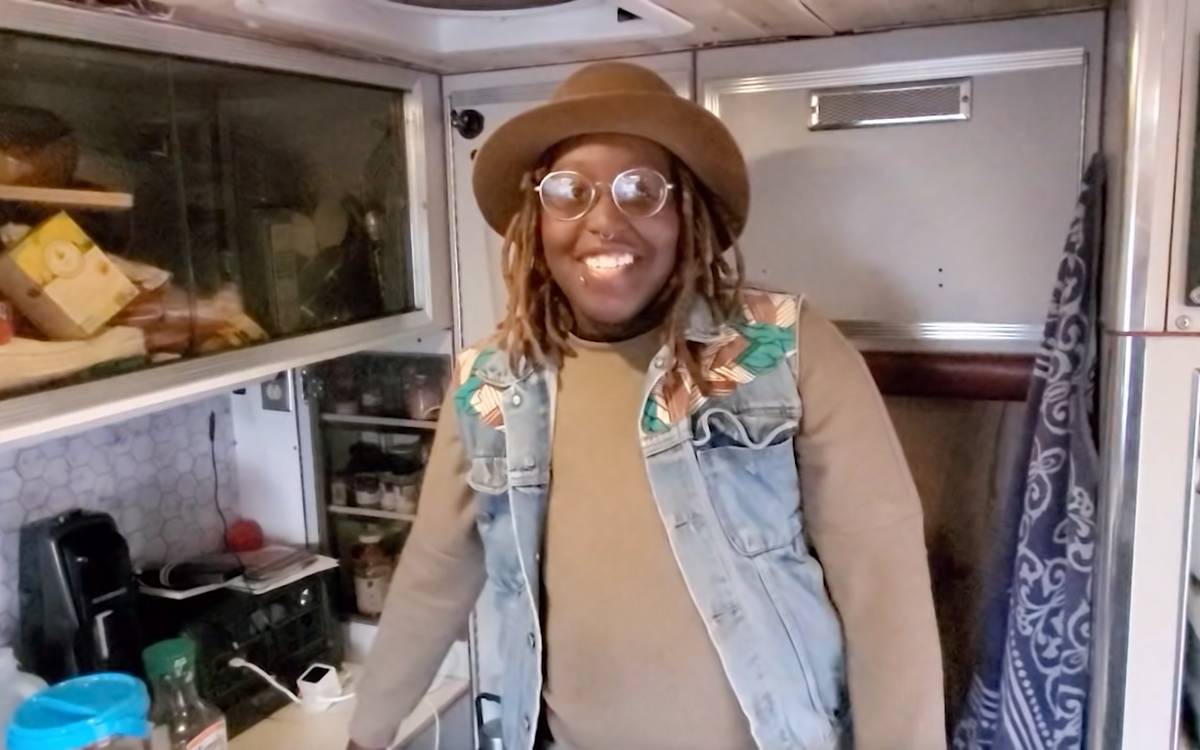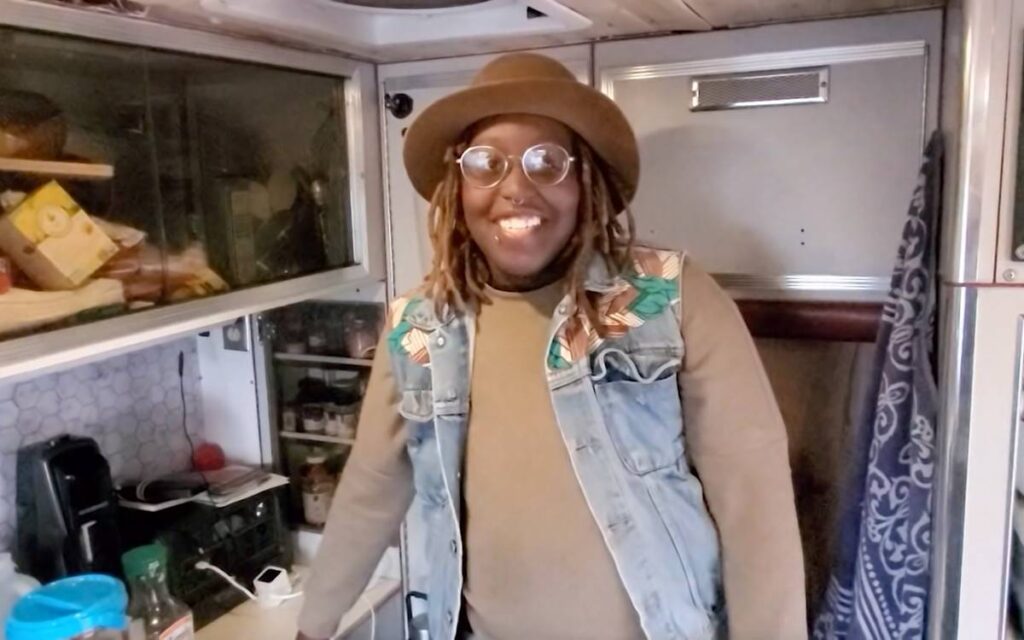 The ambulance has a ton of storage options. Kojo opted for a fixed bed platform in the back of the vehicle. The garage under the bed provides room for the cat bed, food and water bowls, and a litter box, so her cat has their own space. Also stored in the garage are the secondary electrical system and a 12v portable fridge. On the exterior of the back of the ambulance, there is a storage closet that acts as an extension of the garage.
Additional features include an awning on the outside of the passenger side of the camper conversion, a skylight and a Maxxair fan installed on the roof, and a doorway that provides access to the cab from the living space.
6. This $5600 ambulance camper conversion from @hippiehospital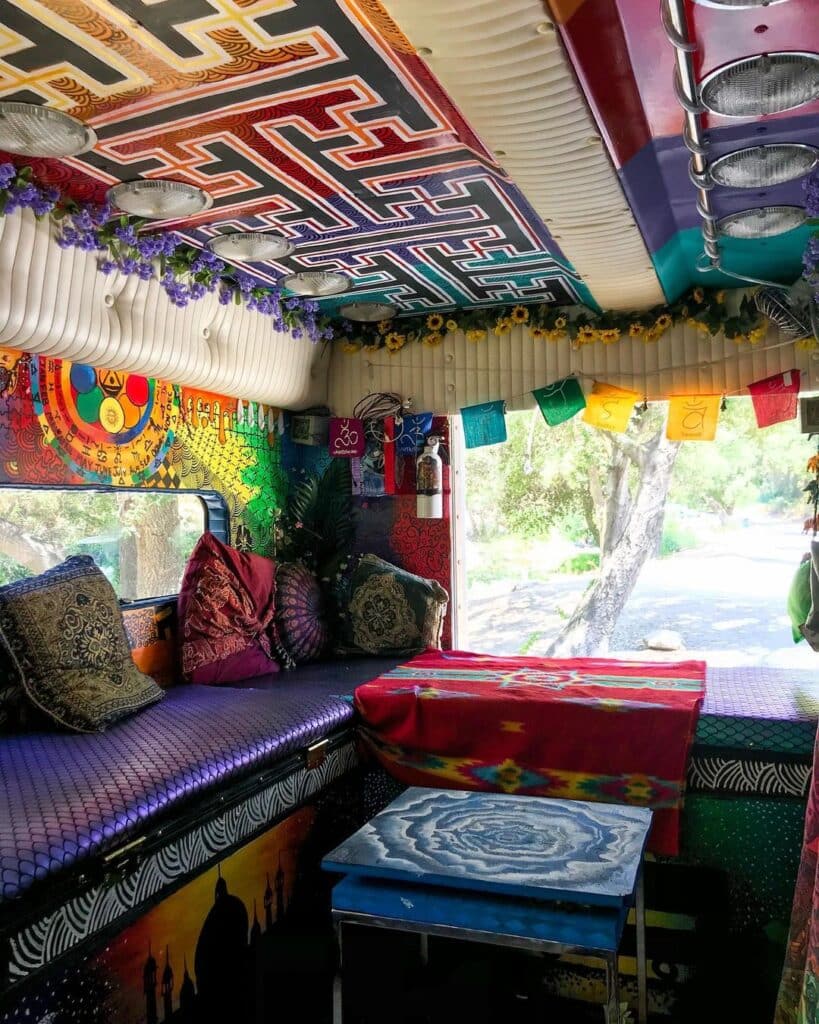 Flower and Lorenzo bought a 1987 Ford Econoline 350 ambulance that already had built-in storage. With a few modifications, they were able to transform it into a camper to live and travel in. They spent about $3500 on purchasing the ambulance and another estimated $2100 converting it, making this a $5600 conversion.
Flower and Lorenzo use their ambulance as a mobile dreadlocks shop. The flood lights are a great feature of the ambulance because they allow the couple to see easily outside at night if they are working.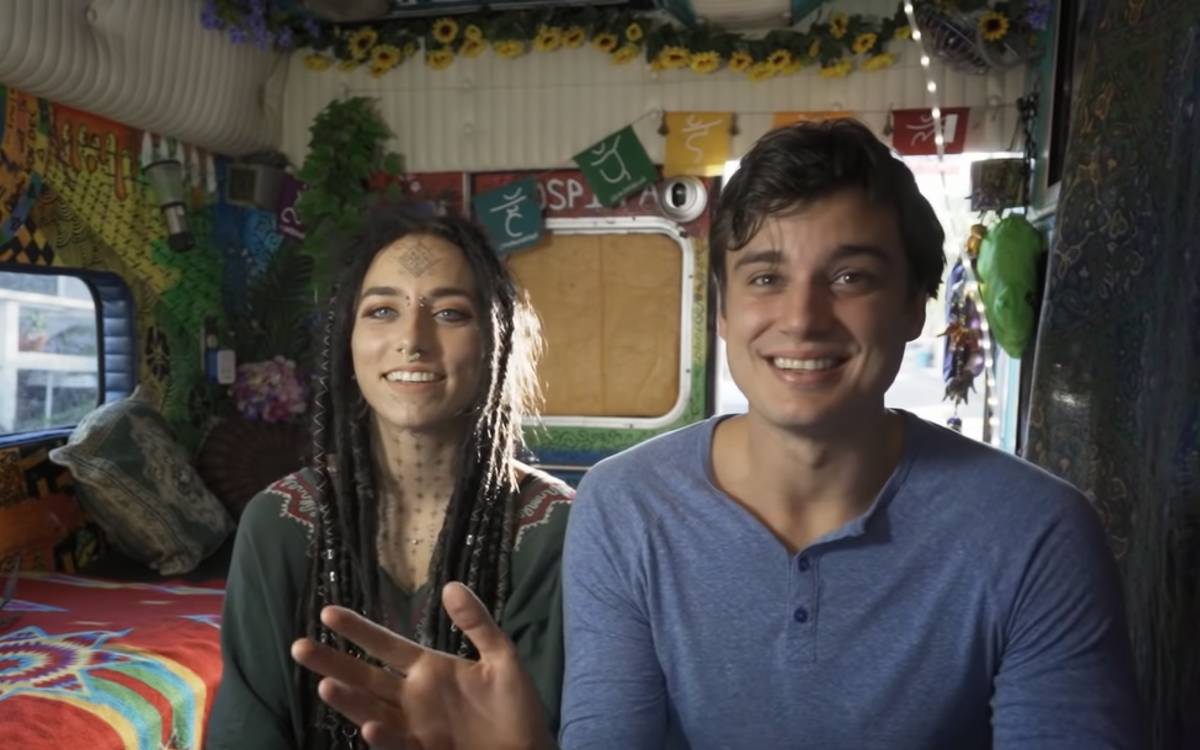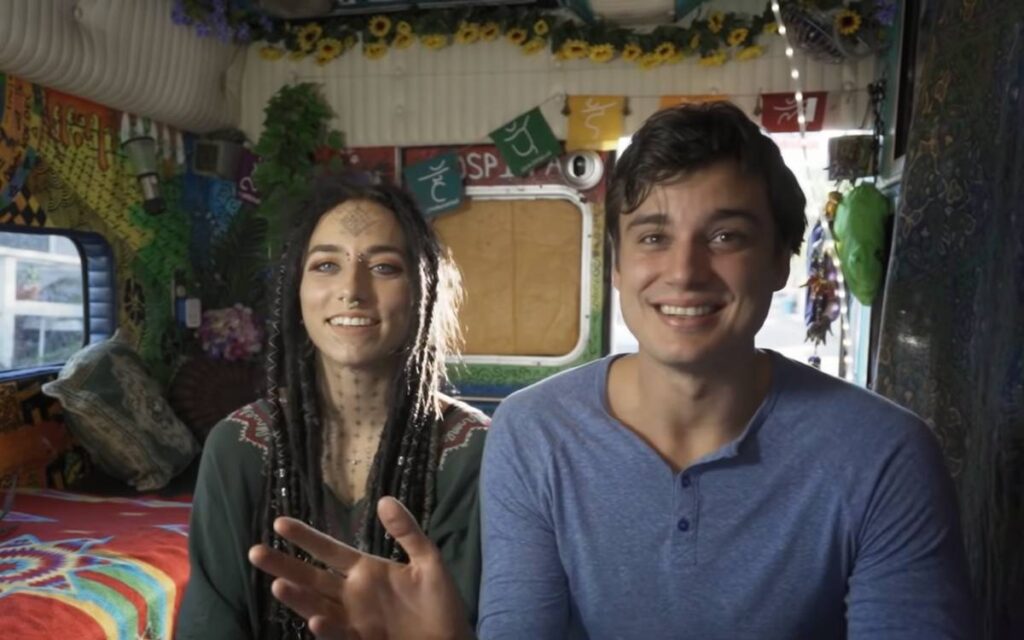 When the back doors of the camper are open, the space can convert into an outdoor shower. A shower poll connects to the door, and a shower curtain is strung up to provide privacy. Their water tank connects to a water heater. The hose and nozzle connect to it for an easy shower solution.
The couple customized the interior with art, tapestries, plants, and stickers that give the living space a unique and cozy look. There is an L-shaped sofa that runs along the passenger side and the back of the van. By removing a cushion and using a table for support, one section of the sofa frame flips up on a hinge and expands the space to make a full-sized bed.
7. This ambulance camper build with a hidden shower from @adventure_ambo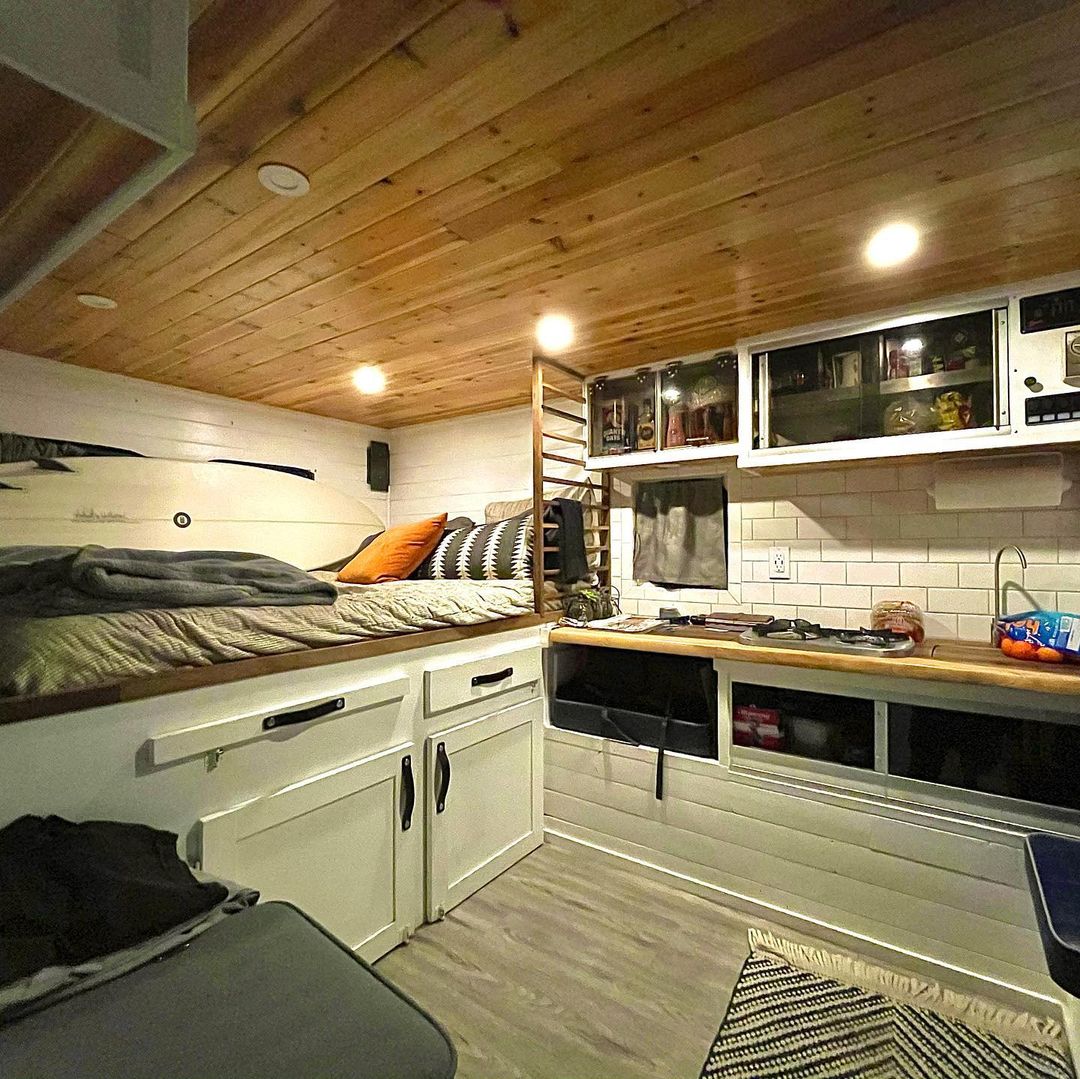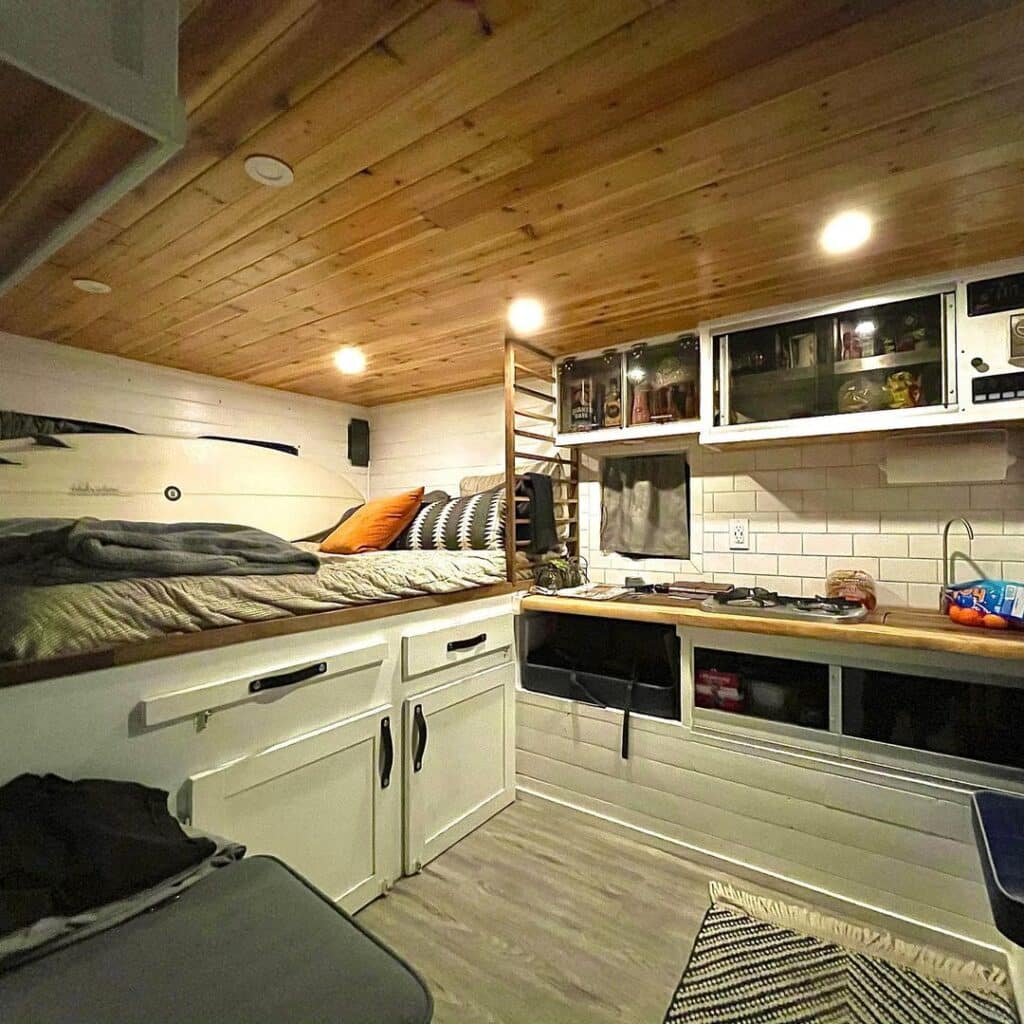 Ben built out a 1995 F-350 ambulance for about $13,000. His rig has a hidden shower, pass-through door to the cab, closet space, and lots of other convenient features for everyday living.
We love the hidden shower accessible from the side door entryway. There is a step with a doormat to enter the van conversion. Under the doormat is a teak shower mat, with a drain underneath that empties from the bottom of the van. The showerhead is stored out of sight above the side door on a hose that pulls out. A shower curtain can be placed around this area with magnets.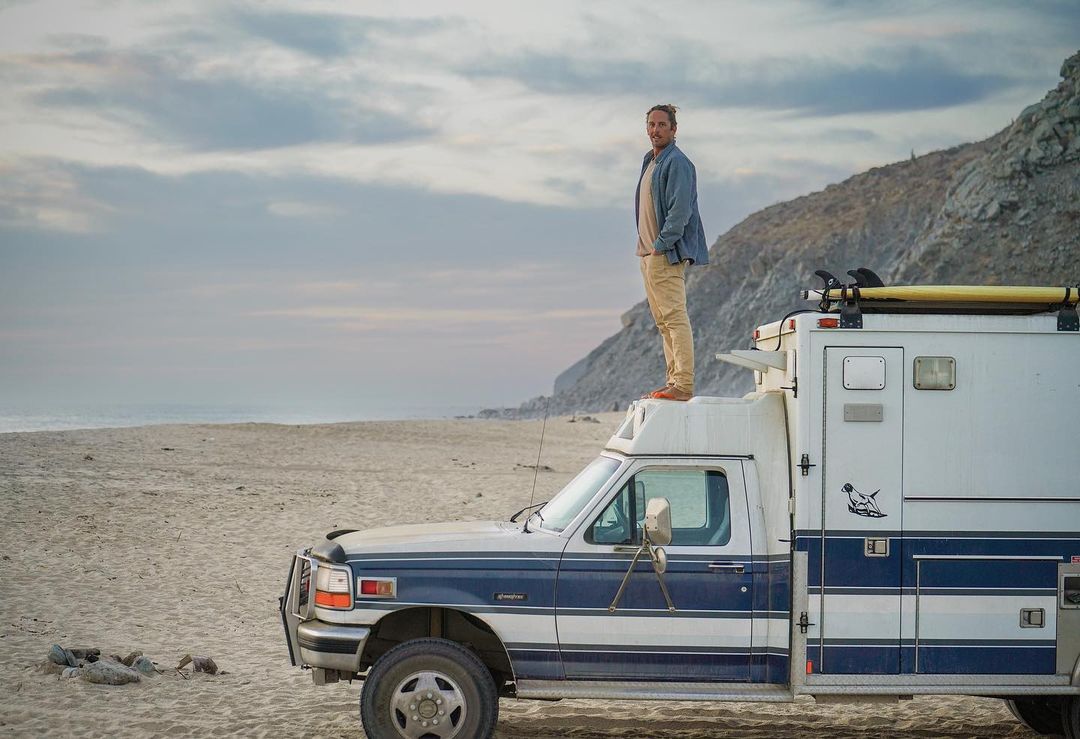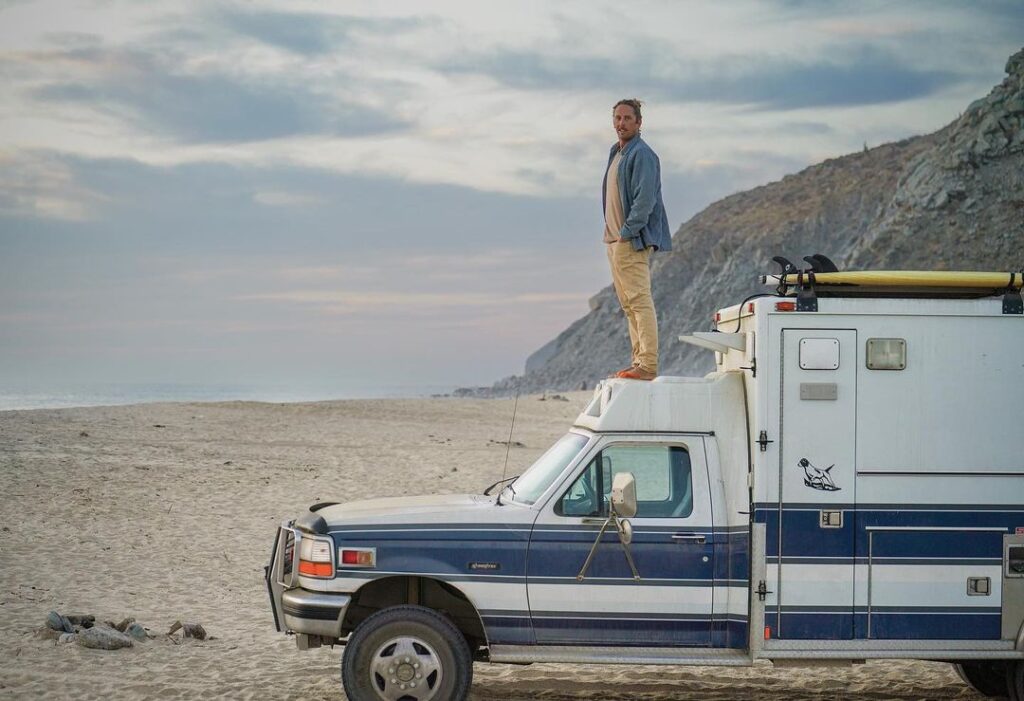 Ben repurposed a storage compartment near the cab into a closet by removing some shelving, lining it with cedar wood, and utilizing a wooden dowel to hang clothes hangers on. Above it is a compartment for smaller items like gloves, and below it is a compartment used for shoe storage.
It was important to Ben that he has a pass-through door to access the cab so that he can get between the cab to the living space without going outside – which is a great option to have in various areas.
8. This 4×4 ambulance conversion from @lidia_rico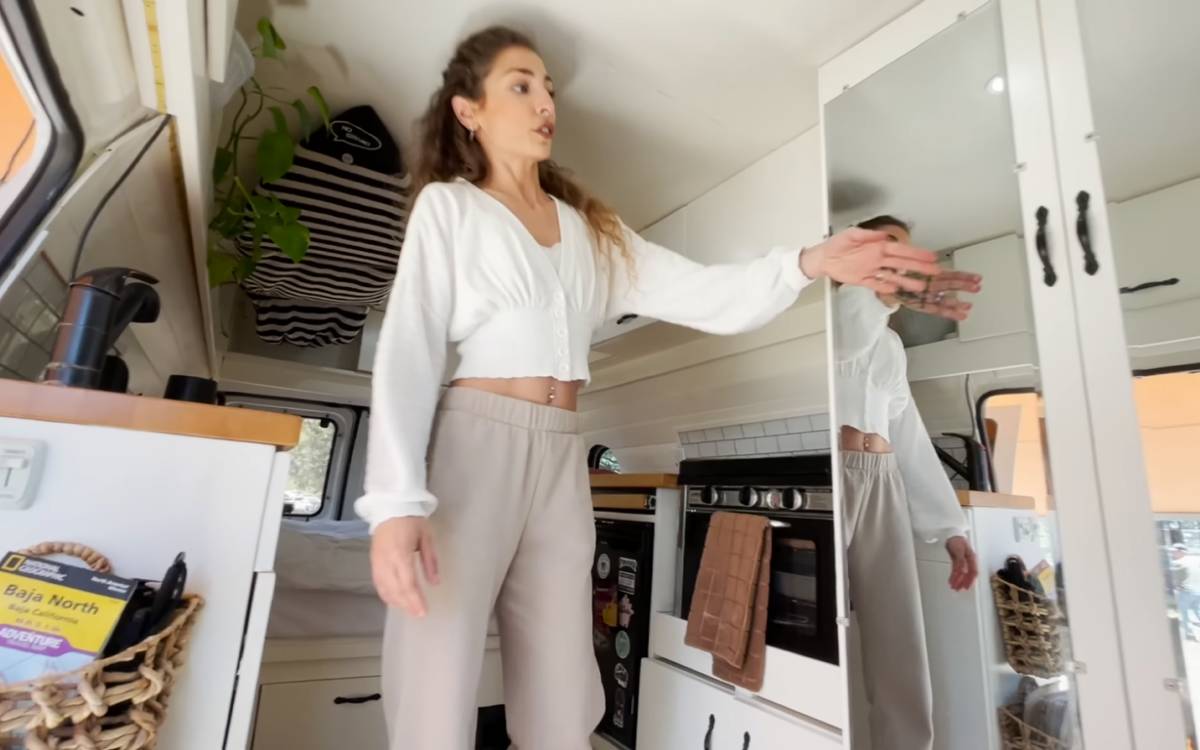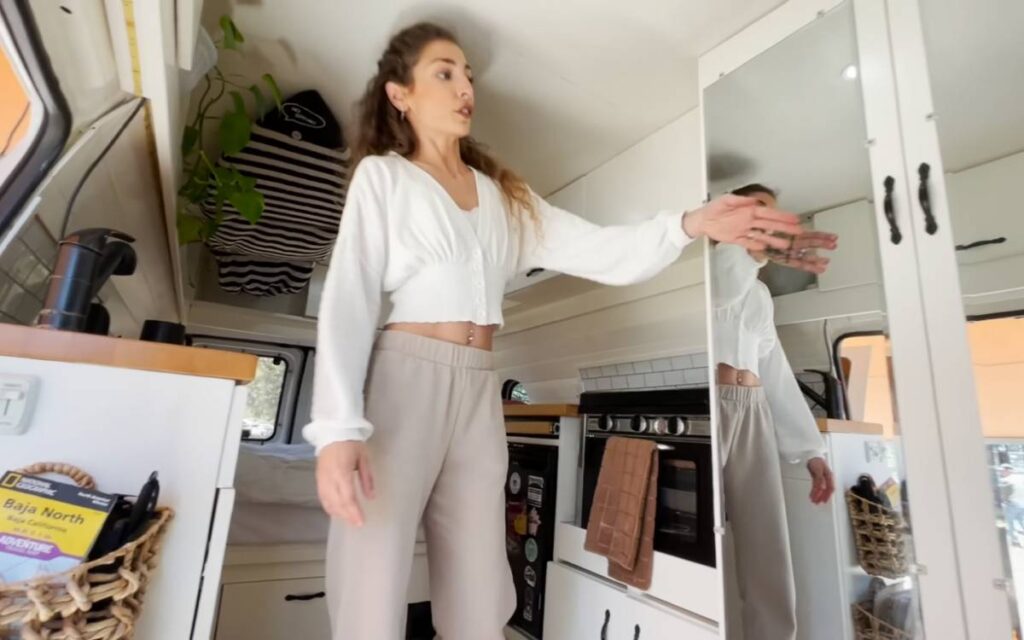 Philip and Lidia have a 4-wheel drive ambulance truck that they converted to live in full-time. Prior to the ambulance, the couple was living in an RV. Downsizing to something with 4-wheel capabilities allows them to get to more remote locations with less difficulty.
Lidia wanted to cover the red lines that were painted on the exterior, so she covered part of the ambulance with a cheetah print wrap, adding a customized look to it. They reached out to the company that manufactured the ambulance to get the wiring diagram, which assisted them with the electrical wiring already in place as they worked on the conversion.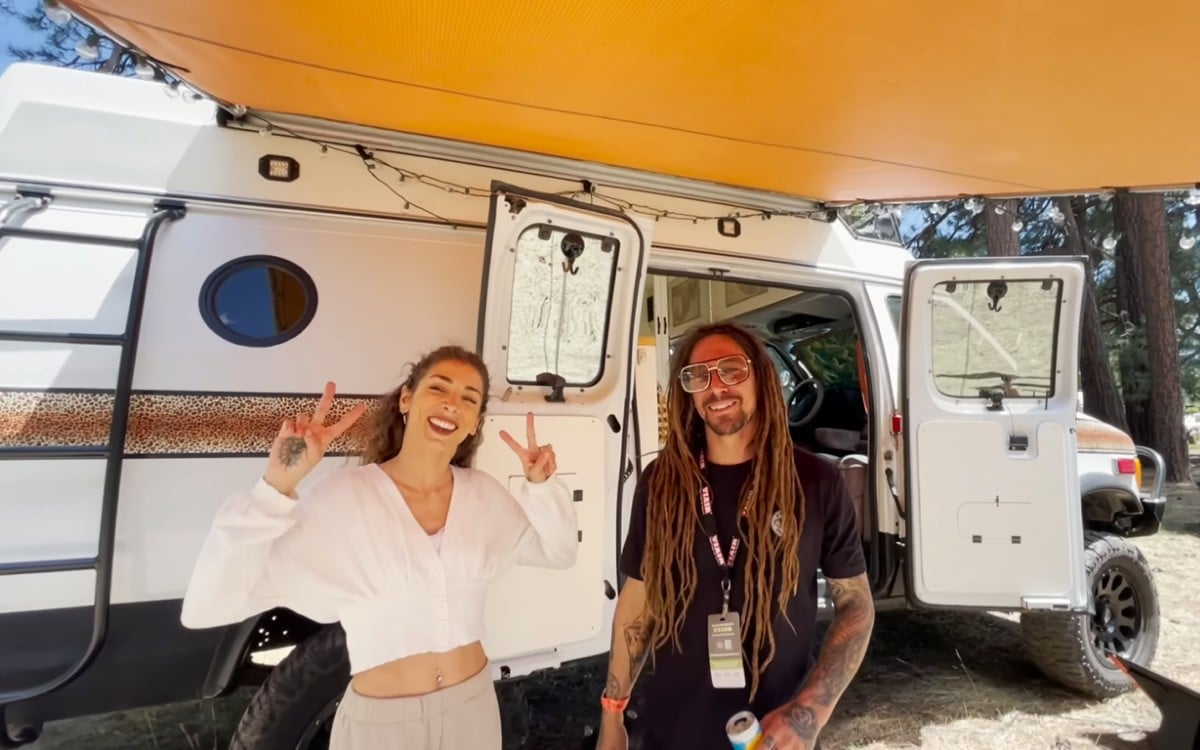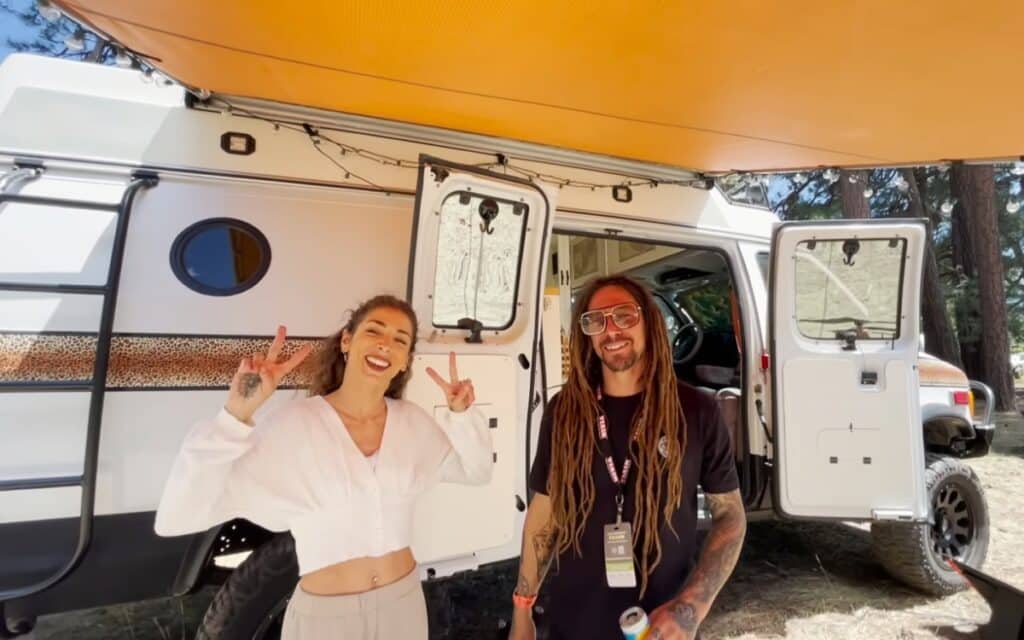 In the kitchen, there is a small range with a stovetop and oven. The sink is across from the range by the side door. There is a hose and shower head attachment that connects to the faucet, which can be pivoted outside for a smart outdoor shower option.
The bed is fixed width-wise in the back of the camper, providing a large garage beneath it. From the inside of the van, they can access the toilet stored under the bed. From the outside, they can access the drawers used to store tools and equipment that are used to fix and maintain the van.
9. This used ambulance camper conversion with a wet bath from @van_vida_travels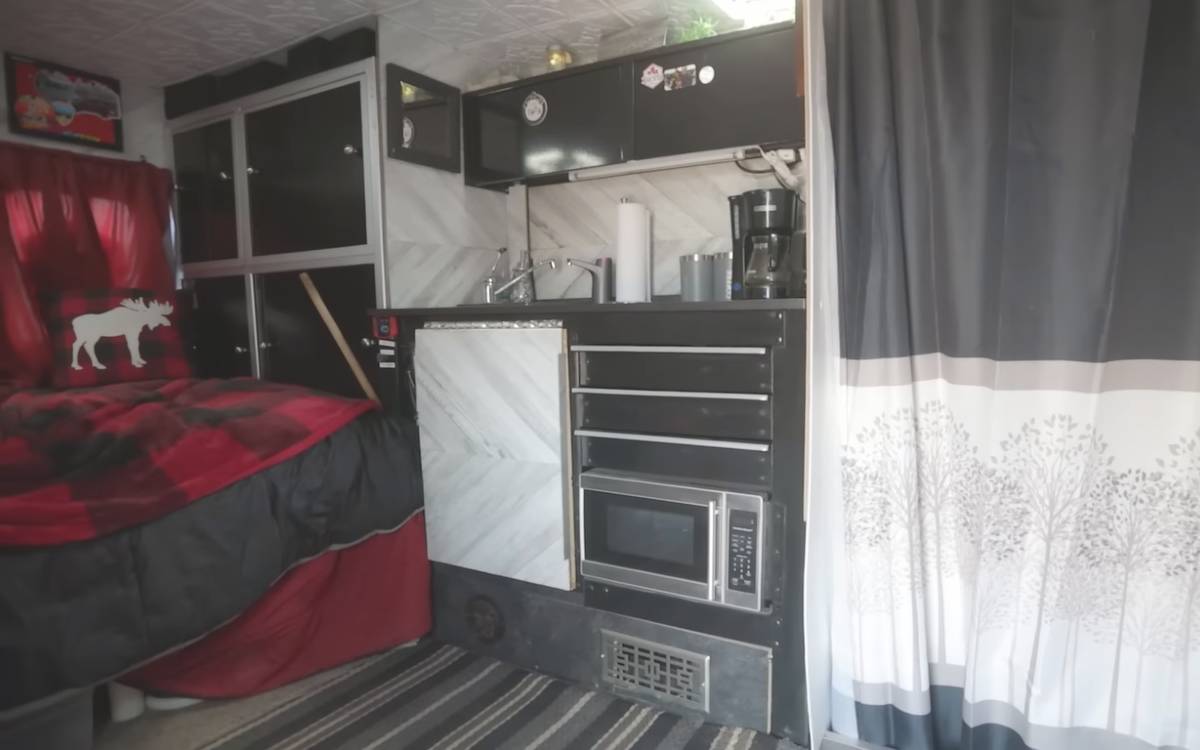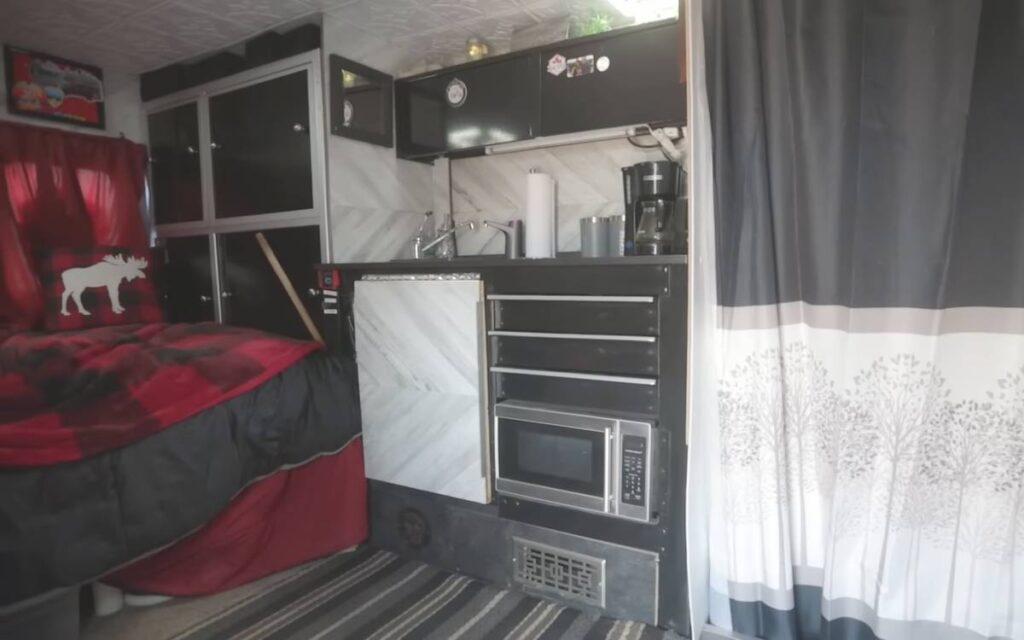 Paula is an empty-nester who travels solo in her converted ambulance named Vida. This build includes a lot of features to prioritize safety, including access to the cab from the living space and an inside shower option.
The van has a pass-through door that connects the cab to the rear box. The pass-through door was an essential feature for Paula for safety so that she could leave places quickly in an emergency, and not draw too much attention when the van is parked.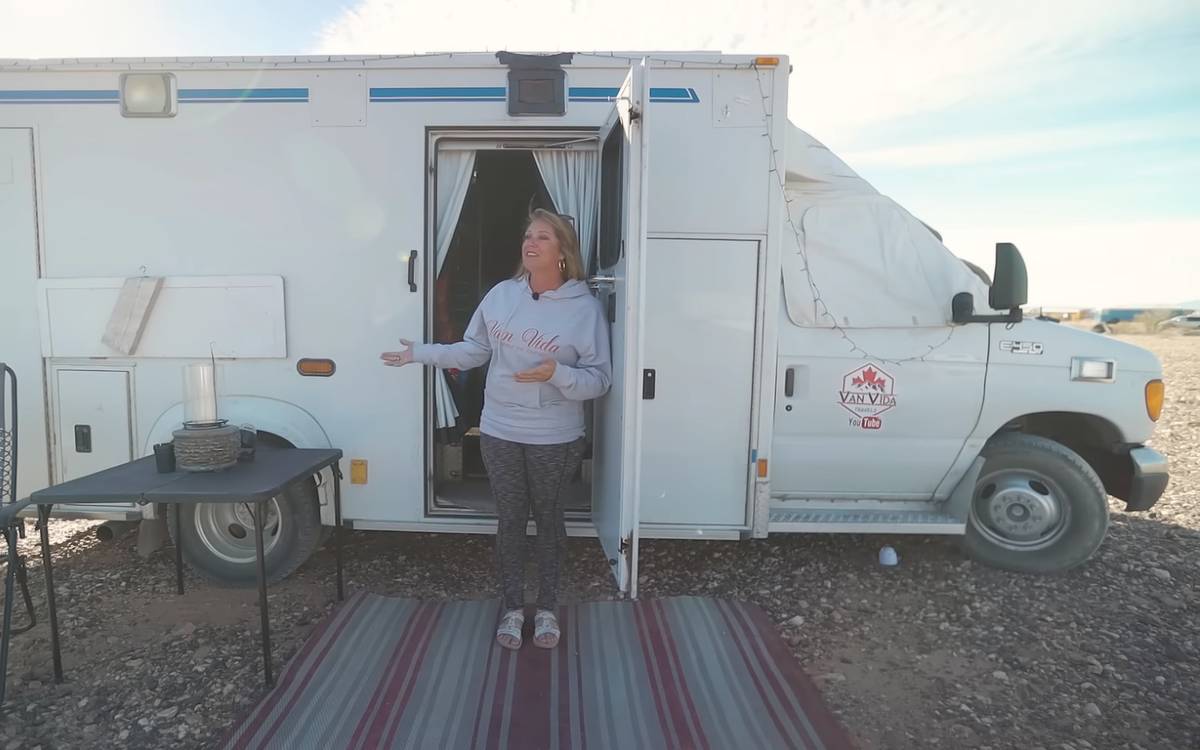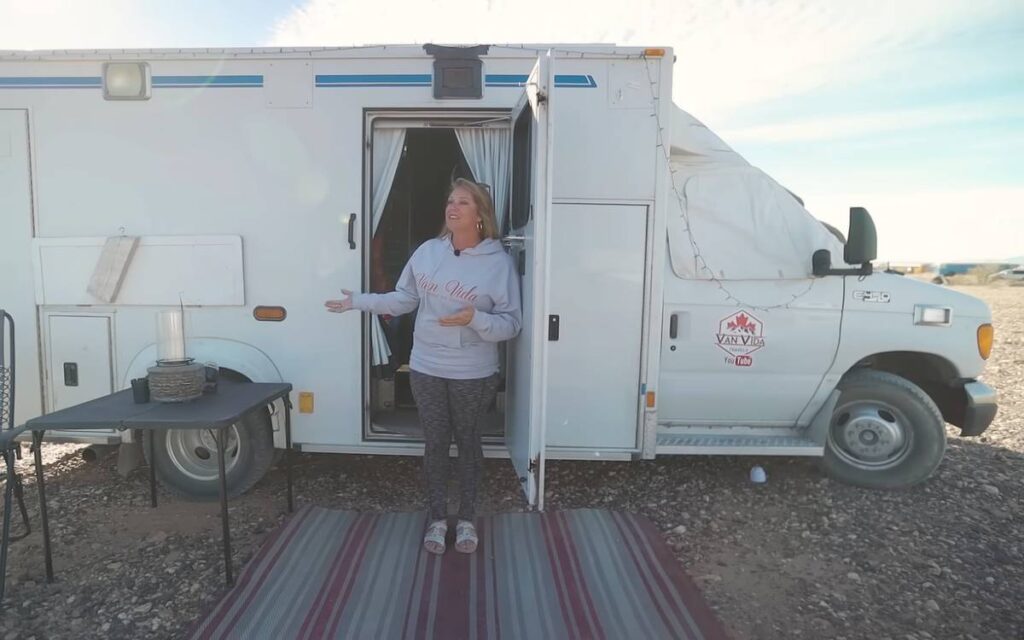 Behind the driver's seat, there was a large storage compartment with shelving. On the outside of the van in this section, there was another storage compartment that held all the ambulance's electrical wiring. Paula had everything removed from these compartments and transformed the room into a wet bath with a shower and a composting toilet.
Because Paula also wanted to prioritize space, she opted for a table that is normally folded down in her kitchen. When she wants to use the table, she has a table leg that she puts in place for a quick and easy option that stores out of that way.
10. This ready-to-go van life ambulance build from @man_indievan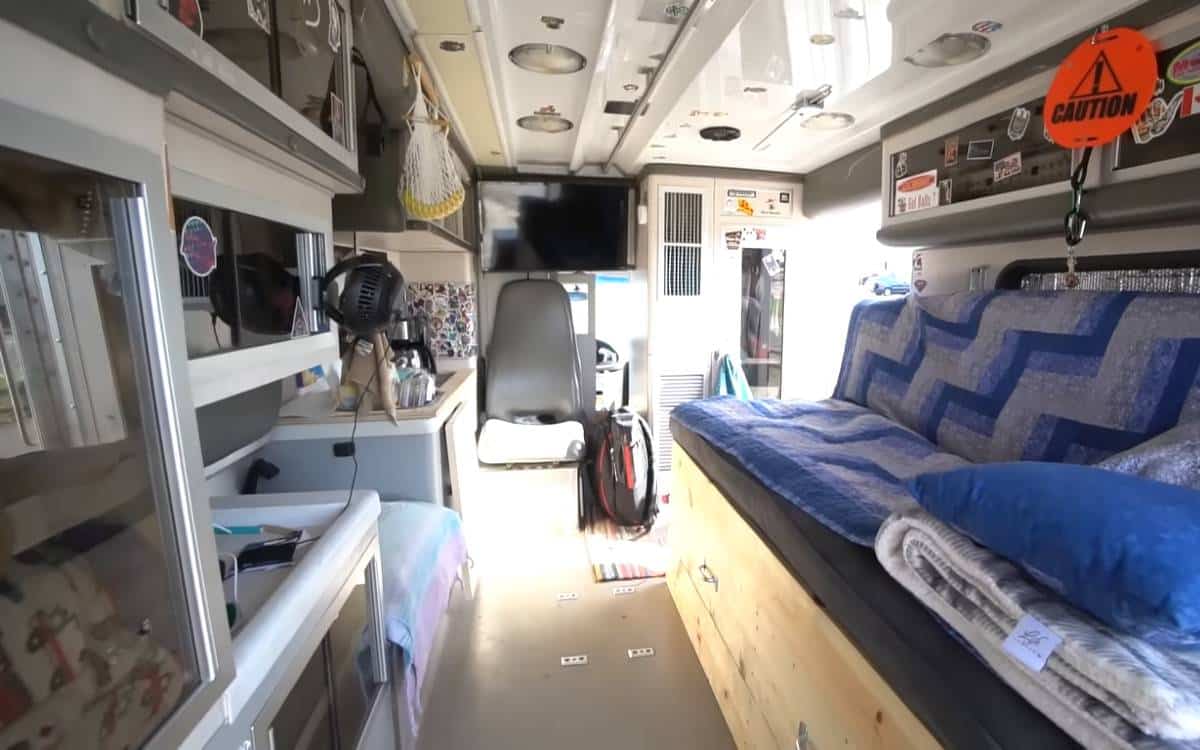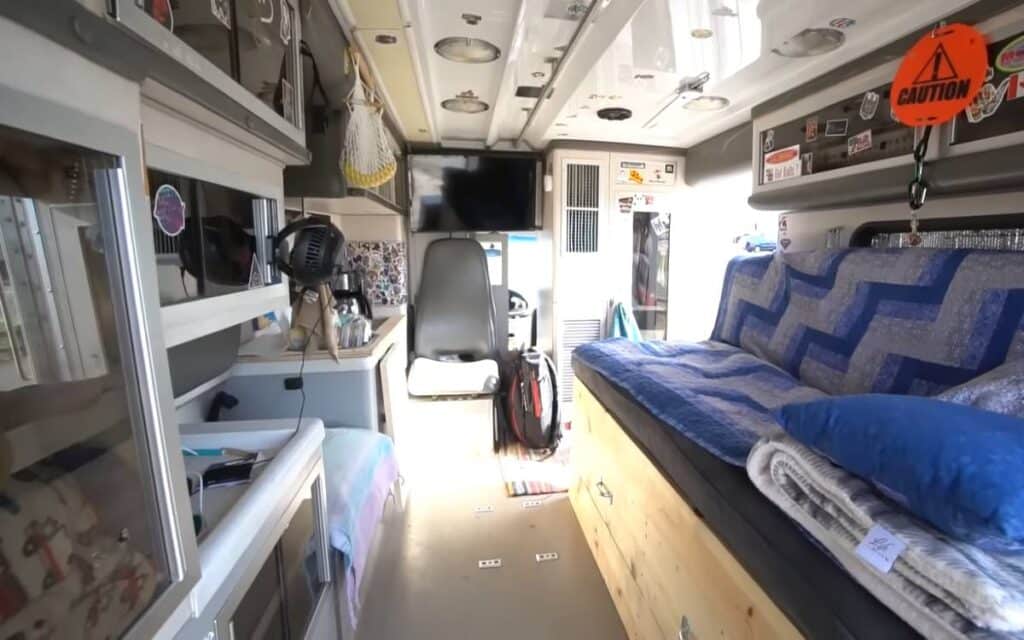 Mitch converted a 1997 ambulance he named Wanda so that he could live in it full-time. He kept the original cabinetry and electrical system in place with his ambulance, making the actual conversion pretty minimal while also having plenty of storage for clothes, shoes, linens, and other items.
The kitchen in this camper conversion is still under renovation as Mitch waits to have a propane stove professionally installed. The ambulance already had a seat in place behind the cab, so this area became the perfect place to install a fold-down table. By repurposing a tripod leg, he was able to use it as a table leg to support the table for eating and working.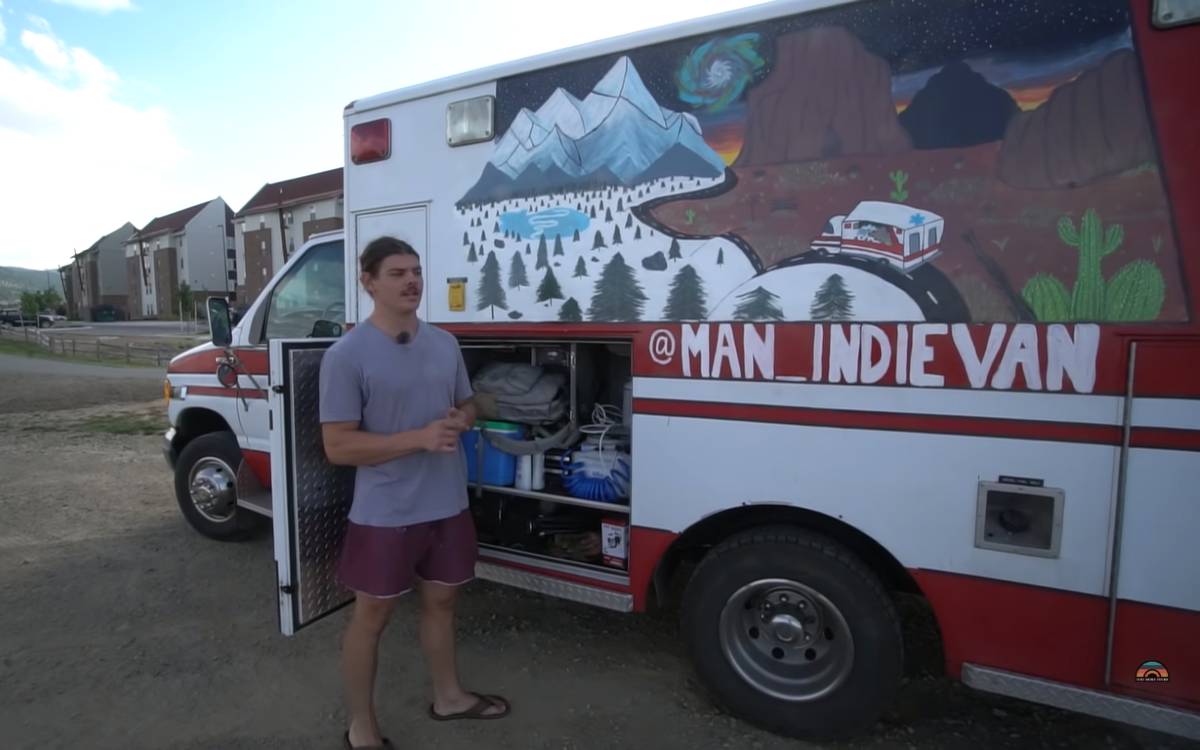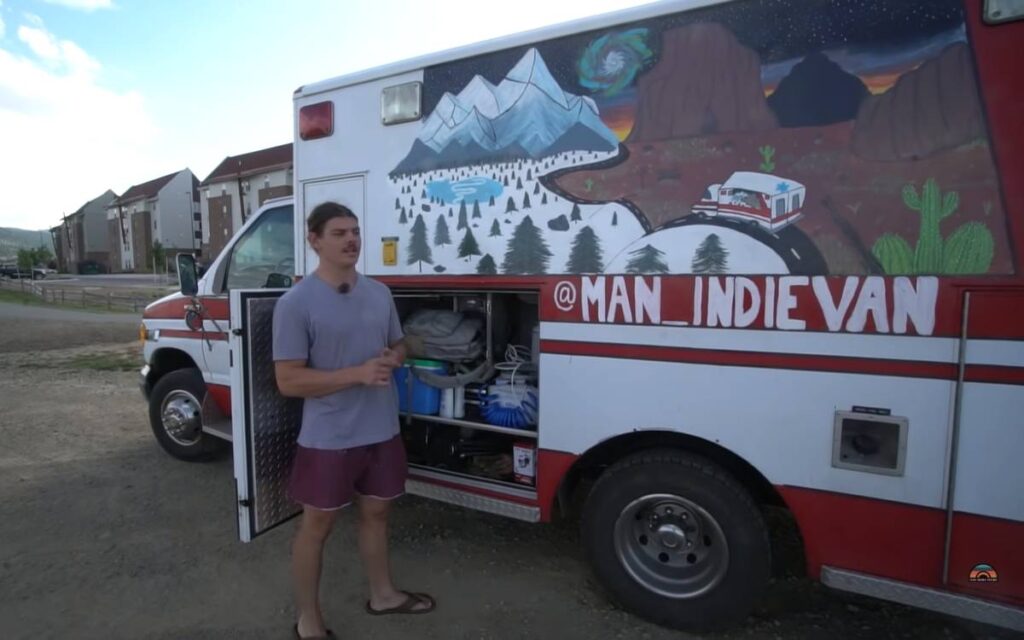 Because he camps in the desert, Mitch opted to install an air conditioning unit, which he powers using a generator to keep the ambulance cool at night.
Mitch built a futon-style bed along the passenger side of the ambulance. To turn the space into a bed, he unhooks a locking mechanism on both sides of the futon and pulls the frame out like a drawer. The mattress slides right into place for a simple sleep setup.
Build Your Van
The Ultimate Van Build Guide
Planning a van build? Read our free guide. We cover just about everything you need to know – from planning, to insulation, to solar and electrical, to picking appliances, to essential tools. Get started today so you can get out there on the road!