Are you looking to build a badass minivan for van life? The Honda Odyssey is a great vehicle for camper van conversions.
Minivans like the Honda Odyssey are more compact and fuel-efficient than full size cargo vans, but they still have plenty of space to sleep inside and store your gear.
The Odyssey is easy to maneuver and drive and can be worked on by just about any mechanic – so it's a fantastic vehicle for road trips. If you are looking for stealth, this is another category in which the Odyssey excels. Because it's a popular daily driver, it's easy to blend in on residential streets, making it a good choice if you plan to do a lot of urban camping.
The Honda Odyssey's easily-convertible space makes it an excellent option for weekend camping or for full-timers looking to hit the road quickly.
Build Your Van
The Ultimate Van Build Guide
Planning a van build? Read our free guide. We cover just about everything you need to know – from planning, to insulation, to solar and electrical, to picking appliances, to essential tools. Get started today so you can get out there on the road!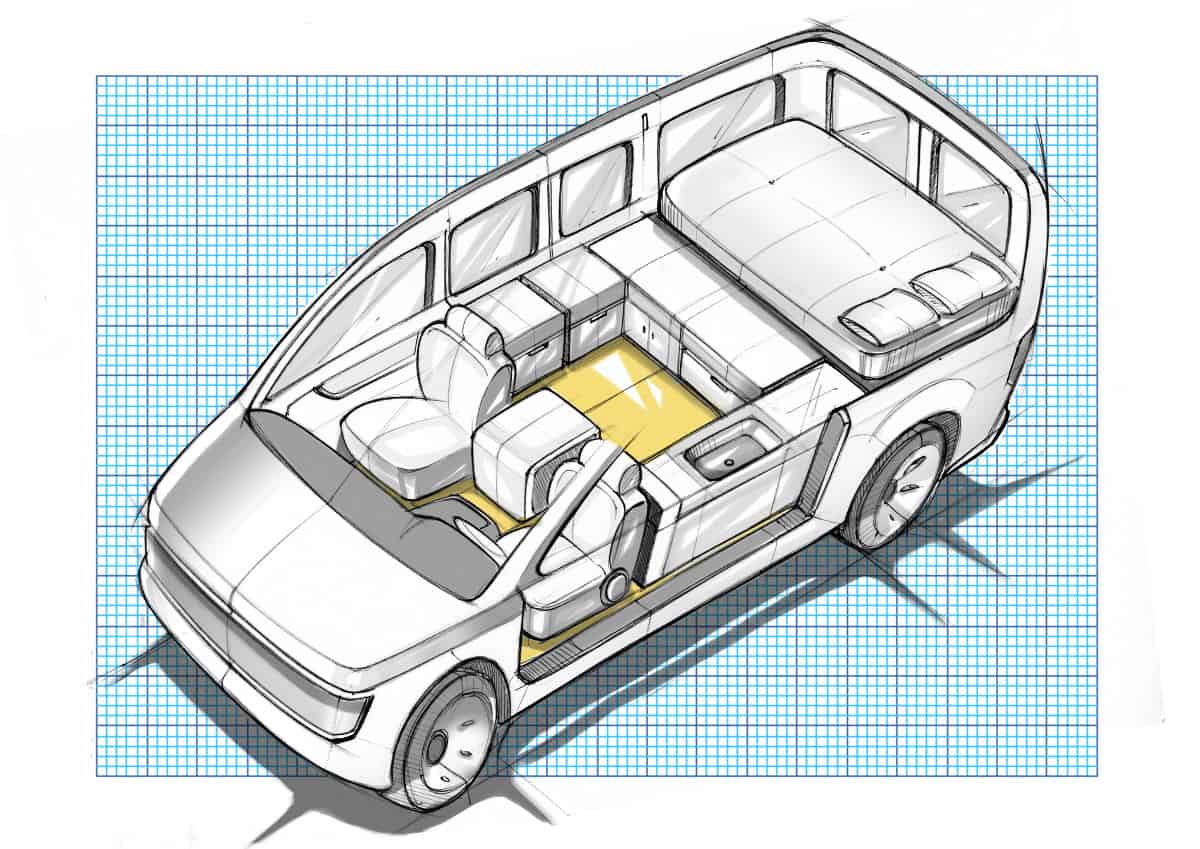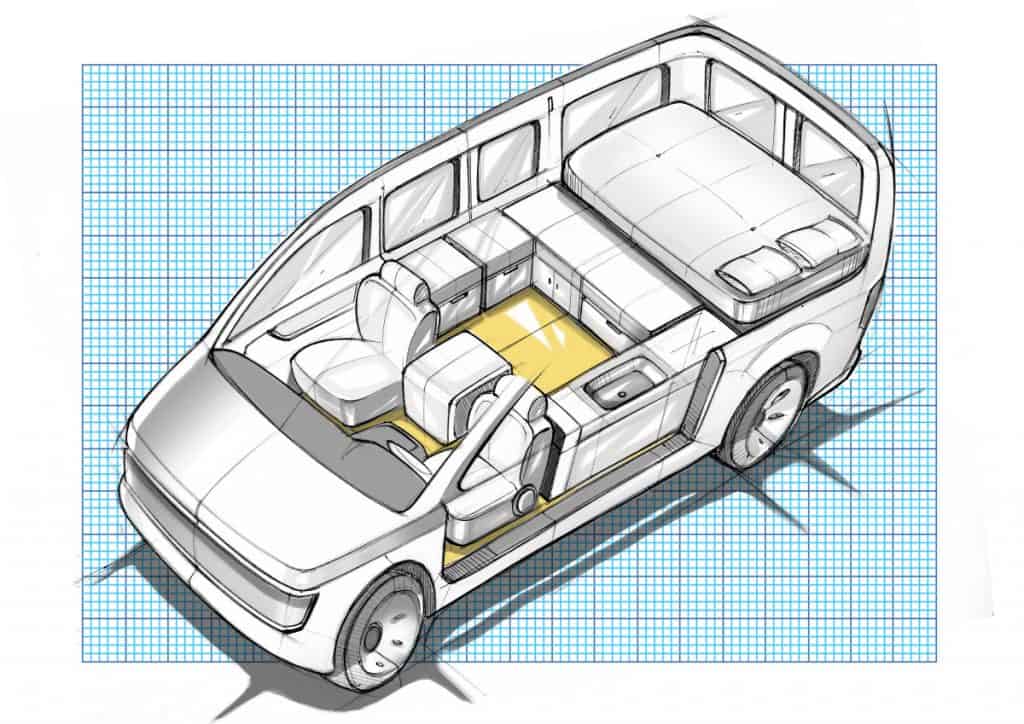 What is the Honda Odyssey?
The Honda Odyssey minivan has been in production since 1994. The Odyssey is known for its top safety features, powerful 3.5-liter engine, and spacious interior.
There are two sliding doors, third-row seats, and a roomy interior that ranges from 140 to 158 cubic feet behind the driver and passenger seats.
A large amount of interior space is one of the reasons why the Honda Odyssey is great for minivan camper conversions. There are many options for layout ideas and storage solutions, as you'll see in the DIY conversions and conversion kit options we've included below.
Pros and Cons of Honda Odyssey Campers
Cons
Spacious interior. Behind the drive and passenger seat, the Honda Odyssey has a roomy 140 to 158 cubic square feet to convert the best way you see fit for your build.
Stealth. There are tons of Honda Odysseys on the road. With the proper setup, your Honda Odyssey camper will blend right in when parked in urban settings.
Easy to drive. The Odyssey is known for its quiet but powerful engine. It can easily fit in standard parking spaces and is a good option if driving a larger vehicle intimidates you.
Safety features. The Honda Odyssey has been awarded Top Safety Pick+ by the Insurance Institute for Highway Safety. The minivan has many helpful features, like a rear-view backup camera and an upgraded front crash structure in models 2014 and newer.
Strong used market. The Honda Odyssey has been around since 1994, so there is a strong used market with options for every budget.
Cons
No all-wheel drive option. Unlike the Toyota Sienna and the Chrysler Pacifica, the Odyssey doesn't have an all-wheel-drive option. This can be a big con for anyone planning to camp in more remote areas with unpaved roads.
Harder to customize. Since the Odyssey isn't a cargo van, expect your minivan purchase to come with carpeting, insulation, airbags, seatbelts, and other elements you will need to remove or work around for your build.
Honda Odyssey Alternatives
Here are some other great options for your minivan camper conversion.
Toyota Sienna. Toyota reliability with available AWD to help you down those Forest roads/
Dodge Grand Caravan. Every seat is stow'n'go, so it's easy to convert back to a daily driver.
Kia Sedona. Affordable and reliable minivan.
Ford Transit Connect. More of a "mini-work van", this is an excellent base for camper van conversions.
DIY Honda Odyssey Camper Conversions
1. This Honda Odyssey minivan camper conversion with a converting bench seat from Leslie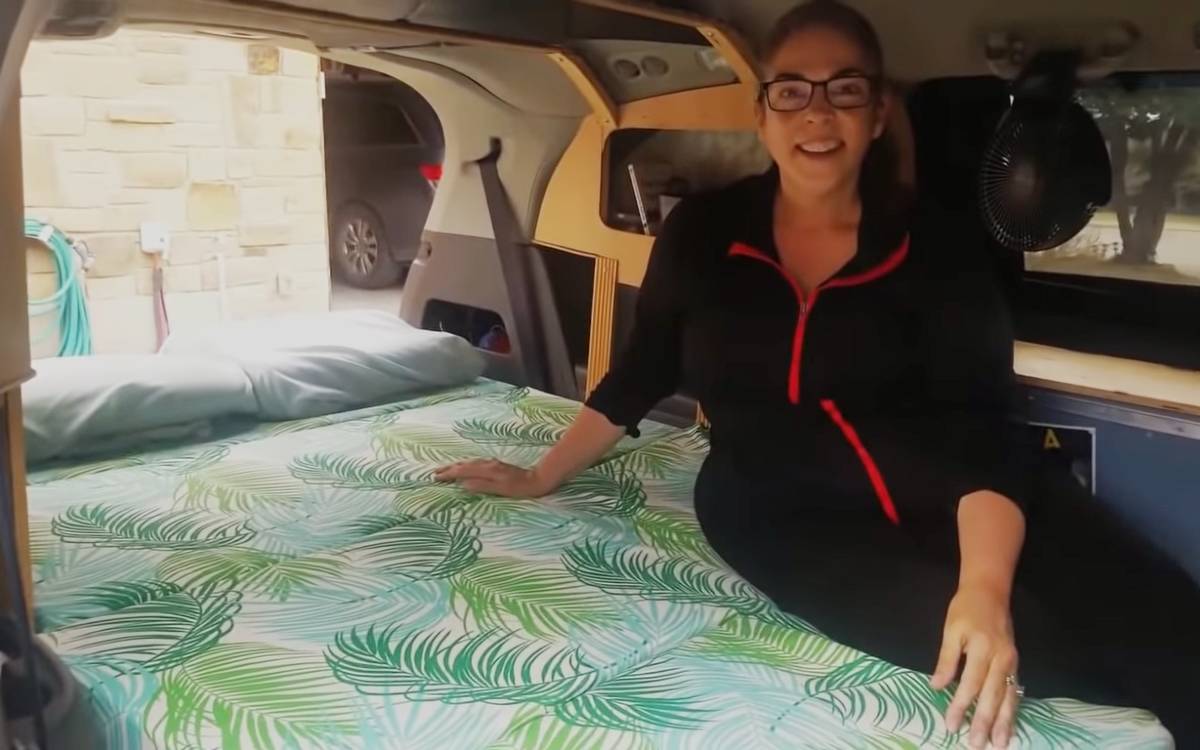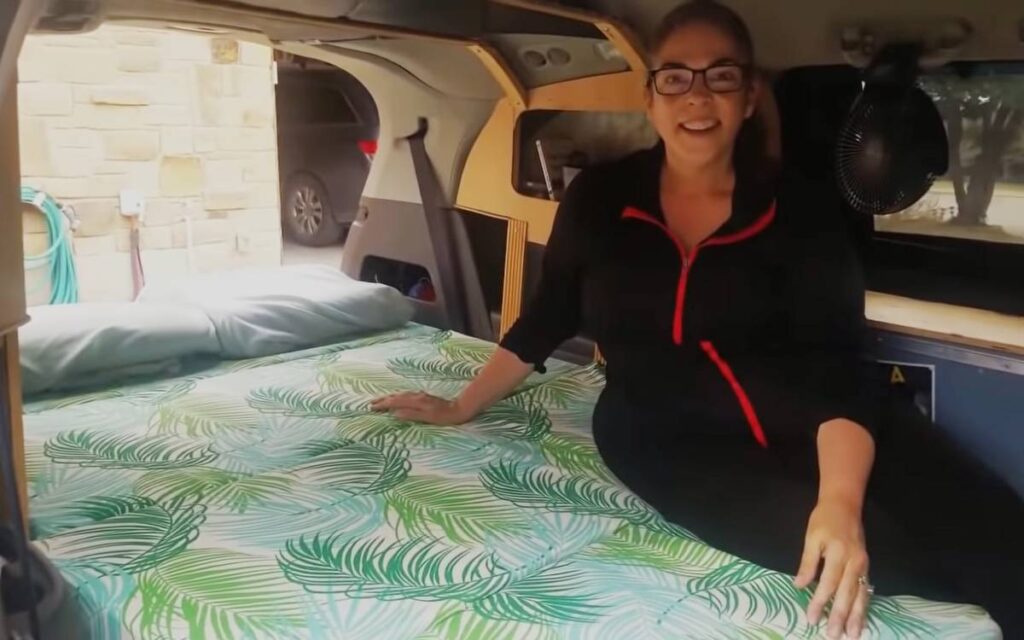 Leslie converted a 2016 Honda Odyssey into a camper van.
She added a roof rack to the top of the minivan and installed a basket on top of it. The setup allows for two kayaks on the roof, as well as backpacks and a small propane tank.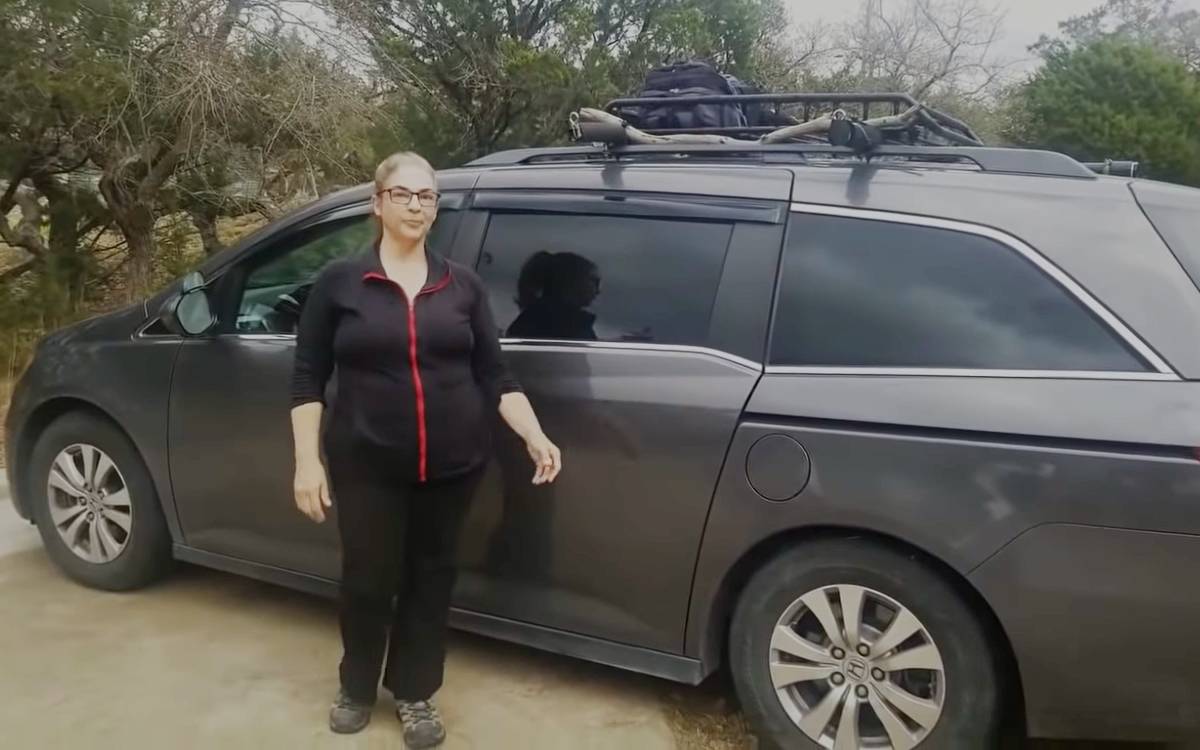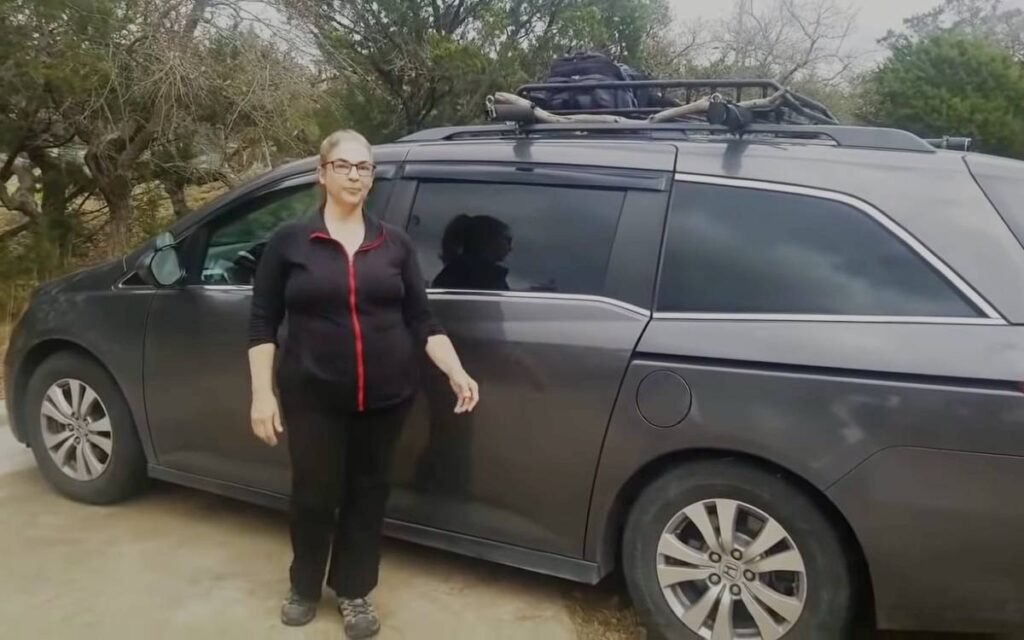 When the hatch is open, an outward-facing bench seat lifts to access storage underneath. Since the third-row seats have been removed in this build, this space has a deep storage compartment. Leslie has a strap connected to the seat that lifts and hooks to a seatbelt shoulder anchor, allowing the compartment to stay open hands-free.
In the living space, the bench is mirrored in the interior. It is super easy to unlock and shift the setup from the two benches into a bed that takes up the width of the interior and comfortably sleeps two people.
2. This $300 Honda Odyssey van conversion from Kahappy68 Vlog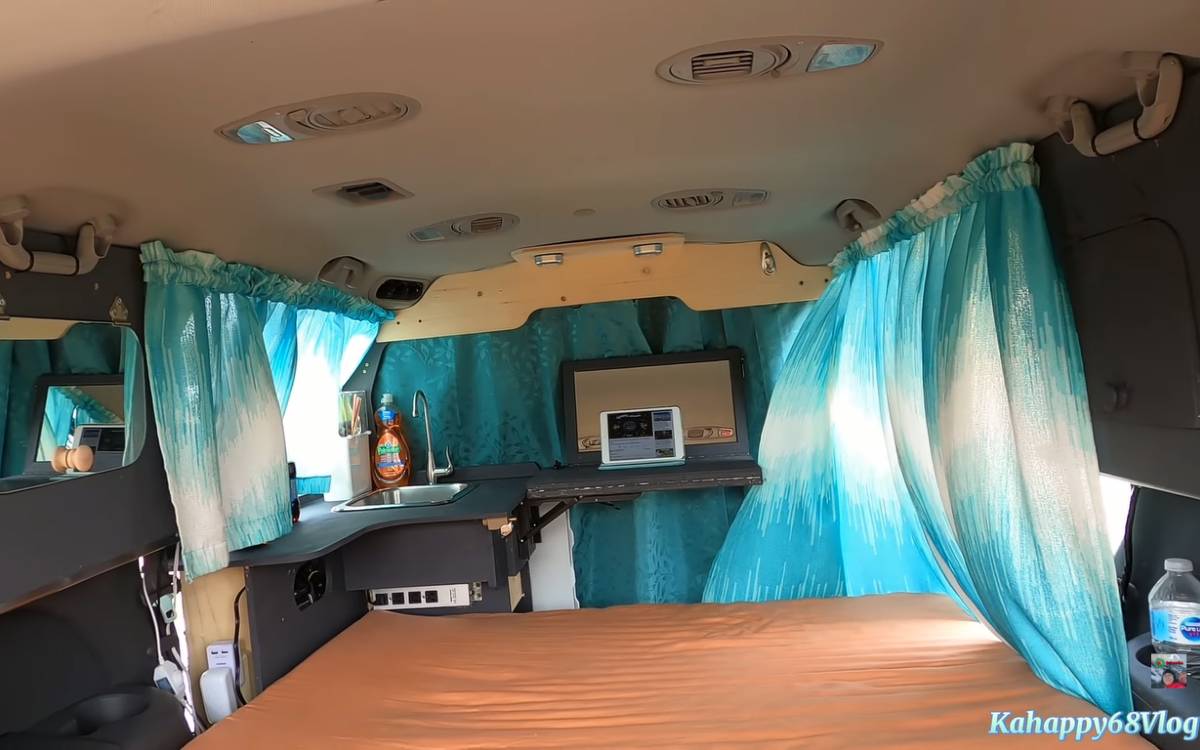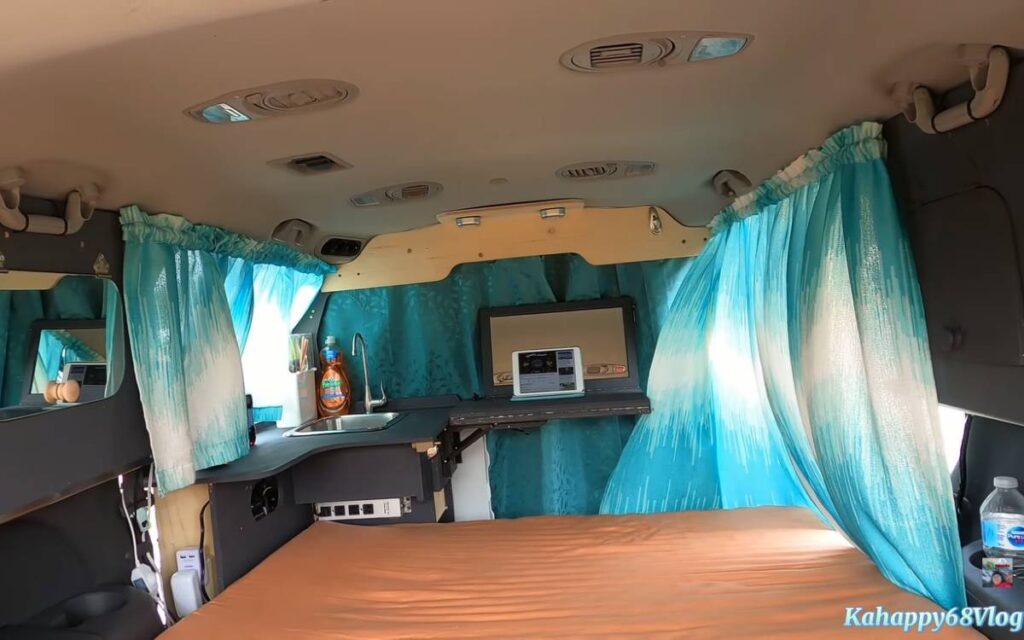 The couple behind Kahappy68 Vlog converted a 2005 Honda Odyssey without permanent modifications. They spent only $300 to make their minivan a comfortable vehicle to travel in
They used a curtain to separate the cabin from the rest of the van and installed a sink and faucet with running water behind the driver's seat. A table that folds into three sections is attached to the counter. The unfolded table provides plenty of additional space to relax and eat.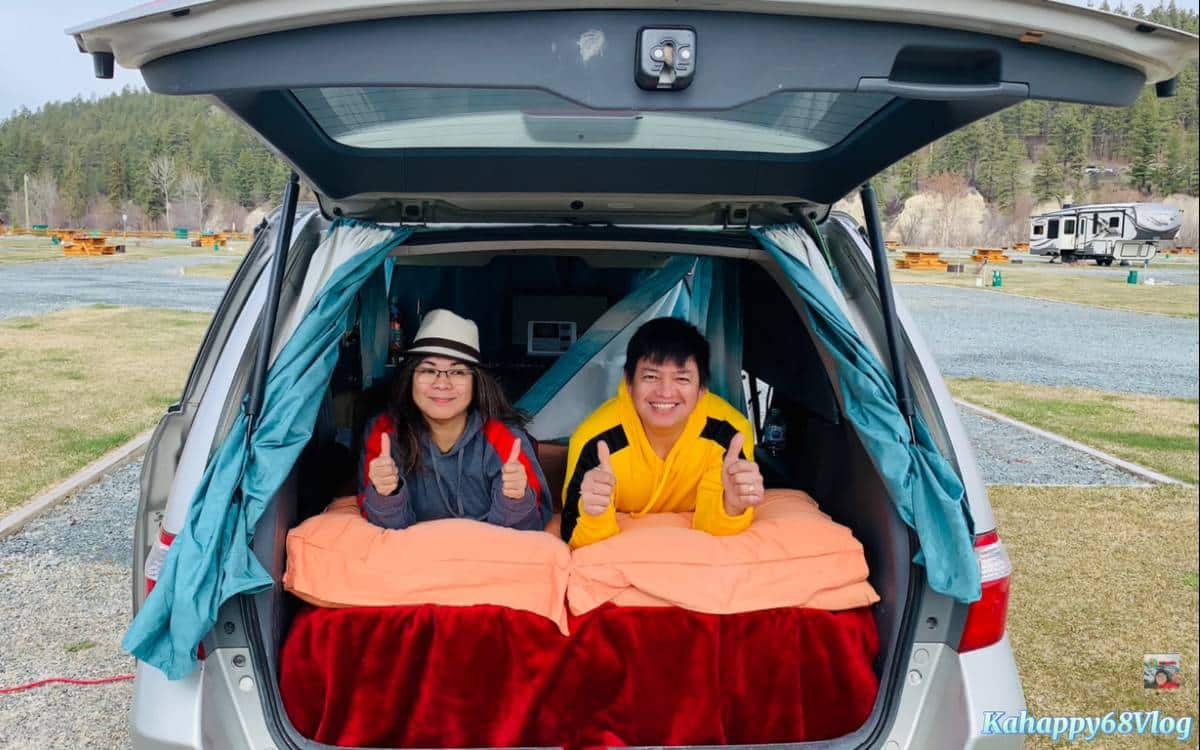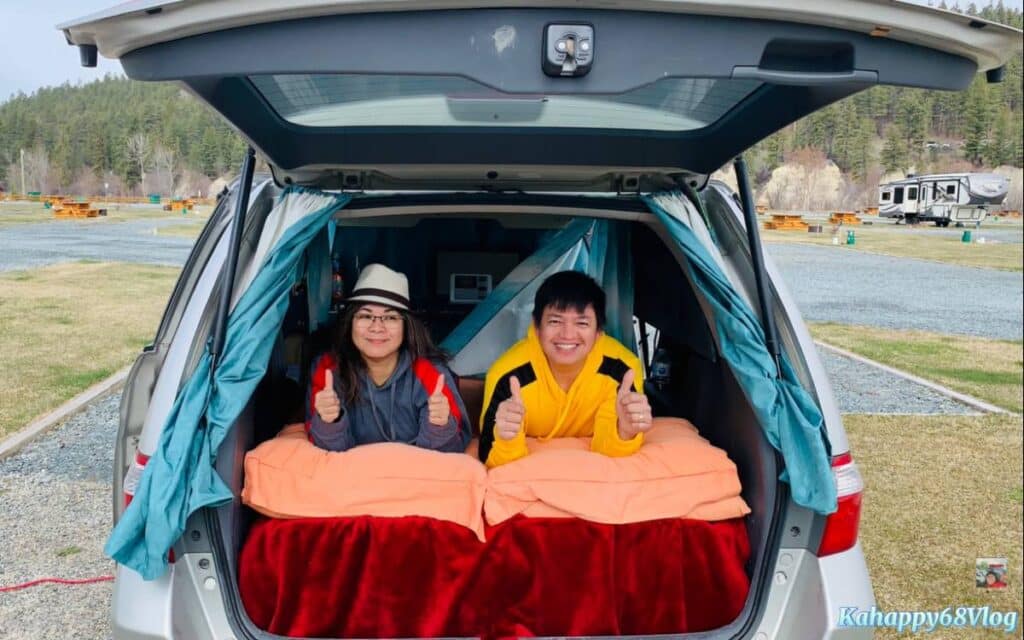 We like that the bed system provides a lot of storage for clothes and other daily items beneath it. The couple has the area separated into different storage compartments using wooden dividers, which is a smart way to keep things organized. The bed system has two benches – one facing the interior space and one facing the exterior when the hatch is open
3. This no-build Honda Odyssey conversion from @rachelarchelaus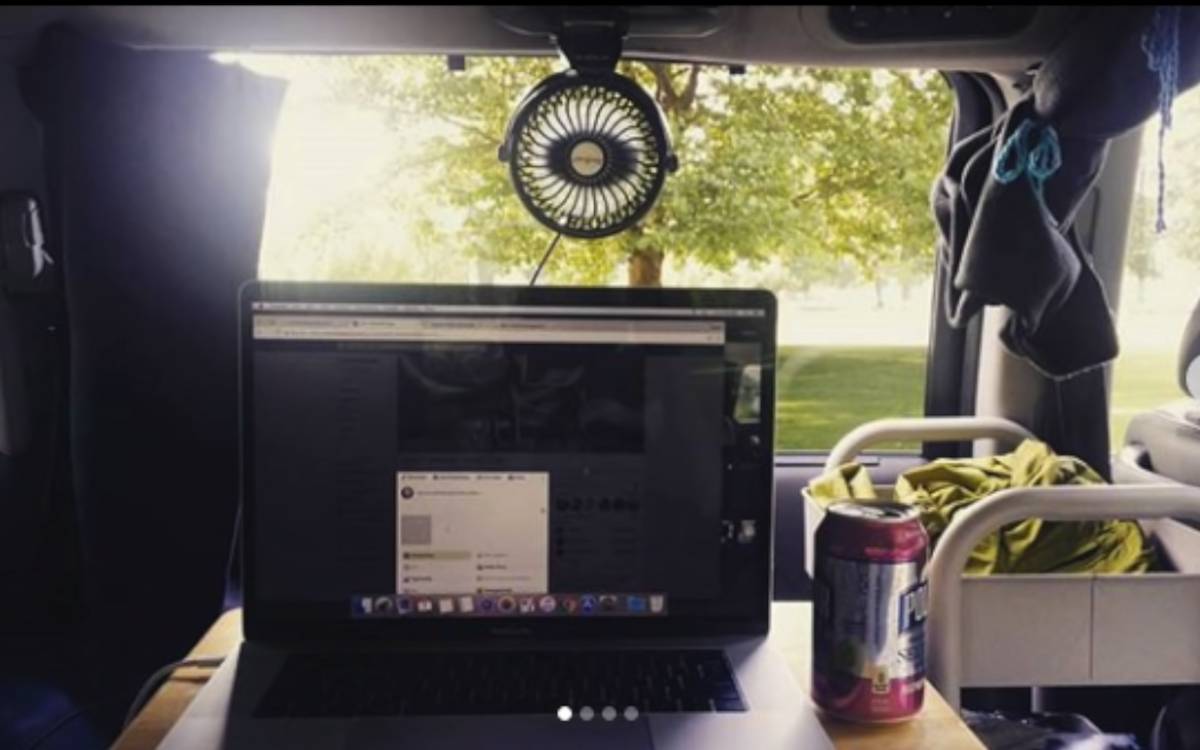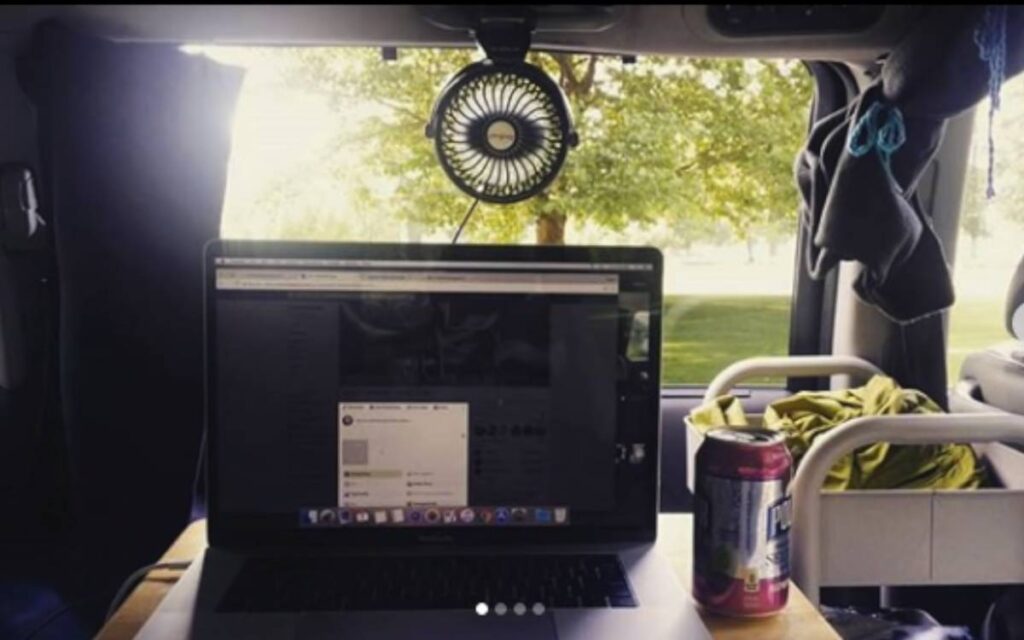 Rachel did an inexpensive, no-build conversion for her Honda Odyssey camper, which she uses for camping trips.
Rachel's daily essentials, like her camp stove and food supplies, are stored in a plastic storage bin behind the driver's seat.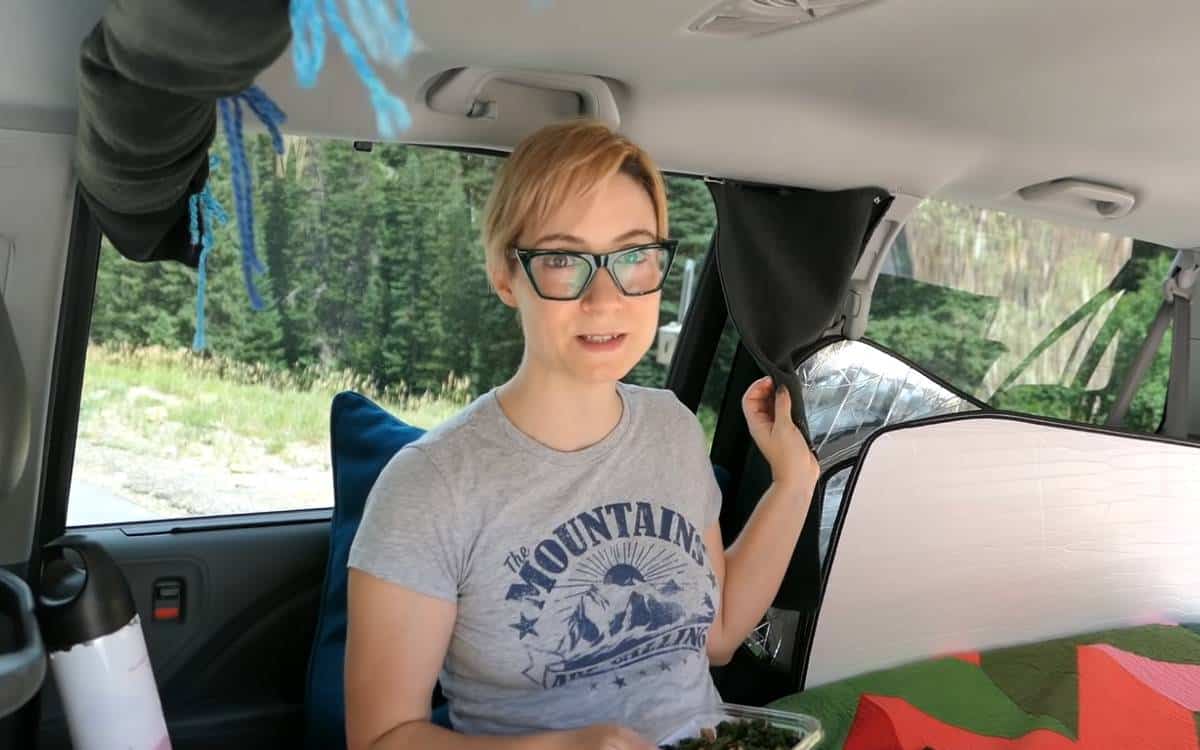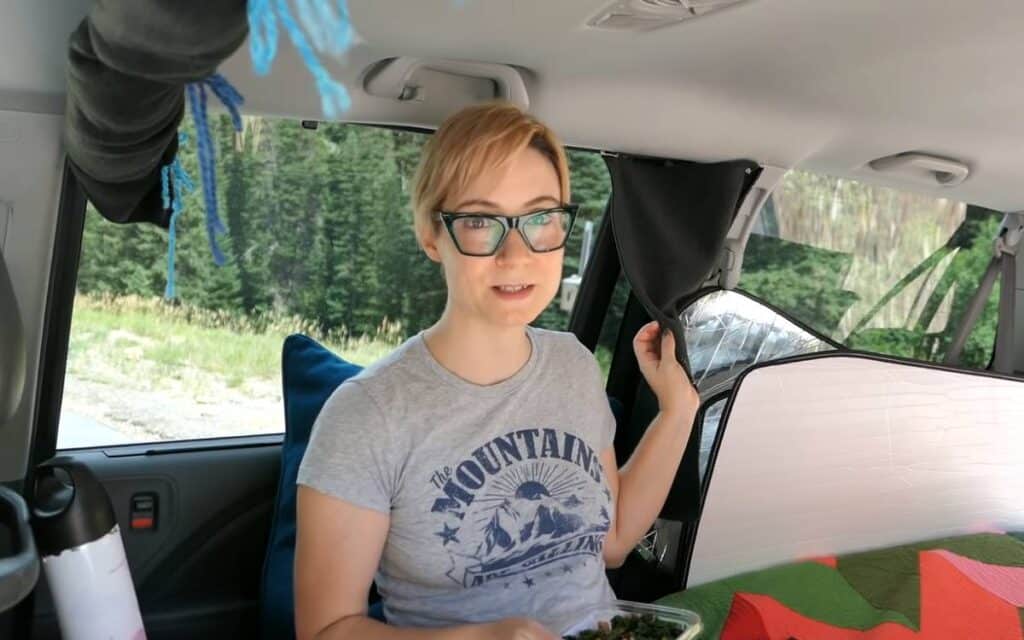 Behind the passenger seat is a camping cot that comfortably accommodates Rachel's 5'2″ frame. A grass-woven mat and a wool carpet pad line the floor and cover up the hardware built-in floor brackets for the second and third-row minivan seats.
When Rachel needs a table, she pulls out a TV tray from under her bed platform, which gives her space to work on her laptop or prepare food.
4. This cozy Honda Odyssey tiny home from Sherry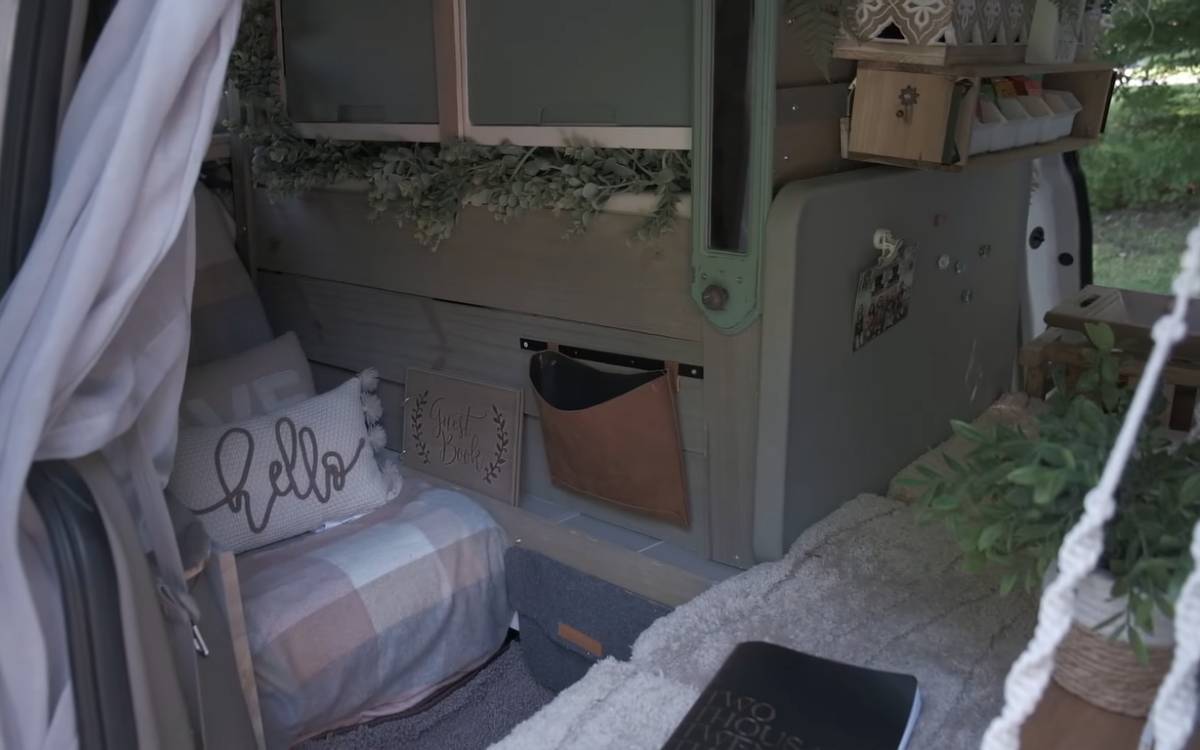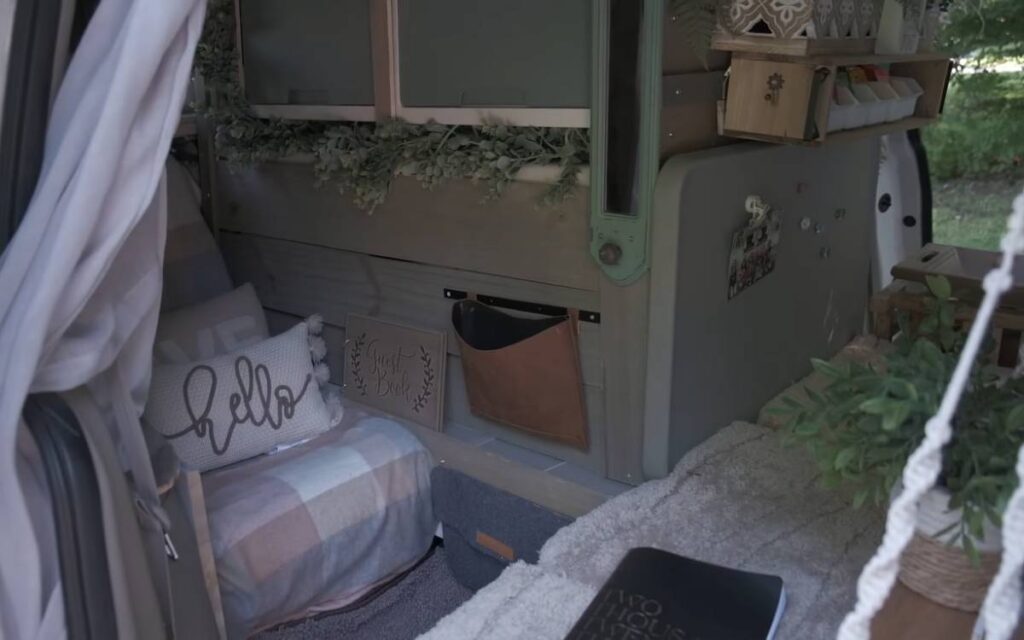 Sherry converted her newer Honda Odyssey into a camper van. The van's interior is cozy, with décor choices that make the space feel like a home. She makes excellent use of space and has an outdoor setup with an awning and tent that expand the space outside.
Sherry has installed carpeting, a ceiling, and a divider between the cab and the living space. Little additions like wooden baskets, pillows, and plush throws bring space together.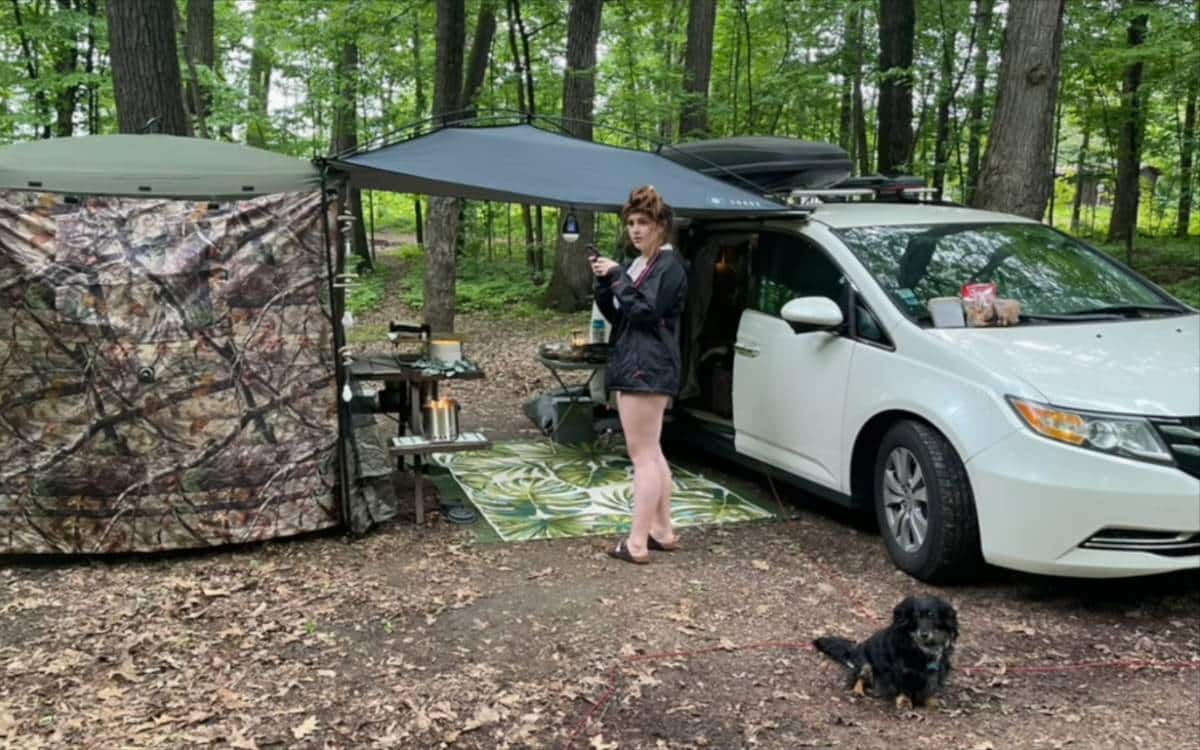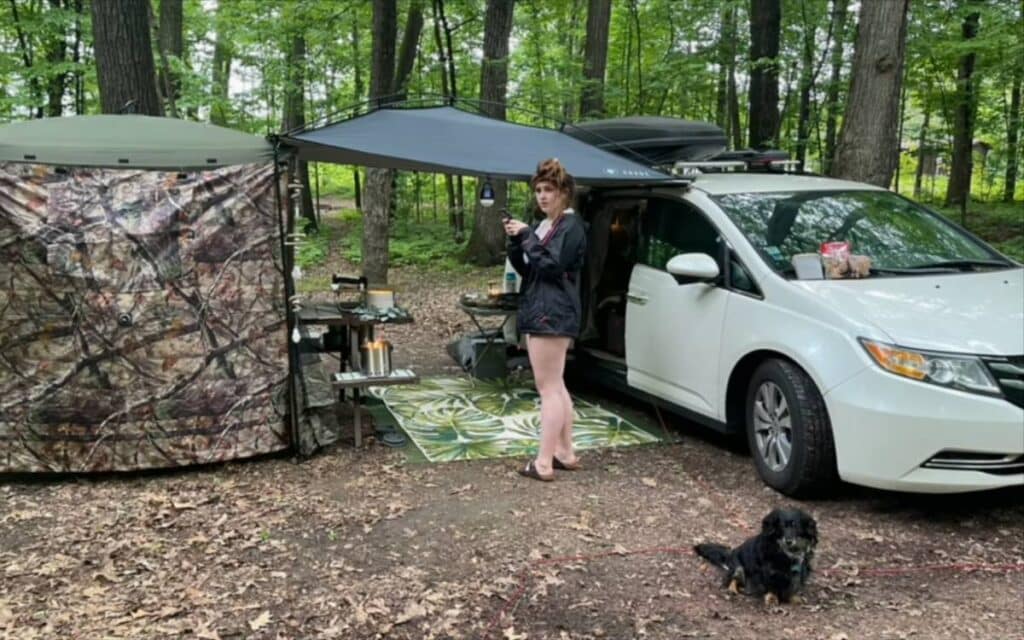 On the roof is a storage container that holds tables and benches when they are not in use. During the day, they can be set up on the side of the minivan and behind it to create an outdoor kitchen and dining space.
Sherry uses a sample paint jug for her portable toilet, which is small and easy to seal and store. A rinse kit serves as an outdoor shower solution.
5. This Honda Odyssey camper van conversion for a family of 4 from Fabio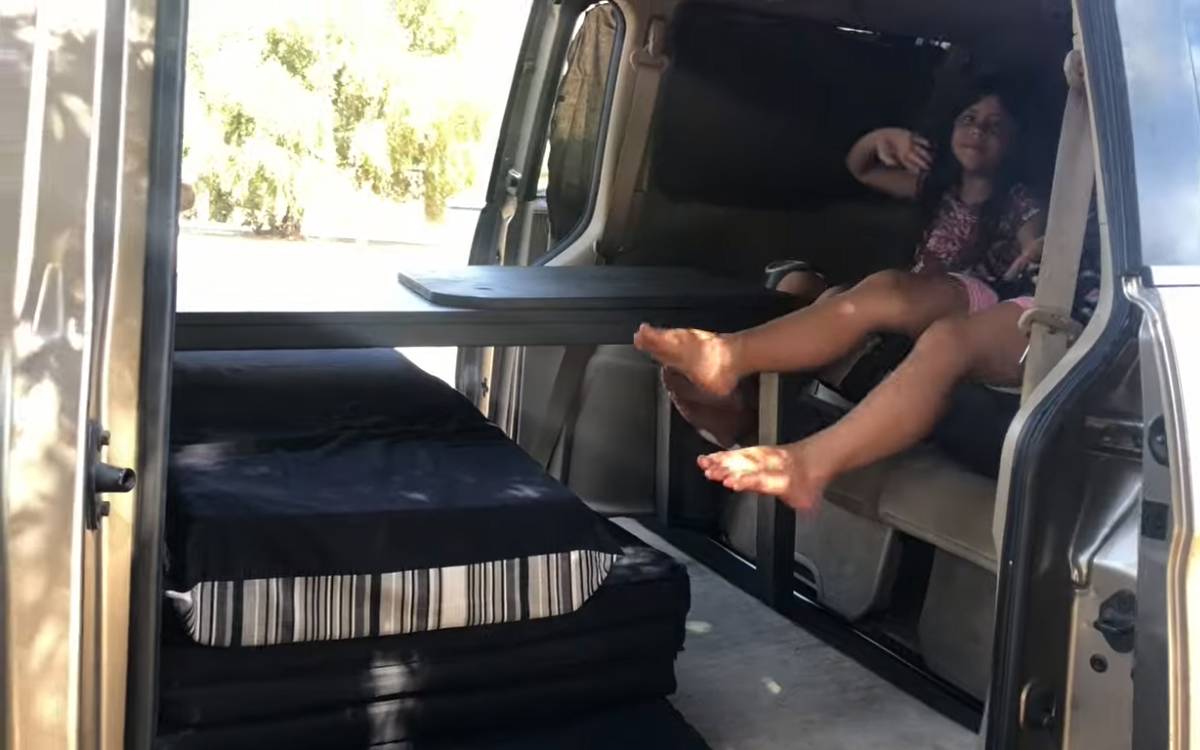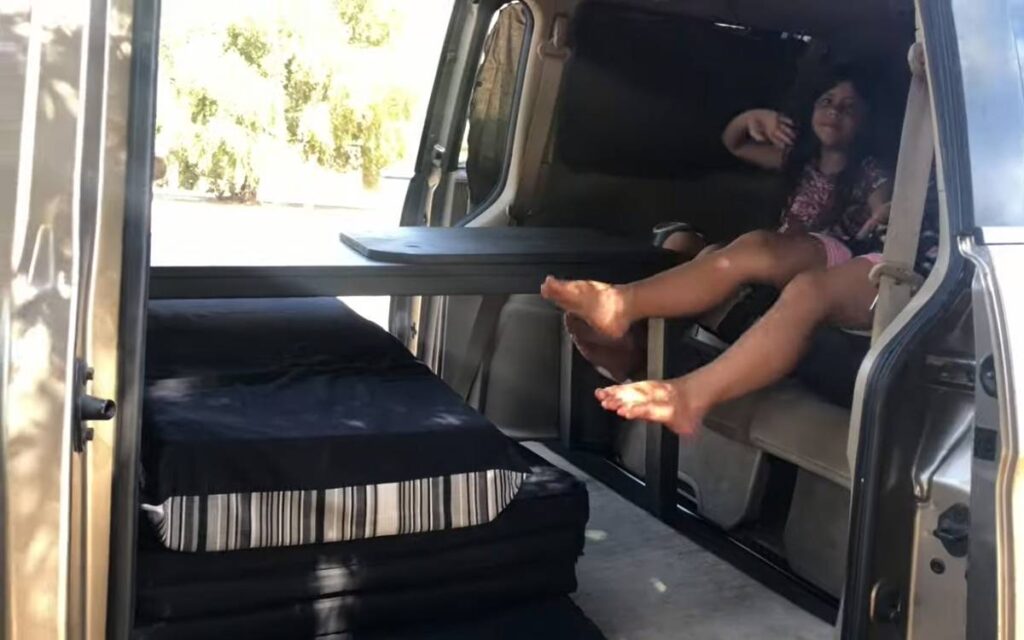 Fabio and his family converted their 2007 Honda Odyssey into a camper van that sleeps all four of them.
In the back of the minivan, there is a table with a small foam mattress running width-wise. This spot sleeps their youngest daughter. Storage space underneath contains a cooler, water supply, shower, popup tent, food, and kitchen equipment.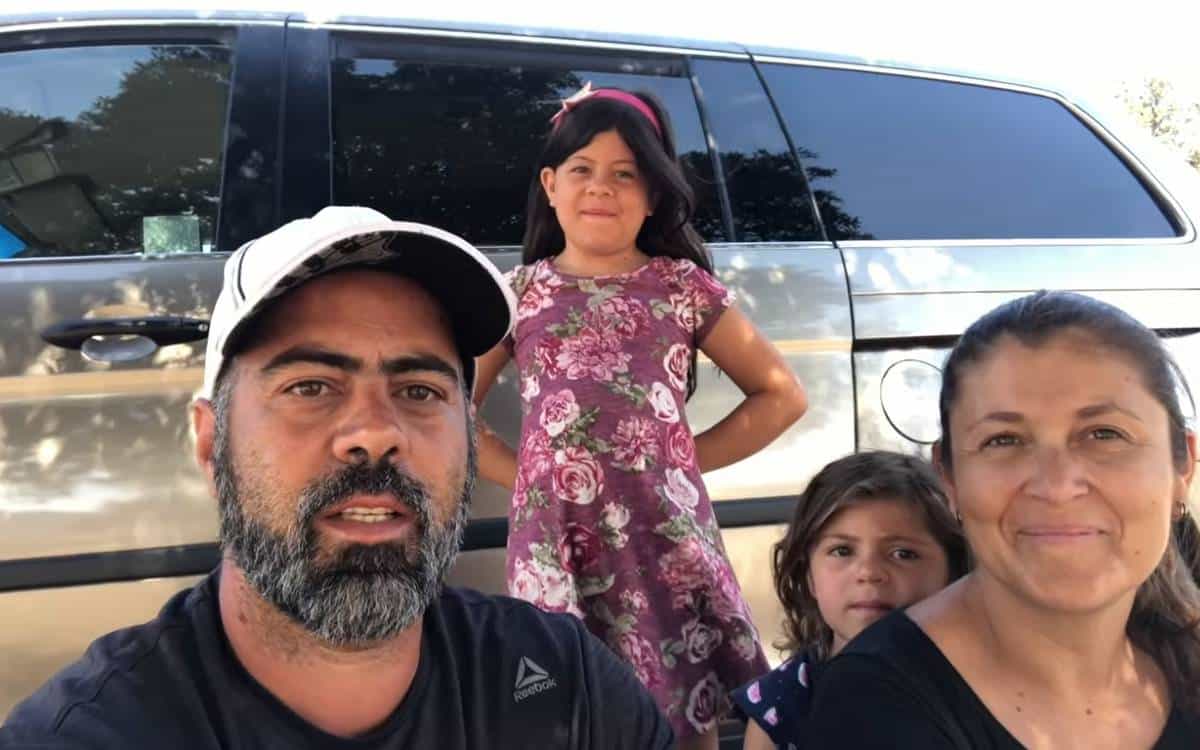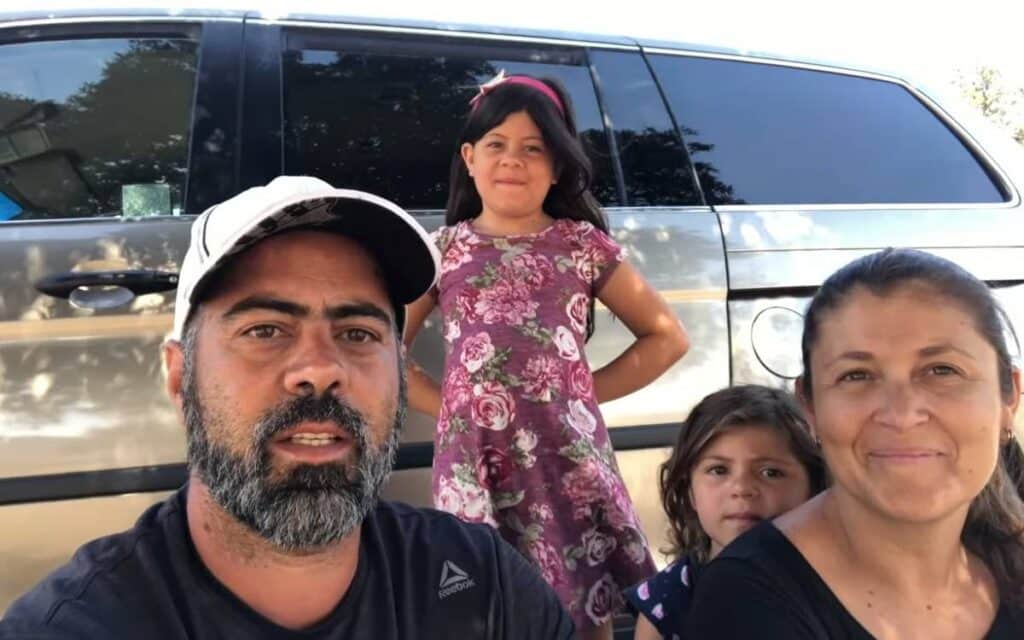 Inside the minivan, they removed the second-row seats and kept the third-row seats. The third-row seats are where the girls sit while traveling. When it is time to convert the space for sleeping, they extend another table with sleeping pads for Fabio behind the passenger seat. On the floor of the van, they lay down more sleeping pads for Fabio's wife and their eldest daughter, who sleep width-wise behind the cab and under the table.
6. This Honda Odyssey van build with an L-shaped sofa from Kevin and Kanae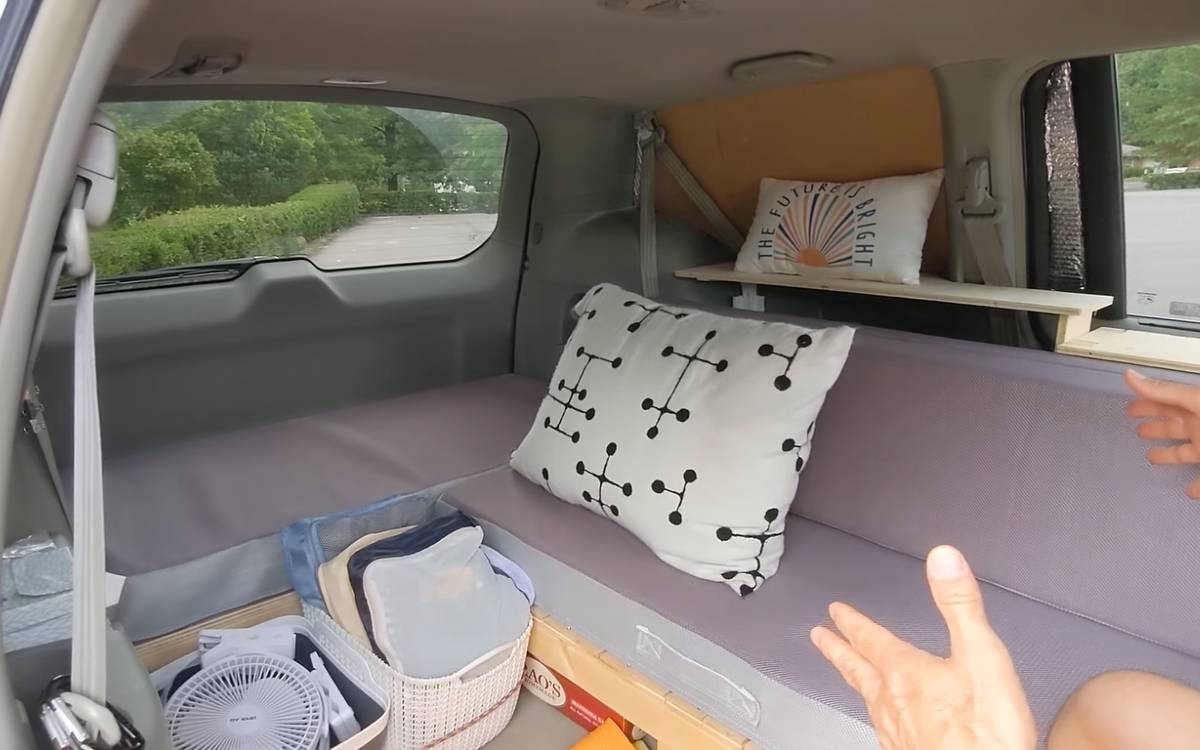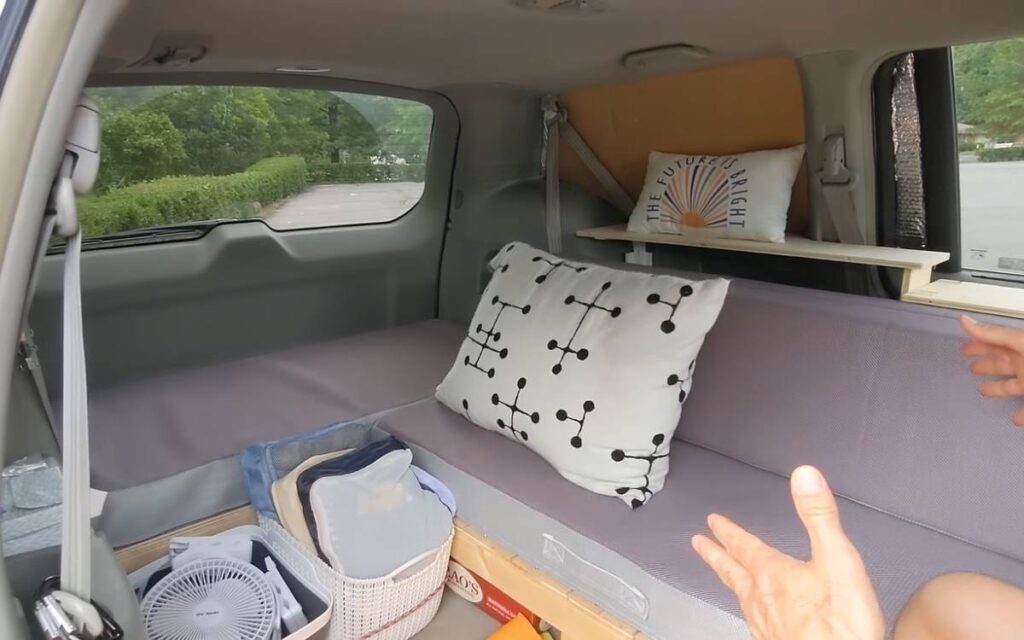 Van lifers Kevin and Kanae converted their 2006 Honda Odyssey into a minivan camper conversion. They have tweaked the setup over time and have a layout with some cool features, including an L-shaped sofa that converts into a bed.
Behind the passenger seat is where the cooler is stored. They use a large tote bag and a plastic dresser to store smaller items behind the driver's seat. The dresser holds kitchen items and is easy to remove and use outside while cooking.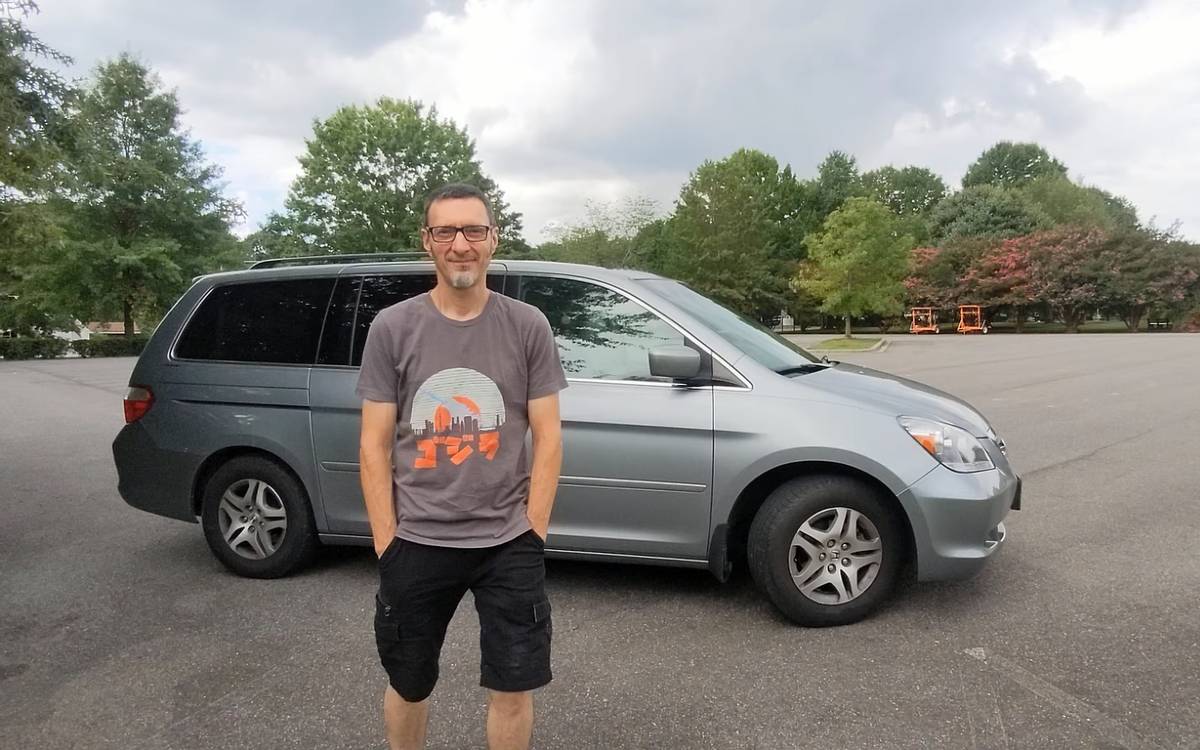 The L-shaped sofa runs along the back and driver sides of the Odyssey. It provides a comfortable space to relax during the day. Under the frame and along the driver's side, there is more storage underneath for toiletries and other items. The bed slats extend to transform the sofa into a full-size sleeping platform at night.
7. This simple Honda Odyssey camper conversion with a single bed from Sarah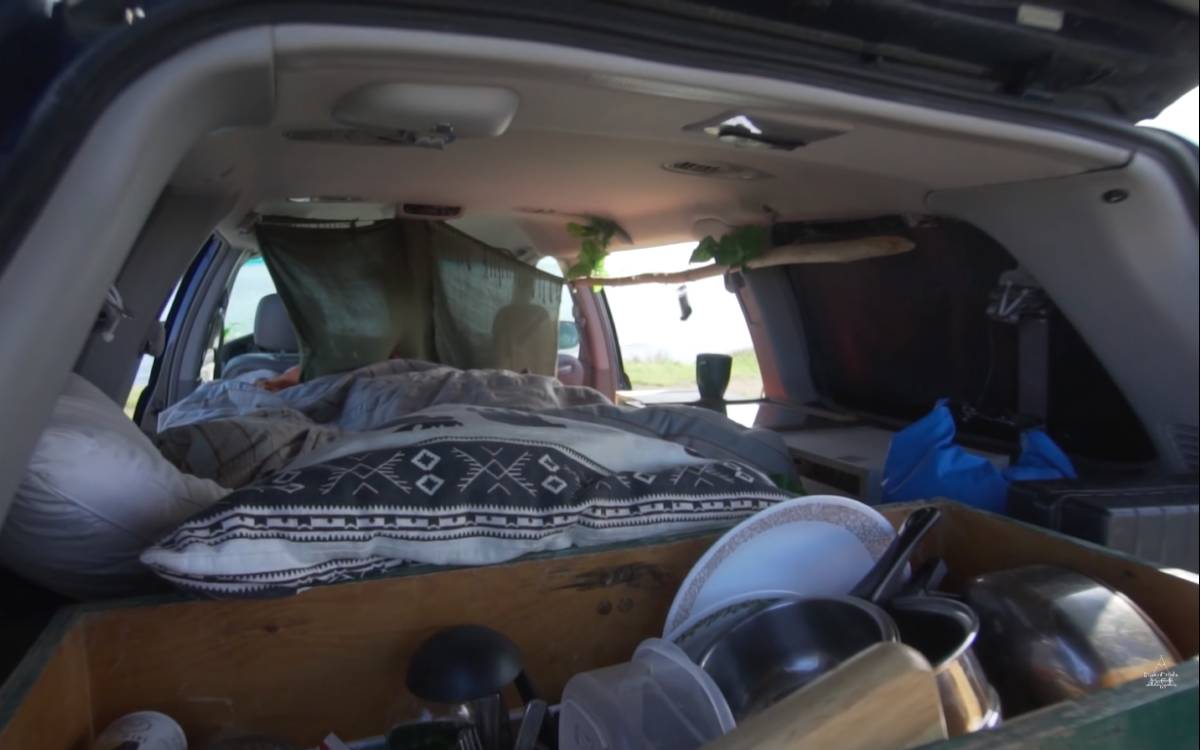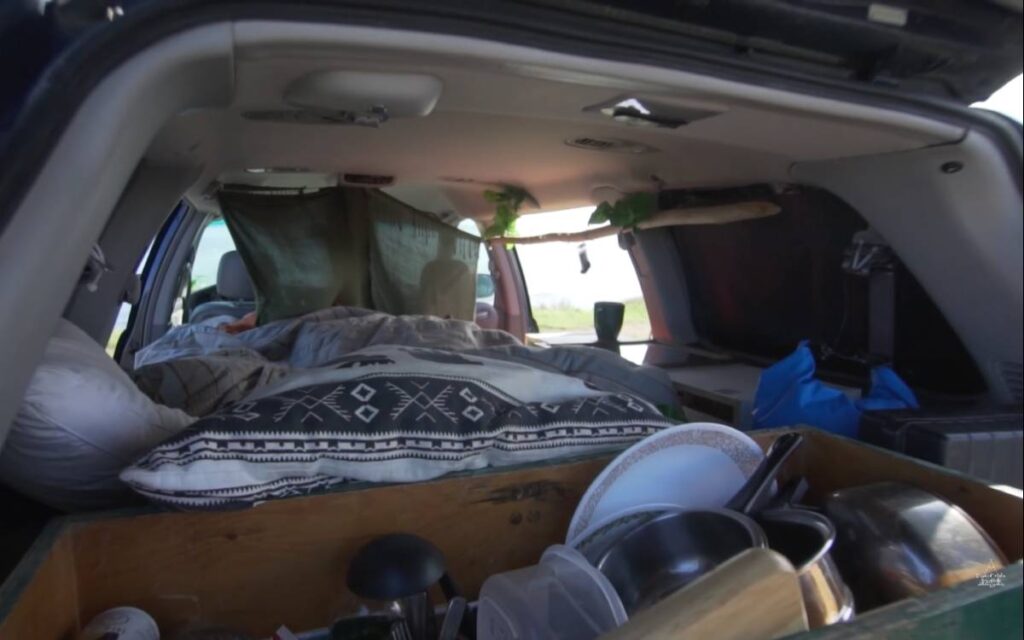 Sarah converted a 2004 Honda Odyssey into a camper conversion to live in and travel while going to school.
She used plywood to create a platform with storage cubbies in the back of the minivan. The cubbies have hinges that lift to access the deeper storage compartments that traditionally stow the third-row seats.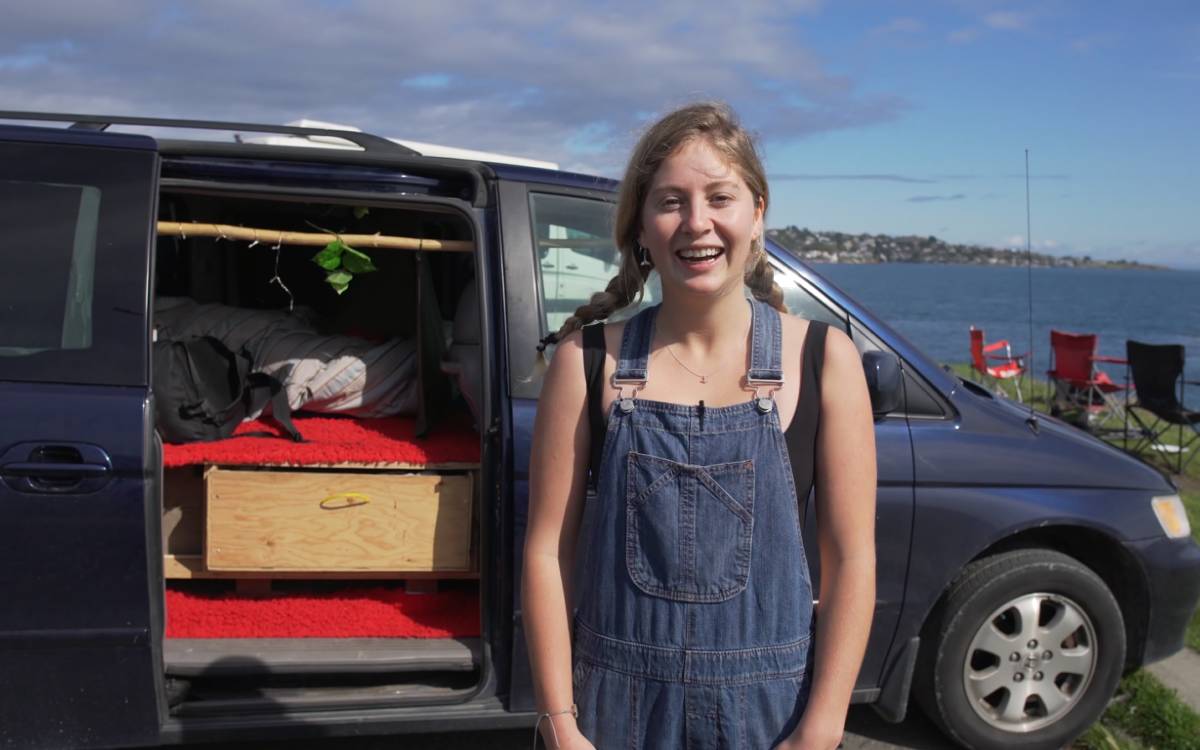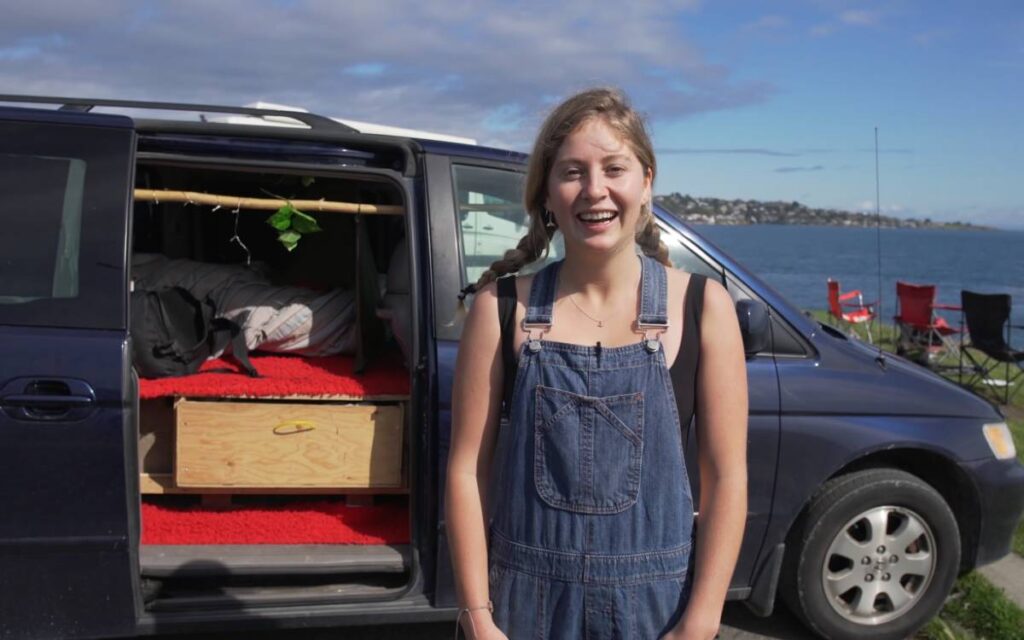 Sarah's rear kitchen has a storage container that holds pots and pans and acts as a counter space. She uses the counter space to prepare her food, though she often sets up her camp stove on the ground nearby to cook.
The bed platform runs lengthwise behind the driver's seat. We love the drawers Sarah installed beneath the platform to hold her clothes and other items. The full extension drawer slides mean the drawers are deep and make great use of the space beneath the bed.
8. This stealthy Honda minivan camper conversion with DIY storage from Mark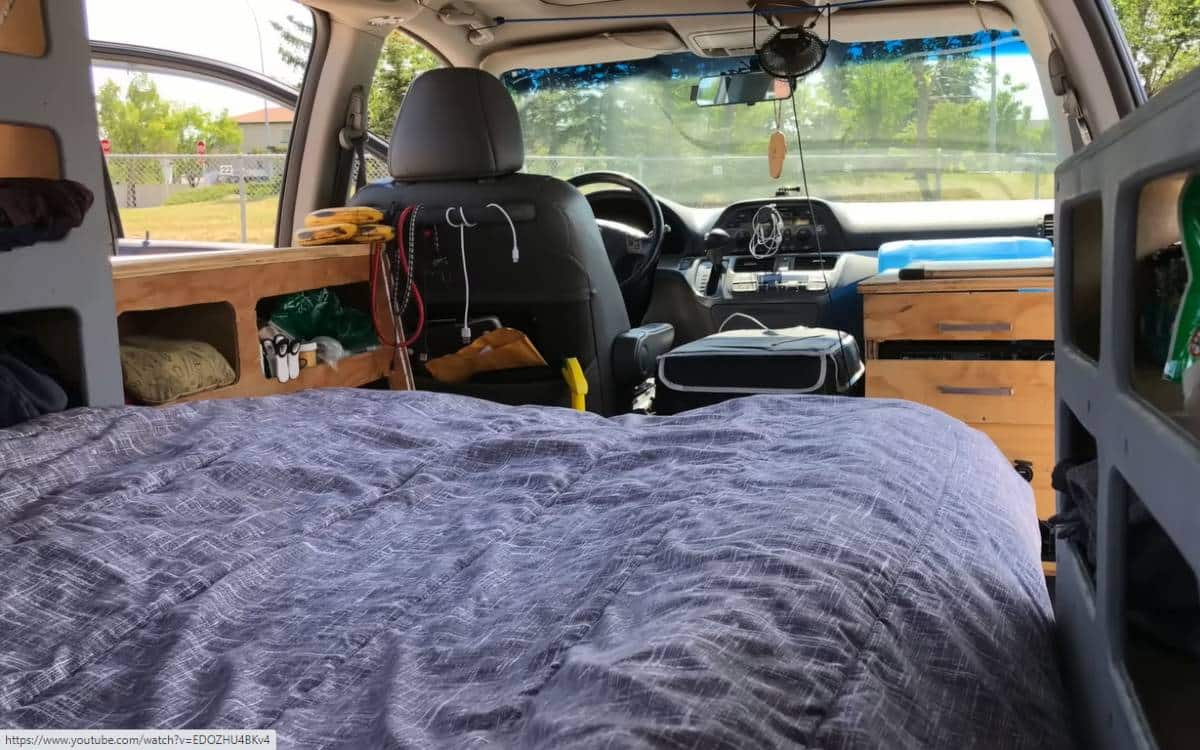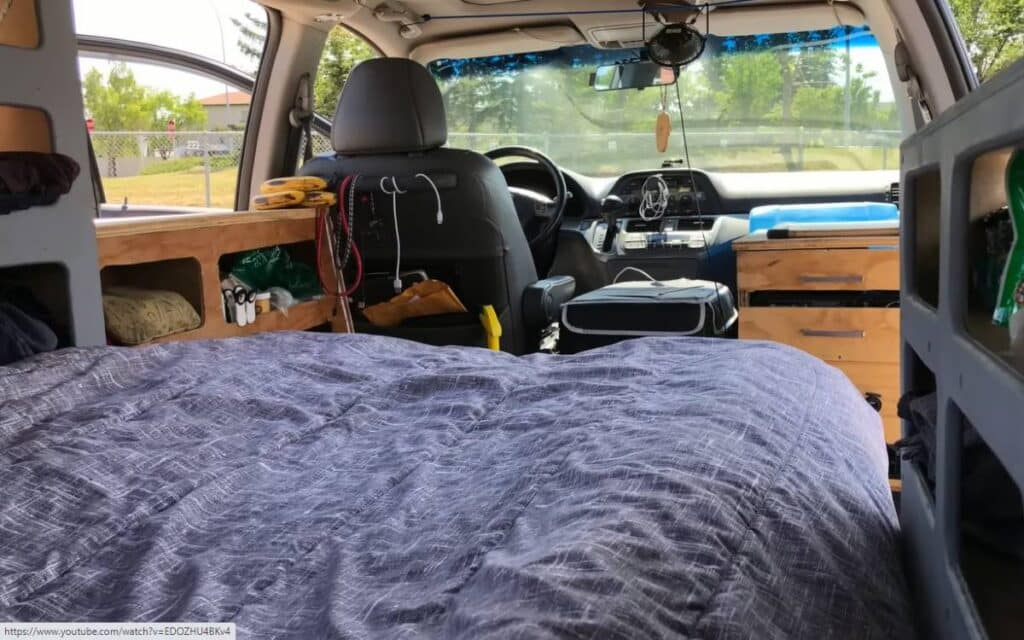 Mark converted his 2006 Honda Odyssey into a simple, stealthy camper with handmade storage cabinets.
He removed the passenger seat and used the space to house an additional storage cabinet, which holds Mark's kitchenware, stove, and batteries. The fridge takes up the space between the cabinet and the driver's seat, keeping the back of the minivan spacious and organized.
In the living space, there is a storage cabinet that runs lengthwise from the driver's side of the minivan. The cabinet has cutouts that allow access to the storage from inside the van and outside when the driver's side sliding door is open.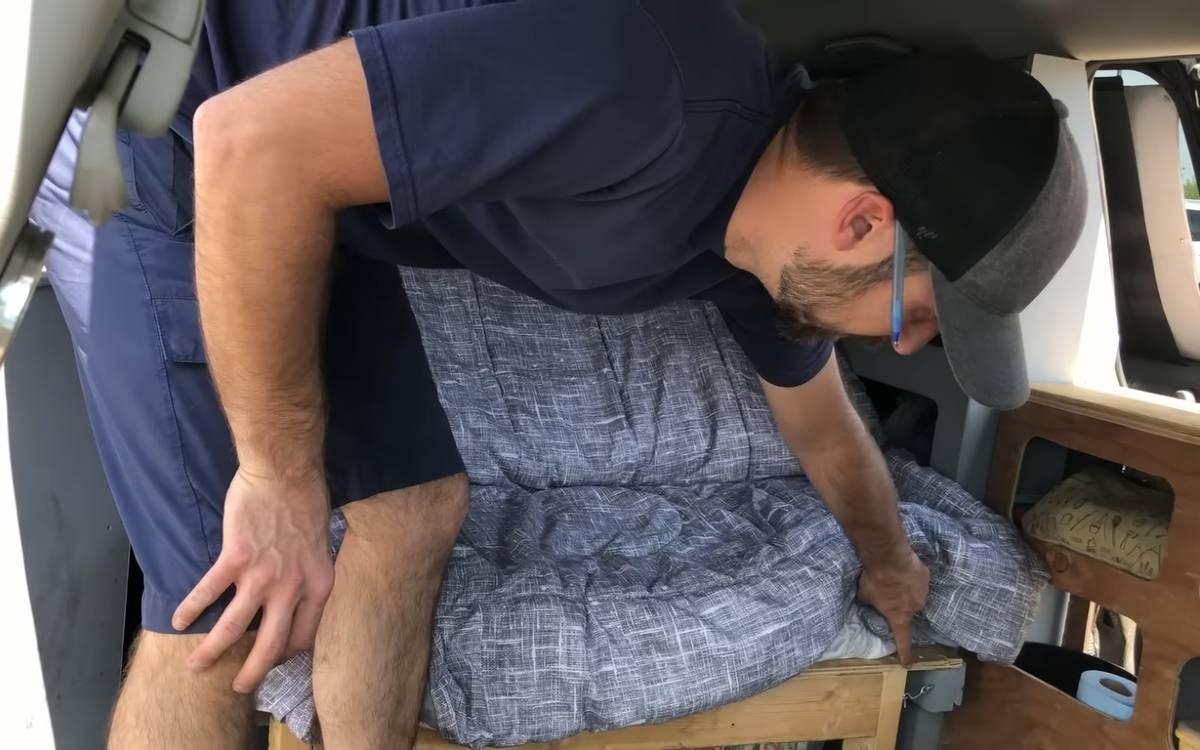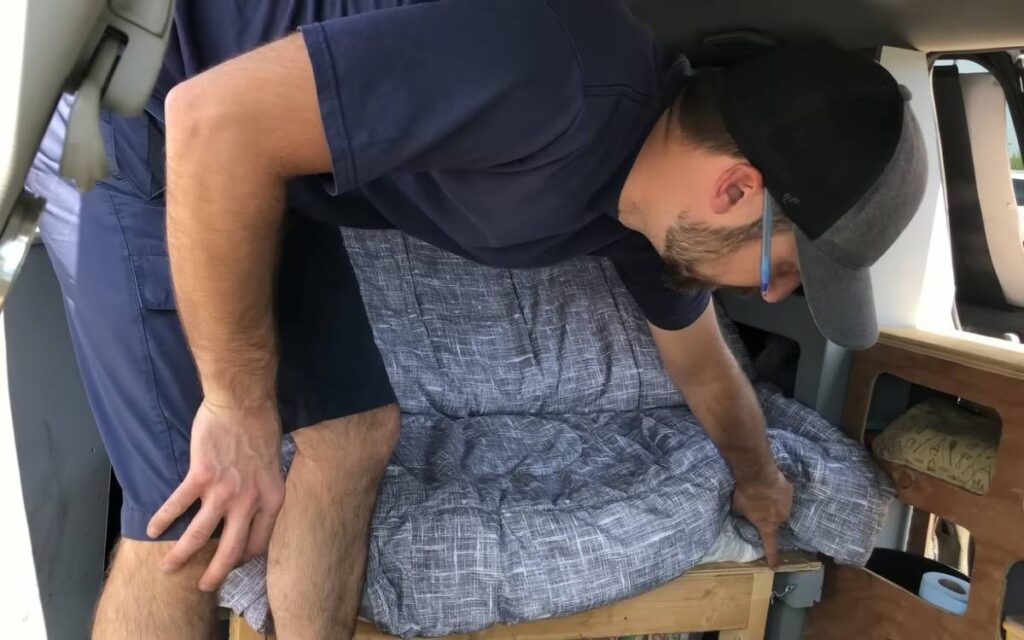 The bed is a dual-sided bench seat during the day, with seating facing inside and a seat facing out when the back hatch door is open. There is storage space beneath the bed, accessed by lifting the frame.
A 75-watt solar panel on the roof of the Odyssey charges his van electrical system. Mark also charges his batteries with an inverter while he is driving.
9. This in-progress Odyssey van build from Bo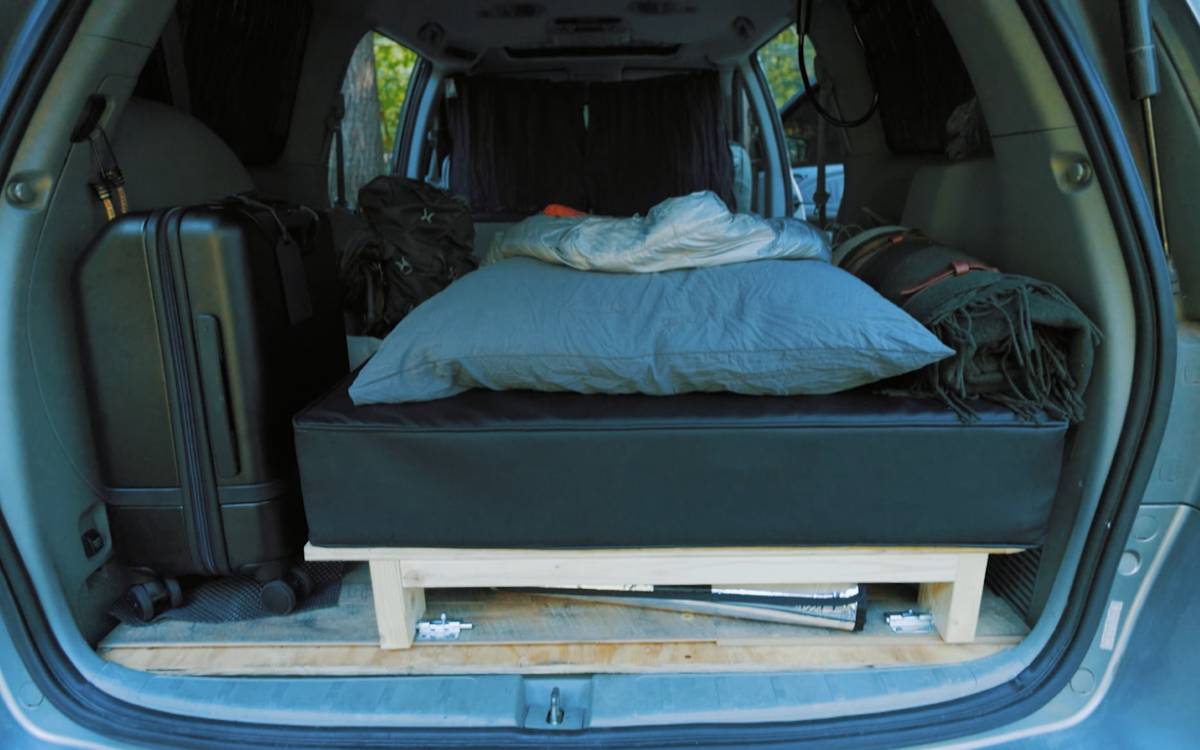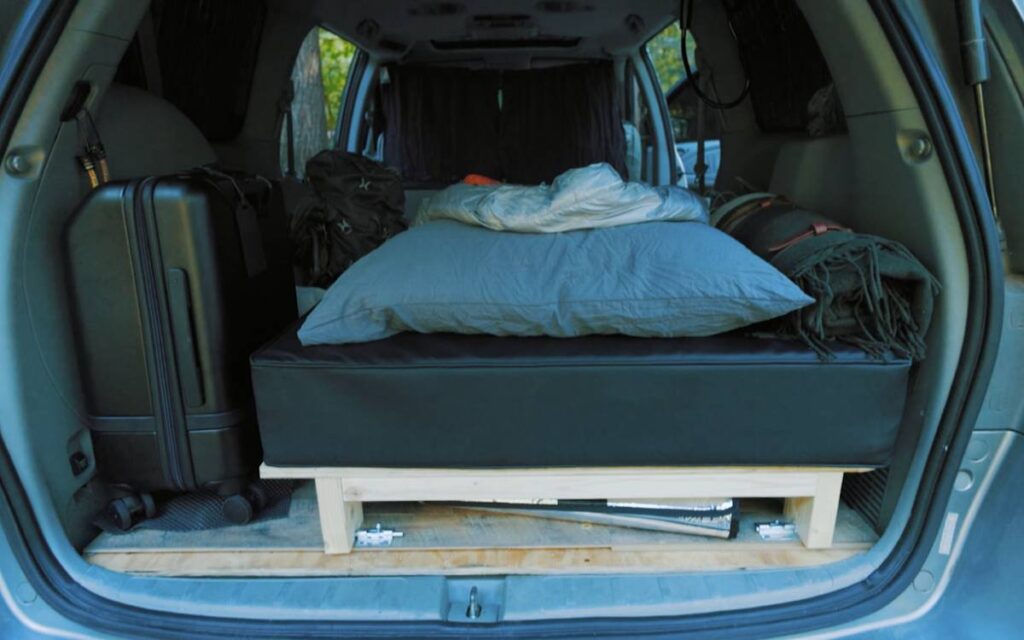 Bo is converting his 2009 Honda Odyssey into a camper van for weekend trips. He has all the essentials for taking the minivan on trips, but his build is still in progress.
He removed the second and third-row seats and added subflooring to even out the living space. He added a futon-style couch made from a wooden frame and a twin mattress that he cut into four sections and had upholstered.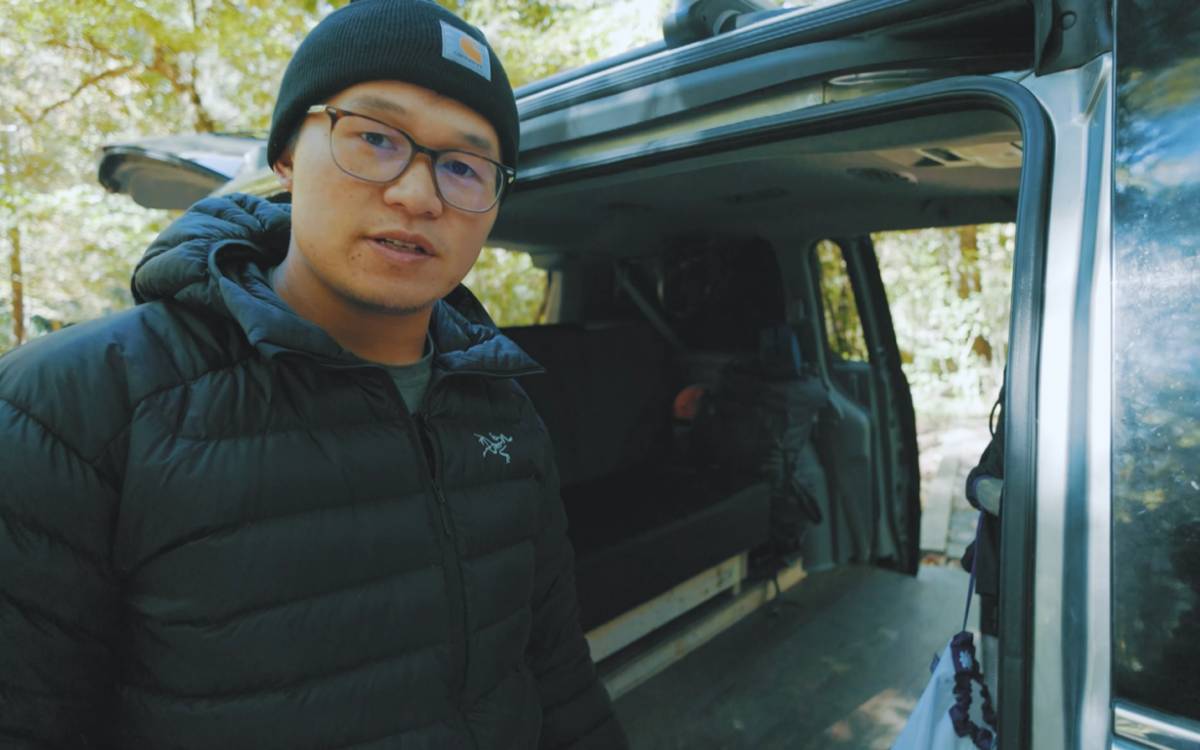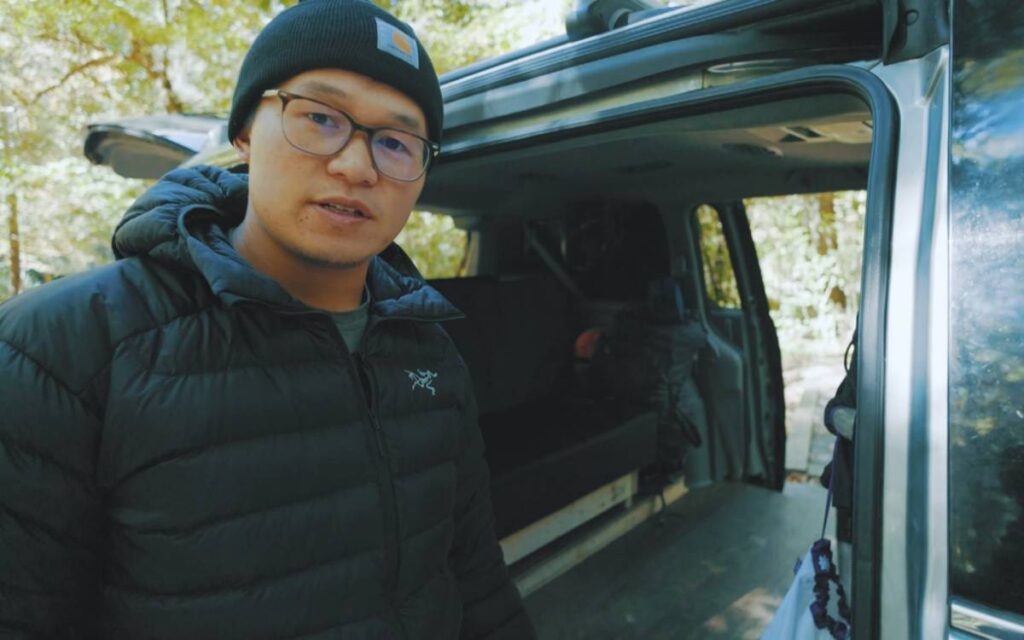 Behind the driver's seat, Bo put in a top-load 12-volt fridge that can hold about a week's worth of food. He uses a Jackery power station to keep the fridge powered when he is not driving.
He uses weather tech window covers and a curtain for the space between the cab and the living space for stealth and privacy at night.
10. This Honda van build with a store-bought chair/bed combo from Franki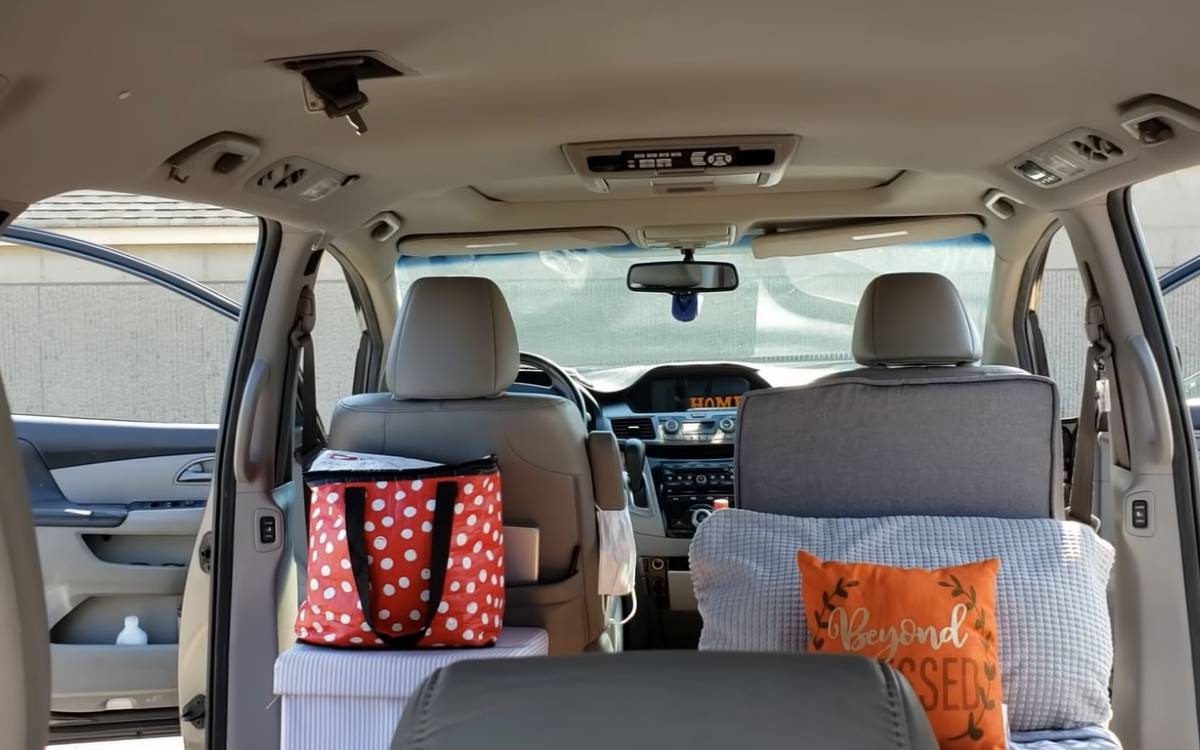 Franki built out her Honda Odyssey into a DIY camper conversion for full-time van life.
Her van bed solution is an excellent option for anyone who doesn't plan to build a bed frame themselves. She bought a chair that she could simply unfold into a cot-style bed in the evening. It is positioned right behind the passenger seat and, when unfolded, extends to the third-row bench seat.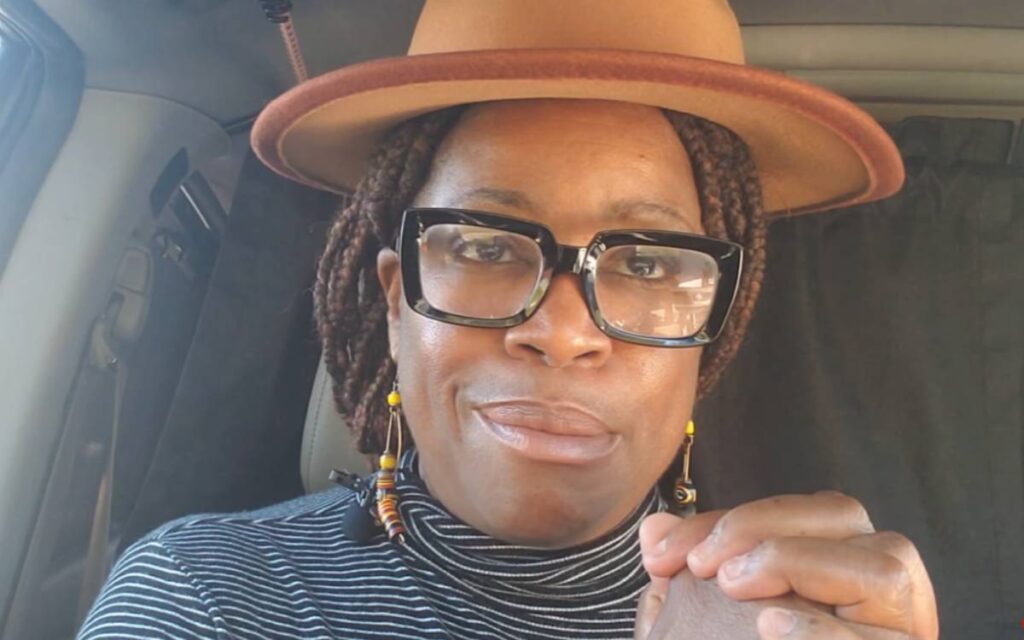 Franki folds up the chair during the day, leaving space for her to pull out her work desk and work from the back seat.
She uses plastic creates to organize and store her belongings. A Jackery power station powers her electronics.
11. This Honda Odyssey van life conversion with A/C from Kathy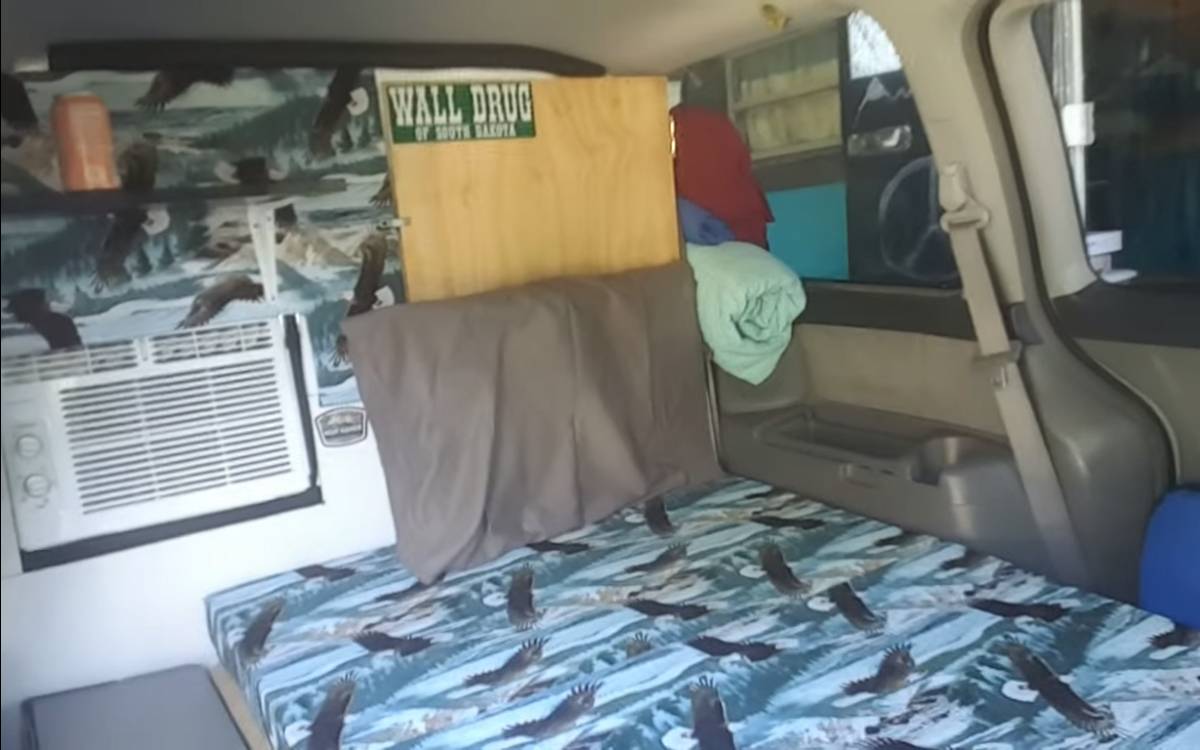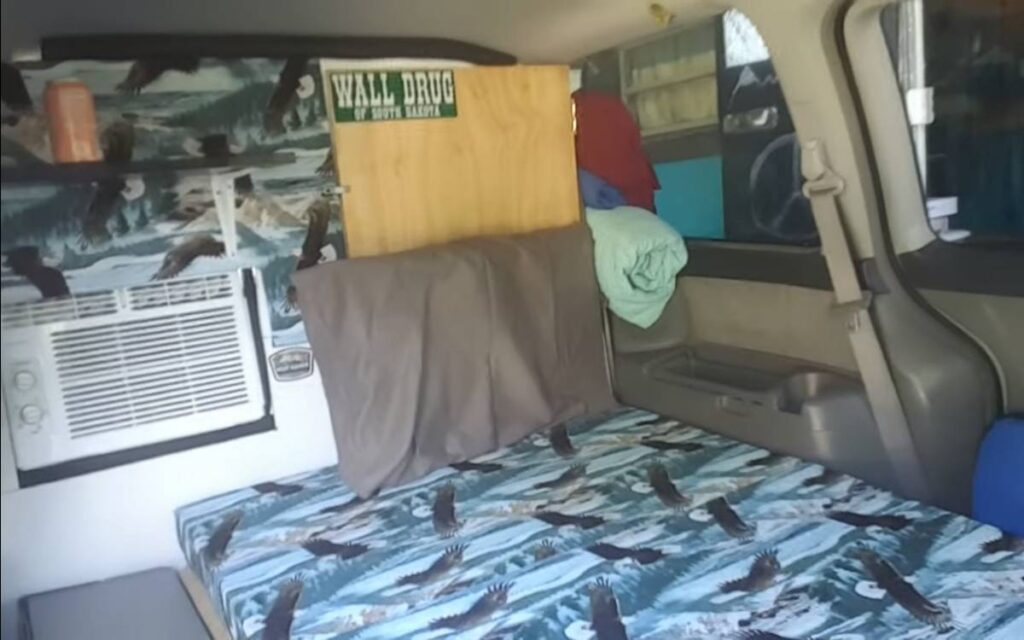 Kathy built out a Honda Odyssey minivan for camping. She opted for a tear-drop camper-style build that seals off the back hatch from the rest of the living space and includes an A/C unit.
When the back hatch is open, Kathy has access to the fridge. The A/C unit is installed in the back of the van and secured in a wooden frame and insulation to keep the living space nice and cool.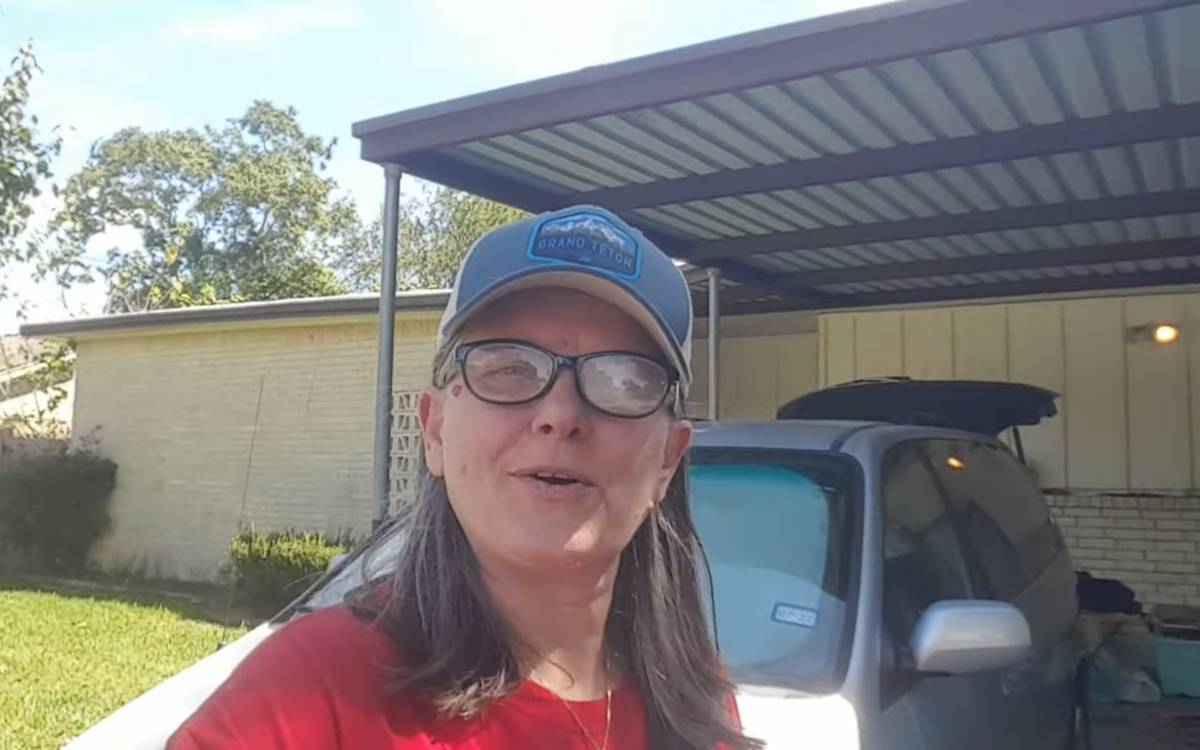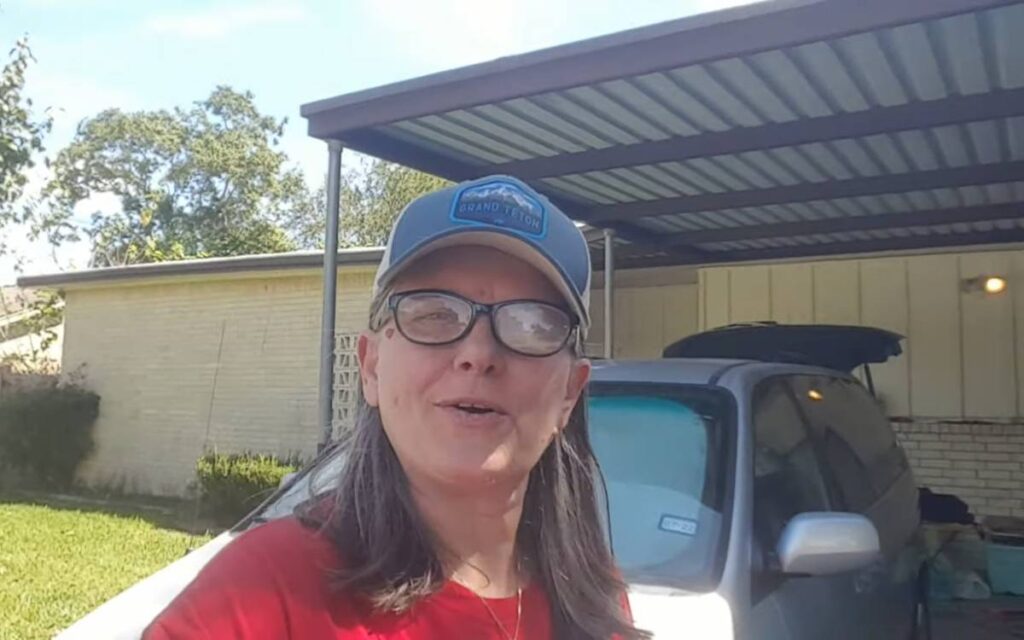 The living space includes a bench seat that converts into a bed. To convert it, Kathy removes the cushions and screws on the legs that support the frame. Once the legs are on, she can flip the frame and open it up. She replaces the cushions, and the space transforms into a bed.
Honda Odyssey Camper Conversion Kits
1. This convenient conversion kit from Freeway Camper Kit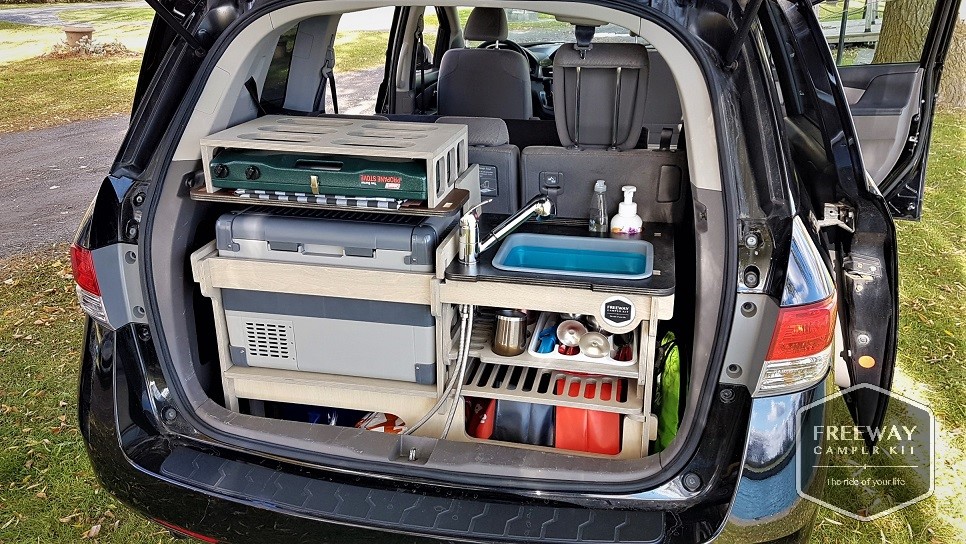 Freeway Camper Kit has a conversion kit called The Odyssey, which is specially designed to work with Honda Odyssey models from 2011 to 2023.
The kit doesn't require drilling or any permanent alterations. It utilizes the second-row bench seat anchors to install securely into the minivan. Because you can keep the third-row seat installed, this conversion kit allows the Odyssey to seat five passengers.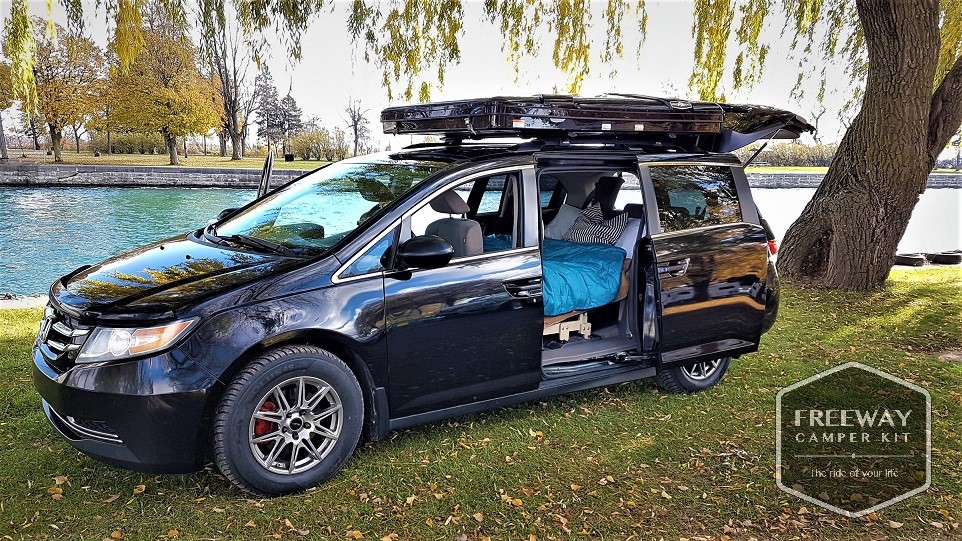 The Freeway Camper Kit comes with three pieces of 3-inch foam pads that create a double bed, a 35-liter fridge, a 500-watt portable battery, an L-shaped countertop, a 12-volt water pump, storage compartments, and more.
It has everything needed for camping trips and is easily removable, making it perfect for weekend camping trips.
2. This conversion kit with a dinette setup from ROADLOFT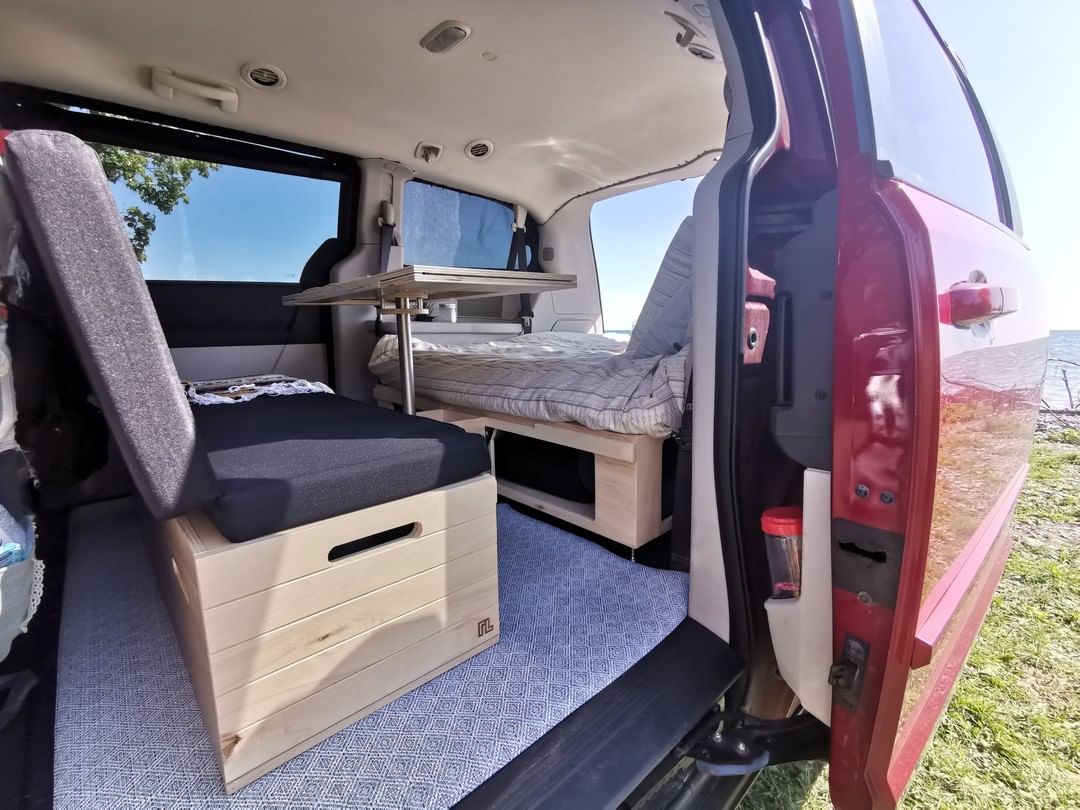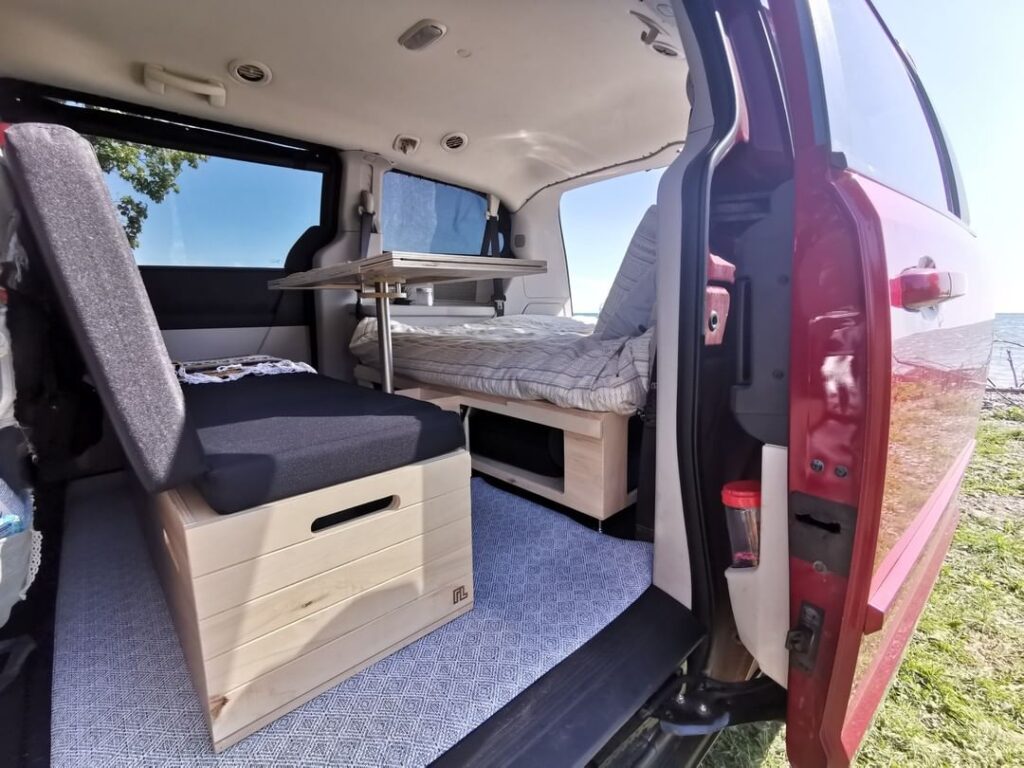 ROADLOFT has a camper conversion kit made to fit the Honda Odyssey. The kit can be quickly installed in less than 5 minutes using only a flathead screwdriver. They have different models for the kit that accommodate Honda Odyssey makes that date as far back as 2005.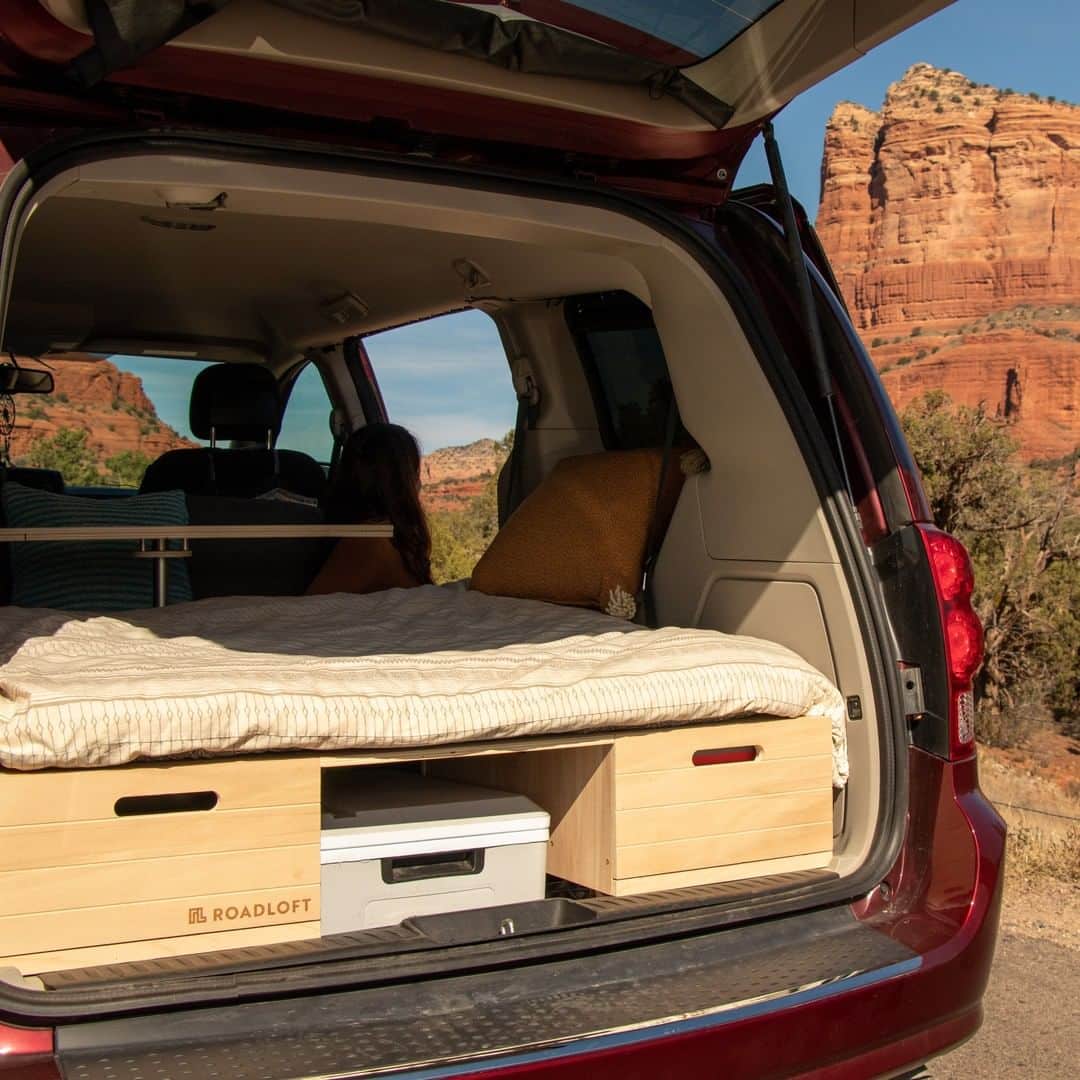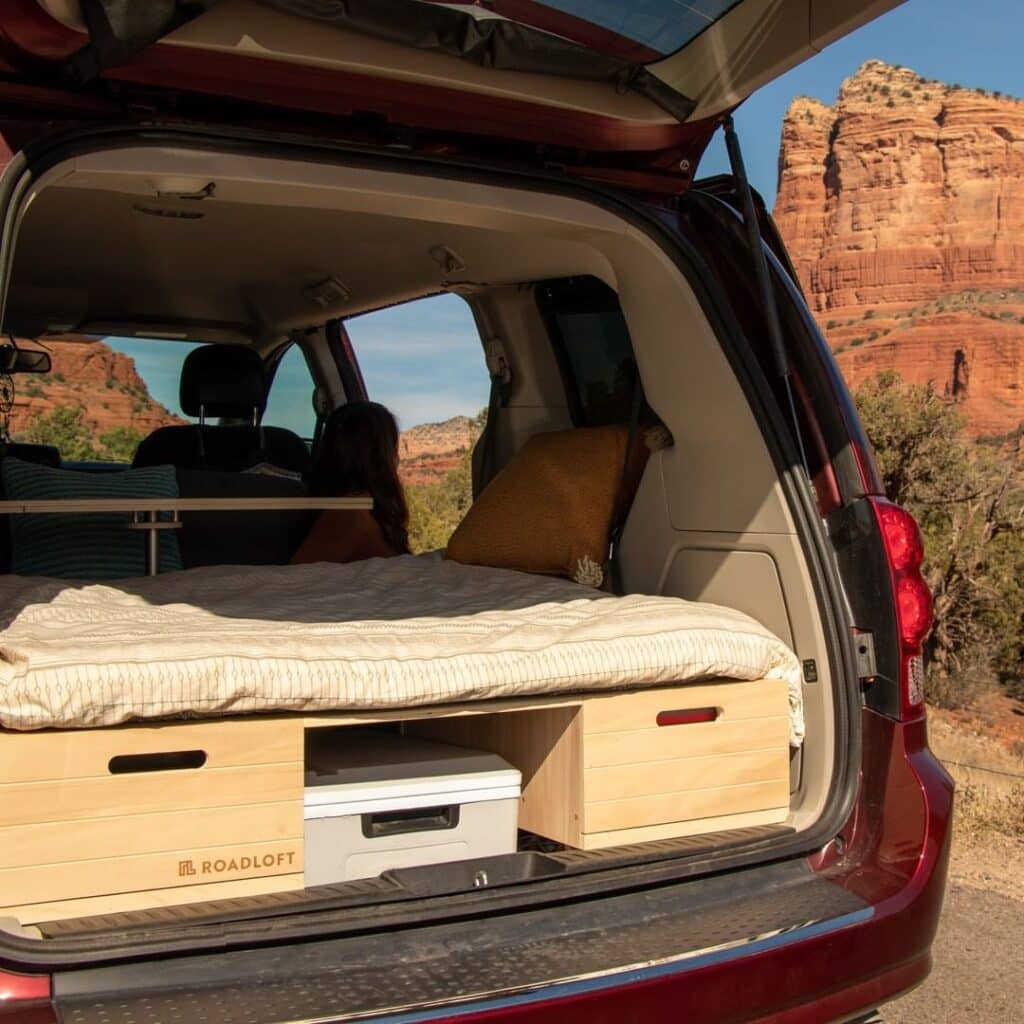 The kit includes a sectional foam mattress and a retractable sink. The second and third-row bench seats need to be removed for this kit to fit a bed/dinette combo that includes a large table between the seats – perfect for working and eating in the Odyssey while on the road. Deep storage drawers are located within the bench seats, providing space for your gear in a way that keeps things organized and out of the way.
From the back hatch, the drawers slide out and make an outdoor kitchen with a cover that creates additional counter space.
3. This affordable conversion kit from RiverLeaf Camper
RiverLeaf Camper offers camper conversion kits compatible with various minivans, including the 2005+ Honda Odyssey, with options starting at $2635.
The Grand Teton kit has four removable drawers, a faucet, a basin, a 12-volt water pump, and an optional mattress. Drawers can slide out the back of the minivan when the hatch is open, creating an outdoor kitchen area.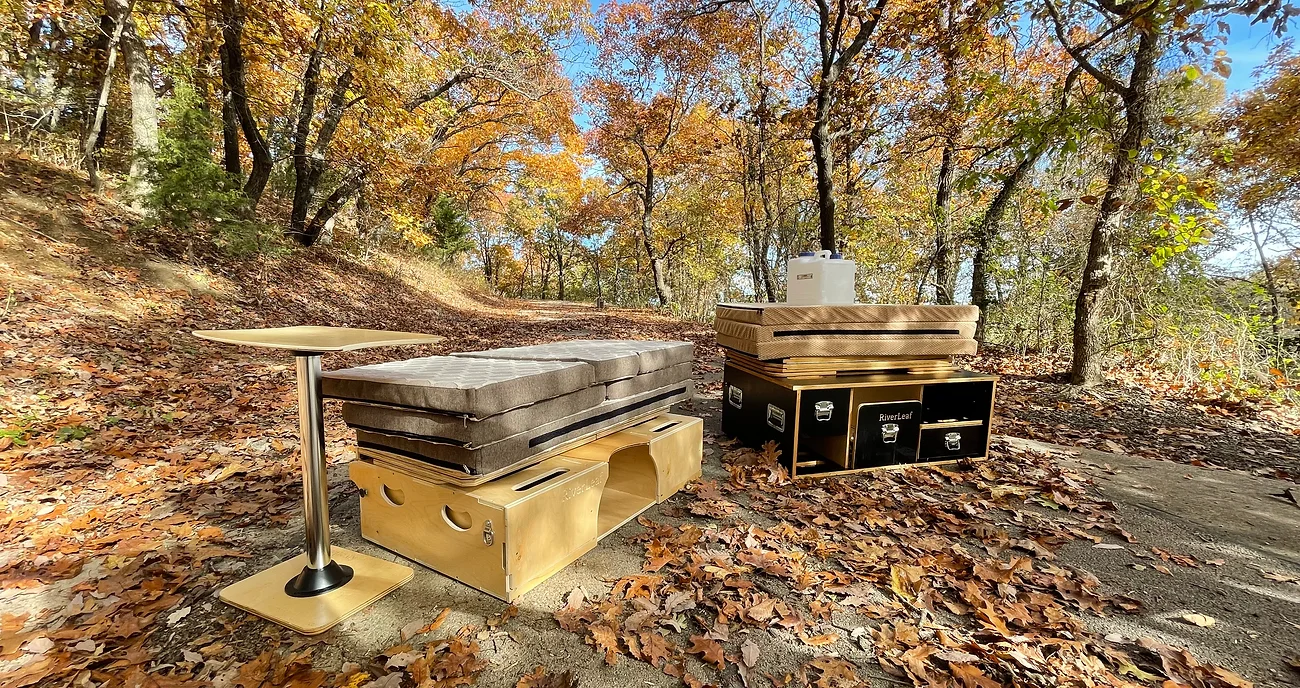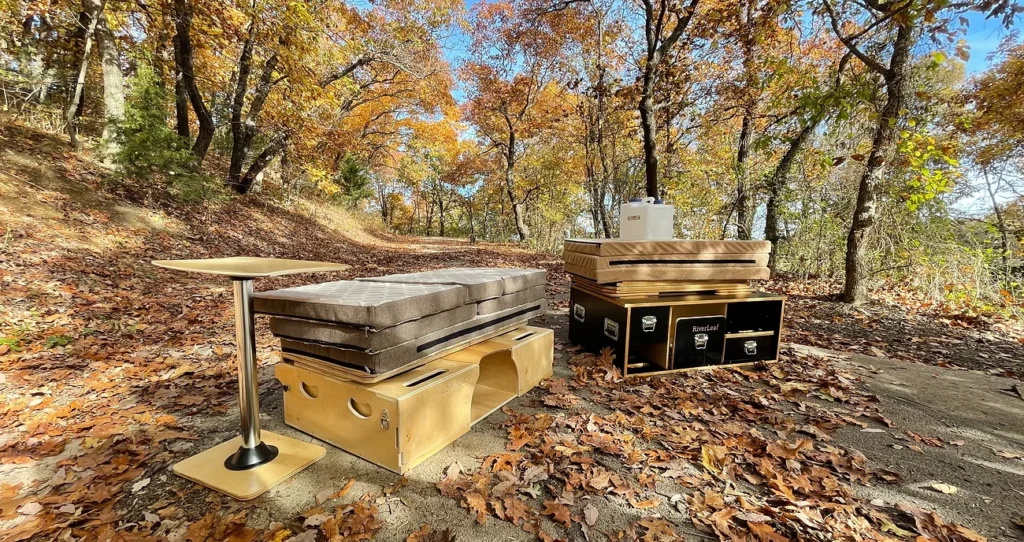 The Arches kit comes with two removable drawers, a sink, a gas stove, a mattress, and a table base – great for eating and working from inside the Odyssey.
Both RiverLeaf Camper kits still allow the minivan to accommodate up to four passengers.
4. This plug-and-play conversion kit from Vanpackers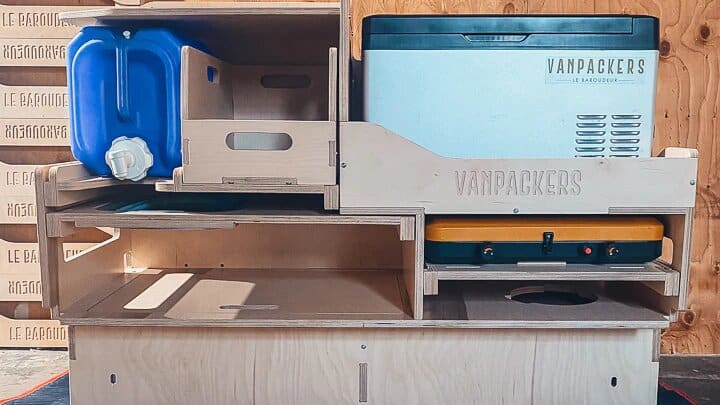 Vanpackerselectr has a minivan conversion kit that is compatible with a lot of different minivans. They have kits compatible with Honda Odyssey vans from 2011-2017 and for 2018+ models.
The kit is a wooden structure that installs in approximately five minutes. It is a plug-and-play system, meaning you can choose your setup between either a single bed, a double bed, or a living room. This flexibility in setting it up makes it a fantastic option if you plan to travel solo but want the option to accommodate others on your journeys.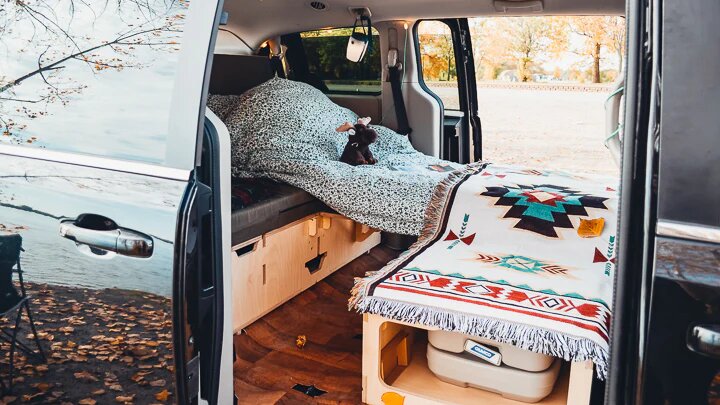 Optional add-ons include a 4-inch mattress upgrade (the default included is a 3-inch mattress), a compressor cooler, a propane stove, a second table stand, and Weathertech curtains.
Build Your Van
The Ultimate Van Build Guide
Planning a van build? Read our free guide. We cover just about everything you need to know – from planning, to insulation, to solar and electrical, to picking appliances, to essential tools. Get started today so you can get out there on the road!