Whether you are just considering van life or are already on the road and want to upgrade to a new van, the Ford Transit is likely a top contender on your list. The Transit comes in various sizes, including low, medium, and high roofs, and three different wheelbase options (130″, 148″, and 148″ extended), in addition to the Ford Transit Connect, a smaller-sized option more in line with a minivan.
The combination of high roofs, long wheelbases, and relative affordability (at least, when compared to Mercedes Sprinters) make the Ford Transit the perfect base for a DIY camper van conversion. If you opt for the All Wheel Drive option you can take your Ford Transit camper van just about anywhere, and you can even go all-electric with an eTransit electric camper van.
To give you some inspiration, we've rounded up a variety of Ford Transit van conversions that showcase van build ideas for all budgets and styles.
Read More:
Build Your Van
The Ultimate Van Build Guide
Planning a van build? Read our free guide. We cover just about everything you need to know – from planning, to insulation, to solar and electrical, to picking appliances, to essential tools. Get started today so you can get out there on the road!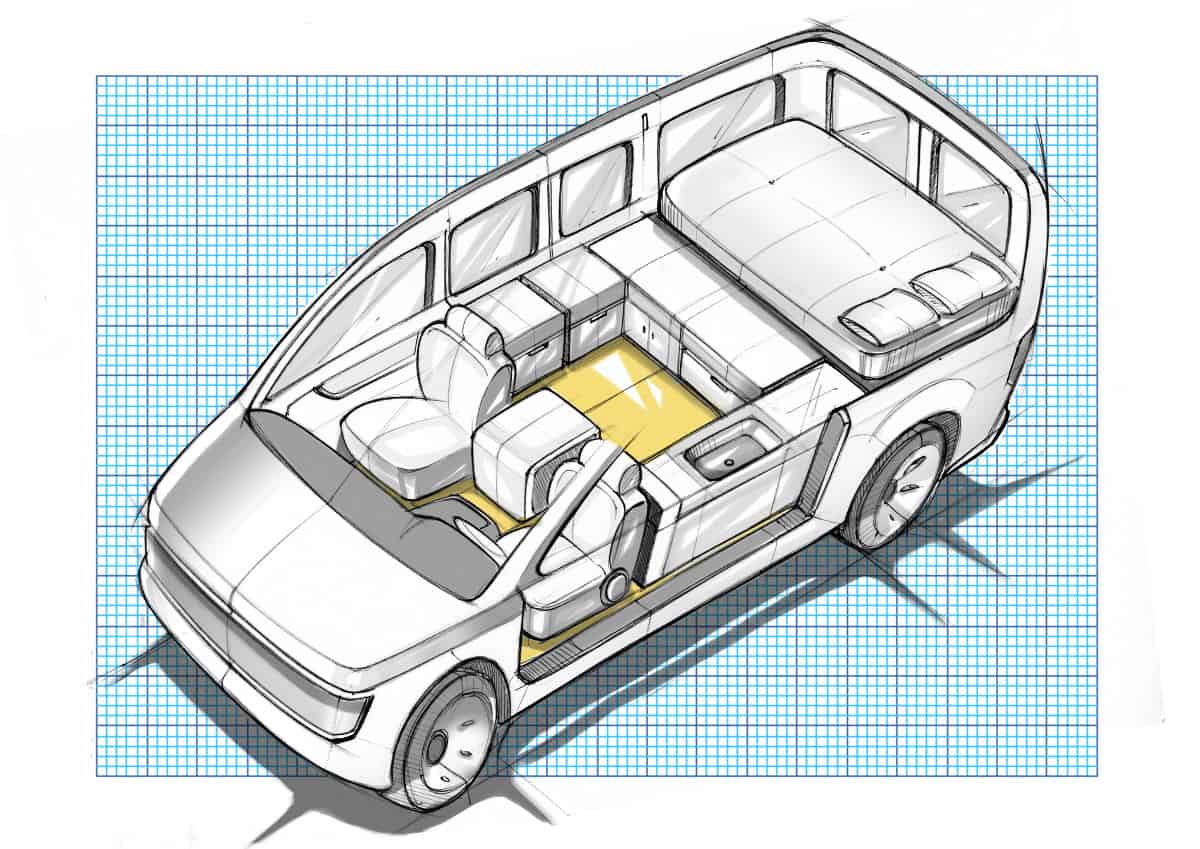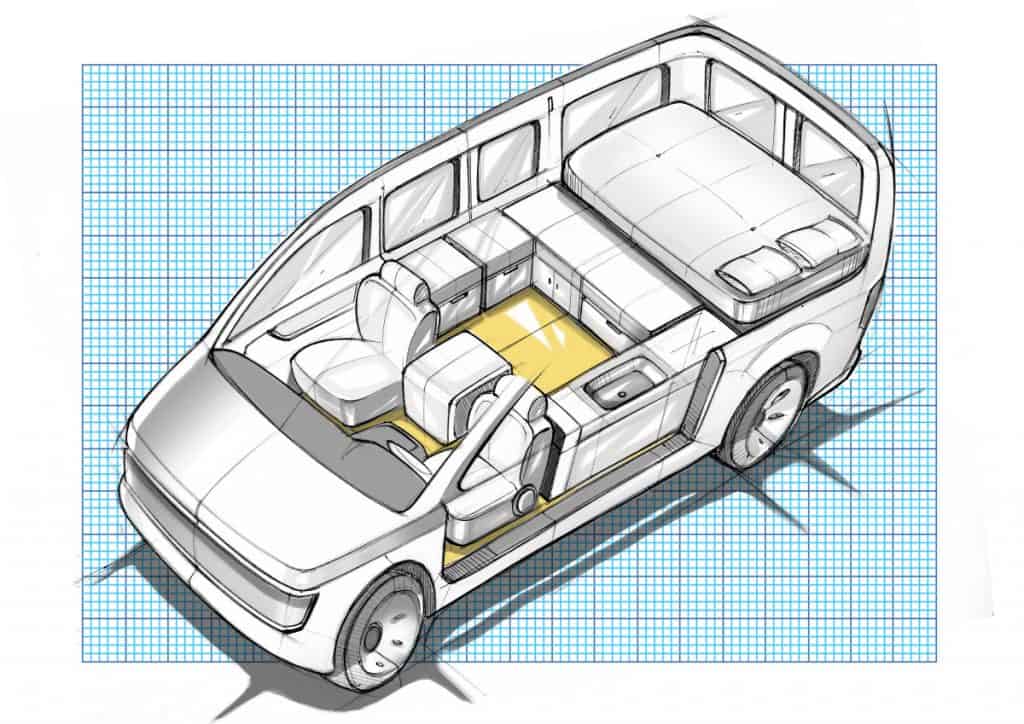 1. This Ford Transit van conversion with a stored shower from @towingwildoats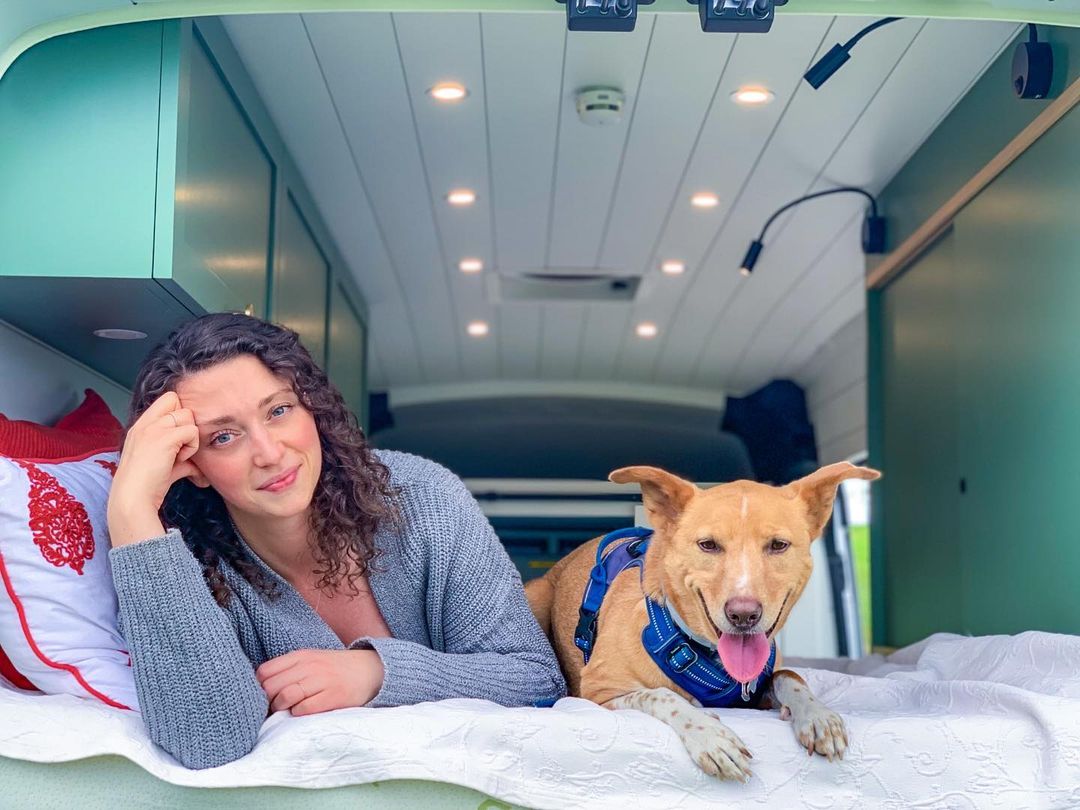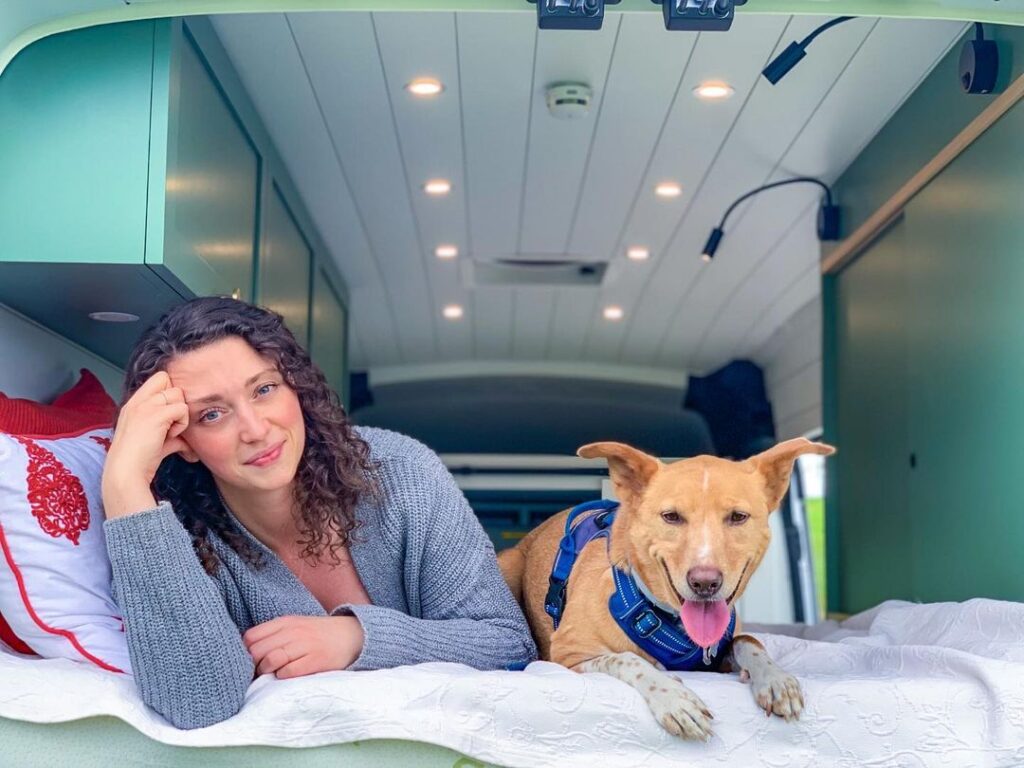 Casey is a solo female vanlifer that travels with her dog, Oaty. She built out a DIY Ford Transit campervan with the 148″ wheelbase and a high roof so they could travel full-time.
Her layout includes a full-size bed, a campervan kitchen, dining area, work area, shower, toilet, and closet.
Casey is 6 feet tall, so she opted to situate her bed lengthwise for more sleeping space. The mattress folds up one-third against the back of the van during the day, making room for bench seats next to the bed platform. One bench stores her fridge, and the other stores her composting toilet.
She fit a great deal of storage into this Ford Transit camper van conversion. There are upper cabinets that store her dry food and other items. Because she opted for a full-size lengthwise bed, that left plenty of room beside her bed for a closet that stores her clothes.
A sliding door separates the driver's space from the camper portion. She extended the overhead cargo area from the cab to create more storage space in the doorway for books and miscellaneous items.
This Ford Transit campervan also has a two-foot by two-foot countertop. It is a great spot to work or prep food for cooking. The countertop lifts up and locks into place. Directly beneath the countertop is all of Casey's shower equipment. A shower curtain hooks up into the ceiling and is a great option when she cannot access a gym shower. The space also triples as storage for her bath products and dog supplies.
See More: Check out this video of their van build before and after.
2. This low-budget, no-build Ford Transit camper van from @on_van_life_mode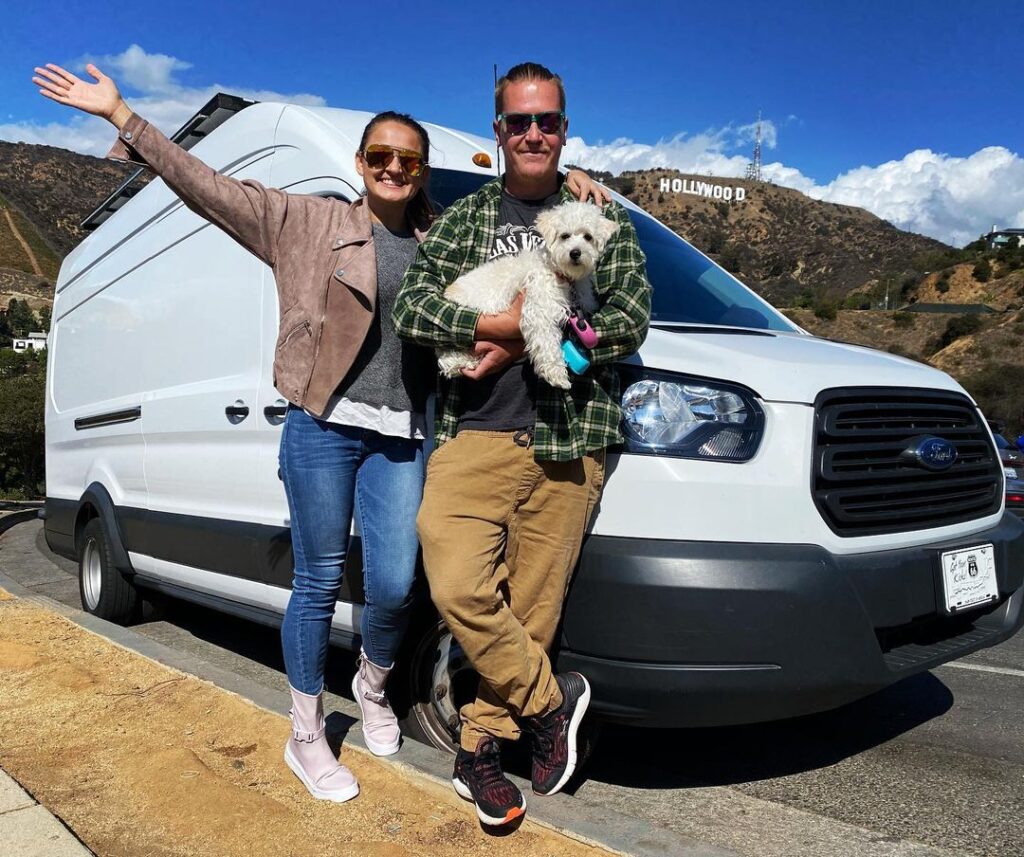 Elvi and Vlad are full-time van lifers living in a 2018 Ford Transit 148WB extended, high roof cargo van. Their Ford Transit camper conversion started as a low-budget, no-build van build. Doing a no-build van conversion allowed them to hit the road faster than waiting to finish a full van build, while still providing the conveniences of a storage system. Little by little, they worked to build in other features.
They use their driver's area for on-the-road storage and as a place to leave their shoes. Privacy blackout curtains separate the driver's area from the main camper. They store their food in a dry bag in an ice cooler. A power battery charges while they drive, and that battery then charges their laptops and powers their fan.
In the living space, a mandala curtain doubles as decoration and hides the drawers that act as the couple's main cargo area. Plastic drawers are sturdy and lightweight and are an excellent option for those looking for something affordable and easy to install.
They use portable LED lights at night. Because the lights aren't fixed to one location, they can move them to wherever they're needed. Water jugs act as their water system.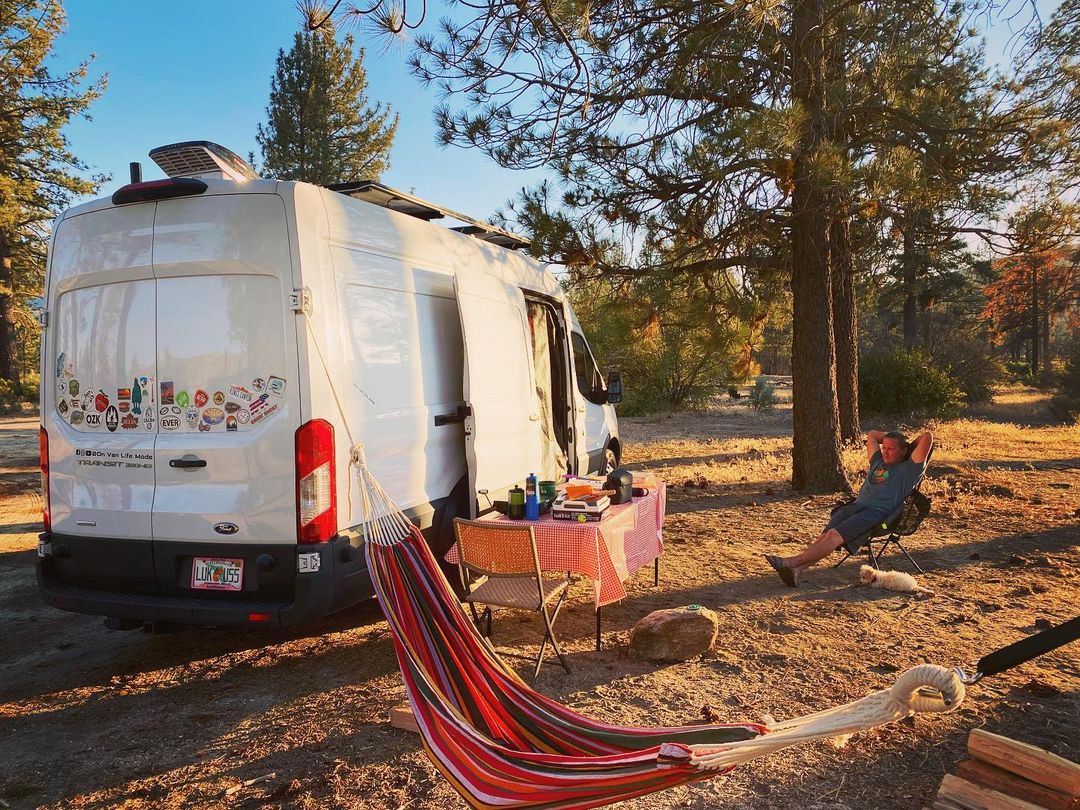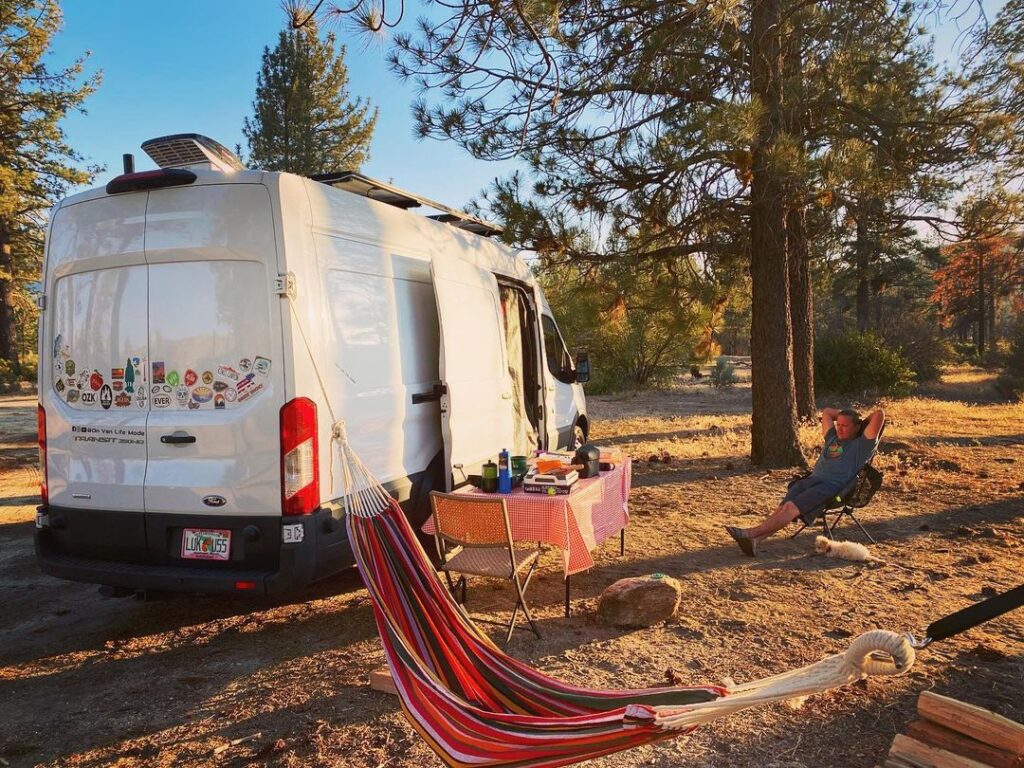 The garage is under the bed, accessible from the back of the van. It stores kitchen tools and outdoor gear like a canopy, hammock, and equipment for camping.
Next, Elvi and Vlad plan to expand their no-build Ford Transit camper van conversion by installing roof rails and a Maxxair ventilation fan, continuing their build while on the road.
3. This mindful Ford Transit van build with log cabin vibes from @wayfinderchronicles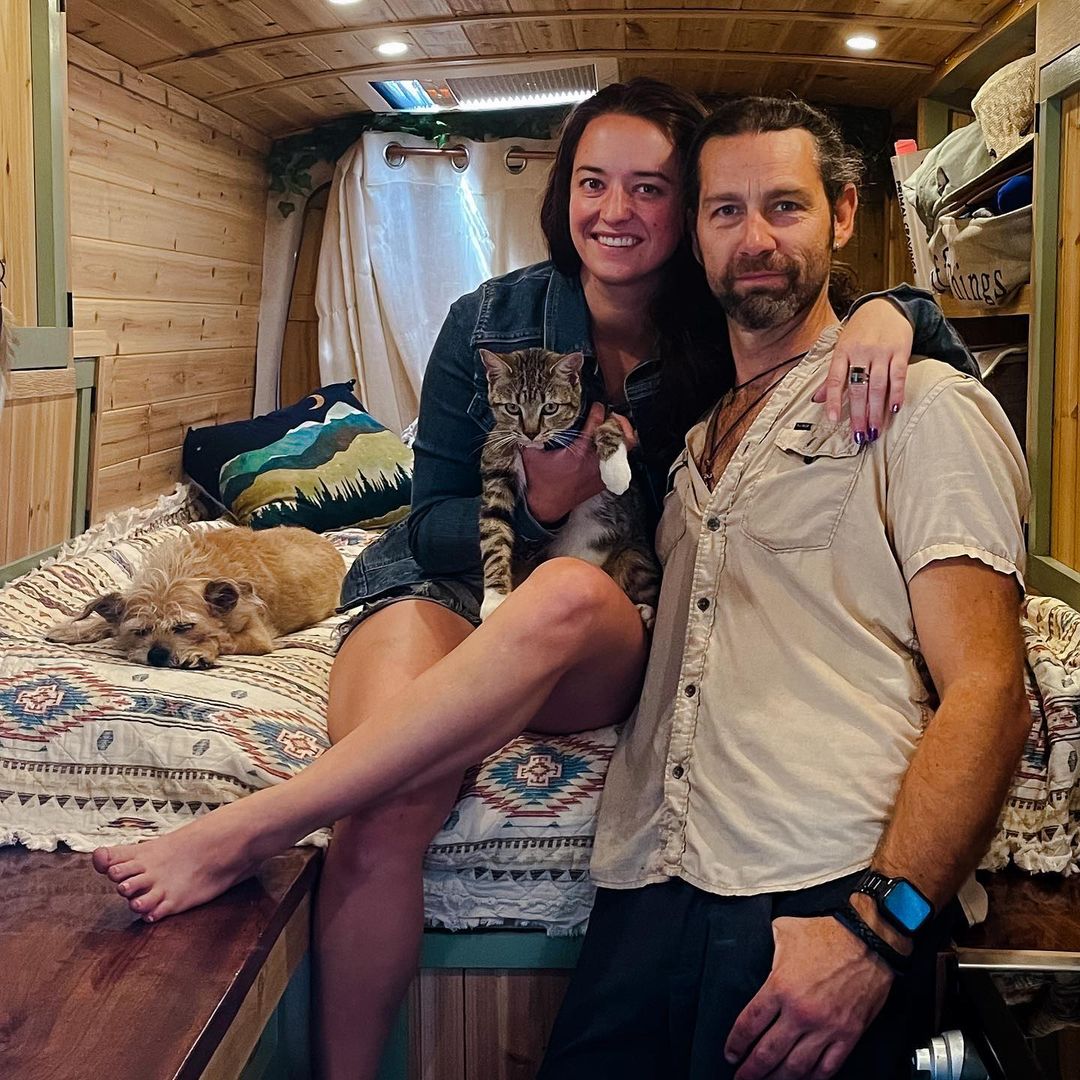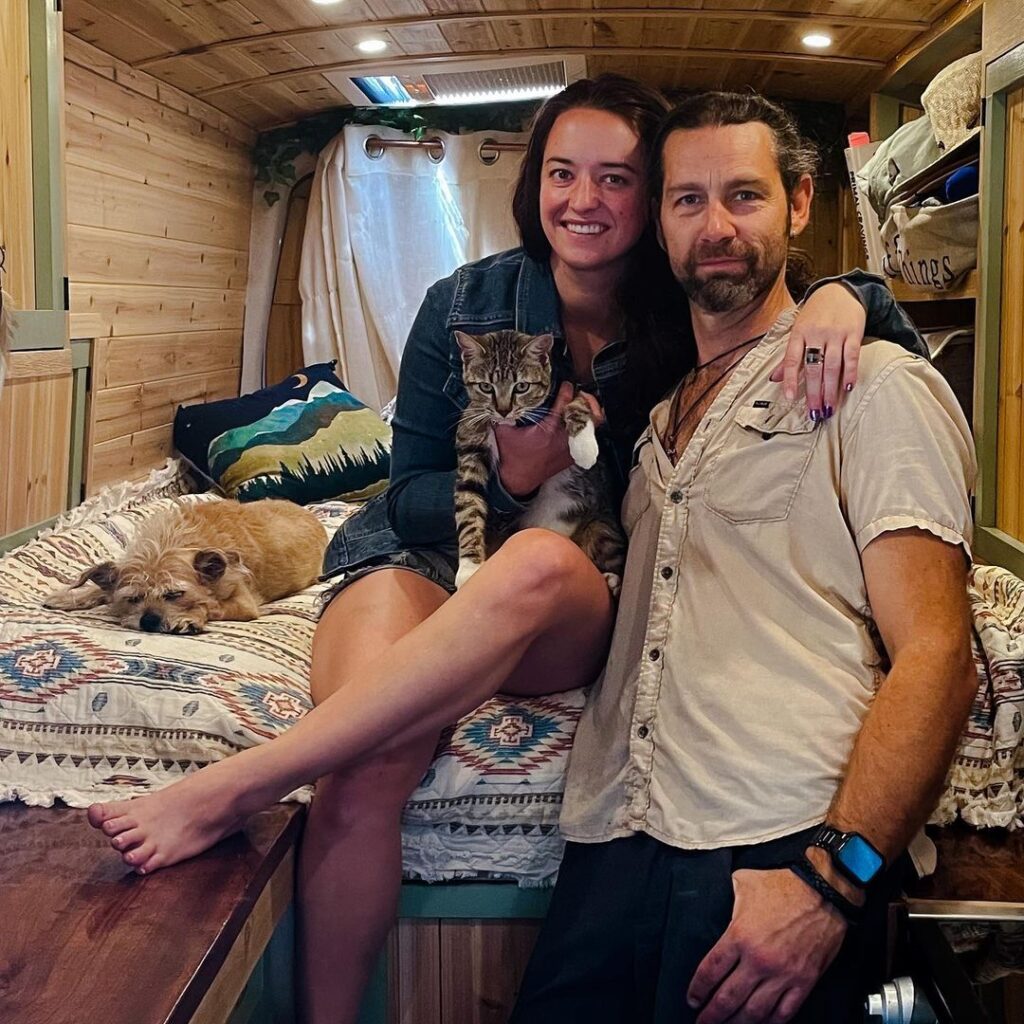 Anna began her vanlife adventure as a solo female traveler. Eventually, she was joined by her partner, Luca. Together, they travel in her 2015 148WB extended high roof Ford Transit camper van conversion.
The kitchen sink is placed near the side door, and it swivels outside for quick outdoor showers. Anna's kitchen also includes a 3-burner stove and oven, a fridge, and a freezer. A cabinet above her stove acts as her pantry, and a spice rack is built into the wall.
Instead of a gray water tank, Anna decided to drain her gray water into a bucket underneath the van. This decision was made from inconvenience with previous builds, where she would have to drive her gray water out when she was staying in backcountry areas.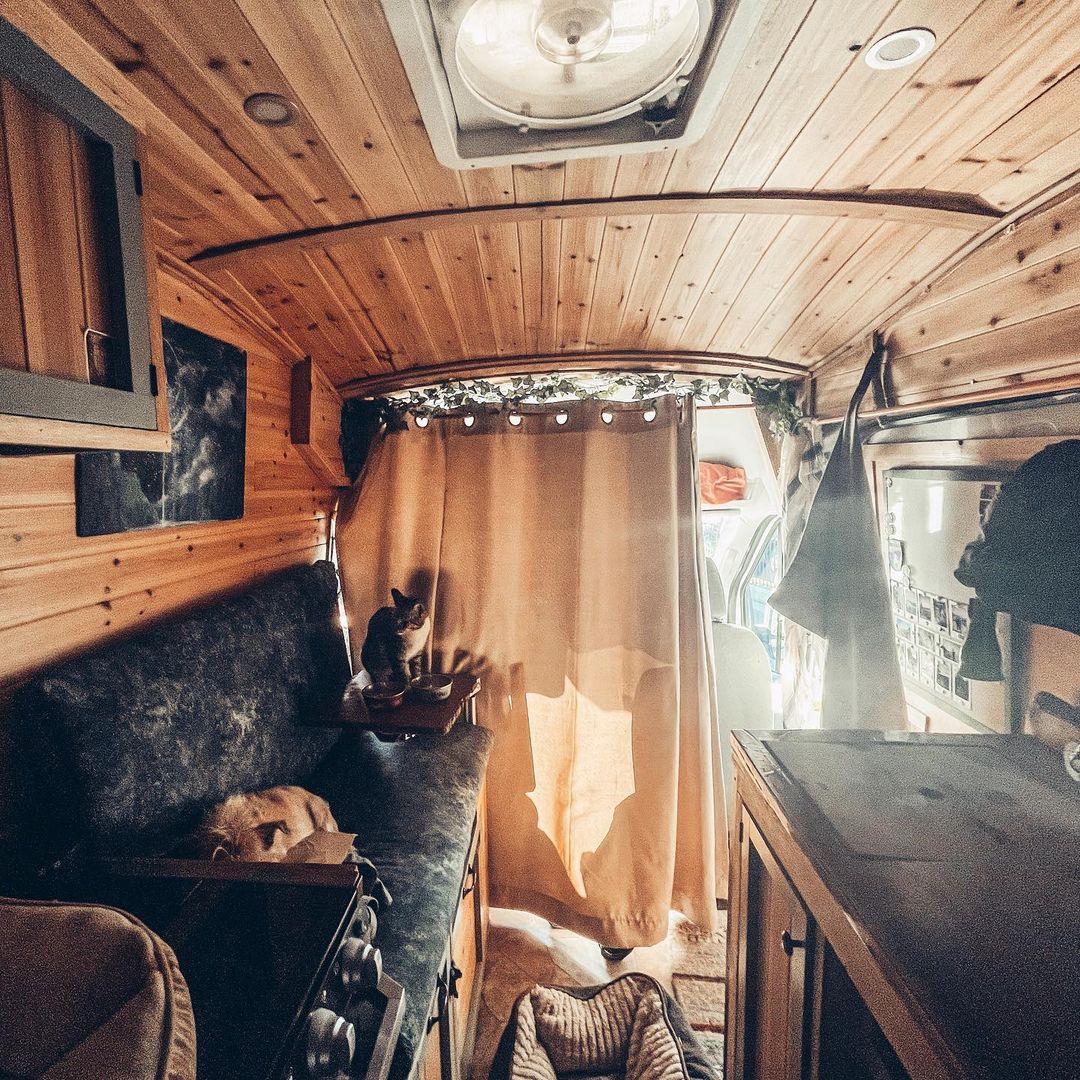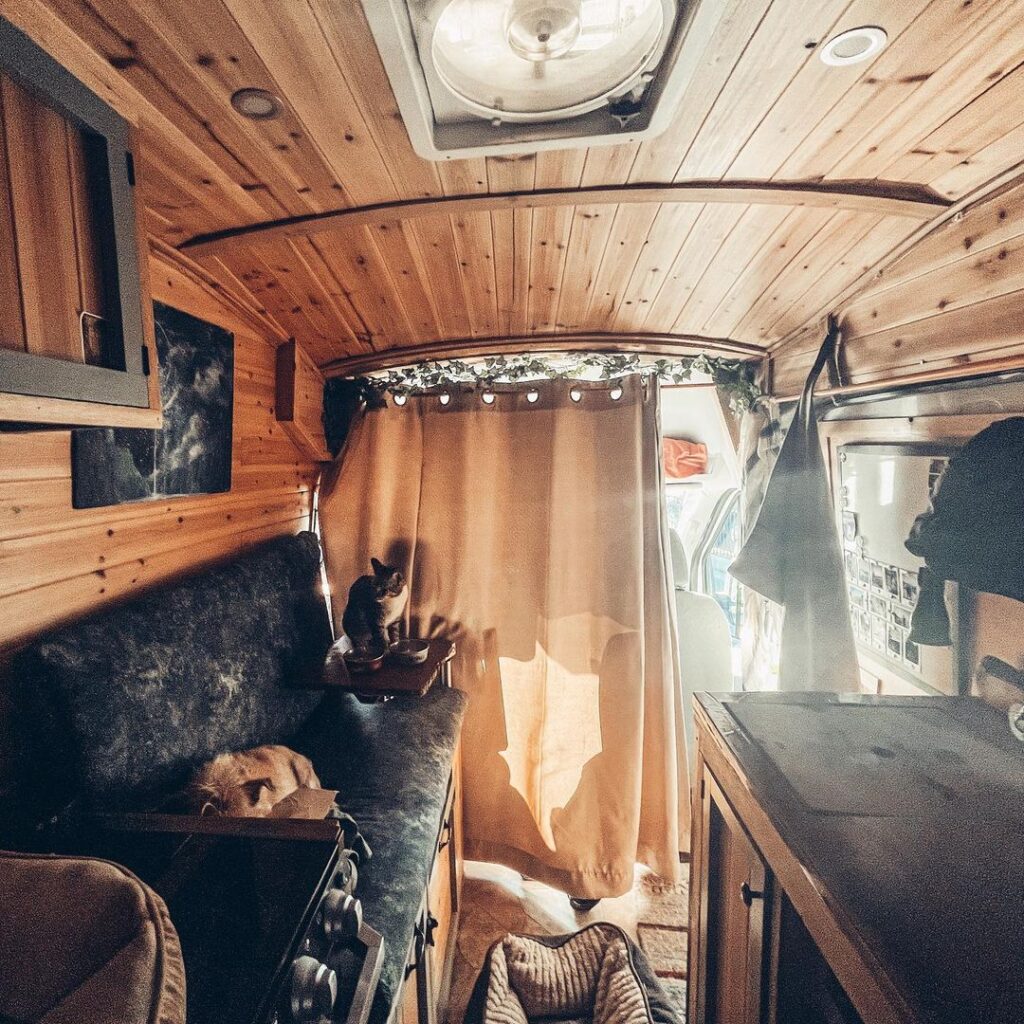 The full-size bed is fixed lengthwise, allowing storage space within the camper van for clothes and plenty of garage storage for mountain biking gear, camping gear, and a 20-gallon water tank, amongst other things.
Up by the cab, there is a couch behind the driver's seat. A swivel table allows her to work with a view when the side door is open. The passenger chair swivels as well, providing additional seating for this area.
Anna's well-designed Ford Transit van conversion layout comfortably accommodates her, Luca, their dog Sterling, and their cat, Inara.
4. This secure Ford camper van from @wheretheroadforks_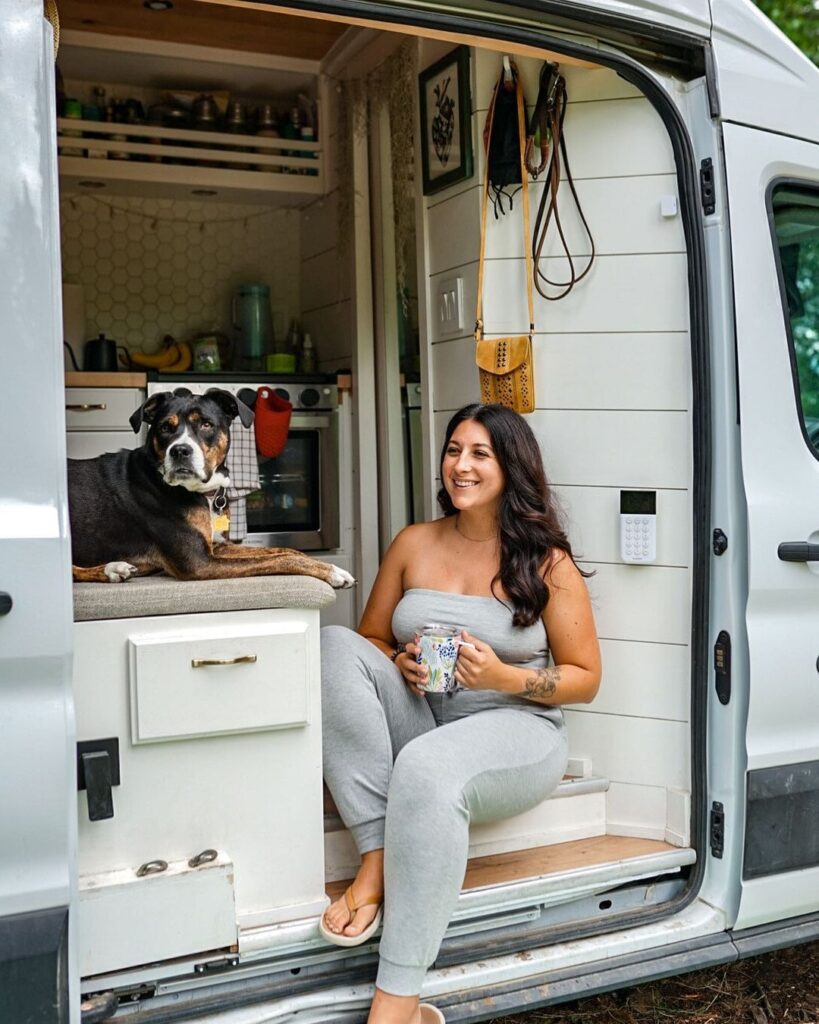 Kirsten lives in a 2019 Ford Transit camper van conversion, with the 148″ wheelbase and a high roof. This is her second camper van – she had been on the road for a couple of years already before swapping to the Ford Transit.
Her kitchen includes a propane stove and oven, which she recommends over an induction cooktop because of the electric power induction requires. The oven doubles as kitchen storage. Open shelving about the kitchen area is used as pantry storage.
The van has a partition with a pocket door that locks into place to provide added security. The partition separates the cab from the back, and Kirsten opted for it because she has two dogs, and they can stay safely in the back when she's not in the van without people seeing them.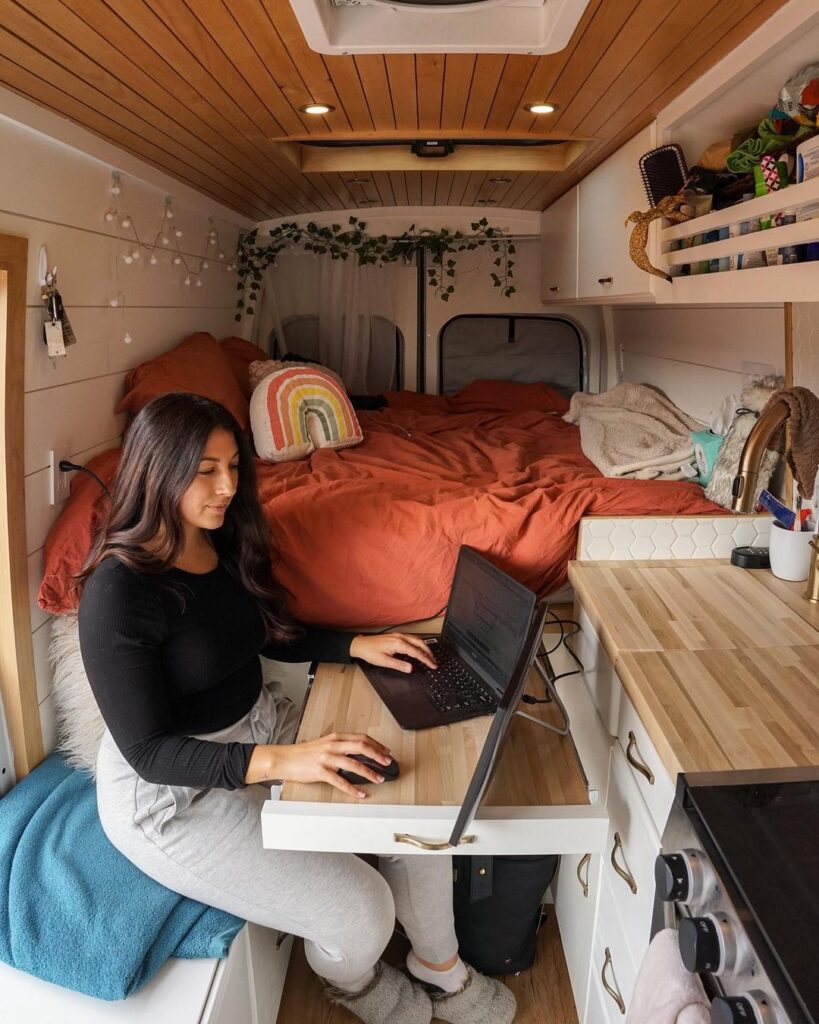 She has a fixed bed that runs width-wise across the back of the camper van, which provides plenty of sleep space for her and her dogs, and cabinets above the bed to store her clothes. She has a bench seat and a slideout table next to the bed. On the ceiling, she has three sections of puck lights, a Maxxair vent fan, and a sunroof.
Kirsten has installed door sensors, motion sensors, and glass break sensors for safety. She also has a key fob that triggers a loud alarm.
The second time around, Kirsten opted for higher quality van solar panels and electrical components and had them professionally installed. She recommends talking to people in the vanlife community and renting different camper vans to get a feel of your options and a taste of the lifestyle.
5. This stealth Ford Transit camper van from @veevanvoom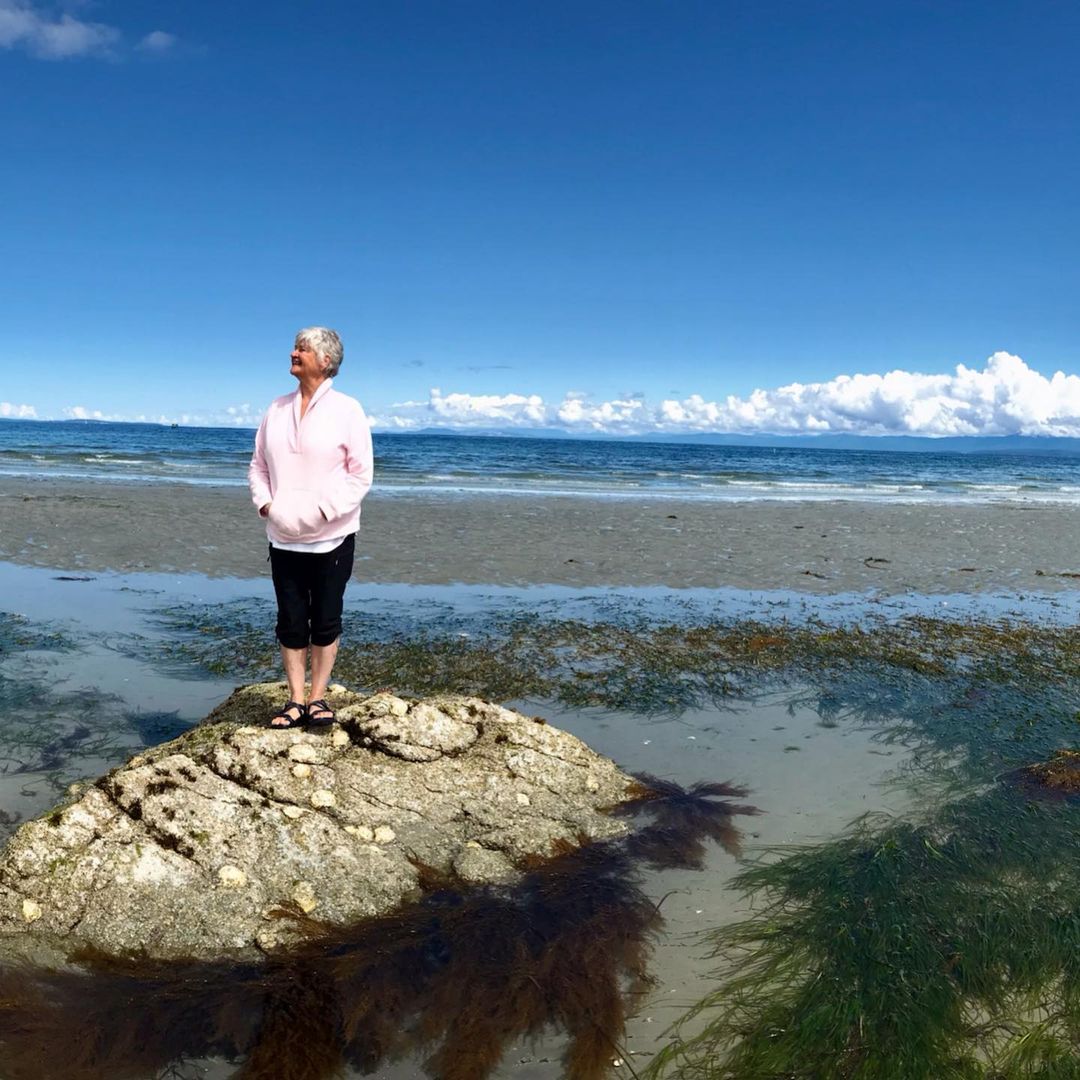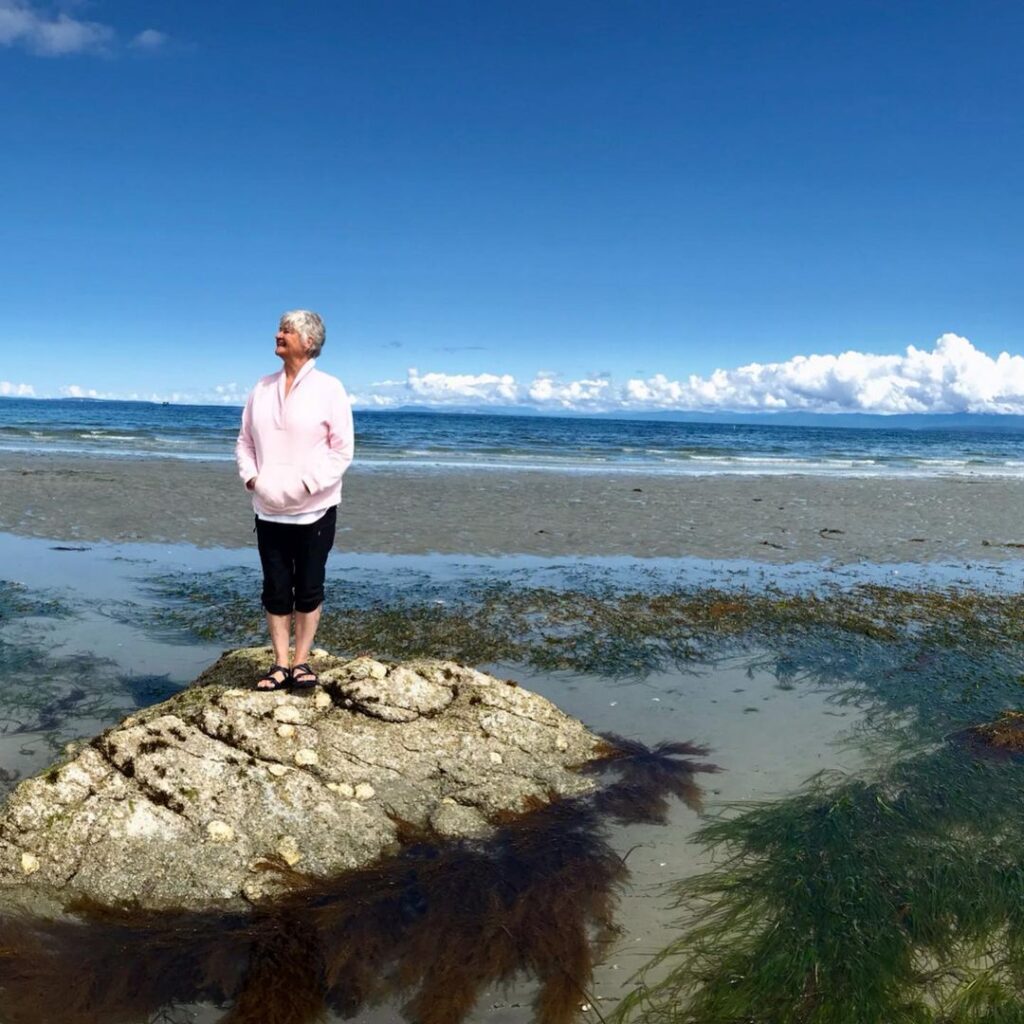 Virginia has a 2016 148WB extended high roof Ford Transit camper van conversion. She designed a mostly DIY van build with her friends to enjoy her retirement and van life at age 70. Her Ford Transit camper van includes some unique attributes, like artwork and a pot from Portugal that she turned into a sink.
For security, she has four-way cameras with a monitor in her living area to see what is going on outside of her van.
She has a fixed bed with bench seating next to it on both sides. A table slides out to create a dining space. Under the bed is the garage, accessible from the outside of the bed, which Virginia uses for her camper van electrical setup, miscellaneous storage, and pop-up shower.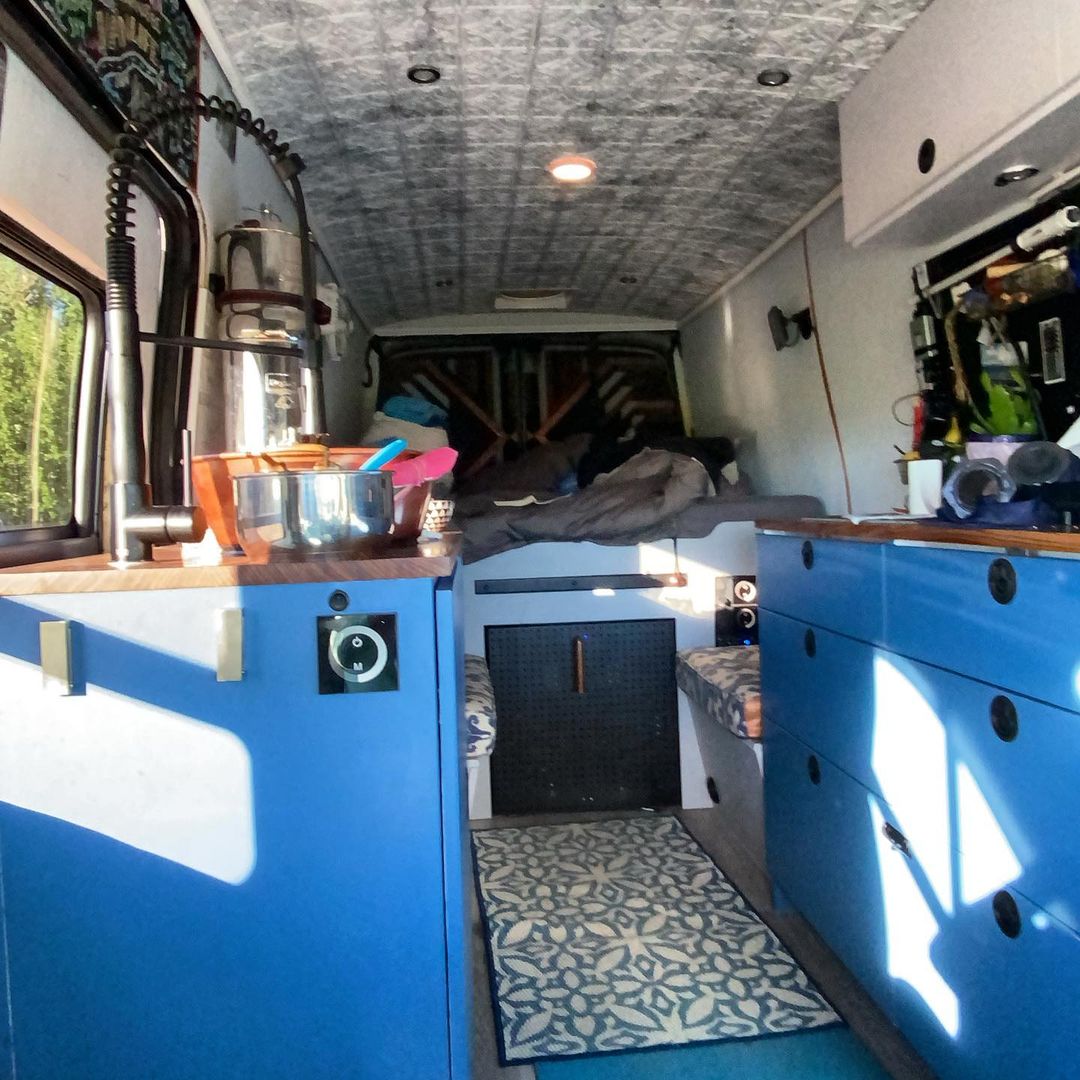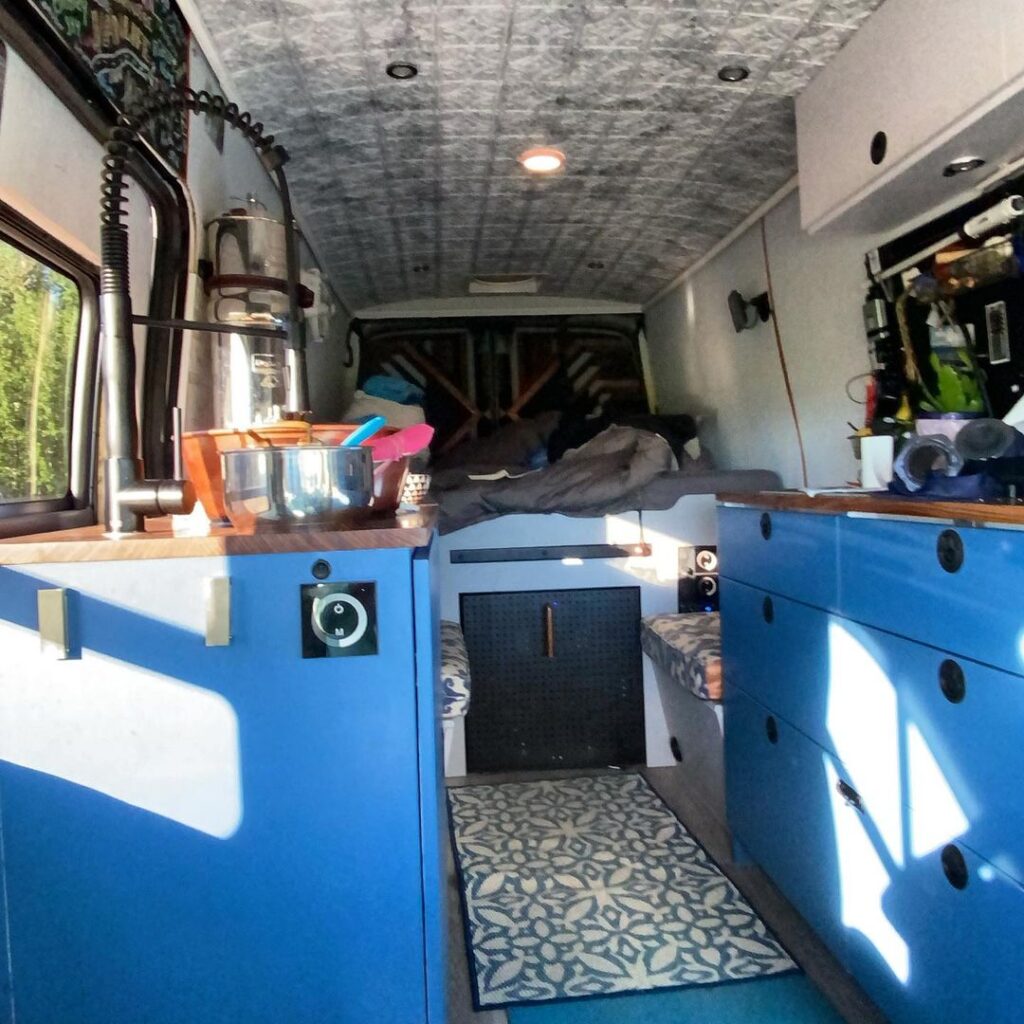 She has a nifty pantry with drawers that slide out and are accessible from both inside and outside the van. A table folds out by the side door, creating an outside kitchen area next to the pantry.
Virginia is thrilled with her decision to join the van life movement during her retirement and enjoys living spontaneously. She advises future van-lifers to make a list of everything they need to have and another list with everything they want. Start with a plan that fulfills your needs, and then move on to the other things you desire.
6. This DIY Ford Transit van conversion from @sarahyak_
Sarah lives in her self-converted 2017 148WB high roof Ford Transit camper van with her parrot, Zeus. She prioritized an open floor plan with lots of counter space and easy access storage.
She built a cage for Zeus, though he doesn't spend much time there. He has a harness so he can join Sarah outside and on hikes.
Sarah's Ford Transit camper van has a dedicated cabinet that acts as a charging station. With this build, Sarah made sure there was plenty of space for food and water storage because she prefers to camp out in nature for extended periods without having frequent obligations to leave to restock her food and water supplies. The gray water tank is stored underneath the outside of the van.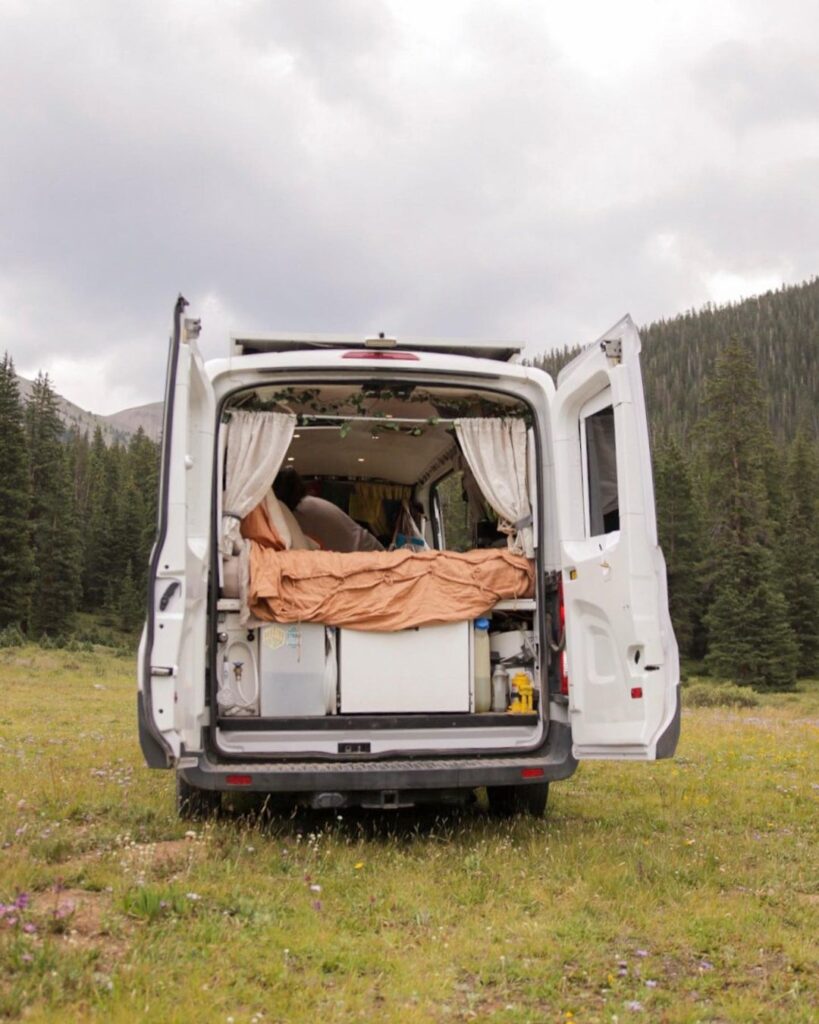 Stickers and artwork make her van feel almost like an art installation.
Under the bed, she has a drawer that slides out for her closet with plenty of clothes storage. There is a cover that can be slid off it and latched on, turning the drawer into a slide-out bench seat. The bed is on a piano hinge that allows the mattress to lift up to access further storage within the van. The back drawers are also accessible from outside the back of the van.
It's clear that Sarah put a lot of thought into this Ford Transit camper conversion.
7. This 130WB Ford Transit camper conversion from @mariahthewind_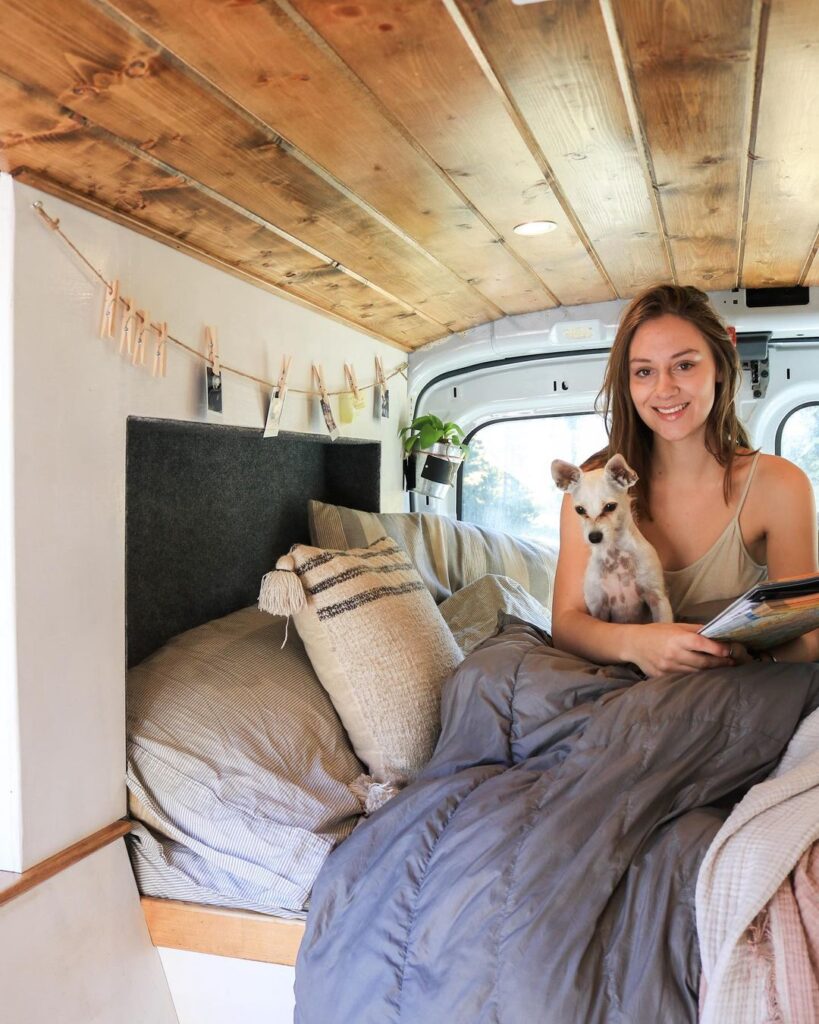 Mariah Alice chose a 2019 Ford Transit 130WB medium roof van for her and her dog, Finn, to live in. The 130WB is a great option for Ford Transit camper vans that aren't too big or too small, since it's a good compromise between the smaller Connect van and the full-sized 148WB Ford Transit vans.
She made sure there was plenty of storage, with cabinets that run along the side of the van. A curtain separates the cab from the living space.
Mariah doesn't have a toilet inside her camper van conversion, instead opting to use restrooms at gas stations and coffee shops.
Her bed is fixed, with a bench seat and a pull-out table beside it. However, she recommends a converting dinette setup for anybody working full-time out of a van, as it provides more space during the day and differentiation between work mode and sleep mode.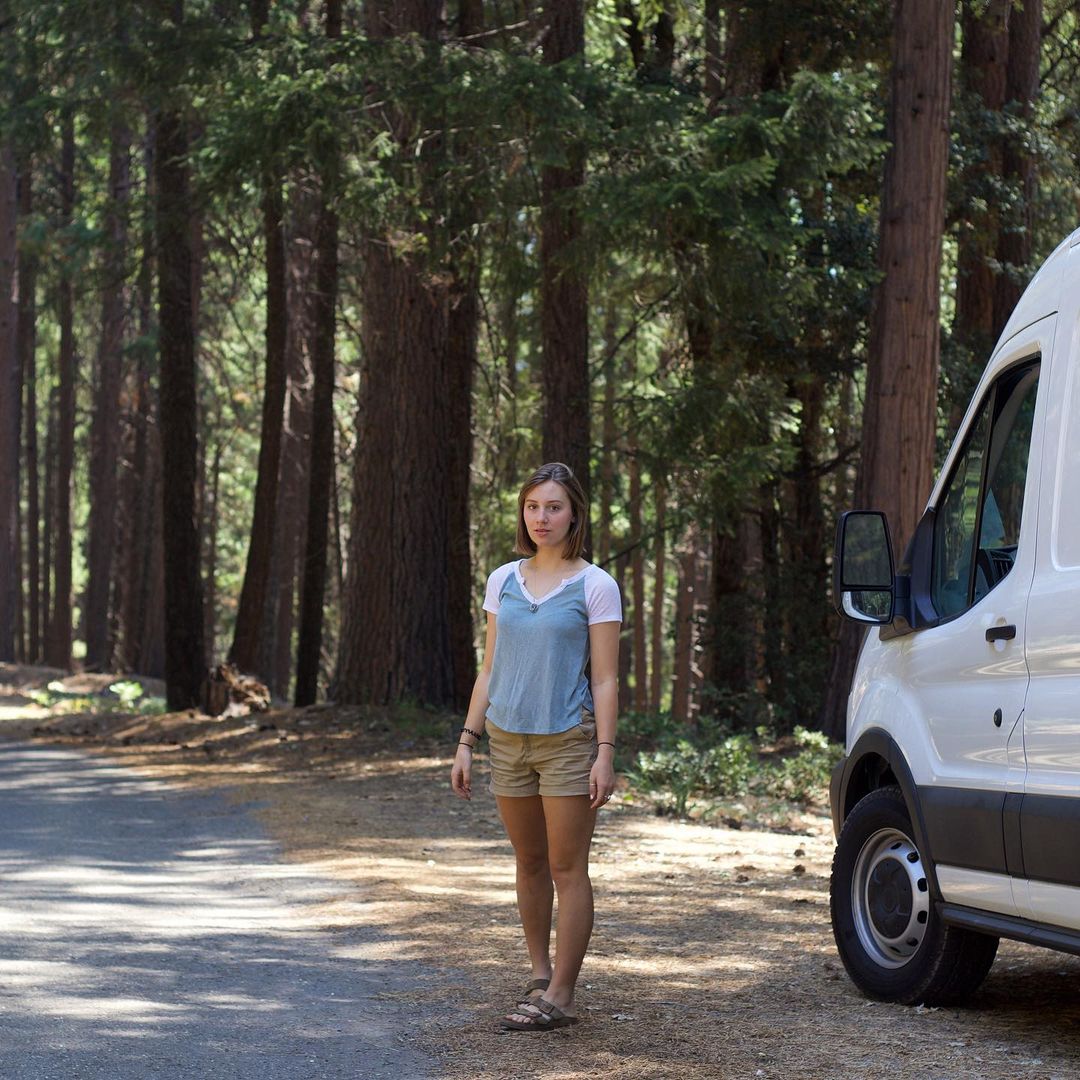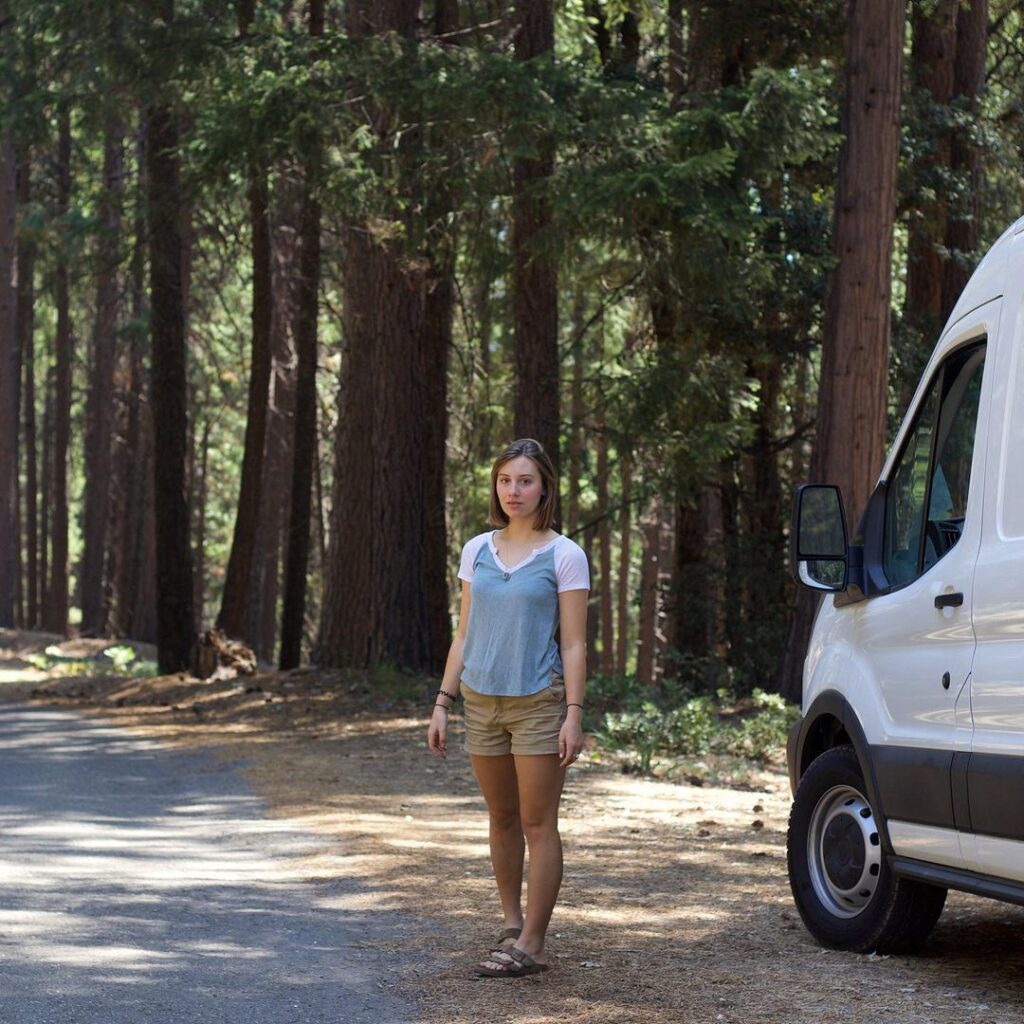 The garage provides plenty of storage because of the fixed bed frame and is used to store the battery and electrical system, dog food, a pop-up shower, and other miscellaneous gear.
For anyone thinking of trying van life, Mariah recommends taking your current car out for a camping test drive because it will shatter some glamorous illusions about the lifestyle before making a big financial commitment.
8. This lightweight Ford Transit camper van conversion from @doriandmena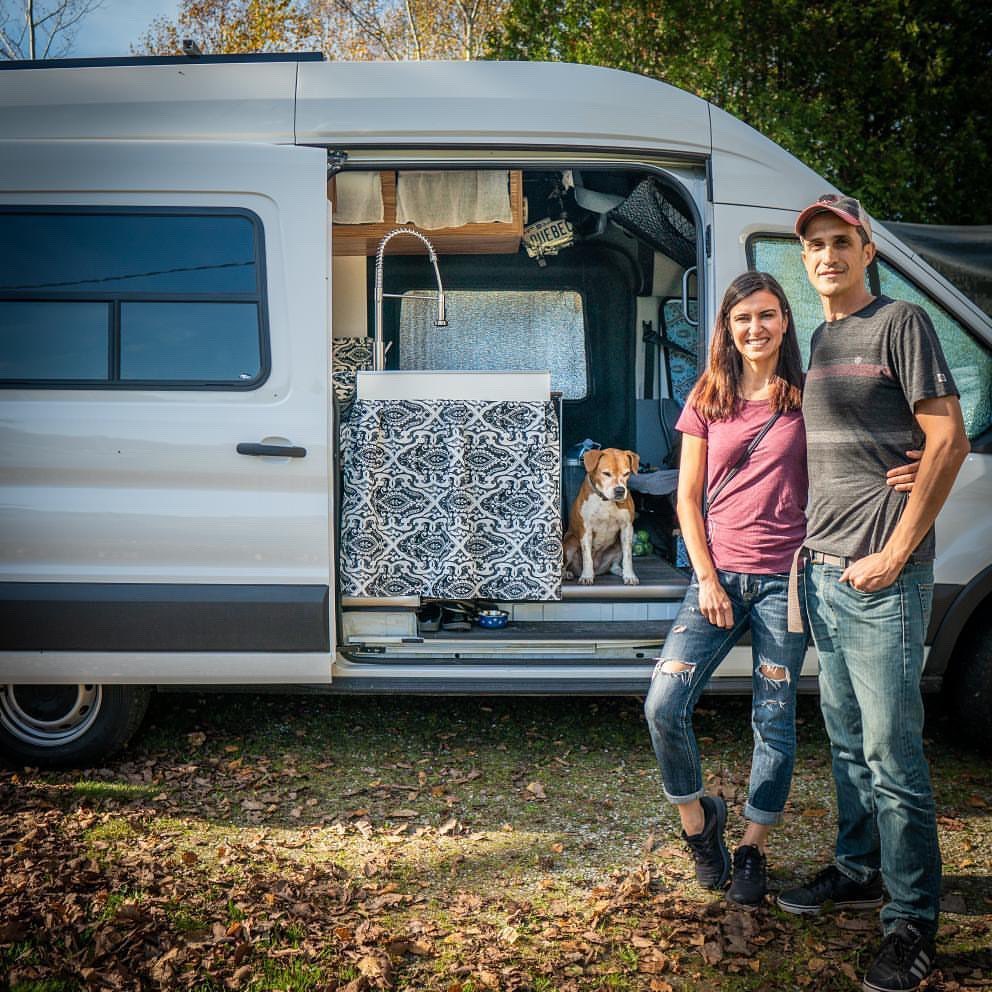 Dori and Mena live full-time in their 2019 Ford Transit 148WB extended high roof van, which they converted themselves. They opted for a van over an RV because of costs, upkeep, and maintenance.
They kept their Ford Transit van build lightweight by using Thinsulate insulation, quarter-inch plywood, aluminum tubing, plastic ceiling, and one-eighth-inch plywood for the wall panels. The sink is large but light because they opted for a laundry sink. A curtain separates the cab from the living space and helps regulate the heat. Window covers help with privacy and insulation.
Dori and Mena have 320 watts of solar and two vent fans on the roof of their Ford Transit campervan. They recommend an alternator system to charge the batteries while driving. It has helped them ensure they also have enough power.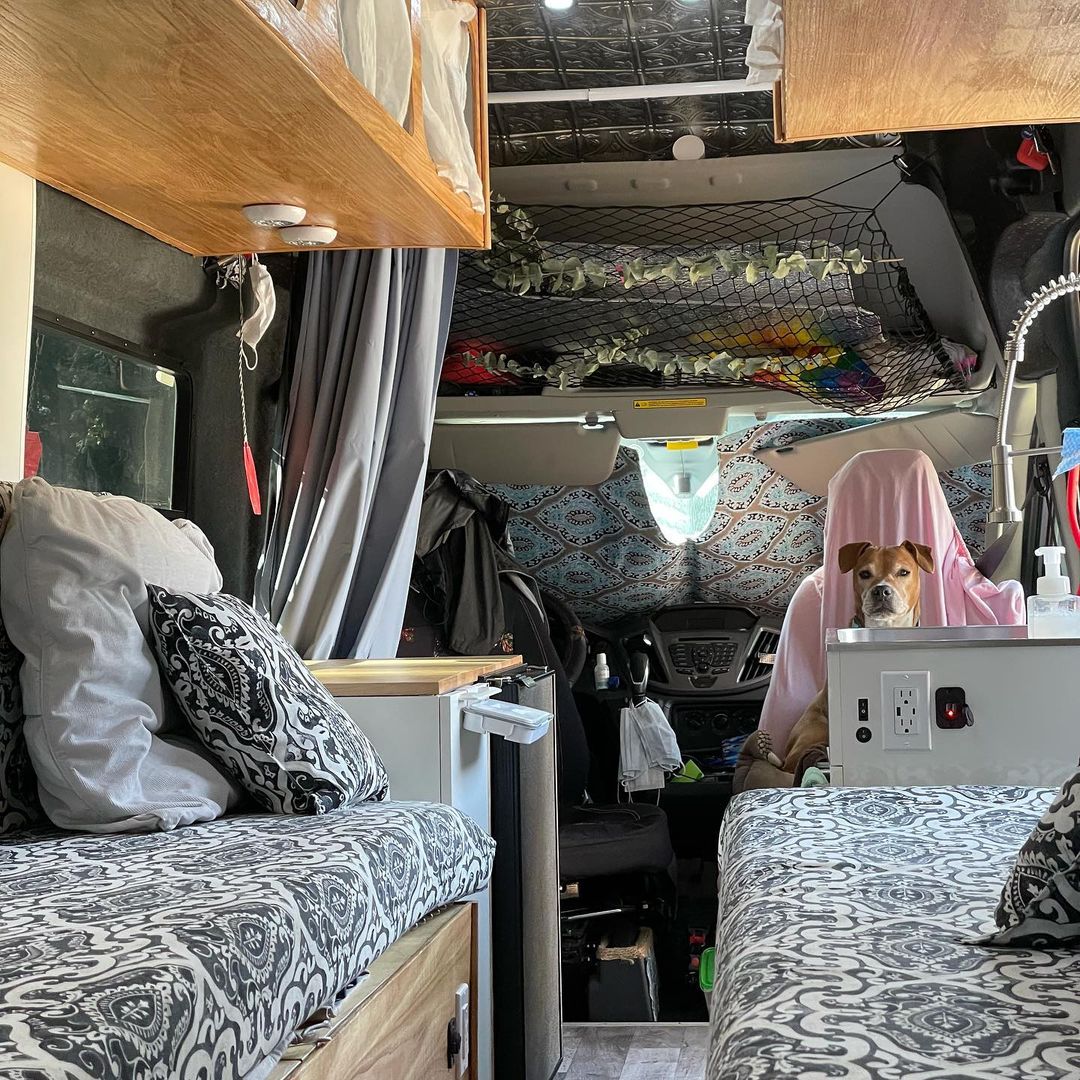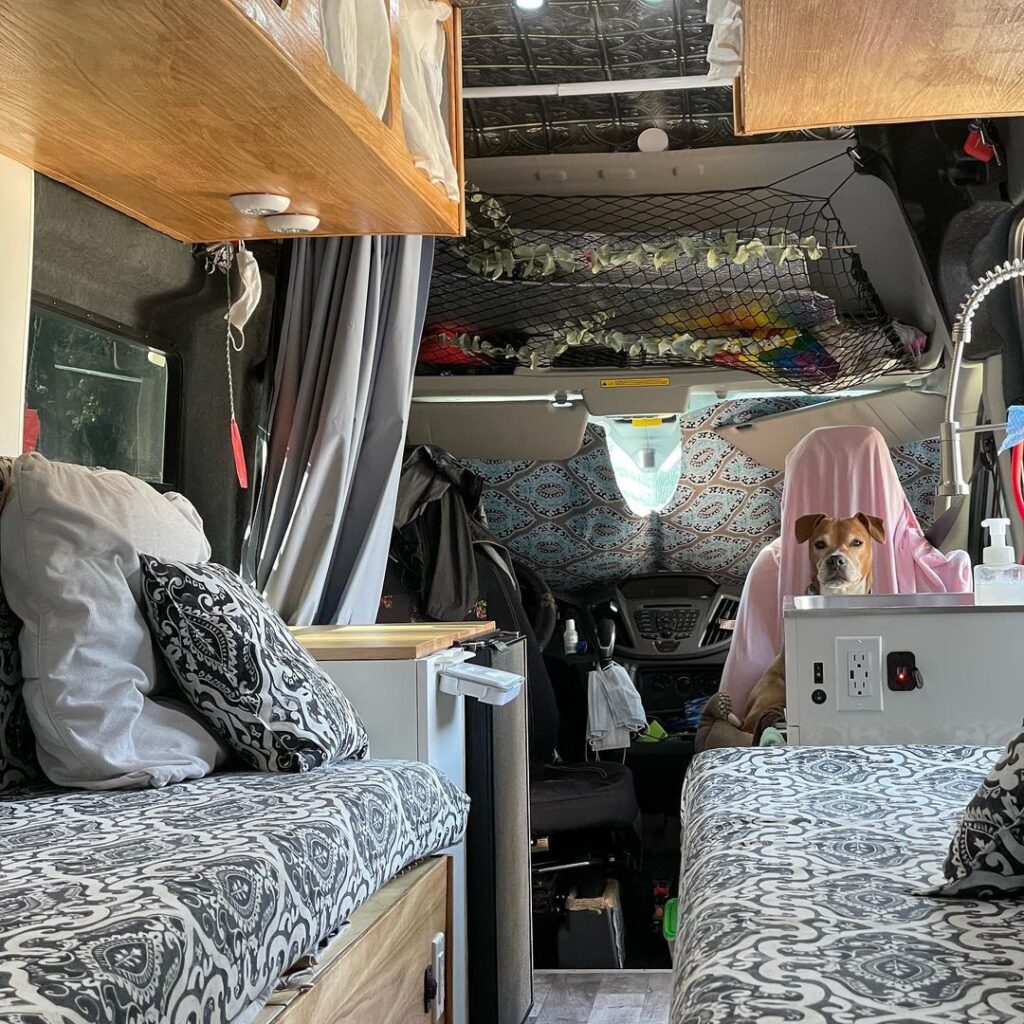 Instead of cabinet doors, they chose curtains to keep the van's weight down, encourage more airflow, and avoid condensation accumulating. By storing items within bins and baskets, everything stays in place with the help of the lip of the cabinets.
They have a converting dinette/bed setup that provides a lot of space underneath the cabinets. Behind the dinette setup, they have a toilet and shower. The shower drains out from the bottom of the van. A bucket is placed under the van to catch the gray water.
Dori and Mena enjoy the vanlife lifestyle because it can be more active, social, and spontaneous. They take their journey one day at a time.
9. This space-saving bed design from @stokeloafvan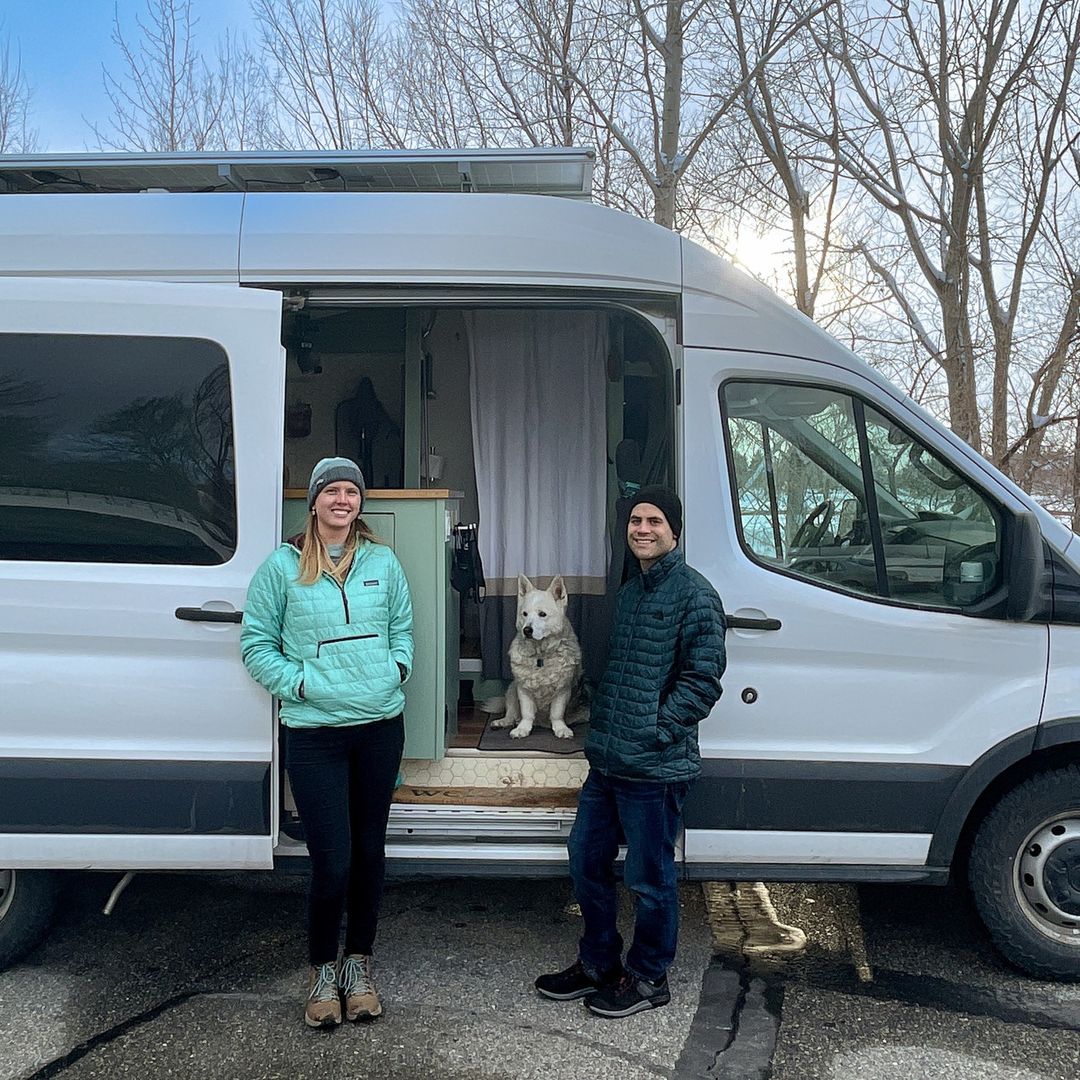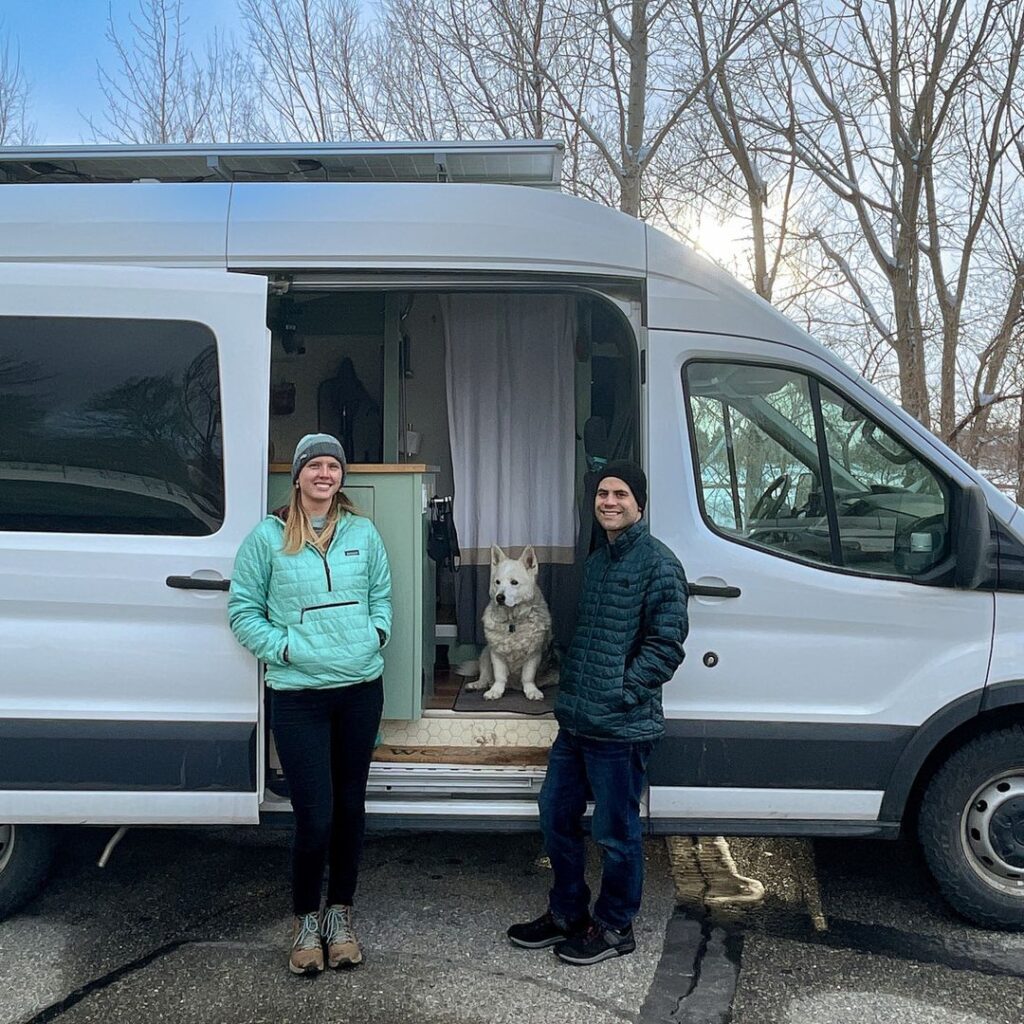 KJ and James travel in a 2015 Ford Transit 148WB extended high roof van with their dog, Lucky. The couple felt like something was missing with their 9-5 lifestyle, only having free time on nights and weekends. Eventually, they decided to purchase a van and join the van life movement.
They continued to work full-time while building out their Ford Transit camper conversion, which took them nine months to do. KJ and James are both mechanical engineers, which is evident in the well-thought-out design of their van, nicknamed Loaf.
Loaf features a wet bath, kitchen, dining/lounge space, a bed, and tons of storage. On the roof, the van build includes 400 watts of solar panels, a fan, and a sunroof.
In the seating area, the benches have storage underneath that holds the electrical system components, water tanks, and miscellaneous items for the van. The dining table is on a swivel mount, making it easy to move around and readjust as needed.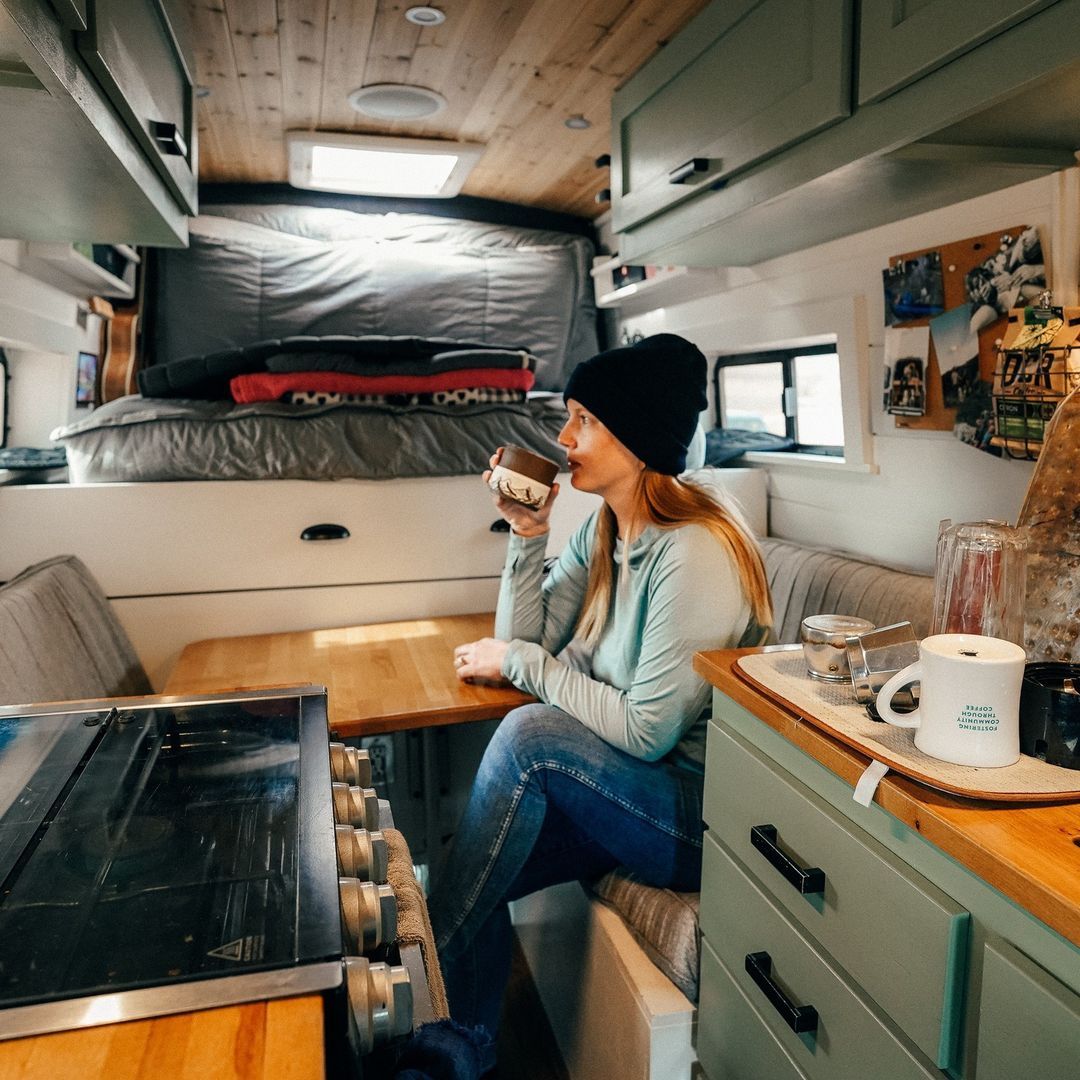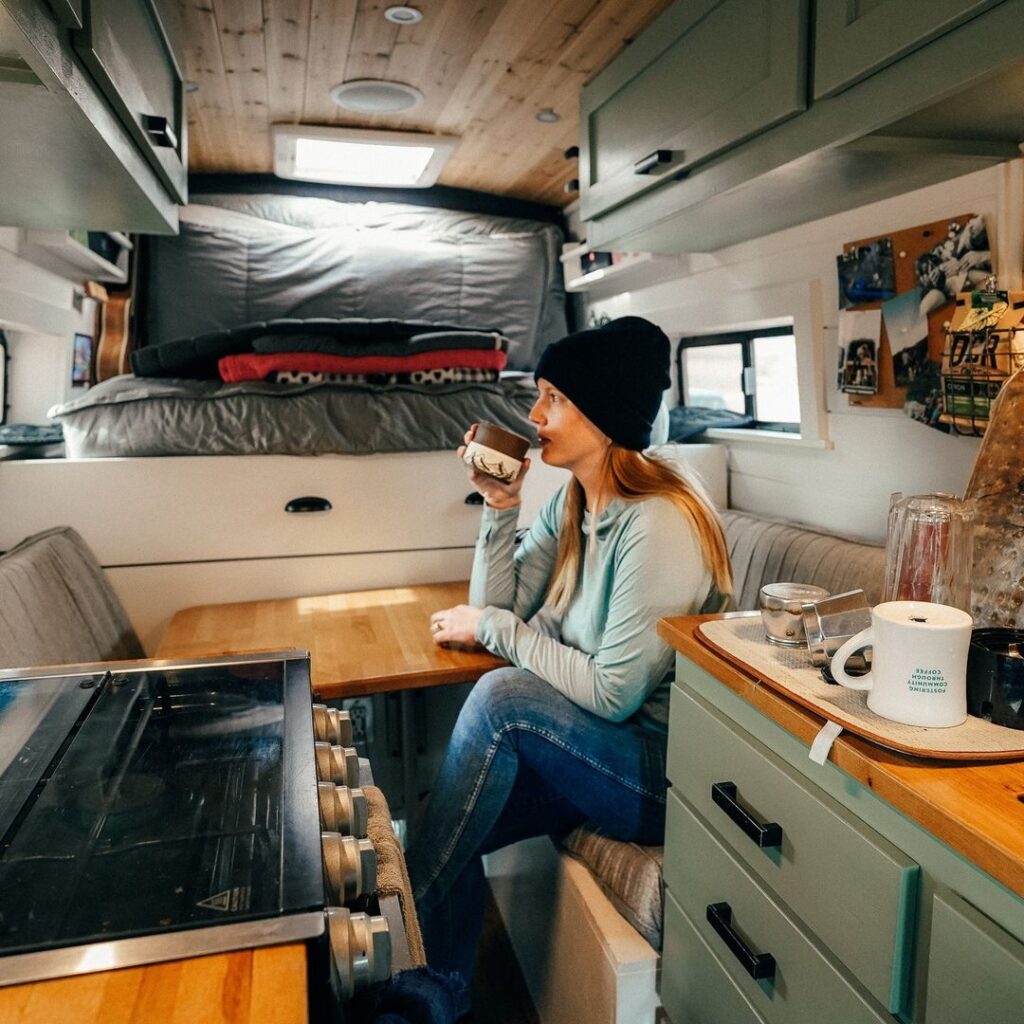 By the bed, there are two slider windows with shelving that can hold small items like phones and glasses while in bed. The bed itself is a full-size mattress on a futon setup. The mattress is partially folded up against the van back doors during the day.
At night, the bed frame pulls out like a drawer over the dining area to extend the entire length of the bed. This inventive setup allows KJ and James to have a length-wise bed space and a dining area without compromising on garage storage, where they keep all of their sports gear, camping equipment, and electric longboards.
This project has helped the couple embrace travel and living small.
Build Your Van
The Ultimate Van Build Guide
Planning a van build? Read our free guide. We cover just about everything you need to know – from planning, to insulation, to solar and electrical, to picking appliances, to essential tools. Get started today so you can get out there on the road!