There's nothing like having a 12-volt refrigerator in your van or at your campsite to really bring the comforts of home on the road.
Refrigeration means you can store fresh food and other cold items – like vegetables, dairy, meat, "booch," and beer. It means you don't have to fuss with a cooler full of ice and water-logged food. And even though the best 12-volt refrigerators for campervans aren't cheap, having one means saving money (and eating healthier) by cooking your own meals.
A good 12V fridge is one of the biggest investments you'll make when building your van. And you need to know that the fridge you're getting will meet your needs and hold up to the daily grind of life on the road, all while staying within your budget.
In this post, we help you wade through all the vanlife refrigeration options, from cheap to top-of-the-line to DIY. We go over the pros and cons of the best 12V refrigerator models. We discuss whether those expensive 12 volt fridges are really worth the cost, and what you may be giving up with the cheaper units.
So read on and discover the best refrigeration solution for your rig!
The Best 12V Refrigerators
After extensive research and testing, we've narrowed the huge list of 12-volt portable refrigerators for van life down to a handful of fridges that we recommend. Below are our top picks for best overall value, best high-end/upgrade fridge, and best budget 12-volt refrigerator (we recommend additional options in each category further down in this post).
In our opinion, Iceco 12-volt refrigerators are the best overall value for portable refrigerators in the vanlife space. They offer an excellent combination of top-quality components, rugged construction, performance on par with higher-end 12-volt fridges, and affordable pricing that's tough to beat. They come in a variety of sizes to fit any need, from smaller single-zone to large dual-zone, and offer different form factors in their JP-series.
The Dometic CFX3-series represents the top-of-the-line when it comes to 12-volt refrigerators for vanlife. These fridges are extremely energy efficient, packed with advanced digital features, and come from Dometic's well-known pedigree of producing rugged and innovative mobile living appliances. The only real downside is higher cost, but that may be worth it to you if you want the best of the best for your rig.
BougeRV 12-volt portable refrigerators offer incredible bang for your buck. They are highly efficient 12V DC refrigerators with all the basic features, and they're less than 1/3 the cost of the high-end brands (with discounts). And unlike some other cheap 12V fridges, this fridge has a brand behind it that's committed to the product and the vanlife space. If you want refrigeration in your van without breaking your budget, BougeRV is a great option.
Read on for a guide on what to look for when selecting a refrigerator for your van. There is a lot of good info here that we advise checking out. Or, if you prefer, you can skip to our list of recommendations.
Jump to detailed 12V fridge comparison>>>
Different Types of Vanlife Refrigeration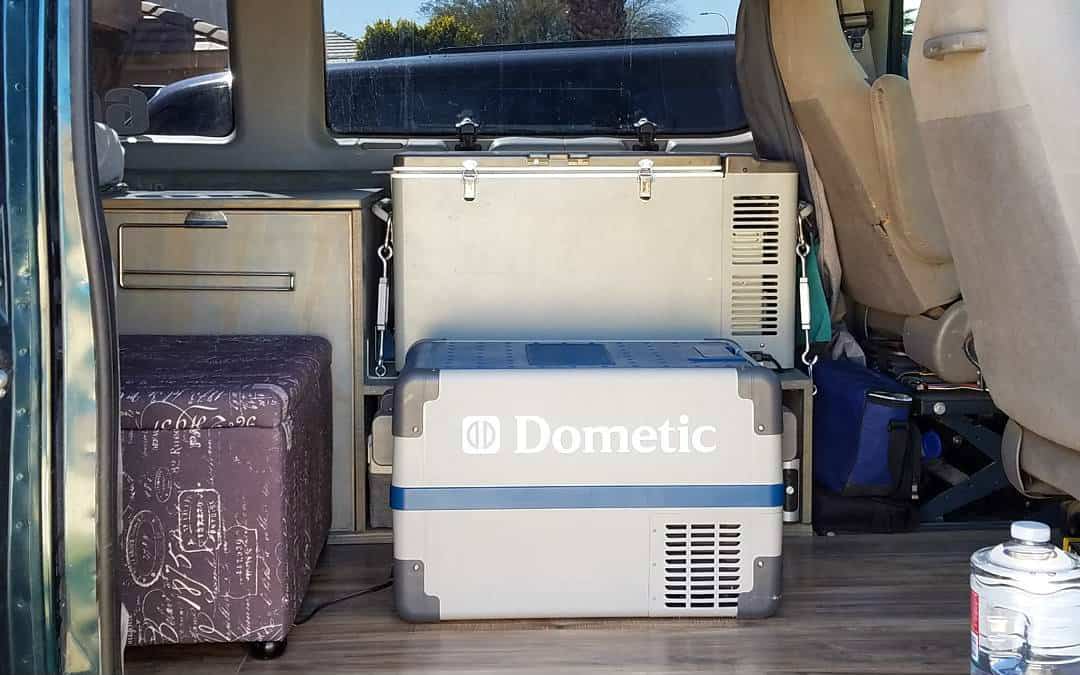 There are a few different options for keeping food cold in your van. Here's a breakdown:
12V Compressor Fridges (best overall option for full-timers)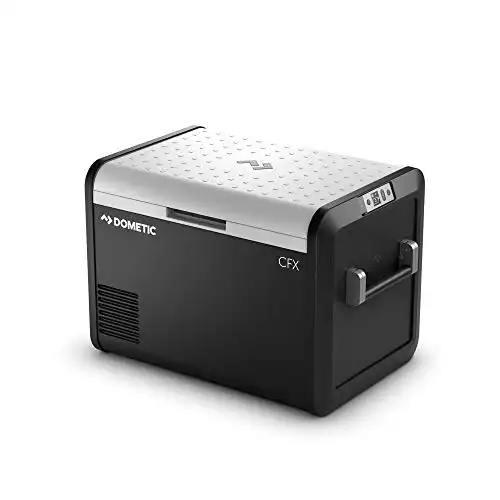 Compressor fridges are the most common type of 12-volt refrigerator you'll see on the road, and for good reason. These 12-volt fridges are often designed for use in 4×4 vehicles and boats, and they're built with durability and efficiency in mind – two things you really need in an off-grid adventure vehicle.
These 12-volt portable fridges have highly efficient, variable-speed compressors that draw very little power, they can be used as a refrigerator, freezer, or both, they come in a variety of configurations – including chest-style, upright, and dual-zone fridge/freezers – and they typically have the ability to run while at an incline of up to 30 degrees (other types of fridges need to be kept perfectly level when running). This combination of features makes these 12-volt portable fridges perfect for vanlife.
Even though compressor fridges are awesome, they do have a downside – cost. These 12-volt refrigerators are more expensive than other options, and that's before you factor in the need to add auxiliary batteries and a means to charge them (like solar panels or a battery isolator).
But if your goal is to turn your van into a comfy, off-grid mobile dwelling, investing in a high-quality 12V compressor fridge is totally worth the cost.
Build Your Own Inexpensive Fridge (best option for DIY-ers on a budget)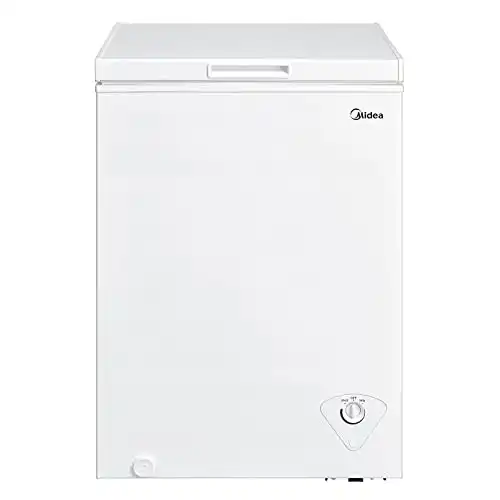 If you're DIY-oriented – and let's face it, if you're reading this blog, you probably are – then you can build your own fairly-efficient fridge out of a chest freezer. Freezers tend to have thicker insulation than fridges, which means that your DIY fridge will be more efficient than a standard mini-fridge.
The general idea is to take a chest freezer, plug it into a small inverter, and wire it to a thermostat that you set to fridge temperatures. The thermostat is connected to a relay that kicks the inverter on and off as needed. When the temperature inside the fridge rises above our target, the relay turns the inverter on. Once the fridge reaches the low temperature you set, the relay turns off the inverter. This prevents it from cooling too much and also prevents power drain from leaving the inverter on all the time.
The big benefit here is cost – you can make a real, working refrigerator for a fraction of the cost of a purpose-built 12-volt portable fridge. But as with anything, there are drawbacks. These fridges may not be quite as efficient as 12V fridges, and you'll have to sink some time into building this setup.
Chest freezers tend to be quite large – we couldn't find many smaller than 3.5 cubic feet, which is twice the size of a 50 L portable fridge – so if you need something smaller for your van, you'll have to go with an upright freezer instead. But the same general idea applies for converting it to a DIY vanlife fridge.
Here are some tutorials we've found detailing a DIY fridge conversion:
Standard Coolers (Best for Shoestring Budgets)
If you're just beginning your vanlife journey and don't want to throw down for an expensive 12-volt fridge and electrical system right away, then a good cooler can get you started for a minimal cost. Many high-performance coolers can hold ice for 5-10 days, giving you plenty of time off in the wilderness before you need to restock.
Coolers do have many drawbacks that make them less than ideal for full-time living. The cost of ice adds up, not to mention all the time and effort it takes to hunt down ice when you need it, periodically dump out any ice melt, and deal with potentially water-logged food. And if you're storing highly perishable food items like prime rib or other meats, they'll be safer for longer when stored in a fridge vs a cooler.
But if you're a weekender, or if you're just testing out this whole vanlife thing, or if you're on a shoestring budget – then a good cooler is a great option for keeping your food cold on the cheap. Remember, you can always upgrade your van down the road as your needs and budget change.
Thermoelectric Coolers (Fine for Roadtrippers, Not Recommended for Van Life)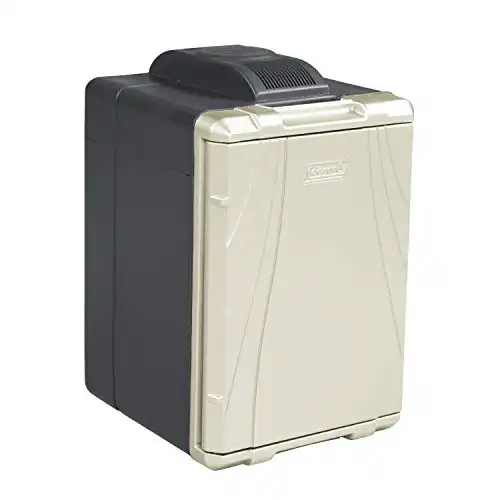 Thermoelectric coolers plug into a 12V power source and have the ability to chill their contents without ice. These portable car refrigerators are fine for road trips, but they're just not ideal for living in a van.
12-volt thermoelectric coolers only have the ability to cool 40° or less below ambient temperature – which is fine if you spend all of your time in cool weather, but if the outside temperature is above 78° you probably won't want to store meat or dairy in one. They also draw much more power than 12V compressor fridges, making them difficult to run on an off-grid electrical system.
If all you want is something to keep drinks or snacks cold during road trips, then a thermoelectric cooler just might fit your needs. But if you want refrigeration for camping or boondocking, then an actual 12V fridge or standard cooler are far better choices.
3-Way Absorption Fridges (Not Recommended for Vanlife)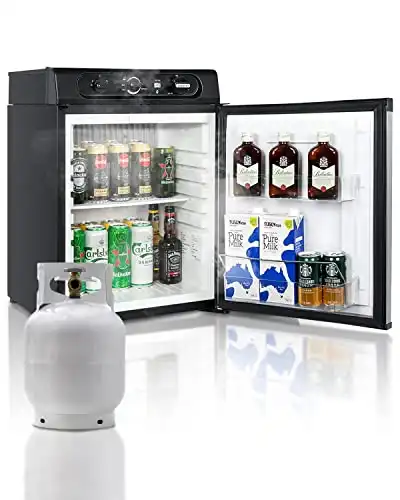 3-way absorption fridges are more commonly found in RVs, and in our opinion don't make much sense for vanlife. These types of fridges can run on 12V DC, 110V AC, or propane, giving you a variety of options to keep your food cold. But they're wildly inefficient on 12V DC power, running them all the time on 110V AC means additional drain from your inverter, and running them on propane means you have more fuel lines to deal with (and you'll have to vent the fridge to the outside).
Another huge drawback is that absorption fridges need to be completely level to function properly – and unless you spend all your time in RV parks, level ground can be difficult to find. When you're living in a van, you really need a go-anywhere fridge that's also energy efficient, and 3-way absorption fridges just don't fit the bill.
Chest-style 12 Volt Refrigerators vs. Upright Fridges: What's Best for Your Build?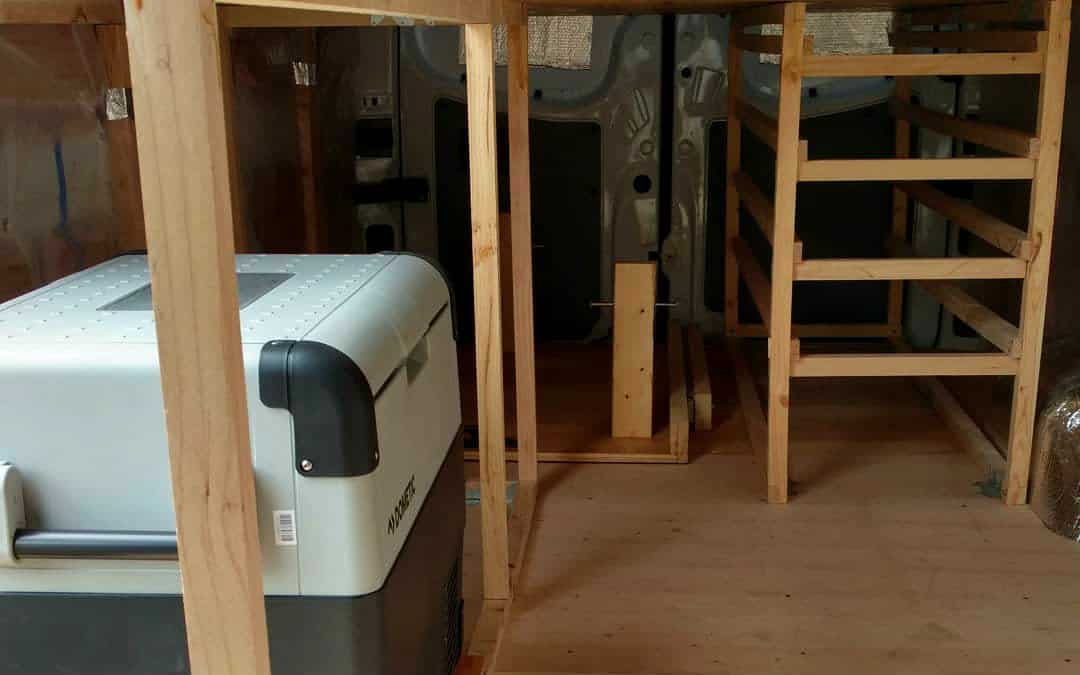 In the world of 12V DC fridges, there are two broad styles: top-opening chest fridges and front-opening upright fridges.
Many upright fridges run the exact same compressors as their chest-style cousins, so you would think that choosing between the two is simply a matter of how you prefer to access and organize your refrigerated food. But chest-style fridges have some big advantages over upright fridges that in our opinion makes chest fridges the best choice for off-grid campervans.
Chest Fridges are More Energy Efficient
When you're boondocking in the wilderness with your batteries and solar panels as your only power source, energy efficiency is a prime consideration. And chest-style 12-volt portable refrigerators are generally more energy efficient than upright-style 12-volt fridges.
Why is this the case? Part of the reason is that cold air naturally sinks. With chest fridges, the door is at the top, which means that cold air will pool at the bottom of the fridge where it has nowhere to escape. But with upright fridges, you're relying on the insulation seal around the door to keep cold air in when the door is shut, and any accumulated cold air will spill out whenever the door is opened.
Since food has a higher thermal density than air, most of the cold in any fridge is actually "stored" in the food (or beer) inside the fridge, so fridges that are packed full are much easier to keep cool than fridges with a lot of empty space. And with the interior shelf arrangement of upright-style 12-volt refrigerators, it's likely that you'll end up with wasted empty space on top of your food items.
All of this means that upright fridges have to run longer to keep your food cold, which equals a bigger drain on your batteries.
Chest Fridges Hold More and are Easier to Organize
If you're used to a standard front-open refrigerator in your house or apartment, then this may come as a surprise. How can a front-open fridge with shelves and drawers be tougher to organize than a chest fridge that forces you to stack items on top of each other?
The front-open fridges in stationary dwellings are huge, and give you plenty of space to spread out and organize your food items. But in a smaller 12-volt refrigerator, empty space is wasted space that just makes your fridge's compressor work harder (and draw more power). Even with shelving, you still need to stack items on top of each other and you still need to shift items around to get to others. And you'll likely end up with a ton of empty air between the top of your food and the bottom of the next shelf. All of this means wasted space without any real gains in organization.
The top-down layout of chest-style 12 volt fridges allows you to tightly pack them to fit more stuff and eliminate any wasted space. Most chest-style 12 volt portable refrigerators also come with dividers and dairy compartments, which help a lot with organization.
And if your food shifts around inside the fridge while you're bouncing down those gnarly backroads, with a chest fridge you won't have to worry about your eggs flying out at you when you get to your campsite and open the fridge to grab a cold one.
Chest Fridges Are Portable and Can Double as Coolers in Emergencies
Chest fridges are shaped and configured like coolers, and include handles for easy portability. This allows you to move your 12V fridge around your van, bring it inside and plug it into 110V AC if you're stationary somewhere, or stow it outside in cool weather for greater energy efficiency. All of this is more difficult with an upright fridge.
Many chest-style 12-volt refrigerators also feature drain plugs at the bottom. These plugs make cleaning easier, but they also allow your 12V portable fridge to double as a cooler if for some reason you lose electricity. Just dump ice in your fridge like you would a standard cooler, and pull the drain plug as needed to remove ice melt. This is something you just can't do with a front-opening upright fridge.
Which 12 Volt Refrigerator is Better for Your Layout? It's All About Preference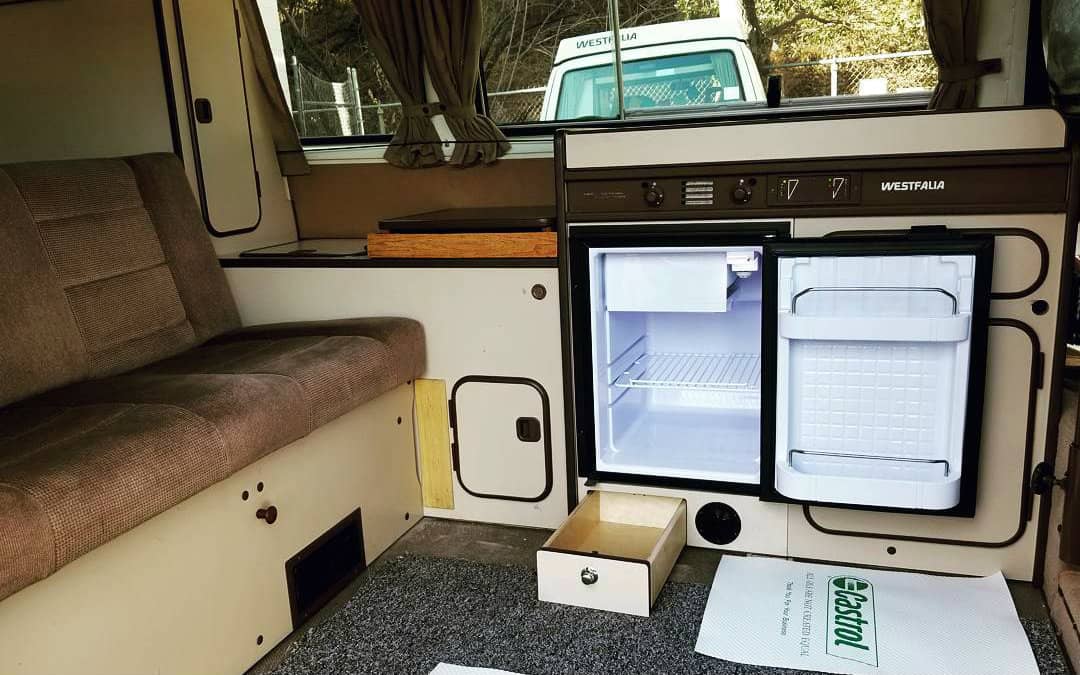 One big reason some vanlifers choose upright fridges over chest fridges is their campervan kitchen layout. Upright fridges have a smaller footprint, which can make them easier to incorporate into a floor plan. Since they open from the front, you don't need to make sure there's enough overhead space to open the lid, like you do with chest fridges (to make this less of an issue, you can buy a fridge slide or make your own).
But there are some things to consider when incorporating an upright-style 12-volt refrigerator into your layout. First, it will likely need to be permanently mounted, whereas chest-style 12-volt portable fridges can be easily moved. Also, you may have to get down on your hands and knees to see inside an upright fridge, unless you mount it on a cabinet a few feet off the floor. With chest fridges, it's easy to look straight down and see all the contents.
We think chest-style fridges are the way to go, but the best 12-volt refrigerator for you ultimately comes down to your needs and preferences. Here's a quick overview of the pros and cons to help you decide:
Chest-style 12 Volt Fridges
Upright-style 12V Fridges
How Much Solar & Batteries Do You Need to Run a 12 Volt Portable Refrigerator?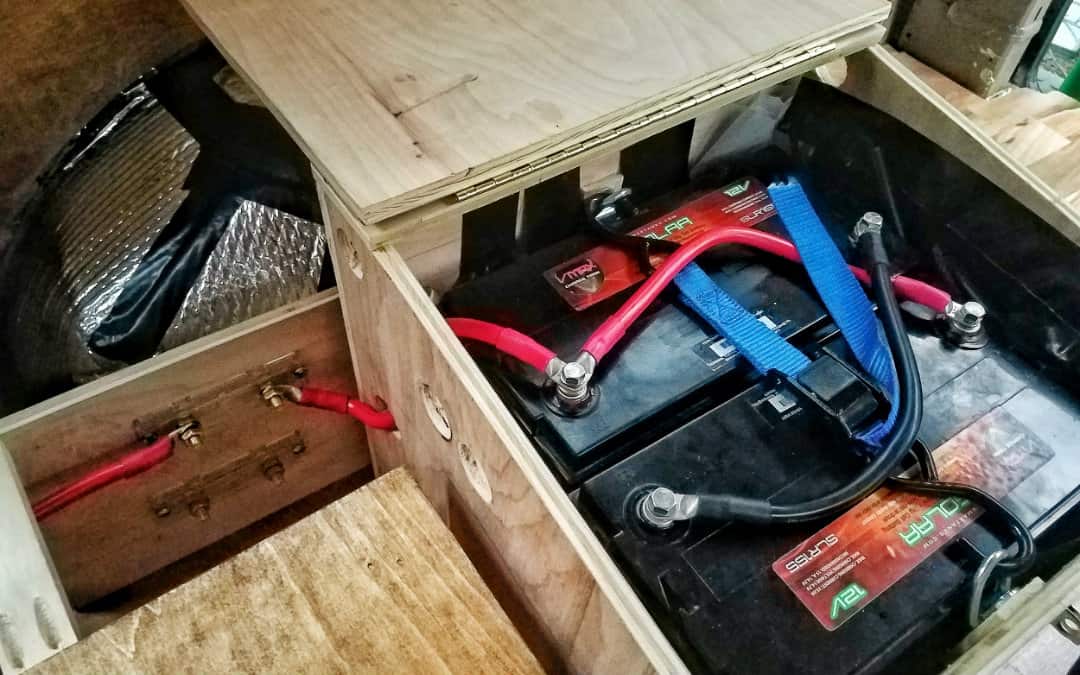 Running a 12V fridge in your van requires a camper van electrical setup that consists of (at a minimum) a 12V outlet connected to an auxiliary battery (not your starting battery), and a means to charge it. But how much battery capacity do you need?
Determining Your Battery Capacity
To calculate how much battery capacity you need to reliably run your 12V fridge, first find your fridge's average power draw.
As an example, let's assume our fridge draws an average of 2.0 Amps per hour.
Over the course of one day (24 hours), a 12V fridge drawing 2.0 Amps per hour will drain 48 Ah from your battery.
When sizing your battery bank, you also need to consider the type of battery you have. Lead-acid, AGM, and gel batteries can only be discharged 50% before you start to damage them, so you always want to double your energy usage number to determine your battery capacity. In this example, you would want a minimum battery capacity of 100 Ah – plus additional capacity for your other electrical loads.
LiFePO4 batteries (lithium iron phosphate, or LFP), on the other hand, can be discharged 100%. So in this example, a 48ah LFP battery should be able to keep up with your fridge. However, you would need a bigger battery to accommodate your other electrical loads, and we always recommend building in some wiggle room if you can.
Charging Your Batteries
If your budget allows, adding solar to your van will allow you to stay off-grid while keeping your batteries charged up (we recommend mounting them to your roof, or you can build a portable mount). We have detailed information on system sizing, installation, and just about everything else you need to know in our epic electrical post.
In addition to solar, it's a good idea to install a battery isolator or DC-DC charger, which allows you to charge up your batteries from your alternator while driving. This is a great way to keep your batteries topped off when you're in the woods or in cloudy environments. And if you're on a budget, you may be able to meet most of your charging needs with just a battery isolator. You can always add solar as your budget and your needs evolve.
Portable Power Stations
If installing your own electrical system sounds intimidating (it's not that bad – promise!), then another option is to go with a portable power station like the Bluetti AC200P or Jackery Exporer 1000. The big advantage to power stations is convenience and ease of use, but you will pay a bit of a premium for that.
The Bluetti AC200P has enough LiFePO4 battery capacity, inverter Wattage, and DC output ports to fully replace your van's electrical system. The Jackery Explorer 1000 has enough juice to run a 12-volt refrigerator and other vanlife necessities for several days, but you will need to be proactive about seeking out sunny weather to keep it charged. There are also other power station options from companies like Bluetti, Jackery, BougeRV, Ecoflow, and Pecron.
Read More:
What to Look for in a Portable 12V Compressor Fridge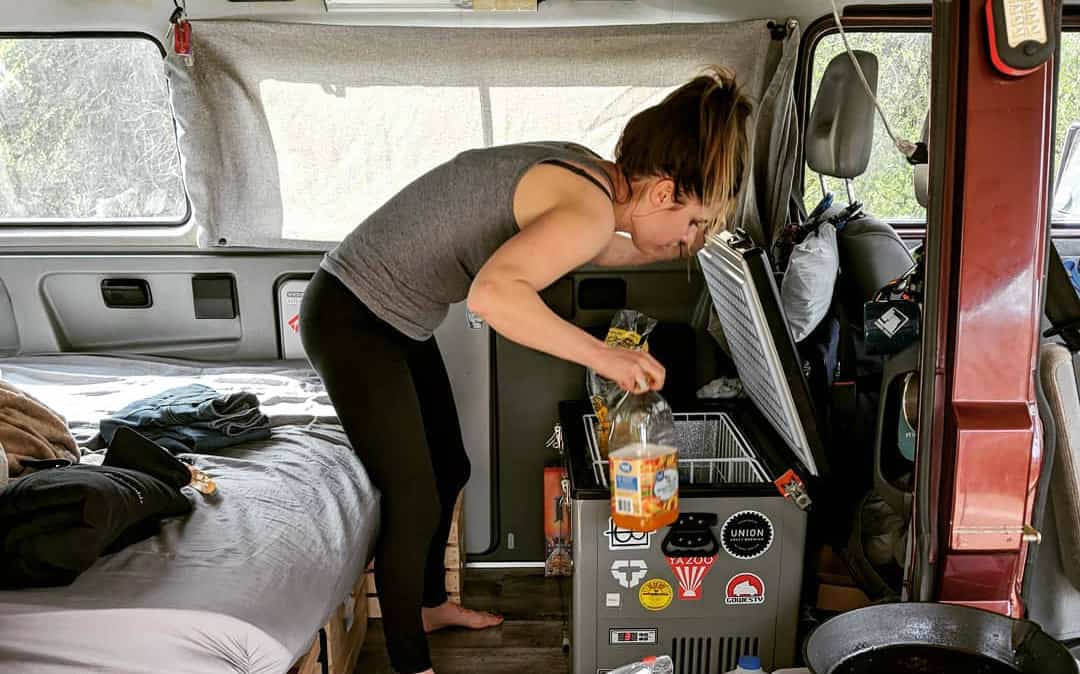 Here's a quick rundown of what to look for when evaluating 12V fridge choices for your van:
Pricing (and your budget)
12-volt refrigerators can be pretty expensive in general, but there's quite a range of prices between high-end brands and budget brands. If your budget doesn't allow for a higher-end fridge (and you don't want to use a cooler while you save your pennies), then you might want to take a hard look at less expensive brands.
Higher-end 12-volt refrigerators have been getting more and more expensive over the past few years – and while top brands like Dometic, ARB, Engel, etc., make excellent units, the value may not be there for a lot of people. There has also been a proliferation of budget brands using quality components like Danfoss SECOP compressors that are worth looking at. You may be making some tradeoffs in terms of reliability and efficiency with some of these units, but you'll also be spending way less money. Plus, there are now 12V fridge brands like Iceco that can go toe-to-toe with higher-end units in many respects.
If you're a full-timer, we think a 12-volt refrigerator is an area of your van build where it's worth investing in quality, and buying a top-of-the-line fridge is a worthy expense. But if you don't have that kind of money to spend, there are some great values out there as well.
Interior Capacity and Freezer Capabilities
How much fridge space do you need? Buying a 12-volt camper fridge that's too big means spending more than you need to, and giving up more space in your van. Likewise, having a fridge that's too small means shopping for groceries more frequently. Needs vary from person to person, but our 50-Qt fridge has enough space for a week's worth of fresh food for both of us, plus a few kombuchas and a couple of six packs.
Most 12-volt refrigerators have the ability to function as a fridge or a freezer. But if you need both at the same time, some brands offer dual-zone fridge/freezers that have separate compartments for each.
Here are some good general rules of thumb:
If you're a couple, you will be best served with a fridge that is at least 45-Qt.
If you're solo, you may be just fine with a smaller fridge in the 30-Qt range.
Larger families and people who need a freezer should look at larger dual-zone fridge/freezers.
Energy Efficiency and Compressor
When you're off-grid, energy efficiency is a huge concern. Batteries and solar are expensive, and the more energy efficient your appliances are, the more money you can save in capacity (or the more time you can spend off-grid while still powering everything you need).
Most 12-volt portable refrigerators on the market use the exact same highly efficient Danfoss SECOP variable speed compressor, although some brands (including Dometic/Waeco, Engel, and Whynter/Edgestar use their own units).
All of the fridges we look at here are generally efficient, but some brands are able to achieve greater energy efficiency due to better insulation, configuration, and compressor controls. We list all available data on the average power draw of various fridges below.
Exterior Dimensions and Weight
If you've already got a designated spot where you plan to put your 12-volt refrigerator, you'll want to make sure all the options you're considering will fit. Some brands have a bigger footprint but are squatter, while others are taller with a smaller footprint. At the end of the day, whether a certain fridge will fit your van's configuration can be the deciding factor. Weight could also be a factor in your decision if you need to move the fridge around regularly or if you're trying to stay under a certain weight limit. We list the dimensions and weights for all the 12-volt fridges we looked at below.
Direction the Lid Opens
This may seem like a minor consideration, but it can make a big difference in your van setup. Some 12-volt portable refrigerators have lids that hinge from the back, while others have side-hinged lids.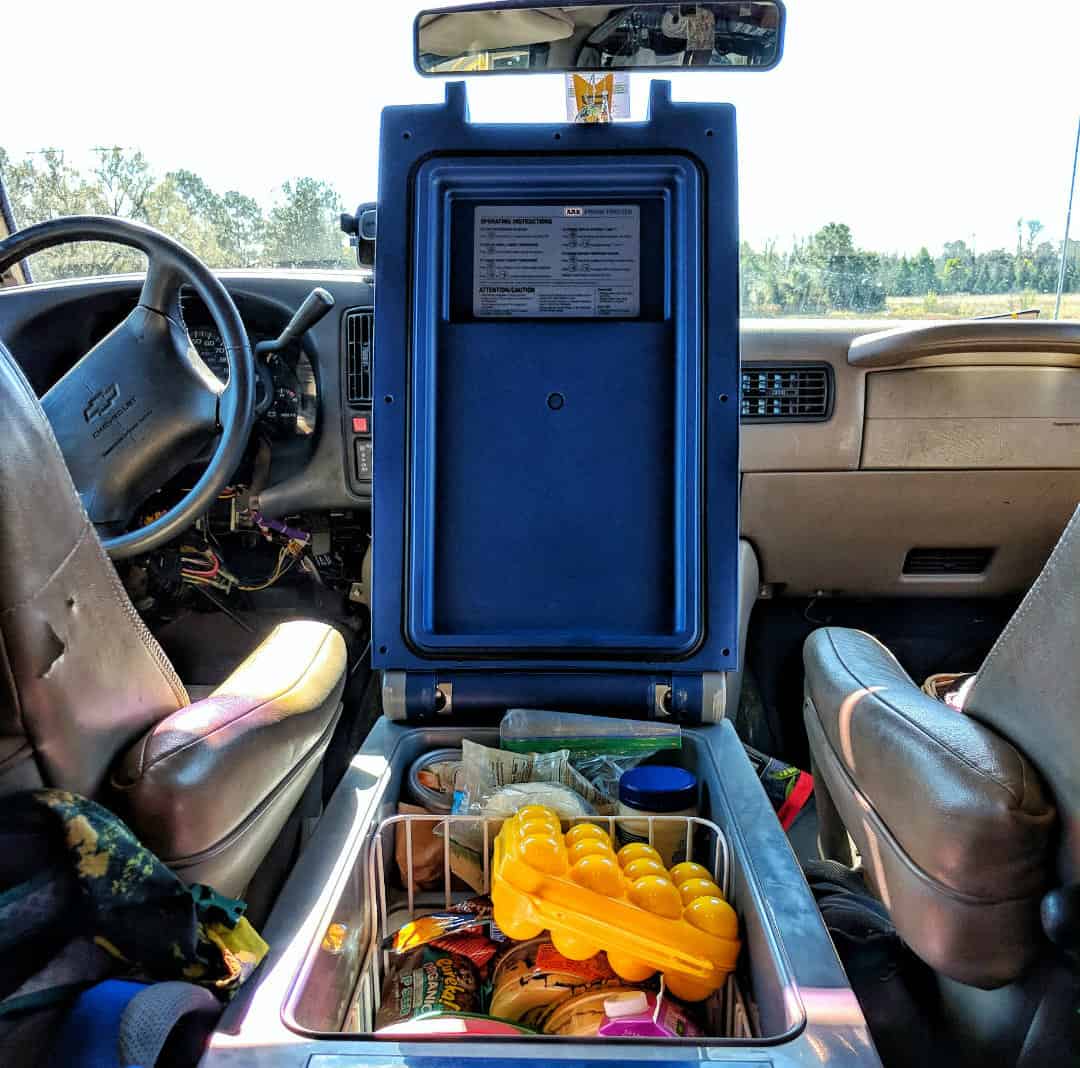 Lids that hinge from the side need less overhead clearance to fully open, and since you're facing the fridge from the longer side it may be easier to view and reach the contents. In our van, we have our rear-hinged ARB fridge between the front seats – so having the hinge at the rear actually makes it easier for us to access everything. But every van is different, and the best lid direction for you will depend on your specific setup.
Standard Features and Extra Features
Most portable 12V fridges have the following standard features:
Ability to operate at up to a 30° incline.
LED lighting inside the fridge.
Floor drain plug for easy cleaning.
Low voltage cut off to protect your batteries.
Dividers and lift-out organizer baskets.
Separate dairy compartment.
Some fridges include more advanced features like digital controls, remote readouts, wifi apps, and additional accessories.
Warranty and Reliability
Factory warranties give you a degree of security in case something goes wrong and needs to be fixed or replaced. However, we don't want to overstate the importance of warranties.
While a 12-volt refrigerator advertising a 3-year or 5-year warranty is awesome, the big question is how easy it will be to get warranty servicing. If you have an issue with your fridge, you may be on the hook for shipping costs to send it back to the manufacturer. Or you may have to take it to an authorized service center who will examine it for warranty eligibility. In any case, you may be without your fridge for weeks or longer.
Reputation is also a factor here. The big brands like Dometic, ARB, and Engel generally have good reputations for reliability. Danfoss compressors are known to be reliable, so budget fridges with this compressor are usually a safer bet. You will roll the fewest dice if you stick with major brands or fridges with Danfoss compressors.
Epic Comparison of the Top 12 Volt Portable Refrigerators
In our quest to find the best 12-volt refrigerators for vanlife, camping, and RVing, we analyzed fridge models from the most popular adventure fridge manufacturers. We compiled data on average power draw, warranty, interior capacity, exterior dimensions, weight, noise level, features, accessories, and more. Below are our thoughts on the different options out there.
Scroll down or use the links below to jump to a section.
Top Pick and Best Overall Value
Top Pick: Iceco 12V Fridges (various models)
What do you get when you take a Danfoss SECOP compressor with a 5-year warranty, bulletproof construction, performance and efficiency worthy of a Dometic or ARB, and wrap it in a package that's nearly half the price of the high end fridge brands? Well, you get an Iceco.
In our opinion, Iceco 12 volt refrigerators offer the best overall value out there in the portable refrigerator market. Not the cheapest nor the most expensive fridges, they sit in a Goldilocks sweet spot of top notch components, efficient performance, and affordable pricing.
Plus, they come in a multitude of sizes from 30L up to 74L, both single zone and dual zone, and different form factors, so you can easily find a fridge to suit your needs.
Energy Efficiency
Based on our research, Iceco fridges in general are extremely energy efficient – pretty close to on par with big names like Dometic and ARB.
During independent testing of the VL45 single zone 12-volt refrigerator's power consumption, it drew an average of 0.72A per hour, which is excellent. Similar testing of the VL-60 dual zone fridge revealed average power consumption of 1.77A per hour in max mode, and 1.27A per hour in eco mode. This is highly efficient for a dual-zone refrigerator/freezer that's actively running the freezer compartment. Users report similarly efficient numbers.
Price and Overall Value
In our opinion, Iceco refrigerators offer the best overall value in the vanlife refrigerator space. They are nearly half the cost of some higher-end brands, yet they are close to on par in terms of efficiency, components, durability, and important features.
Warranty and Reliability
Iceco offers a 5-year warrant on the super-reliable Danfoss SECOP compressor that they use in their 12-volt refrigerators. They only offer a 1-year warranty on all other parts, which is lower than most other 12-volt refrigerator brands. However, we have not heard of any reliability issues with these fridges.
Features and Accessories
Iceco refrigerators offer all the basic features that we've come to expect in 12V refrigerators, including battery protection and eco/max cooling modes. They don't have a whole lot of bells and whistles such as digital features, but that's not a selling point for many. As far as accessories, Iceco offers a slide mount and an insulated cover, both of which work for many of their fridge models.
Bottom Line
Iceco fridges offer an excellent value that's tough to beat. They are rugged and well-made, include top-quality components like Danfoss SECOP compressors, and they are among the most efficient 12-volt refrigerators out there. All for a price that makes more sense for more people than what some of the high-end brands charge.
Upgrade Picks
Upgrade Pick #1: Dometic CFX3-Series 12 Volt Refrigerators
We think the Dometic CFX3 line of portable 12V portable fridge/freezers are the top high-end choice for a vanlife refrigerator. Dometic (or Waeco, as they're also known) has always made solid fridges, but their newest models are setting the bar for the 12V portable refrigerator class.
Dometic CFX fridges are highly efficient and use very little power. They're built to be rugged and durable, with solid construction, stainless steel hinges, and reinforced corners. They have advanced features, like the ability to control the temperature through a wifi app.
The most popular version of this fridge is the CFX3 45-L, but Dometic also offers CFX fridges in a variety of sizes, including double-zoned fridge/freezers. So no matter what your refrigeration needs are, Dometic makes a CFX fridge to fit.
Energy Efficiency
Based on our research, Dometic CFX3 fridges are the most efficient that we've found. We were not able to find any publicly available data online, so we called Dometic directly and asked them what they had. According to Dometic's own testing, the CFX3 45L draws an insanely low 0.68A per hour on average (90°F ambient temperature with the fridge set to 39°F).
Owners of this 12-volt portable fridge generally report power consumption at less than 1A per hour, which is consistent with Dometic's numbers, so it's safe to say that this is a very efficient 12-volt refrigerator.
Price and Overall Value
Dometic CFX fridges aren't cheap, that's for sure. They're among the most expensive 12-volt refrigerators for van life you can buy. But you do get what you pay for, including best-in-class energy efficiency, durability, and a slew of advanced features. CFX3 fridges may not be the best "value", but they are excellent products that are worth the cost to some.
Warranty and Reliability
In the US, Dometic offers a standard 2-year factory warranty on their products, with the option to purchase an extended warranty for up to 3 years. They offer a longer standard warranty in Australia. Dometic also has a solid reputation for reliability and support.
Features and Accessories
Dometic CFX fridges are packed with features. They include more advanced features than any other 12-volt refrigerator on this list, including a reversible side-opening lid, the ability to control the fridge settings from the comfort of a wifi app, and a usb port for charging devices. The CFX line also includes all the standard portable fridge features like low voltage cutoff, digital controls, an interior light, and a drain plug. As far as accessories, Dometic makes a fridge slide and an insulated cover for CFX fridges.
Bottom Line
We highly recommend Dometic CFX3 12-volt refrigerators. They are the most efficient out there, they offer the most advanced features of any 12V portable fridge, and Dometic is well-known for producing top-quality 4×4 and mobile living components. The CFX3 is not cheap, but if that's not a priority for you then it's an excellent choice for your van.
Upgrade Pick #2: ARB 12V Refrigerators (various models)
Designed for 4×4 expeditions in the Australian outback, ARB 12-volt portable fridge/freezers are known for their durability and ruggedness. They feature strong powder-coated zinc steel construction, and their very low power usage will help you keep your food cold on an off-grid solar setup. We use the 50-Qt model daily in our van, and we can personally attest to its quality and reliability. The lid on these fridges hinges from the back, making the ARB our top choice overall if you need a rear-hinged lid.
The downside to these 12-volt portable refrigerators is cost – they're a bit pricier than many other 12V DC fridges out there. The quality certainly is there to back up the price and we wouldn't hesitate to recommend this fridge, but this isn't exactly a budget choice.
Energy Efficiency
ARB 12-volt portable refrigerators are very energy efficient, trailing only the Dometic CFX fridges (based on our research). ARB is one of the few manufacturers that makes power consumption test data readily available. According to ARB, the 50-Qt model draws a very low 0.87A per hour on average (based on a 27-hour test in 86°F ambient temperature, with the fridge set to 37°F). In a comparison test with an Engel fridge at 90°F ambient temperature (fridge set at 37°F), the ARB drew a low 1.35A per hour.
We personally own the ARB 50-Qt 12-volt refrigerator, and we can attest to its very low power draw. During an extended power draw test we conducted, we measured the ARB's average power draw at around 0.95A per hour over nearly two weeks. This test was conducted with daytime ambient temperatures in the high 70's, and nighttime temps in the high 60's.
Price and Overall Value
ARB fridges are some of the most expensive we looked at. You can save a bit of money with other brands, but ARB makes top-quality, rugged, and efficient fridges. You really do get what you pay for with these.
Warranty and Reliability
ARB offers an excellent 3-year warranty on their portable refrigerators, so you can be comfortable knowing that they stand by their products. We haven't heard of any reliability issues with ARB fridges, and we've had zero problems with ours.
Features and Accessories
ARB fridges include all the features you expect, like low voltage cutoff, digital display, interior lighting, removable lid, and drain plug. They also have a ton of accessories available, including fridge slides, tie-down straps, a transit bag, and a remote display. The accessories aren't cheap, though!
Bottom Line
ARB fridges offer excellent durability and power efficiency – two top priorities when you live in a van. They also stand behind their products with a 3-year warranty and highly-rated customer support. They do cost a bit more than other options, but they're well worth the price and we don't hesitate to recommend them (our own ARB 12-volt refrigerator has been a kickass addition to our van).
Budget Picks
Budget Pick #1: BougeRV 12 Volt Refrigerators
BougeRV sells the best among the slew of inexpensive Chinese mass-produced 12 volt refrigerators that are now all over Amazon and elsewhere. But the big differentiator between BougeRV refrigerators and all those others is that BougeRV seems committed to becoming a real, reputable brand in the vanlife, RV, and adventure space. This is an important indicator of reliability and support, as well as future expansion of the product line.
BougeRV's 12-volt portable refrigerators are extremely cheap, but they perform nearly as well as high-end brands, and include all the basic features you would expect in a 4×4 fridge. It comes in sizes ranging from 30-qt up to 53-qt. We extensively tested their 53-qt model, and we were generally impressed with its quality and performance.
If you don't have a lot to spend on a vanlife refrigerator (or if you just don't want to shell out the equivalent of a month's rent for one appliance), then BougeRV deserves a hard look.
Energy Efficiency
BougeRV makes very efficient refrigerators. They use Wancool compressors, which are cheaper rebranded versions of the highly-efficient and reliable Danfoss compressor.
During our own hands-on testing, we measured the 24-hour average power draw of the 53-qt model at 0.97A per hour on Eco mode, and 1.33A per hour on Max mode. These tests were conducted with ambient temperatures ranging from the upper 70s to the upper 60s.
Price and Overall Value
BougeRV 12 volt refrigerators offer a tremendous value, and the best bang for your buck that we've found. With discounts, you can get a BougeRV fridge for less than 1/3 the cost of our high-end picks. This is an insanely cheap way to add refrigeration to your van.
BougeRV discount codes: Use Gnomad90 for $90 off the 53-qt model. Use Gnomad12 for 12% off sitewide (including on all their other fridges, as well as solar panels and accessories).
Warranty and Reliability
BougeRV offers a standard 2-year warranty on their fridges, which you can extend to 3 years by registering your product. Since this 12 volt refrigerator is newer on the scene there's scant information on long-term reliability. However, the product appears solid and BougeRV seems committed to becoming a reputable brand, all of which bodes well.
Features and Accessories
BougeRV refrigerators include all the basic features you would expect in a 12-volt refrigerator, including Eco mode, dual compartment interior with removable basket, interior LED light, and battery protection. They do not have more advanced digital features, such as Bluetooth.
Bottom Line
BougeRV refrigerators are great choices for frugal vanlifers or vandwellers on a budget. They are efficient, perform well, and include all the basic features you would expect in a modern 12V refrigerator – all for a fraction of the price of higher-end brands.
Budget Pick #2: Alpicool CF-Series 12V Fridges
Alpicool 12 Volt refrigerators have been around for a long time, but they tend to fly under the radar compared to other brands with more aggressive marketing.
But Alpicool fridges are an excellent option for van life refrigeration. Most of the cheap fridges that you'll find on Amazon are made in China, and these are no different. But what sets Alpicool apart is that they are actually the OEM (original equipment manufacturer) for a good chunk of the off-brand fridges out there. Why buy a rebadged fridge when you can get it straight from the actual manufacturer?
Alpicool uses LG compressors in their fridges, which should hold up just as well as the typical Danfoss SECOP compressors found in other fridges, and it's tough to beat the price on these. Many van lifers have used Alpicool fridges without issue, and these are a solid choice for any budget camper van.
Other Options
Time-Tested Reliability: Engel MR040 12V Refrigerator
Engel 12-volt DC refrigerators are legendary for their reliability and longevity – in fact, their motto is "A Legend in Reliability" – and they certainly stand up to their reputation. Engel fridges use the rock-solid Sawafuji Swing Motor compressor, and many owners have run the same fridge for decades.
Engel fridges draw a bit more power than our top choice Dometic and ARB 12-volt refrigerators, but they are still very efficient. They do skimp on some features that come standard on other fridges, most notably digital temperature controls. If you buy an Engel portable refrigerator, you'll be using a manual control knob instead of buttons and a digital display (although, some people actually prefer this). Another downside is cost – Engel fridges are in the same high price range as ARB units, but generally have a lower capacity per dollar.
We think the 40 Liter Engel MR040 is the best option for vanlife. Designed specifically for marine use, the MR040 features durable plastic construction that can weather the stresses of life on the road.
Energy Efficiency
The Engel MR040 is an efficient fridge, though not as efficient as the offerings from Dometic and ARB. According to Engel's own performance data, the MR040 draws about 1.5A per hour in 95°F ambient temperature with the control knob set to "1" (the lowest refrigeration setting).
In their product descriptions for this 12V fridge, Engel states that the MR040 "typically draws 1-2 Amps per hour," and a comparison test run by ARB showed this fridge drawing 1.67A per hour in 90°F temps. We also found another test report indicating that the Engel draws just over 1.6A in 91°F temps, helping to confirm that this fridge reliably draws give or take 1.5A per hour in summer conditions.
Price and Overall Value
Engel fridges are on the high end in terms of price, so this is not a budget buy. And these fridges lack some features that come standard on other fridges. But, Engels are renowned for their overall quality and reliability, so even though the price is hefty it's safe to say that this is a good long-term investment.
Warranty and Reliability
Engel offers a 3-year warranty on their fridges, like you'd expect from a top brand. But where Engels really stand out is reliability and longevity – these fridges are legendary for lasting decades without any issues.
Features and Accessories
Engel fridges are not the most feature-packed. They use a manual control knob instead of digital controls (some actually prefer this), and they do not have an automatic low-voltage shut off (although the Sawafuji compressor supposedly adjusts its power draw when battery voltage is low). There are a variety of accessories available, including slides, remote displays, and tie downs.
Bottom Line
You really can't go wrong with an Engel 12-volt refrigerator, especially if you want a reliable and portable fridge that you know will last for many, many years. But Engels lack a few modern features like digital controls and low voltage shut off, and are getting left behind in terms of tech.
Decent Fridge and Good Value: Whynter FM-Series 12V Fridges
Whynter (also known as Edgestar) fridges are a popular choice among budget-conscious vanlifers. The Whynter FM-Series offers portable refrigeration at a fraction of the cost of the big name brands, and with many of the same basic features.
Whynter 12-volt refrigerators tend to be inconsistent. If you get a good one, it can be a great companion for you on the road. But there are many tales of units that break down after a few months, and of owners having difficulty getting support from the manufacturer. And while Whynter fridges are energy efficient, power draw tests and user reports tend to be all over the map, further suggesting that there may be some quality control issues with this brand.
Whynter fridges also don't use Danfoss compressors (instead, they use a proprietary knockoff), adding more reliability concerns. Many vanlifers do use Whynter/Edgestar fridges with success, and they can be a good option if you're on a budget. But there are some question marks to be aware of here.
Energy Efficiency
Whynter portable fridges are efficient, but they may be a bit inconsistent. According to Whynter's own data, their 43L FM-45G draws a low 1.10A per hour at 90°F ambient temperatures with the fridge set to 39.2°F. However, this test report indicates that the Whynter edges 3A per hour to maintain a set temperature in similar conditions. Reports from owners of this fridge are similarly inconsistent, although most users state that it draws around 1A per hour.
Price and Overall Value
The Whynter FM-series 12-volt refrigerators are among the least expensive that we looked at, and they offer an incredible value. If you're on a really tight budget, you're getting great bang for your buck here. Just be aware that there are consistency and reliability questions with this brand.
Warranty and Reliability
Whynter offers a short 1-year warranty on their fridges, and there are some real questions as far as consistency and long-term reliability. Some owners have reported difficulty getting their 12-volt refrigerator repaired or replaced if issues pop up. If you buy a Whynter, be sure to get it from somewhere with a robust return policy, just in case.
Features and Accessories
Like most fridges on this list, Whynter's units include all the basic features, such as low voltage shut off, interior lighting, digital controls, and a drain plug. There are few accessories available, but they do offer a transit bag.
Bottom Line
Whynter makes a decent budget 12 volt refrigerator, especially if you need a dual-zone model and don't want to throw down for a Dometic or an ARB (or even an Iceco). But there are some questions around reliability, consistency, and support, so beware. But this is no more of a dice roll than any other ultra-budget refrigerator.
Conclusion
A portable 12-volt refrigerator can really amp up your vanlife, camping, or RVing experience. But these units are not cheap, and it's important to know that the 12V
fridge you're getting will fit your needs. We hope all the information we've presented here has been helpful – but please let us know in the comments if you have a question or you think we left something out.
Even though having a 12V fridge in your van makes vanlife a whole lot easier, don't let not having a fridge stop you from hitting the road! Plenty of vanlifers make it work with a basic cooler, and you can always upgrade later. Ultimately, vanlife is not about gadgets and HGTV interiors – it's about enjoying the freedom to create your own life. So get out there and start exploring!