We love checking out new vanlife refrigerators. It's amazing how much the space has developed since we bought our trusty ARB Classic for our first DIY van build back in 2016. There are now several great fridges available for much less, and for awhile now Iceco has made some of the best 12V refrigerators out there.
When Iceco offered to send us their VL35 ProS 12V refrigerator to review, we decided to take them up on it. We've tested out several of their fridges in the past, and we personally have (and love) their VL45 refrigerator. So we were excited to try out the 35L fridge from the newer VL-Pro series to see how it stacks up.
In this post, we take a deep look at the Iceco VL35 ProS. We examine its features and specs, and we take it out in the wild to see how it performs with real world usage. Then we share our thoughts and recommendations, so you can decide if this is the right 12V fridge for your own vanlife adventures.
Note: Iceco was kind enough to send us a VL35 ProS for this review. However, our thoughts and opinions are our own, and the content of this post is not sponsored by Iceco in any way.
Iceco VL35 ProS Review Summary
What we liked: Slick looks and rugged design make this fridge stand out from the pack. Extra touches like a dual-opening lid, DC inputs on two sides, additional power ports, and included spare parts show that Iceco paid a lot of attention to how this fridge would be used in the real world.
What we didn't like: Power consumption is about 0.5A per hour higher than other fridges, including Iceco's own VL-Series. And although the lid is cool, we prefer fridges with locking latches (this is personal preference).
Who should use it: If you like this style of fridge but don't want to shell out $1000+ for a Dometic, the VL35 ProS is a great choice. Just make sure your electrical setup can handle the power consumption. The 35L size is perfect for small families camping, or an individual doing vanlife.
About the Iceco VL35 ProS Fridge
Iceco makes 12V refrigerators that hit the sweet spot between quality, performance, and affordability. They have several lines of vanlife refrigerators that feature the gold-standard Danfoss SECOP compressors, excellent build quality, and prices that are much easier to swallow than the $1000+ for top-end brands like Dometic and ARB.
The VL-Pro series is an upgraded version of their awesome VL-Series refrigerators, which are currently our favorite 12V refrigerators out there. The VL-Pro series has some additional features, which we'll dig into in this Iceco VL35 ProS review.
What's in the Box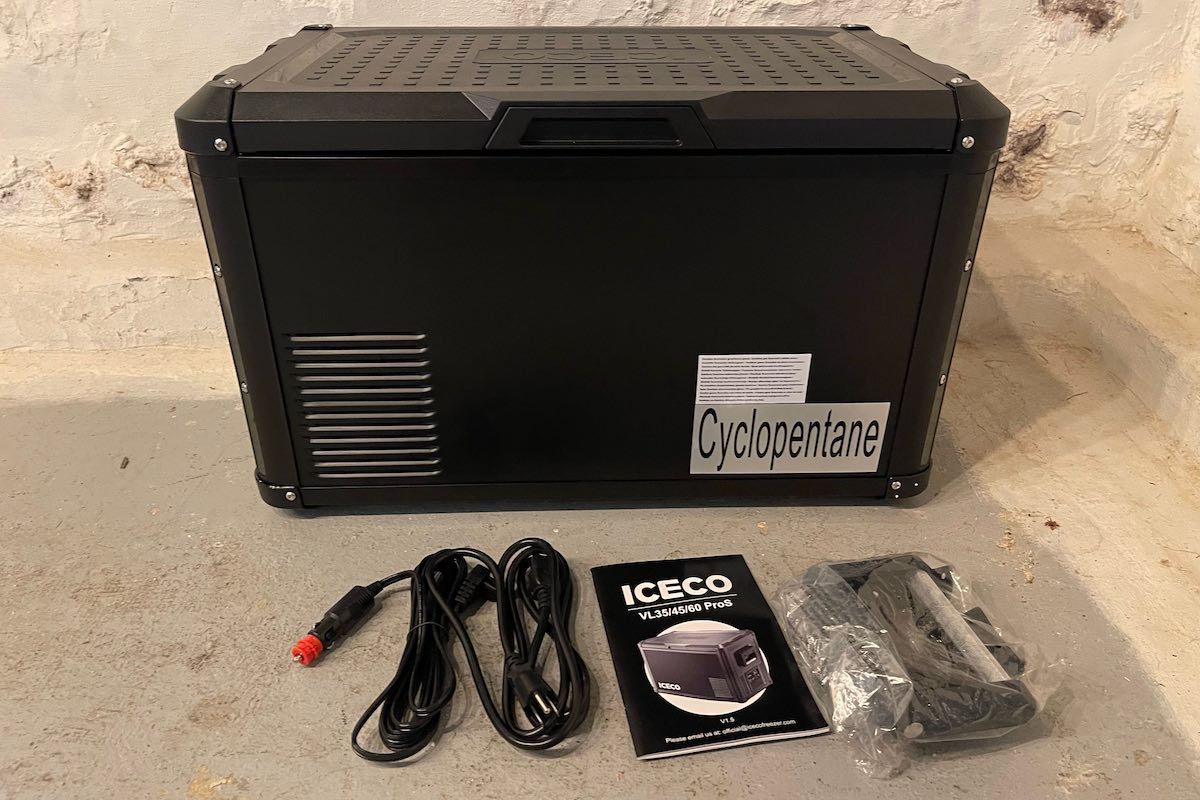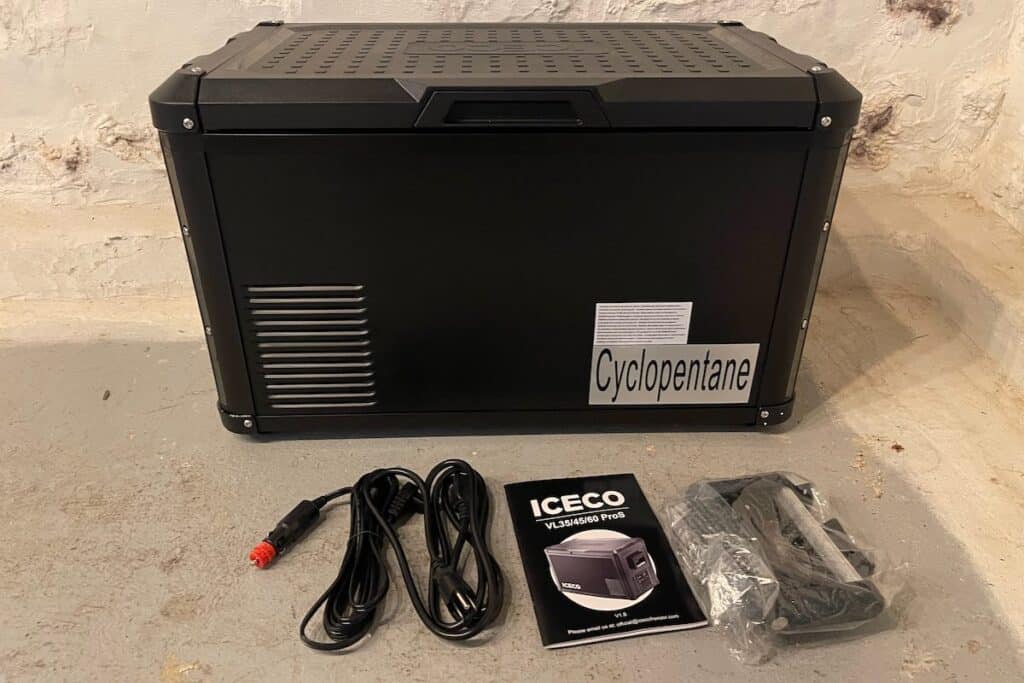 The VL35 Pro comes well-packed in a sturdy box with plenty of foam padding. Unboxing is a simple process – just cut the plastic straps and the main box lifts right off.
Here's what's included (aside from the fridge):
DC power cord
AC power adapter
Instruction manual
Spare parts

One extra handle
Four corner bumpers
Extra drain plug
Two extra screws
Torx key
Including spare parts is a nice touch, and something we wish more manufacturers would do. If you break a handle or lose your drain plug, you don't have to deal with customer service and shipping wait times – which can be a problem if you need to get packages on the road.
Build Quality & Design
The VL35 Pro feels rugged and sturdy, which is typical of Iceco refrigerators. The fridge has a metal body, the lid is constructed of robust plastic, and there are corner bumpers to protect the fridge against bumps and dings.
Many little touches make it clear that Iceco put a lot of thought into designing the fridge around how it will actually be used in the wild.
One of our favorites is the configuration of the power inputs. Underneath the control panel is collection of power ports, including a DC input, an AC input, and USB ports for charging your devices (super convenient). The ports feel very robust, and the DC input port is reinforced with screws. We've had issues with the DC port pulling out of cheaper fridges, so we appreciate that this is reinforced on the VL35 Pro.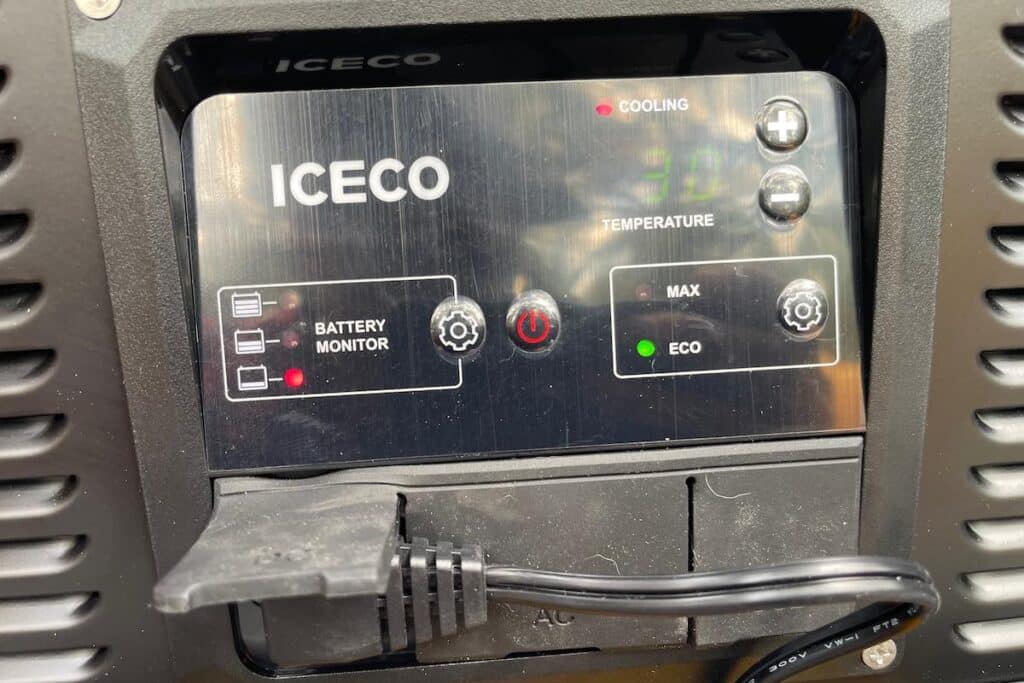 Speaking of DC ports, this fridge has two DC power inputs – one on each side – so you can plug the fridge in from either side. This seems like a small thing, but having this flexibility makes it a lot easier to incorporate this fridge into your van build in a way that works for you.
Adding to the flexibility is the lid, which can open from either side, and also has the ability to lift off entirely. Again, the dual-open design removes a lot of constraints around incorporating this into a van build. Being able to remove the lid entirely makes cleaning out the fridge much easier. And, it's a lot of fun to play with.
Dimensions & Weight
It's important to consider the dimensions of any fridge you're buying so you can be sure it will fit where you need it to go in your vehicle or van build.
Here are the dimensions and weight of the Iceco VL35 ProS:
Dimensions: 28.1" x 15.9" x 15.7"
Weight: 48.5 lbs
The 35L size is a good sweet spot. It's plenty big enough to last a family of 2-3 camping for a few days, and it's a great size for an individual full-timing it in their van. But it's small enough that it will fit in tighter spots in vehicles, such as between middle row bucket seats. Fridges too much larger than this are a bit tougher to place in a regular vehicle without taking up seats or trunk space.
If you need to haul your fridge to and from places vs leave it in your rig full time, the VL35 Pro is great for that. The chunky handles are comfortable on your hands and easy to grip, and the fridge is light enough to carry around empty without too much trouble.
The interior is standard for fridges of this type. There is a large main compartment that can act as either a fridge or a freezer, and there is a basket that allows you to lift out food for loading/unloading. A smaller refrigeratort-only compartment stays warmer than the main compartment.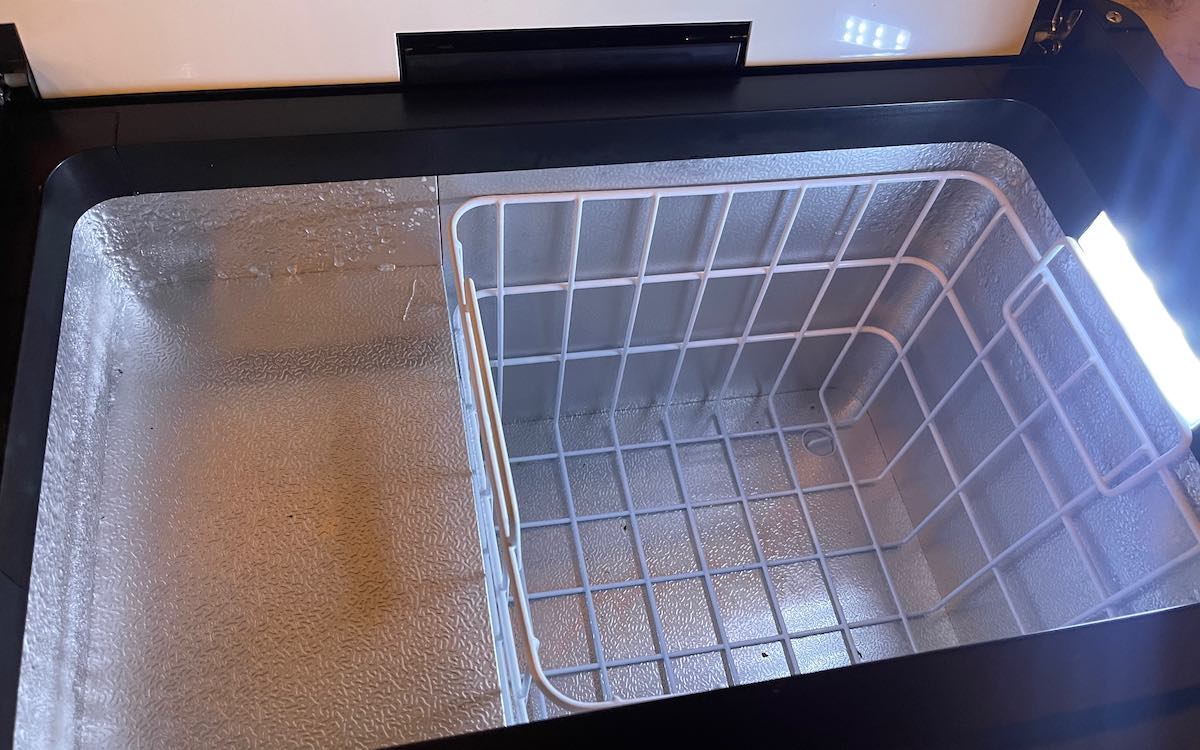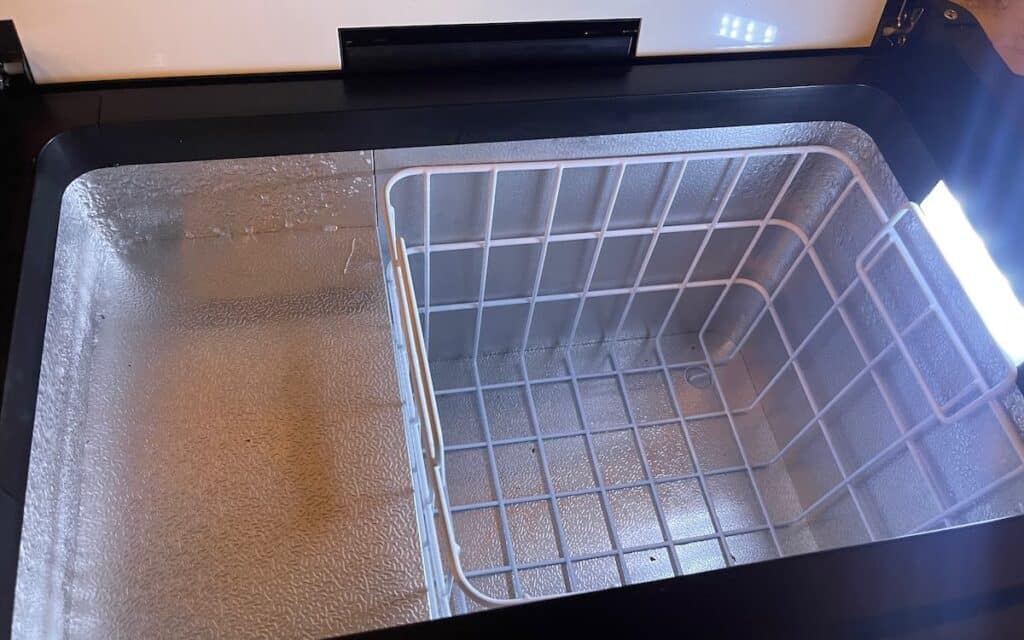 Features & Specs
Here's a quick overview of the features and specs for the VL35 ProS.
Max and eco modes to accommodate fast cooling and reduced power consumption.
Temperature range 0F to 50F, meaning it can function as a refrigerator or a deep freezer.
Three battery protection modes so you can customize how the fridge responds to lower battery voltage levels so you won't drain your batteries (or lose your food).
SECOP compressor. This is gold standard fridge compressor used by high end fridge brands. Highly efficient and reliable.
5-year warranty on the compressor (1-year warranty on other parts).
Removable handles. This allows you to replace them if needed, or simply take them off if you have a tight fit in your van.
DC input on two sides means you won't have too work your build around an inconveniently placed power plug.
USB charging ports allow you to charge up devices directly from the fridge.
Dual-opening and fully removable lid makes configuring, loading/unloading, and cleaning the fridge super easy.
Iceco VL35 Pro Testing & Performance
Based on the features and build quality of the Iceco VL35 Pro, it seems like a nice fridge that we'd be happy to throw into our van. But how does it actually perform?
To test it out, we took the VL35 Pro out camping in the early fall in the Midwest. We packed the fridge full of cold food and beverages, and opened/closed it multiple times per day while prepping meals or grabbing things.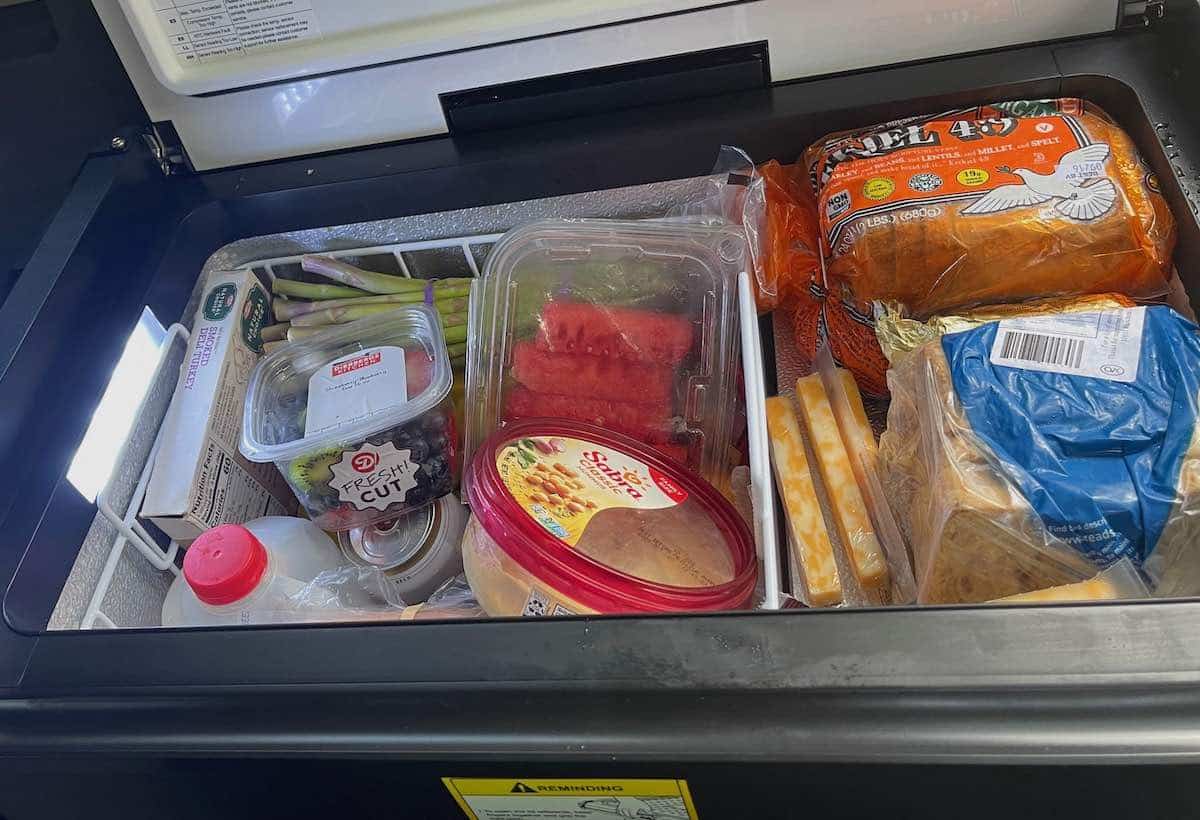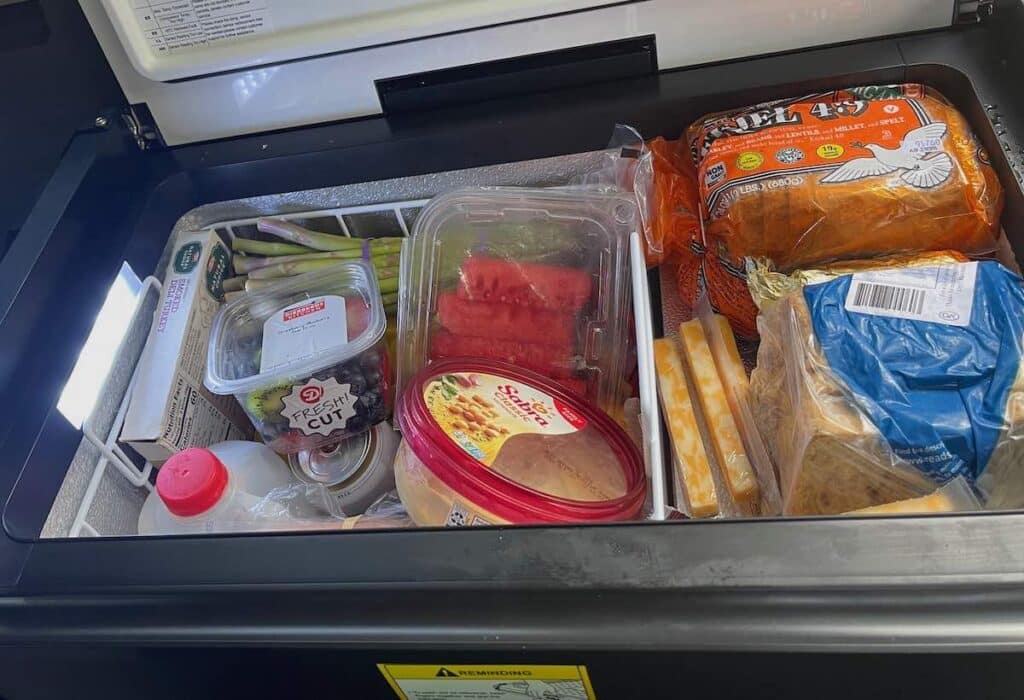 The fridge performed well in terms of cooling, and it felt like it kept things evenly cold throughout the fridge, and consistent with the temperature we set. The latch on the lid took some getting used to, but after getting the hang of it was much quicker and easier than using a fridge with locking latches.
Our initial perception of the build quality did not change in actual usage – this is a really nice fridge. But what is the power consumption like?
Power Consumption
We tested average power consumption with a Powerwerx DC Watt meter, rigged up to 12V sockets and plugged into a Jackery Explorer 1500 power station. We tracked power consumption over more than 120 hours, the first 12 of which were in Max mode and the rest in Eco mode. Ambient temperatures ranged from mid-eighties in the afternoon to the low sixties in the early morning.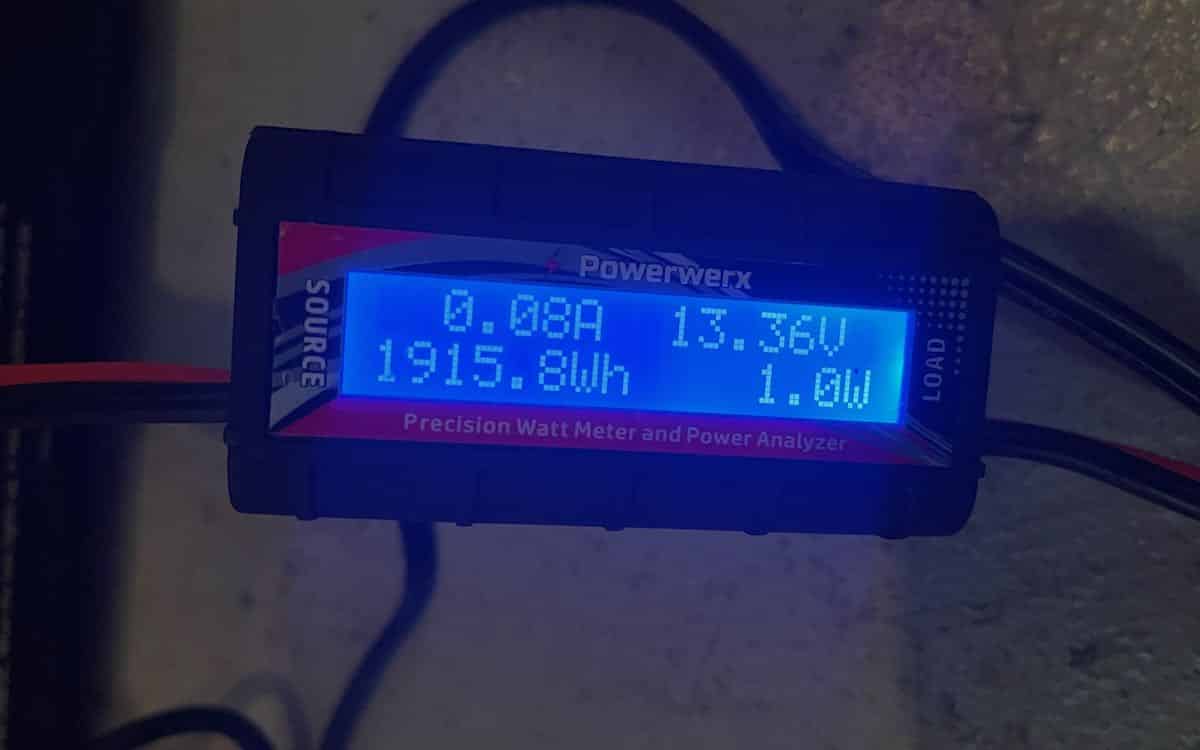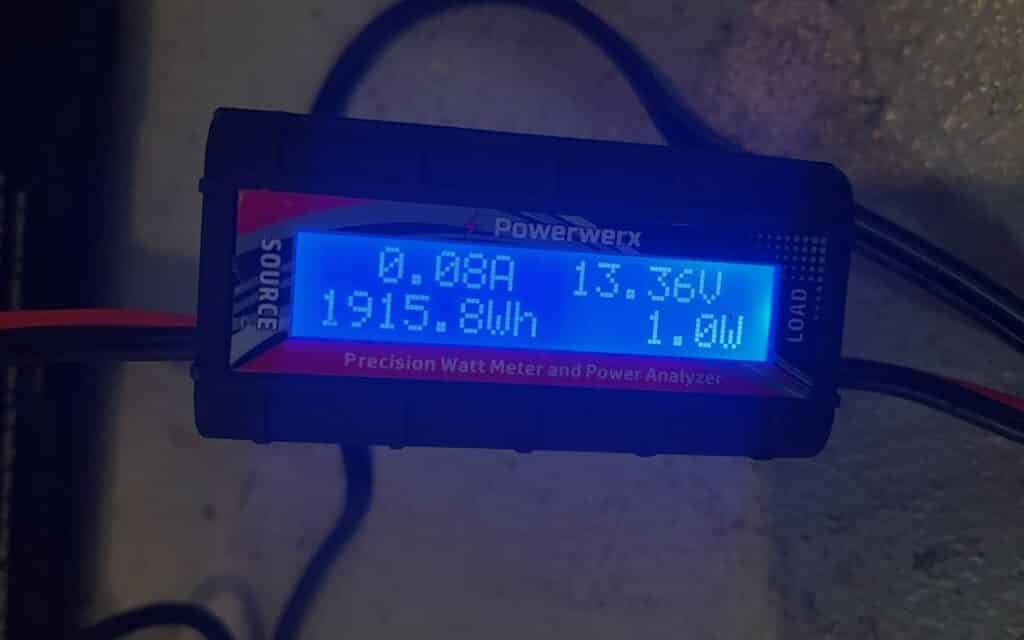 We observed that the VL35 ProS consumed 0.6W with the lid closed, 1W with the lid open, around 55W with the compressor running on Max mode, and around 33W on eco mode.
Over our 123.43 hours of testing the VL35 ProS consumed a total of 2612.9Wh, which equals 21.17 Watts per hour on average, or 1.76 Amps per hour of power consumption at 12V.
It's clear from both our testing and the official power consumption numbers that Iceco displays on their product page that the VL-Pro Series are not the most energy-efficient fridges out there.
Most 12V fridges we've tested have been closer to an average of 1.25A per hour, and that encompasses both high end fridges from Dometic and ARB, lower end fridges from the likes of BougeRV, and even some of Iceco's other offerings.
Power usage of VL-Series vs VL-Pro Series
One of the things we really like about Iceco is that they publish lab-tested average power consumption numbers for all of their fridges. This information can be difficult to find with many other fridges.
Their lab-tested power consumption for the VL35 ProS is 430Wh per 24 hours. Our real-world testing put this number at 508.1Wh per 24 hours, which makes sense given that we were not testing the fridge under lab conditions.
How does this compare to the regular ol' VL-Series?
There isn't a 35-liter fridge in the VL-Series, so to get a direct comparison we'll look at the 45L versions.
Iceco lists the 24-hour power consumption of the VL45 at 347Wh, while the VL45 Pro is at 508Wh. Comparing these two fridges, the VL-Pro Series consumes 46% more power over 24 hours.
Real World Implications
What does this mean in the real world? This difference equals about 14Ah of additional power usage over a 24 hour period for the VL Pro vs the standard VL-Series. If you have adequate solar you should be fine during the day, and you'll only need your batteries to cover an extra 7Ah-9Ah of consumption overnight when there's no sun.
Will this small amount of extra power draw tank your system? Probably not, and many other aspects of this fridge — particularly the price — make this a compelling choice regardless.
We're not sure why this fridge consumes more power than the VL-Series and many competitors. It uses the same gold standard SECOP compressor that is used in many other fridges. The difference may come down to the insulation, electronic controls for the compressor, other phantom draws from the electronics, or possibly leakage from the lid.
What We Liked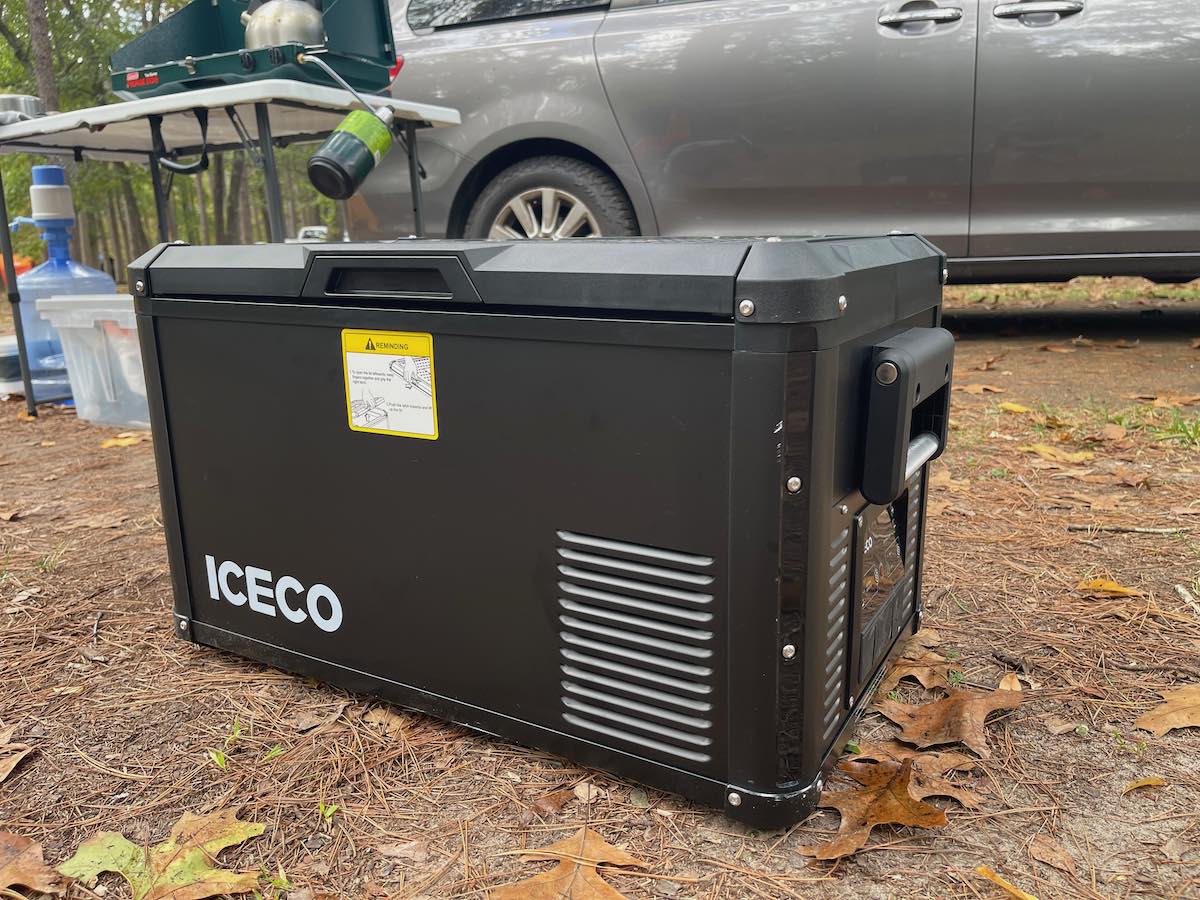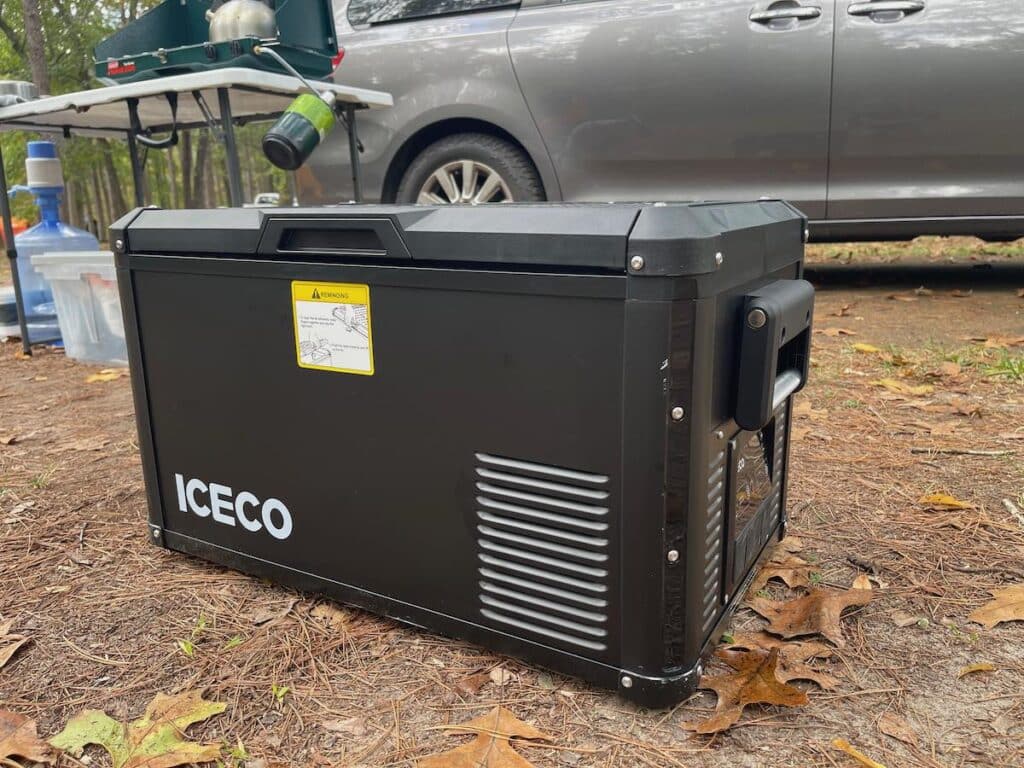 The build quality, fit and finish, and overall design of the VL35 Pro make it stand out above the competition. The fridge looks really slick, and generally feels sturdy and robust. It's much nicer than cheaper fridges, and at least on par with more expensive competitors.
There are so many little touches that really show that Iceco paid attention to what they were doing and how this fridge was going to be used. The dual DC inputs and double-sided lid make it way easier to position this fridge in a van build, because there are fewer constraints to work around. And including spare parts is helpful.
Of course, our favorite thing about Iceco fridges is that all of this quality comes with such an affordable price. The VL35 Pro costs almost half as much as competing fridges from high end brands. And since this fridge brings it with useful features, ruggedness, and the same SECOP compressor used in pricier fridges, those high end brands become a really tough sell compared to the VL-Pro series.
What We Didn't Like
We were a bit underwhelmed by the power consumption, which was higher than other fridges we've tested (at all price points). It's important to note that this fridge won't draw a ton of power from your campervan electrical system and it will still do you just fine. But in our testing, this fridge did lag behind competing models (including our favorite, Iceco's VL-Series fridges) in the level of power draw. This is not a reason to avoid this fridge, but it's definitely something to consider in your planning. 
This is personal preference, but we're not huge fans of the style of lid on the VL35 Pro. With this style of lid, it's possible to accidentally not close it all the way, and it makes it difficult to really pack your fridge full of food, which could be an issue at the beginning of longer excursions. 
That being said, many other fridges out there have this style of lid closure, so this is not unique to the VL-Pro series. Again, this is our personal preference, and you may feel differently. And despite our preference for locking latches, the flexibility of the dual-open lid on the VL35 ProS is pretty awesome, and we did not have any issues with the lid not latching all the way. It does appear to be very solid.
Other Sizes and Alternatives
Iceco's VL-Pro series includes several other sizes, which have many of the same features and benefits of the VL35 ProS. If you think the 35L size is not for you, take a look at some of their other options:
If you care more about power consumption than other features, Iceco's VL-Series offers better efficiency with a more utilitarian (and very rugged) design. The smallest size is the VL45 (45L), but there are a range of larger sizes.
Final Thoughts
The VL35 ProS is another excellent entry from Iceco into the world of vanlife fridges. The looks and design of the VL-Pro series fridges feel like they're meant to compete with the flashy (and expensive) fridges from Dometic and ARB. And Iceco largely succeeds in making a slick-looking fridge that performs well, for half the price of the expensive brands.
However, if the absolute lowest power consumption is your top priority, you'll be better off with the standard VL35, or another size from Iceco's VL-series fridges. But if your system can handle the additional power draw (we're talking maybe an extra 14Ah per day) and you like everything else the VL35 ProS brings to the table, then this is a solid fridge to take on your next adventure.