My tiny home on wheels is a 2012 Nissan NV2500 standard 261-hp V-6 high-roof named Freebird. I found her on Craigslist being sold by a repo guy in Austin, TX for $14,000 with 55,000 miles on her. She was previously owned by a chicken taco stand that used her as a catering delivery van.
I had discovered this whole #vanlife phenomenon just two days before and created an auto-search on Craigslist in Austin for the word "sprinter." Even though my van is a Nissan, the seller was savvy enough to put "Sprinter-style" in the description. I responded to the ad within an hour of it being posted, and by the end of the day I was forcing a deposit check into the repo guy's hand.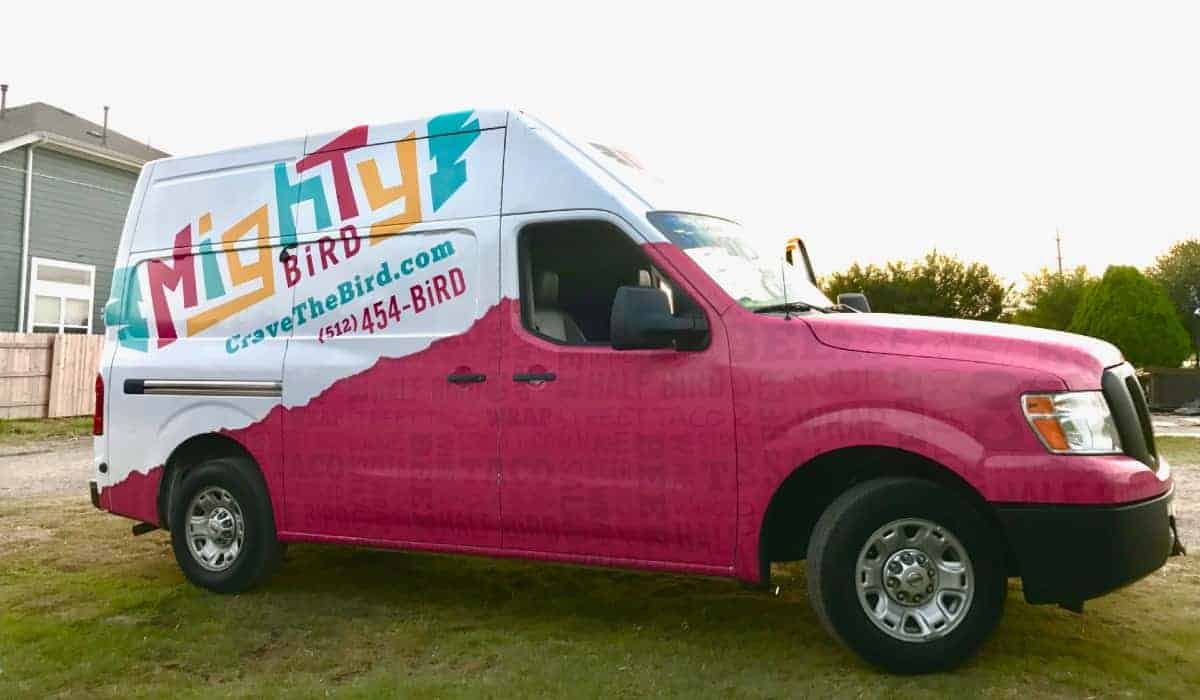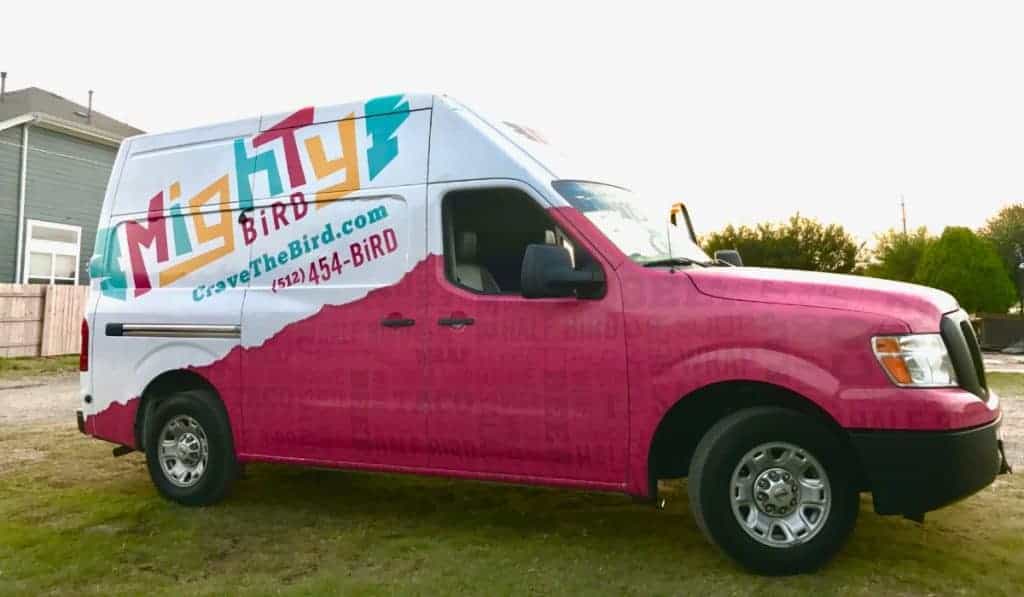 Freebird looked (and smelled) a little rough when I first got her. On the outside she was covered in a bright magenta car wrap that said Mighty Bird Tacos, and on the inside she was caked in old chicken grease. She had a few cosmetic dents scattered about from someone trying to go through a drive-through and some minor accidents, but to me those cosmetic issues were small. Since she looked (and smelled!) not so fantastic, I was able to negotiate the seller down to $11,000 and got the van for a deal!
I immediately knew Freebird was right for me because I only had a few very basic requirements for my future home on wheels: low mileage, excellent mechanical condition, and enough space to stand up inside after the van conversion was complete. I loved the fact that Nissan provides a 5 year/60,000 mile warranty, because it really shows that the brand stands behind their product. After doing some research about Nissan longevity and frequency of mechanical issues, I felt confident that Freebird would be the perfect vanlife starter-home.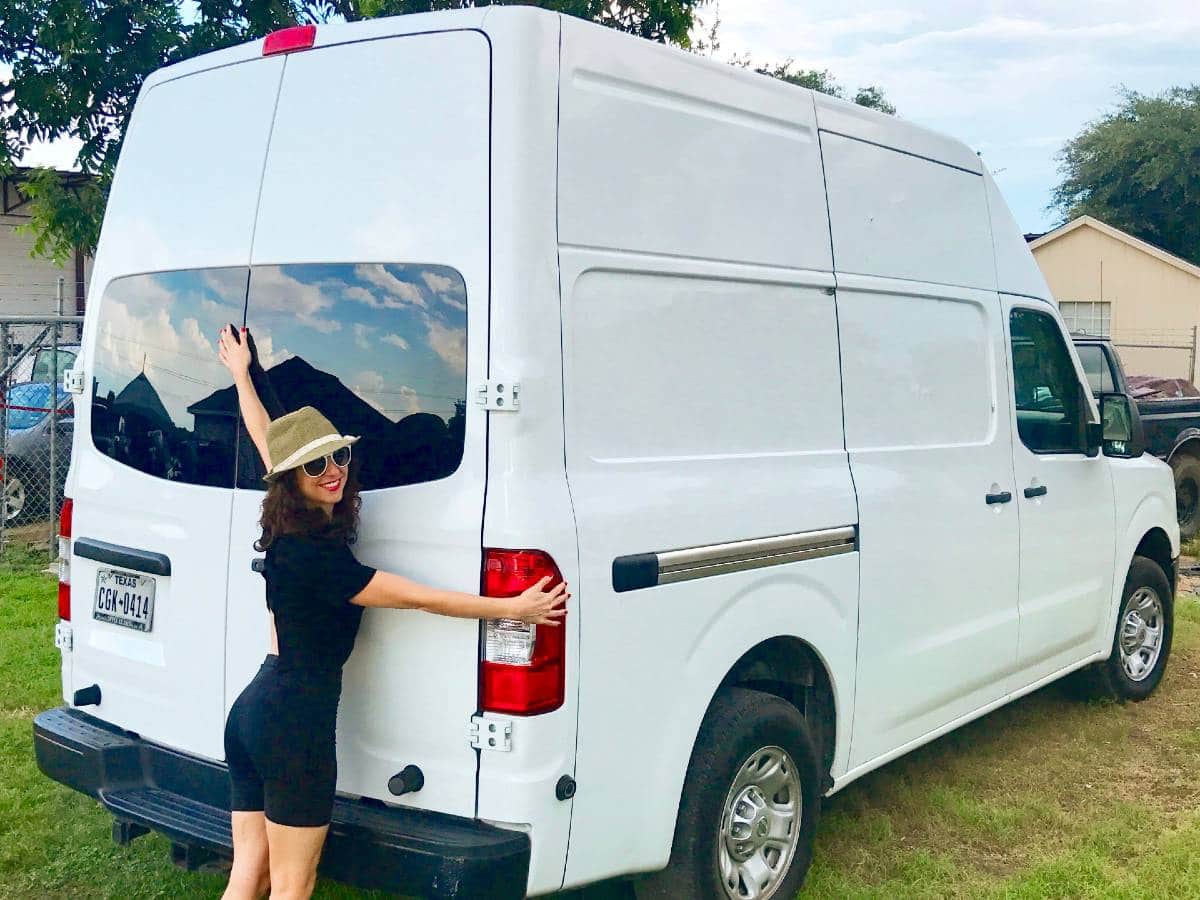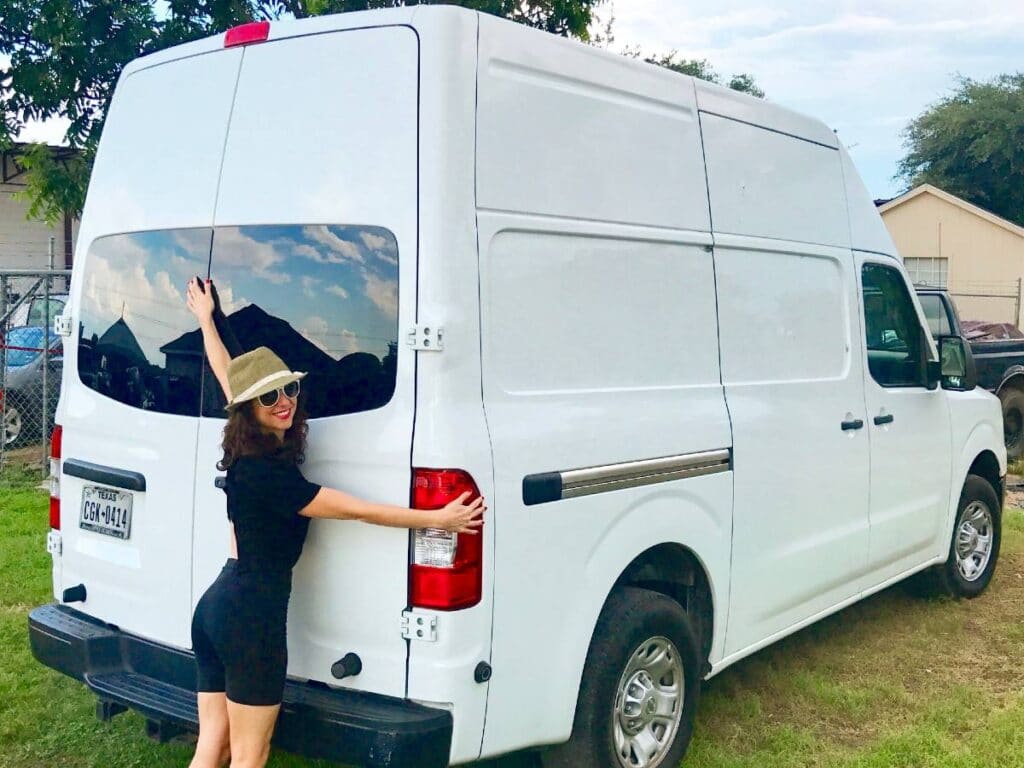 If I had spent more time agonizing over what my "perfect van" would be like, I likely would have wanted a van that has a longer wheelbase, but when opportunity knocks you have to answer. This was just my first van and I knew that I could always upgrade to something bigger down the road.
What's Awesome About the Nissan NV2500
1. Stealthier than other cargo vans
I love that the Nissan is the least common choice of all the cargo van options. I tend to veer towards doing things a little differently, so she's a great fit for me.
Since the Nissan is less commonly lived-in than, say, the Sprinter van, I feel like it's a little stealthier when I park in urban areas. Nissan NVs are extremely commonly used as contractor vehicles (think HVAC, plumbing, handymen), so I think I get away with parking in more obvious places than some of the other cargo van options.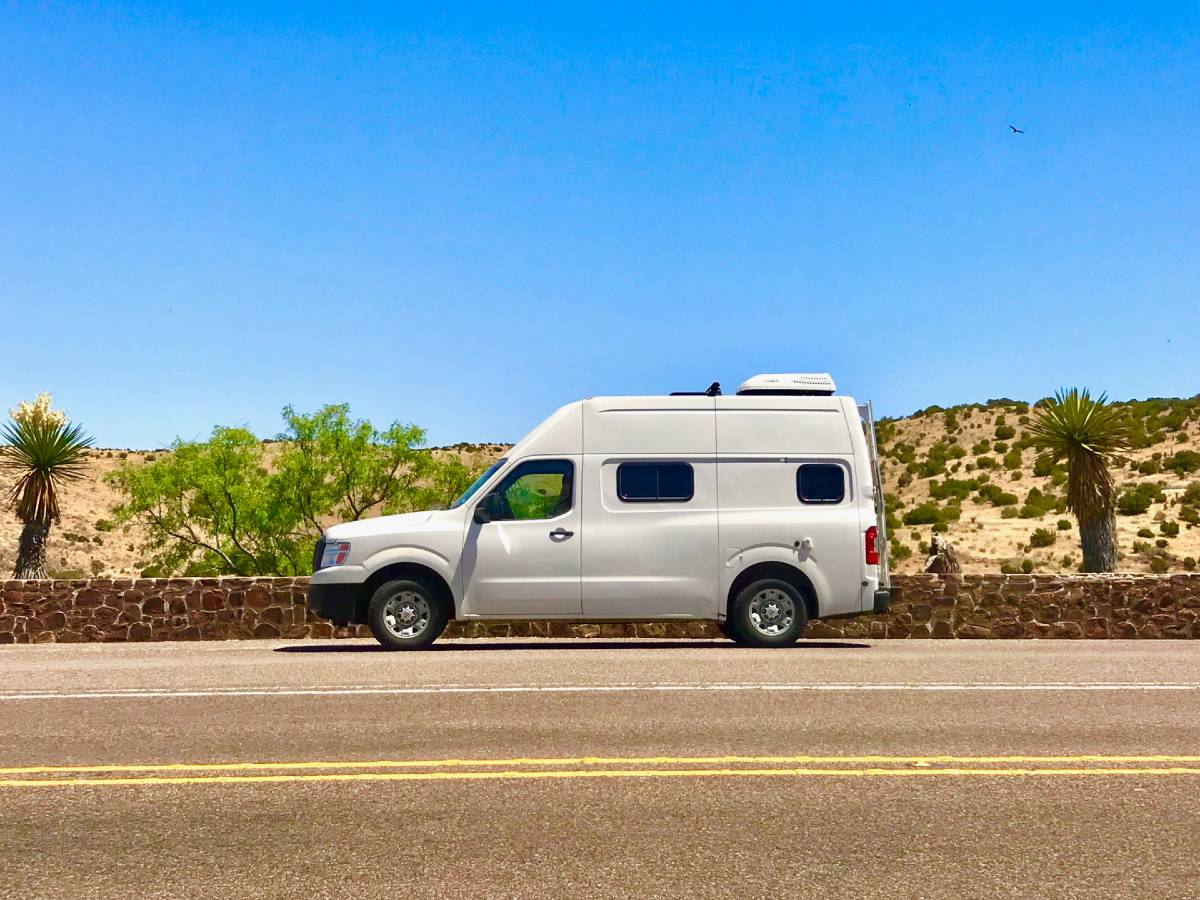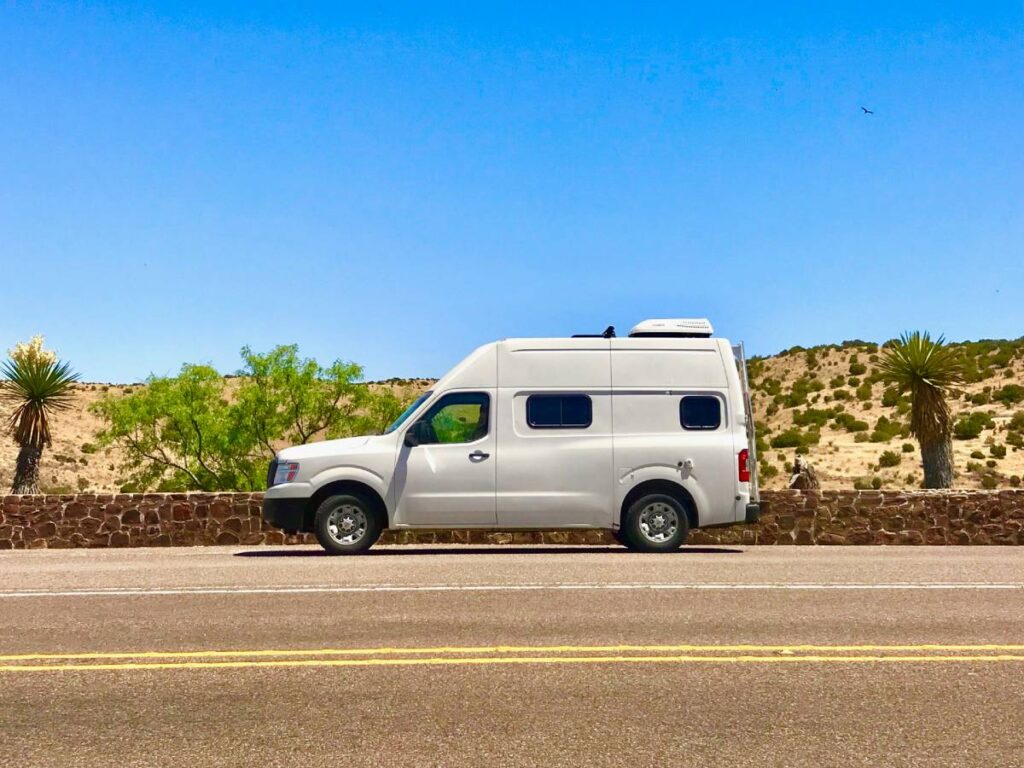 At the same time, though, within the vanlife community, Freebird is very recognizable because the NV has such a unique truck-like shape. When people realize that Freebird is a camper van, they are always very inquisitive because Nissan campers are so rare. This has led to some really cool connections with folks I've met on the road.
2. Tons of extra storage above the front cab
The Nissan's unique angled truck nose and sharp front has one added benefit: TONS of extra interior storage above the front cab seats. By removing the inefficient factory-built storage and simply building a deep plywood cabinet directly above the two front seats, the Nissan's interior storage is almost doubled. That upper cabinet is so deep that I can barely even reach to the back of it.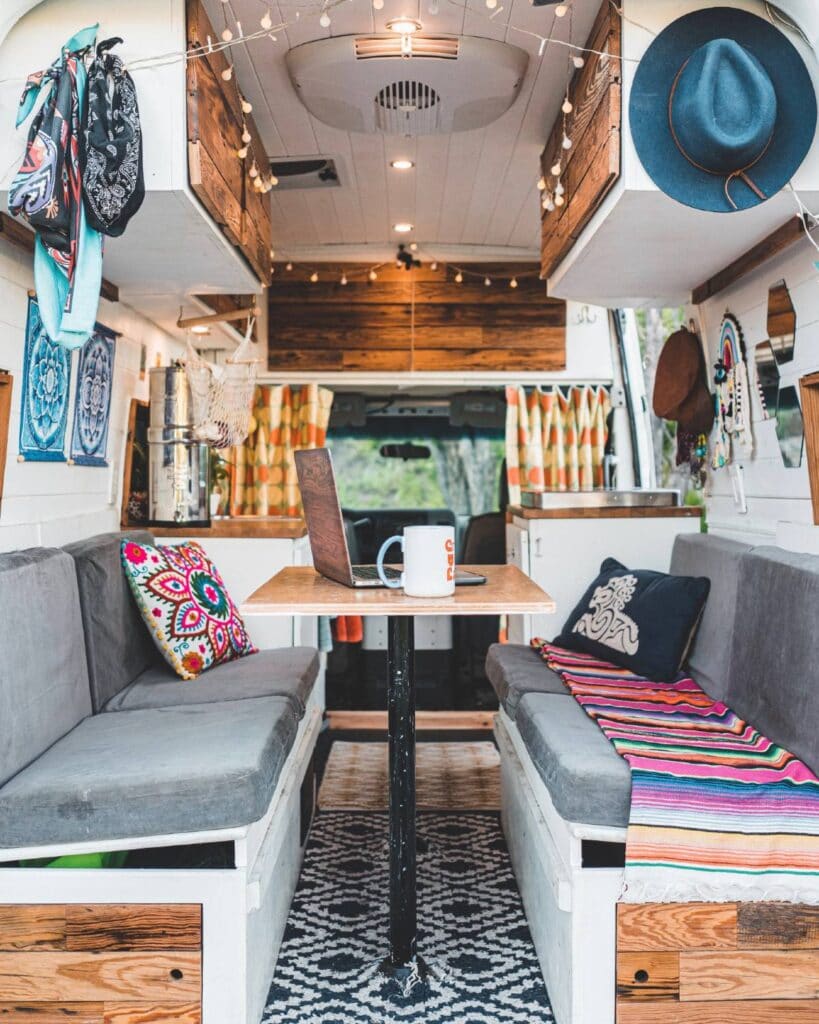 This upper cabinet fits most of my larger-items things including my bedding, window coverings, camping chairs, yoga mat, extra toilet cartridges, gear, and whatever else I want to toss up there. This has been invaluable for me because I don't have any exterior storage containers at this time. Being able to put long-term storage items in this cabinet means the remainder of my storage can be less cluttered and more organized.
3. The Nissan is reliable and well built
After spending time this summer in Freebird's motherland, Japan, I totally get why she's the best van ever. The Japanese know what they're doing in all aspects of life. I mean, seriously, even their toilets are high-tech (toilet seats in Japan are heated and play music!). Japanese culture is efficient, effective, and detail-oriented, and you can see that in the way the Nissan NV has been built. I haven't had a single mechanical issue with Freebird, and I've driven her nonstop for almost two years.
Nissan stands behind its vehicles with its 5 year/60,000 mile warranty, which is twice as long as the other cargo vans. I think having such a bold warranty shows that Nissan builds its vehicles with care, and my experience has definitely supported that. At this point Freebird has just under 80,000 miles and as long as I've been keeping up with her regular maintenance, she's been running smooth.
4. The interior dimensions works well for van builds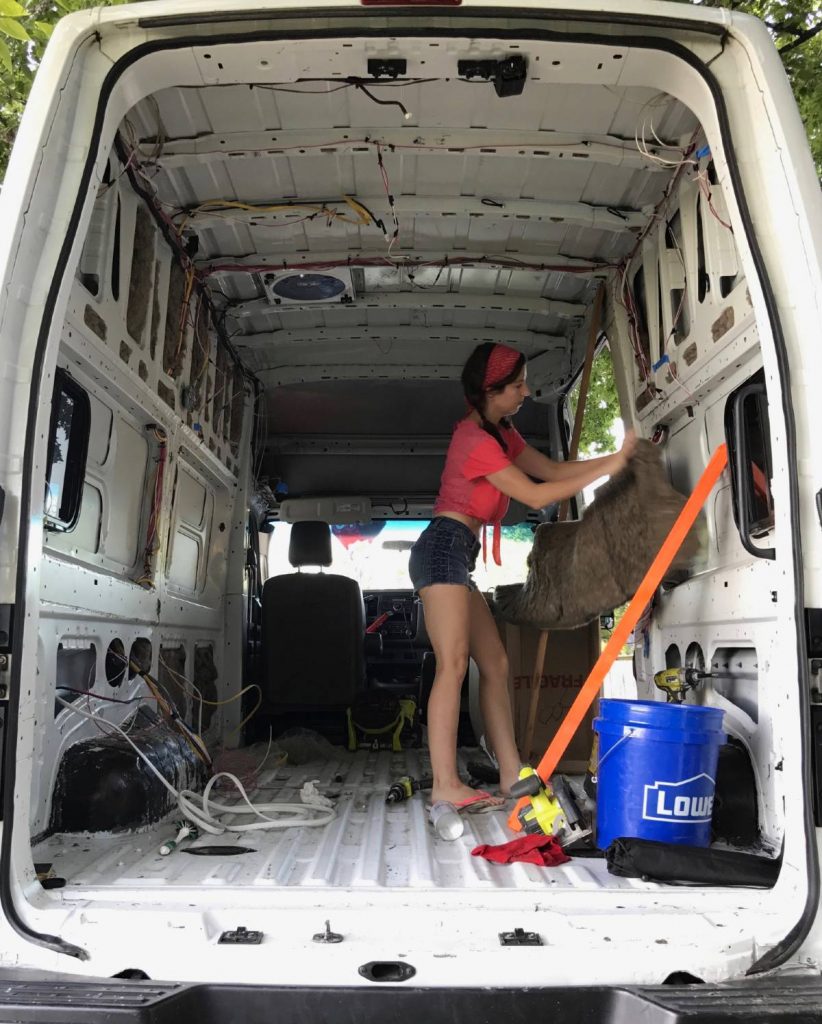 Unlike some front consoles, the way the Nissan NV2500's front console is built leaves open space that is perfect for a significant amount of storage.
The day that I realized I could remove the armrests and fit my Dometic fridge in between the two front seats was the best day of my entire van build. The fridge height is essentially where the armrests were, so nothing was lost. This freed up quite a bit of space in my layout and I was able to incorporate dedicated cabinets for both trash and recycling, which is essential when leading a sustainable lifestyle while living on the road. This might seem like a small detail, but when you're moving into 60 square feet and becoming a real-life Tetris master, every 1/8 of an inch matters.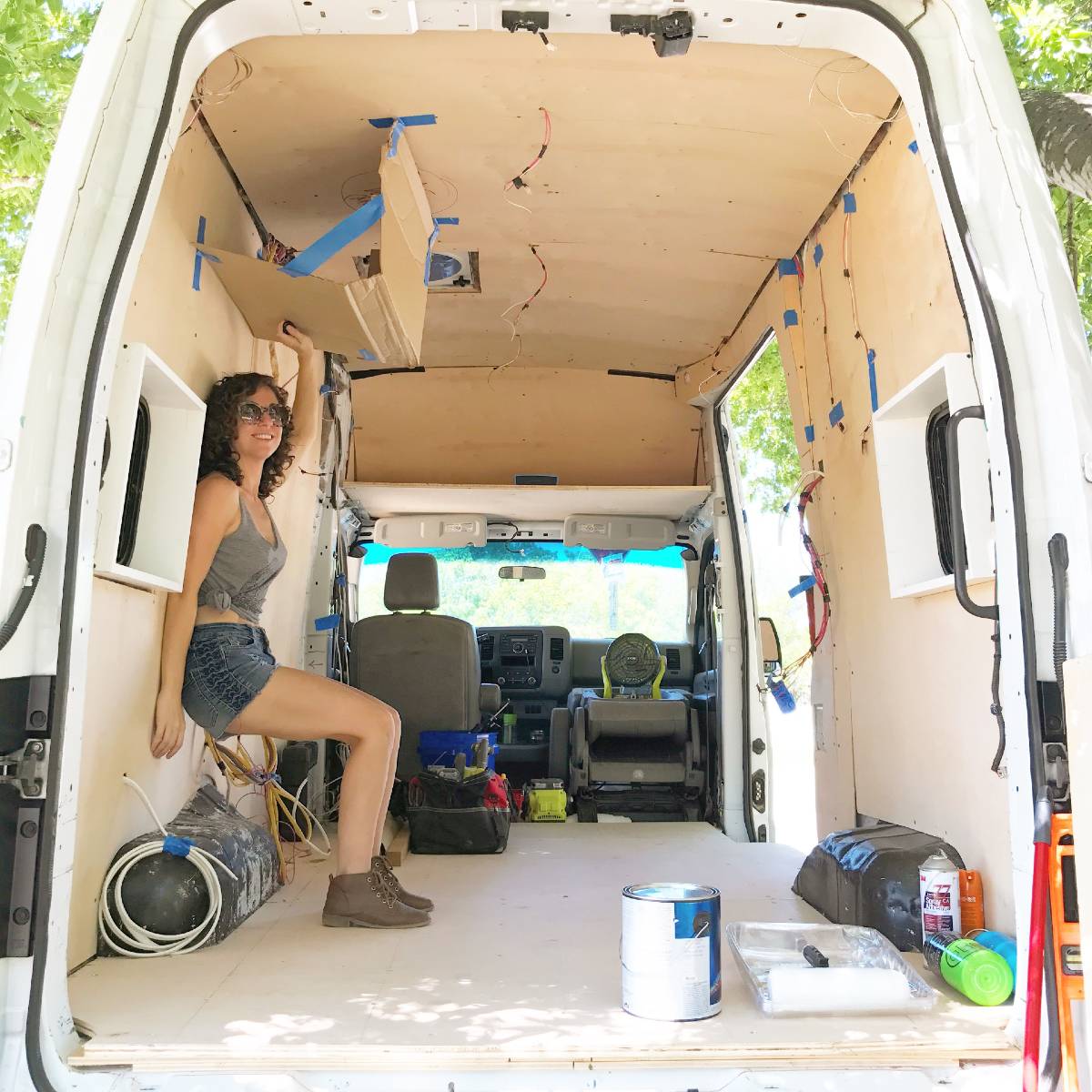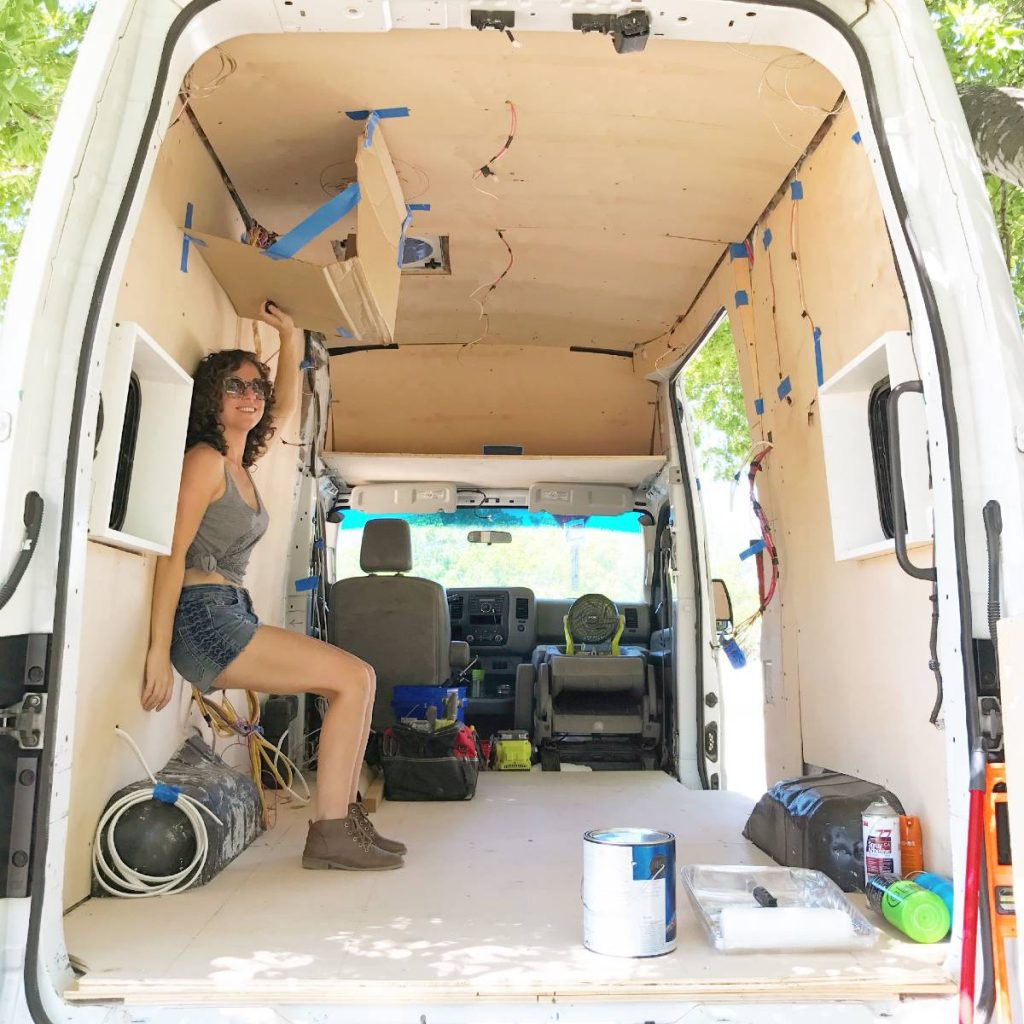 Note: If you want to have a passenger swivel chair, you'll need to leave the space between the two front seats open so there's room to swivel. This wasn't part of my design so it was not an issue.
Not-So-Awesome Stuff About the Nissan NV2500
1. Mediocre gas mileage
I haven't personally confirmed this, but I've heard that the Nissan gets worse gas mileage than other newer cargo vans like the Transit, Promaster, and Sprinter. Since Nissan vans are built similarly to their trucks, the gas mileage is not as good as it could be. I think my gas mileage is around 14.5mpg. It's not great but it could be worse.
I'm not sure what the other cargo vans get, but this might just be a reality of vanlife or RVlife—when you're driving your entire home in a vehicle, gas is going to be much more expensive than if you're driving a Honda Civic. This issue hasn't affected the way I live or drive in my van, but it's definitely something to note if you're shopping for the right van for you.
2. The Nissan has a shorter wheelbase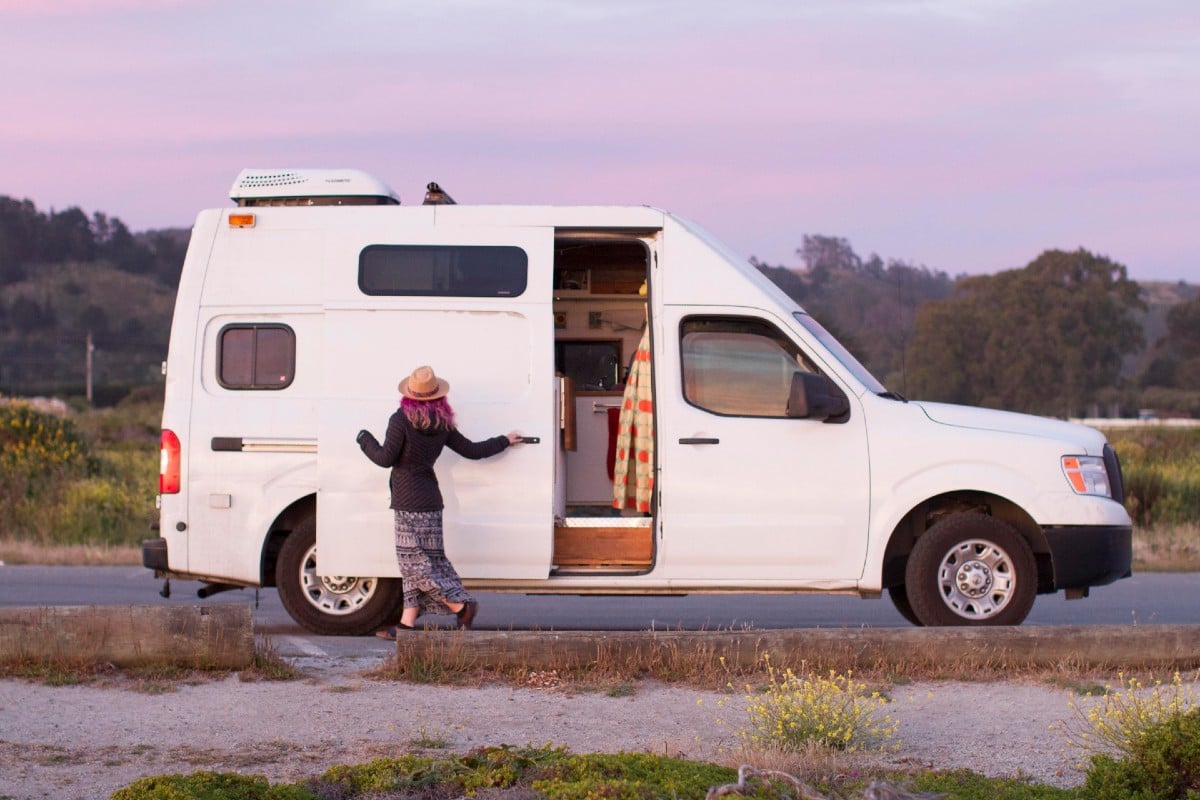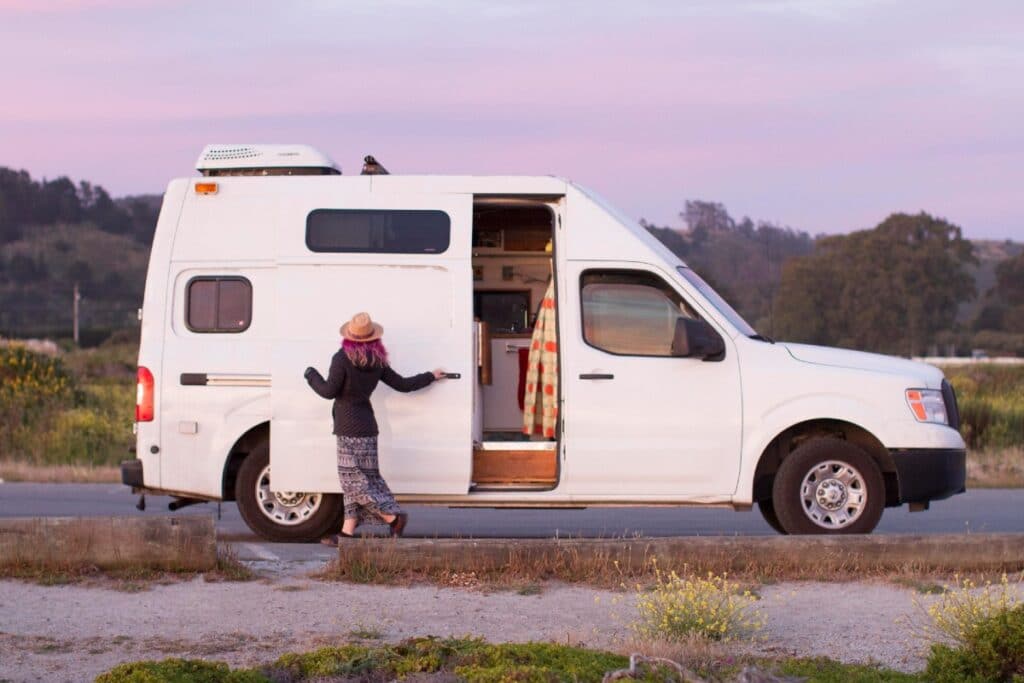 I'm not going to lie, there's been more than a few times that I wished Freebird had a longer wheelbase. The Nissan's wheelbase is on par with the 144" wheelbase Sprinter, which is one of the smallest cargo van options out there. The Nissan also only comes in one length, which is unfortunate and something I hope they reconsider with future models.
The benefit of having such a short wheelbase is that she's easy to drive and fits in regular-sized parking spots. That said, it would be a luxury to have a couple extra feet of length in my tiny home. Sometimes I fantasize about having a closet with hanging clothes or a toilet/shower combo inside my van, but alas, the Nissan only comes in one standard size.
3. Parking the Nissan with its long truck nose has a bit of a learning curve
Driving the Nissan is very simple and she handles very well. I hardly ever feel like I'm driving a huge vehicle (with the exception of a few times in the middle of a wind storm).
The act of parking, on the other hand, is a totally different story. I've never driven a truck in my life, so navigating the Nissan into small parking spaces is a multi-attempt process for me. I still don't have a good perception of my van's exterior size when I'm driving it. This is much more a "me issue" than a Nissan issue. If you're used to driving a truck, you won't have to work through this learning curve.
4. Rear-wheel drive isn't ideal for winter weather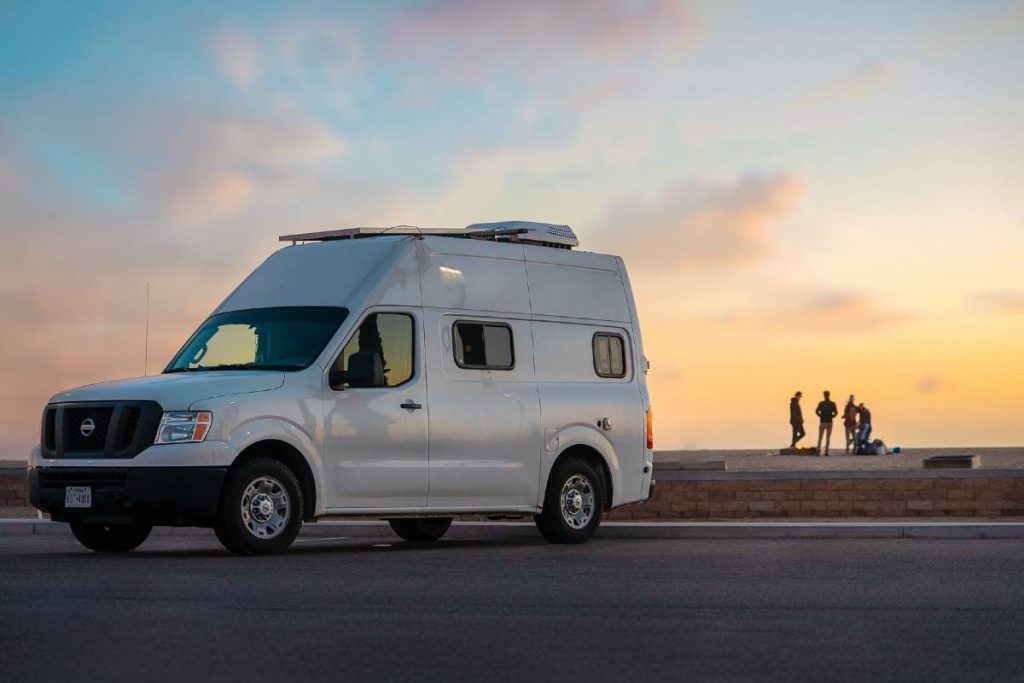 The Nissan NV2500 is rear-wheel drive, so it's really not a great van to navigate in extreme winter snow. Thankfully, I'm more of a desert rat, so that hasn't been an issue for me. I upgraded Freebird's tires pretty early on with Hankook off-road tires, and that's made a huge difference when off-roading in the backcountry or driving over rocky terrain on BLM land far from civilization.
The only time I had an issue with getting Freebird stuck was in very deep mud in the desert. The mud was disguised as gravel and Freebird fell right in. Thankfully, I was at a vanlife event and someone with a big 4×4 truck came by and pulled us out. Other than that, Freebird has handled well for me these past 25,000+ miles.
Choosing the Best Van to Live In
I made the decision to buy a Nissan the way I make a lot of my decisions: dive in headfirst and hope for the best. I'm grateful that I dove right into vanlife without agonizing too much about the decision of which van to buy.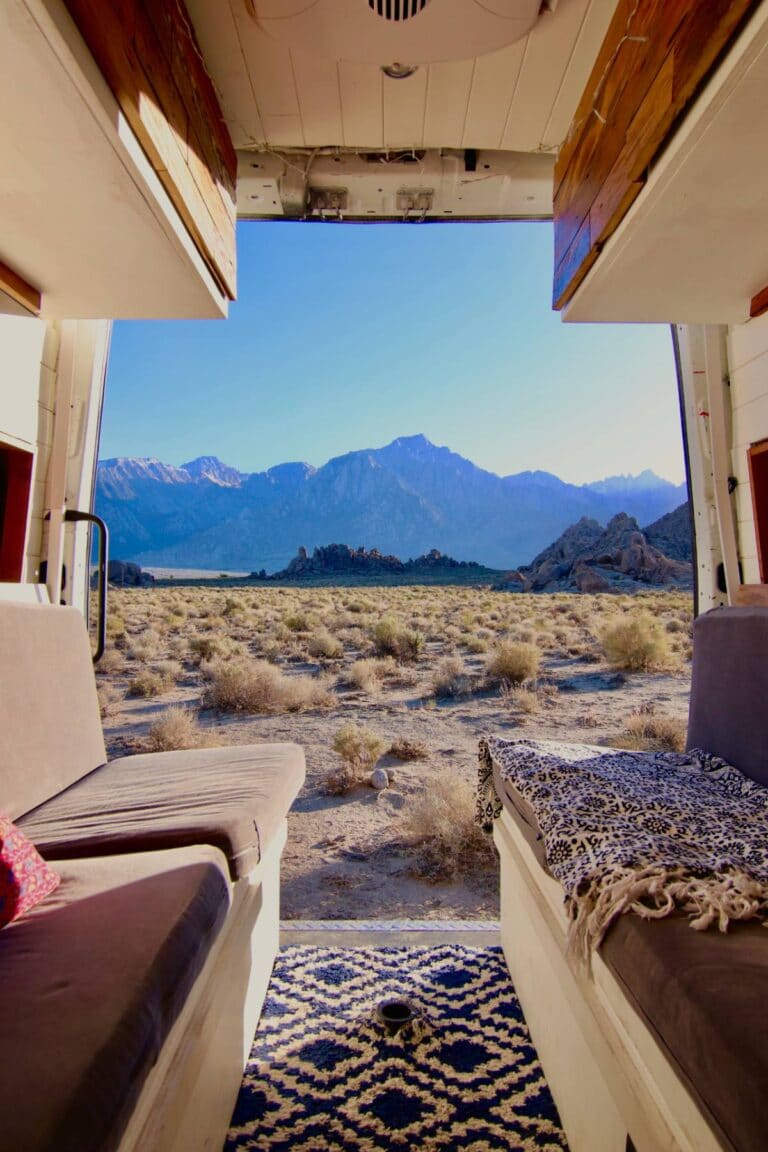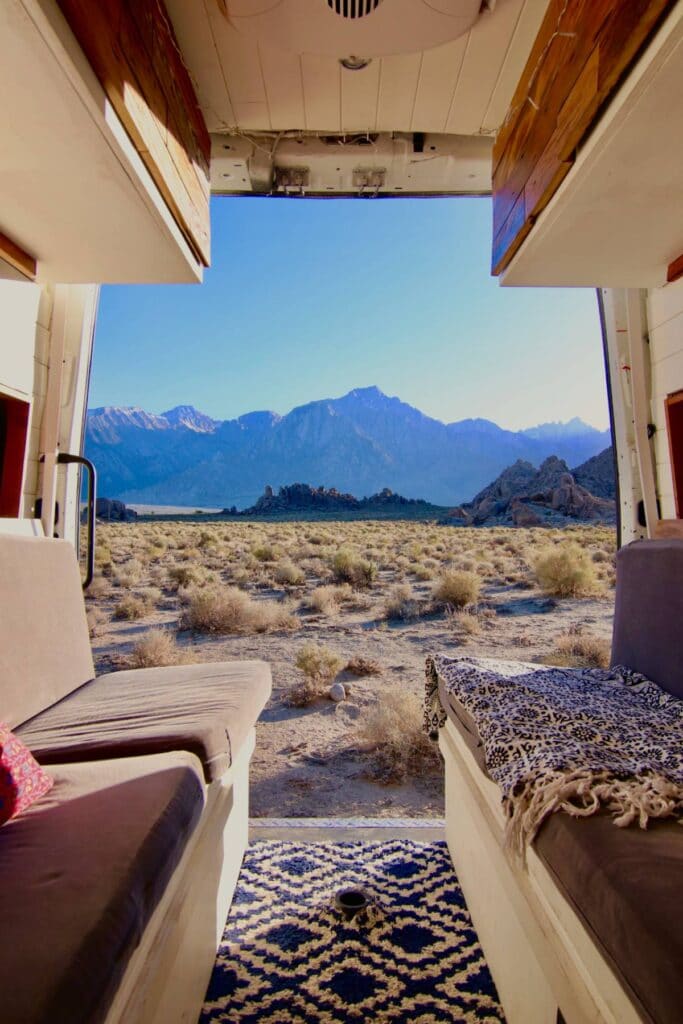 After traveling solo in Freebird since March 2018, I feel a deep connection with her. I honestly love this hunk of metal unconditionally. She's been the vehicle of so many incredible changes in my life. She may have a short wheelbase and a big truck nose, but she will always be my first true van love.
Whatever choice you make will be the right one for you – you just need to take the leap and make a choice.

It's easy to get stuck in analysis paralysis as a way to stay in your safety zone and never take the big vanlife leap. Don't do that! As long as it's an informed purchase – the price is right and mechanics are solid—you can't really go wrong. Vanlife is about the life the van allows you to live more than the actual van, after all.

Read more in the "Why I Chose My Van" series…