The Ford Transit Connect is one of the smallest cargo vans out there. It's essentially a low-profile and compact Ford Transit that's about the size of a minivan, and it just so happens to be great for van life.
Since they are cargo vans, Ford Transit Connects feature similar customization and camper van conversion opportunities as larger vans, but without the extra cost that comes with full-size rigs.
If you're looking for a newer vehicle on a budget, the Ford Transit Connect is a more affordable vehicle option for your van life adventure that offers many advantages over larger vans. It fits into any parking space, gets great gas mileage (for a van), and is easier to maneuver on windy roads and in cities. 
Interior capacity is the biggest trade-off with the Ford Transit Connect, so you'll need to plan your van build layout to maximize space as best as possible. But that also means a lower cost of conversion. if you're on the hunt for a small camper van, the Transit Connect should be on your shortlist.
In this post, we've rounded up some awesome Ford Transit Connect camper van conversions to inspire you and give you ideas for building out your own Ford Transit Connect.
Build Your Van
The Ultimate Van Build Guide
Planning a van build? Read our free guide. We cover just about everything you need to know – from planning, to insulation, to solar and electrical, to picking appliances, to essential tools. Get started today so you can get out there on the road!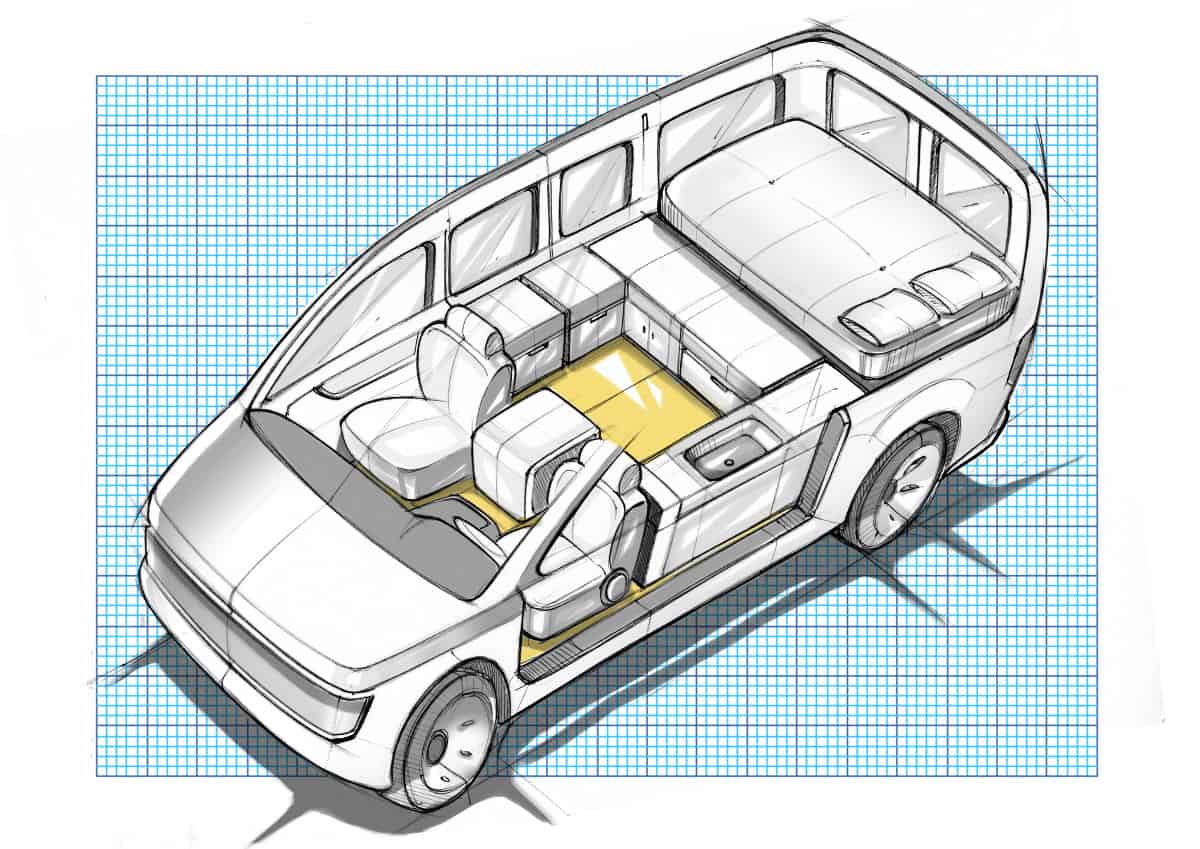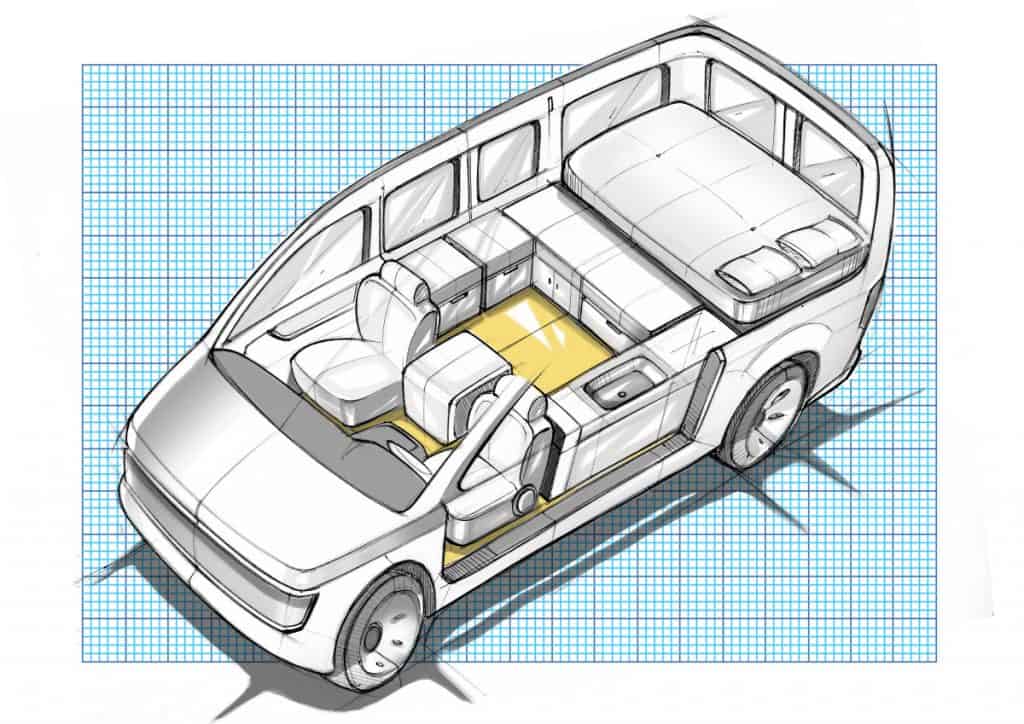 This glamorous Ford Transit Connect camper conversion from @caracelestewest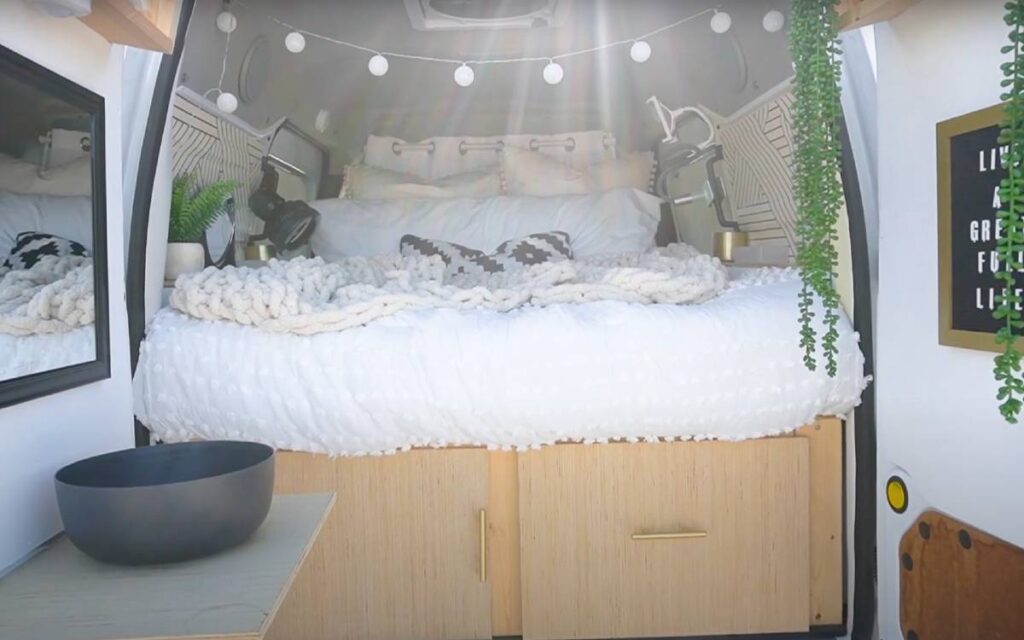 Cara and her husband Harley are van lifers who converted a Ford Transit Connect into a glamourous mini-camper van to travel around the US in search of the best vegan food spots.
They used peel-and-stick wallpaper to decorate the interior of their Ford Transit Connect. A combination of command hooks and Velcro were used to hang up string lights. They installed a swivel mount to hold an iPad for watching movies and TV shows while in the camper van.
Though the mattress Cara and Harley chose was a bit too big for the back of the Connect cargo van, they managed to tuck it in. The mattress takes up most of the living space in this Transit Connect camper conversion. They also installed some deep pull-out drawers underneath the bed as their primary storage area.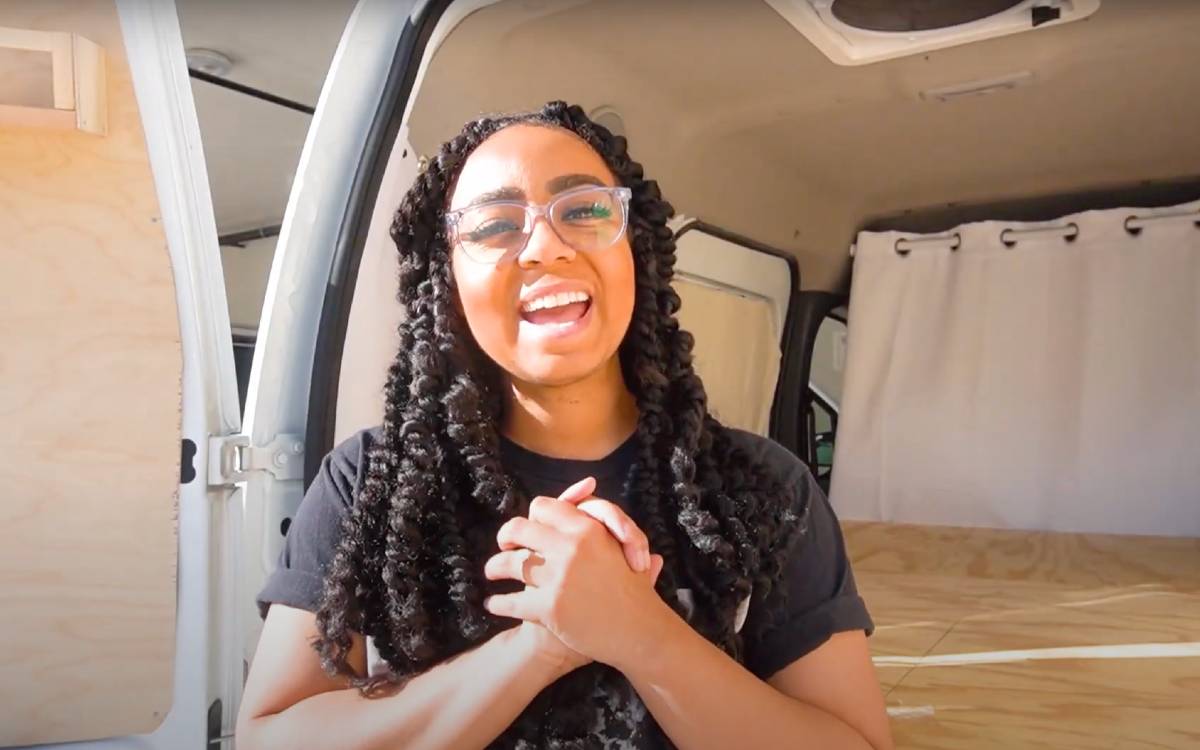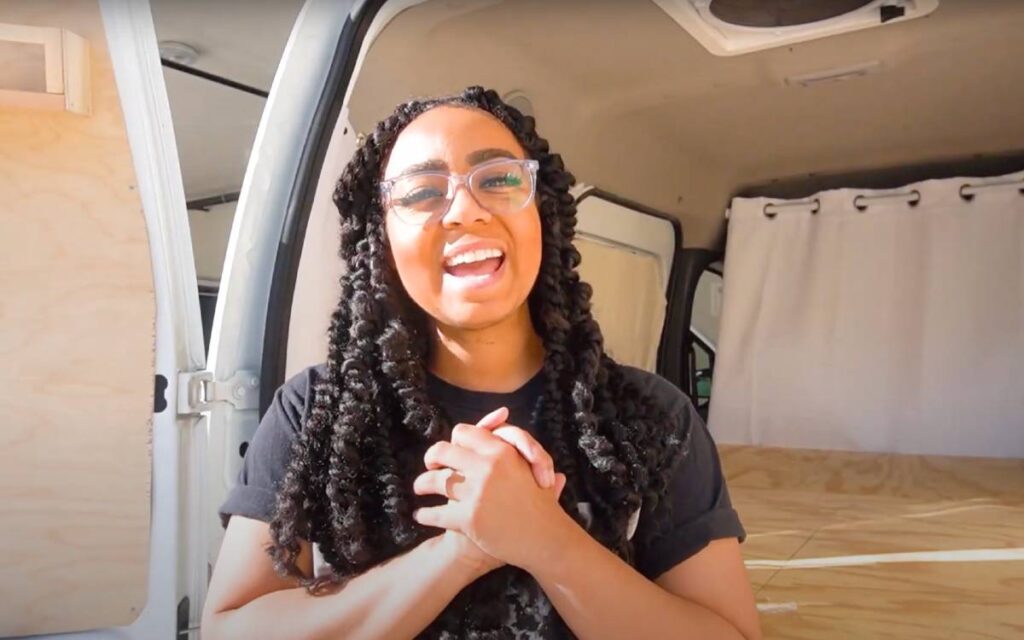 The Transit Connect's clean and cozy atmosphere features many little decorative touches, including faux ivy hanging on the rear door, a letter board to write inspirational messages on, and a knit throw blanket. Cup holders were installed in the back to act as catchalls for smaller items. A curtain separates the cabin from the living space. These details add to the inviting vibes of this small camper van.
This well-thought-out Ford Transit Connect camper van from @maxoutfun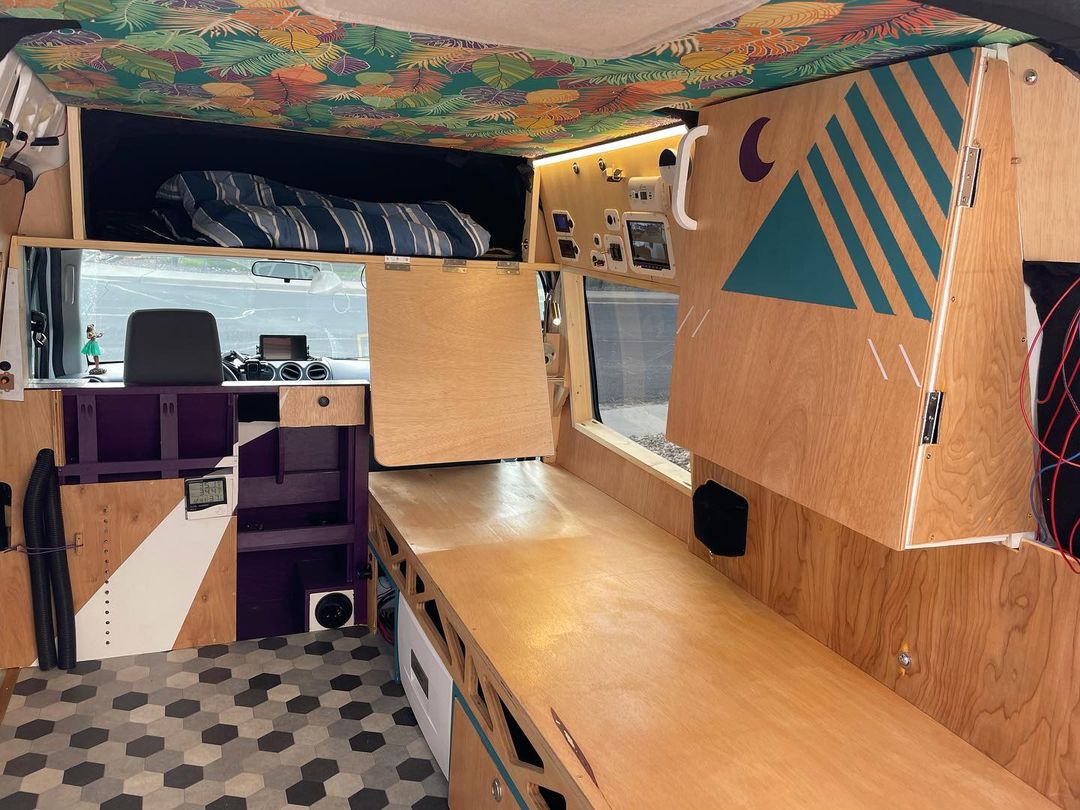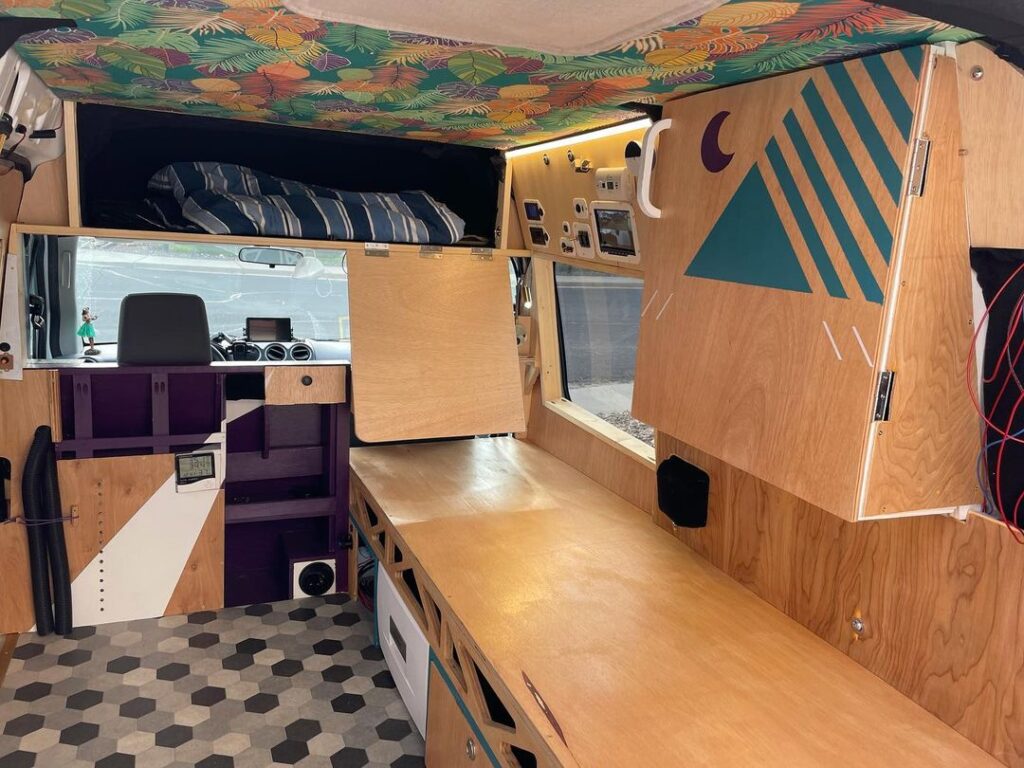 Max converted a 2012 Ford Transit Connect into a well-thought-out camper van to live out of while he travels North America looking for places to hike, ski, and go rock climbing from his van. This tiny van packs in a lot of storage and technology, including a vanlife solar power electrical system and a diesel heater.
His bed is a latex mattress topper about 24 inches wide and 6 feet, 3 inches long that was custom built for the vehicle. The overhead storage is near the cab and the campervan kitchen area. It stores a tremendous amount of outdoor and camping gear, such as climbing equipment, helmets, a backpacking tent and sleeping bag, and a collection of different backpacks. Under the bed, there is more storage for outdoor gear.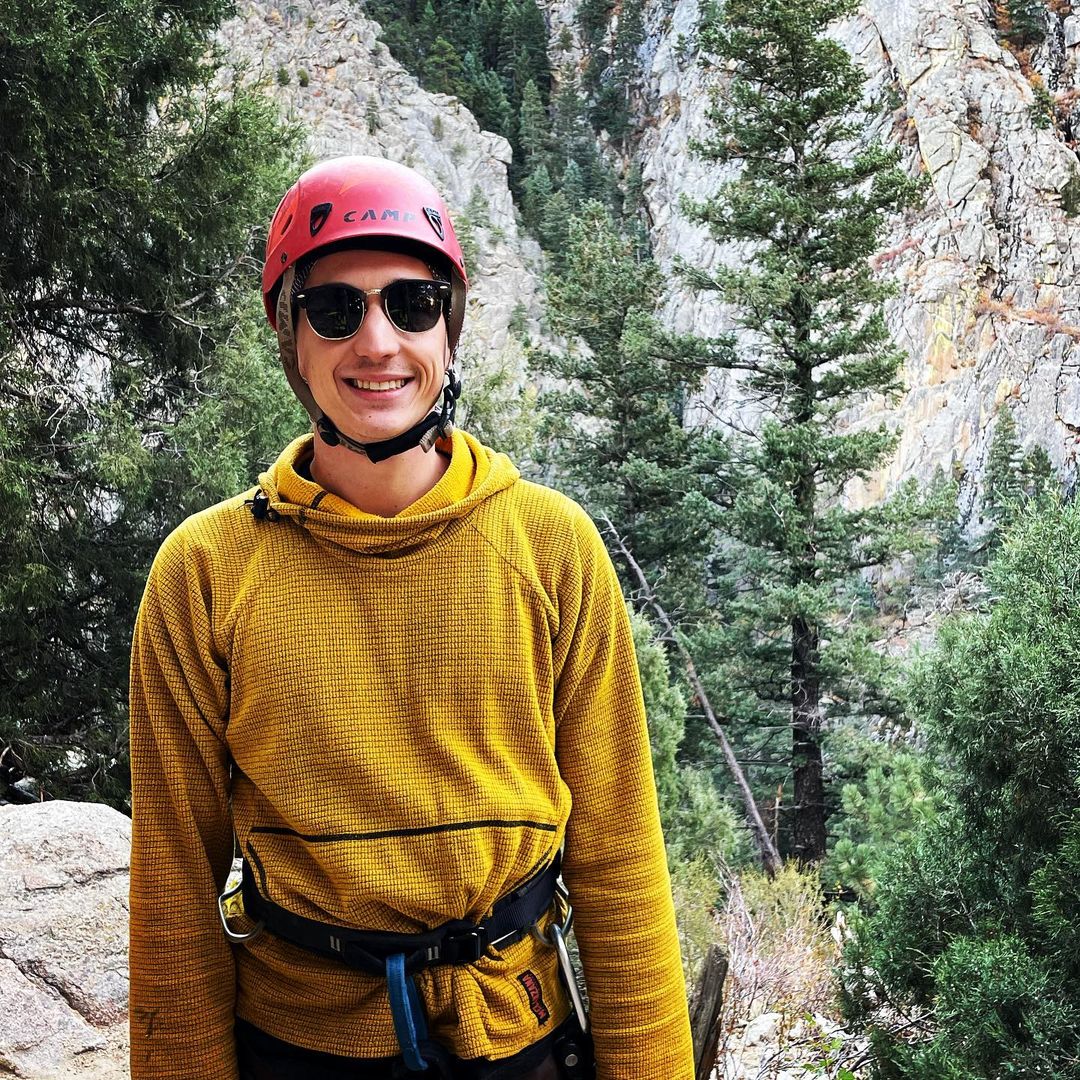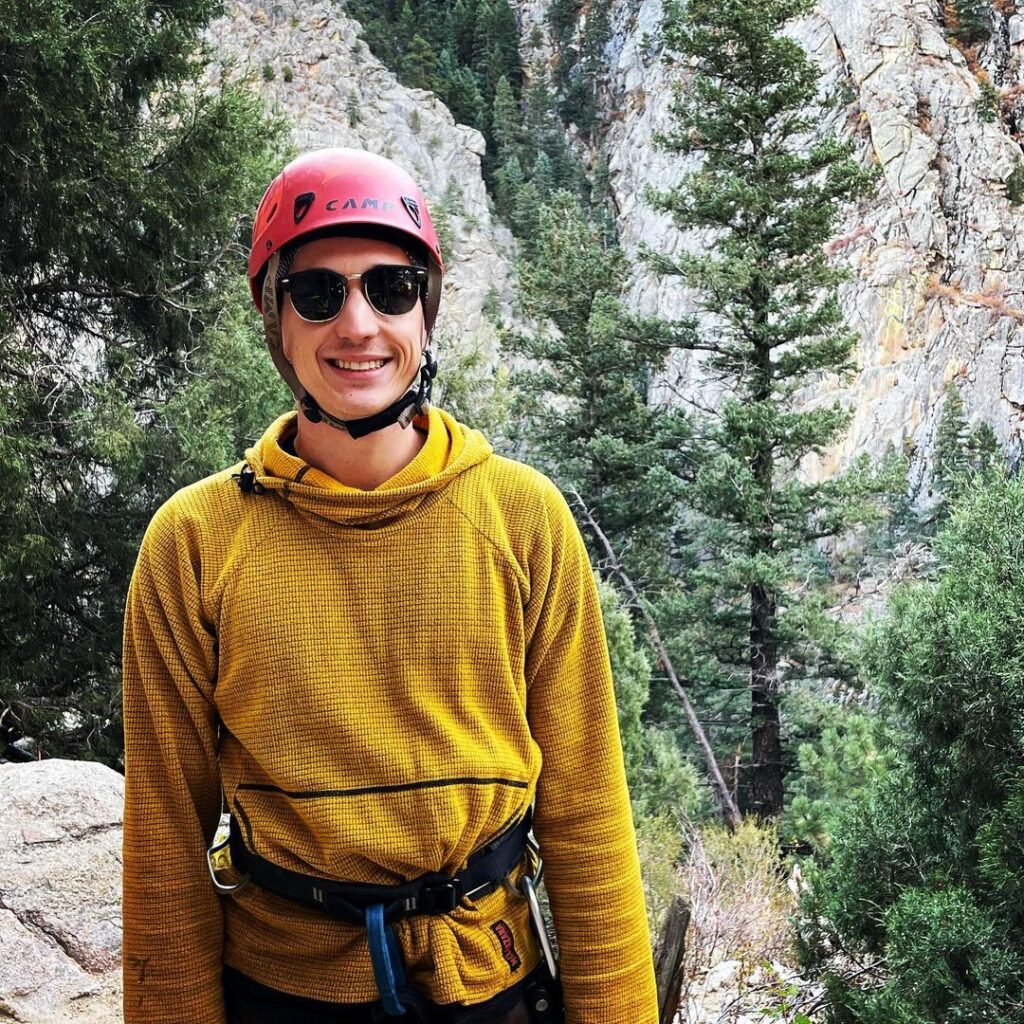 Max has a remote for his van's window coverings, which allows him to automatically bring them all up and down simultaneously. Once down, the blinds block out a great deal of light. He has a slide-out drawer that his laptop can sit on when he needs to use it. A cabinet stores all his computer tech, chargers, GoPro, cables, and a video game console.
His kitchen features a sink with a pump and a 2-burner cooktop. The back doors have flip-out tables that help create an outdoor kitchen space.
Max is glad he chose a small van for his camper conversion because it allows him to travel down narrow roads and access campsites that he wouldn't be able to get to in a larger van. He has enjoyed the challenge of building out a smaller space.
This stealth Ford Transit Connect camper van from @eee_vanstagram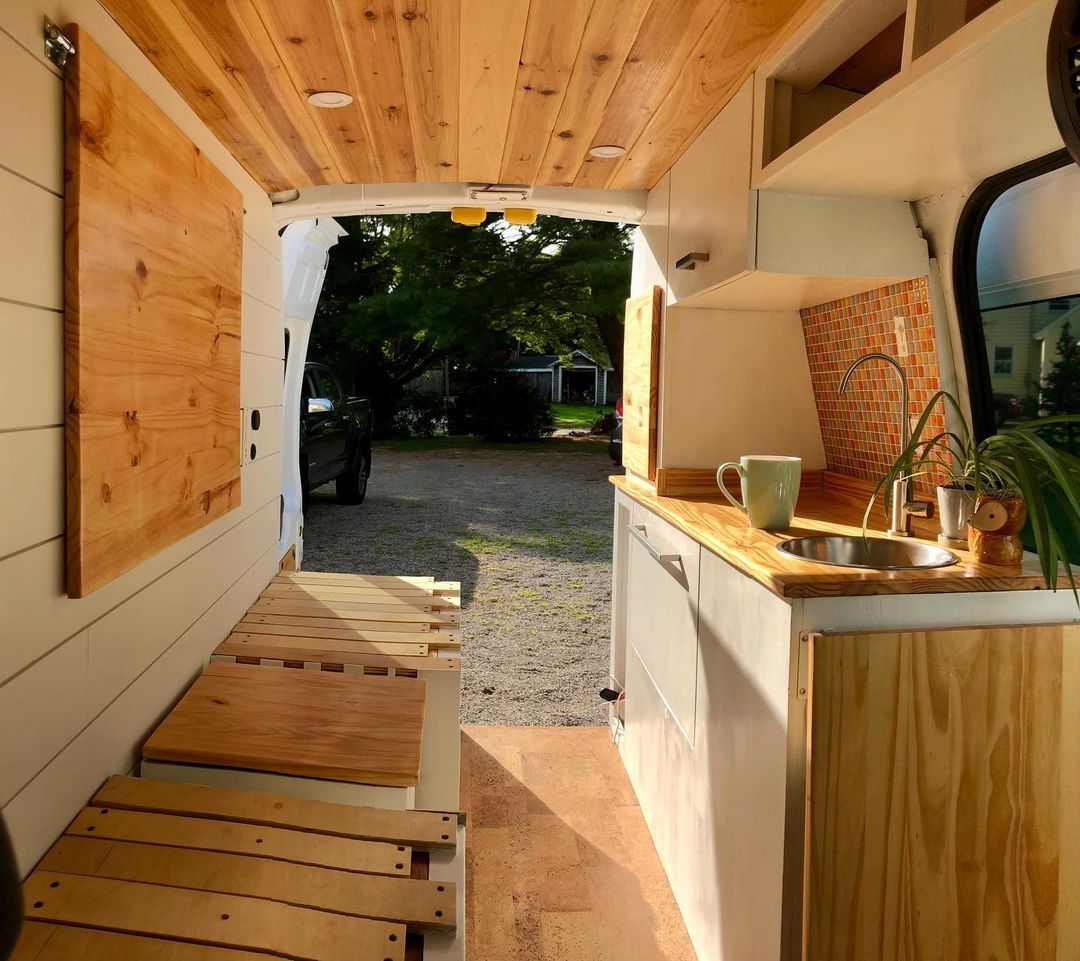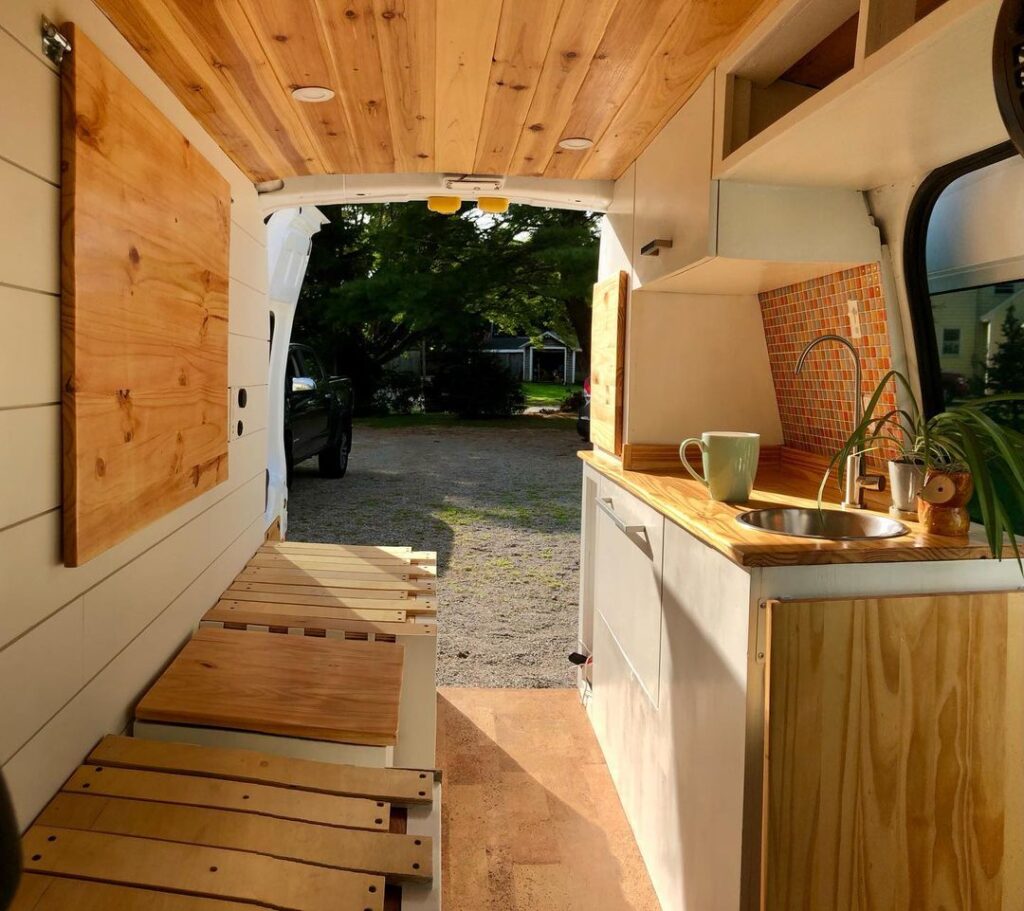 Eva designed and built out this 2013 Ford Transit Connect camper van conversion to travel in after college while working remotely as a software engineer.
The kitchen features a mixing bowl that was converted into a sink by drilling a hole into the bottom. A foot pump is used to draw water to the sink. The cabinet under the sink stores Eva's fresh water and gray water tanks. She has a flip-top table for her cooktop. Because of the table's position at the side door of the Ford Transit Connect, she can easily cook inside or outside the van.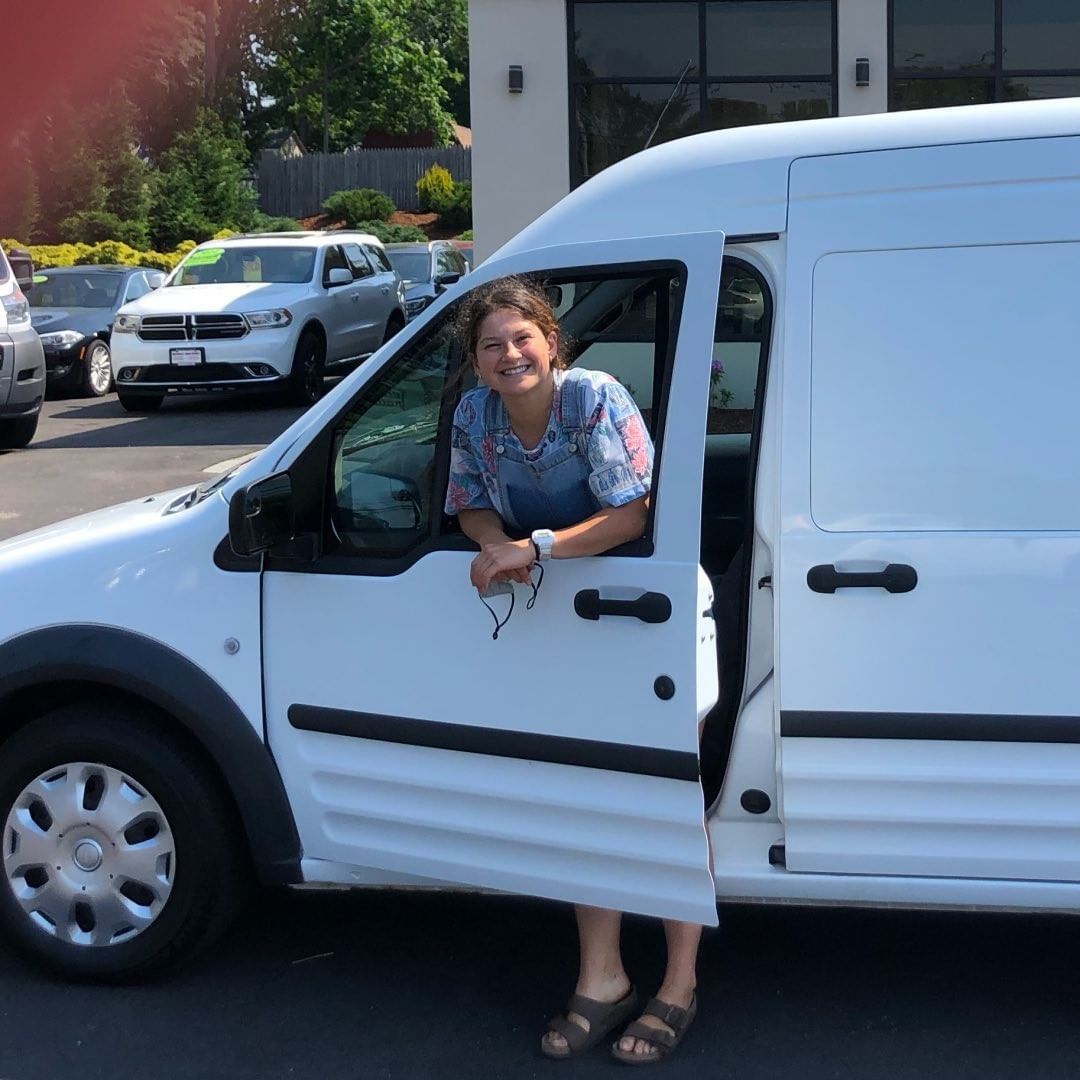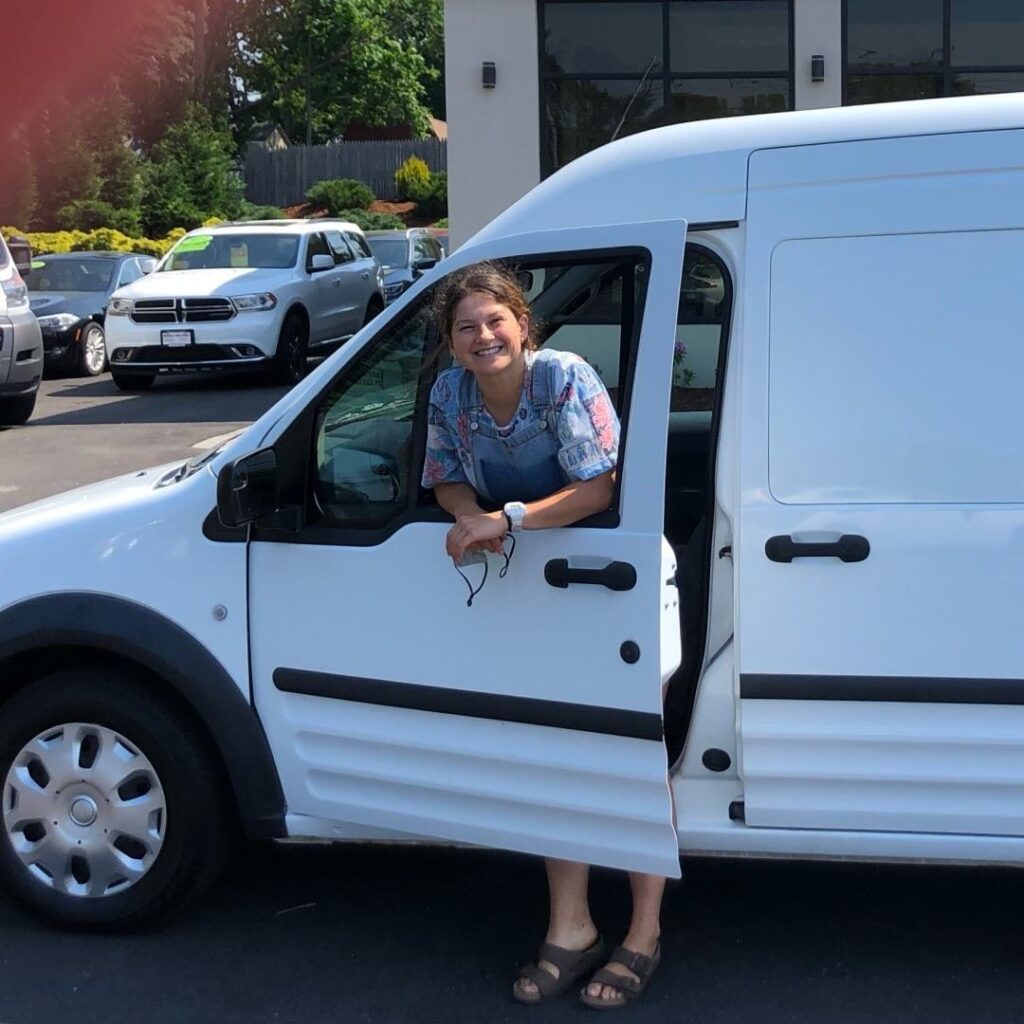 There is a large pull-out drawer for all of her kitchen equipment. She has a unique backsplash in her kitchen that adds a bit of color and light to the van's interior. Her fridge is on a slide-out drawer under the bench seat.
She has 200 watts of solar and a Maxxair fan on the van's roof. The passenger-side sliding door contains an additional hidden storage area for clothes and gear.
Eva has a small shelving unit above the side door that stores her books, CD collection, games, and pens and pencils. The bench seating pulls out and expands to a twin-size bed. Eva can also slide part of the bench seat out and convert the area to a dinette for working and eating.
She is excited about how this lifestyle will allow her to meet other van lifers, travel to new places, and have new experiences.
This thrifty Ford Transit Connect camper van conversion from @nomadshewrote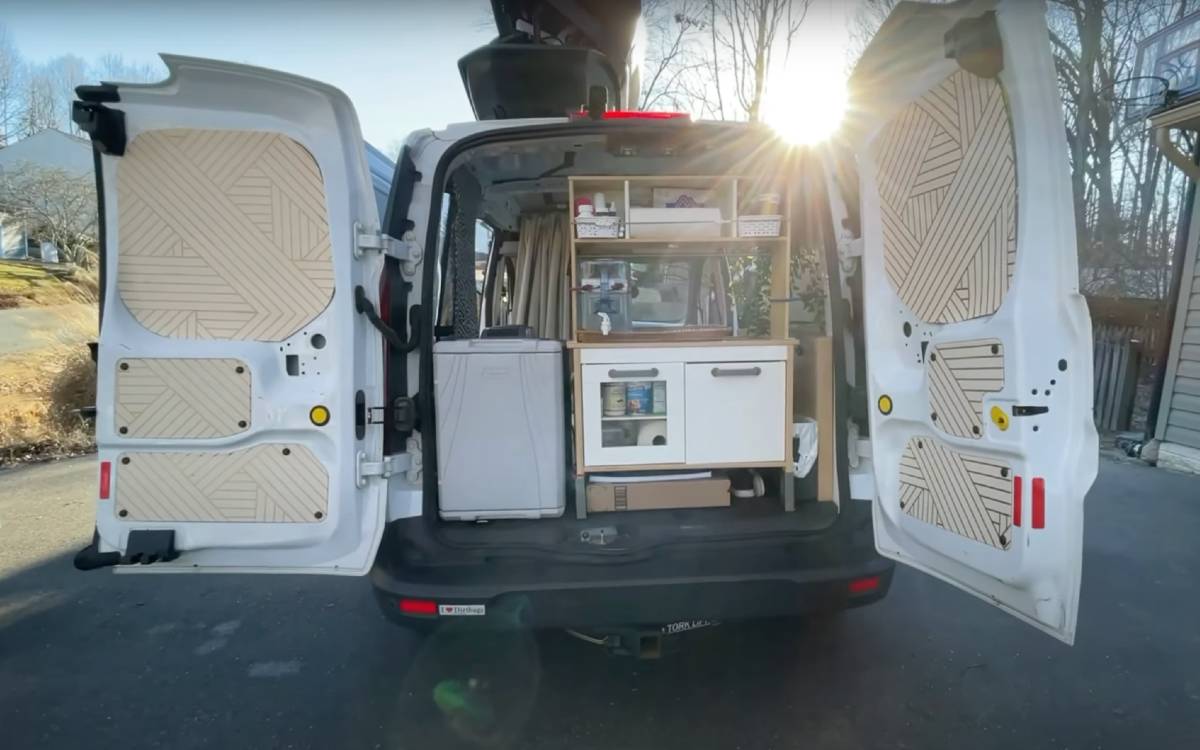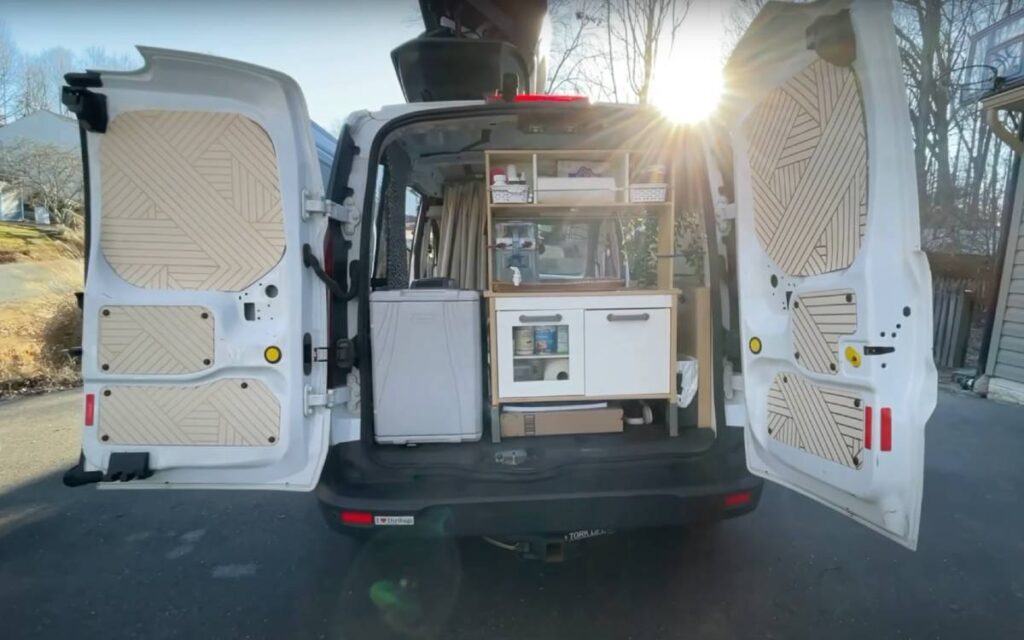 Heather built out a 2014 Ford Transit Connect XLT camper van for about $500. Thanks to thrifting, utilizing things she already had, and doing work-trade with friends, Heather created a very affordable Transit Connect van conversion.
The small space features storage for clothes, kitchenware, and other equipment under the bed. The passenger seat was removed and replaced with a small bed for her dog, Indi. Under Indi's bed is another cargo area and the van's power station.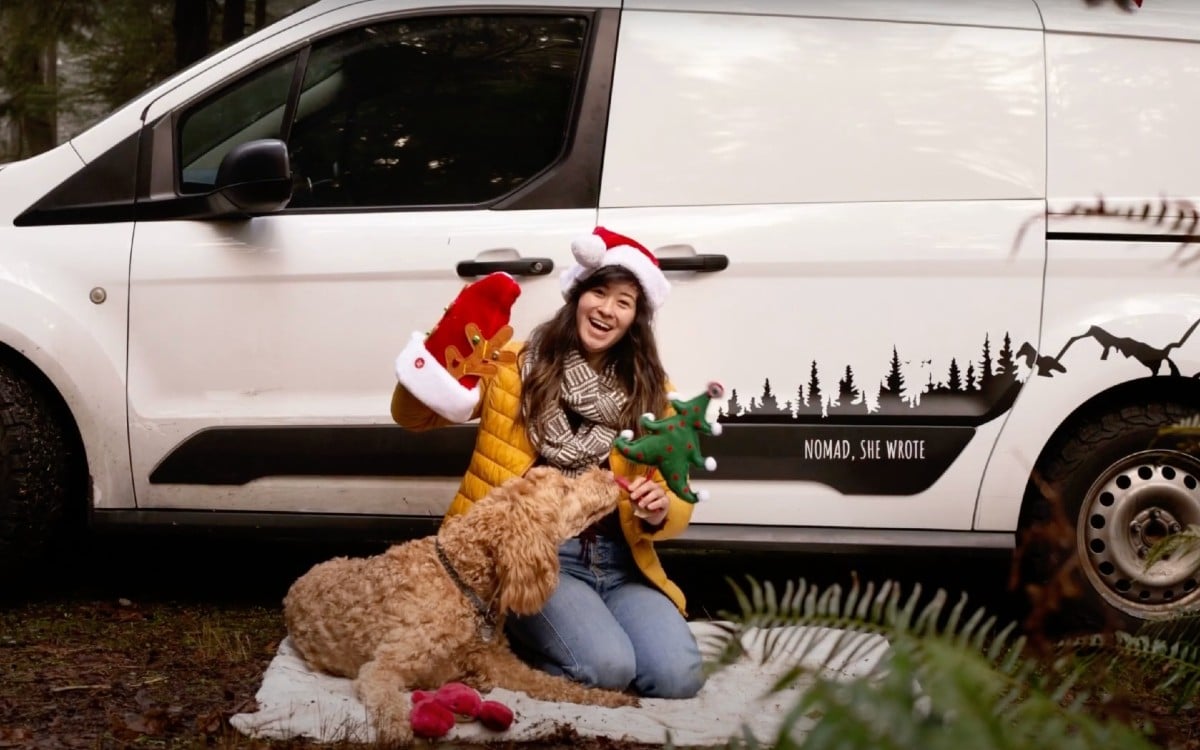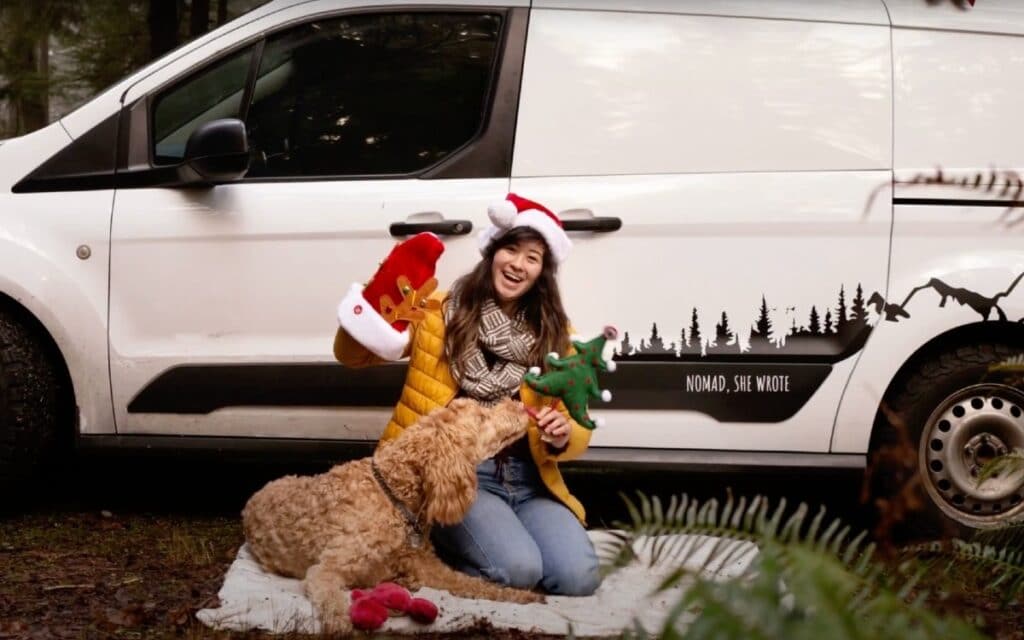 A curtain separates the cab from the living space of this small camper. The interior walls have a lightweight whiteboard material. Faux ivy adds a pop of color and decoration to the back.
This Transit Connect campervan has an outdoor kitchen accessible by opening the van's rear doors, with a fridge, pantry storage, and countertop space.
For showering, Heather has a RinseKit that she plans to install as an outdoor shower, which is a pressurized water system with a showerhead. She also uses campground and gym showers.
Heather's Ford Transit Connect camper is a work in progress – she still has a cabinet to install and needs to finish the ceiling.
This campervan conversion with a decked-out roof from @mikeandheathervlog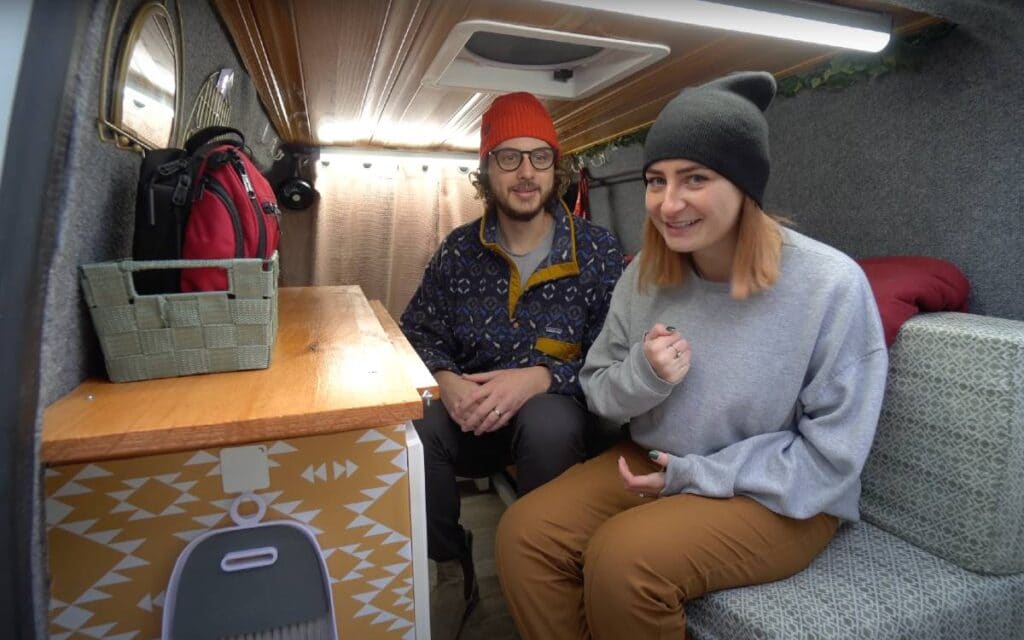 Mike and Heather converted a 2013 Ford Transit Connect XLT for van life travel.
They installed many accessories onto the van's roof to expand their living space and interior storage space. An awning is installed on one side, allowing the couple to create some additional shaded, rain-free space.
To save space inside the van, Mike and Heather purchased a Yakima road shower and installed it on the roof. The roof also has a Maxxair fan and two solar panels.
There is an electrical outlet outside that can be used to plug in a light and brighten up the outdoor space at night. The couple has installed a backup camera to assist with reversing out of parking spaces.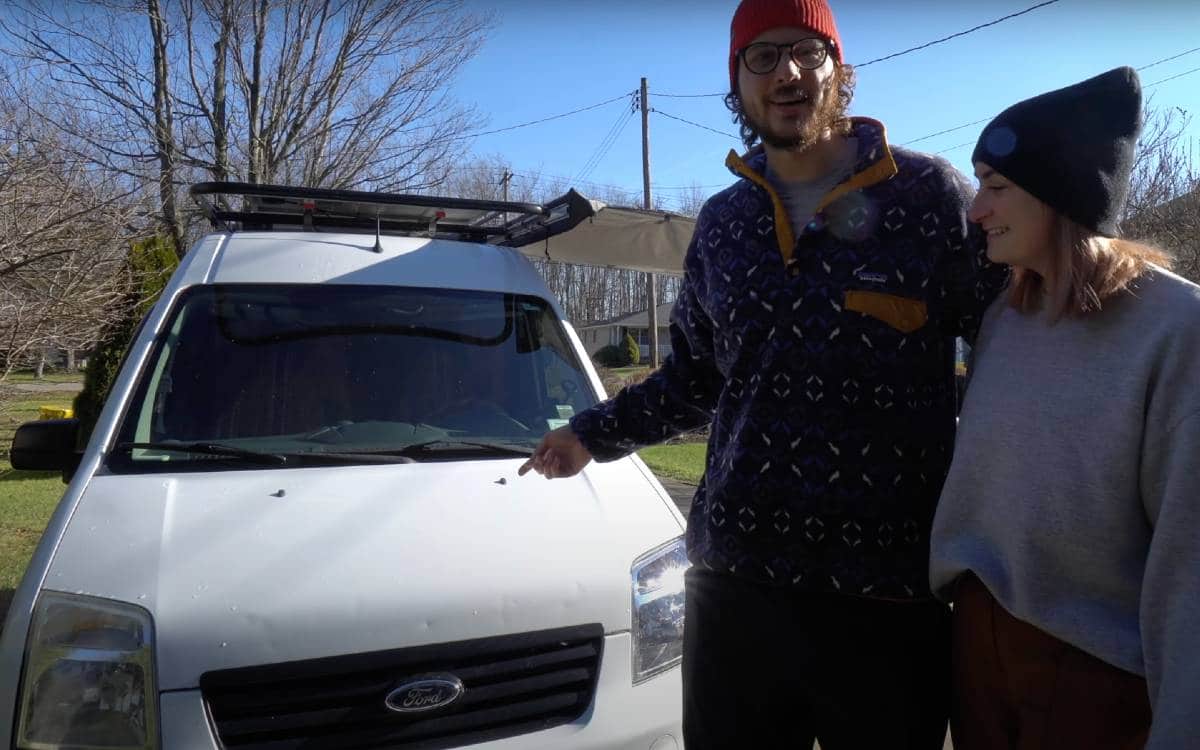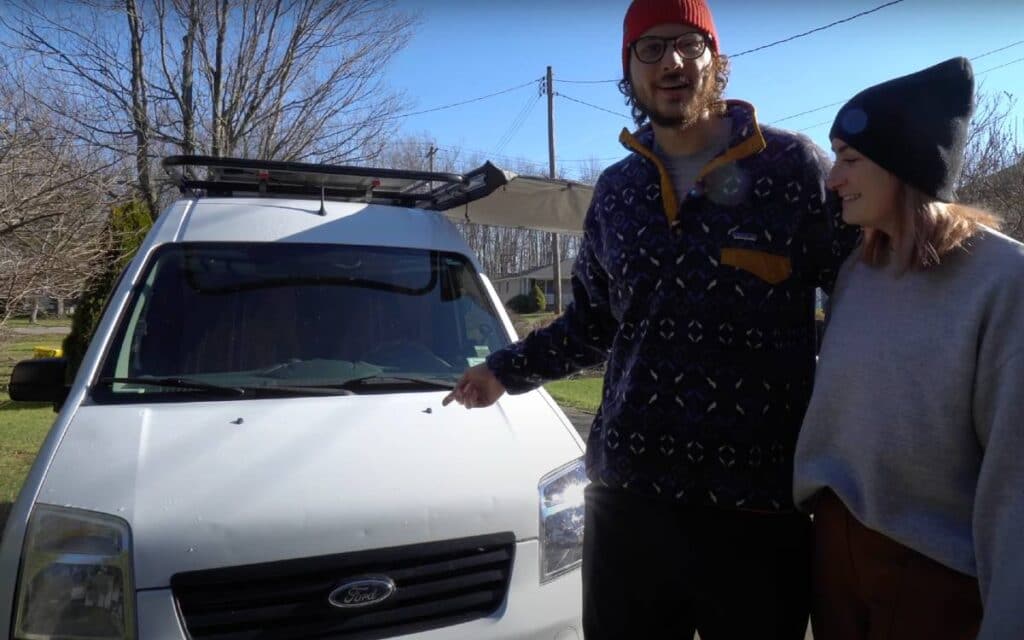 The cab is used as a catchall for miscellaneous items and other van life essentials. Mike and Heather added additional overhead storage, which can be accessed from the living space. It stores their clothes, which are kept in packing cubes.
Curtains separate the cab from the living space. USB charged clip-on fans work in conjunction with the Maxxair fan to provide additional air circulation in the back of the campervan.
They have large pillows that store their bedding during the day. The bed is futon-style, built length-wise into the passenger side.
Mike and Heather have a goal to visit as many states as they can in their Ford Transit Connect camper.
This clever DIY Ford Transit Connect conversion from @murphy_mobile_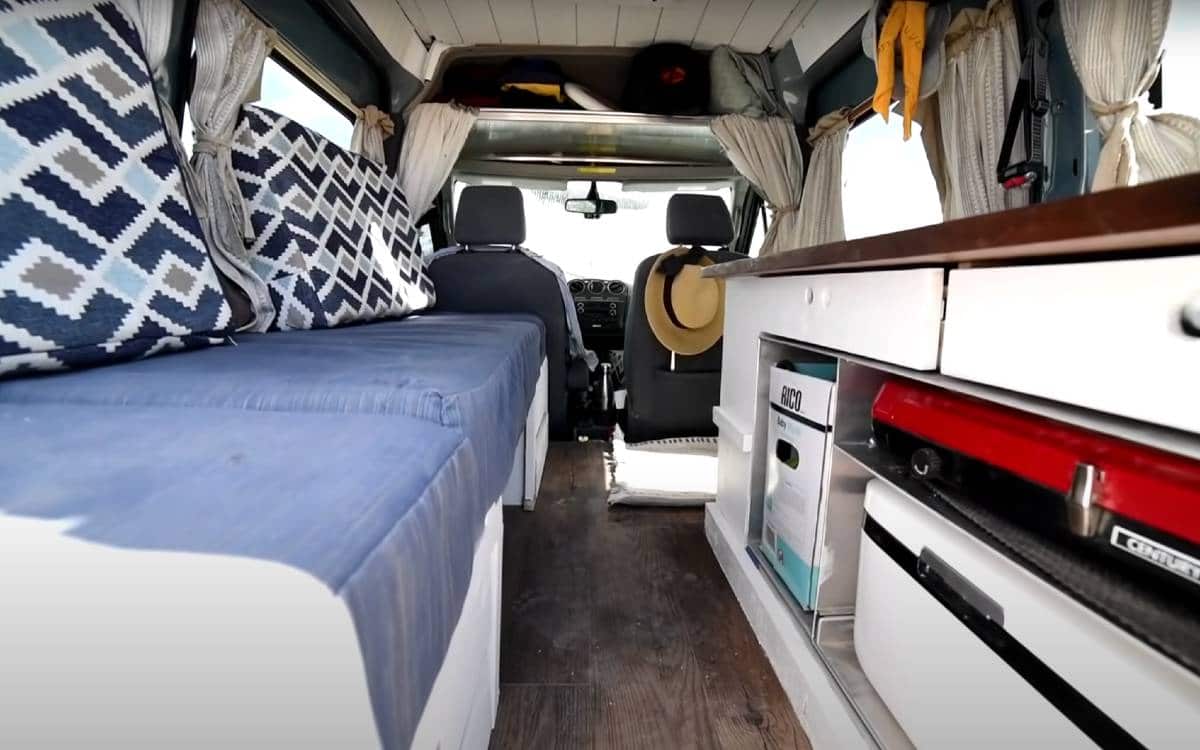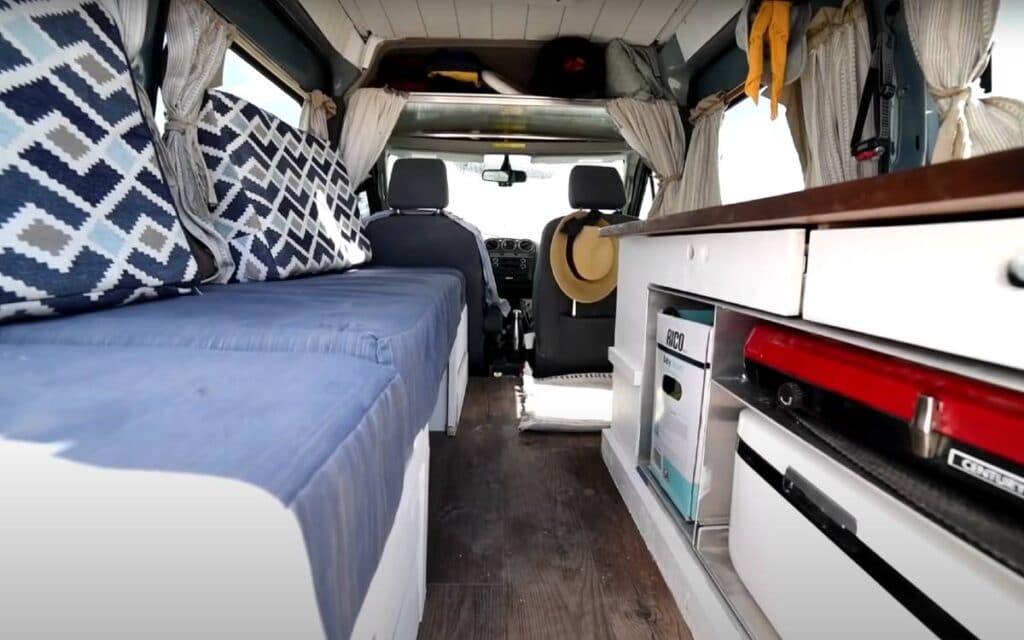 Kayla is a grad student that built out a DIY Ford Transit Connect camper van conversion to use while traveling full-time during the summer. In the spirit of a murphy bed, everything in this build was included in multiple ways to maximize usefulness and efficiency.
Drawers underneath the couch and above the overhead cab are the main storage for clothes and toiletries. Curtains separate the cab from the living space.
Kayla has kitchen pantry storage over the counter in her living space. A fridge is located under the counter that slides out, making it accessible outside. All the storage underneath the kitchen counter is on a pull-out drawer, which quickly creates an outdoor kitchen area.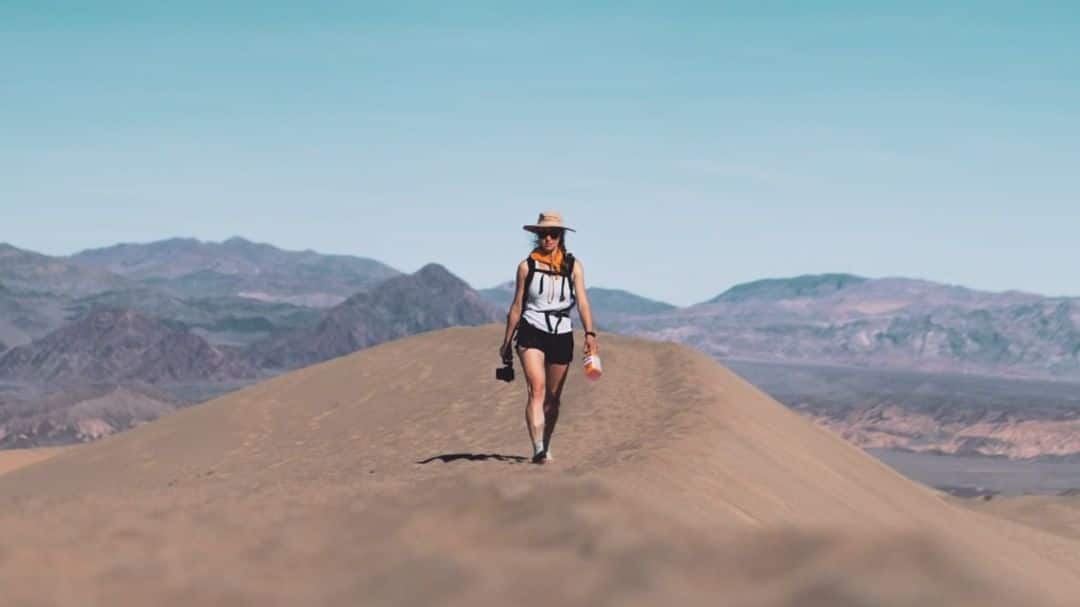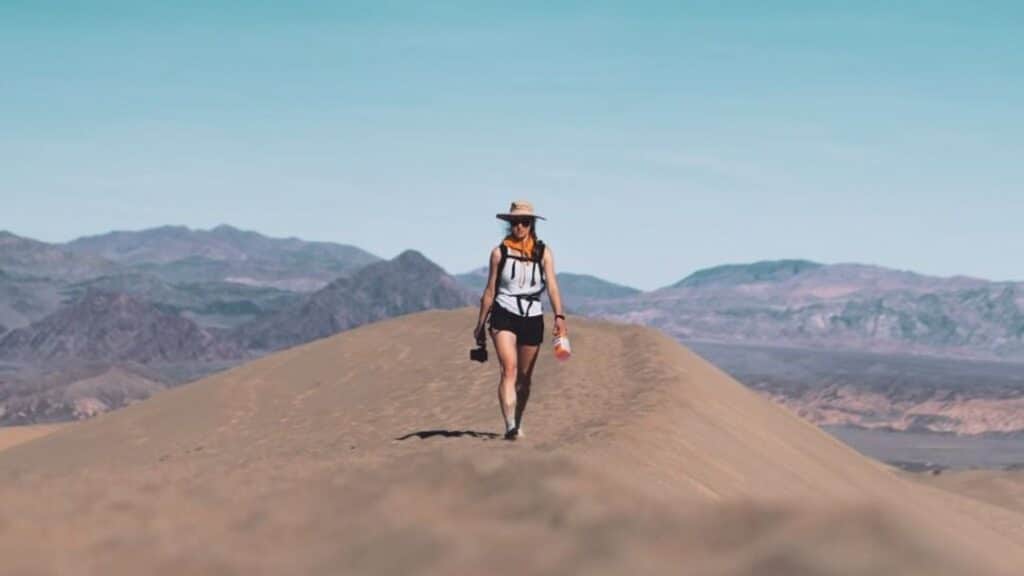 She has a couch on the driver's side of the living space, opposite the kitchen. While in couch-mode, it is easy to use the kitchen counters as a workspace while sitting on the couch. The couch frames expand by sliding out. The backrest cushions can be placed in the expanded space, creating a twin-size sleeping area. The living space also converts into a dinette area that can accommodate four people.
Kayla loves the challenge of working with and out of the small spaces of camper vans.
This $368 Ford Transit Connect build from @theotherside_vlog
Ian and Ana traveled internationally but came back to the states due to unforeseen circumstances. They bought a 2013 Ford Transit Connect cargo van to travel the US for a few months during the pandemic, and reached out to friends and family for help building it out.
With help from others, and using a simple, affordable design, they built out their Ford Transit Connect while spending only $368.15 on building materials.
They had a relative build the fixed platform bed, and they used lightweight planks for the ceiling and interior siding. Faux flowers and crushed seashells were used as added décor and to cover up imperfections that came with installing the planks.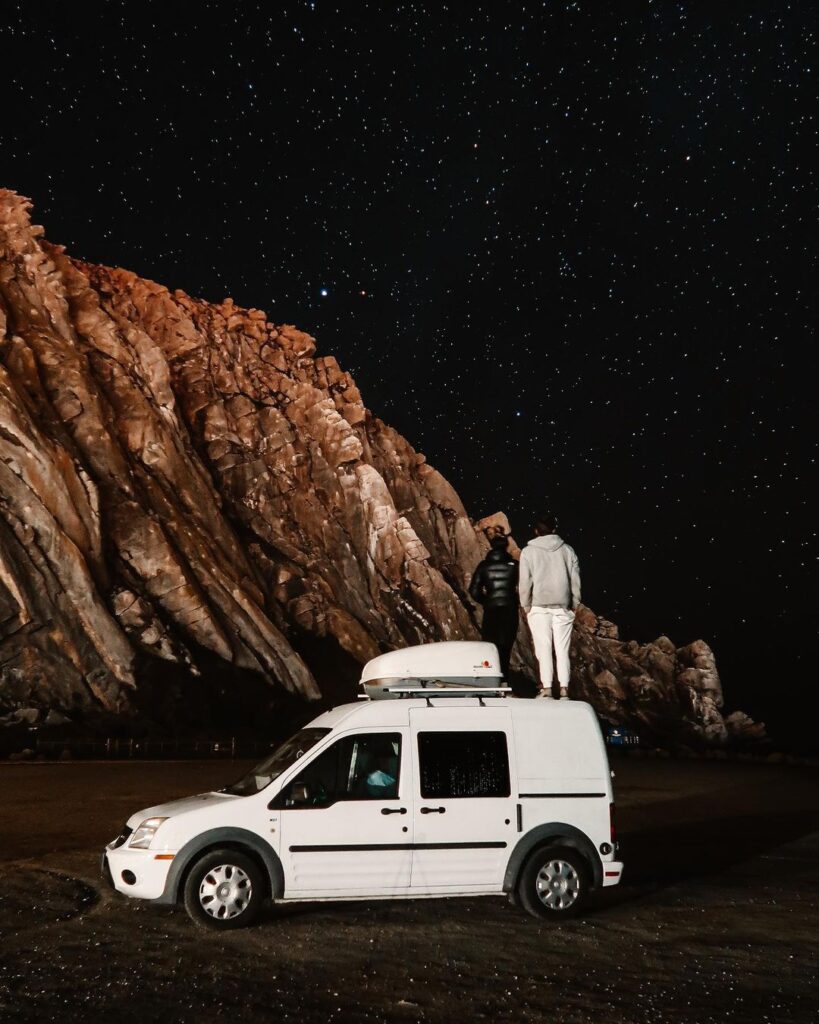 They put up a curtain to separate the cab from the living space, and string lights were installed all around the back to give the space a cozy vibe. Pillows and blankets add to the relaxing atmosphere inside this Ford Transit Connect camper van conversion.
Ana's advice to anyone interested in going on a van life journey like this is that you can't let life knock you down.
This practical Ford Transit Connect camper conversion from @alainmaven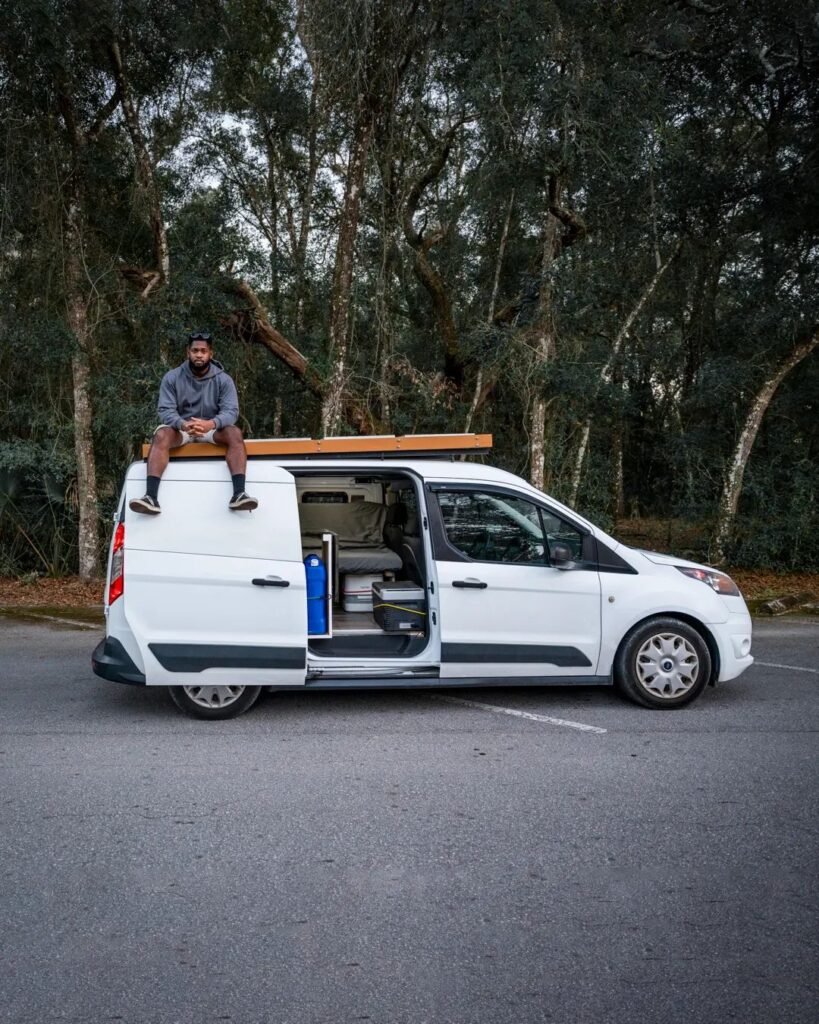 Alain is a photographer that enjoys traveling and working on camper van conversions. He spent about 9 months converting his 2015 Ford Transit Connect into a micro-camper.
On the exterior, he added rain guards to the driver and passenger doors and installed 300 watts of solar and a ceiling fan on the roof. A control panel inside controls the power, lights, and water pump.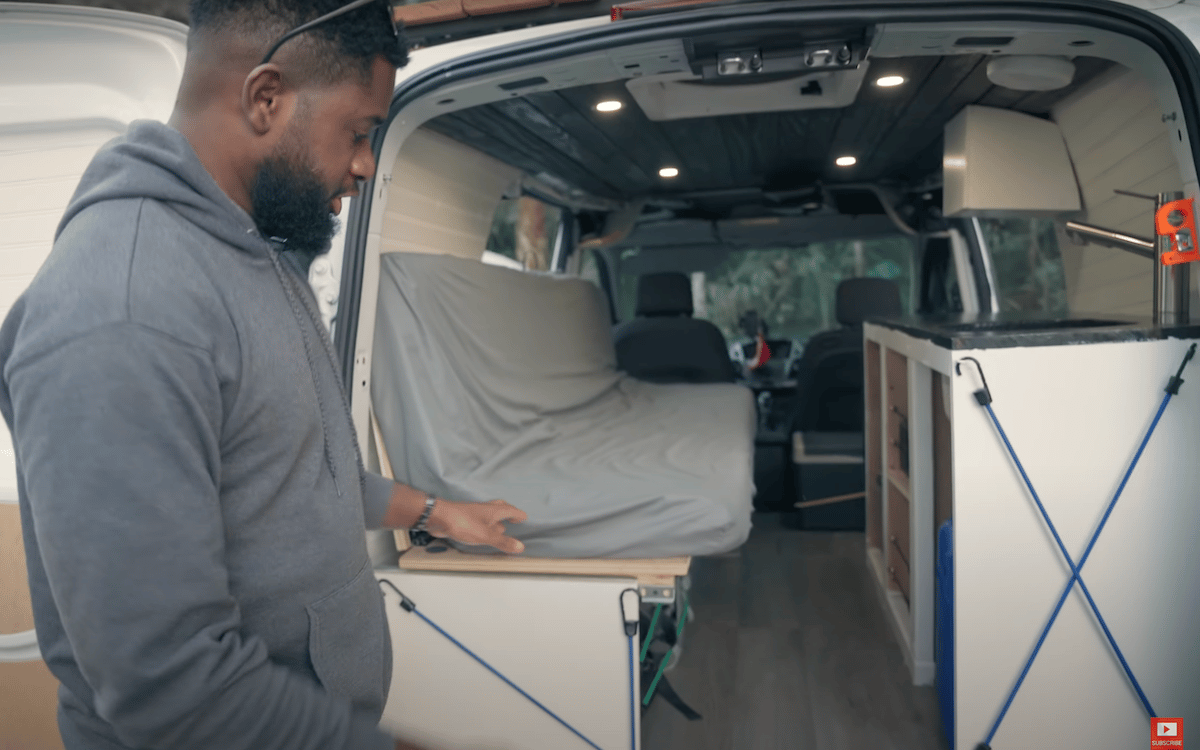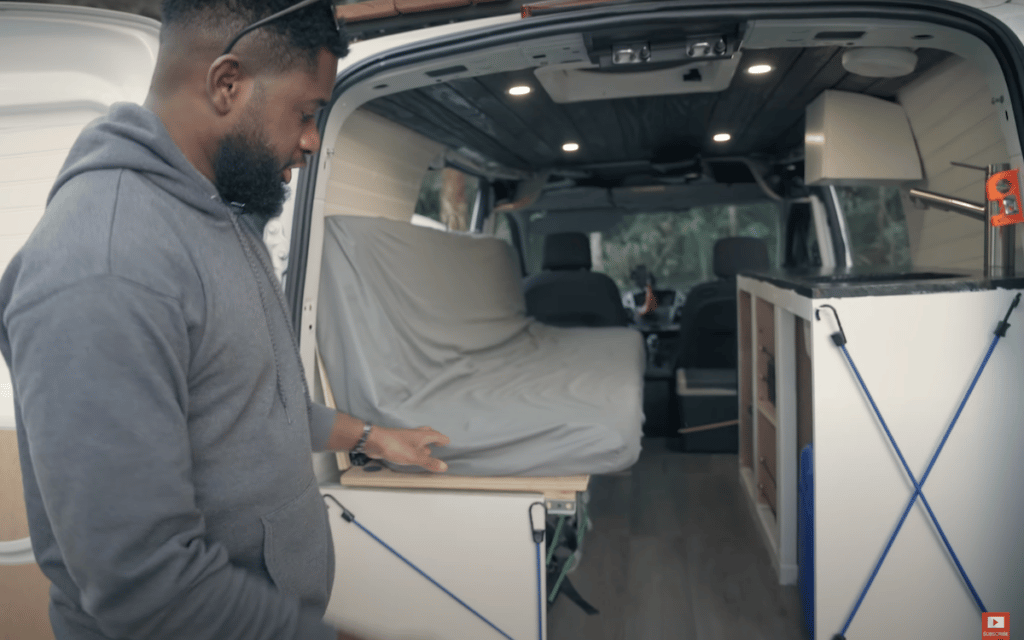 The interior of the van includes a kitchen. It features a flip-top table for additional counter space. Because of its position by the side door, this counter space can be utilized inside or outside the van. The kitchen is also outfitted with a sink that has running water.
The kitchen area extends along the passenger side, and a futon-style bed extends along the driver's side. Under the bed, is Alain's electrical system, which can be accessed through the driver's side door. The bed slides out like a drawer to extend to a twin-size mattress.
Beneath the flooring in the van's interior, Alain put in a small extra cargo area that can be accessed by removing one of the floor planks.
This slow-build Ford Transit Connect camper conversion from @milomeloy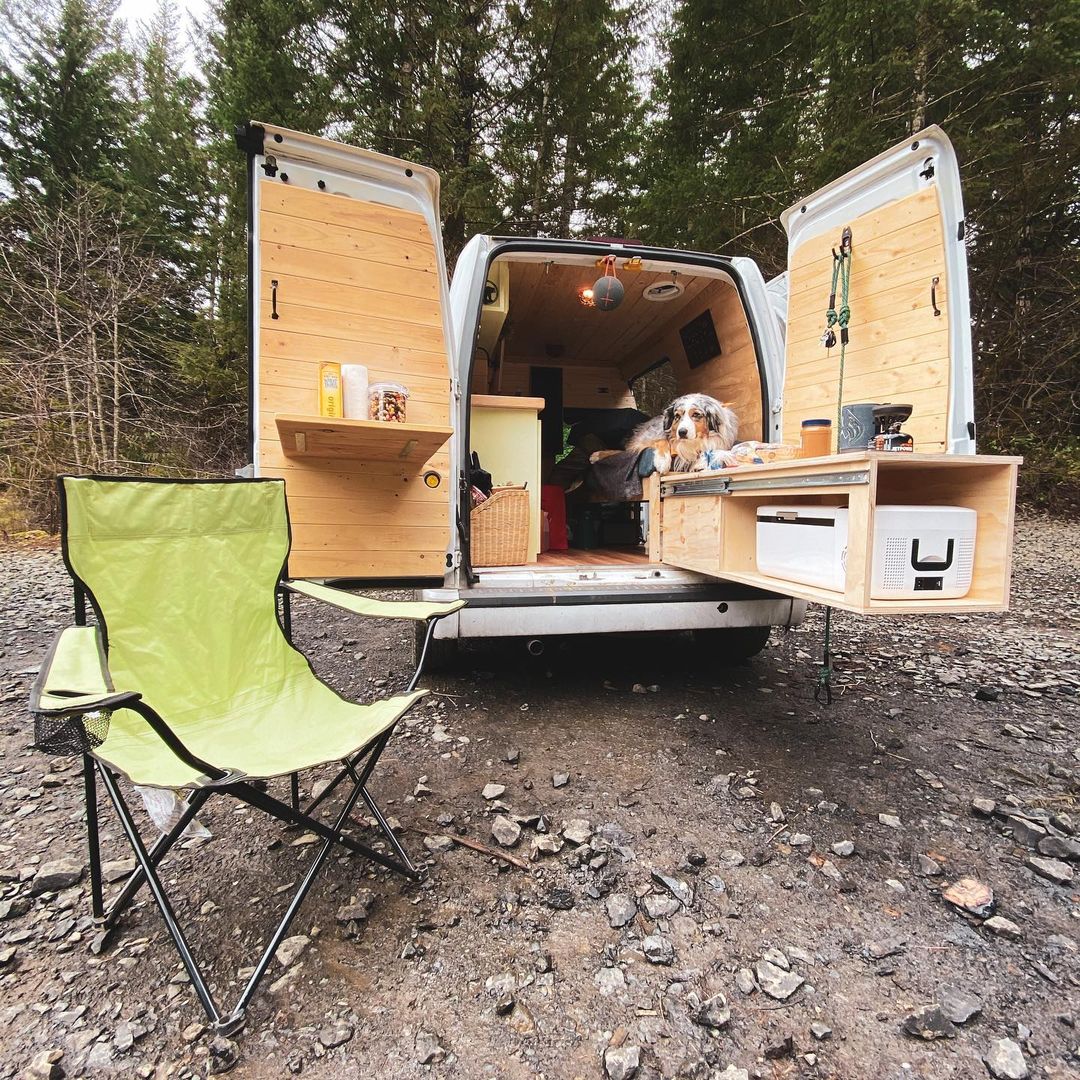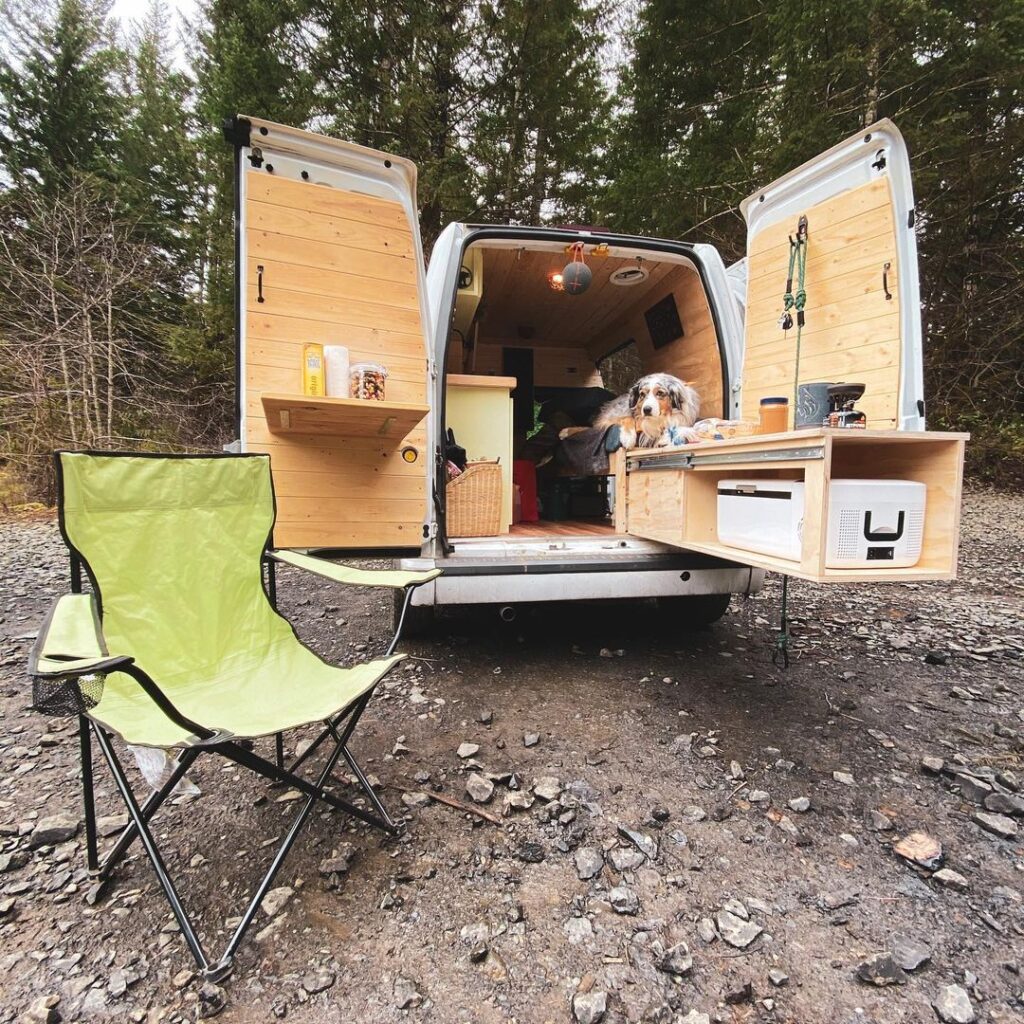 Milo and his dog, Teller, live full-time in their Ford Transit Connect camper, Dottie. Milo's interest in van life began through financial necessity. He moved into his campervan with just an air mattress and a cooler. He worked to make his camper an efficient, comfortable living space with this affordable, DIY van build.
Dottie is a 2013 Ford Transit Connect XLT. Despite her tiny size, this Transit Connect camper conversion includes a living space, office, and kitchen. His build has a pull-out kitchen, which stores a fridge, camp stove, and other miscellaneous cooking gear. The pull-out kitchen unit also doubles as a table, extending the kitchen area or acting as an outdoor office.
A pocket door separates the driver's area from the living space. Milo decided to remove the passenger seat from the van and replace it with a platform bed for Teller. There is storage for his window covers, a pop-up shower tent, and an electric bike underneath the dog bed.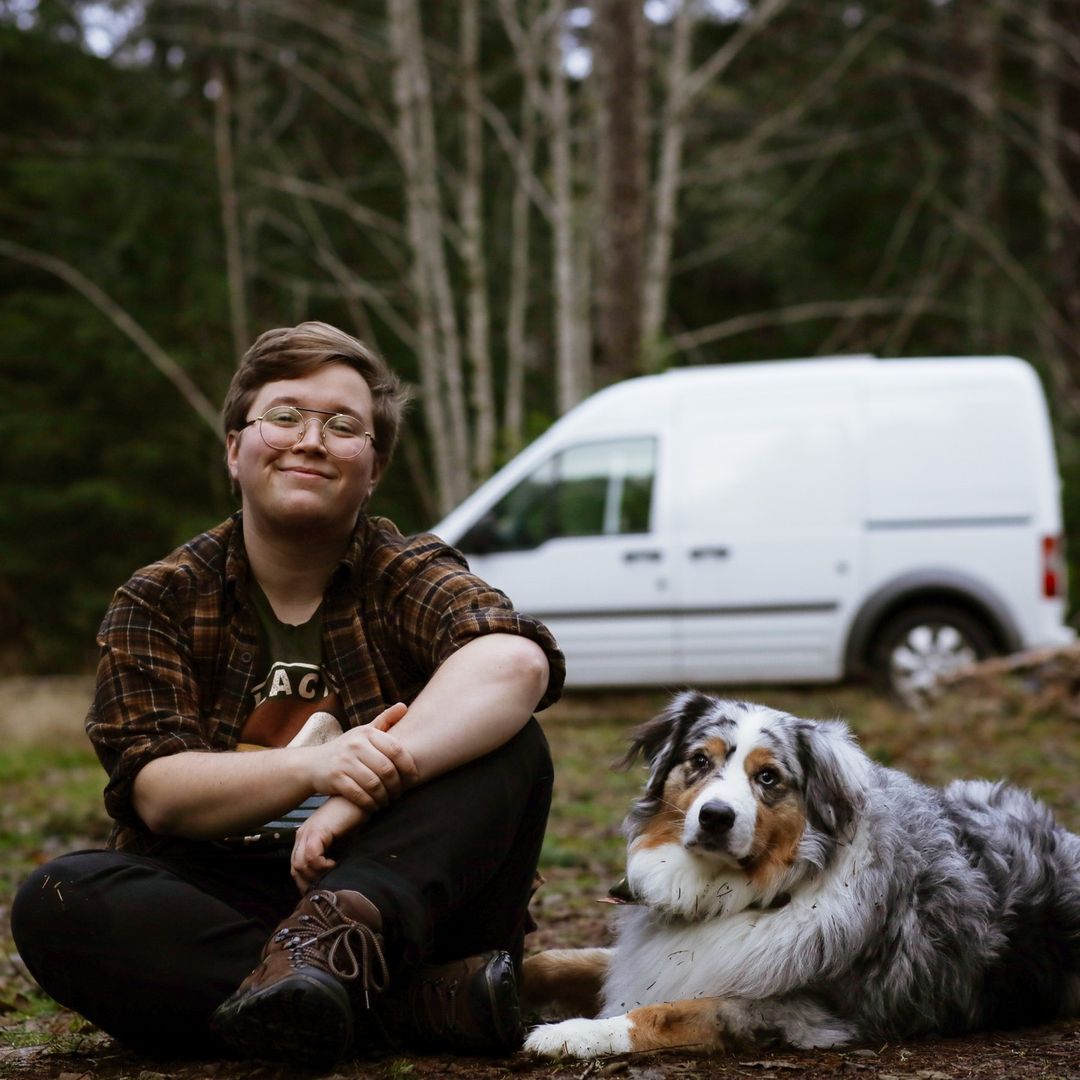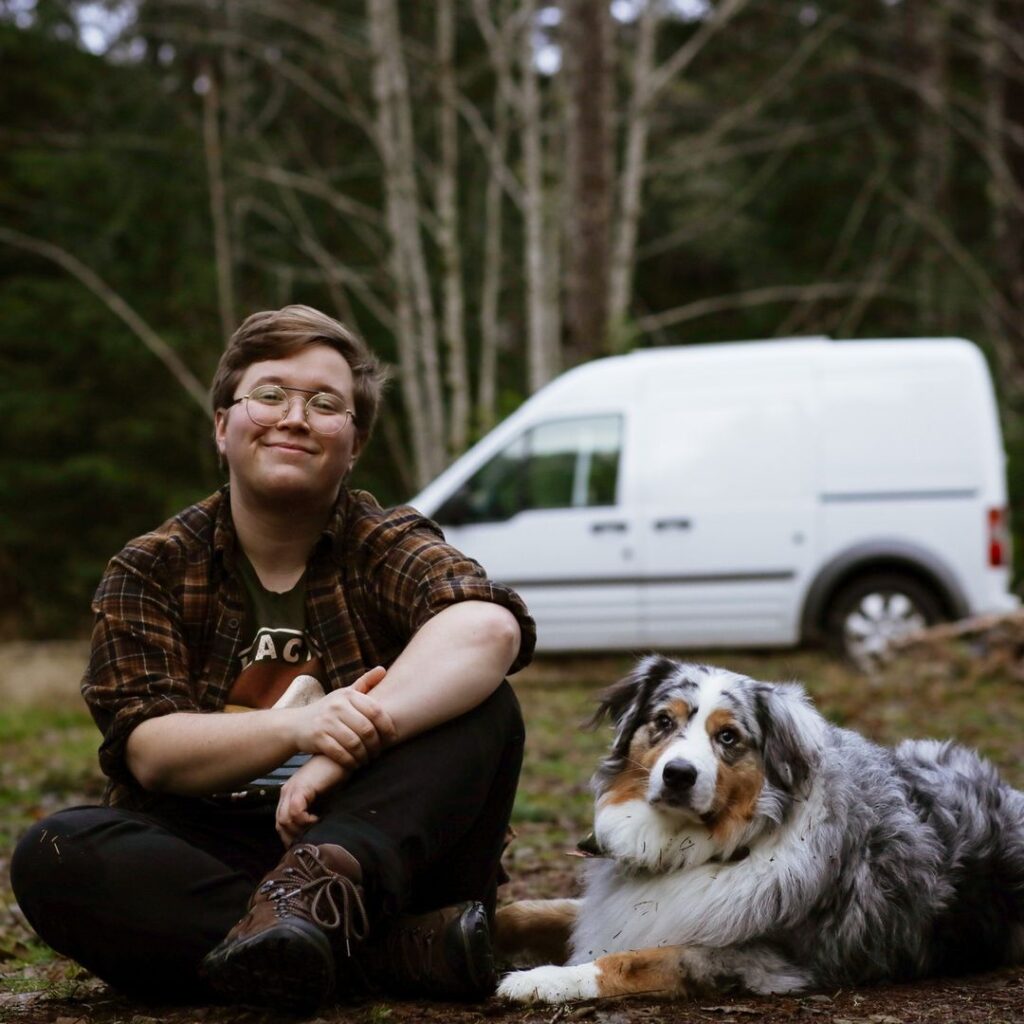 A garage is located within the van's dual sliding doors, accessible from the outside. It includes many typical things like screws, rope, tools, water storage, power strip, and electrical storage.
Since Milo's Transit Connect is a smaller version, it functions well with only 100 watts of solar on the roof. A small fan is also installed on the roof and is efficient for airflow in the living space.
Milo loves his Ford Transit Connect camper van. The size means less living space than the larger Ford Transit vans, but it also means it can fit into compact spaces and can maneuver through and into places where it may be challenging to drive a larger rig.
This $1600 budget Transit Connect van life build from @ladybug.out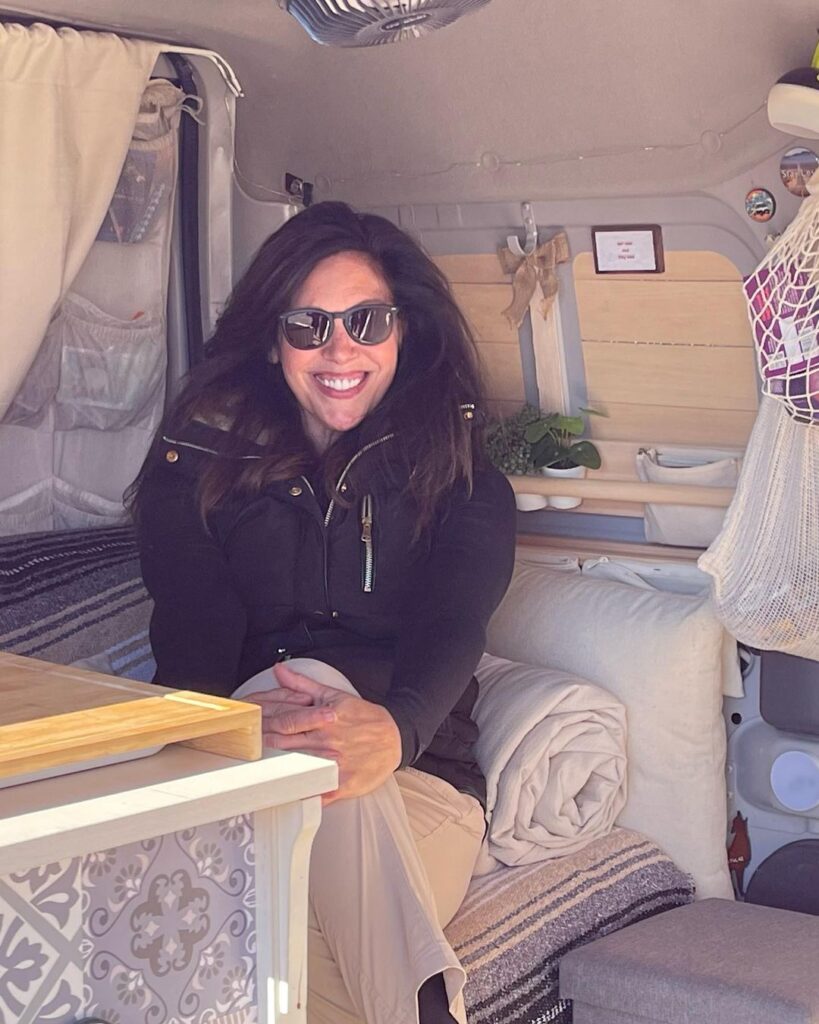 Dee travels in a 2010 Ford Transit Connect named Lady Bugout due to its red color. Her build is one of the simpler, more affordable Ford Transit Connects on this list, costing $1600 for everything used in the interior setup.
The van has curtains that extend across the front windshield for privacy and covers for the driver's and passenger's side windows. She also has curtains to separate the cab from the living space and in the back and sides of the van for more comfort and privacy when her doors are open.
Dee travels with a cooler and Jackery portable power station. She prefers smaller jugs for her water system because they are easier to carry and fill up versus larger water tanks. Her shower setup includes a 2.5-gallon water tank with a built-in pump and an attached showerhead.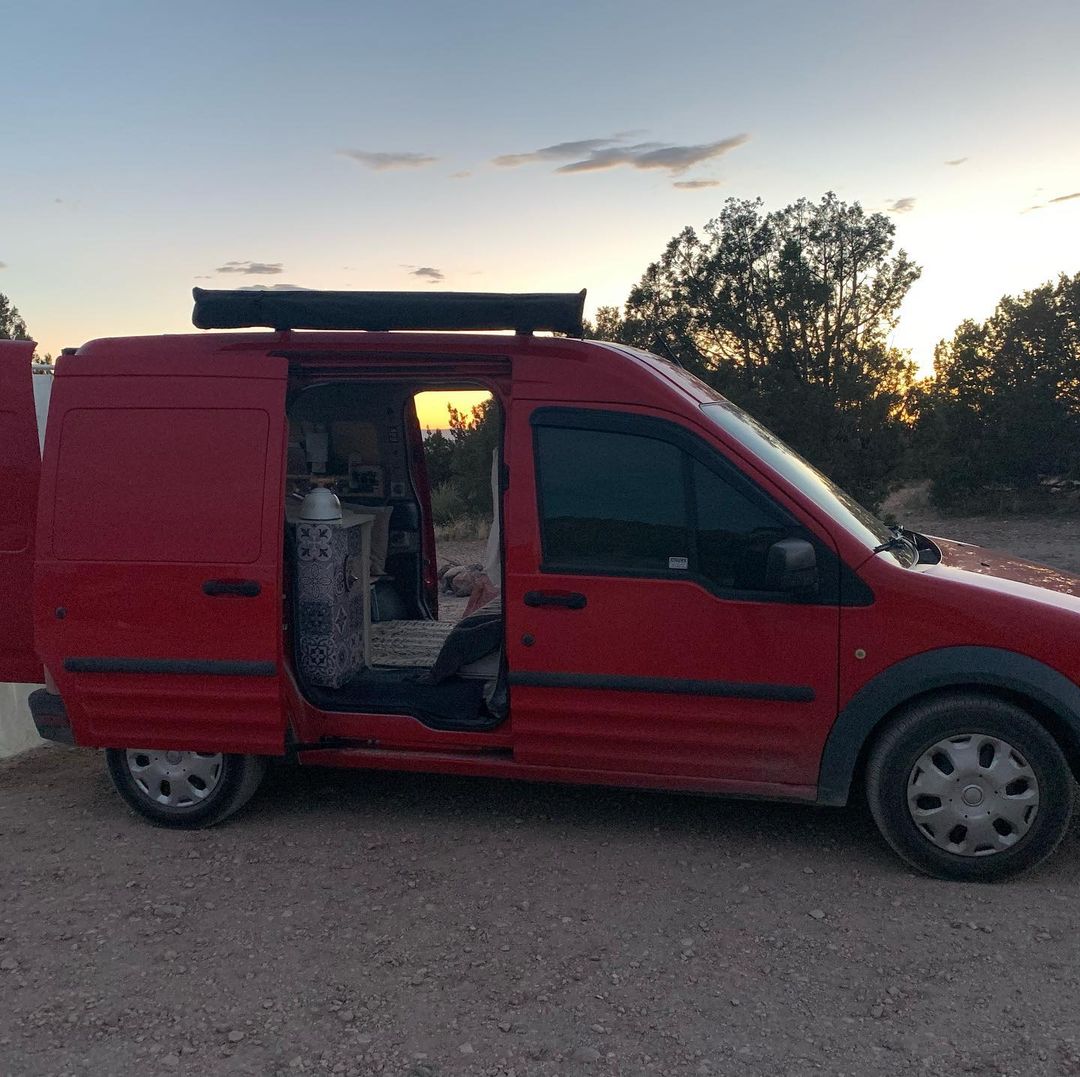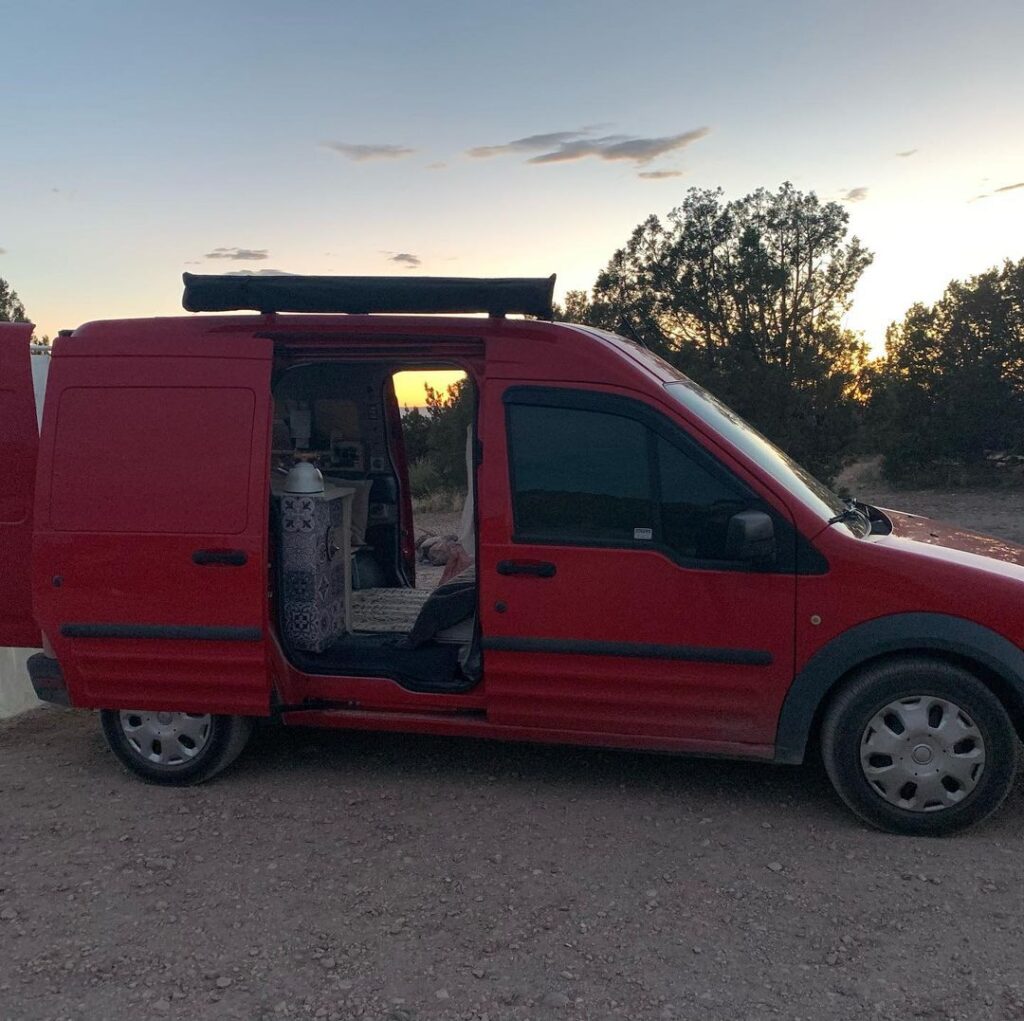 A rug acts as her flooring and also insulates the floor. Her futon-style bed is in the back of the van, creating more living space than when she had her bed running alongside her kitchen. A small garage under the bed stores her clothes and tools.
Dee bought a slim bathroom cabinet to have more space while also providing counter space and storage for food and kitchen supplies. She uses a storable butane camp stove for cooking and has an awning attached to the side of the vehicle for a quick way to create an extension of her living space.
Little additions provide comfort and convenience in this tiny build, including a small magnetic light, hooks for keys and various items, a small mirror in the living space, and a curtain that runs along the back next to the bed.
This Ford Transit Connect camper has everything Dee needs to live life on the road. She lists many of the items she used in her build in the description of her van tour video.
Build Your Van
The Ultimate Van Build Guide
Planning a van build? Read our free guide. We cover just about everything you need to know – from planning, to insulation, to solar and electrical, to picking appliances, to essential tools. Get started today so you can get out there on the road!