How do you get mail and packages when you're traveling long term and you don't have a fixed address?
This is one of the challenges of life on the road, but it's not an insurmountable one. No matter what you need to have shipped to you – a letter, a package, an important piece of mail, a shipment from Amazon – there's a way for you to get it no matter where you are.
Even though we might be passing through three (or more) different states in any given month, we're still able to get our mail, friends and family are still able to send us packages and vanlife gifts, and we're still able to order things online that we can't find locally.
In this post we go over the most useful ways to get your mail and packages on the road (including the only reliable way we've found to receive Amazon orders at any Post Office). Just because you don't have a fixed address doesn't mean you can't get your mail!
How and Where to Receive Packages and Mail
USPS General Delivery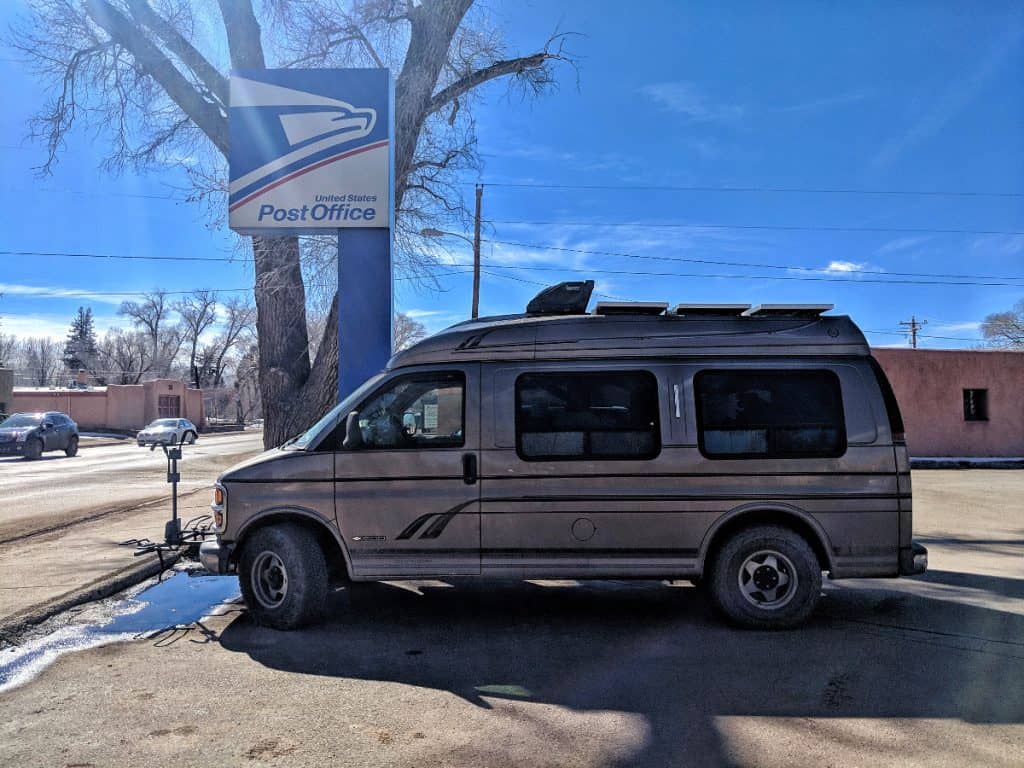 Did you know you can receive packages and mail at almost any Post Office free of charge? That's right!
This is our primary method of getting things shipped to us on the road. Most towns have a Post Office, so this is very convenient when we're in rural or out-of-the-way places (which we are much of the time).
Here's how to get your mail/packages via USPS General Delivery:
Find a Post Office that accepts General Delivery. Either use the Postal Service's post office locator tool, or simply google "USPS General Delivery in Town, State." The Postal Service also has a mobile app that allows you to search for locations. Once you find a Post Office, make sure "General Delivery" is listed under the services offered.
Make sure your package/mail gets sent via USPS. Third-party services like UPS and FedEx will not deliver to Post Offices, so anything sent General Delivery needs to be sent via the Postal Service. Making sure your mail gets shipped USPS is easy if a friend or family member is sending you something. But if you're ordering something online, make sure the retailer can ship via USPS. This can be particularly difficult with Amazon (see our tips below).
Address your package properly. Here's the address formatting you need to use for General Delivery:
Your Name
General Delivery
Town, State Zip-9999
There's no need to put in the address of the Post Office – simply putting "General Delivery" and town/state/zip+4 is enough. The -9999 after the zip is code that lets the Post Office know that this is general delivery mail.
Example:
John & Jayme Serbell
General Delivery
Terrebonne, OR 97760-9999
4. Pick up your items at the Post Office. Once your package is delivered, head to the Post Office, show them your ID, and walk out with your package/mail!
Tips for using General Delivery:
We've had the best luck using small town post offices. Staff tends to be friendlier, and there's just a lot less going on.
If there's more than one Post Office in the area, make sure you're going to the right one. General Delivery mail will be sent to the area's main post office.
Make sure to call the Post Office and ask how long they hold General Delivery mail. Many Post Offices will hold your mail for 30 days, but some locations will only hold it for 5-14 days.
Outside of the US? General Delivery is Available in Your Area Too!
If you're traveling in another part of the world, general delivery services should be available for you to receive your mail. General Delivery is known as Poste Restante in most other continents, including Europe and Australia. If you're traveling in Canada, Canada Post also offers General Delivery/Poste Restante services. Check out this page for General Delivery resources around the world.
The Only Way to Successfully Receive Amazon Packages via General Delivery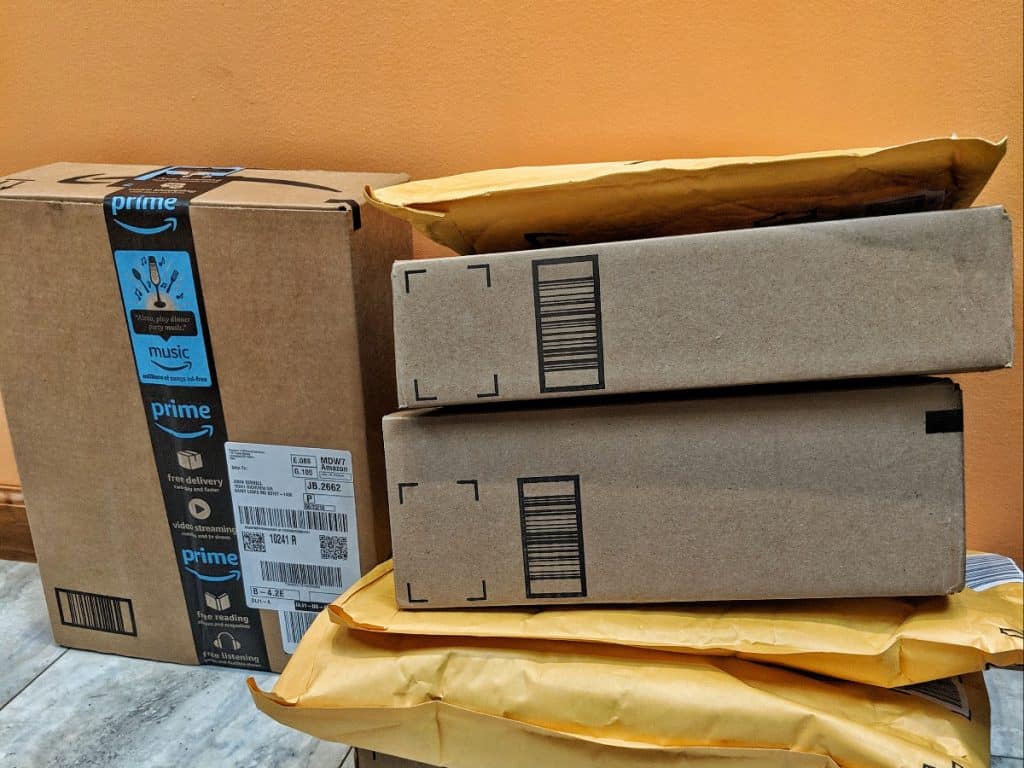 When you order something on Amazon, you can't pick the shipping method. Even if you're using a General Delivery address, even if you call them and tell them to only ship via the Postal Service, there's no guarantee that they'll ship it that way. Many times we've had to deal with packages getting rejected and sent back because Amazon shipped them via UPS.
But, there is a way to trick Amazon's shipping algorithms and force them to send any General Delivery package via USPS. How do you do it? Simply add a blank PO Box entry to the address.
Here's how to format General Delivery addresses for Amazon packages:
Your Name
General Delivery
PO Box
Town, State Zip-9999
Just adding "PO Box" (without a number) to the address forces Amazon to ship your package via USPS. We've tried everything, and this is the only way that's worked consistently for us.
Amazon Lockers (Amazon orders only)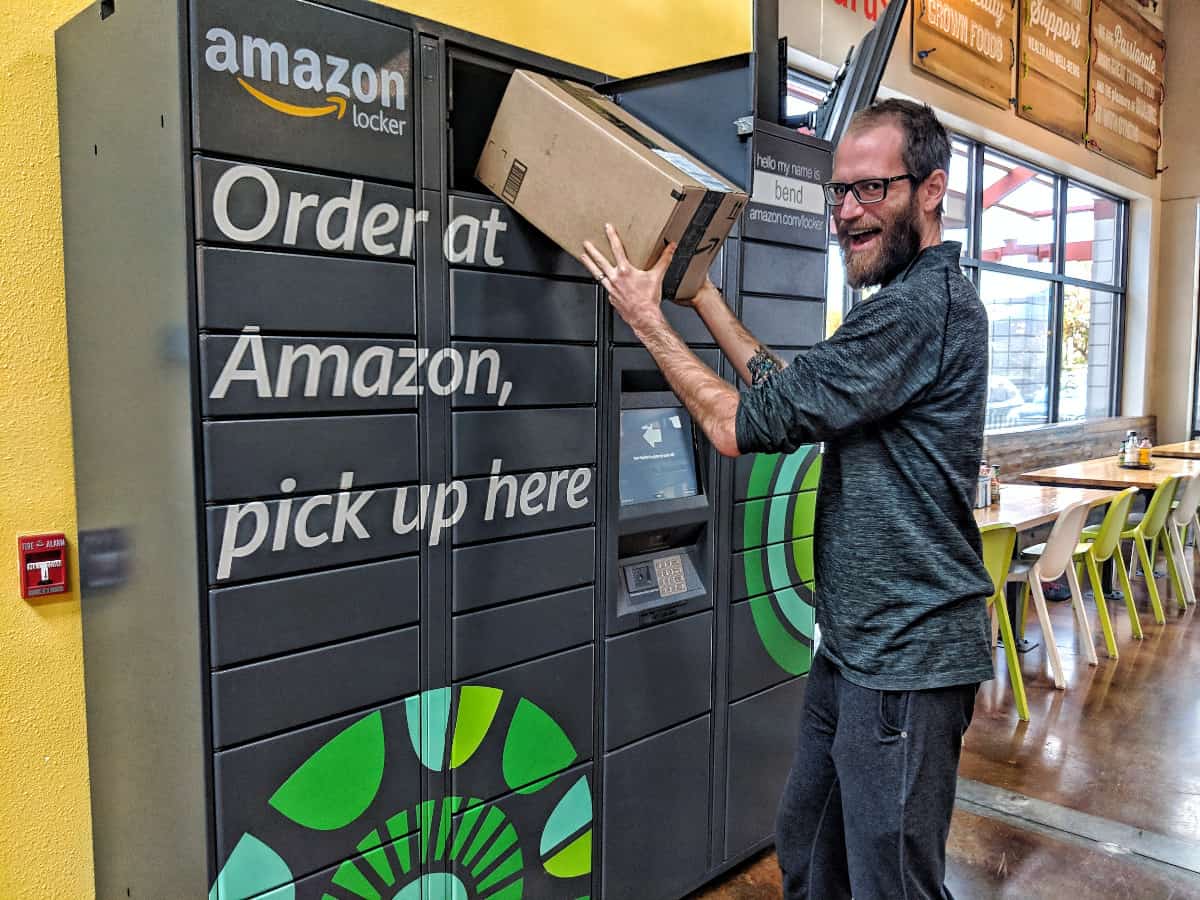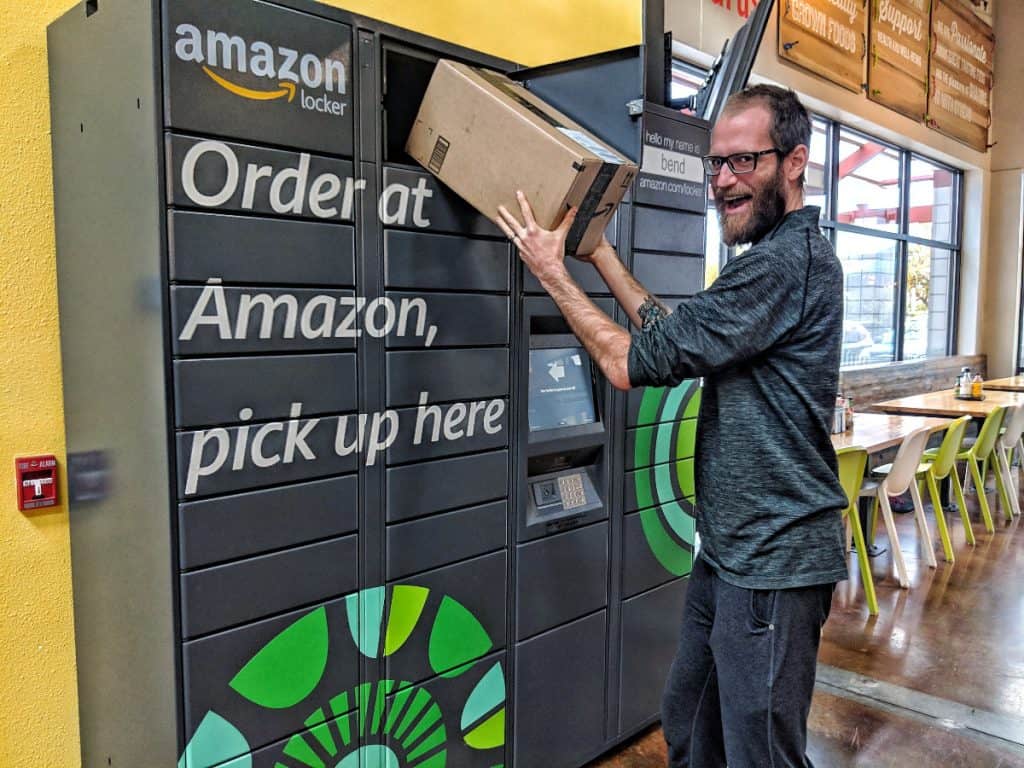 Sometimes Amazon is the only place to get a certain item, and the free two-day shipping with Prime makes it easy to get packages quickly and reliably on the road.
Conveniently for us, Amazon has built out a network of Amazon Lockers where you can send your packages for pickup. If we know we'll be in an area that has an Amazon Locker, we can place an order and our packages will arrive in about two days. Then we simply show up at the locker and pick them up.
Here's how to use Amazon Lockers to receive Amazon packages on the road:
Search for an Amazon Locker by location. Add the most convenient one to your Amazon address book (you can also search for and add Amazon Lockers during the checkout process now).
Select the Amazon Locker as your shipping address when you place your order. The Amazon App will notify you when your package has been delivered.
Go to the Locker location (usually inside or near a store). Your Amazon App has a pickup code for your packages. Enter the code in the keypad, and your packages will pop out.
Super easy! But there are also a couple things to be aware of:
You must pick up your packages within three days of delivery, so make sure to plan your travel accordingly. We've almost missed this deadline before because our package arrived sooner than we expected (if this happens, your package will be sent back to Amazon and you'll get a refund).
Amazon Lockers are showing up in more and more places, but right now they are concentrated mostly in coastal and major metropolitan areas. If you're not near one of these, then we recommend using USPS General Delivery to receive your package (see above).
Prime is not required to use Amazon Lockers, but we've found that the free two-day shipping and other perks have been more than worth the fee.
Ship to Local Businesses or Mailbox Services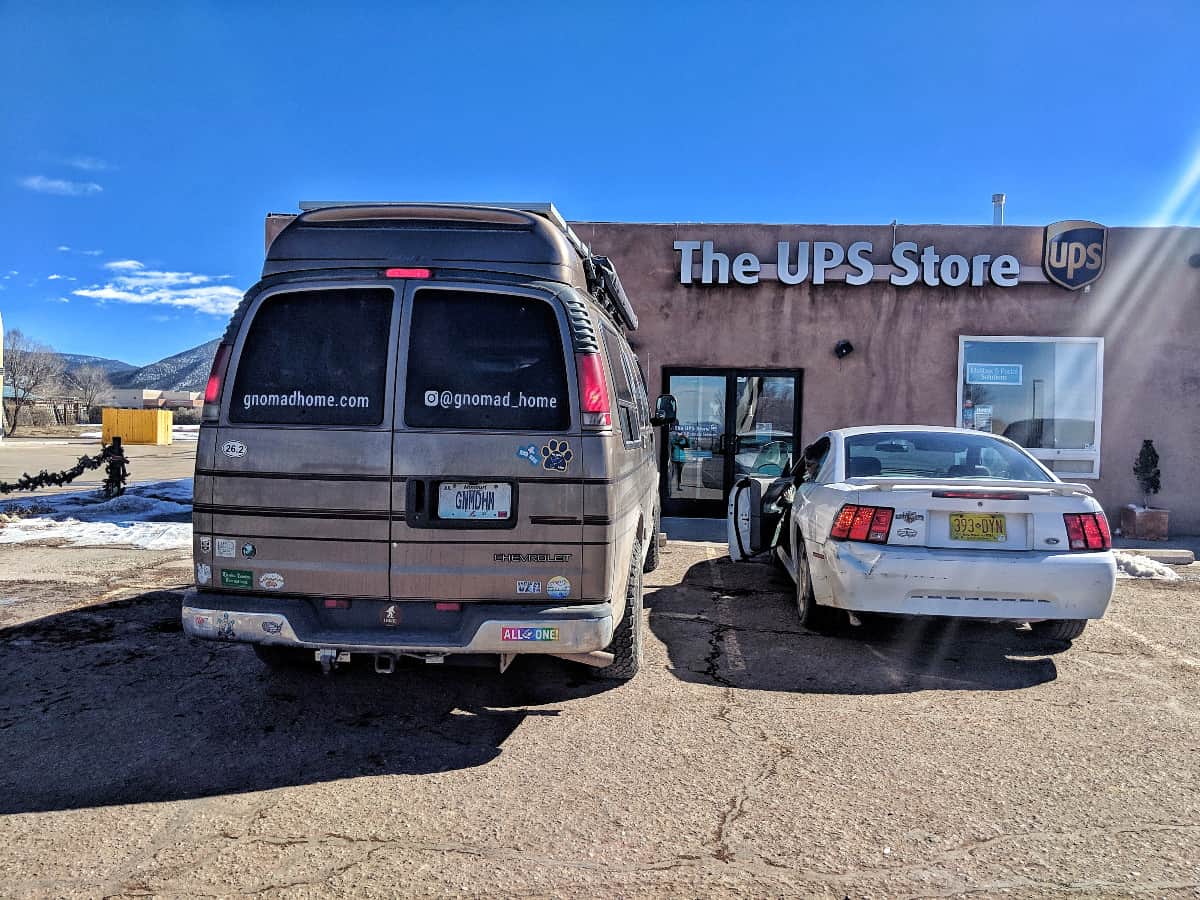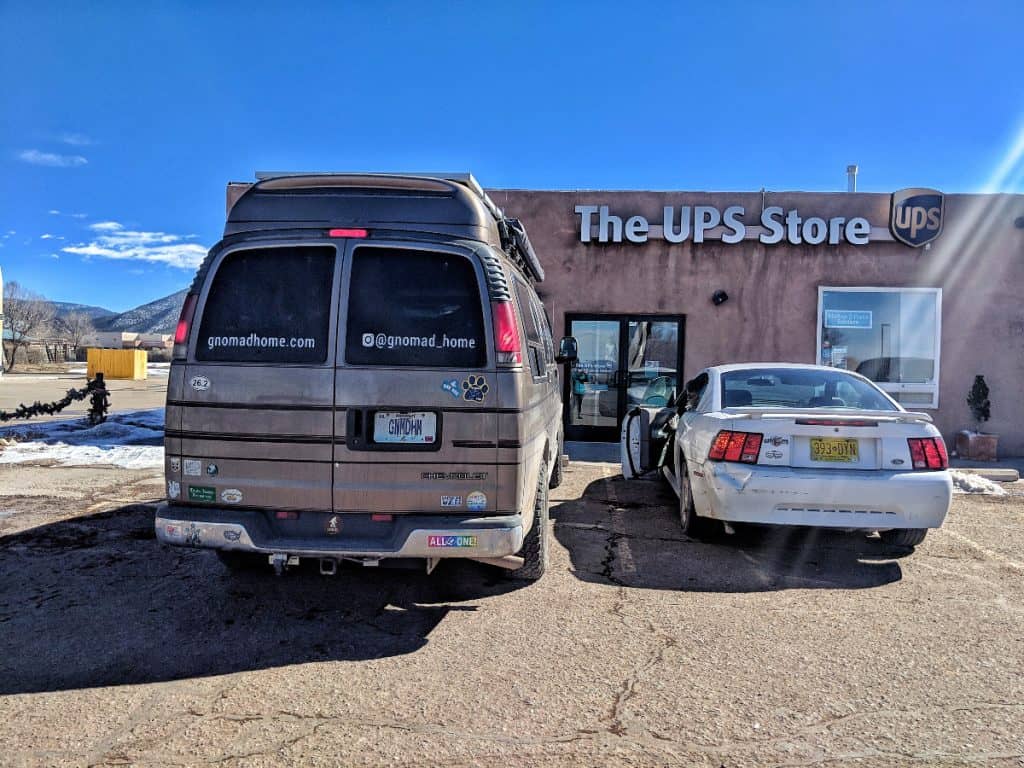 If you're a customer, some local businesses may be willing to receive mail or packages for you – just ask! You can also ship UPS/Fedex packages to UPS/Fedex distribution centers or store locations for a fee – though this can sometimes be hit or miss.
Friends and Family
This is an obvious (and very reliable) way to get your mail and packages on the road. We're lucky enough to have friends and family scattered all over the country, and we like to pop in and visit them when we're passing through their area. If we know we'll be visiting someone ahead of time, we'll usually ask if we can send some packages to their address.
Campgrounds and RV Parks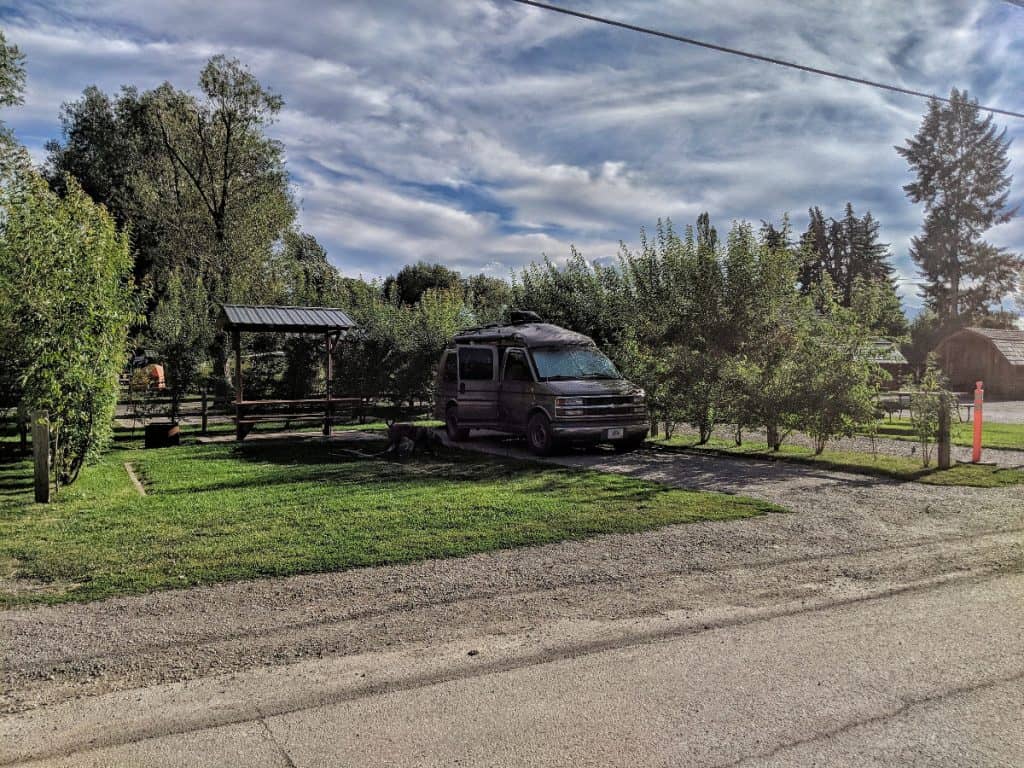 Many campgrounds and RV parks are willing to receive mail and packages for their guests. If you know you're going to be posted up at a campground for a bit, it can't hurt to ask them if you can ship stuff there. If you're expecting mail, make sure to let the campground know and find out if they have specific requirements for how to address it (i.e. including your site number, listing "hold for pickup," etc).
We generally boondock vs staying in private campgrounds so we haven't used this option ourselves – but many RVers regularly ship their mail to campgrounds with success.
Walmart Ship-to-Store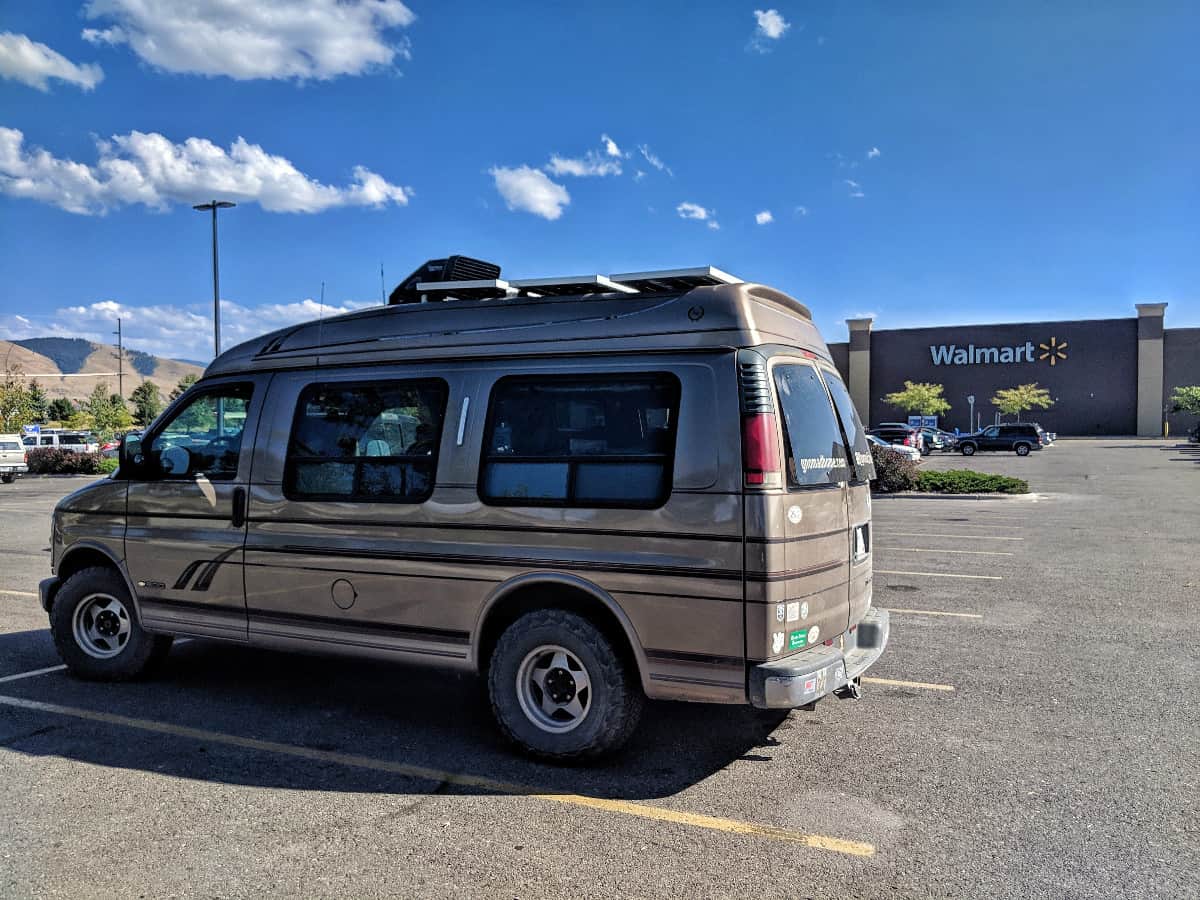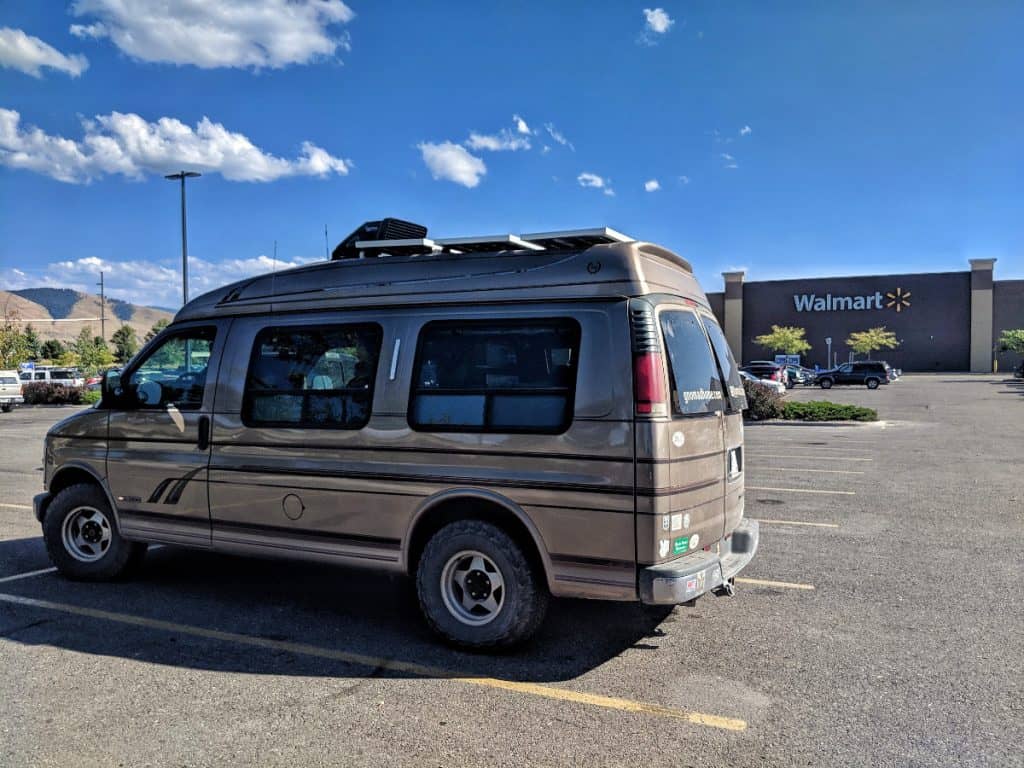 Walmart has really stepped up their ecommerce game lately, and the variety of items available on Walmart.com is starting to rival Amazon. Luckily for us nomads, they offer free ship-to-store on many items – so if we need something we can't find locally, we can have it shipped to a nearby Walmart for pickup. Since there are Walmarts literally everywhere (and we sometimes even sleep at them), this is uber convenient.
To ship something to a Walmart store, first log on to Walmart.com and search for your item. Then, make sure "Free Pickup" is listed below the item (you can also filter your search to show just items available for pickup). Only products shipped from Walmart are eligible for store pickup, so you can't do this with items from third party sellers listed on Walmart.com.
Other Retailer Ship-to-Store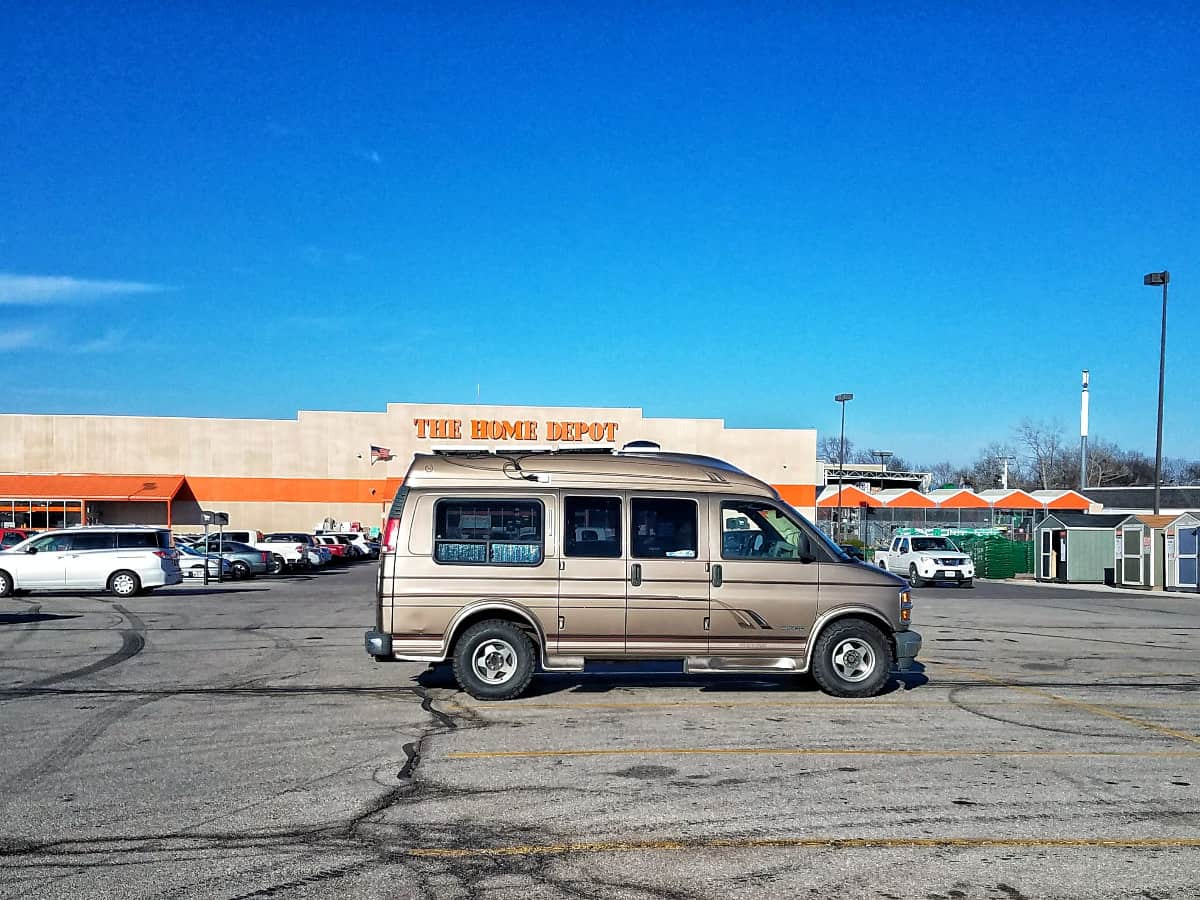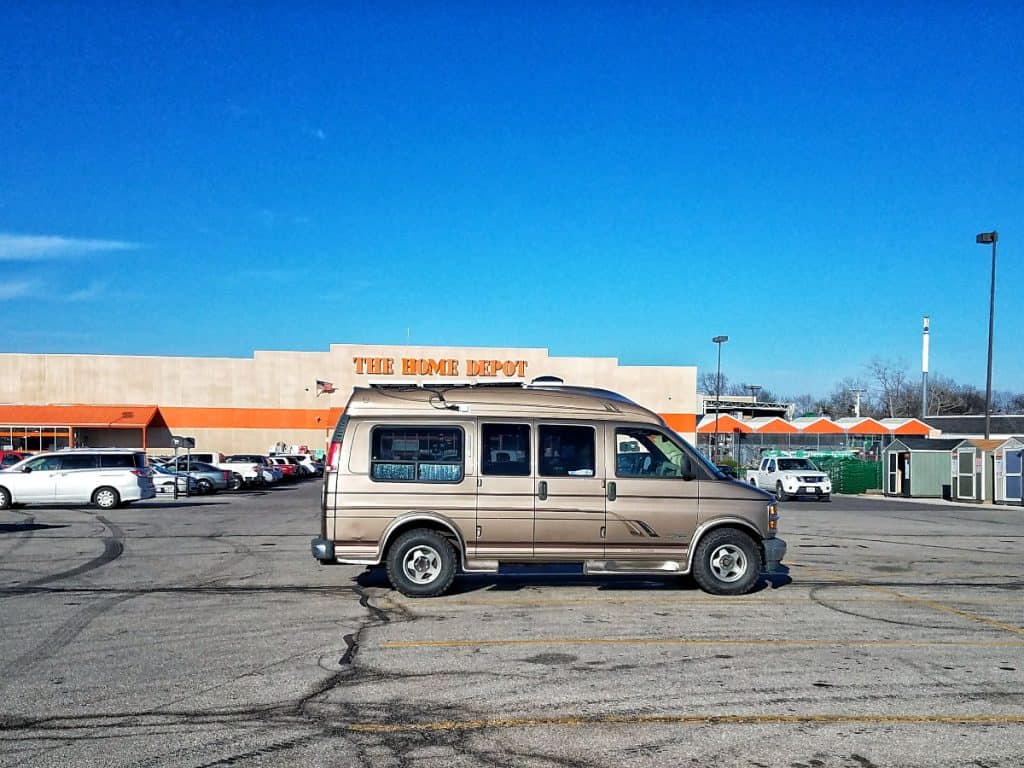 Walmart isn't the only physical retailer getting in on the ship-to-store game. Need tools, or even solar panels? Homedepot.com offers ship-to-store for some items. Want a book that you can't find in a local shop? (We always recommend checking local stores first) Buy it on Barnesandnoble.com and have it shipped to a nearby location. Need auto parts? Retailers like Autozone and Advance Auto Parts offer free store pickup for some items.
Receiving Regular Mail While on the Road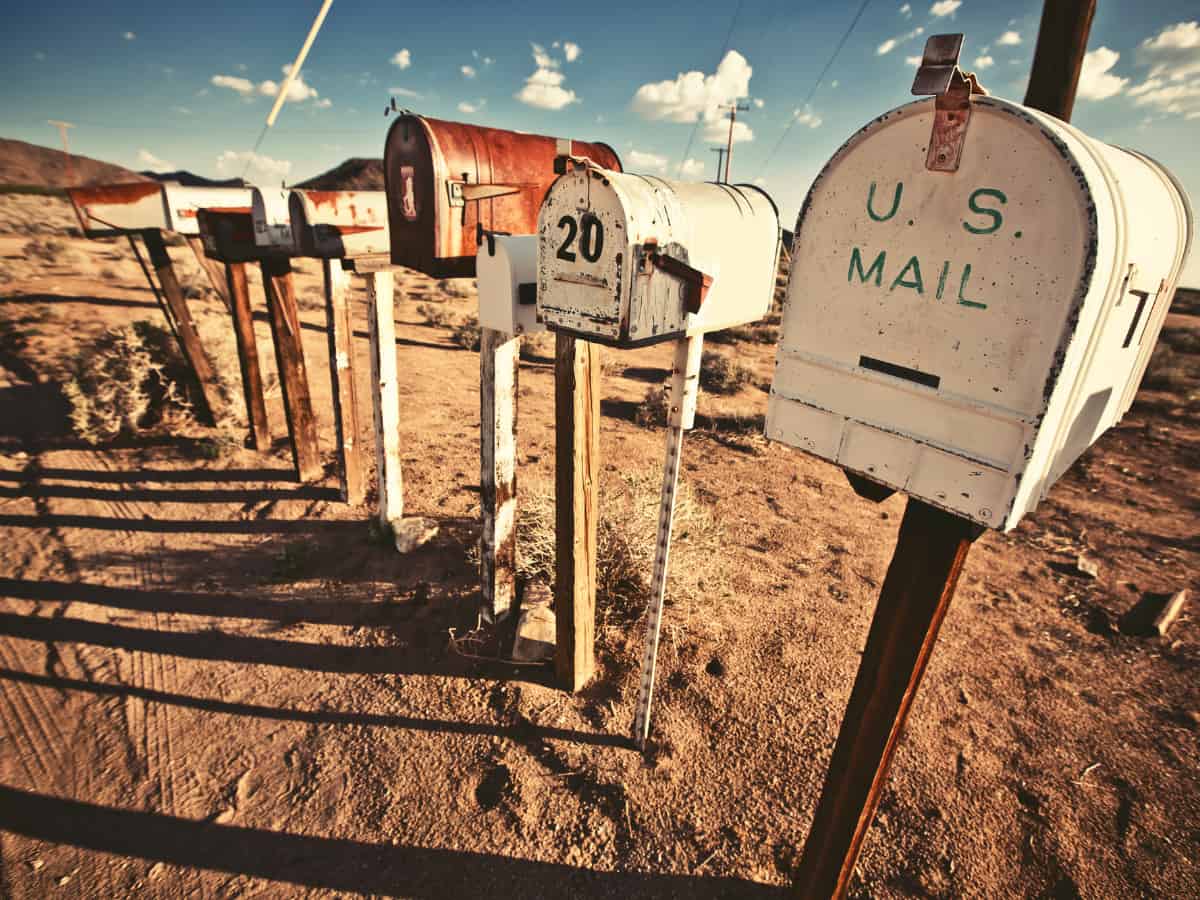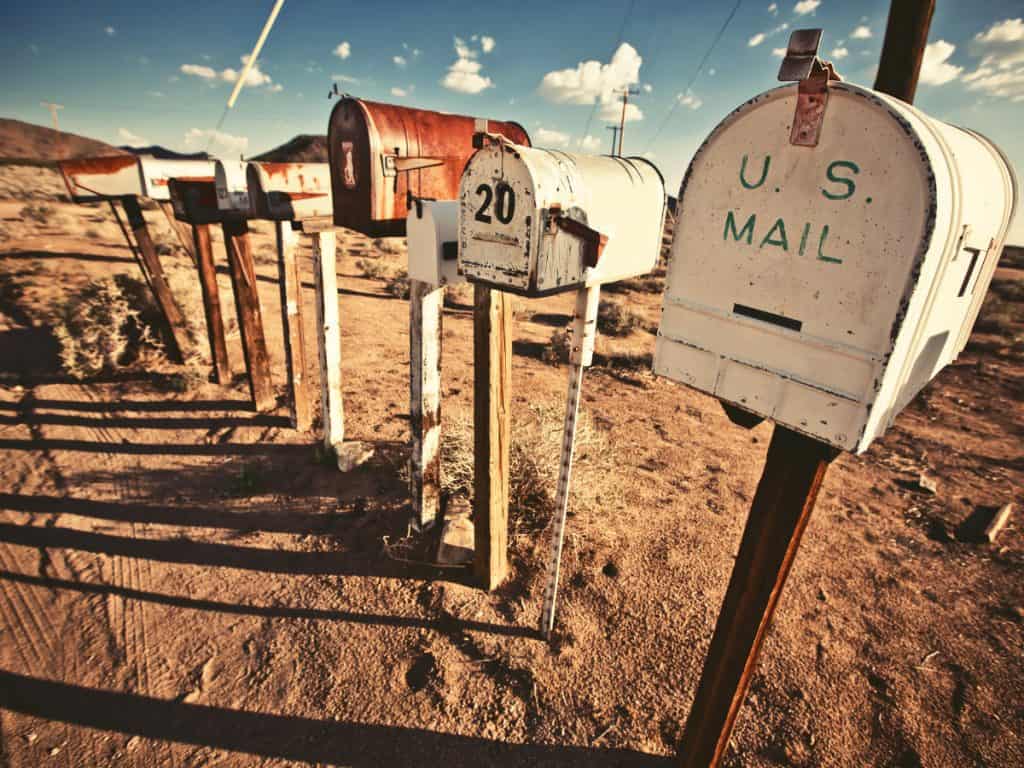 The world hasn't fully converted to digital quite yet, and sometimes you need a mailing address and a way to receive regular mail during long term travel.
And if you're a full timer, you'll also need an address to register your vehicle, get insurance, a driver's license, and bank accounts, and file your taxes. We cover the broader issues of establishing domicile for nomads in another post – but for now we aim to answer this question:
How do you receive your regular mail when you're living on the road or traveling for an extended period?
Ask a Friend or Family Member
This is the easiest, cheapest, and most obvious way around the whole "mailing address" thing – ask a friend or family member to receive your mail, and ship important things to you via USPS General Delivery (or another method) wherever you're currently located. Our first 18 months on the road, we used John's parents' address back in Missouri as our mailing address. They would let us know whenever we got something important-looking, and send it out to us as-needed.
Use a Mail Forwarding Service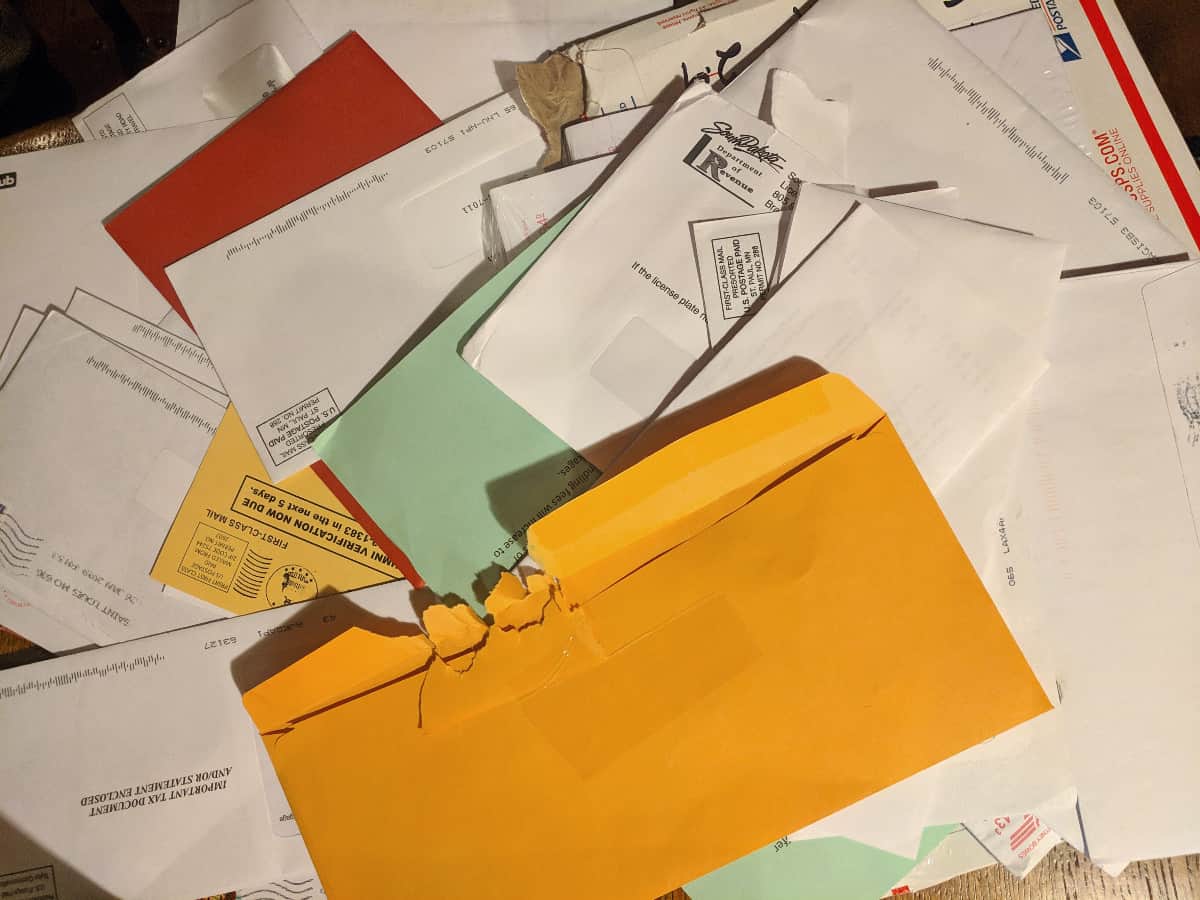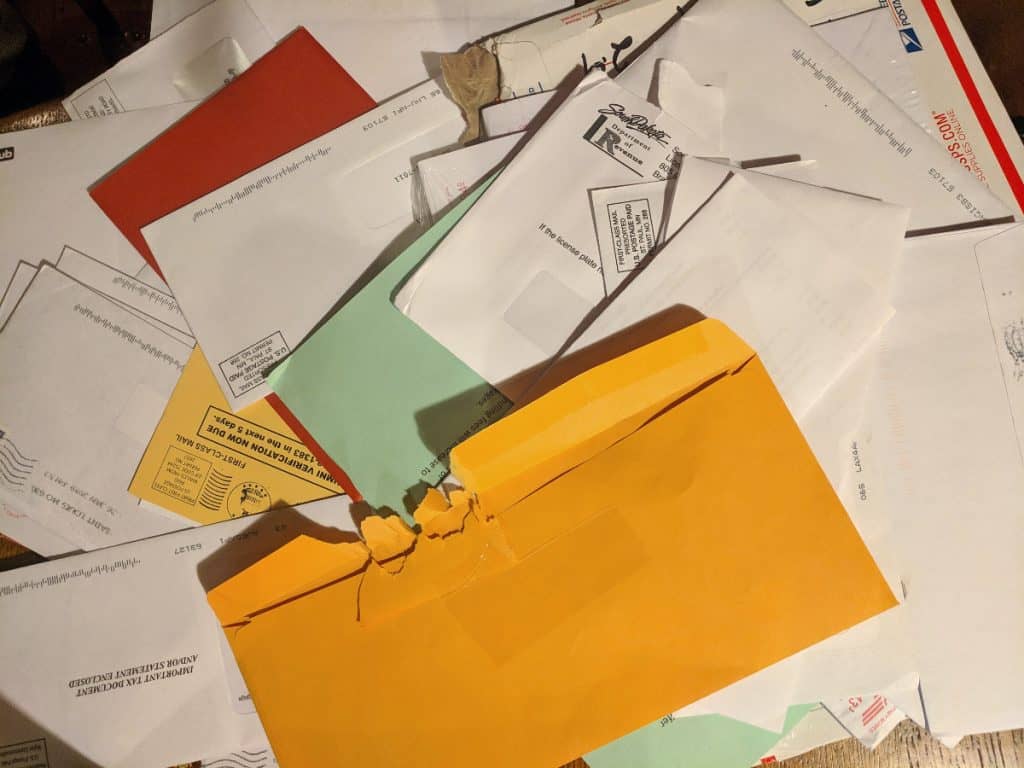 Sometimes using someone else's address isn't an option, or you need other services like mail scanning or a domicile address. This is where a mail forwarding service comes into play!
For a monthly fee, mail forwarding services give you a physical street address to use as your mailing address. They will hold your mail and forward it on to you whenever you request it. Some mail forwarders even offer additional services like:
Mail scanning
Digital mailbox
Package forwarding
Domicile address
Registered agent services (if you're a business owner)
Vehicle registration
Some of the top mail forwarding services for full time travelers are:
Check out this resource for more information on general mail forwarding services.
Mail forwarding services make it easy to travel full time and still receive your mail, whether you're bombing around North America in your van or backpacking Southeast Asia. Getting mail this way is often a cost of living van life.
Who Needs a Fixed Address? Not us!
Getting mail as a nomad isn't quite as simple as walking out to the mailbox at the end of the driveway. But luckily there are plenty of options out there for full time travelers like us to get our mail and packages without compromising our lifestyle.
Like most things as a nomad, it just takes a little more work and pre-planning. So finish building your van and get out there on the road! Then give us your mail forwarding address so we can send you a postcard! 🙂