The next step in our diy camper van build was installing a roof vent exhaust fan, which means cutting a hole in the roof. Fun!
A vent fan is an essential part of creating a comfortable living environment inside of a van. It keeps the van cool by sucking out hot air and creating airflow, and it also vents the living space when you're cooking.
The vent fan was one of the first van components that we purchased, and installing it turned out to be easier than we thought.
Recommended Vent Fan: MaxxFan Deluxe
Best Vent Fan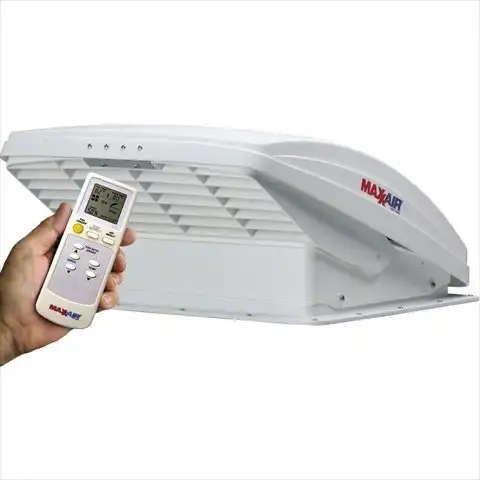 MaxxAir 7000K MaxxFan Deluxe Vent Fan
Powerful 10-speed roof vent fan with thermostat, remote control, and built in rain cover. Easily the best fan option for full-time vanlife.
Buy on Amazon
We earn a commission if you click this link and make a purchase (at no additional cost to you).
The fan we initially chose for our van is the Fan-Tastic Vent Model 7350. This fan is an excellent product, with efficient power draw, 14 speeds, a remote control, a thermostat, reversible airflow to pull air into the van, and a rain sensor.
However, after living with this fan on the road, we discovered that it suffers from a fatal flaw: the lack of a built in rain cover.
Without a rain cover, having proper ventilation while it's raining becomes an iffy proposition. And when you live full time on the road, you need ventilation all the time. Sure, you can add an Ultra-Breeze Vent Cover onto your Fan-Tastic vent, but it's very bulky, doesn't look great, and is an extra expense.
The MaxxFan Deluxe, on the other hand, comes with a built in rain cover that's low profile and sleek. This allows you to keep your fan running in all weather without worrying about water getting into your van, which is vital when you live in a vehicle.
The MaxxFan Deluxe offer comparable or better features and performance compared to Fan-Tastic fans, and is also a bit quieter when running.
Installing the Vent Fan on our Van
Like when we mounted our solar panels, we had to work around the contoured shape of our high topper.
The big ridge in the middle meant we could only put the fan at the very back of the van where it's flat, or at the very front of the living space where the ridge is wide enough for the fan. Since we had already mounted a solar panel at the back of the van, the front was the way to go.
The idea of cutting a big hole in our roof was a bit intimidating, but once we got started the install itself was actually pretty easy.
Note: These instructions will work for all models of roof vent fans that fit a standard 14″ opening.
What We Used to Install Our Vent Fan
Vent Fan (see recommendation above)
Step 1: Mark the Hole for the Fan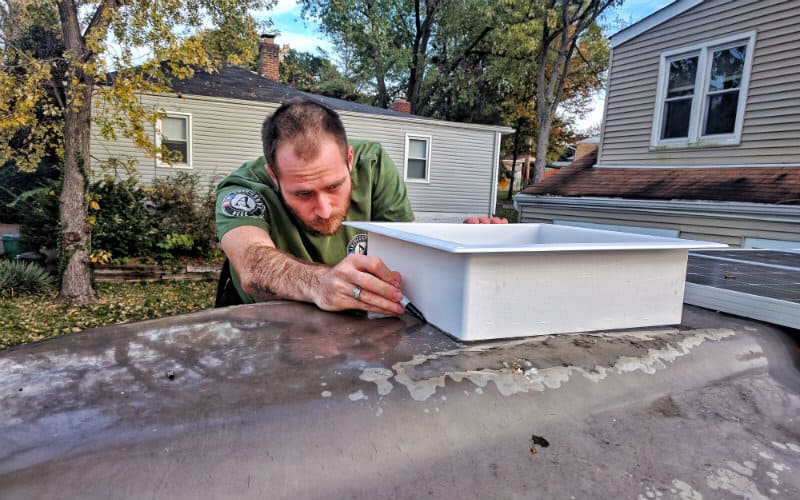 The first step is to mark where you want your fan. Fan-Tastic apparently includes a template in the box, but we didn't see it at the time so we used the plastic trim piece to trace the shape onto our van's roof.
Step 2: Cut the Hole with a Jigsaw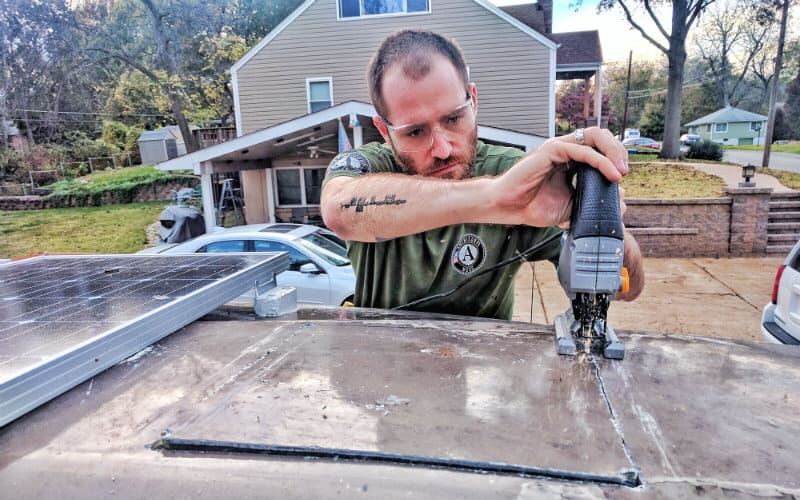 We started by drilling holes at all four corners, then used a jigsaw to connect the dots.
Note: Do yourself a favor and pick up a set of good jigsaw blades. We started off using the included blade on our cheap Ryobi jigsaw. It was slow going and the blade eventually snapped in half. Once we picked up this set of Bosch jigsaw blades we flew through the cuts. With the amount that you use a jigsaw during a van build, it's worth it to get good blades.
Step 3: Marvel at the Giant Hole in Your Roof
You just cut a big hole in the top of your van. That calls for a victory yawp. But first, better make sure the fan fits!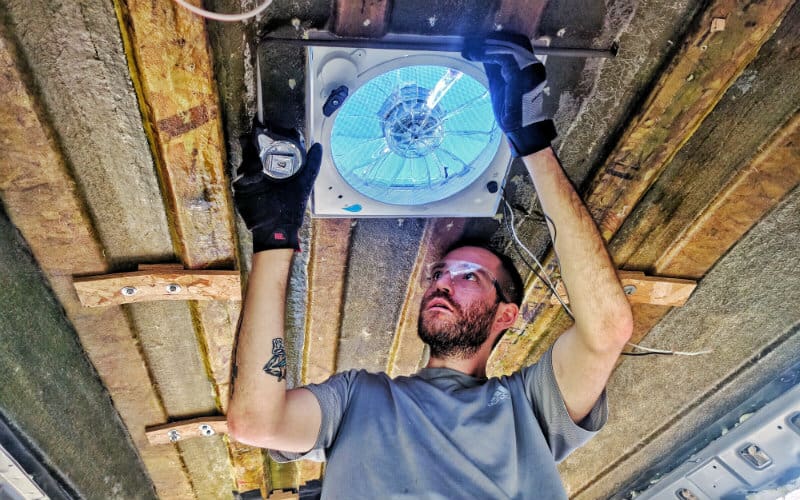 Step 4: Attach the Fan to the Roof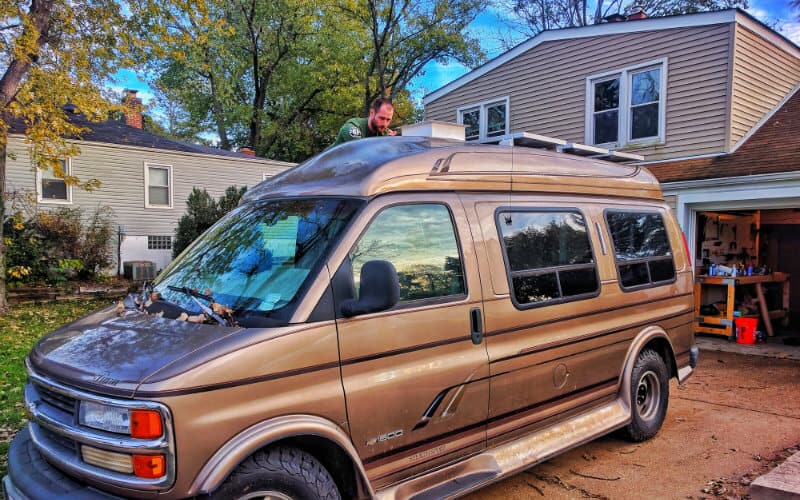 Fan-Tastic includes sheet metal screws for screwing the fan down, but those don't hold to fiberglass too well. We decided to use a combination of screws and 3M VHB tape to attach our fan. We lined each side of the hole with VHB Tape, inserted the fan, and popped in the screws around the rim.
Step 5: Seal the Edges with Dicor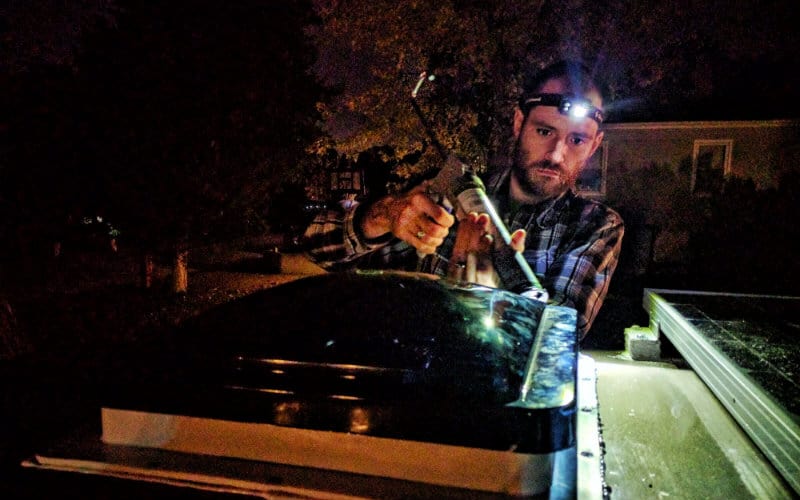 We used Dicor self-leveling lap sealant to seal the edges of the fan. This stuff is highly regarded in the RV community, and it really does the trick. We covered the screw holes, the rim and the edges in Dicor, and while it sets it levels itself into a solid waterproof seal. Pretty awesome!
We Have a Fan!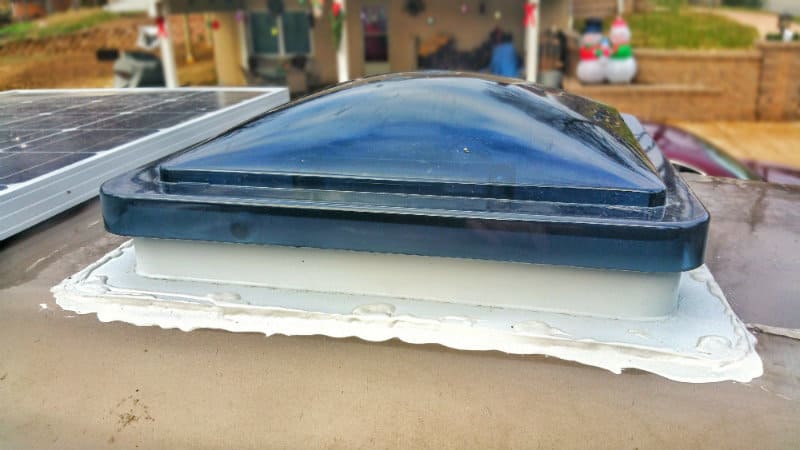 That's all it takes to install a roof vent fan in a high top conversion van. Now all we have to do is wire it up to our camper van electrical system and we'll have a cool breeze blowing through our new home. We'll cover wiring in depth in another post, so stay tuned. Next up is laying down our flooring.