If you've spent any time perusing #vanlife on Instagram or Youtube, chances are you've heard of Jackery. Their portable power stations have made quite the splash in the van camping world, in no small part because of their aggressive outreach to various influencers in the space.
Even though we don't do sponsored content of any kind, when Jackery reached out about sending us a Jackery Explorer 1000 power station and two of their SolarSaga 100W portable solar panels to test out, we decided to take them up on it so that we could see how these units actually perform.
Although it's tough to beat the flexibility and expandability of building your own campervan electrical system, there's no denying the easy appeal of portable power stations (or "solar generators," as they're sometimes called) to new and part time vanlifers. Even though they're super easy to use, we've generally been skeptical of the ability of all-in-one units like the Jackery to keep up with the demands of full time vanlife – especially for the cost.
But how does the Jackery Explorer 1000 perform in the real world? Can it realistically power the necessities of life on the road, or is it better suited for weekend camping? And how does it compare to DIY electrical systems, in both cost and capacity?
To answer these questions and more, we put the Jackery Explorer 1000 and the SolarSaga 100W foldable solar panels through their paces with a battery of tests designed to reflect the variety of scenarios you might encounter on the road. Read on for our in depth review and honest opinion of the Jackery 1000 portable power station.
Disclaimer: Jackery was kind enough to send us an Explorer 1000 and two of their 100W SolarSaga foldable panels for this review. However, our thoughts are our own, and the content of this post is not sponsored by Jackery.
So, what is a portable solar generator, anyway?
A portable "solar generator" is an all-in-one electrical unit that includes a battery, charging system, inverter, and AC/DC outputs.
These power stations do not actually generate electricity on their own, but they can be charged via solar panels (or by plugging into an AC wall outlet or DC power source), and you can use them to power both AC and DC devices on the road.
Electrical is often the most intimidating (and expensive) aspect of any DIY van build. Portable power stations from Jackery, Goal Zero, Renogy, Ecoflow, Bluetti, and others, make it simple to add an electrical system to your van conversion without having to deal with selecting individual components and wiring everything together.
They allow you to have a mobile off grid power supply quickly and easily – just buy one, throw it in your van, and go.
Portable power stations come in a range of sizes and outputs, from tiny battery packs that won't do much more than charge your cell phone and maybe run some lights, to much larger units that are aimed at filling all of your power needs.
That's the target market for the Jackery Explorer 1000.
About the Jackery Explorer 1000
The Explorer 1000 is a power station that's heavily marketed towards the vanlife, camping, and overlanding communities as an all-in-one power solution that can keep you off grid indefinitely. But can it?
Let's dig into the details.
Battery Capacity
The Jackery 1000 includes a fairly large battery, especially compared to other portable power stations at this price point. Here are the specs:
1002Wh Lithium-ion NMC battery (21.6V, 46.4ah capacity. Rough equivalent of an 83ah 12V Lithium battery, or a 165ah 12V lead acid or AGM battery)
Rated for 500 cycles to 80% capacity
Jackery model numbers generally correspond to their battery capacity, and the Jackery Explorer 1000 comes with a 1002Wh Lithium-Ion NMC battery.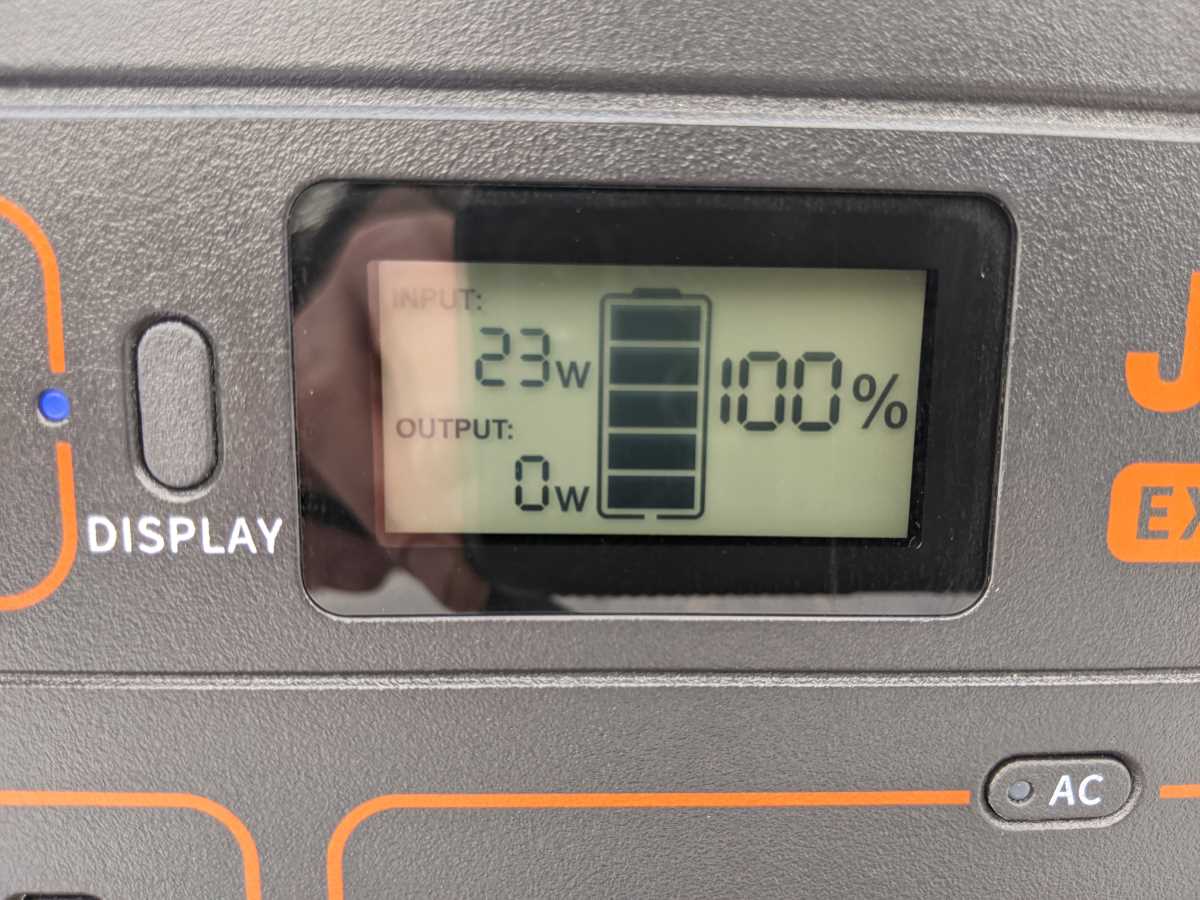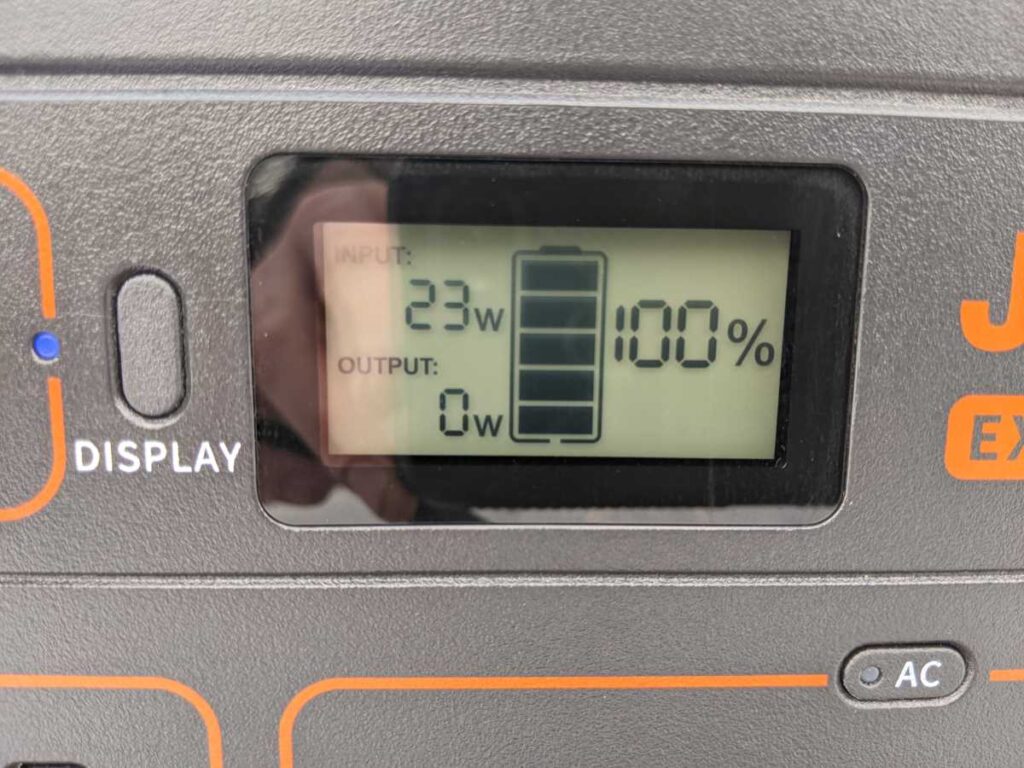 But how much is 1002 Watt-hours in amp-hours (ah) so you can compare it to your other battery options?
Well, the battery in the Jackery runs at 21.6V, rather than the standard 12V that you'll find in most vanlife deep cycle batteries. Since ah = watts / voltage, the Jackery battery is technically 46.4 ah, but is the rough functional equivalent of an 83ah 12V lithium battery, or a 165ah 12V lead-acid or AGM battery (since you can only discharge these down to 50%).
You cannot daisy-chain the Explorer 1000 with another Jackery or with an external battery, so you are limited to the built in capacity.
The battery in the Jackery 1000 is rated for 500 discharge cycles to 80% capacity. That means that after 500 cycles of discharging the battery from 100% down to 0%, it will have 80% of its original capacity. The Jackery will still function after 500 cycles, but 80% capacity is the traditional decommission point for batteries.
Charging and Charge Times
You can charge up the Jackery via solar, or with the included AC and DC adapters. Here are the specs:
MPPT solar charge controller with Anderson Powerpole inputs (solar panels not included)

30V / 163W maximum input
8 hours charge time

AC adapter (through an 8mm input)

24V maximum input
7 hours charge time

DC adapter (through an 8mm input)

12V maximum input
14 hours charge time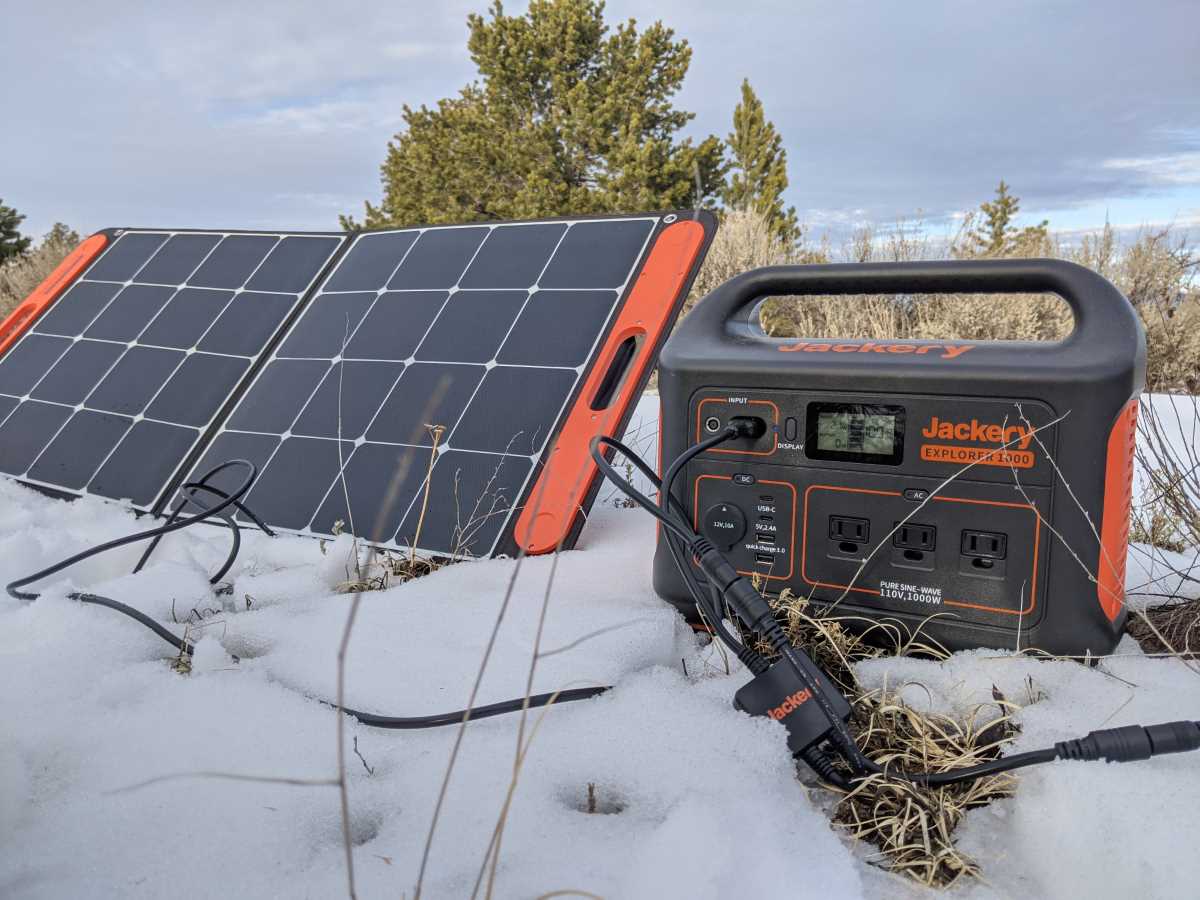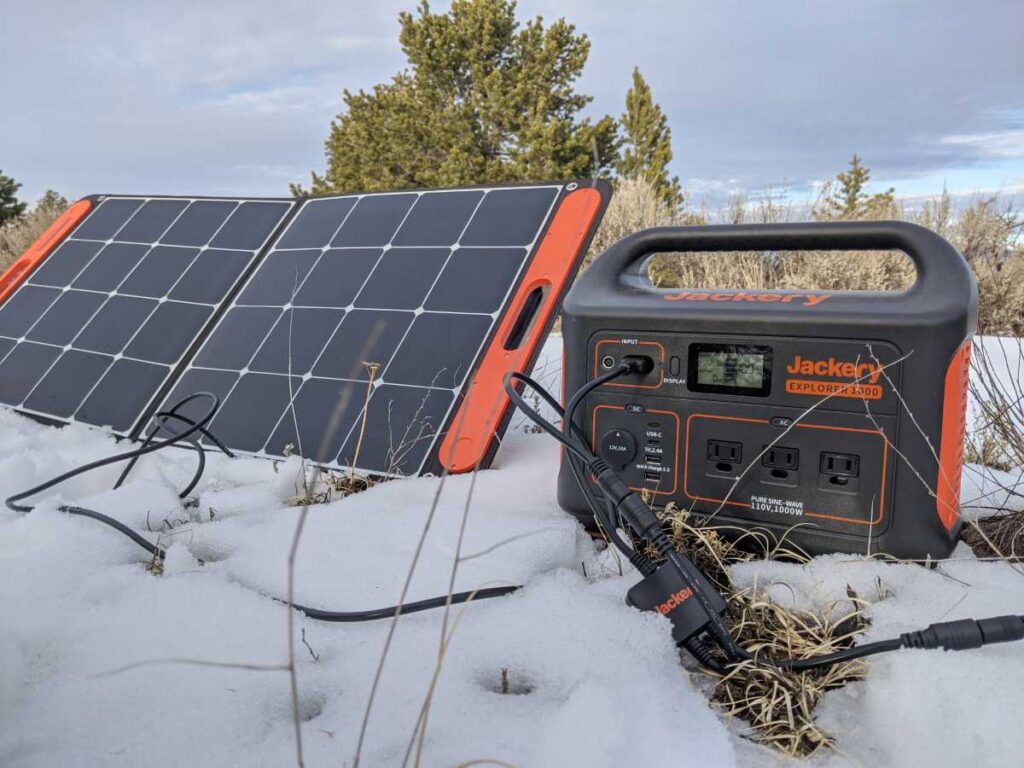 For solar charging, the Jackery contains an MPPT solar charge controller. Plug some solar panels into the Anderson Powerpole ports on the front of the unit and you're good to go – although you do have to buy Jackery's SolarSaga foldable solar panels separately (or just get an MC4 to 8mm adapter and use whatever panels you want).
How long does the Jackery take to charge up via solar? The Explorer 1000 takes about 8 hours to fully charge from the sun (from 0%) with two 100W panels.
The Jackery can only accept up to 30V or 163W of solar input. Solar panels put out about 18V each, which means you cannot run the panels in series into the Jackery, since that would put out 36V. You also cannot run more than two 100W panels in parallel, since that would put out more than 163W at peak daylight hours.
Charging from a wall plug with the included AC adapter takes about 7 hours.
Charging from your vehicle's 12V cigarette lighter plug takes about 14 hours.
Output Ports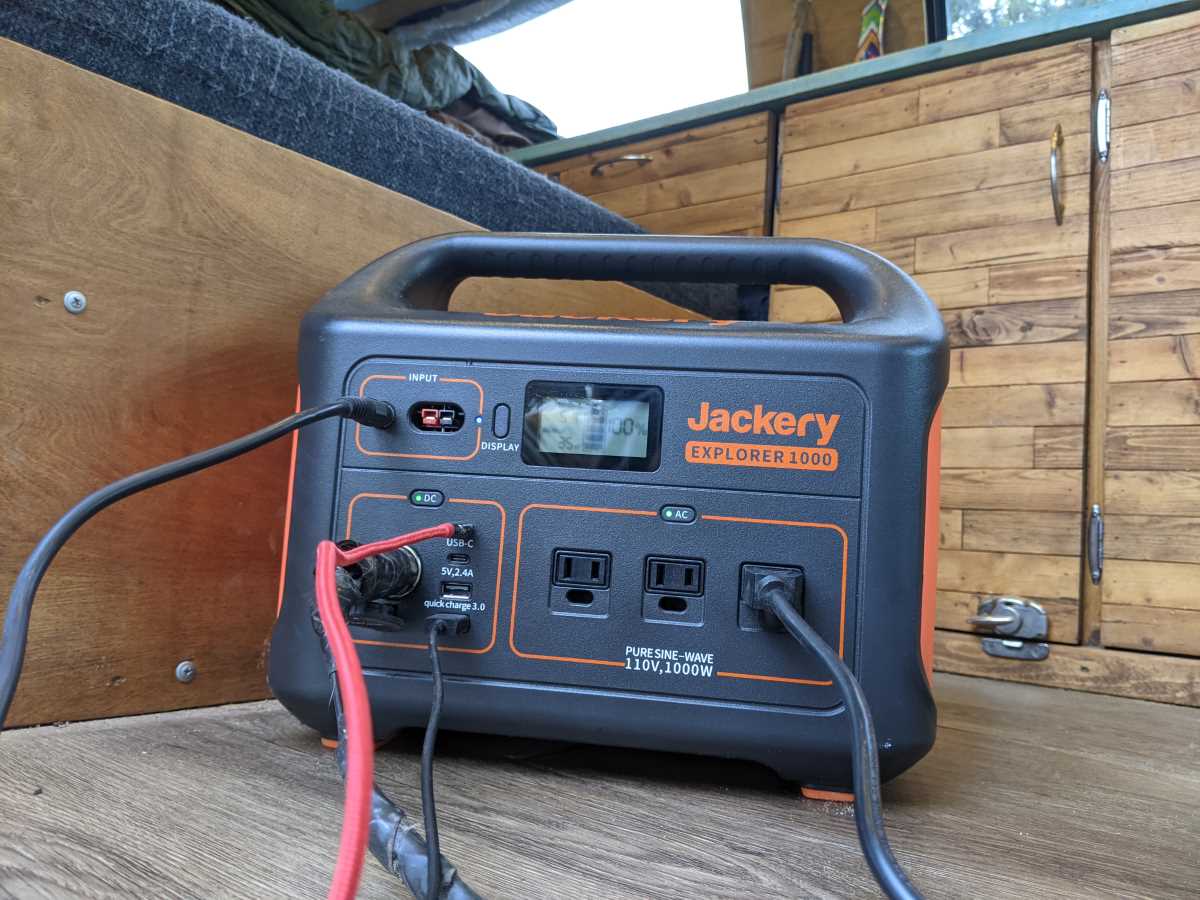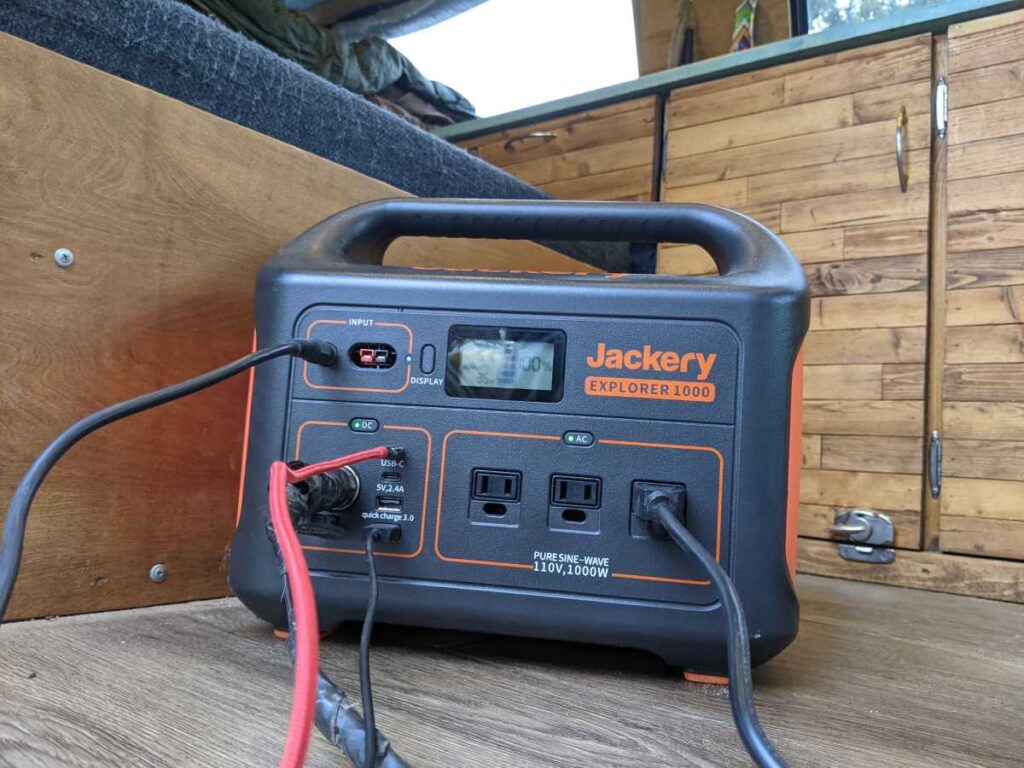 The Jackery Explorer 1000 includes a nice variety of AC/DC output ports:
3 x AC outlets tied to a 1000W pure sine inverter (2000W surge)
2 x USB-C (up to 3A output)
2 x USB-A (one 5V/2.4A, one Quickcharge 3.0)
1 x 12V cigarette lighter plug (up to 10A; 13.2V regulated output)
The inverter on the Jackery is pure sine wave, and is capable of putting out 1000W continuous with a 2000W surge. This is plenty big enough to power most AC appliances you would need in a van (we run a Xantrex 1000W inverter in our van, and we've rarely needed more than that).
The 12V DC cigarette lighter plug can deliver up to 10A, and has regulated 13.2V output. This means it delivers a consistent voltage, which is important for powering appliances such as 12V refrigerators that have a low voltage cutoff. The USB ports are up to snuff for modern devices.
Display
The Explorer 1000 has an informative LED display that shows the input wattage, output wattage, and charge percentage. This makes it quick and easy to get all the information you need at a glance.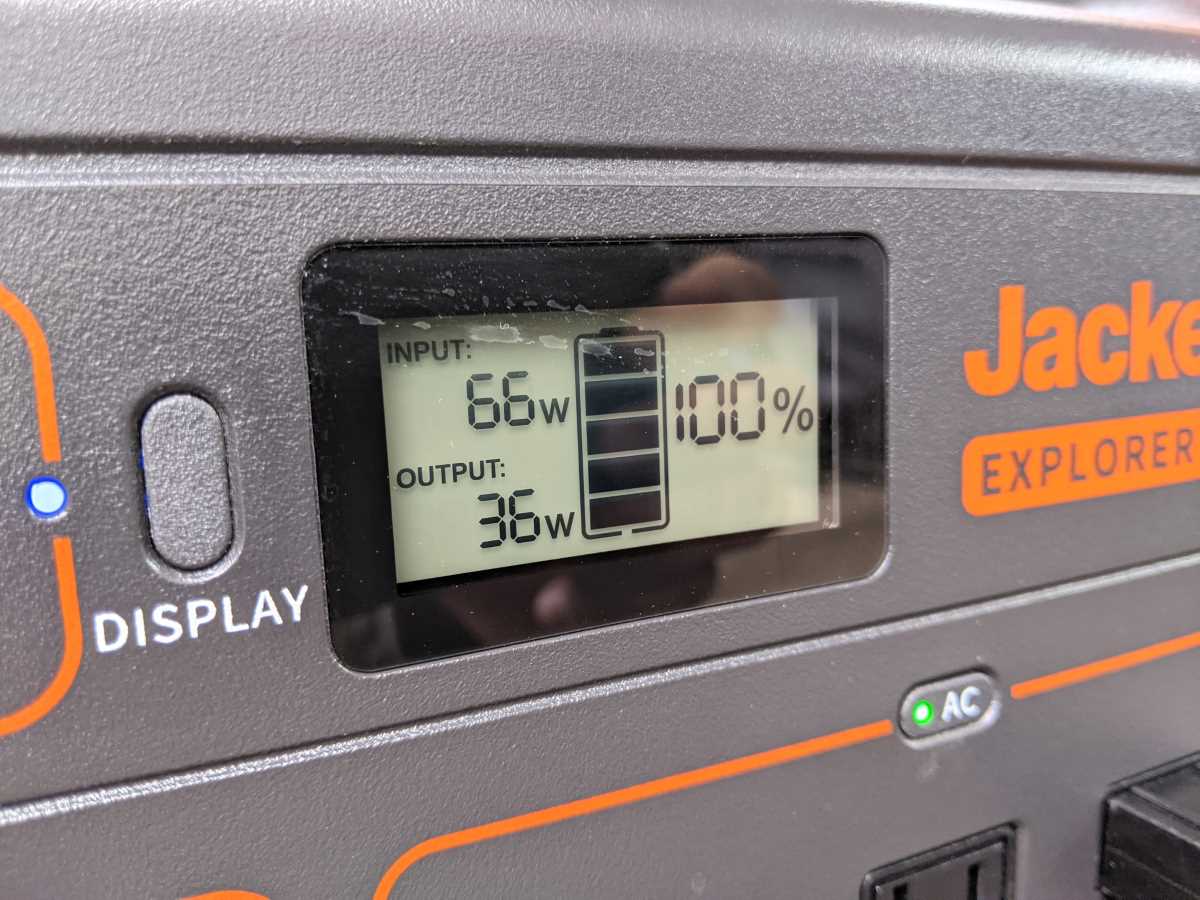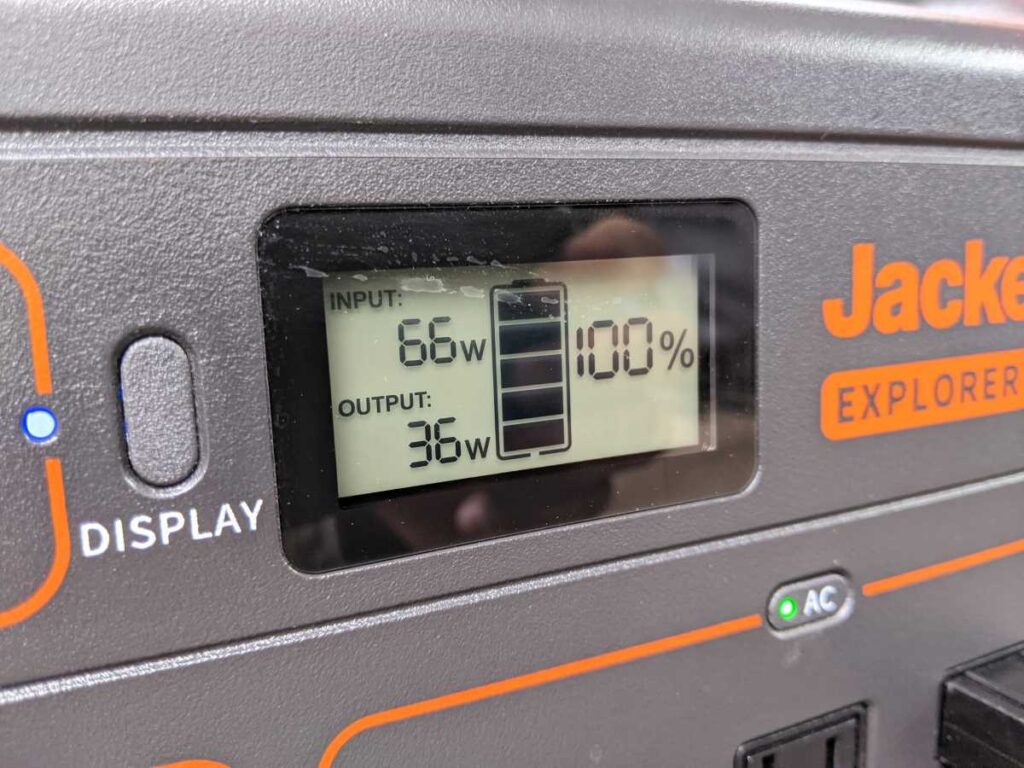 Form Factor
The Jackery has an appealing form factor, and is compact and lightweight for what it is. Here are the specs:
Rugged molded ABS construction
LED flashlight on the side
Handle for easy carrying
Super lightweight at only 22 lbs
The Explorer 1000 certainly looks nice, and feels rugged and high quality. It also has a convenient carrying handle and weighs in at only 22 pounds – several pounds less than competitors – all of which make it very portable. You can easily carry this thing to and from campsites with one hand.
The Jackery also features an LED flashlight on the side. Some may think this is gimmicky, but we actually think it's very useful for navigating while carrying the Jackery somewhere in the dark.
Warranty
All Jackery power stations come with a 2-year limited warranty.
In the Box
The Jackery comes with everything you need for on-the-go power (except for solar panels):
Jackery Explorer 1000
AC adapter
DC adapter
Parallel adapter cable for SolarSaga panels (panels not included)
Carrying pouch for all the cables
About the SolarSaga 100W Foldable Solar Panels
Jackery also makes the SolarSaga 100W foldable solar panels as optional add-ons, and they sent us two of them to test out. These panels are very attractive and lightweight, perform well, and include some nice features.
The SolarSaga panels are monocrystalline, and constructed of durable nylon and plastic/rubber. They fold in half, and feature molded carrying handles for portability. There's also a zippered pouch on the back for containing the cable, which is a nice touch and adds to the ease of carrying these panels around. For additional device charging flexibility, they also include USB-A and USB-C ports built right into the back of the panel.
There are two kickstands attached to the back of each panel (and held in place with velcro). To set them up, simply unfold the panels and flip out the kickstands. Plus, each panel weighs only 9.1 lbs, so they're easy to move around wherever you need to put them.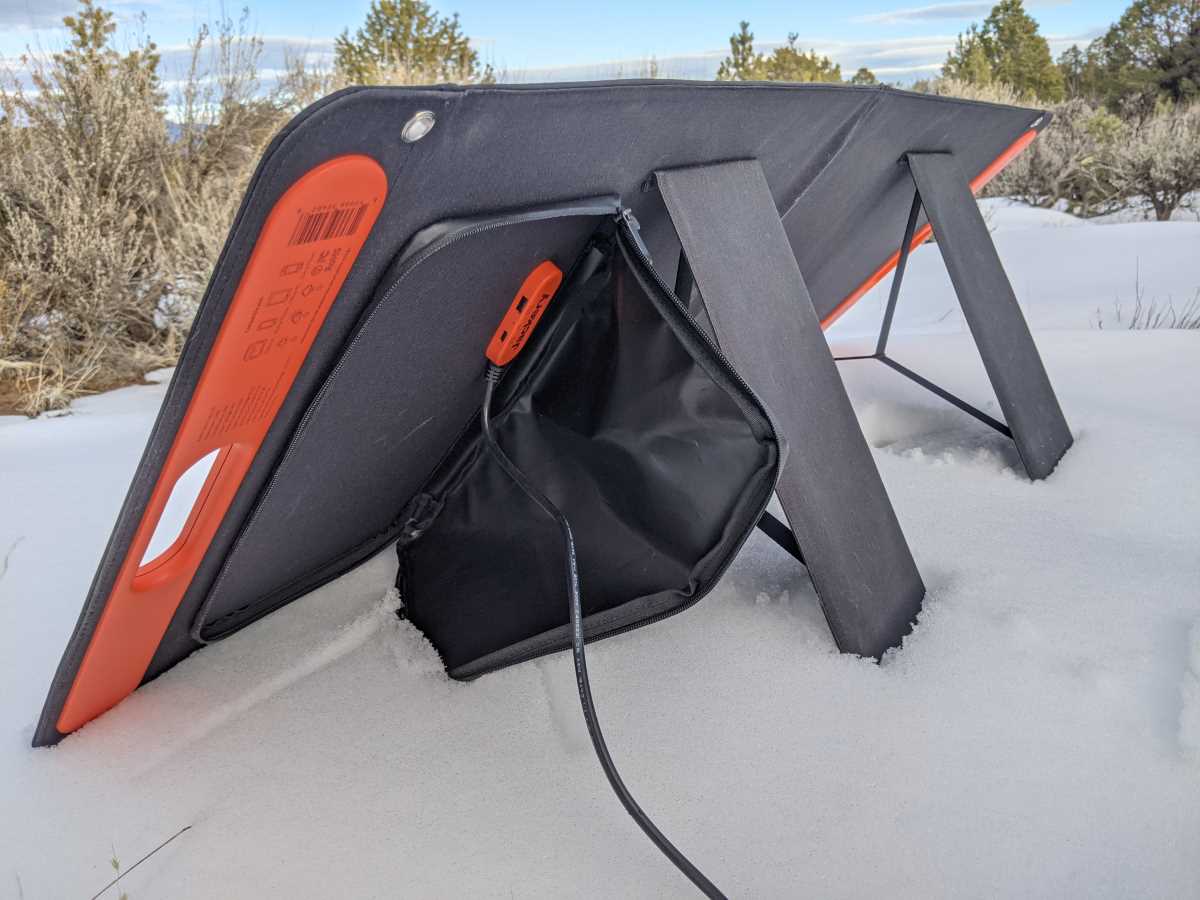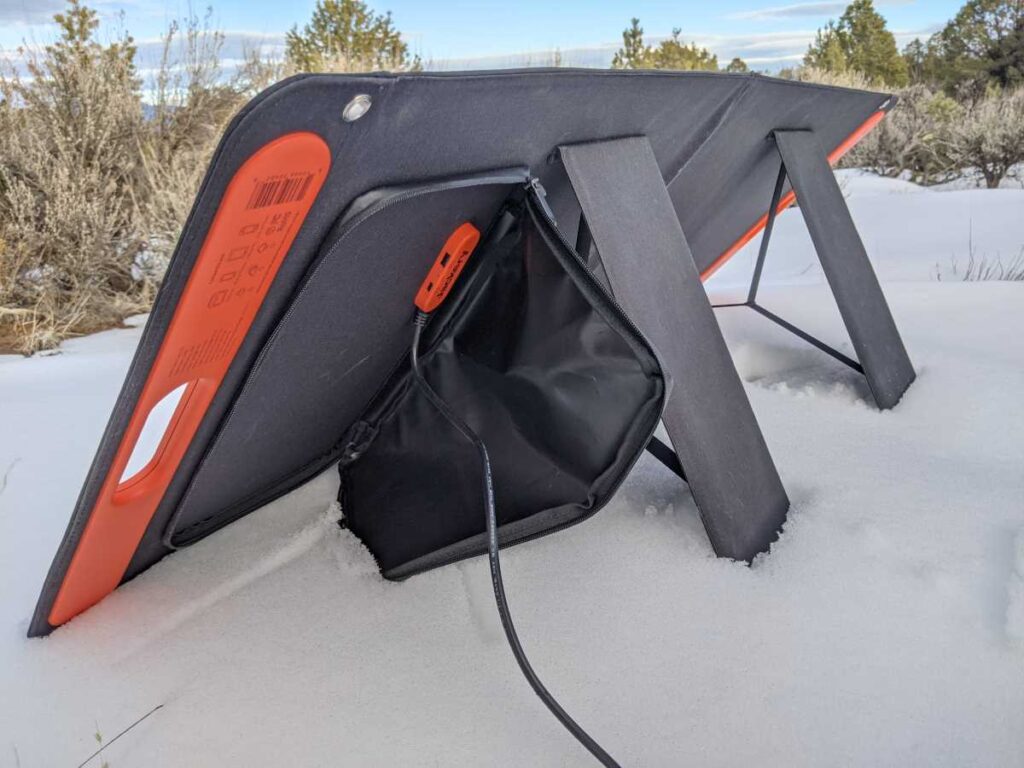 As far as portable solar panels go, it's tough to beat these. But, like all portable panels, they are expensive at around $300 each – significantly more than buying a rigid aluminum solar panel and building your own folding mount. But, the SolarSaga panels are convenient, lightweight, and well-thought-out, and for that the extra cost may be worth it to you.
One additional wrinkle is longevity (and this goes for portable panels in general). We're not sure exactly how long the SolarSaga panels can last, but it certainly won't be for 20 years or more like rigid aluminum panels (flexible solar panels generally last about 5 years, for example). If you're the type of person that upgrades all your devices every few years that may not matter to you, but it's something to throw out there.
And again, the cost and longevity of the SolarSaga panels are in line with other portable panels. They perform well and are among the best foldable panels out there.
Testing the Jackery Explorer 1000
Our first impressions of the Jackery 1000 and the SolarSaga panels were generally positive. But putting out a nice product and putting out a product suitable for vanlife are two different things.
So we set out to answer the question, can the Explorer 1000 stand up to the rigors of full time road living?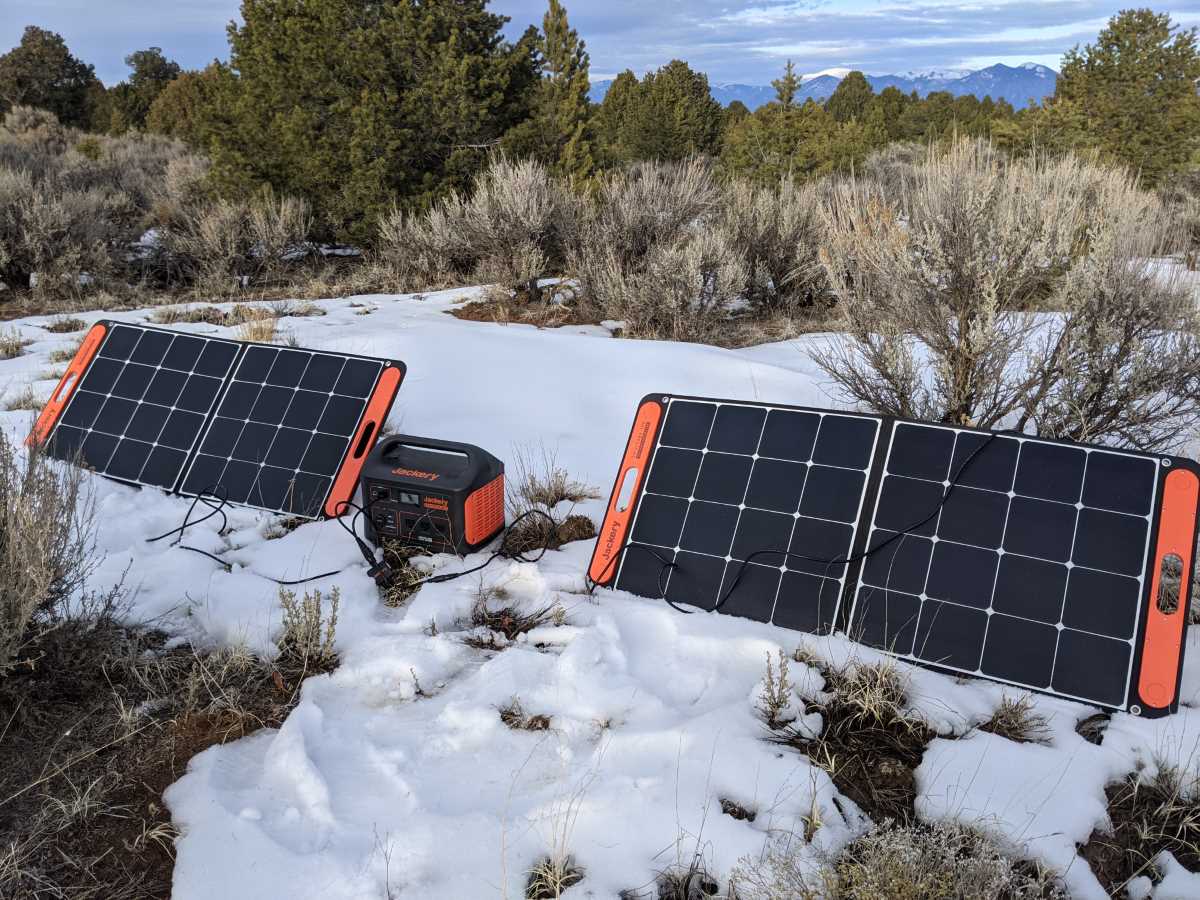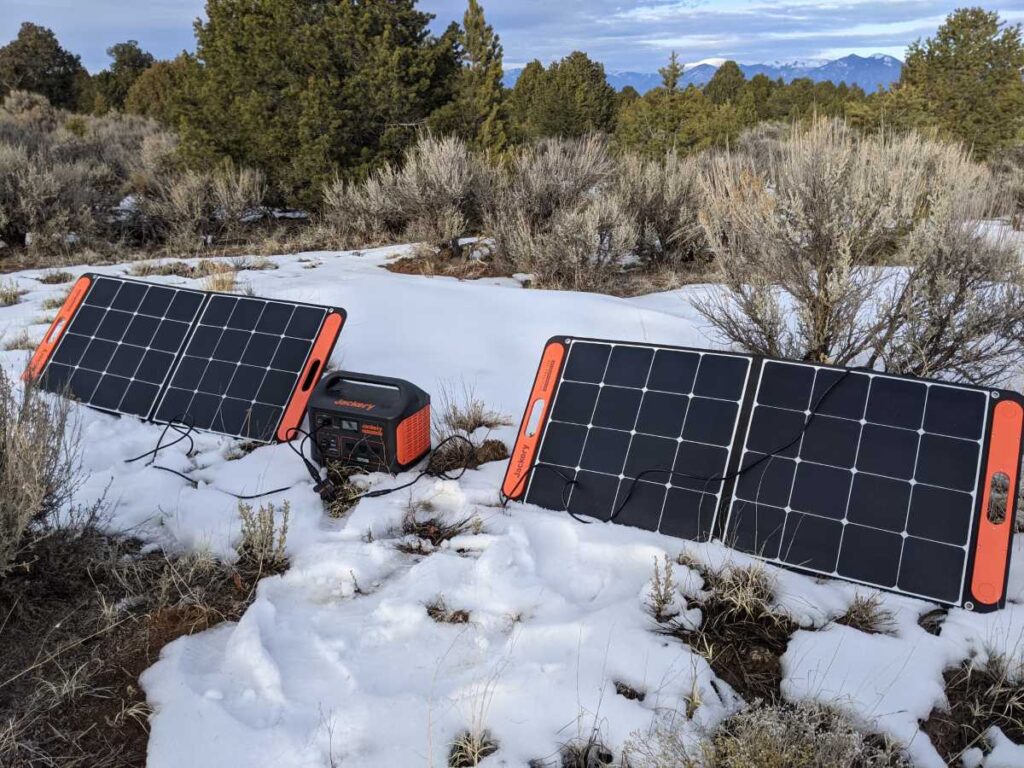 Since we're currently holed up at our off grid home base waiting for a baby to be born, we couldn't actually take the Jackery out on the road. However, after three years of full time vanlife we have a pretty good idea of what's required from an electrical standpoint.
In our minds, to hold up to life on the road an electrical system needs to be able to handle the following:
Vent fan running 24/7. Ventilation is extremely important in a campervan, and we run our roof vent fan literally all the time no matter the weather. We usually keep it on a low-medium setting, but we'll turn it up all the way when we're cooking and need more airflow.
12-volt refrigerator. Although you can definitely live on the road with just a cooler, a 12-volt refrigerator is incredibly useful and a huge upgrade. We have an ARB 50-qt fridge, which is extremely rugged with a low power draw.
LED lights. LED power draw is negligible, but this still bears mentioning since lighting is a necessity.
Computer usage during the day. We're fulltime digital nomads. We need enough electricity to work on our computers during the day, and sometimes run our weBoost 4G-X cell phone booster when we're in spotty service.
Charge devices at night. Small devices like cell phones, tablets, Kindles, etc.
Occasional use of kitchen appliances. We use small kitchen appliances like a coffee grinder and immersion blender on a daily basis.
To test the Jackery, we spent several days using it just like we would on the road. We ran our fridge and a fan constantly, worked all day long on our computers, charged devices, and used kitchen appliances. We tested how it charged up in full sun and in spottier situations with less sun. We kept regular track of the wattage in/out and the charge percentage.
We conducted these tests at a time of year with shortened daylight hours (we were effectively getting 0W input by 5:30PM). But we are also in a region with the best solar gain in all of North America. During our tests, we recorded approximately 6.5-7 hours of full sunlight daily where the solar panels produced at least 100W (usually around 124W), and another 3-4 hours of partial sunlight where the solar panels produced around 51W (dropping further closer to sunrise/sunset).
So, how did the Explorer 1000 hold up in these conditions?
Using the Jackery in Optimal Conditions
We have to admit, we were generally impressed with the Jackery's performance. In sunny conditions, the Explorer 1000 kept up with our day-to-day power usage – just barely, but it did keep up.
We found over several nights of testing that running our fridge, a vent fan at various speeds, and charging our phones overnight depleted the Jackery down to 50%-55% by the morning, assuming that it was fully charged at sundown.
We also found that when we charged the Jackery using the solar panels in full sun, it was generally able to recharge close to 100% by sundown. On light usage days with only the fan and fridge, it fully recharged by the late afternoon. However, on heavier days when we were using our computers for several hours, it only made it to 92%-95% by dark.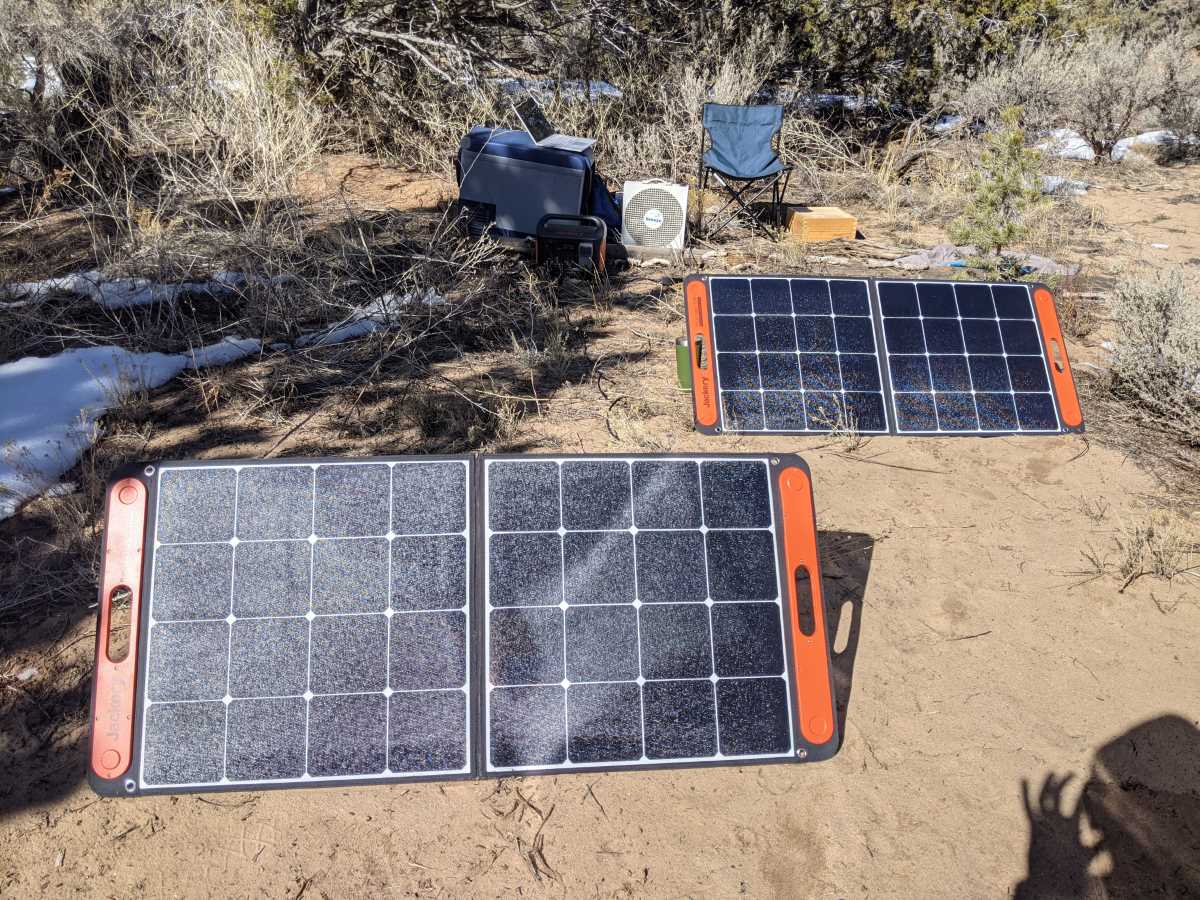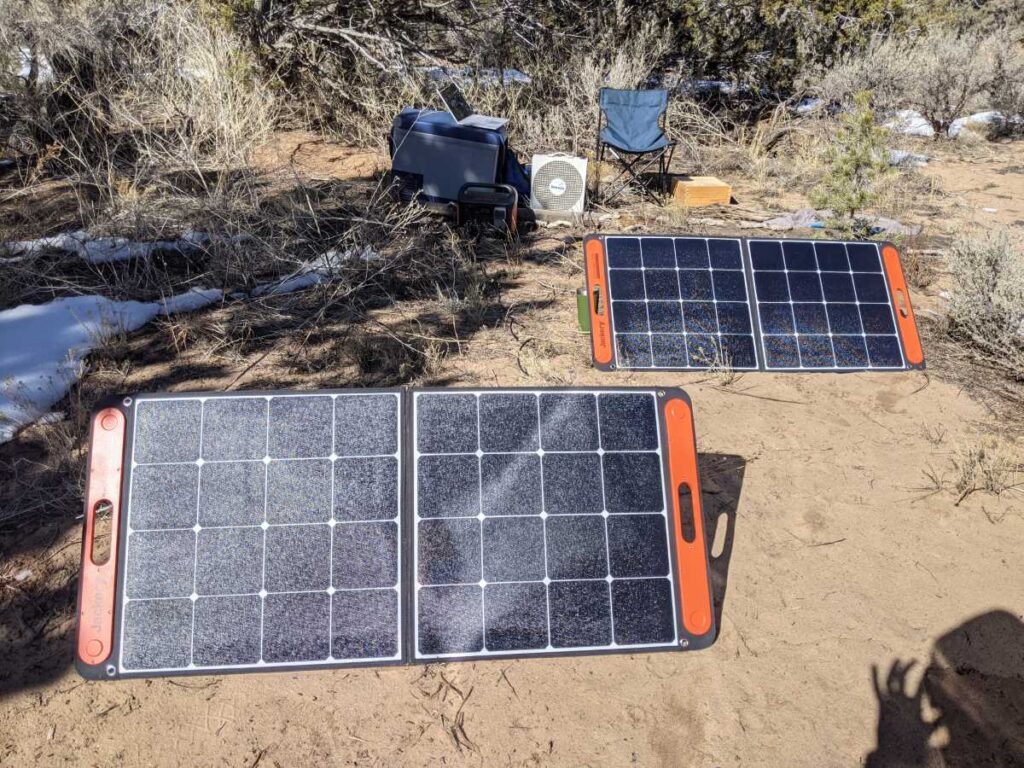 When the sun was shining, the Jackery overall did a good job of keeping pace with our electrical needs.
But the sun isn't always shining, and vanlifers aren't always traveling through high solar gain areas like the Southwest. You may be camping in the forest, or encountering a string of cloudy days, or traveling through overcast areas like the Pacific Northwest.
So how did the Explorer 1000 hold up in less-than-ideal environments?
Using the Jackery in Sub-Optimal Conditions
To test this, we took the Jackery out into some pinon-juniper woodland and used power like normal. Fan and fridge all day, coffee grinder, computer use for several hours (we just used one computer for this test).
We set up the solar panels and did our best to keep them in the sun. However, because we weren't out in the open, it was difficult to get more than 104W in (although we did manage 130W at one point). The shifting sun also brought partial shade onto the panels at times, which dropped the input wattage down to about 51W. When this happened, we moved the panels to a sunnier spot.
This is a very common van camping scenario. You won't always be in wide open areas. You won't always be able to get full sun on your solar panels. And (if you have portable panels) you will have to move your panels around throughout the day to get the best sunlight.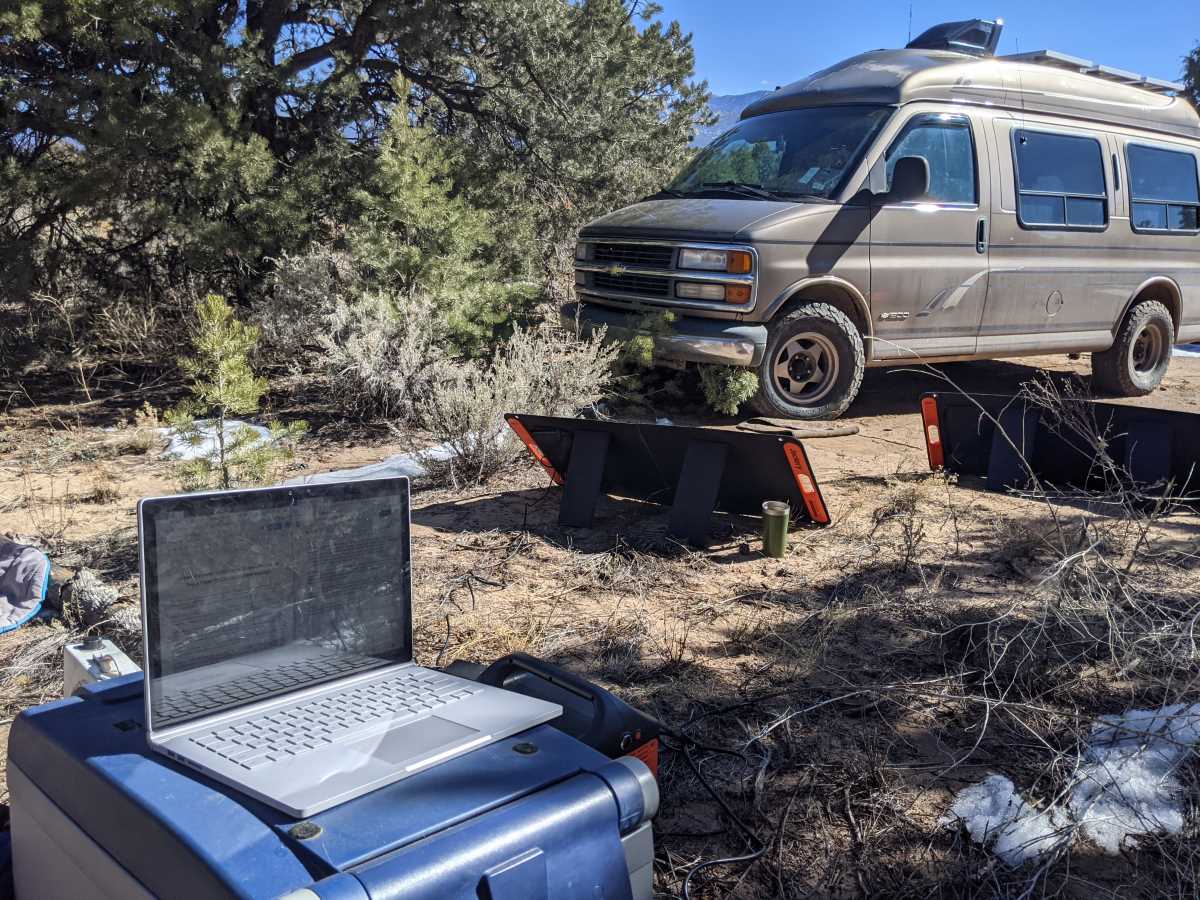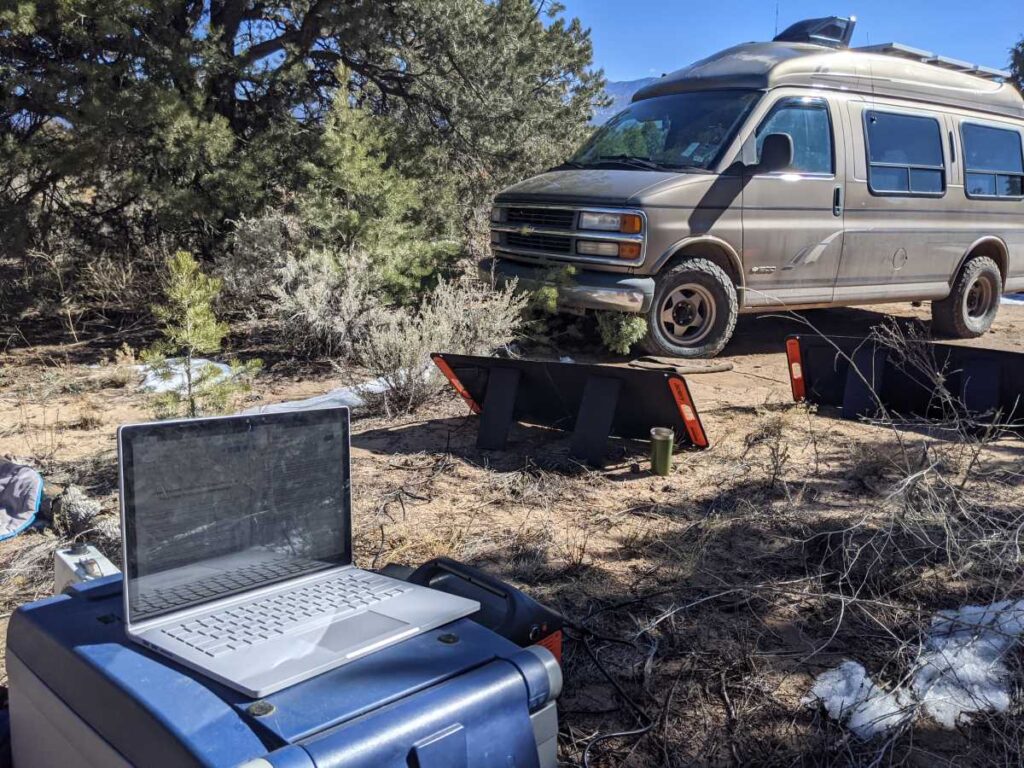 The big pro about the SolarSaga panels is that they are lightweight and easy to move around in this situation. However, the included cables are a bit short, so we would recommend getting an Anderson Powerpole extension cable so you have a bit more freedom to move the panels independent of the Jackery.
By the end of the day, the Jackery only managed to charge up to 76%. That's plenty of juice to get us through the night, but we would be in trouble real quick if we didn't find a way to fully recharge it soon.
At this discharge rate, we estimate that the Jackery would last us 2-3 days in these conditions before we had to retreat to a sunnier area, take a long drive, or find somewhere to plug in. To compare, the larger electrical system in our van generally lasts about 5 days in extreme shade before we start to get uncomfortable with the battery drain.
Benefits and Limitations
The Jackery Explorer 1000 is a well made and useful portable power station with many benefits, but also some limitations. These limitations may not matter to you, or they could be deal breakers. It all depends on your situation and your needs.
Benefits
Good build quality. The Jackery (and the SolarSaga panels) looks and feels solid.
Extremely portable. The Jackery 1000 is lightweight and easy to carry around. This also means that on hot days you can park your van in the shade and stick the portable solar panels out in the sun. It also features a built in LED flashlight that really helps with transporting it in the dark.
Easy to use. Everything about it is easy to navigate, it has all the right ports, and it just works. To charge it up, just plug in some solar panels or the included AC/DC adapters.
Versatile. This little unit is capable of powering basic vanlife electrical needs, and can also be used for things outside your van.
Decent value for what it is. The Jackery 1000 is not cheap. But it is convenient. And you would have a tough time cobbling together your own system with a lithium battery, 1000W inverter, plugs, and wiring for less money.
Limitations
Cannot plug in more that 200W of solar. The Jackery cannot accept more than 30V or 163W of solar input, which is a huge limitation. The easiest way to overcome poor solar conditions is to add more panels, but that is impossible with the Jackery.
Cannot charge from AC/DC and solar at the same time. Being able to charge the unit from the AC/DC port while driving and simultaneously charge from roof-mounted solar panels plugged into the Anderson port would help out a lot when you're running low.
Cannot daisy-chain with another Jackery or external battery. This is a feature offered by some competing power stations, and would really help the Jackery make sense in a wider range of situations. You may never need more than the 1002Wh of battery capacity inside the Jackery, but if you do you're SOL. This limits the Jackery's potential as a true solution for full time vanlife.
Limited lifespan. The Jackery's battery is rated for 500 cycles. While that should last you 2-3 years on the road, it's also far less than standalone batteries (although it is exactly on par with many competitors, including Goal Zero). A typical AGM battery can last 1000 cycles. A Trojan T-105 can last 1,600 cycles. A Battle Born LiFePO4 battery (our top pick for a campervan battery) can last a whopping 3,000 cycles or more. These batteries are built for long term, full time vanlife, whereas the Jackery feels better suited for short term or temporary travel and camping trips.
Should You Get a Jackery for Vanlife?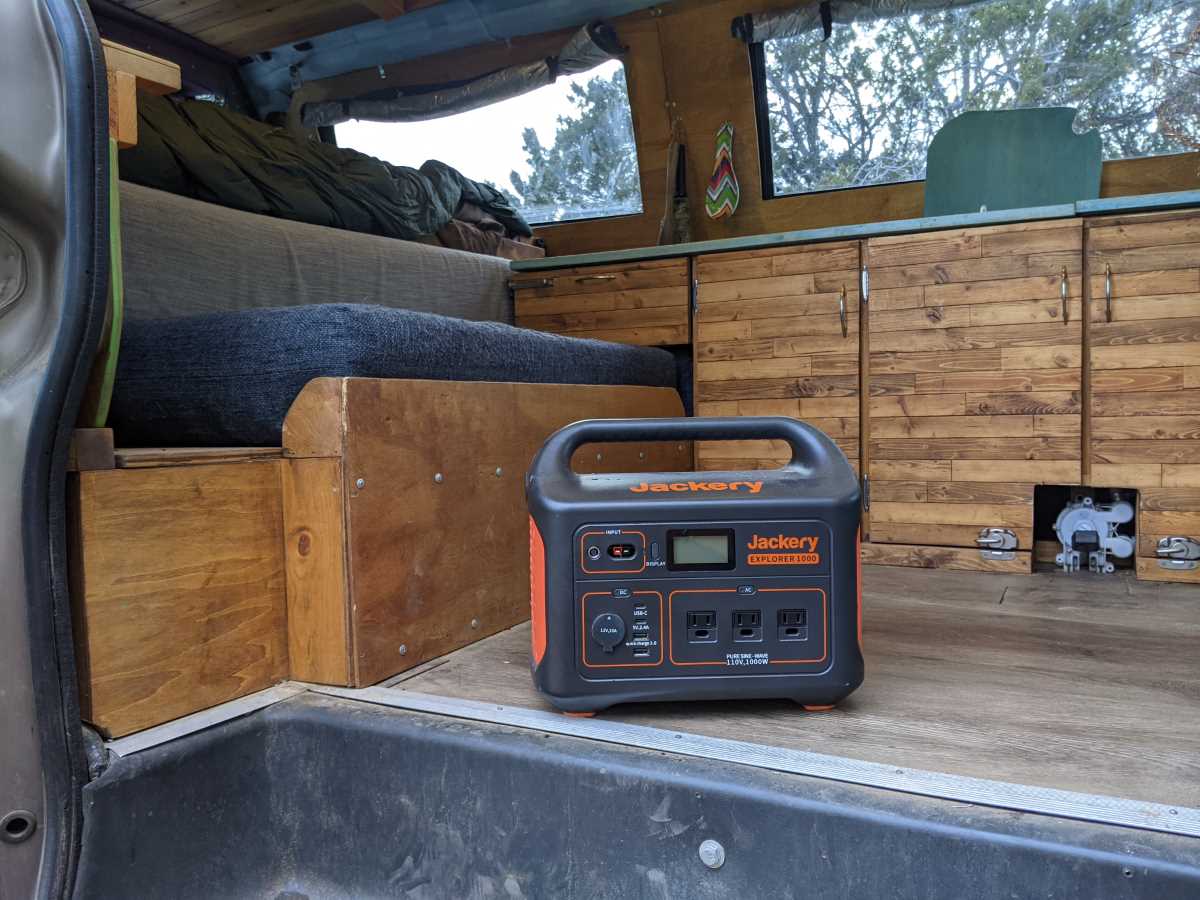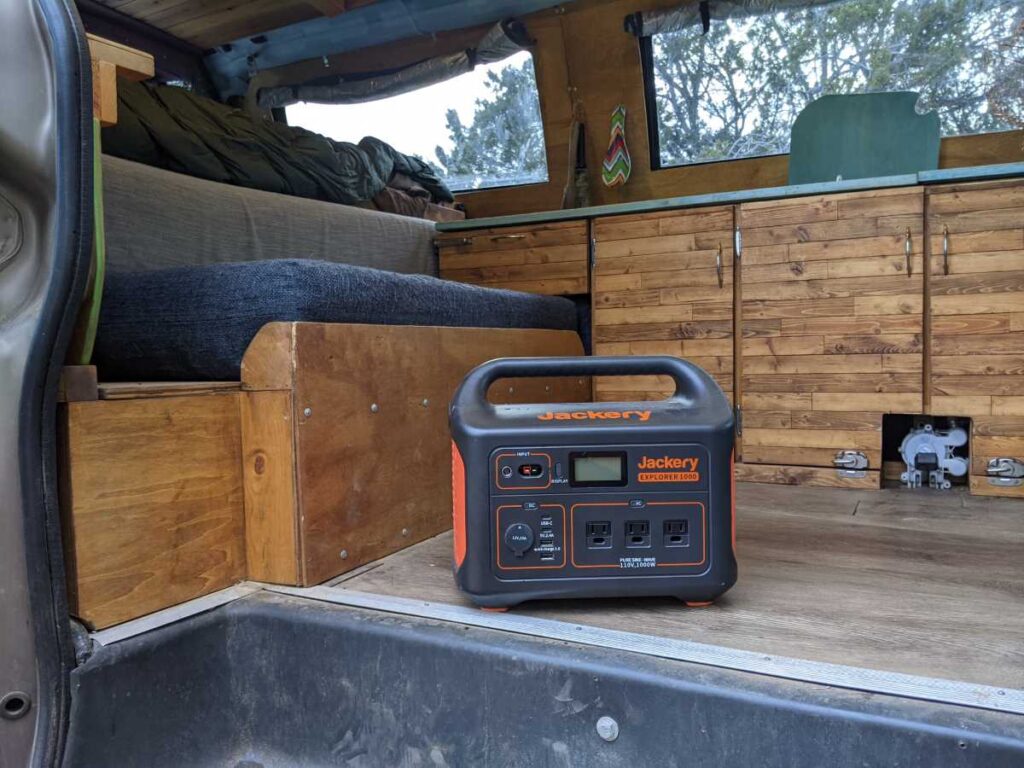 We ended up being surprised by how well the Jackery was able to keep pace with our general electrical usage. That said, it does have some limitations that could make relying on it for full time road living a bit dicey.
After testing the unit and playing around with it for a few months, we think the Jackery Explorer 1000 is a great option for some scenarios, but maybe not the best option for others.
When a Jackery Makes Sense
Here are some situations where a Jackery would be a good option for your rig:
You just want to hit the road and don't want to spend a lot of time building out a more permanent electrical setup
Building a van can take awhile, and installing an electrical system can be intimidating. While we love building out vans, we recognize that it's not everyone's jam.
If you're in a spot where you just want to get on the road tomorrow (and have enough money to throw down), the Jackery Explorer 1000 will give you a means of powering life's necessities without spending a whole lot of time learning how to wire up individual components.
You want a versatile system that you can throw in your campervan, use as an emergency backup battery, or take on general camping trips
Jackery portable power stations have the advantage of being versatile. If you're not full time in your van but want an electrical system that you can use on the road, or as an emergency backup for your house, or to take non-van camping, or to power a disco ball for that shindig in the middle of a field – the Jackery can do it all.
We even used ours to power a worklight while we were upgrading some electrical wiring and had the power shut off.
You want one unit that can both power your van and provide electricity away from your rig
There are many benefits to having a permanently-installed electrical system in your van. But there's also one huge drawback: it's tied to your van.
If you sometimes need to have power away from your van, the Jackery's portability allows you to use it as both a remote power source and as the electrical hub for your rig.
You're a weekender, part-time vanlifer, or are taking a summer camping road trip
If you're just hitting the road for a few days or weeks or months and just want an easy power solution, the Jackery is a great option.
When a Jackery Doesn't Make Sense
While the Explorer 1000 is a solid choice for the use cases oulined above, there are definitely some situations where a Jackery may not be the best option:
You have more aggressive power needs or think you may want to expand in the future
The big downfall of the Jackery is that what you get is what you get. There's no way to add more battery capacity, or boost its charge rate with more solar panels.
The Explorer 1000 may end up being enough for many people, but if you think you're going to be a heavy power user or want the flexibility to expand in the future, then you're much better off building your own system. That way you can add as much battery and solar as you think you'll need, and you'll be able to swap out, add, and upgrade individual components as your needs evolve.
You're on a tight budget or don't like overpaying for convenience
If you don't have a whole lot of money to throw down (or don't want to), you can build your own comparably-sized system – complete with lead-acid batteries, inverter, charge controller, solar panels, and wiring – for hundreds of dollars cheaper than buying just the Explorer 1000, let alone the SolarSaga panels.
You like to customize every aspect of your van build
Again, you get what you get with the Jackery. If you want a bigger inverter, or more USB-C ports, or more 12V outlets, or to have them distributed throughout your van – you'll be better off building your own system.
You're full time in your van for the long haul
While the Jackery is great for getting on the road quickly and easily, if you're going to be living in your van for several years it becomes way cheaper to build your own system. Even if you spend the same amount or more upfront, the Jackery is much more expensive in the long run because you'll find yourself having to buy a whole new one in 2-3 years.
Conclusion
We're big advocates of designing and building your own campervan electrical system, and because of that we've viewed Jackery (and portable power stations in general) with some skepticism in the past. To us, they seemed overpriced, underpowered, and inflexible.
But after messing around with the Jackery Explorer 1000 we definitely recognize the utility of this unit (and portable power stations in general). While we still think there are tons of advantages to DIY systems, the Jackery also has its own advantages, and its own set of use cases where it makes a lot of sense.
In our real world testing we found that the Jackery kept up with our power usage quite well in full sun, but struggled a bit once we threw it into subpar conditions. However, the Jackery is capable of providing plenty of juice for most people, and as with all off grid power systems, you will need to be aware of your usage, plan ahead, and keep an eye on your battery level.
The Jackery's big limitation is the lack of expandability. But that might not matter to you if you just want a quick and easy power solution – especially if you're not planning to live full time in your van for an extended period. However, if you are a heavy power user or are planning on long term, full time vanlife, then building your own system will take you a lot further and get you more bang for your buck.
The Jackery Explorer 1000 and SolarSaga 100W panels are overall nice pieces of kit, and offer a better value than many competing power stations. As long as it fits your needs, power requirements, and budget, the Explorer 1000 is a great option.