When you think of van life, you're probably imagining expensive-looking builds in big expensive vehicles like Sprinter vans, Ford Transits, or Ram Promasters.
You can #vanlife just as well in a humble minivan. Minivans are often overlooked as a base for camper van conversions because they're not as flashy. They're smaller. They don't have as much interior space.
But minivan conversions and other small campervans have a whole lot of advantages for full time road living. They're far more affordable and accessible than bigger vans. They're more fuel-efficient, they're easier to drive, and just about any mechanic can repair them. They're also not as small as you think. A Toyota Sienna, for example, is slightly larger than the perennial vanlife drool rig VW Vanagon.
There are many makes and models to choose from when planning minivan camper conversions. The most common options are:
Chrysler Pacifica
Kia Sedona
There are also older models like the Ford Aerostar and Windstar, and cargo-minivan hybrids like the Chevy Astro, Ford Transit Connect, Ram Promaster City, Nissan NV200, and Mercedes Metris.
If you're considering a minivan for your DIY van build (and you should), we've gathered this list of innovative minivan camper conversions to inspire you and get your wheels turning.
Build Your Van
The Ultimate Van Build Guide
Planning a van build? Read our free guide. We cover just about everything you need to know – from planning, to insulation, to solar and electrical, to picking appliances, to essential tools. Get started today so you can get out there on the road!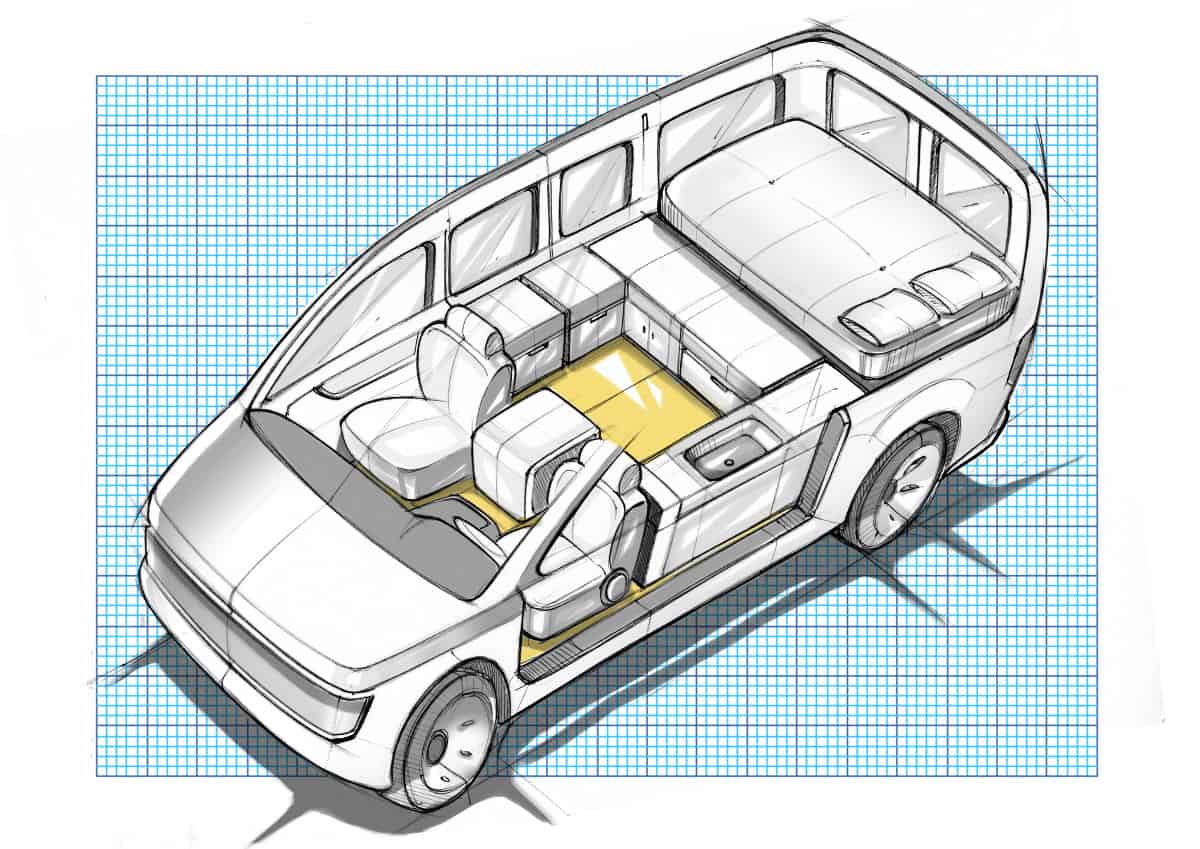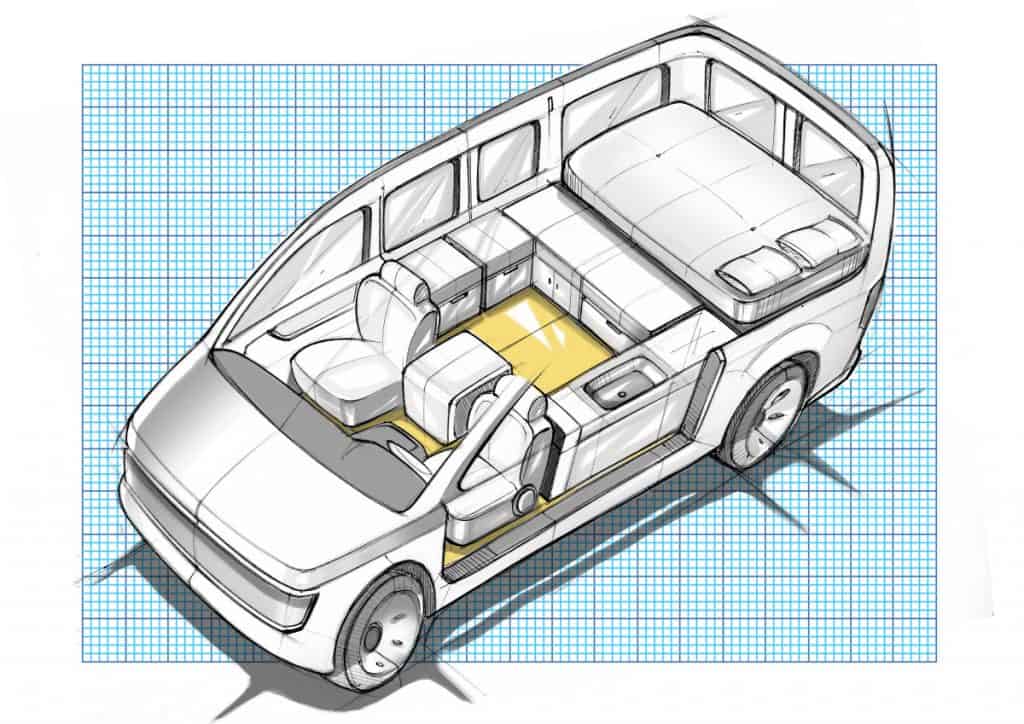 1. This $300 Toyota Sienna camper conversion from Josh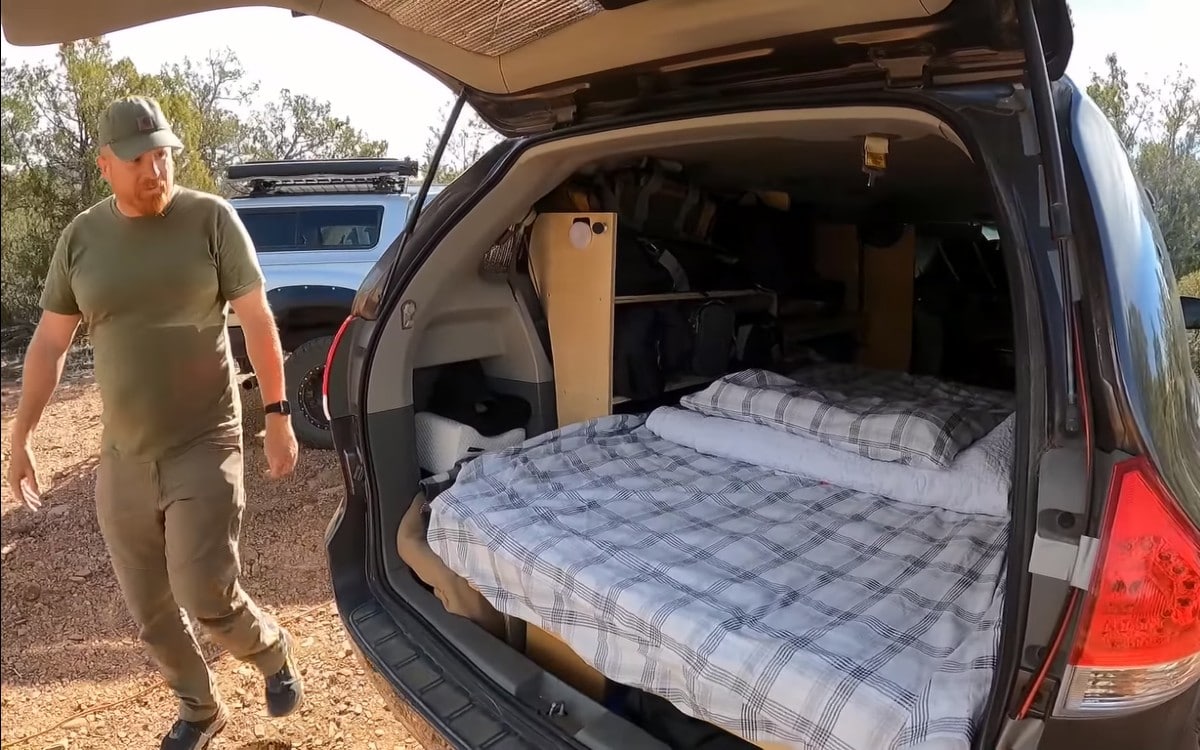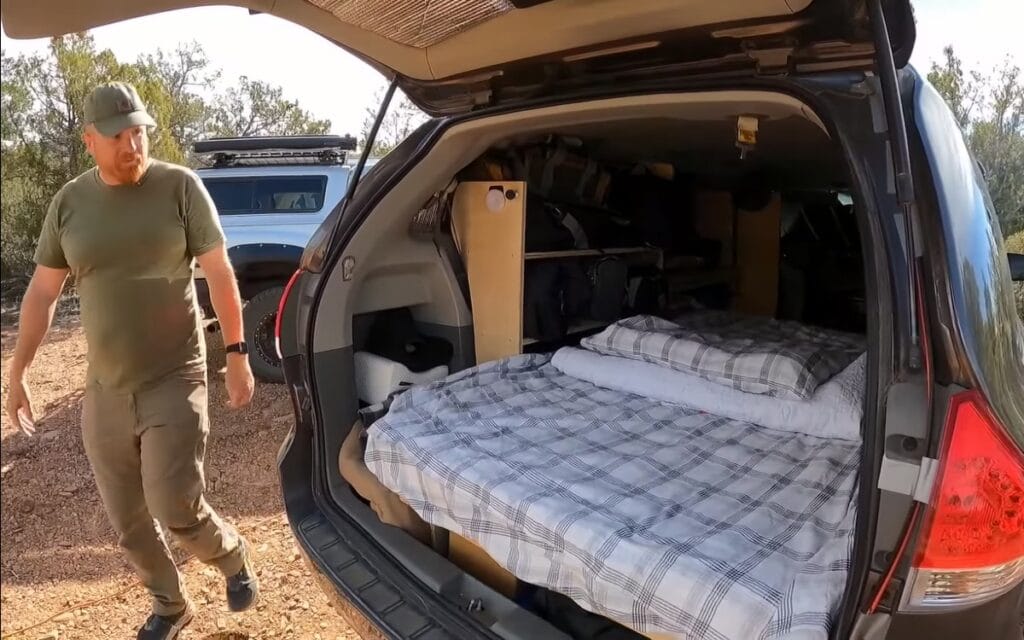 Josh built out his 2012 Toyota Sienna for only $300. He didn't make any modifications to the van itself – no screws, no carpet removal. He removed the seats from the back but left the rest of it as-is for an ultra-simple minivan conversion.
Because the Toyota Sienna minivan has fold-away seat storage, Josh incorporated that feature into a bed frame with plenty of room for storage underneath it. He cut the cushions from the mattress into sections, and the bed frame has a large flap on hinges that lifts to access the storage. We think this is an ingenious solution, as it solves one of the biggest hindrances of a minivan camper: lack of storage space. The bed also converts into a bench seat.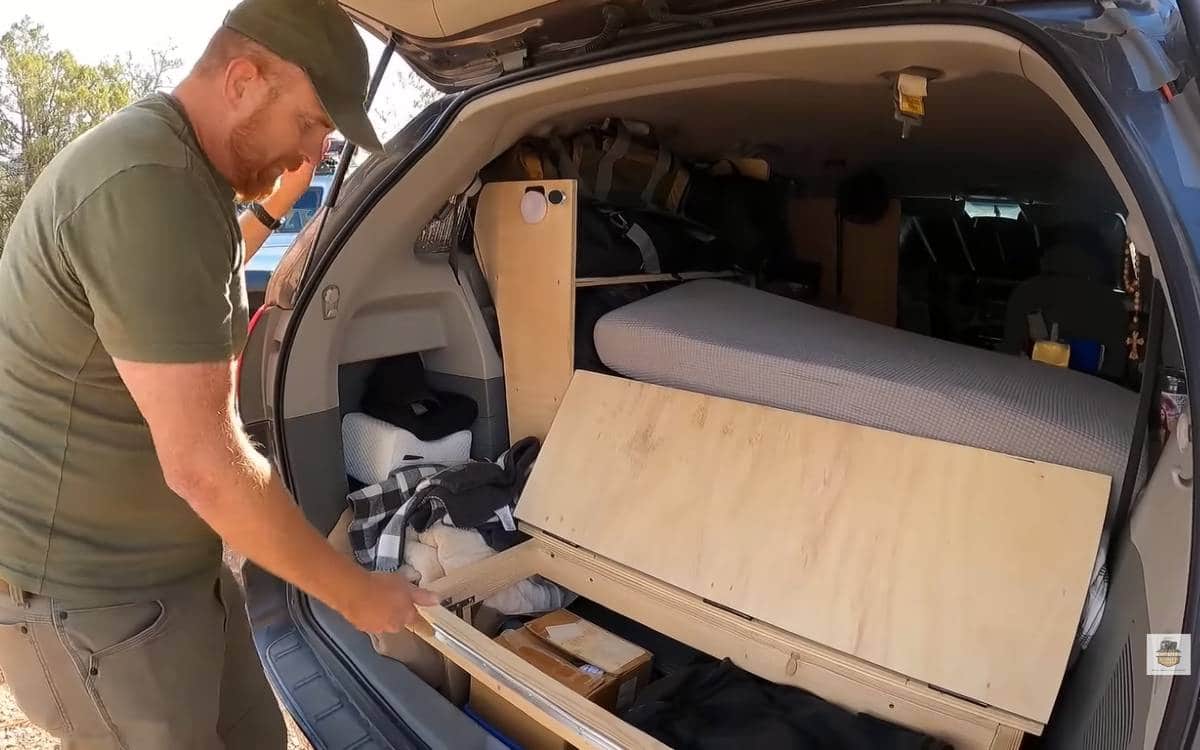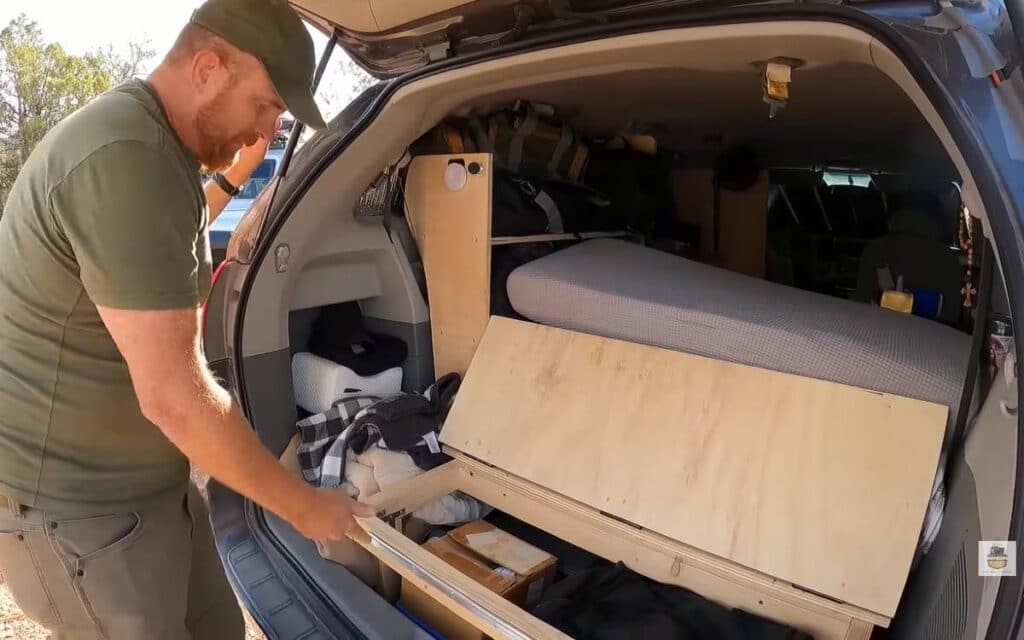 Josh created window covers with Reflectix and black fabric on one side, which keeps his minivan camper conversion stealthy and cool. He built a shelving unit on the driver's side that acts as his daily storage, and it's accessible from inside the van and through the side door.
He has a table that latches into the shelving unit in the living space and the back of the camper van, creating space inside and outside for working, eating, and relaxing.
Van life has helped Josh separate materialism from happiness. If he were to start this journey again, he would pack half as much as he did initially.
2. This thrifty Dodge Caravan converted minivan from @helenwheels66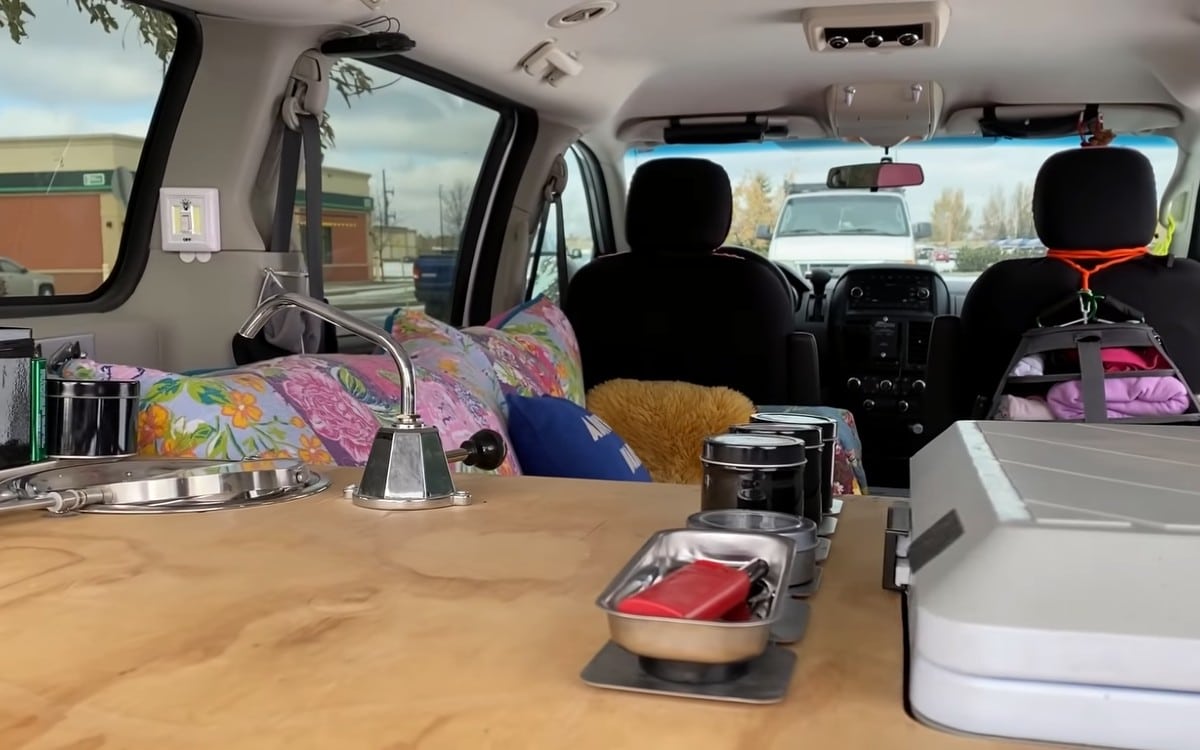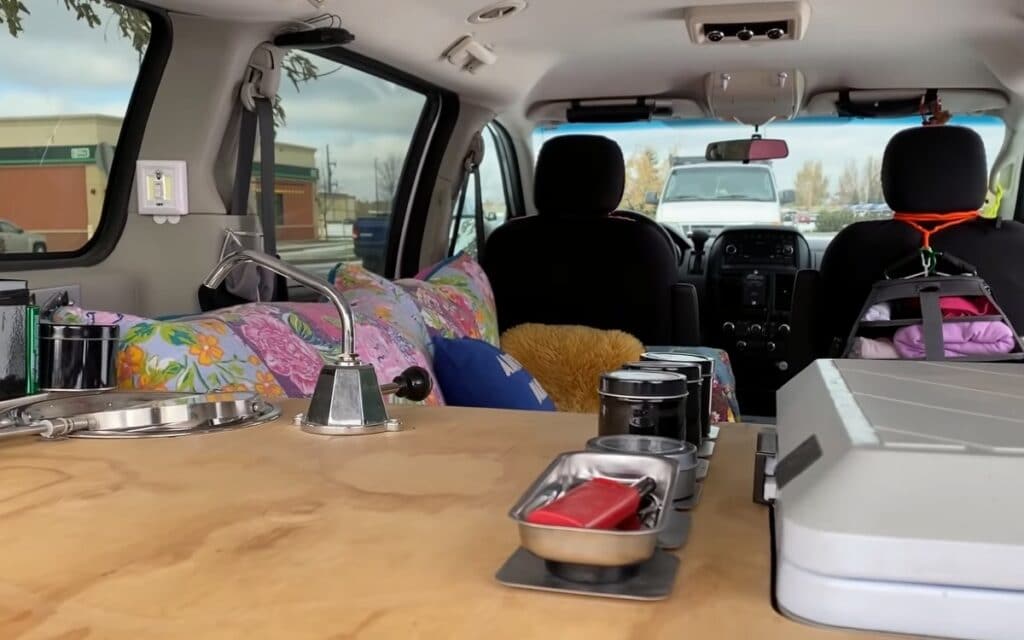 Gail created a custom minivan camper conversion using a 2008 Dodge Caravan because she needed to quickly have a safe place where she could live independently. She estimates that she spent under $1000 on this build, excluding the van itself. Most of the items in her minivan camper she scavenged or bought secondhand. She chose a Dodge Caravan camper because they're super common, so it's easy for her to blend in.
She built out her campervan conversion in three sections with help from a friend. There is a bed platform, a kitchenette, and storage under the floor.
The bed is positioned lengthwise behind the driver's seat. It lifts up to access the items stored beneath it, including a small portable toilet. The kitchenette is situated across the back of the minivan camper and has a small pump sink.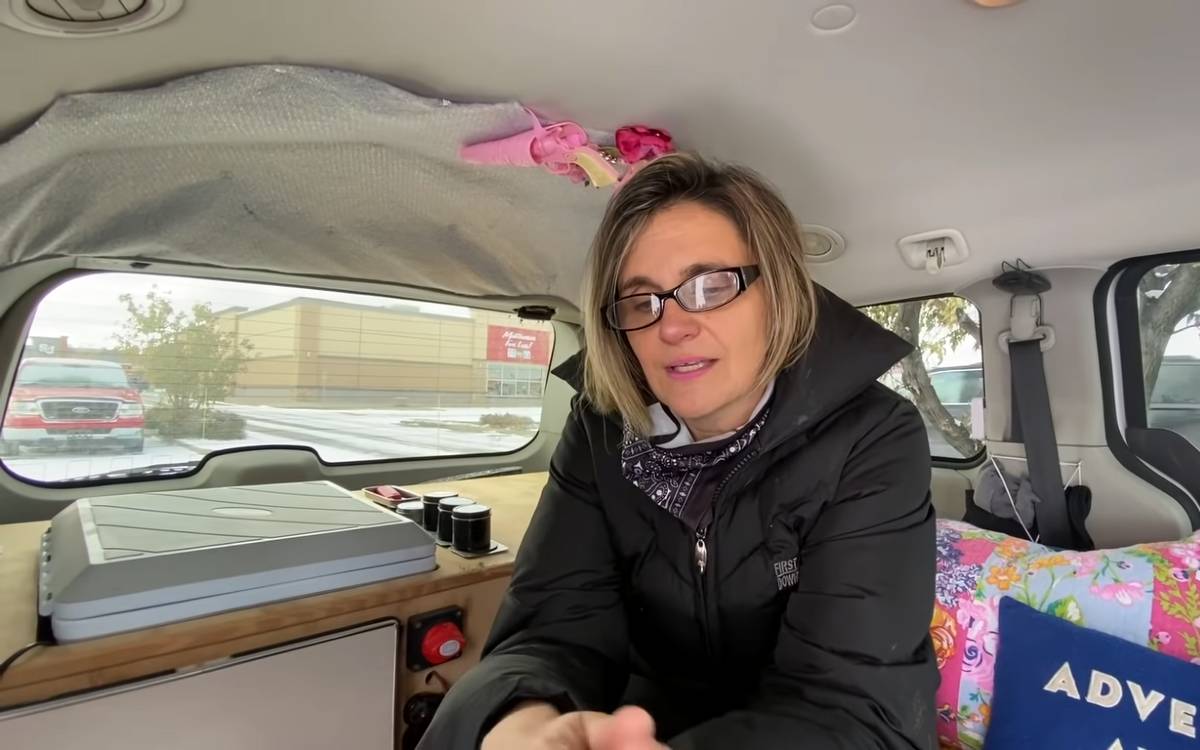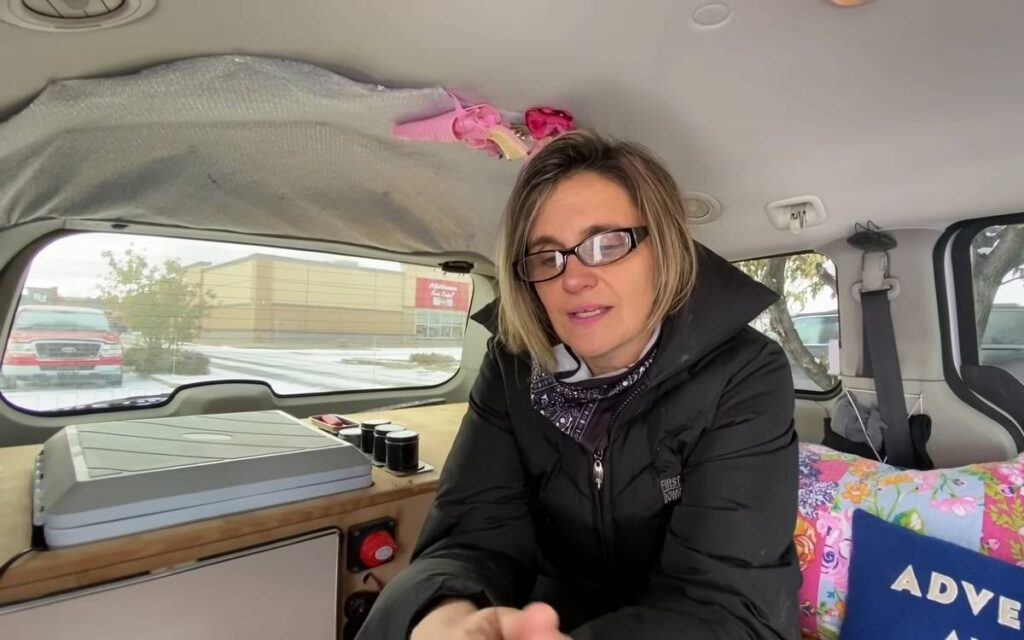 When she opens the back of the van, Gail also has access to storage cubbies built into the kitchenette. Under the floor, Gail has one insulated section that she refers to as "the basement." This section is perfect for her to store medication and dehydrated food without anything getting hot. Also, out of the back of the van, she has a small table on drawer slides that is perfect for holding her stove.
Gail loves that her minivan camper gives her peace and time to get where she's going without feeling rushed. For anyone considering van life as a means to get out of a bad situation, she strongly recommends making a plan ahead of time and gathering what you can in bits and pieces.
3. This Honda Odyssey minivan conversion with side room from @jay.moyes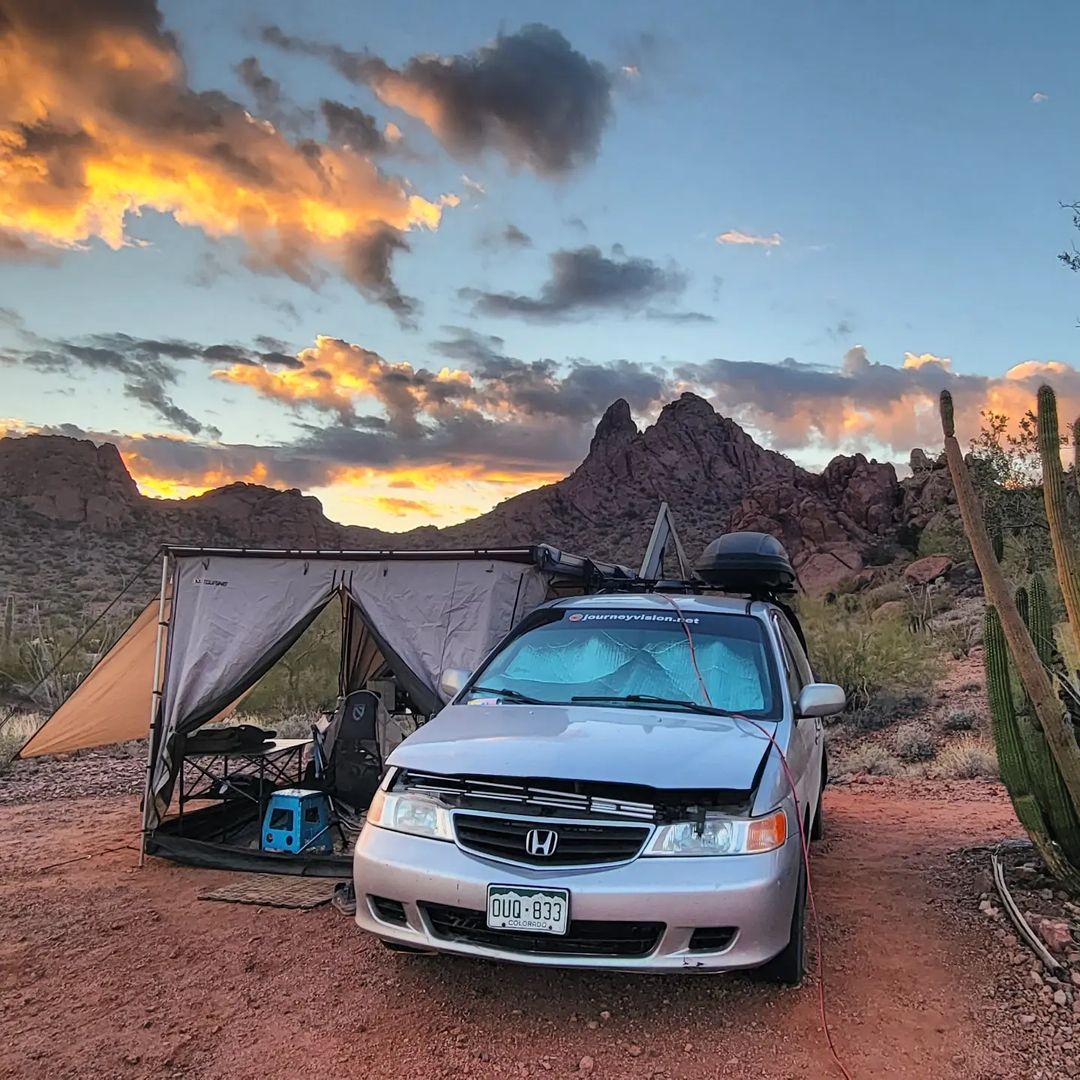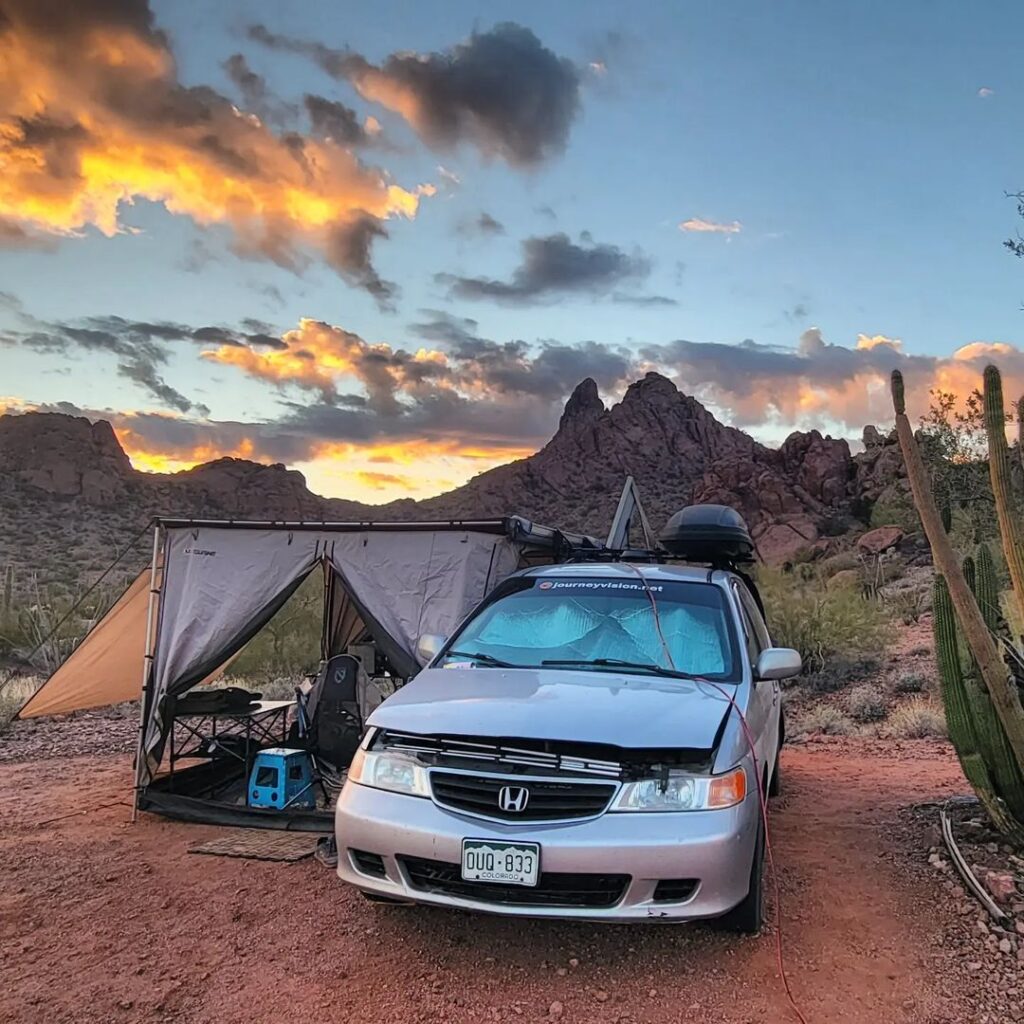 Jay converted a 2003 Honda Odyssey into a minivan camper to live in full-time.
One of the unique features of this minivan camper conversion is the awning / deluxe room combo with screens that extends the living space extensively.
Many elements of Jay's build can be packed up and easily stored inside the camper van or the rooftop carrier, such as the table he uses to hold his stove and kitchen gear.
He has a portable power station charged by a 50-watt solar panel that powers his outside lights, which he strung along the awning for a cozy feel. A 100-watt panel on the roof powers his fridge, fan, heater, and interior outlets.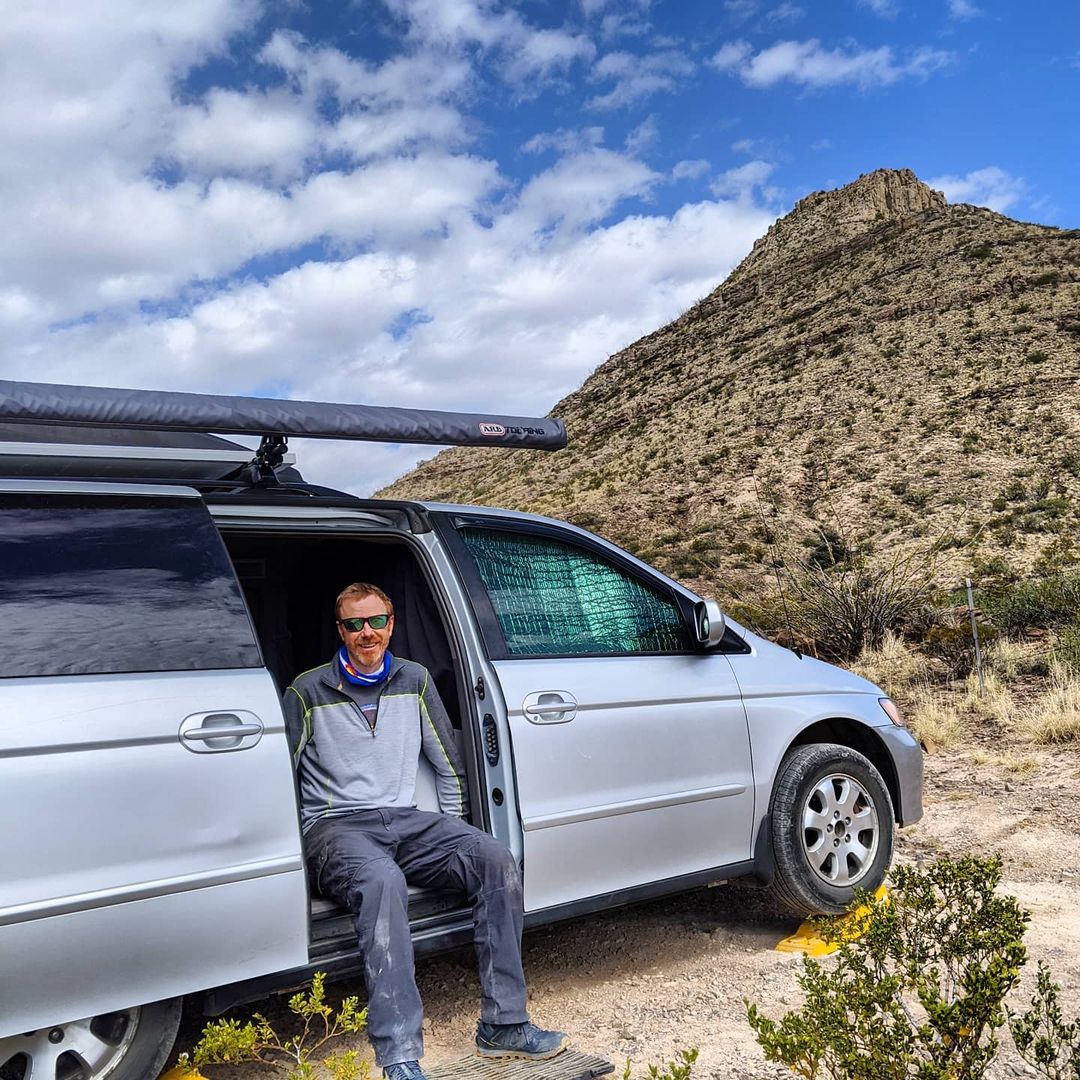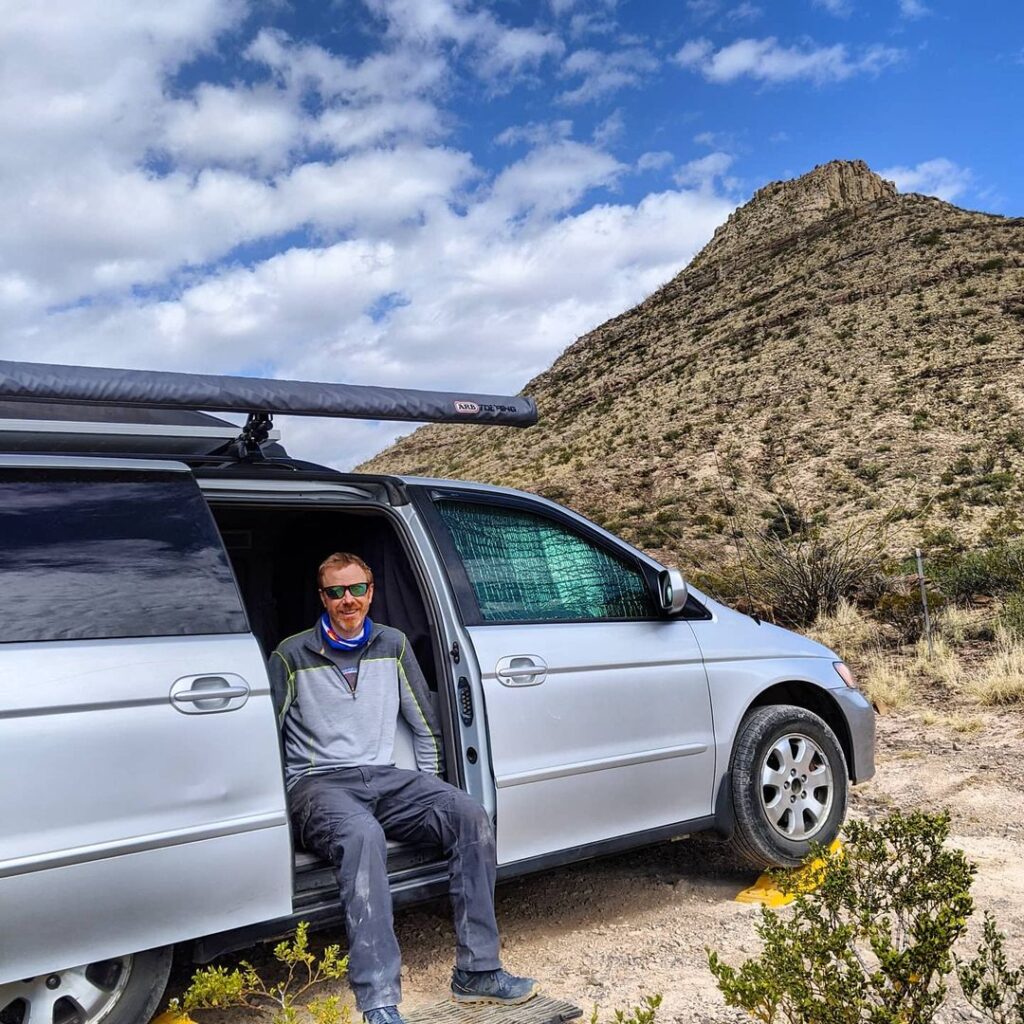 For water, Jay's minivan camper conversion has a simple water dispenser with a pump jug. A blackout curtain is strung along a bungee cord to separate the cab from the living space. There are built-in cabinets on both sides of the interior, with cubbies for storage. Under the van's floor, Jay built additional secret storage compartments for items that need more security.
Instead of a fixed bed platform, Jay got a tri-fold mattress to maximize interior space. He has an additional mattress pad that goes on top for more comfort. He layers quilts and bedding to make a comfy sleeping space that packs up during the day.
4. This vintage Ford Aerostar minivan build from @adventure_time_loui
Loui started out living in a Ram Promaster. With changing circumstances, she ended up selling her Promaster to her mother and buying a 1989 Ford Aerostar. The minivan camper conversion process took about three months. With this minivan build, we can see how Loui was able to add features more typical in a cargo van conversion – like a composting toilet and Maxxair fan.
The most significant piece of her van build is her cabinetry, which has tons of storage for her daily items. We love the swivel table she stores here. Loui created it using a piece of wood and galvanized pipes – a great budget alternative to a Lagun table mount. The table is her main workspace area.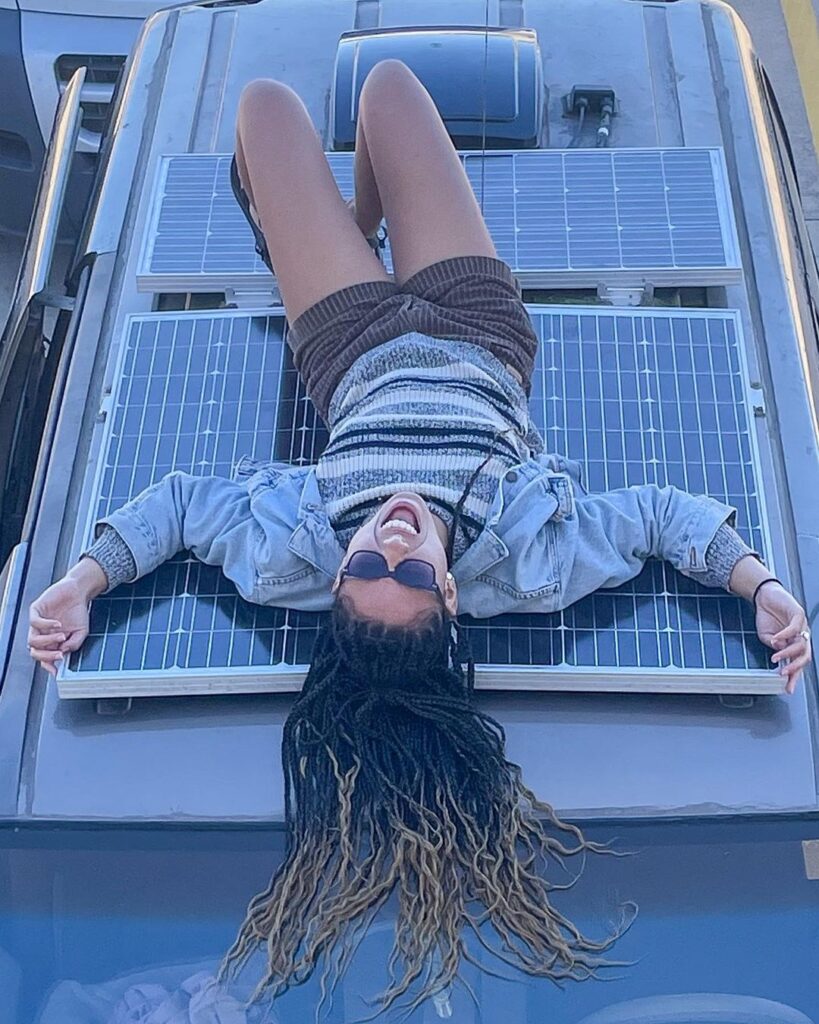 There is a sink behind the passenger seat with running water that she uses to do dishes and wash her hair. She keeps a mix of soap and water in a spray bottle to conserve water while doing dishes. Under the sink, Loui fits a composting toilet that pulls out into the living space when needed.
The minivan camper has an L-shaped couch that converts into a bed by lifting the frame out from under the cushion. It is on a hinge, so once it is extended and the cushions are rearranged, it easily becomes a bed about the size of a twin. Every bit of space counts in a minivan camper conversion, so Loui has tons of storage available within the bench seats.
5. This inventive minivan camper conversion from Adriana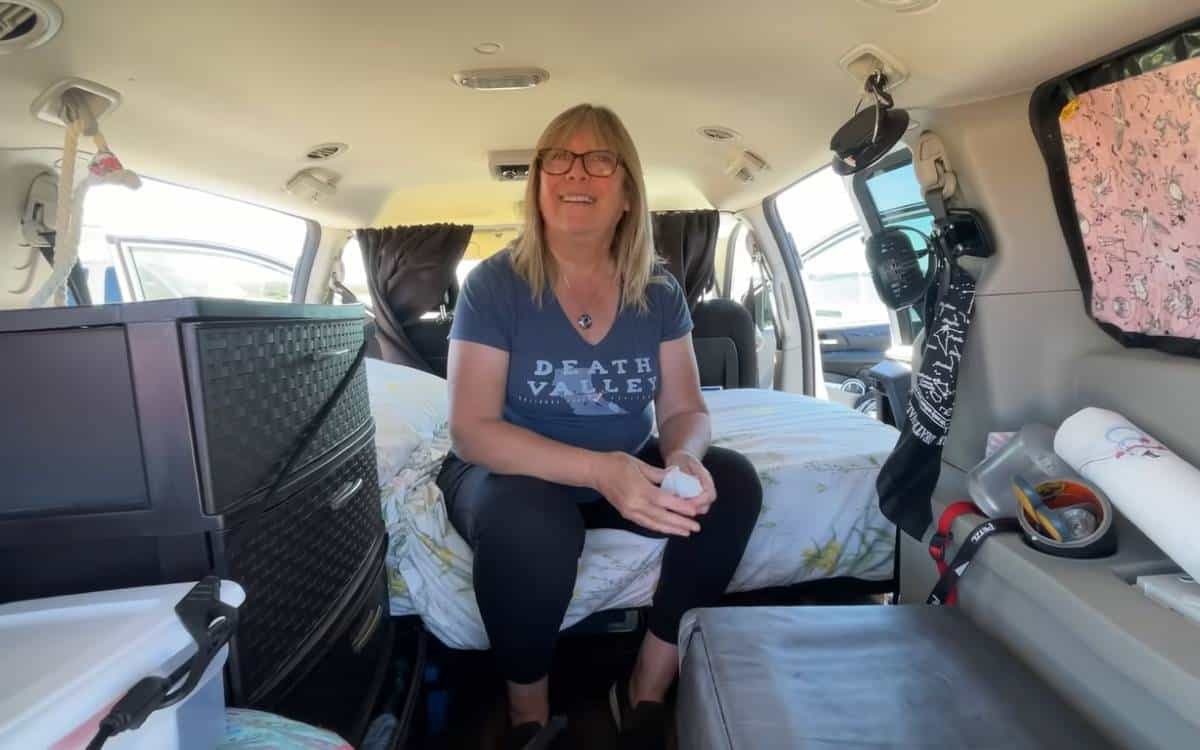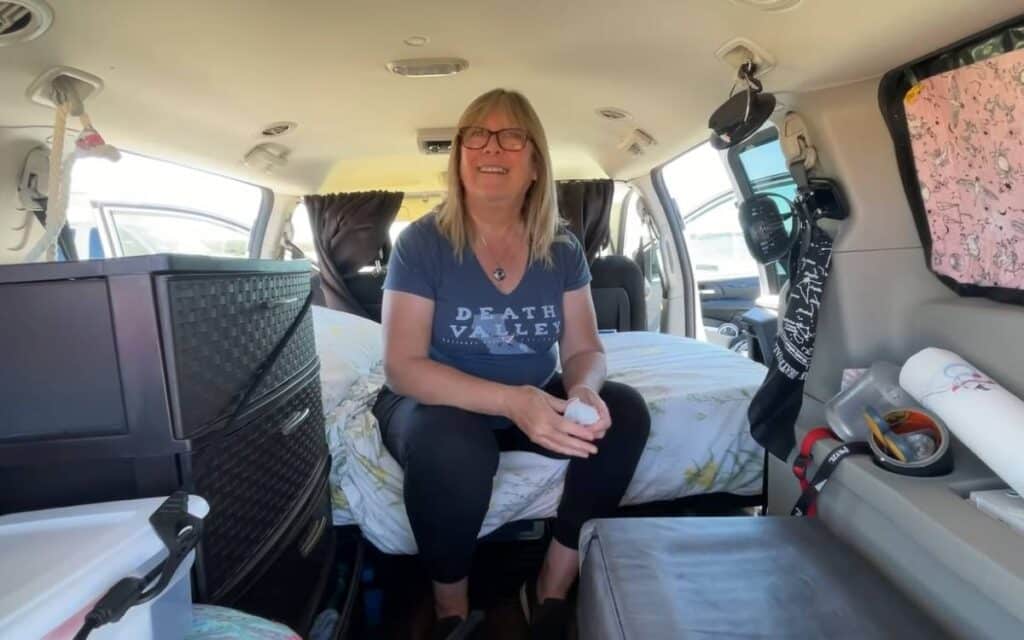 Adriana lives full-time in her minivan camper conversion. She decided to build out a minivan vs a full-size van because it was easier to afford and test out the van life lifestyle.
One of the unique decisions she made with her van build was to place her bed width-wise behind the driver and passenger seats, so there is plenty of living space in the back. She wanted enough space to sit on the bed, so it's on a low platform. This means less storage space underneath the bed, which she maximizes with some plastic containers that slide from under it. She stores most of her items in plastic dresser drawers secured with bungee cords along the side of the van's interior.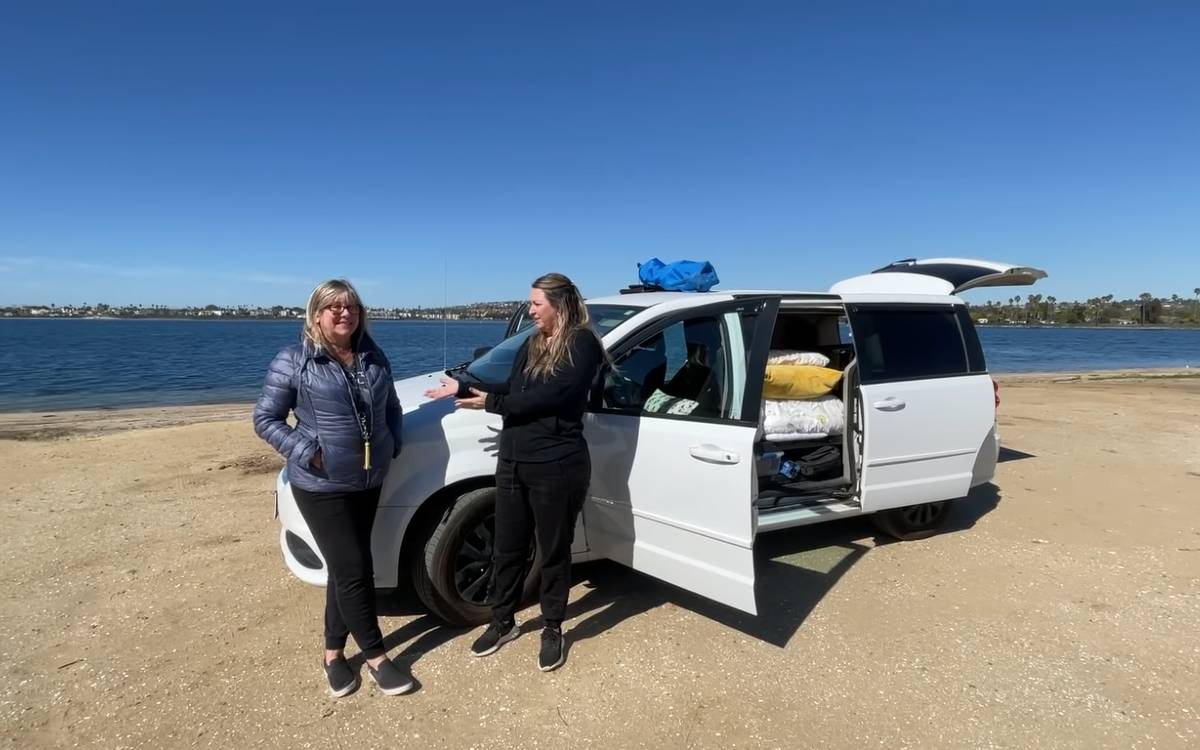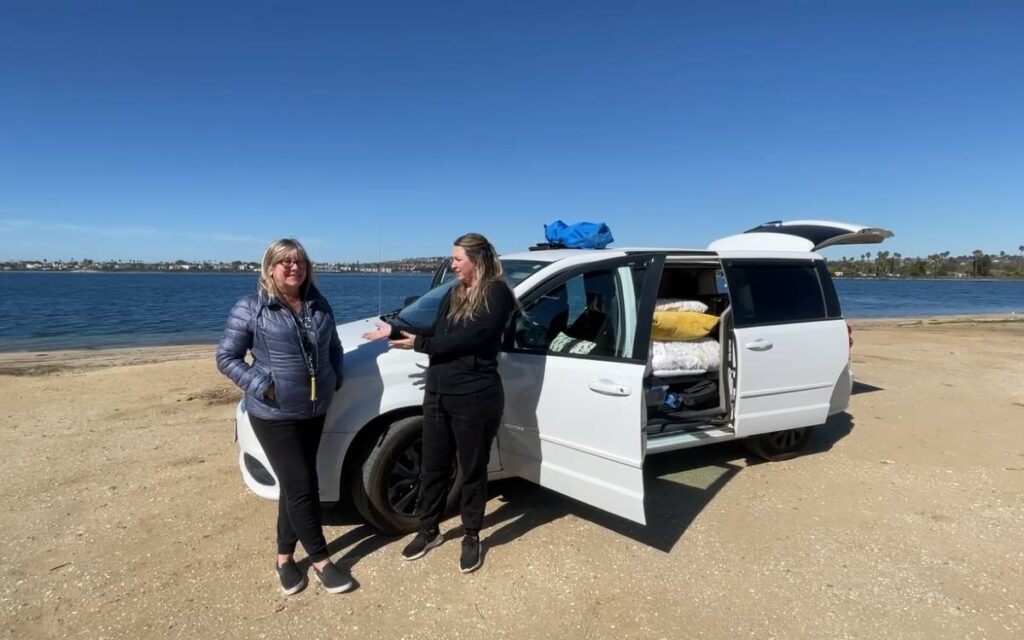 Adriana has a curtain behind the front seats and window covers, which help with stealth when she wants to park her minivan camper conversion in a populated area.
For a bathroom, Adriana has a portable toilet stored with an ottoman cover. She showers inside her minivan camper with a plastic bin and limited water.
We love the inexpensive hack Adriana implemented with Home Depot gutter covers. The covers perfectly fit her minivan's side windows, so she can lower them, insert a cover, raise the window to seal the cover in place, and then have airflow in her living space that keeps the bugs out.
6. This cozy Dodge Grand Caravan campervan conversion from Abiyah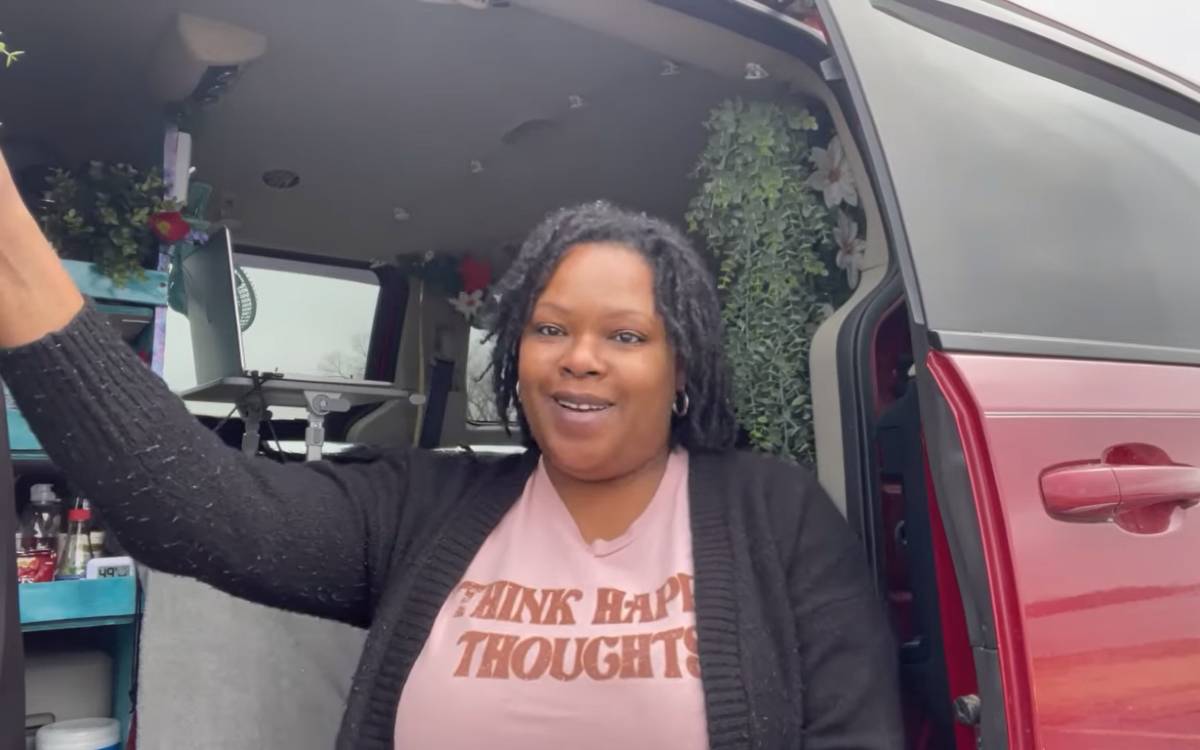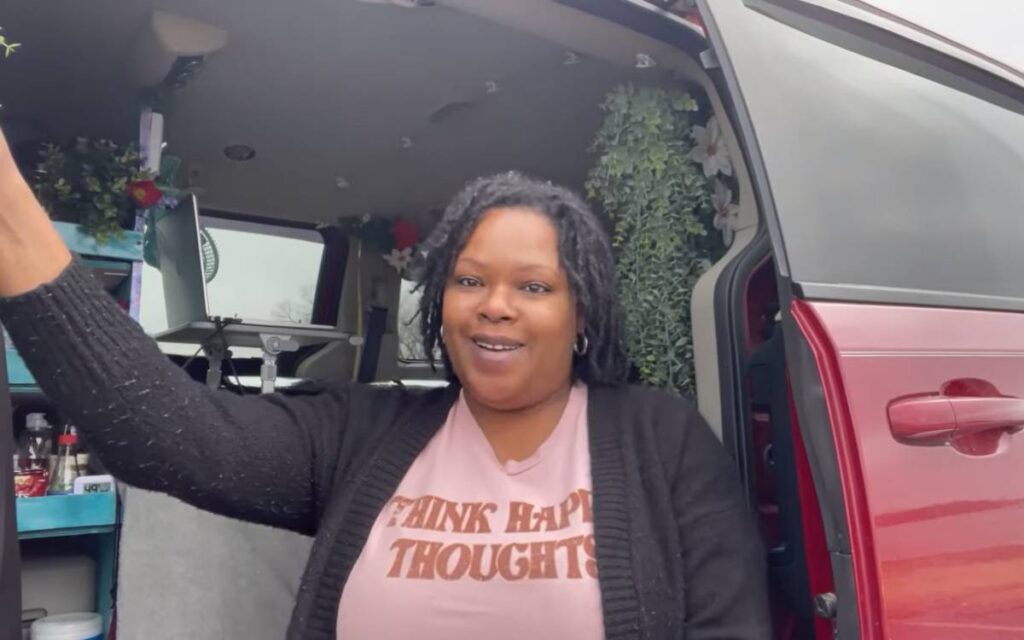 Abiyah lives full-time in her 2015 Dodge Grand Caravan minivan camper conversion. Unlike many van lifers, she opts to keep her van's cab minimal for stealth reasons, so she doesn't store much up by the driver's seat.
Many things in her minivan camper have multiple purposes. Her ottomans provide storage and can be used as tables and seating. Her blackout curtains separate the cab from the living space and provide privacy and décor.
Abiyah added faux plants and fairy lights to add coziness to her living space. She built a shelving unit as storage for her kitchen and pantry items.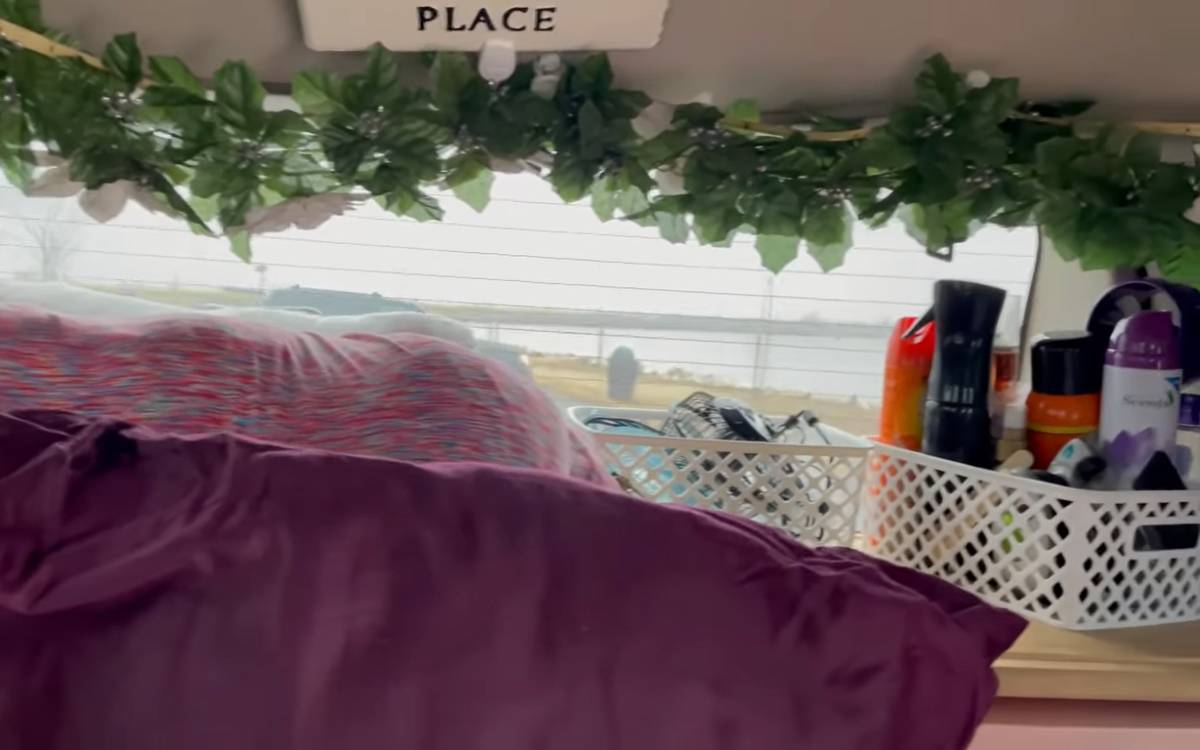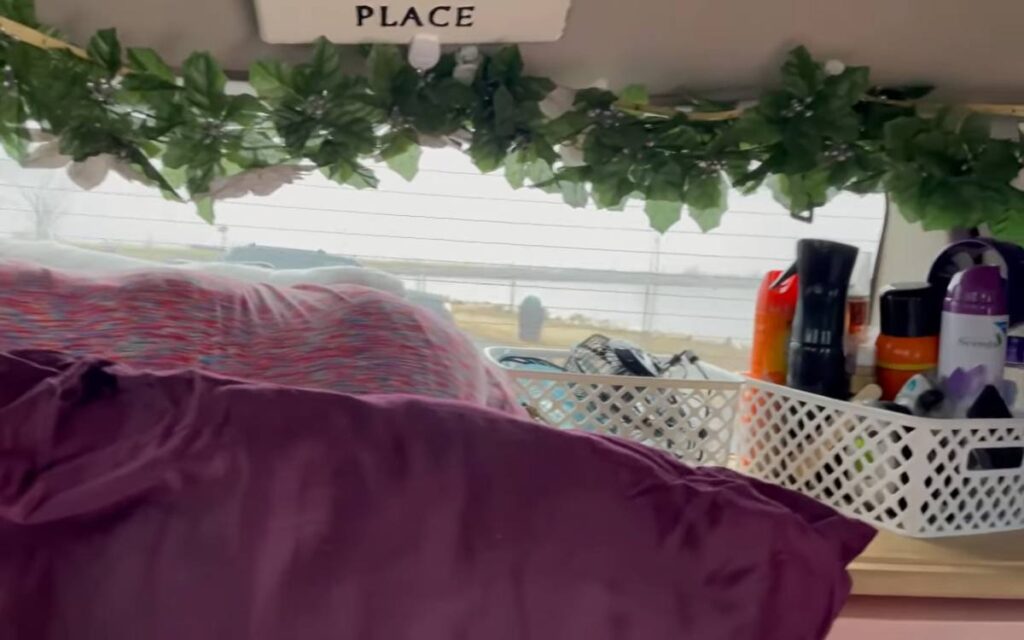 Her mattress is on a cot, which extends lengthwise across the passenger side. There is enough space underneath to store items, which can also be accessed from the back of the van. Abiyah has a king-size pillow case that stores a comforter and heating blanket. There are tons of pillows and blankets on the bed, making the space extra comfy.
She has a plastic 3-drawer dresser that is used for storage. Abiyah secured a thick cutting board to the top of the dresser with gel stickers to place items on top of the dresser without worrying about the top shelf sinking in the middle.
7. This family Chrysler Pacifica converted minivan from Todd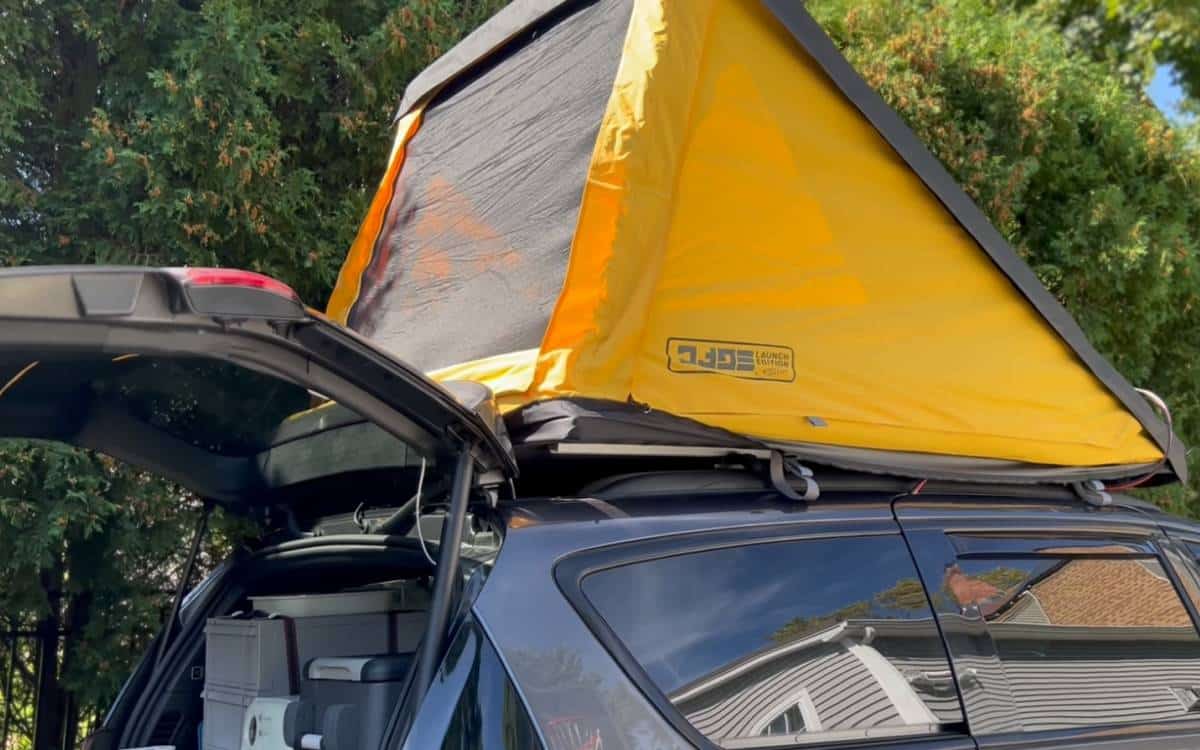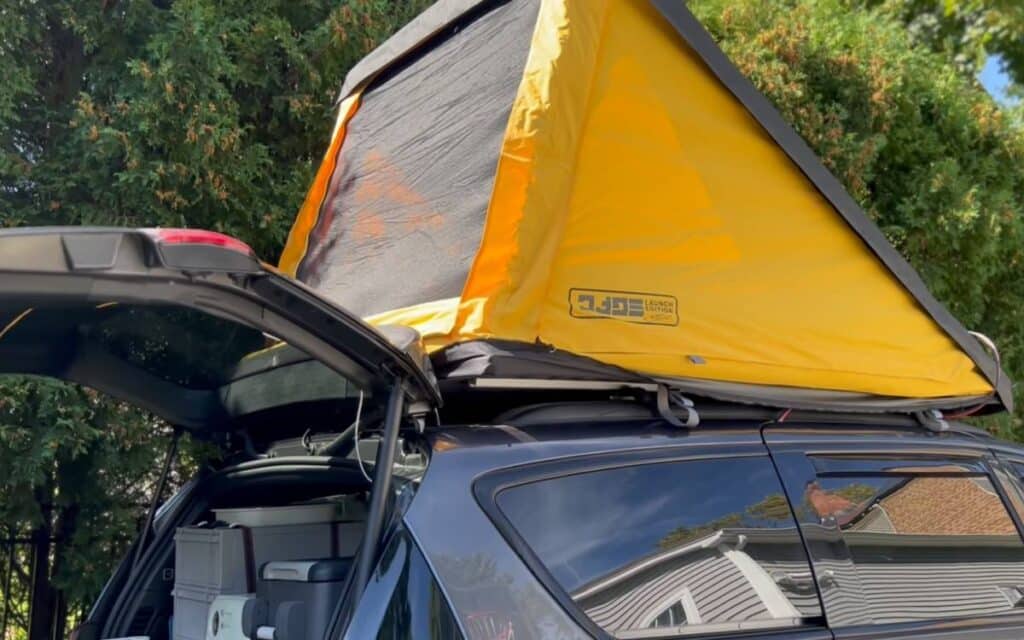 Todd built his minivan camper conversion using a 2020 Chrysler Pacifica. With a rooftop tent, this full-featured minivan conversion sleeps a family of four.
When entering the vehicle from the rear, there is a full kitchen space with a fridge, microwave, and faucet with running water. We love the USB-charged faucet Todd purchased, which folds down and is activated with the touch of a button. He used a magnet to secure it to the space, making it easily removable. Plastic bins act as the van's pantry. They hold plenty of food and slide out from under the bed into the kitchen area.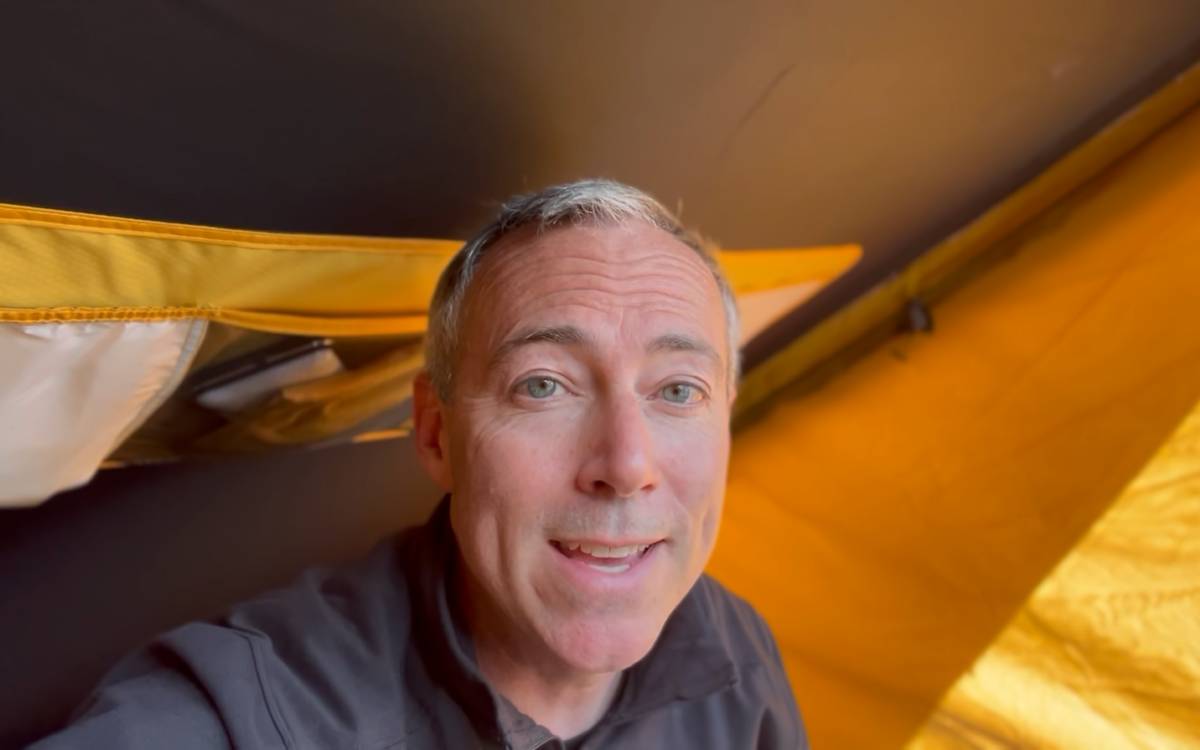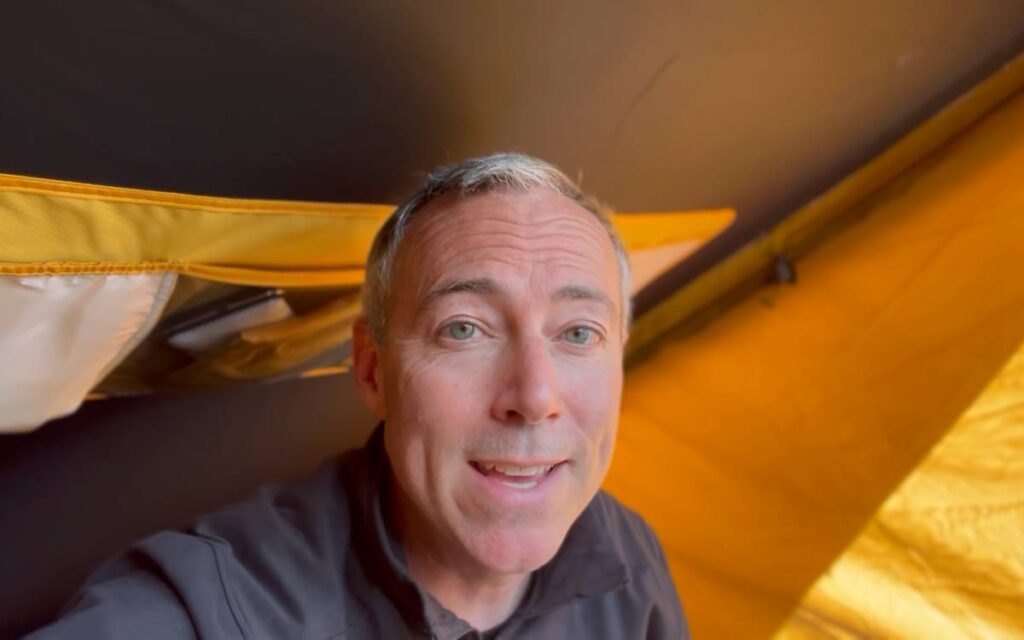 The rooftop tent is the most notable feature in this minivan build. It creates an additional sleeping space for two people, which packs down and is secured to the roof. It only takes a couple of minutes to set up, which entails unzipping the case, inserting telescoping poles, and securing them with Velcro. When the tent is not in use, it holds the family's pillows and sleeping bags. The tent has screens and flaps that provide airflow.
The interior bed frame uses the kitchen counter by sliding it into the minivan instead of out. The frame is supported by the folded-back seats. Once the mattress is in place, this bed sleeps 2-3 people.
8. This "no-build" Kia Sedona minivan build from @minivan_lee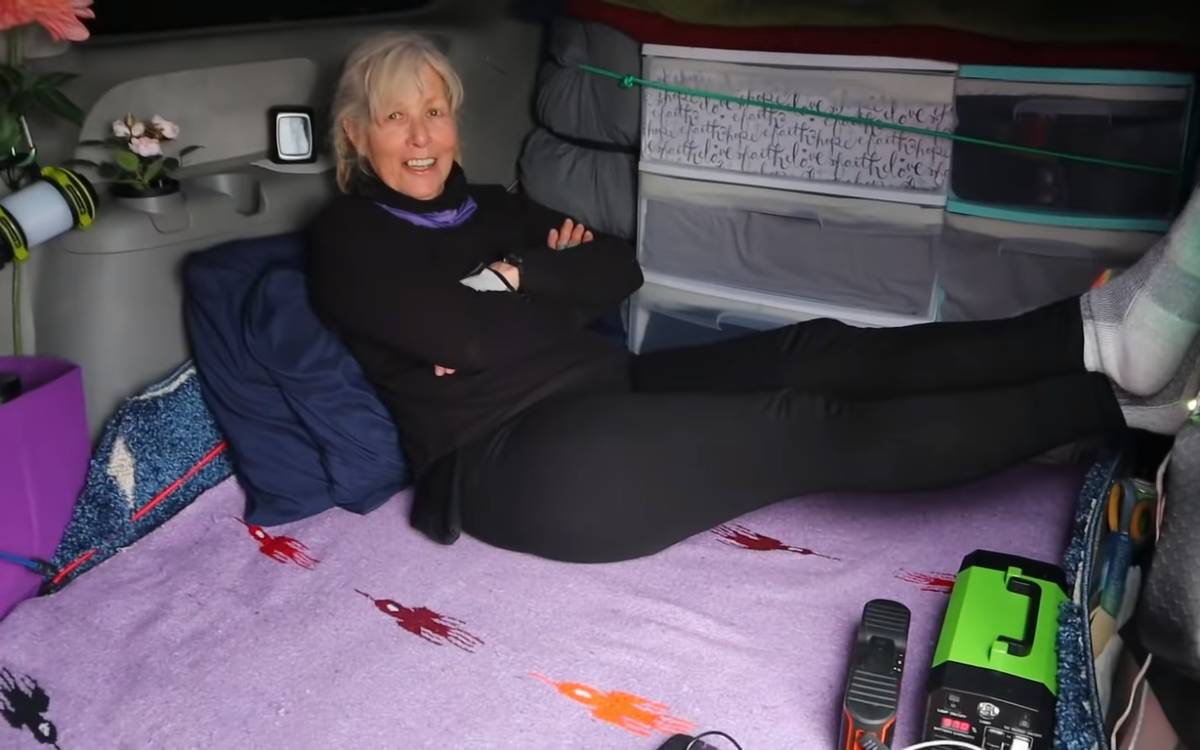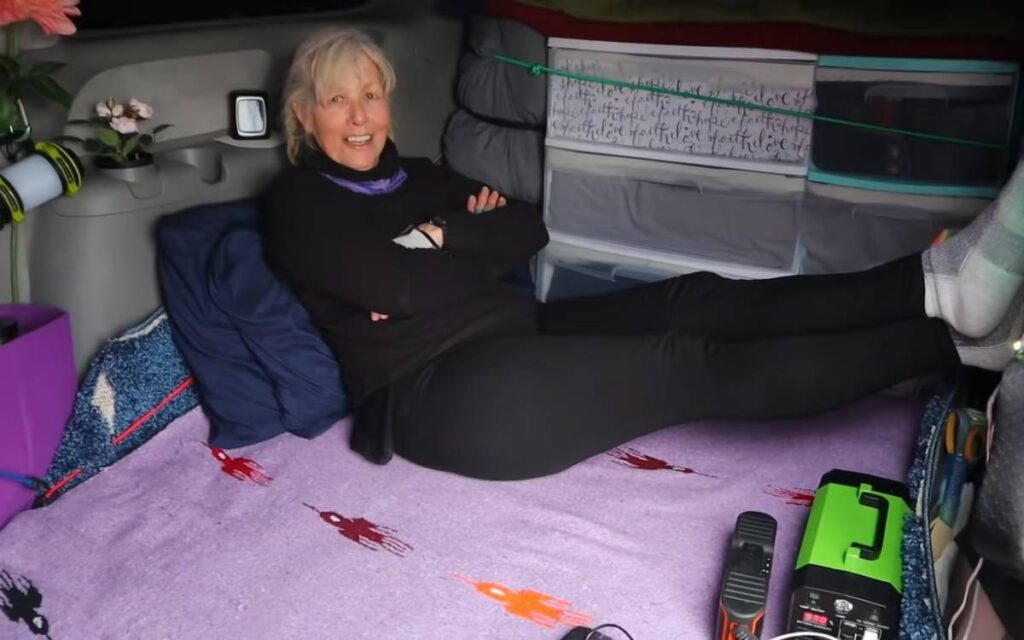 Lee is a retired woman who lives full-time in her Kia Sedona, which she converted into a DIY camper van. For simplicity, she did a "no-build" build using comfort and storage solutions that don't require any permanent structural changes to the minivan. A combination of plastic dressers and fabric bins acts as the van's storage.
She added carpets and blankets to the floor of the interior living space. Rather than opting for furniture to sit on, Lee sits on the minivan floor, keeping the space wide open.
Lee removed the passenger seat for more storage space. In the seat's place, there are large plastic bins in which she keeps extra food and pantry items, tools, water jugs, and hiking gear. She has a small cooler but no fridge, so most of the food she purchases doesn't require refrigeration.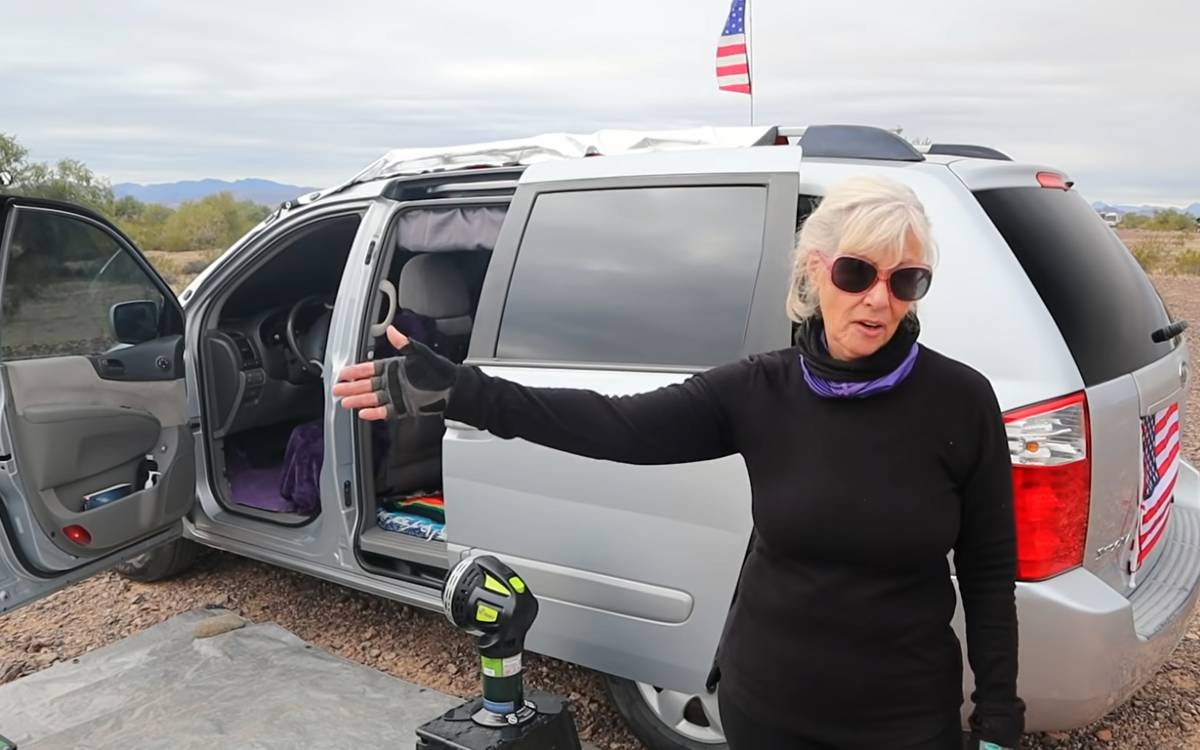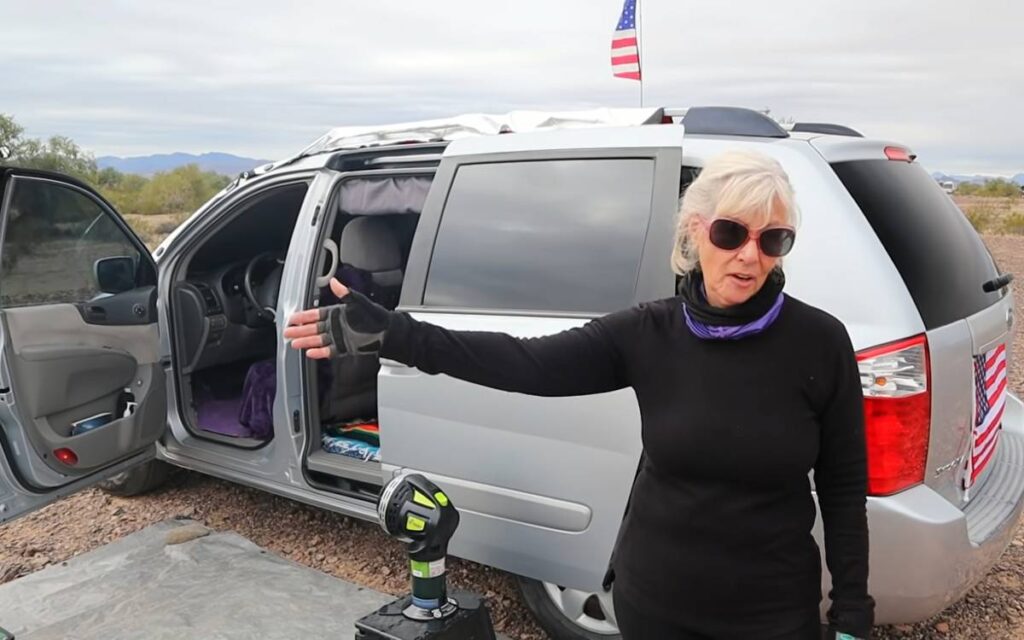 For van life electrical, she has three different power banks because she wanted to ensure she had enough power when boondocking. USB-powered fairy lights light up the living space.
In the rear of her Kia Sedona mini van conversion, Lee has a small garage space cordoned off by the plastic dressers that are accessible from the interior. Items in the garage are secured by bungee cords. She stores miscellaneous items like paperwork, a sleeping pad, and a solar panel there.
When Lee boondocks, she sets up a small tent she bought for $20, which she uses to store items and create more space in her Kia Sedona.
9. This design-focused Honda Odyssey campervan conversion from @solsticeelliott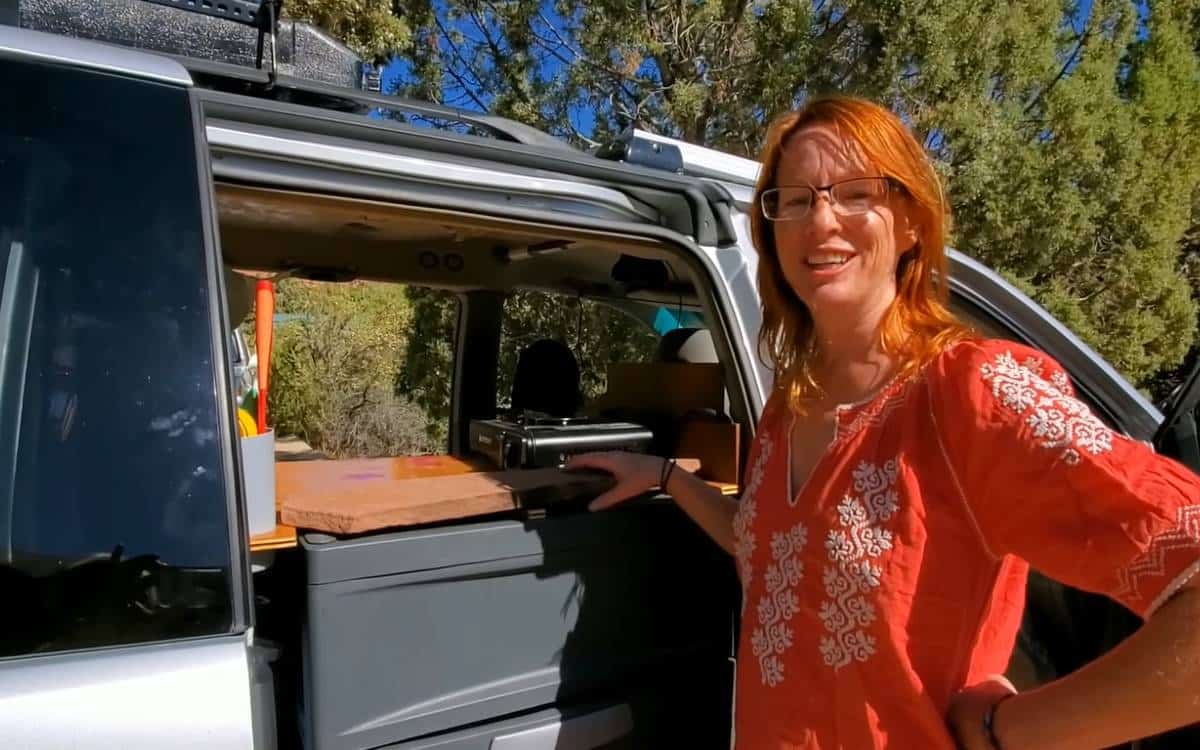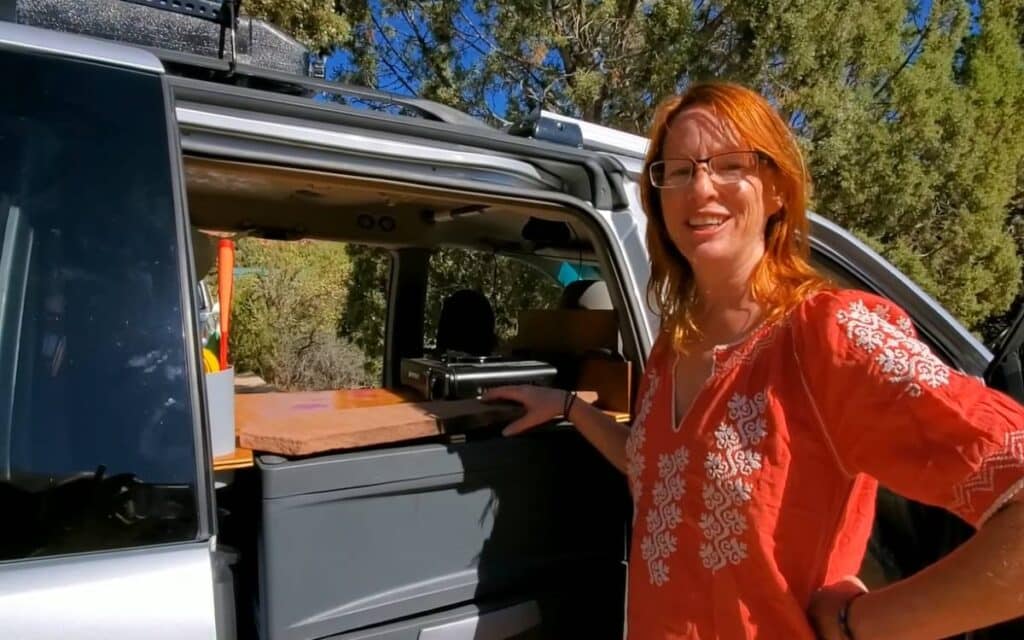 Solstice Elliott had already lived in various vehicles before converting her 2003 Honda Odyssey minivan camper, including a Prius, a Westfalia, and a Nissan Sentra. For this van conversion, she wanted to have some of the conveniences of a larger vehicle while maintaining the stealth minivans can offer. She used her education in Landscape Architecture to analyze her space and develop design solutions.
A 4′ by 8′ piece of plywood from Home Depot was integral in this minivan camper build. Solstice added creativity and décor to the plywood by adhering leaves and wildflowers to it with an epoxy glaze. The plywood creates her kitchen space, which is double-sided and extends behind the passenger seat of the van. She installed a small sink with running water and a separate line for drinking water.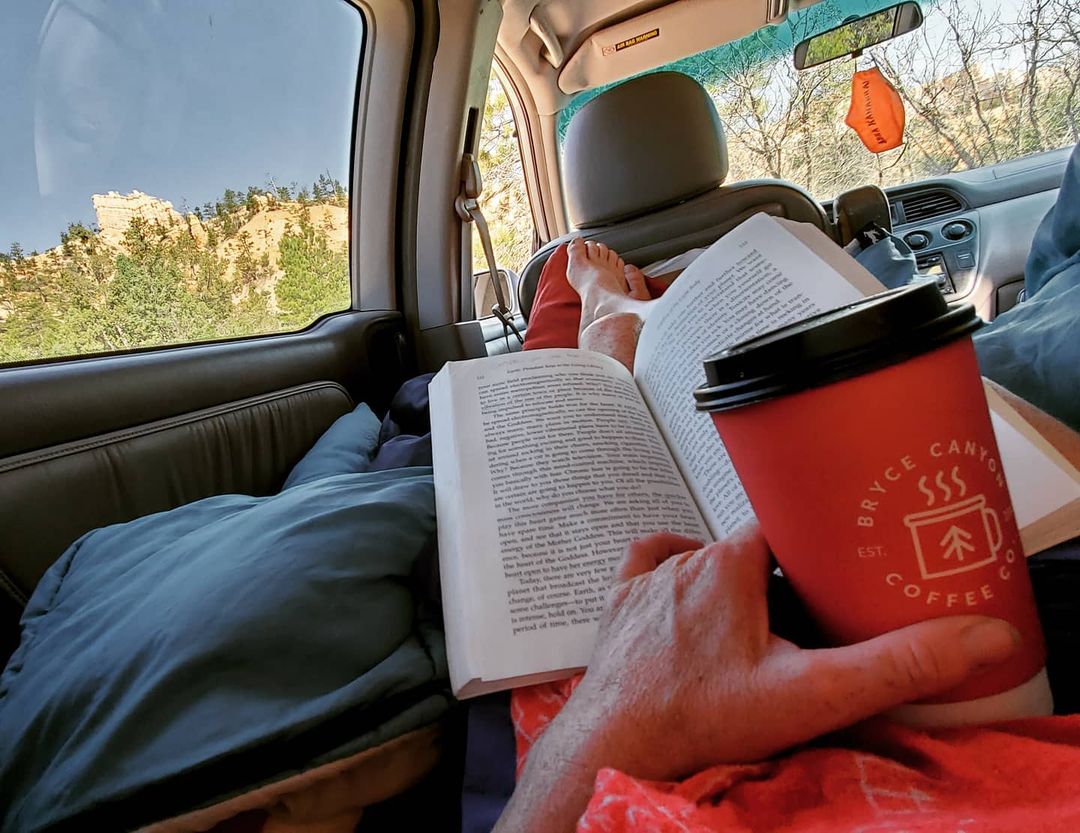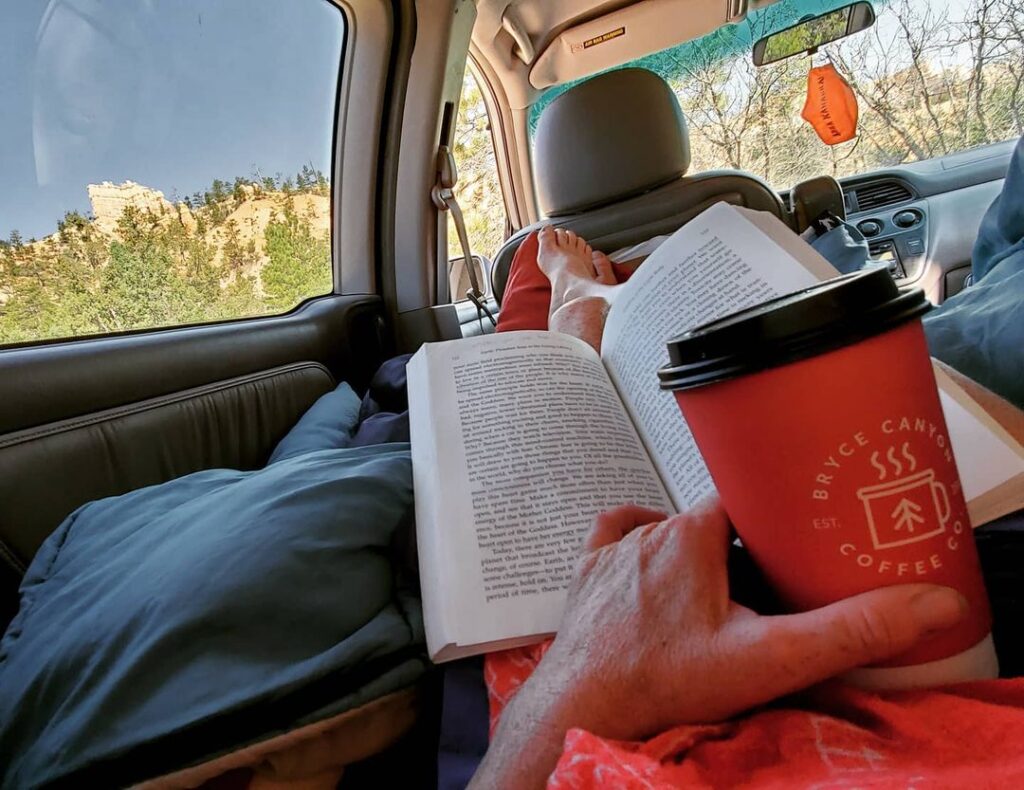 Solstice has a heated water tank in the back of the garage that connects to her sink's handheld hose. With the rear doors open, she can run the hose outside and use this space for doing dishes. She can also string a privacy curtain along the back, place a few planks on the ground, and create a shower area.
She has a twin-sized bed fixed behind the driver's seat in this minivan camper conversion. She also uses this space for her mediation area, where she can enjoy the day's view through the open side door.
10. This 3-day Toyota Sienna build by Mitchell and Bonnie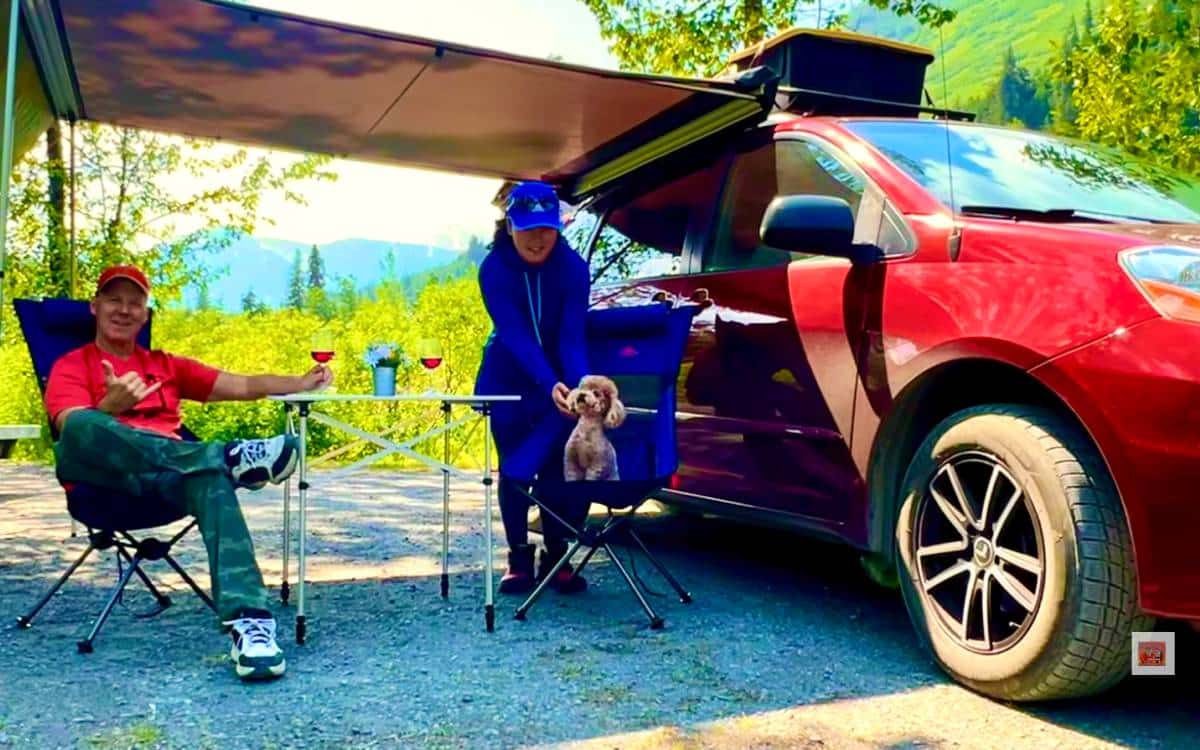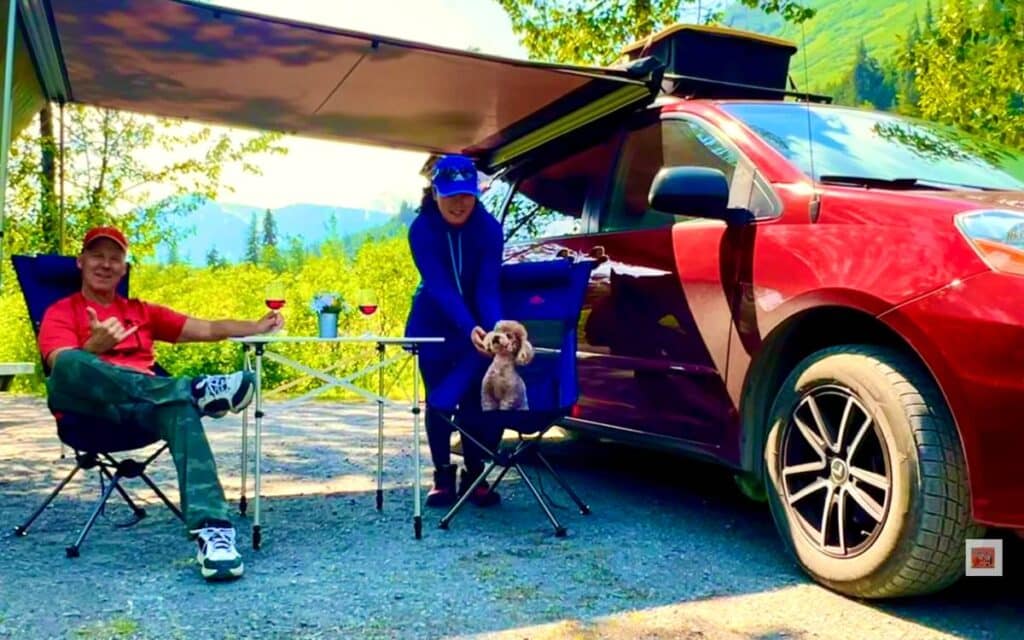 Van lifers Mitchell and Bonnie built their Toyota Sienna minivan camper in only three days. Plywood and décor elements really make this space both sturdy and stunning. They used cardboard to create templates to get exact cuts and fits for this build.
They cut and installed sheets of plywood as the base of the van's living space. We love this van's interesting rear kitchen. Mitchell and Bonnie used plywood with a picture window to create a wall and make the kitchen its own space. Vinyl tiles create a gorgeous backsplash and give it a homey feel.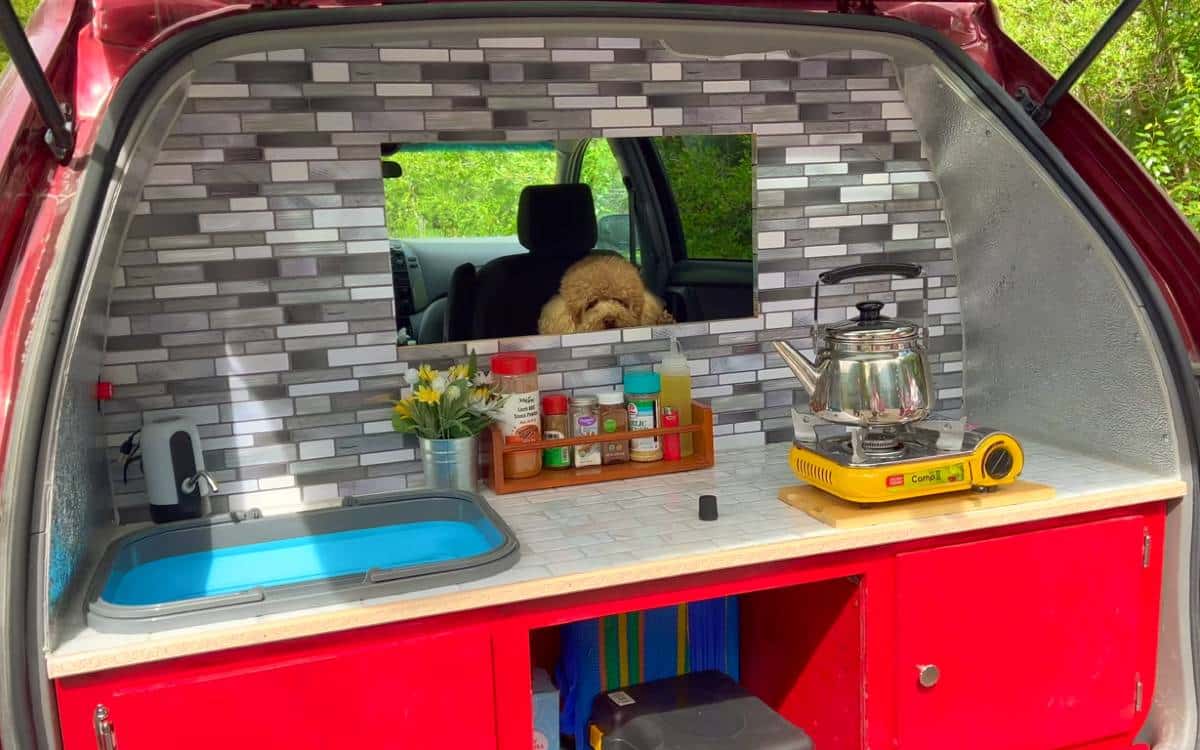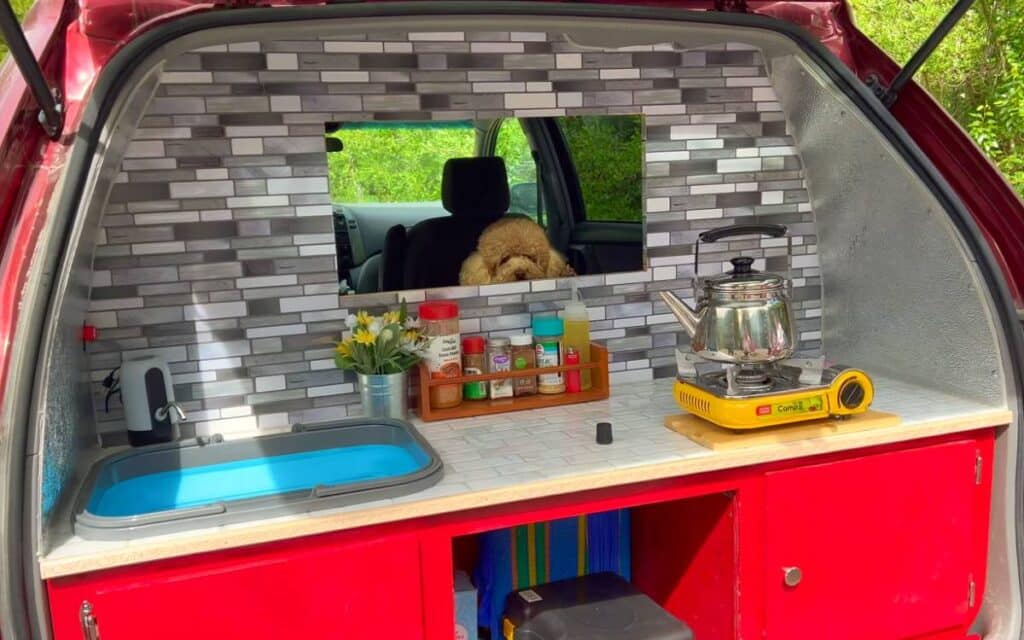 There is a faucet with running water and a deep, removable sink. Beneath the kitchen counter is plenty of storage space for food and cooking equipment.
They opted to remove the center console between the driver and passenger seats and replace it with a cooler. On top of the cooler is a bed for the couple's dog, Phoebe. The rest of the interior living space consists of the couple's bed, which is fixed over the plywood base.
An awning extends from the roof of the passenger side of the Toyota Sienna minivan conversion. Mitchell and Bonnie set up camp chairs and a table to create a large living space outside the van.
Build Your Van
The Ultimate Van Build Guide
Planning a van build? Read our free guide. We cover just about everything you need to know – from planning, to insulation, to solar and electrical, to picking appliances, to essential tools. Get started today so you can get out there on the road!