You really don't need a whole lot of space for #vanlife. Faced with higher fuel prices and the rising cost of full-sized vans, many vanlifers are turning to micro-camper options like the Nissan NV200 camper van.
The Nissan NV200 is a small cargo van similar in size to a Ford Transit Connect, Ram Promaster City, or Mercedes Metris. One way to think of it is like a cargo van version of a minivan camper. While the NV200 is no longer available new in the US, they are readily available on the used van market.
There are many upsides to using a compact van like the Nissan NV200 for a camper conversion.
They are usually more affordable than larger vans, and they get much better gas mileage.
Because of their small size, they are easier to maneuver and park, which is essential for city driving.
They're stealthy and great for city camping but are nimble enough to take anywhere.
Most mechanics can service the NV200, and Nissan vehicles are generally reliable.
The main downside is the smaller footprint and low roof, so building a functional van life camping rig inside an NV200 takes some additional creativity.
To help inspire ideas for your own NV200 microcamper, we've rounded up some innovative DIY builds, some professional van builds, and some modular camper conversion kits for the NV200.
Build Your Van
The Ultimate Van Build Guide
Planning a van build? Read our free guide. We cover just about everything you need to know – from planning, to insulation, to solar and electrical, to picking appliances, to essential tools. Get started today so you can get out there on the road!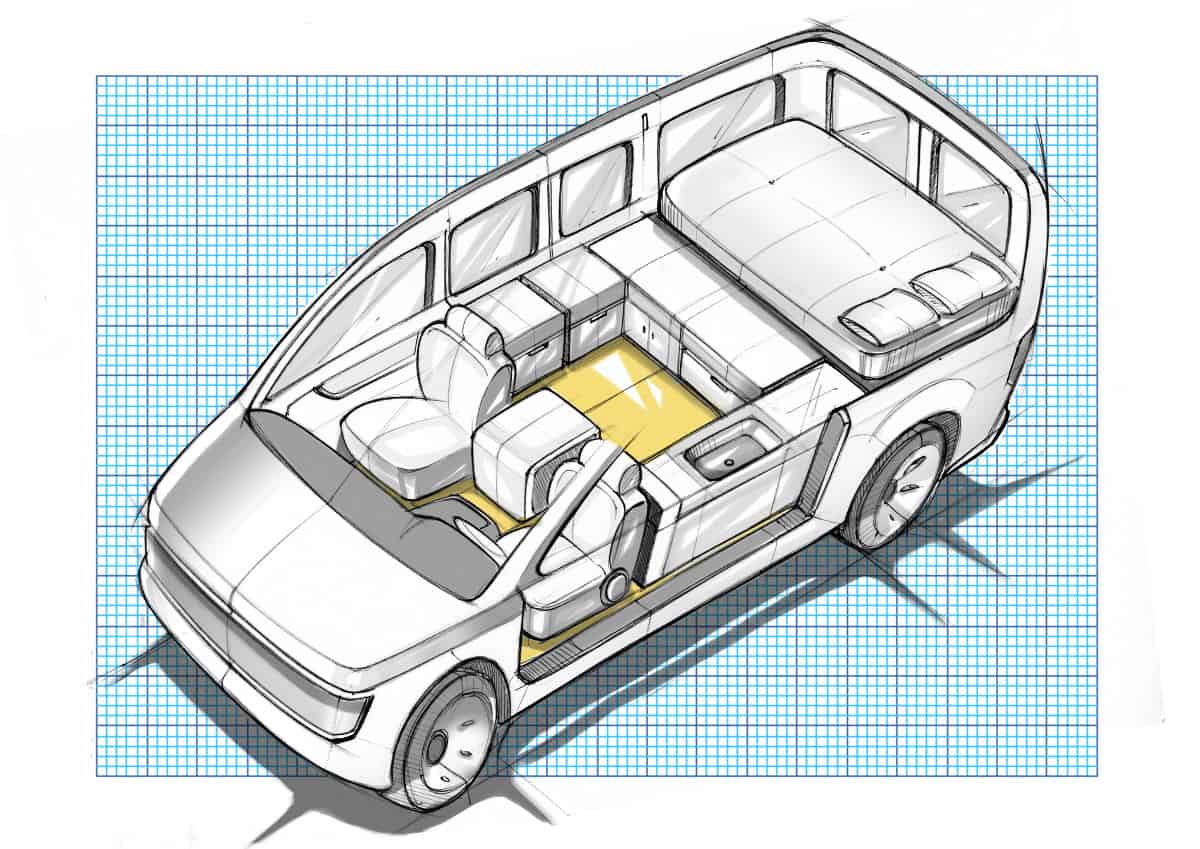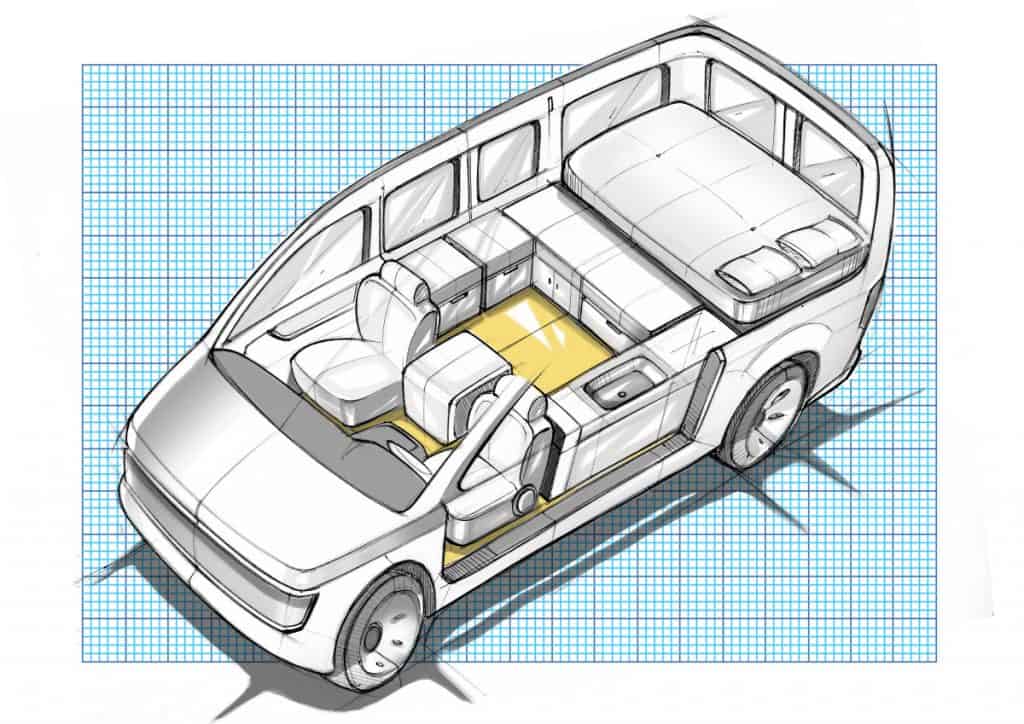 7 Awesome DIY Nissan NV200 Campers to Inspire Your Build
1. This stealth Nissan NV200 camper build from @collegeofcuriosity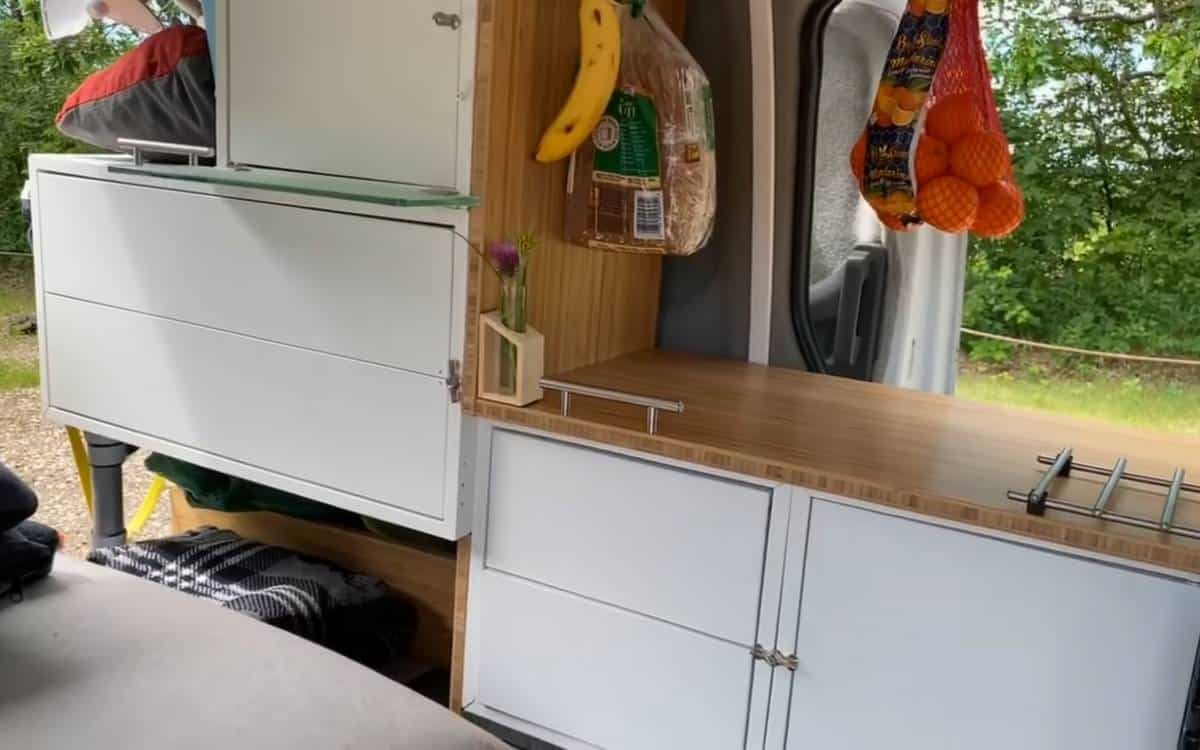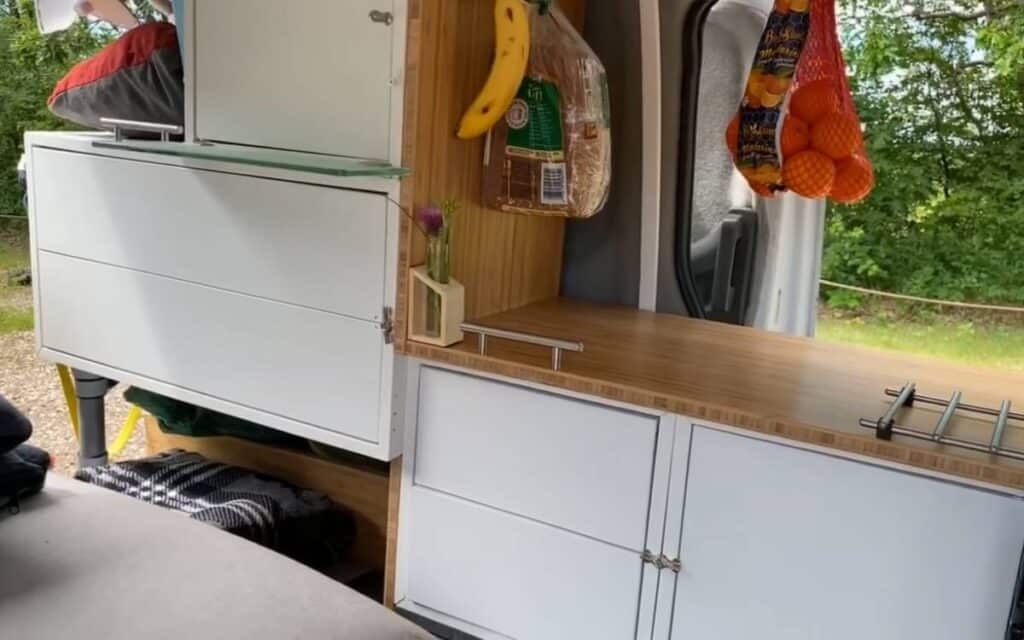 Jeff converted a 2014 Nissan NV 200 cargo van into a camper van. He opted to keep things stealthy, meaning you can't tell that the van is a camper solely based on outside appearance.
He included a 200 watt of solar panel on the van's roof, as well as a vent fan and roof rack. The cab is pretty inconspicuous, with curtains that separate it from the living space.
Jeff installed IKEA cabinets to function as storage cabinets and the main counter space for his build. Inside the cabinets Jeff has water storage, as well as the components for his campervan electrical system, including charge controller, LiFePO4 battery, circuit breakers, and inverter.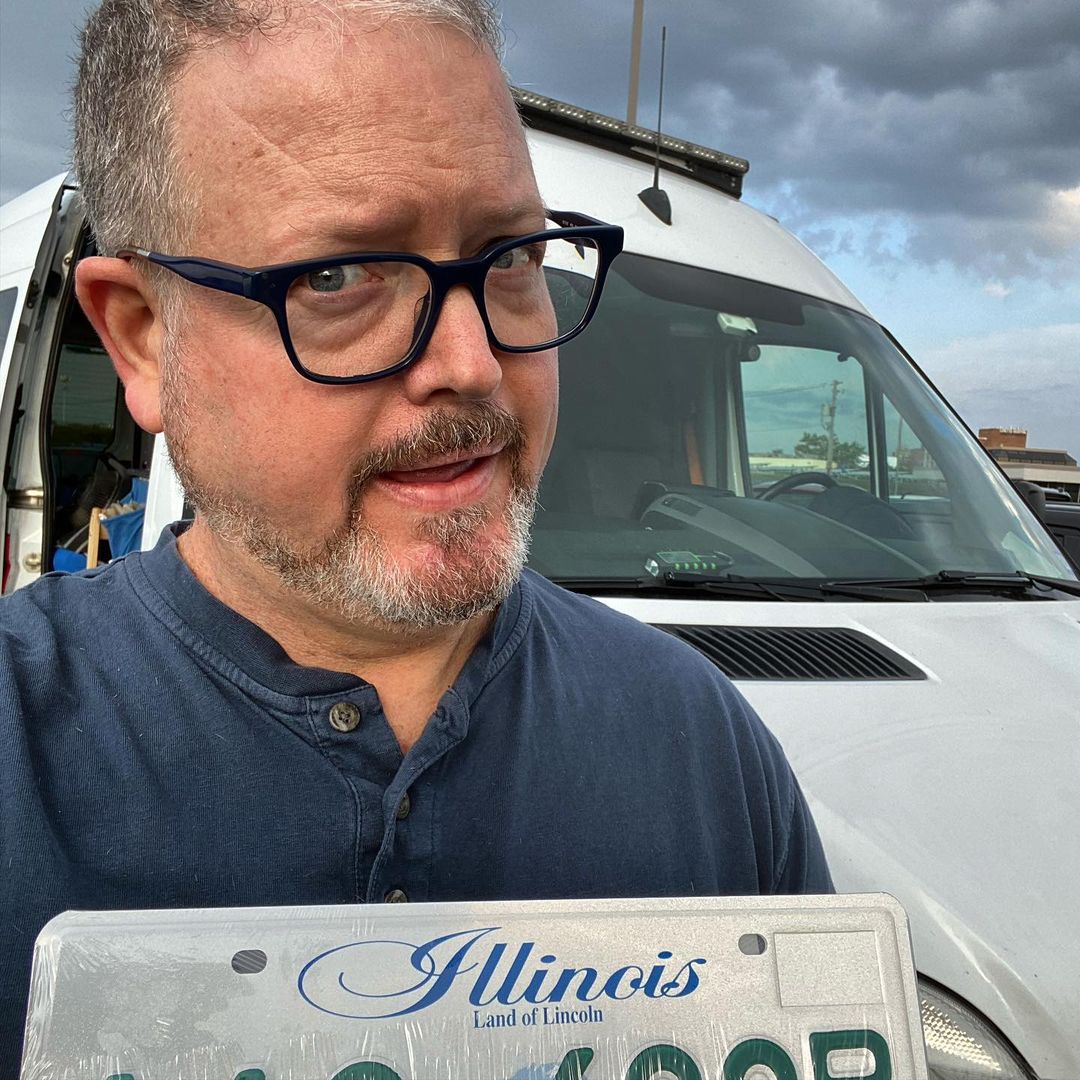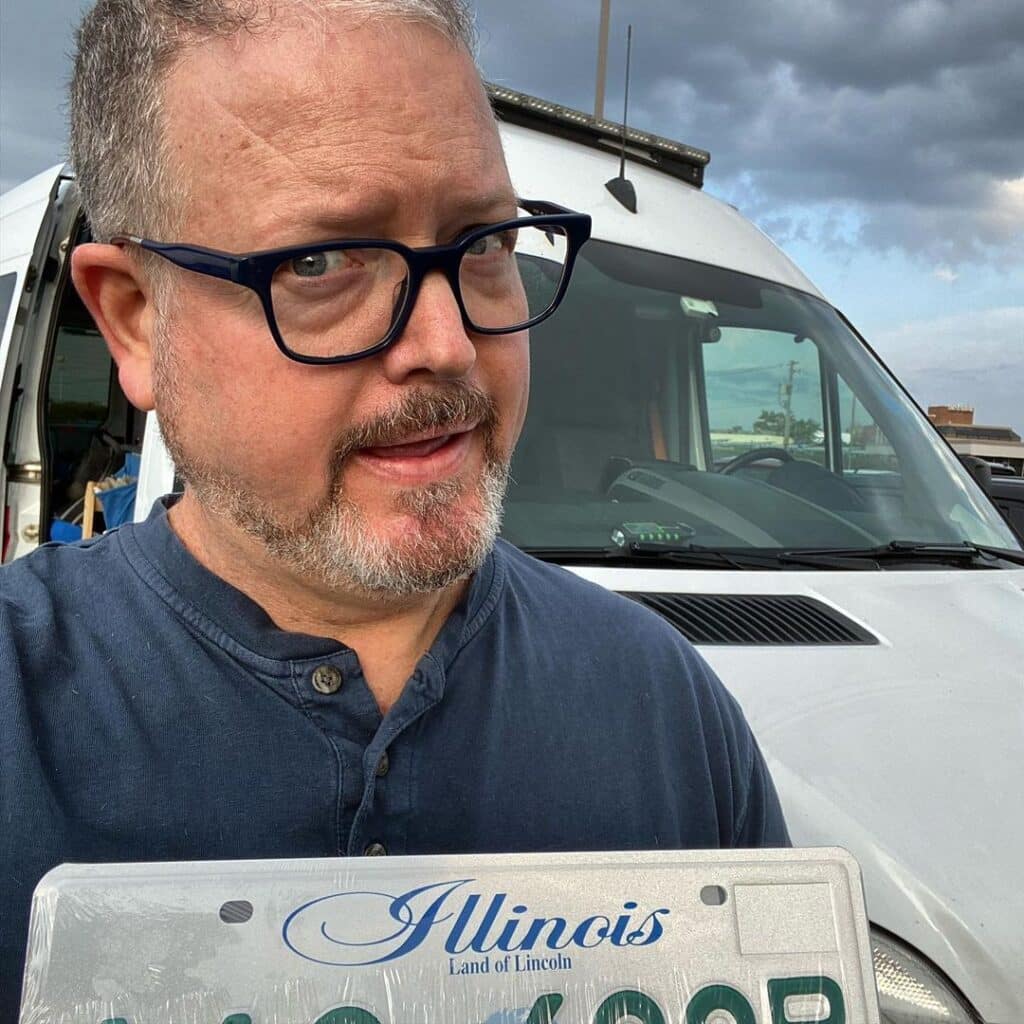 The van's bed is also from IKEA. During the day, the bed is a comfortable seat that leaves plenty of floor space in the van. At night, the frame pulls out from under the chair with slats that support the mattress. The seat cushion unfolds, and a twin-size bed is in place. We think this is a simple and easy bed transformation for the small space.
4-way stretch carpet covers the interior. There is a portable toilet stored in the cabinet beside the sink. The sink faucet swivels outside and connects to a shower hose to allow for outdoor showers.
2. This no-build NV200 Nissan camper van from @bunnyplayshere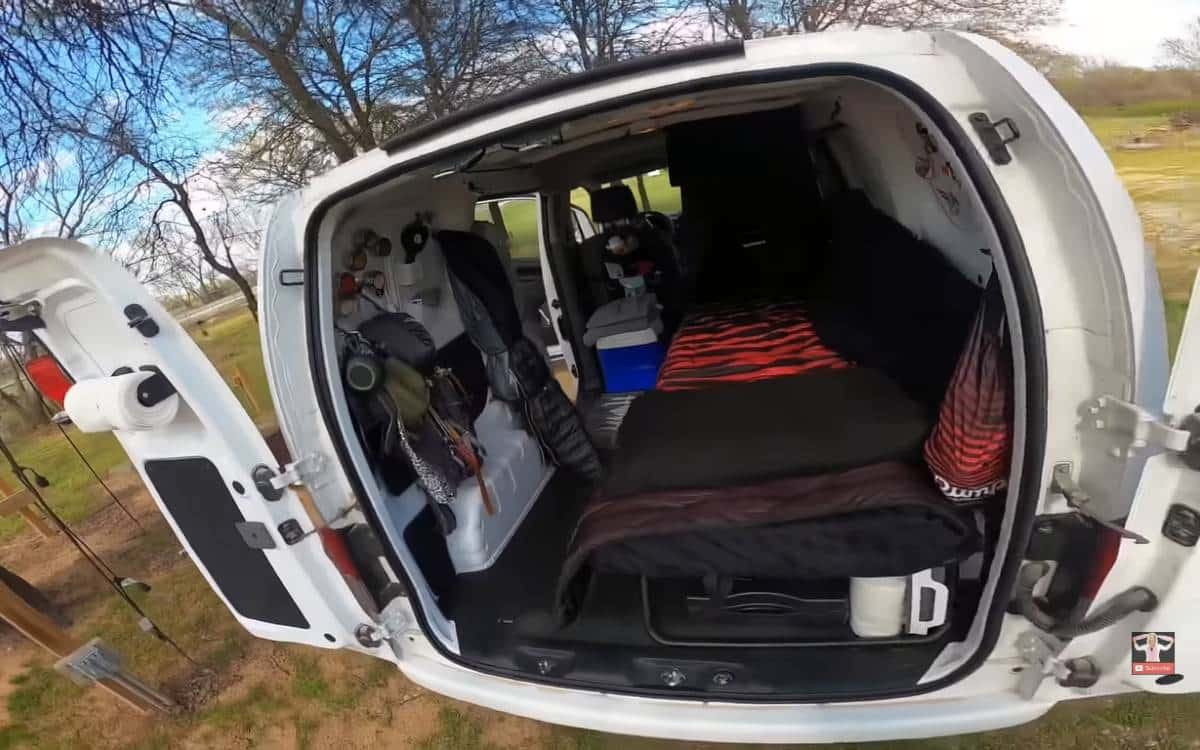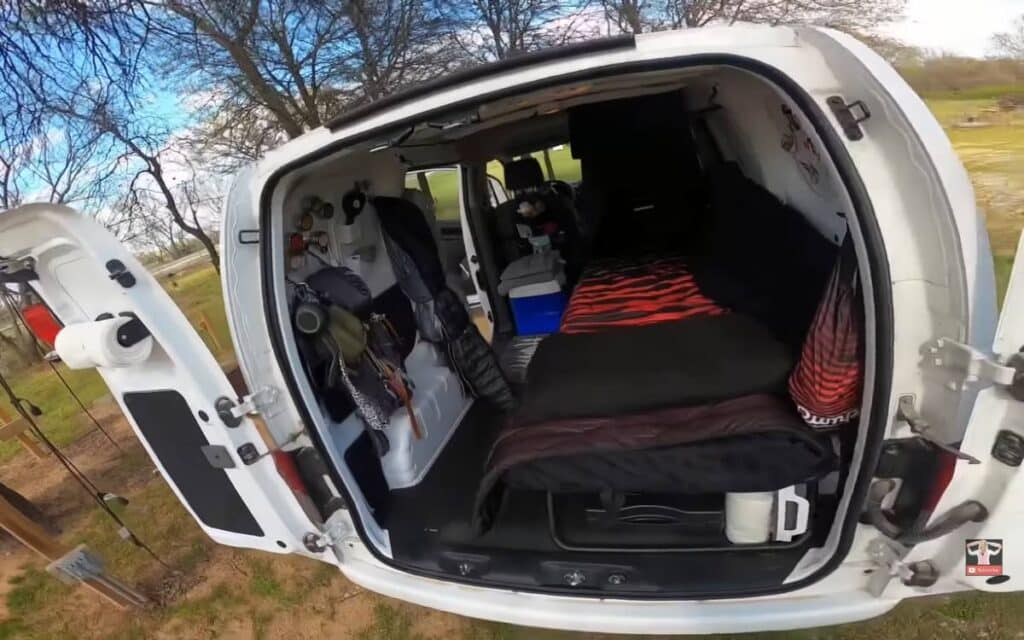 Bunny knew she wanted to do a good camper van conversion, but she didn't know what she would need in her layout for day-to-day life, so she decided to start traveling in her Nissan NV200 without building it out. By living in it before converting it, she could get on the road faster and learn her wants and needs for a later build.
Since a comfortable bed was a top priority for Bunny, she added foam to her sleeping pad and placed it on a cot she already owned. The single bed runs lengthwise across the passenger side of the van. She has a body pillow leaning against the side of the van the bed is on, and this space doubles as seating during the day.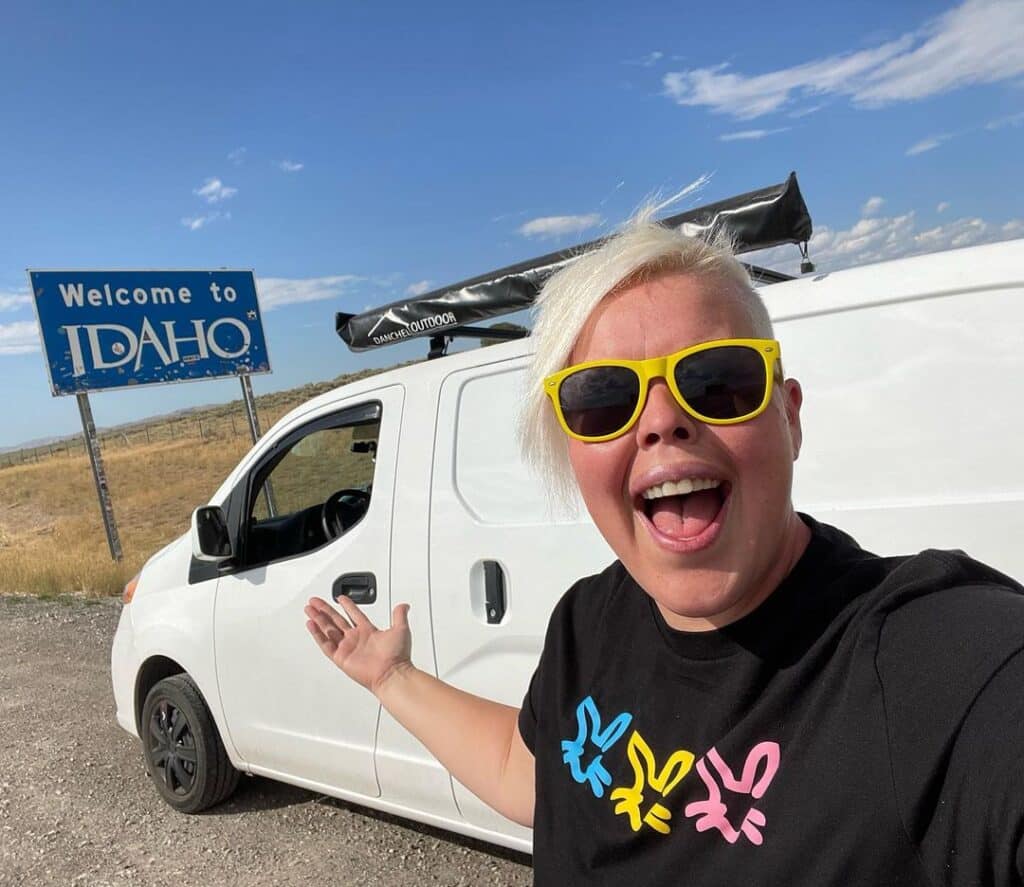 Under the bed, there is plenty of room for storage. Bunny uses bins she purchased from Dollar Tree to hold smaller items, which slide in and out from under the bed like drawers.
3. This cozy NV200 van life conversion from @justuswandering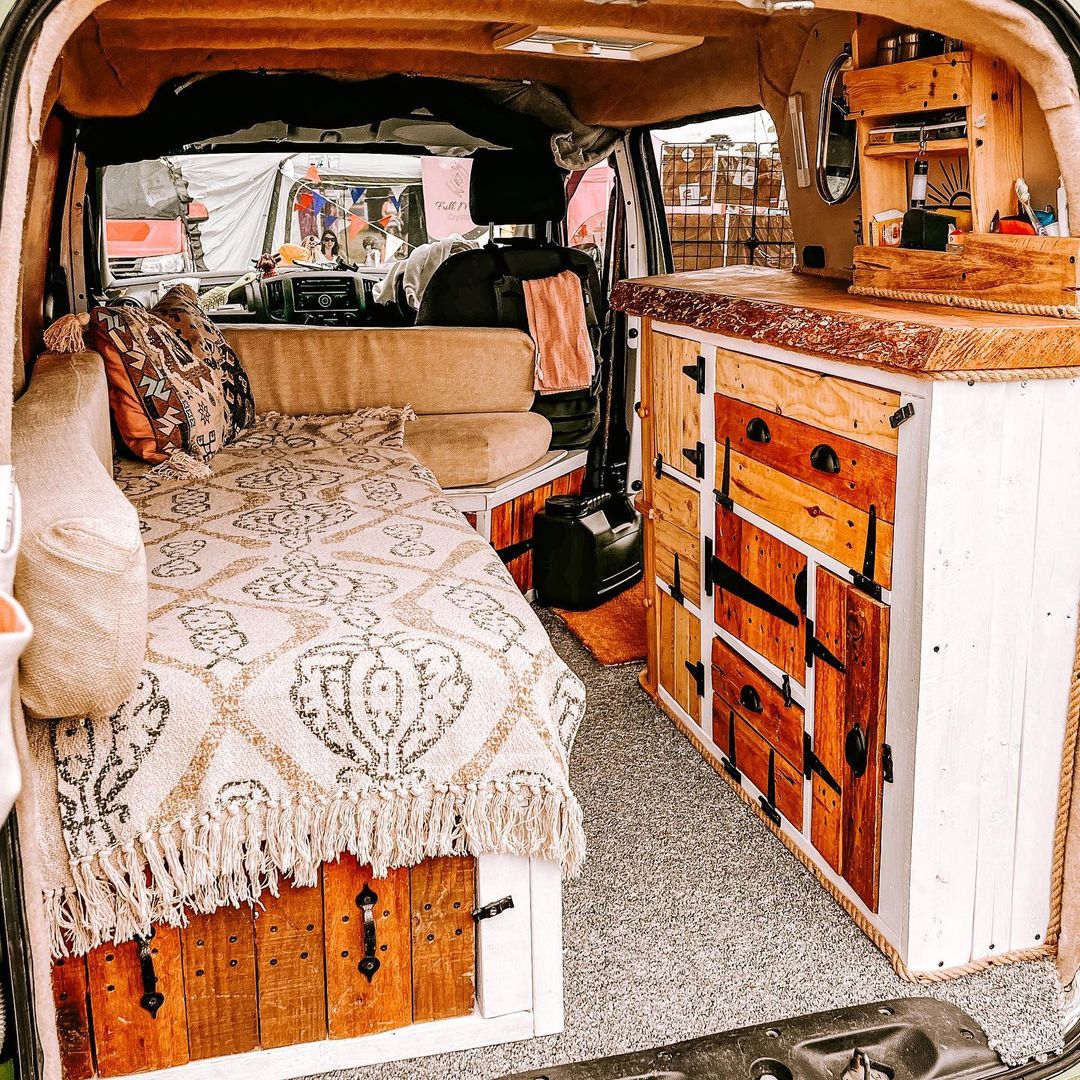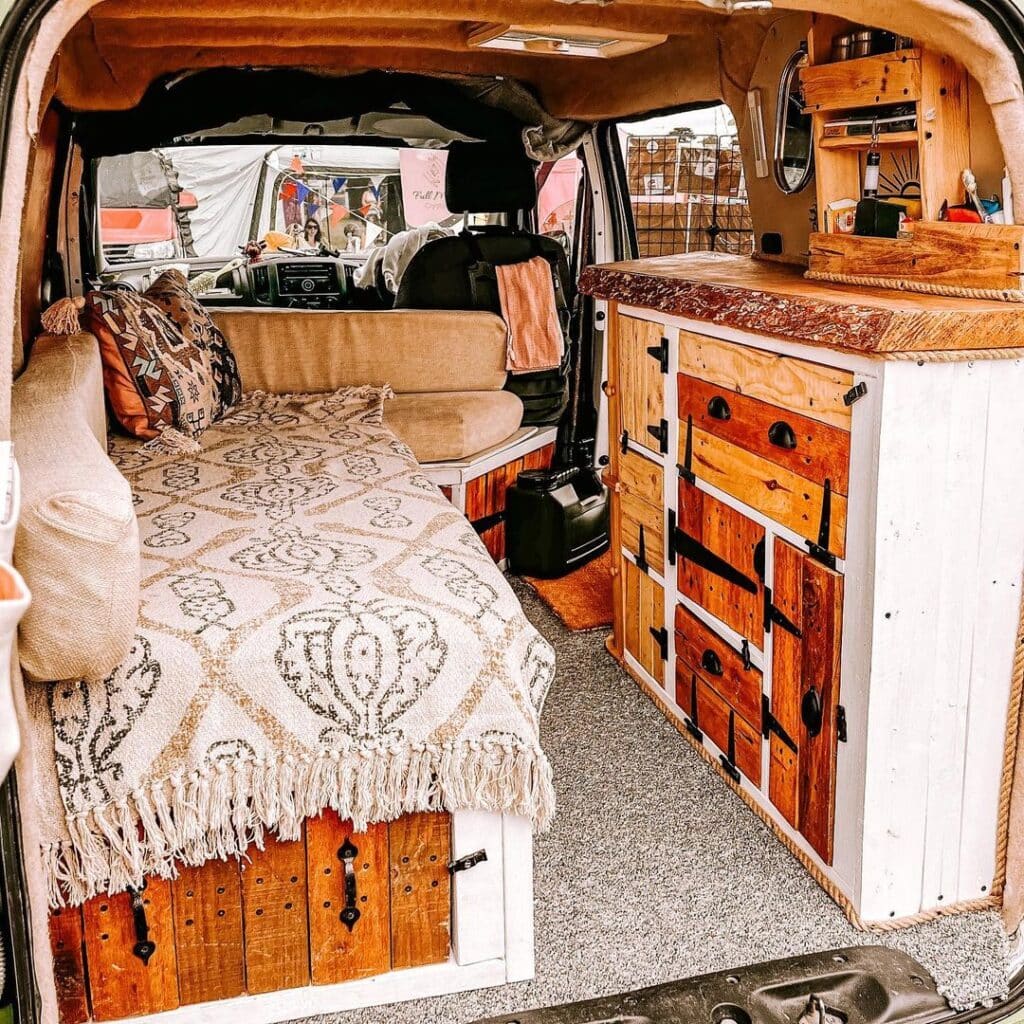 Annabel and James converted their Nissan NV200 camper themselves. Their build features a cozy interior with warm wood cabinetry and interior lighting consisting of fairy lights.
The vehicle has an awning mounted on the driver's side that provides shade and cover from the rain. The awning has comfortable head clearance for the couple, despite the NV200's lower height. The roof also has a vent and storage spaces for a couple of surfboards.
In the living space, homemade shelving units hold small items. Cabinets and shelving beneath the counter provide plenty of additional storage. The counter is made from live edge wood, giving the van a rustic atmosphere.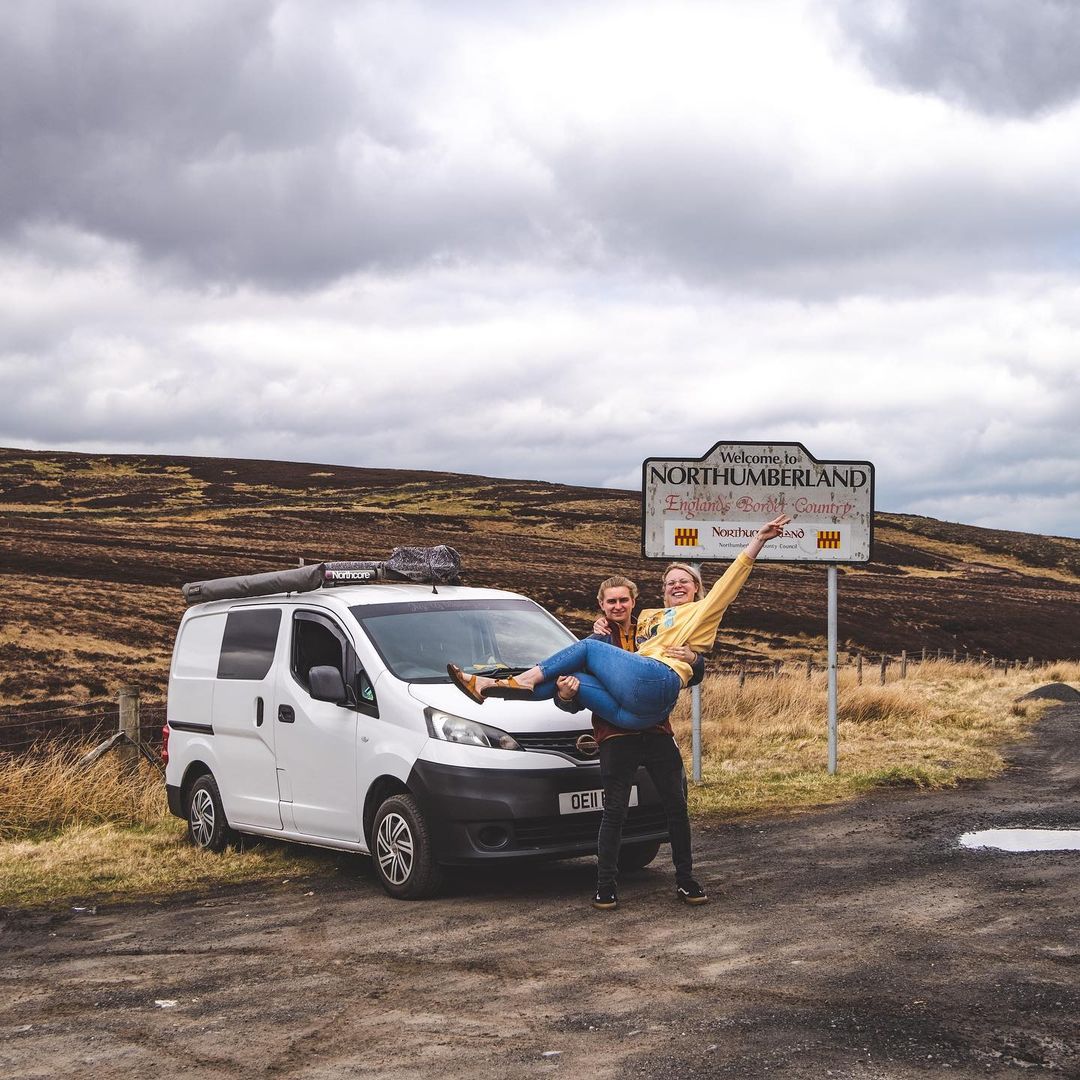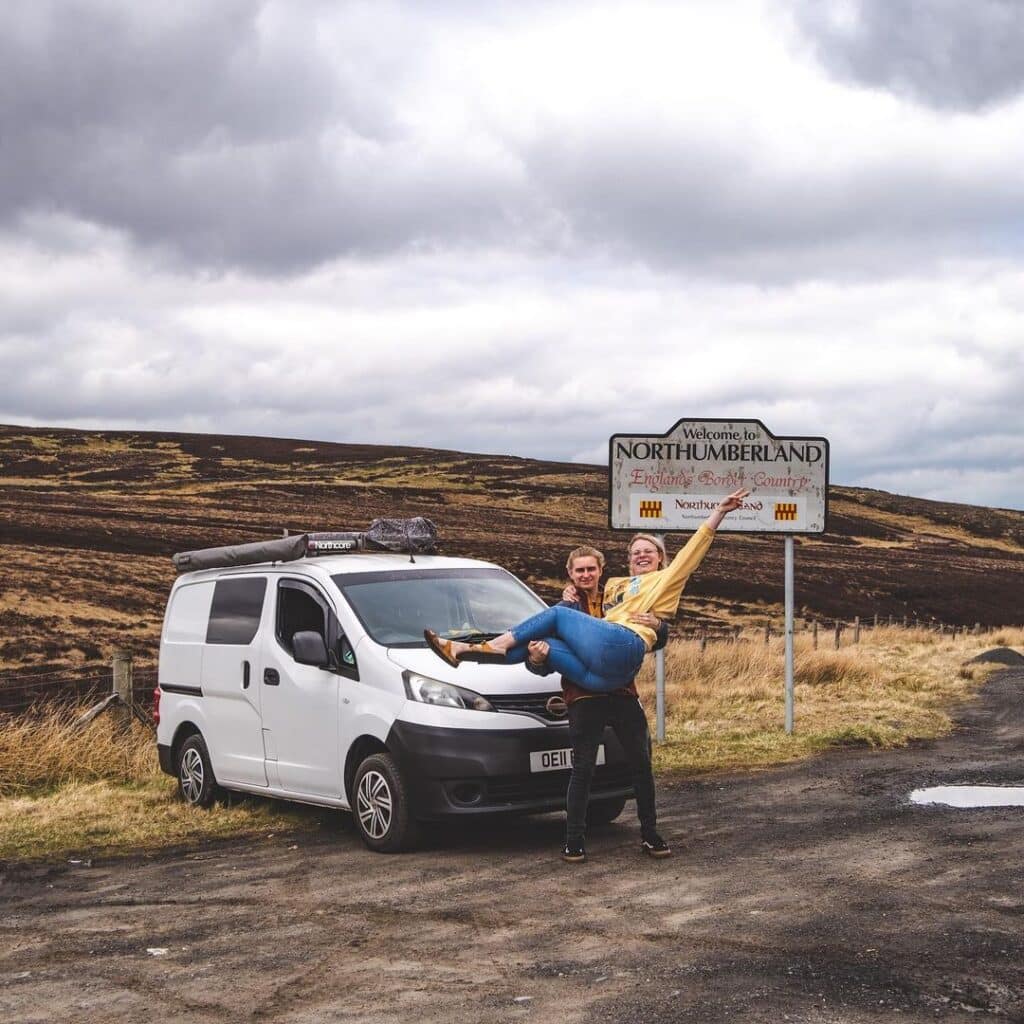 A sofa runs across the passenger side, with storage boxes underneath it. Another bench seat sits behind the driver and passenger seats, creating an L-style. The sofa frame extends into the kitchen at night to create a sleeping area that comfortably sleeps two.
At night, Annabel and James can power up a projector to project onto a curtain hung up behind the cab to watch movies.
Van tour: https://youtu.be/GPyKd-5C5Fo
4. This $505 Nissan NV200 camper conversion from @jackislucky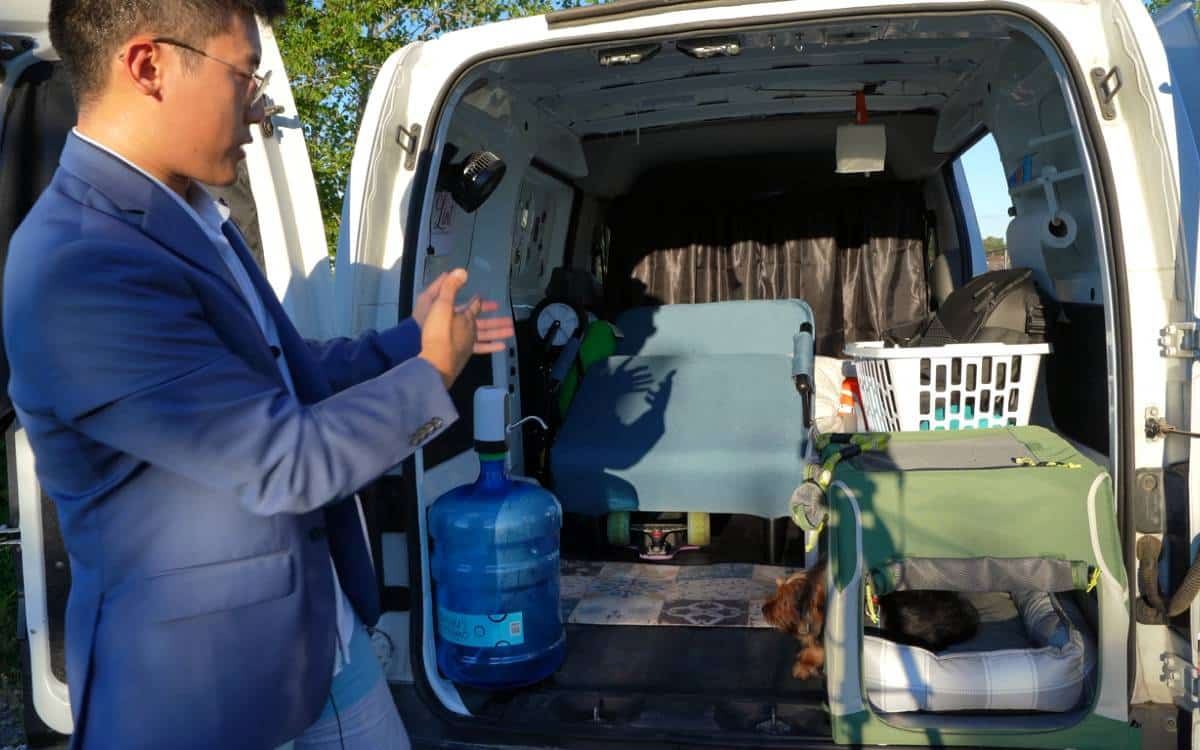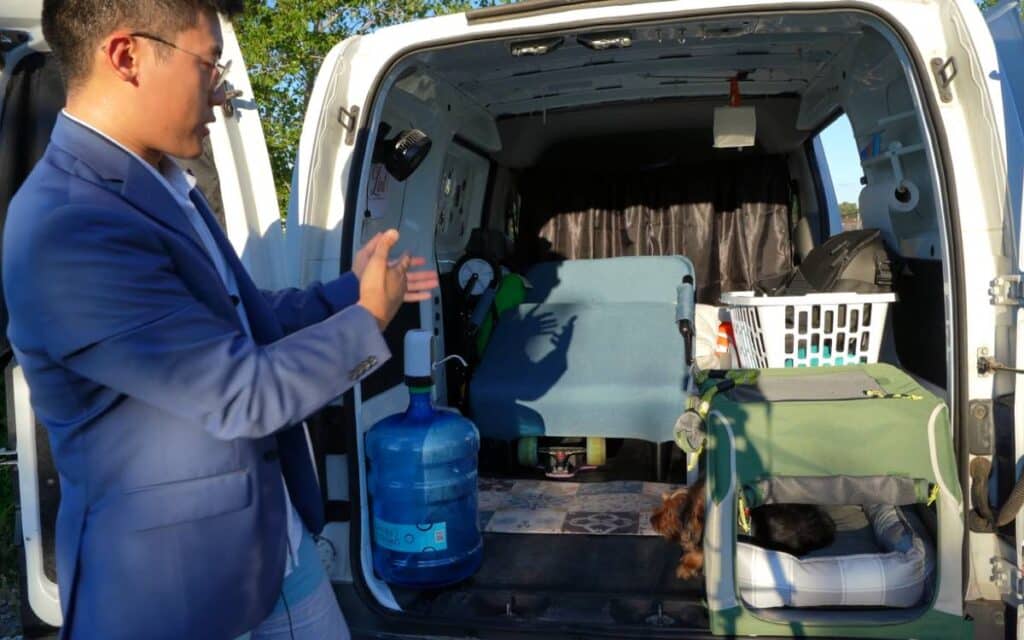 Jack has driven over 11,000 miles in his Nissan NV200 camper, which he converted for $505. The build is a no-build stealth conversion that comfortably sleeps Jack and his dog.
Initially, he had his bed on a camping cot, which took up a lot of interior space. His solution was to get a convertible sleeper sofa that converts from a chair into a bed. When it is in chair mode, Jack has somewhere to sit while still having plenty of floor space versus when he had the camping cot.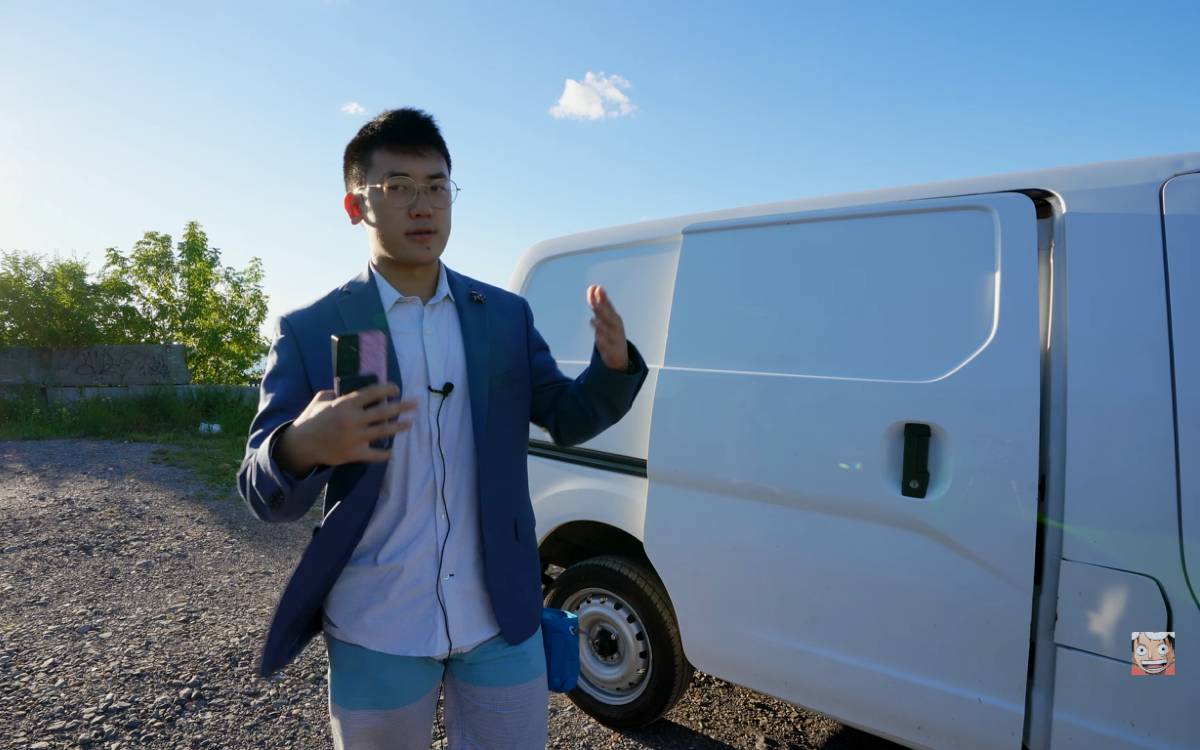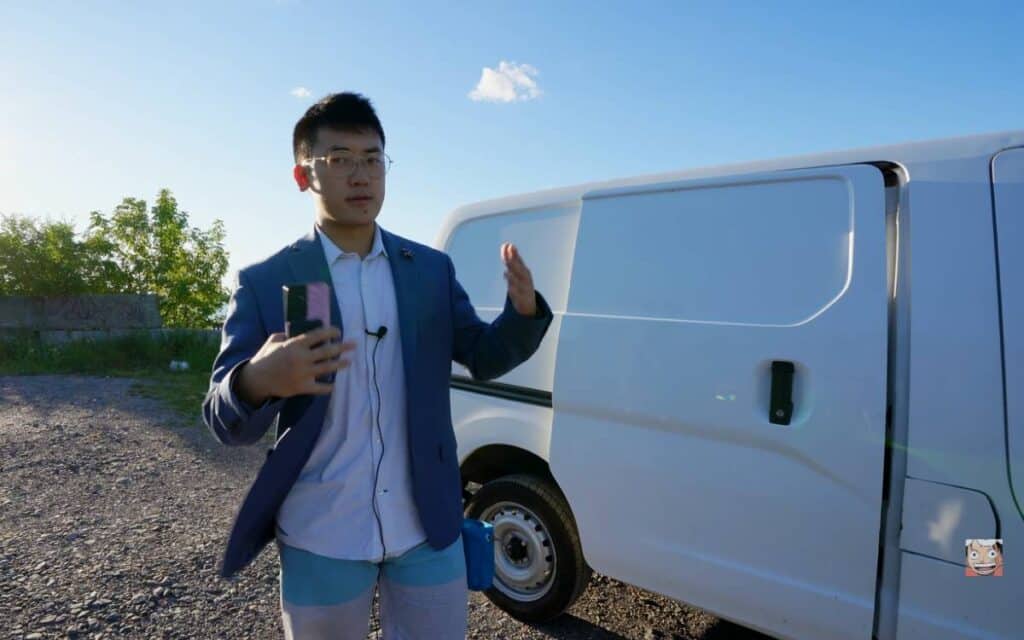 There is a cooler in the van to store cold items. The cooler is also used as a table for Jack to put his laptop on while working in the vehicle. Because he hasn't insulated the interior, many of his walls have shelving, attachments, and curtains that are adhered with magnets – this is a great, affordable use of the van's original metal interior.
For air circulation, Jack has wind deflectors that allow him to crack the cab windows without people knowing they are open.
5. This simple NV200 camper build from Cam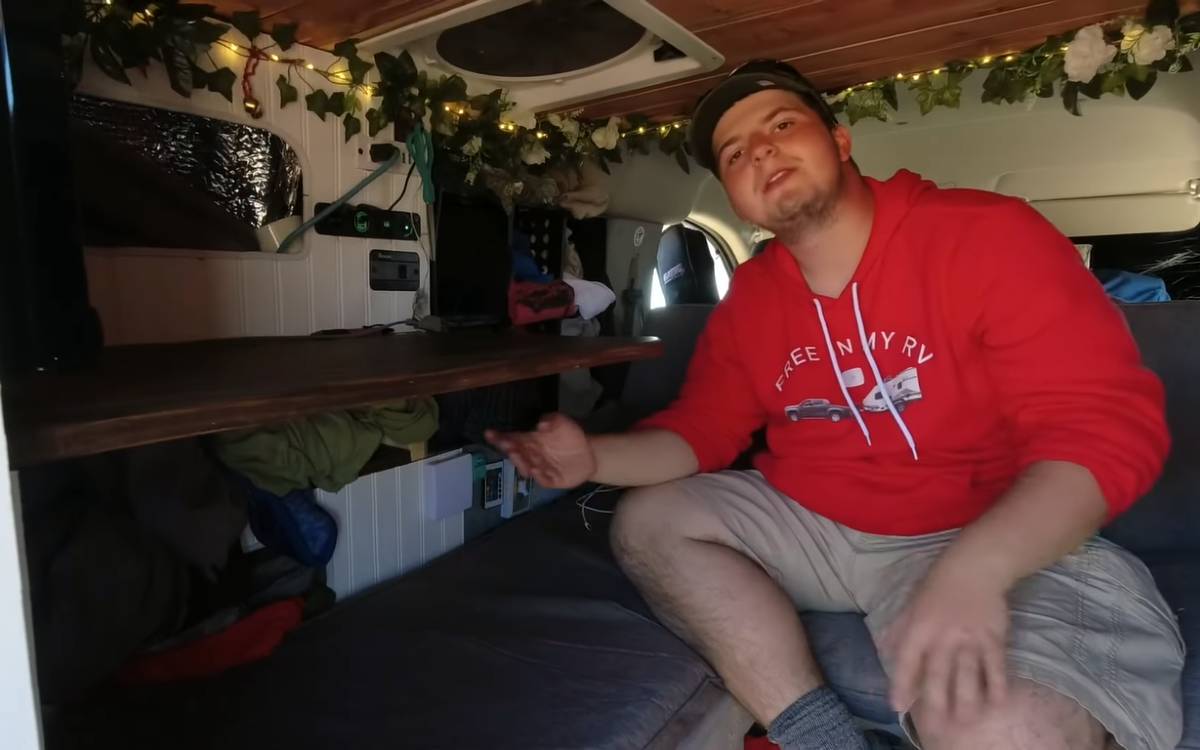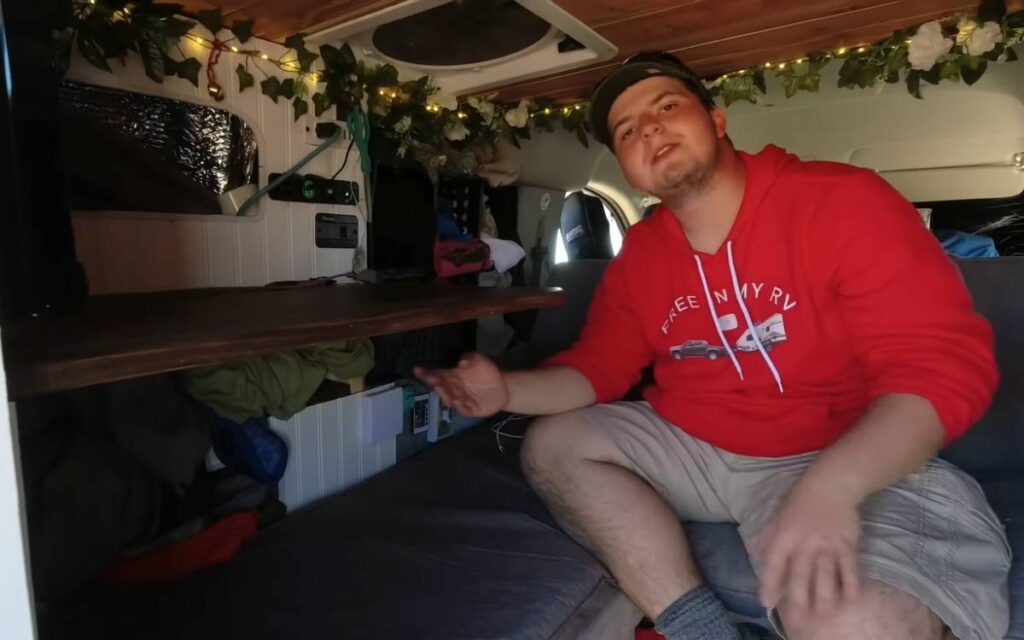 Cam lives in his 2020 Nissan NV200 camper van that he converted himself.
The roof is filled with 500 watts of solar, traction boards, and a Maxxair fan. Something unique about this build is that Cam installed his Maxxair fan underneath the solar panels. He made sure to include a few inches of clearance to allow him to open the fan. A benefit to putting your fan beneath your solar is that the panels absorb the brunt of the heat from the sun, meaning the fan can pull in cooler air.
Cam stores essentials like tools, a ladder, and a fire extinguisher in the back of the vehicle. He has a 42-inch drawer that pulls from the back on locking drawer slides. The cover swings out and, with the support of a hiking pole, provides counter space for cooking or a table for working and eating.
Cam installed a 32-inch TV on the passenger side of the living space. A swivel mount lets him angle the TV to watch it from outside.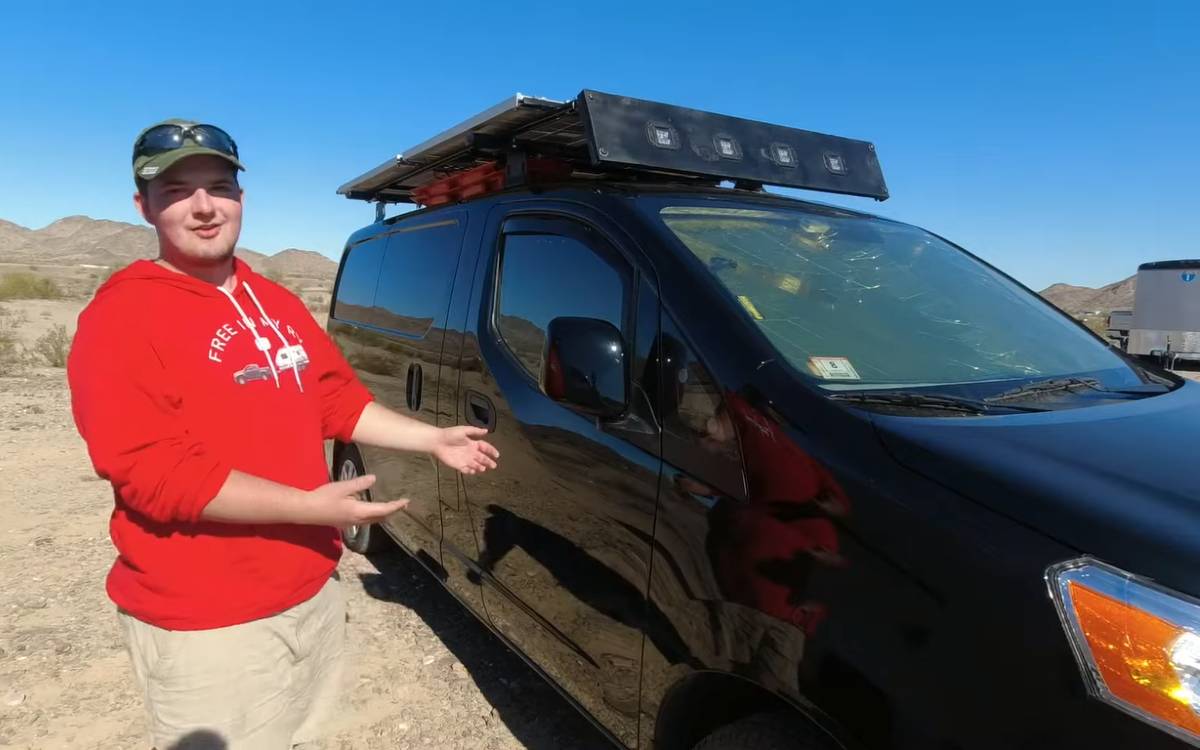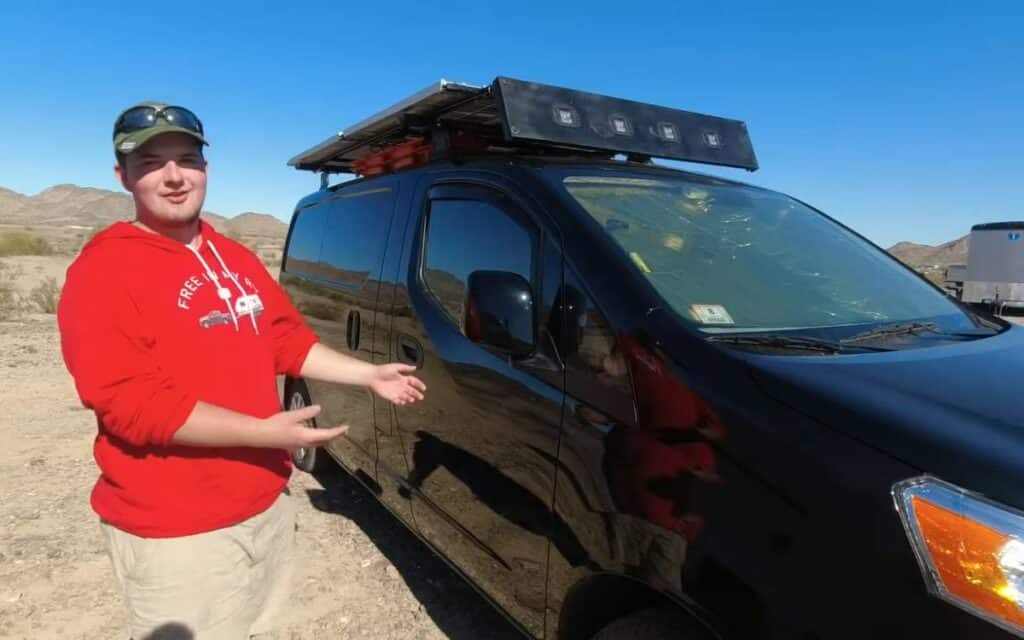 An L-shaped sofa runs behind the driver and passenger seats and lengthwise on the driver's side. With the seats pushed forward, the sofa's backrest lowers for more space. Additional support is placed in the L-shape to create a larger bed that comfortably sleeps two.
6. This minimalist NV200 van life conversion from @allisonandwonderland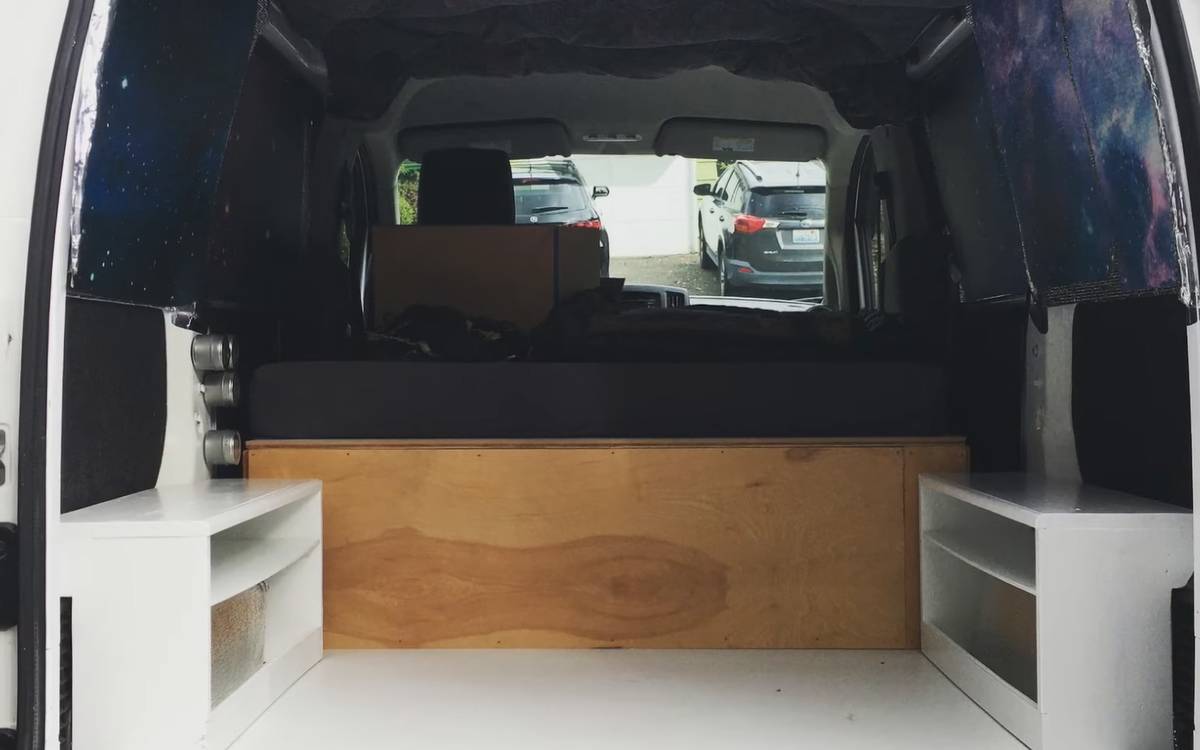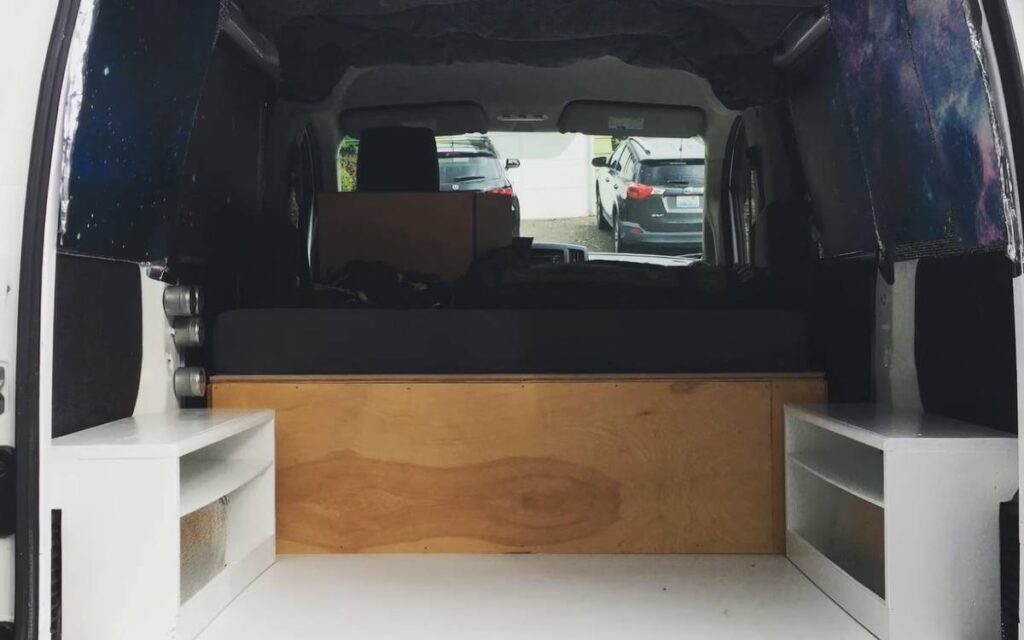 Allison converted her Nissan NV200 camper to live a more affordable lifestyle while working as a preschool teacher. She considers her build much more minimal than most van builds, with not much in the vehicle other than a bed and a couple of seats over the wheel wells.
Because she is on the short side, Allison can sleep width-wise in her van, with her bed platform behind the cab. Underneath the bed is storage for a foldable bathtub, a stove, and other items.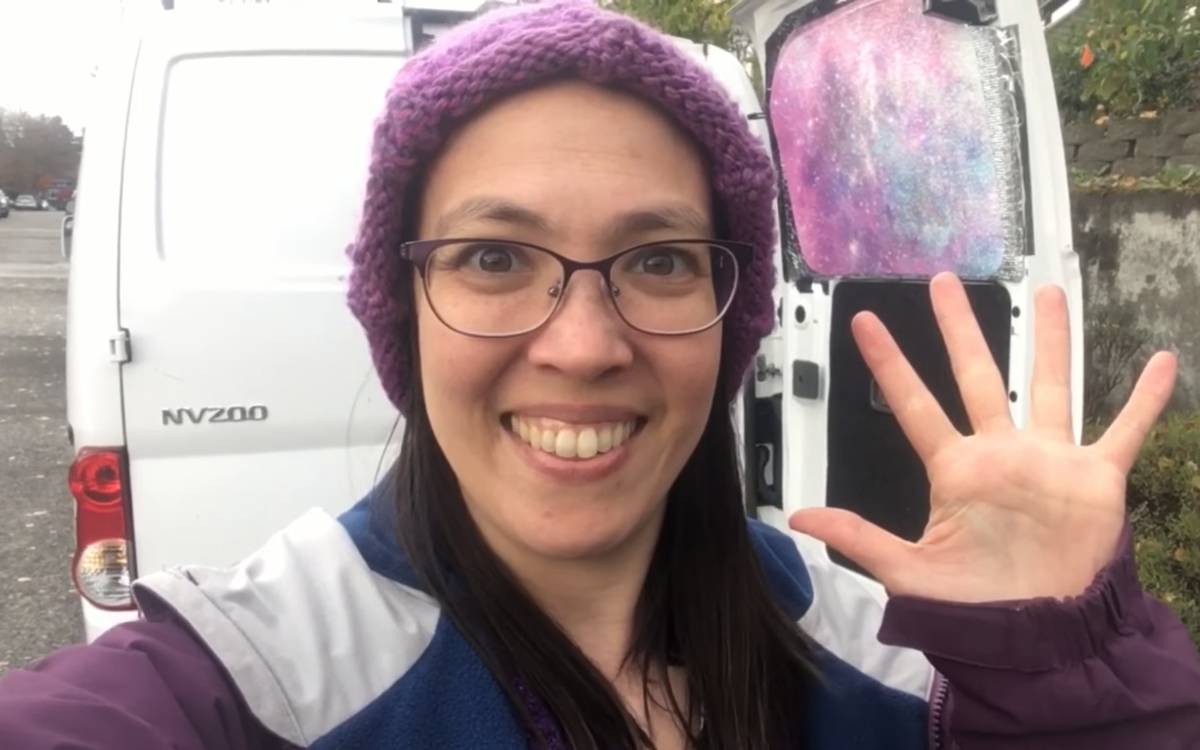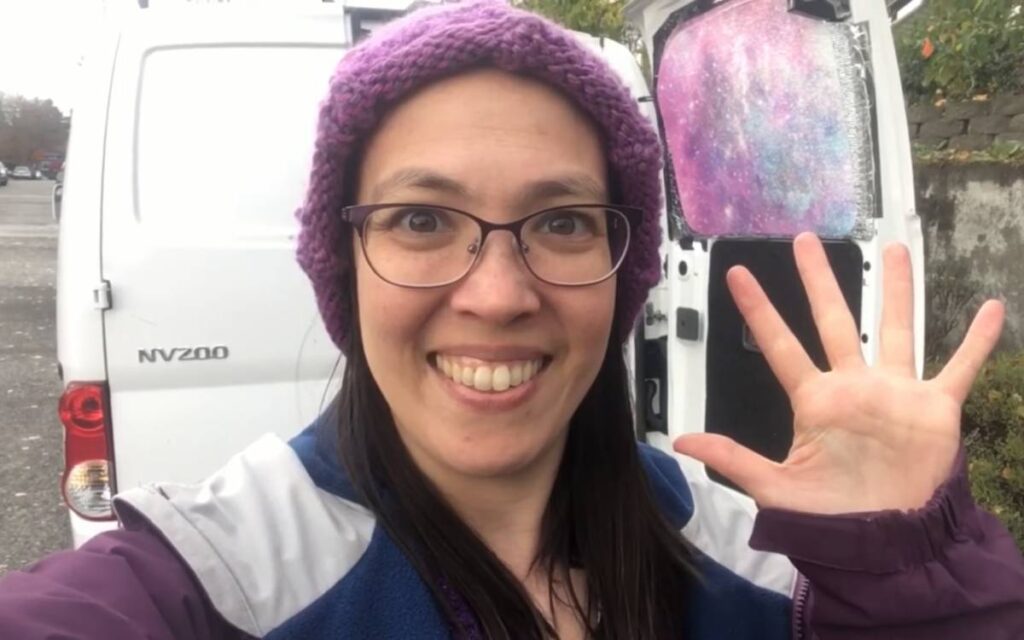 Small carts with wire shelving act as storage for most of Allison's items. She drapes a cloth over the carts for decor in the small space. For heating, Allison purchased a chicken coop heater. She has a portable power station and flexible solar panels in the passenger seat area.
7. This complete DIY NV200 camper build from @yogi.the.van
James converted a 2015 Nissan NV200 into a camper van that accommodates two people. Everything in his build, from his bed frame to his shelving to his window covers, is DIY'ed.
He slept in the vehicle overnight before converting it to have a better idea of how to insulate a campervan. He carpeted the doors and interior for a clean look that also provides effective insulation.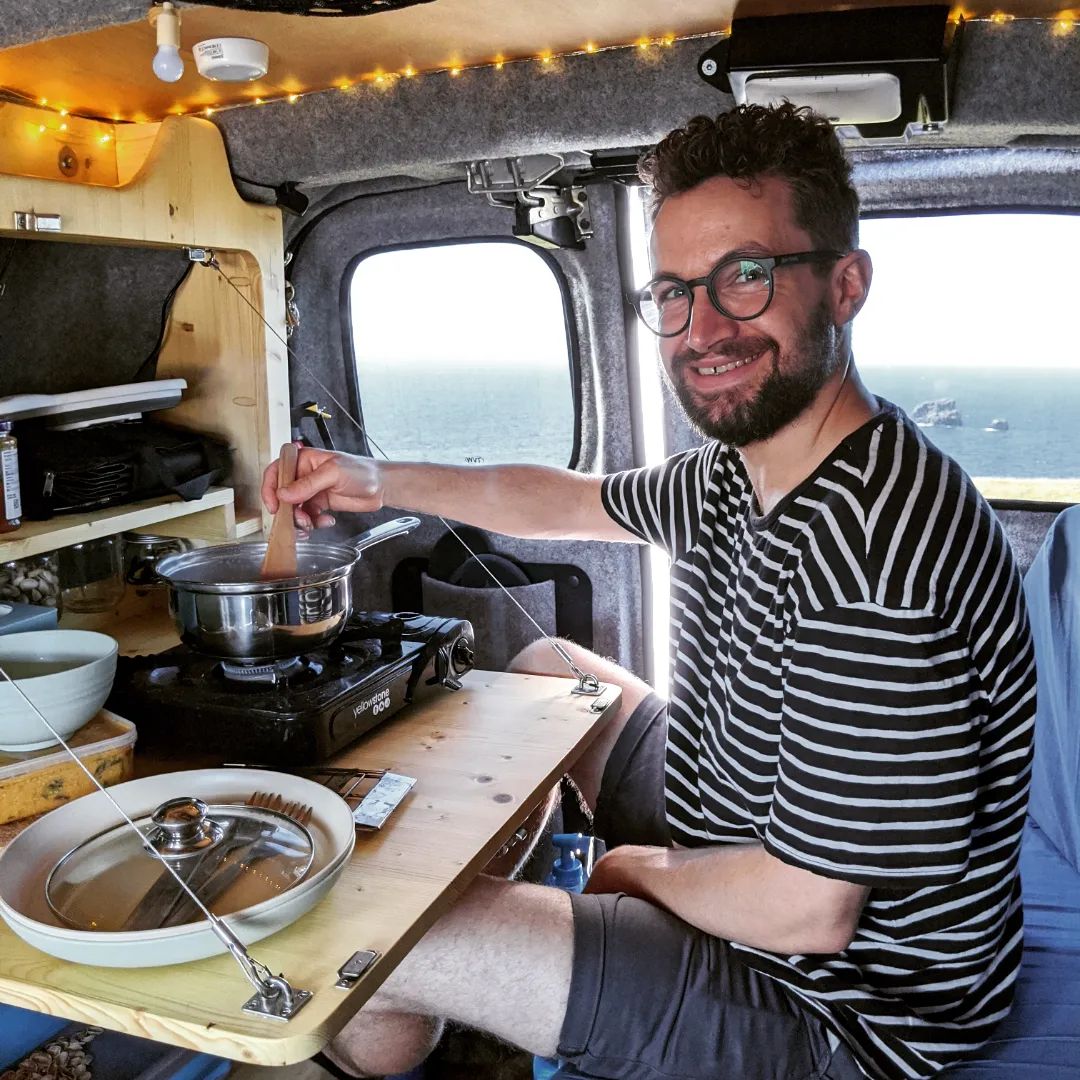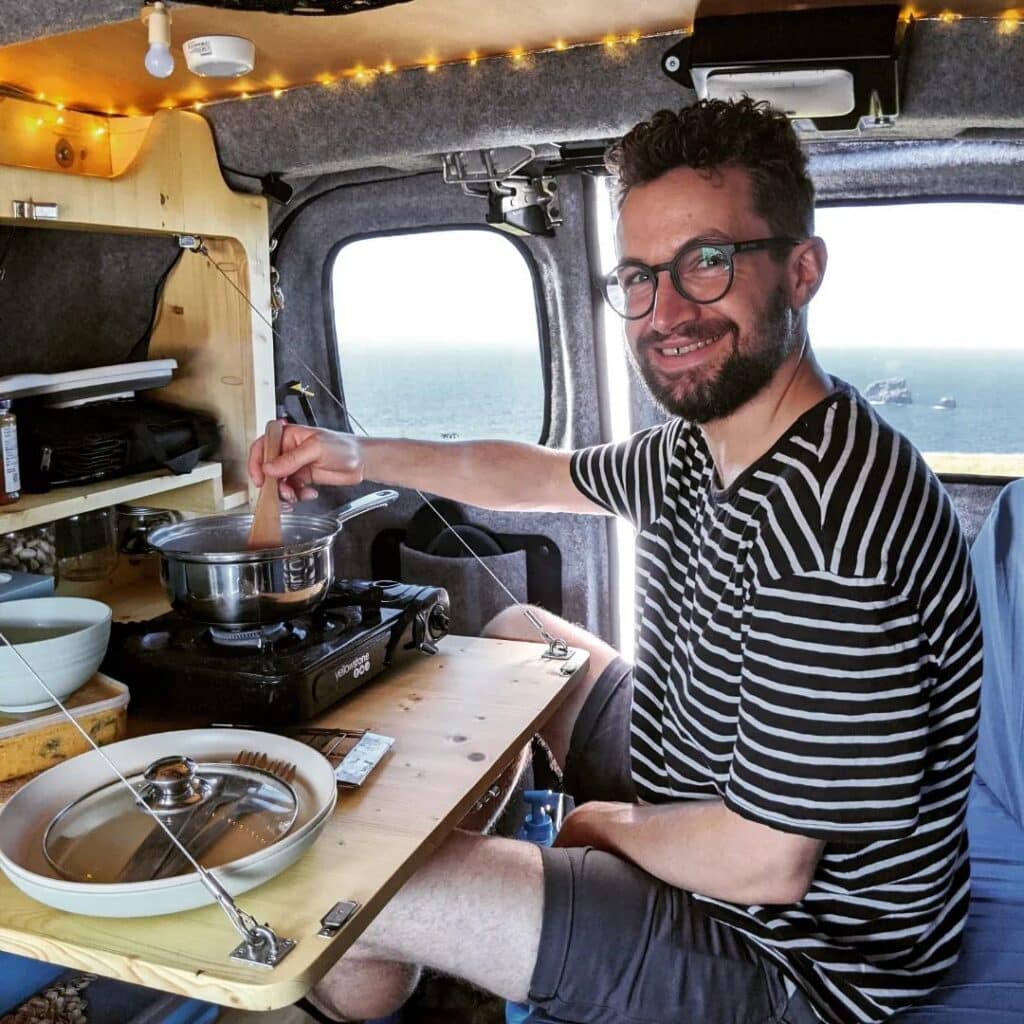 There is a three-part bed frame that creates a king-size sleeping space. The bed frame has room for James' surfboard beneath it and is also removable. During the day, the bed turns into a bench seat that runs along the driver's side of the van. The frame extends to the passenger side, taking up all of the available space in the van. There are storage drawers that pull out from under the bed.
James also built a floating shelving unit near the back of the van, with a table on a piano hinge that comes down by the bench seat, creating a workspace and place to eat.
6 Professionally-Built Nissan NV200 Campers You Can Order
1. These Pop Top NV200 Campers from Recon Campers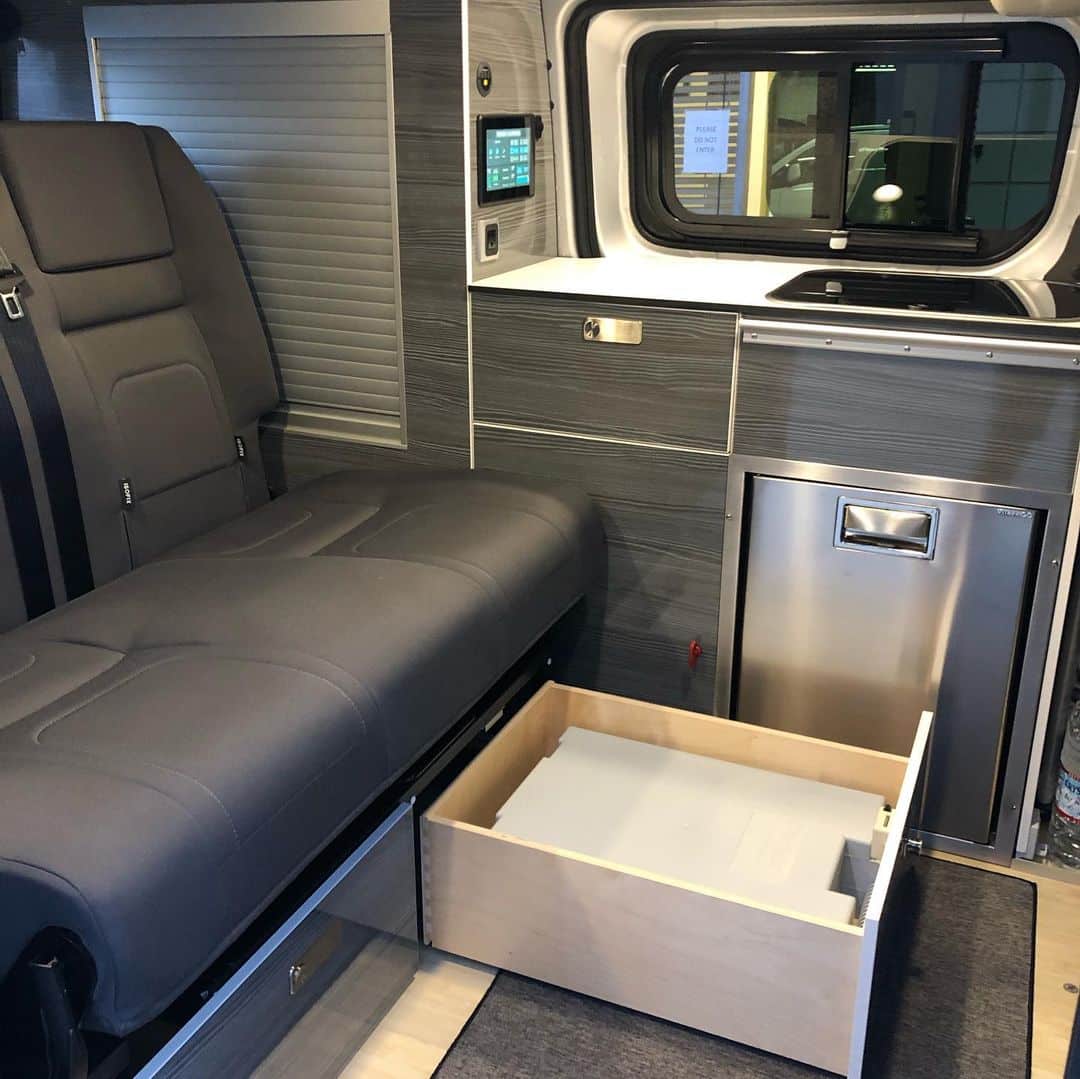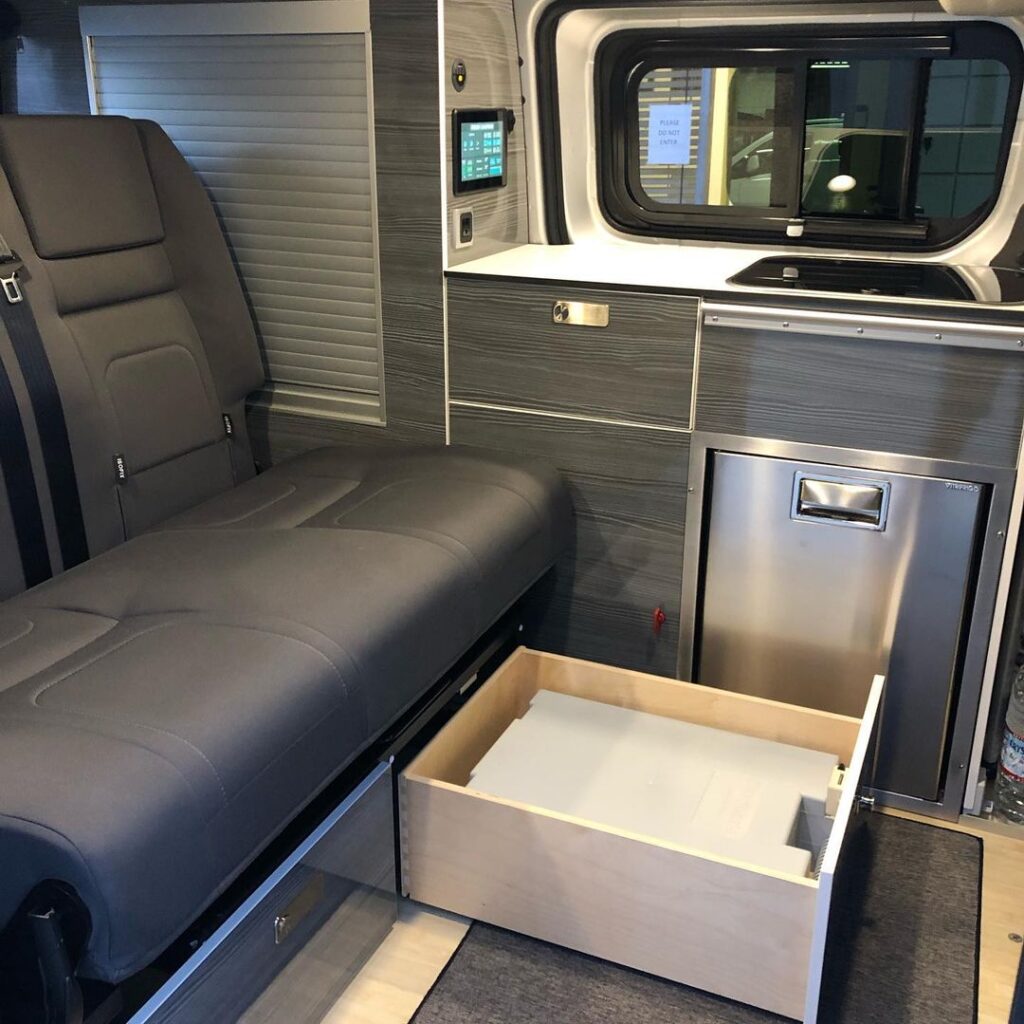 Recon Campers is a Las Vegas-based van build company that specializes in "garageable" pop top campers based on the Nissan NV200 cargo van. Recon sells two models of their NV200 van conversion – the Envy and the Weekender.
The Envy takes the classic layout of the VW Westfalia camper van and updates it for modern van life. Standard features include convertible bed, storage cabinets, 12V DC refrigerator, hot water heater, lithium batteries, DC-DC charger, up to 200W of solar, and a touchscreen control hub.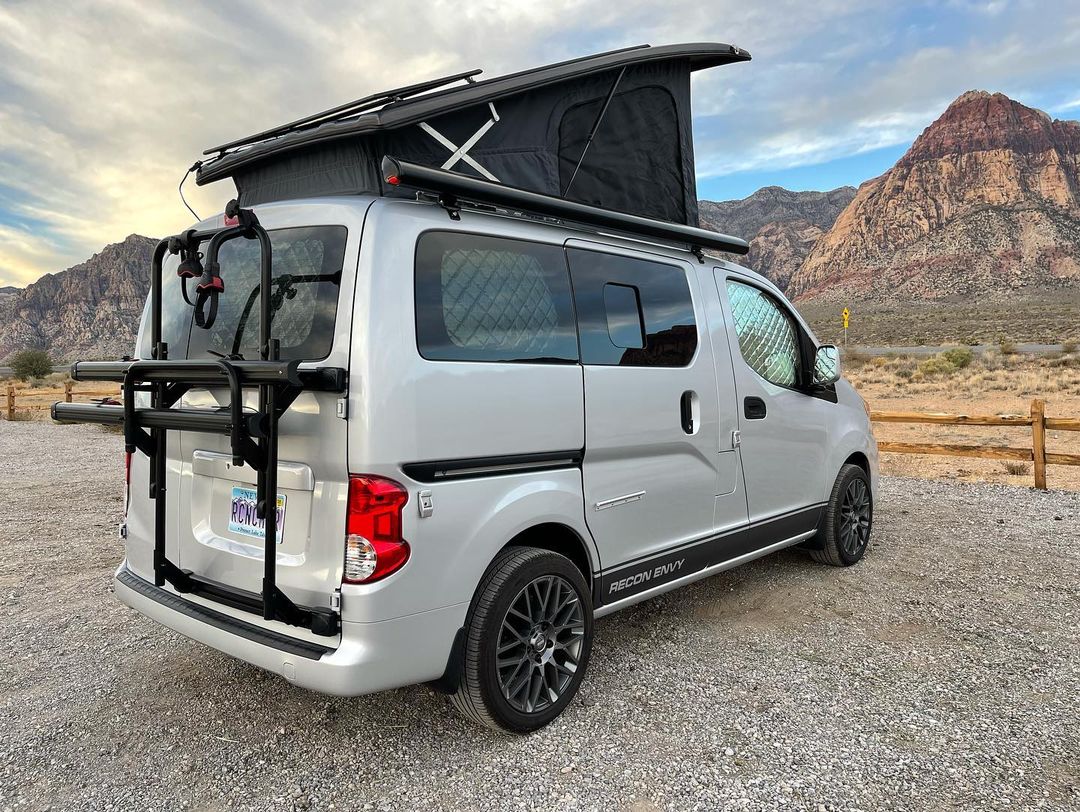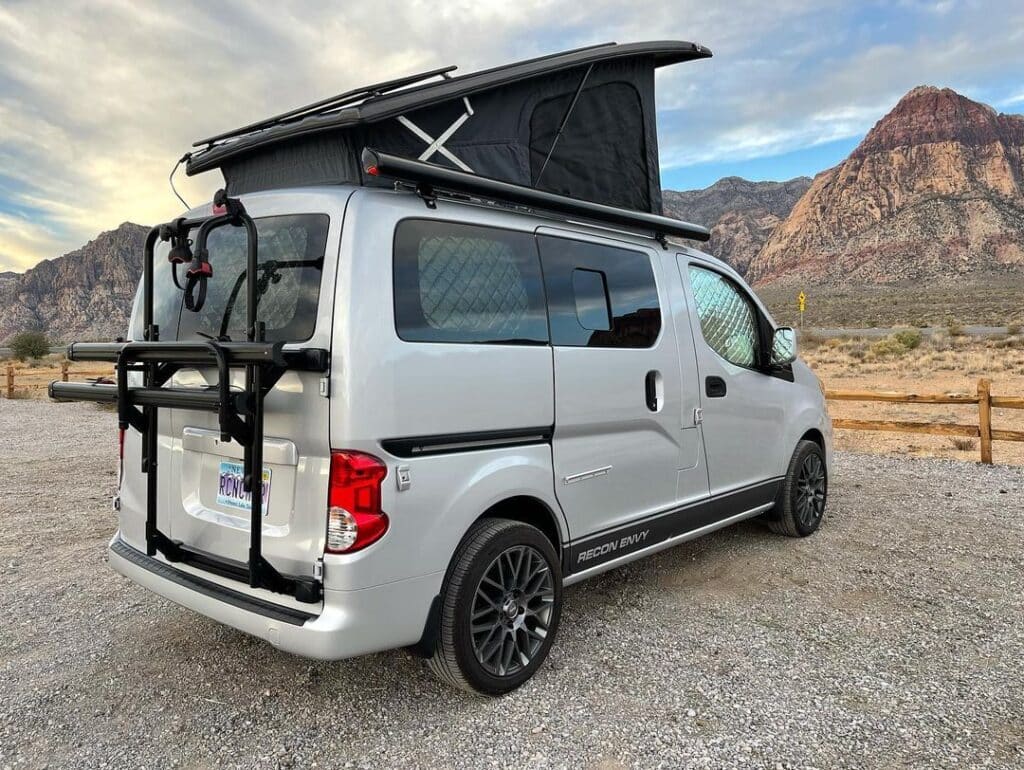 The Weekender model has the same general layout as the Eny, but leaves the middle of the van wide open. This allows more customization for storage options, or the ability to add features like interior bike racks. The Weekender also lacks the expensive components found on the Eny, which means you can use this as a base for your own customizations.
Both camper models include an awning that doubles as a projector screen, rear convertible bed/seat, magnetic window covers, and pop top with a mouth-watering 7′ of standing room – more space than the high roof Ford Transit or Sprinter vans.
Since the NV200 has been discontinued, Recon Campers is no longer using it as a base vehicle as of 2022. So keep an eye out on the used market.
2. This clean NV200 camper conversion from Briarwood Vans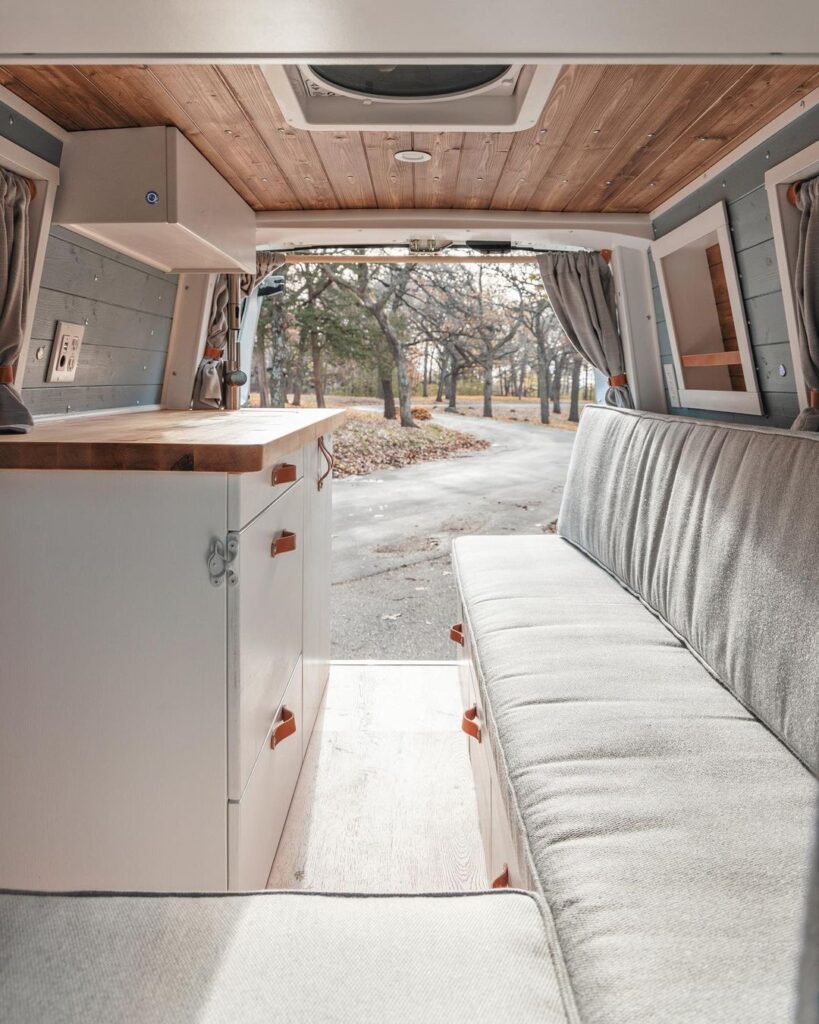 Briarwood Vans is a company that professionally converted a 2013 Nissan NV200 into a camper van.
The van's exterior features windows on both sliding doors, a shore power plugin, 200 watts of solar panels, and a Maxxair fan.
The freshwater jug can be accessed from the cabinet door in the back of the van. A switch by the sink turns the water pump on and off. The faucet pivots outside of the van, the nozzle pulls out, and with a magnetic attachment, it can adhere to the outside of the van for an easy shower solution.
One of the kitchen drawers has a cover that creates additional counter space or a small table to sit at from the bench seat. All the cabinets and drawers are soft-close.
3. This pop-top Nissan NV200 camper conversion from Wild Van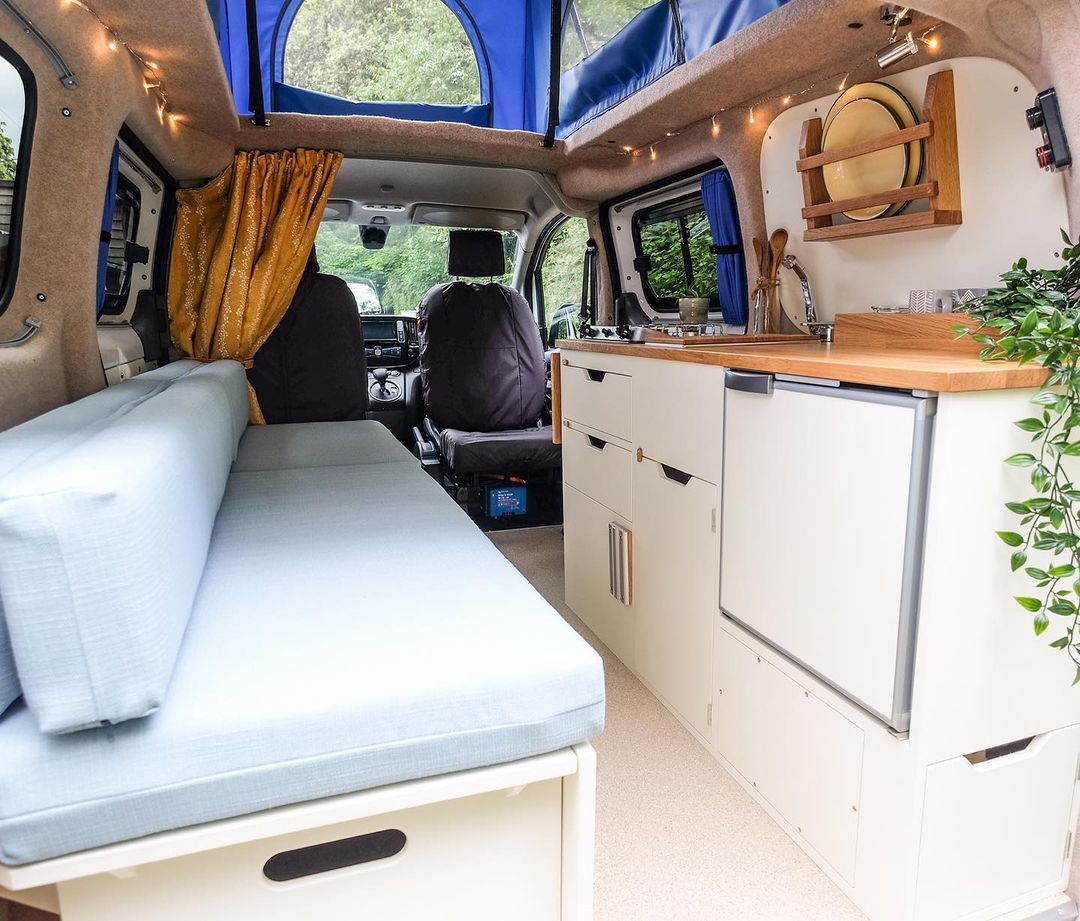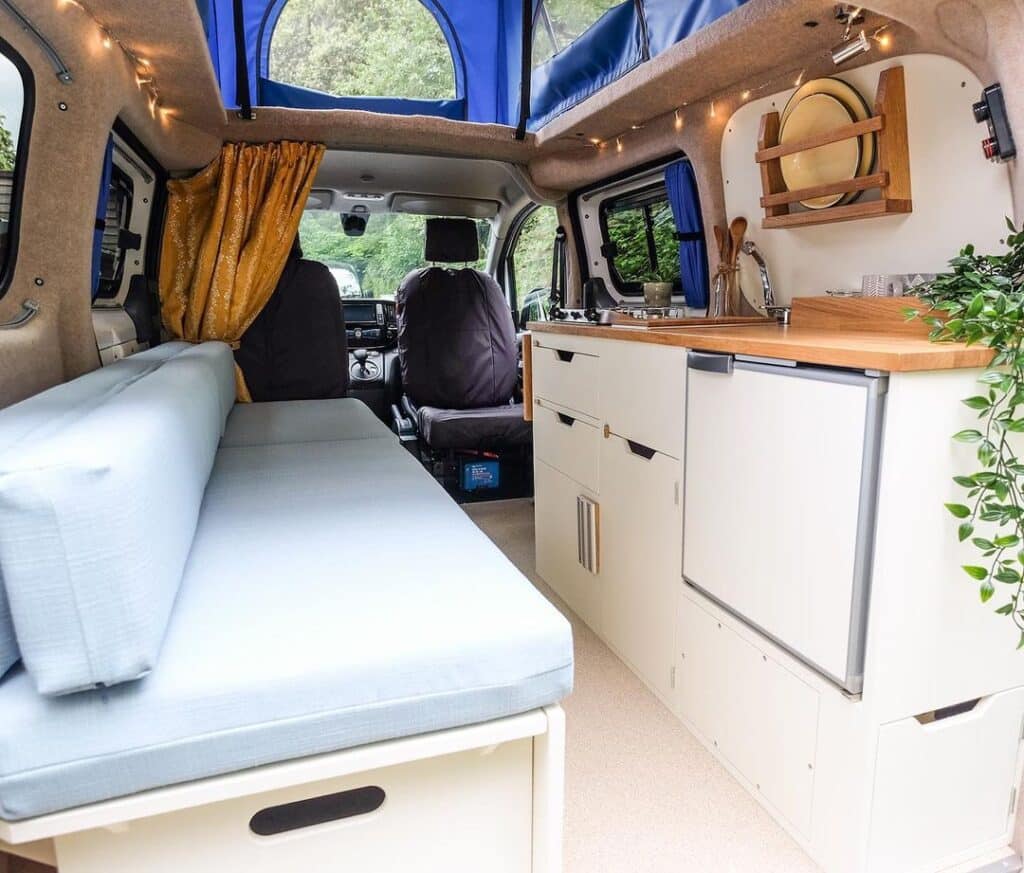 Wild Van is a company that does professional and custom camper van conversions. They converted a Nissan NV200, which includes a bed, a kitchen, and a pop-top roof.
The kitchen runs across the left side of the interior, with an L-shaped sofa on the opposite side. Instead of building part of the sofa directly behind the driver and passenger seats, they built it across the back of the living space. This choice allows one of the cab seats to swivel around for more seating.
The pop-top allows plenty of headroom to stand up inside the van, an excellent solution for those who want a smaller van's convenience and gas mileage while still having space to stand up in it.
4. Nissan NV200 Camper Conversion from Contravans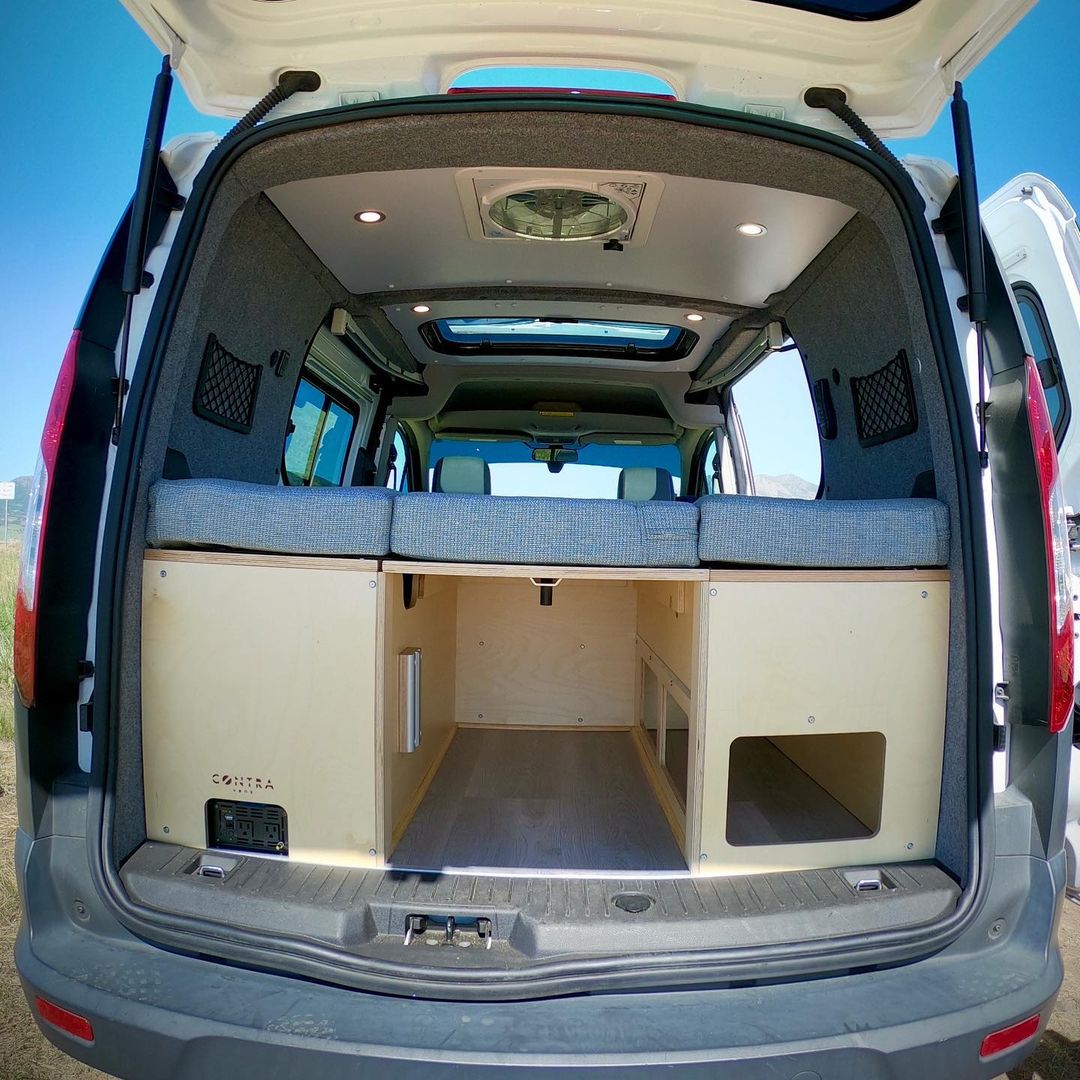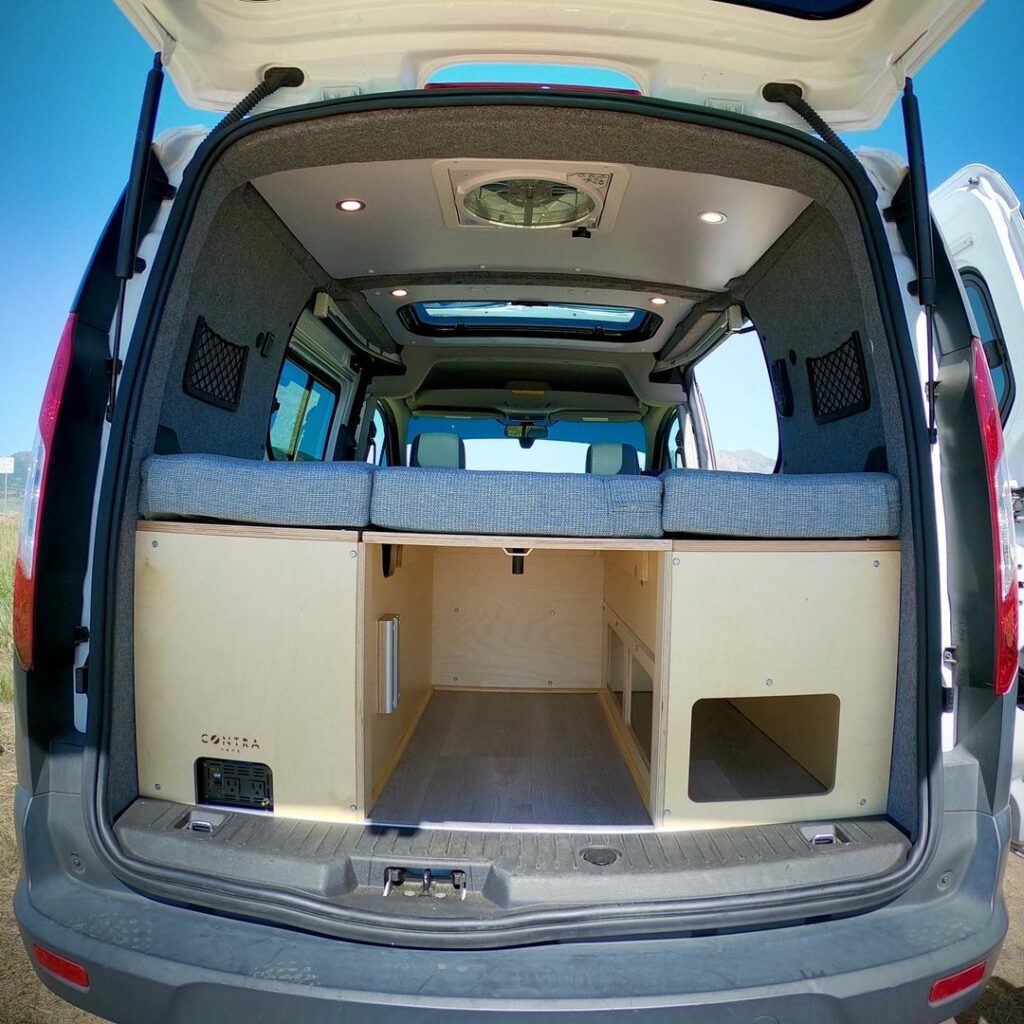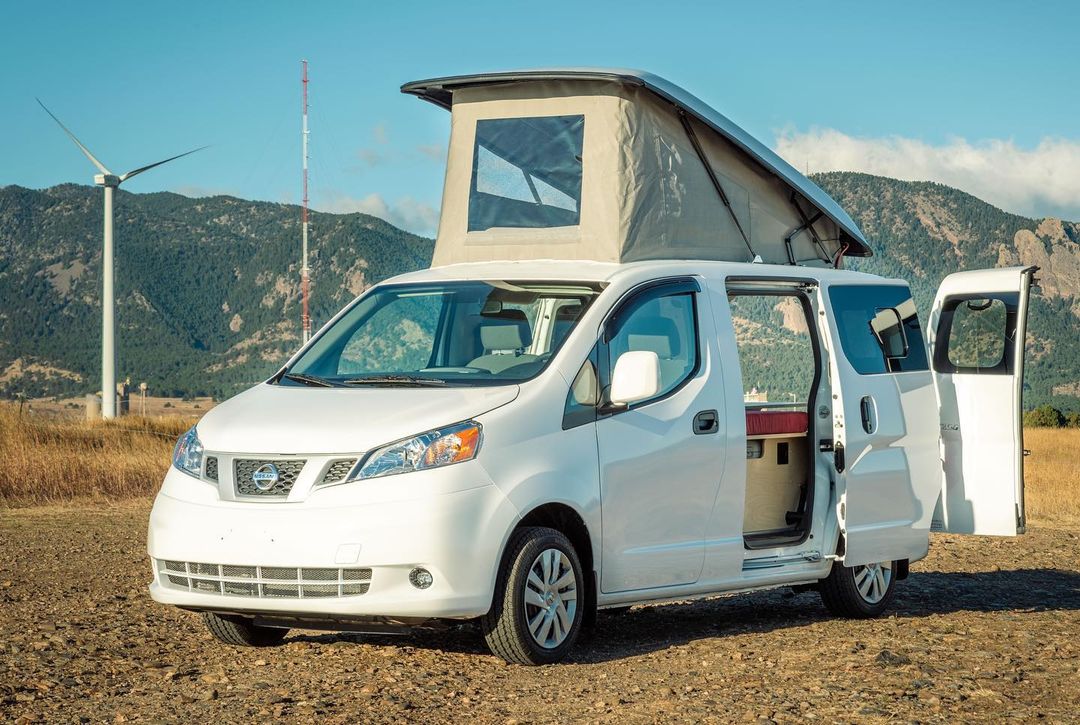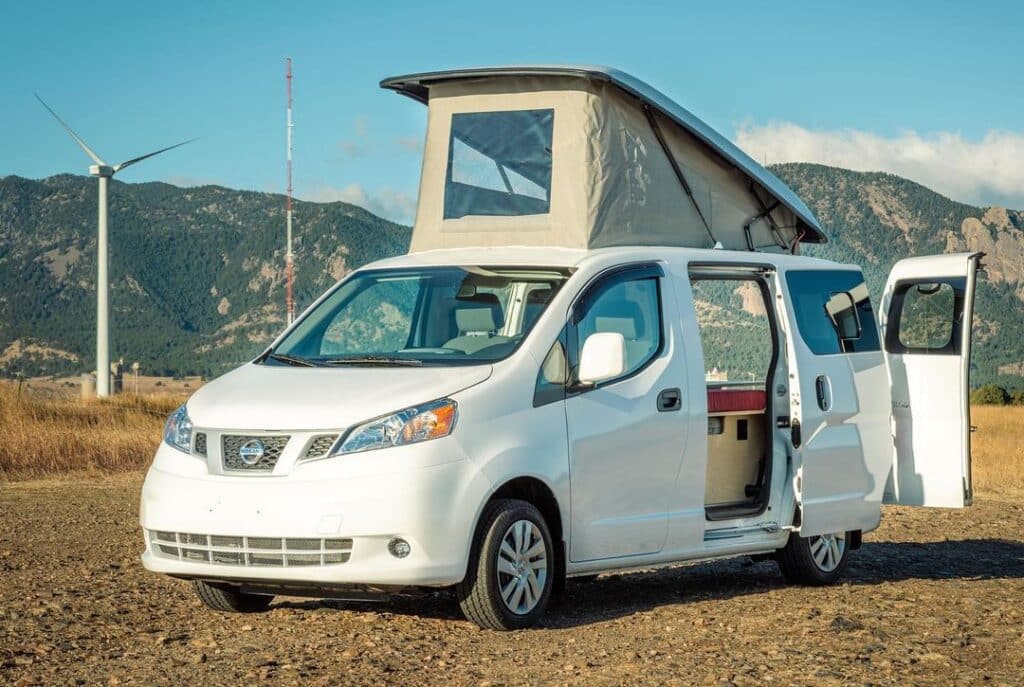 Text to come soon
5. NV200 Nissan Camper Van from GTRV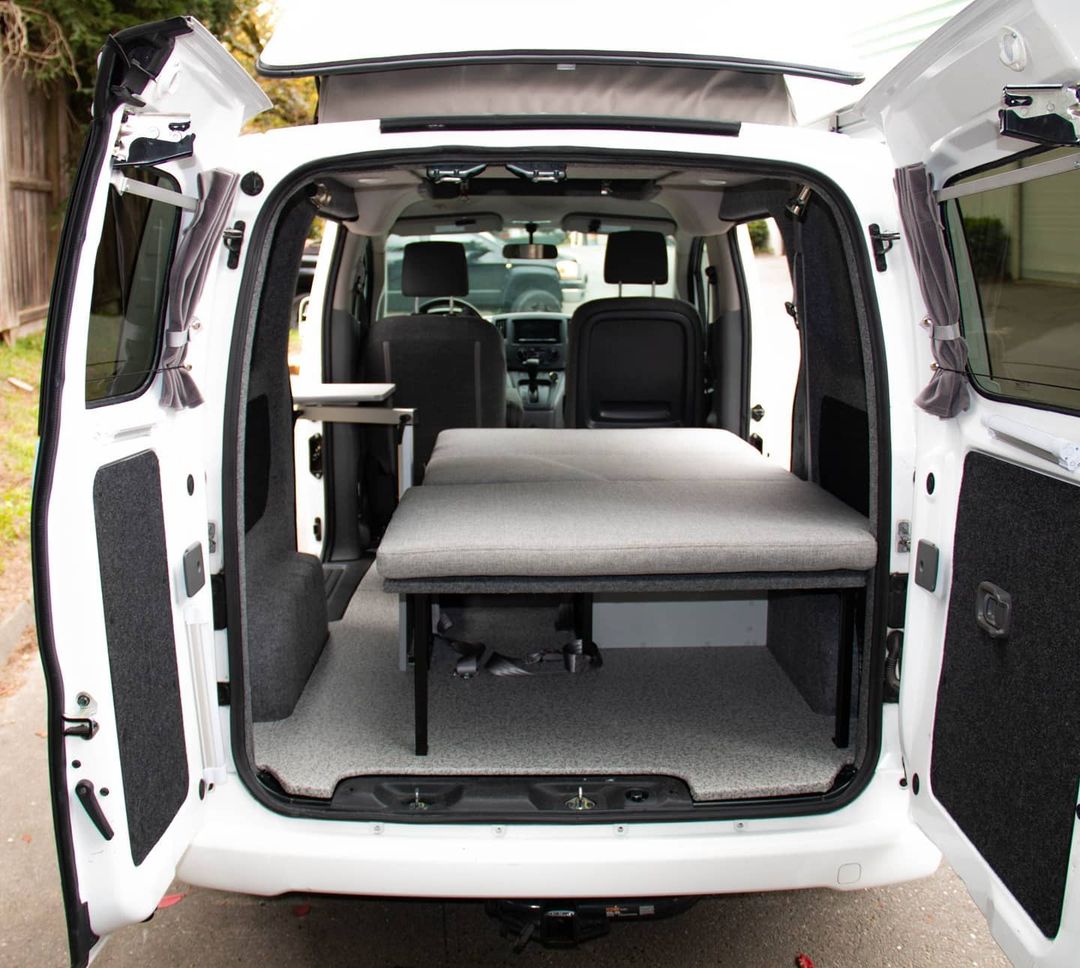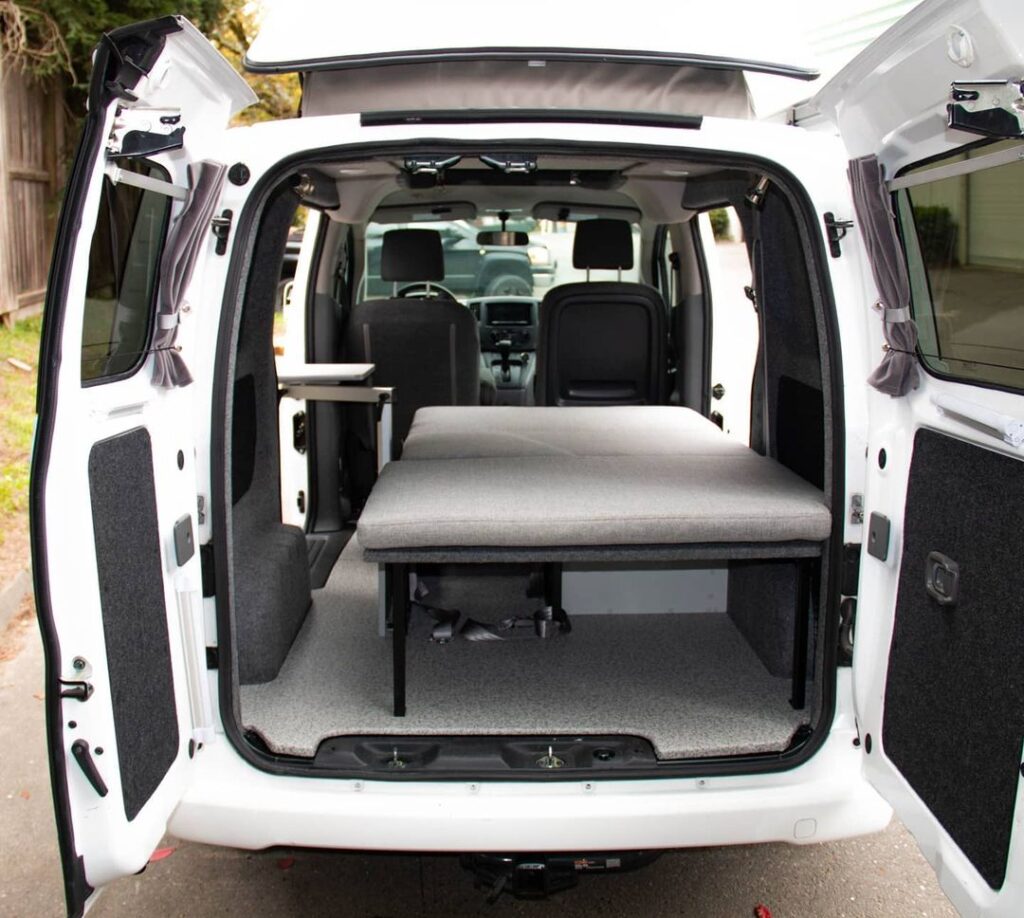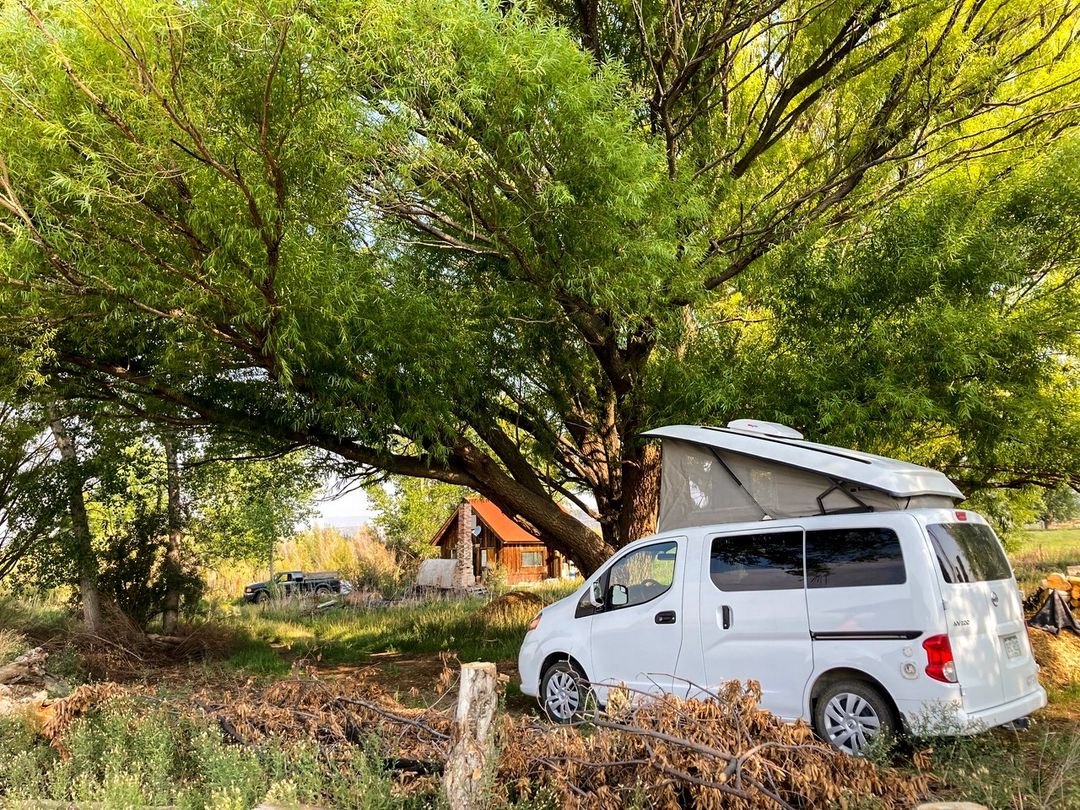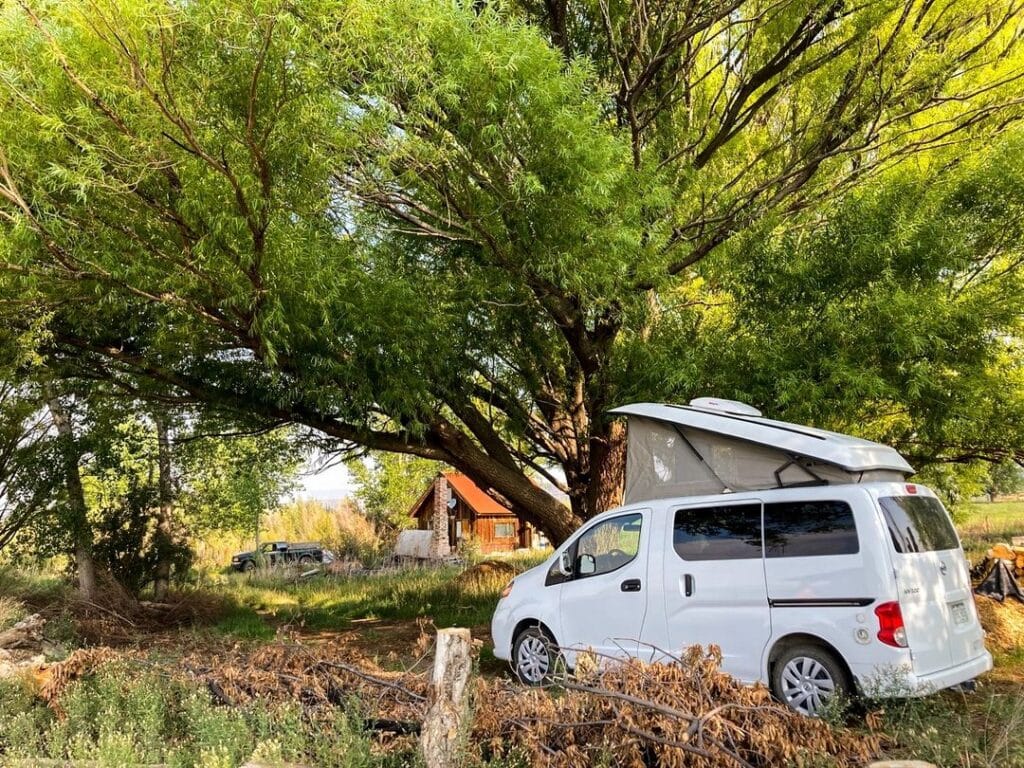 Text to come soon
6. This beach-style Nissan NV200 build from Boujee Builds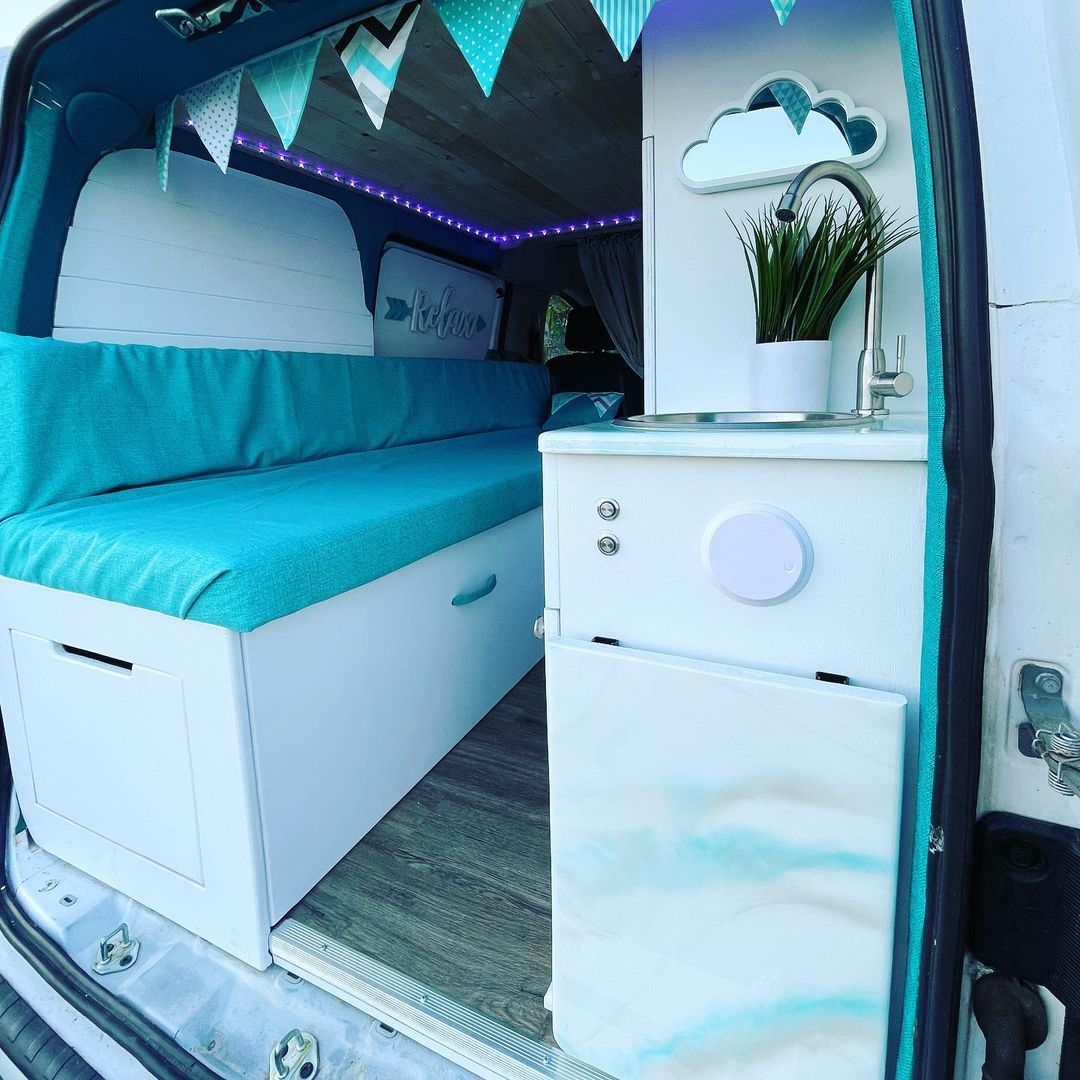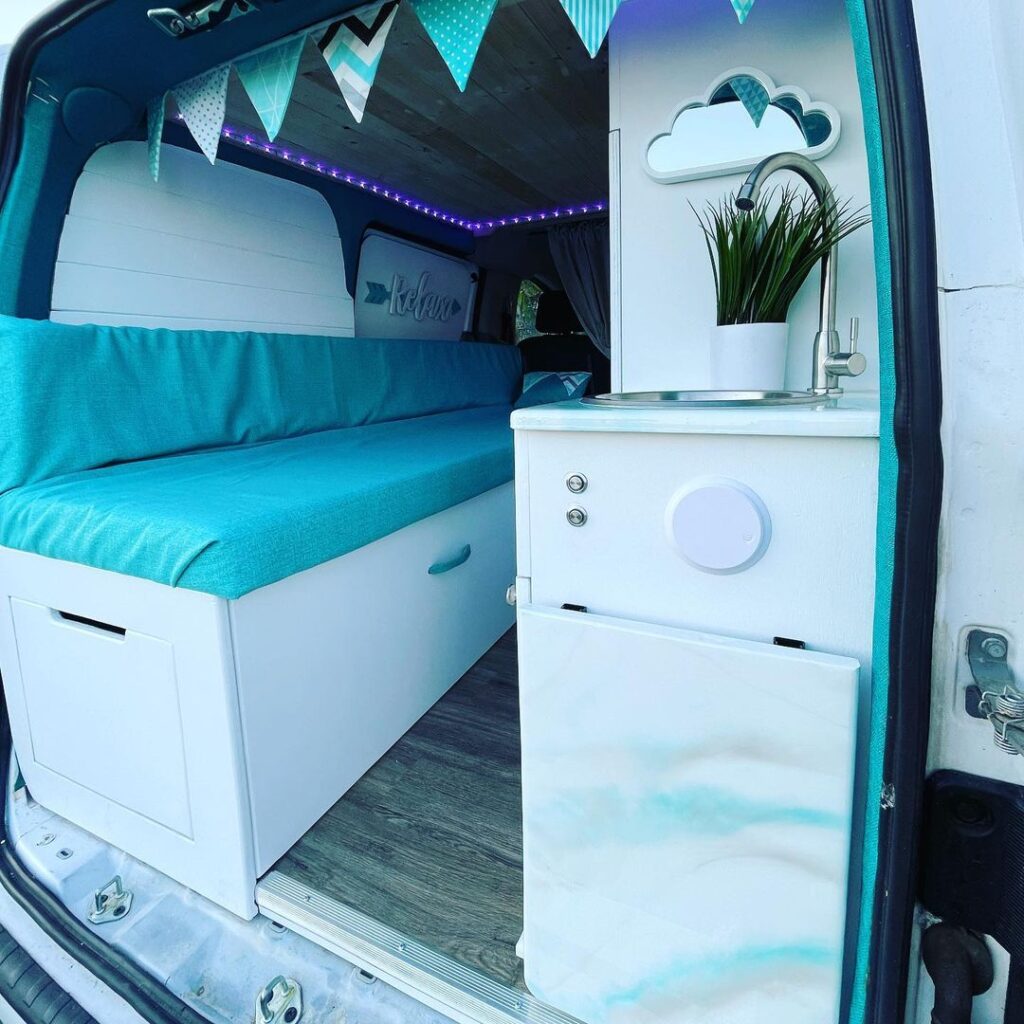 Boujee Builds converted a Nissan NV200 into a fun camper van with beach vibes thanks partly to its white interior with turquoise accent colors.
To go with the beach theme, they made window covers that look like porthole windows with pictures of Cabo adhered to them. The covers also provide insulation and privacy. They included a cassette toilet inside a box that doubles as a seat behind the passenger seat.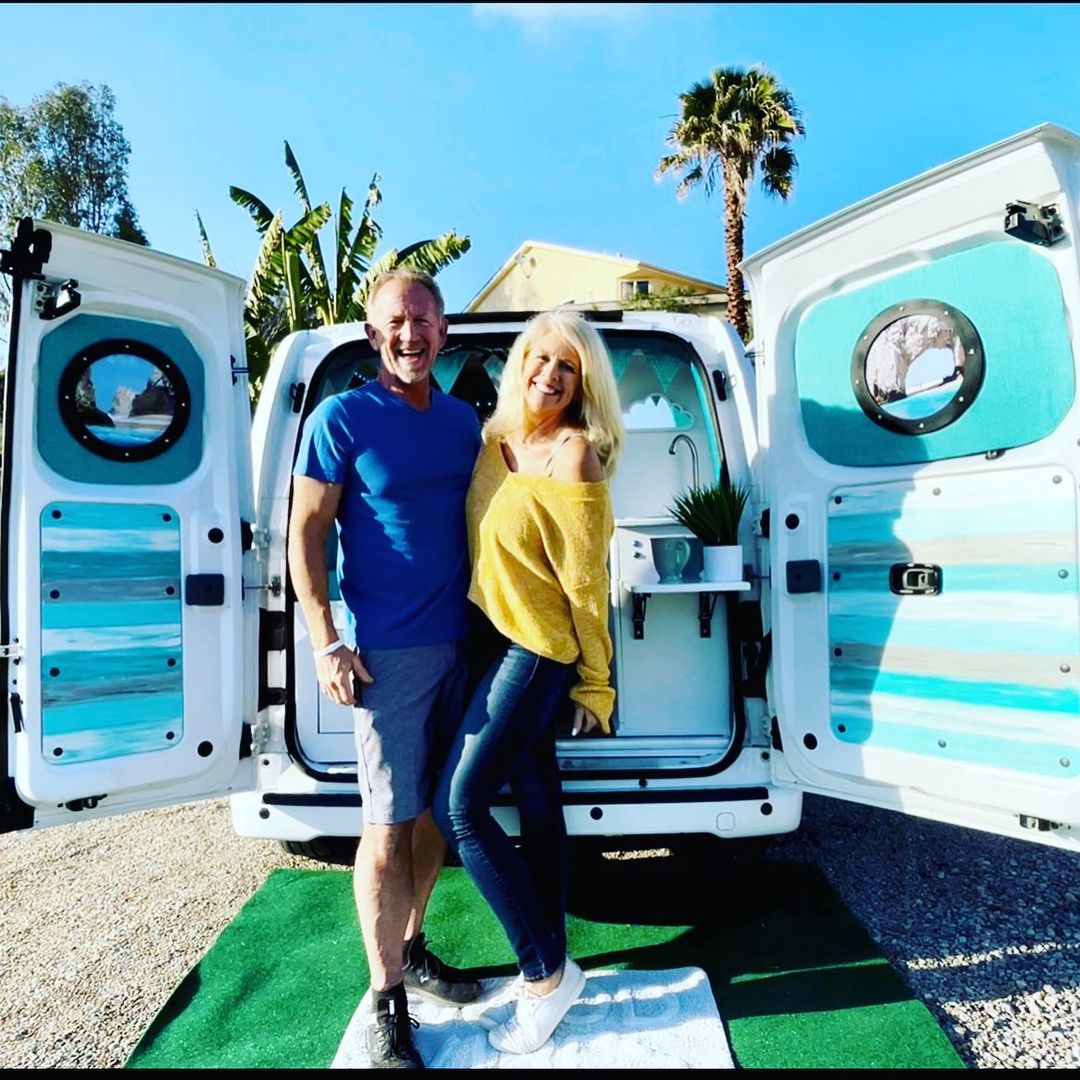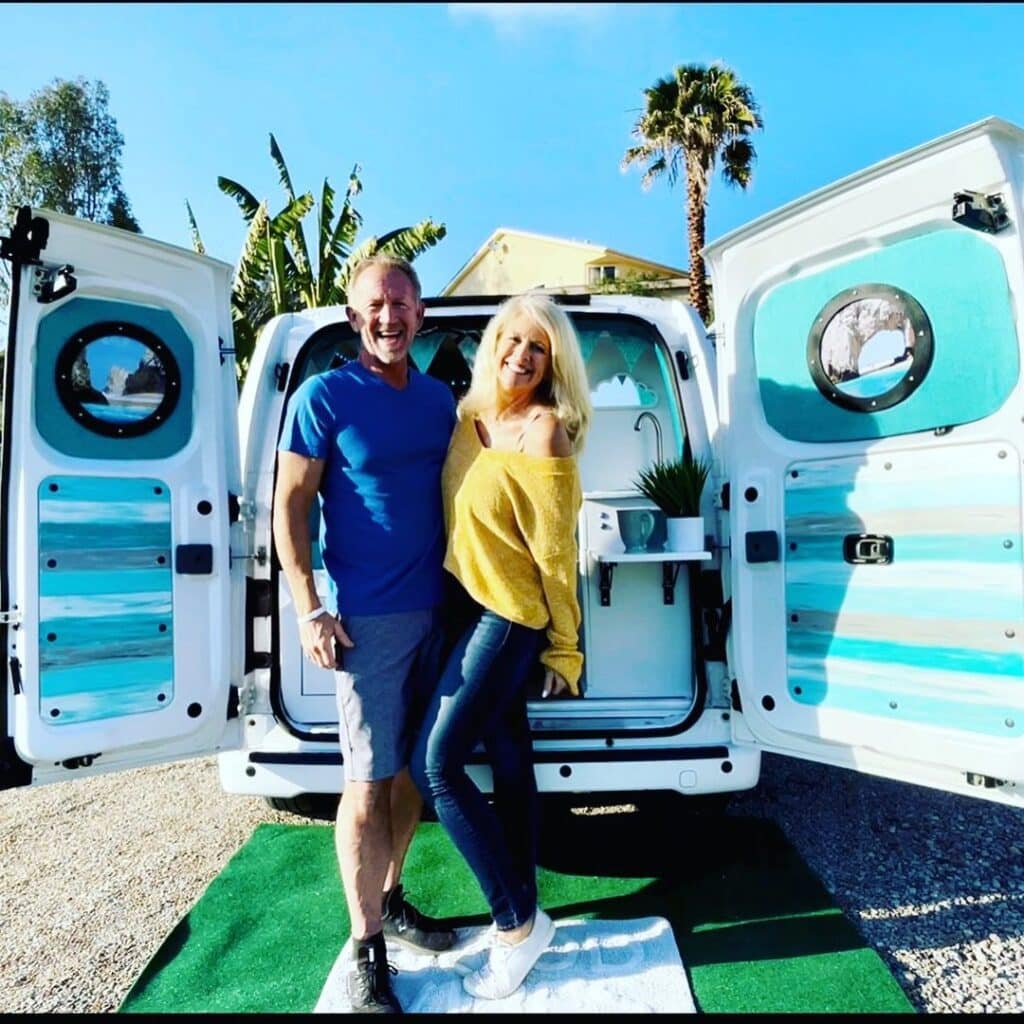 The conversion also features a futon-style sofa fixed lengthwise to the driver's side of the van. The kitchen and sink run along the passenger side. A drawer under the sofa slides out to the back of the van to create an outdoor kitchen with fridge storage and counter space for a stove.
3 Modular NV200 Camper Kits For a Quick Conversion
1. This removable module system for the Nissan NV200 from Vangear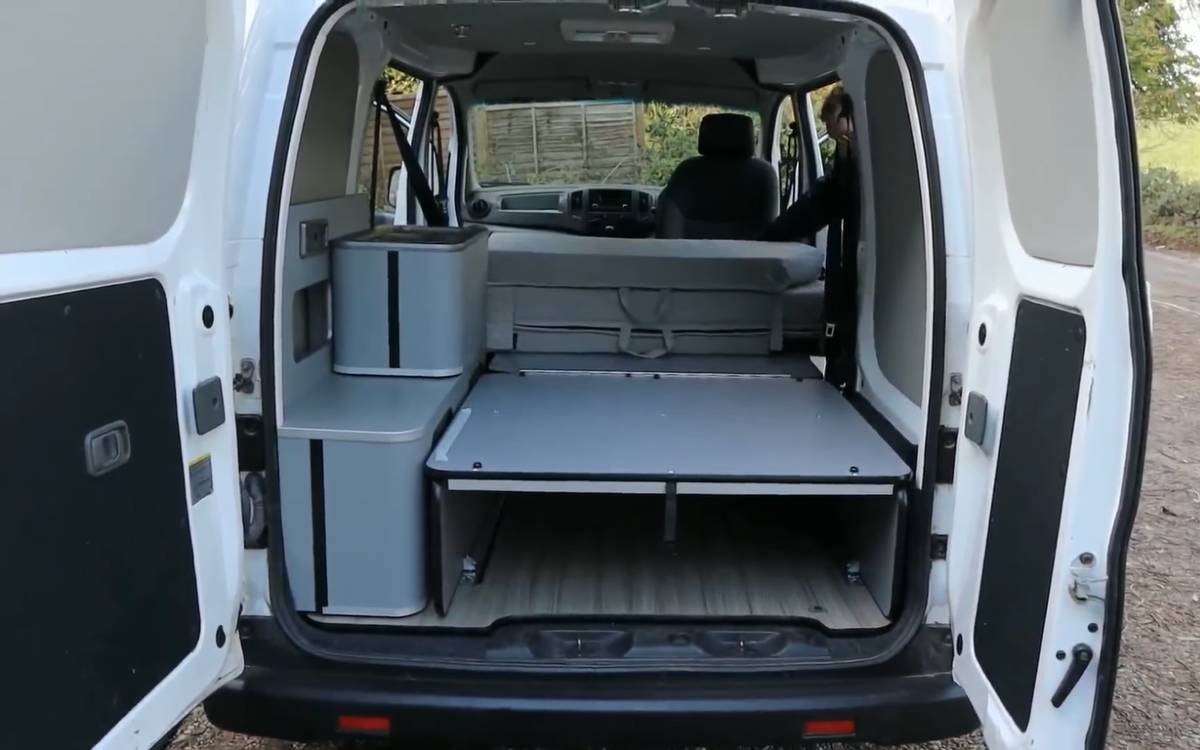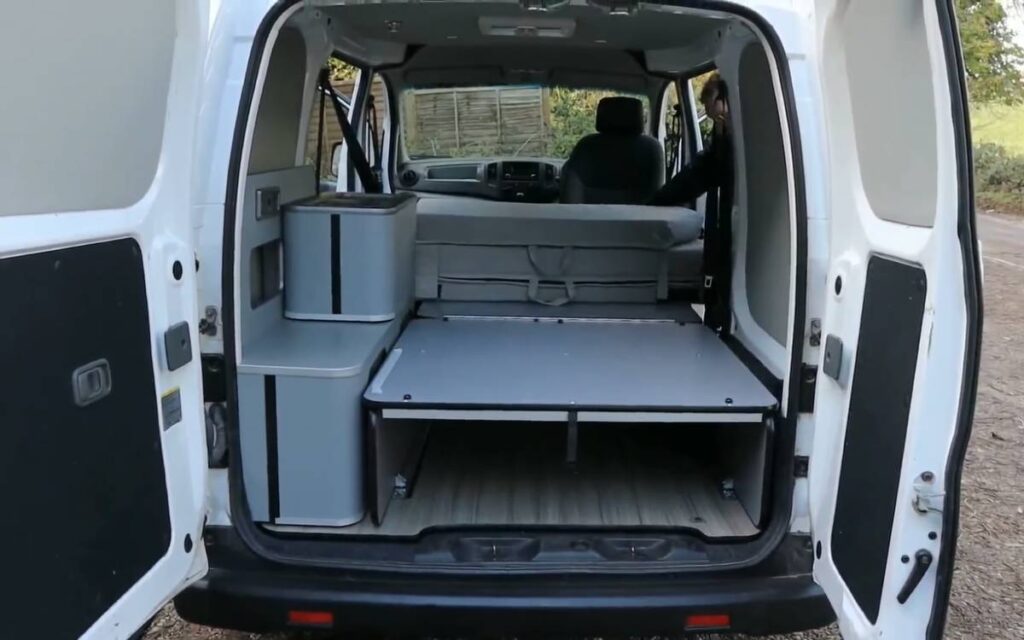 Vangear is a company that sells a removable campervan module system that is compatible with the Nissan NV200. This modular build is a great solution for people who aren't DIY-savvy or don't want to spend much money getting a professional conversion done.
The kit includes a swivel table, sink, stove, bed frame, and mattress – all on removable module pieces that are easy to take in and out of the van. There is storage space under the bed.
The module system is simple to install. Because it is removable, it is possible to use the NV200 as a daily driver and convert it for weekend camping trips. The module can be installed by one person and doesn't require removing the back seats.
2. This flatpack Nissan NV200 camper kit from VanLab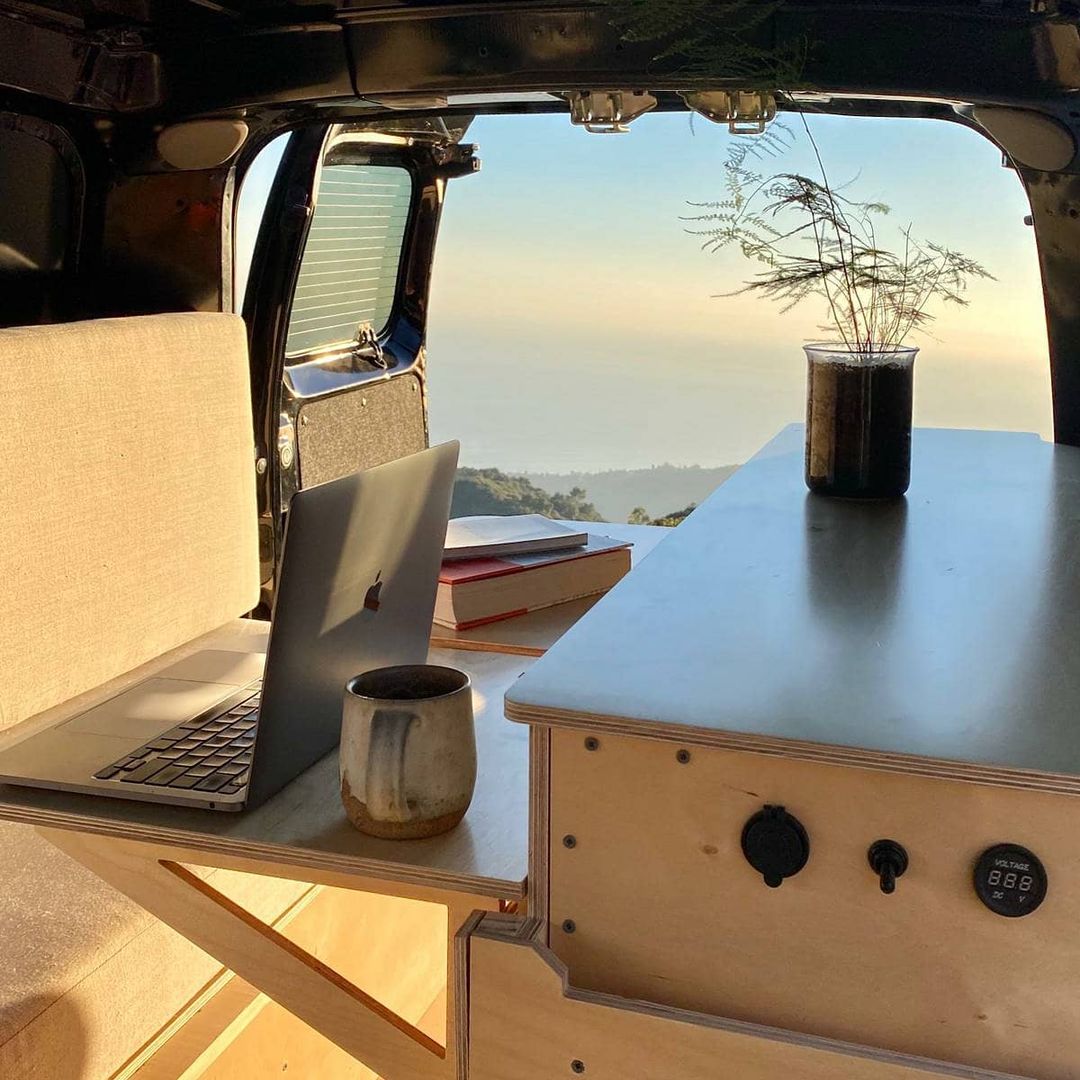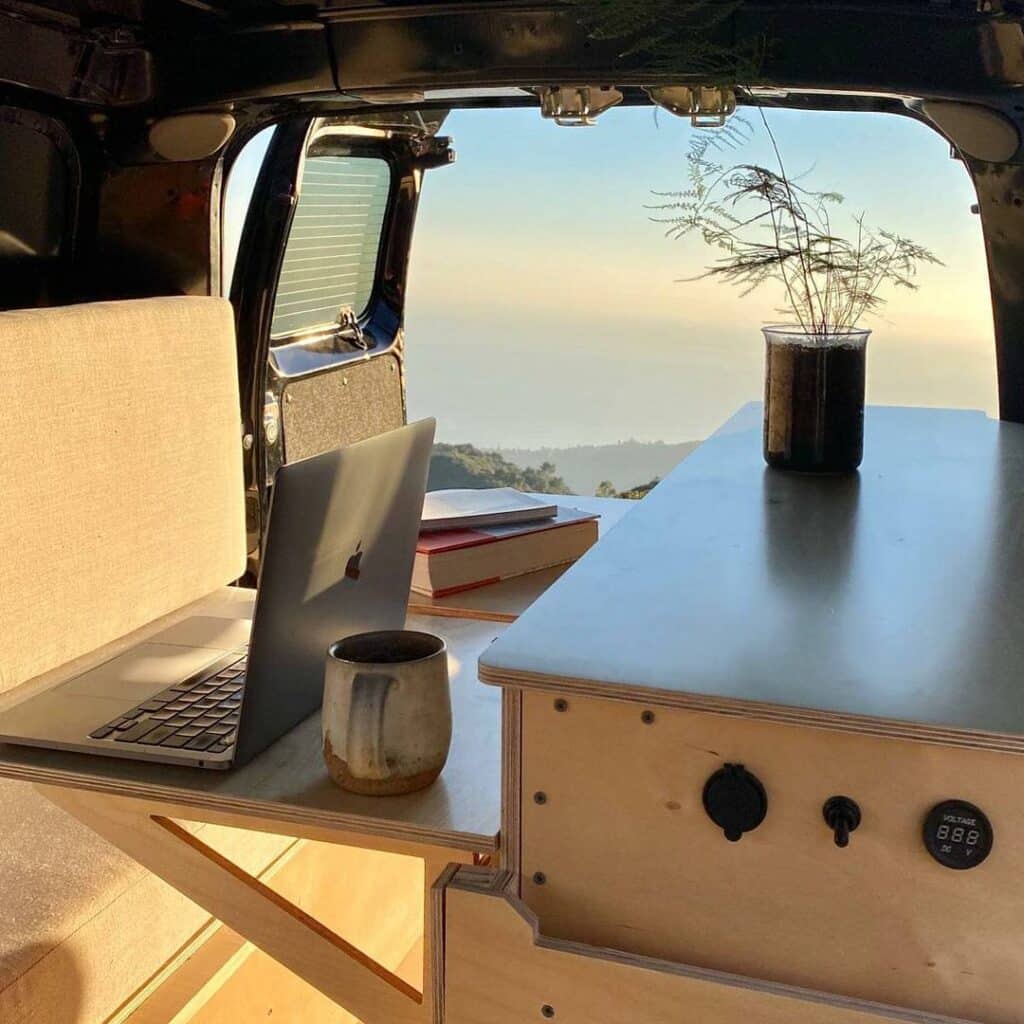 VanLab sells flatpack van conversion kits that are super helpful for those who want to incorporate wood elements into their Nissan NV200 build but aren't familiar with carpentry work.
Their kits include pre-finished, sustainable woodwork panels that fit together like jigsaw pieces. Also included are a step-by-step manual, tools, hinges, screws, door magnets, and hatches. All you need is a screwdriver, and you are ready to build!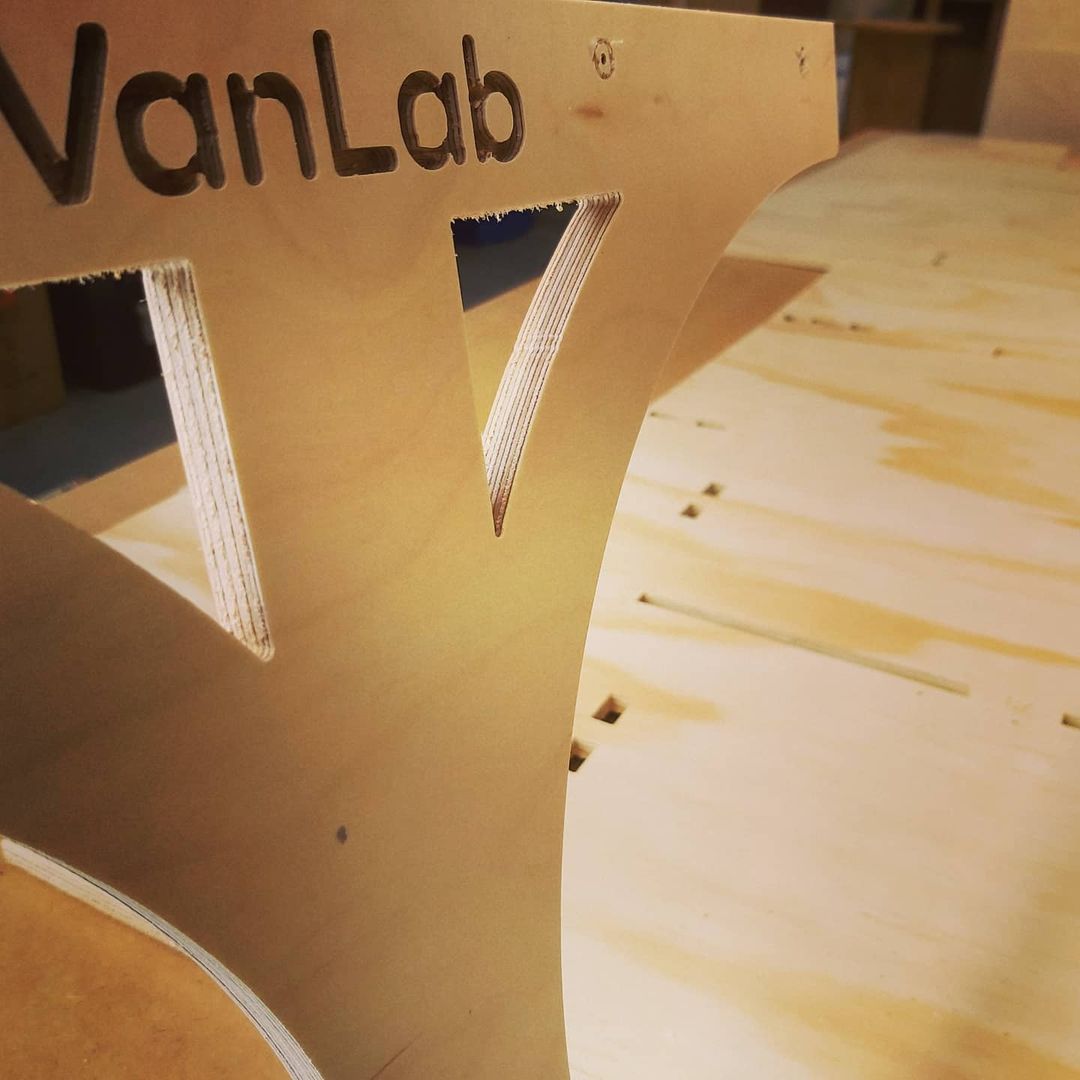 VanLab kits are customizable to your wants and needs. Their Nissan NV200 kits are compatible with all years and models of this cargo vehicle. Choose between kitchen worktops with sink cutouts, cooler/fridge cutouts, or both. There is also the option to add an integrated wiring loom.
3. This NV200 Camper Conversion Kit from RoadLoft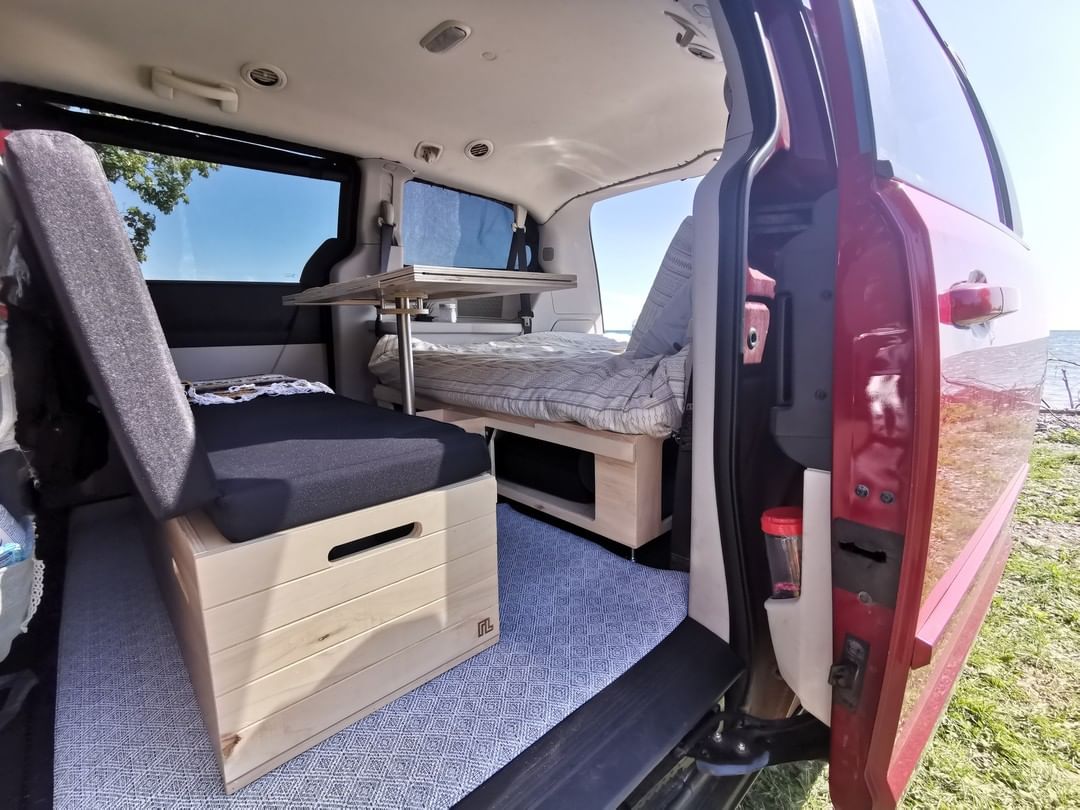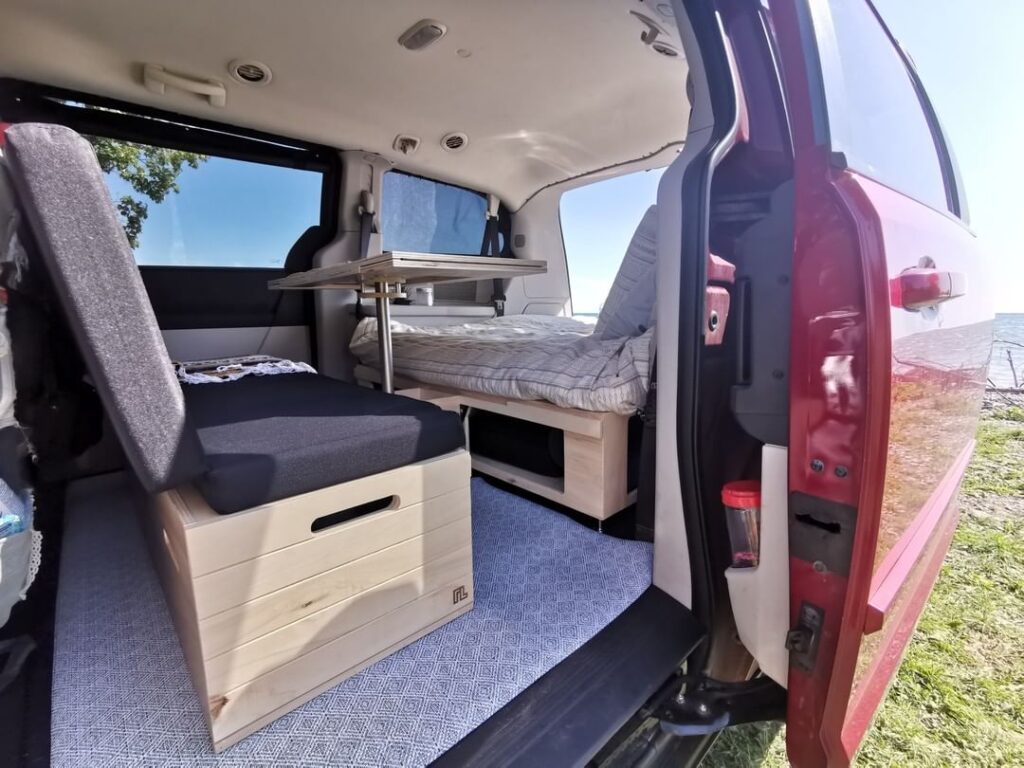 RoadLoft offers beautiful and function NV200 conversion kits that can be installed with nothing but a screwdriver.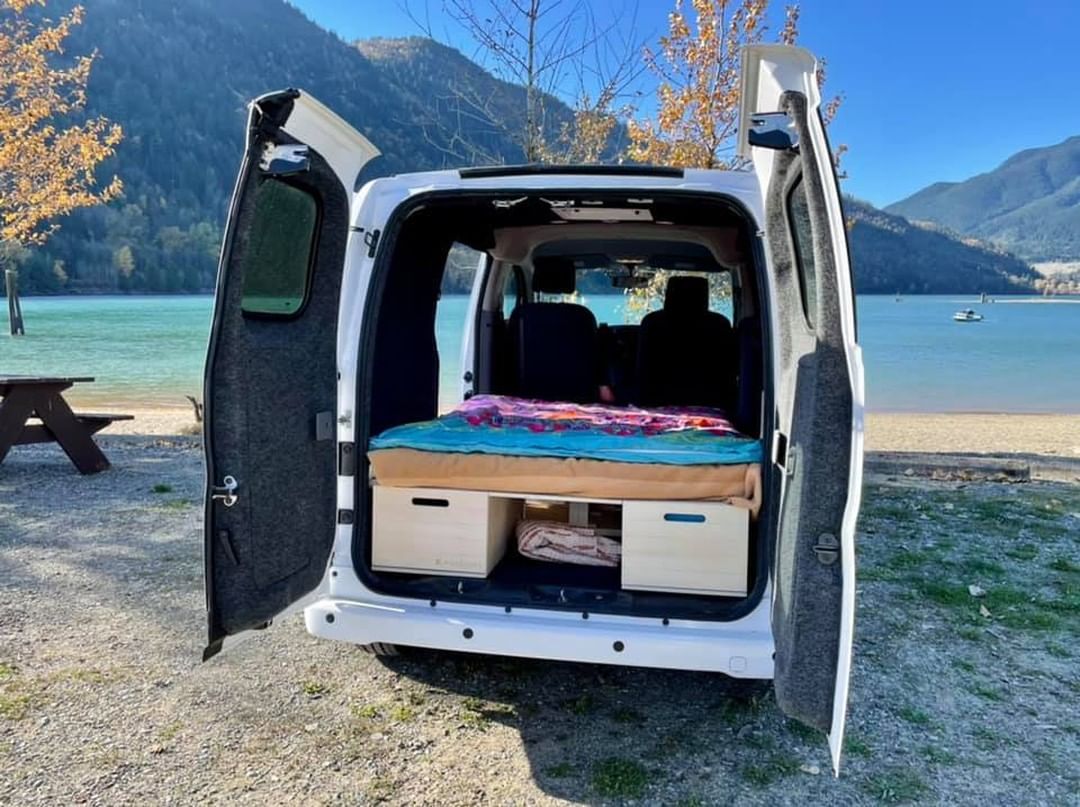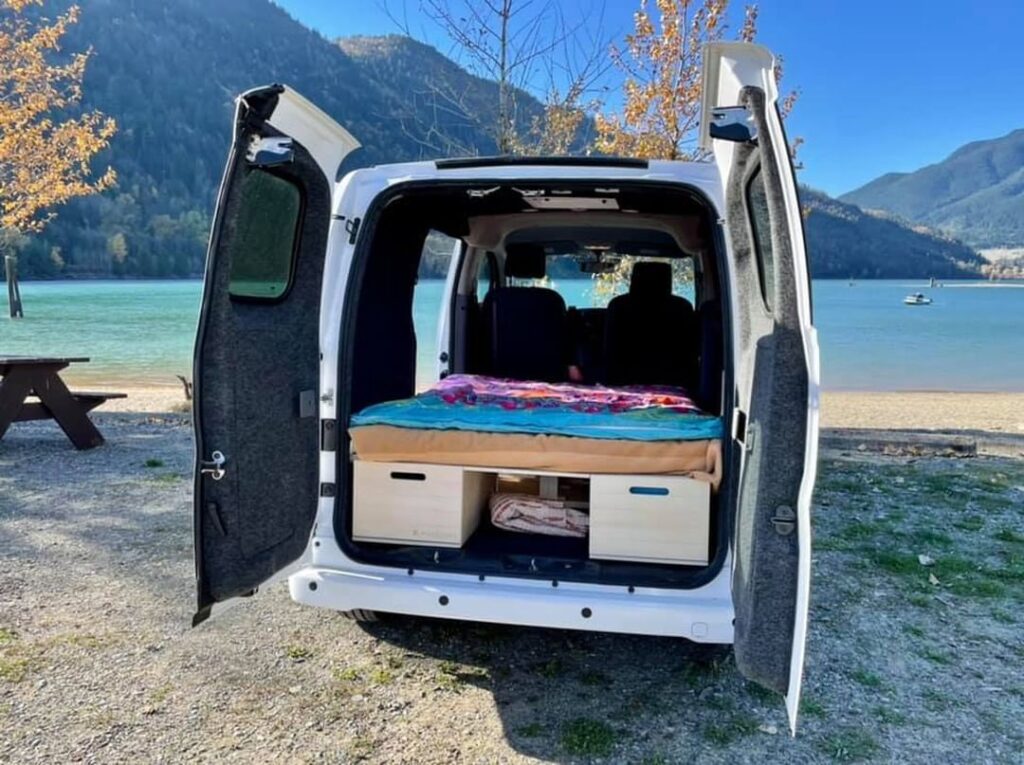 Their conversion kits are easily removable, and include everything you need to spontaneously hit the road.
Build Your Van
The Ultimate Van Build Guide
Planning a van build? Read our free guide. We cover just about everything you need to know – from planning, to insulation, to solar and electrical, to picking appliances, to essential tools. Get started today so you can get out there on the road!