It can be tough to pick the best van for van life. My own quest took me several months of research, and ultimately, I was thrilled with my decision. Narrowing down your choices to a class of van – like large cargo vans – is an excellent place to start.
As a group, large vans like the Mercedes Sprinter, Ford Transit, and Ram Promaster offer plenty of space for your build, lots of headroom, and are comfortable and reliable for driving long distances on a daily basis. They also provide plenty of choices, like multiple van lengths, diesel fuel or gasoline engines, an AWD option and four-wheel drive for off-road capability.
When looking for a large van for to build out, the Sprinter vs Transit vs Promaster decision is a big one. While they may share a lot of similarities like general size and shape, when you look more closely key differences begin to appear.
This article digs into the differences, similarities, pros, and cons of each of these awesome vans. And to help you find the right van for your needs, we discuss why you may want to choose one vs the others. Let's dig in!
Three Amazing Large Vans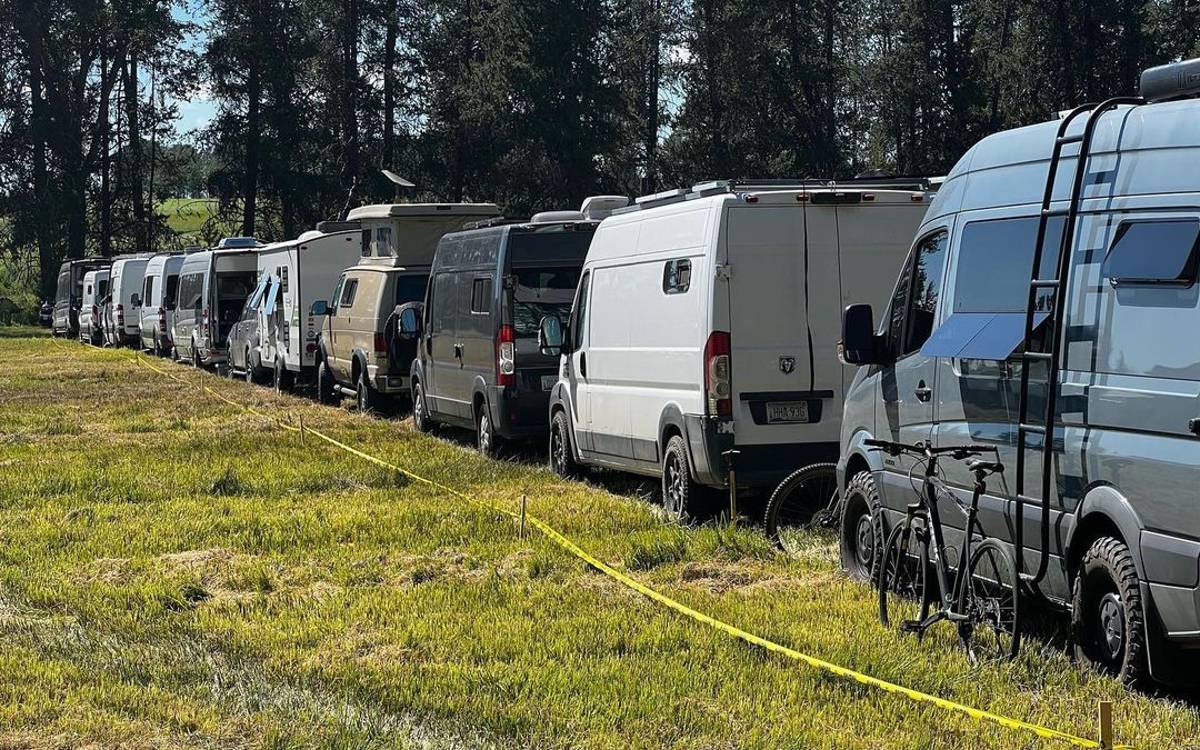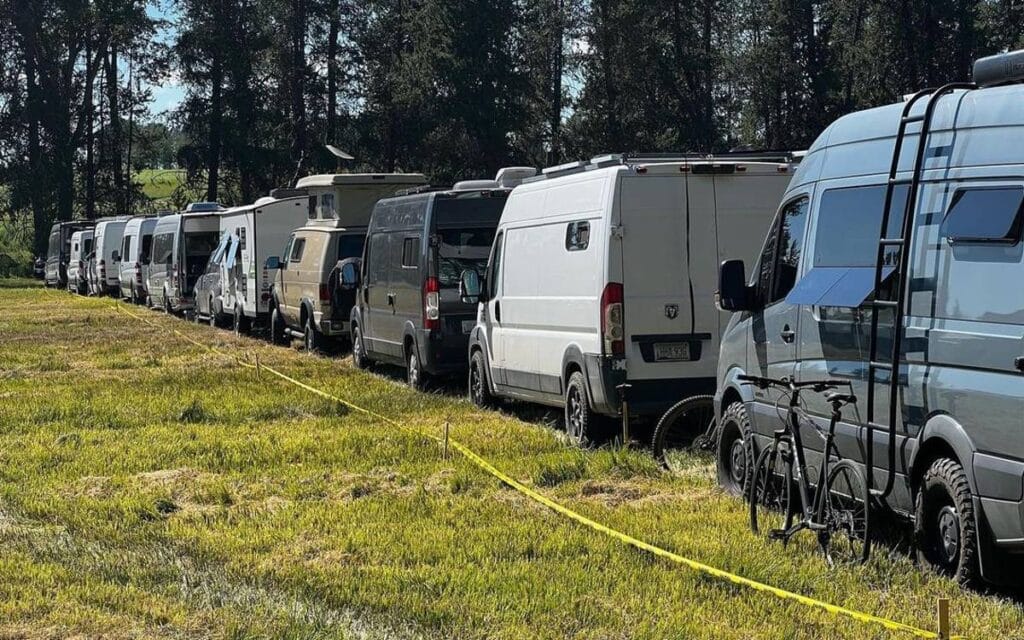 There's a reason so many van conversions start with a Promaster, Sprinter, or Transit. There's something for (almost) everyone in this group:
If luxury is on your list for van life, you can't go wrong with a Mercedes Sprinter. It's a high-end van that holds its value well, is fuel efficient, and has a reputation for being the top choice for van life.
A Ram Promaster cargo van is an ideal canvas for a DIY van build. You might not love the boxy look, but its straight sides, high roof, and low ground clearance make the Promaster both easy to transform into a camper van and comfortable to live in.
The Ford Transit van sits solidly between the Sprinter and Promaster in terms of price and style. It drives like a car (in my opinion), has a peppy eco-boost engine, and offers plenty of van length and height options, so you're sure to find the perfect size for your build.
Any one of these van options has the potential to become your dream vehicle for van life adventure, so let's do a high-level comparison to help you decide which is best.
A Quick Look at Each Van Model
You might wonder what makes these vans so perfect for van life. Here's a quick look at what people find most appealing, an overview of each brand of van, and what you can expect to pay.
This brief side-by-side look at Sprinter vs Transit vs Promaster will give you a good feel for what makes each model special. After that, we'll go knee-deep into the details so you can get busy with the comparison process.
Mercedes Sprinter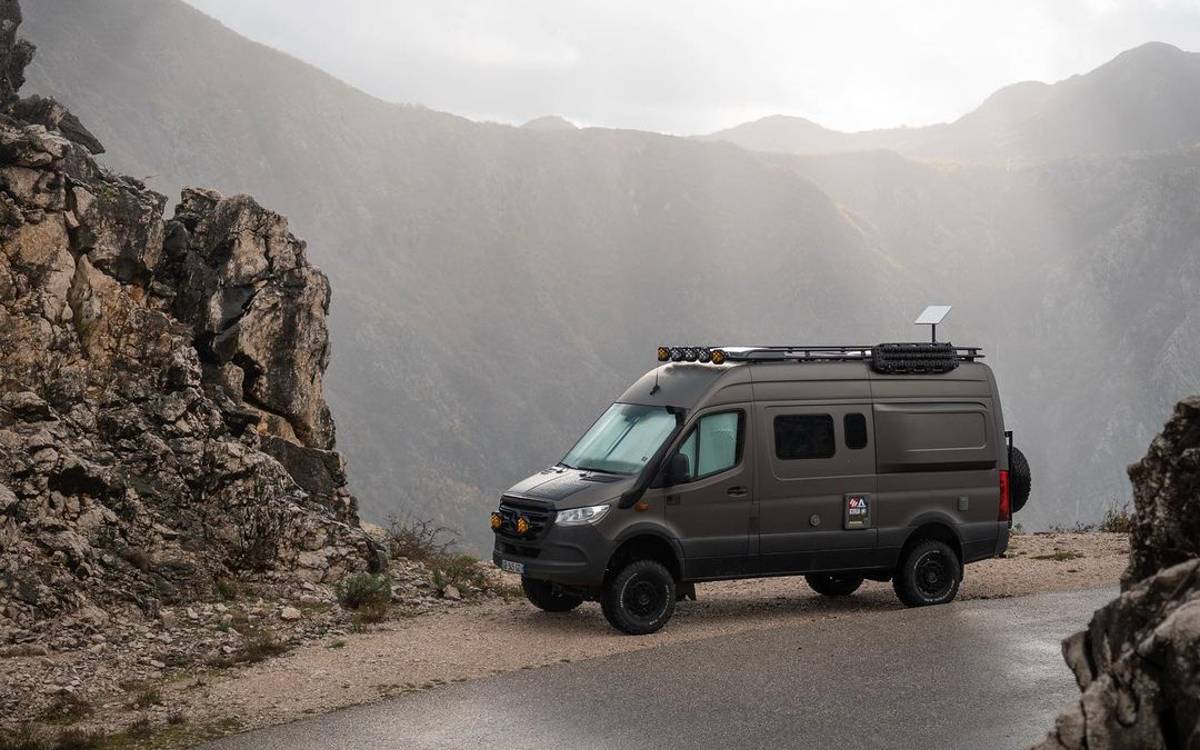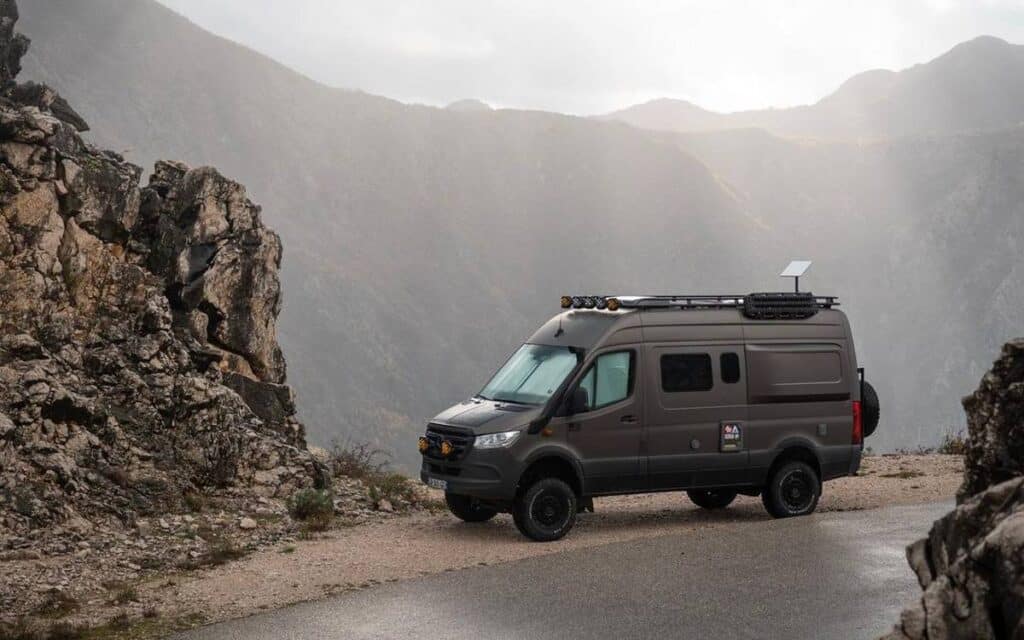 Why Are Sprinters So Popular?
One reason Sprinters are so popular as campervans is… (wait for it) that they're popular! Their reputation as the ideal campervan makes many people long for a Sprinter. Of course, Mercedes-Benz Sprinters earned their popularity because they're so well suited to van life:
Mercedes has been in the van business for a century and has an excellent reputation for reliability, sleek design, and refined engineering.
Mercedes Sprinters are easy to drive and park, especially with the shorter wheelbase versions.
They're readily available as campervan conversions from several commercial van builders, so you don't have to tackle DIY projects unless you want to.
Read More: Why I Chose a Sprinter Van for Van Life
Sprinter Models
The earliest Sprinters in the U.S. showed up in 2002 wearing a Dodge nameplate (but still built by Mercedes). The more recent iteration of the Sprinter cargo van has been available since 2010 and, like the Transit and Promaster, comes as either a cargo, crew, or passenger van.
Mercedes offers the Sprinter van on two wheelbases (144″ and 170″), with an extended body version available on the 170″ wheelbase. You can also choose from two roof heights, standard (96″) and high roof (107″).
Mercedes Sprinters come with either a turbocharged gas engine or a turbo diesel engine. (It's the only van with a 4-cylinder engine). Sprinter vans come standard with rear-wheel drive, but all-wheel drive is an option.
How Much is a Sprinter?
New Sprinters are at the high end of the price range for large vans, starting at $43,500 for the smallest Sprinter cargo van. The base MSRP before options for a 2023 high roof, extended Sprinter 3500 is $58,290. Add lots of options and you could easily be looking at $80K or more!
Because Sprinters retain their value, a 2018 high-roof extended model still costs about $43,000. Those are eye-popping prices for some van lifers, but that doesn't mean the Sprinter brand is out of reach. You can save by choosing an earlier model year, compromising on higher mileage, or choosing a shorter Sprinter.
Sprinters were the first "Euro-style" van to hit the US market, so you can find older used Sprinters for cheaper than other large cargo vans. And the pre-2006 T1N Sprinters are some of the most reliable and highly-regarded vans out there.
Ford Transit Vans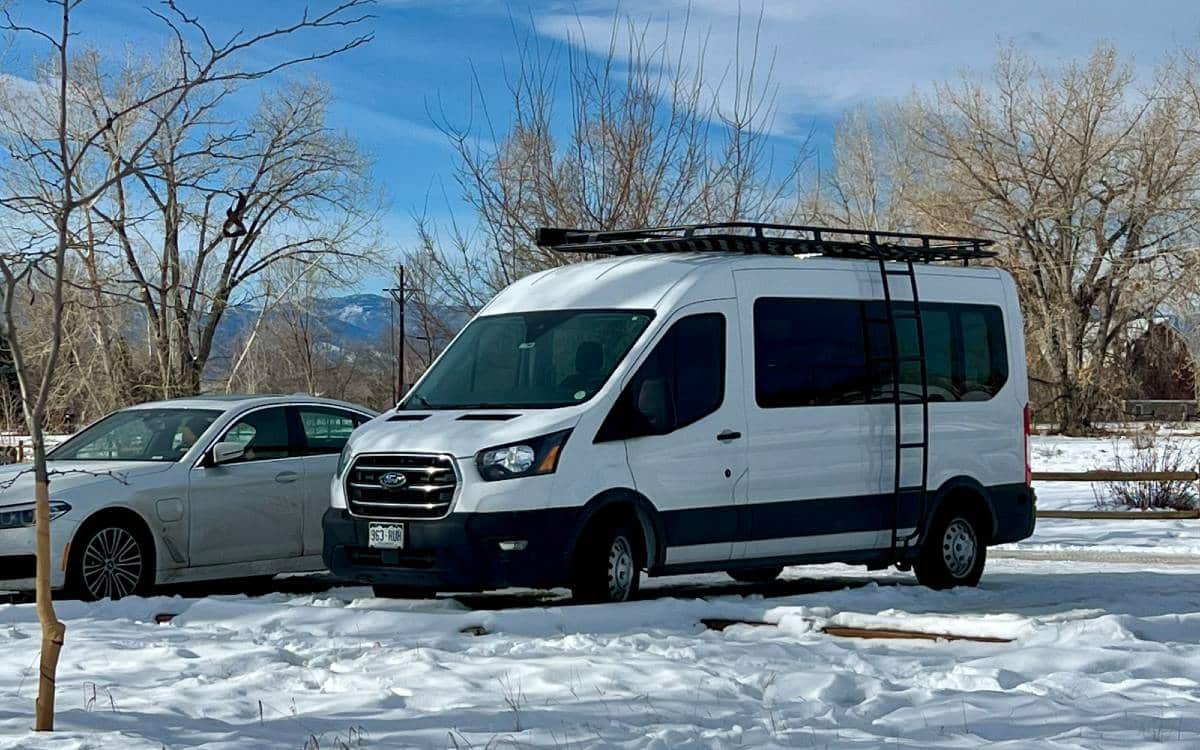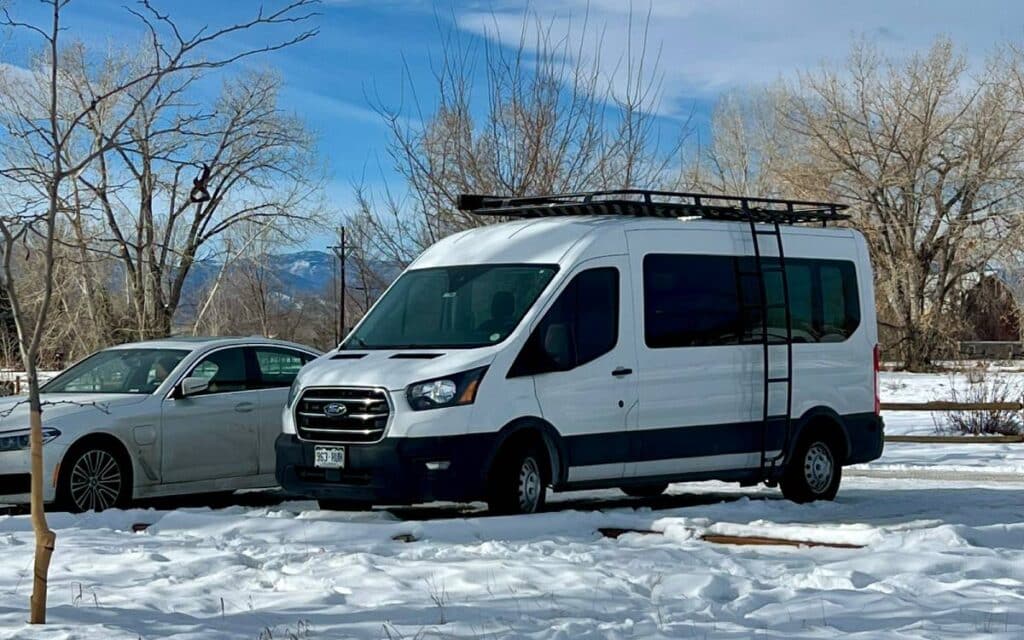 Why Are Transits So Popular
The Ford Transit emerged as a product of Ford's epic history of making road-worth delivery vehicles and speedy, race-winning cars. The Transit was once known as Britain's most popular getaway van. (At the time, it was reportedly used in 95% of bank robberies!)
Today, the Ford Transit is still one of the most popular getaway vans – albeit for a different purpose. It makes a comfortable camper van with a cost of ownership that's generally less than a Sprinter van.
A Ford Transit van offers plenty of power under the hood but drives like a dream.
Transit styling is more elegant than a Promaster and slightly more affordable than a Sprinter.
Transit vans include technology to make your ride safer and more enjoyable, from automatic braking and pedestrian detection to entertainment centers and wi-fi hot spots.
Read More: Why I Chose a Ford Transit for Van Life
Ford Transit Models
The rear-wheel drive Ford Transit cargo van has been available in the U.S. since 2014. It comes in two wheelbases, 130 or 148 inches, three lengths (Regular, Long, and Long-EL), and three roof heights (Low, Medium, and High Roof).
The regular length isn't available with a high roof, and the Long-EL only comes with a high roof. That gives you a choice of six different Transit van configurations ranging from 220″ to 264″ long and up to 110″ tall.
Ford Transits are available with a regular 6-cylinder gas engine or eco boost as an upgrade. You can choose the standard rear-wheel drive or opt for an AWD Transit instead.
How Much Does a Ford Transit Cost?
The 2023 Ford Transit starts at $43,455, close to the price of an entry-level Sprinter. The high-roof Long-EL begins at around $55,400 with a few upgrades.
While the cost of a Ford Transit is not much less than a new Sprinter van, Ford is known for offering incentives that bring the price of a new van down, including $500 Bonus Cash for active and retired members of the U.S. Military.
A used 2018 Long-XL model is comparably priced with a Mercedes Benz Sprinter of the same age. KBB reports a typical listing price of $42,800 vs $43K for the Sprinter.
Ram Promaster Vans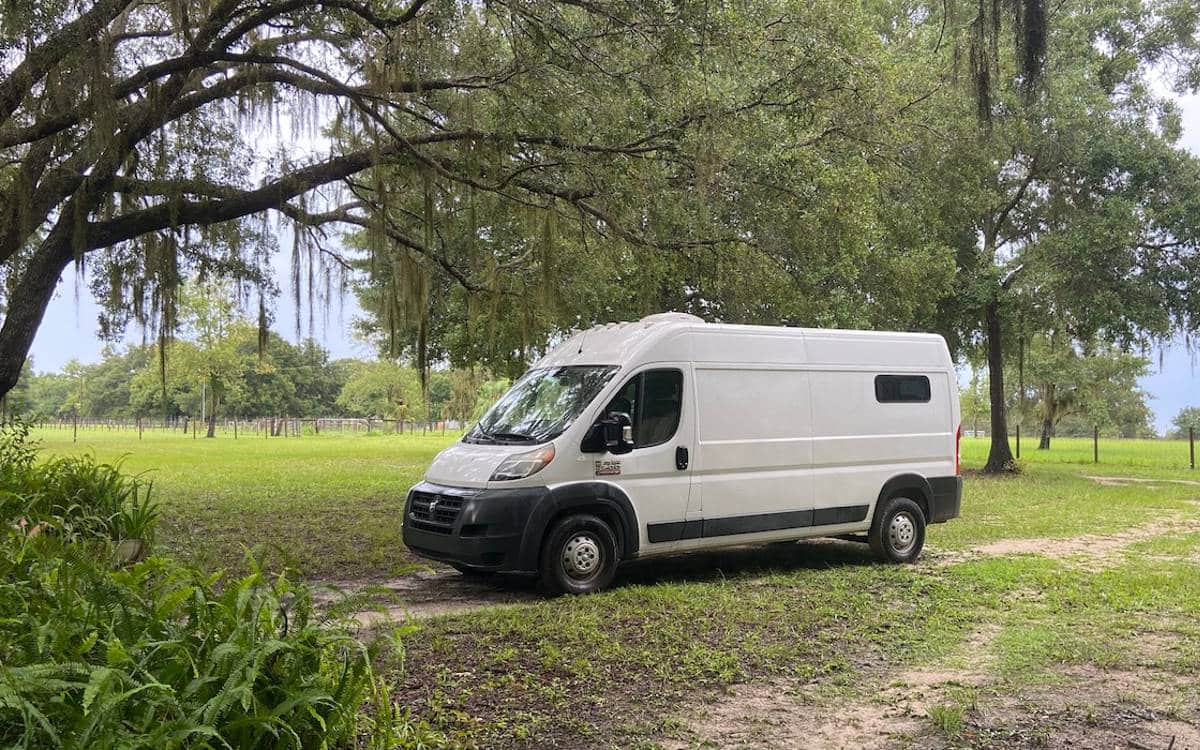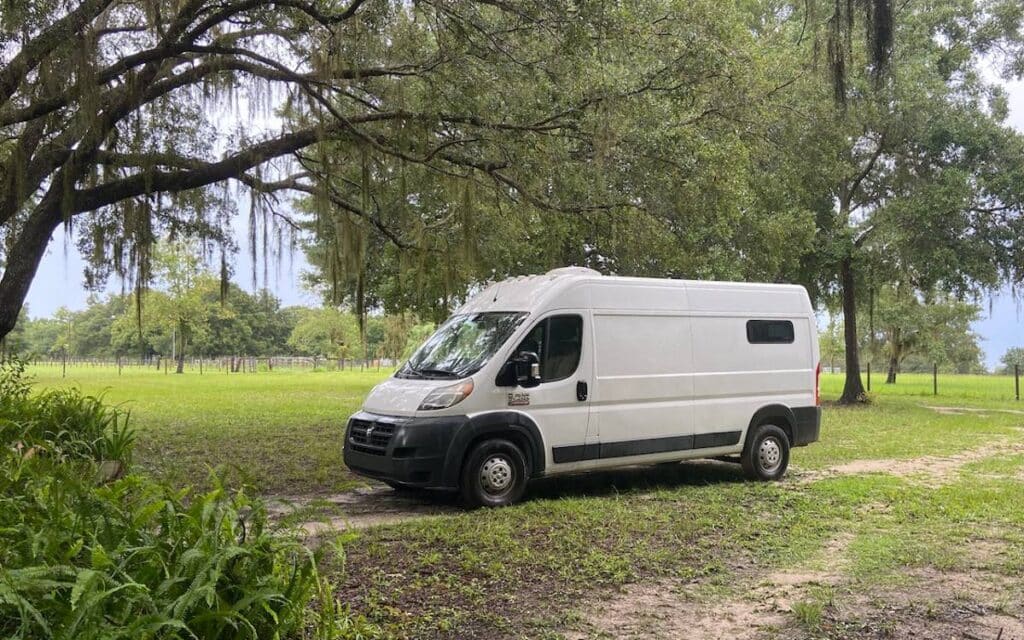 Why are Promaster Vans So Popular?
Relative affordability is one of the top reasons van lifers love the Promaster over other vans. The Ram Promaster is ideal if you're not looking for luxury and want a solid, reliable van to turn into a camper.
The Promaster is known for being easy to convert to a campervan, with its straight walls and wide cargo space. Its roof is larger because of this design, giving you lots of room for solar, fans, and maybe even a roof-top deck.
A Promaster van is less expensive to buy and maintain than its peers in this group.
It's super stealthy. If you want a campervan that looks like a work van, a plain white Promaster is it!
With FWD and better ground clearance than the RWD Transit van, a Promaster can go all kinds of places you might assume require a 4×4.
Read More: Why We Chose a Ram Promaster for Van Life
Ram Promaster Models
The Ram Promaster (made by Dodge) has been sold in the U.S. since 2014. It comes in more configurations than either the Sprinter or Transit. Both the Transit and the Promaster have three roof heights. On the Promaster, your choices are standard, high, and super-high.
Ram Promaster has three wheelbases (118″, 136″, and 159″) plus an extended body on the 159″ wheelbase. That adds up to 19 different body configurations!
The super-high roof is new for 2023, as is the option for a roll-up door, which could be an exciting feature in a converted van. With the extended body and super-high roof, the Promaster offers the most cargo space available for a campervan conversion: 520 cubic feet.
Ram Promaster comes standard with a V6 engine (the diesel engine was discontinued in 2019). It's also the only van in this group that does not offer all-wheel drive; all Promasters are front-wheel drive.
What Will You Pay for a Promaster?
A new Ram Promaster van with a low roof and short wheelbase starts at $41,190. That's more than $2000 less than a new Ford Transit. If you want to go big, pricing for the 159″ extended model with a super-high roof begins at $51,780. (Yes, that's more than a Transit, but it's also bigger!)
Used Promaster vans tend to depreciate more than older Sprinters and Transits. You can find a 2018 159″ wheelbase extended model with a high roof for around $38,800 from a dealer, less in a private party deal. That saves you at least $4,000 vs a Transit of the same vintage.
Can't Wait to Get Going?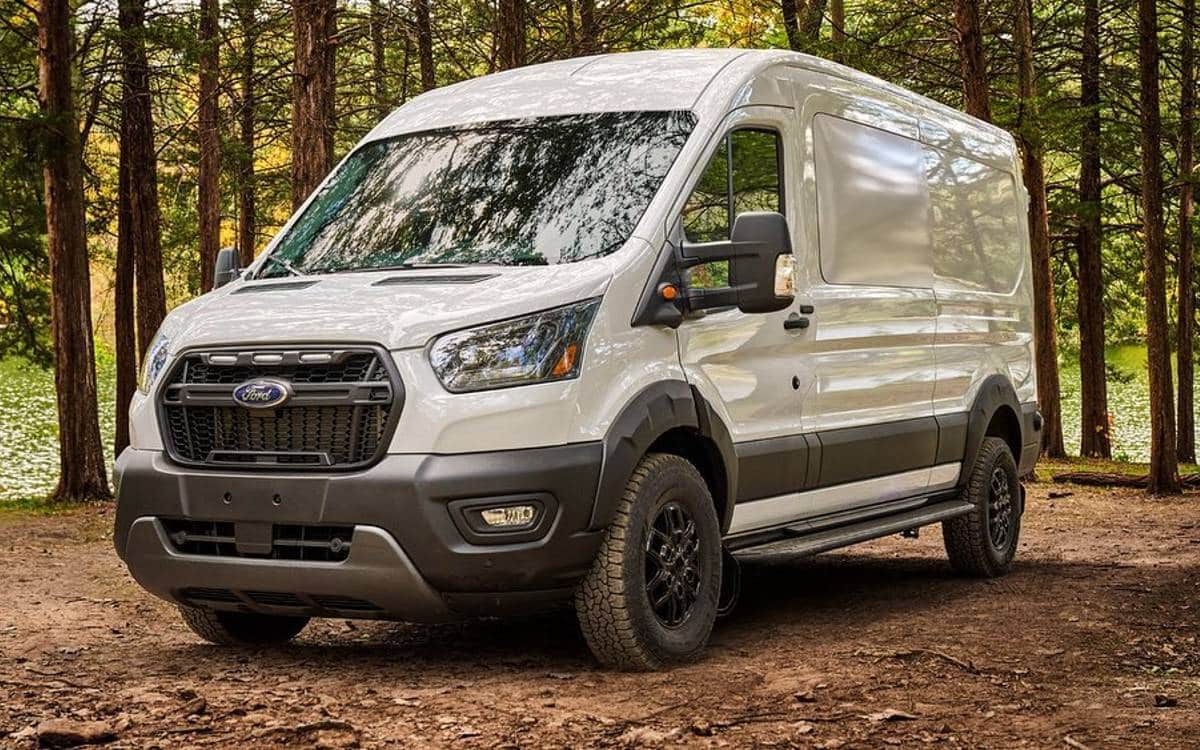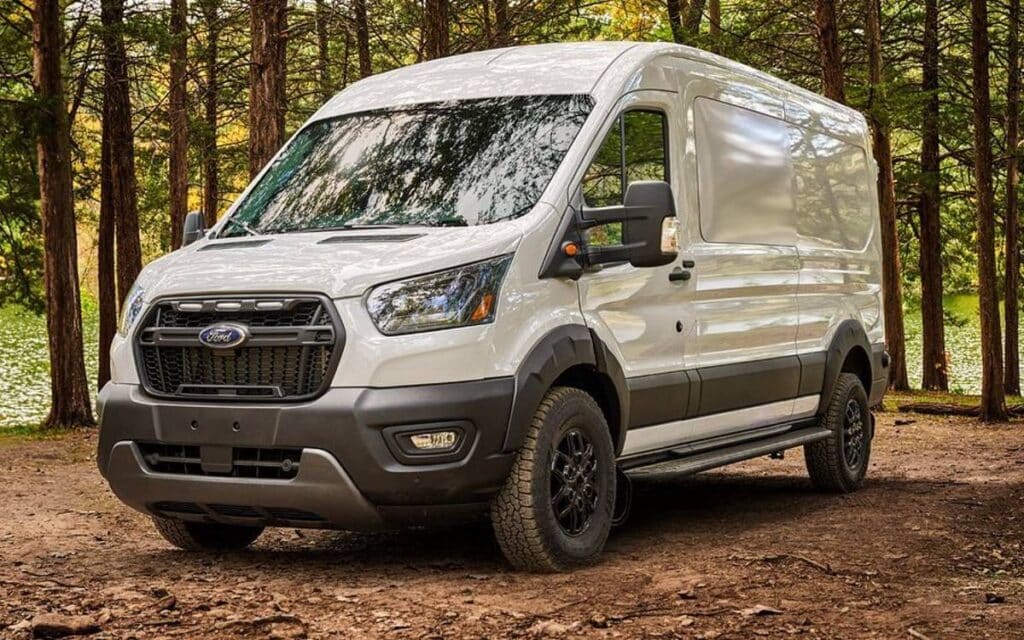 All three large van manufacturers—Mercedes, Ford, and Ram—recognize the appeal of their vans for campervan conversions. They've jumped on the trend with option packages just for van life.
These options packages can jumpstart the van conversion process, albeit with pricey upgrades. If you're watching your budget, you might be able to do your own upgrades with aftermarket parts or select individual features instead of a full RV package.
Ford used to offer an Adventure Prep Package on the Transit. Now—following the introduction of the AWD Ford Transit Trail —it's called the RV Prep package. This bundle includes things like a body-colored bumper and front-only carpet, fog lamps, swivel seats, and upgraded wiring.
The Ram Promaster RV Prep package was replaced by the RV Ready Prep Package in 2022 and is not listed as an option for the 2023 model. It included features like a 220 amp alternator, auxiliary switches, a class IV receiver hitch, swivel seats, fog lights, and an underseat storage tray.
Another shortcut to van life adventure is buying a ready-made campervan from an upfitter or conversion company. Winnebago builds Class B RVs on the Sprinter and Promaster platforms, and Coachman offers RVs built on the Promaster and Transit chassis.
Some popular commercial Class B conversions are:
Winnebago 4×4 Revel – Sprinter platform, $210K
Airstream Rangeline – Promaster chassis, $148K
Winnebago Travato – Promaster platform, $175K
Digging into the Details: Sprinter vs Transit vs Promaster
Now that you know what that big van will cost and the available configurations, let's get into the gritty details. What options should you seek out for a van conversion? What's the driving experience? (Hint: it matters a lot if you're planning long days of driving.) What size van should you pick? Does it get good gas mileage?
Options and Upgrades
Whether you're buying a new van—maybe even pre-ordering one—or purchasing an older model, it's helpful to know what options are available. For example, you might not care about adaptive cruise control, or it could be essential for you.
While cruise control was on my "nice to have" list, I really wanted factory rear windows. I didn't mind adding windows to the side of my van, but something about cutting holes in the rear doors was more than I wanted to tackle. Luckily, I found a used van that had that option.
Other vital choices are engine type and drivetrain. You can choose from a diesel or gasoline engine and opt for FWD, AWD or 4×4, or RWD. Each manufacturer will soon have highly anticipated EV vans available.
Naturally, the available options and upgrades for each brand will vary from one model year to another. Some vans come with a longer list of standard features than others, which will factor into the price of a new or used van when you shop.
What Comes Standard?
Most newer cargo vans come with many of the features you'd expect in a car or SUV and some truck-specific safety features. These vans will have standard equipment like power windows and locks, push-button start/stop, touchscreen NAV/entertainment, and air conditioning. You'll also find power-assisted steering, collision warning systems, and crosswind-assist to make driving safer.
What you might not find standard are things like a tilt/telescoping steering wheel or keyless entry. When choosing a Sprinter vs Transit vs Promaster, these features (standard or not) might be deal breakers:
Standard Features
Feature (2023 Models)
Sprinter
Transit
Promaster
Keyless Entry
✔
✔
Optional
Tilting steering wheel
✔
✔
No
Telescoping steering wheel
✔
✔
Manual
Cruise Control
✔
✔
Optional
AM/FM/Satellite Radio
✔ AM/FM
(Satellite optional)
✔ AM/FM
(Satellite optional)
✔
Digital Rearview Mirror
Optional
Optional
Optional
Navigation
Optional
✔
Subscription Required
Optional
Lane-Keeping / Blind Spot Assist
Optional
✔
( Blind Spot Assist optional)
Optional
Parking Assist
Optional
Optional
Optional
Popular Factory Options for Van Conversions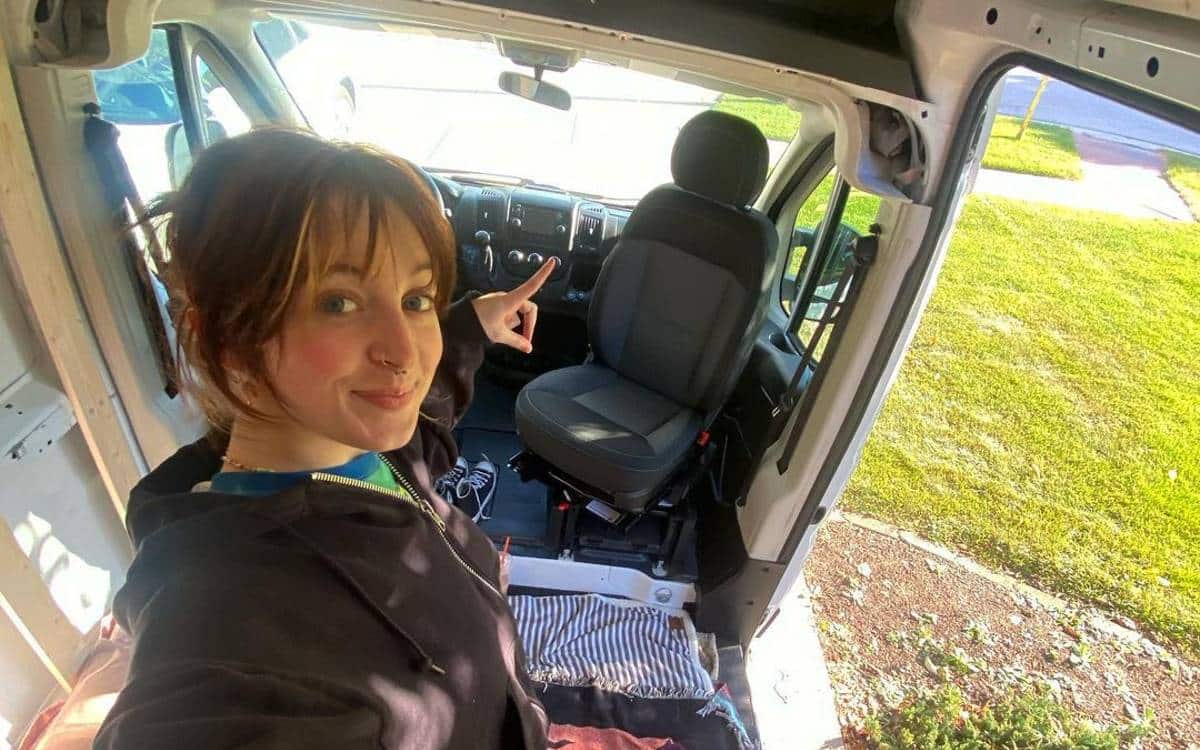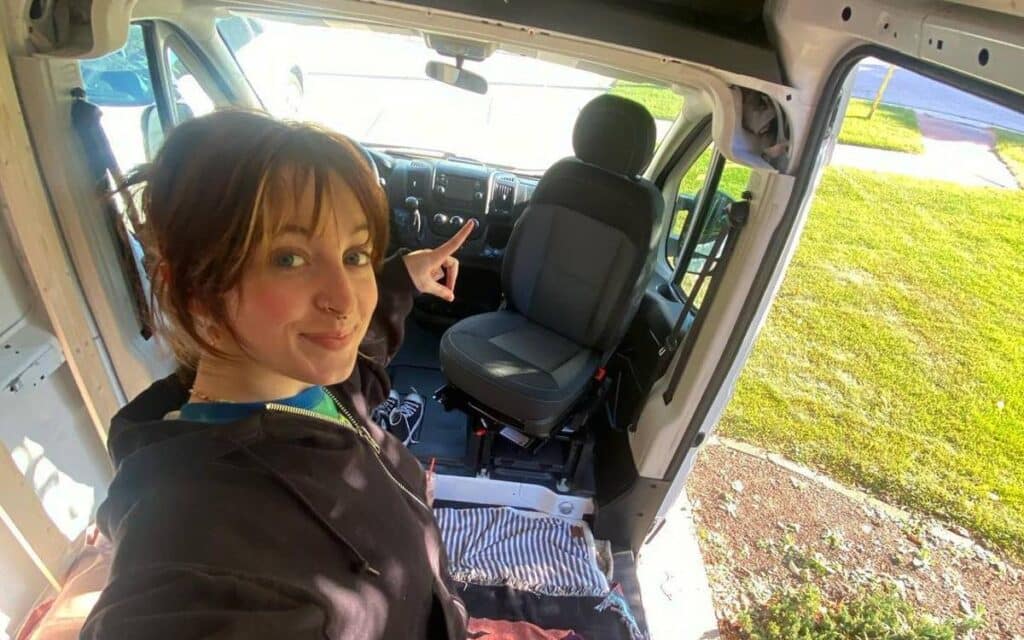 In addition to the comfort and safety features listed above, there are some additional features and options that make life on the road and daily living in a van a little easier.
Features to look for when comparing Sprinter vs Transit vs Promaster for van life include:
Adjustable/Heated Seats – Armrests and adjustable seats come standard on the Mercedes Sprinter. A 6-way manual seat is an option with the Ram Promaster. Ford Transit offers 10-way power heated seats. Promaster's heated seats are an option on its manually adjustable seats.
Swivel seats – Mercedes sells an upgrade package for $586 that puts swivels under both front seats. This option comes with a lower base, so you don't sit up too high and your feet can reach the floor (common complaints with aftermarket swivels). Ram offers swivel seats on the 2023 Promaster but at $695 per seat. Manual swivel seats are an available upgrade on Ford Transits, too.
Factory shelving – Ram Promaster vans have a large shelf above the cab (standard) and an optional headliner shelf right above the seats for added convenience. A similar lower shelf is also available on the Transit or the Sprinter.
Power sliding doors – Both the Ford Transit and Mercedes Sprinter offer power sliding doors as a factory upgrade. If you buy a van without this feature, you can get an aftermarket mod kit for any of these vans for about $3500.
USB Charging – Whether you're close to home or out in the backwoods, extra 12-volt outlets and USB ports always come in handy. Ford Transits, Promasters, and Sprinters all offer a handy 12V port in the rear of the vehicle as an option.
AC power outlet – You can purchase an optional 110V/400W outlet on the Ford Transit, and Ram Promaster has an available 115V/150W AC outlet in the dash. You can get a 115V socket in the Sprinter as well. Extra AC power is convenient, but you'll probably still want a 12V power inverter, portable power station, or campervan electrical system in your build.
Running board – Ford Transits have both a fixed and powered running board as an option, as does the Sprinter. The Promaster offers an option for a rear step and a right door sliding step. It doesn't cost much to add an aftermarket running board (they can cost as little as $150), but it's not always an easy DIY project.
Alternator upgrade – If you are charging your house batteries while you drive, consider a secondary or upgraded alternator. Ram Promaster offers an upgrade to a 220-amp alternator, while on a Mercedes Sprinter the 220-amp alternator is standard. Ford offers a dual alternator option with two 250-amp alternators on the Transit van.
What About Color?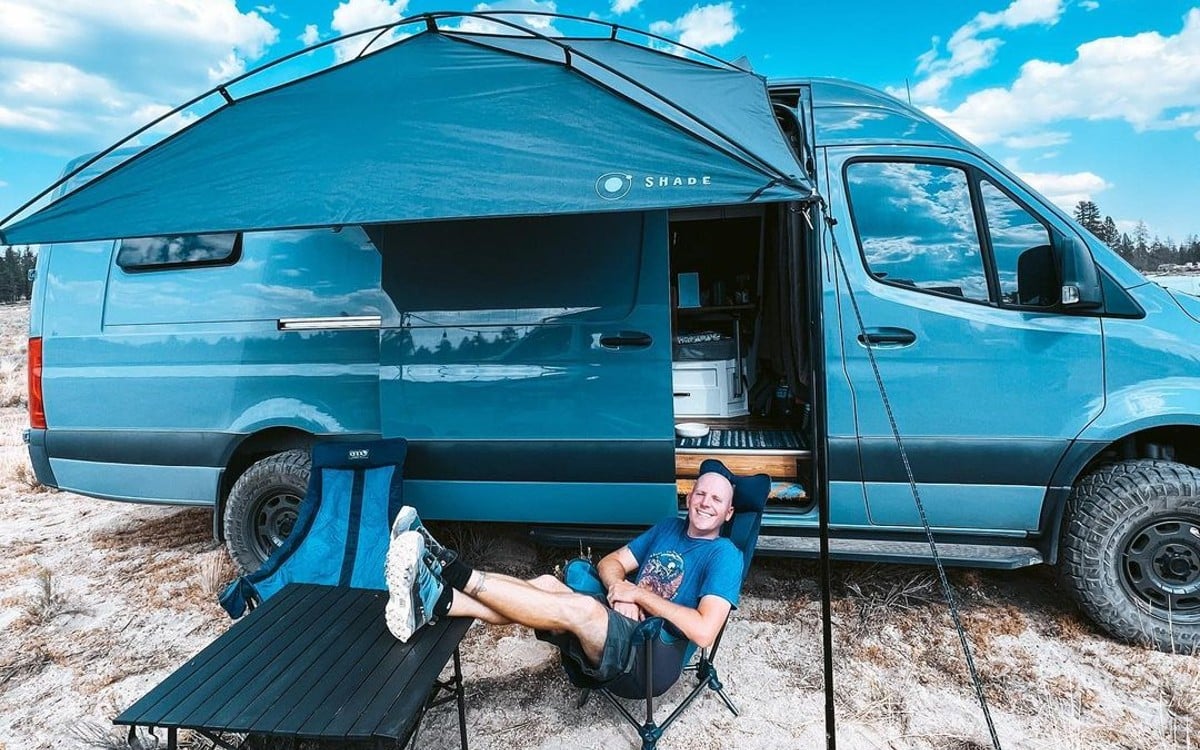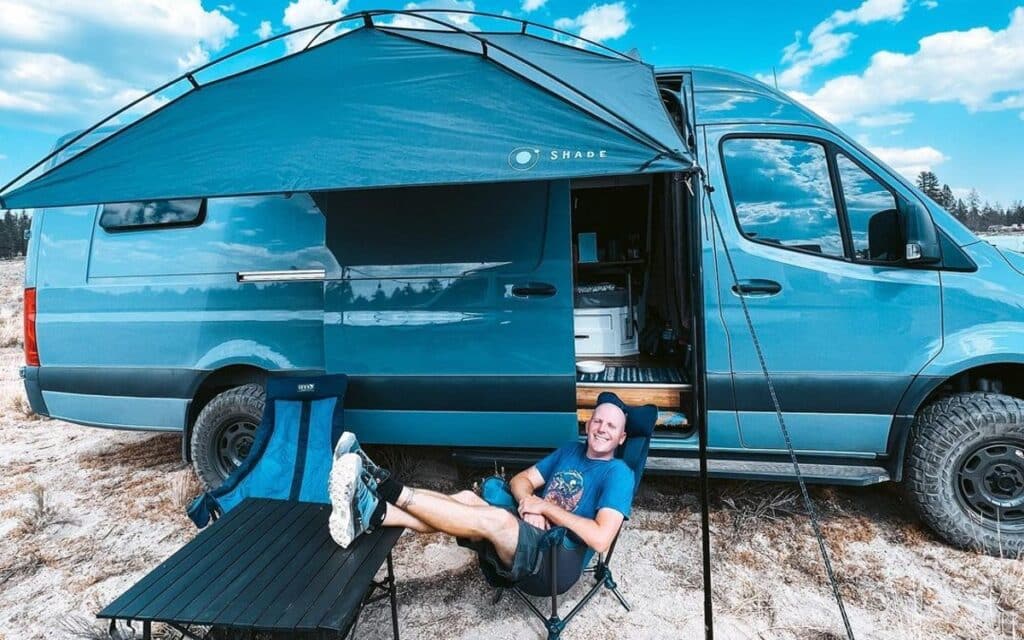 The most popular color for work vans is undoubtedly white. But that doesn't mean you must go with the stealthiest paint around for your campervan. After all, once you add a roof rack and some windows, it's not difficult to guess your van is used for fun more than business.
Do you want to brighten up your days? What if you prefer an understated hue? New vans give you several shades to choose from. Some of the more distinctive colors are a little harder to find on used vans, but gray, red, yellow, and dark blue are not uncommon.
Mercedes Sprinters are available in 22 standard and premium colors. Most are muted, elegant tones. If you prefer to stand out, try upgrading to Brilliant Blue or Calcite Yellow (both premium colors).
The Ford Transit comes in 9 colors. If you're feeling sporty, Race Red might make you feel like you're driving a sports car. For a more sedate color, Mist Blue is a calm complement to outdoor skies.
Ram Promaster offers ten exterior colors and one for the interior (whatever you like, as long as it's black). You might like the new Spitfire Orange to spice things up, then add the available black appearance package for blacked-out badges and exterior trim.
What's It Like to Drive a Big Van?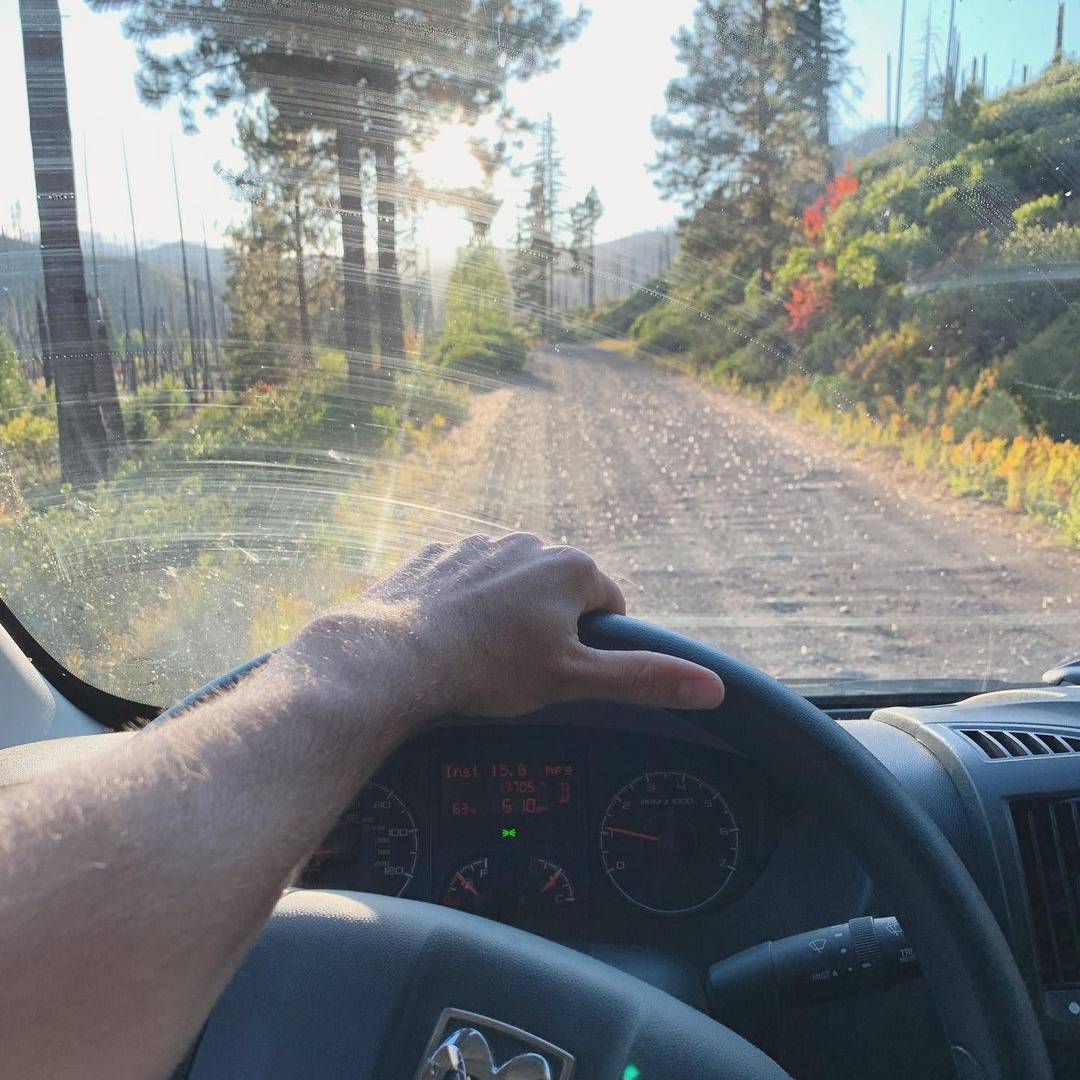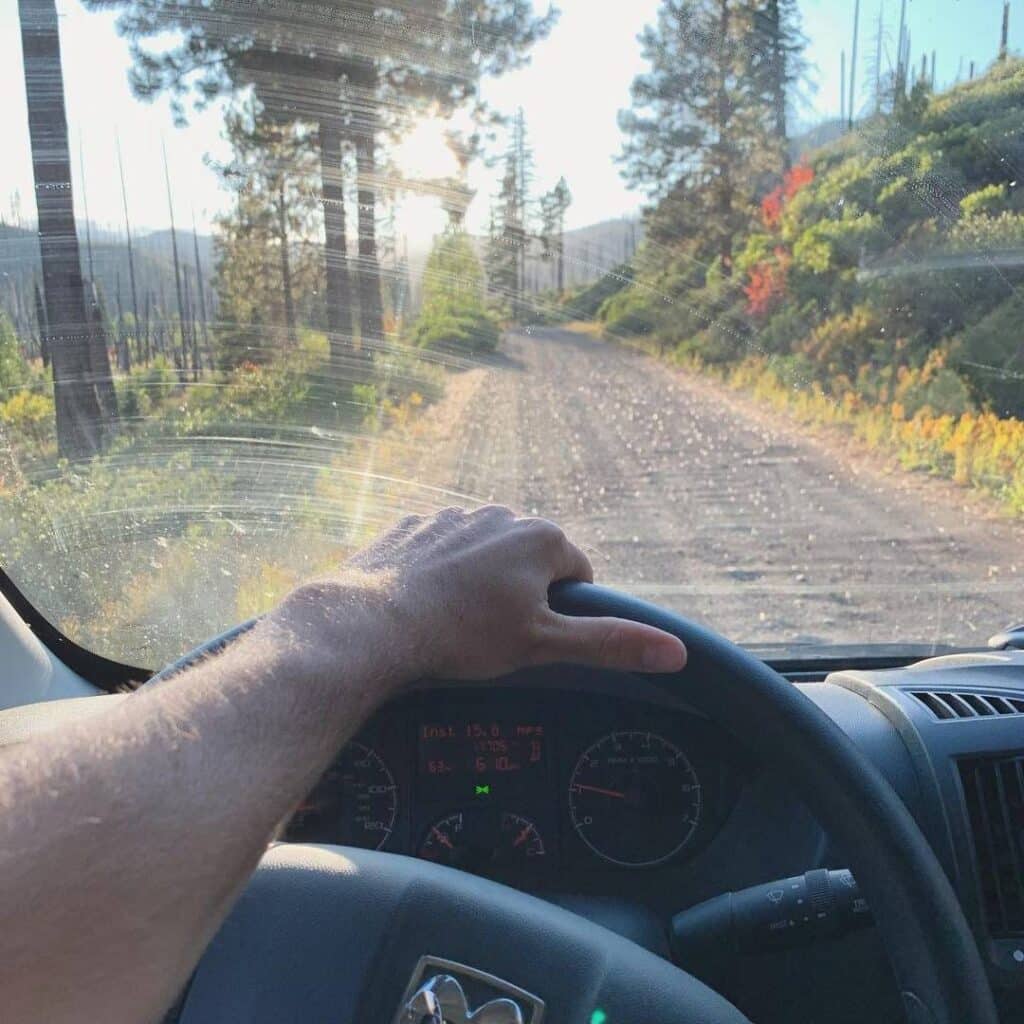 Van life isn't very thrilling if you hate to drive your van. Most people interested in building a campervan want to go places—lots and lots of places. Getting there should be half the fun.
So what's the driving experience like in a Sprinter vs Promaster vs Transit?
The first thing to know is that the weight and balance of your build can make a difference, as can things like tires, suspension, and drive train, regardless of which van model you choose.
However, there are distinctive differences between Sprinter vans, Transits, and Promasters regarding driving comfort. Interior controls, ergonomic seat design, visibility, and road noise will impact how much you enjoy your drive.
The Mercedes Sprinter has a luxurious, high-end feel and a smooth ride. The utilitarian Promaster has a stiffer suspension. Its truck-like ride means you'll feel the bumps and hear more road noise. A Transit interior feels more like a car, and with a quiet, well-designed interior, it may be the most comfortable to drive.
All three vans have large windshields and you're sitting up high, which improves visibility. Your height and driving position will also affect how well you can see. Some drivers report that they feel like they're too close to the windshield in a Ram Promaster with its expansive view, and others report trouble seeing directly in front of a Ford Transit van.
Sprinters have more headroom and legroom than Transits or Promasters, although neither of those vans feels cramped. Promaster has the most utilitarian seats, although comfort is subjective, and I appreciate the firmness on long drives. If you have back or hip problems, consider how you'll feel driving for long stretches when choosing your van.
Other little things like dash layout, steering wheel design, and even cup holder placement might sway your choice. The best way to determine which van is the best for you is to test-drive all three.
On the Road
Once you hit the road, you'll want to be aware of things that affect performance, like turning radius, braking power, and acceleration.
The Promaster has the tightest turning radius between the Mercedes Sprinter, Ford Transit, and Ram Promaster. It Ranges from 18-23 feet depending on which wheelbase length and trim level you're driving. In contrast, the turning radius for a Sprinter is 20-27 feet. That's a big difference when you're trying to squeeze between trees in a tight campsite or snuggle into a narrow parking space.
Keep in mind that an empty cargo van doesn't drive like a fully-built campervan. You'll need to allow more stopping distance than you would in a car, especially for high-speed highway driving, to compensate for the extra velocity of a heavy camper van.
You'll also want to be mindful of being top-heavy or tippy as you turn or even swerve to avoid potential collisions. With a lower cargo bed, the Promaster has a lower center of gravity, unless your build has a lot of weight up high.
The Ram Promaster is also the widest van in its class. This doesn't make a big difference in routine driving, but it can feel tight in narrow spaces like old tunnels and underpasses.
Which Drives Best in Different Road Conditions?
Asking which drives the best – Sprinter vs Transit vs Promaster – is a question that elicits LOTS of passionate debate! While a 4×4 Sprinter van is great offroad, a FWD Promaster with the right tires can perform better on slick surfaces like snow and ice.
Sand and backroads can be tricky, and if your build is really weighty over the rear axle, you'll offset some of the advantages of front-wheel drive. In that case, a RWD Transit or an AWD option could be better, but you'll lose the higher ground clearance offered by a Promaster.
Front-wheel drive means a Ram Promaster has less stuff underneath. The rear axle is the lowest thing down there, and with FWD you can easily get up and over many obstacles. Even so, if you're going to do serious off-road adventuring, AWD (available on Sprinter and Transit) is a real advantage.
Under the Hood
Just a few years ago, you didn't have many engine options in large vans. Gas or diesel engines were the choices. As hybrids and EVs have increased in both popularity and availability, that's changing quickly.
Mercedes Sprinter and Ford Transit have introduced EVs, and Ram Promaster is expected to launch one in late 2023. With these new releases, Mercedes will be retiring Sprinter gas engine models after 2023 in favor of its diesel and EV models.
As far as horsepower goes, here's how these vans line up:
Promaster wins the horsepower race – all least for standard engines. Its V6 3.6 Liter Pentastar engine delivers 276 hp with a 9 Speed Automatic transmission.
Transit's standard V6 Flex Fuel 3.5 Liter offers 262 hp. Its optional turbocharged 3.5-liter V6 tops the class at 310 horsepower. Both use a 10-speed automatic transmission.
Sprinter offers three engine choices: a 188 hp turbocharged gas-fed four-cylinder, a 170 hp turbo-diesel four-cylinder, and a 211 hp twin-turbo diesel. They all use a nine-speed automatic transmission.
Fuel efficiency can be all over the map depending on the weight of your build, your driving style, your converted van's weight, and whether you're on city streets, highways, or backroads. In terms of reported fuel economy* for gas engines, Sprinter and Promaster are neck-and-neck, while Ford Transits run a little behind on gas mileage:
Sprinter van: 14 mpg city / 17 mpg highway
Ram Promaster: 13 mpg city / 18 mpg highway
Ford Transit: 11 mpg city / 14 mpg highway
*MPG stats from MotorTrend
Safety
All three models—the Transit, Promaster, and Sprinter—offer updated standard safety features and many upgrades. Look for things like a forward-collision warning with automated emergency braking, lane-keeping assistance, and lane-departure warning systems.
Some vans, including the Promaster, have introduced systems to warn of drowsy driving and other hazards. Digital rear-view mirrors, blind spot monitoring, and rear cross-traffic alerts can also be helpful, especially if you're not used to driving such a big vehicle. If you have limited visibility due to a lack of windows or the design of your van build, these features can really improve your confidence on the road.
Reliability
If you're buying a new van, comparing the reliability of the Sprinter van to a Transit vs a Promaster includes considering warranty coverage and maintenance costs. Unlike some passenger cars, you won't get free scheduled maintenance with any of these vans.
Each offers a 3-year/36,000-mile limited warranty and a 5-year/60,000-mile powertrain warranty. Of course, most dealers offer an extended warranty, and you may even be able to purchase one from a third party for a used van.
What distinguishes one van from another are repair frequency, average annual repair cost, and the problems that tend to pop up frequently.
Mercedes-Benz claims its total cost of ownership is on par with other vans in its class, but you might disagree if you're stuck in the middle of nowhere trying to find a tow to a Mercedes dealer that's hundreds of miles away.
Dodge and Ford dealerships are much easier to find around the US, although repairs at a dealership can get expensive. As an owner of a Transit or Promster, you benefit from lower parts and labor costs and the availability of mechanics that can work on them all over the country. (You'll still need to find a shop that can handle a tall van, though).
If you keep up with recommended maintenance schedules and are meticulous about regular oil changes, topping off fluids, and addressing any problems quickly, you can expect a long life from any of these large vans. That could easily mean getting upwards of 250K-300K miles of van life fun!
Which Van Is the Right Size for You?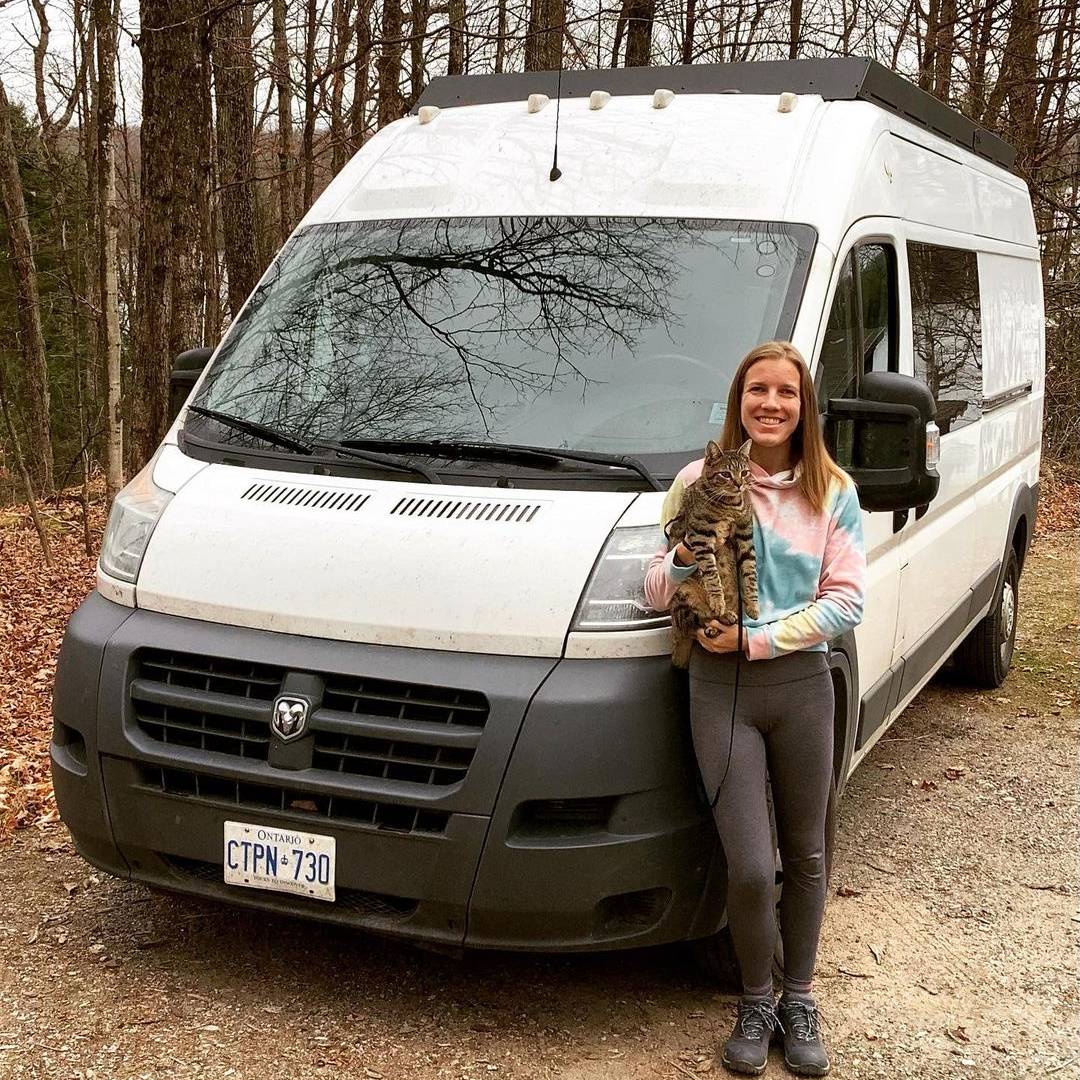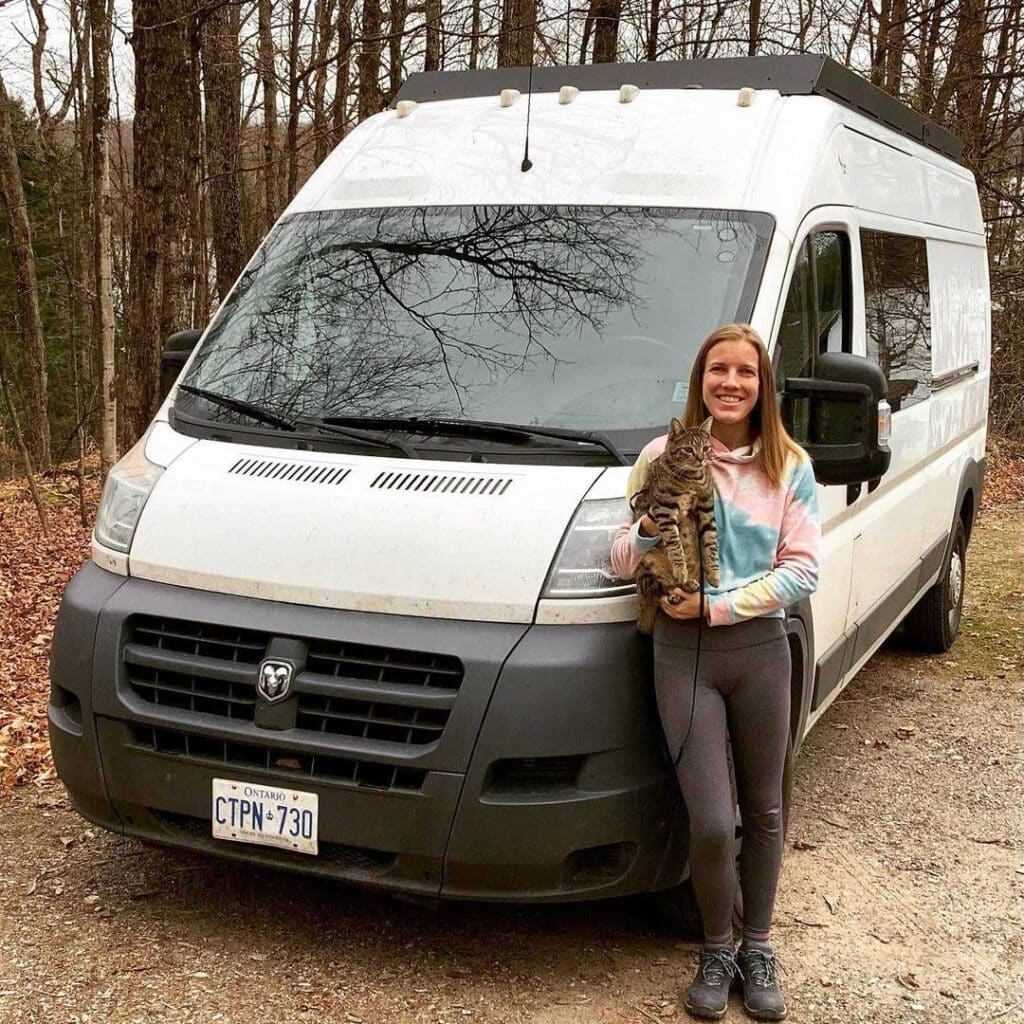 By now, you probably have an idea which model you're leaning toward, but what's the right cargo van size? The decision is a real balance between livable interior space and the exterior size that will determine where your van can go.
An extended version or long wheelbase provides more space to live in your van. It also means a larger turning radius and less agile maneuverability. If you don't need a lot of space, you might find a shorter wheelbase or even a low-roof model suits your needs best.
When evaluating the Sprinter, Transit, and Promster, compare these specs for the model year and body size you're considering.
Exterior Size
Compare the van's exterior height, width, and length. Is the ground clearance enough to get you where you want to go? How big is the rear door opening? Will that allow you to store and access all the gear you plan to carry?
Interior Space
Not all vans are the same. For example, some have a relatively low clearance when the roof height is measured outside but more buildable space inside because of a lower cargo floor.
For example, here's how exterior height relates to interior space for each model:
Sprinter
Transit
Promaster
Standard Roof Exterior HeightSpace Inside

107"
65" (5'5")

99"
72" (6' 0")

104"
76" (6' 4")
High Roof Exterior HeightSpace Inside

111"
79" (6' 7")

110"
82" (6' 10")

114"
86" (7' 2")
A standard roof Sprinter is taller than a Transit or Promaster, both of which have more vertical space inside. The high roof Promaster is only 3″ taller than a Sprinter but has 7″ more interior space!
Look at height and width, then subtract a few inches for your floor, ceiling, and walls. Also, consider the cargo length behind the cab and overall cargo space in terms of cubic feet.
Usable Space
Some vans may boast lots of space, but once you start your build you could realize you're losing room to odd angles or different floor levels that accommodate RWD or other design/mechanical features.
If you're converting a passenger van, A/C ducts, seatbelts, or electrical channels could impact plans for your build.
Don't rely on numbers alone to make your selection. Test drive the van, and if you happen to be buying long-distance, have the seller send several pictures so you know what you're getting.
Where to find these stats?
There are too many different van configurations to list all the stats here. To compare your top picks, check the manufacturer's website or visit Motor Trend and search by model, year, and trim level.
Pros and Cons by Van Brand
Let's take a final look at each of these vans, what makes them great for van life, and some of their drawbacks.
Mercedes Sprinter Vans
What Sprinter Owners Say
"Good looks, great drivability, cargo capacity, and decent fuel mileage."
"I have a 2004 short wheelbase 118 with the high roof, it is very rare and has nearly 400000 miles on it… there's no vehicle I would prefer to have other than maybe a new sprinter."
"Not all Mercedes dealers can service Sprinters…finding one while on the road may be difficult, depending on the location of breakdown."
"GVWR is just over 11K lbs but if ANY of that weight is above the center line – like an Air Conditioner or awning or cabinetry for an RV build it has terrible sway."
Common Sprinter Problems
The Diesel Particulate Filter (DPF) on diesel vans can clog, blocking the exhaust and potentially causing a shutdown. (Many problems reported on Sprinters have to do with older diesel engines.)
Oil leaks are common on Sprinter vans and may come from the oil cooler gasket. This is a straightforward repair but needs to be addressed quickly to avoid further problems.
Engine Countdown On – This has nothing to do with David Bowie's "Space Oddity." Instead, the countdown meter on the dash tells you how many engine starts are left before whatever problem you have prevents the van from running. Call your mechanic stat.
Our Take – Why Choose a Sprinter van
Sleek looks and a refined driving experience with lots of standard equipment and plenty of options make a Sprinter van ideal for a top-of-the-line van build. 4×4 on older models or the new AWD takes you almost anywhere, and you can find a wealth of aftermarket equipment to upgrade your build.
Ford Transit
What Transit Owners Say
"Having never driven a cargo van before, it was super easy to drive and great driving on the freeway. It was also nice having the lane keep assist and backup camera."
"Love my van, hate my steering wheel…it seems to tilt between 'too darned high' and 'almost vertical' with a telescope of about an inch. I find that there is no comfortable way to hold the wheel while driving."
"I love my Transit but it is noisy…I have added a second layer of weatherstrip around my driver's door but still get some serious wind noise."
"My favorite thing about my van is that any mechanic in the country can work on it."
Common Problems
Ford Transits have many recalls for various things, including "a defect that could cause the vehicle to roll away when parked or to stall while in motion" on 2022 models. Check NHTSA for recalls that apply to your van and ensure the repairs are done. (This is a good idea for any vehicle purchase.)
Roof leaks are not uncommon, either from manufacturing or roof damage.
The rear doors slam shut so often cracks can develop in the sheet metal. Be especially careful if you have heavy attachments on your rear doors.
Our Take – Why Choose a Transit
A quiet ride, comfortable interior, and agile handling make the Ford Transit van great for a camper van. With nimble braking and quick acceleration, the powerful eco-boost engine gets you where you need to go.
Ram Promaster
What Promaster Owners Say
Car and Driver calls the Promaster "A box on wheels" that offers "endless possibilities," but what do owners think?
"Big enough to live in, but short enough to fit into a parking spot"
"One of the best vehicles I've spent my money on."
"I have a driver-side factory swivel but not a passenger one. I wish it had come with both."
"The clipboard… It's pointless, but it doesn't make me angry, I'm just sad that they couldn't have come up with something better." (People love to hate the Promaster in-dash clipboard.)
Common Promaster Problems
Promasters get a bad rap for transmission troubles, but after a 2016 recall, most newer models perform well.
Road noise is another issue, although it's not a mechanical problem. It's much louder in a Promaster vs a Sprinter or Transit. Using a sound deadener like Kilmat helps.
The headlights aren't the brightest and they are prone to leaks. This was addressed with a headlamp redesign in 2023 and can be improved in older models by upgrading the bulbs.
Our Take – Why Choose a Promaster
A Promaster delivers the right balance of practicality and affordability. Its shape makes it easy to convert into a campervan, front-wheel drive gets you into and out of varied terrain, and the tight turning radius makes it easier to maneuver.
Other Campervan Options to Consider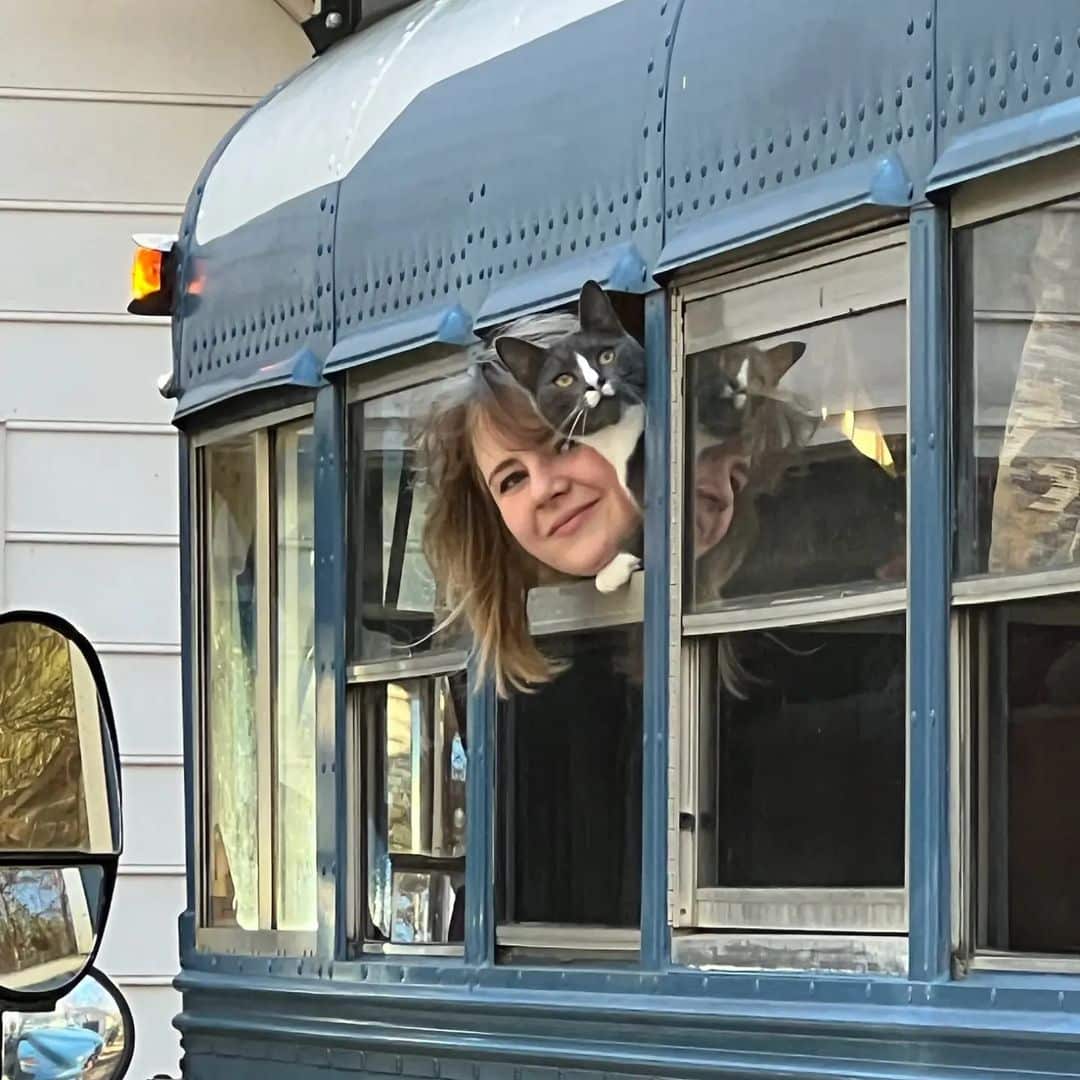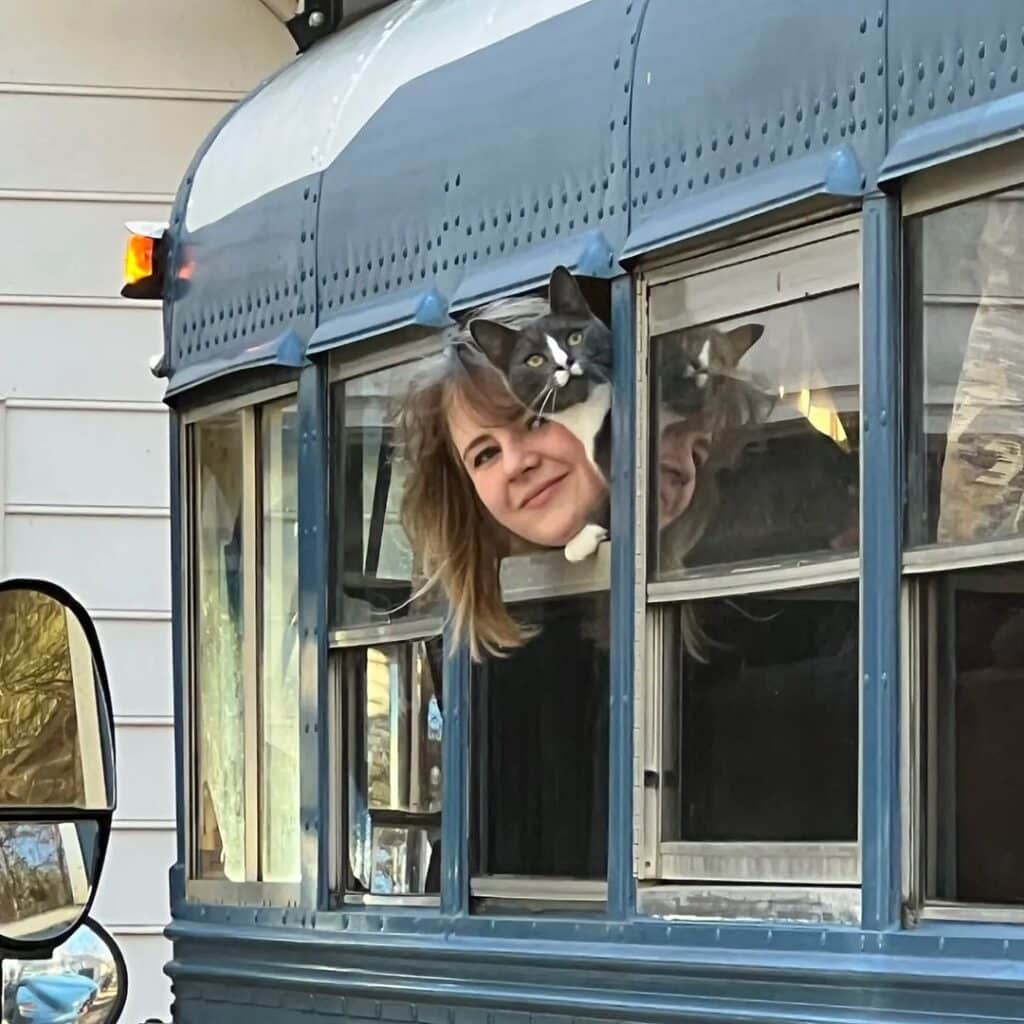 Still not sold on which big van is best? Here are three other options to consider: