Hygiene. It's important. But showering on the road can be tricky. Not every nomad wants or needs an elaborate built-in or portable shower in their van, so knowing how to find clean and safe public showers is an essential van life skill.
Have you ever wondered, "How can I find public showers near me on the road?" If so, you've come to the right place. Finding a hot shower during your road trip is easier than you might think—if you know what to look for.
How To Find Public Showers Near Me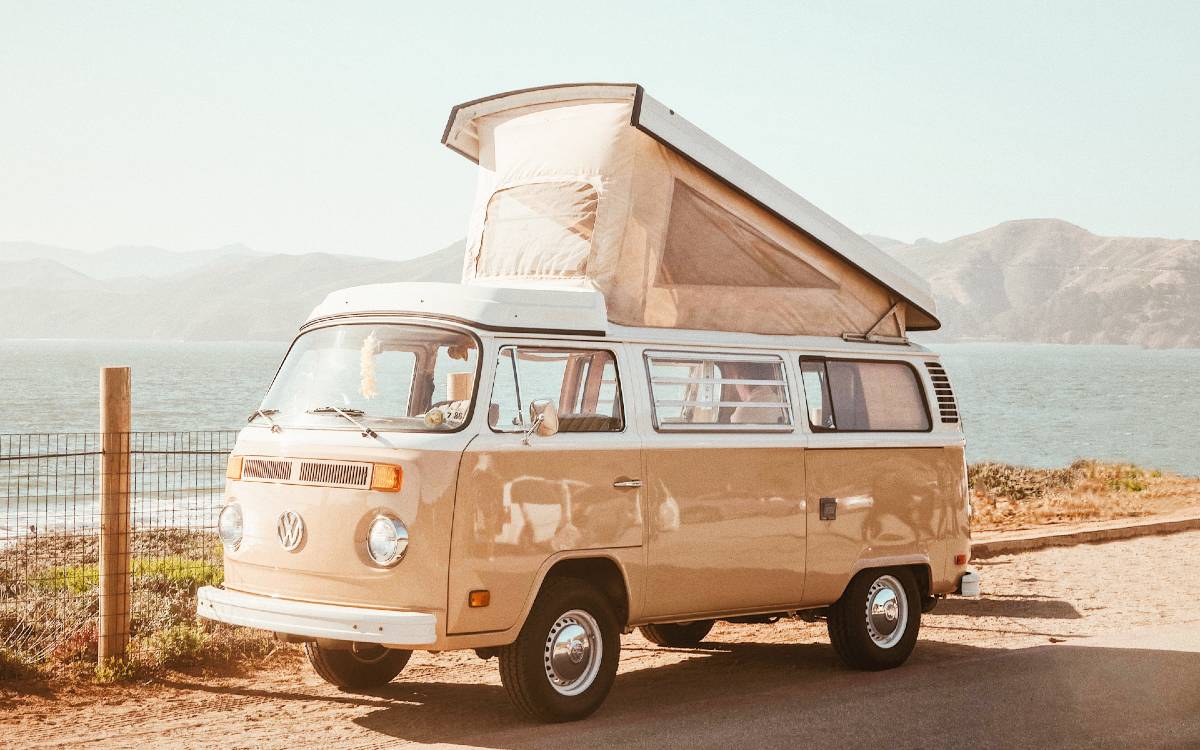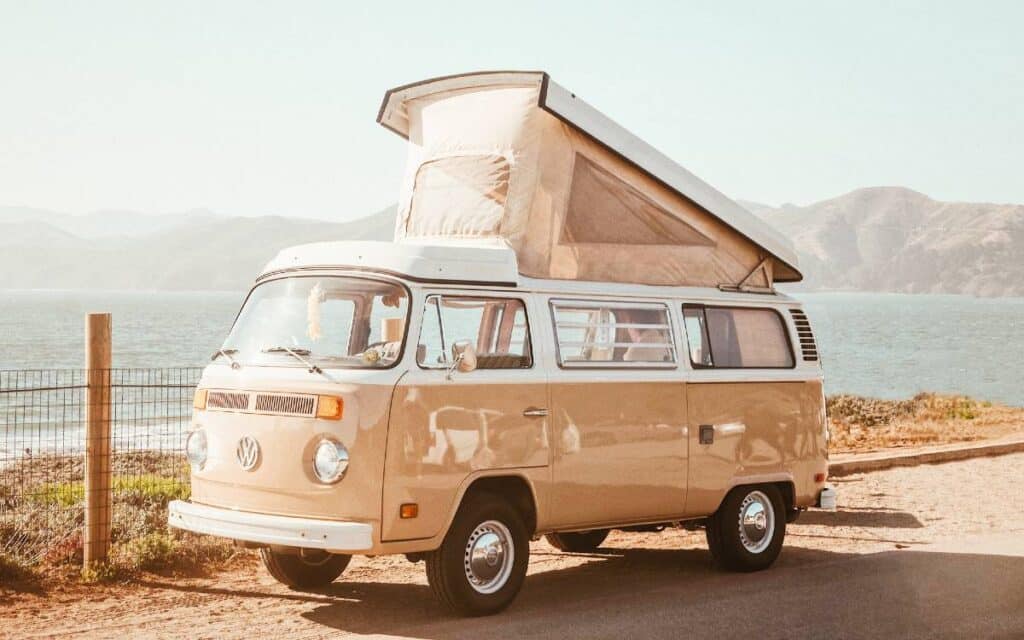 Apps and Websites
Many van lifers use apps like Campendium, iOverlander, and The Dyrt to find campsites and services during a road trip. Besides highlighting camping opportunities, they help you locate services like public showers. All three apps can filter results to search exclusively for showers.
The website freecampsites.net is another excellent option. Although it can't filter for individual services, the comments section will tell you quickly whether a campsite offers a cheap public shower.
We recommend having at least two of these resources at your fingertips. Why? Because it's always worth checking multiple platforms. Campendium may have listings for free public showers that iOverlander lacks, and vice versa.
Public Shower Directory
The Public Shower Directory is exactly what it sounds like: an online database of primarily low-cost or free public showers throughout the United States. This crowdsourced guide is small but growing. If you find a cheap public shower that isn't yet in the Directory, you can help by submitting a listing yourself.
The Public Shower Directory is an excellent resource for budget-conscious travelers seeking a free shower. While it includes some paid options, it favors free public showers near me. The list currently represents 45 US states, most with a dozen or more entries. Hawai'i, Alaska, Vermont, Maine, and Delaware have yet to get listings.
Ask the Locals
It's easy to forget this simple way to locate a public shower near you. Tapping into local knowledge may help you find resources that aren't online. And getting to know the locals is never a bad thing.
You'll have more success if you direct your questions to those most likely to have answers. For instance, employees at outdoor stores, RV parts shops, or the security guard at the local marina may know more about resources for nomads than your average citizen.
10 Proven Ways to Find a Public Shower on the Road
Certain businesses almost always offer bathing facilities, even if you live in your car or van. If you encounter any of the following establishments on your road trip, chances are you take a public shower there.
1. Truck Stops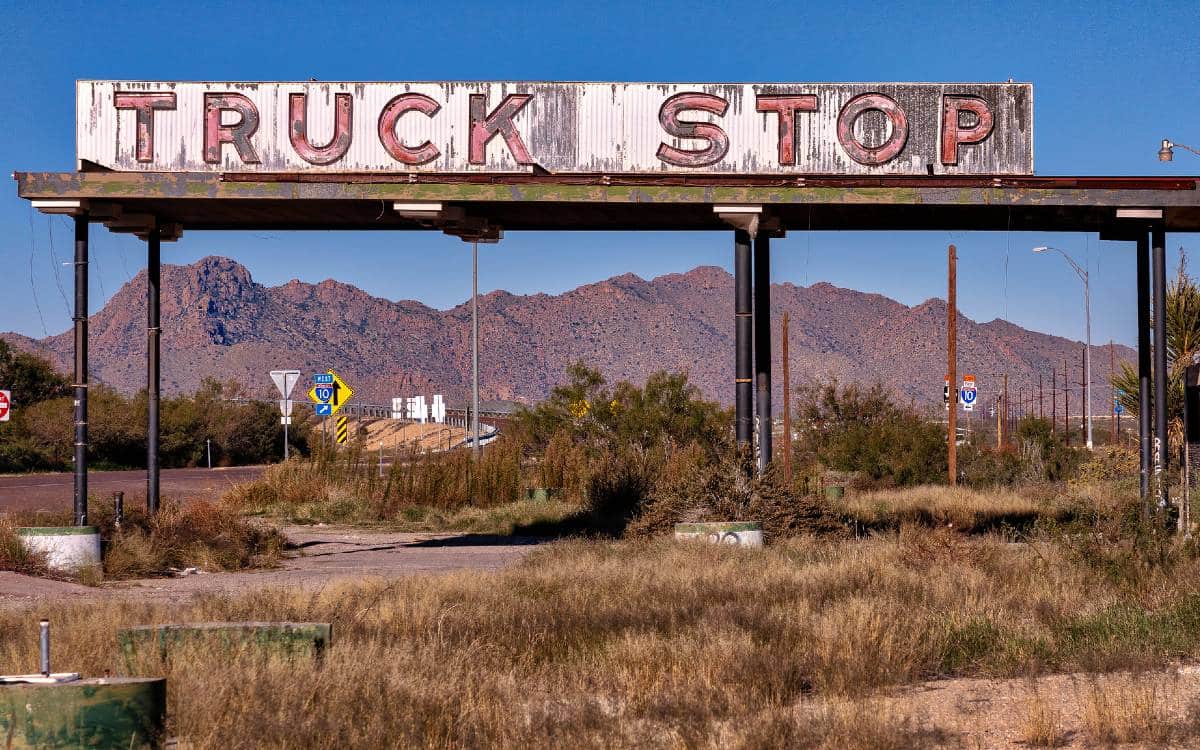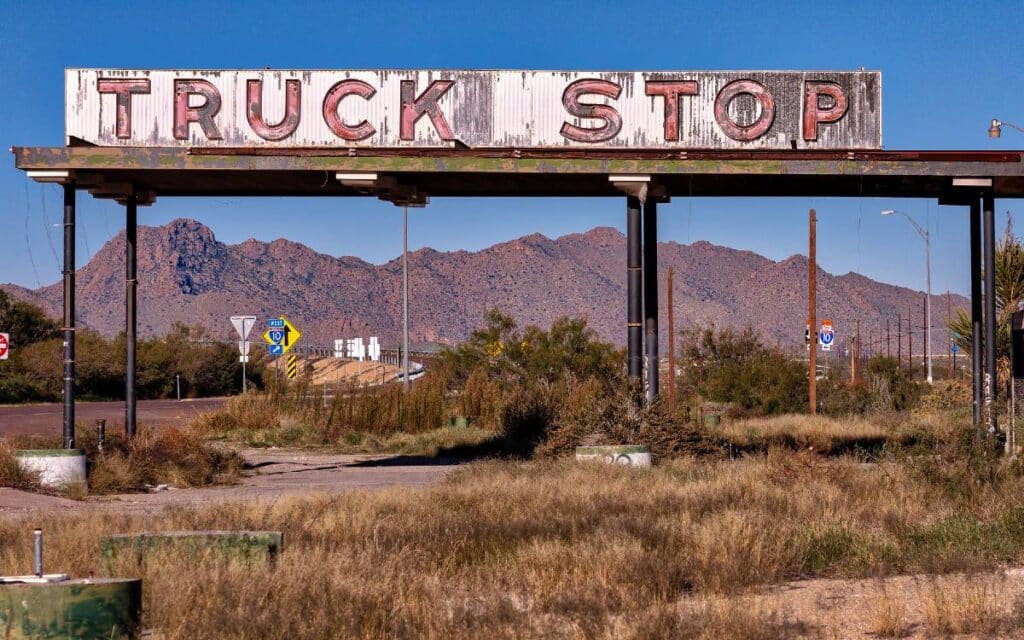 Truck stops are the low-hanging fruit of this list. They're widely available, easy to access, and surprisingly luxurious. Like any gas station, truck stops are experts at advertising to motorists, making hot showers easy to find. Just look for the 50-foot-tall red-and-green sign.
Before I knew anything about van life, I assumed all truck stop showers were dingy, staph-infested, soggy-hair-strewn wastelands. But this couldn't be further from the truth.
Truck stop showers are the van life equivalent of spa days. They're spotless, with ample hot water on tap and fluffy fresh towels that leave your skin feeling soft. While there, you can also grab snacks, gas, and a good night's sleep in the parking lot.
Sadly, truck stop showers typically cost around $12 apiece, so most of us can't afford to make this showering method a regular habit.
The other downside to the truck stop approach is that you may have to wait for an available bathroom. To avoid long lines, go during the day when truck drivers are on the road rather than at night when showers are in high demand.
Love's is my favorite truck stop due to their friendly staff, fair prices, and clean facilities. Some van lifers say Pilot Flying J feels more van/RV-friendly for overnight stays.
Your mileage may vary as far as which truck stops you like best: try a few and see. Besides Flying J and Love's, look out for names like Travel America, Kwik Trip, and Little America, or seek out mom-and-pop truck stops if you're uncomfortable throwing your dollars at corporate America. Note that truck stops are also sometimes called travel centers.
Once you've identified a truck stop you like, consider joining their loyalty program. For instance, rewards members earn points toward free showers and drinks with every fill-up at Love's.
Pro tip: If traveling with a partner, ask for a team shower: if the business offers this perk, you'll get two private showers for the price of one (or close to it). Alternatively, they might just let you both share the same shower room at no extra charge.
2. Gym Memberships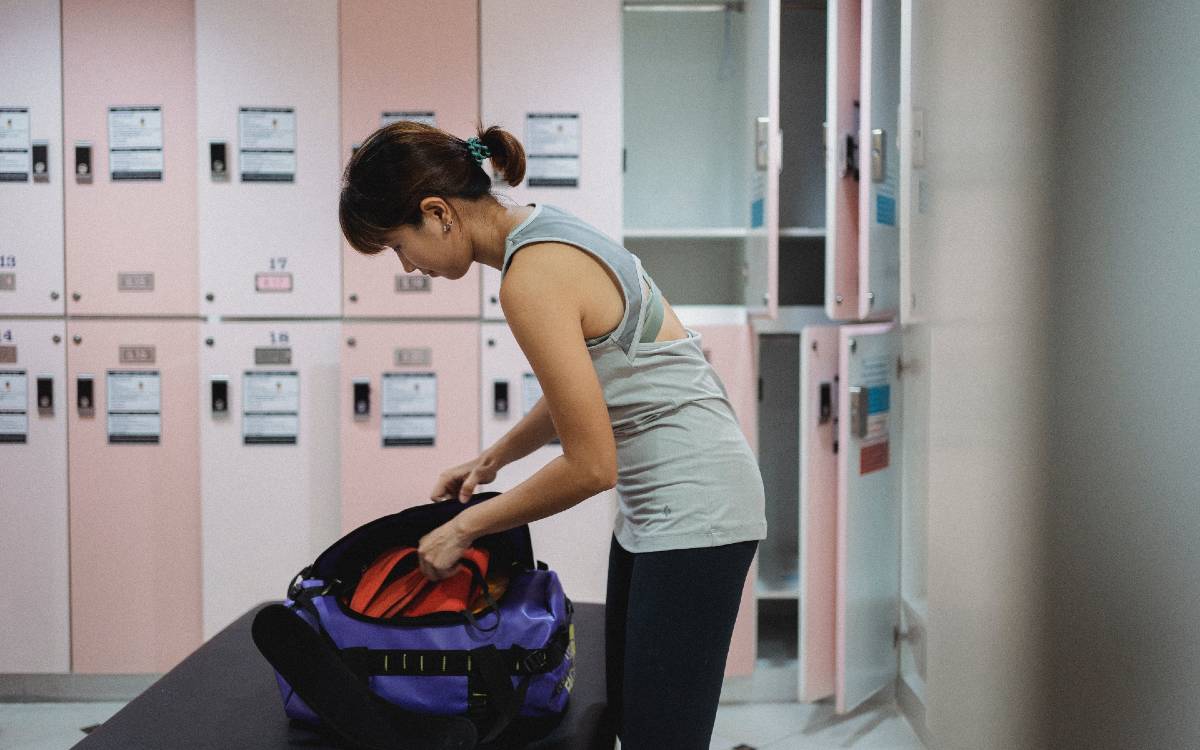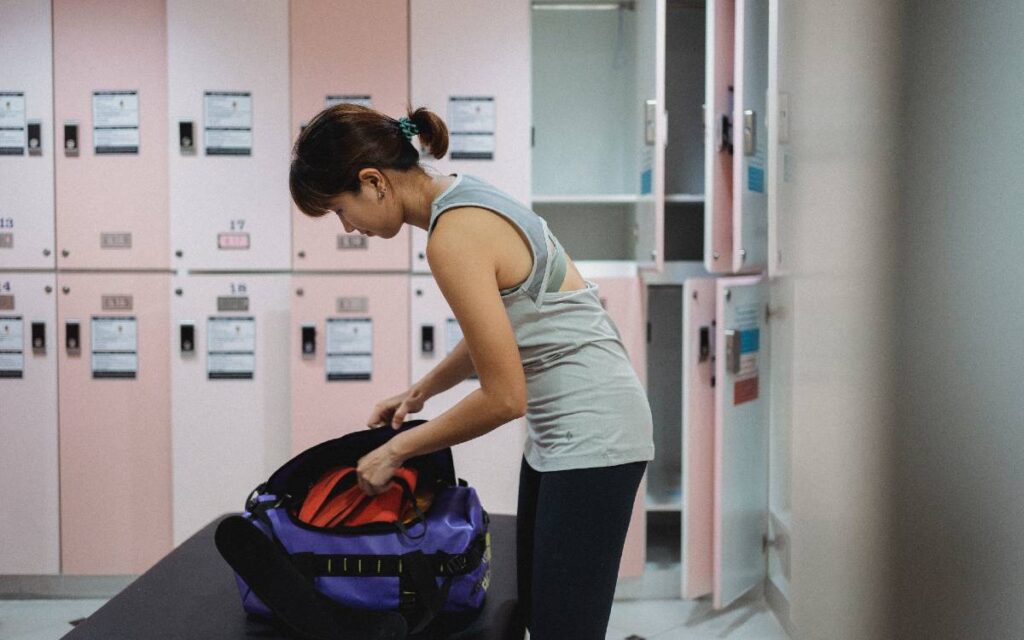 Getting a gym membership is a common and cost-effective solution for van lifers who want to shower frequently, especially those who plan to stay in one area for an extended period. Joining Planet Fitness or another gym takes the day-to-day guesswork out of finding a hot shower. Gym showers are straightforward and might even motivate you to exercise more frequently.
Of course, showering at a local gym is less luxurious than at a truck stop. You won't get a private room, and chances are the showers weren't cleaned just before you walked in.
Gym showers can also limit you geographically. Many gyms won't have branches in small, remote towns. If you're a frequent boondocker who prefers to avoid the city, the gym strategy may not be for you.
Still, a monthly gym membership is the most cost-effective solution if you want to shower often. Just remember to account for the additional cost of fees and taxes.
With thousands of clubs nationwide, Planet Fitness is among the most popular gyms for van life. Most van lifers opt for the Planet Fitness $25 per month "Black Card" membership, which grants access to all locations and unlimited guest passes. Guest access is a critical money saver for nomads traveling with a partner.
Crunch (typically $25 per month) and Anytime Fitness ($41 per month) are also popular with nomads.
Be sure to choose a gym with many branches in the regions where you plan to travel. Before committing, check whether your membership restricts you to a home region. Sometimes you have to upgrade to a more expensive membership to gain national access.
If you need a one-time emergency shower, most gyms also offer day passes. You might even get a free day pass if it's your first visit.
3. Campgrounds and RV Parks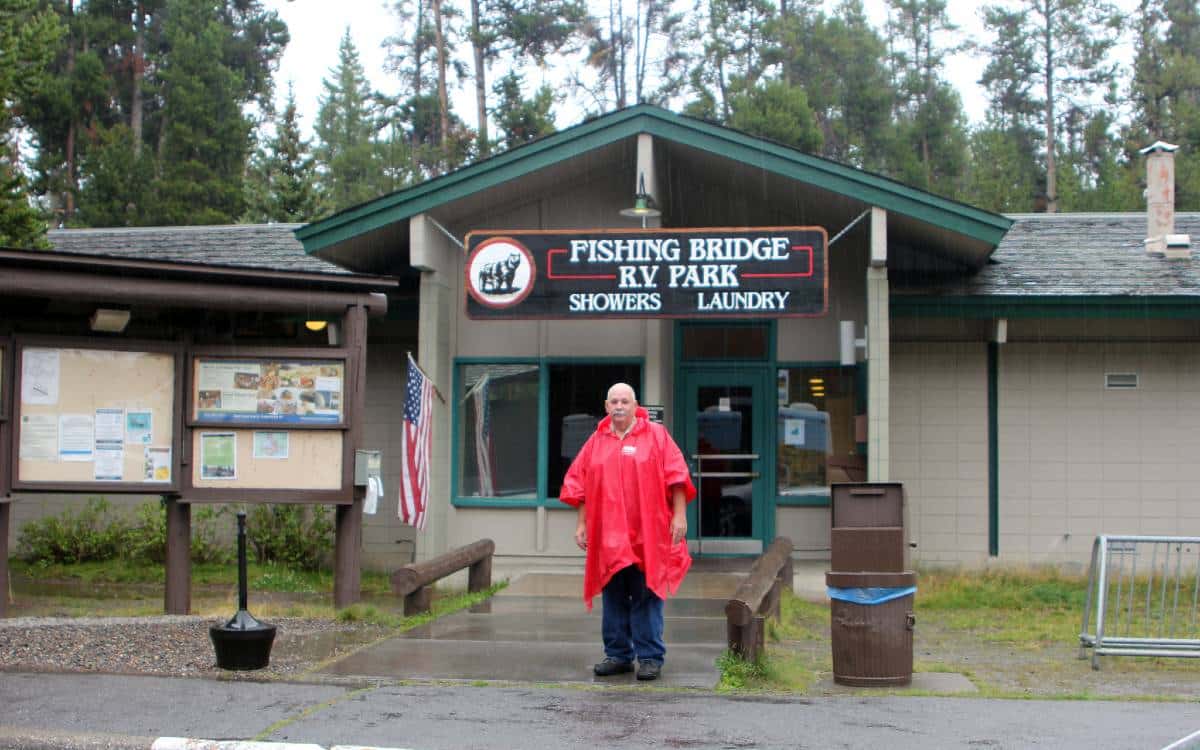 RV parks and campgrounds typically have guest shower facilities. Campground showers are convenient and cost-effective if you plan to stay the night, as bathroom facility access is typically part of your stay (although some campgrounds have coin-operated showers).
Campground showers aren't known for their cleanliness. Be prepared to see some cobwebs and an occasional rogue hair blob peeking out of the drain. You'll be fine—just wear shower shoes or flip-flops and avert your eyes.
Visiting during the week or in the off-season may result in less crowding and cleaner shower facilities. It's also important to note that some campgrounds don't have public shower facilities, even in national parks.
Most RV parks and campgrounds charge between $20 and $50 per night. So if you're there for the shower alone, there are cheaper options on this list.
In national parks, visitors with an America the Beautiful Senior, Military, or Access Pass may get a significant discount on camping. Similarly, in-state residents may enjoy cheaper camping at some state parks. State parks are often cheap (unless you're in California or Washington) and sometimes have lower day-use rates if you don't want to stay the night.
You can sometimes purchase memberships at national RV park chains for cheaper stays. KOA loyalty program members save 10 percent on registration fees and earn points toward future stays. Good Sam members get discounts on camping and gas. Memberships typically involve an annual fee ($33 at KOA, $29-plus at Good Sam) so make sure you'll use it enough to justify the cost.
4. Rec Centers / Pools / Hot Springs / Bath Houses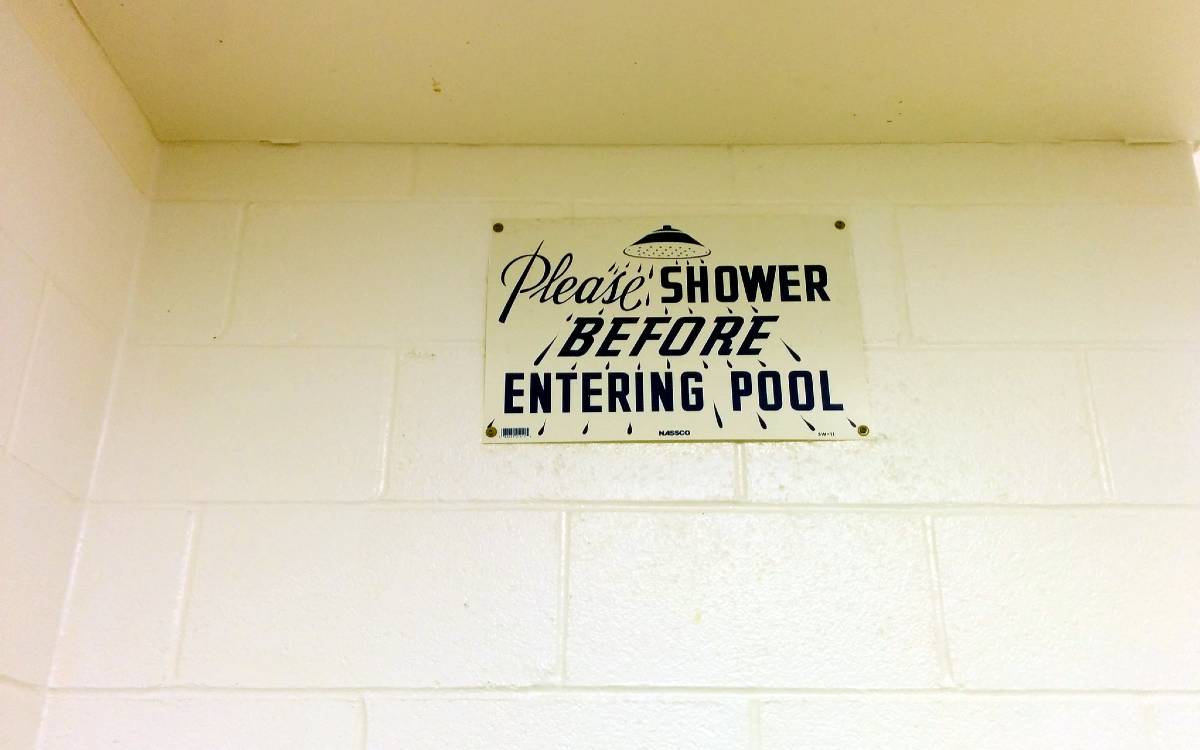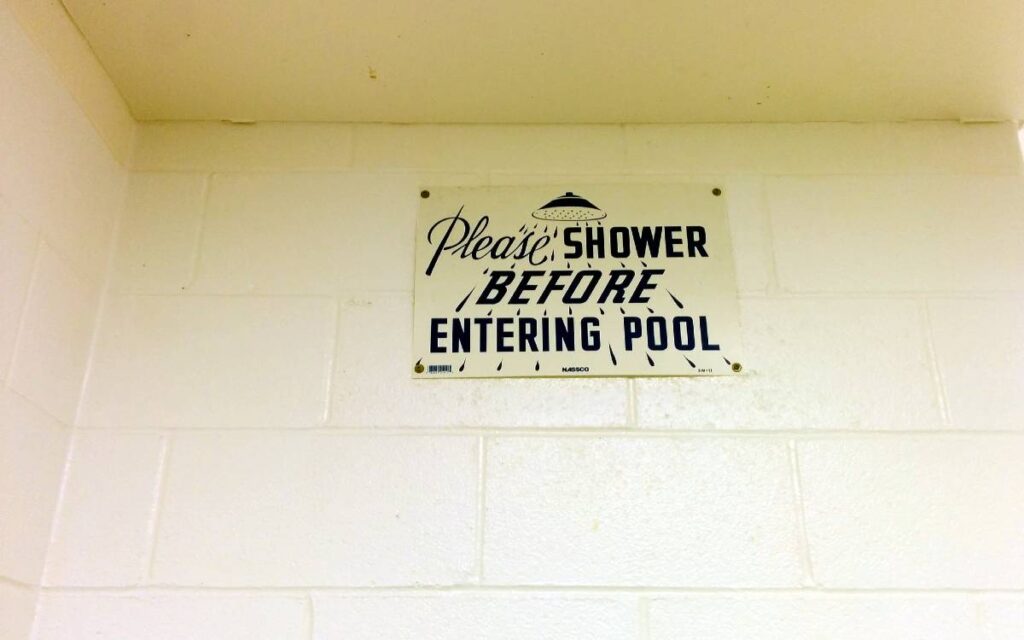 If you can pay money to soak in a communal water source, you can usually take cheap public showers there too. It makes sense: no one wants to share the community pool with your filthy ass if you haven't bathed in a month.
Community swimming pools and recreation centers are often quieter and cleaner than gym locker rooms. And for those who just want a one-off shower, community swimming pools are often more accessible than gyms, which can be fussy about issuing day passes.
Other than that, community pools are similar to showering at a gym. Both feature communal bathing, often with semi-private stalls, with an attached locker room.
Prices vary based on the type of facility and the location. For instance, a community pool in a small town will likely have cheaper day passes than a posh hot springs resort. Some, but not all, facilities may charge less if you only want to shower.
If you're paying full price for a day pass, make sure you budget time to soak in the pools—you might as well get the most bang for your buck.
5. Laundromats
Laundromats occasionally have pay showers, especially in towns abutting major outdoor destinations. For instance, there's a superb laundromat shower near Lake Quinault, Washington, which mainly caters to grimy backpackers. The laundromat public shower model is worth looking into if other public shower options are thin on the ground.
The best thing about laundromat showers is their convenience: you can wash yourself AND your clothes at the same time! Laundromat showers are typically single stalls, so you're also guaranteed privacy.
On the flip side, these setups often aren't cleaned regularly, so don't forget your shower shoes or flip-flops. But the biggest downside of laundromat showers is that they're uncommon.
Mastering the art of the five-minute shower will save you a lot of money in this type of setup. Coin-operated shower costs vary from 25 cents per minute to a dollar per minute in expensive or water-stressed areas.
Google Maps will be your best friend in hunting down laundromat showers. If I'm desperate for a shower and can't find anything else, I'll start checking the comments on local laundromats. If there's a public shower, someone probably mentioned it in the reviews.
6. Public Beach Showers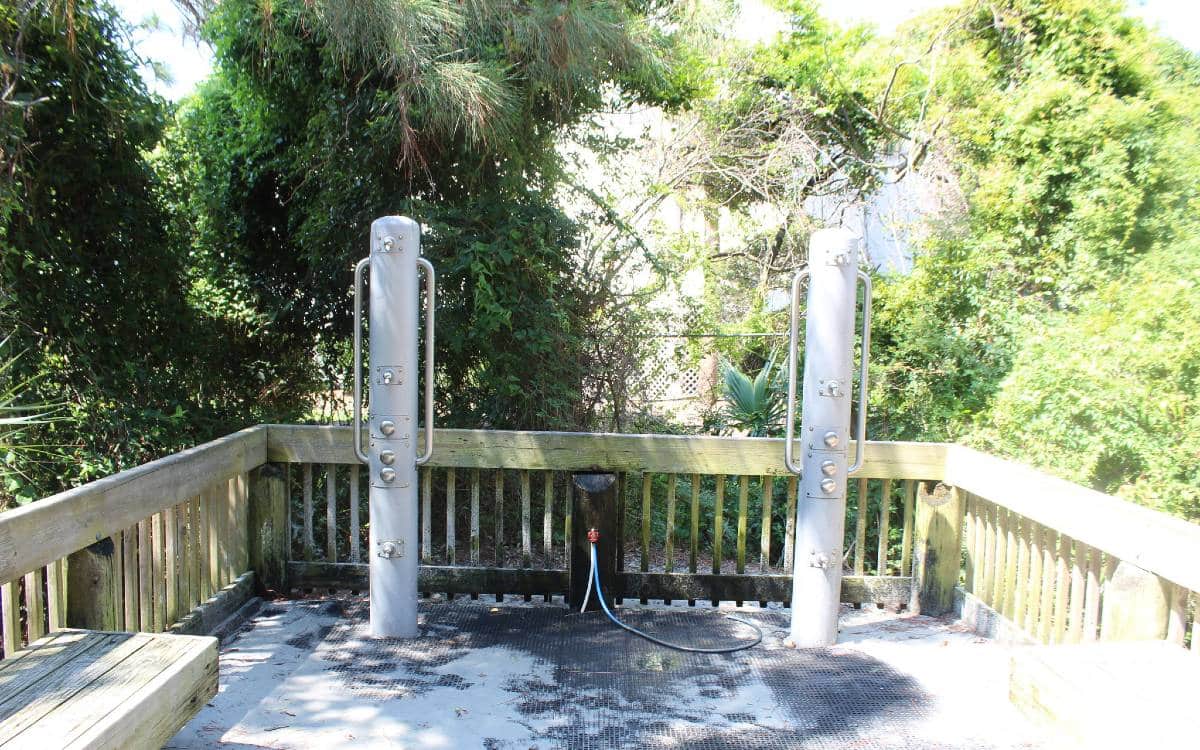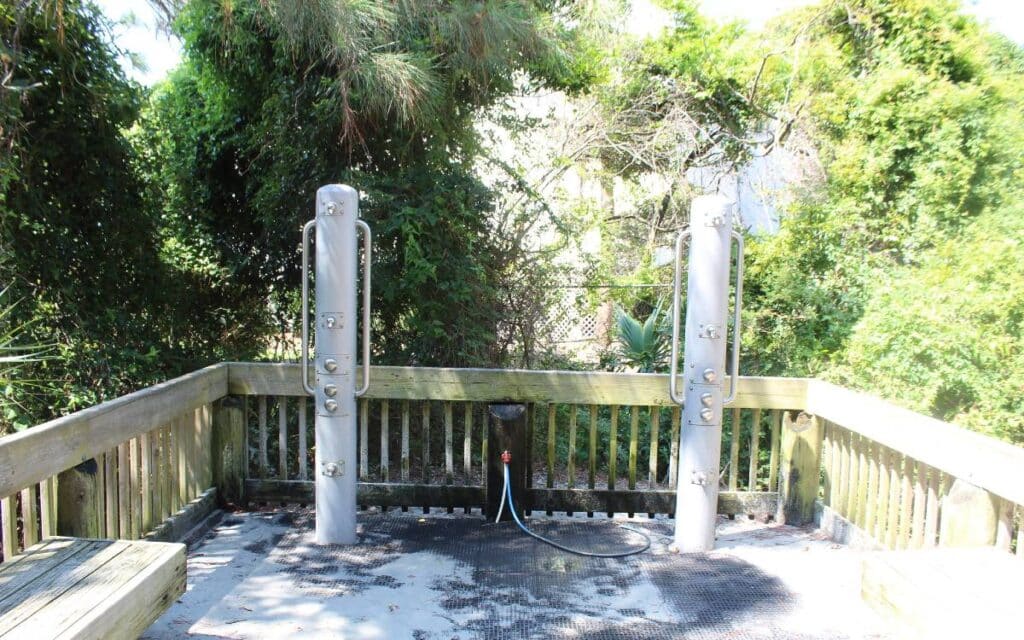 Public beaches often have outdoor showers for beachgoers to hose off the sand and salt water.
Nothing is as glorious as showering outside on a hot day. You can almost always get a free shower at a public beach—just remember that sometimes public beaches require day passes.
On the other hand, outdoor showers at public beaches tend to lack privacy. They also are set up on wood platforms from which the water drains directly onto the beach, which makes using soap environmentally questionable. You should be OK if you wear your bathing suit and use a minimal amount of biodegradable soap.
7. Boat Marinas
Boat marinas near the coast are reliable options for cheap public showers. Almost all marinas on the coast or near big water have public shower facilities catering to liveaboards.
You may be able to get a free shower at a boat marina, while those with paid showers only require a small fee. Some are coin-operated, and the price thus depends on how efficient you are.
On the other hand, you won't always get a private shower stall, and cleanliness can vary dramatically from one shower facility to the next. Again, do your homework.
It's also worth noting that shower facilities are only common at boat marinas near large water bodies. Small, landlocked reservoirs are unlikely to have showering facilities since there aren't any liveaboards.
Side note: Chat up any liveaboards you bump into. Boat life is similar to van life in many ways, and you may learn something.
8. Hostels
I've had decent success convincing hostel staff to let me pay for a quick shower without a stay. Staff members are generally sympathetic to the needs of travelers operating without a home base.
Accessing the showering facilities typically requires a small fee of around $5. Even if the hostel doesn't publicize this service, it doesn't hurt to ask (by calling ahead of time. Don't just show up at their door demanding to bathe).
I've found that this works exceptionally well at hostels that cater to backpackers, who are often short on funds and more interested in showering than sleeping in a bunk bed. If you're traveling near a long trail (like the Appalachian Trail or Pacific Crest Trail), check if there are hiker hostels in nearby towns.
For instance, having once stayed at Laughing Heart Hostel in Hot Springs, NC, while hiking the Appalachian Trail, I knew they offered non-guest public showers near me for $5. I took advantage of this deal when I passed through that area in my van the following year. Some establishments may not be open to a large influx of non-hikers wanting showers. But again: it never hurts to ask.
9. Hotels and Airbnbs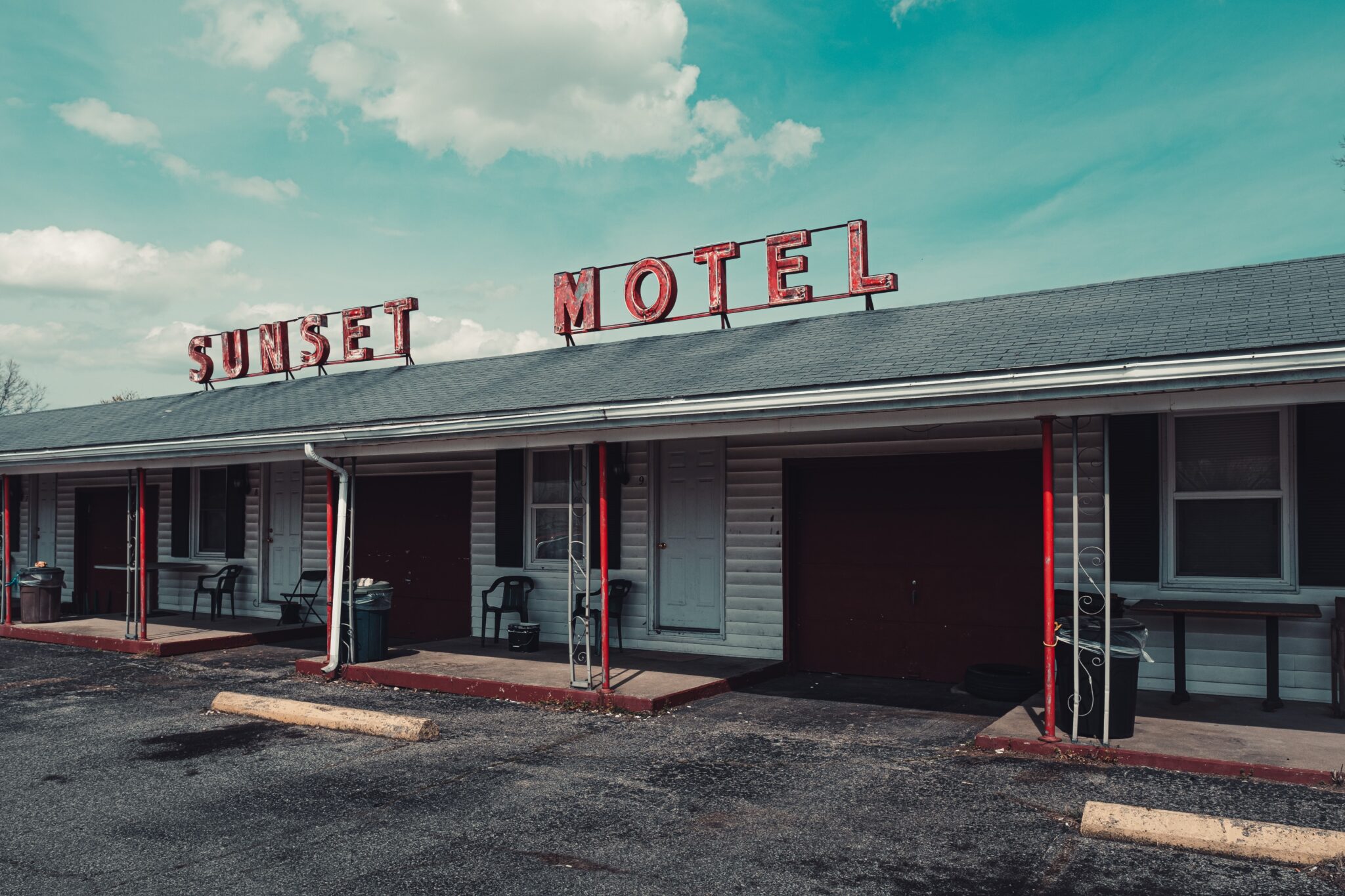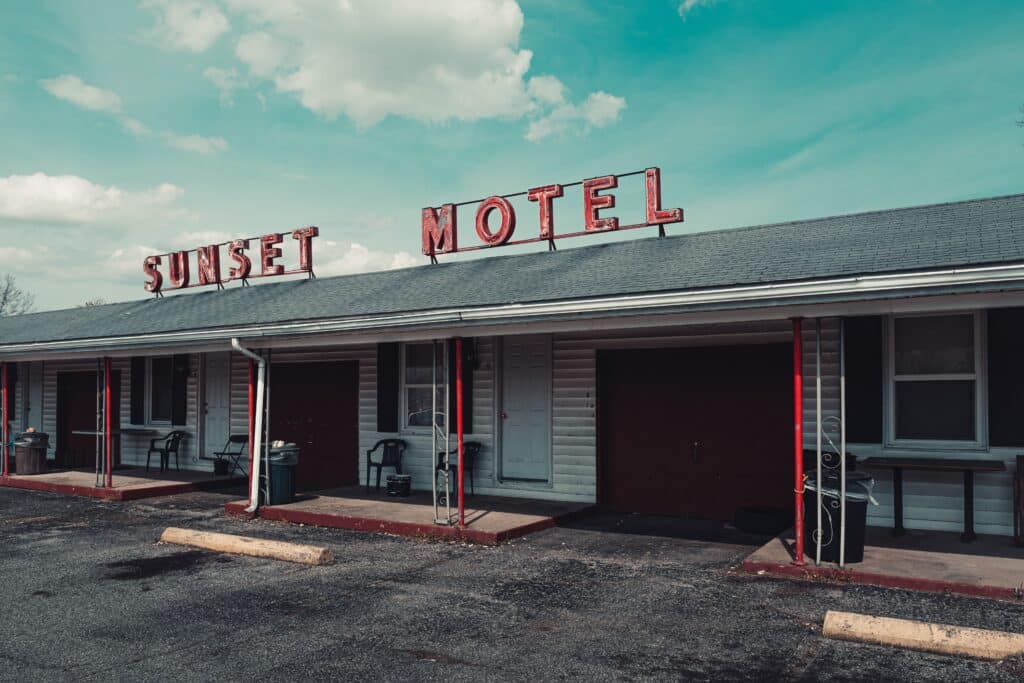 Expensive rentals are not an option for the faint of heart (or wallet). Showering at a hotel or Airbnb is typically reserved for emergencies or special occasions. The benefit of a hotel or Airbnb shower is sheer, unmitigated luxury.
By far the priciest option on this list, it only makes sense if you have another reason to book lodging. For instance, maybe you need to escape a sweltering heat wave or drop the van off for repairs. Or perhaps you rent an Airbnb because you want to entertain friends. You never know.
To get the most bang for your buck, take full advantage of all the amenities while you're there. If I'm paying for a hotel, I'll use the gym, guest laundry, and hotel swimming pool, wash my dishes, charge my devices, and download a bunch of media on the hotel wifi. If I'm renting an Airbnb, you can believe I'll do all those things AND bake a loaf of bread.
When pricing hotel options, know that the price will vary dramatically depending on the region and time of year. These days you'll be hard-pressed to find a motel anywhere for less than $50 a night, and Airbnb will be even more expensive. Remember that the prices Airbnb advertises don't include the inevitable taxes and cleaning fees.
Occasionally, you may find a hotel swimming pool that offers a day pass to use their locker room facilities. However, the day pass is often fairly expensive ($20+).
10. Where You Least Expect It…
The businesses mentioned above are your best bets for finding public showers during your road trip. That doesn't mean they're the ONLY places you can find public showers during your road trip, so keep an open mind. I've showered in public parks, convenience stores, and the homes of strangers I met in parking lots.
Alternatives to Free Public Showers
Sponge Bath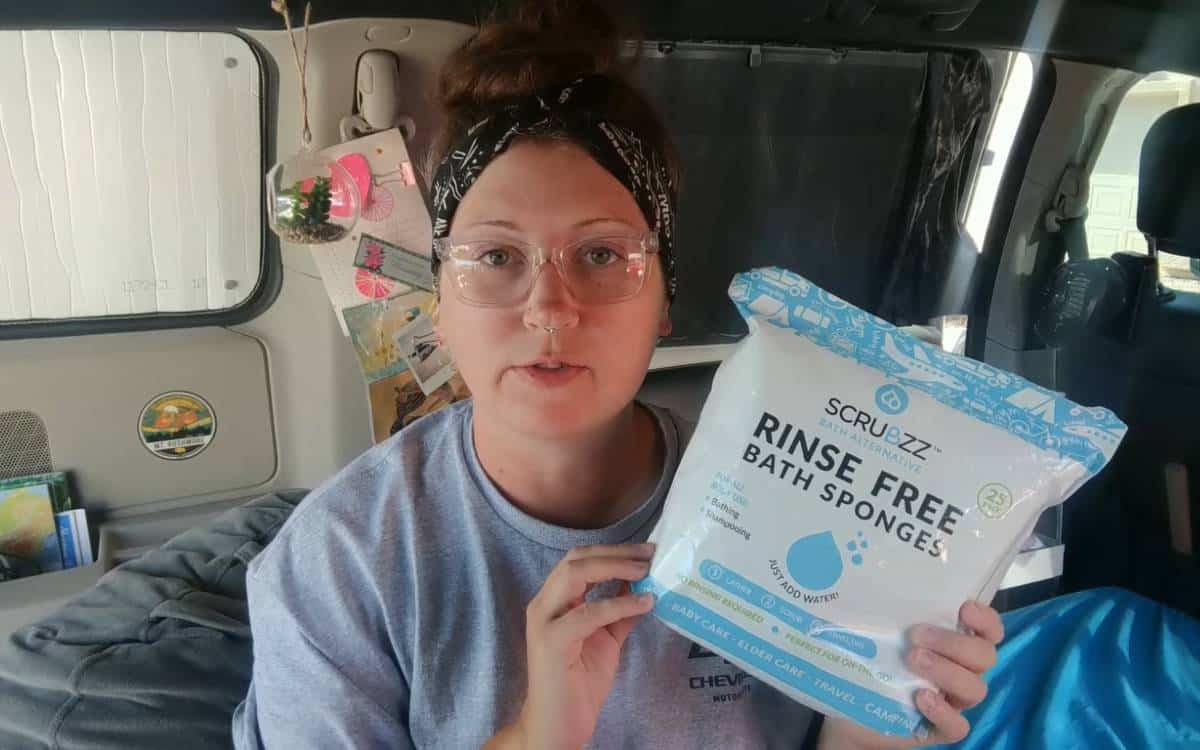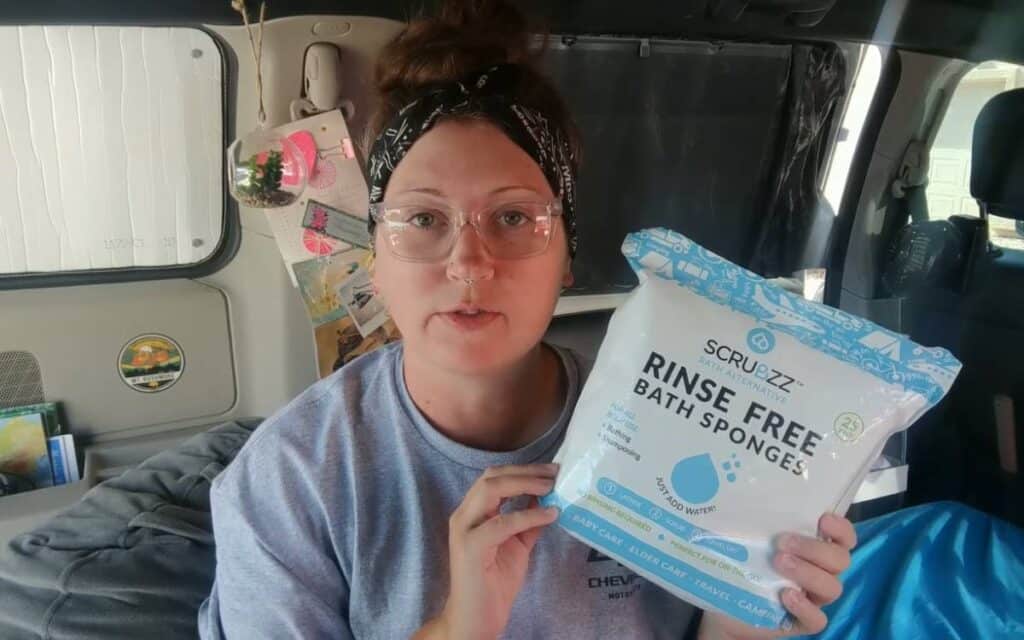 If you're desperate to cut down on the funk, any public bathroom with running water will do in a pinch. If you focus on your face, pits, feet, groin, and other high-smell areas, you'll get reasonably fresh with soap, water, and a washcloth. Use dry shampoo for your hair. It may not be glamorous, but it works.
The best thing about the "bird bath" method is that it's free and available in any public bathroom. However, single-user restrooms are infinitely preferable to multi-stall facilities. Cuts down on awkward questions.
You can also stage a private sponge bath in your van. Just heat a pot of water on your stove and use a washcloth and some soap to get it done. I use a soapy washcloth and a clean one to wipe the soap off at the end, and I sit or stand on a folded towel to avoid splashing water all over my floor.
Body Wipes
Even easier, though more wasteful, is the self-explanatory baby wipes technique. Most van lifers keep a pack of baby wipes around for quick hygiene in a pinch. Just a quick note for those who choose biodegradable wipes: we applaud you for your choice, but remember, you still have to throw them in an actual trash can.
Built-In Van Shower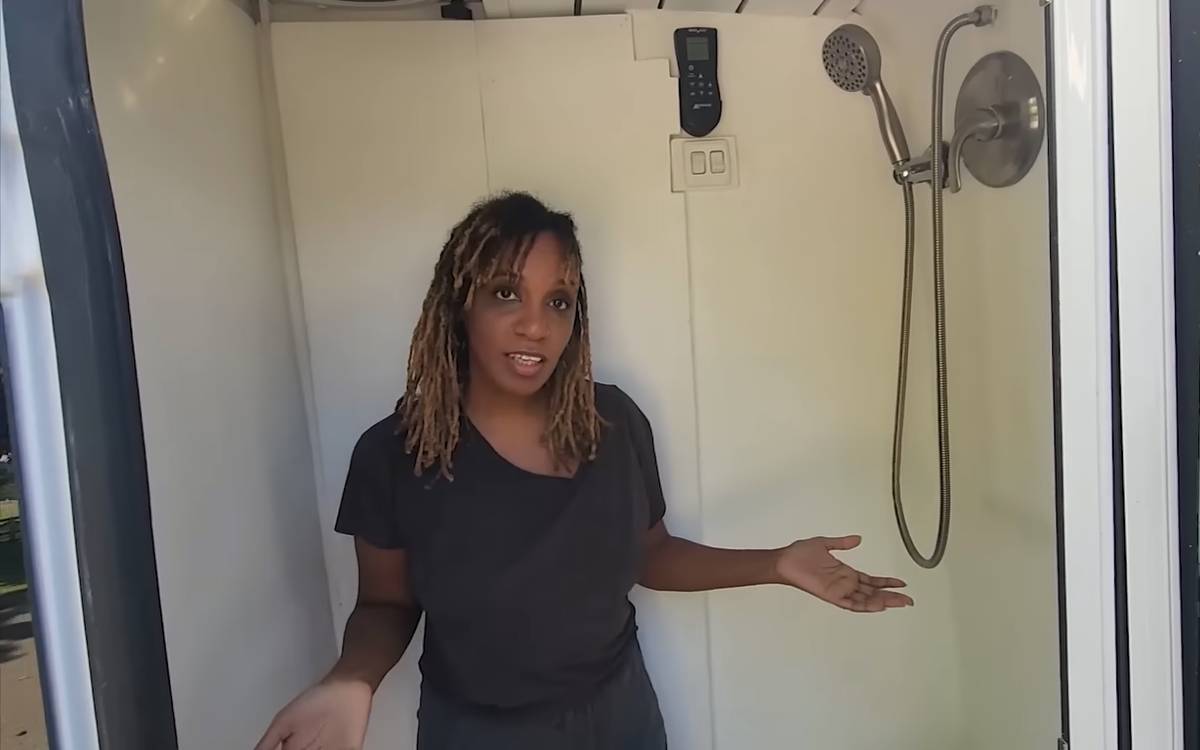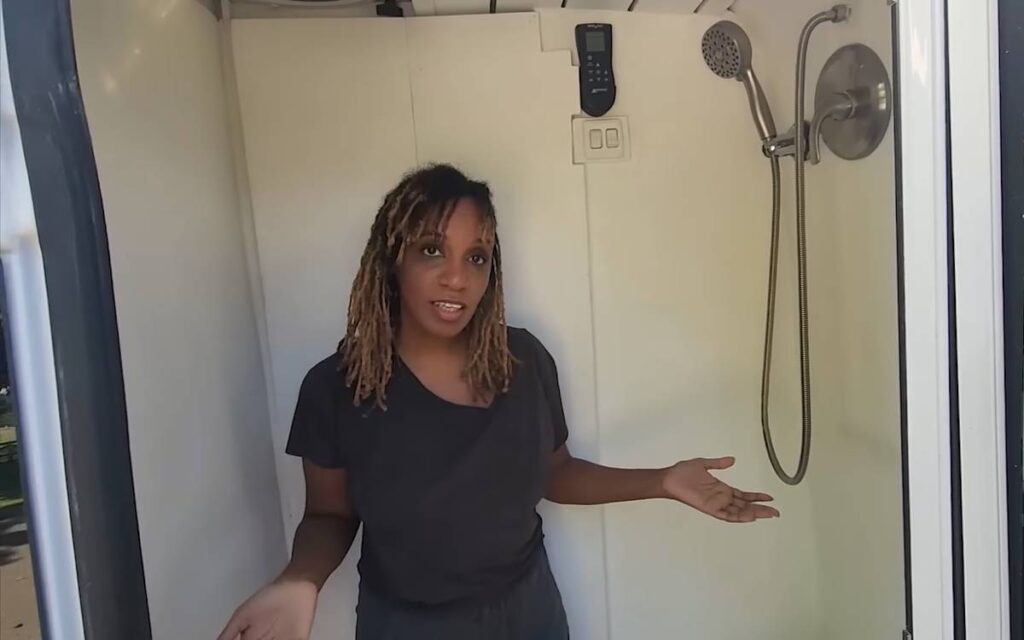 The clear alternative to hunting down public bath facilities on a road trip is to have one built into your rig. Van lifers have come up with a variety of clever shower setups over the years.
But all built-in showers will inherently demand some space, energy, and water, plus they require extra work and money to install. Think long and hard before committing to a shower install for your van conversion. After all, with a little creativity, you can get just as clean with basic supplies like a collapsible bucket, body wipes, and dry shampoo.
Portable Showers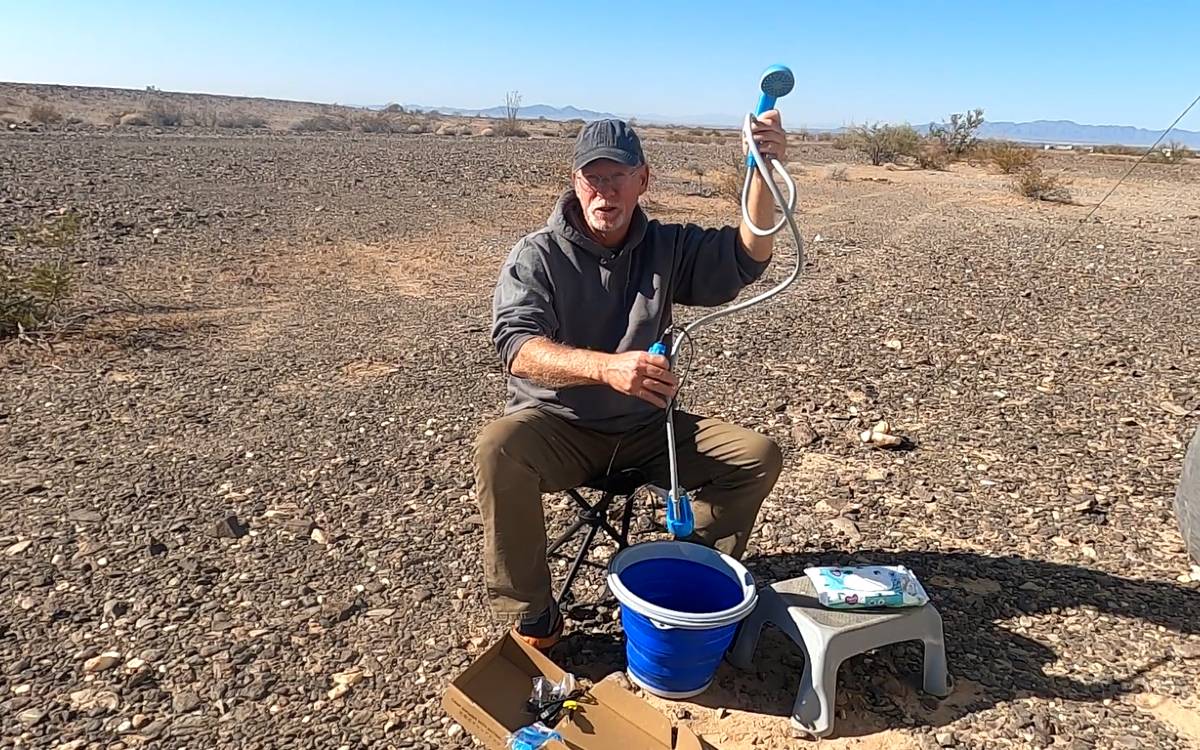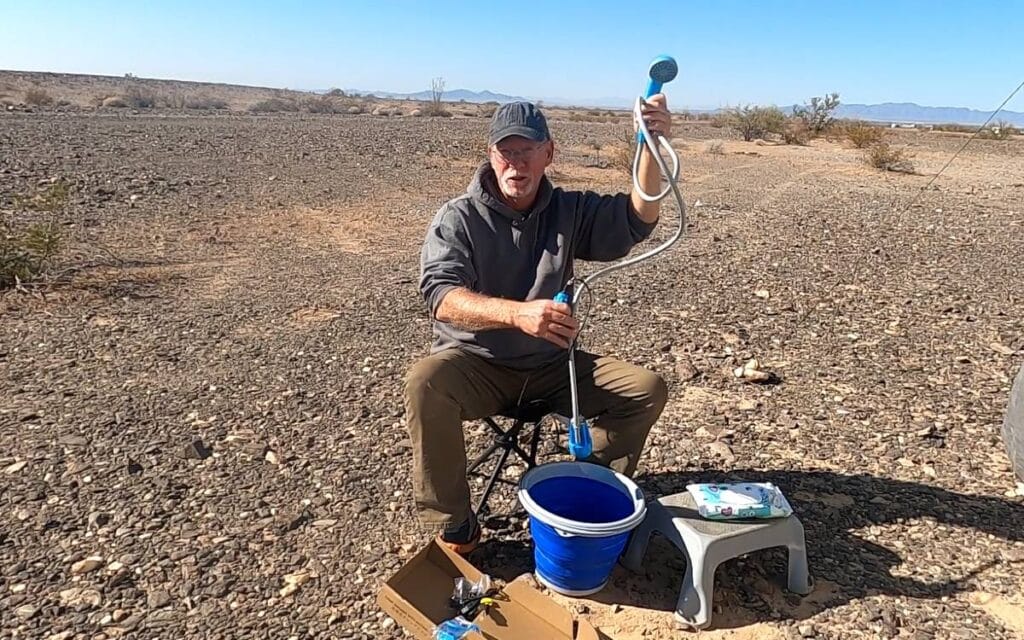 Plug-and-play portable showers provide free showers without breaking the bank, killing your power supply, or taking up too much space. These units typically consist of a pump that you submerge in a bucket of water, a small tankless water heater (sometimes), and a hose with a shower nozzle.
They're compact and don't require permanent installation. However, they need a power source (usually 110V or propane), and they're not that powerful, so you may end up with a warm shower rather than a hot one.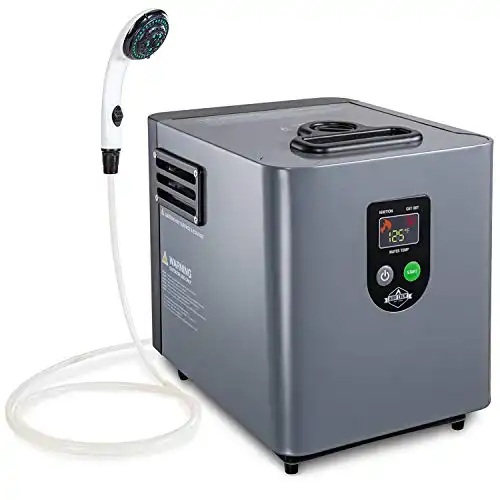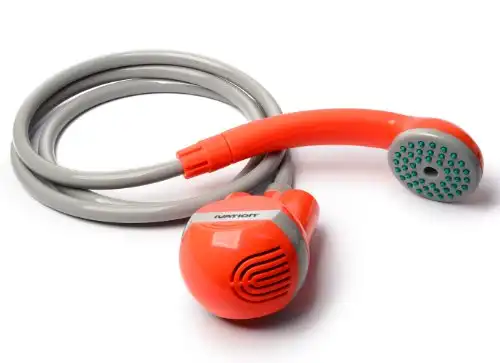 Pro tips: To save space in your van, invest in a collapsible bucket to hold the water you'll use for your portable shower. Also, remember to use biodegradable soap any time you shower outside.
Solar Showers
A solar shower is another straightforward alternative to public showers. Solar showers like the Advanced Elements Summer Shower are inexpensive, don't require a power supply, and fold down to take up almost no space when not in use.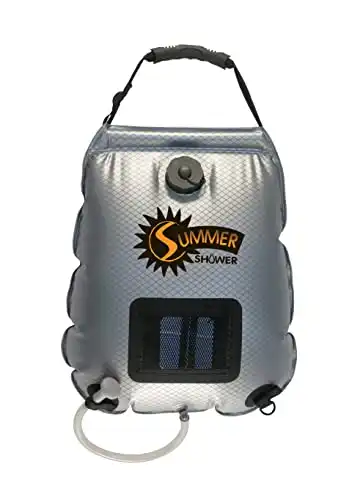 Most solar shower designs comprise a plastic bladder (typically black on at least one side for maximum heat absorption) with a hose and shower nozzle attached. Fill the solar shower bag with cold water, leave it in the sun for a few hours, hang it from your van door or inside your shower tent, and boom! Free shower.
Solar shower bags provide limited water, so you must be efficient with your bathing. However, they're incredibly effective. Far from struggling with lukewarm temperatures, I've often struggled with the water getting TOO hot. It's a good problem to have.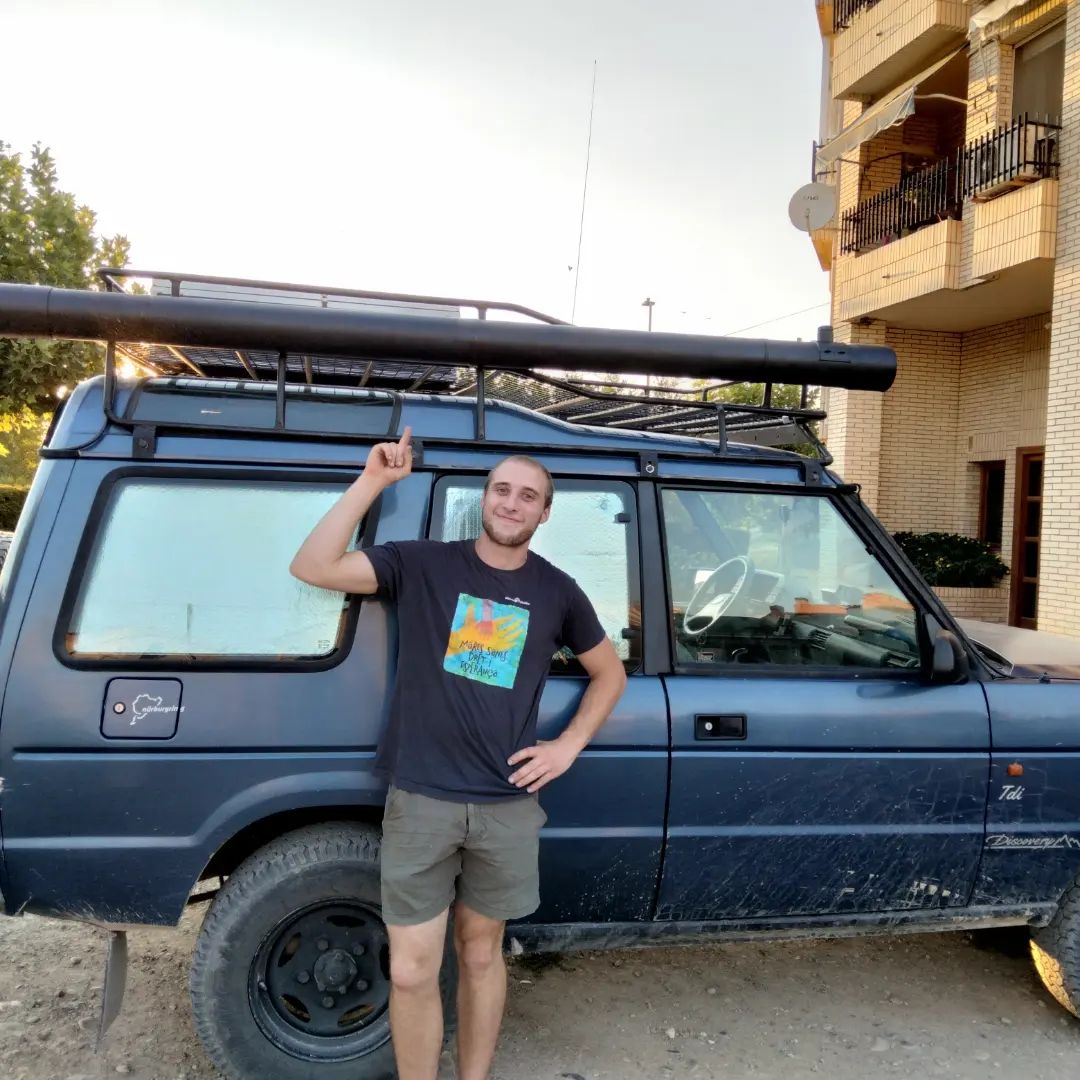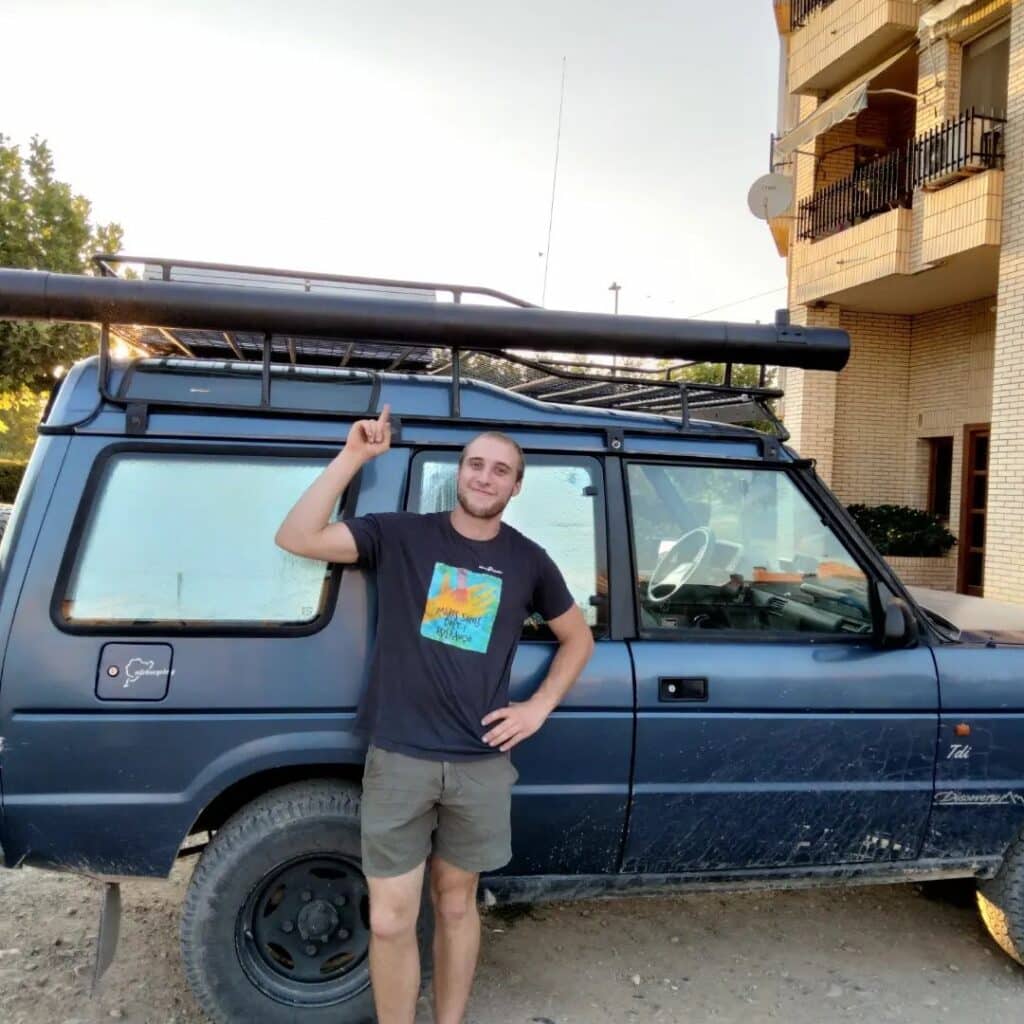 A roof-mounted PVC solar shower is another great option—and it's cheap if you DIY it.
For privacy when using portable showers, you can rig a shower curtain between your van's rear doors or purchase a pop-up shower tent.
Take a Hot Shower at a Friend's House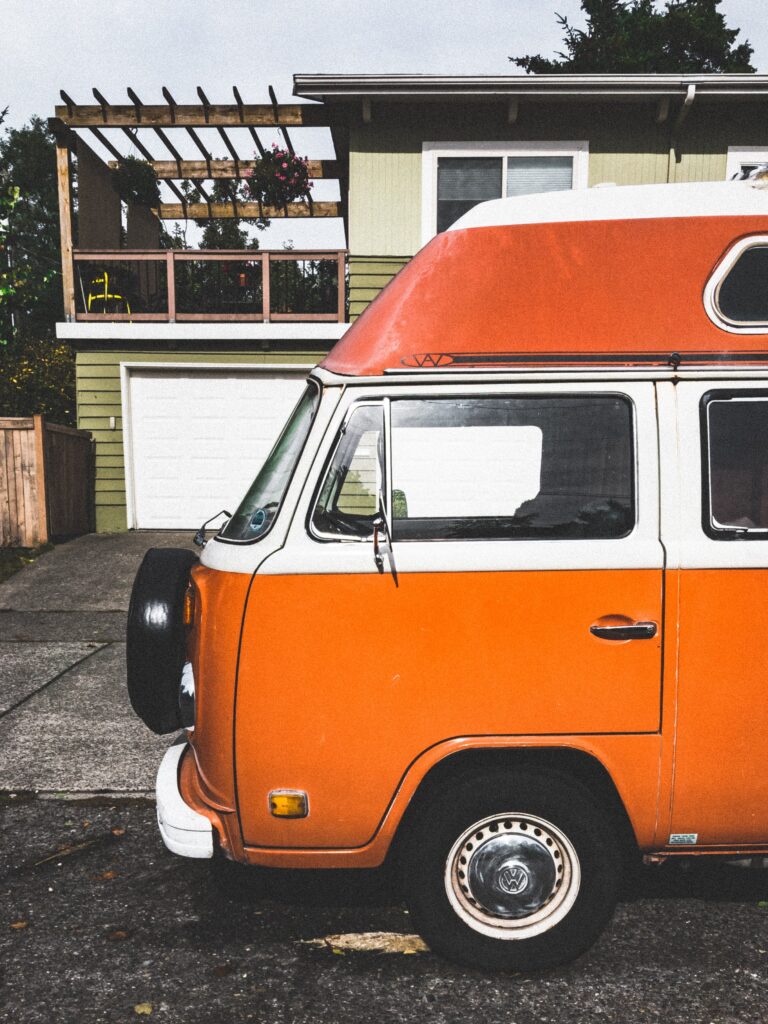 Your best bet for a hot, free shower during a road trip is to drop in at a friend's house and use their bathroom. Visiting friends across the country is one of the joys of van life anyway, so why not?
If your friend likes you, they might also let you use the wifi, enjoy a home-cooked meal, and spend the night in their driveway. Just don't forget your manners: be sure to ply them with gifts or offer to help around the house if they're opening their doors to you!
Driveway Surf for a Free Shower
Even if you don't know any locals, you can make new connections via sites like Boondockers Welcome (which requires an $80 annual membership fee) or Couchsurfing.com. "Driveway surfing" is a great way to meet new people, but practice situational awareness and consult your gut when going to a stranger's house.
Go for a Swim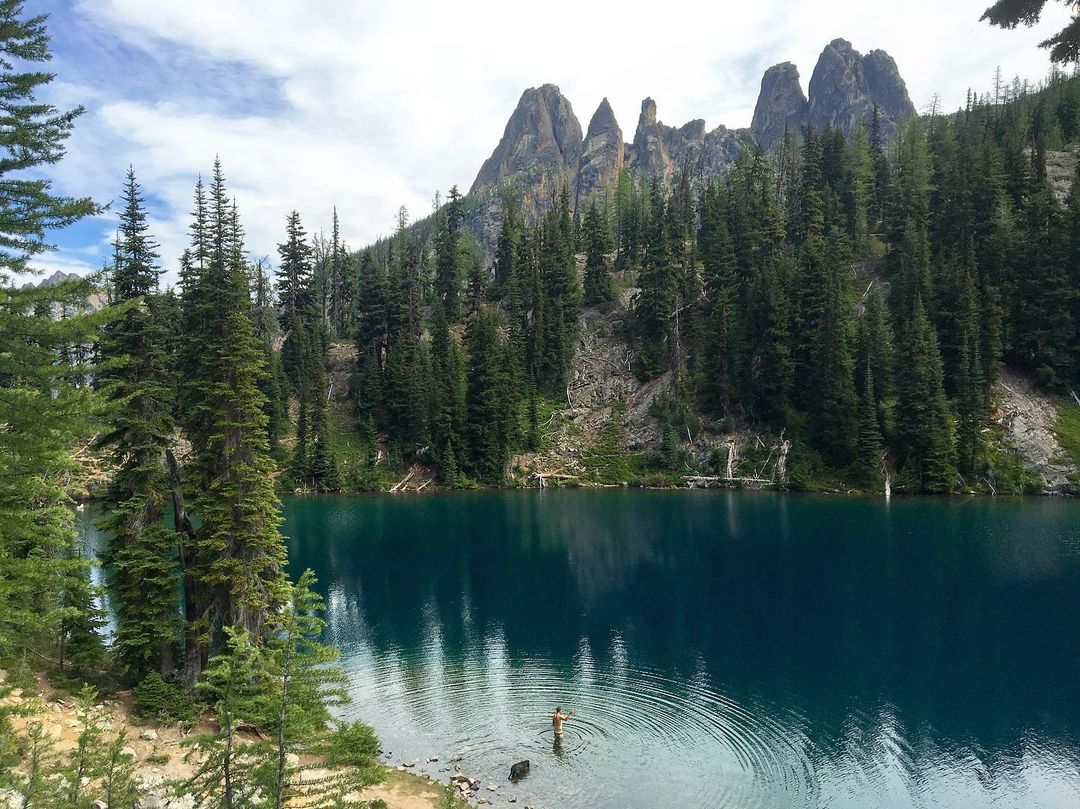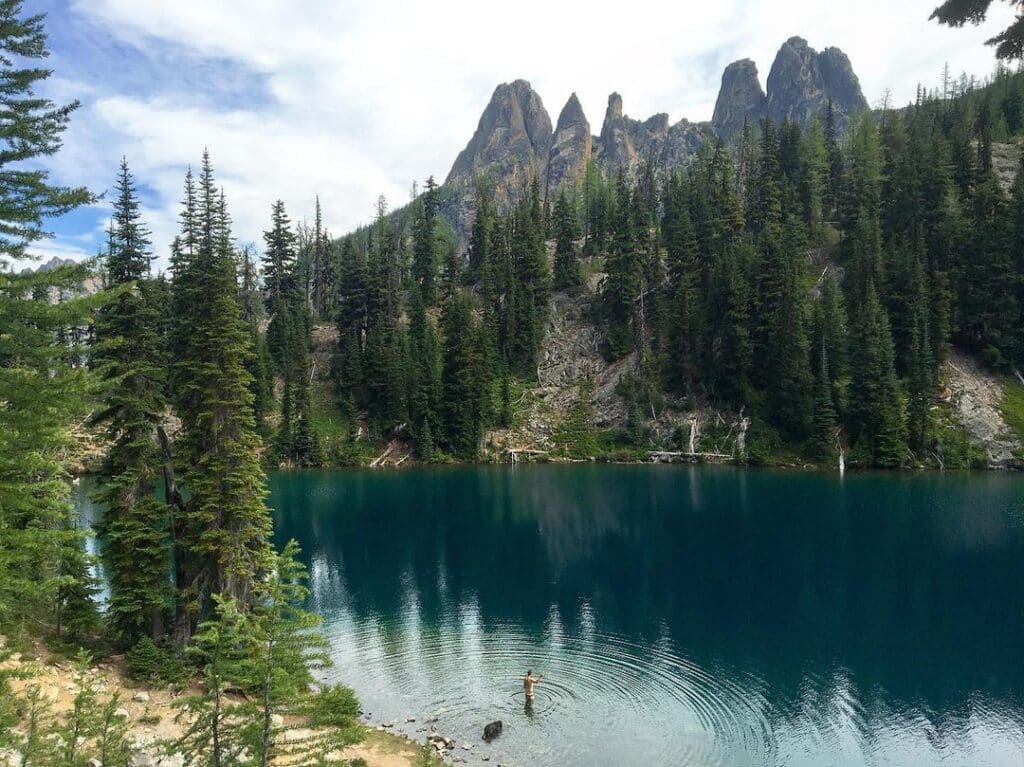 Not only is swimming refreshing and fun, but it's a great way to tide yourself over between "official" showers. Why not swim while camping near a gorgeous lake on a mild day? A quick dunk will rinse off the worst of your grime, and you won't have to pay for a fancy-pants swimming pool day pass to do it. Likewise, if you're out exploring and happen upon a choice swimming hole, you might return to your van cleaner than when you set out.
Pro tip: Skinny dipping is nice, but if you swim in your clothes, you can do "laundry" at the same time as your makeshift bath.
However, remember never to use soap—even biodegradable soap—in a natural water source. Taking a soapy bath in a pristine lake may sound romantic, but soap (even biodegradable) is harmful to aquatic life.
The rule of thumb is to never use soap within 200 feet of any natural water source. Likewise, substances like lotion, sunscreen, and bug spray can also pollute water sources. Take one for the fish and frogs: keep your toiletries out of the water!
Learn To Shower Less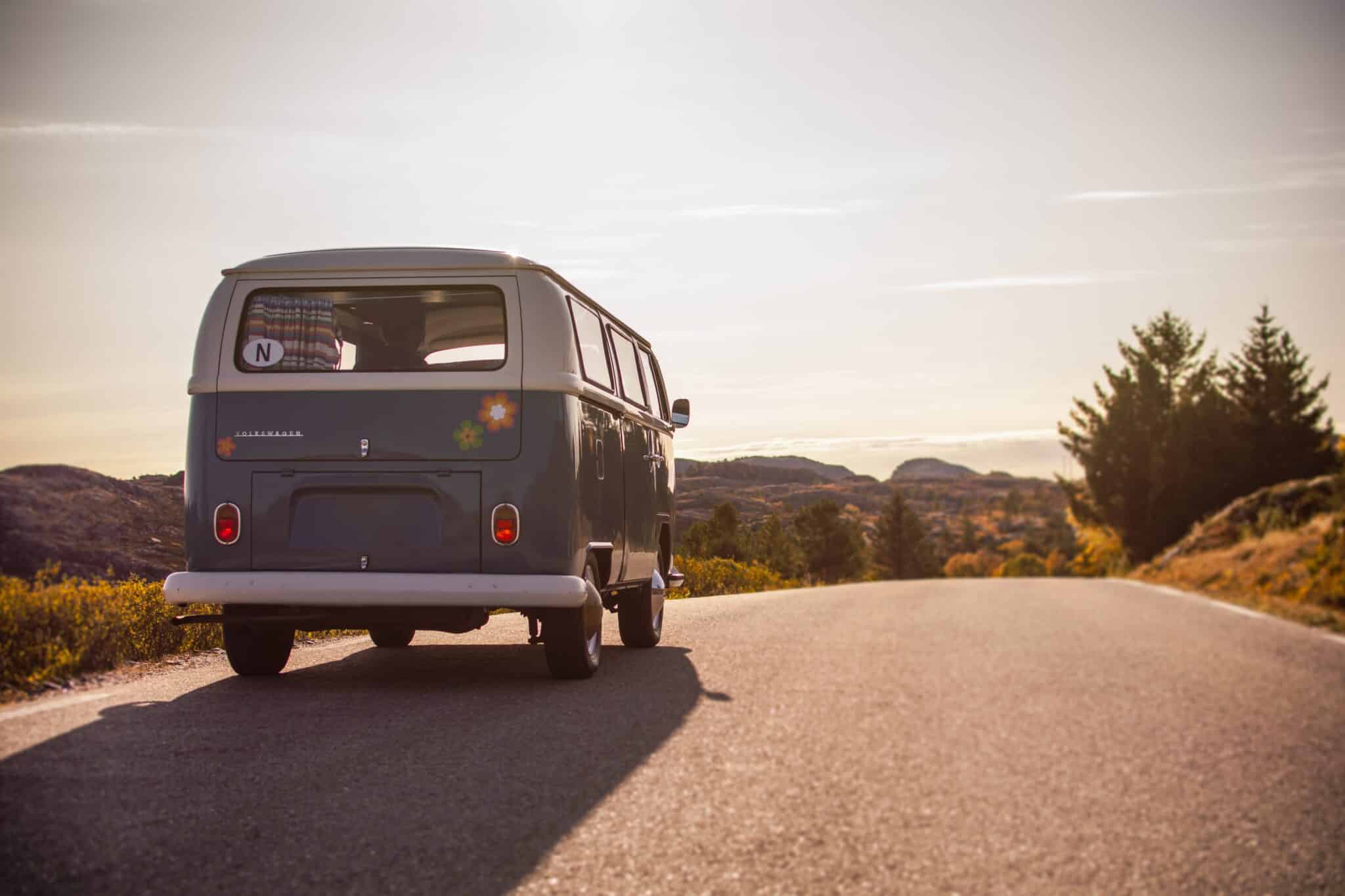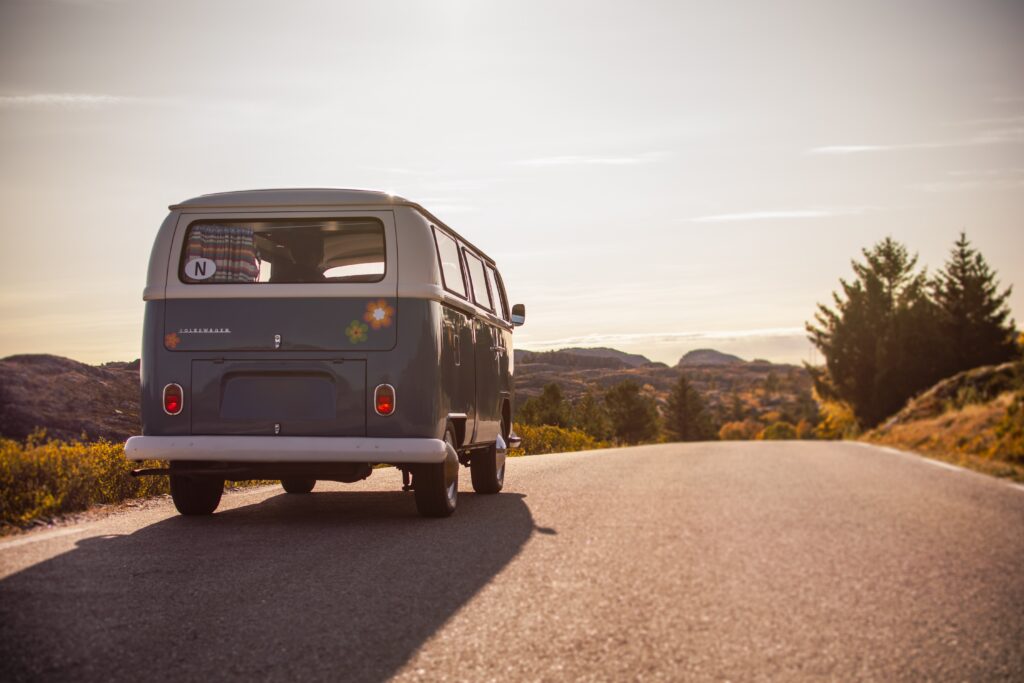 If you're serious about living on the road or taking a long-term road trip, it will behoove you to learn to bathe less often. While finding cheap or free public shower facilities on the road isn't exactly difficult—as evidenced by the resources mentioned earlier—it does require time, effort, and often money.
In our society, daily showers are the norm. While some van lifers opt to shower every day, it takes commitment. Even if you have a built-in or solar shower, a regular hot shower will strain your power supply and water storage capacity. You'll probably have to rely on some combination of public showers, sponge baths, baby wipes, dry shampoo, and collapsible bucket showers to meet your hygiene goals.
In contrast, life gets easier if you're comfortable with less frequent bathing. Finding public showers will be no sweat if you can get down to just one shower a week (or less).