When you first hit the road, you learn pretty quickly what works with your build and what doesn't. What changes you need to make here, and what would be great to add there. It can be a lot of fun coming up with your own personal tweaks to your new living situation, but the trial and error can be a bit of a headache as well.
That's why we decided to share with you some of the vanlife hacks we've adopted while living on the road to make our travels smoother. So strap on in for some inspiring DIY tricks to help you beef up the livability of your rig!
9 of our Favorite Vanlife Hacks
1. Install Cup Hooks, Anchors Points, and Carabiners Throughout Your Van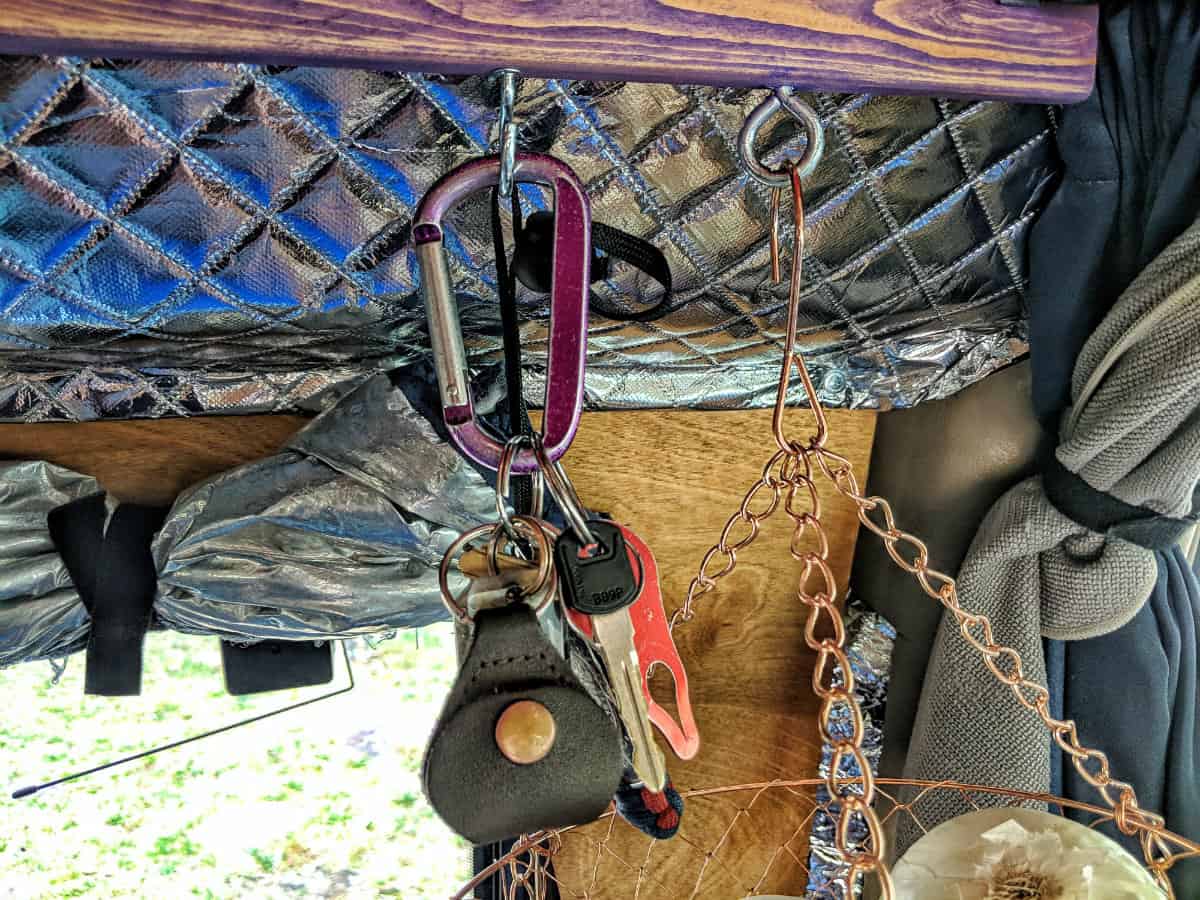 One of the greatest hacks we've found along our travels is screwing cup hooks and anchor points throughout the van. Cup hooks come in handy for hanging things so they are out of the way but still accessible – like cups (obviously), keys, flashlights, a compass, and any number of other things.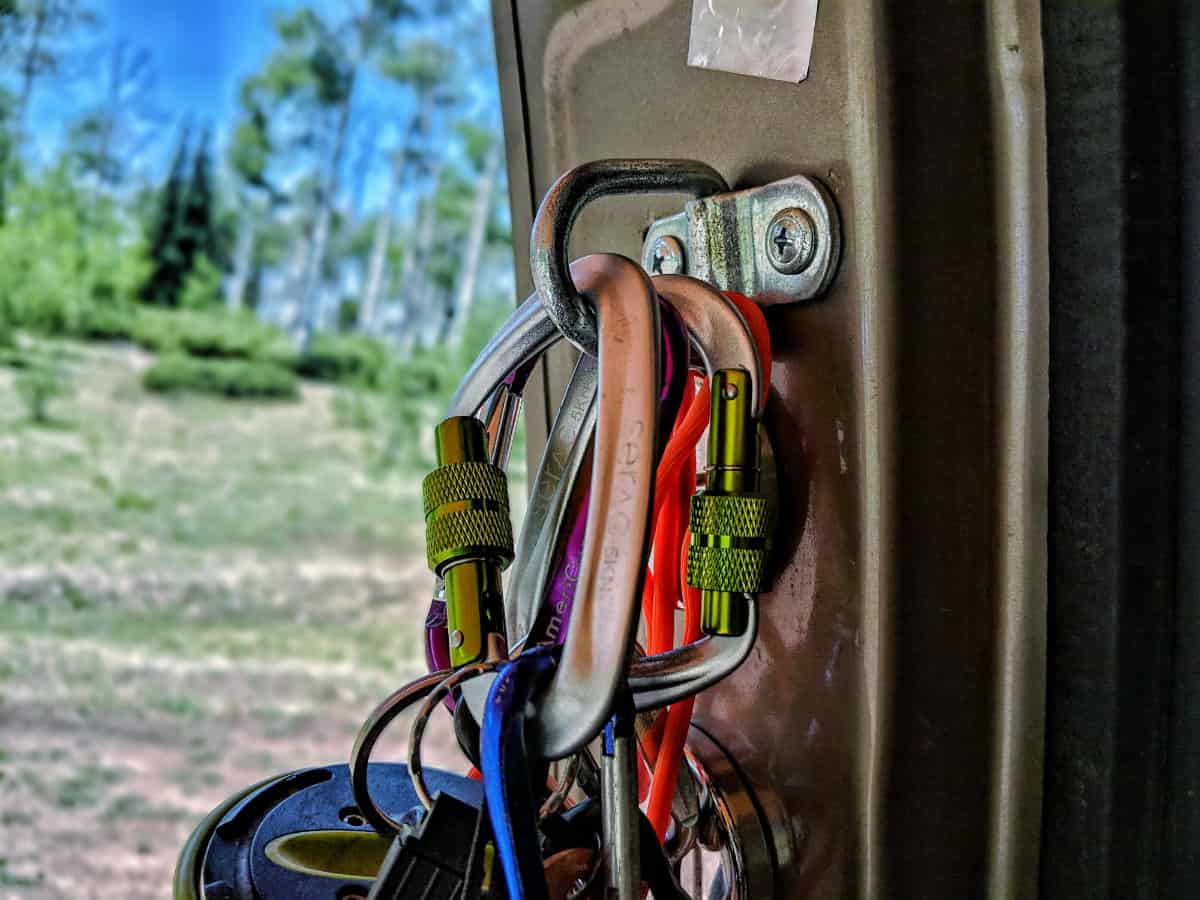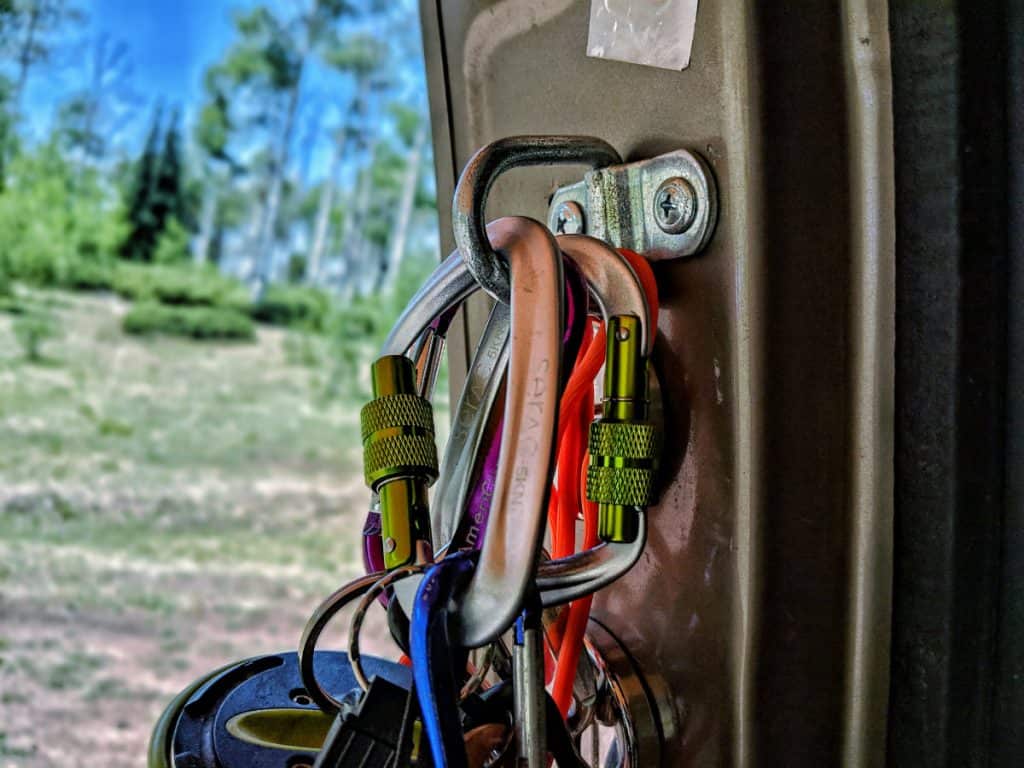 The anchor points are the true champs in our van, though! They are more heavy duty than cup hooks, and they're a closed loop so they'll hold things more securely. We've installed these throughout the van, and usually clip things onto them using carabiners. They hold all kinds of small items that we use regularly and need to keep accessible – like our Goal Zero lantern, headlamps, and collapsible dog water bowl.
These anchor points can screw into metal or wood, so feel free to scatter them around and get ready to organize some hanging knick-knacks!
2. Organize Your Eating Utensils with Homemade PVC Pipe Utensil Holders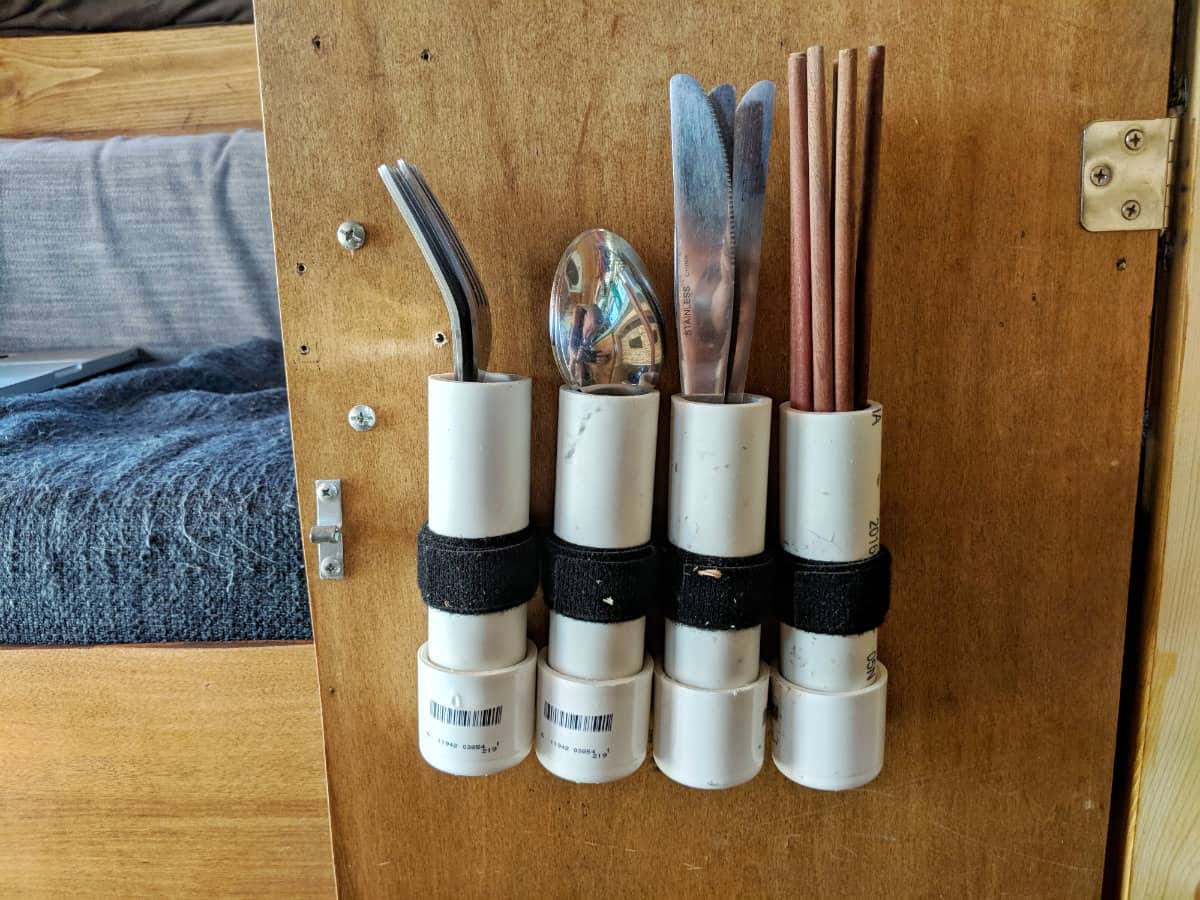 Can't figure out an easily organized way to store all of your forks, knives, spoons, and chopsticks? You're not alone.
When we first hit the road, we stored all of our kitchen utensils inside our kitchenette in a basket that we used as a drawer. And this basket held everything – eating utensils, veggie spiralizer, can opener, measuring spoons, pasta strainer – you name it, it was in there. Needless to say, this basket was a wicked mess all the time, and it was a pain to dig through it just to find a fork.
Luckily, John had the brilliant idea of making these utensil holders out of some PVC pipe. He took some short lengths of 1" PVC pipe, capped off one end, and attached them to the inside of the cabinet door using some heavy duty velcro. We hung four of these up to help organize our forks, knives, spoons and chopsticks so they are separate and easy to grab when we need them. LIFE – CHANGER!
3. Use Organizer Pouches to Turn the Backs of Your Seats into Storage Areas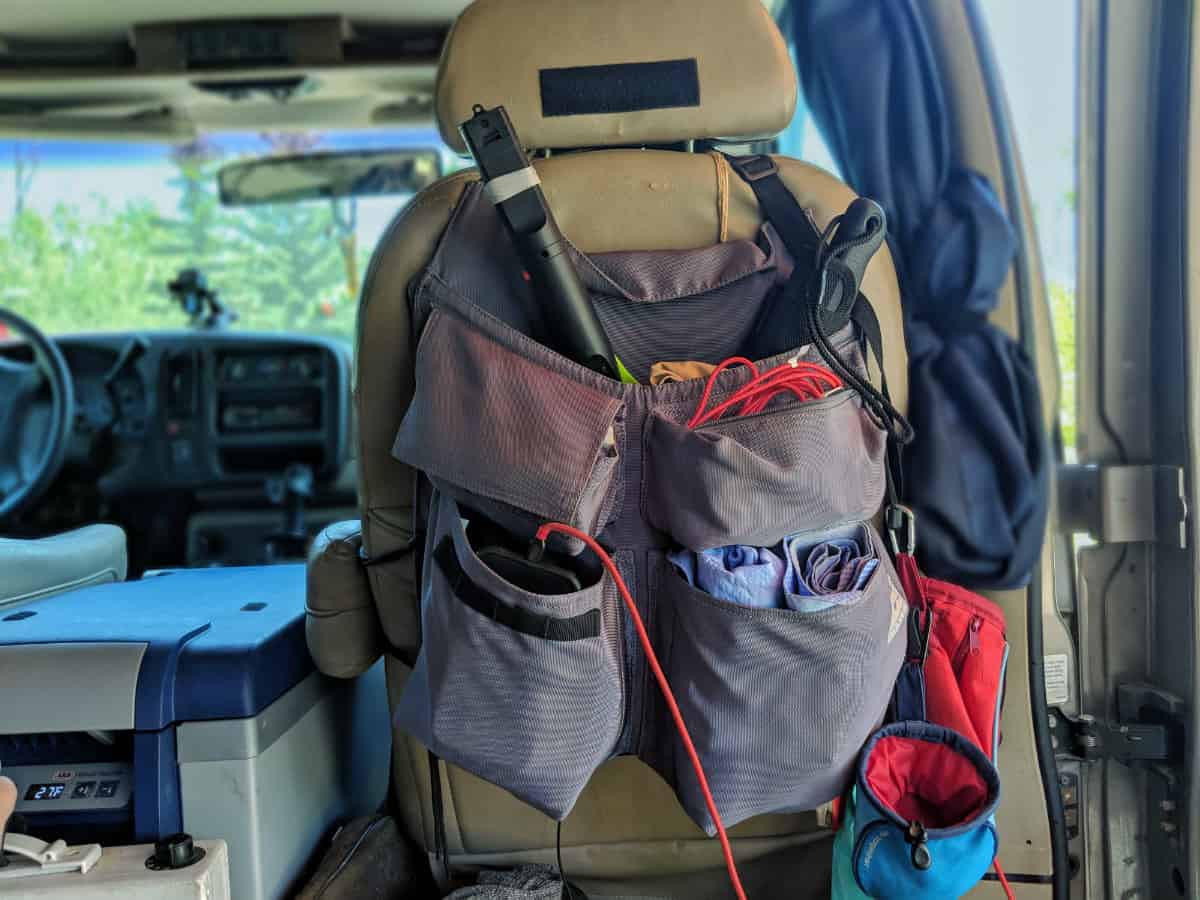 When you live in a space as small as a van, everything needs a designated place, and every bit of storage space counts. That's why we decided to turn the backs of our van seats into convenient and easy-to-access storage areas to organize things that we need regularly. This really helps us keep certain things within easy reach while also reducing the general clutter in our van.
When we first hit the road, we mounted fabric shoe racks to the backs of our seats, but these quickly fell apart with all of the knick knacks we crammed in them. Then we found some awesome heavy duty back-of-seat organizers to store all of our random items that we need regular access to – things like our reusable grocery bags, cutting boards, travel mugs, awning stakes, and phone chargers.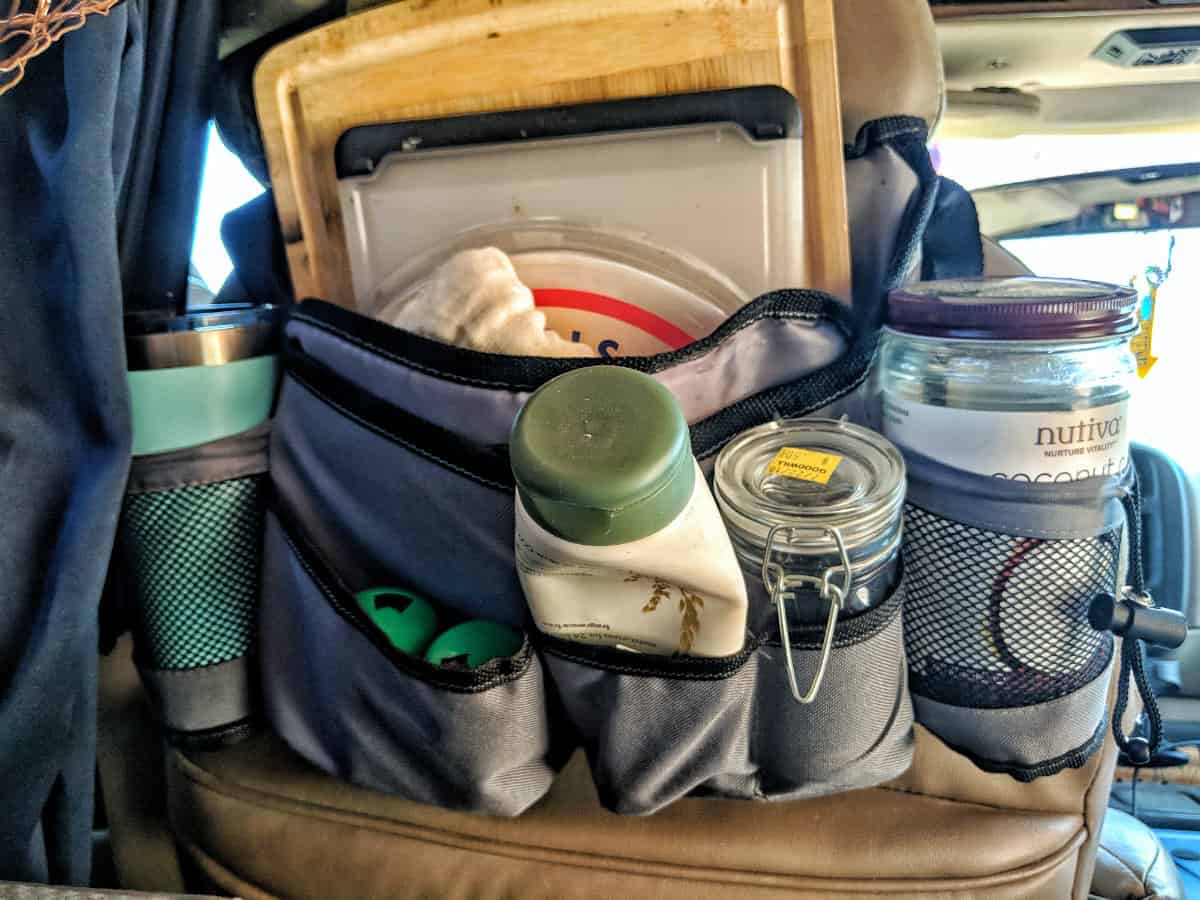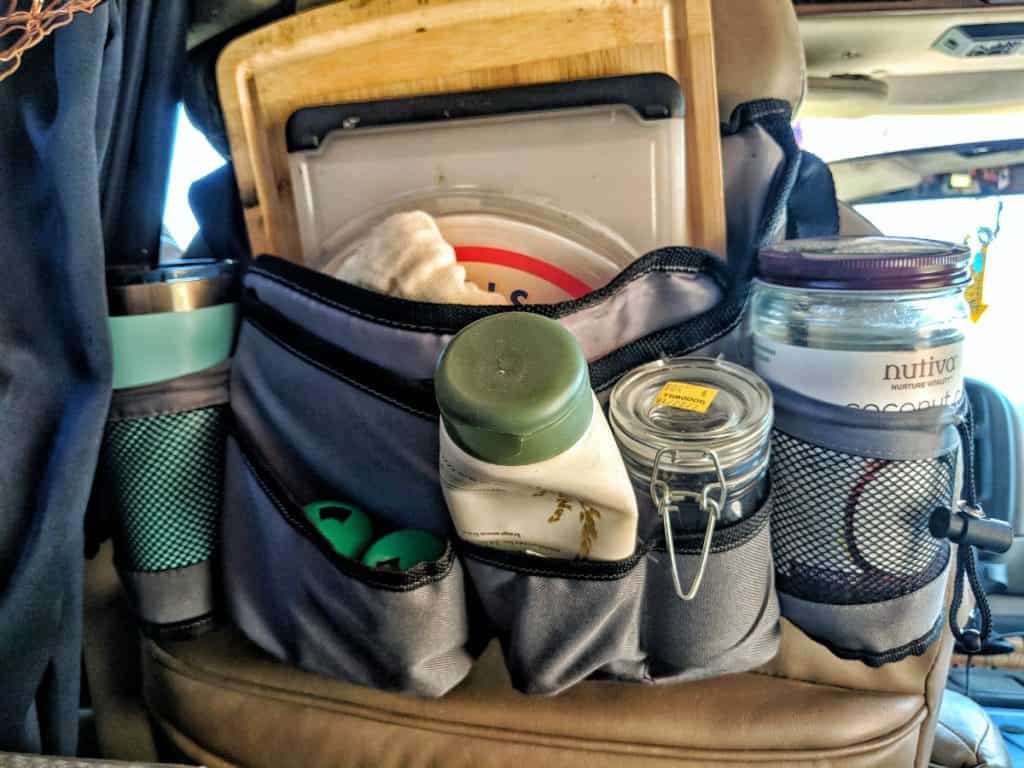 We found a full length organizer for the passenger seat, and it holds so much stuff that we had to get creative with what other items we could store in there. This helped us free up some shelf space in the process and remove a bit of clutter elsewhere in the van.
We also have a shorter seat organizer for the driver's seat. We went with a shorter one for this seat because our kitchenette backs right up to it so there wasn't enough space for a bigger organizer.
4. Can't Let Your Dogs Off Leash? Tether Them to Your Tires!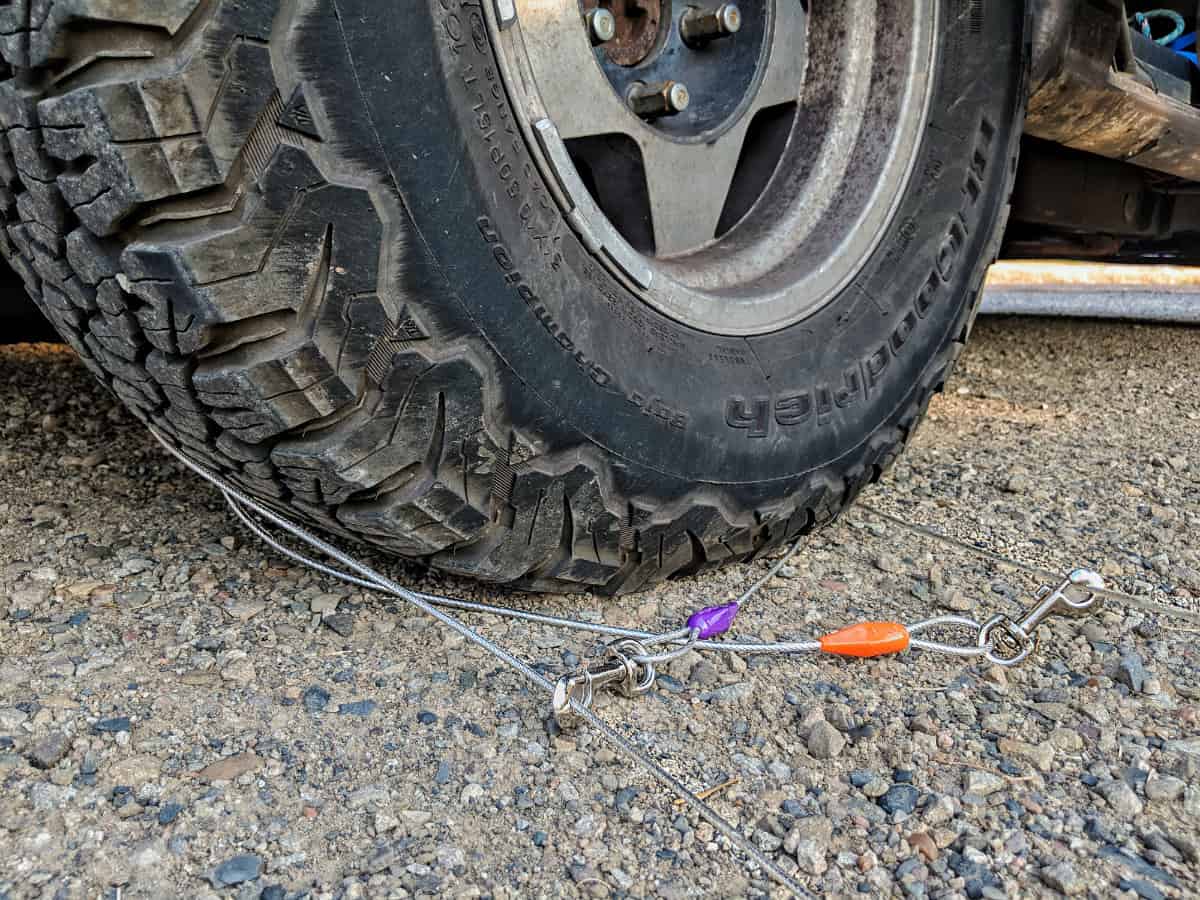 We made sure to train our dogs well before hitting the road, but still there are times when we find ourselves having to tether them up. There are a lot of fancy gadgets and gizmos you can buy in order to do this. But our go-to option is just to wrap their tethers around the rear tire of our van (van is parked, of course). They're not going anywhere!
The great part about this is that we don't need to take the time screwing a stake into the ground, carrying an additional bulky item, or hooking them up to a part of the van they may break if they get too excited by any friendly critters in the area. This tie out method also works when you're on rough terrain or concrete where you can't drive a tie out stake into the ground. Problem solved!
5. Not Enough Space in Your Recycling? Smash Your Beer Cans!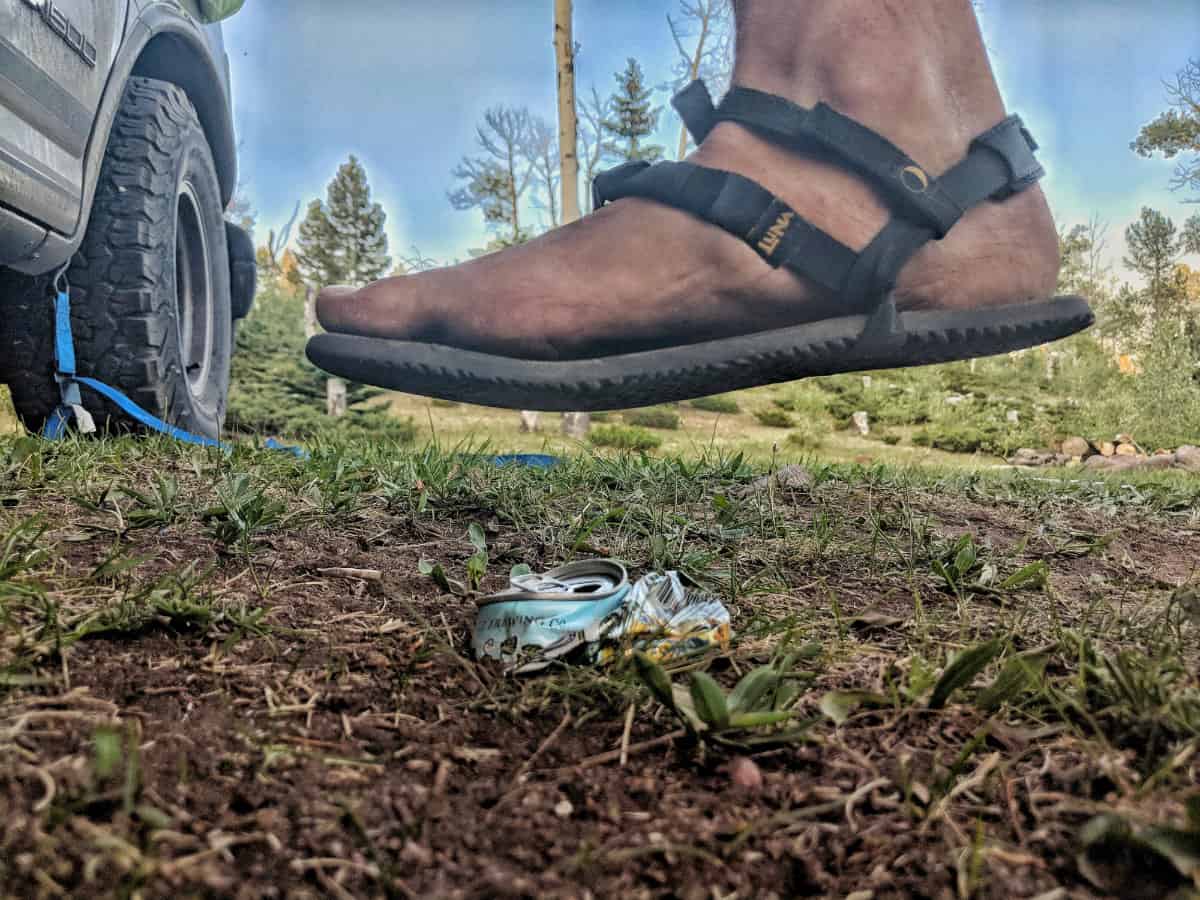 We recycle as much as possible on the road, but there's a limit to how much recycling you can comfortably store in a van. And if you want to enjoy a cold one, or two, or five on the road – that tiny recycling bin seems pretty null and void in an instant.
This may seem like a very simple hack but we seriously never thought about this until we saw some buddies doing this. Finished with your beverage? Stomp on that can and smash it into a compact aluminum pancake! Now you can fit about 500 empty cans in your recycling instead of just five!
6. Use Tool Pouches for Awesome Bedside Storage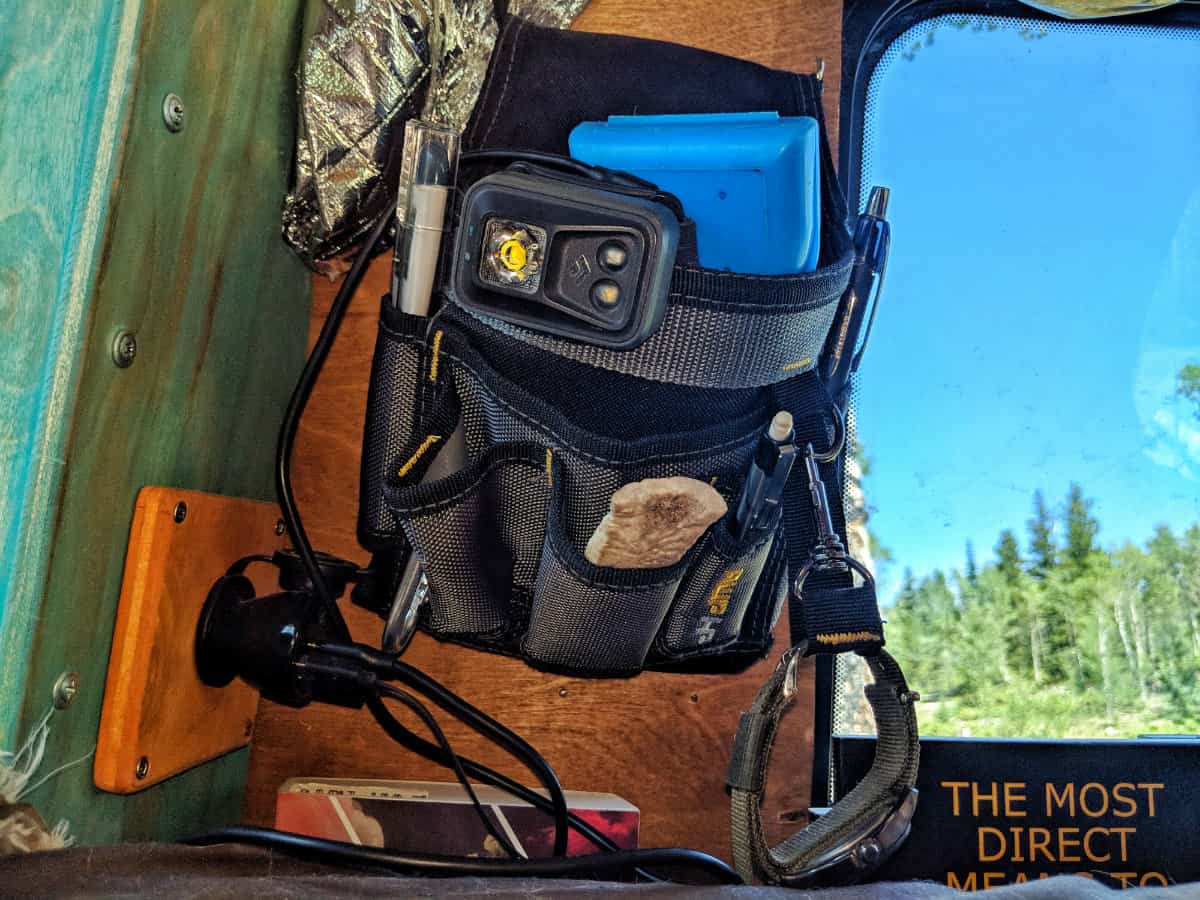 This is a new upgrade for us, but we wish we had done this from the beginning. There are always a few items that we need access to when we're lying in bed – things like cell phones, glasses, contacts, earbuds, and writing utensils.
We knew we needed a place to put these things that was within easy reach, but we struggled to find a solution. That is, until we stumbled upon these nifty tool pouches! We mounted them on the wall right next to our pillows, and now we have a place to put all of those smaller knick knacks we would normally keep on a bedside table.
To mount them, we strung some paracord through the belt loops on the pouches, and tied each end to cup hooks that we screwed into the wall paneling (see, those cup hooks come in handy!) – and BOOM! Hanging bedside table complete!
7. Organize Your Storage Areas with Packing Cubes and Baskets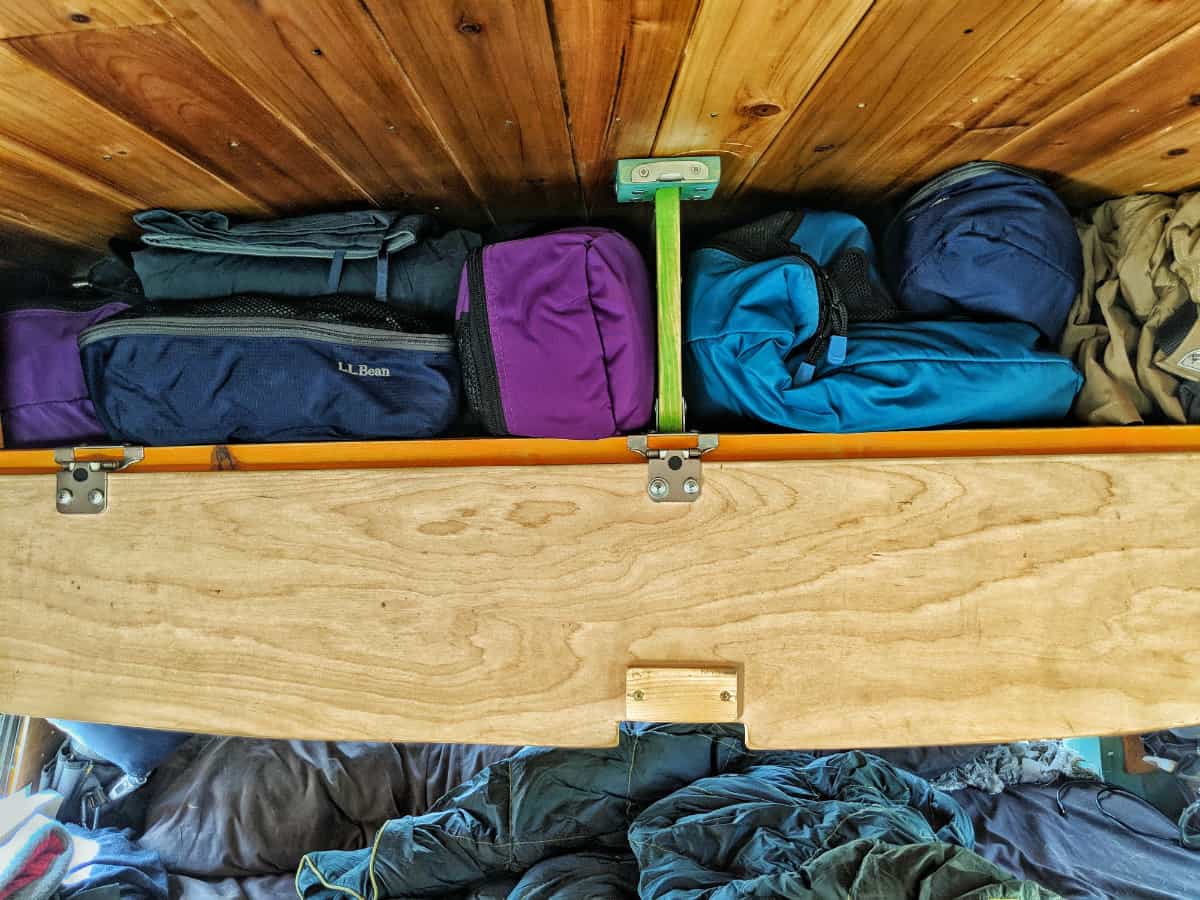 Keeping those larger areas like closets and pantries organized can be a headache. While we normally promote the whole "less is more" attitude, this is one of those situations where buying a few additional items will actually help in keeping yourself a bit more organized.
When we first took off, we just crammed folded stacks of clothes into our closet. Pants in the back, shirts up top, dresses to the side, yadda yadda. Not even a week on the road and our closet was a DISASTER!
That's why we opted for some packing cubes to store our clothes. They help keep our closet super well organized and very easy for us to access whatever we may need without demolishing the rest of the closet. Instead of pulling out every item of clothing, we just pull out a cube or two – and since we have them all categorized, it's easy to find exactly what we need.
Read More: 101 Van Life Essentials You Don't Want to Forget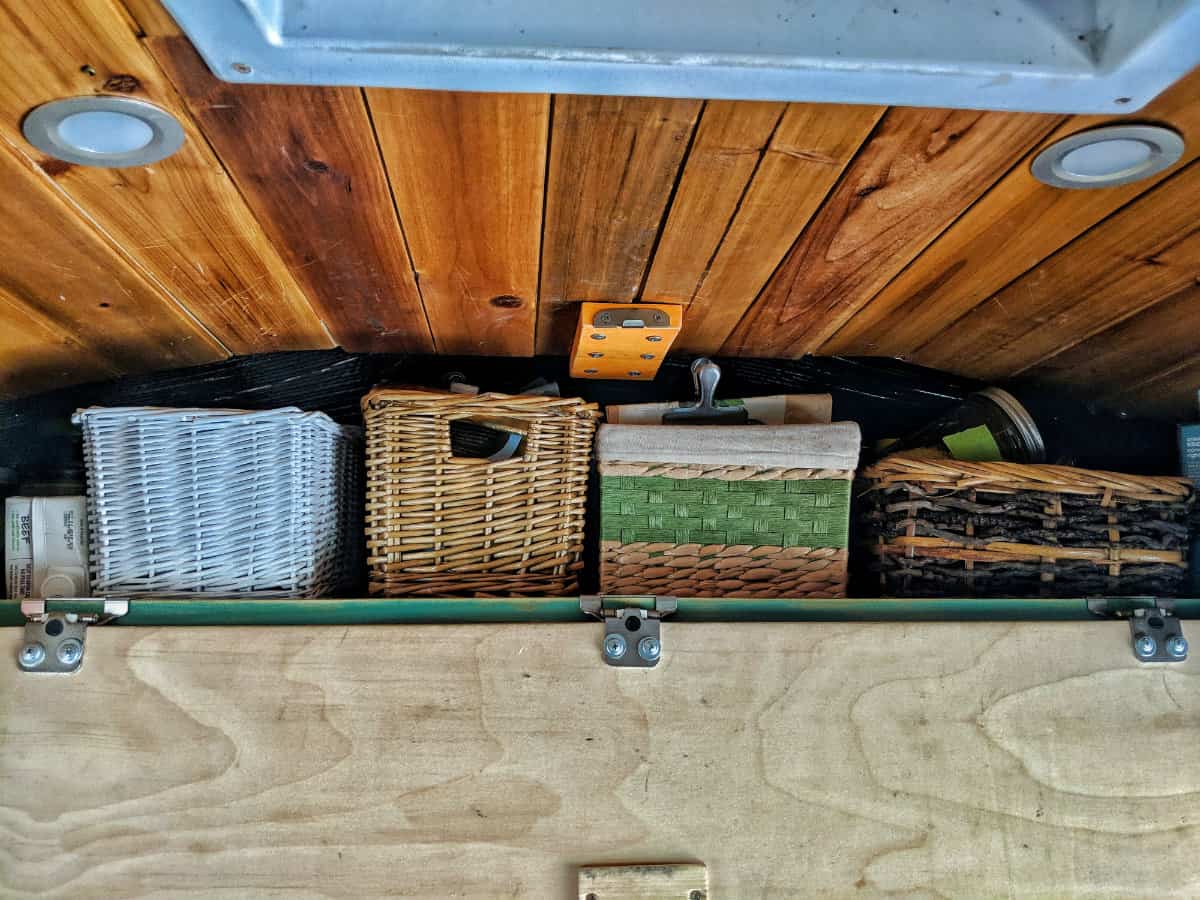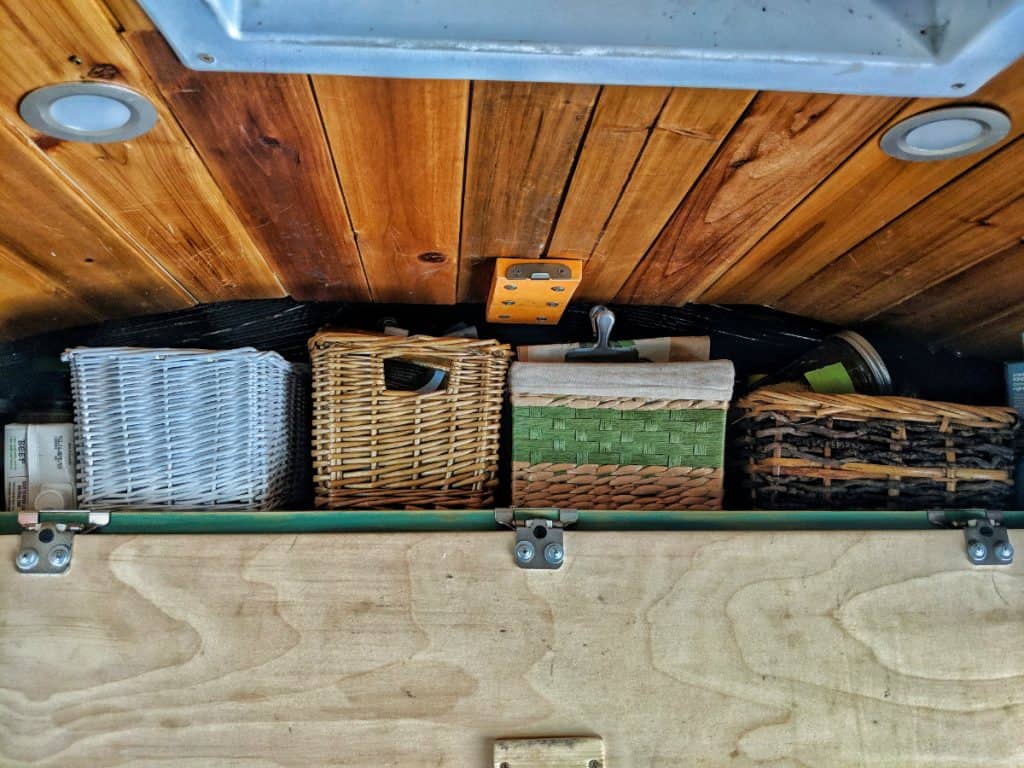 For our pantry, we hit up a thrift store and found baskets to help keep all of the random food items in there organized. We have one that holds our tea stuff, one that holds miscellaneous spices and seasonings we couldn't fit on our shelves, and another one that holds a combination of nuts and seeds.
Now, when we want to make a pot of tea, we don't have to pull out a million things in order to find that bag of loose leaf tea that somehow ended up all the way in the back. We can just grab our tea basket and pull out whatever we need from it. Our baskets also help prevent the glass jars where we store our bulk food from sliding around and banging together when we drive.
8. Safety Pin Your Bed sheets to the Edge of the Bed for Easy Cleaning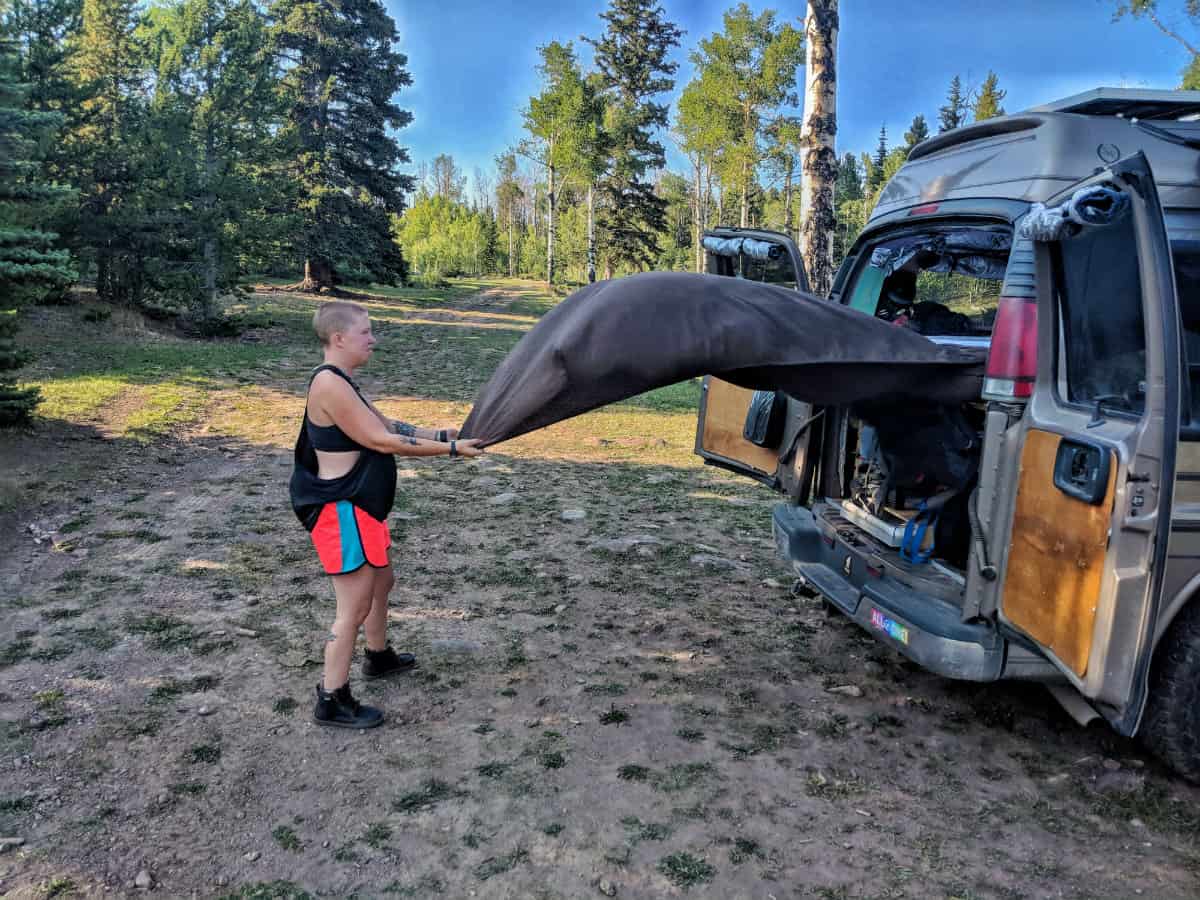 If your van bed butts up against your rear doors or side doors and you tend to track elements of the earth into the van with you – then we highly suggest you try out this hack!
To make quick cleaning a whole lot easier, we safety-pinned our bottom sheet to the edge of the bed that's against the rear doors. That way, whenever we are sick of all of the dirt and sand that us and the dogs track in, we can just pull the sheets backwards out the rear door and give them a nice big shake!
The safety pins hold the sheets on the bed, which makes this a super easy one-person job, and your sheets are dirt free in seconds! Enjoy a nice night of sleep on fresh new bed sheets!
9. Do Your Best to Eliminate Single-Use Disposable Items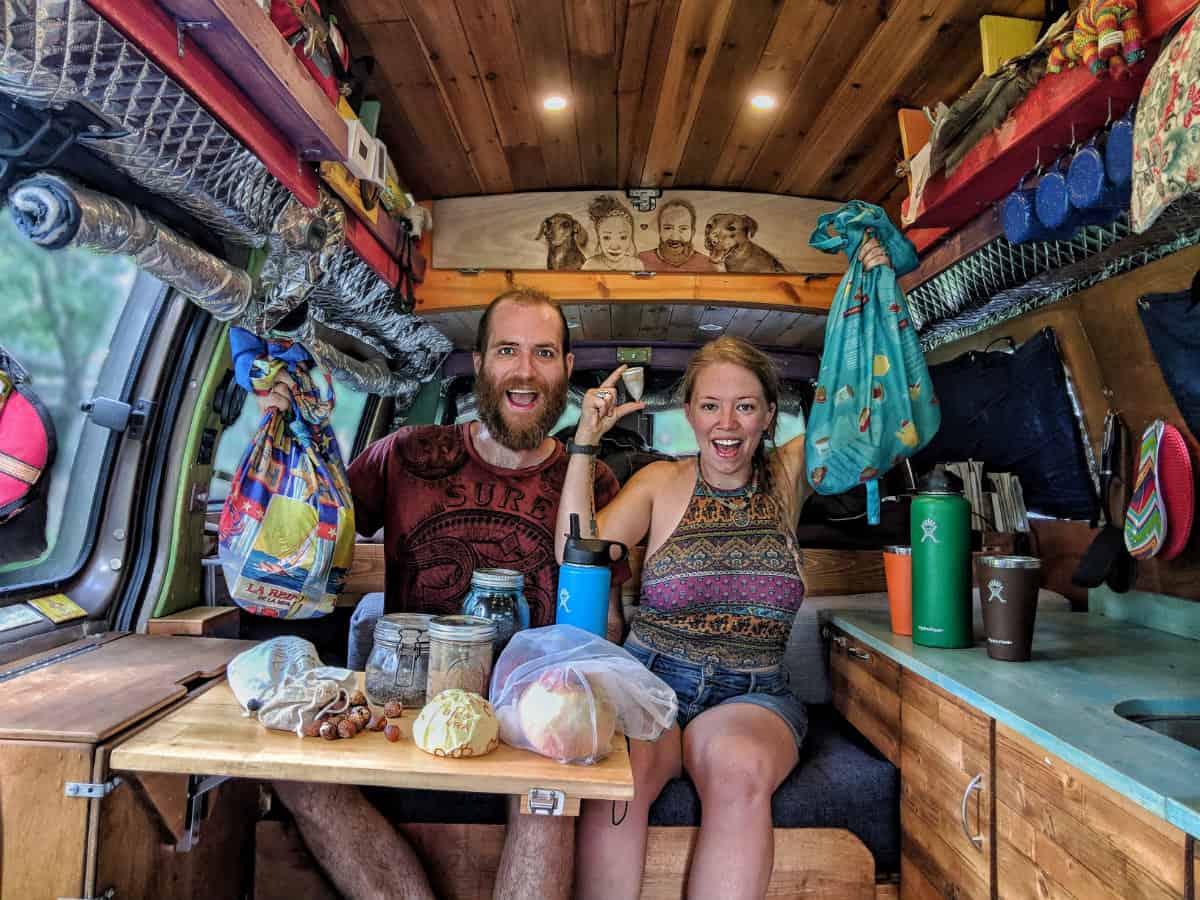 Removing waste from your living situation eliminates so many headaches right off the bat. There is nothing worse than traveling around with a bunch of excess, unnecessary trash – so let's stop creating so much trash in the first place.
For a ton of helpful suggestions on how you can eliminate single-use disposable items from your life, check out our post on 13 Tips for Living a Waste-Free Vanlife. We write about easy ways that you can eliminate waste in your home, from food storage to female moon days to paper towels and so much more!
For more helpful vanlife tips and epic build guides, don't forget to follow us on Instagram @gnomad_home and on Facebook. Cheers!