If you think a cargo van just isn't for you when choosing a vehicle for a DIY camper conversion, consider a minivan!
Minivan conversions are smaller, more fuel efficient, and stealthier than full-sized vans. They're often easier to source on a budget. And if you're doing van life part-time, minivan camper conversions make great daily drivers when they're not in camper mode.
The Toyota Sienna is one of the best minivans for DIY campervan conversions. Here's why.
The Sienna comes in All Wheel Drive. These models are less common, but if you get your hands on one you'll be able to get places that even the most decked-out 2WD Sprinter van or Ford Transit camper van can't go.
Newer models (2021+) are all hybrids, which is more environmentally friendly and helps save on gas. However, the hefty price tag on a newer Toyota Sienna erases all of those fuel savings, and then some.
There are tons of aftermarket parts for Toyota Sienna campers, including lift kits and other overlanding accessories. Put a 2″ lift and some all-terrain tires on your all-wheel-drive Sienna, and you can damn near keep up with a 4Runner.
Siennas are reliable and easy to maintain, and just about any mechanic can work on them. Toyotas are mostly bulletproof from a mechanical standpoint, and the Sienna is no different. Expect to get 400,000 miles out of one with regular maintenance.
The Toyota Sienna interior is surprisingly spacious, with over 100 cubic feet once you remove the 2nd and 3rd-row seats. The vehicle itself is both wider and longer than the classic Volkswagen Vanagon camper van.
There are some downsides to Toyota Sienna campers and other small camper vans. Minivans are smaller than full-size vans, which means less storage space. You won't be able to stand up in a Sienna unless you install an aftermarket high top or pop top. And you need to be aware of the seating configuration of any vehicle you're looking at, since some 2011 and newer models may not have fully stowable or easily removable second-row seats (avoid the bench seat).
There are plenty of ways to convert a Toyota Sienna into a badass micro camper. In this post, we've gathered some fantastic Toyota Sienna camper conversion plans from creative nomads. From no-build builds to budget builds to weekend campers, these awesome rigs should inspire your next build.
Build Your Van
The Ultimate Van Build Guide
Planning a van build? Read our free guide. We cover just about everything you need to know – from planning, to insulation, to solar and electrical, to picking appliances, to essential tools. Get started today so you can get out there on the road!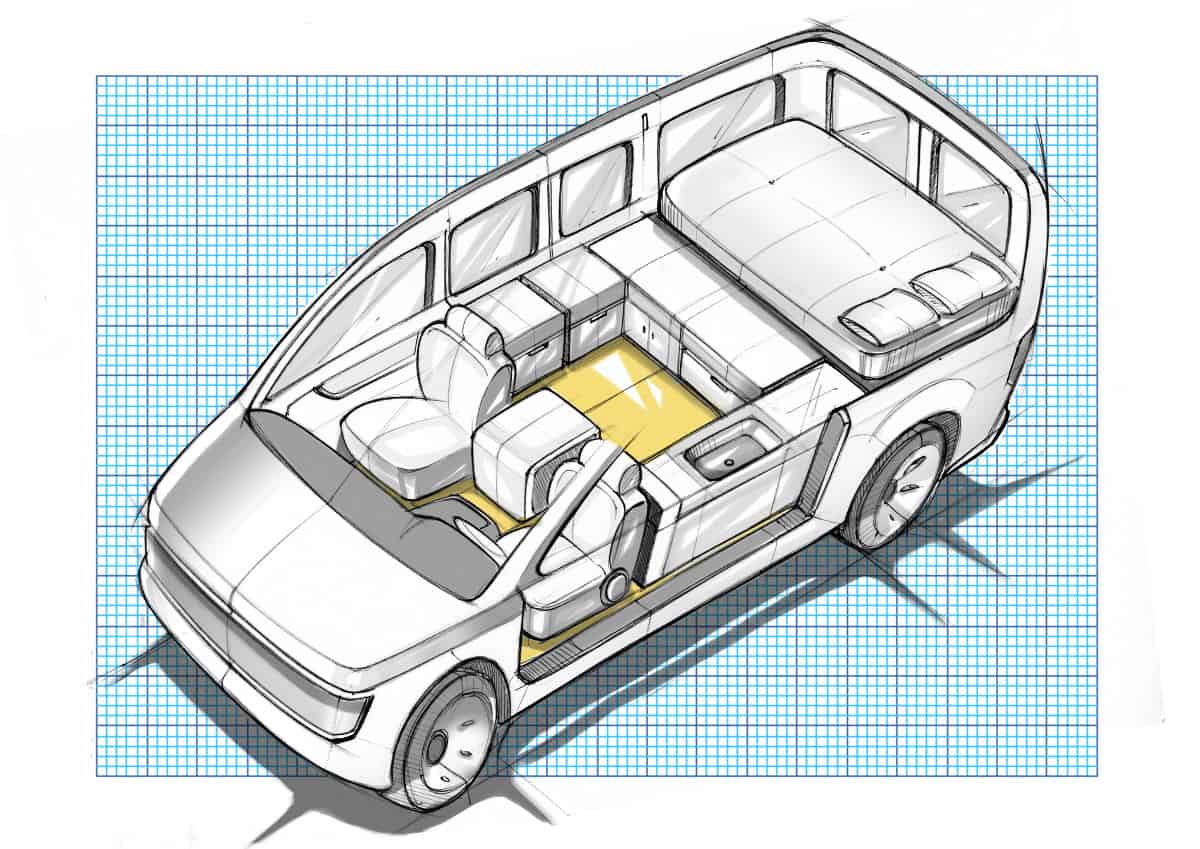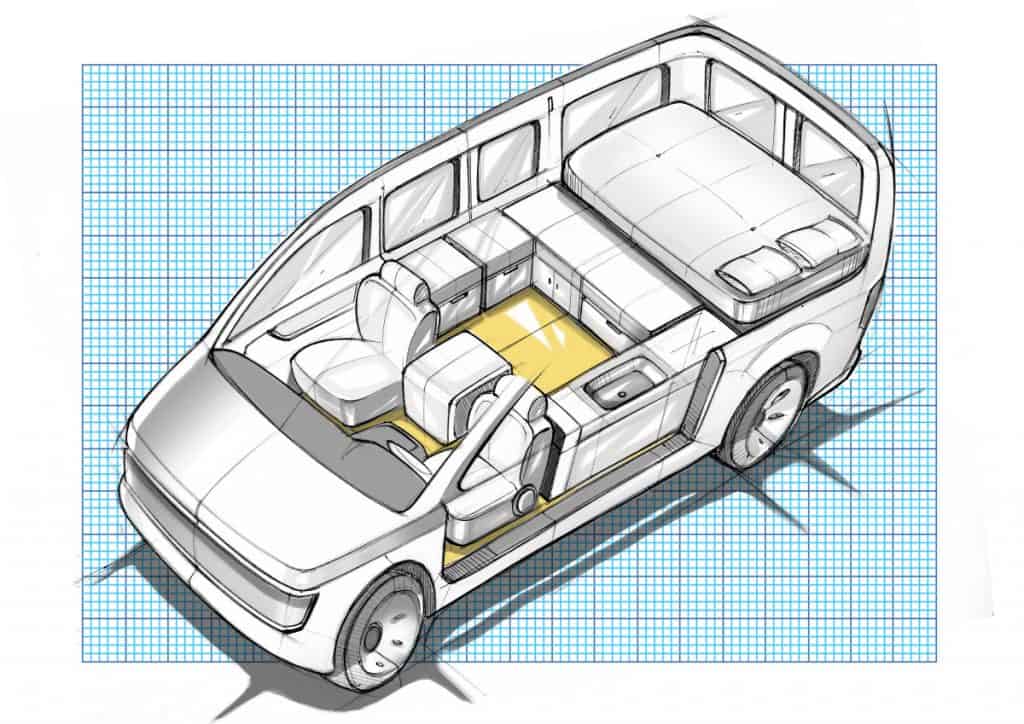 1. This $7000 Toyota Sienna camper conversion from Qasim and Kayla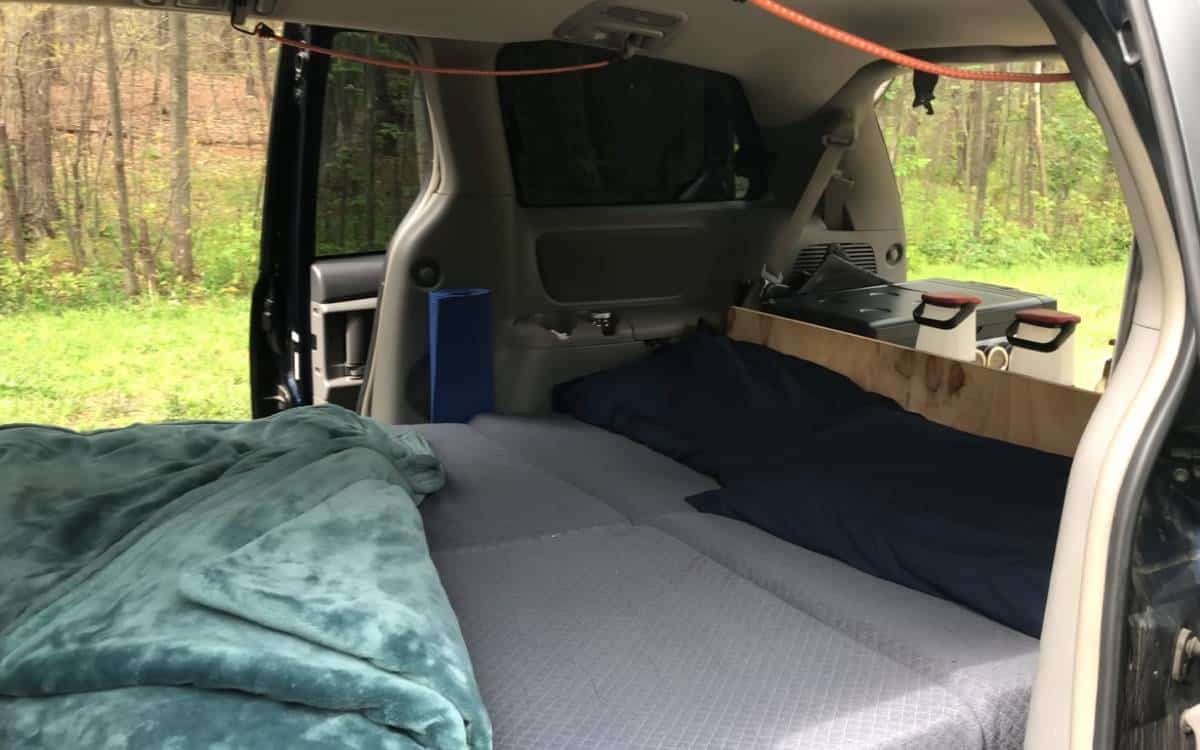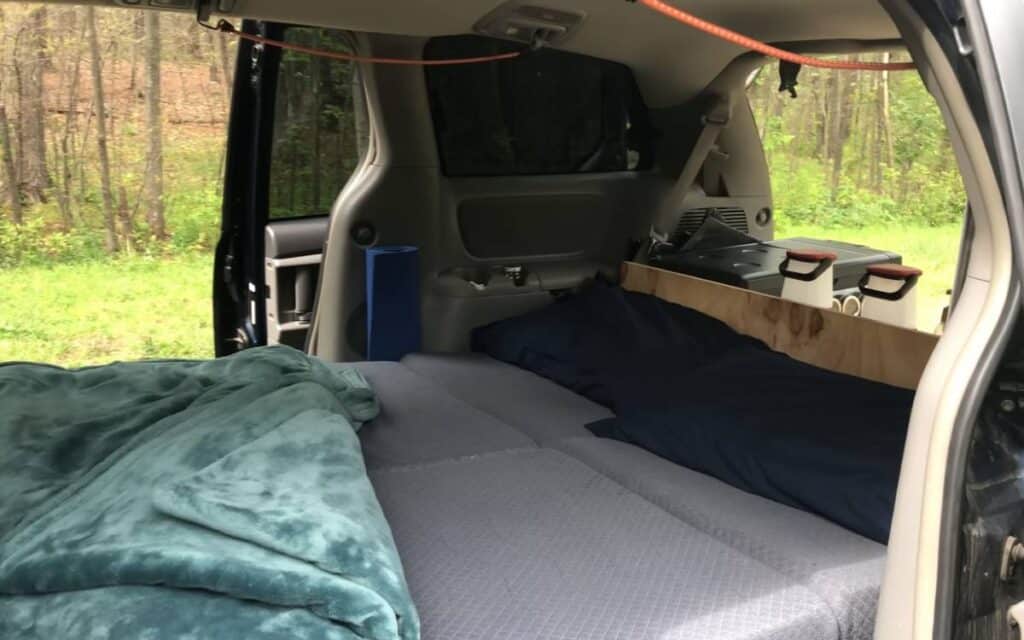 Qasim and Kayla converted a 2004 Toyota Sienna minivan into an awesome camper van for full-time van life. Their Sienna camper conversion cost them about $7,000 – vehicle included – and they prioritized their sleep setup and practicality for everyday living.
Their kitchen is in the back of the Sienna camper and consists of a countertop and a fridge. The top-load 12V fridge sits on a platform that allows the couple to access it inside and outside the van. They have spices and seasonings in magnetic jars, which adhere to the side of the fridge.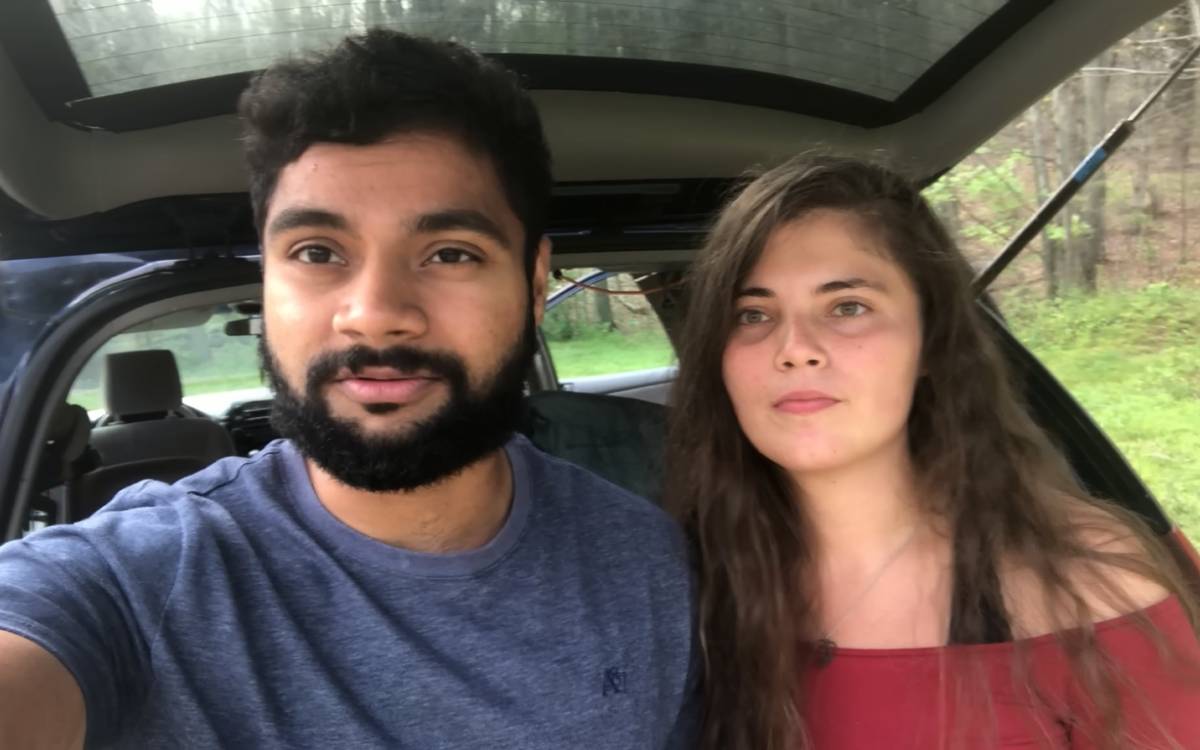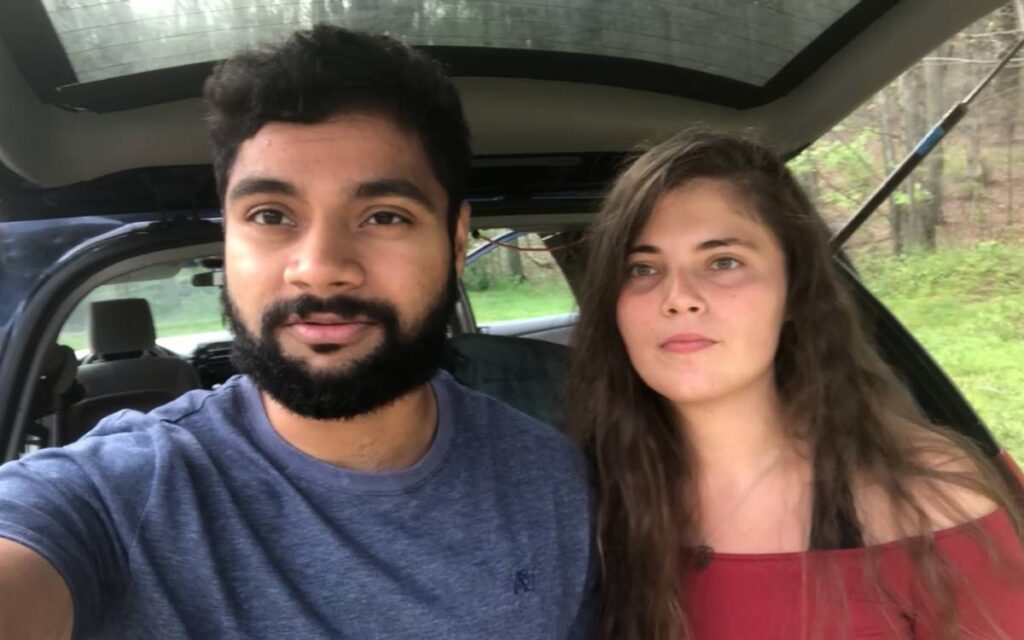 The countertop doubles as a nightstand for their phones and other small items. The couple stores their water jugs beneath the counter, and a slide-out cutting board extends the kitchen space. An electric water pump attachment and a collapsible sink convert the space into a handy dishwashing station.
Qasim and Kayla created a sleeping platform for their Toyota Sienna camper out of plywood. The platform has storage space for clothes and hinges that extend it for sleeping. They use trifold mattresses for sleeping and relaxing. The mattresses are easy to store when they are not in use.
For their vanlife electrical system, the couple uses a Jackery power station and a foldable 120-watt solar panel.
2. This Toyota Sienna minivan camper build with useful cabinets from Kelly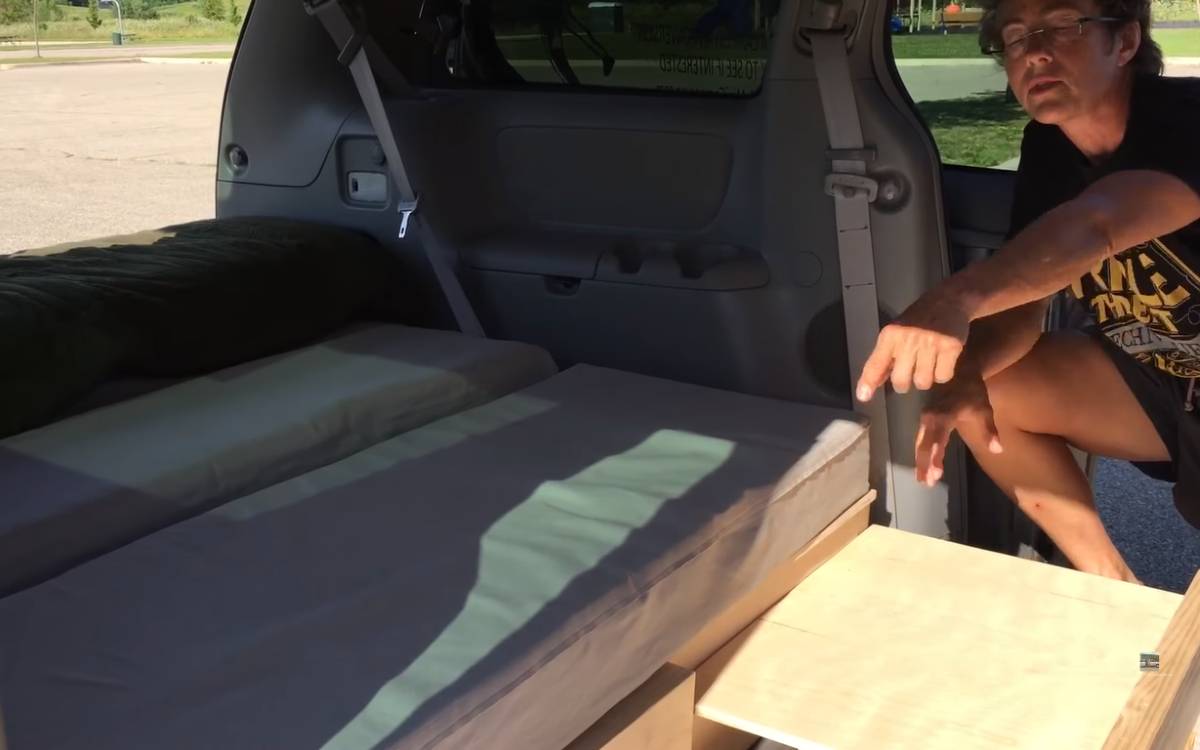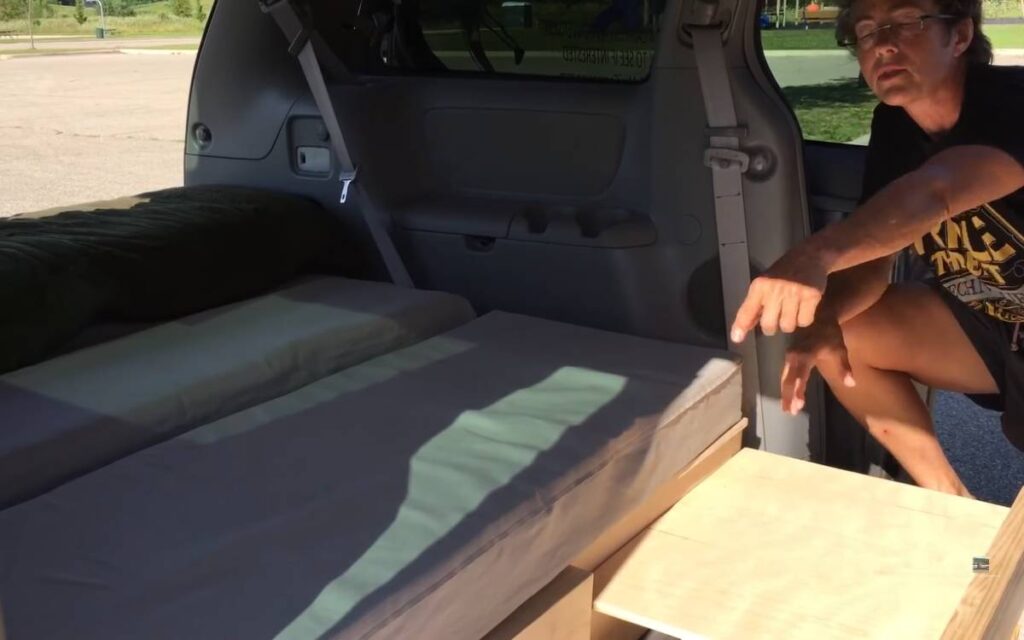 Kelly converted her Toyota Sienna into a practical DIY campervan conversion. She's put thousands of miles on it and put a lot of thought into the features she included, like cabinets behind the driver and passenger seats.
A hose and water storage in the cabinets behind the passenger seat makes it easy to wash items in and out of the van. The cabinet above has a drop-down door on hinges, allowing it to double as a small table and workspace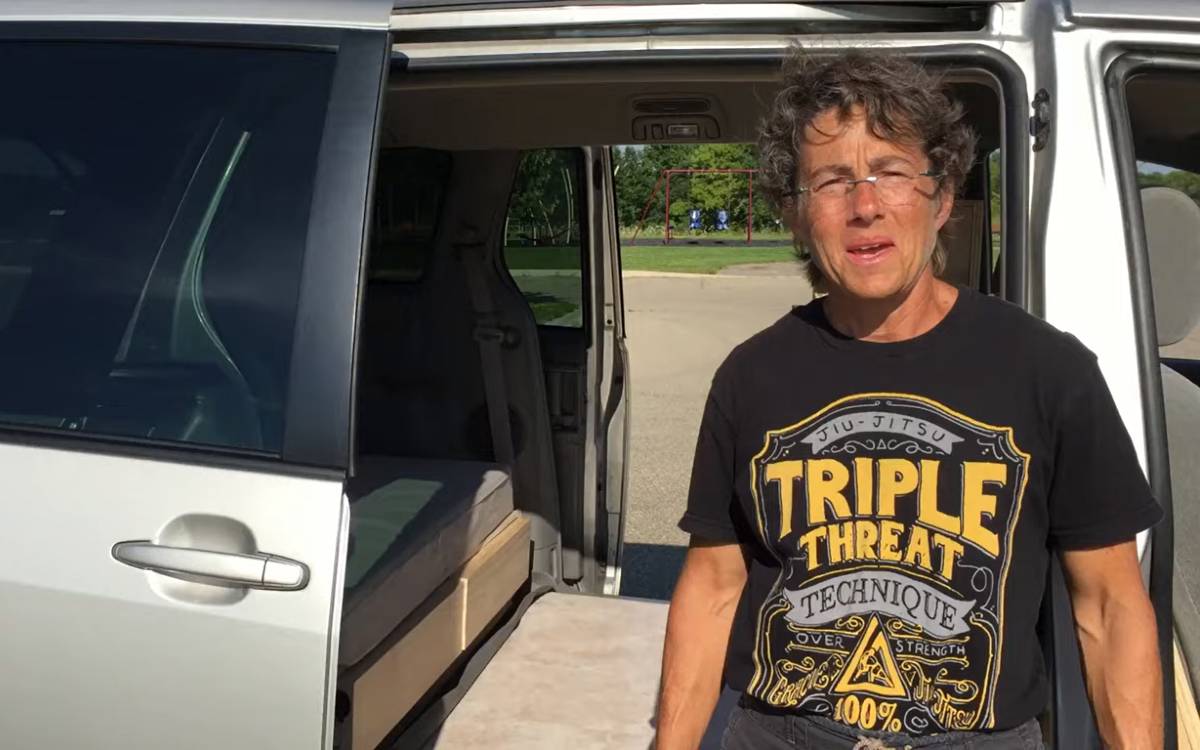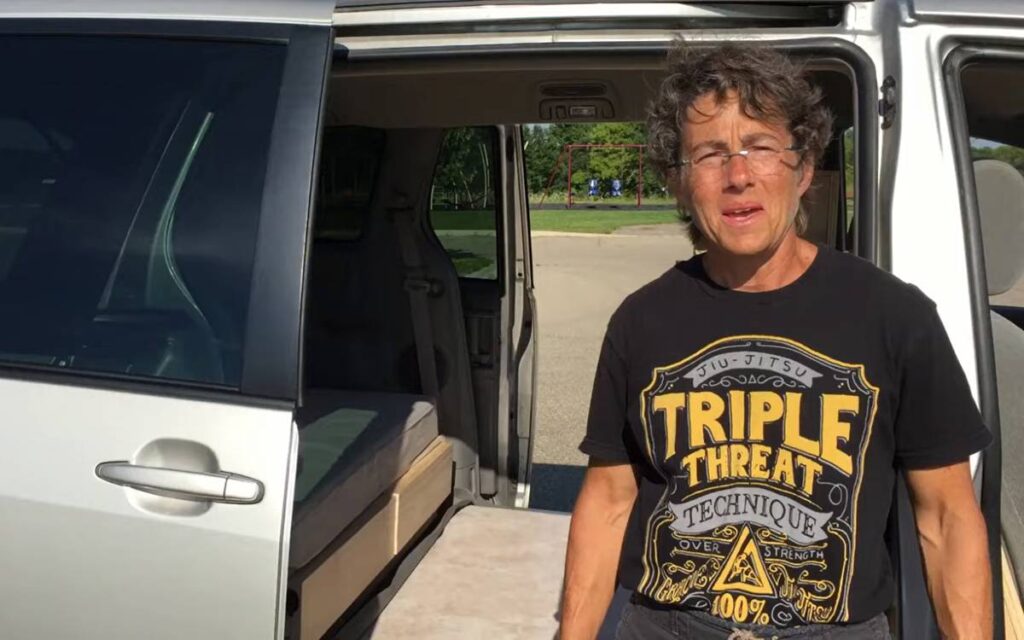 The cabinet behind the driver's seat has another drop-down table, space for pots and pans, and a cooler on drawer slides. Kelly has a Luggable Loo stored inconspicuously between the cabinets
The van bed platform retracts during the day and provides seating to work comfortably from either of the drop-down tables. At night, the frame extends toward the front seats and the cushions rearrange into a bed that easily sleeps two people. The platform lifts in the back to access the storage beneath it.
3. This off-grid Toyota Sienna camper van from Dave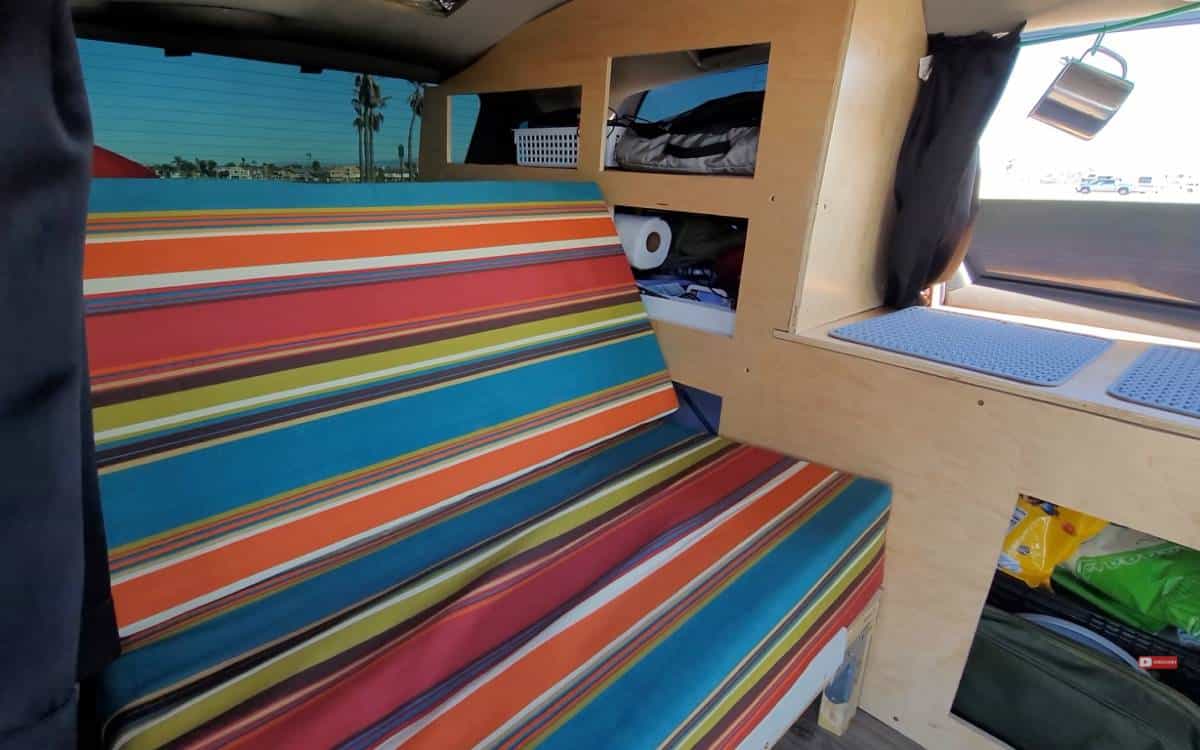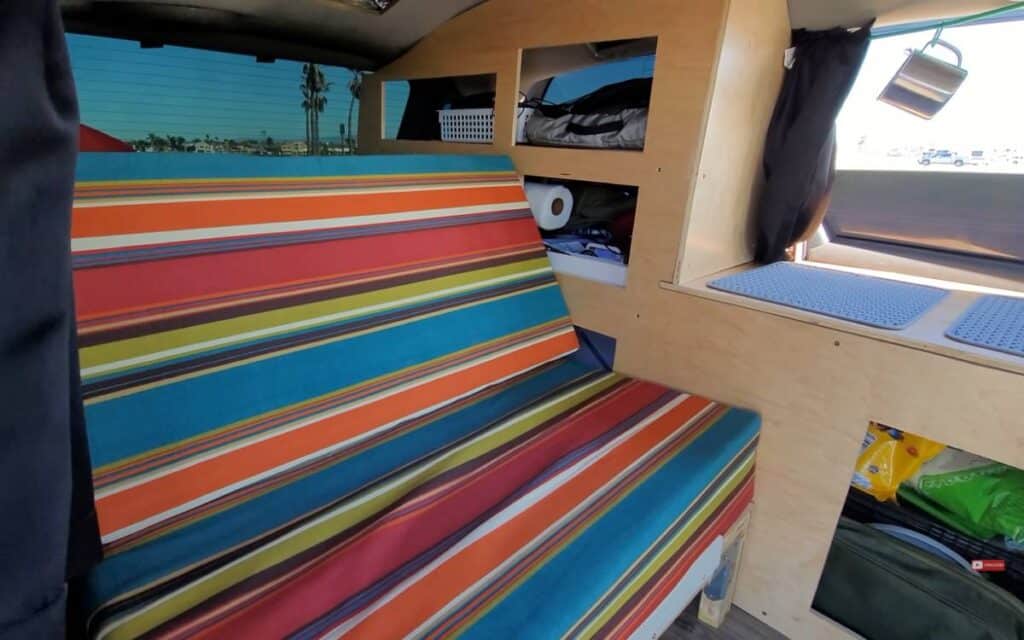 Dave converted a 2009 Toyota Sienna into an off-grid and stealthy camper van. He outfitted the Toyota Sienna van conversion with a lift kit and all-terrain tires.
Rain guards on the windows prevent a lot of condensation, and the windows are tinted to help with privacy and temperature control.
There is a 325-watt solar panel, a Thule storage box, and a Maxxair fan on the roof of this Sienna van conversion. Dave added a swing-away hitch box to the back of the Sienna, which provides tons of storage space outside the living area.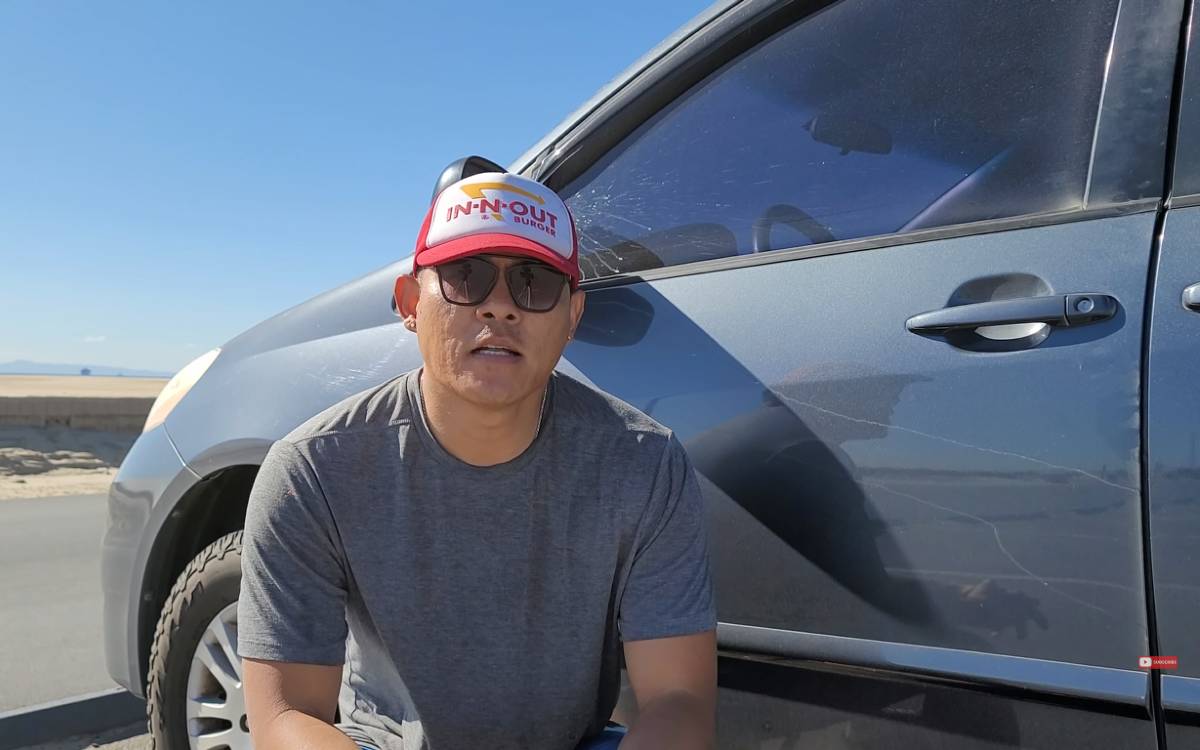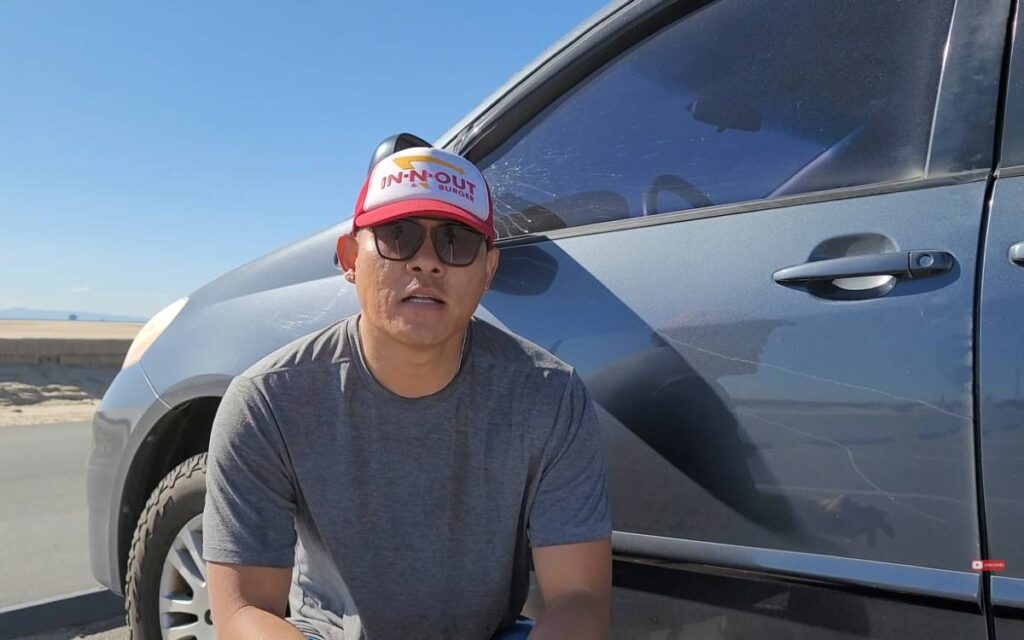 Between the driver and passenger seats is where the top-load 12V refrigerator is stored. A subfloor and van insulation help the living space stay comfortable. Dave has a futon-style bed on a continuous hinge that extends to sleep his 6'1″ frame comfortably.
Beside the futon on the driver's side are storage cubes holding clothes, smaller items, and kitchen appliances. Dave uses small appliances like a 2-cup rice cooker and a small coffee maker that work with his electrical setup and allow him to cook inside the campervan.
4. This Sienna campervan conversion with DIY furniture from Mike and Rachel
Mike and Rachel built out a 2010 Toyota Sienna camper without drilling holes or permanently altering the vehicle. Even so, they were still able to install some awesome handmade furniture. It takes them about thirty minutes to convert their Sienna into camper mode, so they can easily hit the road.
Since they planned to stay in campgrounds, stealth wasn't a priority for Mike and Rachel, which gave them more freedom in how they proceeded with converting a Sienna into a camper.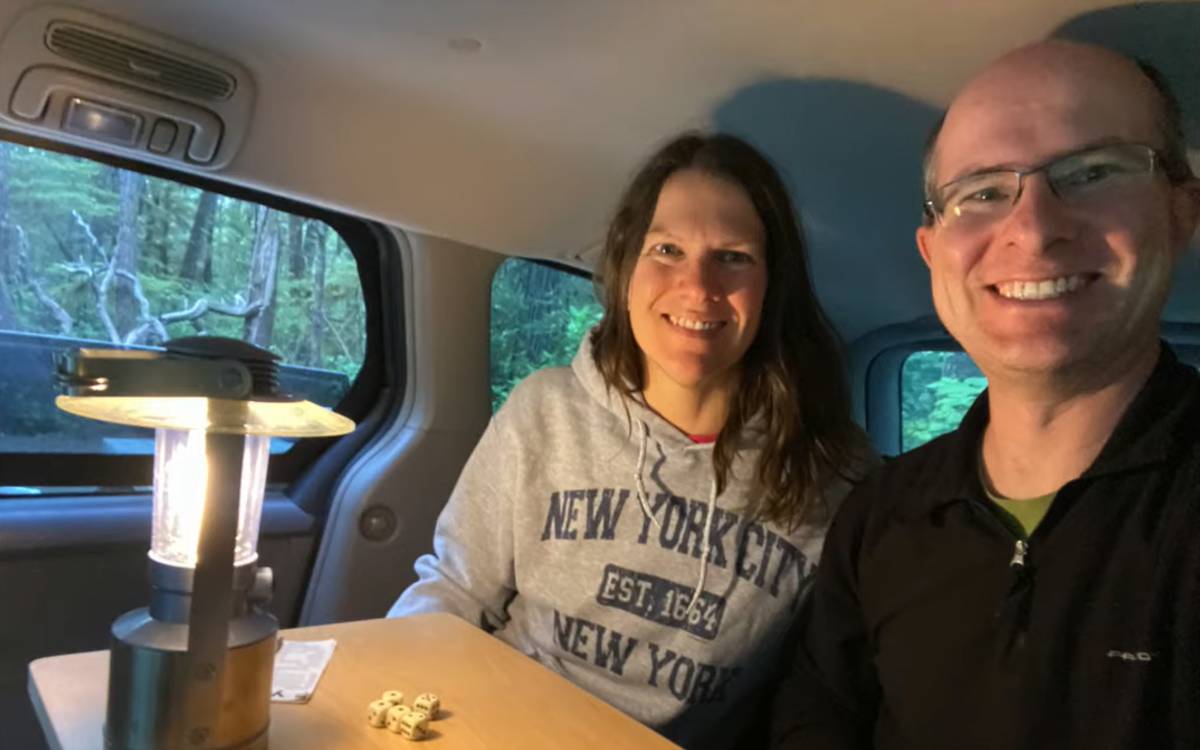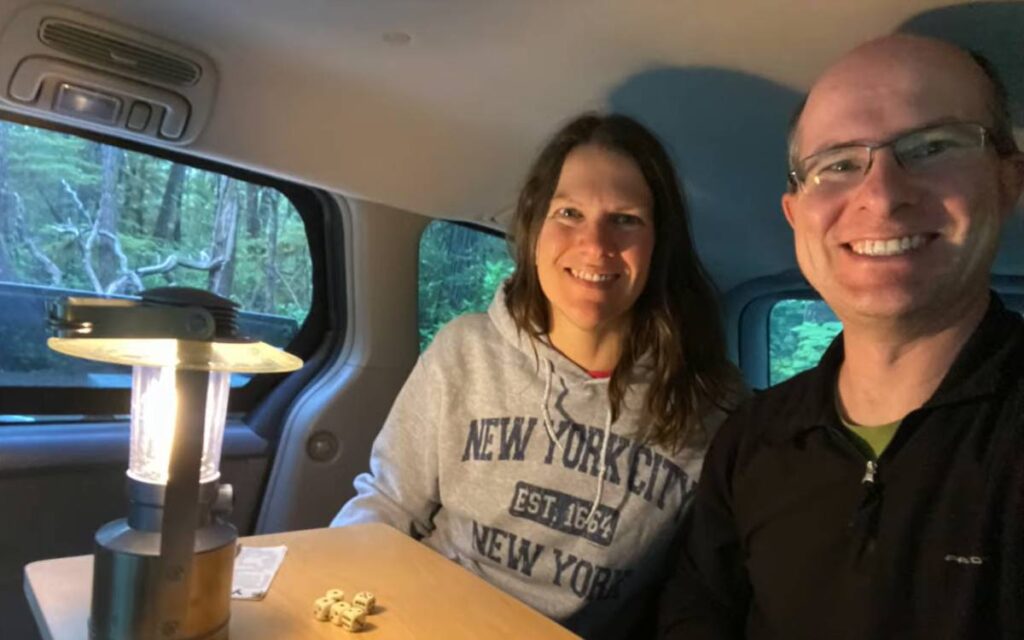 They built cabinetry behind the driver's side that's accessible in and out of the van, including a sink with a battery-powered faucet.
Their bed consists of four hinged sections that convert into a couch during the day. It is on a raised platform, allowing plenty of storage beneath it for food, clothes, and other essentials.
They have a table made from a section of plywood from the bed platform build. The table attaches to the driver's side cabinetry on one side and an aluminum table support on the other. The table can also be latched from the rear of the van and used as an outside table.
5. This budget Toyota Sienna camper build from Dani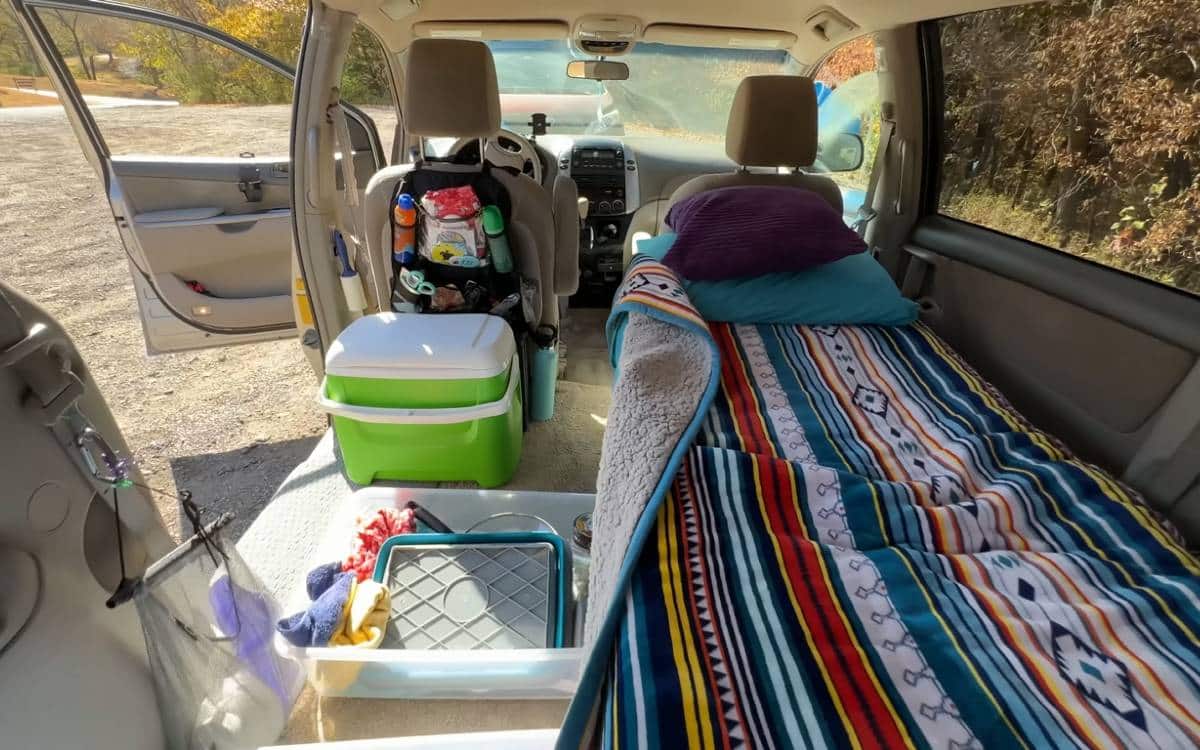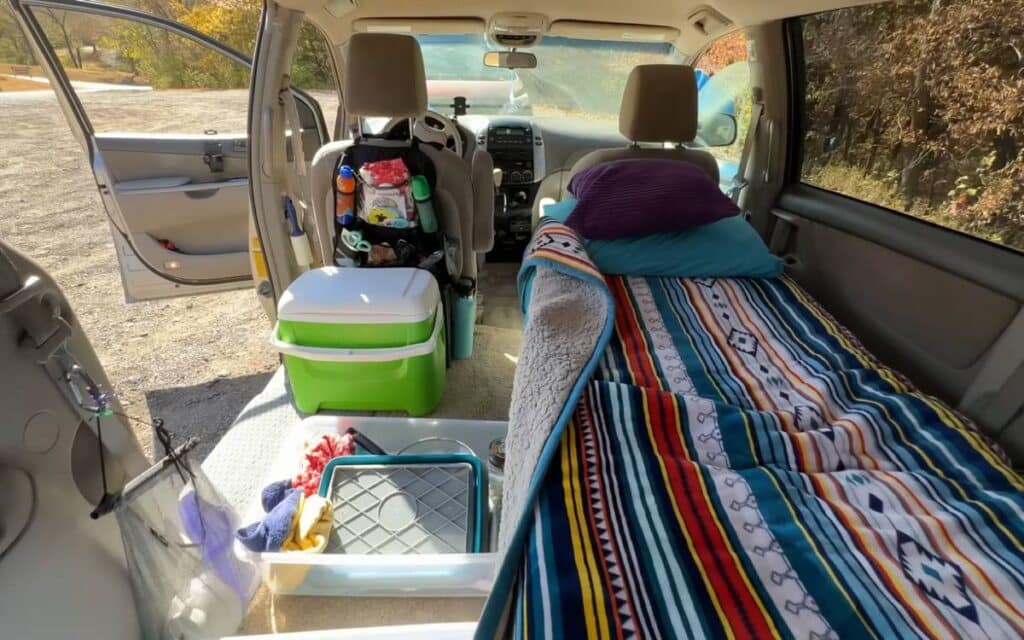 Dani converted her 2009 Toyota Sienna into a camper conversion for solo van life. She built out her Toyota Sienna camper on a budget while making sure to include all of the essentials.
She removed the center console between the driver and passenger seats so she could stealthily get from the front of the van into the living space. Behind the driver's seat is a cooler and a propane stove. She can cook from inside the van using a tray to support the camp stove or outside if she parks near a picnic table.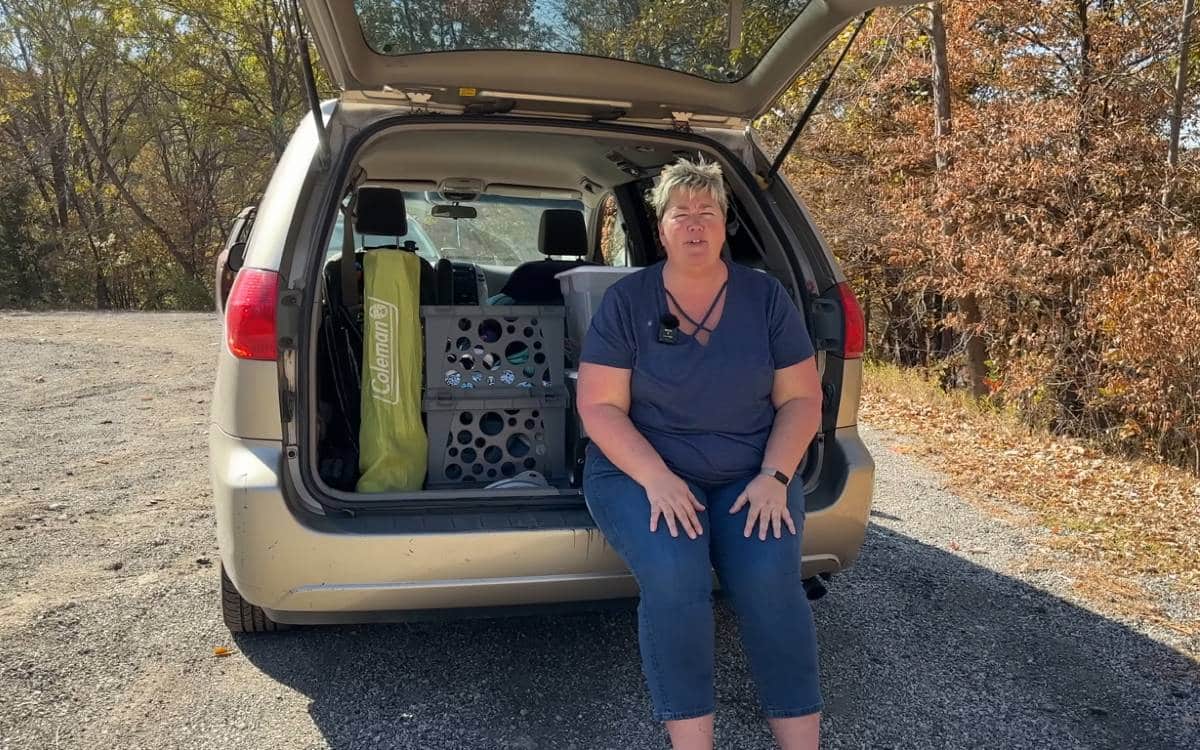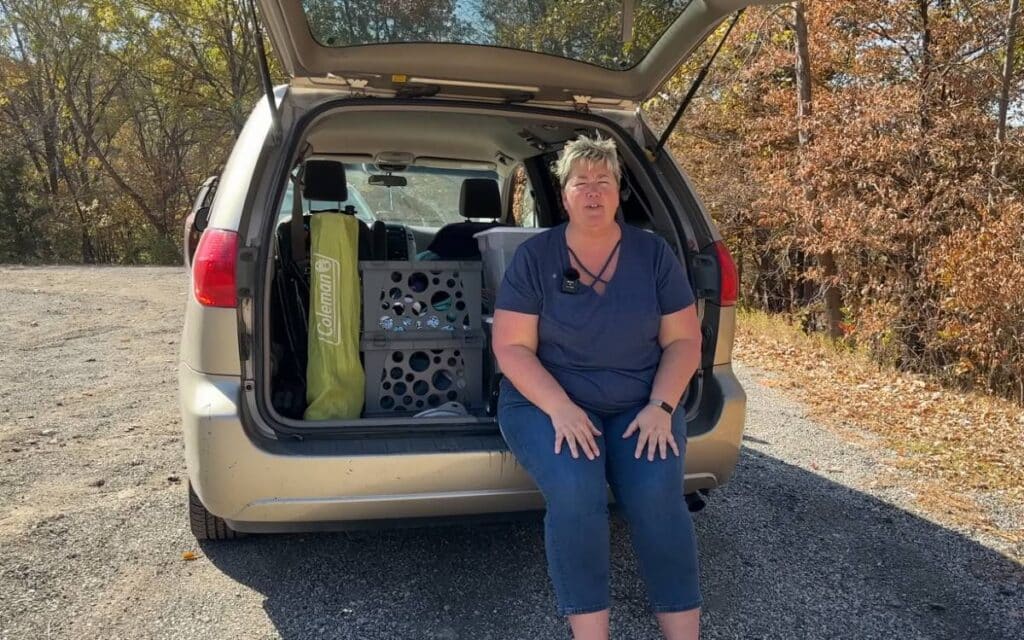 Behind the passenger seat, she created a sleeping platform using 2x4s and wood paneling. The bed is about the size of a twin and runs lengthwise toward the back of the Sienna. There is plenty of space underneath for storage bins that hold everything from cooking supplies to her shower setup and cleaning products.
Dani uses a Jackery power station to charge her electronics, with a foldable solar panel that charges it during the day.
6. This Sienna van conversion with a fabulous kitchen setup from Lawrence and Airiel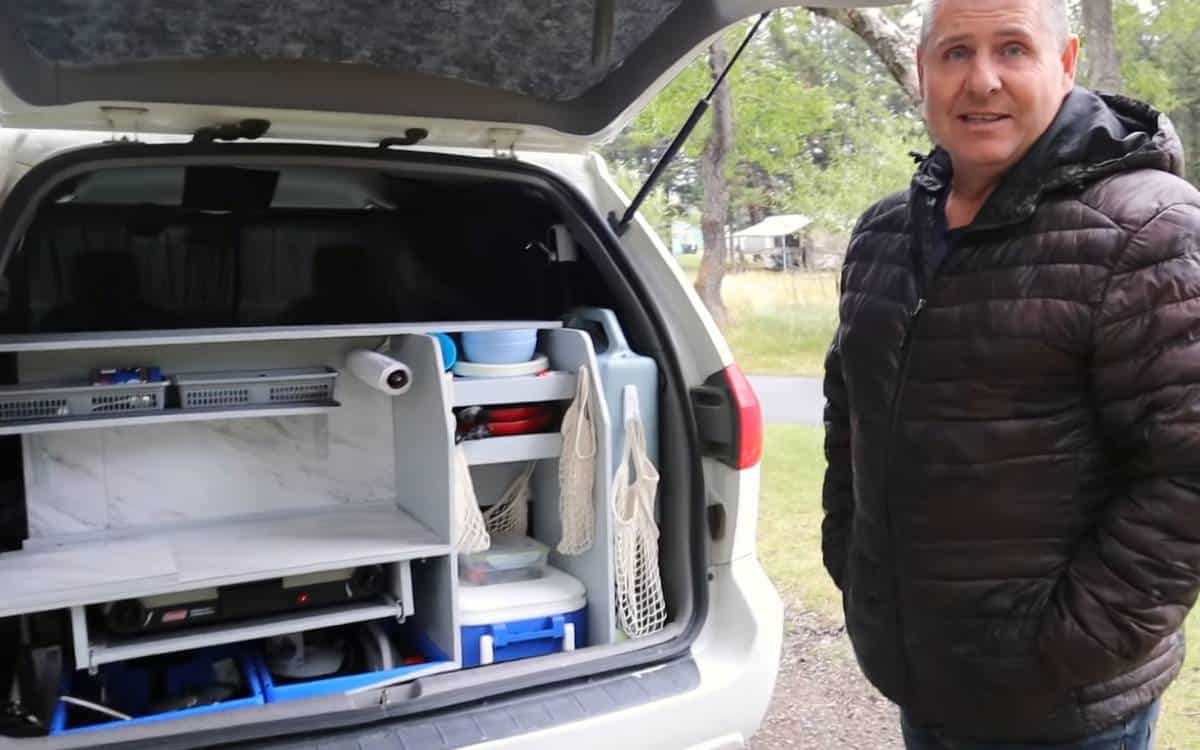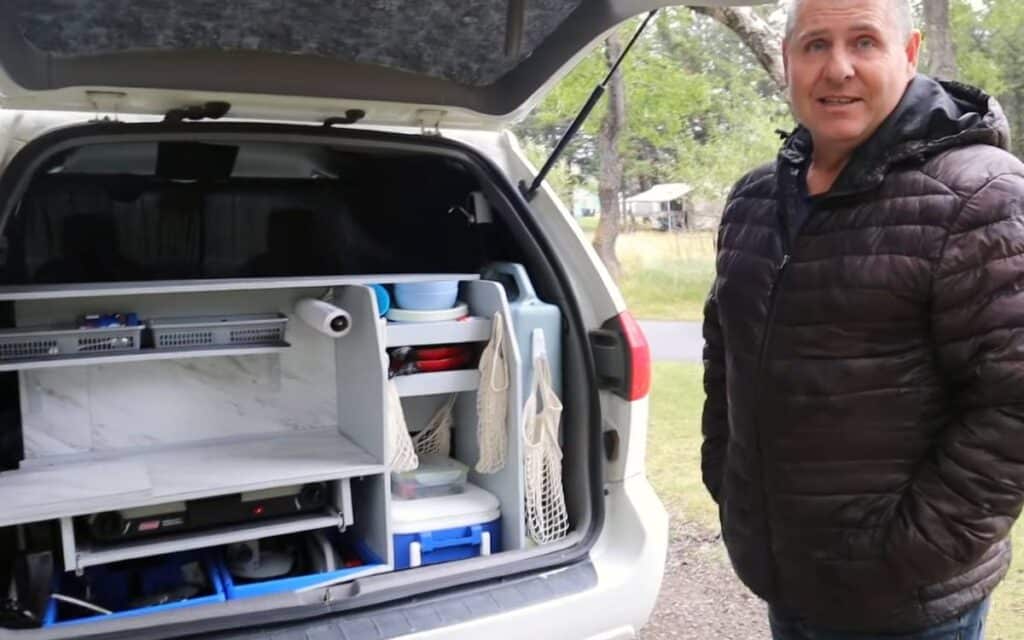 Lawrence and Airiel converted their Toyota Sienna into a camper for traveling together. They included an incredible kitchen setup in the back of the minivan with plenty of storage for pots, pans, and other kitchen gear.
The kitchen counter lifts and latches into place, so the storage beneath it is accessible. They also store a rice cooker, a 5-gallon propane tank, and a collapsible sink. The counter has an additional table piece on a hinge that extends the counter space.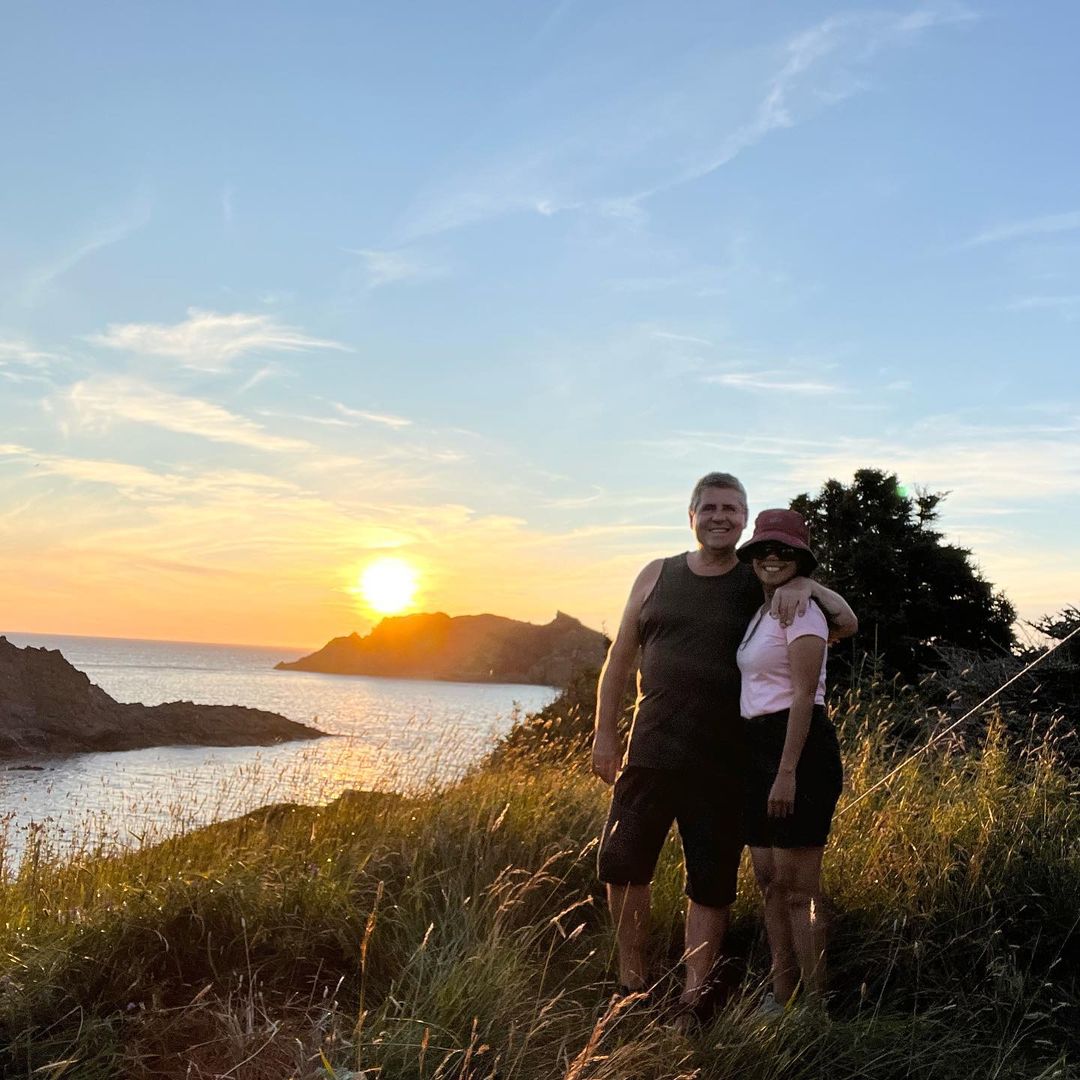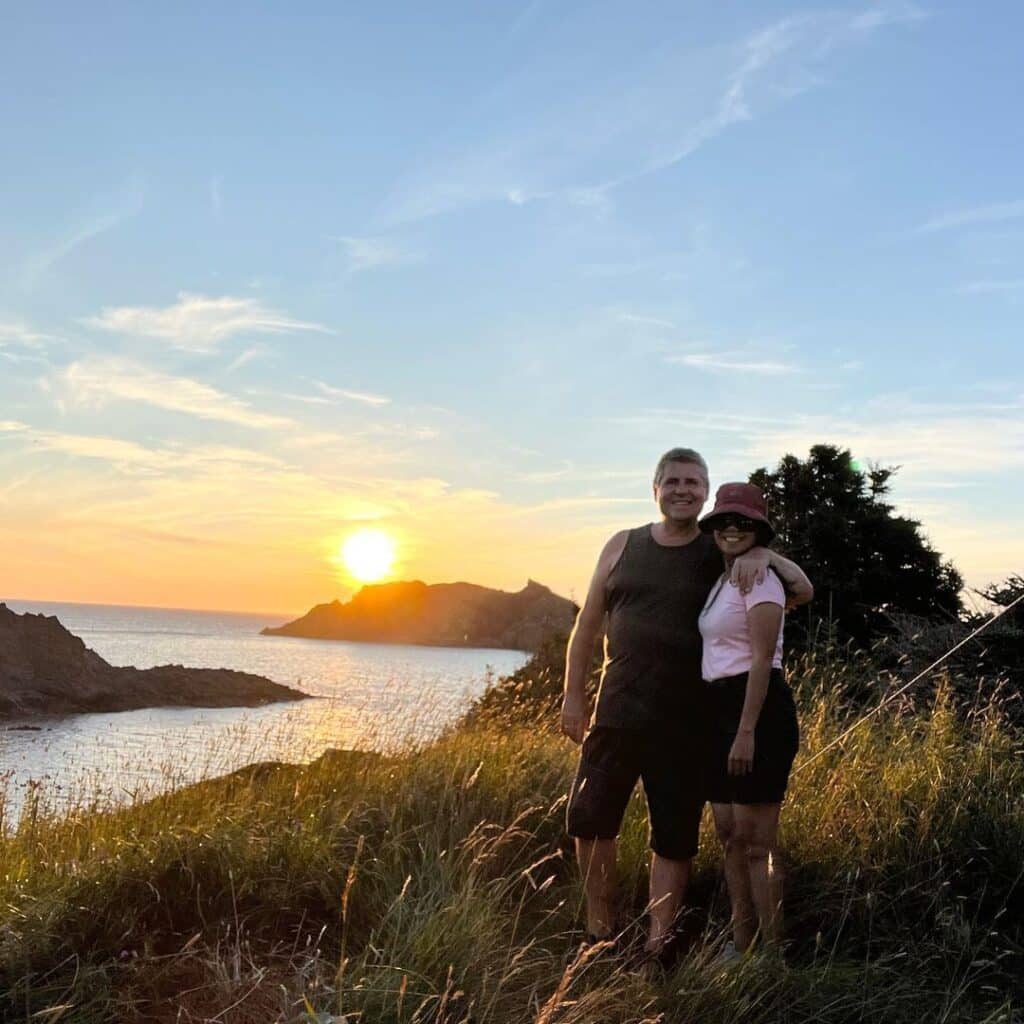 Above the counter is a small shelf with baskets that hold smaller items, and beside the counter is shelving for more kitchenware and spots for a cooler and a drinking water jug.
Lawrence installed bug nets using Velcro to keep bugs out of the campervan when the back is open. The couple also has an awning installed on the driver's side of the Sienna, extending their living space during the day.
7. This cozy Toyota Sienna converted minivan from @beer_in_beautiful_places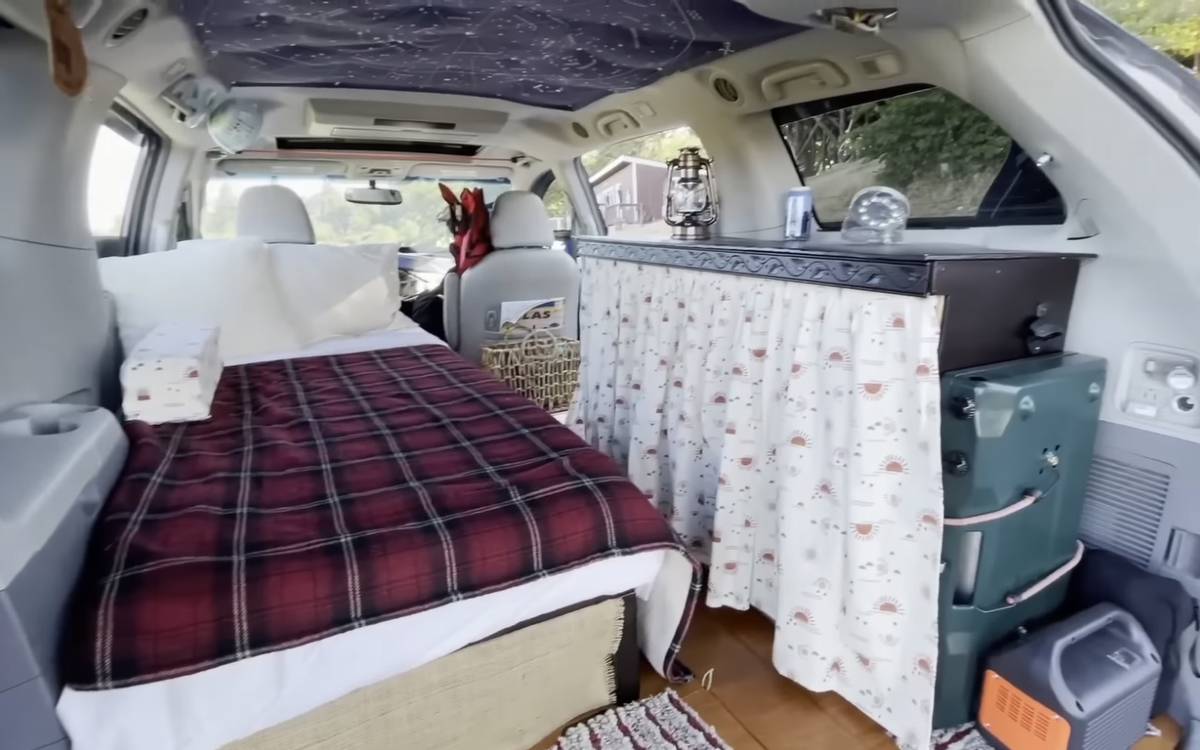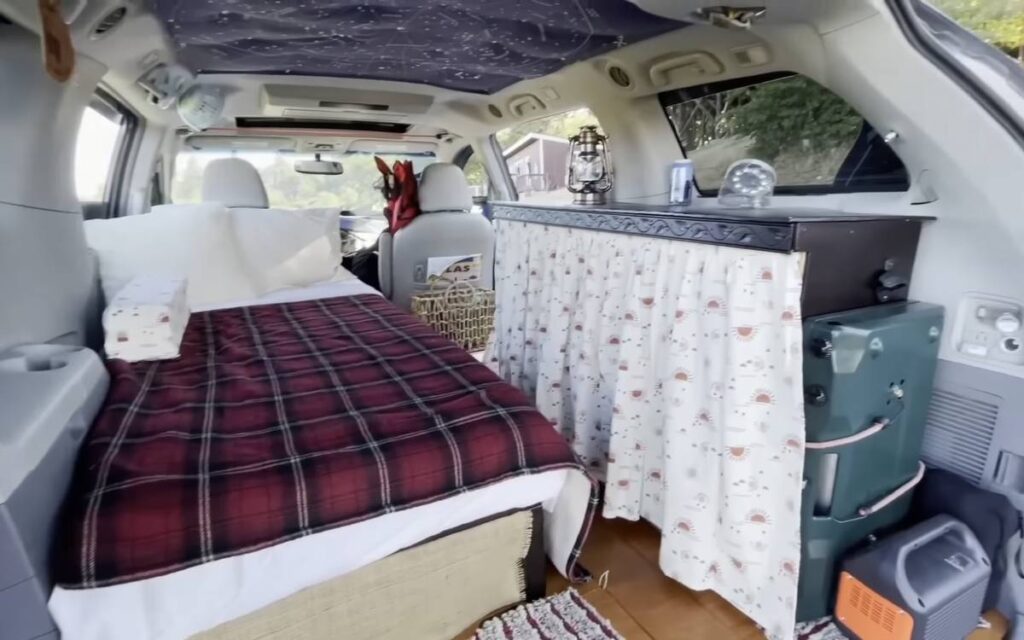 Maddie bought a 2011 Toyota Sienna for about $11,000 and converted it into a camper for about $1,500. She incorporated cozy aspects to this Sienna build, like patterned blankets and rugs and a constellation tapestry on the ceiling.
Because she travels solo, Maddie can use her passenger seat for storage. She keeps a folding table, sleeping bag, camping chairs, and a solar panel in that area.
The bed is behind the driver's seat and made from a simple platform of stained 2x4s and plywood. Maddie uses the space beneath the bed as storage, and a burlap cover keeps things looking tidy.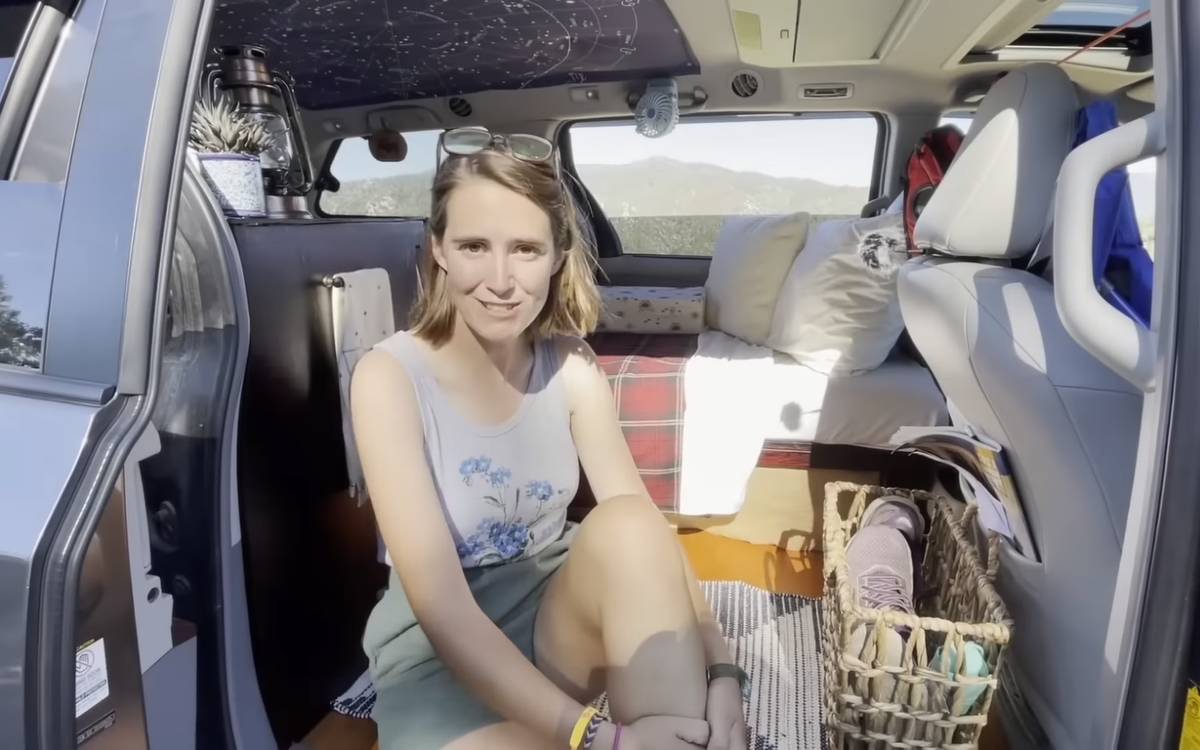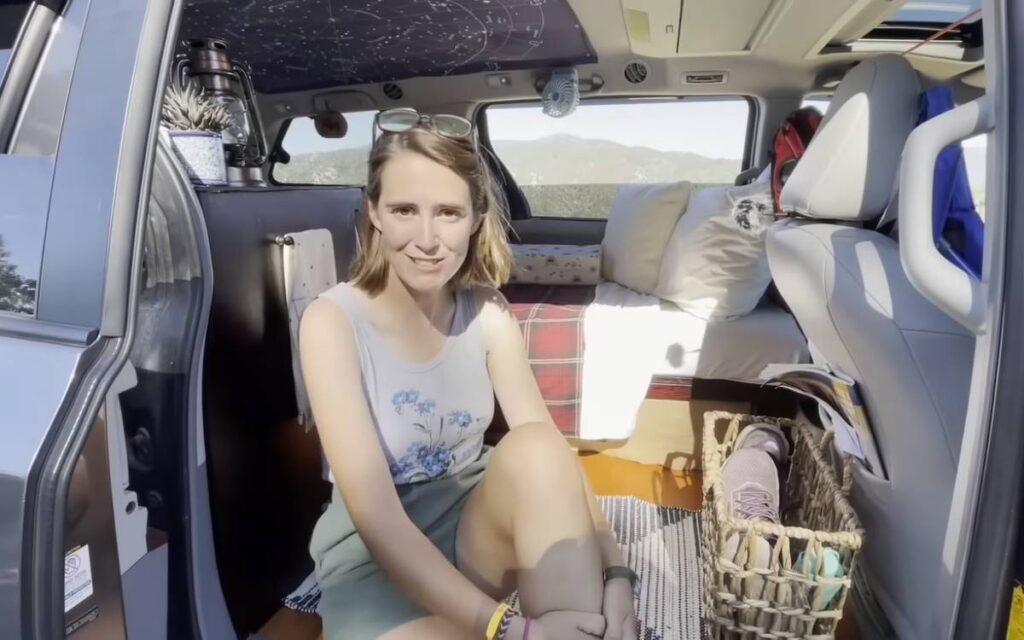 Maddie uses a rechargeable fan and a rechargeable lantern to keep the living space comfortable when she is inside at night.
A long, open cabinet across from the bed on the passenger side provides counter space and storage. Maddie bought fabric and sewed curtains, which she attached to the cabinets with Velcro. We love how she used fabric in this build as a simple and smart way to maintain a clean aesthetic.
A Jackery foldable solar panel and a small Jackery power station charge Maddie's smaller devices. She plans to upgrade her electrical system because it isn't enough to power her dual zone refrigerator / freezer combo.
8. This minimalist budget Toyota Sienna camper van from Jimmy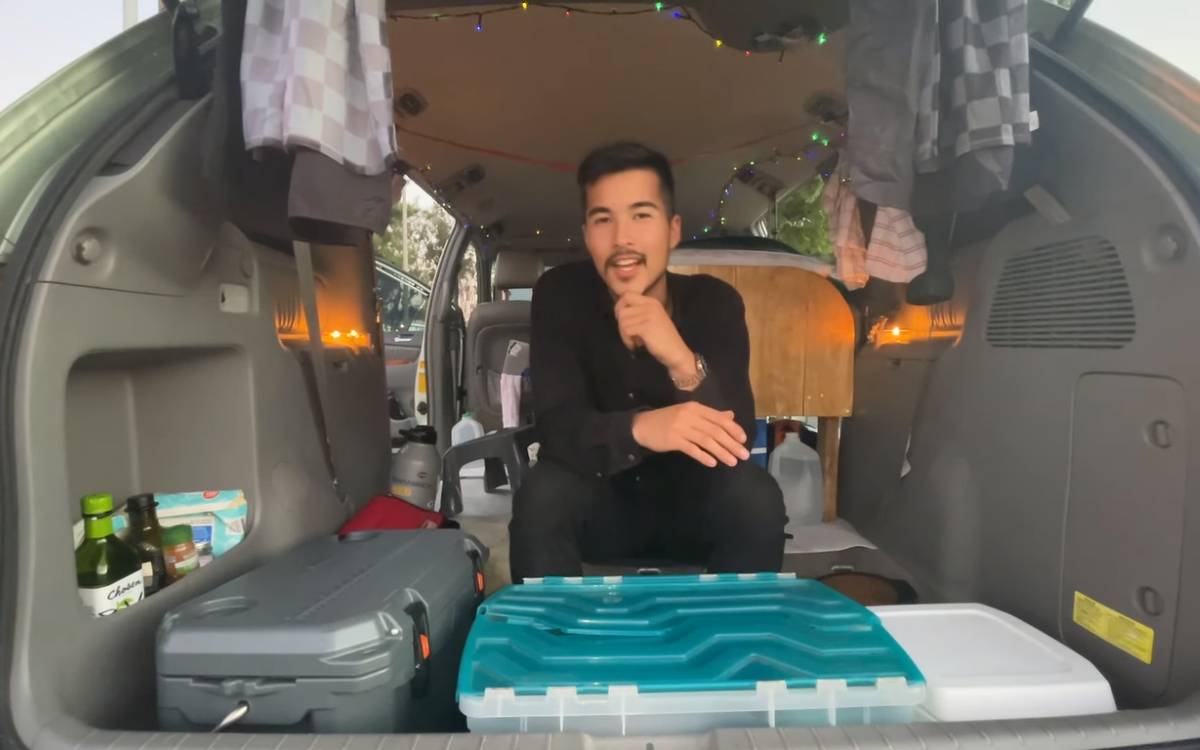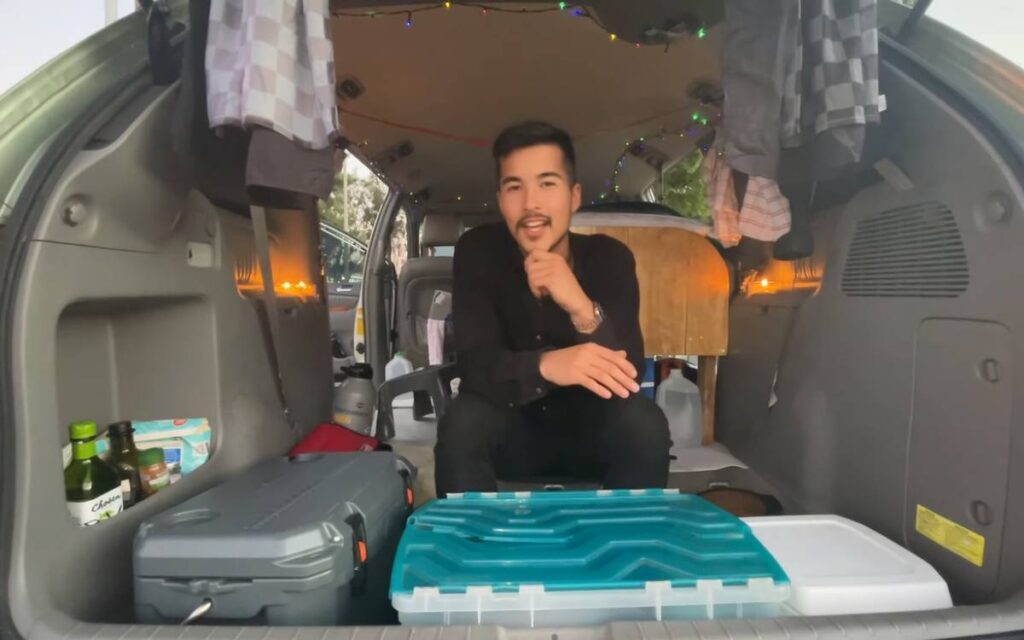 Jimmy converted a Toyota Sienna camper to live in full-time. After two months of living in his minivan, he made modifications to create a more efficient, livable space. This minimalist layout is excellent for anyone who wants to get on the road ASAP while on a budget.
He used to have a sink behind the driver's seat but opted to remove it because he wasn't using it. He removed the sink and created much extra space in the living area. Jimmy likes to open the side sliding door, sit in this space, and enjoy whatever view he is parked by.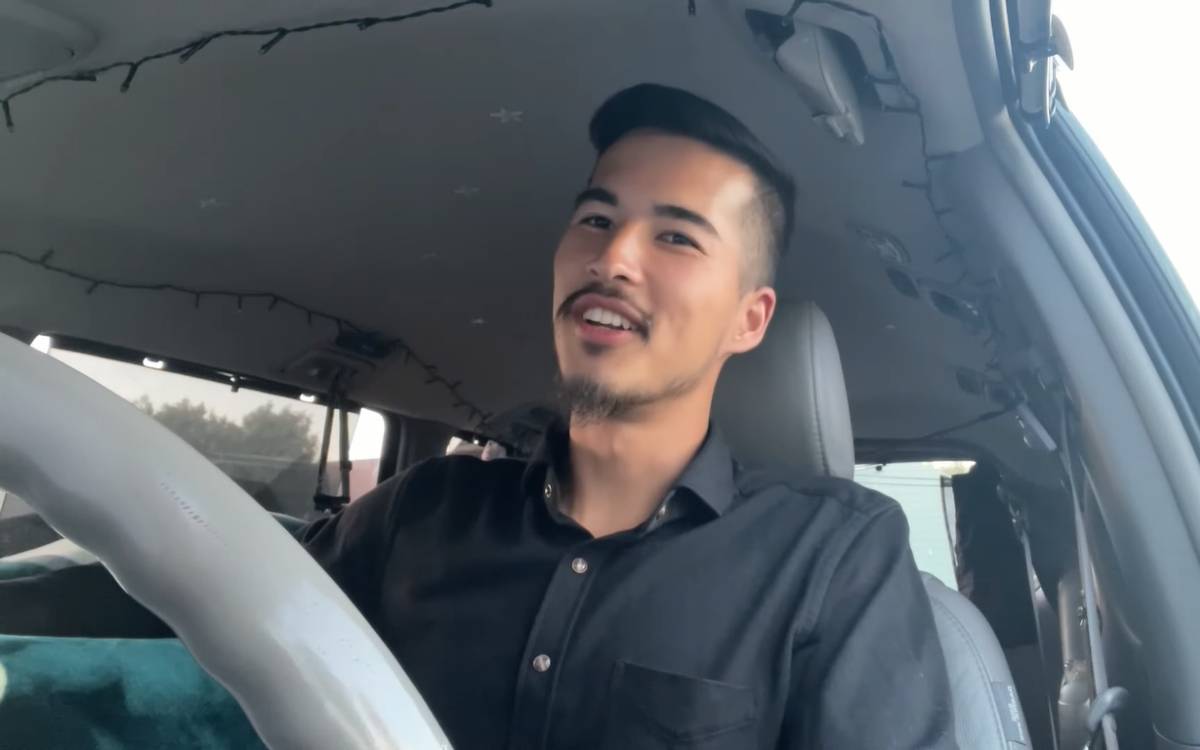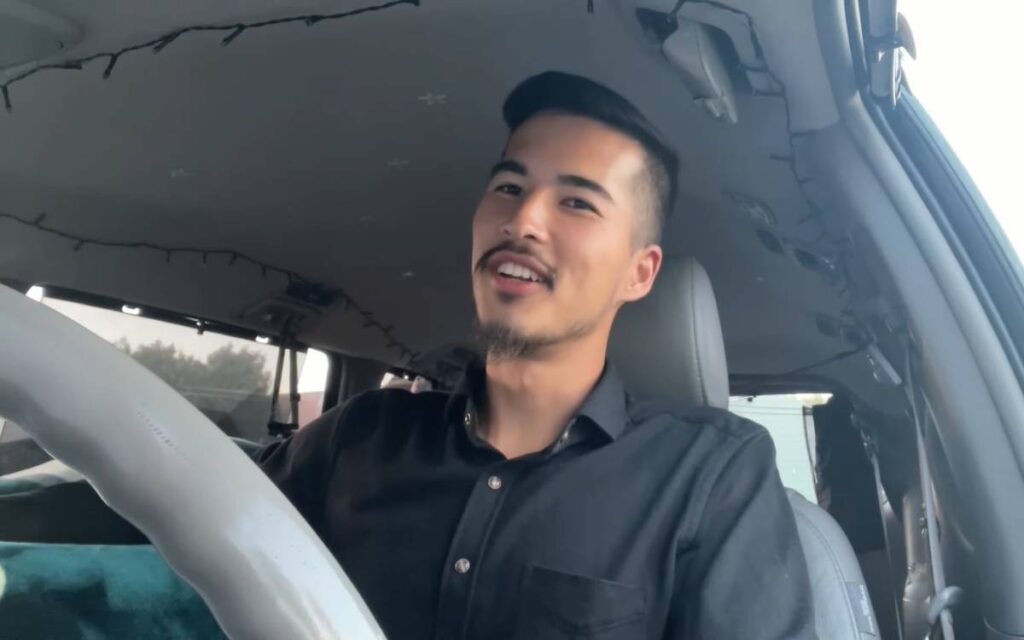 His bed is in the passenger seat area, on a raised platform that provides plenty of room beneath it to use as his primary storage.
The fridge and kitchen gear are located near the back of the Sienna campervan, allowing Jimmy to cook inside and outside using his camp stove.
For power, Jimmy uses a Jackery power station, which he charges at cafés rather than using van roof solar panels.
9. This Sienna minivan camper conversion with a DIY expanding bed from Jonnie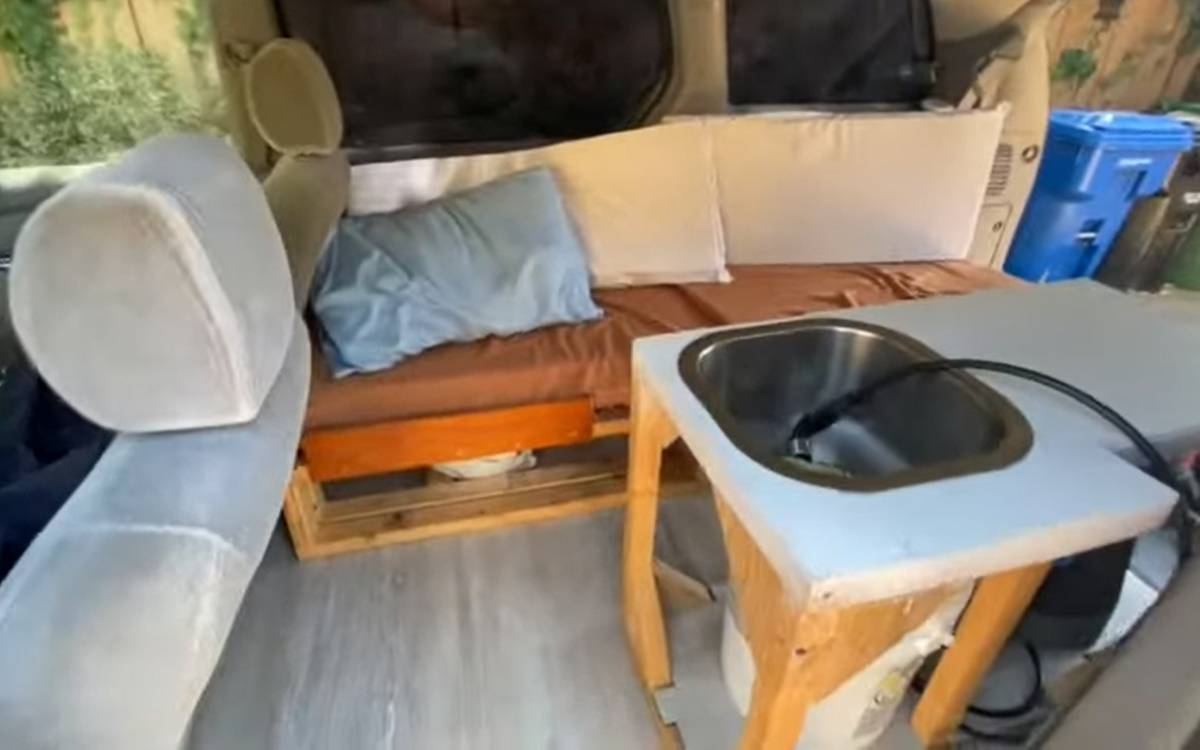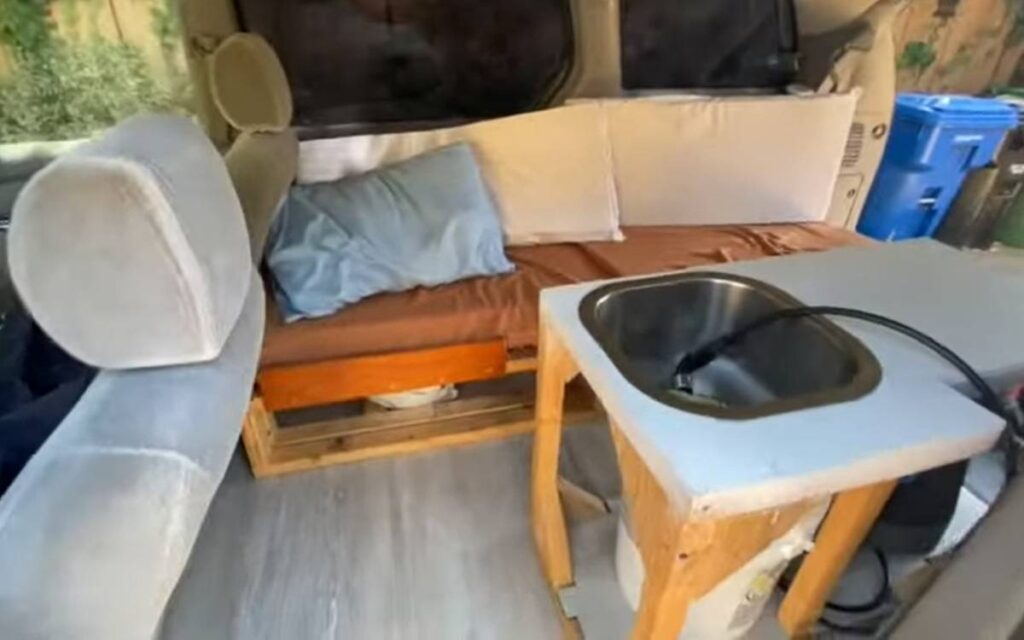 Jonnie converted a 2006 Toyota Sienna into a camper that includes an expanding couch and bed combo and a sink and shower solution.
The bed runs along the passenger side of the minivan, with a frame that has expanding slats and cushions that rearrange to sleep two people. During the day, the additional cushions form a comfortable couch.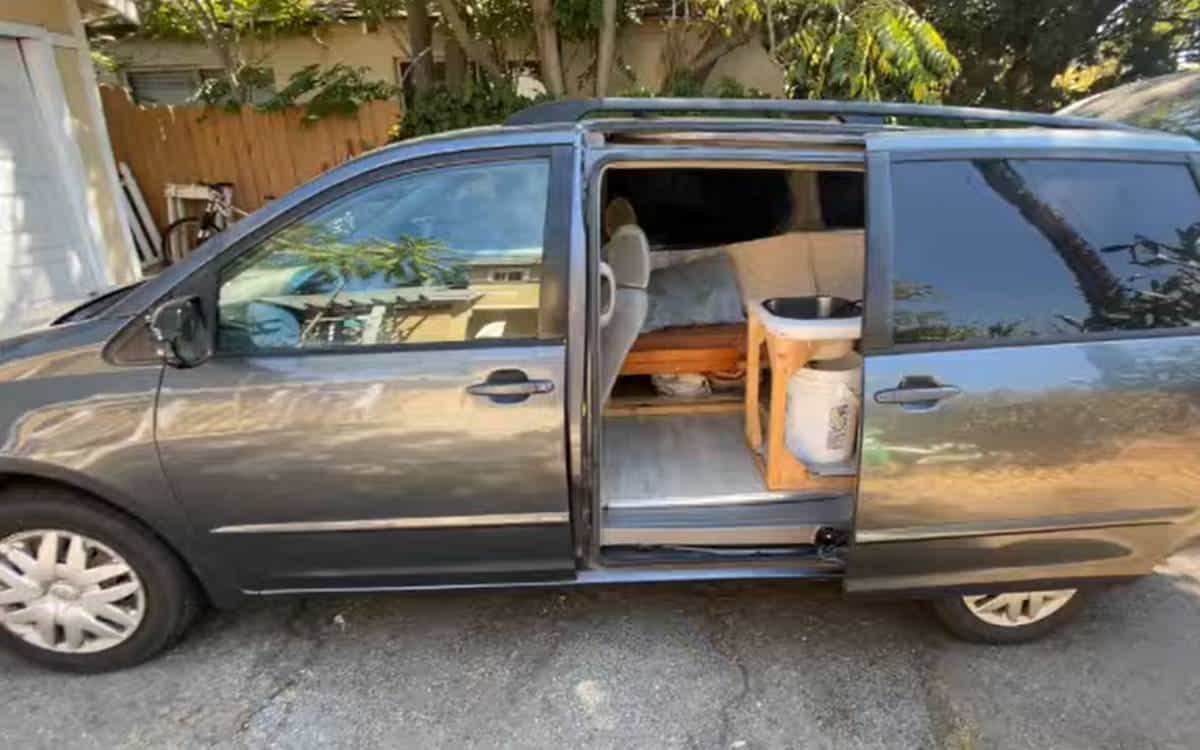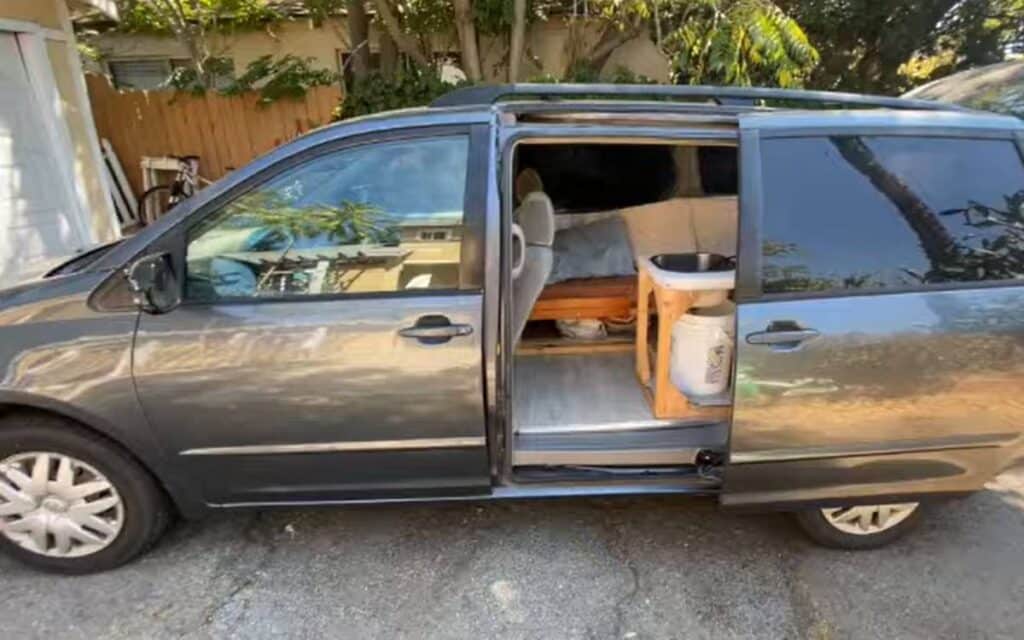 The sink sits in a simple DIY wood table powered by a foot pump and a Helio pressure shower. The sink has a stopper and a strainer and drains down into a bucket underneath. When the gray water fills up, Jonnie removes and dumps the bucket. The pressure shower also doubles as an outdoor shower.
For power, Jonnie uses a Rockpals power station and a foldable solar panel, which he can place on the roof of the Sienna to charge it.
10. This no-build Toyota Sienna camper conversion from @lifesimplifiedbymai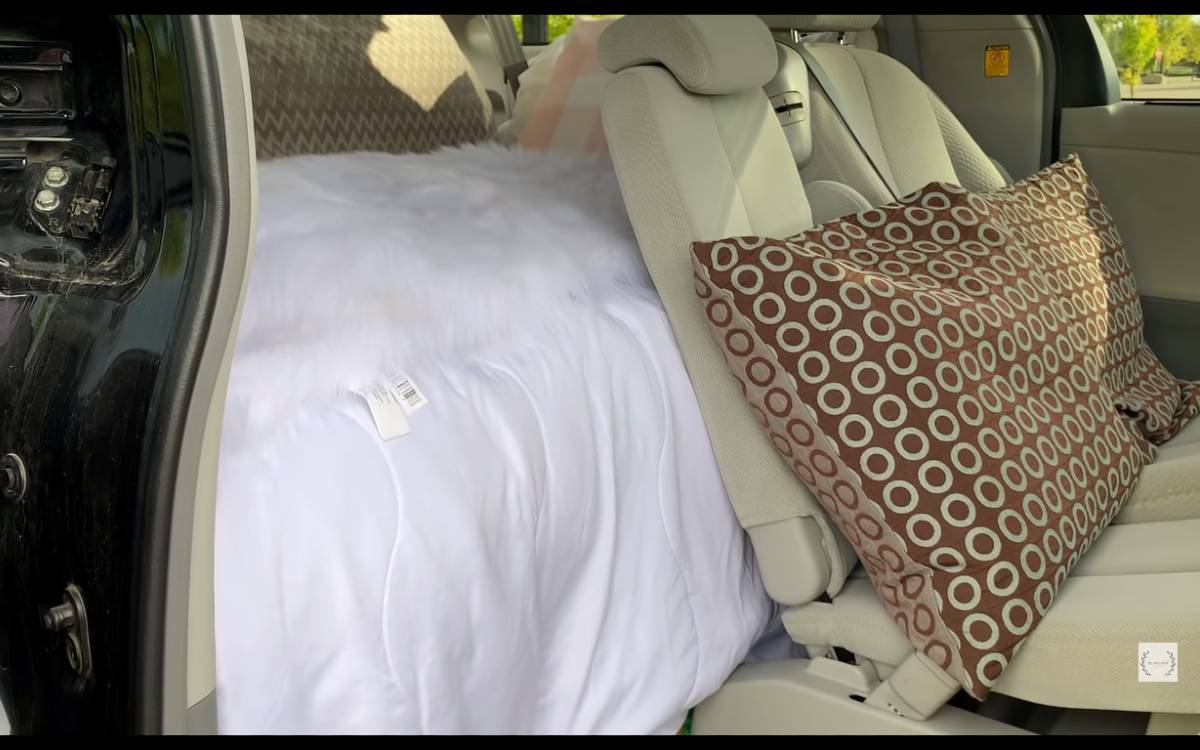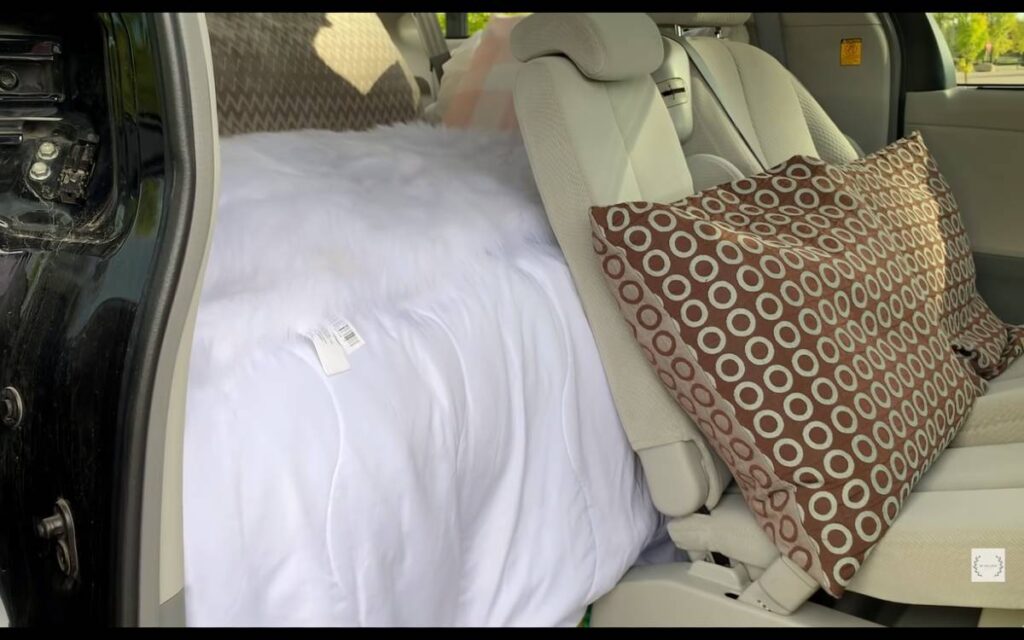 Mai turned her 2013 Toyota Sienna into a camper with this no-build conversion for weekend camping. The cost for this camper conversion was less than $500.
She opted to keep the second row of seating in place in the minivan. The space acts as a living room during the day, with a tray table for eating. The driver's and passenger seat armrests become a great spot to support Mai's laptop for watching TV and movies. This area can also become an additional place to sleep if she has a guest.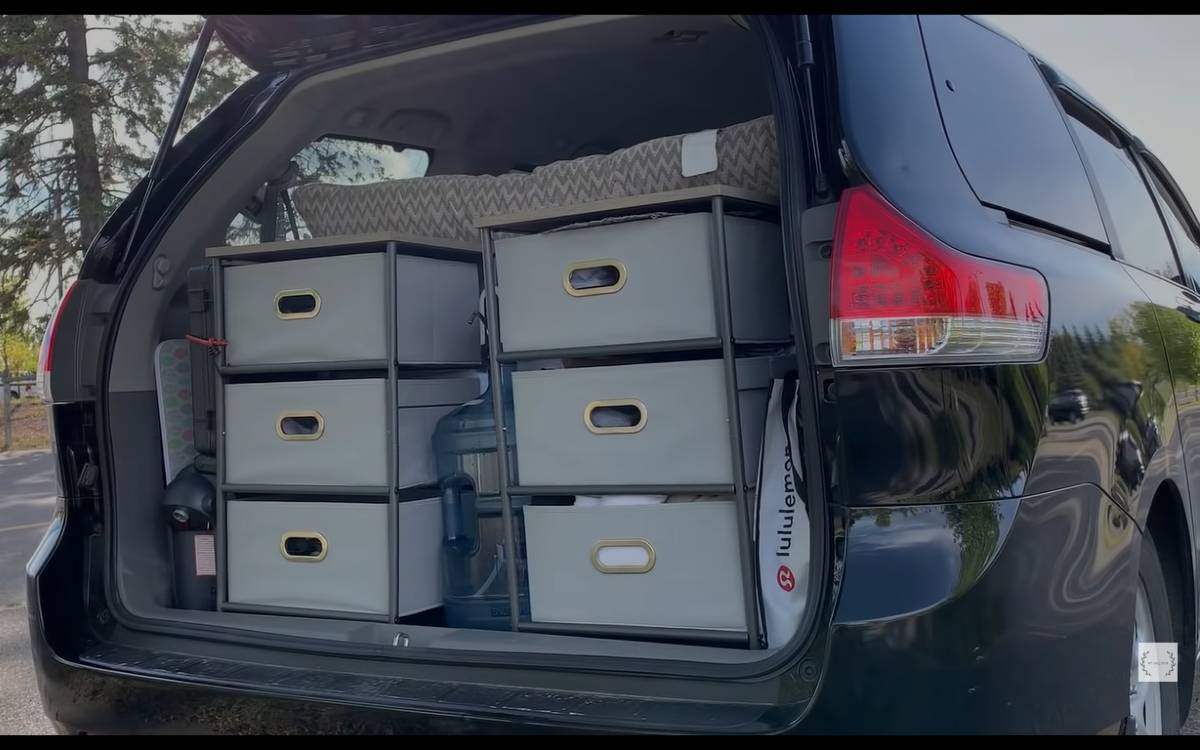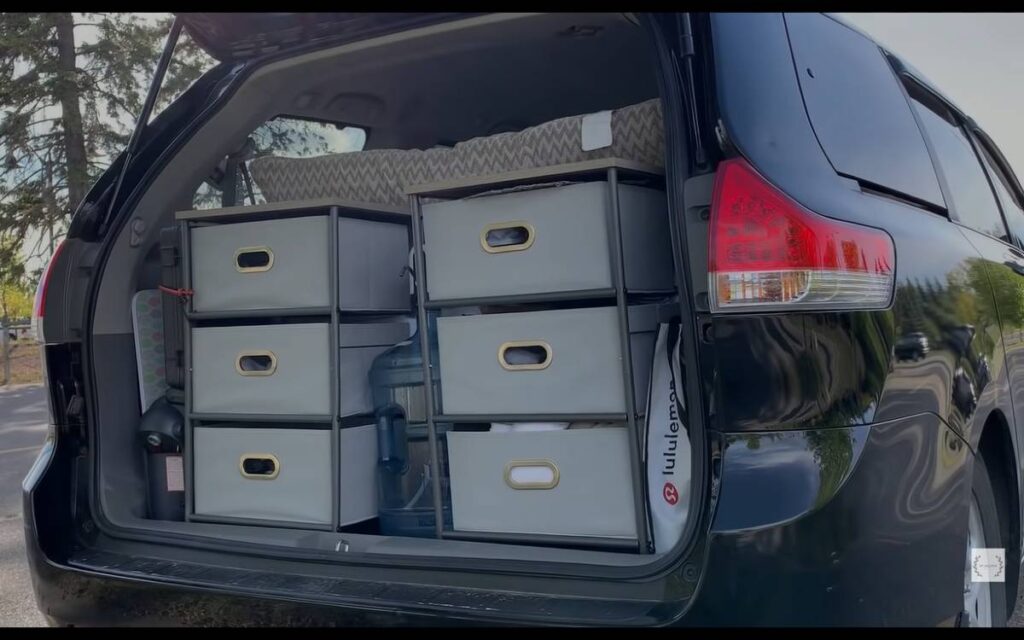 Behind the second row of seating, Mai used heavy-duty plastic shelves, foam padding, and a thick blanket to create a bedroom. Because she is only 4'11", she can sleep comfortably width-wise in the Sienna.
She has a private shower tent, a portable toilet stored in the minivan, and a camping table and chairs. In the trunk area, she stores another folding table and camp stove, and two 3-drawer fabric dressers act as the kitchen. For water, Mai uses a large jug and a rechargeable water pump attachment.
11. This weekender Toyota Sienna van conversion from @thegymnomads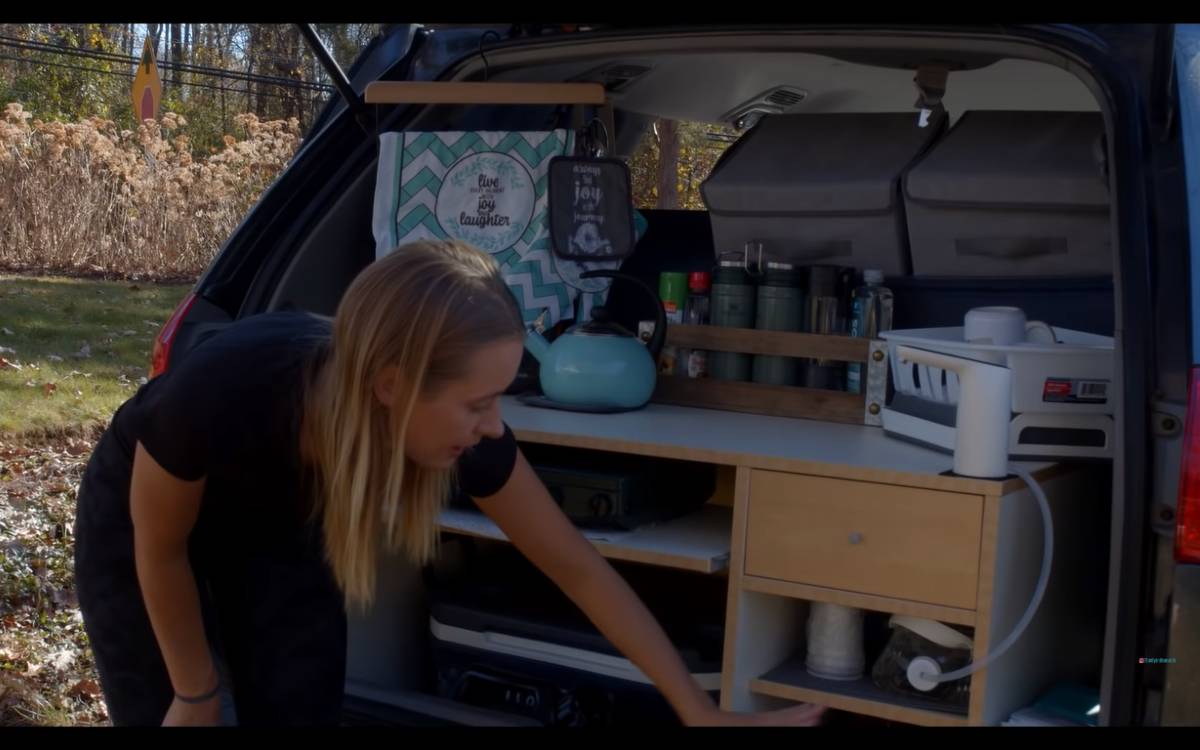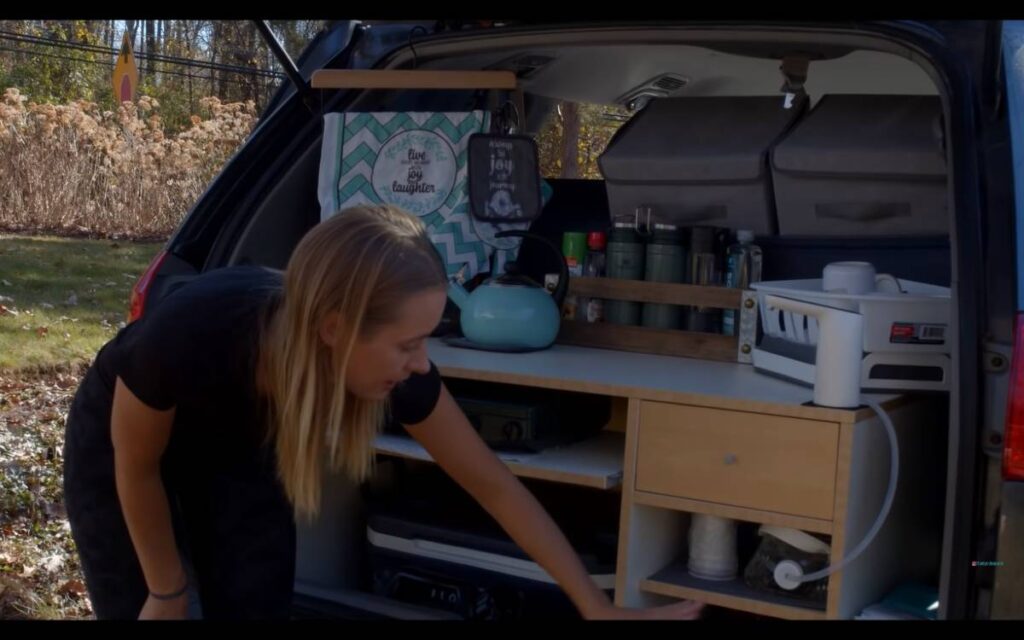 Chris and Emelia converted a 2008 Toyota Sienna into a DIY camper van for weekend trips. Their conversion is also a no-build, meaning it is easy to use this minivan as a camper and a daily driver because all the components are removable.
They used a full-size futon frame they bought on Amazon for the bed. It fits perfectly in the Sienna. They also ordered a tri-fold mattress on Amazon to go on top of the frame. They pull down the frame at night and rearrange the mattress to create a comfortable bed for two people. Both the frame and the mattress are easy to remove and store.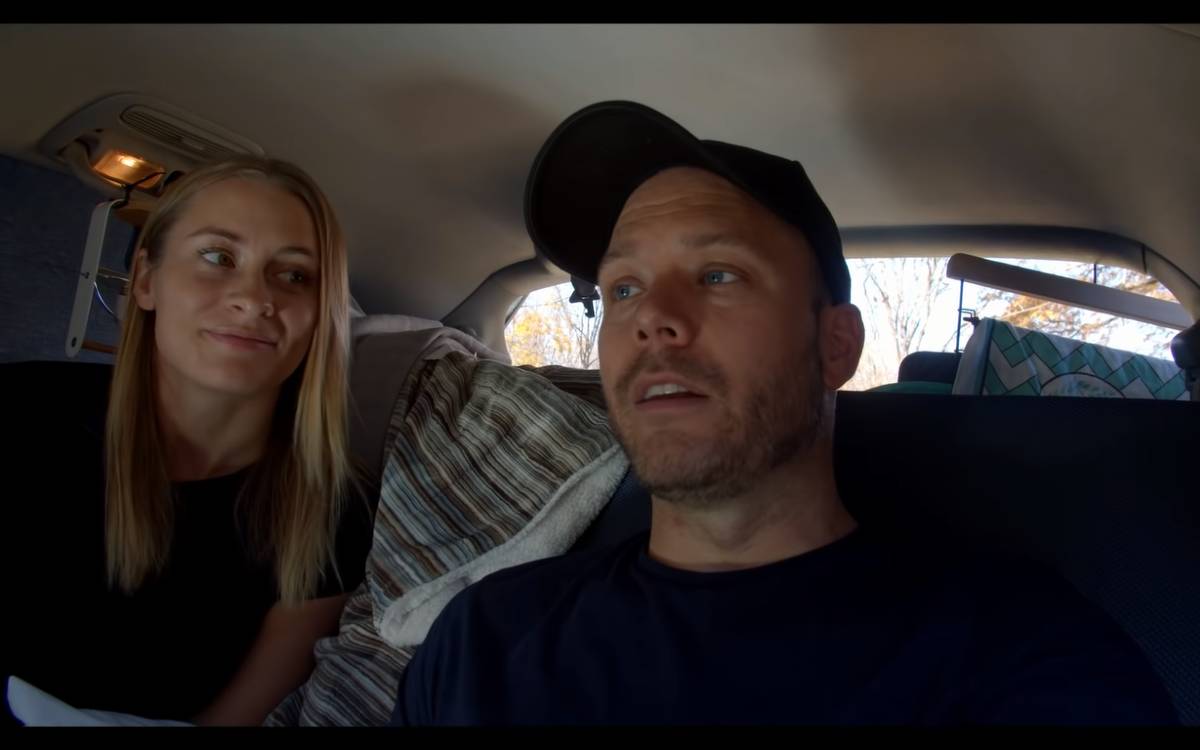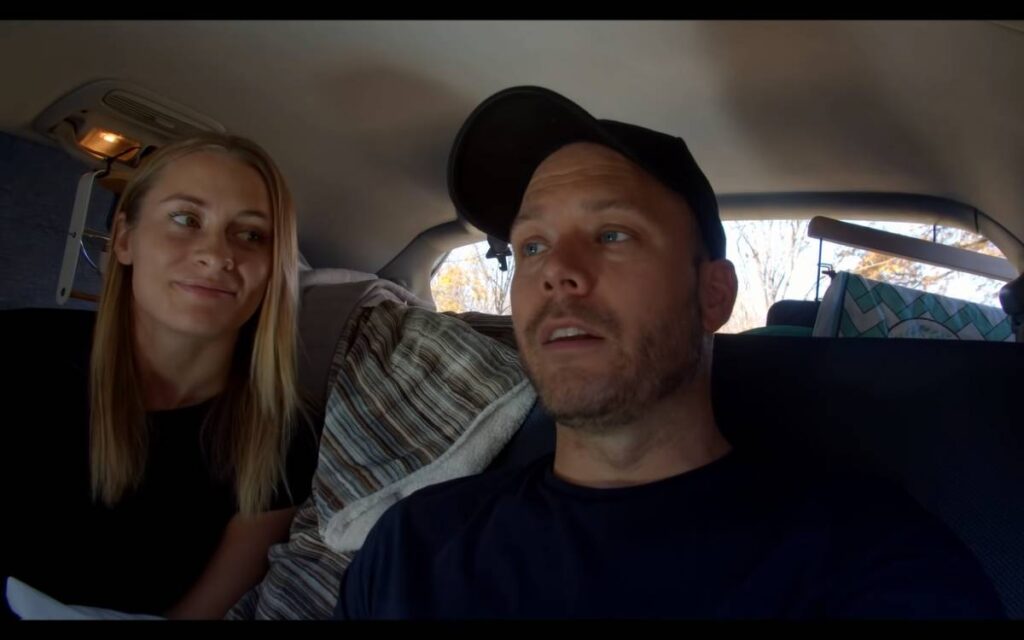 They have a curtain on a curtain rod to separate the driver and passenger seats from the living space and covers for the windows that provide privacy at night.
In the back of their Toyota Sienna van conversion, Chris and Emelia have their kitchen and storage setup, with counter space and a slide-out drawer for their camp stove.
Build Your Van
The Ultimate Van Build Guide
Planning a van build? Read our free guide. We cover just about everything you need to know – from planning, to insulation, to solar and electrical, to picking appliances, to essential tools. Get started today so you can get out there on the road!