So you bought a van, converted it into a camper, and hit the road. Or maybe you're cruising down the highway on an epic cross-country road trip. But once you start feeling sleepy, you're faced with that looming question:
Where can you park overnight?
No need to worry – there are plenty of places all over North America for you to park your vehicle and get some shuteye. Whether you're just passing through on a road trip, bouncing around a general area, or looking for a longer-term stay, it's easy to find good camp spots or places to park overnight.
In this post we go over our favorite options for overnight RV parking, van camping, and sleeping in your car on a road trip. We discuss free camping, paid camping, apps and resources for finding spots, and our top tips for landing those stunning campsites you've dreamed about (including the ones with cell service).
So read on – then get out there on the road and enjoy some of these spots!
Free Overnight Parking and Camping Options
Some major benefits of vanlife are cheap travel and saving money on housing costs. And the biggest way to achieve both is camping for free most of the time.
But where do you find free camp spots? Where can you sleep in your car, van, or RV overnight, and maybe even stay for awhile?
From beautiful wilderness camp spots to the unpleasant-but-sometimes-necessary realities of parking lot camping, here are the best free sleeping options for vanlife.
Read More: 10+ Easy Ways to Find Public Showers on the Road
Boondocking on Public Lands (National Forest, BLM, etc.)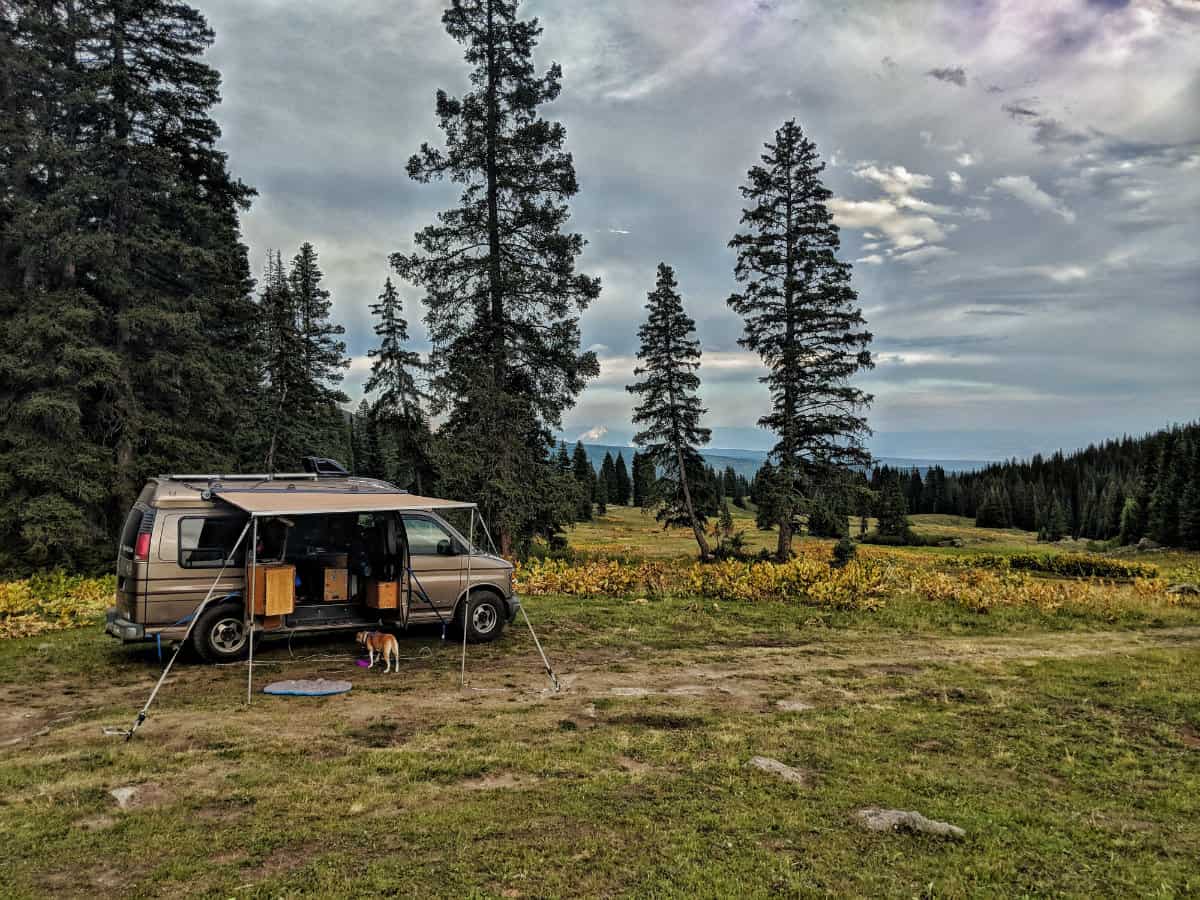 Cost:

Free

Seclusion: 5/5
Noise Pollution: 1/5
Vehicle Accessibility: 3/5
National Forests and BLM Land (Bureau of Land Management) offer tons of free camping options. This is where you'll find us most of the time. These spots are free, have few to no neighbors, unbelievable stargazing, exposure to wildlife, and the wonder of being out in the middle of the wild. And you can normally camp in a spot for up to 14 days at a time, although there are some exceptions (and there are always signs).
If you're planning on finding the best boondocking spots to sleep in your car, van, or RV, you have to commit to some level of adventure. There are easier to access spots closer to main roads, but these are usually more crowded. We've found that the fewer neighbors you prefer, the further in you have to drive – which often means trekking down gnarly roads with an uncertain destination. If you're unsure about a path, never hesitate to hop out of your vehicle and walk the road by foot first to see what you'll be encountering.
You can find boondocking spots using a variety of apps, sites and resources (we go over some of our favorites below). Or you can just drive onto BLM land or Forest Service roads and start looking for a spot. If it's public land, you're usually allowed to camp (unless there's a "no camping" sign), but try to stick to any designated campsites with fire rings to help protect the ecosystem.
Stopping by the local Forest Service or BLM ranger station is another great way to find some pretty dope spots. We've always found that the rangers are very helpful and excited that you're using the land, and they're usually pretty willing to direct you to some great spots.
Public land is much more widespread in the Western United States. So if you're doing van life in the eastern US you may have fewer options here, depending on where you are.
Practice Leave No Trace
When camping in the wilderness it's important to be respectful of the ecosystem and do everything you can to minimize your impact. Follow the Leave No Trace principles. Pack it in, pack it out. Camp at least 200 feet away from streams and lakes. And if it's not a well-known, designated camp area, consider not publicly sharing the location on social media. The more people that camp in an area, the greater the negative impact will be.
Tip: We've found some pretty unreal campsites when we start looking between 9-10 AM. This seems to be the sweet spot – it's after people leave in the morning, but before the next wave of campers rolls through. The closer to sunset you get, it's less likely that gorgeous spot you've been eyeballing will be available.
Bathroom Situation: Prepare to bring your shovel and outdoor bathroom supplies. From our experience these spots are hit or miss with having bathrooms, although sometimes there are pit toilets (basic outhouses) nearby. The beautiful secluded spots tend to be pretty out there in the backcountry, so don't expect there to be bathrooms. But if there is one – bonus!
Pros
Surrounded by beautiful scenery
Access to hiking/biking trails and outdoor activities
Potential for seclusion
Can usually stay up to 14 days or so
Incredible wildlife viewing and stargazing
Cons
Most of the time there's no toilet so you need to dig your own hole to relieve yourself*
Hit or miss if you will have cell service
The best spots can be more difficult to access
*This actually is not a "Con" for us. We prefer squatting naturally like our bodies evolved to do – but that's a topic for another time.
Parking Overnight in Walmart Parking Lots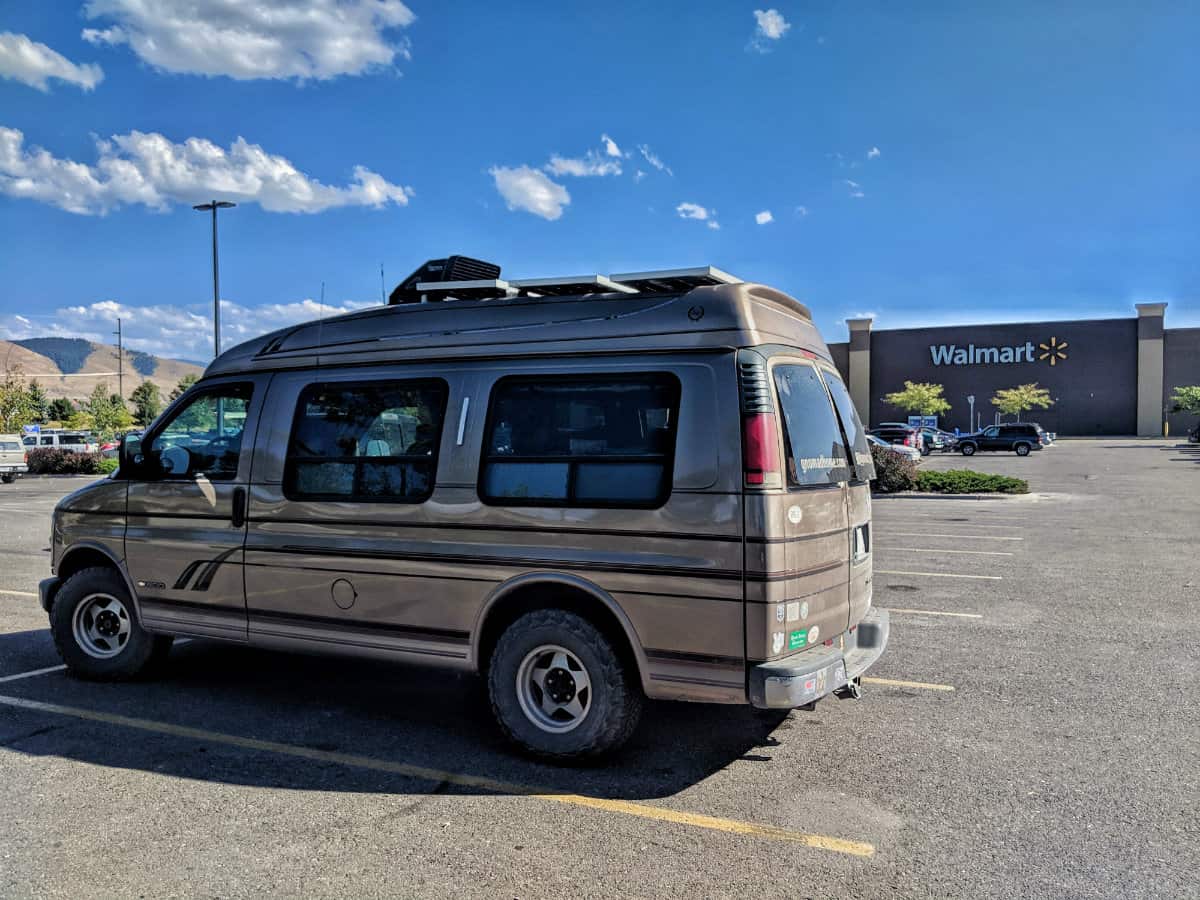 Cost: Free
Seclusion: 1/5
Noise Pollution: 5/5
Vehicle Accessibility: 5/5
We tend to park overnight in Walmart parking lots on long travel days, or when we venture into town for jam-packed "errand days." We prefer not to search for wilderness camping too late in the day (and definitely not after dark). So if we're passing through an area or if we're in town all day restocking and running around, we'll find the nearest Walmart for a low-stress place to crash for the night.
Before camping in a Walmart parking lot, we always recommend calling ahead and asking the store manager the following questions:
Do they allow overnight parking? Many Walmarts don't have a problem with it, but some do – and some towns also have ordinances against overnight parking in general. Because we call ahead, we've never gotten "the knock" from a police officer or security guard, and we've never been asked to leave a Walmart parking lot in the middle of the night.
Is there an area they prefer that you park? Some Walmarts like campers to park in a certain area. You're usually safe if you stick to the back – just don't be the a-hole that rolls up to the parking spaces right in front of the store and sleeps overnight.
Are they open 24 hours? 24-hour Walmarts are nice if you don't have a toilet in your van. You can always us the ol' van life pee bottle, but we like knowing we can walk inside to use an actual toilet instead of squatting inside our van at 2 AM hoping our aim does not equal our level of wakefulness.
Tip: Even some Walmarts that "don't allow overnight parking" due to local ordinances allow it anyway, and they'll tell you so. We once called a Walmart in Colorado to ask about parking there. They told us there was an ordinance against sleeping overnight, but people do it all the time. When we showed up to check out the scene, there were no less than fifteen vans, RVs, and fifth wheels camped out there. Some even had horse trailers, and people were actually taking their horses for walks around the parking lot.
We think sleeping at a Walmart is a great option if you find yourself in a city that allows parking lot camping. Walmart parking lots are generally safe and well-lit, and you'll often have the comfort of other travelers near you. We usually don't stay more than one night, but we have friends who have posted up at Walmarts for a few days to knock out some work or van upgrades.
Bathroom situation: It's a Walmart, we all know 'em. So if it's a 24-hour Walmart, you'll have access to their bathroom facilities filled with multiple stalls.
Pros
Great stopover for errand/town days
24-hour restrooms
You can get all your shopping done!
Lit up parking lot (safety)
Usually other campers there too
Guaranteed cell service
Cons
Nighttime noise pollution
Lit up parking lot (nighttime light pollution)
Have to walk inside to use restroom if you have nothing set up in your rig
No privacy
In the middle of a town (Pro for some – Con for us)
Other Store Parking Lots (Cabela's, Bass Pro Shops, Cracker Barrel, etc.)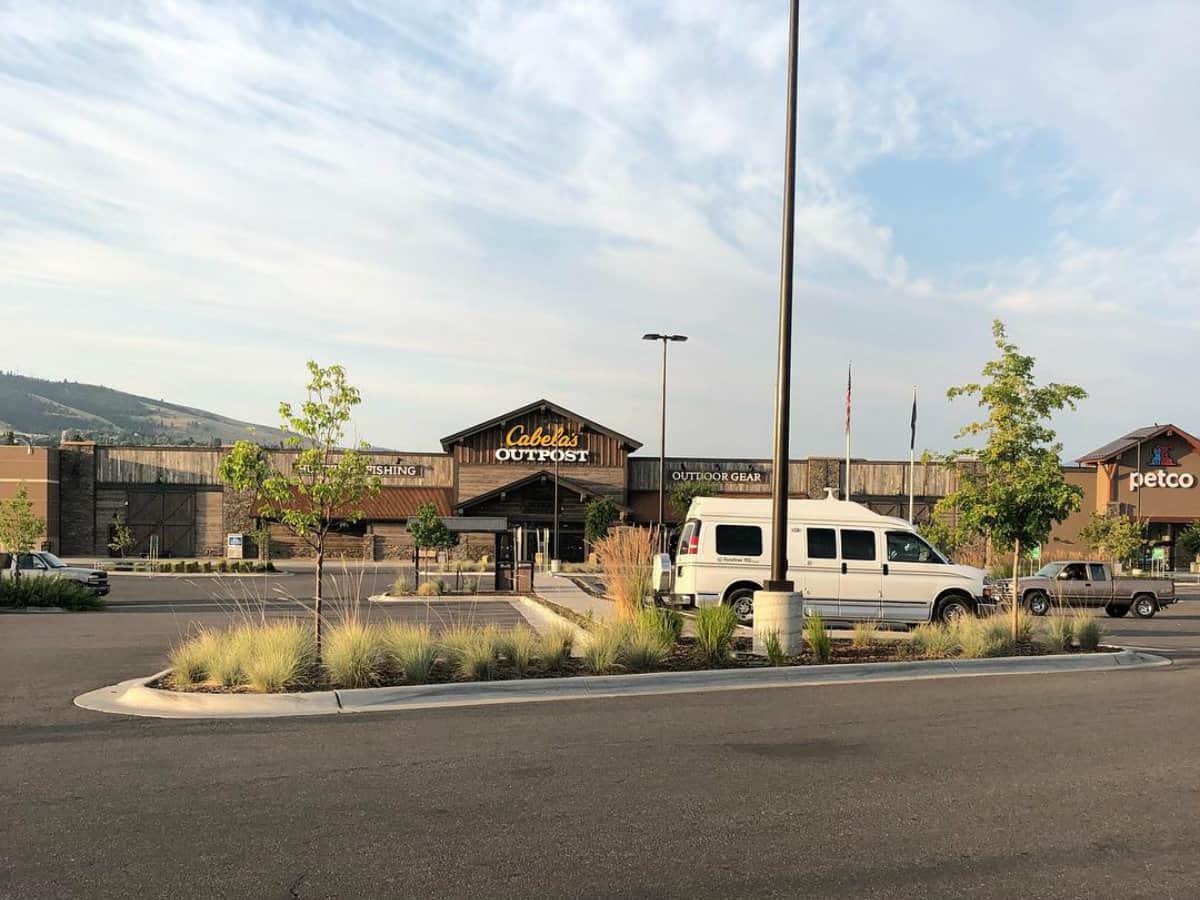 Cost: Free
Seclusion: 1/5
Noise Pollution: 5/5
Vehicle Accessibility: 5/5
Walmart isn't the only store that allows nomads to camp for free. Cabela's, Bass Pro Shops, and Camping World are some other national big box stores that allow free overnight parking in their parking lots (some Cabela's locations even have dump and water refill stations). Cracker Barrel is famous for allowing overnight RV parking, which also extends to van camping and sleeping in your car safely. And there are many local and regional stores that allow nomads to park overnight (A1 Superfoods grocery store in Montana is a prime example).
The camping situation at these stores is pretty similar to camping at a Walmart. The big difference, though, is that you may not have access to 24-hour bathrooms when parking at a Cracker Barrel, outdoors store, or local business (unless there's a gas station nearby).
The AllStays Camp & RV app is a great resource for finding stores that allow you to sleep in your car legally. Again, we always recommend calling ahead because some locations may not allow overnight parking.
Pros
Great stopover for errand/town days
Lit up parking lot (safety)
You can shop or grab food!
May be other campers there too
Guaranteed cell service
Cons
May not have 24-hour restroom
Nighttime noise pollution
Lit up parking lot (nighttime light pollution)
No privacy
In the middle of a town (Pro for some – Con for us)
Park Overnight at Truck stops (Flying J, Love's, TA, etc)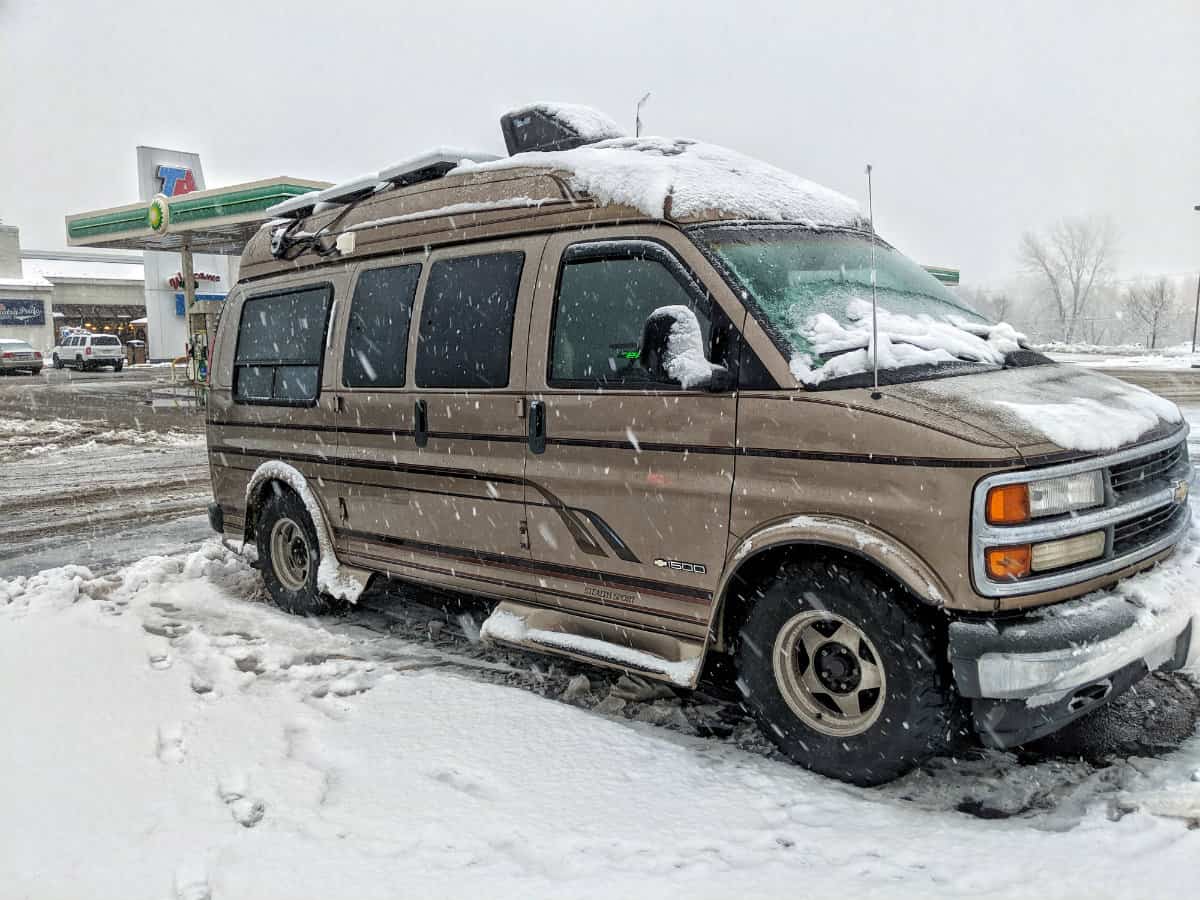 Cost: Free
Seclusion: 1/5
Noise Pollution: 5/5
Vehicle Accessibility: 5/5
This is one of our go-to late night parking options when we are in the midst of looooong road trip days – the kind of drive days that begin as soon as you wake up and last until it's time to go to bed.
We like parking overnight at truck stops for the convenience. We've found Flying J to be the most van friendly and have the most amenities, but there are are other truck stops like Love's, Pilot, and TA. Flying J's are nice because we can pull in at any hour of the night, fill up our tank so we can hit the road first thing in the morning, and sleep overnight in well-lit designated overnight parking areas. There's almost always someone else camped out in a van, RV, or parked car, which makes it feel safer.
If you're hungry after driving all day long but have no energy to cook dinner, many Flying J's have a 24-hour Denny's attached. We know, it's not ideal. But when your options are to setup your entire cooking situation to make a meal at 1 AM, eating some day old hot dogs inside the gas station, or a hot breakfast skillet – that hot breakfast skillet sounds bomb dot com.
Sidenote: Some locations also have a Cinnabon if you really want to indulge before hitting the road again.
And – if you're desperate for a shower and/or really need to do some laundry, Flying J truck stops offer public showers and a laundromat. Just be prepared to pay $10+ for a shower (we've never showered at a Flying J, but then again, we don't shower all that often).
The biggest downfall of Flying J camping is the noise pollution. They're always right next to the highway, and there are big-rigs coming in and out of the truck parking area at all hours of the night. We're at the point where this is all soothing white noise, like waves crashing on the beach, but some might find it annoying.
Bathroom Situation: We've been pretty impressed with the bathroom situation at most Flying J's. They tend to be kept fairly clean and well stocked, and the stalls are almost like mini rooms, with full-length walls and doors.
Pros
Easy to pull off the highway after a long travel day
Can fuel up before hitting the road again
24-hour bathrooms (and nice bathrooms, too!)
Restaurant and a fully-stocked convenience store
Coin-op laundry and showers
Guaranteed cell service
Well-lit parking lot (safety)
Cons
Highway noise pollution
Well-lit parking lot (nighttime light pollution)
Easy access to junk food
Sleeping at Highway Rest Areas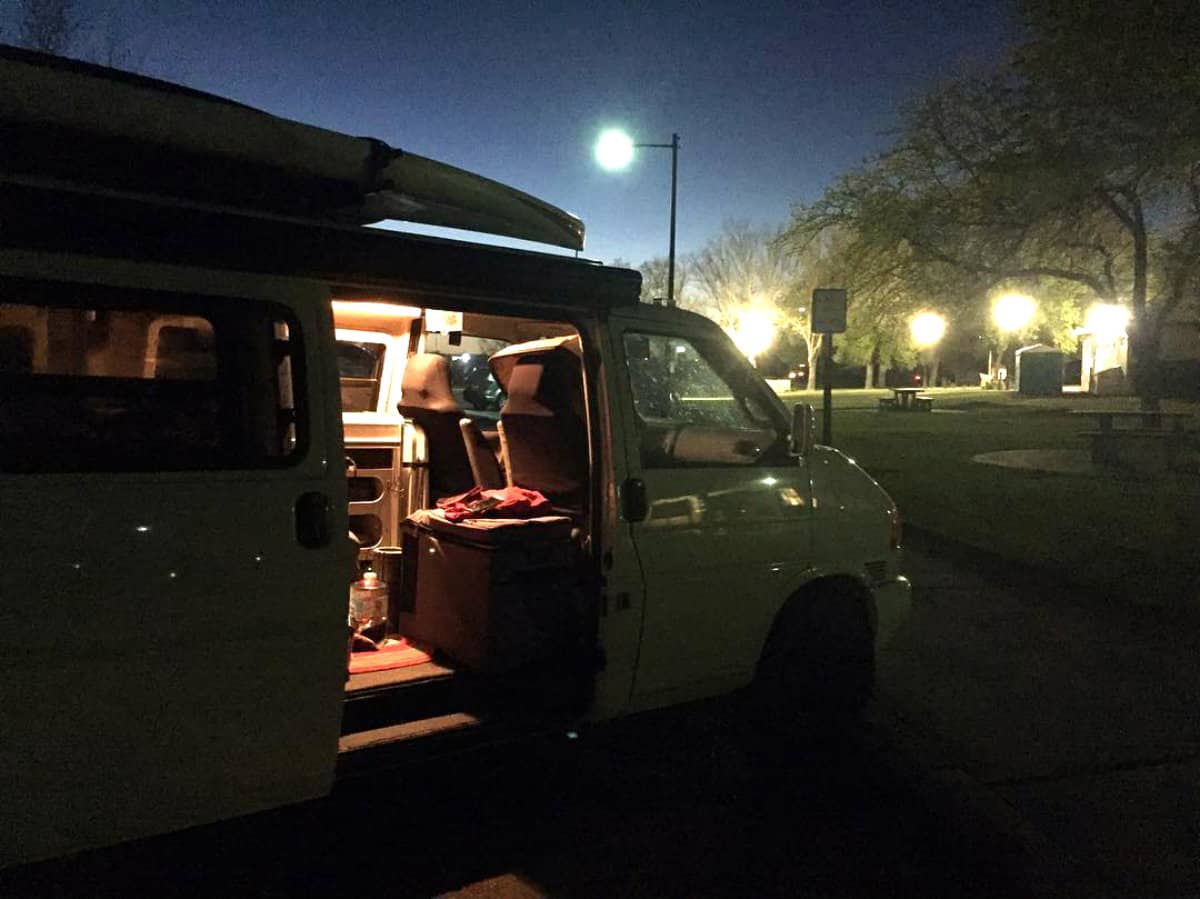 Cost: Free
Seclusion: 1/5
Noise Pollution: 5/5
Vehicle Accessibility: 5/5
If you're road tripping from one place to the next and just need to stop off for the night, some highway rest areas allow you to park and sleep for a few hours. The AllStays app is a great resource for finding rest stops. Most rest areas only allow you park for a certain number of hours (like 8 hours or 12 hours). There are usually signs, but if possible we recommend asking employees if you can park overnight at their rest stop and if there are any special rules.
Bathroom Situation: Public restroom facilities, usually 24-hour. It's a highway rest area so cleanliness can be hit or miss.
Pros
Easy to pull off the highway when you need a place to sleep
24-hour restroom, and maybe a convenience store
Well-lit parking lot (safety)
Good cell service
Cons
Highway noise pollution
Well-lit parking lot (nighttime light pollution)
May only be able to park for a certain number of hours
Casino Parking Lots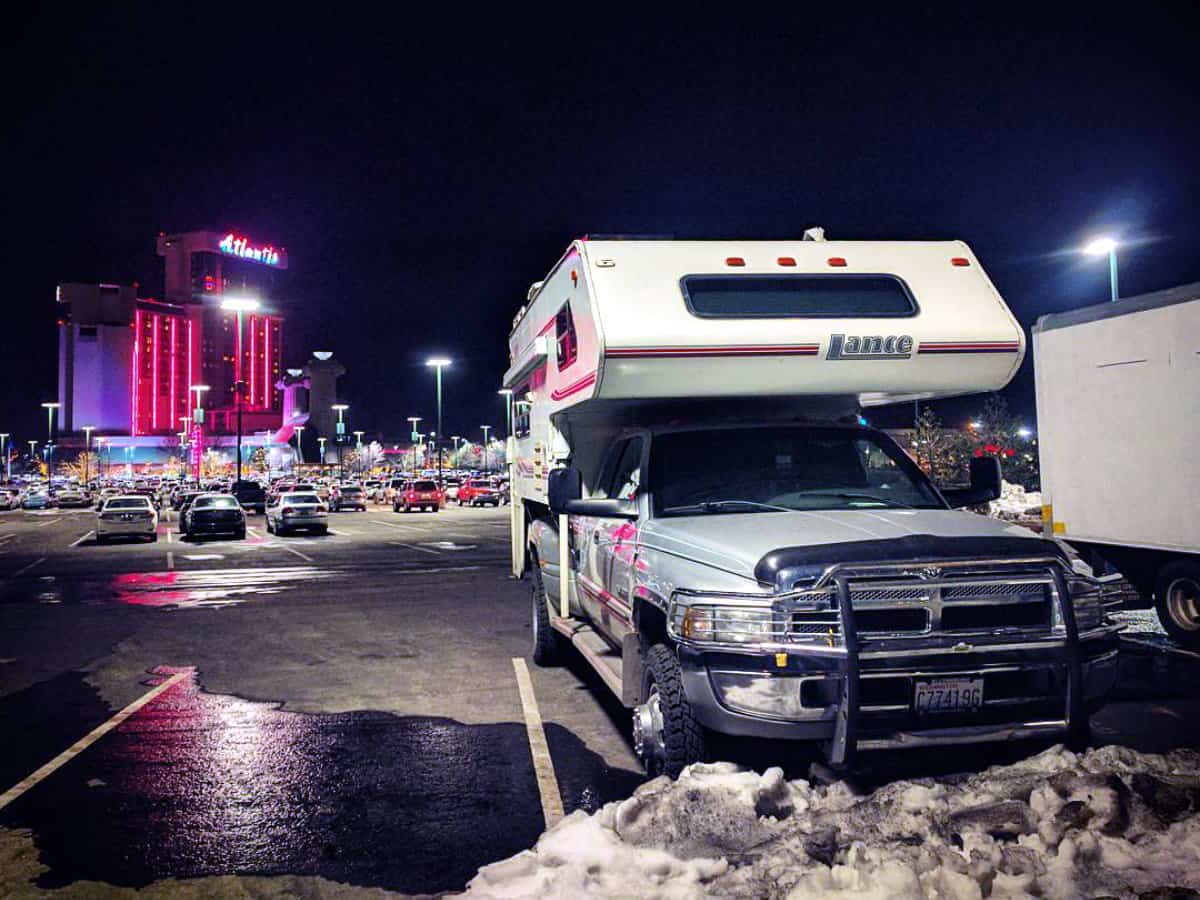 Cost: Free
Seclusion: 1/5
Noise Pollution: 5/5
Vehicle Accessibility: 5/5
That's right, you can legally sleep overnight in a casino parking lot! Many casinos are very RV/van/nomad friendly, and some even have amenities like dump/water stations. Their theory, of course, is that if they let you sleep in your car, then you might go inside and lose some money. But there's no rule that you actually have to do that.
Casinos are often near highways, so they're conveniently located if you're road tripping to/from somewhere. Some may even be in neat touristy areas with local attractions that you'll want to check out. And casino parking lots likely have cell service, so they're a good bet if you really need to post up and get some work done for few days. But like any parking lot car camping it's not the most pleasant, so we don't recommend this for long term stays.
Bathroom Situation: 24-hour public restrooms (and probably very nice ones). Just make sure to avoid sitting in for a blackjack hand every time you go in to pee.
Pros
Easily accessible
Safety (security guards and well-lit parking lot)
Can gamble, go drinking, etc (if you're into that kind of thing)
May have nice restaurants attached
Cons
Can lose/spend a lot of money if you're not careful
Well-lit parking lot (nighttime light pollution)
Road/highway noise pollution
Stealth Camping in Urban Areas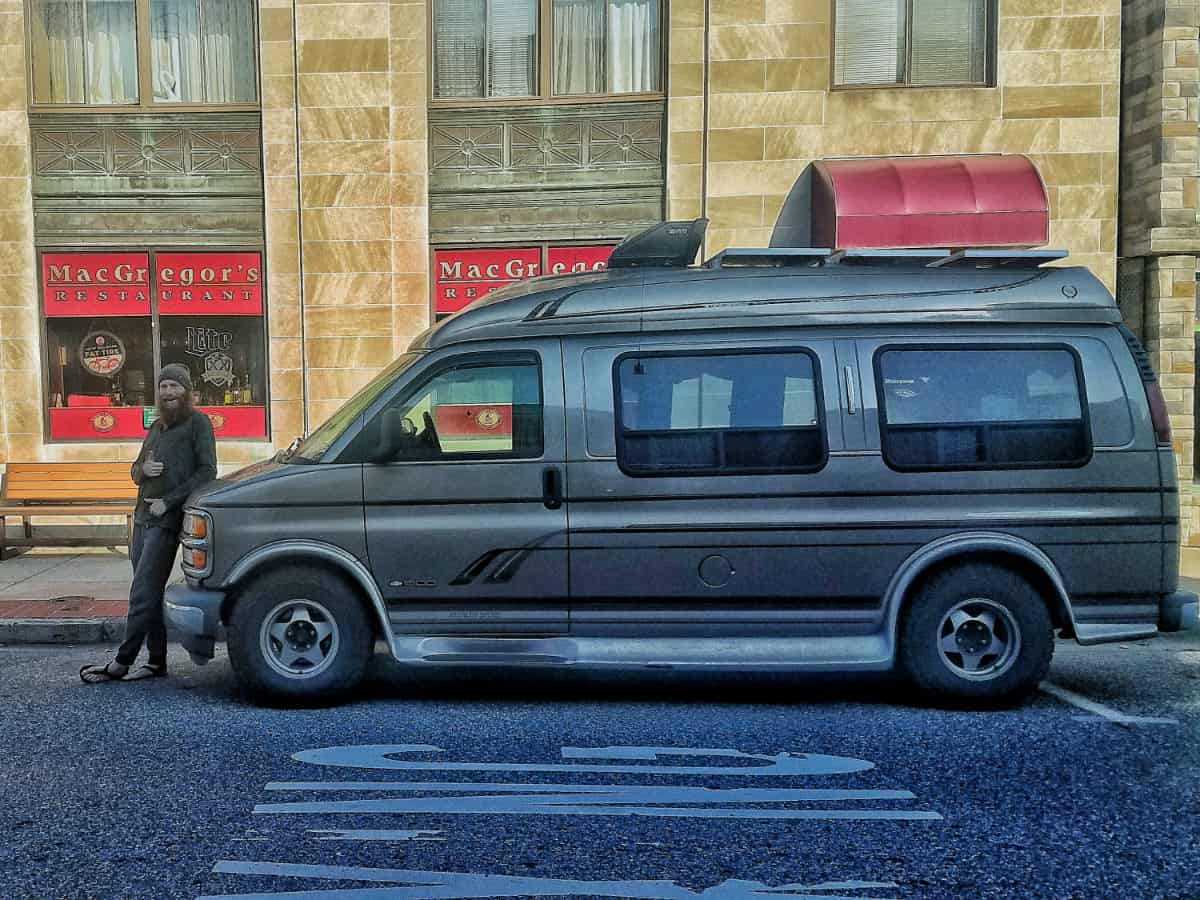 Cost: Free
Seclusion: 1/5
Noise Pollution: 4/5
Vehicle Accessibility: 5/5
We rarely stealth park on city streets. We actually try to stay away from cities as much as possible. We think they're too crowded, there are too many rules, too many bright lights, and driving can be a nightmare. We'd take a quiet spot in the middle of nowhere over a city any day.
That said, we have parked overnight on a city street a handful of times (in Salt Lake City, UT; Portland, OR; and Milwaukee, WI). Each time we were street parking on a residential street near a friend's house, and it was legal for us to park overnight there (or we knew for a fact that the neighborhood was down with it). We had zero problems, especially since we had access to bathrooms if needed.
If you plan on spending time in urban areas, use common sense and make sure you know the local laws and parking restrictions of where you are. We don't advocate car camping where you're not allowed to legally park, especially on residential streets where you may not be wanted. But we also recognize that it may happen sometimes. Do your best to blend in, be respectful, keep your windows covered, don't blast loud music, and please don't pee on the sidewalk. Stay for one night, then move on to the next spot.
Some places where vanlifers stealth park overnight include industrial areas, parking garages, public parks, dog parks, highway shoulder pull offs, adandoned lots, and even the odd hotel parking lot. Avoid schools and anywhere with robust parking enforcement, like mall parking lots.
If you're camping where you're not supposed to, don't be upset if you get "the knock." That's the risk you take when stealth camping, and most times you'll just be told to go somewhere else. At all times think about being a good representative of the van life community. Otherwise you'll end up making things harder for the next person.
Bathroom Situation: Whatever you bring with you in your rig – whether that's a simple pee bottle or a full-blown composting toilet. If you feel comfortable exiting your rig while stealth camping, you may also be able to access the bathroom at any nearby 24-hour business (if there are any).
Pros
Gets you inside of a city
Opens up where you can sleep for the night
Cell service more likely
Easier for cargo vans to pull off
Cons
May not have nighttime bathroom access
Might get "the knock" from cops
Must be quiet and careful
More difficult for obvious "adventure rigs"
Will probably need to move spots every night
Paid Camping and Campgrounds
We prefer to camp for free as much as possible to reduce our van life costs, but there's no shame in paying for camping sometimes.
We usually pay for camping when we really need a shower, when we need a little break from the wilderness, or when we just want a quick and easy place to legally park overnight before searching for a free long term spot. Paid campgrounds often have amenities like water, showers, picnic tables and toilets – and sometimes even laundry and wifi – that are really nice to have after an extended boondocking period.
Unless you have a ton of money to burn, paying for camping too frequently can quickly eat up all the money you're saving by living in a van – so we recommend camping for free as much as you can. Also, whenever possible we highly suggest supporting public lands by staying at federal, state, and local parks instead of private campgrounds.
Public Lands Campgrounds (National Forest/BLM, etc.)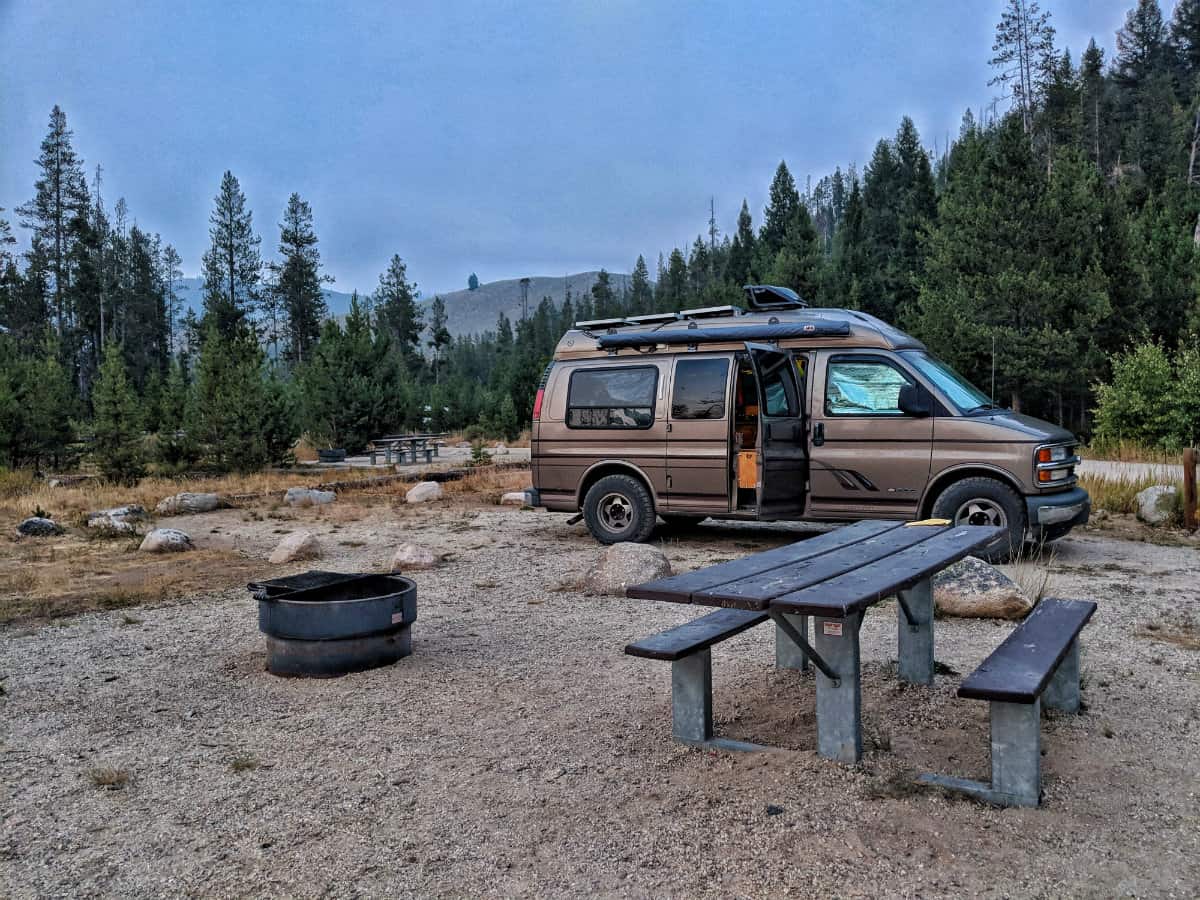 Cost: $5 – $25
Seclusion: 2/5
Noise Pollution: 3/5
Vehicle Accessibility: 3/5
In addition to free dispersed camping, many national forests also have established campgrounds. These campgrounds normally cost about $15/night depending on the area (some offer a discount if you have a National Parks Interagency Pass), and they can be pretty nice. You may be surrounded by beautiful scenery and nearby many fun activities, but you should expect neighbors.
Public Lands campgrounds are usually pretty bare bones as far as amenities, but they also come in all shapes and sizes. Some are small (5-10 sites), some are huge. Some only have primitive (no hookups) sites, some offer full hookups. Some are near town and easy to get to, some are way off in the wilderness.
We've found that these campgrounds are great if you just don't feel like searching for a boondocking spot. They do cost money, but they're cheaper than private campgrounds and you're supporting public lands.
Bathroom Situation: These campgrounds always have at least one pit toilet, typically more than one.
Pros
Camping fee helps support public lands
Usually surrounded by beautiful scenery
Sometimes connect to some wicked hiking trails
It's common to find them next to rivers
May have potable water
Cons
Usually no showers
Might be noisy (it's common to find these next to roads and highways)
Not a lot of privacy
State, County, and City Park Campgrounds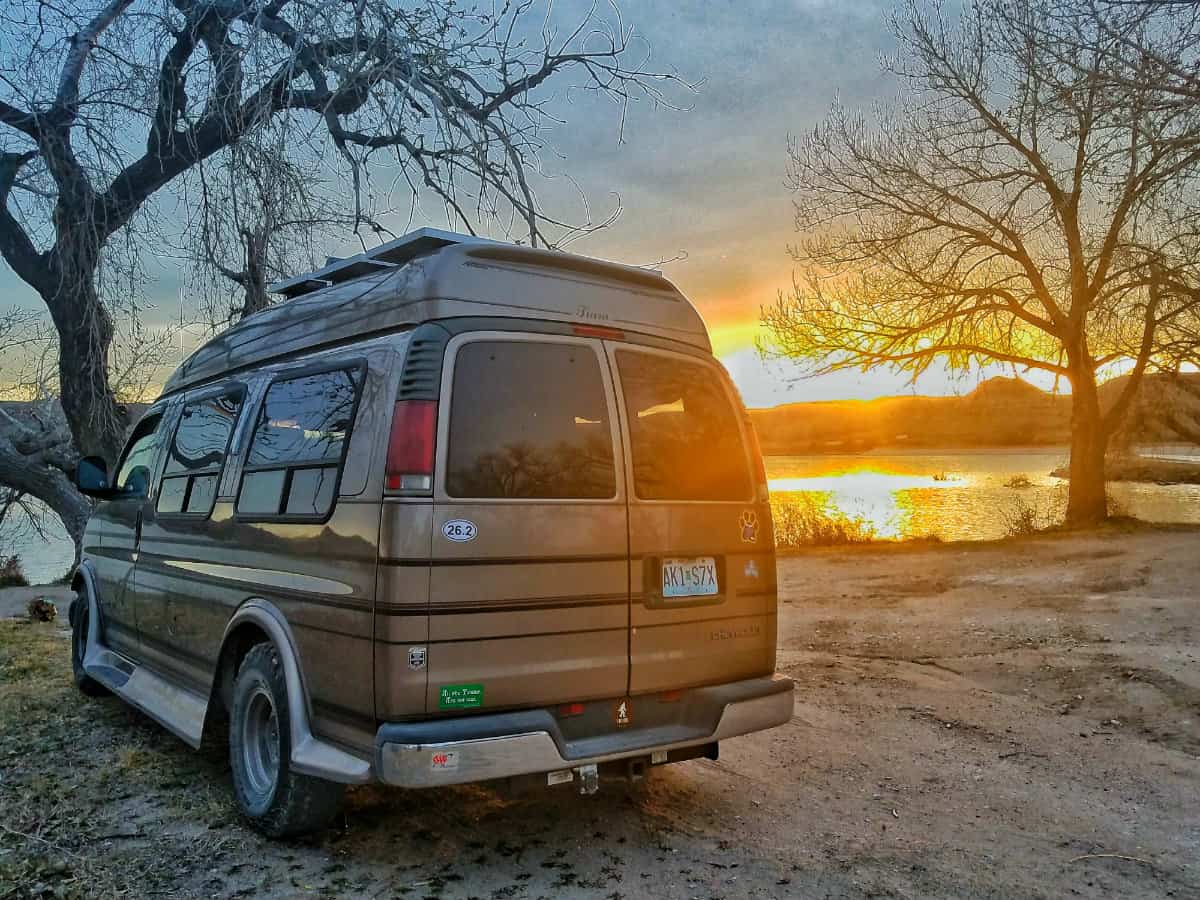 Cost: $10 – $45
Seclusion: 3/5
Noise Pollution: 2/5
Vehicle Accessibility: 4/5
State Parks are one of our go-to's if we want to enjoy a natural setting but need certain amenities like showers, laundry, or cell service. State Park campgrounds are usually affordable compared to private campgrounds, but they vary in price depending on the state, time of year, and type of site (hookups or no hookups). You can find state park campsites for as little as $8 or as much as $45.
Many state parks are in very beautiful locations, but the campgrounds can be hit or miss. We've stayed at some AWESOME state parks with big, secluded sites, and we've stayed at some where the sites are right on top of each other. But the terrain is always very drivable, and the campsites can typically accommodate any sort of traveler, whether you car camp, van camp, or RV camp.
Some state parks have additional amenities such as laundry facilities and group camping areas, as well as multiple options for exploring such as hiking trails, biking trails, fishing areas, ATV trails and more.
Bathroom Situation: A combination of pit toilets dispersed throughout the campground, and at least one "shower house" that contains toilets and shower stalls.
Pros
Camping fees go towards public parks
Surrounded by beautiful scenery
Typically have activities at the park (hiking, biking, fishing, boating, etc.)
Some park campgrounds offer good privacy
Showers, and sometimes even laundry
Cons
Can be very expensive, depending on the state (we're looking at you, California)
Can be very crowded, depending on the time of year
May have rowdy neighbors
KOA Campgrounds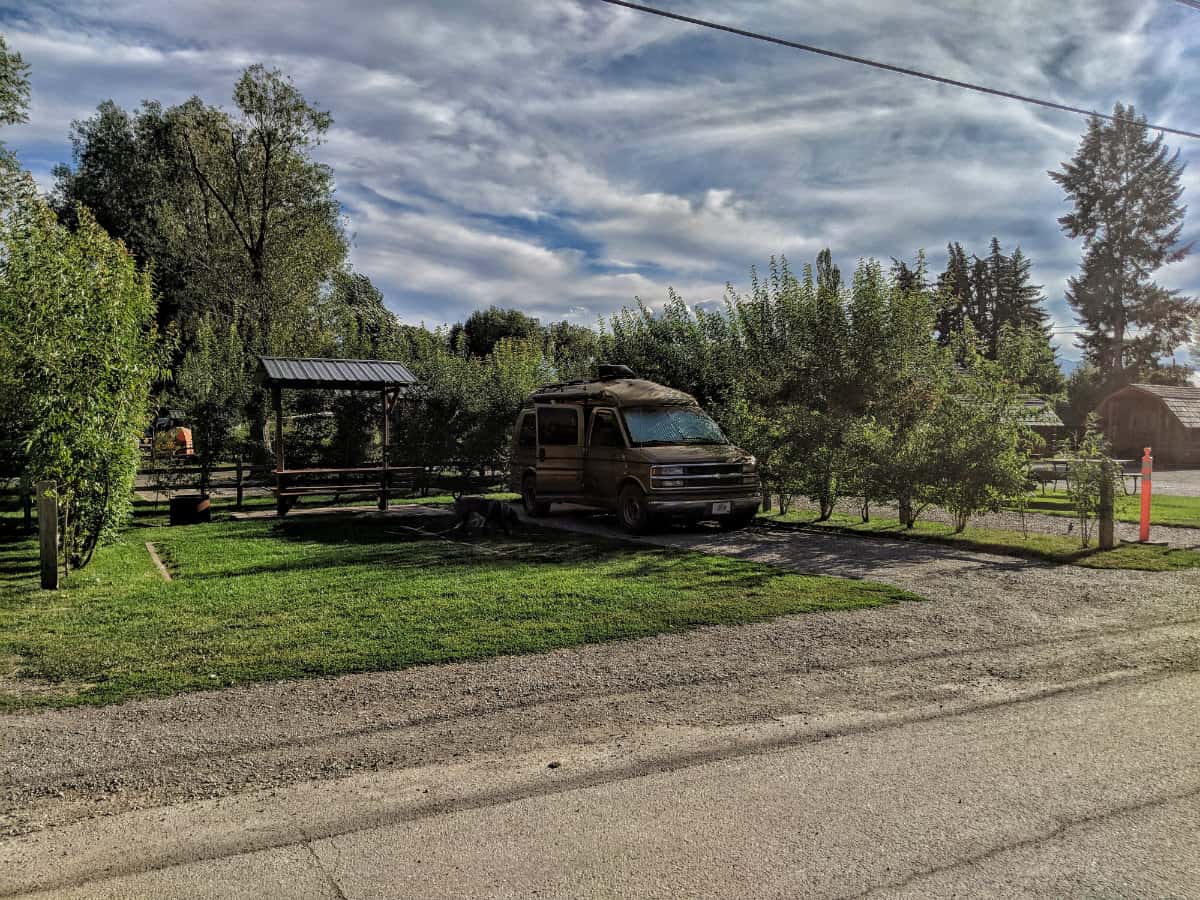 Cost: $30+
Seclusion: 2/5
Noise Pollution: 2/5
Vehicle Accessibility: 5/5
We call this our "comfort zone" option. We'll sometimes stay at a KOA when we're feeling really worn down, really need to shower, really need to do laundry, and really need some guaranteed WiFi. We don't stay at them very often, but sometimes it can be nice to crash at a KOA for a night or so, grab some internet, and clean our clothes/bodies.
As far as camping goes, KOA parking fees are definitely not cheap (we call them the "hotels of camping"). Basic tent sites are about $30 in most locations, and they go up from there as you add amenities like electric and water. This is another reason why driving an off-grid rig is great – you can really save some money on campground fees if you don't need hookups.
KOA offers a membership that can help you save a bit on camping fees. It costs $30 per year, it saves you 10% off every stay, and every tenth night is free. We became KOA members soon after hitting the road, and it's been worth it for us.
There are different types of KOA's, from your basic no frills campground all the way up to camping resorts with pools, hot tubs, mini golf, and other activities. But they're all easily accessible off main roads, and they all offer showers, wifi, and laundry at a minimum. And they're usually near cool attractions or cities, so they can actually be an affordable option vs a hotel if you're planning to check out a city and don't want to stealth camp.
The big downside to KOA's (besides the cost) is the lack of seclusion. Campsites are right on top of each other so you generally have no privacy. Most KOA's are almost always very full, so you will have neighbors. And because they're often near the highway, there can be a lot of noise and/or light pollution.
Bathroom Situation: At least one shower house, with several toilets and shower stalls.
Pros
Conveniently right off the highway
Can find them in cities
Showers, laundry, and wifi
Some have pools, hot tubs, and other hotel-like amenities
Kid and dog-friendly
Cons
Expensive
Neighbors right on top of you
RV's and loud vehicles in and out
Highway noise pollution day and night
Can have people, kids, and dogs running all over the place
Wifi can get overloaded at peak hours, so don't plan on streaming stuff in the evening
Independent Campgrounds and RV Parks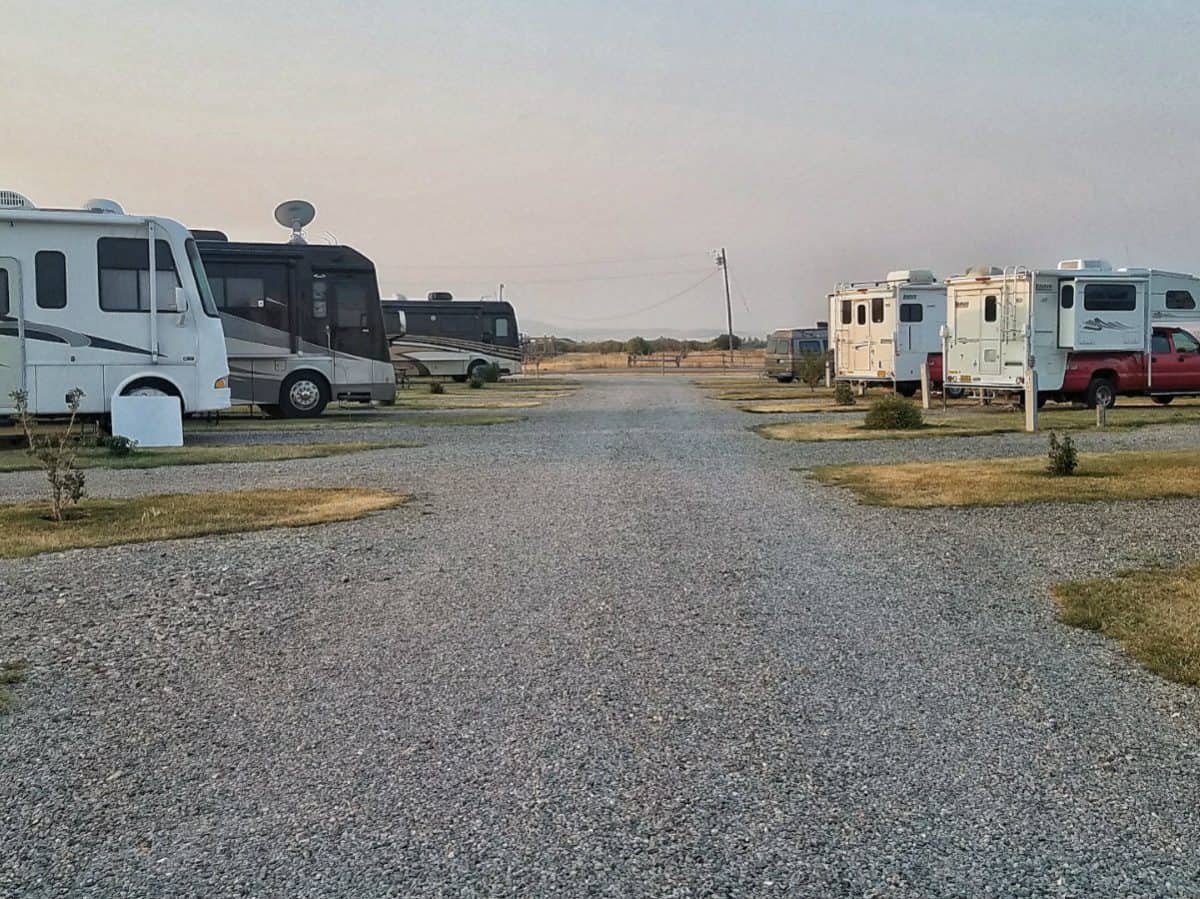 Cost: $20 – $40+
Seclusion: 2/5
Noise Pollution: 2/5
Vehicle Accessibility: 5/5
In addition to public lands, state parks, and KOA's, there are also independently-owned campgrounds and RV parks all over North America. Some are little more than gravel parking lots with tightly-crammed sites, but there are some real gems out there as well. We stayed at a beautiful campground outside Glacier National Park that rivaled the best state parks we've been to
Like KOA's, private campgrounds tend to be expensive, but they'll have useful amenities like wifi, laundry, and showers. Unlike KOA's, you won't know exactly what you're getting beforehand, so staying at a private campground can be a lot more hit-or-miss.
Bathroom Situation: Shower house with toilets and shower stalls.
Pros
Showers, laundry, and wifi
There are some real gems out there
Might have access to activities onsite
Cons
Expensive
Don't know what you're getting ahead of time
Many are just parking lot-style RV parks
Camping on Private Property
Another option when looking for a place to sleep is to camp on private land. There are services out there that connect you with landowners who are willing to let you camp out on their private property – often for free or cheap.
Harvest Hosts
Harvest Hosts is a subscription service that lets you find local farms, wineries, and breweries who will let you camp for a short time. There aren't any fees for camping, but you're typically expected to purchase something from your host during your stay. A subscription to Harvest Hosts costs $79 per year.
Harvest Hosts is particularly awesome if you're traveling in the Northeastern US where there just isn't a whole lot of free/cheap camping available (but there are tons of locations listed on Harvest Hosts). It's less of a necessity out West where camping is plentiful, but it can still be a fun way to experience an area.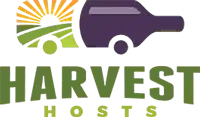 Get 15% Off Harvest Hosts
Yearly membership that allows you to camp at wineries, breweries, and farms throughout North America - for free!
Join using the button below for 15% off your membership.
Join Harvest Hosts
We earn a commission if you click this link and make a purchase (at no additional cost to you).
Boondockers Welcome
Boondockers Welcome is sort of like Couch Surfing for vehicle nomads. Sign up for a $30 yearly subscription and you'll be connected with people everywhere who will let you camp on their land for free. Camping options vary from rural farms with full RV hookups to a spot in a driveway. And, using this platform can be a great way to meet some interesting people along the way.
Hipcamp
Hipcamp is basically the Airbnb of camping and overnight parking. Private landowners set up campsites on their property and list them on HipCamp, often for very reasonable rates. Properties can range from just a parking spot to a full-on glamping experience. For less than a site at your typical RV park, you find a unique campsite on Hipcamp and possibly meet some cool locals.
New to Hipcamp? Sign up using this link and get $10 towards your first stay.
The Best Apps for Finding Camping and Overnight Parking
You can find a lot of great spots to legally sleep in your car, van, or RV using a few apps, sites, and resources. Here's where to find some awesome camping and overnight parking:
FreeRoam (mobile app and website) – Awesome app with powerful data and maps on all types of campsites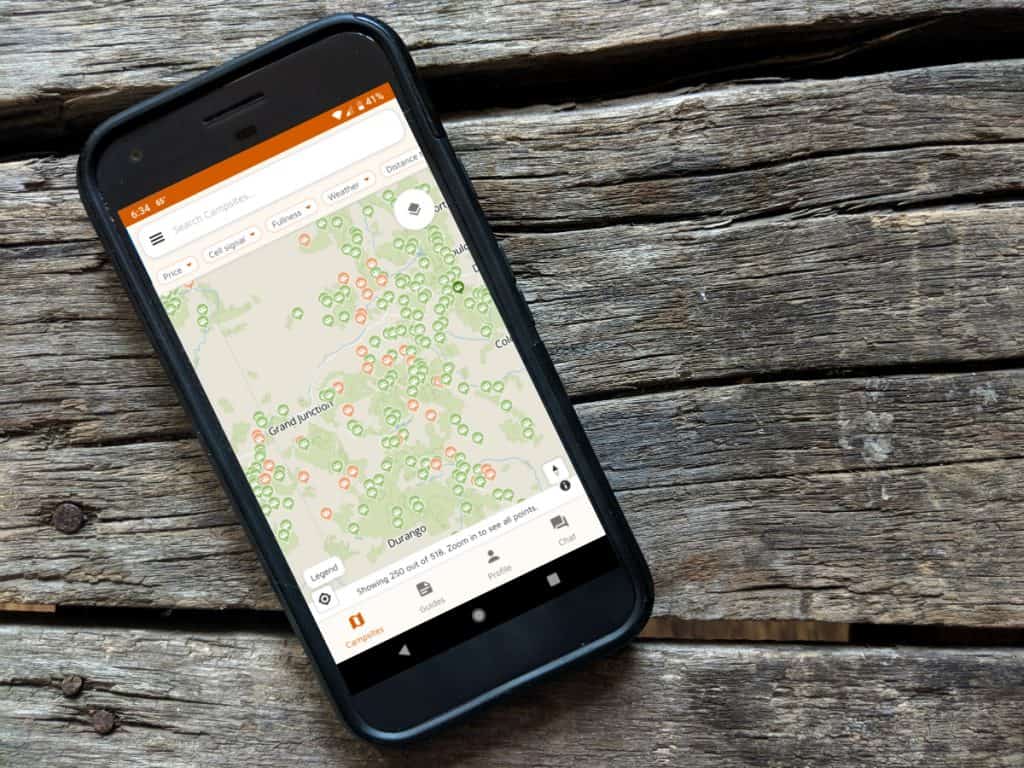 FreeRoam (website; iOS app; Android app) might be our favorite up-and-coming camping app out there. Like the others, it shows you nearby free and paid camping, and allows users to review their experiences. But FreeRoam does much more than that – and it's a nonprofit company dedicated toward preserving nature and supporting this lifestyle.
FreeRoam's strength is the amount and type of data that it provides you about each campsite (and how well-organized all this data is). Users can rate each campsite for cell signal for all major carriers, crowdedness, noise, shade, cleanliness, safety, road difficulty, average weather, and more.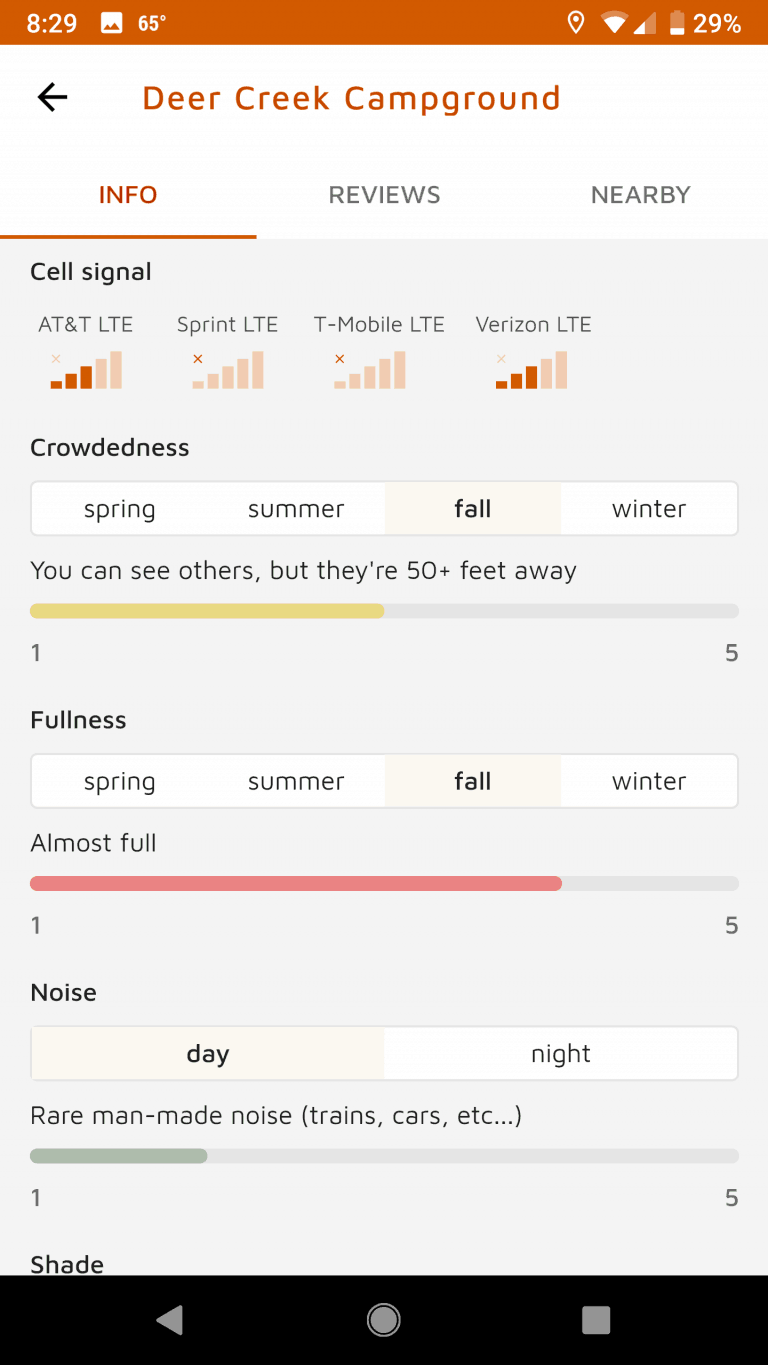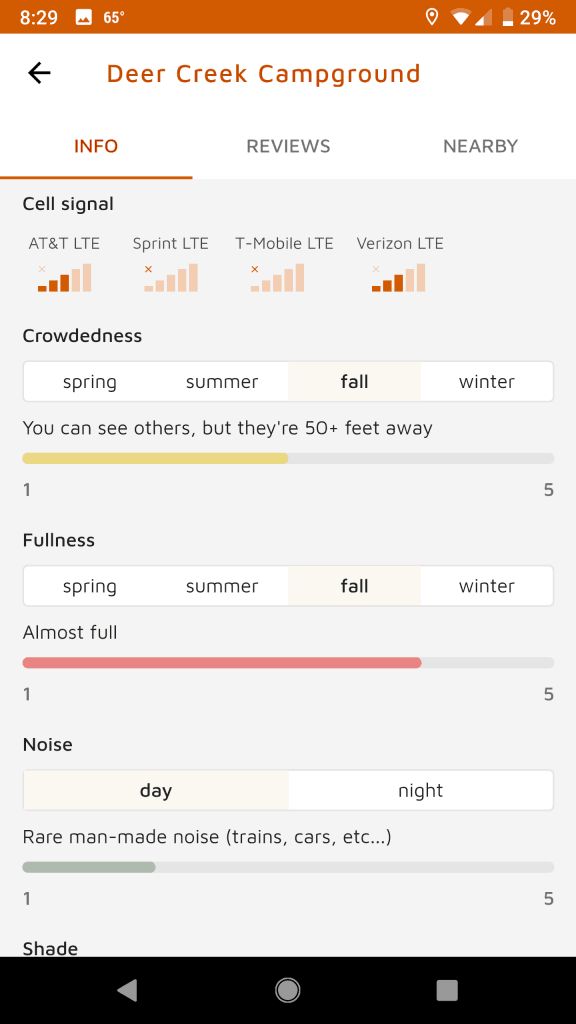 All these ratings are aggregated into a super useful dashboard for each spot, and you can even set the season to show you, for example, what the noise level is like in the spring vs the fall, etc. This is all incredibly helpful information when evaluating a potential campsite, and this is the only app out there that goes into this level of detail.
Another helpful feature is the ability to overlay different maps on the main search screen. So when you're looking at a map of campsites, you can overlay cell coverage maps for every major carrier, maps of National Forest and BLM land, as well as a satellite view.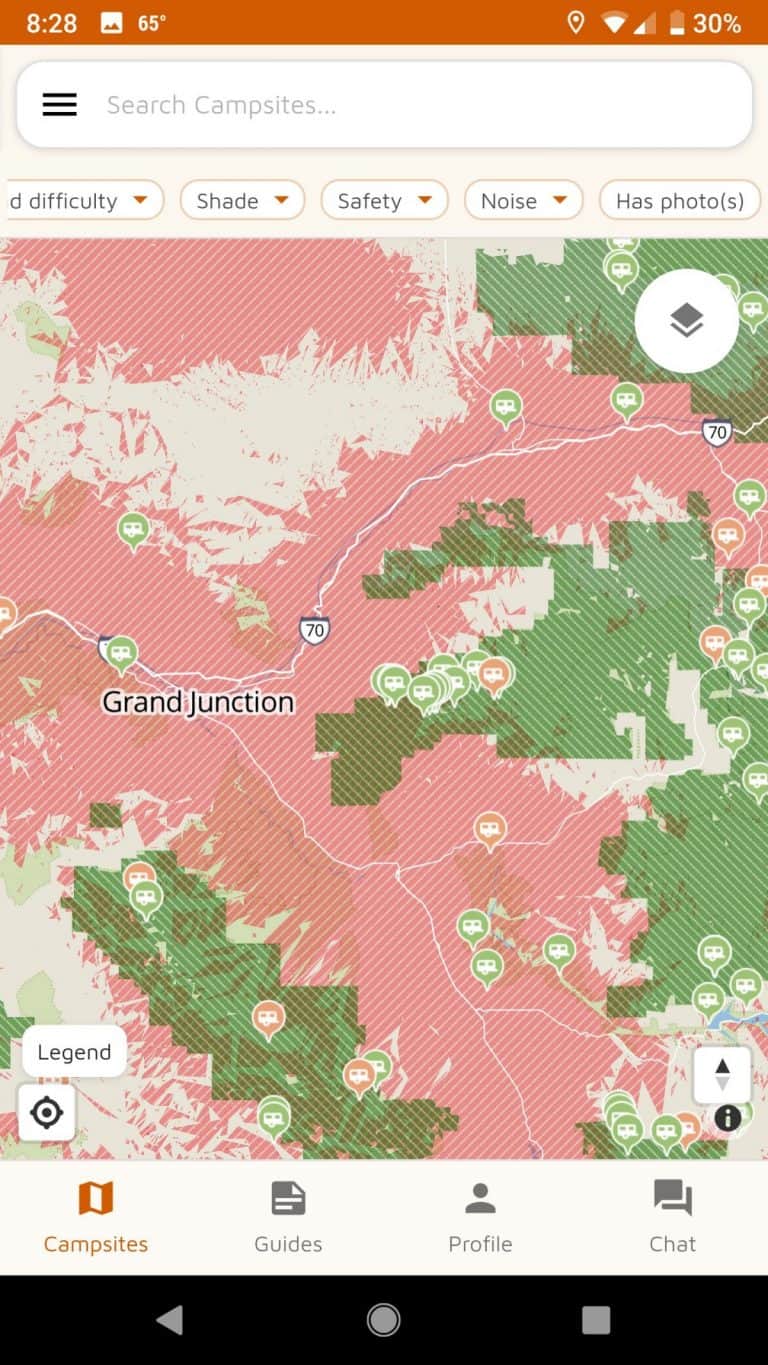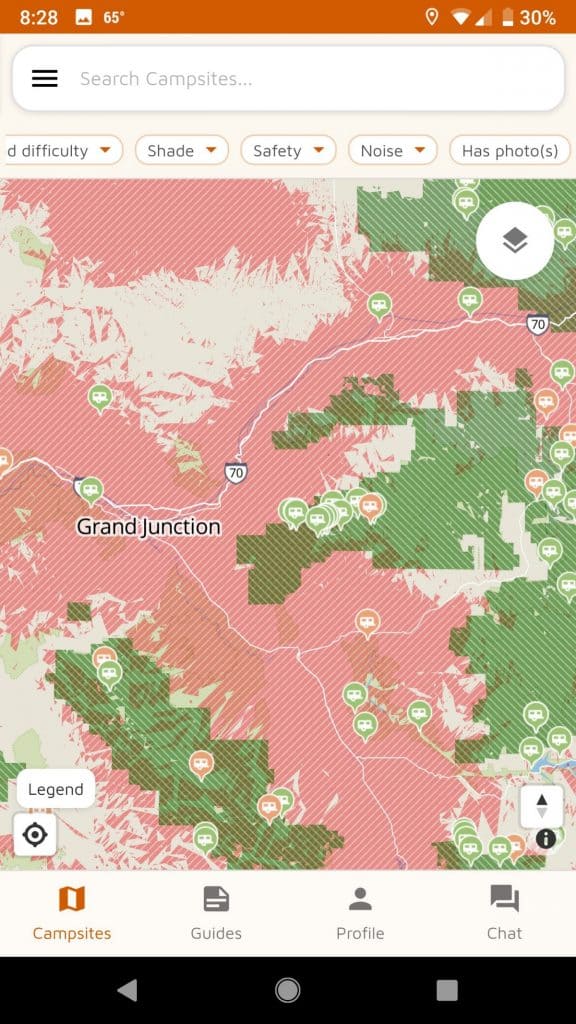 FreeRoam is also a 501(c)3 nonprofit organization dedicated to promoting alternative close-to-nature lifetyles (like vanlife), educating people on respectful use of our public lands, and protecting our natural spaces. In the name of openness and transparency, they also freely provide their code on their website.
(No, we are not affiliated with FreeRoam, we just love their mission and what they're doing with their app.)
FreeRoam is just packed with great features, it's an awesome company, and it has a ton of potential. Its main weakness at this point is that the user base is smaller, so many of the campsites haven't been reviewed yet. But this app is still incredibly useful, and it will only become more useful as their users grow and contribute more data.
Freecampsites.net (website) – Great resource for boondocking sites
Freecampsites.net is actually a website, not an app, and it can be a bit clunky on mobile. But it's one of the best databases of free camping out there – especially dispersed camping on public lands. And it's free to use.
All of the campsites are crowdsourced. You can add campsites yourself, or review and add notes about ones you stay at. Some reviews even give you an indication of the cell service in the area, which we've found helpful in getting our work done.
Freecampsites.net doesn't have every single campsite out there (no resource does), but we've found that it usually has the biggest list of dispersed spots. If that's what we're looking for, we'll always check this first.
AllStays Camp & RV (mobile app and website) – Great general resource for all types of camping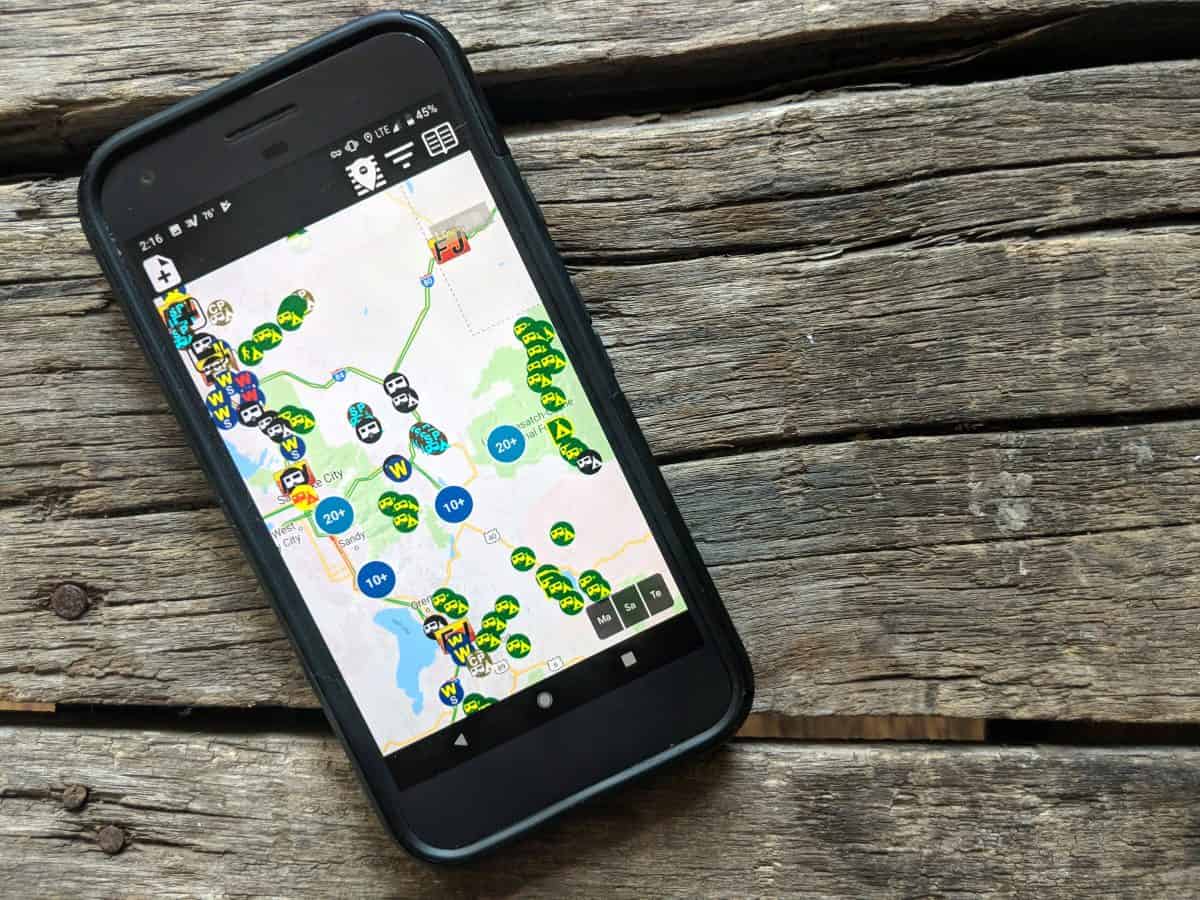 AllStays Camp & RV is a great app for any vanlifer because it lists camping of all types – free, paid, and basic overnight parking. Looking at AllStays allows us to get a sense of all the camping options in an area, and zoom down based on what we're looking for. You can filter it to show only free camping, only paid camping, only state parks, only Walmarts, or any combination you want.
As far as free camping goes, AllStays is better for finding free/paid Forest Service/BLM campgrounds than it is for finding boondocking spots. It's a bit more RV-oriented, so the focus is on campgrounds and overnight parking that's friendly to RVs. But if we're looking for a Walmart, Flying J, campground, or state park, AllStays is where we look first. It costs about $10 to buy the premium version of the app, but we think it's worth it.
iOverlander (mobile app) – Good for boondocking and random overnight spots, but heavily used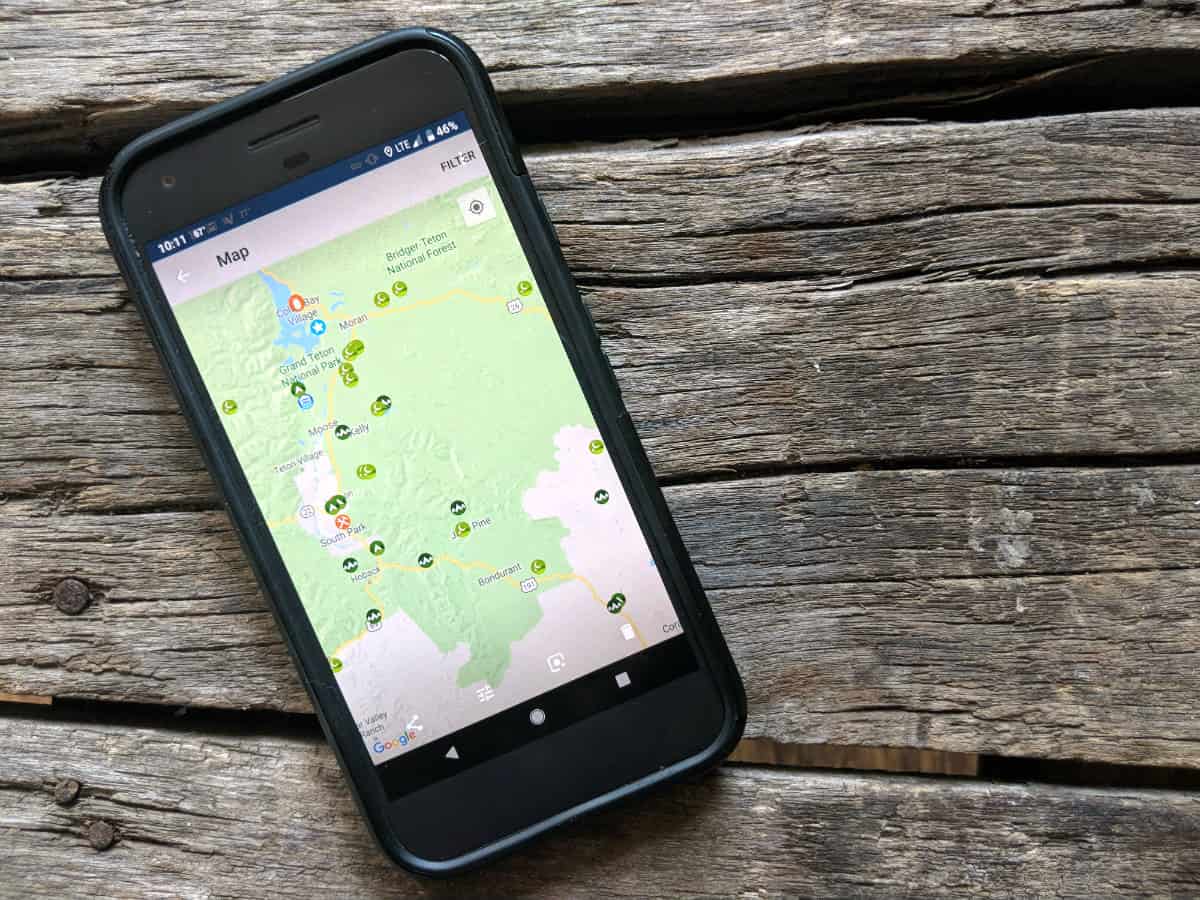 iOverlander is a useful crowd-sourced app that shows a variety of places to sleep. It's good for boondocking (though not as comprehensive as freecampsites.net), and it's really great for finding random little spots to stop off for the night that aren't on any other app.
iOverlander is also one of our go-to's, but it does seem to be heavily used. When we camp at spots we've found on iOverlander, it's been very common to have other campers pulling into the spot looking to camp there (this is more of an issue in popular areas, such as near National Parks).
In short, this is a great app for finding camping, but don't expect to be alone at the spots you find. We've also heard that iOverlander is easily the best app for finding camping in Baja.
Campendium (website and iOS app)
Campendium is like a cross between Freecampsites.net and AllStays. It has a good list of free boondocking spots and paid campgrounds, and it has an interface that's slicker than both. It has a great search function that allows you to narrow down to exactly what you're looking for, and users can add photos and reviews of spots.
While Campendium does everything well, we don't find it as to be comprehensive as Freecampsites.net for free camping or AllStays for other types of camping – so we still find ourselves turning to those first.
Ultimate Campgrounds (mobile app)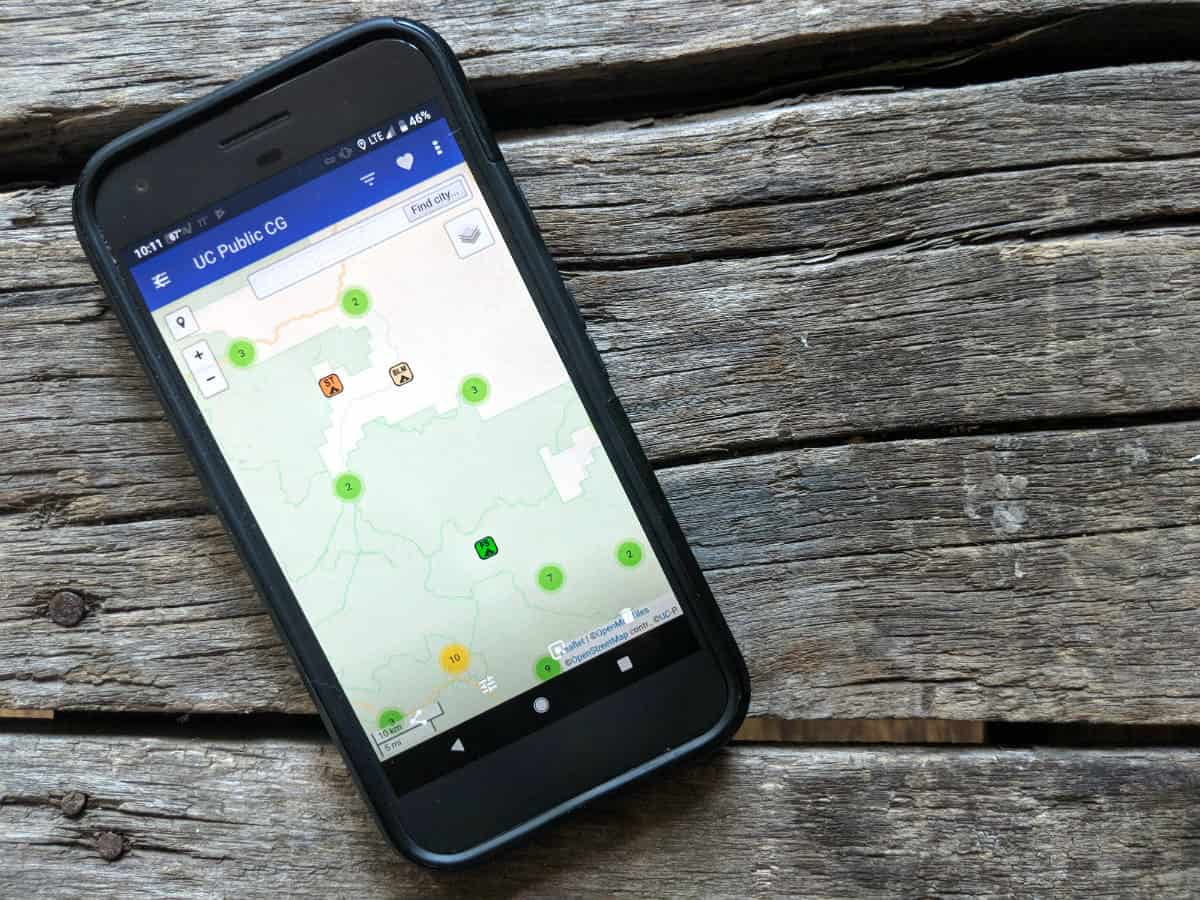 Ultimate Campgrounds is a massive database of public campgrounds (federal, state, and local) in the US and Canada. If there's a public campground nearby, chances are it's on here.
The UC app lists specs and helpful information for each campground, and users also have a way to submit ratings and reviews. We normally this app to make sure our bases are covered. Ultimate Campgrounds costs $3.99 for the full version.
Get to Public Land and Figure it Out
The apps above can help lead you to camping that others have already shared. But there's free camping all over public land! Once you make it to National Forest or BLM land, you should be able to park just about anywhere (unless it's specifically marked "no camping").
The Forest Service maintains an online map of National Forests, and Bureau of Land Management allows you to access regional maps online as well. It can be a fun adventure to just drive up a forest road and look for a camp spot.
As always, any time you're camping make sure to practice Leave No Trace principles, and think long and hard before publicly sharing that spot.
Ask the Rangers!
Whenever we're planning an extended stay in an area, we always stop by the local Forest Service and/or BLM ranger station. Rangers are usually a wealth of information about the area, they can give you vehicle maps (which are always good to have), and they may know of some particularly kickass spots that you wouldn't find otherwise. A forest ranger in Santa Fe, NM told us about an awesome secluded spot on top of a nearby mesa, which to this day is the best stargazing we've ever seen.
We've found that most rangers are jazzed about nature and public land, and will go a long way to help you out if you ask. Stop off and talk to them!
Our Tips for Snagging Great Spots for Longer Term Stays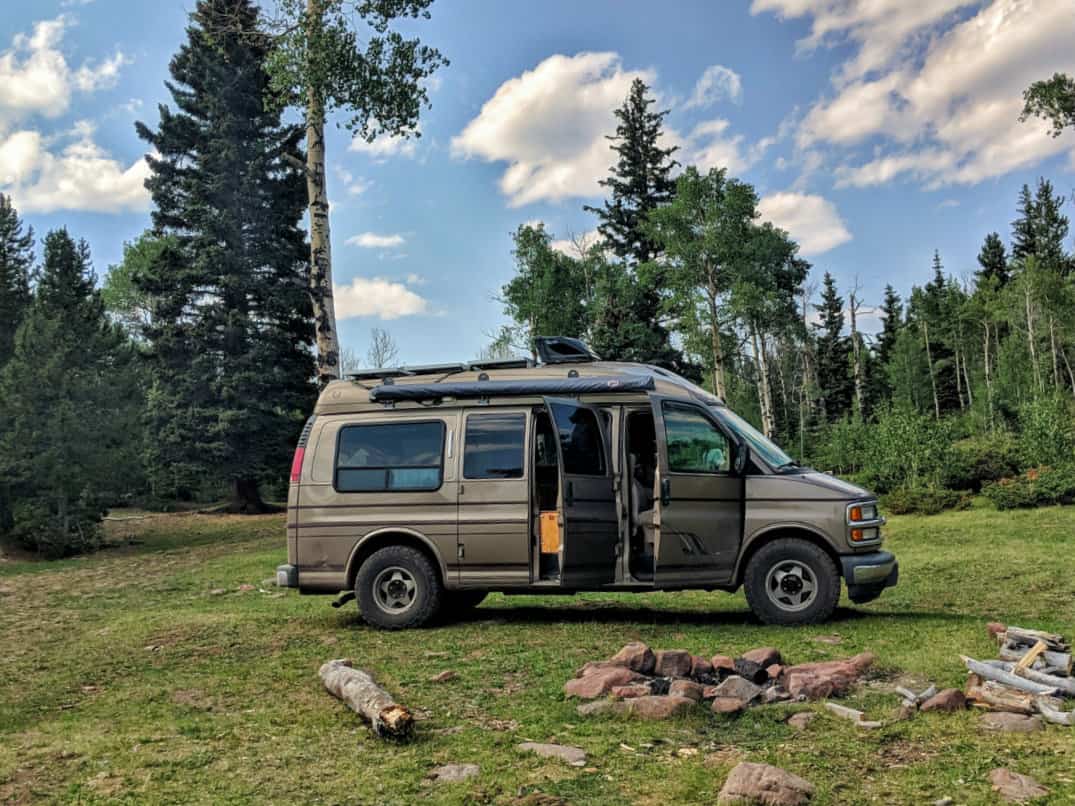 We've learned a few tricks for finding kickass secluded camp spots, including wilderness boondocking spots with cell service.
Search at the right time of day. This is a bigger deal in more crowded areas (like near National Parks or other attractions). Late morning is the best time of day to find a good camp spot – after campers from the night before have left, but before the next wave comes in. Even better if you're searching for a spot during the week. You'll be shit-out-of-luck looking for a killer site at 5 PM on a Saturday.
Drive down the road from the campground. No sites listed on Freecampsites.net? No worries. Just navigate towards an official public campground and drive right past it. There are almost always dispersed camp spots nearby if you just keep going.
Keep driving! We've found some of our favorite secluded spots by just driving further down the road than anyone else. The deeper in you go, the fewer the people, and the better chance that you'll find a spot all to yourself. If you're a runner, exploring an area on foot is another great way to find spots without rolling the dice and driving up that gnarly-looking forest road.
Need cell service? Cross-check potential campsites with Open Signal. We need internet to work, so if we're camping somewhere without cell service we usually can't stay longer than a few days. So how do we find awesome camping with service? We take a look at the coverage maps on Open Signal! This gives us an idea of what the coverage is like where we're thinking of camping, and we can target certain spots that are more likely to have service. Throw in our WeBoost 4G-X cell signal booster and we can usually camp in the middle of nowhere and get our work done.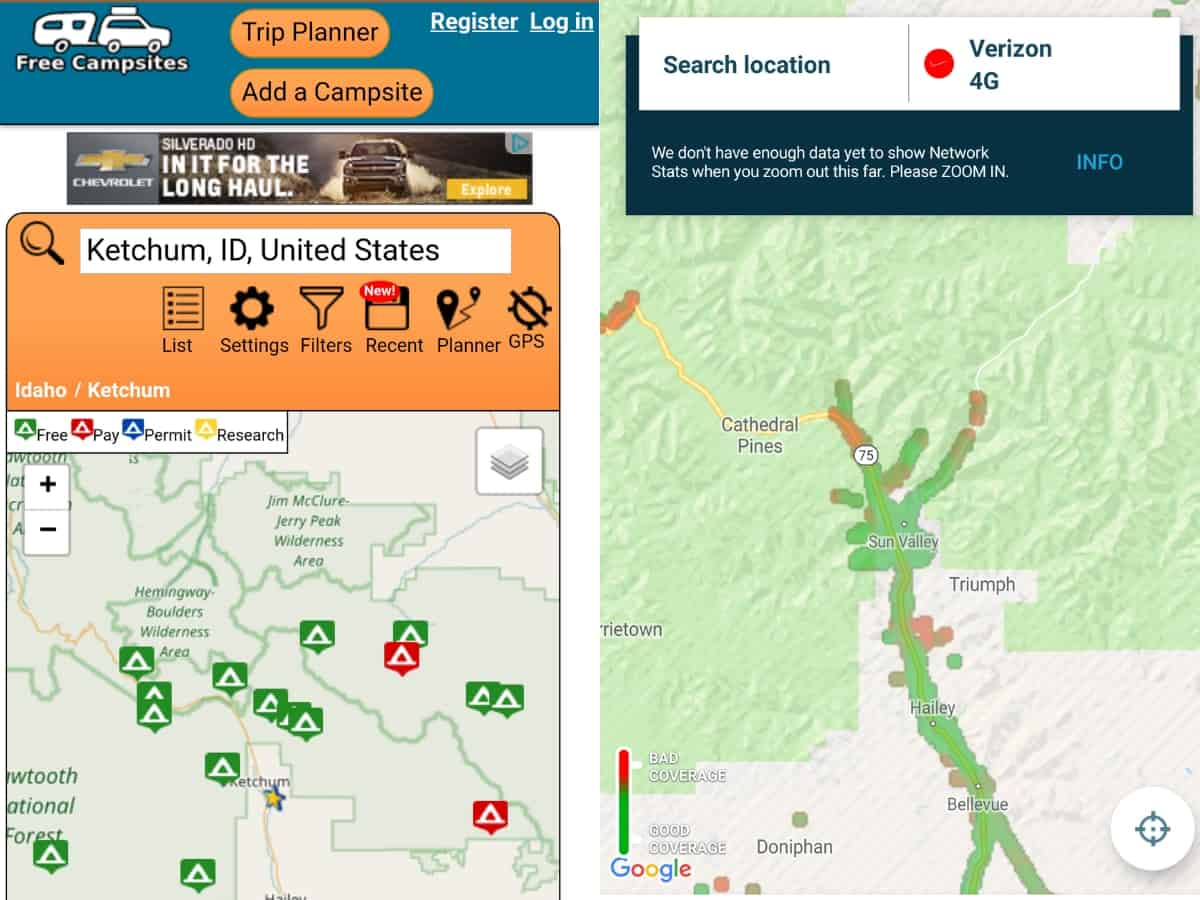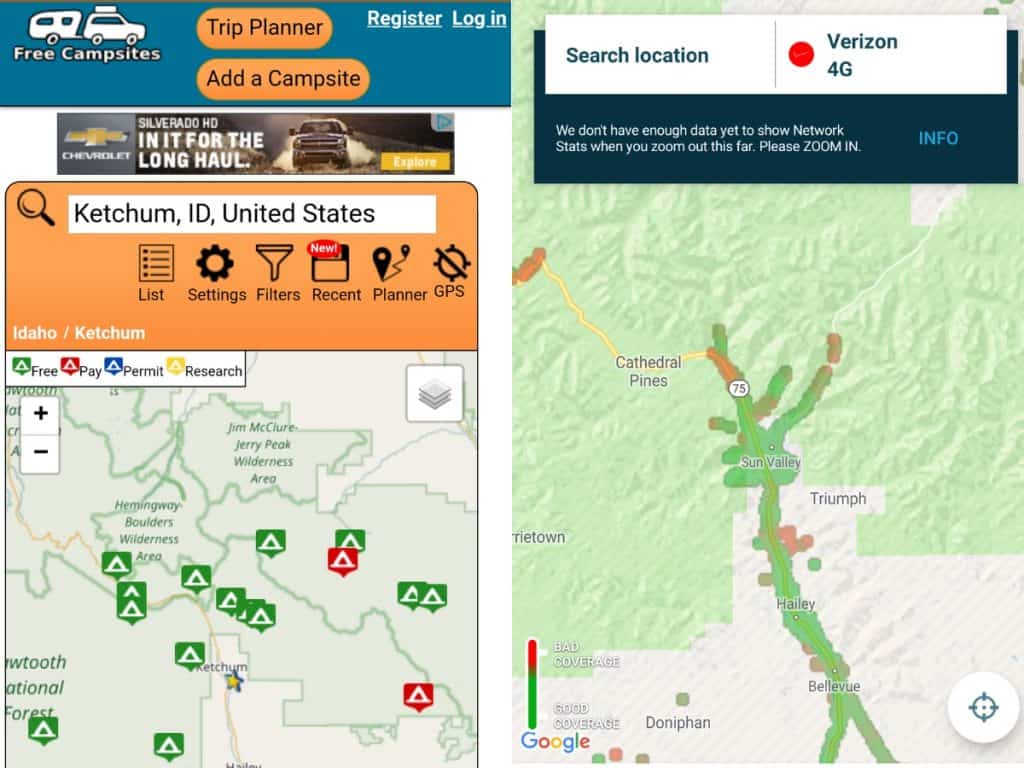 Get Out There and Find the Next Spot!
Finding a spot to sleep overnight is part of what makes vanlife such an adventure on a daily basis. We've grown to love that feeling of uncertainty – it keeps us on our toes, and makes life a whole lot more fun.
With a little planning ahead, it really is quite easy to find places to get a good night's sleep – even secluded spots in jaw-dropping wilderness locations where you might end up staying for a week.
Maybe we'll tell you about some of our favorites over beers sometime. But until then, enjoy the journey of finding your own overnight parking gems!