Picking the design for your van bed is one of the most important choices you'll make in your DIY camper van build. With limited space (and maybe a really tight budget) you need a bed that lets you get a good night's sleep while maximizing living space, comfort, and flexibility in your camper van conversion.
There are tons of creative camper van bed ideas out there and many items to consider when choosing which one is best for you. We'll explore the options in this deep dive into van bed layouts so you can feel confident choosing the ideal bed for your van.
Major Factors to Consider for Your Van Bed Design
While you might already have some ideas about what kind of bed you'd like in your camper van, it pays to think through your needs carefully before locking in a design choice.
For example, when I was working on the DIY conversion of my Promaster van, I was building it just for me. I didn't plan on selling or renting my van, so I could go with design choices that fit my personal style. I didn't need to design around what other people might want.
Knowing my boyfriend planned to travel with me for several months meant I needed a bed that was comfortable for two, as well as storage space underneath for our bikes, climbing equipment, and camping gear.
When you know your own priorities, you won't lose sleep worrying that you'll end up with a van bed design that falls short of your dreams. Up the odds of building a bed that suits you perfectly by asking yourself some important questions about not only the bed itself, but how it will fit into both your lifestyle and the space available.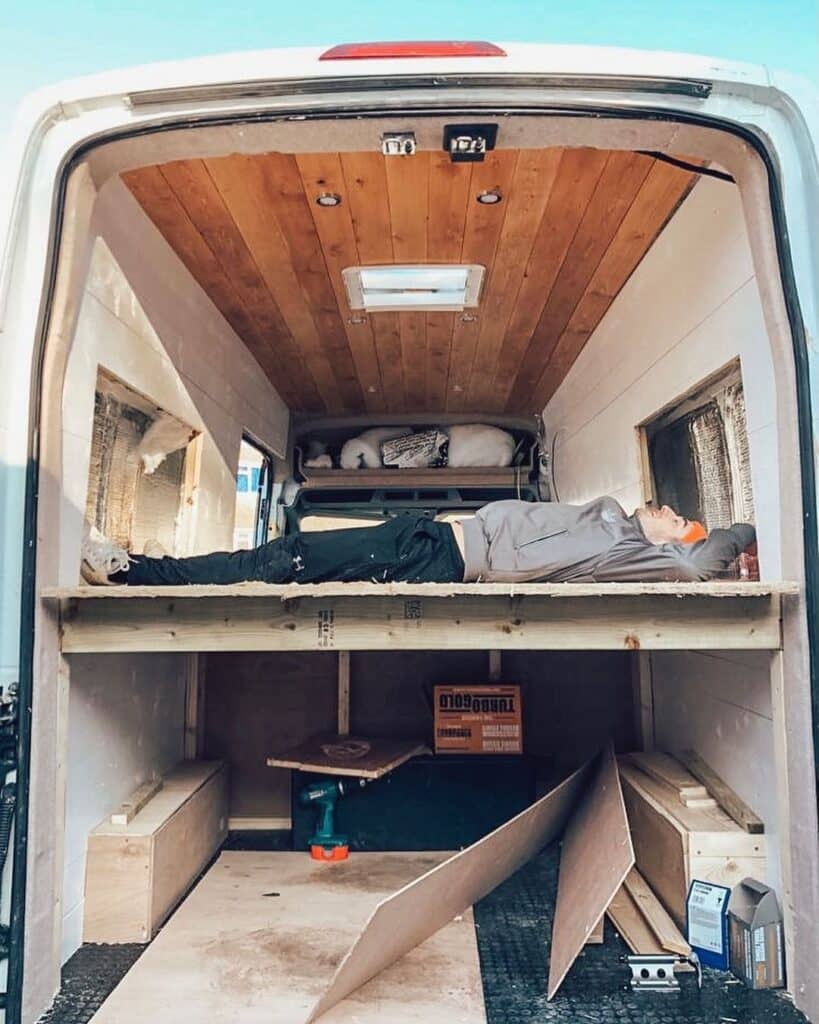 What do You Need in a Bed for Van Conversion?
Spend some time working through this checklist to decide what you really need in a camper van bed before you start designing.
Who's sleeping in your van?
Will you be rocking solo van life, sharing your bed with a partner, or tucking in the kids? Does your 90-pound puppy like to snuggle in bed? Then you'll want more space, even if you'll be traveling alone.
Do you need multiple beds?
It's always nice to have a place for a friend to crash for a quick overnight or even a longer road trip. To make your guests comfortable, add a tuck-away bed in addition to your primary sleeping quarters.
If your van life crew includes children, a Murphy bed or single bunk bed arrangement could work well.
What's your sleep style?
Sleeping well is essential to enjoying van life and factoring in how you sleep will certainly improve your nights. If you're tall or an active sleeper, you'll want more space in your bed than a petite person who crashes hard and never moves.
Do you snooze on your side or stretch out on your stomach? Allow room for that.
How will you get in and out of bed?
We don't think about it much in a traditional home, but accessing the bed in your tiny home on wheels could demand some gymnastics. My van bed sits side to side in the van (east to west, as some say) and my boyfriend has to climb over me when he turns in or gets up.
We're not tall people, and the bed is high enough to store our bikes underneath, so we also need a step stool to climb into bed. We don't mind, would you?
How else will you use the space?
If you're traveling full time and have to use nighttime bed space as daytime workspace, you'll probably want a more versatile bed design than a fixed platform van bed.
Do you need a sitting area or office zone? What about an area for dining, crafts, or other tabletop activities? A table or longer counter that becomes part of your bed could be a good plan.
Will your bed serve as extra seating?
When I have company in my van, I tend to hop up on the bed and let my guests sit on the bench seat. This works for me, but you might prefer a bed that converts to "couch mode."
In addition to extra seating for visitors, a couch bed lets you lounge around – without lying down – to soak up epic views, watch movies, or enjoy a good book.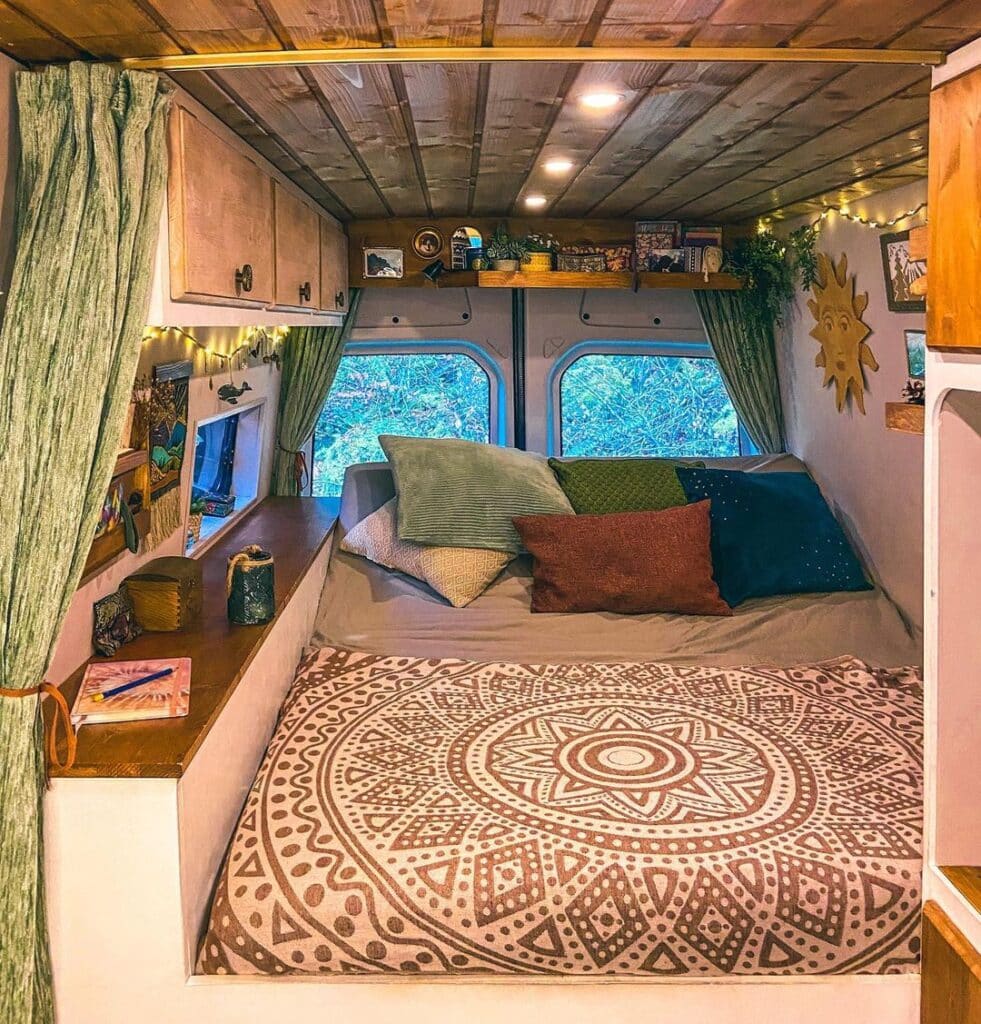 Balancing Space, Cost, Comfort, and Convenience
Once you have a good idea of how you plan to use the bed in your van, it's time to consider some other practical matters. Since the bed is probably the largest single item in your van build, it's important that it fits your lifestyle seamlessly while maximizing limited space.
The size and type of van you own will play a part in the camper bed design options you can choose from, and fitting everything in can be a real puzzle. High-roof vans allow extra vertical space to build upwards, which is great if you need to include bunk beds.
Longer vans offer an advantage if you're tall and want to place your bed north to south (front to back). In smaller vans, stow-away beds can help you make the most of limited real estate while keeping your living space comfortable.
If you'll be living in your van full time or taking long trips toting lots of gear, multi-functional bed designs with ample storage for van life essentials can make things easier.
Is your van conversion primarily a weekend getaway mobile? Consider prioritizing convenience over space to squeeze the most from every minute you're away. Or do just the opposite: design your bed with even more storage space for everything you need to hit the road on a whim.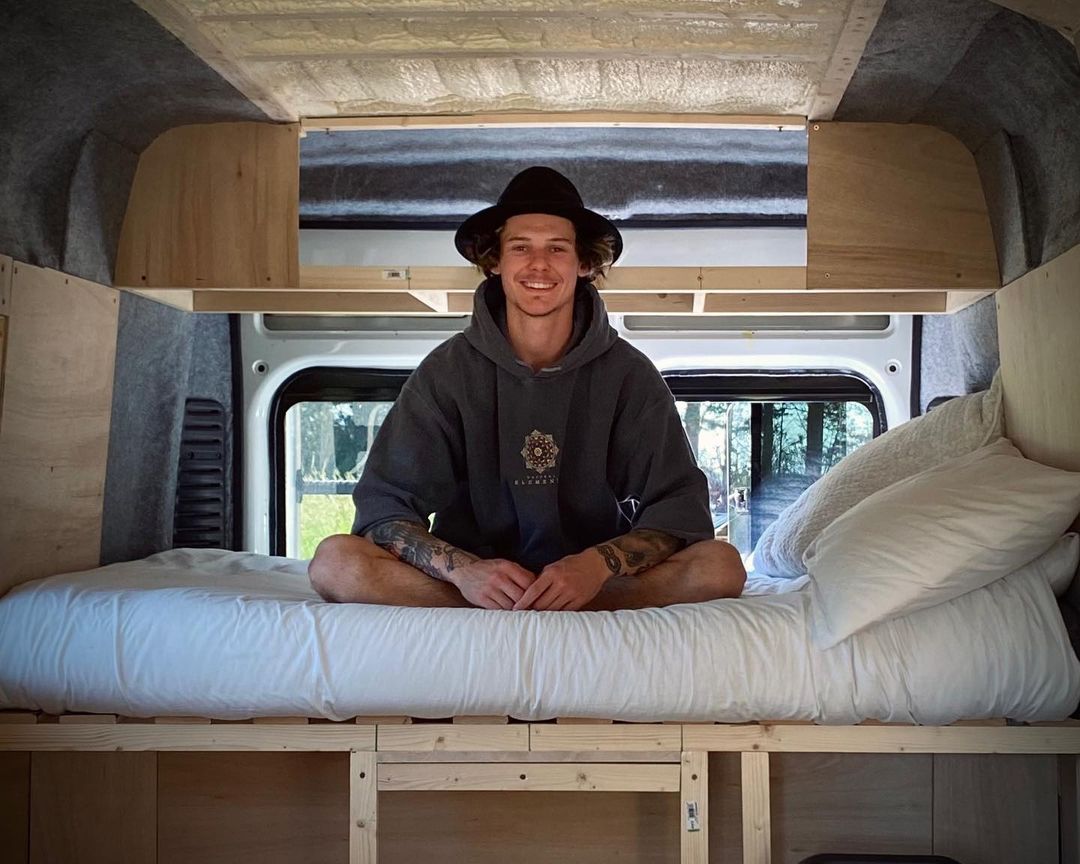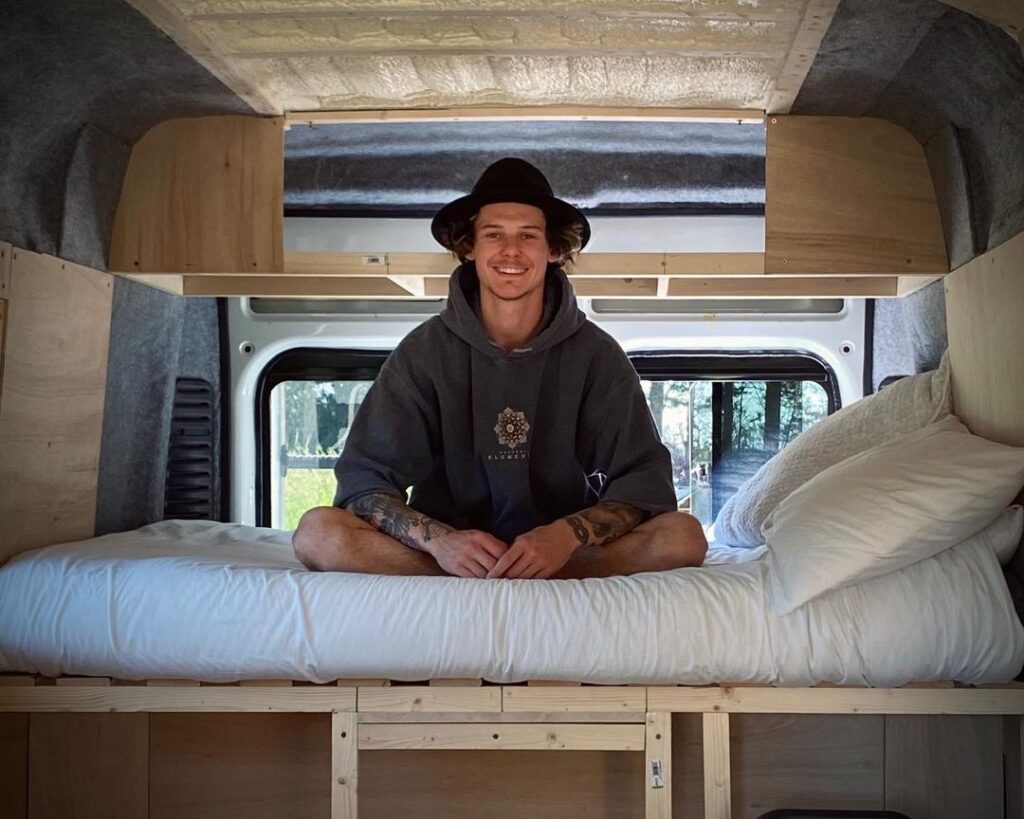 Convenience
Probably one of the first things new van owners think about when planning a bed is fixed vs flexible design. Should your bed be ready to sleep in anytime (a fixed bed setup)? Or is the flexible space afforded by a convertible bed worth the added effort of a nightly setup routine?
As a full-time van lifer, I valued the ability to fall into bed at a moment's notice. This was especially comforting during COVID, knowing that if I got sick, I'd have a place to rest and recover.
Although a fixed bed was the best choice for me, lots of people dread the idea of dedicating that much space to a bed, even with massive storage underneath. For them, a little extra work at bedtime to set up a fold-away their bed pays off by freeing up space during the day for games, meal prep, or other uses.
When considering different forms of convertible bed designs, give some thought to how long or complicated the setup process will be. A Murphy bed gets high marks for convenience because it can be deployed in seconds, while some table bed conversions take more time.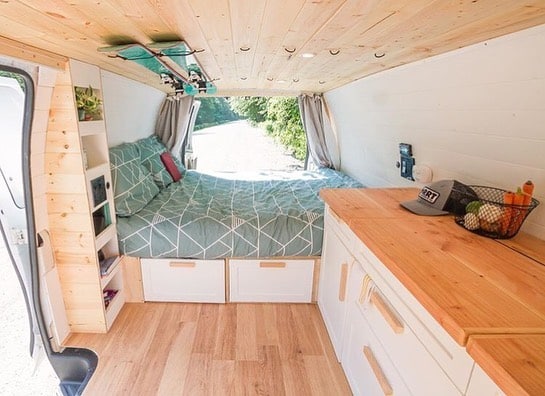 Space for Storage
Whether you're a full-time van lifer cruising the country in a Chevy Astro van or a weekend adventurer with a Ford Transit, space is always at a premium in a van build.
Do you need garage storage beneath your bed for bikes, inflatable paddleboards, or climbing gear? If so, a high, fixed van bed can create space to stow these larger (and sometimes dirtier) items.
What about clothing? Allocating space to closets (a true van life luxury) or rows of cabinets eats away at room for sleeping.
If you put storage cabinets above your bed, you'll still want to sit up, move your feet, and get in and out of bed easily. It's no fun smashing your head at 2 am because you don't have room to move!
Fortunately, van bed ideas can incorporate creative storage options, like shelves or drawers below the bed. Bedside nooks are perfect for small items like glasses, phones, and books. Hidden cubbies can be used to store your valuables securely.
Try stashing baskets or bins under the bed, or even on top of it during the day. I like using woven fabric baskets for shoes and dirty laundry on my bed when I'm traveling. When I'm camped for the night, I move them to the front seats where they're out of the way.
If you have a smaller van or really want to make space for something like a shower, a convertible bed design could be the right option for you.
Just remember that you'll need storage space for linens and pillows when your van bed is in day mode. Space bags can compress these items so they're more compact, but they also take extra time to pack away each morning.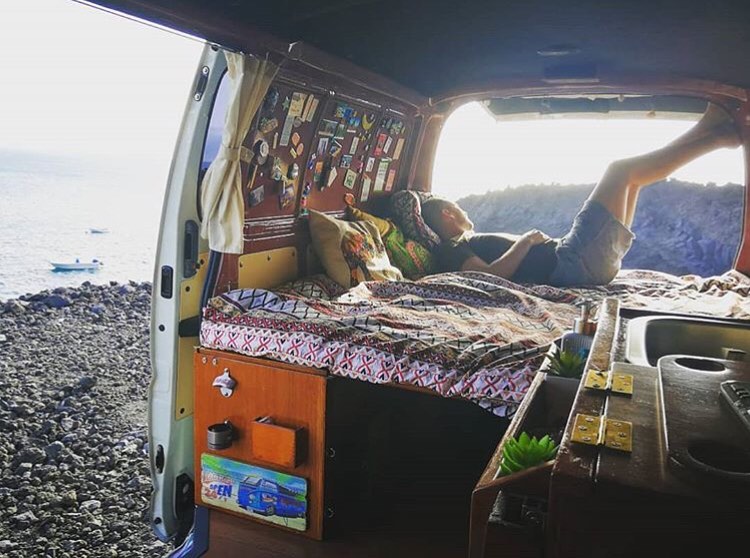 Comfort
Some people can sleep anywhere. Sadly, I'm not one of them. Knowing I'm a light and very active sleeper, I was especially concerned about comfort when trying to decide on the best van bed design for my build.
What if I just couldn't sleep well in my van?
I didn't pick a convertible bed because high-quality sleep is such a high priority for me. I knew from experience that gaps between couch cushions tend to keep me awake at night as I roll around and the cushions shift. I wanted a one-piece mattress without seams or folds.
When the platform bed in my van turned out to be the most comfortable bed I've ever slept in (that's the truth), I was both surprised and very thankful! There's nothing magic about it, but the combo of flexible wood slats and a 5" foam mattress from Zuni worked perfectly for me.
To find the most comfortable van bed for yourself, consider your sleep style as well as things like how easy it is to get in and out of bed, what kind of mattress or cushions you'll sleep on, and how sturdy the bed frame will be.
If creaks and squeaks in the middle of the night make you nuts, pick a simple bed design with fewer parts to rub together.
Will cabinets over your head or a mattress in close proximity to the ceiling make you feel claustrophobic? Plan for a little extra vertical space.
Do you need complete darkness to sleep well? A cool breeze from a window? Place your bed where you can manage light and temps to optimize comfort.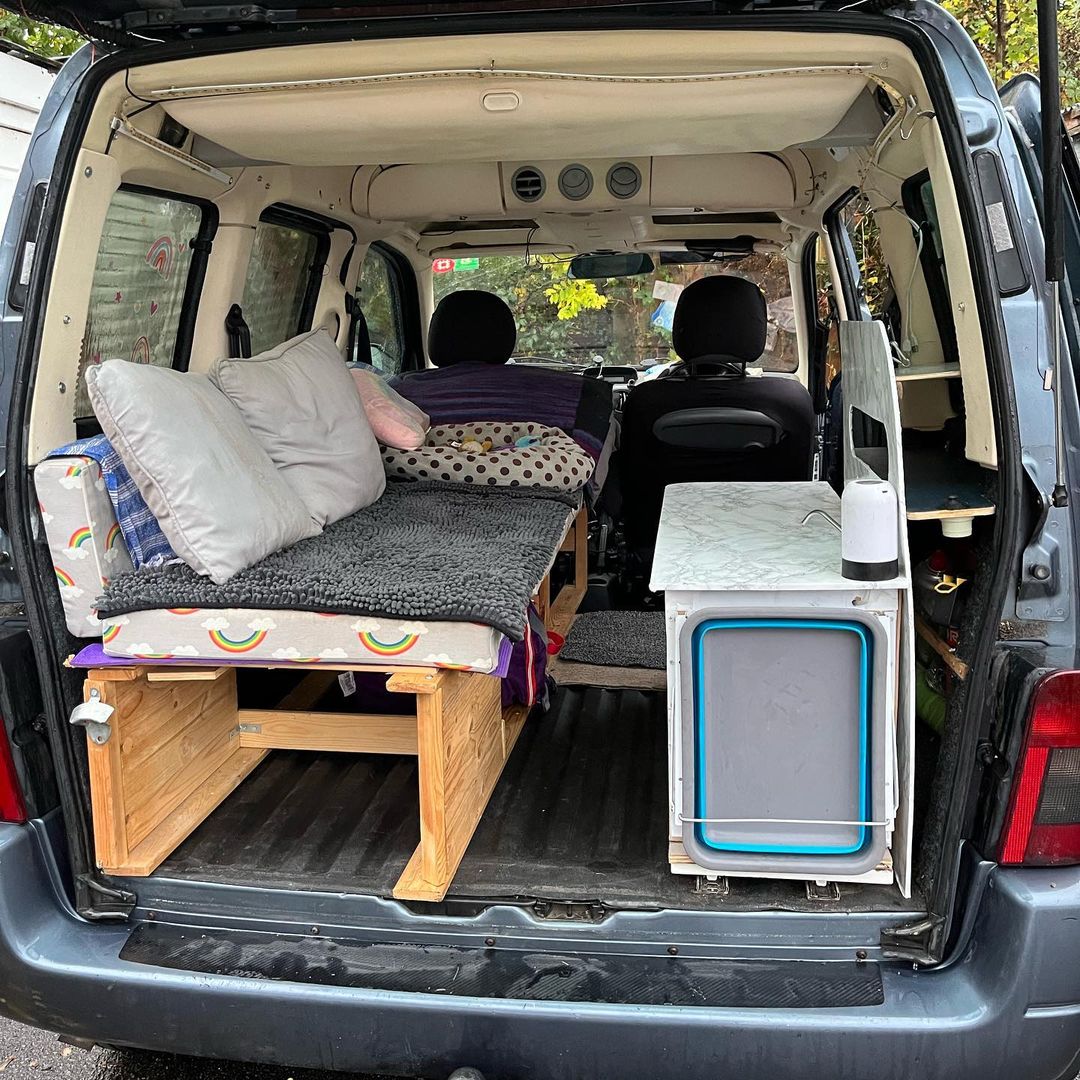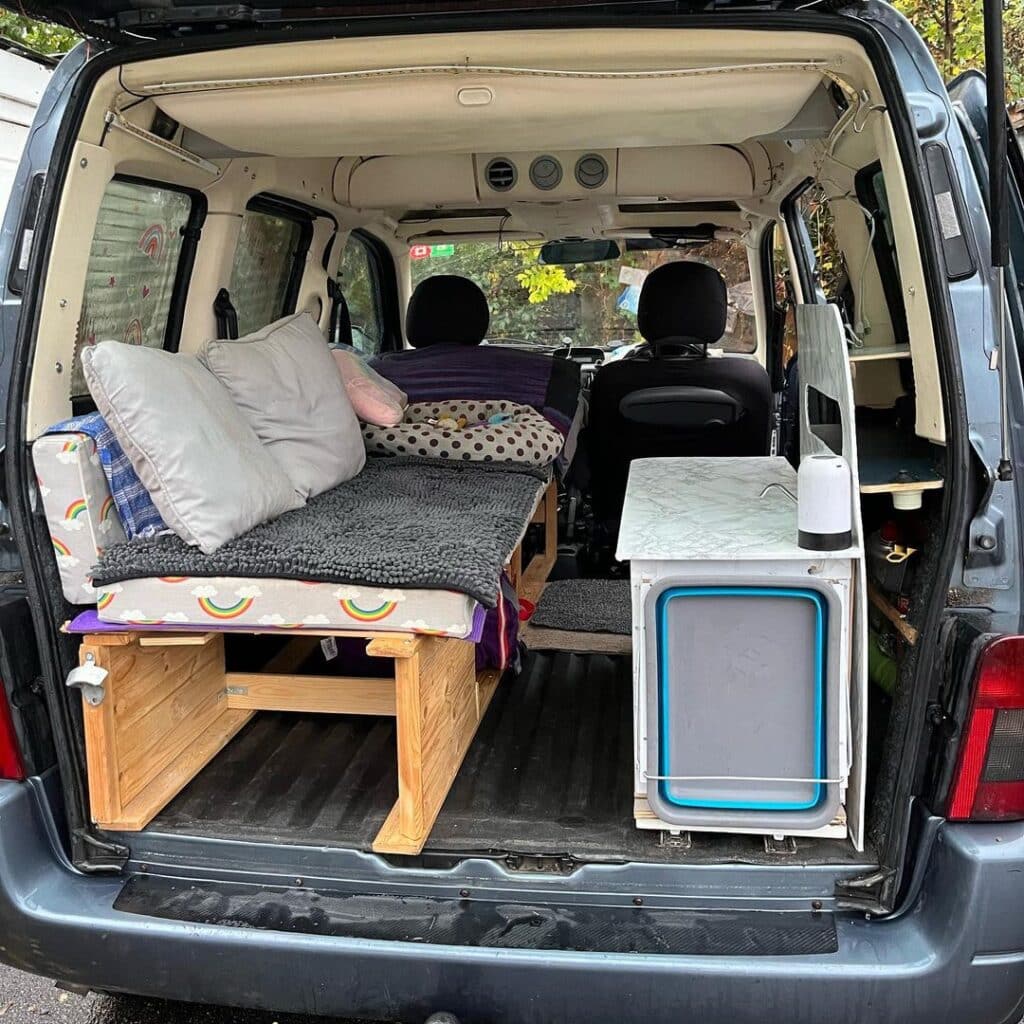 Cost & Construction
The cost of bed construction in a van can range from super affordable to outrageously expensive.
You can pick a quick and easy van bed setup using Ikea parts like Skorva rails ($15) and LURÖY slats ($30), or a much more complicated system like a mechanical bed lift (starting around $1500) to stow your bed overhead.
If you're on a tight budget for your van conversion, factor the cost of your dream bed into your design plans:
In general, simpler fixed or folding beds will be more cost-effective than convertible beds with lots of wood, hinges, and hardware.
Squeezing a fixed platform bed into a tight space might require a non-standard-size mattress which can also cost more.
Beds that convert from a dinette or bench seat need custom cushions, and buying them can get pricey. Luckily, foam cushions are pretty easy to make and cover yourself.
Complex designs for convertible beds typically take more time and money to construct. If you're doing a DIY build and your carpentry skills are minimal, find a talented friend to help or enlist a commercial van builder to handle that part of the construction. The time and trouble you save could be well worth the added expense to get the bed you really want.
Camper Van Bed Designs
Now that you've evaluated your needs and priorities, let's look a little more closely at all the different camper van bed styles out there. There are a lot more than you might expect!
Fixed Beds
Fixed beds are platform van beds that stay in one place. This campervan bed design take up lots of space, but is also lightweight and can be designed to be easily removable if you want to use your van for more than just travel.
Most fixed beds are built on a simple frame with rails and slats, making them an excellent DIY choice. A typical fixed platform bed design leaves storage space underneath for your gear, water tank, and electrical system. Space overhead is perfect for storage cabinets.
Basic doesn't mean boring. Creative van lifers have come up with lots of ways to amp up platform bed design, increasing flexibility and improving functionality:
Partially-fixed beds expand with a pull-out tray or extension. Finger or comb-style slats can slide out, turning a single bed into a double bed or allowing a day bed to work for a couple at night. Unfold an extra panel to gain an extra foot or two of bed length if you're tall.
This best-of-both-worlds bed design option can take advantage of counter space you don't use at night, turning base cabinets into supports.
Beds with "couch mode" let you work comfortably or enjoy epic views, movies, and more. Does your bed need to double as dining space, but you don't want to hassle with a full conversion every night? Couch mode could work for you.
This sofa bed style involves bending the bed in the middle so you sit up and can face in or out of the van. Supports prop up the bed and release the back to make a flat bed when you're ready to sleep.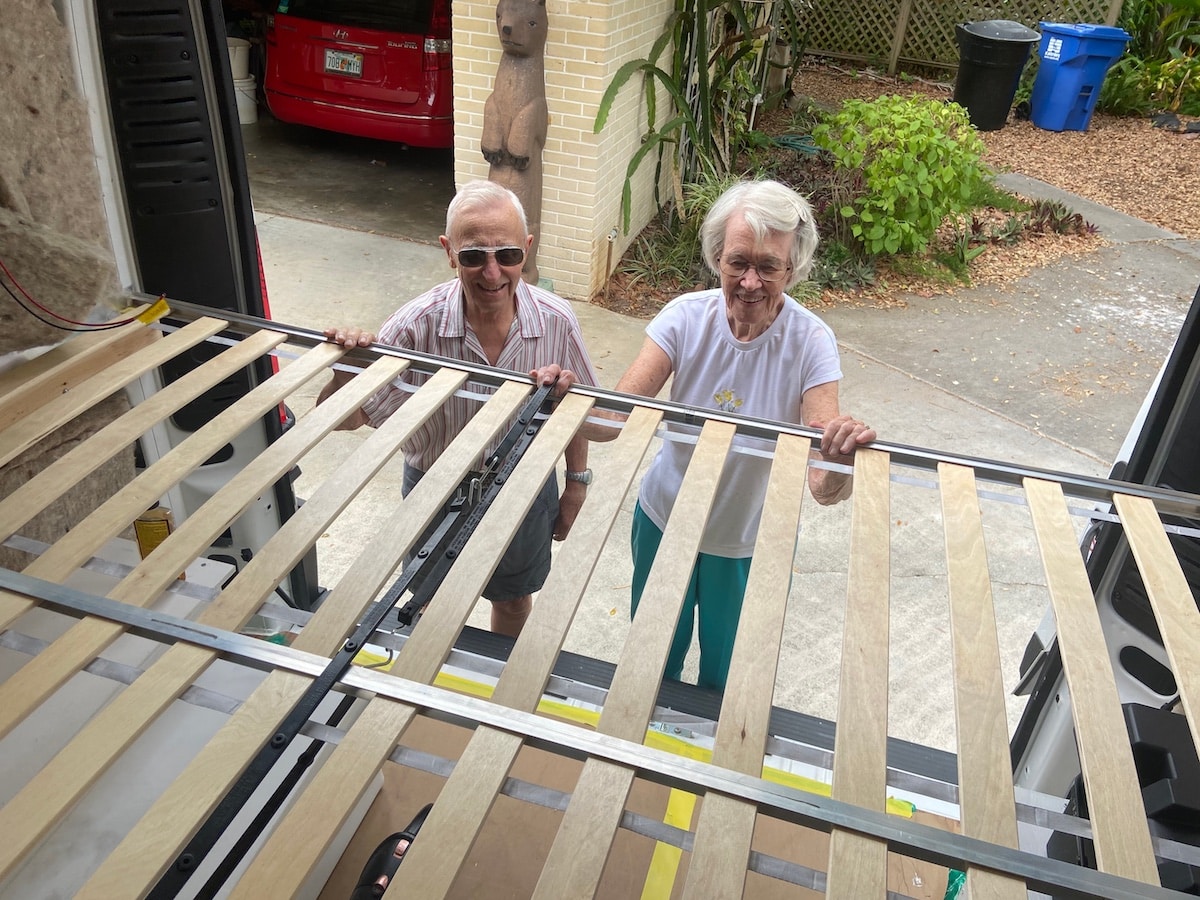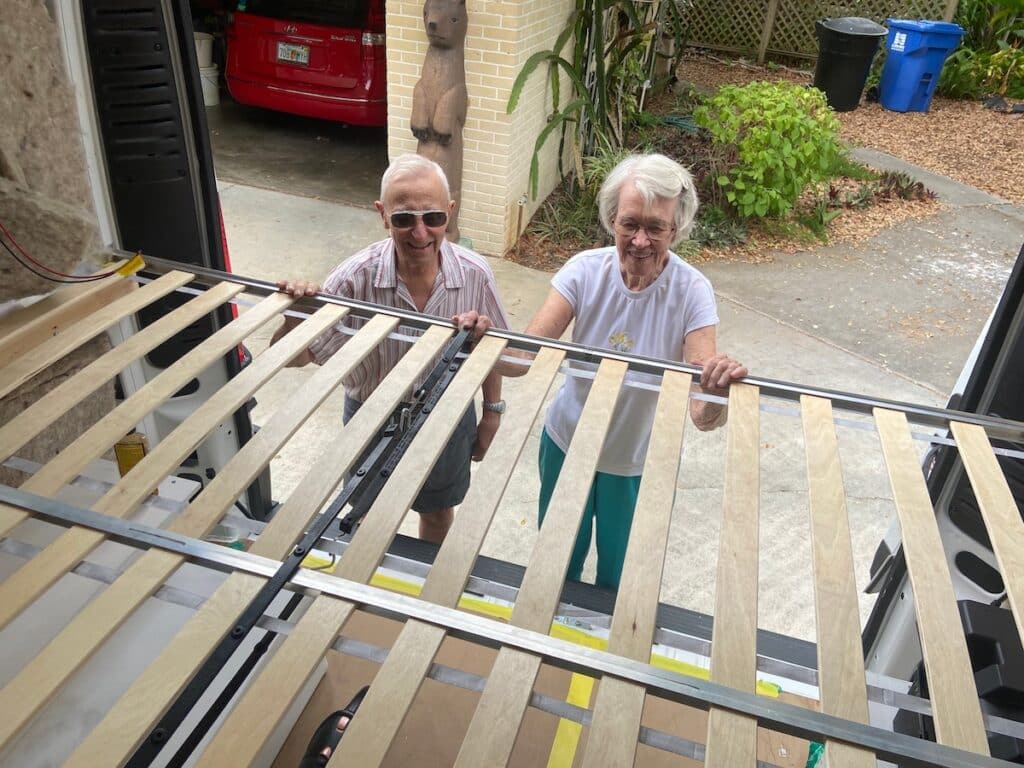 Materials for fixed platform van beds commonly include plywood platforms or wooden slats. You could even use metal mesh if what you choose is strong enough and not prone to rust. Plywood is heavy, but adding holes that let your mattress breathe (to prevent mold) also makes the bed lighter.
To save money, you can upcycle cots or fold-away bed frames, but these may be more likely to squeak and rattle in your van as you travel.
Read More: How to Fit a Queen-sized Bed in Your Van: Badass Pull-out Bed Frame Design
Elevated Bed / Bed Lift
A unique twist on a fixed bed, an elevated bed moves up (or down) and out of the way to reveal a hidden workspace or daytime dinette. This is also a good way to make room for a queen bed or even two bunk beds.
How you implement an elevated bed design will depend a lot on both cost and complexity. Adding lifts to your bed design can get expensive, but there are more affordable low-tech options like non-motorized pulley systems.
The bed can be pushed up from below with linear actuators or lifted from the top using garage door motors or pulleys with chains/cables. DIY van builders can certainly handle this project, with a little electrical know-how (for motorized lifts) and ingenuity.
Bear in mind, if you choose a motorized bed lift over a manual design, you'll need consistent power to make it work.
Elevated beds look super cool. If you want to impress your friends while enjoying a really flexible van layout, this campervan bed idea is worth exploring.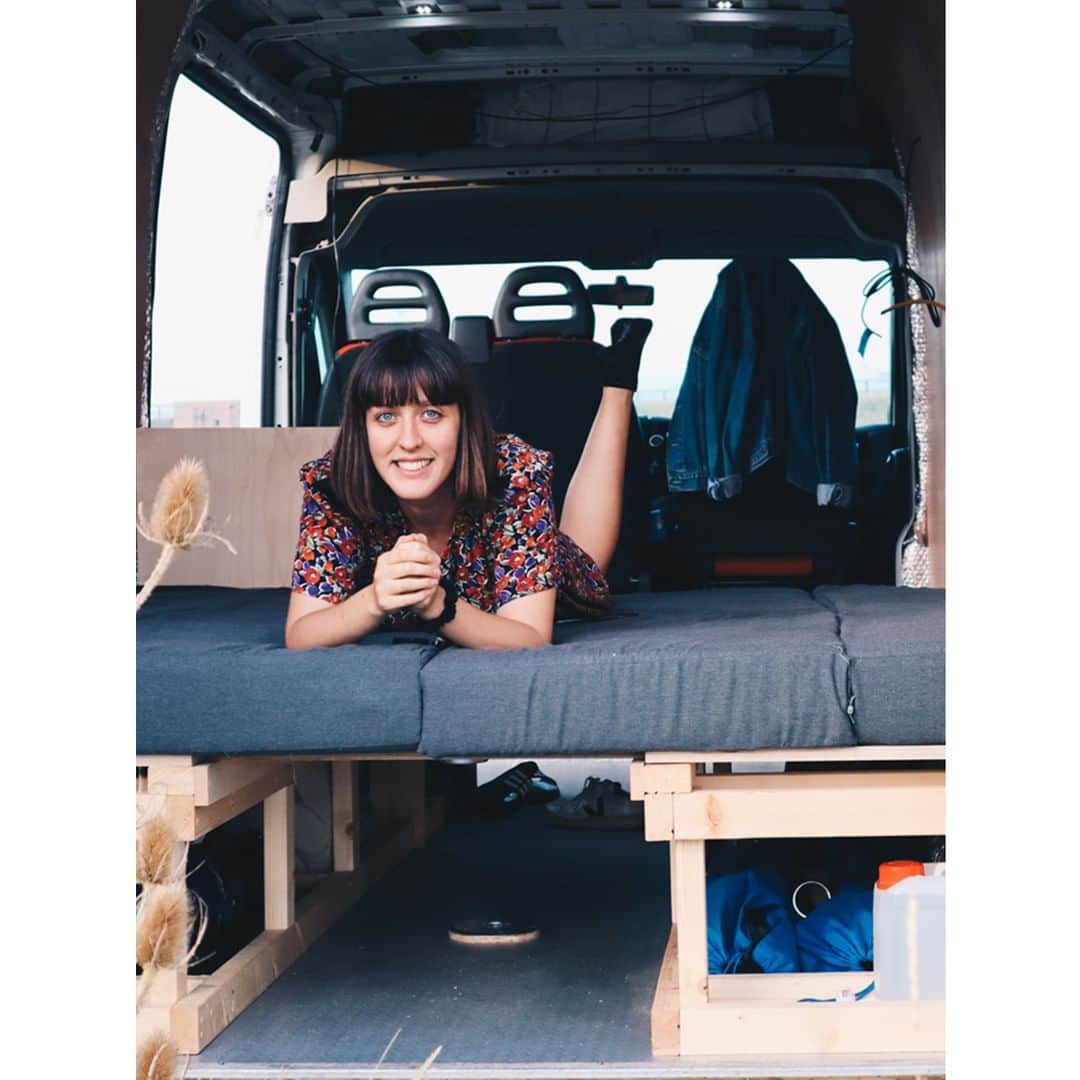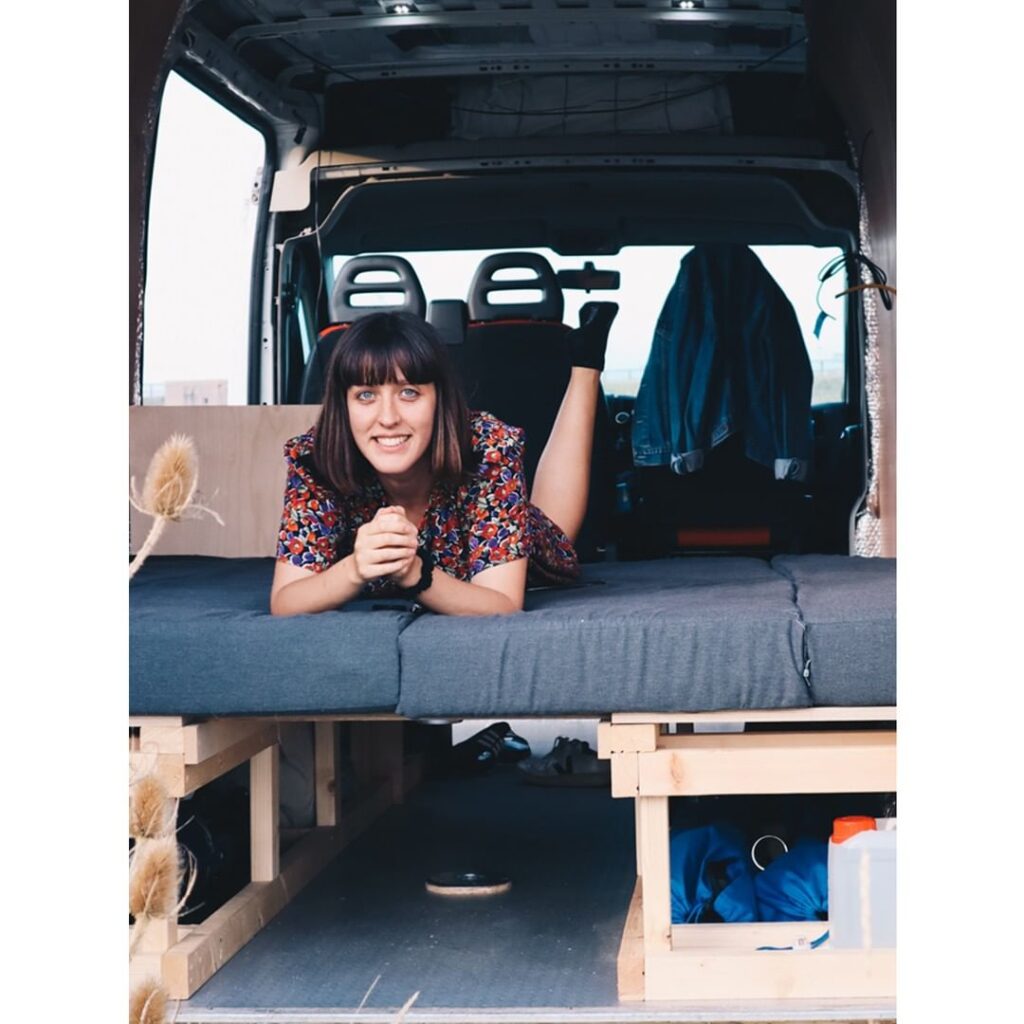 Convertible Beds
Don't worry if you don't have room in your van for a fixed platform bed design. Convertible beds let you maximize space day and night, and they can give you almost as much storage space as a garage if you plan well.
This is a big category comprised of all kinds of folding, stow-away, and multi-purpose beds. It seems that there's no end to ideas for these types of van beds, and your only limitations are creativity and the ability to build what you conceive.
Here are some of the more popular styles of convertible van beds:
Convertible Dinette or Table Bed
One of the most common types of convertible van beds is both a bed by night and a dinette by day. You've probably seen lots of these familiar table beds on Instagram, in RVs, and even on boats.
Typically, these campervan beds feature bench seats on each side with a table in between. Pop off the tabletop, remove the base, then slide the top into a ledge on each seat. Reuse the back and seat cushions to make a mattress, and you're ready for bed!
While the drop down table bed is popular, there are three big drawbacks to this type of campervan bed idea:
The cushions might not be the most comfortable to sleep on, since they double as seating pads and backrests in the daytime.
The tabletop's primary function is a study surface for eating, working, and games. It could be too rigid for your sleep style. Without airflow under the mattress, it may also be hot.
A dinette conversion can be noisy at night, with squeaks where the tabletop rests on the seats. If your table has hinges for a side that drops down to save space, that could be another source of unwanted sounds.
There are ways to work around all of these challenges. Plan ahead to mitigate them in your campervan bed design and you'll sleep more peacefully.
Bench Seat Conversion
Another convenient, space-saving campervan bed option is a bench seat or couch conversion. Instead of rebuilding your dinette as a bed, you can transform a long or short bench seat by either unfolding it to make a flat bed or using a pull-out extension.
Your sleeping surface might be a solid panel that unfolds from the top of your bench seat with drop-down legs, or finger/comb-style slide-out bed slats.
For a mattress, you can move the couch cushions into bed mode, use an inflatable mattress, or store a foam mattress elsewhere in your van.
If the long seams between cushions are a concern, try a foam topper or a small wedge to fill the gap.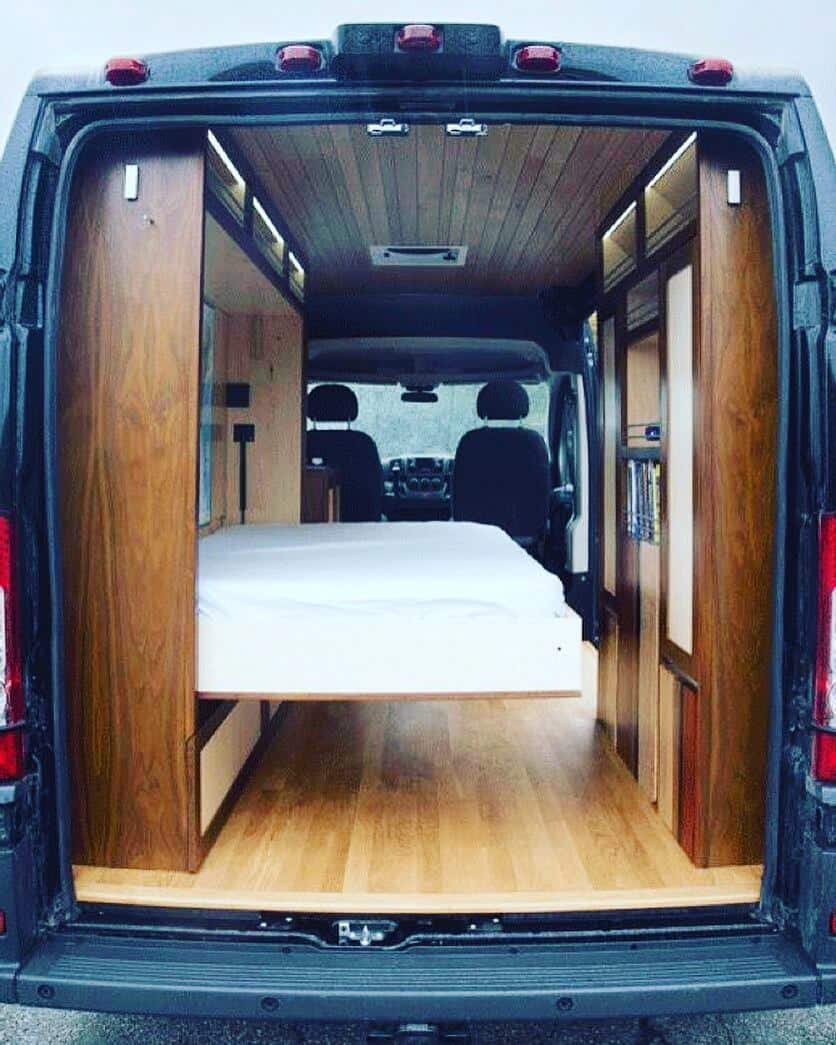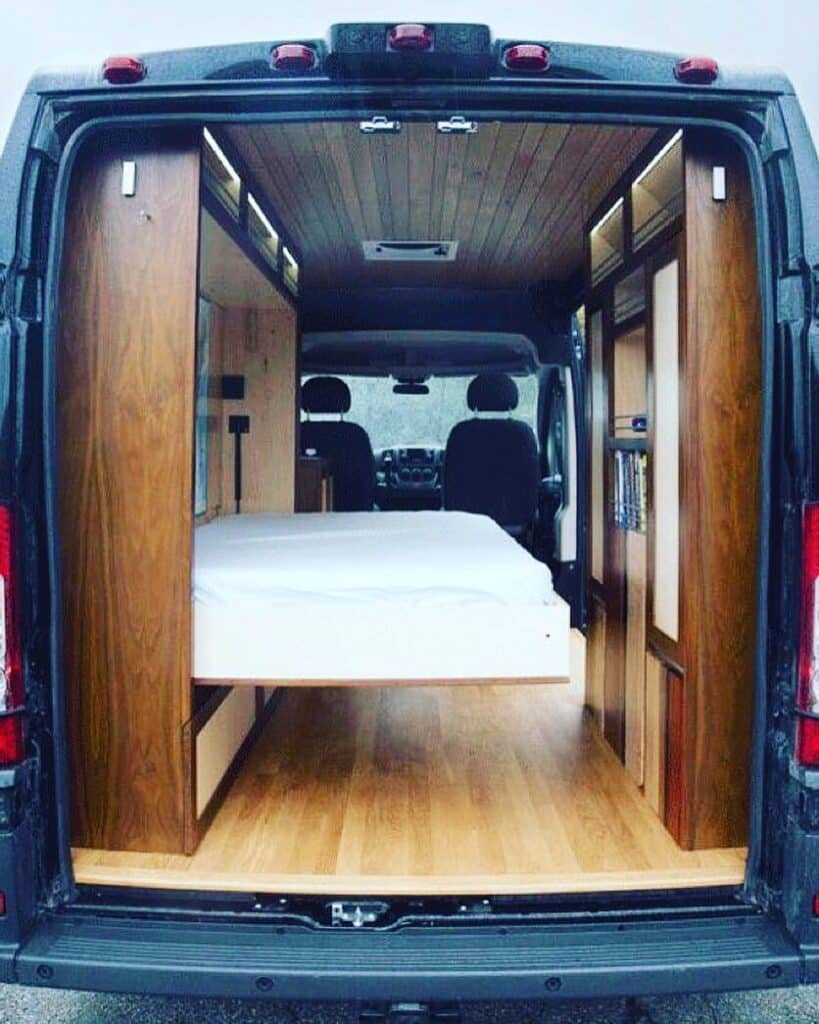 Murphy Bed
Are you a minimalist who would prefer a platform bed that disappears during the day? The clean lines of a Murphy-style van bed are perfect for you.
Sometimes referred to as a wall bed, pull-down bed, or fold-down bed, the space-efficient concept of a Murphy bed has been around for over 100 years.
You can turn this retro space-saver into a stealthy, modern, campervan bed with a Muphy bed kit for about $1200, or build your own drop-down bed for much less. Check out this video on a $20 DIY Murphy bed for some great ideas.
One great thing about the fold-down design of a Murphy bed is that it pairs well with other options like a fixed bed. If you want space for an occasional overnight guest, add a hide-away single bed behind your bench seat and you might even forget it's there until you need it.
A mini Murphy bed could also be a nice place for a pet to sleep at night, either next to your bed or somewhere else in your van.
Burrito Beds
If you're looking for the benefits of a stow-away bed without the drawbacks of convertible dinettes and couch beds, look no further than the burrito bed. This van bed style earned its name from one of our favorite fold-up foods because it easily packs up and away.
A burrito bed can roll up in two or three folds, packing up your mattress and linens all at once. This saves a lot of time compared to a convertible bed that requires storing sheets and making the bed every night.
The "tortilla" in a burrito bed serves as the sleeping platform when the bed is deployed. Because it folds, the hinges may make it slightly less stable than a solid platform or slats system but with quality construction, this type of bed can be very comfortable.
Like a Murphy bed, the ability to hide your bed from view can make your van feel a little tidier, while also freeing up vital space for work or relaxation.
French Bed
One more bed design that's a little less common in vans is the French bed. Often found in RVs or boats, the space-efficient shape of a French bed is a polygon with one or more diagonal corners. This provides more floor space, making it easy to maneuver around the bad.
Because of the non-standard shape, you will definitely need custom cushions or a trimmed-down mattress for this type of van bed. You can make a French bed by utilizing fixed cabinets or bench seats with a stow-away extension panel that fits into place when setting up the bed.
A French bed is a good solution if you want to position your bed north to south (or front to back) in your van, with something else beside it. Use the extra space for a shower, hanging closet, or dresser next to the bed.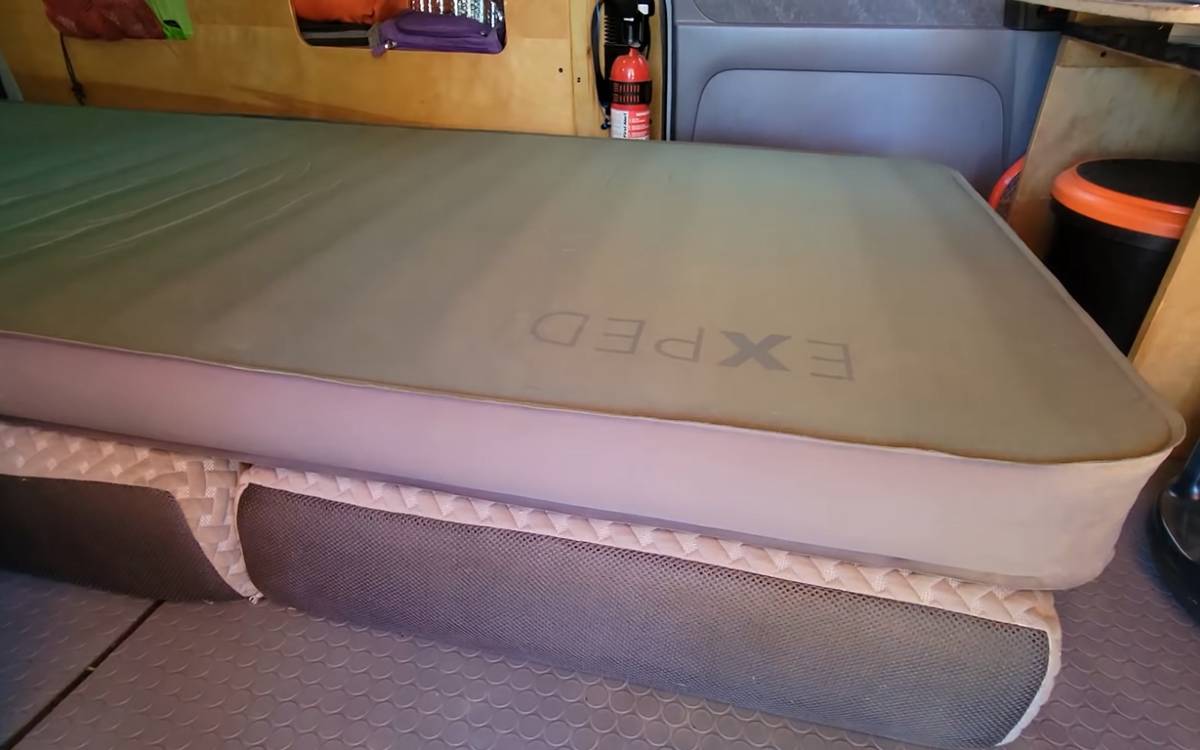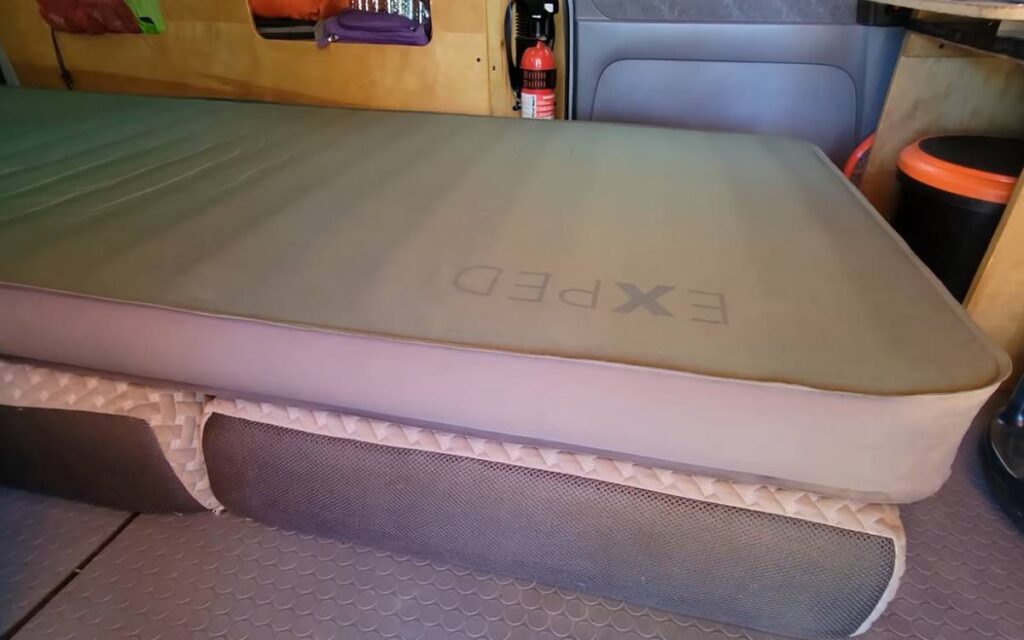 Best Budget Van Beds
Looking for a quick, easy, and cost-effective sleep system? It is possible to do virtually no construction and still have a comfy place to sleep in your van.
If you're not quite ready to build a permanent bed, take your time to save up money or play around with design ideas. Affordable van bed alternatives let you get out and enjoy van life without waiting for the perfect moment.
Many of these seven budget-friendly campervan bed ideas win bonus points for being space savers, too. They pack away into small places, and some even let you sleep under the stars:
Hammock – Think like a backpacker and hang your bed. All you need is an easy-to-store hammock and a couple of securely attached eye bolts. Hang the hammock inside your van with straps or carabiners and you've got an instant bed! (Bonus: This idea give you extra floor space.)
Air Mattress – Channel your inner camper with a good quality inflatable air mattress that's both warm and comfy. They come in many sizes (tall, wide, youth, etc.) and fit in lots of tight spaces. Use one on the floor, on a platform over your counters, or even across the front seats.
Inflatable Bed – For a little more luxury than a camping pad, try an Aerobed-style inflatable bed. Storing it will take up a little more space, but it will also be thicker and more like a traditional full-sized mattress. Use a hand pump or power outlet to inflate it fast.
Foam Sleeping Pad – Another backpacking staple, closed-cell foam pads can be bought for less than $60. While not the most luxurious, they are cheap, durable, and highly packable. Pair one with a sleeping bag and you've got a go-anywhere sleep system.
Futon – Upcycle a second-hand futon frame (or buy an inexpensive new one), bolt it into the van and you're off. Since it doubles as a couch, a futon is space-efficient and cheap. If you don't have a futon mattress, make a foam cushion instead.
Memory Foam – You can buy memory foam in large pre-cut pieces or even by the yard at craft stores. Make a DIY bed in the width and thickness you prefer. If it's thin enough, you can roll it up with your sheets in the daytime and pull it out at night.
Cots and Folding Beds – A folding, roll-away bed frame or sturdy cot can easily serve as your campervan bed. Attach it inside your van if you'd like the bed to be more permanent. Or take it apart and use the top or the frame as the start of a quick and easy bed build.
If you are really pinching pennies, many of these items can be found second-hand. Check local thrift shops, garage sales, Facebook Marketplace, and your neighborhood Buy Nothing groups for deals.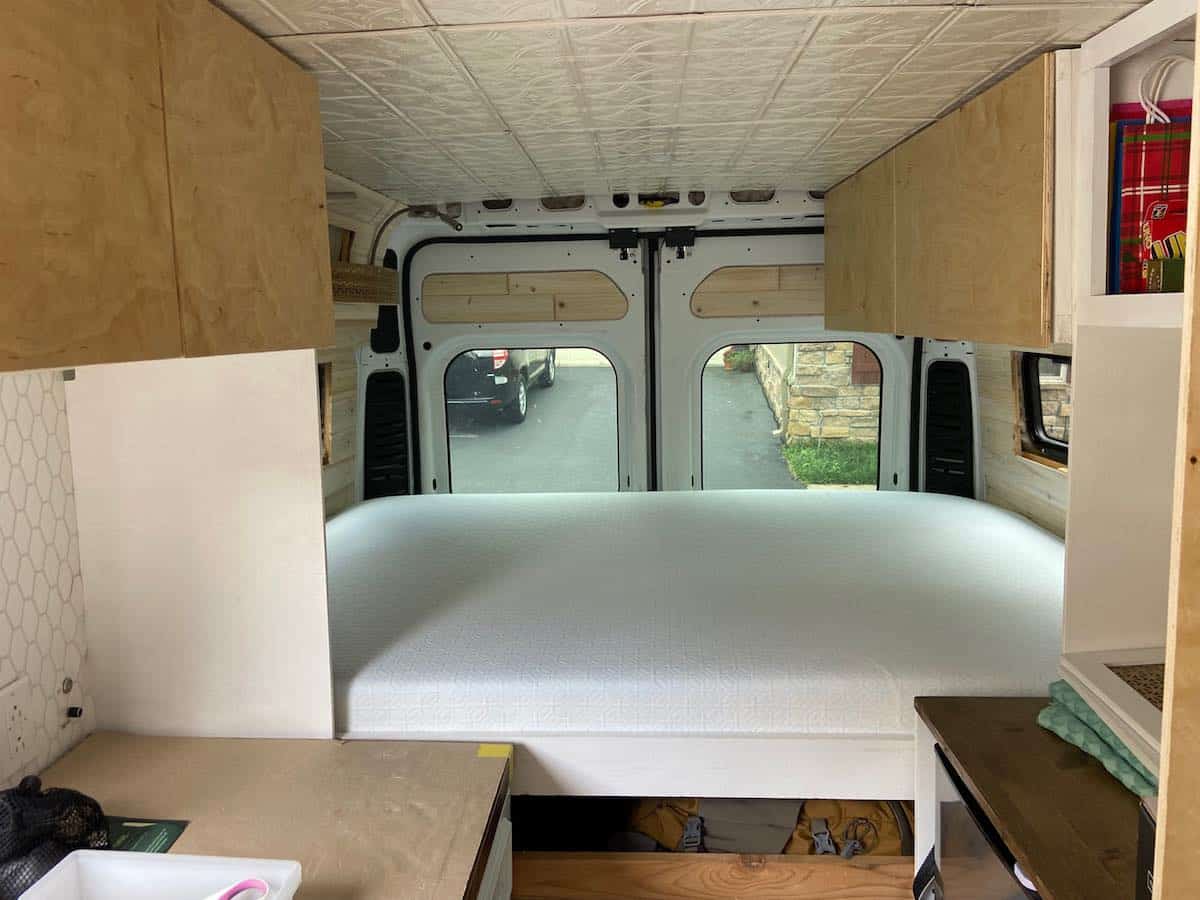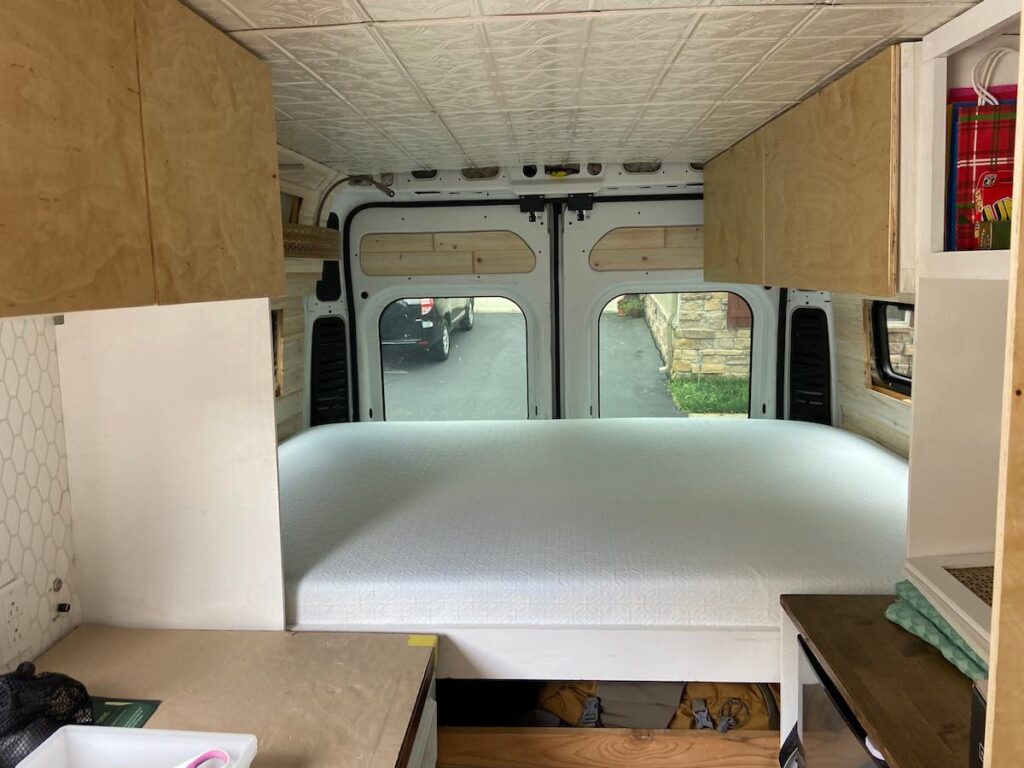 Choosing a Campervan Mattress
You'll sleep better in your van on the right mattress. When you're ready to start shopping for your campervan mattress, here are a few things to think about:
What size is right? Standard twin, full, and even queen-sized mattresses are popular in vans. Did you know you can also get them in short, long, and narrow sizes? RV mattresses expand the wealth of size options.
Materials: While memory foam is very popular, gel-infused memory foam can firm up when it's very cold. You might also consider using foam cushions, futon pads, or even traditional innerspring styles.
Cutting down a mattress? Be sure you know what's inside first. Some mattress materials like fiberglass (used as a flame retardant) can cause itching or other reactions.
How tall is that mattress? Height matters in a small space. Try different thicknesses and you might discover that a 4" high mattress is just as comfortable as one that is 9" high, and you'll save five precious inches of head space!
If the sheet fits: Picking a non-standard mattress means non-standard sheets, too. If you want a good fit, buy bigger standard linens and modify them to the right size and shape.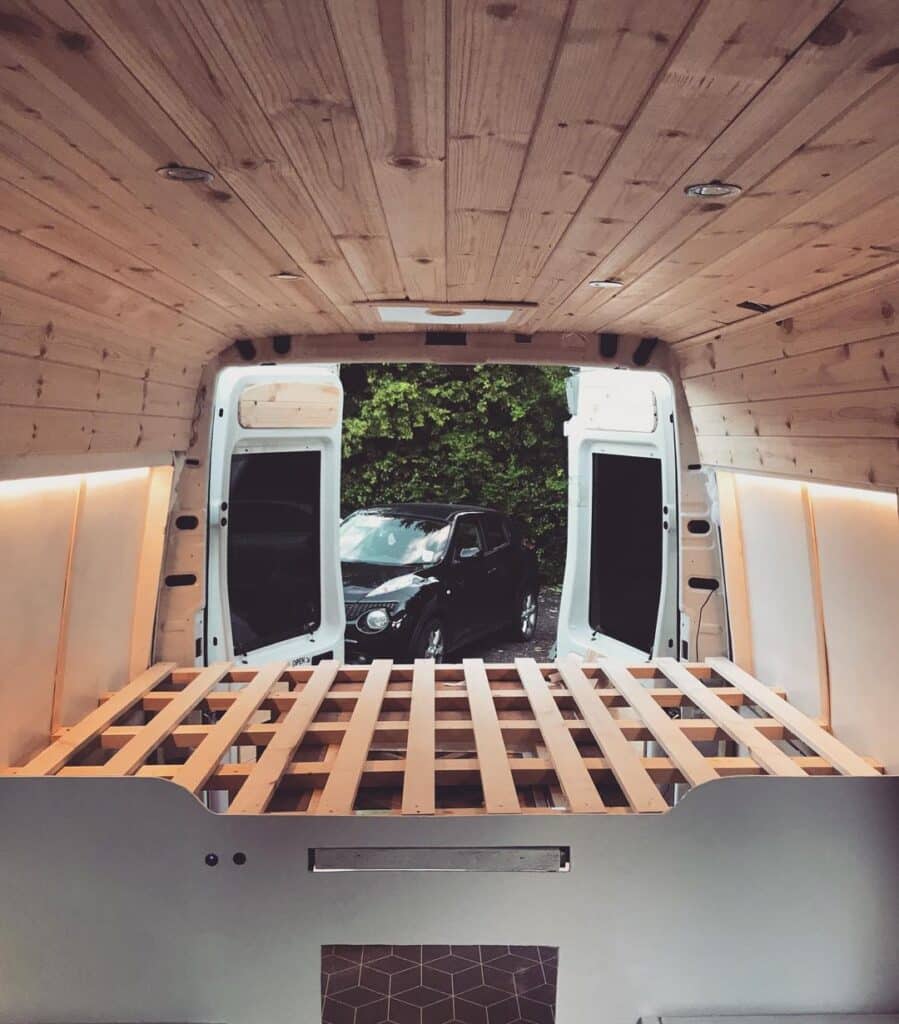 Tips for Constructing Your Bed
When you're ready to build the perfect van bed, you want to do it right. Here are a few tips to help:
Vent the bed platform – this not only saves weight in your build, but it also provides airflow to prevent condensation and the growth of mold and mildew. Bed slats are naturally vented, but if you're using plywood or another solid surface, incorporate some holes.
Plan for temperature swings – to sleep comfortably in your van bed, watch for sources of drafts when it's cold and opportunities for airflow when it's warm. A completely enclosed bed may be cozy in the winter but stuffy in the summer.
Make careful framing choices – build your bed frame from sturdy materials like wood 2x4s and 2x6s, 80/20 extruded aluminum, or even steel. Look for strong yet lightweight options that fit your budget, and secure the frame to the van so it's safe when you're on the road.
Use quality hardware – your bed will get a LOT of use, and it will sustain a lot of vibration while the van is moving. If you want it to last, don't cheap out on the fasteners and hardware to assemble it. Choose the good stuff.
Take smart shortcuts – make your DIY project easier with ready-made parts like Ikea slats and rails or pre-cut kits for the frame. Pre-made bed platforms are also available for common bed sizes.
Turnkey bed kit – If you just want to assemble and install your bed without doing all the design and carpentry, consider a complete bed kit design to fit most vans. They cost a lot more than a $200 DIY bed project, starting around $2000, so shop around for the best value.