For this fourth installment of Gnomad Homies, we had of fun fun sitting down over coffee and Skype with Emma and Sven from @gobigemma.
We talked about their travels in Big Emma, their beautiful and unique VW Bus. Emma and Sven are driving Big Emma down the Pan-American Highway, from Alaska all the way down to Argentina. When we spoke with them they were in Bakersfield, CA. They chronicle their travels on their blog Go Big Emma. Let's get to it!
Build Your Van
The Ultimate Van Build Guide
Planning a van build? Read our free guide. We cover just about everything you need to know – from planning, to insulation, to solar and electrical, to picking appliances, to essential tools. Get started today so you can get out there on the road!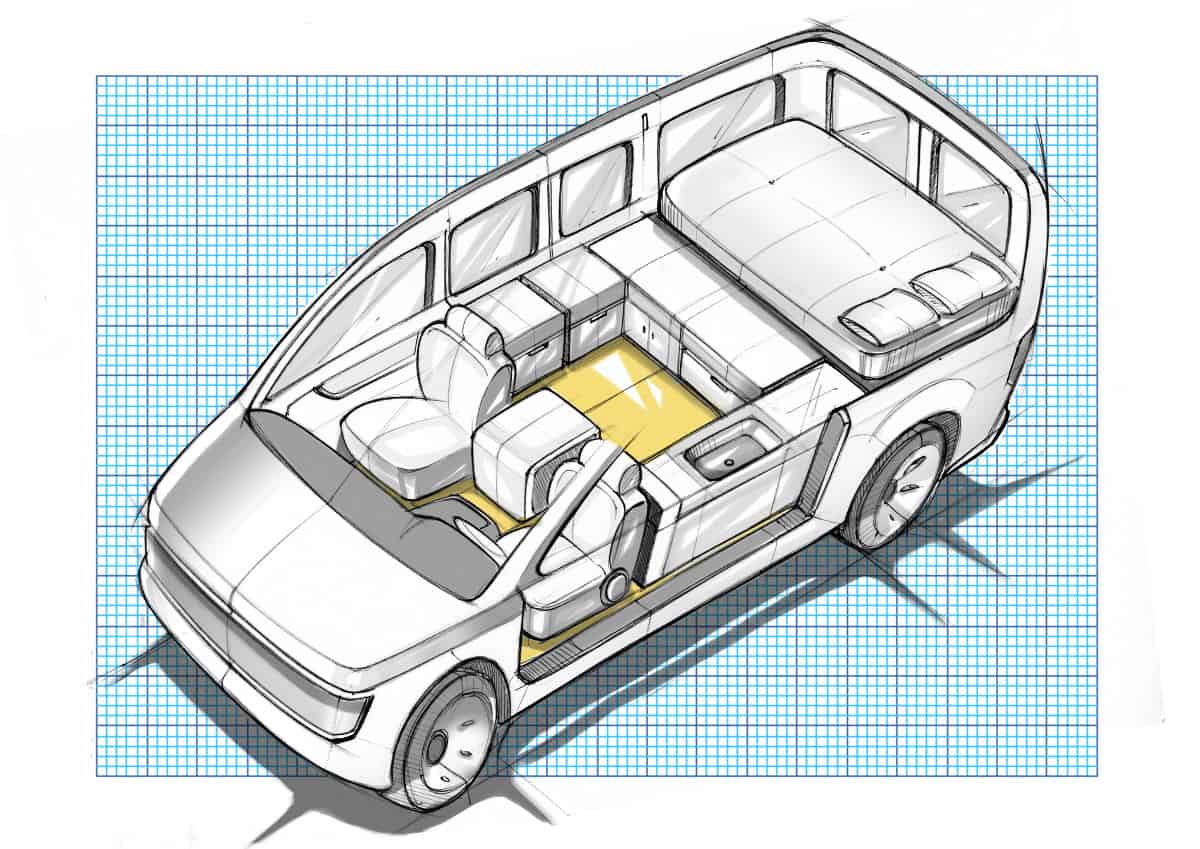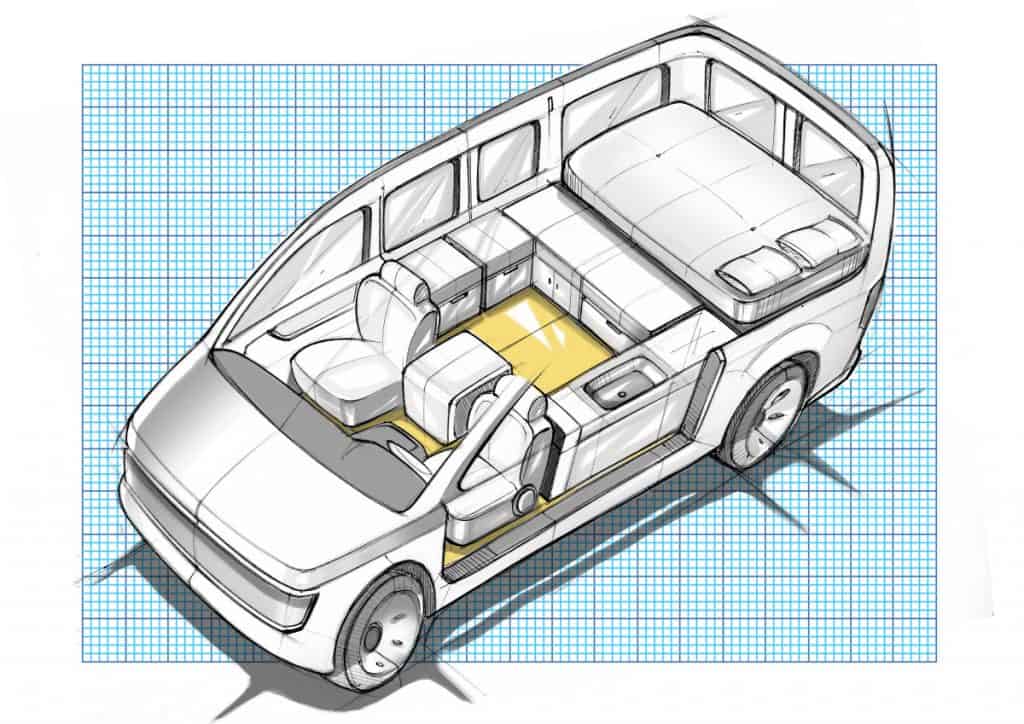 Where are you guys from?
Emma is from Champaign-Urbana in the middle of Illinois and Sven is from Germany. We met years back when Emma did a foreign exchange program in Germany.
What are you traveling in? Did you build the interior yourself, or did you buy it pre-built?
We are riding around in "Big Emma," our vintage VW Bus. Emma's dad bought it to work on and travel in back in 2011. He kept improving it and adding onto it. He originally bought it from people who lived in it also. The guy was a carpenter so he did a lot of awesome van build-outs.
We put solar panels on the roof, put in a water tank because there was no water. We never really used the sink so we took that out. The wood is super heavy, pretty close to the maximum weight, so the van doesn't have much oomph.
How long have you been living in Big Emma? Do you live in it full time or part time?
We started in June 2016. We are living in a van full time. We don't plan on being back home for another two or three years. And by "home" we consider Germany home. We don't know if we'll ever live there again, but that's what we think of as home.
What made you decide to do this, and what was the transition like?
We specifically wanted to travel from Alaska to Argentina. We didn't want to get "real jobs" and wanted to travel in Big Emma, so we decided this was the trip we wanted to take! We didn't realize there was a vanlife community until we began traveling.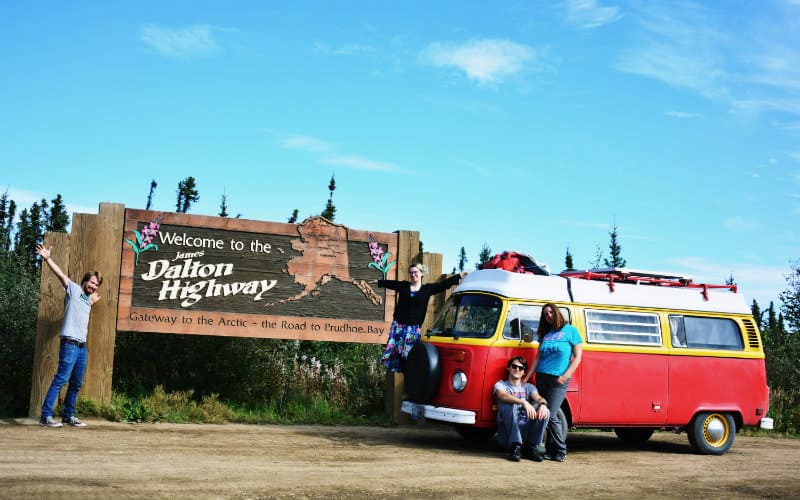 It was definitely a slow step-by-step transition. We began preparing a year before we left while we were still living in Germany. We had cut all of our belongs down just to a suitcase, and eventually cut everything down even further.
What is your favorite part about this lifestyle? What is your least favorite part about this lifestyle?
Our favorite is the freedom and mobility. We can basically go wherever we want and do whatever we want. The community is also amazing. Once we got started, it was just awesome. We try to meet up with whoever we can whenever we can, and it just makes it better and better and better. And we just really love Big Emma.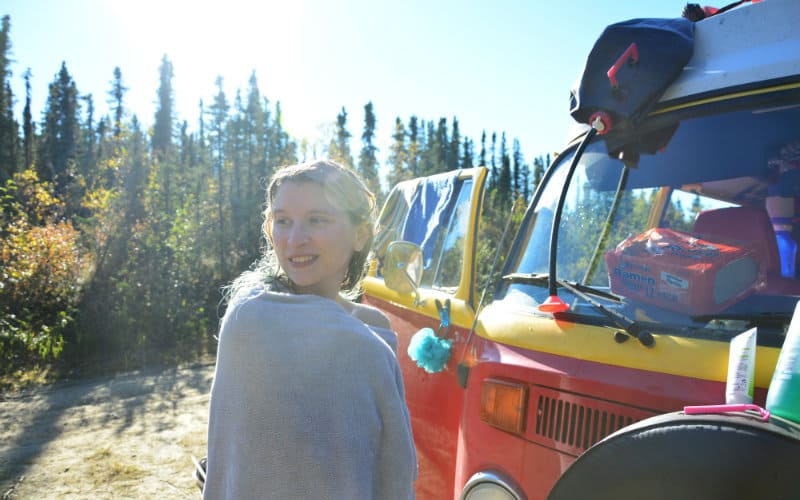 Our least favorite would be bad weather because we've had it for so long. We have gotten stuck with the van in the mud. Also, the engine not starting is one of hardest parts of van life, and needing to fix the van when it breaks down. Just the fact that you don't have services available whenever you want can make things tough.
Also, digging a hole in the woods and then shitting in it is not super fun. The lack of all these little conveniences that a normal house has is definitely a challenge. It's also much harder to just use the internet. You have to actively go find internet when living vanline.
What were you doing in life before you made this change?
Emma went to University in Germany, went to grad school and just finished her Master's. Sven worked for a company as an electrical engineer.
What are your favorite features of Big Emma? Anything specifically unique?
We love that it's bright red and yellow. If you see that van, you'll remember it. We also really like the straight up pop top. It's not one of the slanting ones. It was kind of nice that the name was already Emma when we got it.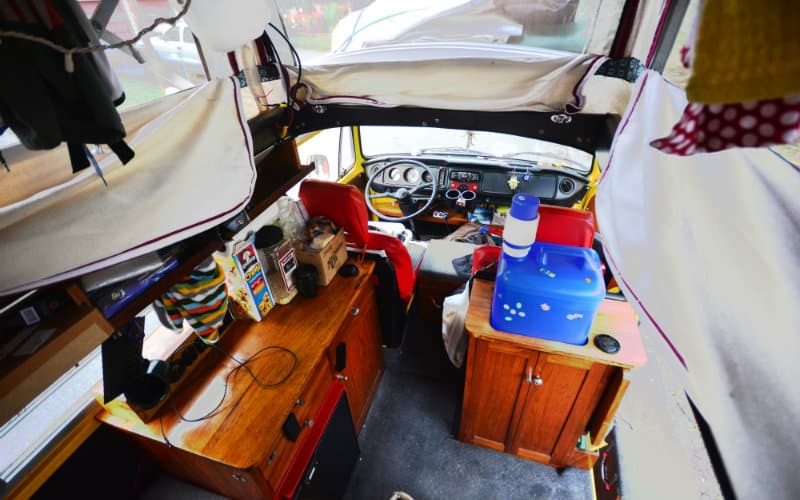 We love the idea that the VW van has a magic, almost iconic nature to it. It's actually pretty easy to work on, which we have to do a lot. It's pretty fun how it starts up conversations just by sitting there. We think that having four wheel drive would be nice, and maybe a little more space in general. But despite that, we can't imagine having a better vehicle.
What do you do for income on the road?
We are doing freelance writing. We would like to do more, but right now it's good and makes us a few bucks. We are mostly living off of savings right now, which eventually has to stop. We've been reaching out to travel magazines and are currently writing for a travel company. We also have a donate button on our website.
The main things we spend money on are when the van breaks down, gas, and when you really want something else to eat. We almost never have to pay for camping which is really nice. It's hard not to spend money on things that will make your lives generally better and will help in the long run. For instance, we bought a foldable wash basin that we love, especially because we don't have a sink. It's incredibly convenient, and we just tuck it away when we're not using it.
What have been your favorite locations thus far, and why?
Definitely Alaska. It's such a gorgeous place, so beautiful. You can spend months exploring there. Bears, glaciers, salmon, moose everywhere. Crazy nature. Other than that, our favorite places are not because of the places, they're because of the people we meet.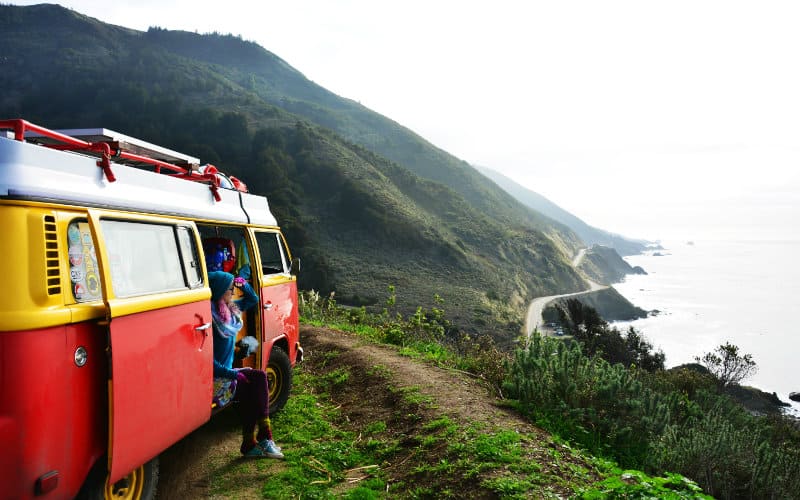 Have you guys gone to any Van Meetups?
Yeah! We went to Descend on Bend in OR, which used to be mostly a VW meetup. We made a lot of long term van life friendships there. Whenever you get the chance to go to meetups, GO!
What are some things you brought with you that you use nearly everyday?
Our foldable wash basin, again we use a LOT! And spare gas! Obviously our van life solar power we use every day. We have a 200W Renogy solar kit. If we could do it all over again, we would get a setup where we have several batteries, because once it dips below 50% it takes a lot longer to charge it again.
We've been worried about our power situation because we feel like we don't have a chance to fully charge our batteries. Candles are a good backup if you don't have a lot of power. It's nice to be able to angle the solar panels. It's a great idea to be able to take panels off so you can park in the shade a leave the panels in the sun.
We use our Mr. Buddy heater almost every day now. It's a great investment. We also suggest getting a big comfy comforter. It's important that your bed is comfortable.
What are some things you brought with you that you ended up never or rarely using?
We haven't used our summer things, but that is also because it's never been very warm for us yet. We also haven't really used things like our hammock or slack line. When it's always raining you just don't need it. Also, our awning. It's like a tent a little bit, so if we stay somewhere one night we just never set it up. And we don't use the solar shower much. I'm sure in the summer it's awesome, but when it's cold and rainy it's not great.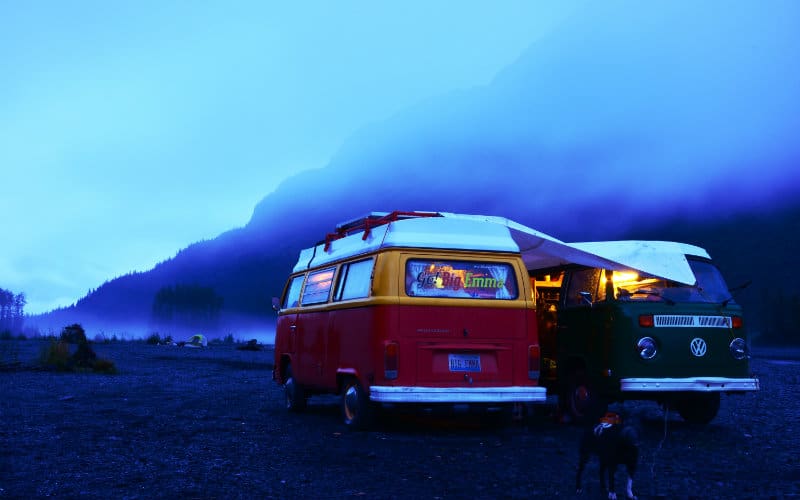 Both of these lists will probably change dramatically as soon as we hit warmer weather. One thing we don't yet have but definitely recommend is a bigger propane tank. You can get an adaptor for the Mr. Buddy that lets you hook up a bigger tank. The little Coleman ones can get expensive after awhile.
Is there anything you miss from your former lifestyle?
We definitely miss that our friends aren't close by and we can't just go hang out with them whenever. When you're on the road you have to go make friends, which is also fun. And ovens, we miss ovens. We would just in general say that we're living on such a tight budget, we've never been so poor before. It's hard saying that we're only going to buy the food that we need and not this extra, and it's hard not wanting that. Also beer and not being able to go to breweries.
What do you do in your free time? What are your favorite activities?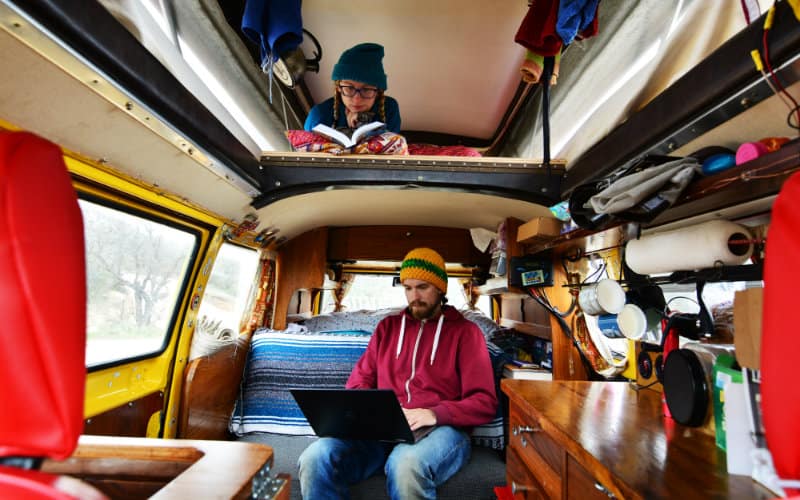 For Emma, it's writing. Our passion is writing, which is why we have a blog. At home, the inspiration wasn't really there, or the time. We could just watch TV and that's easy. I love having free time and space in my head to write.
For Sven, being outside and more active is great. He recently got into surfing, the surfboard takes up all of the space in the bus, haha. It's interesting having so much free time that you can schedule it how you want. It really flows into the rest of the day. Free time works really differently. It's hard to get out of the mode of scheduled time. It's so tough to free your mind and get out of it.
What advice would you give someone considering this lifestyle?
If anyone's wondering if they should do it, then we would say hell yeah, definitely do it! But also, it's not like it looks on Instagram. We don't publish pictures of us shitting in the woods on Instagram. Or the hours spent fixing the van. To do this well you need to either know how to work on your vehicle or have the money to get it fixed. If you don't have either of those you can't sustain it for very long. Also, don't make plans because they're not going to work out. Be open to anything. Your day never goes how you think it will.
What is your favorite meal to make?
A lot of the stuff that we do is pasta-based. Emma doesn't like potatoes, which makes it kind of difficult for Sven. Van life does not improve food for us. It's harder to cook with certain ingredients or have a better kitchen. But cooking over a fire just makes everything awesome. Sven really likes the chili we make.