We're totally stoked to introduce you to a great buddy of ours, Jeff, and his wonderful girlfriend Rachelle and their pup Cash. Jeff is from Plymouth, MA and Rachelle is from Modesto, CA. Cash is a Tennessee dog that came into their lives via a rescue agency. Jeff and his family not only live out of a BEAUTIFUL decked out 1991 Chevy G20 Sportvan, but he also builds vans for others!
Read his story, feel inspired, and if you are wanting to make the leap into vanlife but you don't trust your own building abilities, Jeff would be #1 on our personal list on who to call for a personal van build, so hit him up If you are looking for a customized rig built to your wants and needs! We are very excited with this feature because they are not only good buddies of ours, but this entire interview is jam-packed with great advice and some brutal realness, and it's definitely a "must read" in our book!
Build Your Van
The Ultimate Van Build Guide
Planning a van build? Read our free guide. We cover just about everything you need to know – from planning, to insulation, to solar and electrical, to picking appliances, to essential tools. Get started today so you can get out there on the road!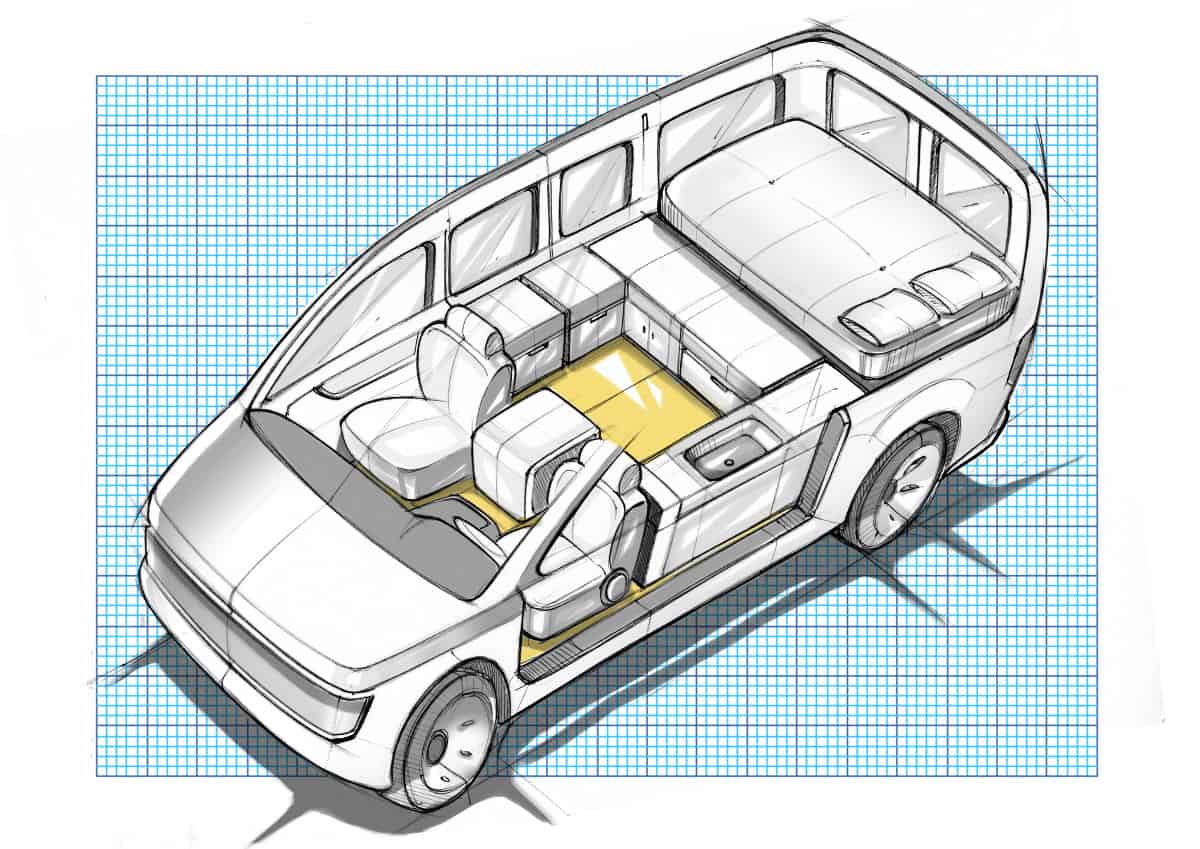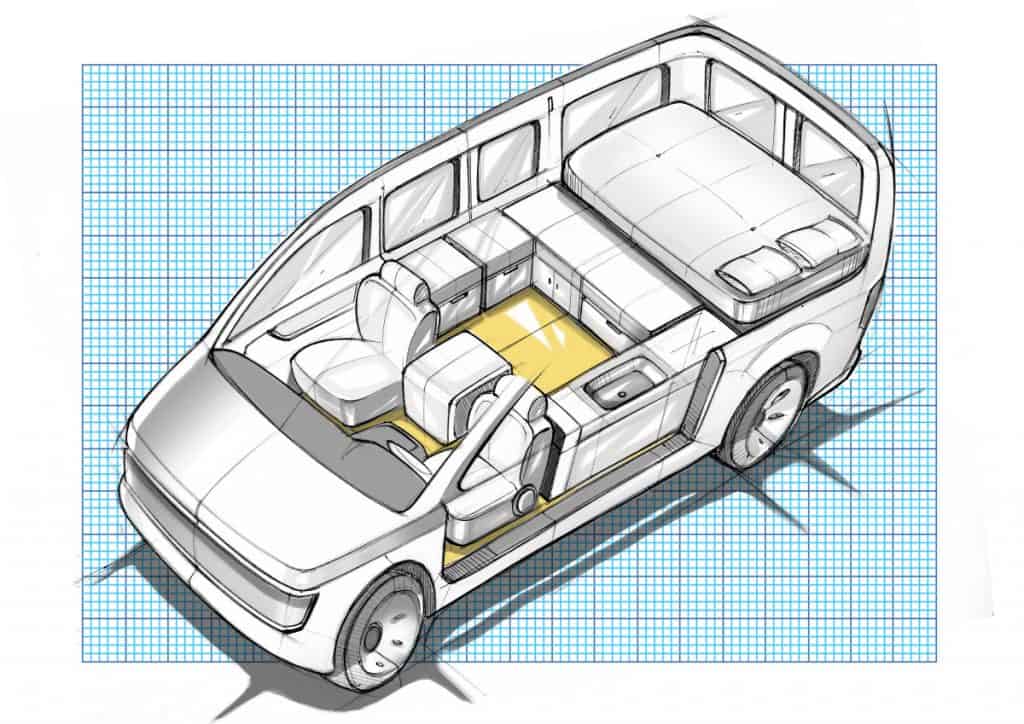 Where are you currently located?
Currently back in Plymouth, MA
What are you living/traveling in?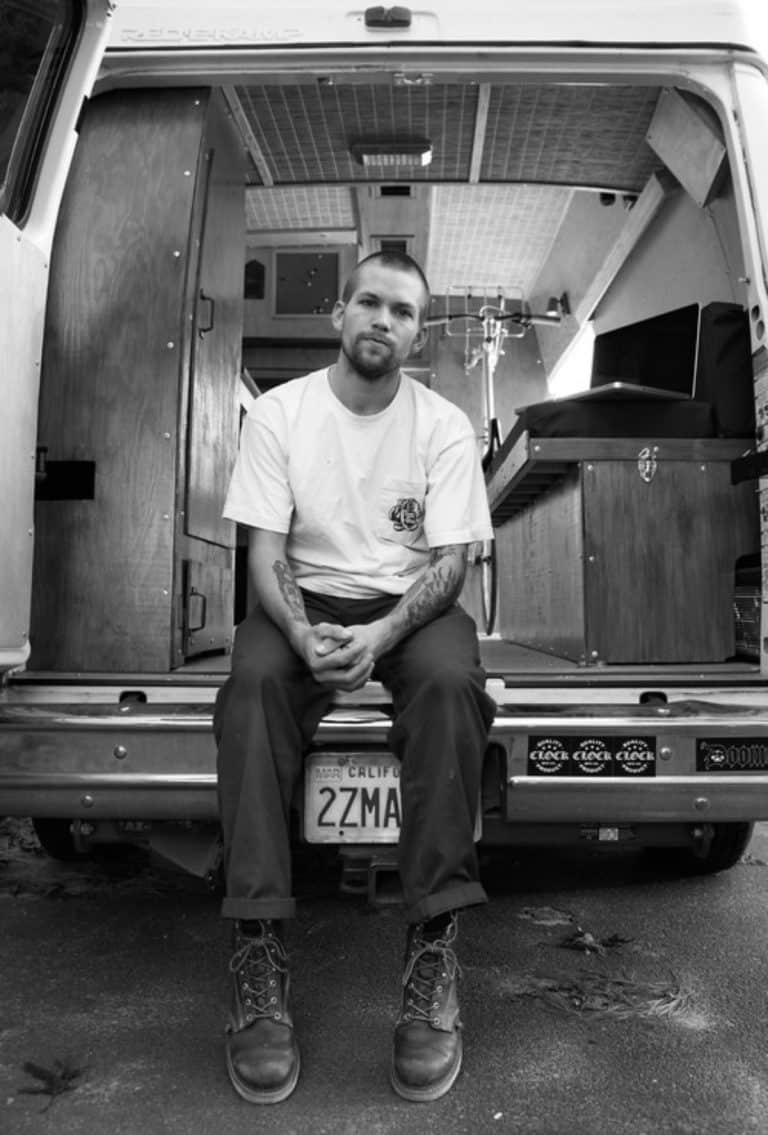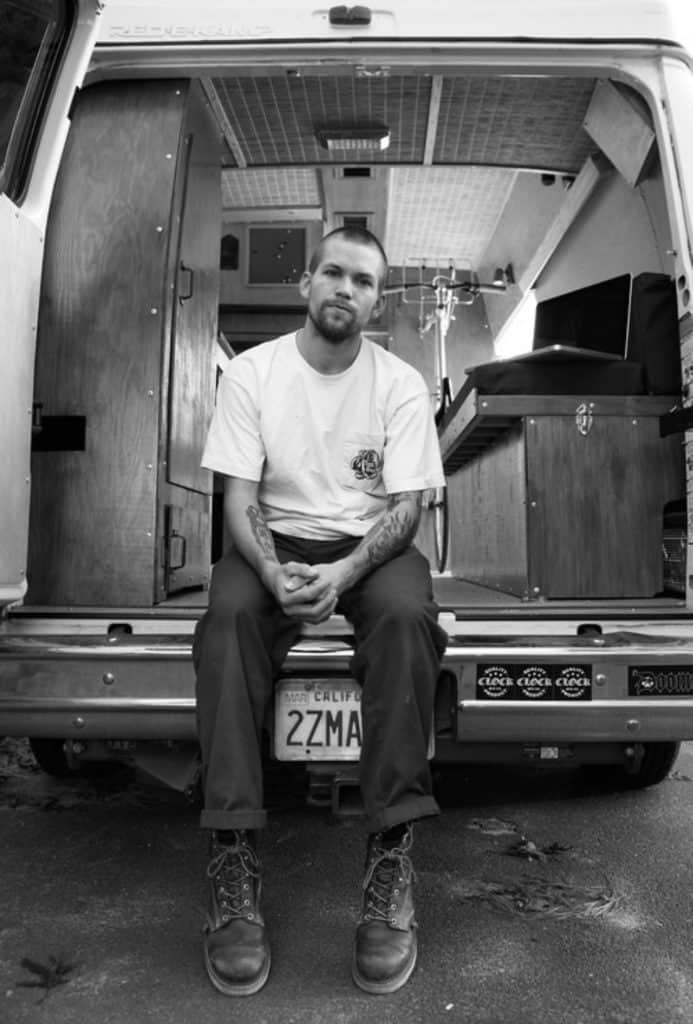 We travel in a 1991 Chevy G20 Sportvan, which also happens to be our daily driver.
What specs can you tell us about your rig? (Make, model, price when purchased, where'd you find it, mileage, solar, appliances, etc)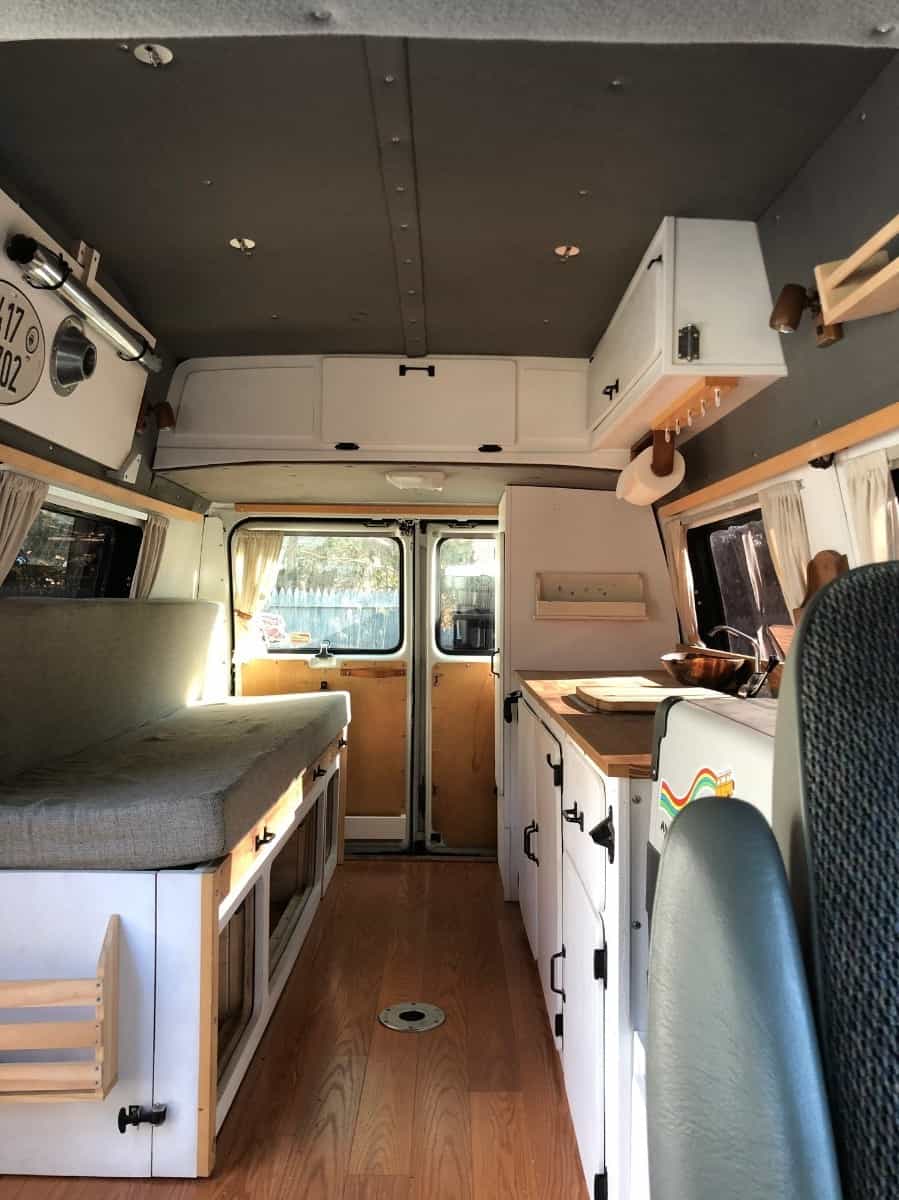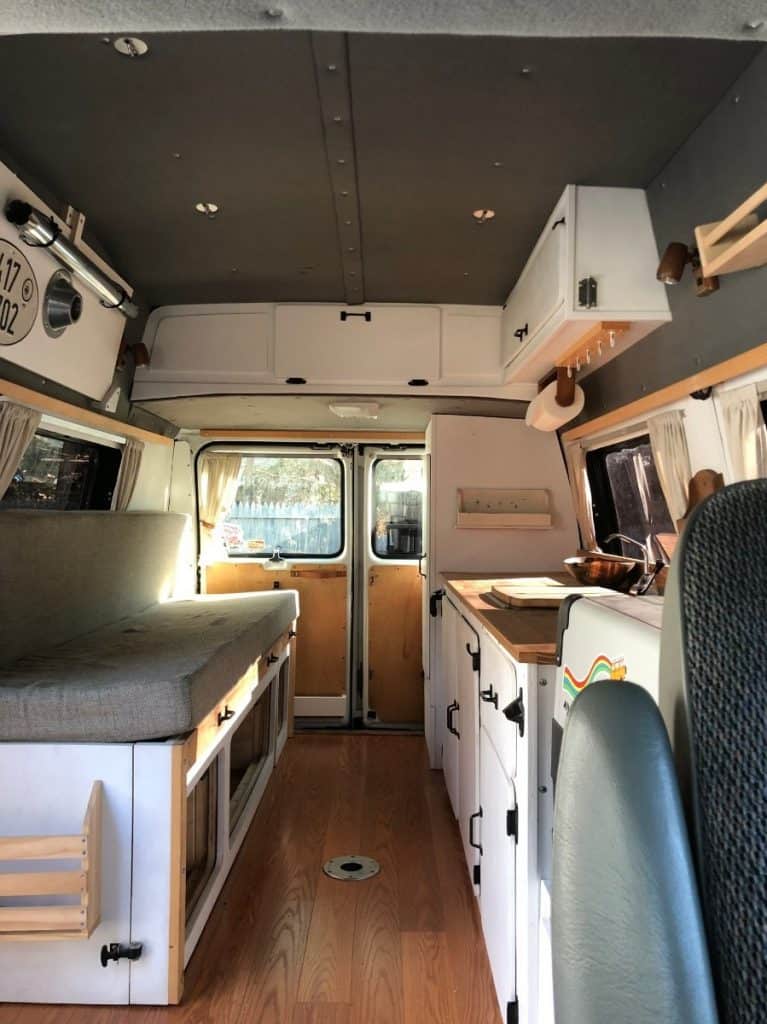 I found this '91 Chevy G20 in Mountain View, CA nearly 7 years ago on Craigslist. I was in search of a van to convert to a stealth camper. It had 89,000 miles on it when I bought it for $2,600, and the odometer stopped rolling at 176,000 miles… about two years ago. It was decked out in a classic blue shag carpet and velour seats, headliner, you name it. I was quick to remove the early 90's decor like the blue shag carpet and wooden accents on the dashboard. These days, it's outfitted with a full campervan power system, 100w Renogy solar panel, Morningstar charge controller, a 12V Dometic fridge/freezer, running water, bench/bed, and kitchenette.
Did you build the interior yourself, or did you buy it pre-built? If you bought it Prebuilt, what touches have you added to it to really make it "your own"?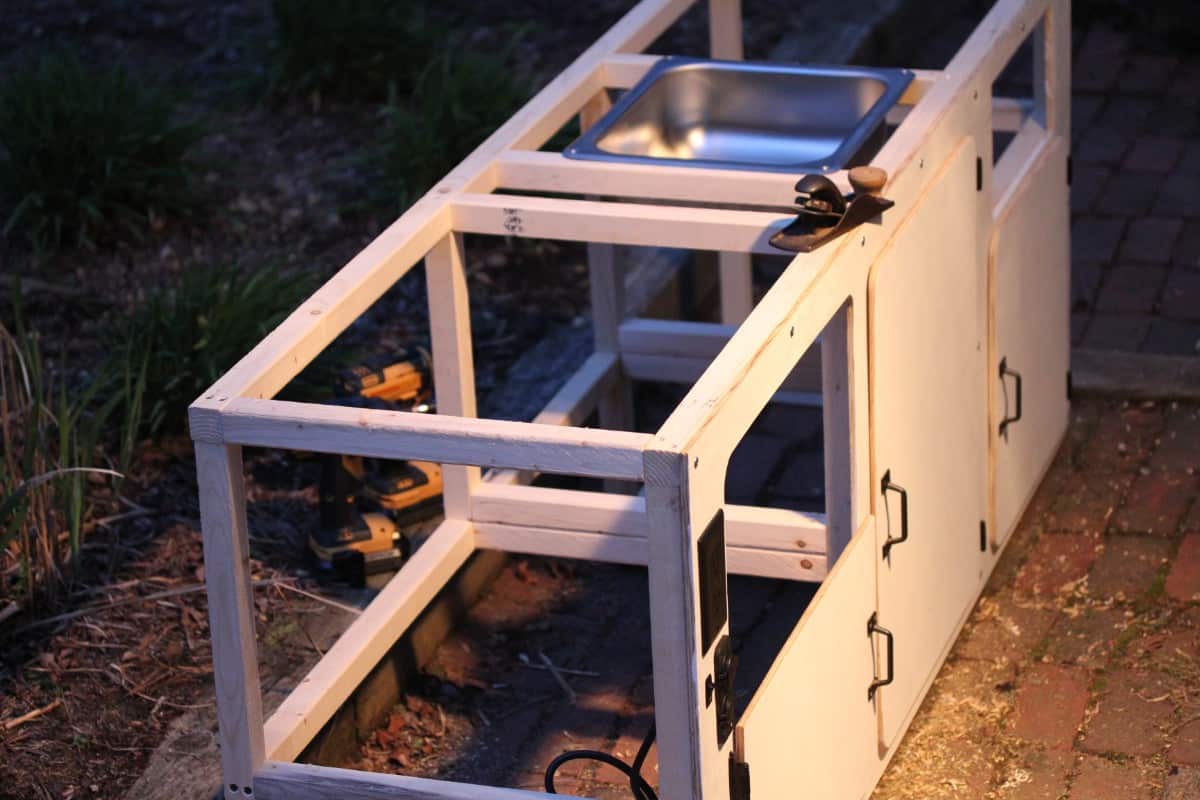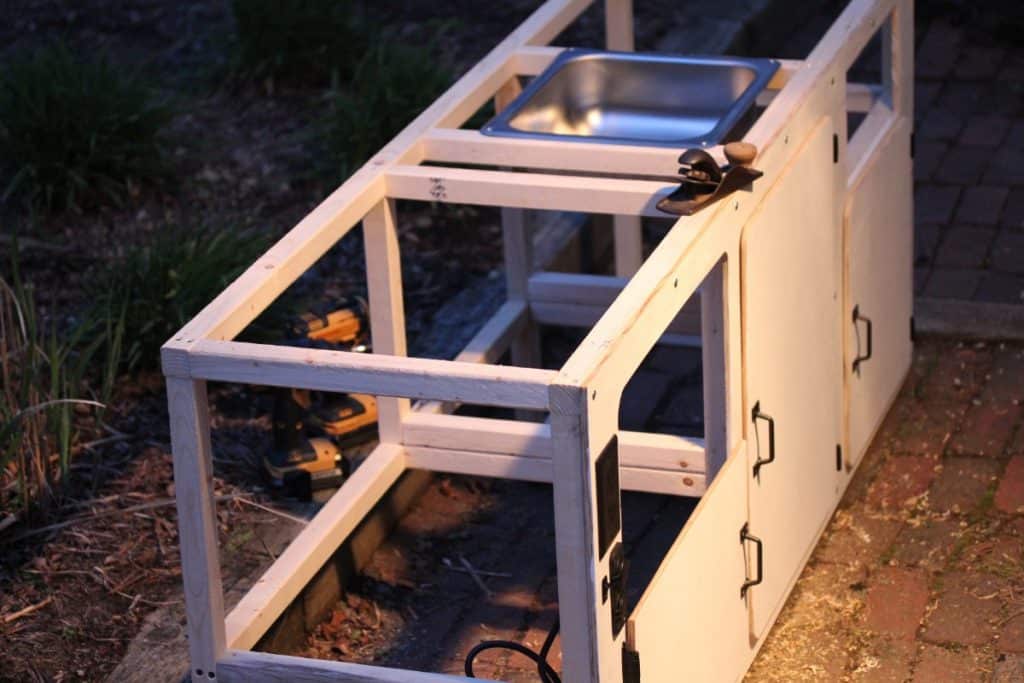 I built the interior myself over the course of about 6 months. I was building on the streets of San Francisco at the time, and in a friends (and former roommates) driveway in the city. I ended up driving the van back east in the summer to finish up the building process and spend a few months with family. Since then, I've rebuilt the interior completely about 2 times, and am constantly tinkering. I was actually just painting cabinets that I removed and re-built before sitting down to write.
Do you live in it full time or part time? How long have you been living this way?
I was living in the van in San Francisco for the better part of a year… nearly 6 years ago, stealth camping in the city to avoid paying rent. I've been living in it off and on throughout the last few years. In the last 4+ years I've been living and traveling in the van with my girlfriend Rachelle, and pup. Rachelle and I started dating when I was living out of the van in San Francisco… and apparently she didn't find it strange. We started camping a lot together, both tent camping and van-camping. We traveled back and forth between the east and west coast for a while, which is how we met Jayme and John from Gnomad Home!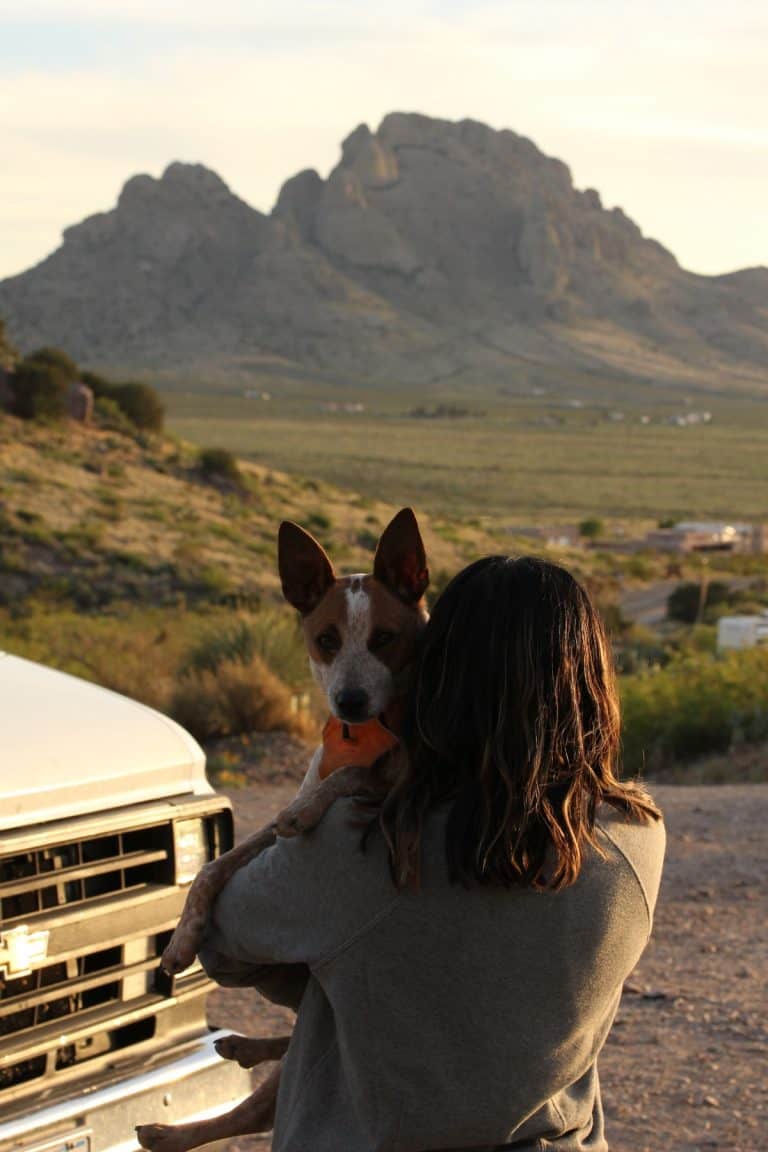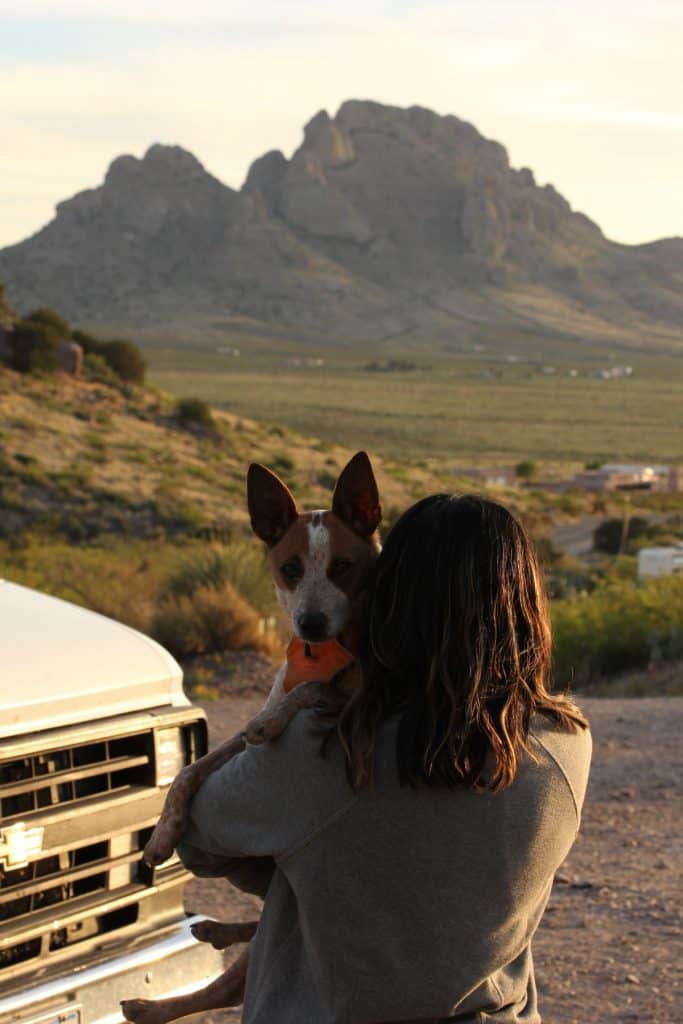 When we got back to the east coast this past summer, we were living in the van on a family friend's property sweating through the humid nights. We planned to stay here on the east coast throughout the winter, which had us seeking "normal" shelter for once. We spent part of the winter living in the van full-time here in New England just before hitting the road a few years back, and we vowed "NEVER AGAIN". We're waiting out the winter in a small cottage on a pond, and planning our next adventure and future endeavors.
What were you doing before vanlife?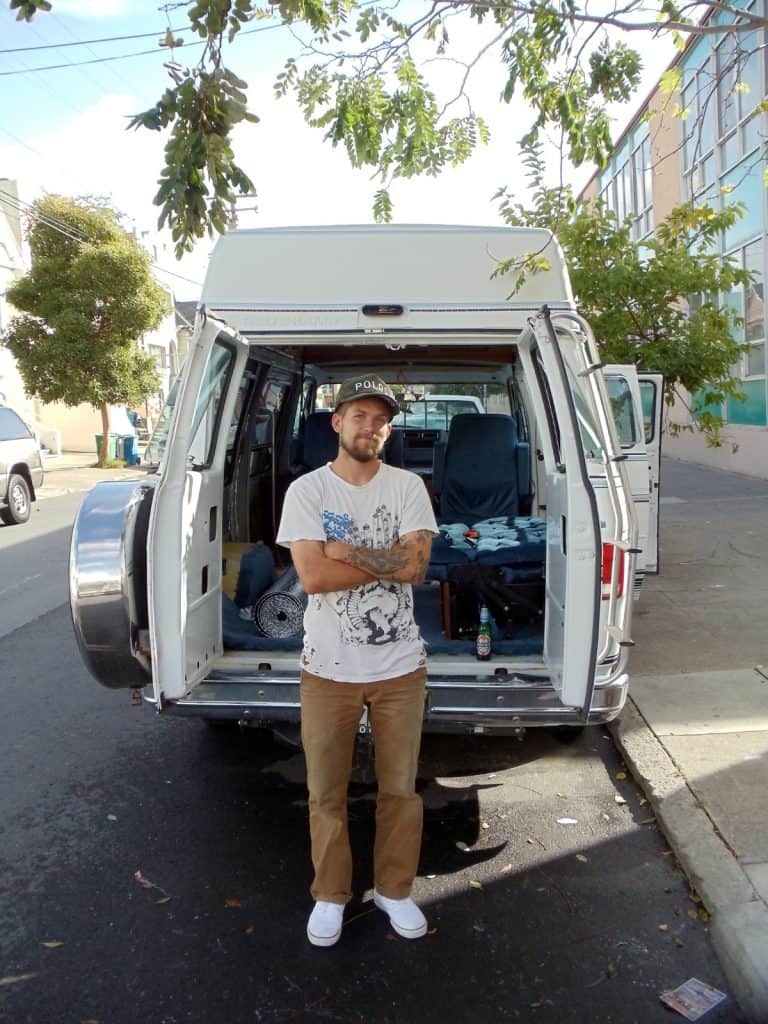 I feel like I was living in my van before "vanlife" haha. I had moved to San Francisco with some friends from the east coast in 2010. I was working at a Whole Foods Market, riding my skateboard as much as humanly possible, and struggling to make rent, as with anyone in their early 20's living thousands of miles from home. I had moved between 3 different sublets, and finally found a more permanent place to live in the Mission District in San Francisco. It was a great spot, and just a few blocks from the Potrero Del Sol skatepark but when I wasn't working, my friends and I were going to so many different places on our days off that I felt like I was literally paying rent to have a place to sleep, and nothing more. I decided I was going to buy a van and live out of it in the city to make it possible to work less and DO more. It worked… because I was working 3 days per week at Whole Foods, and doing whatever I wanted the rest of the week, and had more money in my pocket than I had before.
What made you want to choose this lifestyle?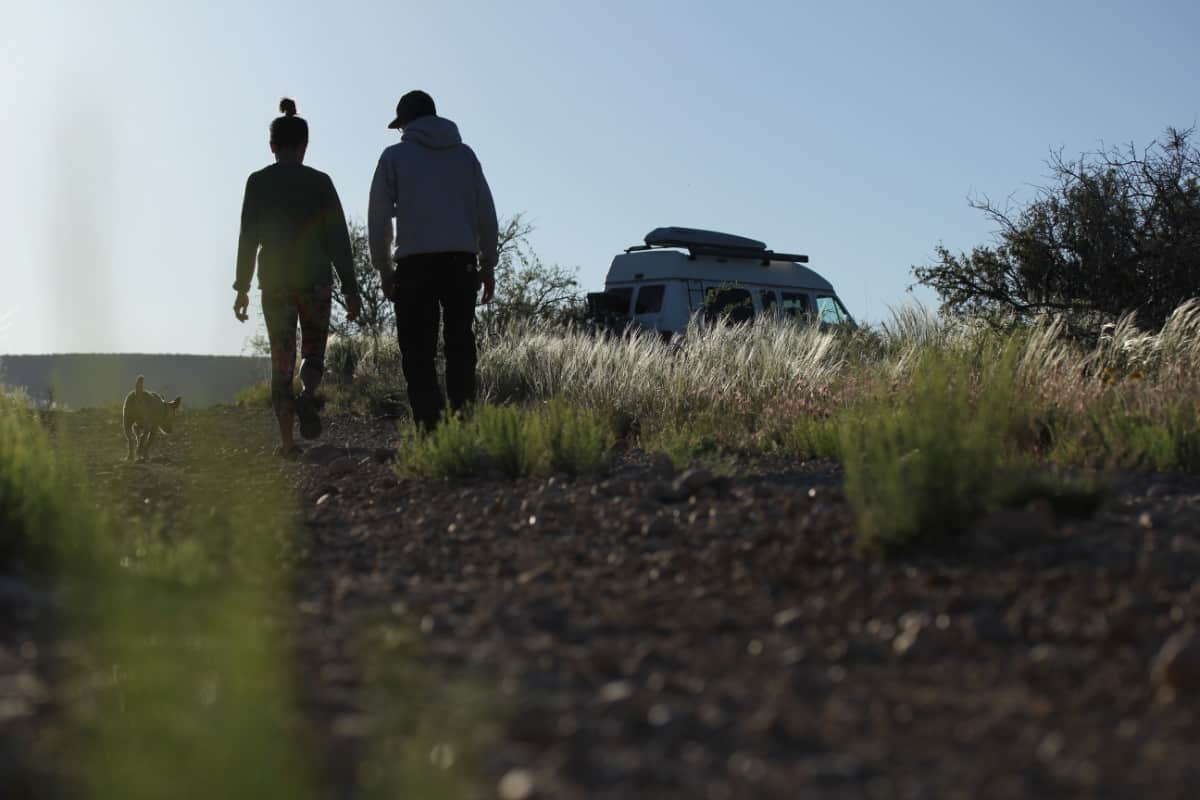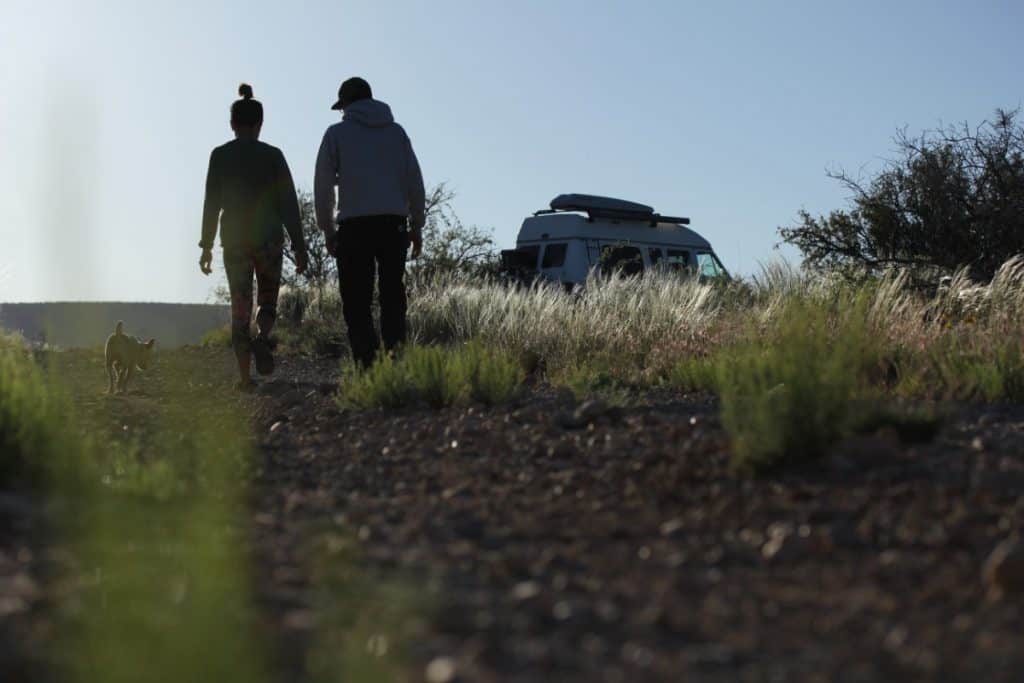 I grew up in a family that loved travel. My dad was a Volkswagen bus guy, so I feel like I inherited some travel genes. When I was about 10 years old, my dad bought a VW bus sight unseen in Santa Cruz, CA. We flew out to California to pick it up, and then drove it 5,000+ miles cross-country as a family. It was the combination of a lot of things. I remember a conversation with a friend while living in Boston about just building treehouse platforms somewhere and living outside illegally for the summer. That conversation turned into, "Or you could live in a van or something". I never thought about it again until years later in San Francisco as a real option. Like squatting… everywhere.
What was that transition like?
It was pretty bummy how I started off living in my van. I felt like I was hiding out, and there were lots of sleepless nights parked on sleepy streets, and not-so-sleepy streets. I remember at the beginning I was just sleeping in a sleeping bag on the blue shag carpet of the van floor so I couldn't be seen. I had my fair share of late-night knocks on the windows and doors of the van; police banging on and shaking my van to try to see if there was someone sleeping in it so they could issue me a ticket or maybe worse, since "inhabiting a vehicle" was illegal in the city. They'd shine their lights in the windows and try to scare me into opening a door or making myself know. All this while I was trying to build the interior, sleeping in the sawdust of my days work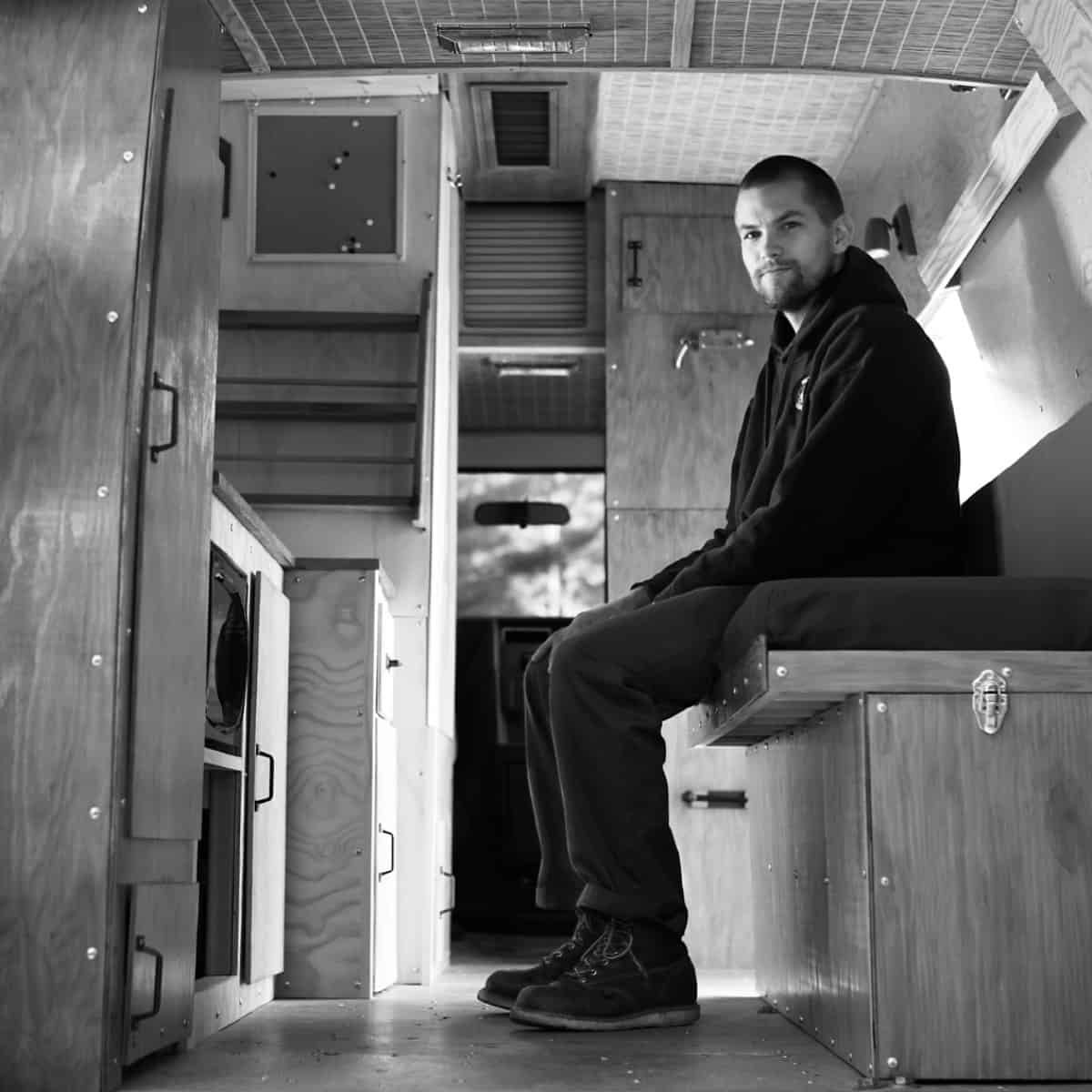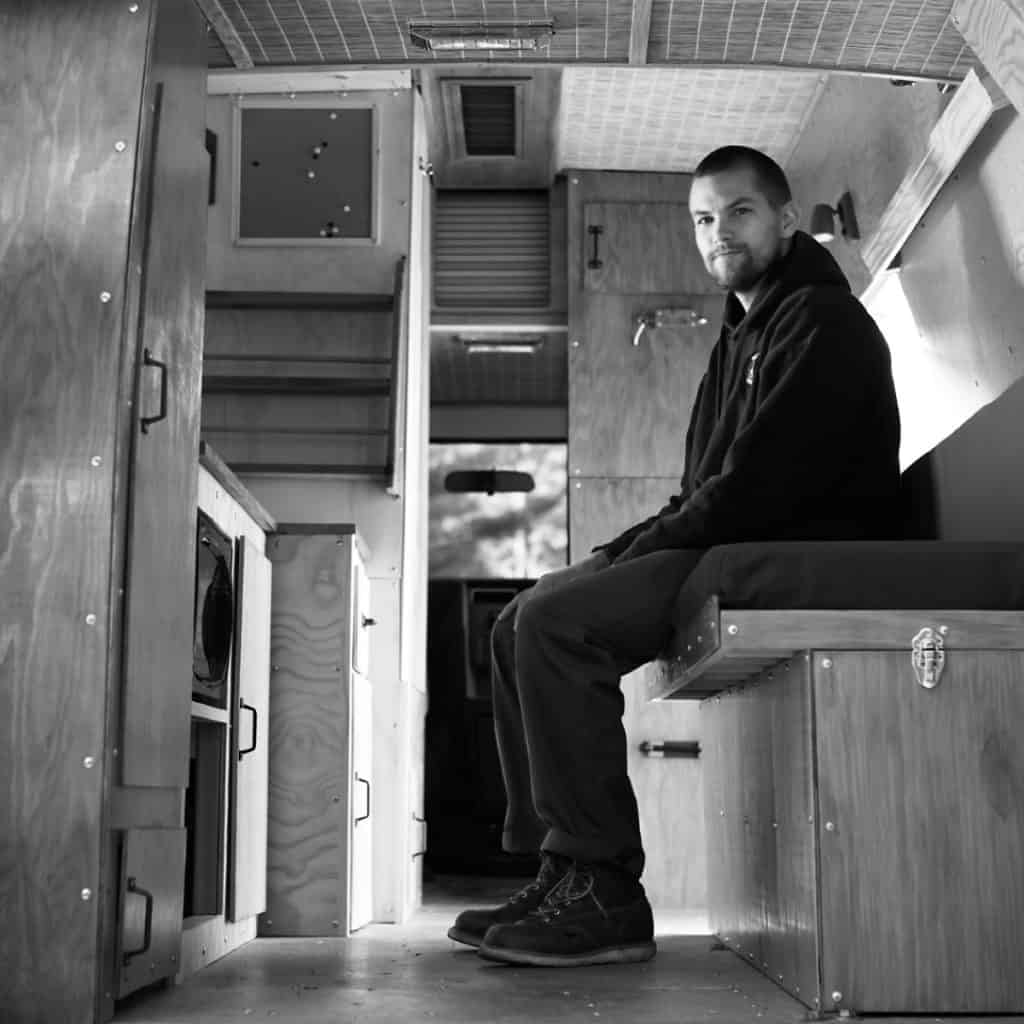 I didn't have a glamorous "vanlife" by any means. Adding dark window tint, curtains, and building a partition wall behind the driver and passenger seats made the van more stealthy, and it all started to feel a little bit more like a home instead of a hiding place. I don't miss those nights, not at all. My dad wanted to help me finish my build back on the east coast when I was about halfway through the process, so I jumped on the invitation and drove the van cross-country for the promise of a good nights sleep and a driveway and garage to finish working on the van. I was back and forth between both coasts for the next few years. The last few times have been with my girlfriend, and we've had our share of ups and downs with transitioning as a well.
A few years back, history repeated itself, and I began renovating the van while we were living in it full-time on a family friends property. We slept on the laminate floor with nothing but a borrowed suitcase full of our clothes. I feel like I've been through heaven and hell in this old van, and so has my loving girlfriend.
What is your favorite part about this lifestyle?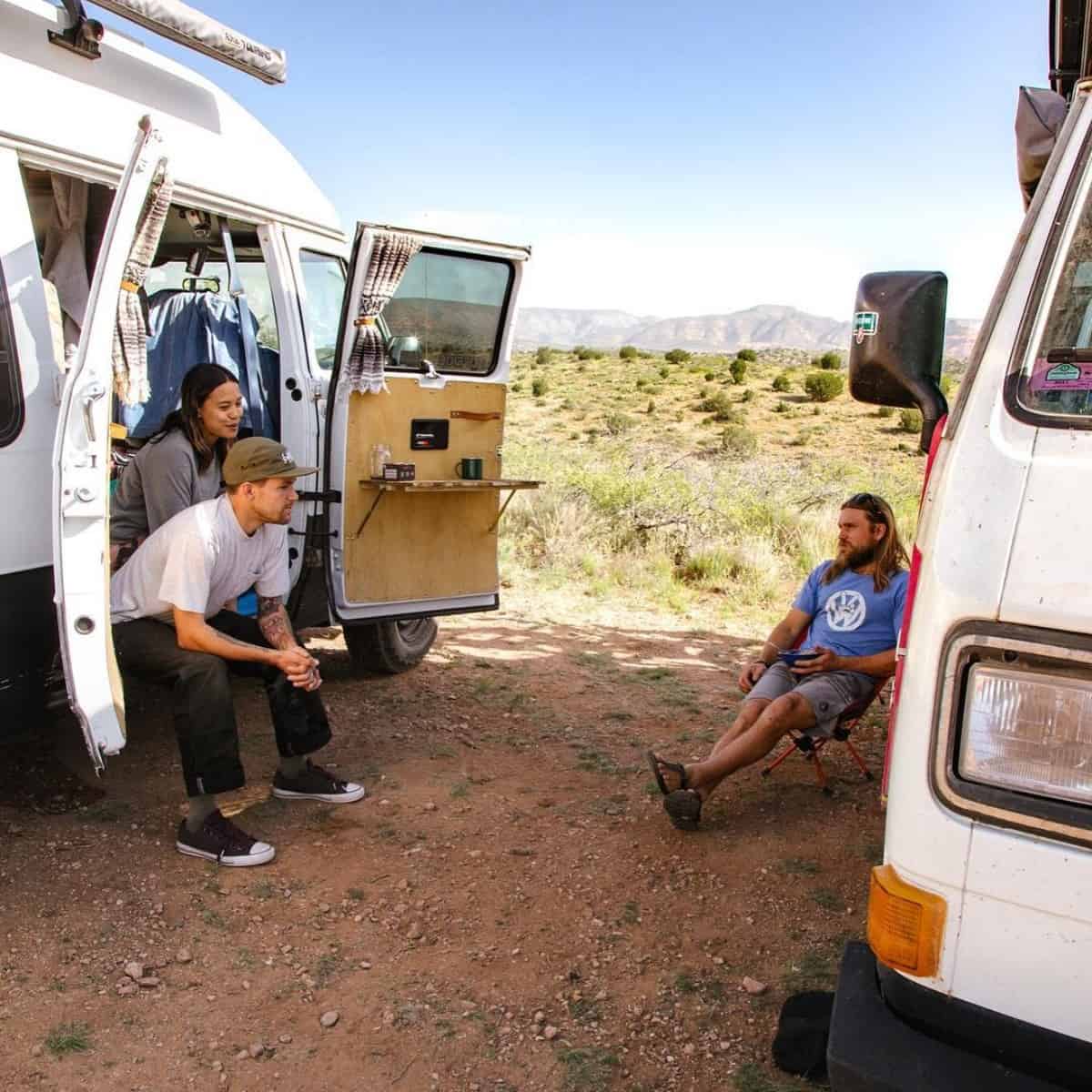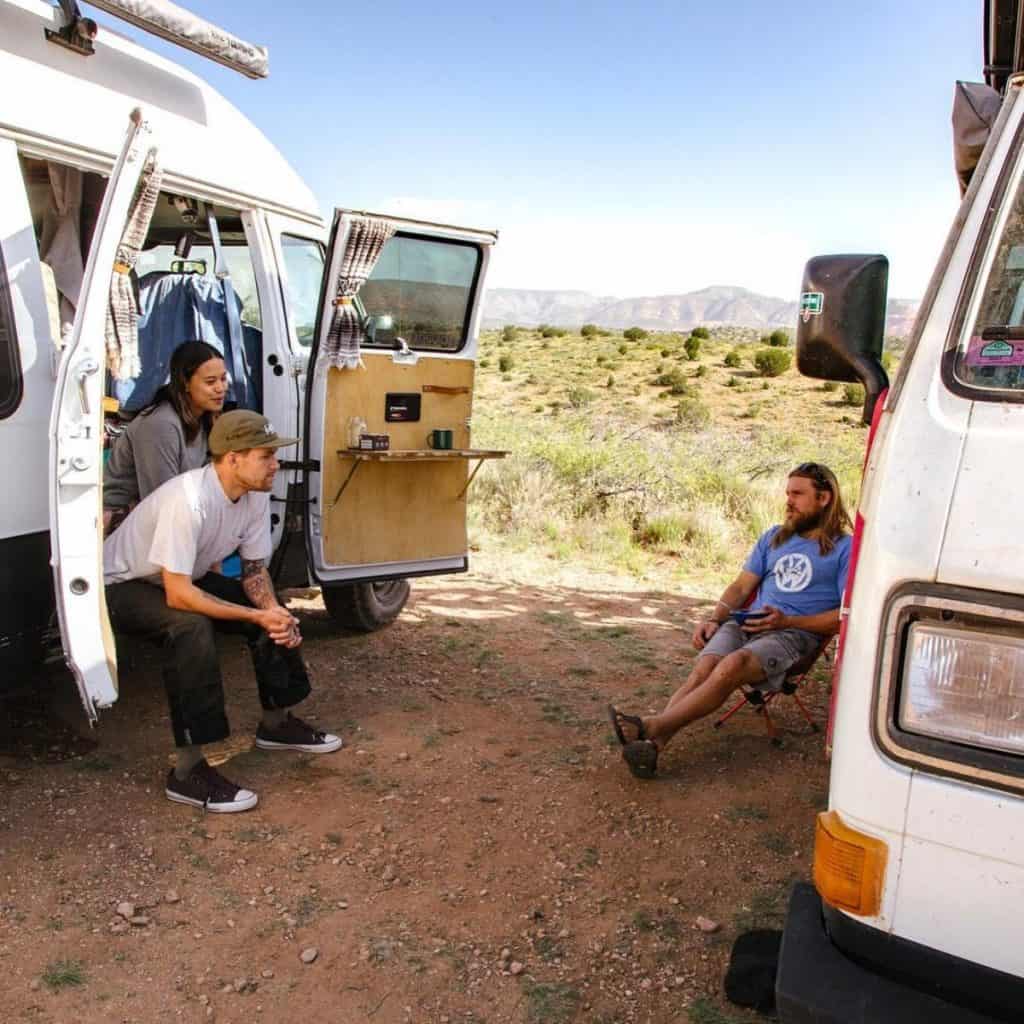 For me, the best part of living a life like this is that I've been forced to really evaluate my possessions. I feel like living with less makes you really appreciate the things you do have. And at the same rate, I've sold almost everything of worth that I owned (on more than one occasion) to scrape together enough cash for another trek cross-country. I've started to really value the most basic of things… a hot shower, a clean restroom, and a quiet nights sleep. It hasn't all been about suffering, but when people talk about that aspect, I know exactly what they mean. For me, it's been a really great way to learn about myself. So much of the time I've spent traveling and living in my van off and on has been alone… so I've been forced to really live with myself, and become very introspective.
What is your least favorite part about this lifestyle?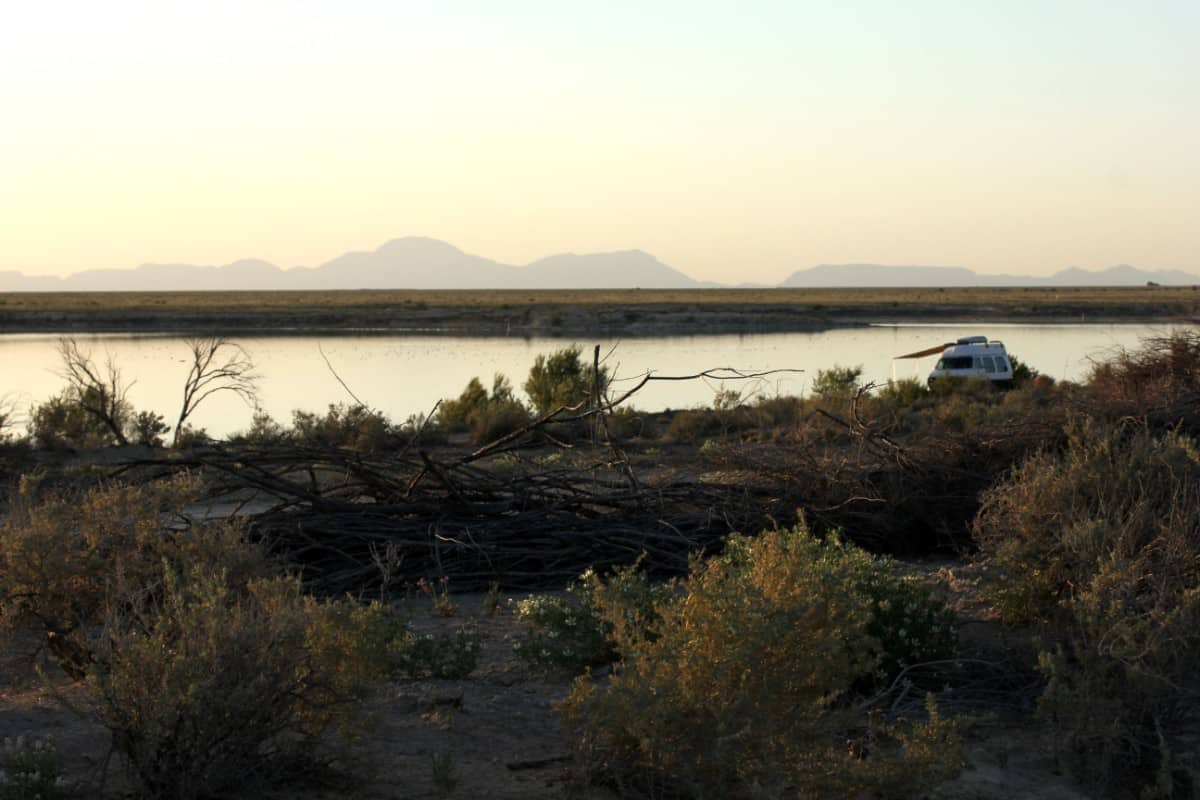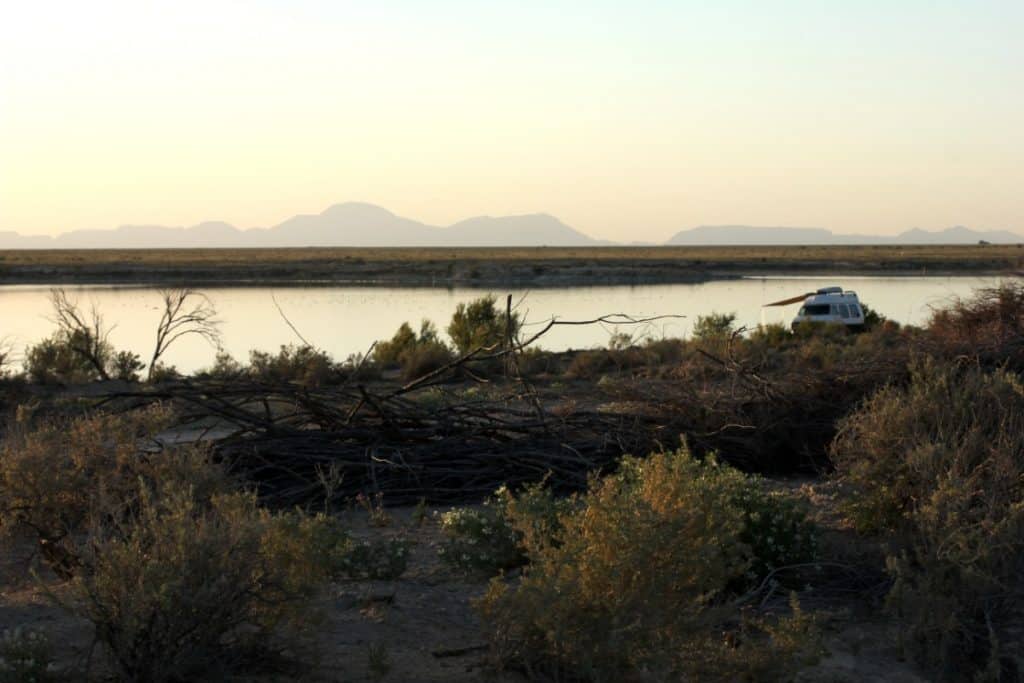 I don't like being really sweaty when I'm trying to sleep. When Rachelle and I arrived back on the east coast this past summer, we spent nearly a month straight enduring temperatures hovering close to 100 degrees with humidity of 90 percent or more. She would work all day in the van on her computer after dropping me off at work when I was working on a home remodel job where we spent all day doing demolition work in the hot sun. Rachelle would pick me up and we would drive straight to the beach to jump in the ocean and shower off the days sweat at the public beach showers.
What do you do for income on the road?
When Rachelle and I hit the road a few years ago she had just started working a remote customer service position (which she still has) for a women's clothing company called Tradlands. We always loved shopping at thrift stores and collecting vintage clothing, and began selling vintage pieces on Etsy to supplement our income and keep gas in the tank. We funded most of our van re-build with this income as well. We had a small amount of money in our savings accounts, but felt that we could make it work enough to hit the road.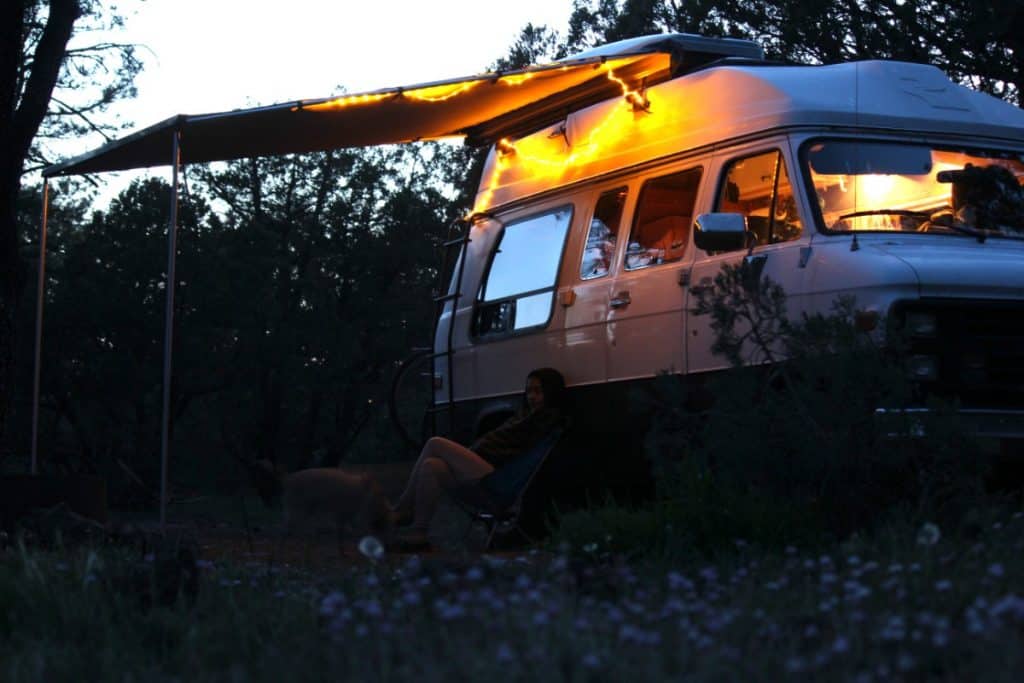 When I got to California I found part-time work with a guy in Petaluma that was building out custom interiors in Airstream trailers for clients. That was a great learning experience for me, and helped me to hone some of my skills and learn about the business of camper renovations. I also found work on a farm in California for a while, building and repairing farm structures. I helped build some simple greenhouses as well as some really elaborate ones, as well as some other fun projects, like building a loft bed in a tiny shed house and a funky outhouse on the property too.
More recently, upon returning to Massachusetts, I've started planning and creating my own business based on all of my experiences living this lifestyle. I'm working on a van conversion business called Hilltop Van (@hilltopvan). I thought for a while that I just wanted to wander around the country (and I did that) but I love being creative and building things. I want to be able to pass on the excitement of having a vehicle full of all the essentials. I want people to be able to get out and experience travel, all while feeling truly at home wherever they may be parked for the night. There's serious comfort in having a tiny rolling home at the end of the day. I'm hoping to plant some roots here in New England and grow my business from my first-hand experiences of full-time travel.
What have been your favorite location(s) thus far, and why?
When we drove into New Mexico, we didn't have any high hopes, and had no real plan of where we wanted to go. We were driving north from Texas, and expected the landscape to be flat, dry, and boring (sorry Texas). We had driven from Marfa and didn't feel the hype.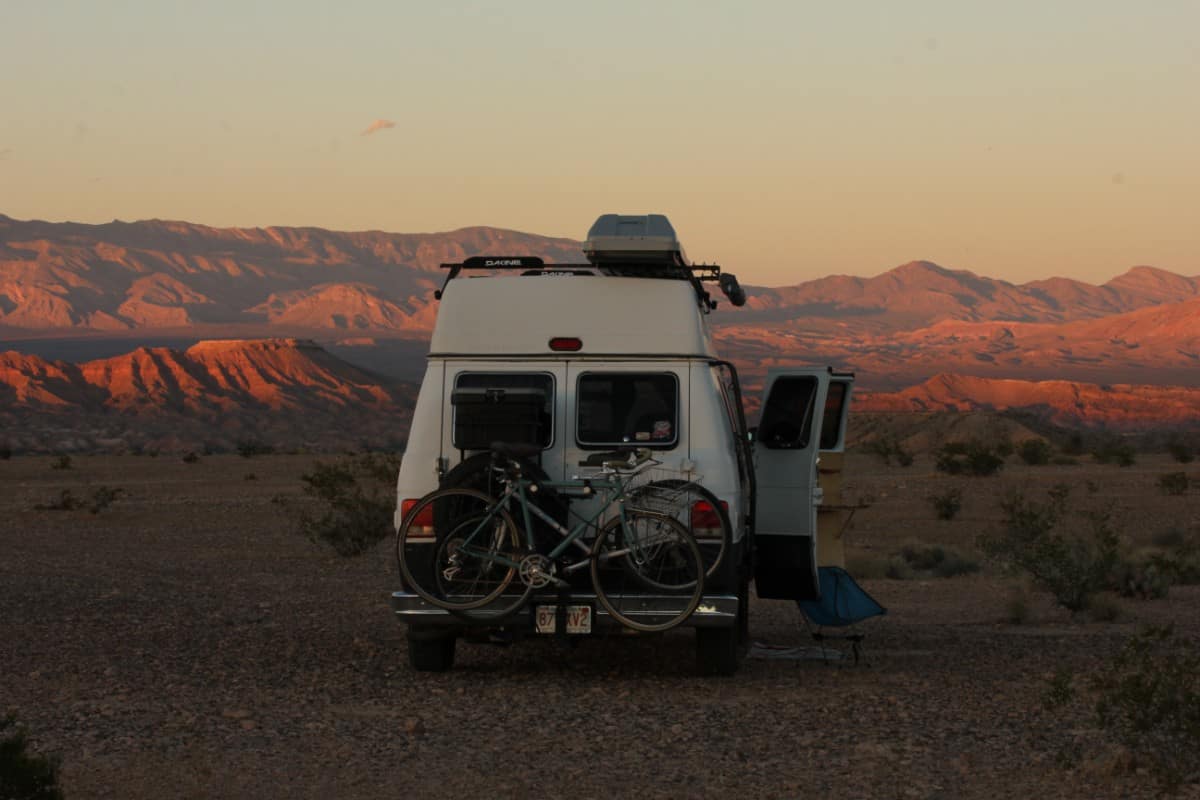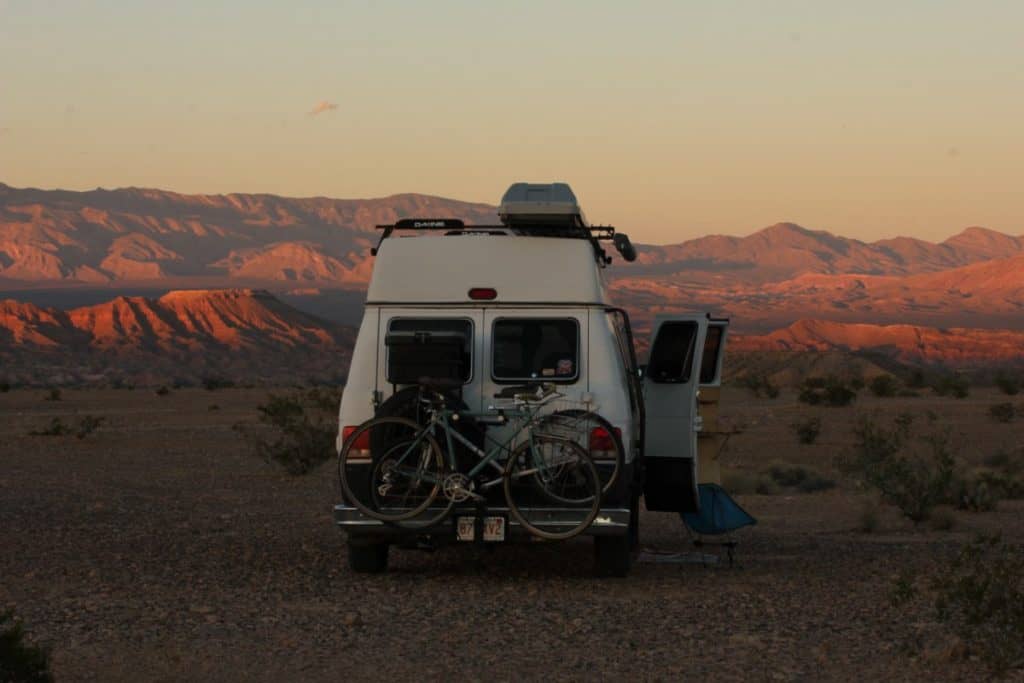 When we arrived in New Mexico, we were pleasantly surprised. We loved the rocky landscape, and abundance of good/cheap camping. The state parks in New Mexico are meticulously maintained, and crazy cheap if you're used to California State Park prices (like we are). We found really great free camping outside of White Sands National Monument when we arrived to a State Park that was full, and were forced to continue on. We ended up staying at that camp spot for a few days, with just a couple other neighbors off in the distance. We continued driving, and found camping at Rockhound State Park. We had amazing camp hosts, and our dog got to play with our hosts heeler pup. We headed north from their, driving to Elephant Butte State Park. We camped on the banks of the Rio Grande for just $7 per night. Our drive west from there, we took scenic byways through Gila National Forest on highway 60. We stopped for pie at Gatherin' Place in Pie Town, NM. This unincorporated town of 186 has nothing more than an RV park, lots of dilapidated buildings, and a couple of pie shops.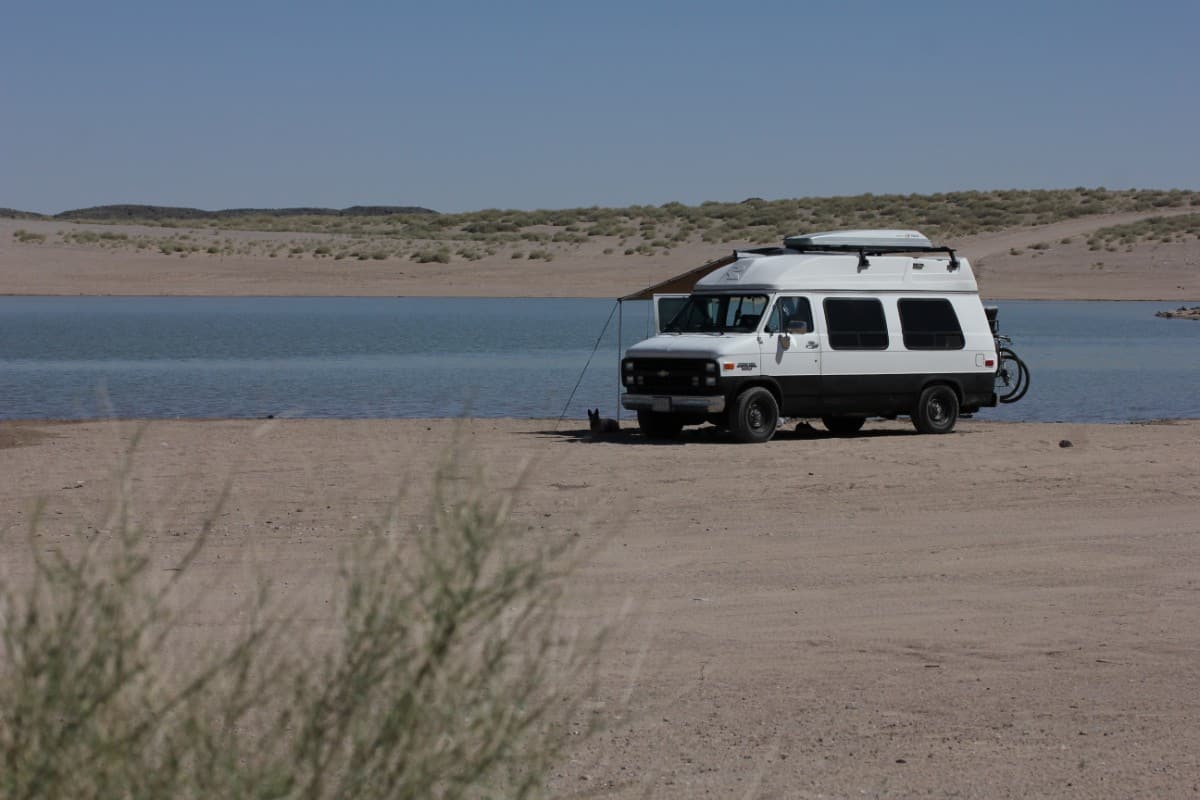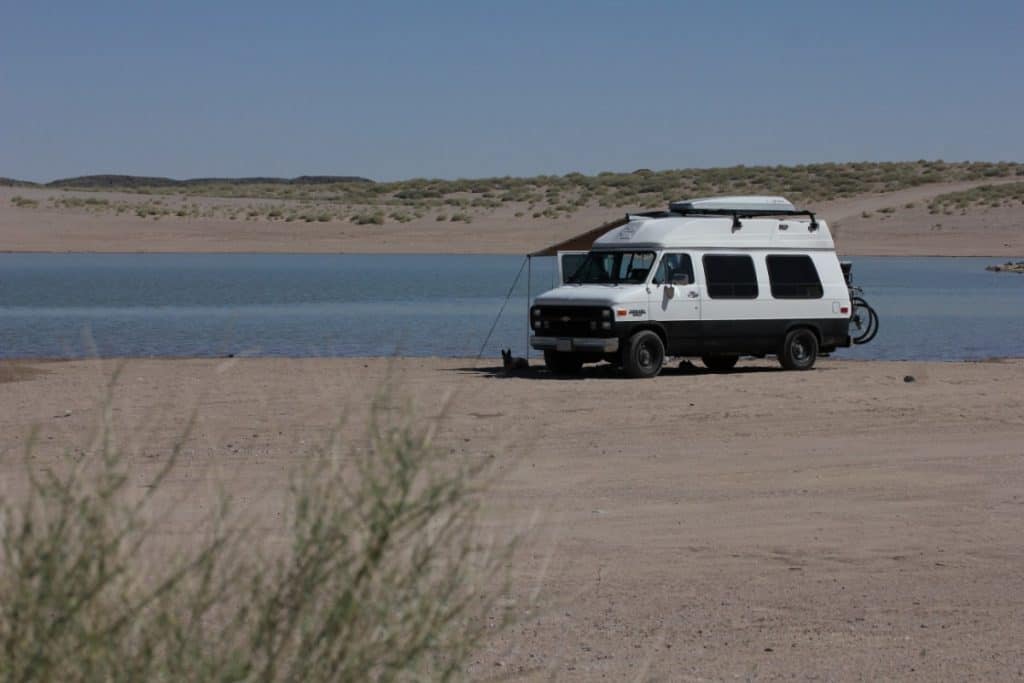 Our trek west brought us towards Arizona. Sedona is high on our list of favorite places, and might even hold the gold medal. It checked every box on our list of must-haves while traveling. It had a Whole Foods with free WiFi. Within walking distance from this market was a dog park and skateboard park with panoramic views of glorious red rock. Just down the road from this hippie town was free National Forest camping with a 14-day stay limit. It was possible to drive miles of washboard dirt roads and find private camping with absolute privacy, and just a short drive from downtown Sedona. We met with friends Corey and Emily (@wheresmyofficenow) and shared camp in our favorite camp spot to date.
What advice would you give someone considering this lifestyle?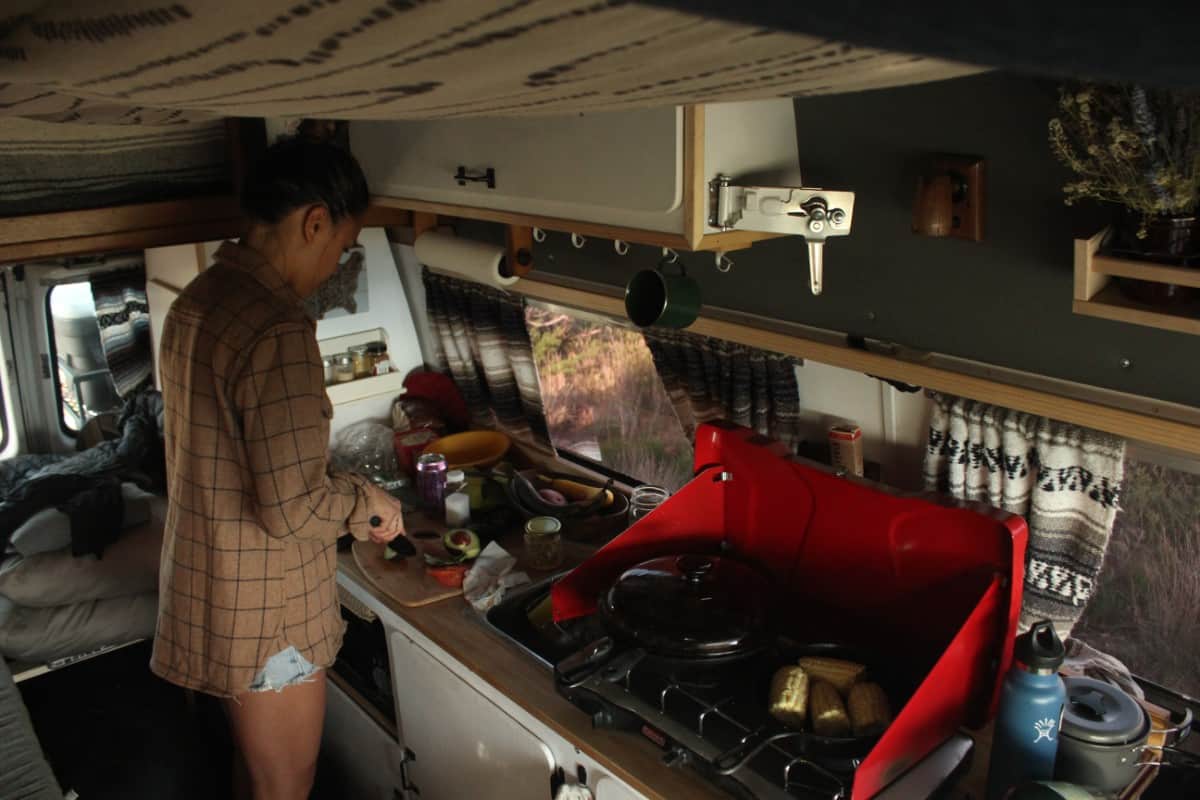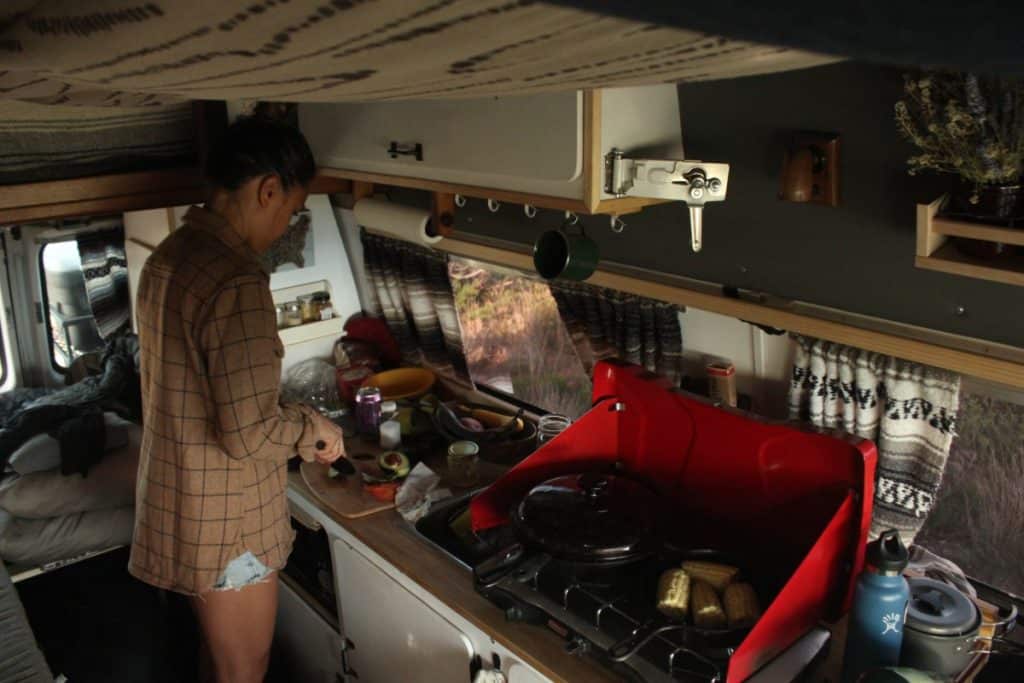 If you can't live without your dishwasher, maybe don't go buying a van to live in. It's like camping every single day. It definitely needs deep consideration, especially because of the amount of planning and money it takes to make the dream a reality. Regardless of how tricked out your rig is, you're going to have uncomfortable times.
It gets tiring trying to find a place to sleep every single night, and not knowing what that place will be like can be a funny gamble. We've pulled into Casinos in the middle of nowhere northern California and looked at one another, like "yea, we're not staying here". We were in Florida during Tornado season and, at one point, had to backtrack nearly 100 miles so that we could rest easy that night, knowing we wouldn't be blown away or killed by a tornado in a truck stop parking lot. We sat out that a storm for 3 days straight in torrential rains at a truck stop and had to carefully plan the next 9 days of travel along the gulf coast to avoid tornadic thunderstorms and make it out of harms way to Texas. We've learned to keep a better eye on the weather while traveling.
If you're embarking on an adventure like this with a significant other… get ready for some nights sleeping in the front seat. No matter how great your relationship may be, once you're crammed into tight quarters, things can be trying. Living without any privacy can become annoying and definitely strain a relationship. Living on the road has made me more patient, and I'm definitely less afraid of life's uncertainties. Despite any spats or break-downs while traveling, Rachelle and I made it through all the highs and lows, which I think has made us a stronger couple. I could live anywhere with her and be happy.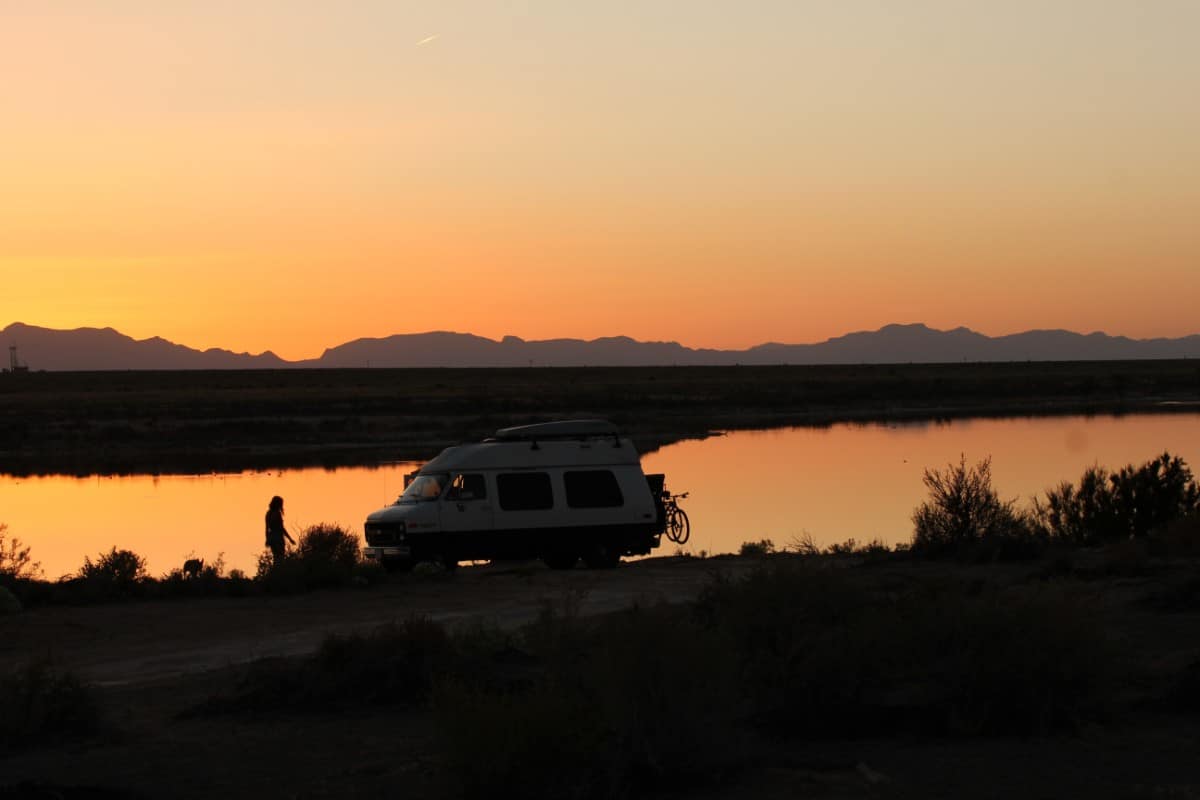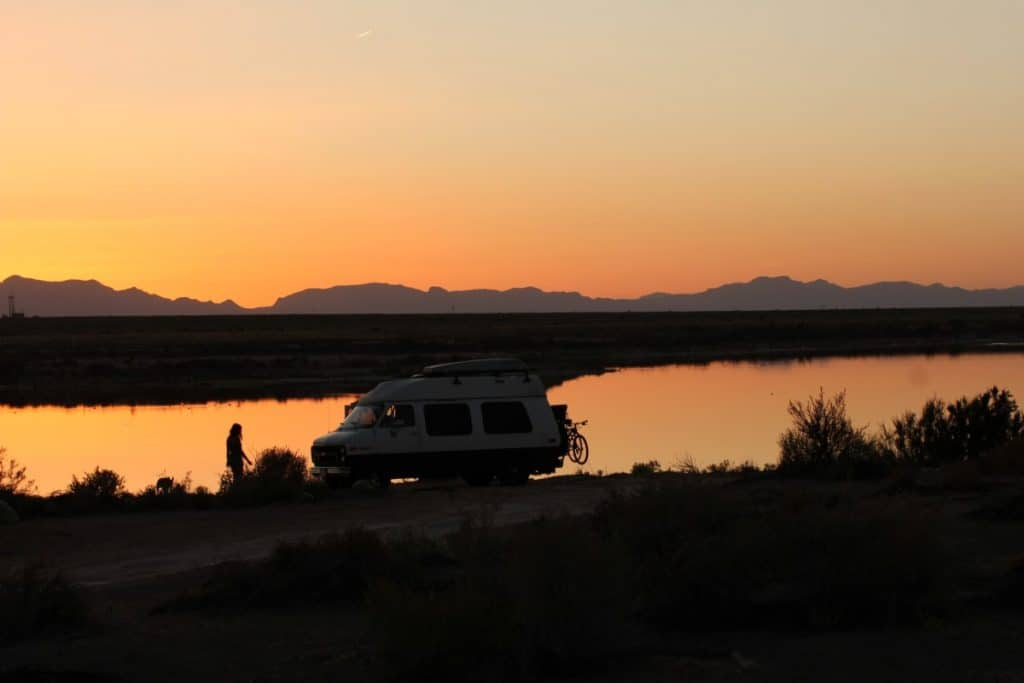 I feel like people should remember that they are capable of more than they realize. If your goal is to travel for a year, don't plan too much, and go ahead and do something today that will help you achieve that dream. I see a lot of planning and researching in the "pre-vanlife" stages. All of that research is fine, but planning can only get you so far, it's a matter of doing something and really getting started. And when you get onto the road, it's not always going to be a beautiful place where you stop to rest for the night. It's the over-romanticized photos of "vanlife" that can make you feel disheartened, like you got dealt the wrong cards.
Don't go chasing that bucket list of places. I've never been to Monument Valley, for instance, but I don't care… because it's in the most unexpected places you'll feel like you're living your best life… It'll surprise you. It's true when people say it's not about the destination, but the journey. Sometimes I think back to moments on the road when I felt true bliss, watching the sun set in my rearview mirror, a good rock n' roll tune vibrating through the speakers, and my favorite passenger in the seat next to me… I can't recall the town we were in. Sometimes I can barely name the state in most cases… but it was perfect.