Internet is pretty much a necessity these days. Don't get us wrong – we absolutely love opportunities to go fully off the grid, no cell service and all. It's like our vacation. But the fact remains that we need internet access to work, to stay in contact with friends and family, and even to find the next sweet camping spot.
When we tell people that we live in a self-converted camper van and travel full time, the number one question they always ask us is, "Well – what do you do for income?" And when we tell them we work online, there's the inevitable follow up, "But what do you do for internet?"
This was a big question for us before we started full time vanlife. And we'd be lying if we told you it isn't challenging sometimes. While we are usually able to find internet when we need to, we're always thinking about it and we often need to plan ahead.
So if you're thinking about heading out on a nomadic adventure and are wondering how to get internet on the road, we hope this post will give you some useful answers!
Note: Before you can get internet on the road, you need to be able to power your devices from your van. You can do this via a vanlife solar electrical system, portable solar generator like the Jackery 1000, or some combination of the two. Many van build outs also include a DC-DC charger, for charging your system from the alternator.
Hotspot Cell Phones with Unlimited Data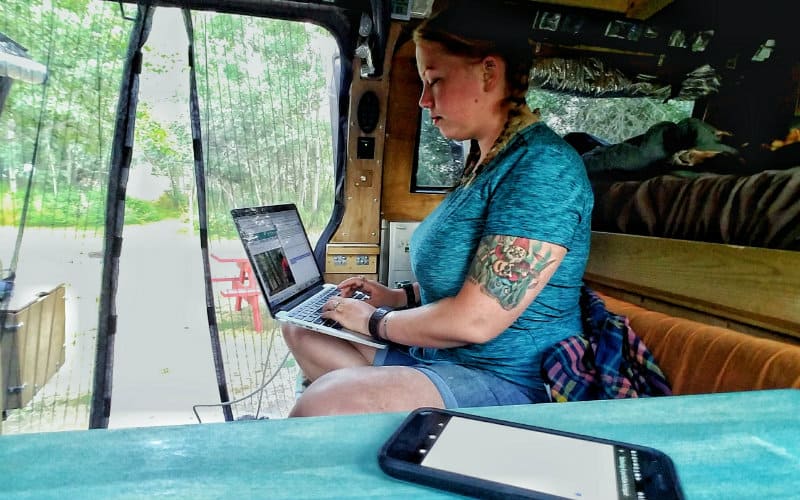 The number one method we use to access the internet in our van is our cell phones. We both have Verizon, which has the best coverage in rural areas by far, and they also offer an unlimited data plan. And we use the shit out of it. All we have to do is hotspot our phones and we can pick up internet on our computers.
But even Verizon doesn't have coverage everywhere, and it's usually the best camping spots that have zero cell service. We've definitely had to choose between sleeping in that stunning canyon for another night or venturing back to civilization so we can get some work done.
We learned that if we plan ahead and have enough offline work to do, we can stay at incredible places for longer, but the need for internet still ended our stays before we wanted.
Internet in More Places with a Cell Signal Booster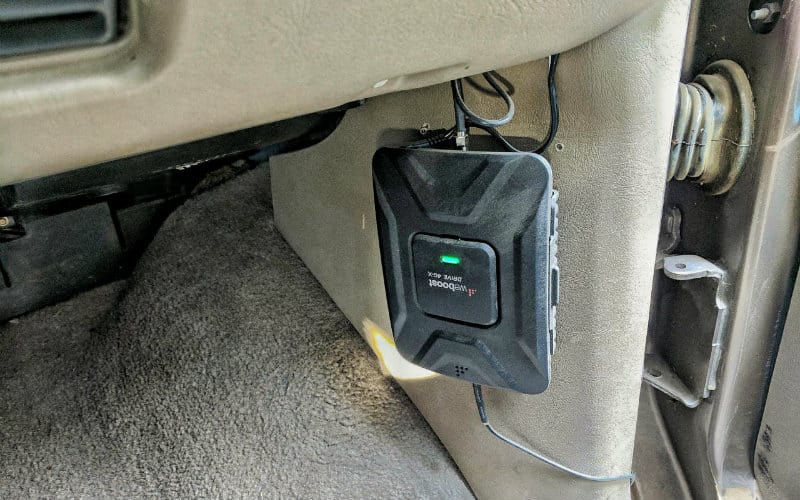 After one too many times having to leave a beautiful spot sooner than we'd like due to lack of internet, we decided to get a cell signal booster. A booster uses a roof-mounted antenna to take in faint cellular signal, amplifies it, and broadcasts the stronger signal inside your van. It took some trial and error to figure out how to use it effectively, but now we can stay (and work) indefinitely where we never could before.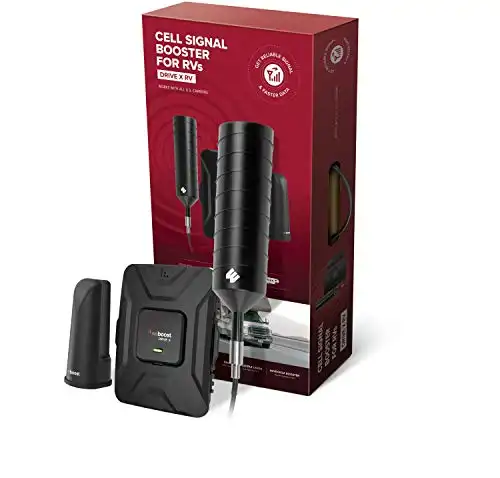 weBoost Drive 4G-X RV
Need internet in the middle of nowhere? The weBoost Drive 4G-X boosts weak cell signal to usable levels, and rebroadcasts it inside your van. If you work remotely, this is a necessity.
Check Price on Amazon
We earn a commission if you click this link and make a purchase (at no additional cost to you).
The booster we bought is a Wilson WeBoost Drive 4G-X. We also picked up the extended antenna for even more range, but the RV version of the booster comes with an easily mountable antenna that works just fine.
The 4G-X is Wilson's most expensive booster, but it has the greatest reach in rural and backcountry areas – which is where we like to spend most of our time.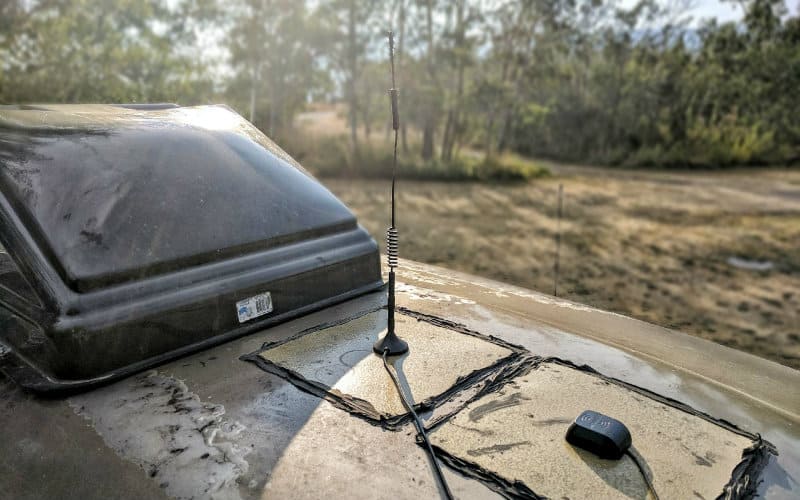 While the WeBoost does give us internet where we never had it before, it's important to note that it's not a silver bullet. The WeBoost can only boost an existing signal – so if there's absolutely no service, it won't have anything to boost.
That said, it has taken us from almost nothing to full LTE in some spots, and it's great at increasing the speed of slow-loading mobile internet. It may not always let us stream the latest episode of Game of Thrones, but it does allow us to load web pages and get work done while we're sitting on the banks of a secluded alpine lake.
Find Free Campsites with Cell Service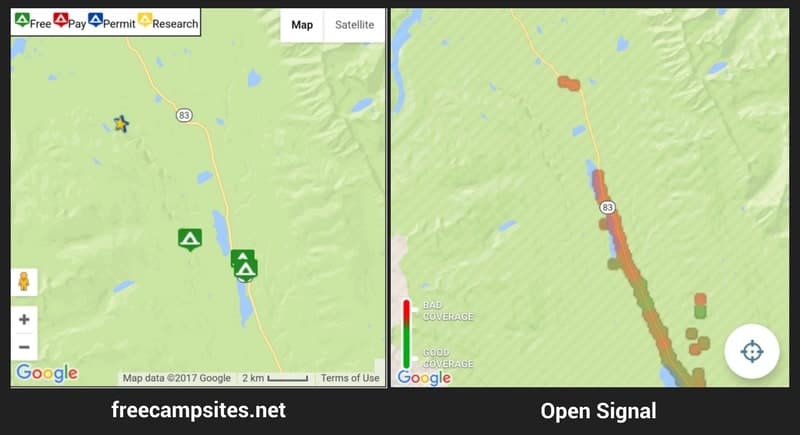 This was one of our favorite campsites we've ever stayed at. It's in a "bad coverage" area, but with our signal booster we were able to get plenty of work done over the five days we spent there.
We find most of our campsites using a combination of freecampsites.net and the AllStays Camp and RV Android App (and iPhone app). But too many times we've arrived at the perfect campsite only to find that there's no service. At all.
To make sure that we'd have better luck, we've started cross checking potential campsites with the Verizon coverage map (other providers also have their maps available online – just search for it on Google). This lets us know if there's any service around, and what kind (i.e. 3G, LTE, Voice, etc). We try to stick with campsites that are in or near an area with LTE because, let's face it, 3G is basically useless.
Even more precise than carrier coverage maps is the Open Signal Android app (they also have an iPhone app). This shows us specifically where there is service, as well as the signal quality, rather than just showing us a vague coverage area like the carrier maps. Open Signal also includes a compass feature that points you in the direction of nearby cell towers.
This method definitely isn't perfect – many remote campsites inside "LTE areas" are just dead zones, no matter what you do – but it definitely ups our chances of finding that perfect secluded spot with usable internet.
Plan Ahead and Use Free Wifi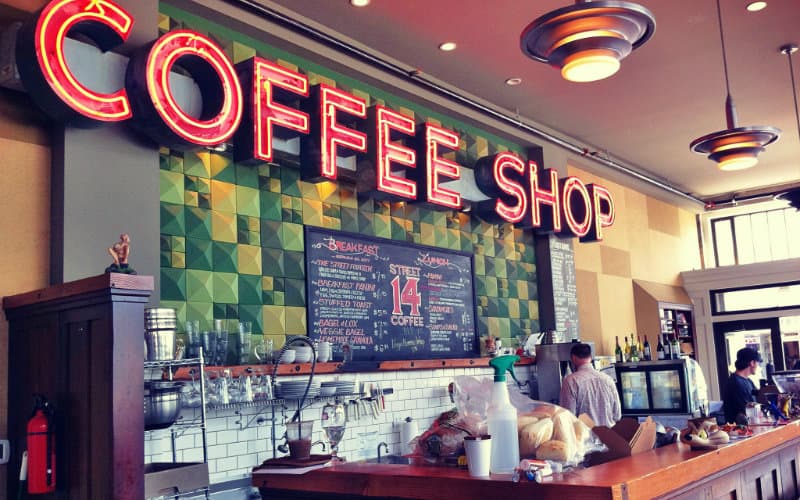 Sometimes you can get away with using internet only every few days – or few weeks. If you're like us and work via your computer, this takes some planning ahead.
When we know we're going to be without cell service for a while, we make sure we have plenty of offline work we can get done. Any research we need to do or files we need to download – we do it before we go off the grid. Then we can work happily in the woods and resurface later on to show the world what we've done.
As far as where to get free wifi – if you can find a town, there's somewhere around that has it. Coffee shops, truck stops, McDonald's, Starbucks, Walmarts, and a variety of local places typically have decent wifi available. If you're at a local joint, be sure to buy a coffee or something to thank them.
Stay at Developed Campgrounds (Sometimes)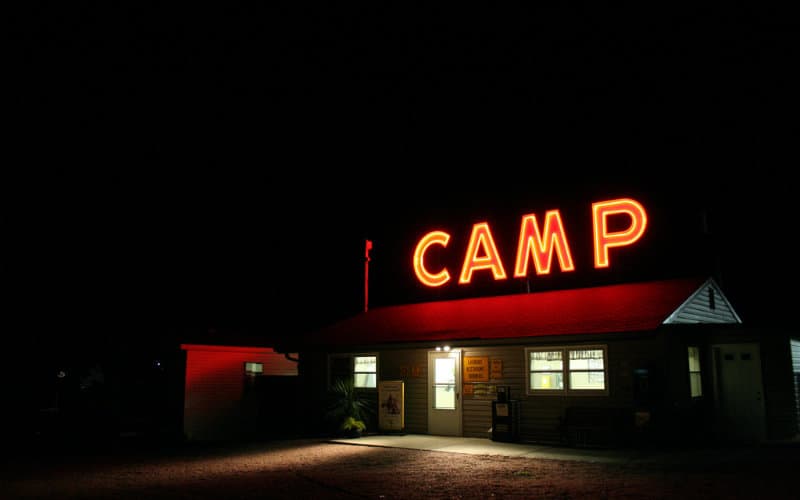 If we really, really need reliable internet (and a shower, and sometimes even laundry) we'll stay at a developed campground like a KOA or a state park. This is our least favorite option – developed campgrounds can be expensive, the sites are usually too close together, and there's just too many people – but it gets the job done.
KOA's in particular are pretty great for this. There are hundreds of locations around North America, and they all have wifi throughout the entire campground. We're also part of their rewards program, which costs $30 per year but we get 10% off every stay and we accumulate points towards discounted stays.
There are also many independent campgrounds (and some state parks) that have wifi, and they're usually cheaper than a KOA. Parks, KOA's, and campgrounds are easy to find using AllStays. And, we've found that most of these places have decent cell service, so if there's no wifi we can just hotspot our phones.
Internet When We Need It
Finding internet on the road is definitely one of our biggest challenges. Since we need internet to work, it's something we have to think about when we look for campsites, and even when we decide on our routes. But with a little planning ahead, a high tech gadget or two, and some help from Verizon's unlimited plan, we've been able to find all the internet we need and still enjoy boondocking in secluded areas without interruption.