We are super pumped to introduce you all to two of our road besties, Dustin and Noami Grevemberg from @irietoaurora! Noami is an island girl from Trinidad and Tobago. Dustin is a country boy from Lake Charles, Louisiana – but they call great ole New Orleans "homebase"!
They have a lot of big and exciting projects coming soon on topics from sustainability on the road with their blog Irie to Aurora, to yoga on the go and even Nawlin's first big van gathering! Enjoy their interview, give them a follow, and prepare to be inspired in a whole range of incredibleness!
Read More: Why We Chose a VW Campervan for Vanlife
Build Your Van
The Ultimate Van Build Guide
Planning a van build? Read our free guide. We cover just about everything you need to know – from planning, to insulation, to solar and electrical, to picking appliances, to essential tools. Get started today so you can get out there on the road!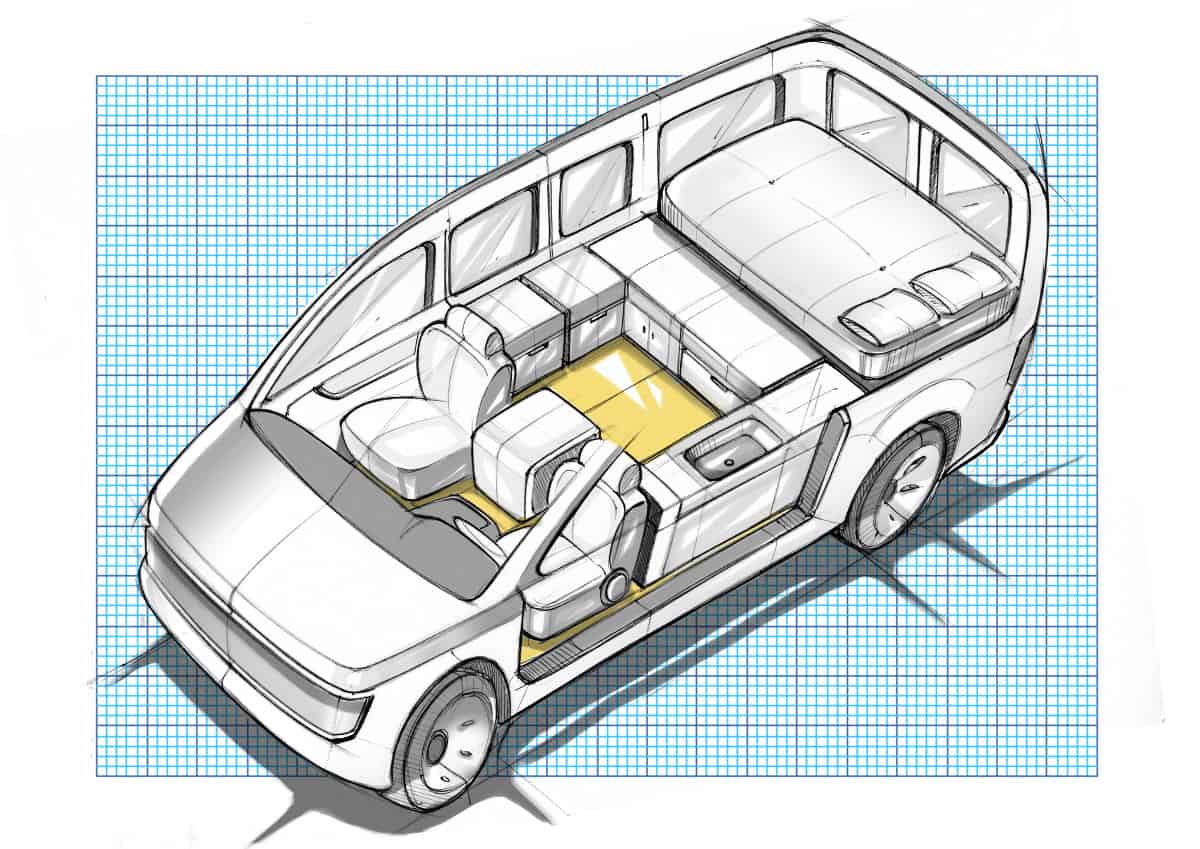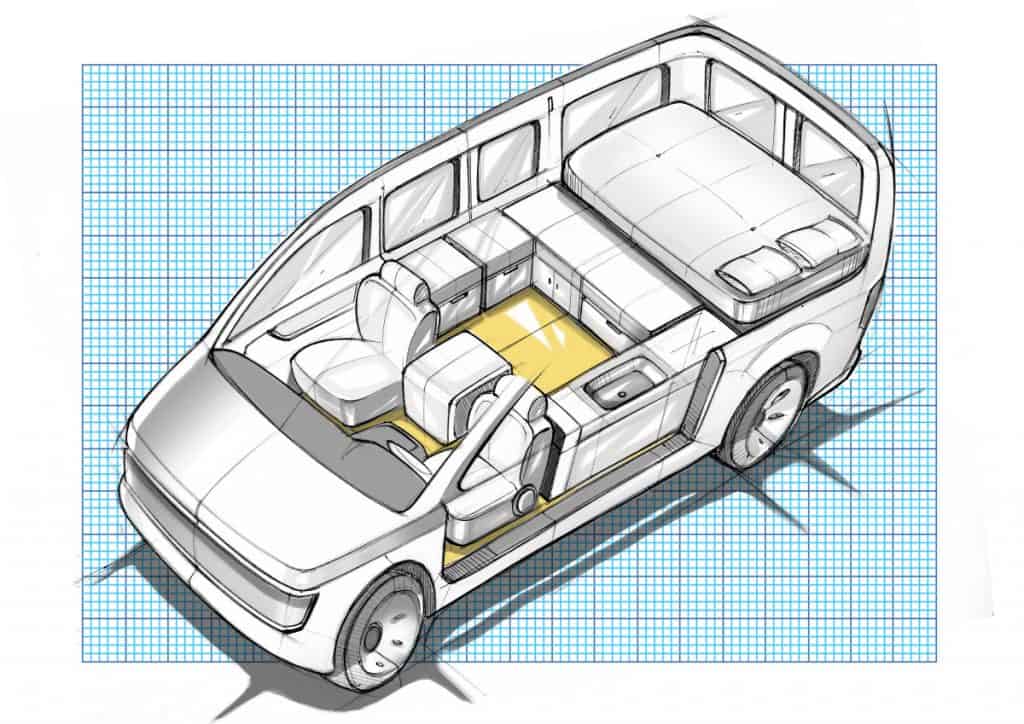 Where are you guys currently located?
We're currently exploring Baja, Mexico.
What are you living/traveling in?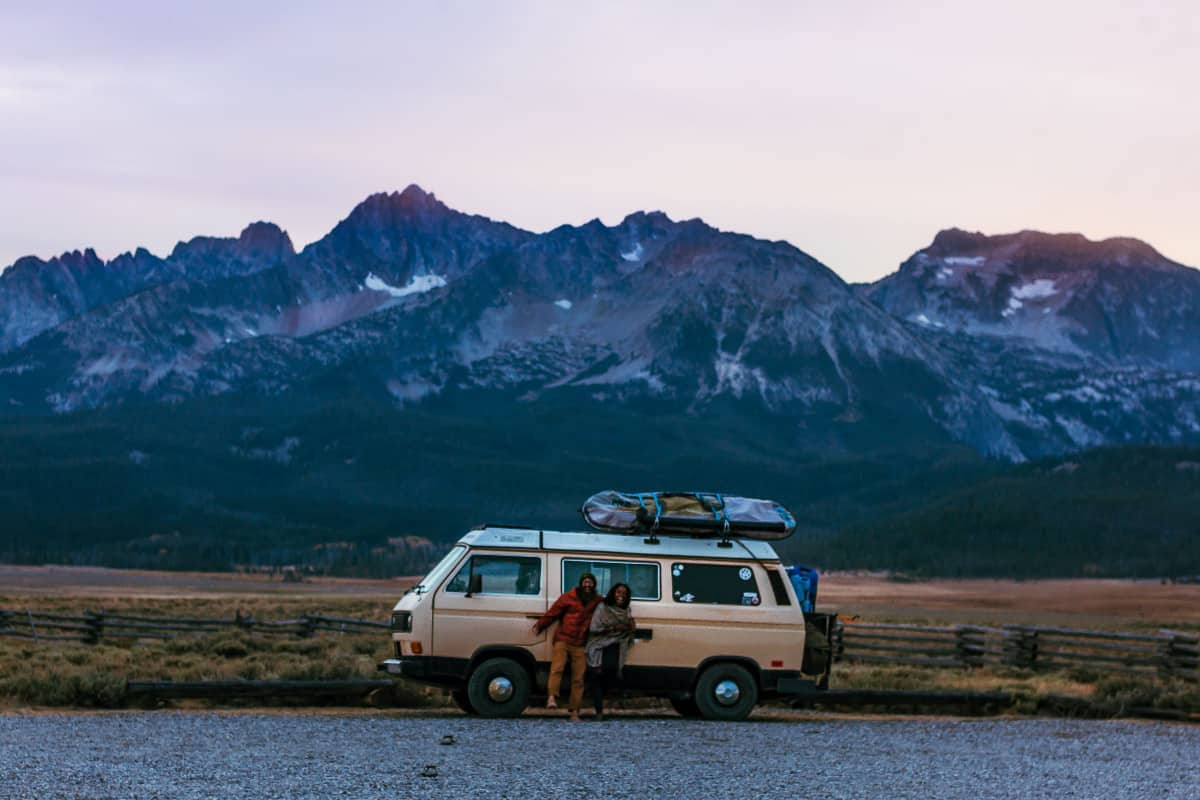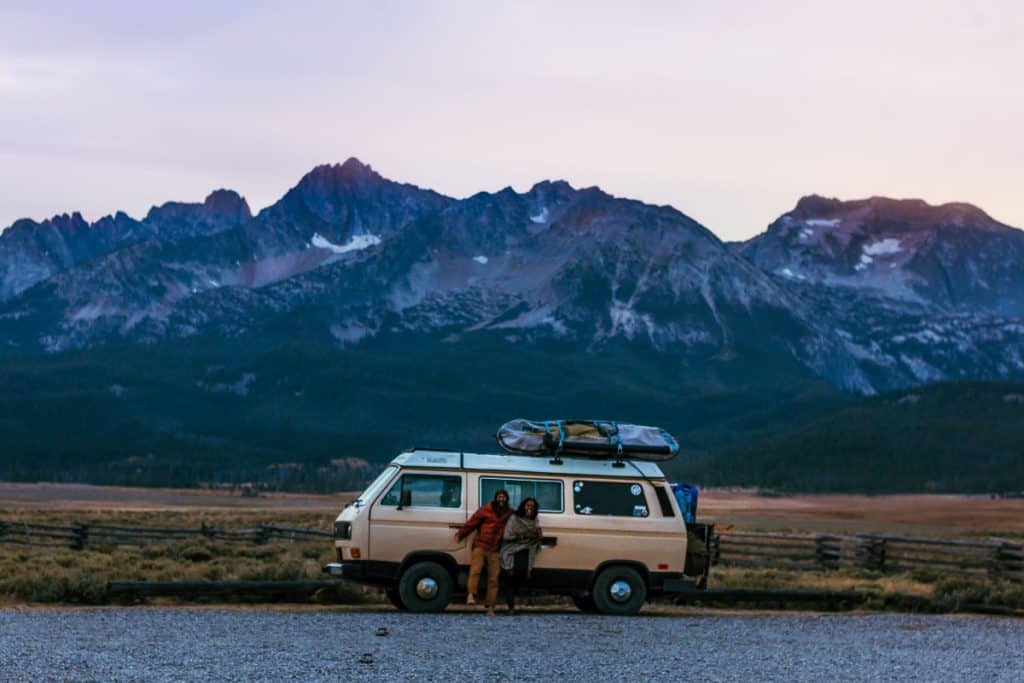 We live and travel in our 1985 VW Westy called IRIE.
What specs can you tell us about your rig?
IRIE is a 1985 Volkswagen Westfalia, mileage unknown. After a long nationwide search, we found her practically in our backyard, in Mobile, AL. She's fitted out with a 300W vanlife solar electrical system, a 12V refrigerator and a propane stove and furnace.
What touches have you added to it to really make it "your own"?
Westfalias were designed as the perfect campervan. So our van was efficiently pre-built with all the basics for life on the road, including beds, kitchen, and storage. Still, over the course of our 3 years on the road, we've added and taken away loads of features to make Irie home.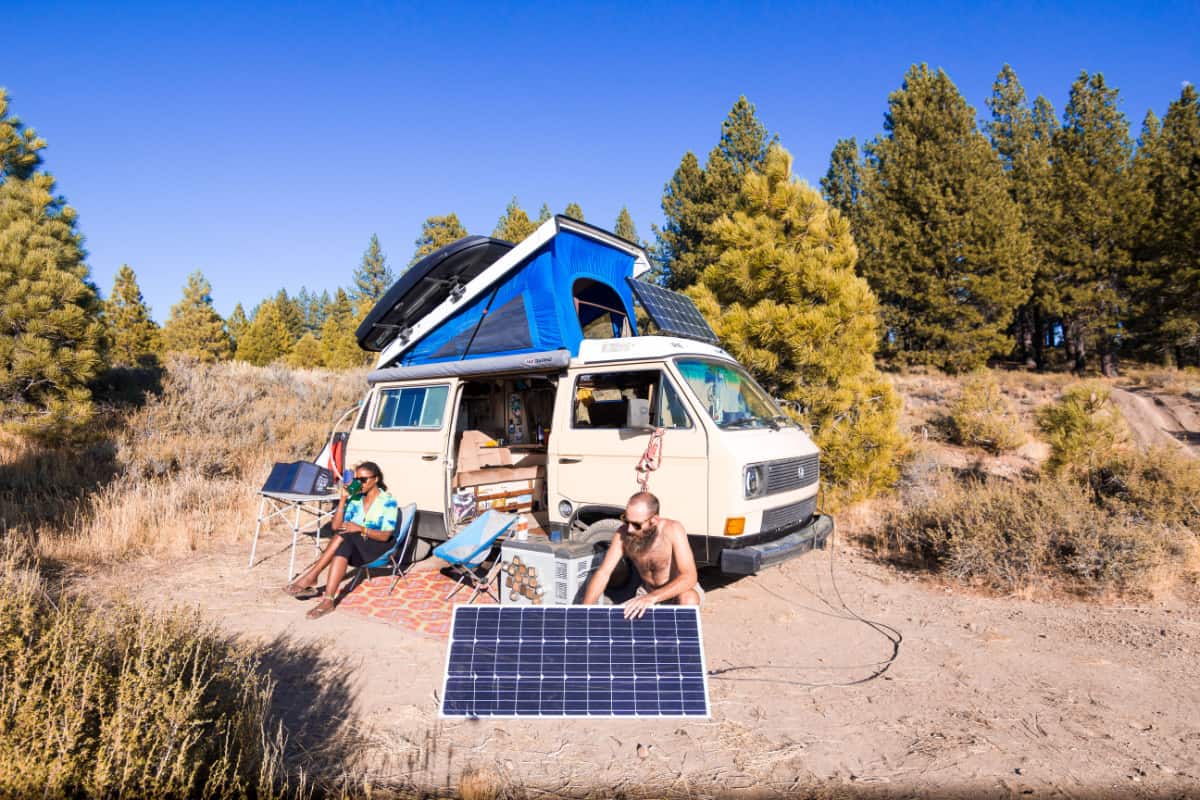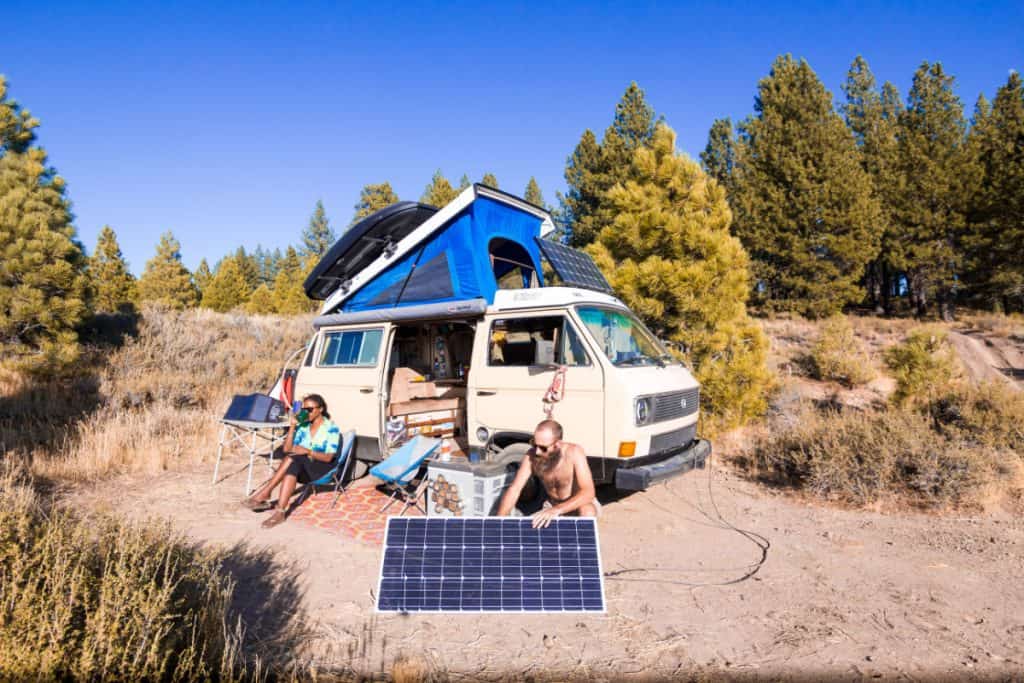 Our favorite additions are the 300W of Renogy solar and our WeBoost cell booster, which makes our digital nomad life possible. We also added a Yakima rooftop cargo box for storing our outdoor gear, a solar shower mounted on the roof (which we built ourselves), and a swing-away toolbox on the back. Inside, we upgraded to LED lighting and removed the non-working AC unit (:roll eyes:) to open up a headbanger storage.
Do you live in it full time or part time? How long have you been living this way?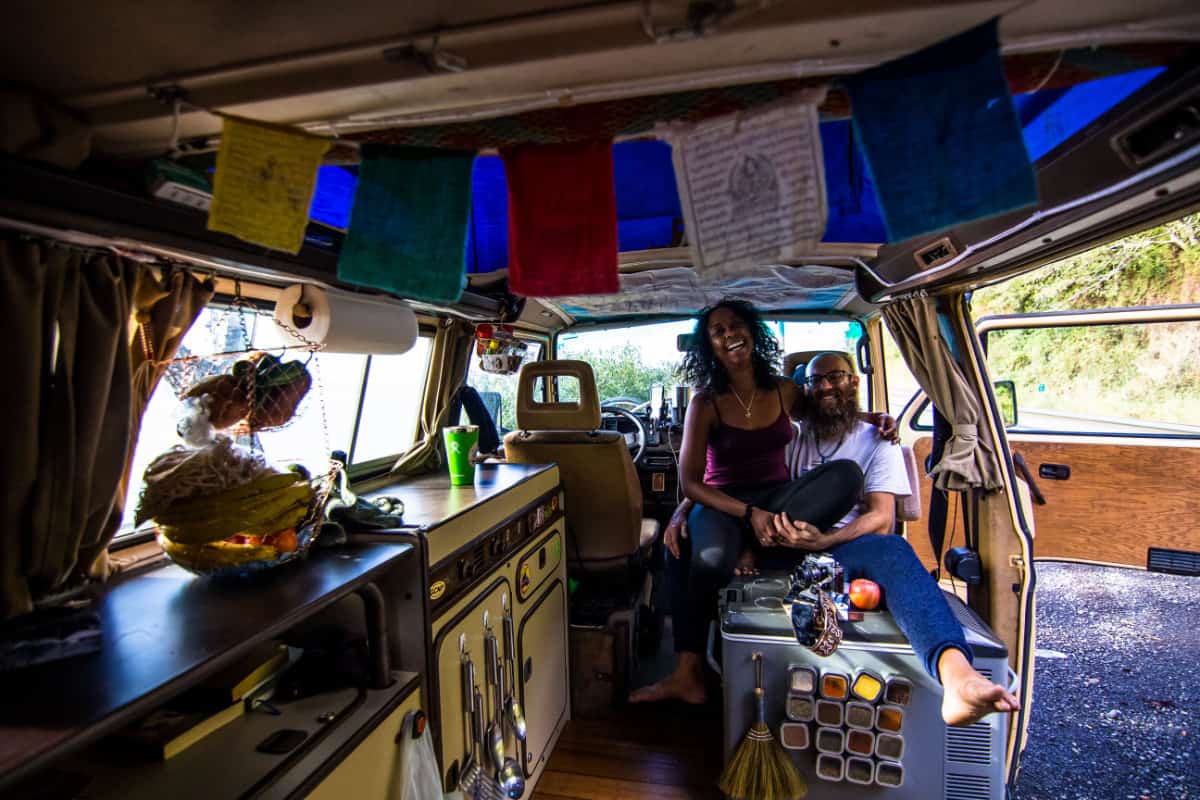 We've been full-timin' on the American open road since 2016.
What were you doing before vanlife?
Before vanlife we both worked typical 9-5 jobs. Dustin as a Construction Manager and Noami as an Environmental Scientist.
What made you want to choose this lifestyle?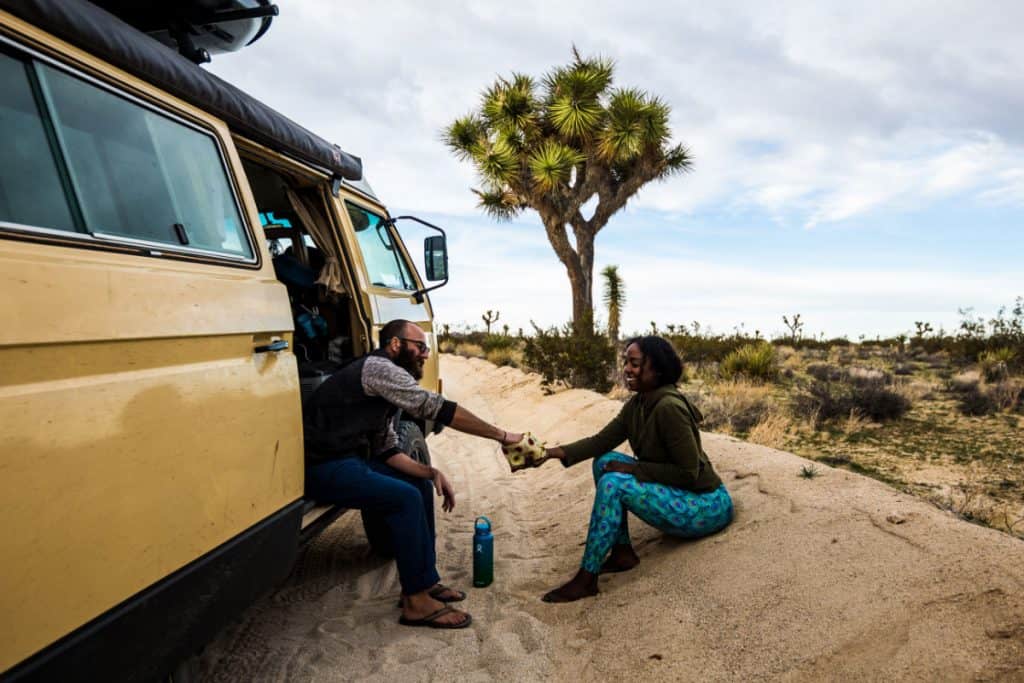 Well, we both woke up one day and realized we weren't happy with our life's trajectory. We weren't making a difference in the way we wanted to, and our passions had all taken a back seat. When we first met, we talked about traveling and visiting all the beautiful places this country has to offer. But that too took a back seat. So we decided to dig up that old dream of selling all our shit and hitting the road – and we haven't looked back since. We wrote an article about it.
What was that transition like?
The transition was hard. We gave up our comfortable, predictable lives and moved headlong into a life of uncertainty. We purged our possessions, which was a big hurdle. The thing is, we're conditioned to attach to and identify with material things, and re-wiring that conditioning has been one of the biggest challenges.
What is your favorite part about this lifestyle?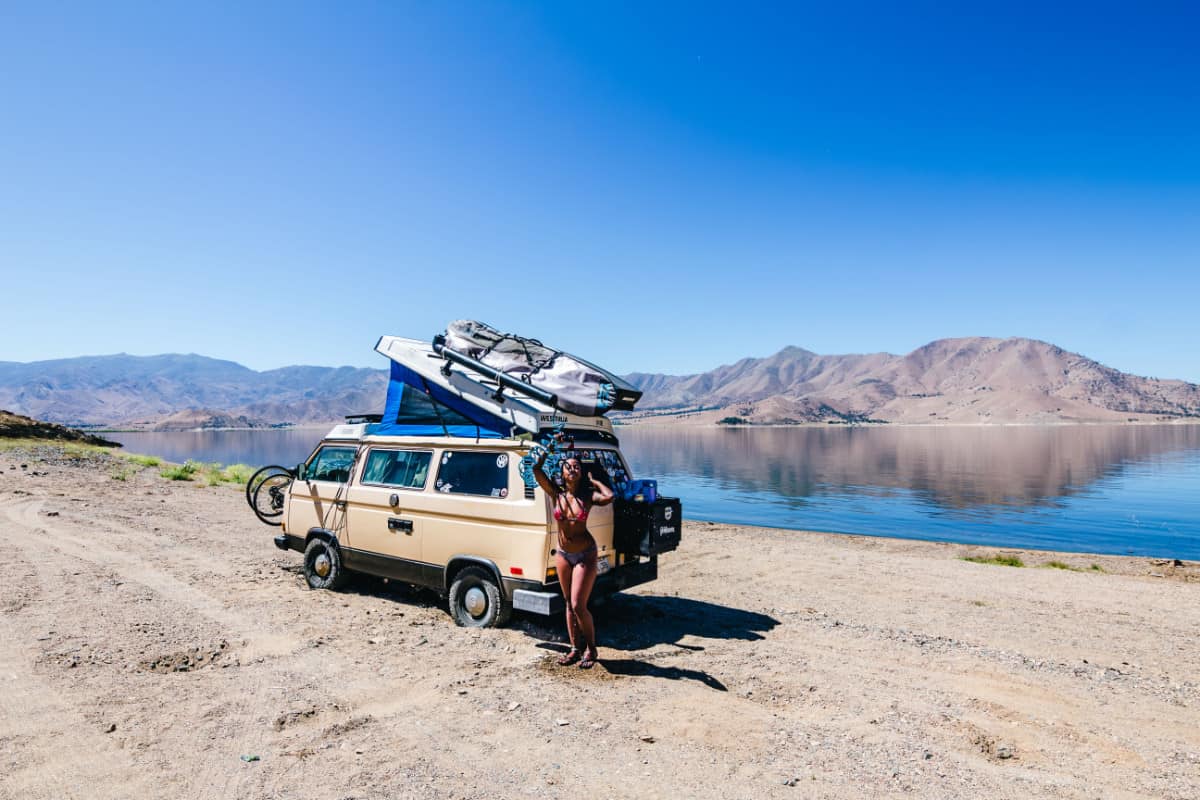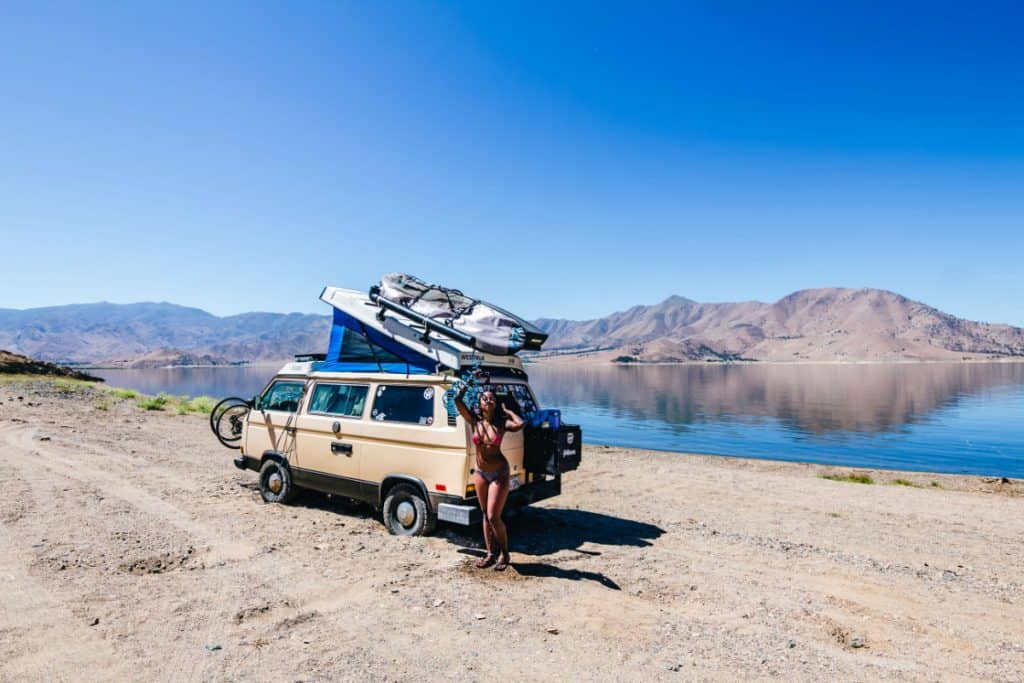 Freedom. Freedom to create our life the way we want to live. We're no longer dictated by someone else's idea of happiness or success. We wake up each morning and we get to decide how our day is going to be, which passion we will pursue. We are completely open, and that is our favorite part of this lifestyle.
What is your least favorite part about this lifestyle?
Our least favorite part of this lifestyle is the inevitable van breakdowns. Our van is almost as old as we are and she's a finicky beast. The breakdowns are taxing. They're physically and mentally exhausting, and they derail our momentum. But it's taught us a lot about ourselves and the mechanics of a Westy. Through the dirt, sweat and tears, we've learned what we're made of. Most of all we've learned patience and acceptance.
What do you do for income on the road?
We've done many different types of work on the road. From bartending gigs in small town Colorado to farm gigs in the Sierra foothills. We're fortunate that Dustin has been able to maintain freelance work in his field of construction estimating, which has been our primary source of income. And I (Noami) have picked up numerous writing and photography gigs along the way.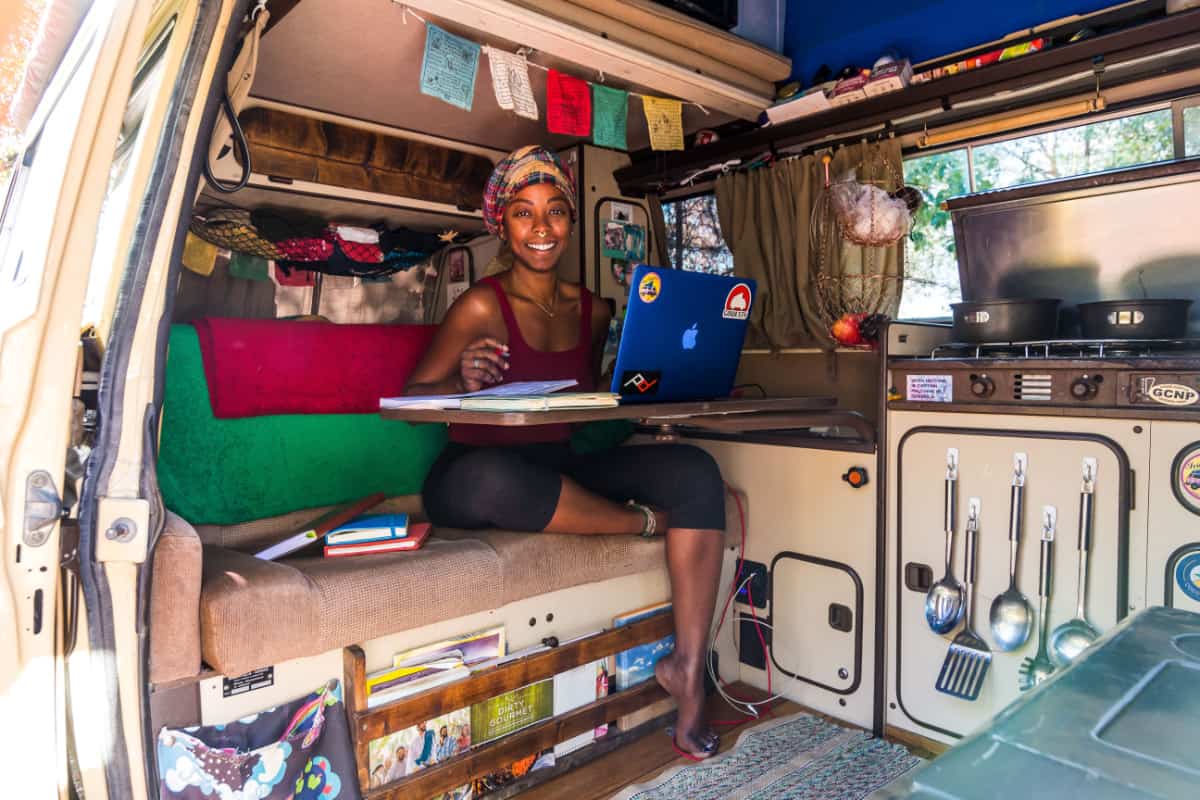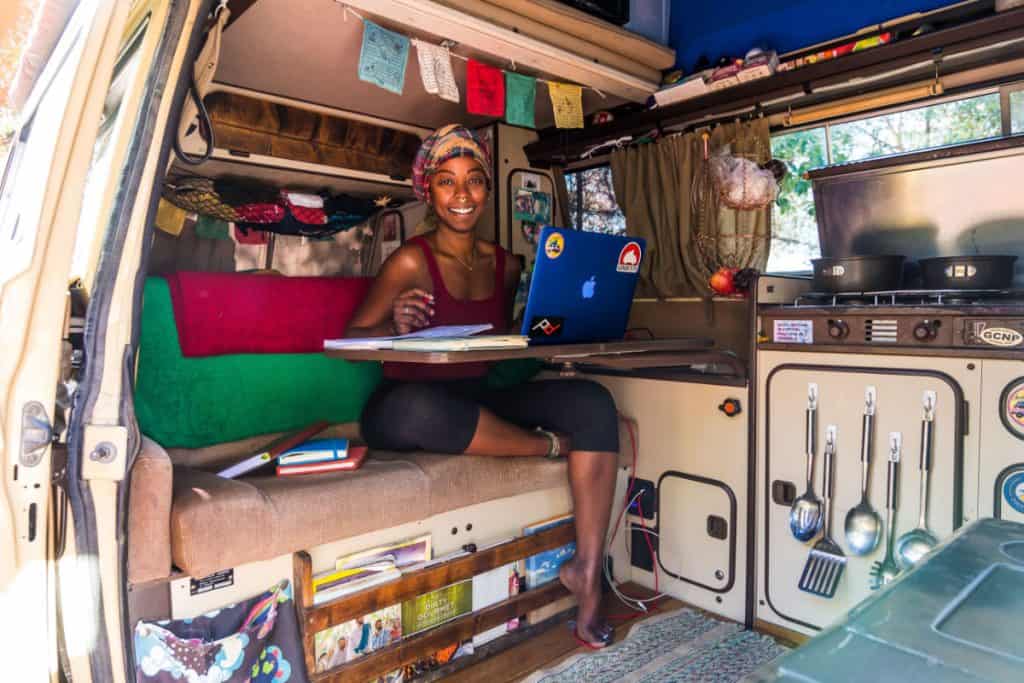 Currently we're launching our new Sustainability Consulting company, Cacti and Coconuts (since transformed to the blog Irie to Aurora). We provide sustainability consulting for individuals, homes (including #vanlife), brands and small businesses. Our services include zero-waste consulting, green building, energy, water, waste, and carbon footprint audits, as well as health & wellness consulting. I also recently acquired my yoga teacher certification, so I'll be teaching #YogaOnTheRoad. Stay tuned for updates on our social media @irietoaurora.
What have been your favorite location(s) thus far, and why?
That's a tough one. Each place we've visited is so unique and we've fallen in love with many different places for many different reasons. If we had to choose it would be the Pacific Northwest. We love the combination of mountains, ocean, and beautiful evergreen forests. It just keeps us coming back for more.
What is your favorite meal to make?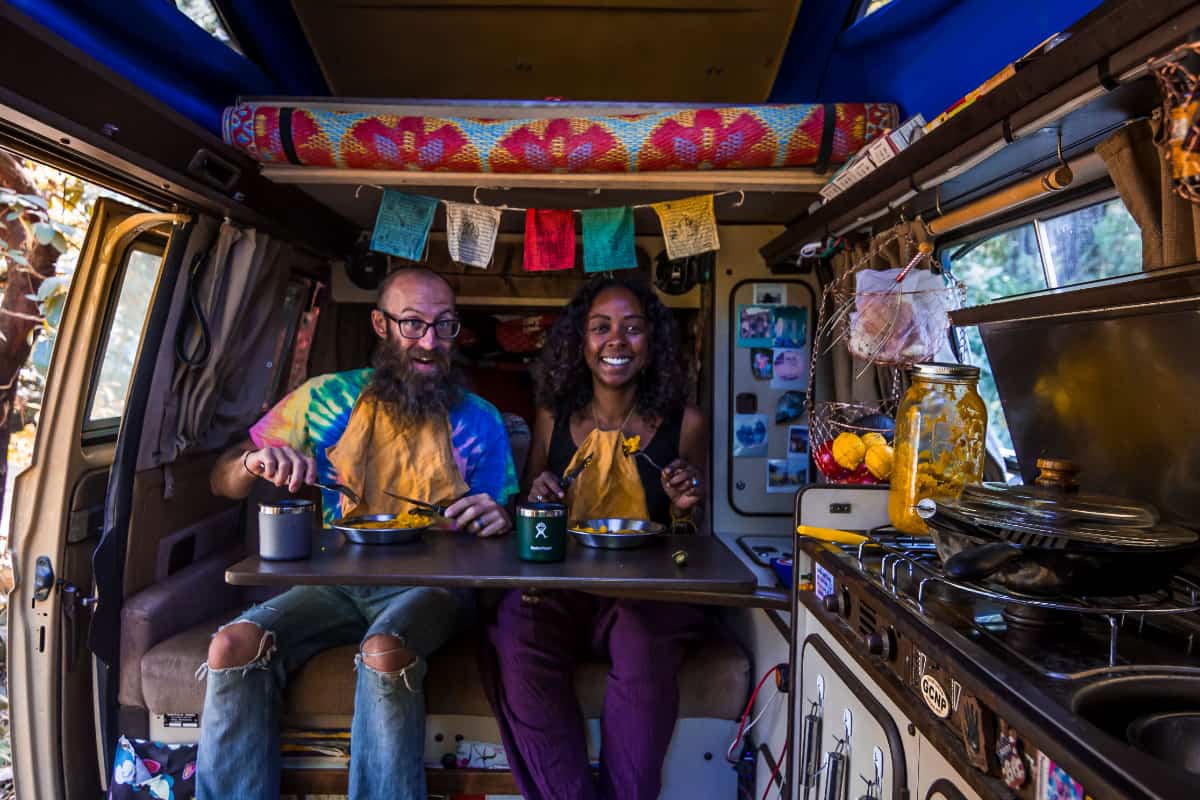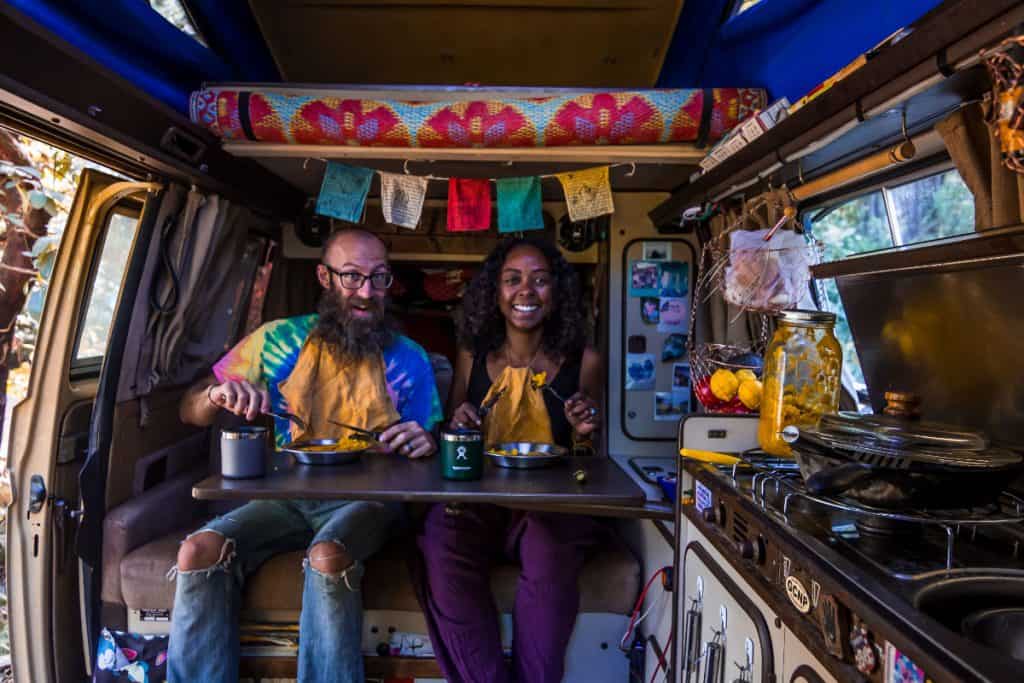 Curry. It's delicious, nutritious, easy to make, and you can put in anything. We love making spicy curry vegetables and chana masala.
What are some things you brought with you that you use nearly everyday?
Our french press for coffee and Nutri-Bullet for smoothies. For Noami, her travel bidet, and for Dustin, his lap desk.
What are some things you brought with you that you ended up never or rarely using?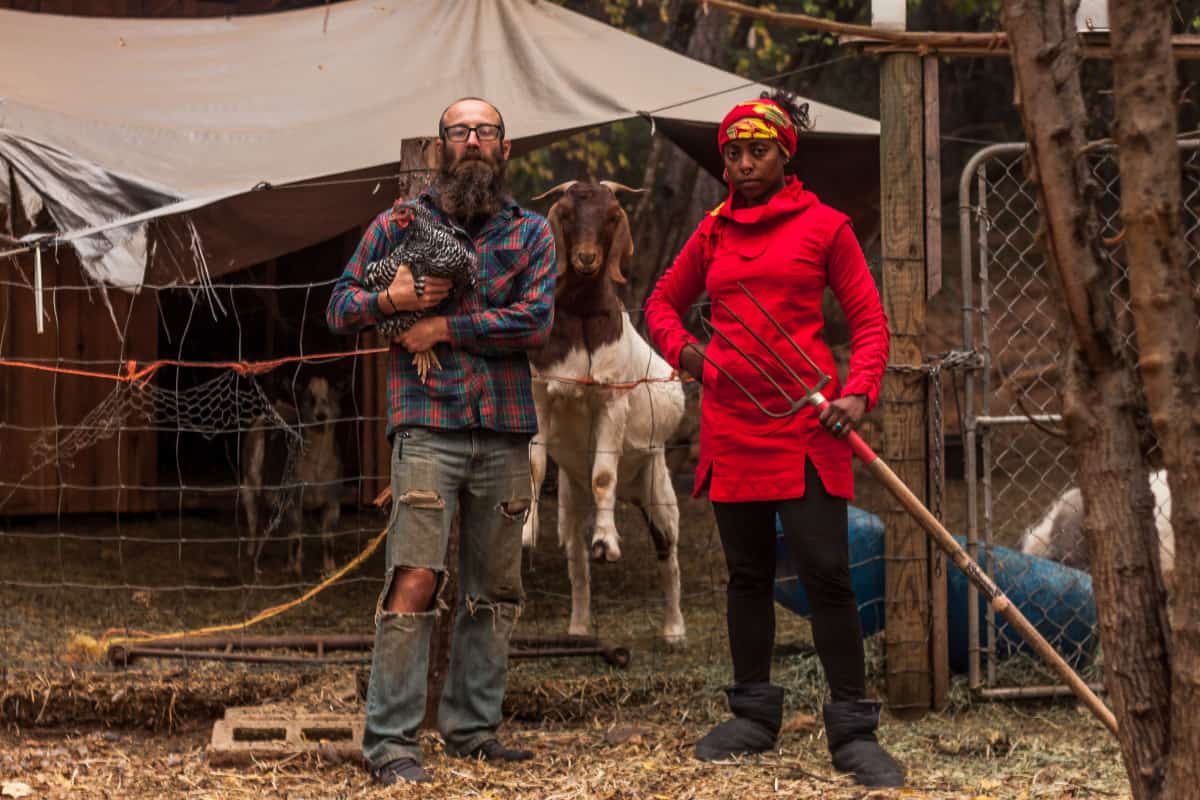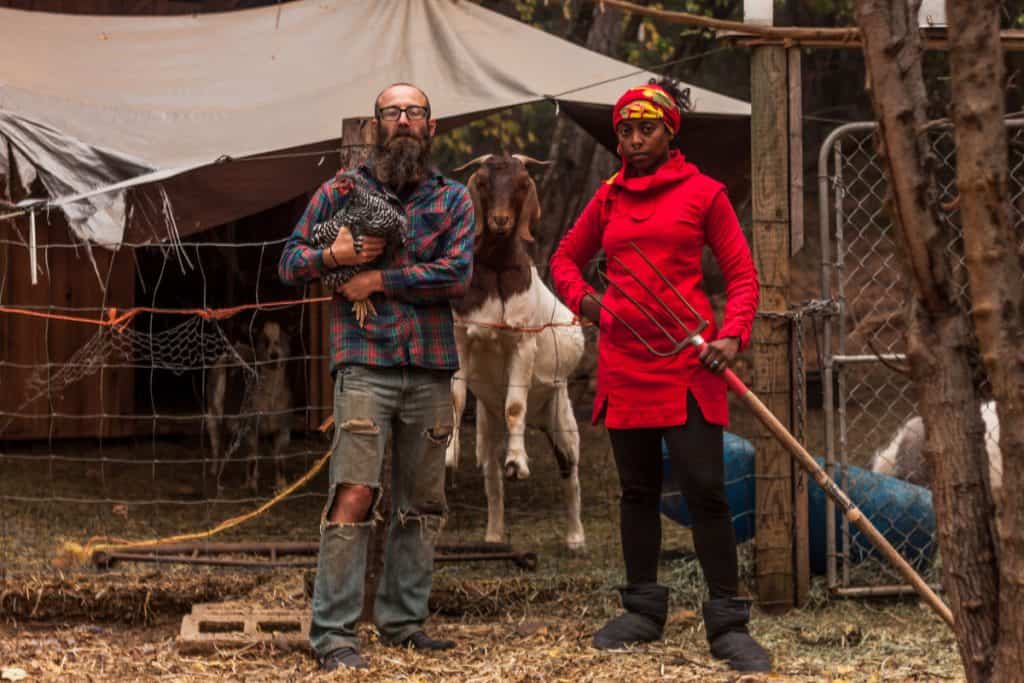 A lot of clothes. In fact, way too many clothes in the beginning, most of which ended up at the thrift store.
Is there anything you miss from your former lifestyle?
Noami misses having an oven, she loves to bake. Dustin misses having a toilet because he's a morning pooper.
What things do you do in your free time? What are your favorite activities?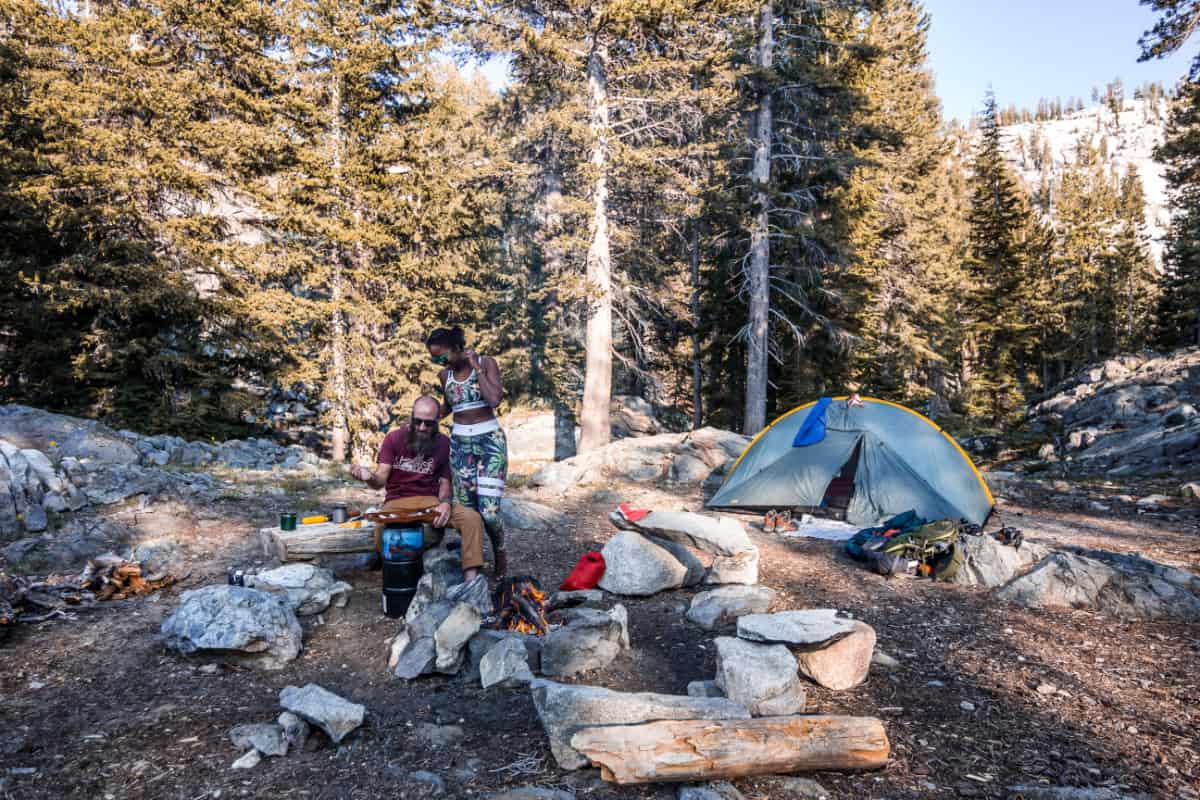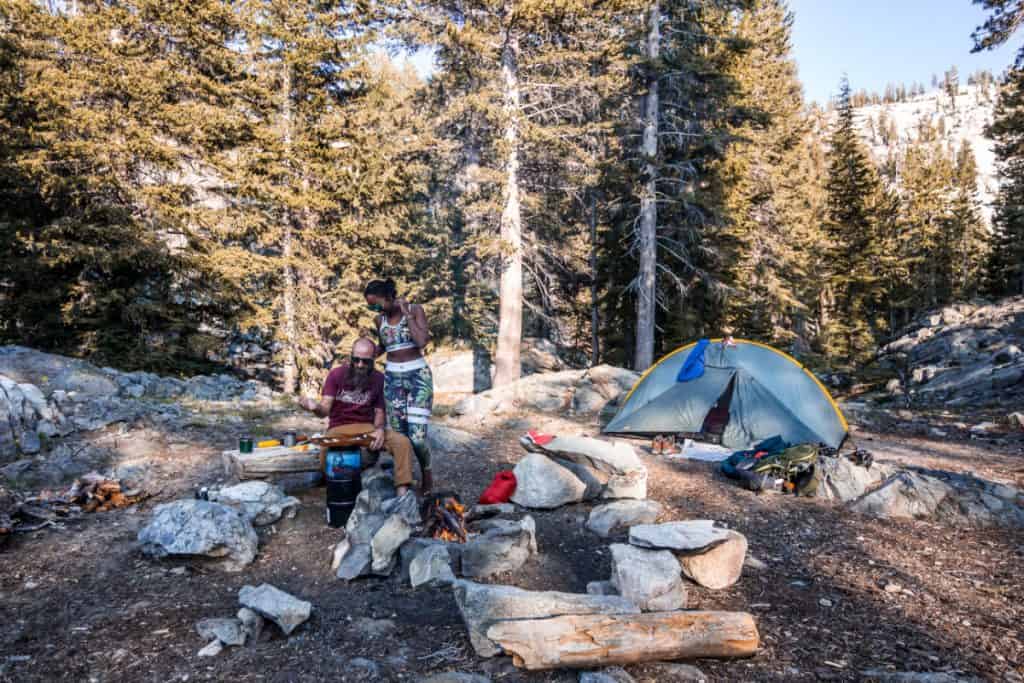 One of our favorite things to do is often the most underrated, doing "nothing." Which allows us to think of our favorite activities – backpacking, photography, surfing, writing, and just playing.
What advice would you give someone considering this lifestyle?
Don't do it, it's a trick!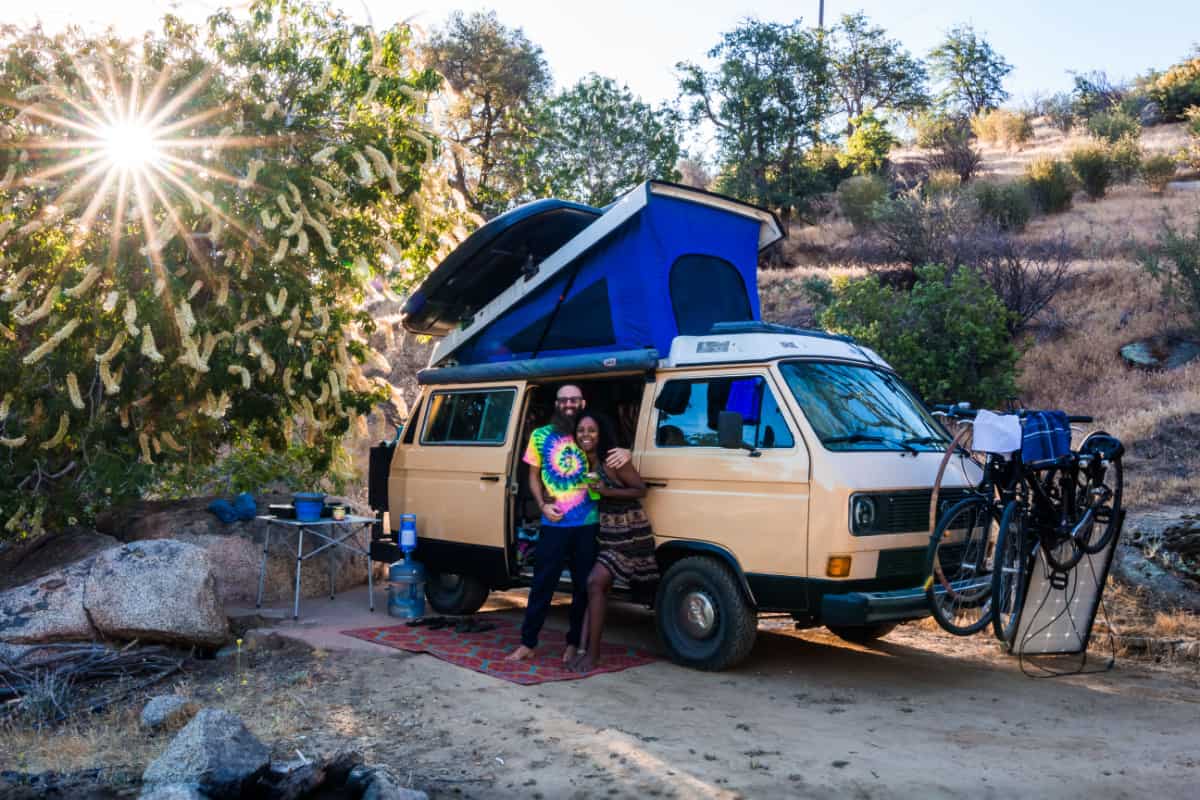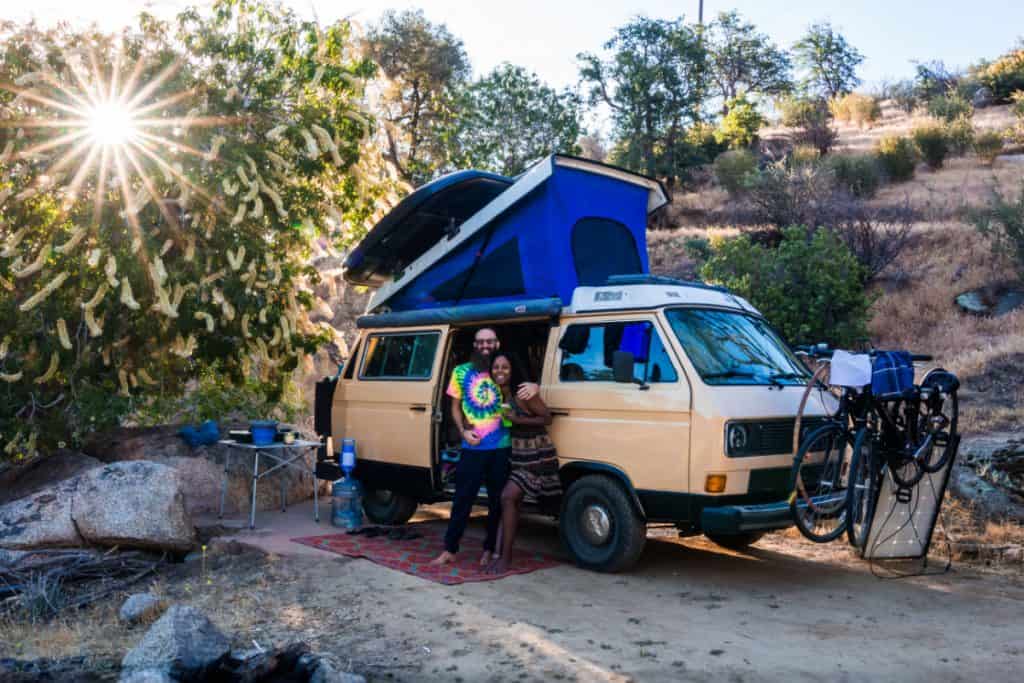 Nah, just kidding. Honestly, start small. Do one thing every day to get you closer to your goal of pursuing this lifestyle. And don't try to have it all figured out, your needs and wants are going to change. Find community and don't be afraid to reach out and ask for support, advice, and inspiration. The vanlife community is one we're proud to be a part of and we're always here to help.