In this edition of Gnomad Homies, we are super excited to share the story of a nomadic family that respresents our future #goals – fo sho! We'd like to introduce you all to Brandon, Ashley, Cayden, Jackson and Reagan Treb of @trebventures. They are a super inspiring and adorable family of five living in their decked out school bus. Check out their story, give them a follow, and be prepared to "Awww" for hours as you scroll through their feed!
Build Your Van
The Ultimate Van Build Guide
Planning a van build? Read our free guide. We cover just about everything you need to know – from planning, to insulation, to solar and electrical, to picking appliances, to essential tools. Get started today so you can get out there on the road!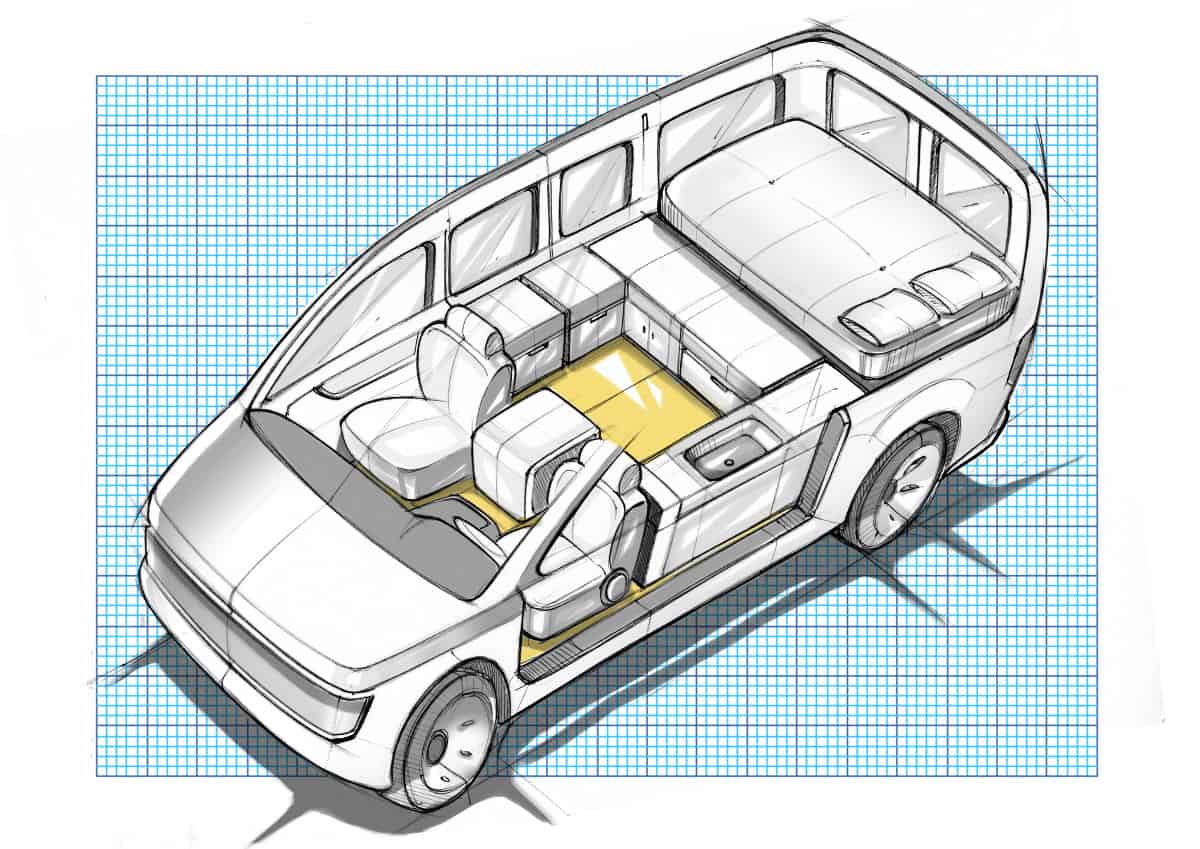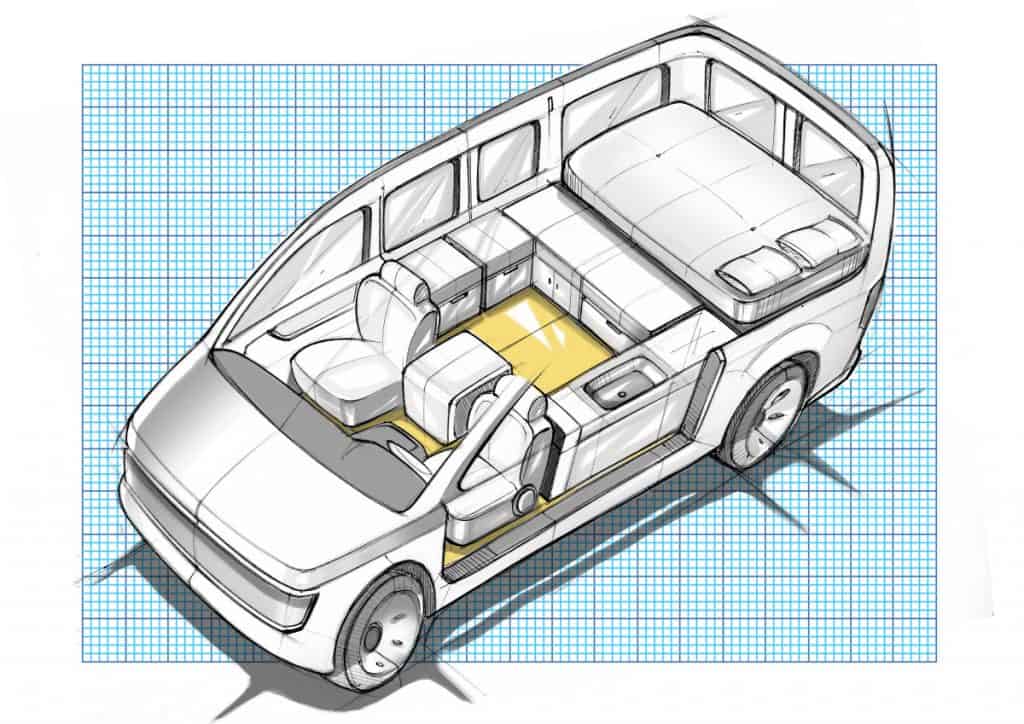 So, where are you from?
Brandon is from Phoenix, AZ and Ashley is from Albuquerque, NM. We call Corrales, NM our home.
Where are you currently located?
We are on the road right now but when we are "home" we are parked in Corrales, NM
What are you traveling in? Did you build the interior yourself, or did you buy it pre-built?
We travel/live in our self converted school bus tiny home.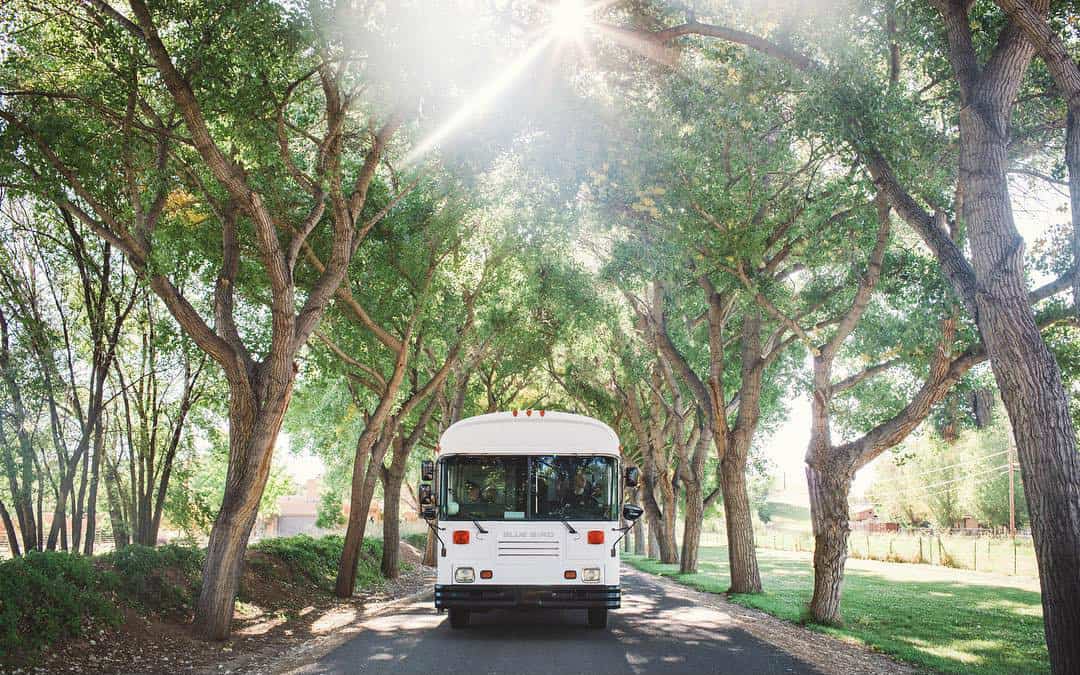 How long have you been living in this? Do you live in it full time or part time?
15 months so far full time
What made you want to choose this lifestyle? What was that transition like?
We didn't choose the bus life the bus life chose us! We love the ability to leave when we want and the comfort of our home anywhere we are so this life was a natural choice for us. Originally the transition felt easy but our first winter in the bus was super hard. It's not easy being cooped up in a tiny space with 3 kids. So we are planning to follow the warm weather next winter so we don't get stir crazy!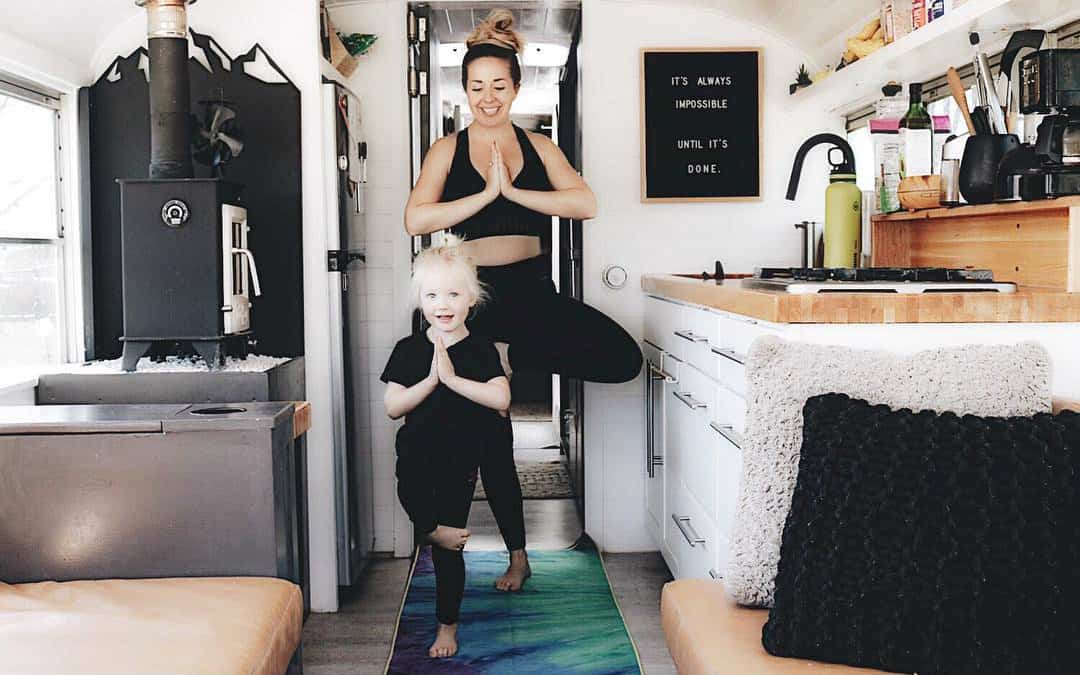 What's your favorite part about living the van life?
All of the reasons we choose this lifestyle and then some. We have the comfort of home where ever we are. We can be parked in a Walmart parking lot and yet feel super cozy and at home. We love the ability to travel and experience nature in ways we wouldn't have without the bus.
What is your least favorite part about van life?
The least favorite is the noise level. We have three kids and they get loud and rambunctious at times. So it takes patience and creativity to keep them busy. We try to live outside instead of inside our bus.
What were you doing in life before you decided to do this?
I was cleaning and organizing all my things. I spent so much time doing stuff that wasn't important because I had too much stuff cluttering my life. Now we are focused on each other. Spending time riding bikes, reading books, playing tag – all the wonderful things I wanted to do but felt I didn't have time to do are now in my everyday.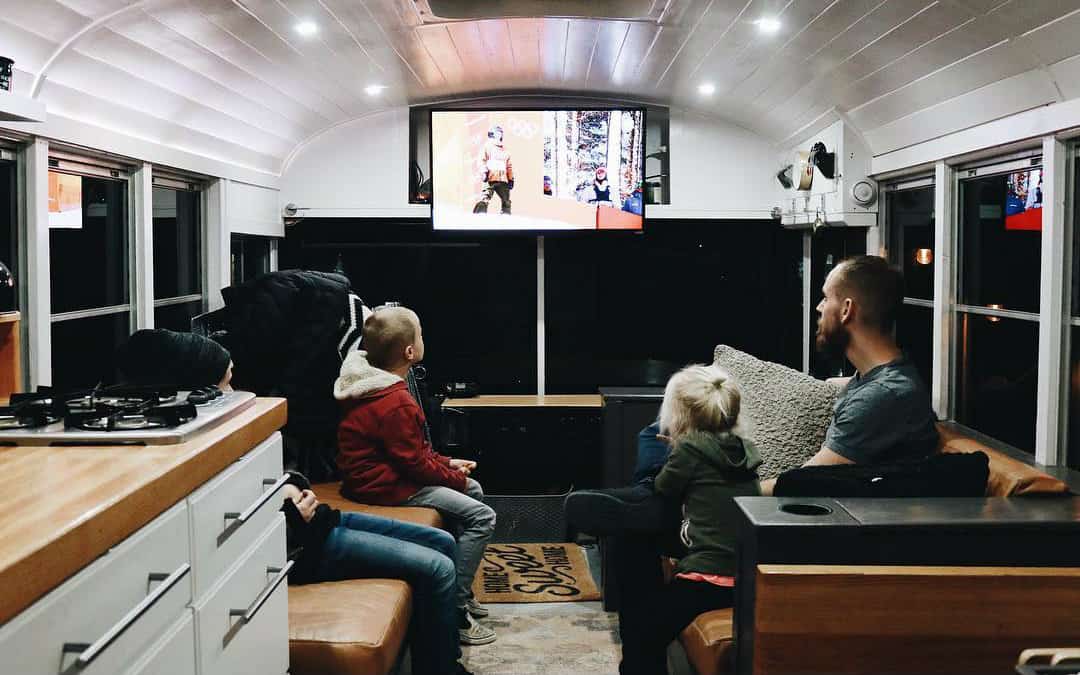 What are your favorite features of your van? Anything specifically unique?
Taking showers under the stars in our fully tiled, clear skylight topped shower.
What do you do for income on the road?
My husband runs a software company he owns and I run our social media accounts and blog.
What have been your favorite locations thus far?
The Redwoods, and Lake Tahoe. We also love Disneyland!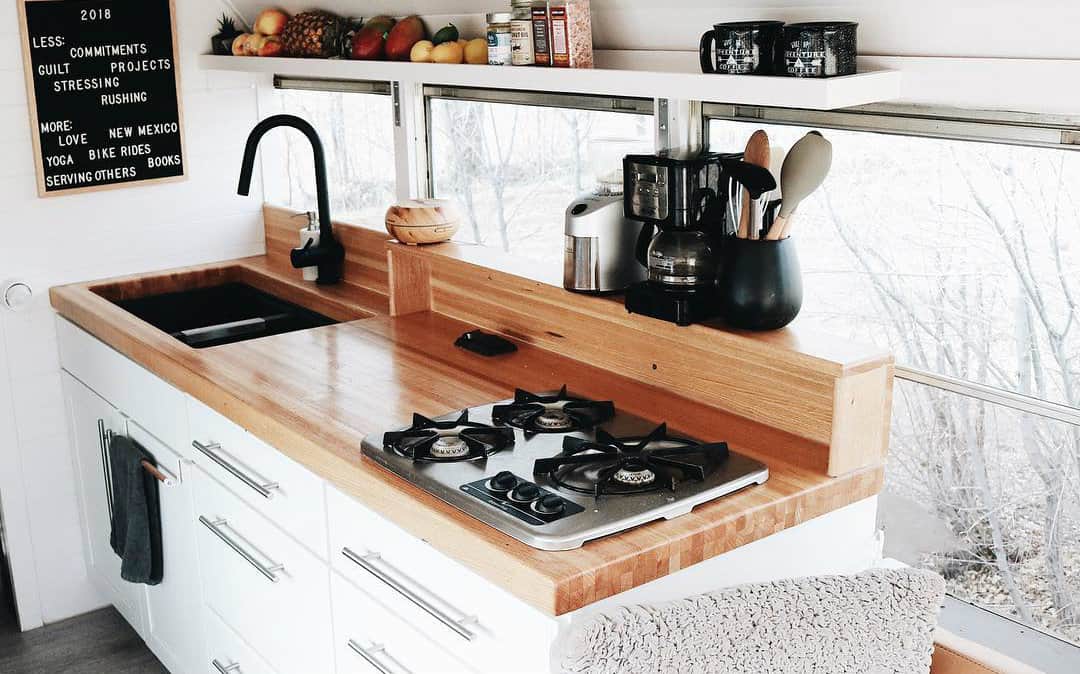 What are some things you brought with you that you use nearly everyday? What about some things you brought with you that you ended up never or rarely using?
The boys love their sling shots and pocket knives. They keep them with them almost everywhere we go. Reagan has a baby doll she loves and has kept. We use our hiking boots a lot and obviously our computers. We brought a microwave with us but left it at an RV Park about 1 week into our first road trip. We don't miss it and have been without one for 2 years now.
Is there anything you miss from your former lifestyle?
A BATHTUB!!! And a second bathroom.
What do you do in your free time? What are your favorite activities?
Bike riding, yoga, kayaking, hiking, exploring in general!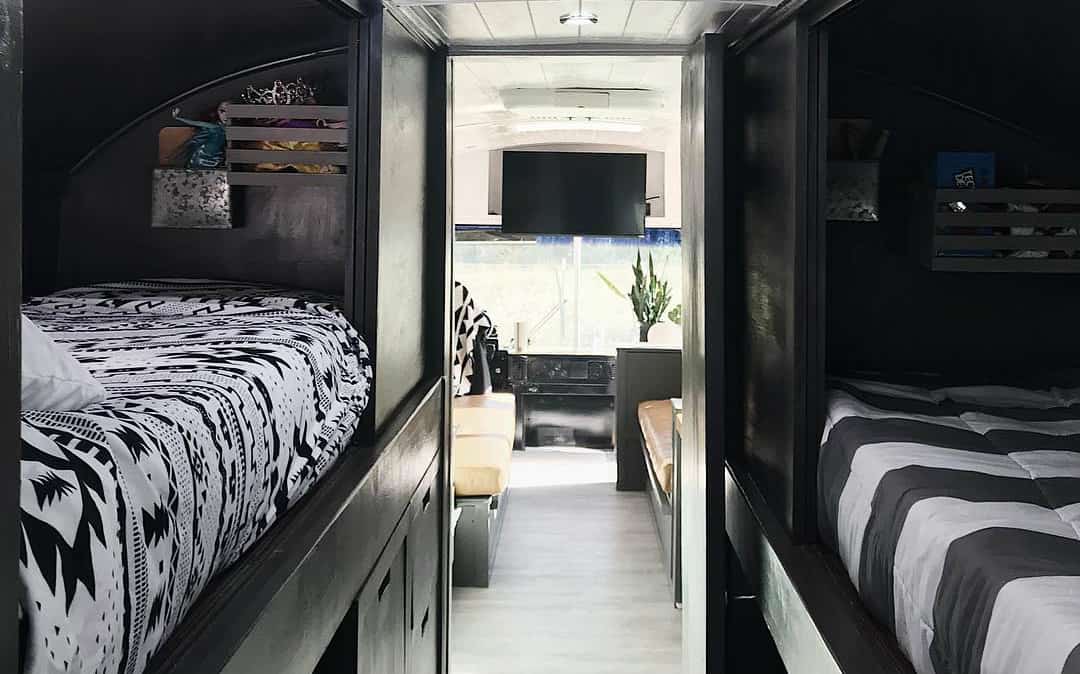 What advice would you give someone considering traveling full time in a van?
Stop waiting for the stars to align and make your dreams come true. There will always be something in the way but if you allow stuff to stop you from jumping you'll never achieve your goal! JUST DO IT!
What's your favorite meal to make in the van?
Gyros!