We are super mega stoked for this installment of Gnomad Homies! We frequently chat with people who want to get out on the road and travel, but think they can't because they only have a car. To which I always respond by pulling up @casadecivic to show them how homey, comfortable and badass car living can be! So that being said, we'll just dive into it. We've been excited to share Rue's story – and his seriously impressive setup – with you all. Enjoy!
Read More: 10 Awesome Car Camper Conversions for Life on the Road
Build Your Van
The Ultimate Van Build Guide
Planning a van build? Read our free guide. We cover just about everything you need to know – from planning, to insulation, to solar and electrical, to picking appliances, to essential tools. Get started today so you can get out there on the road!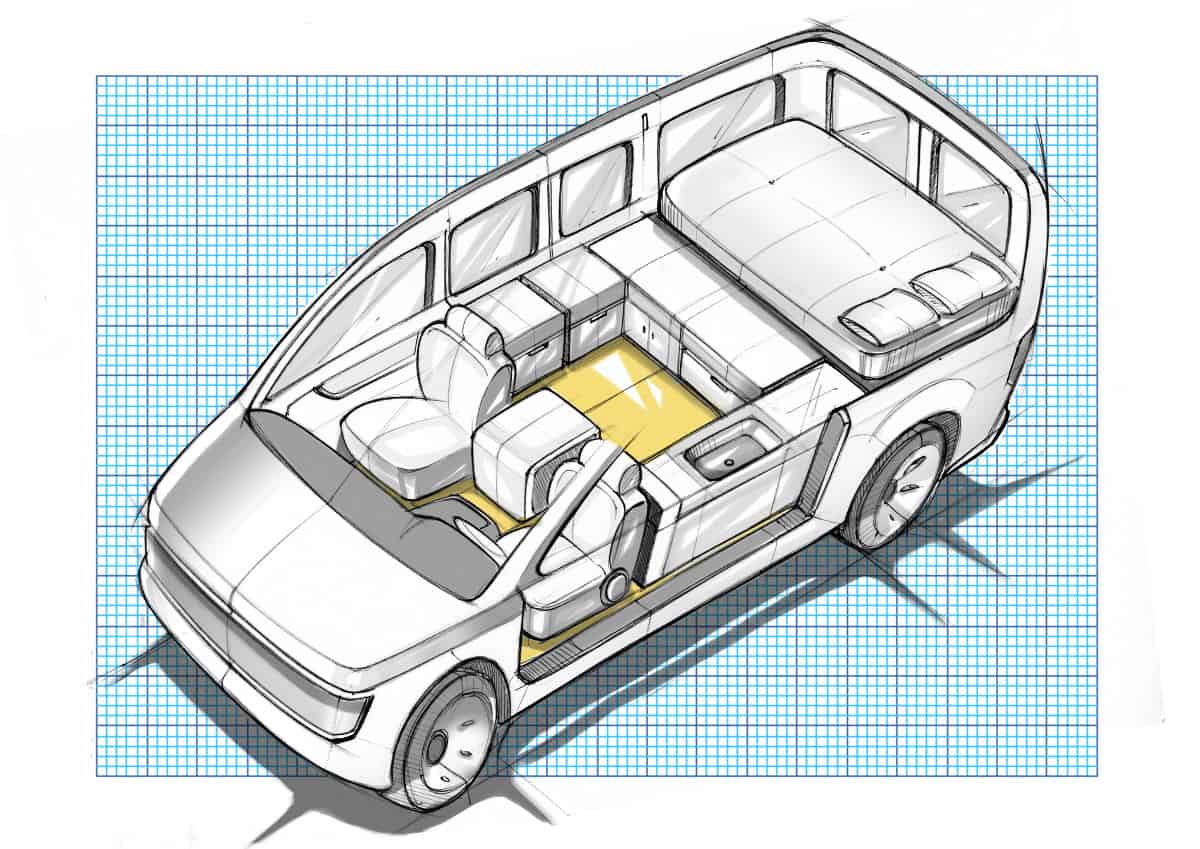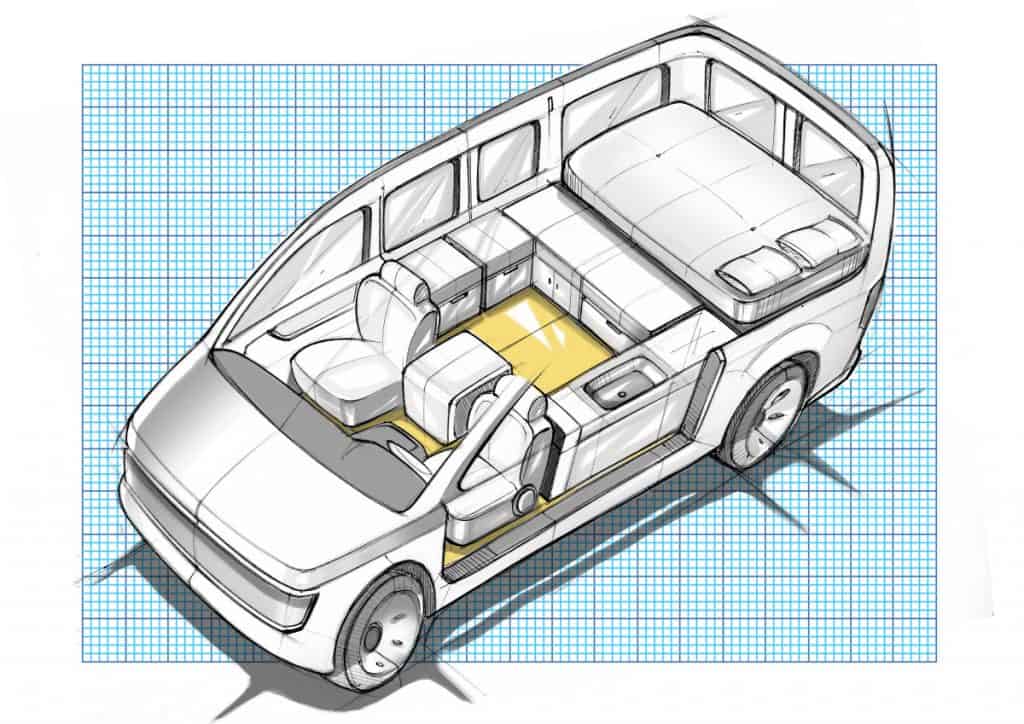 So, what is your name and where are you from?
My name is Rue, as in the french word for "street," or the english word for "bitter regret." Depends on the day, I suppose.
I was born and raised in the quaint city of San Jose, California. Although it is the largest city in Northern California (larger than San Francisco according to the 1990's U.S. Census), it feels quaint.
Where are you currently located?
Currently-currently? Well, as of the inception of answering this, I am currently sitting at a table in a Starbucks coffee shop somewhere along California State Route 152, making my way back to the bay.
Figuratively-currently, I'm sort of roaming aimlessly around Central California right now, looking for somewhere or something interesting.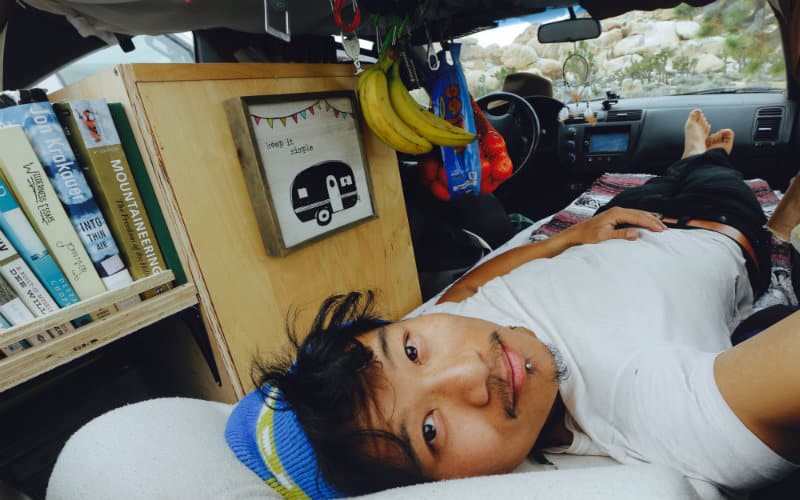 What are you traveling in? Did you build the interior yourself, or did you buy it pre-built?
I live and travel in a converted '05 Honda Civic, which I affectionately call Casa de Civic: two doors, one bed, and a teeny, tiny pop-up kitchen out the back trunk.
It's a small space, for sure, but my space-needs these days are very minimal: place to sleep, place to brew coffee. My storage needs are pretty minimal as well: place to store hiking gear, place to put my coffee. A small car camper conversion meets my needs perfectly.
How long have you been living in this? Do you live in it full time or part time?
I want to say I've been living in this setup for about a year now.
Actually, I just went and looked back at the very first photo I posted on my instagram page (a photo of my car parked down in the Yosemite Valley) and noticed that it was taken exactly a year ago to this day, the day I feel I officially took off. So I'll venture to call it 'exactly' one year to this day.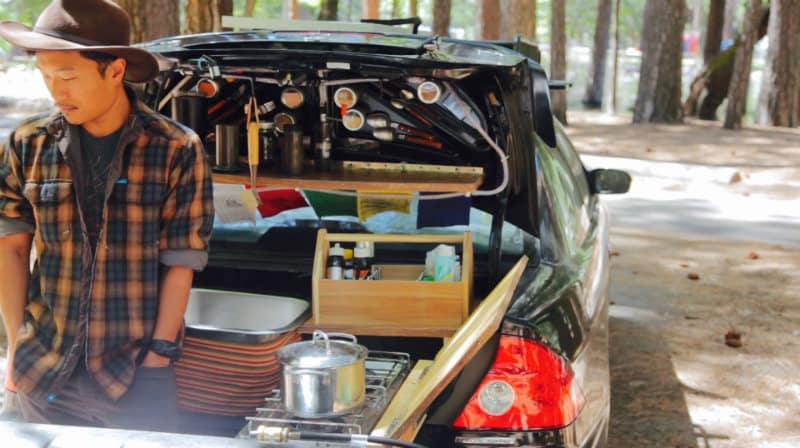 What made you want to choose this lifestyle? What was that transition like?
I think this lifestyle was born a bit out of necessity. I wasn't very happy with where I was in my life: physically, mentally. Perhaps some of that can be attributed to some recent bouts with clinical depression, which I find to be MUCH more manageable out on the road (something about the constant movement keeps me cogent). The other side of it may just be that I'm not so much a fan of city-living, 'least not in giant-yet-quaint cities such as the one I'm from.
I've always been a wanderer, but I think I got tired of seeking temporary reprieve from what ailed me and decided to make the outdoors more readily available for myself.
The transition is, admittedly, still a work in progress. I call this car "home" wherever I take it (and wherever it takes me), but "wherever" just so happens to include the Bay Area where I still work to make some money. Still haven't quite found my on-the-road solution for income, yet… but hopefully soon.
What is your favorite part of this lifestyle?
My favorite part of this lifestyle is the feeling of everything of importance being a literal arms-reach away: things that are worth carrying, things worth taking along on the journey. I'm comforted by the feeling of everything around me having its place in my life, serving its purpose.
With what little you can carry in this life, particularly this limited-space lifestyle, you learn to let things go: things that are heavy, things that are hurtful, things that don't serve you or your well-being. Sometimes, these things aren't always "things." Sometimes, they're people, emotions, dogmatic beliefs. You slowly learn to let them go, and only take with you things that you can carry, things that serve your purpose.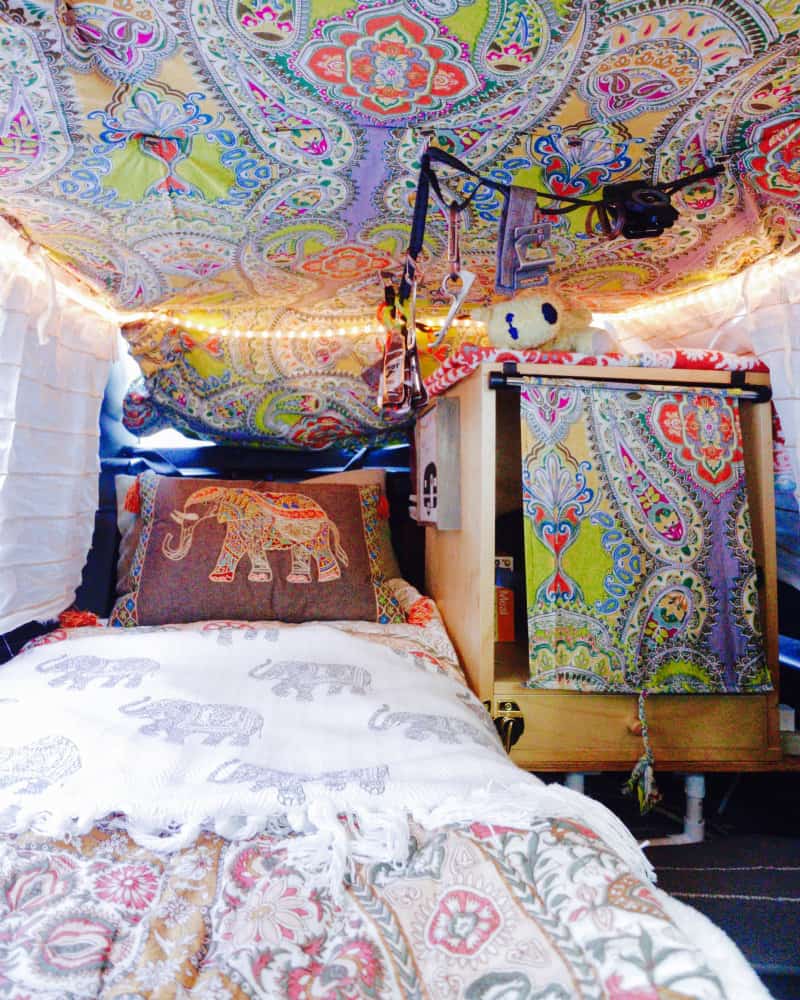 What is your least favorite part of this lifestyle?
My least favorite part of this lifestyle is constantly searching for the bathroom.
What were you doing in life before you decided to do this?
Truthfully, I was doing more-or-less of the same: working in the Bay Area when I needed to, traveling when I could. I was actually really big into rock climbing in my younger days, so my wanderlust began with excursions to different boulders and crags all along the west coast. My little car at the time was not yet "converted into a camper" but did have its passenger seats and trunk gutted out in order to haul my countless climbing gear and crash pads. I learned to love nature through that lens.
I slowly had to let go of climbing because my arthritic ankles could no longer withstand the constant falls, but I never let go of the wanderlust and my love for nature.
So yea, more-or-less of the same. I suppose the main difference now is that I do it full-time out of my car, and when I'm done working and have enough to get me by, I shoot straight for the mountains, or desert, or coast, etc. I was always a nomad at heart. Now I'm simply a nomad by practice.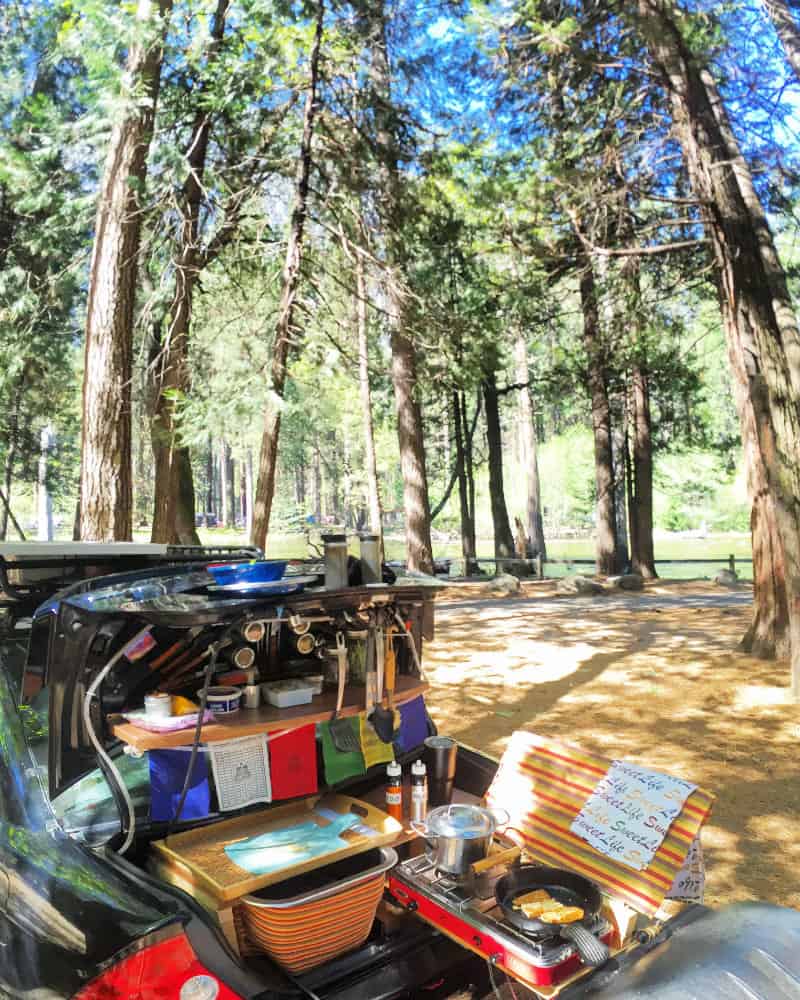 What are your favorite features of your living situation? Anything specifically unique?
My favorite feature of my living situation is the simplicity of my system. My bed (which spans the full length of my car from windshield to windshield) is always made and ready to sleep in. So. . .when I roll up into a campground late at night (or rest-stop, or box-store parking lot, etc), I am able to simply draw my curtains closed and jump straight into bed.
I suppose that's not unique in regards to other van-dwellers and likewise-nomads.
A specifically unique feature, then, would be my kitchen setup. Somehow, I managed to fit a functional pop-up kitchenette inside my tiny trunk space, equipped with an actual kitchen sink, running water, and a two-burner stove. It does draw a bit of attention when I'm cooking out of it in a park or a campground (and even more-so when I'm cooking out of it at some random store parking lot or the side of the road)
What do you do for income on the road?
As previously mentioned, I still return to the Bay Area for work. I work for REI (Recreational Equipment, Inc.) part-time and do infrequent freelance event-photography work. I suppose freelance-photography could be a viable solution on the road, but I became so jaded by my past workings in wedding-photography that it just doesn't appeal to me anymore. Creatively, I thrive in a calm, secluded environment, and less-so in a hectic one.
In any case, when I'm on the road, my income source is mainly reliant on savings. Not ideal, but in the meantime, it serves me alright.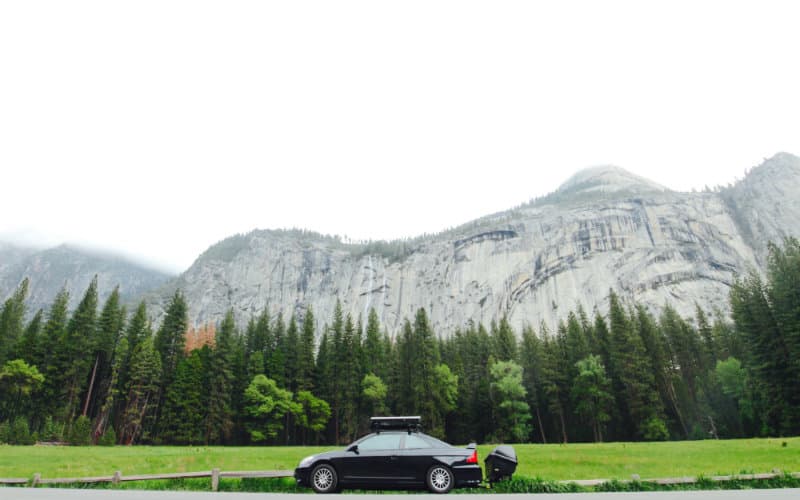 What have been your favorite locations thus far, and why?
Oh gosh, California (along with the rest of the West Coast) is so full of the sublime: from the sea to the mountains and everything in-between.
Though it's been a bit overcrowded in recent years, Yosemite National Park will always have a special place in my heart. These days, it's much harder to find a spot to sleep in the valley (with park visitation numbers reaching upwards of 5 million yearly), but with this lifestyle, I'm afforded the special luxury of having my own place to sleep wherever—which often includes one of my all-time favorite camping spots: those small pull-offs just outside the southwest entrance of Yosemite National Park (wink).
What are some things you brought with you that you use nearly everyday? What are some things you brought with you that you ended up never or rarely using?
I want to believe that everything in my vehicle serves its daily purpose and has earned its place, whether it's for reasons practical or personal. One seemingly-superfluous item that I try to use everyday is my trustee Aeropress coffee maker. Every morning, I try to brew a fresh cup of coffee for myself, whether I'm at a campground, BLM land, or the ubiquitous Walmart parking lot. It's a bit of a grounding practice, and with the spontaneity of this lifestyle, it's good to have daily rituals to keep you grounded.
(hmm. . ."coffee". . ."grounded". . .there's a bit of poetry in that)
I do make the occasional Starbucks coffee run from time-to-time (currently at one right now), but those are mainly Wifi pitstops. I'm not a big fan of spending money on cafe-made coffee when I have the means to do it myself (and to my personal liking).
Some things I brought with me that I hardly ever utilize are my books. In my car, I've arbitrarily allotted library space for a total of six books, the titles of which change every-so-often. Though I make it a point to circulate them regularly, I hardly ever read them. Sometimes, I'll grab a book and pack it with me on a hike if I'm feeling particularly Walden-esque. But honestly, I don't sit around and read physical books much anymore. I'm more of an audiobook kind of guy these days, especially when I'm on the road, spanning the state of California lengthwise to and fro.
In any case, I just can't seem to part ways with them. If it's of any interest, my current book titles include:
Middlesex by Jeffrey Eugenides
God by Deepak Chopra
When You are Engulfed in Flames by David Sedaris
The Big Tiny by Dee Williams
Wilderness Essays by John Muir
Mountaineering: Freedom of the Hills, 8th Edition edited by Ronald C. Eng
I technically have seven books total in my car, but the seventh book is a War and Peace hardback with its center pages gutted-out in order to house my glass pipe. That book is by far the most-opened book in my collection.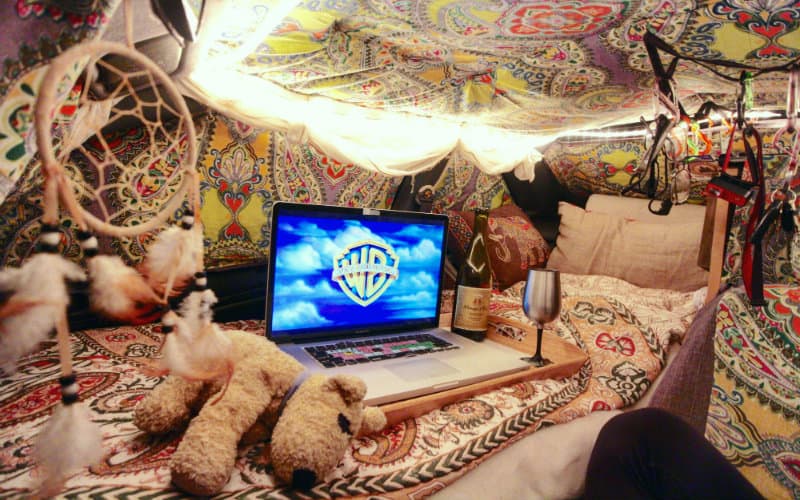 What advice would you give someone considering this lifestyle?
My advice is always this: do what you can with what you've got. If what you've got is a Sprinter Vansion or a truck with a sick-ass campershell, go for it! If all you've got is a tiny coupe (like mine) or a small sedan (like so many others)—something not of the traditional "outdoor vehicle" set—I say "go for it" as well!  Don't hold yourself back or be held back by any perceived limitations set forth by what you currently see or don't see out on the road, or on Instagram. Really, it's all just #vanlife smoke and mirrors. The important thing is that you get out there and hit the road, cause there's a whole lot to see and you'll miss it waiting for the perfect moment (and setup) to do so.
Nike school-of-thought: Just do it.
What's your favorite meal to make?
Damn, nothing hits the spot quite like a good grilled-cheese sandwich (vegan cheese in my case). It's my go-to meal wherever I am. It's so quick, easy to make, and super-duper comforting! Plus, it goes great with a latte or cup of coffee (my second-favorite meal to make).