Once you've decided to take the leap into vanlife, the next step is choosing your van. Picking the perfect vessel to help you drive into your new life can be overwhelming – it was for us. There are so many different vehicles out there, from roomy Sprinter vans to old school Westies to super stealth cargo vans – and more.
After weeks of researching, weighing pros and cons, and scouring Craigslist, we finally settled on Gnomie, our badass Chevy Express high top conversion van. For us, conversion vans offered the perfect combination of space, headroom, stealth, and affordability that no other vehicle we found could match.
The best van for you depends on your needs, wants, priorities, and budget. But here's why we think high top conversion vans are awesome, and why we chose one for our home on the road.
Read More: 10 Chevy Express Van Build Examples You Need to See
What is a Conversion Van?
Conversion vans are typically American-brand full-size passenger vans (Ford Econoline, Chevy G-Series/Express, Dodge Ram Van) that have been converted into comfy family travel vehicles by third-party manufacturers. These vans may be decked out with a media center, mood lighting, captains chairs, and a rear bench seat that folds down into a bed. While you can find low roof conversion vans, in our opinion the high topper is much of what makes these vans so great.
7 Reasons We Love Conversion Vans
1. They're Affordable Compared to Other Vans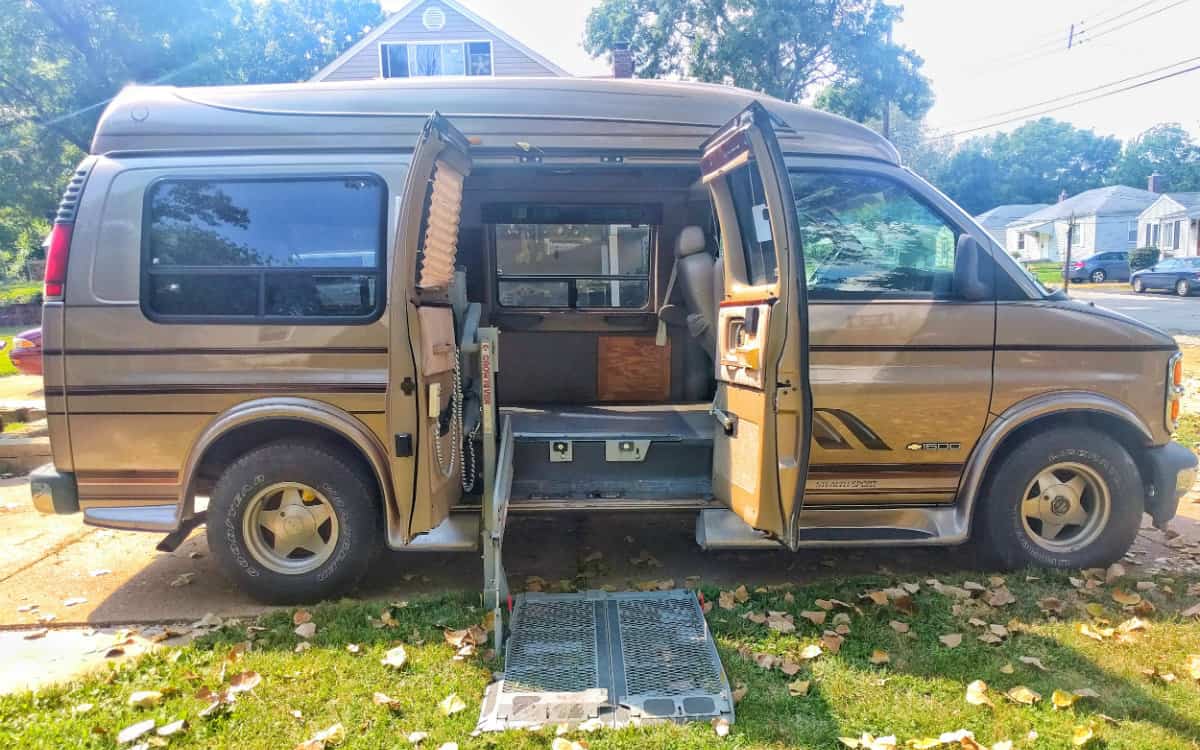 If saving money is your primary concern, conversion vans are a great choice. Older ones are very affordable, especially compared to many other vans out there. As vanlife grows in popularity, Westies are getting more and more expensive – and that's before you shell out thousands of dollars (or many hours of your time) getting them mechanically road ready. Newer vans like Ford Transits and Ram Promasters are too pricey for many.
But it's not hard to buy a nice conversion van and build it into the DIY rolling tiny home of your dreams, all for much less than buying just the base vehicle of any other van. We bought Gnomie for only $1500, and that plus new tires, taxes and registration fees, some mechanical fixes, and our entire conversion cost us just over $10,000 in total.
2. Low(er)-Mileage Vehicles in Good Condition are Easier to Find
Conversion vans are leisure vehicles. Most used ones you'll find for sale were only driven once or twice a year on road trips, and those road trips likely consisted of mostly highway miles. So even though that sweet high top van you're looking at may be from the mid-nineties, it's probably in great condition with fairly low miles.
Contrast that with cargo vans. Most cargo van owners buy them for work, and only sell them after they've beaten them into the ground and racked up a ton of miles. While you may be able to find a newer, affordable cargo van out there, chances are it'll be in worse condition and have much higher mileage than a comparably-priced conversion van.
Our van is a '96, but it only had 100,000 miles on it when we bought it in 2016. And it's in great condition – we've had very few problems with it, and every mechanic who's seen it has told us how clean the engine is.
3. Extra Headroom Makes the Interior Feel Very Spacious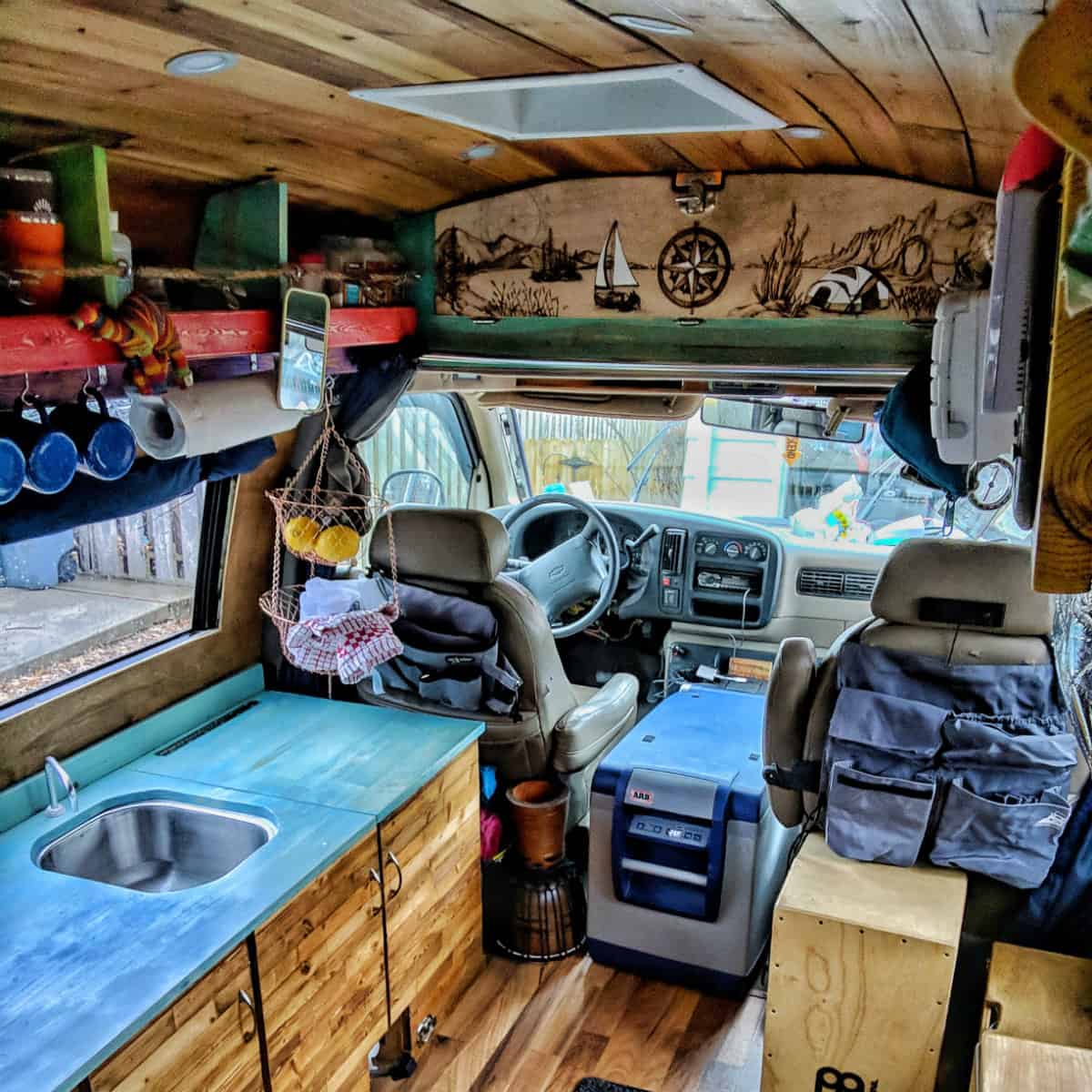 The extra headroom that a high topper adds was something we honed in on pretty quickly in our van search. John didn't think headroom would be a big deal at first, but Jayme had grown up with a conversion van and knew how awesome the extra space would be, especially for someone as tall as John. She convinced John to nix anything without a high top, and believe us, John is happy that she did!
4. So Many Storage Options!
Conversion vans are awesome for storage. The high topper adds extra storage space that other vans just don't have, which frees up room to create your perfect layout. Because of our high topper, we have natural shelves in the back and in the front above the cab. We keep our dry food above the cab, and we've built the rear shelf into our clothes closet.
Most conversion vans also have barn-style swing out doors that give you even more options for mounting storage, or fold out tables, or anything else you can think of, that sliding doors make impossible. This isn't specific to conversion vans, but it's still a great feature.
5. Move-In Ready (if you're not picky)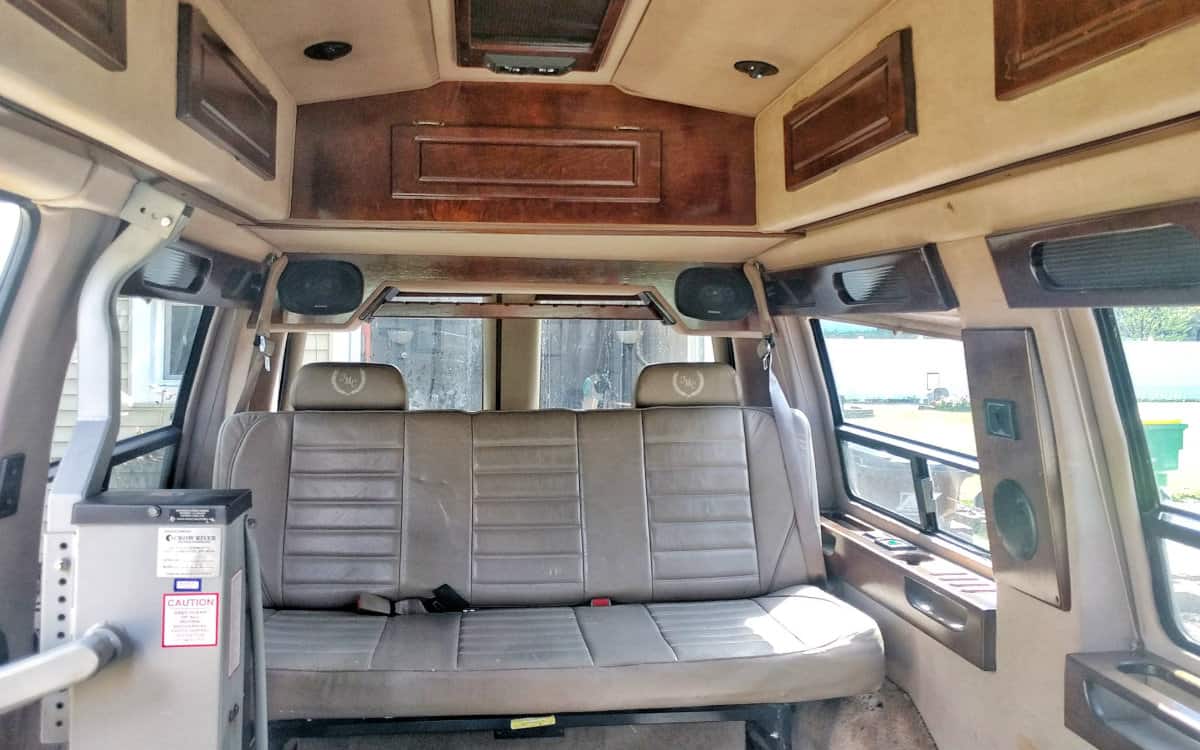 If you just want to hit the road tomorrow, conversion vans already have factory-built interiors that are mostly move-in ready. The typical conversion van comes with a nicely-upholstered interior with basic vehicle insulation, curtains on the windows, and a rear bench seat that folds down into a bed (many are even battery-powered for push-button conversion to "bed mode"). Just throw in a cooler, some auxiliary batteries with a a DC-DC charger, (or a portable power station like the Bluetti AC200P), and you're good to go. You can always add more amenities on the road as needed.
6. Awesome Base for Custom Conversions
If you're like us and enjoy the process of turning a base vehicle into a perfectly-custom and homey living space, then a conversion van is a perfect blank slate for your van build. Once you've gutted it, building out a conversion van is just like building out a cargo van – except you have the added flexibility of a high topper. We also really love all the windows in our van, but it's easy to put a wall over them if you want something a little more closed in.
7. Widely Available Parts and Mechanics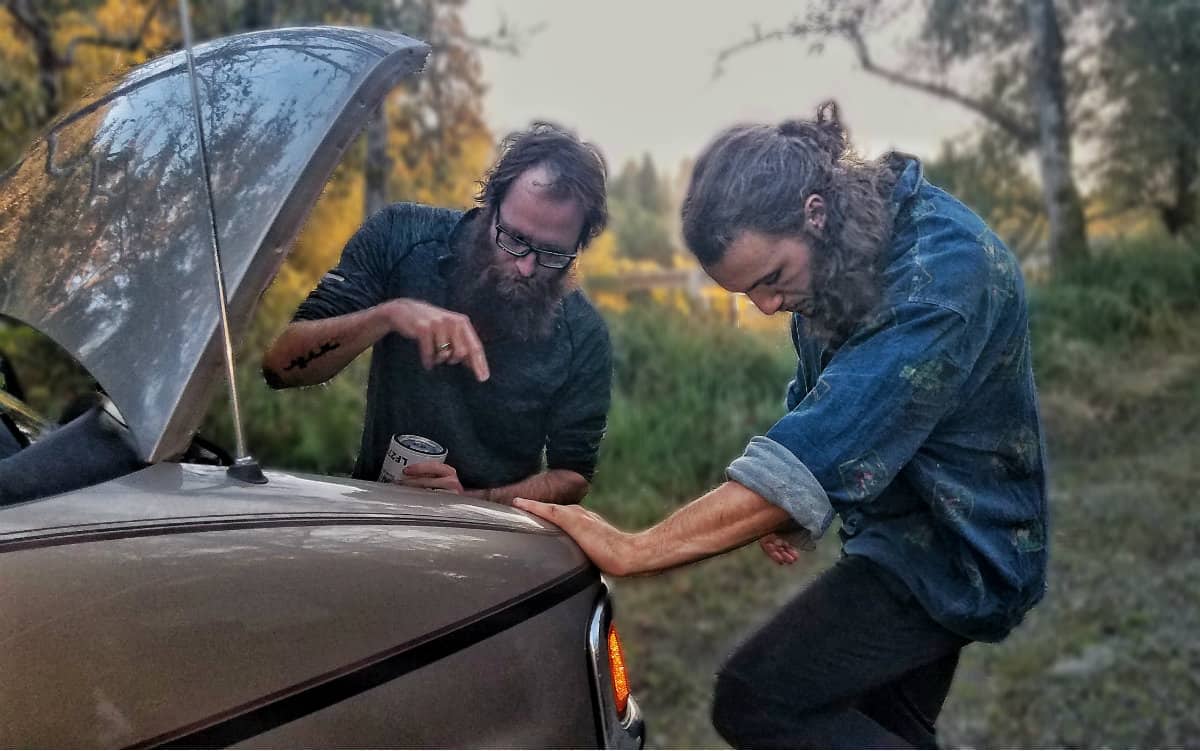 Older Ford, Chevy, and Dodge van models are common, and their general designs haven't changed much in years. That means parts are easy to find, and mechanics everywhere know how to work on them – which really comes in handy when your van breaks down in the middle of nowhere. If you get a Sprinter or VW, on the other hand, it can be tougher to find parts and qualified mechanics, and any work you need done will be much more expensive.
5 Things We're Not the Craziest About
1. Fiberglass Topper Adds Challenges to a Van Build
While we love the added features that our high top makes possible, it also creates some interesting challenges during a van build. Most toppers are anything but flat, and feature curved aerodynamic styling.
This looks cool, but it makes it a total pain in the ass to mount things like solar panels, vent fans, or roof racks. And the relatively flimsy fiberglass material means you may have to use some creative methods to insulate it and put up a ceiling.
2. Conversion Vans Need to Be Gutted for Custom Build Outs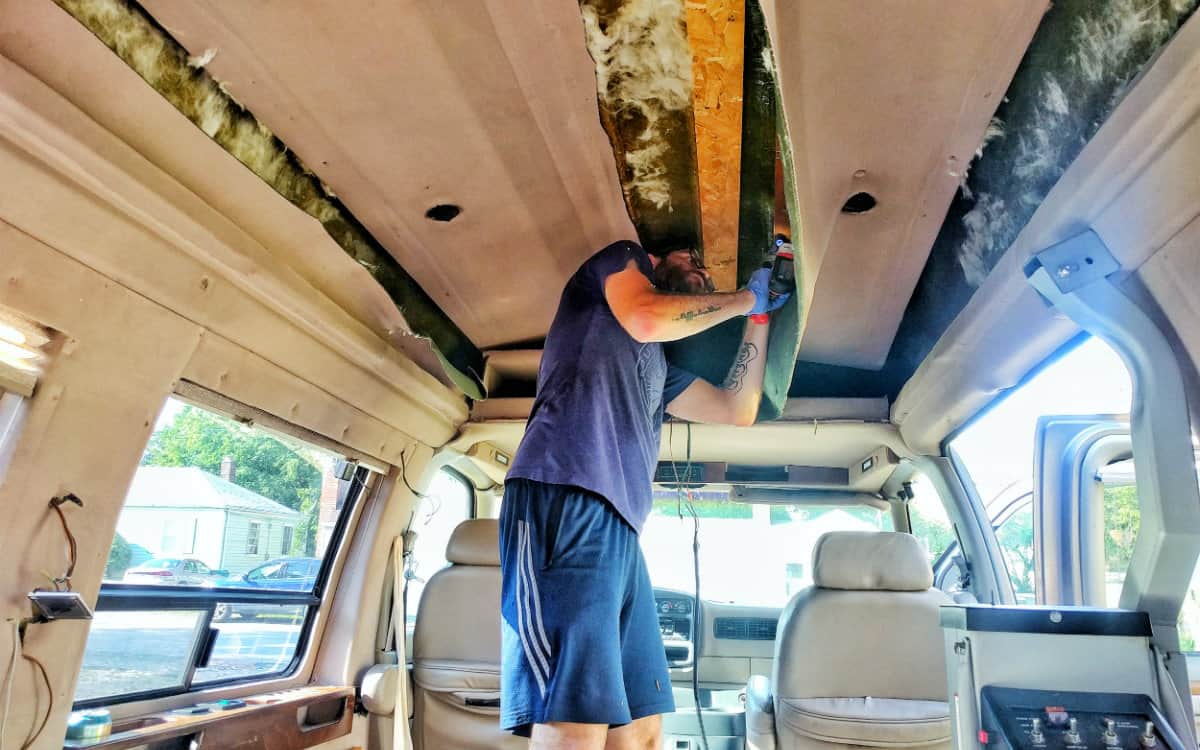 You'll need to totally gut your conversion van if you want a blank slate for a custom build out. This means ripping out electronics and upholstery, deciphering a mess of unnecessary wiring, and possibly removing heavy and complex components like wheelchair lifts and rear air handlers.
This adds time, effort, and potential complications at the beginning of the build process that you just won't have with a cargo van base. It took us a few days of work to completely gut our van, including removing the wheelchair lift it came with. And we just recently took out our rear air handler unit to free up more storage space (before we even thought about doing this, we had to have a qualified mechanic cap off and divert the coolant and AC hoses running to the back).
3. Not the Stealthiest (but stealthier than Westies)
If urban stealth camping is your thing, then it may be a better idea to go with some sort of cargo van with few (if any) windows. Cargo vans are so common that they just blend into the background, and you can easily add a utility roof rack to help conceal your van life solar setup and vent fan.
Conversion vans stick out a bit more than cargo vans, and you'll have a tougher time hiding the fact that you live in one. That said, conversion vans are much stealthier than something like a Westfalia, and they'll work fine for stealth camping in a pinch.
4. NOT Standing Height (if you're tall)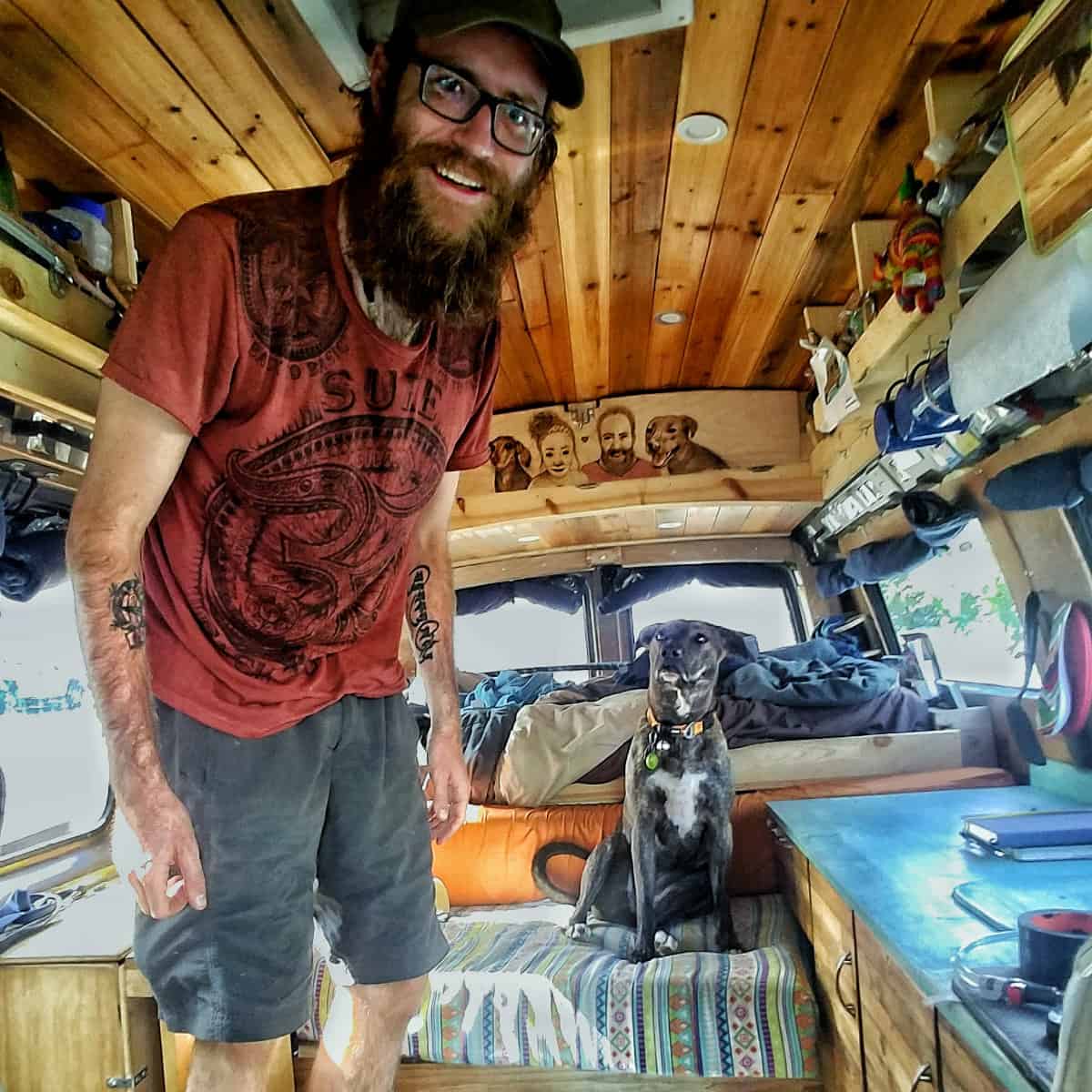 Even though our van's high top is an awesome feature that makes the inside feel very roomy, it's still too low for most people to stand inside our van. Jayme can stand up fine, but John is 6'2" and has to hunch, sit, or kneel.
Depending on your priorities this may not be a big deal – and again, the high top adds so much more space you don't have in low roof vans – but it's also really nice to be able to stand up in your living space. We love our van to bits, but we're also planning on something John can stand up in whenever we decide to upgrade.
If you like the idea of a standing-height van but don't want to throw down for a Sprinter or Ford Transit or Dodge Promaster, you can easily buy a cargo or passenger van and have a custom high top put on for a few grand.
5. Gas Mileage Isn't the Best (but also not the worst)
This is a common problem with vans and large vehicles in general, unfortunately. Our van gets about 15 MPG, which isn't the best, especially if you care about pollution and climate change like we do. But that's also a better MPG than we were expecting, so it could certainly be worse.
Newer vans like Sprinters and Ford Transits can see gas mileage up into the 20-22 MPG range – which is better, but still not great. But until someone figures out how to make a practical van that runs entirely on RV solar panels, we're stuck with what's available. And from a holistic perspective our lifestyle is much lower impact than most, so us van nomads can justify burning a little more fuel here and there.
It's Ultimately About the Freedom of the Open Road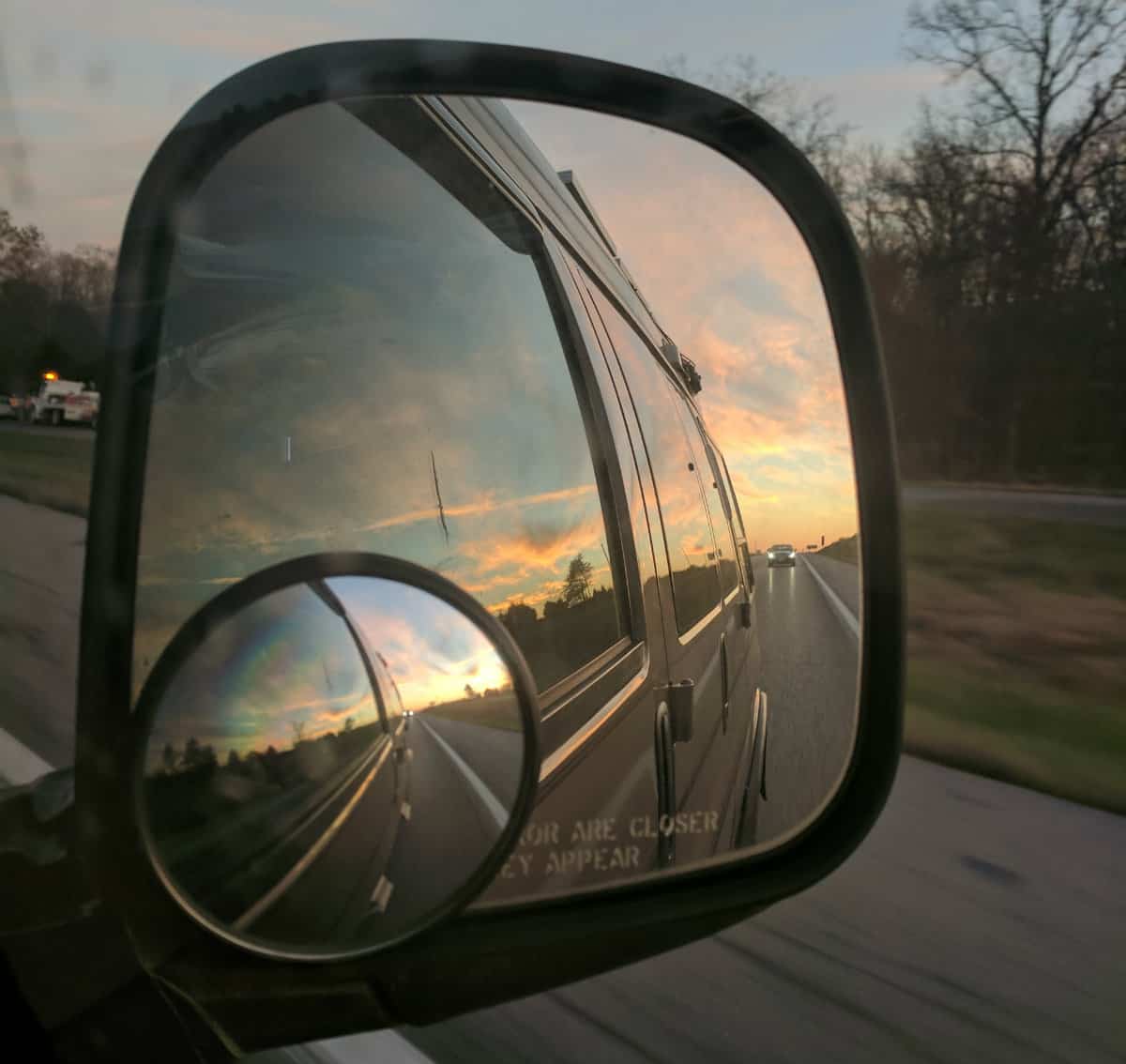 We love conversion vans, and we think they're a great option for anyone choosing to live a nomadic lifestyle. But you may have different needs and priorities that make something else a better option for you. We recommend checking out our choosing your van section for a detailed rundown of the pros and cons of other common van types.
No matter what vehicle you choose, all of us vanlifers are united by our love of freedom and our desire to create our own lives. That's what this is really all about. The specific vehicle is just that – a vehicle. So get out there on the road and start building your dream!
For more vanlife tips and awesome build guides, be sure to follow us on Instagram @gnomad_home and on Facebook. Cheers!
Read more in the "Why I Chose My Van" series…