We are super pumped to introduce you all to two dear friends of ours! This is Meghan (Meglie) and Stephen (Kilty Man) from @ubuthevan! They are from the suburbs of Chicago, IL, although originally Stephen is from South Africa. They have an epic van build they created with their own two hands filled with wonderful features including ample water storage, an induction cooktop, and even an adventure vanlifer's dream "garage"! Give their story a read, be sure to check out their awesome websites Ubu the Van and Hope Miners.
Build Your Van
The Ultimate Van Build Guide
Planning a van build? Read our free guide. We cover just about everything you need to know – from planning, to insulation, to solar and electrical, to picking appliances, to essential tools. Get started today so you can get out there on the road!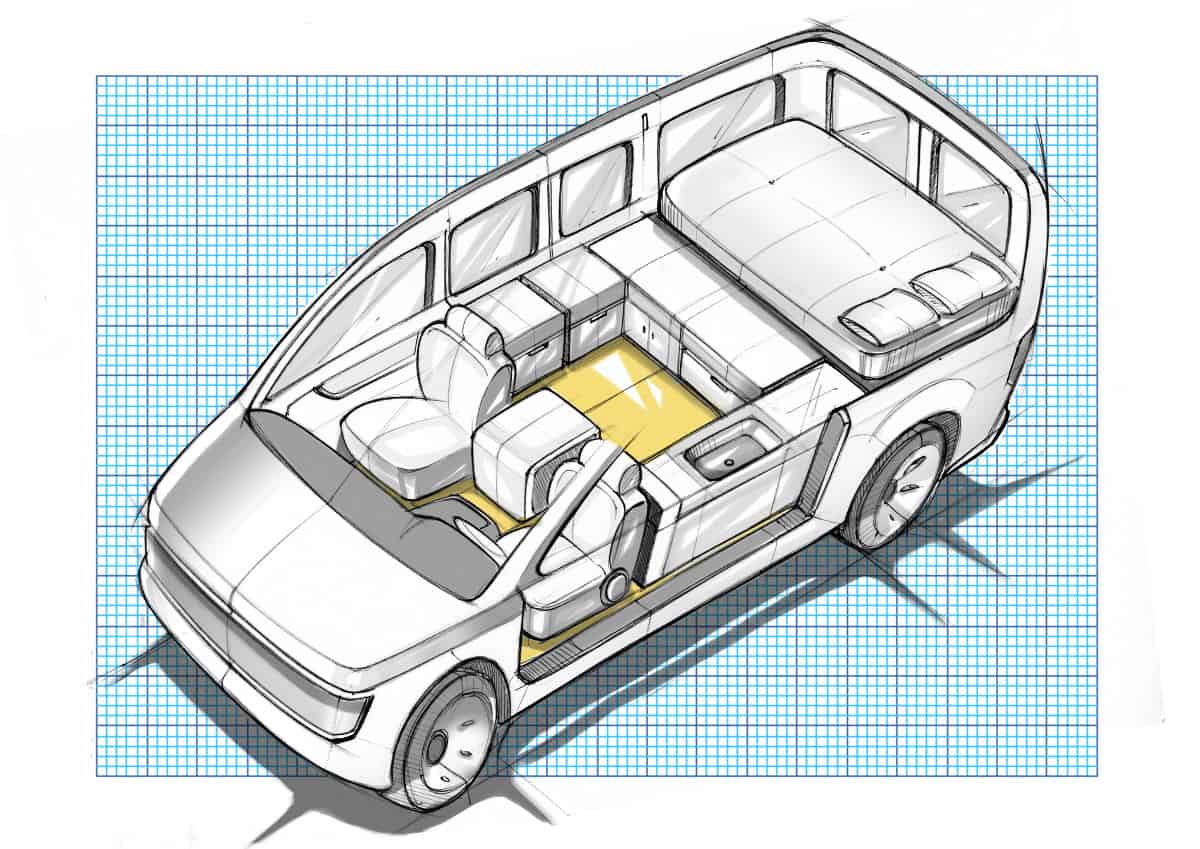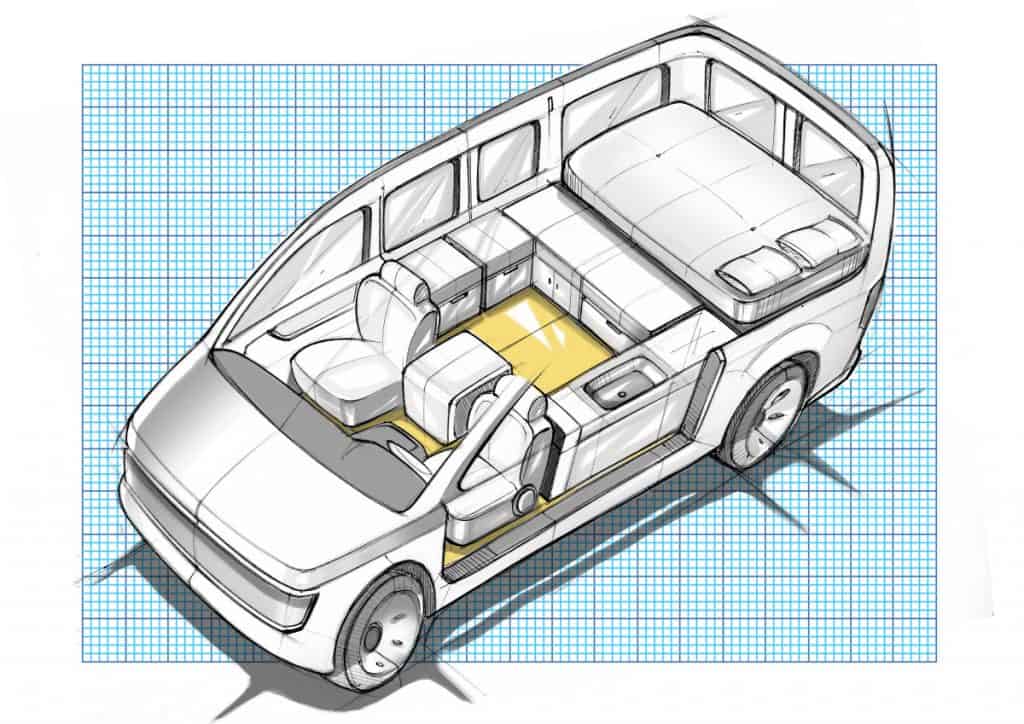 Where are you currently located?
We are currently in Yuma, Arizona, slowly making our way to Sedona to meet some friends. We just came back from Baja where we soaked up the ocean and sunshine.
What are you living/traveling in?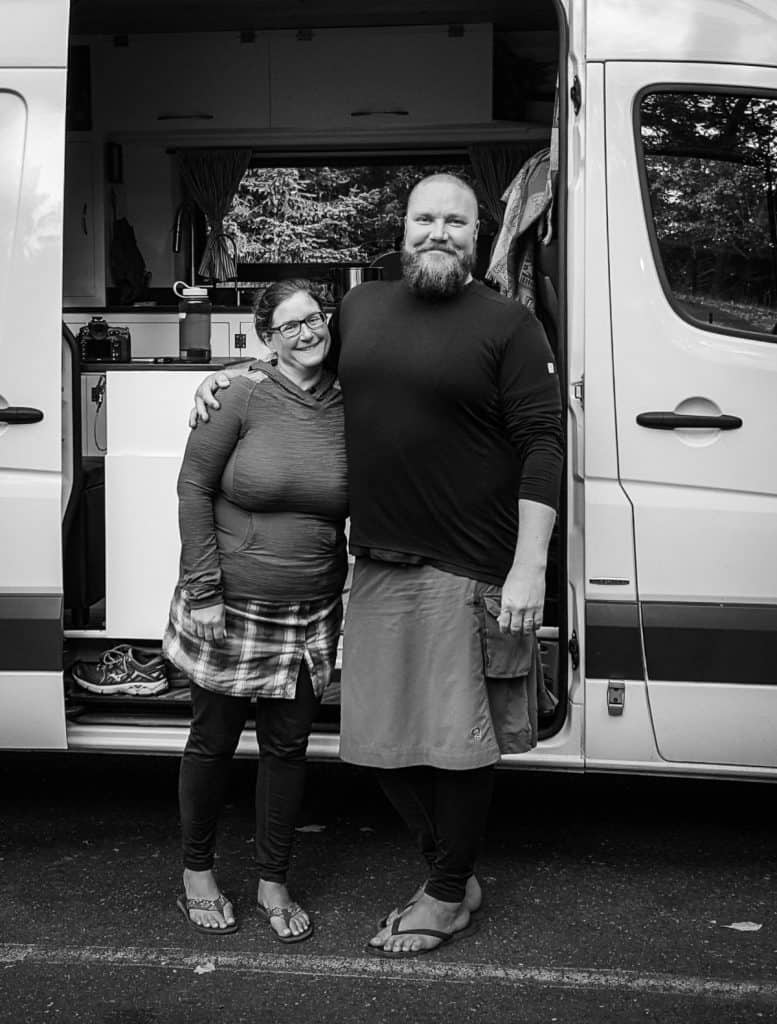 2015 2WD 170" wheelbase Sprinter van camper conversion named Ubu, short for Ubuntu.
What specs can you tell us about your rig?
It's a 2015 Mercedes Sprinter cargo van. We bought it in March 2017 off a dealer lot where it had been a courtesy vehicle — given to customers when they brought their vans in to be serviced. Because it was a dealer car, it had never been titled, yet had depreciated some in value due to having 18,000 miles. So, while we are technically the first "titled" owners of the van, it was slightly used. We paid $34,000. We had been scouring Craigslist and every online source we knew of, and were looking at rigs that had 100,000 miles on them that were still listed for $28k, or worse, they had sketchy titles and were in pretty bad shape. When we found Ubu and test drove him, I cried and knew he was ours.
Couple of quick specs:
500W of solar on the roof – our van has one fuel source and no hookups so we depend on the sun for powering all our appliances and the like. It helps having a big battery to go along with that.
Plumbing – 25-gallon water tank and drinking water filtration.
Espar heater for when it gets cold.
Induction cooktop (this was a tablestake for Meghan)
Composting toilet (because why not).
Queen-sized bed on top of our lofted garage that stores all our gear and toys.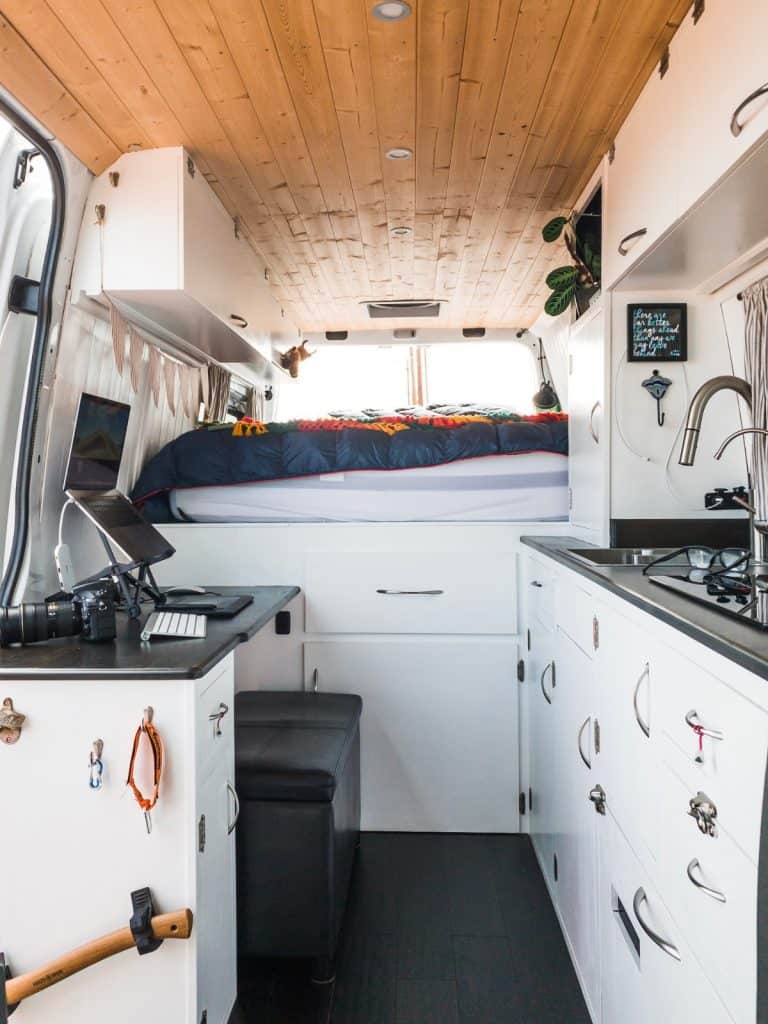 Our underlying philosophy while building and researching was "be comfortable." We love the minimalist lifestyle but had read of so many vanlifers that were abandoning their travels because they needed a break from the road or because the lifestyle was so harsh. Since we were ALL in on this adventure and had sold our house and quit our jobs, we really needed it to work out. We largely succeeded — probably part of the reason we've been so happy on the road. Obviously there are hardships and it's not always super easy but it certainly helps having some of the everyday comforts that you'd have in a regular home.
Did you build the interior yourself, or did you buy it pre-built? If you bought it Pre-built, what touches have you added to it to really make it "your own"?
It was an empty cargo van, complete with rear divider wall behind the seats and a crew bench seat. We originally thought we'd have help with our build and didn't really think much of the fact that we had ZERO building/construction skills. Unfortunately, as with many things in life, our plans didn't "quite" pan out that way and we soon found ourselves neck deep into the massive investment of our new "house" and unable to find anyone to help us build.
As you do, when faced with "oh shit" moments like that — we turned to YouTube and hundreds of blogs to try and decipher the puzzle of making a van into a home. Lacking a few (read, all) skills, it took us a solid five months to build. The first time we ever used a jigsaw was when we cut the window holes in our van. Because, of course that's the appropriate time to learn to use power tools. (Turns out Meghan is an ace with that blade… she took over all jigsaw duties.)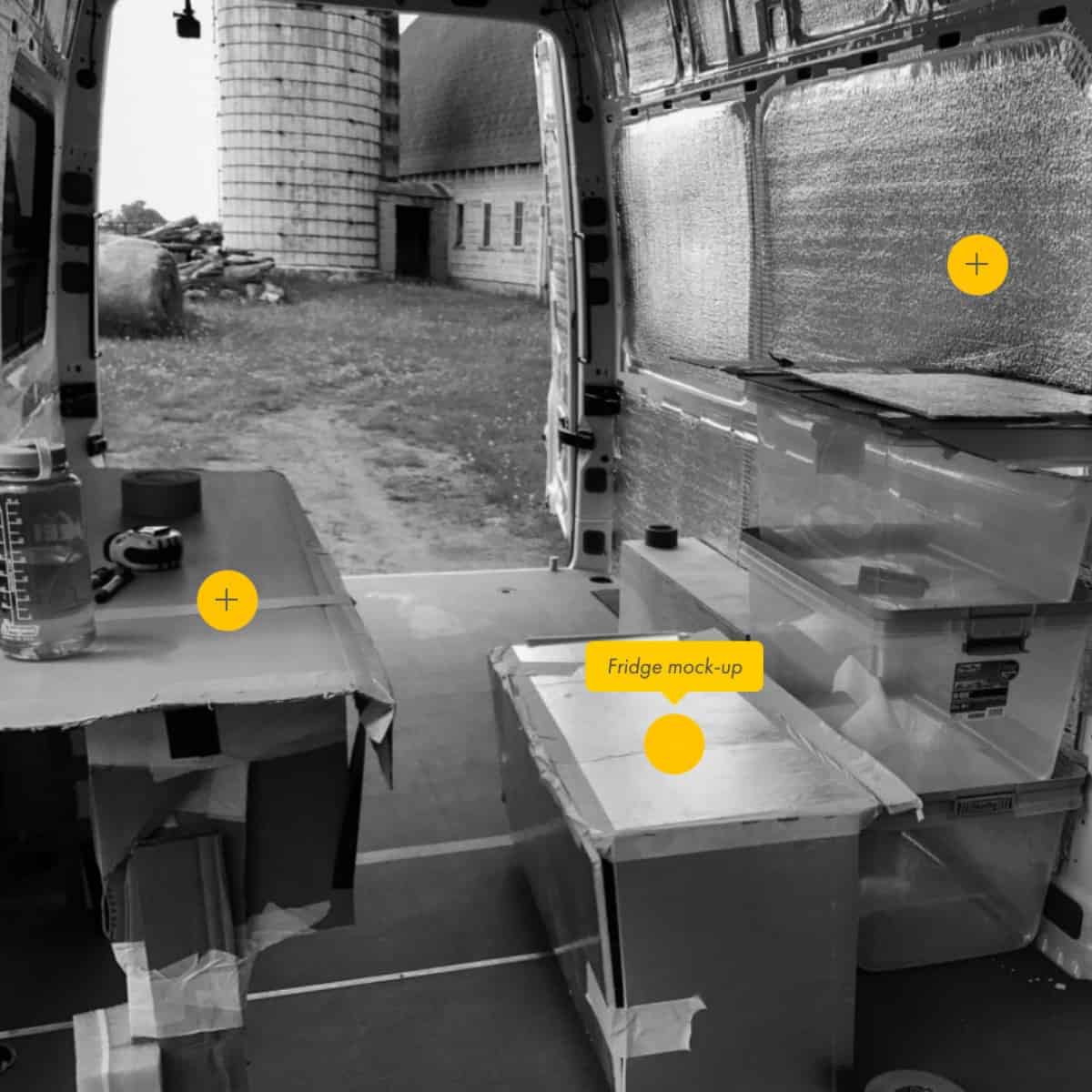 We would research (insulation), build. Research and learn (camper van electrics — in a library no less), build. Research (solar panel adhesion), build. Over and over until each component was finished. We did hire an (Amish!) carpenter at the end to help us with the woodwork, which is why it looks so beautiful (we're a little biased). Stephen worked alongside him for six days so we still say "we" built it, but if it wasn't for Junior the, ehrmmm, interior would have looked A LOT rougher. We're very thankful for how that worked out. It's crazy how the van looked like a silver spaceship for our entire build and then in six short days it transformed into a house. We tell everyone we meet on the road that if the two of us can do it, ANYONE can build out a van 🙂
Do you live in it full time or part time? How long have you been living this way?
We've been living in our van full-time for a year-and-a-half. Stephen will tell you it saved his life. My adjustment was a bit more difficult.
What were you doing before vanlife?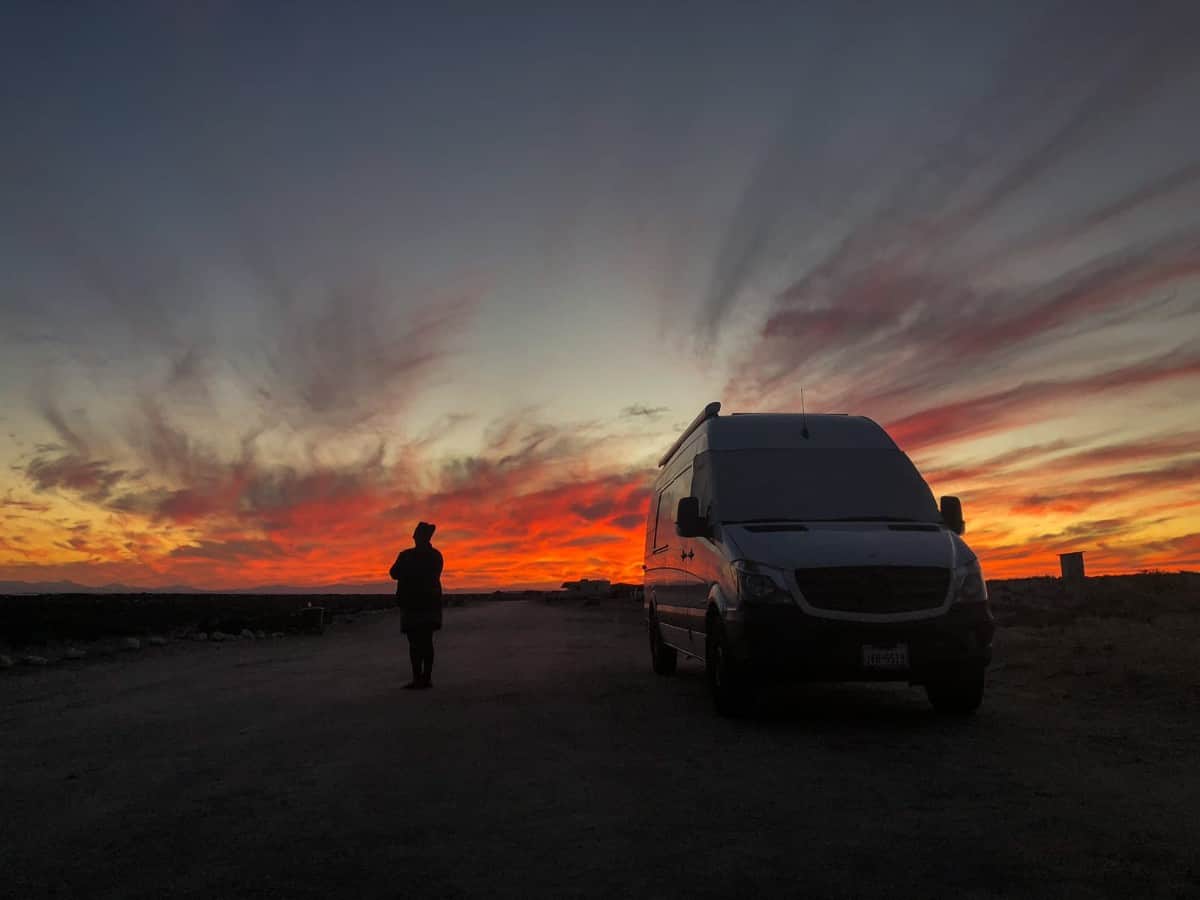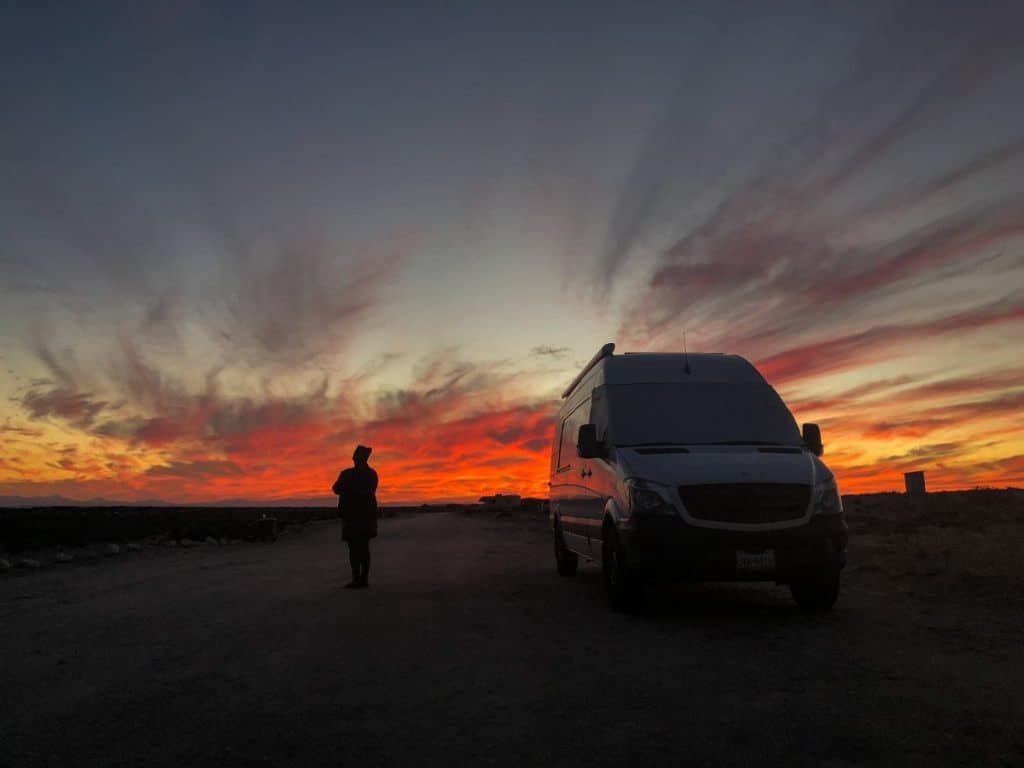 We were living a pretty typical suburban lifestyle, complete with 2000 square-foot townhouse and 9-5 jobs. Stephen was an art director/professional photographer at a publishing house and Meghan was an LCSW in private practice (therapy).
What made you want to choose this lifestyle?
Go back and read #8. We kid, we kid.
Stephen has always had an adventurous spirit and his desire to experience new places and people was considerably squelched with our standard suburban commitments. I have less adventure in me, but enough to be jealous of friends and family who have had big adventures or traveled extensively. And enough to know I didn't want to spend the rest of my life in one place without seeing the beauty of America.

Additionally, I've always had a love of small things, which extended into tiny living… Whether camping in a tent, or commuting on my bike with "everything I need on my back," I've loved the idea of small. I can remember times as a little kid when I'd be stuffed in the back of our station wagon, and we'd pass an RV on the road and I'd be completely enthralled at the idea of traveling that way. I used to collect tiny boxes for goodness' sake. Why? Because tiny things must be kept in tiny boxes of course! Even travel sizes… I LOVE travel sizes! Imagine my glee then, when I stumbled onto tiny houses. Ergo, imagine my utter euphoria, when I stumbled onto people TRAVELING with their tiny houses. Alas, some dreams die quickly… The idea of navigating America's mountains and curves towing a house got a big N-O from Stephen. I get it.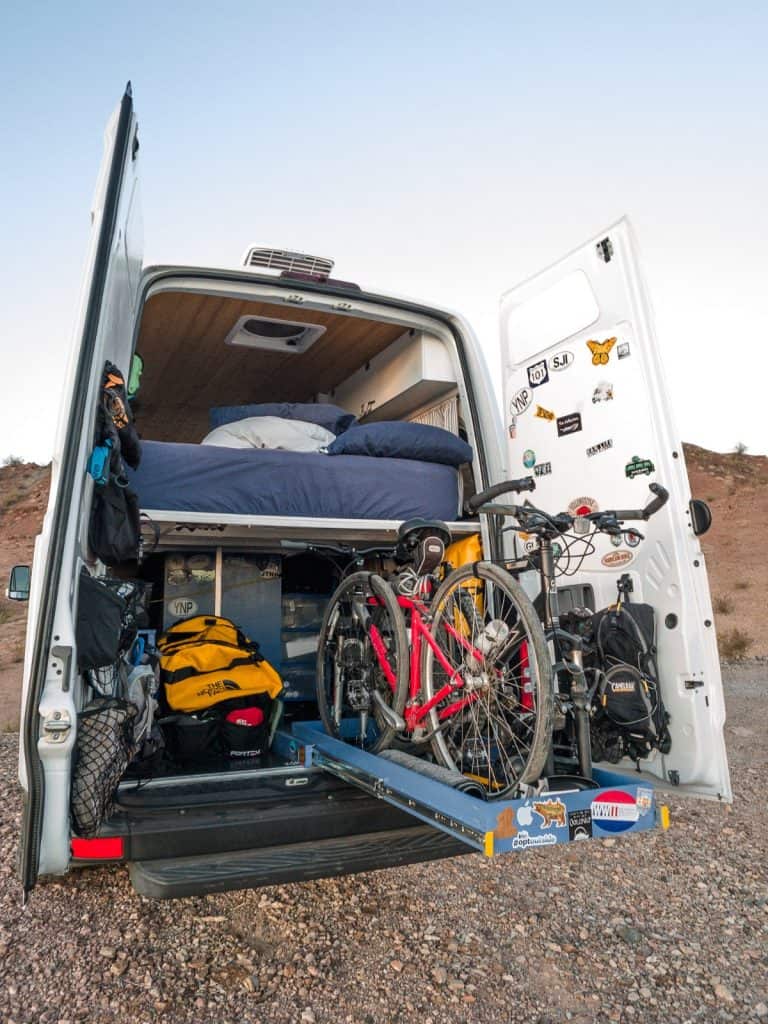 But then, on one of the tiny house blogs I followed, someone featured a couple living in a van. The dream lives! Since my family had never Westyed or RVed, the idea of living in a van not in the year 1969 was new to me… But this, this could work! We knew we both had potential to earn money on the road, so we started scheming as we found build after build that brought van living to life. Our dreaming and scheming revved up to breakneck speed by unforeseen foreseen events…

Typical of many people, we were burned out from stressful jobs (Meghan), or miserably unhappy in very good jobs (Stephen literally said all the time that he had the perfect job). We were $100,000 underwater on our mortgage (thank you housing bubble), and the thought of being chained down digging ourselves out of that hole for 20 more years was, well, "numbifying".

Stephen was wrestling with severe depression, descending into alcoholism, and needed to make a radical change. As the story goes… he woke up one morning and whispered in my ear, "I think I'm going to quit my job today." I replied, "okay, that's lovely dear." Then he whispered again, "You know…if I do this…we might lose the house." I looked him in the eye, told him I had peace about the decision, and I loved him. Not being one to do things in half measures, he walked away from his perfect job, got snipped (tmi), and we stopped paying our mortgage. In the space of two weeks we'd exploded our lives without the faintest clue of what we would do next. Radical change begun.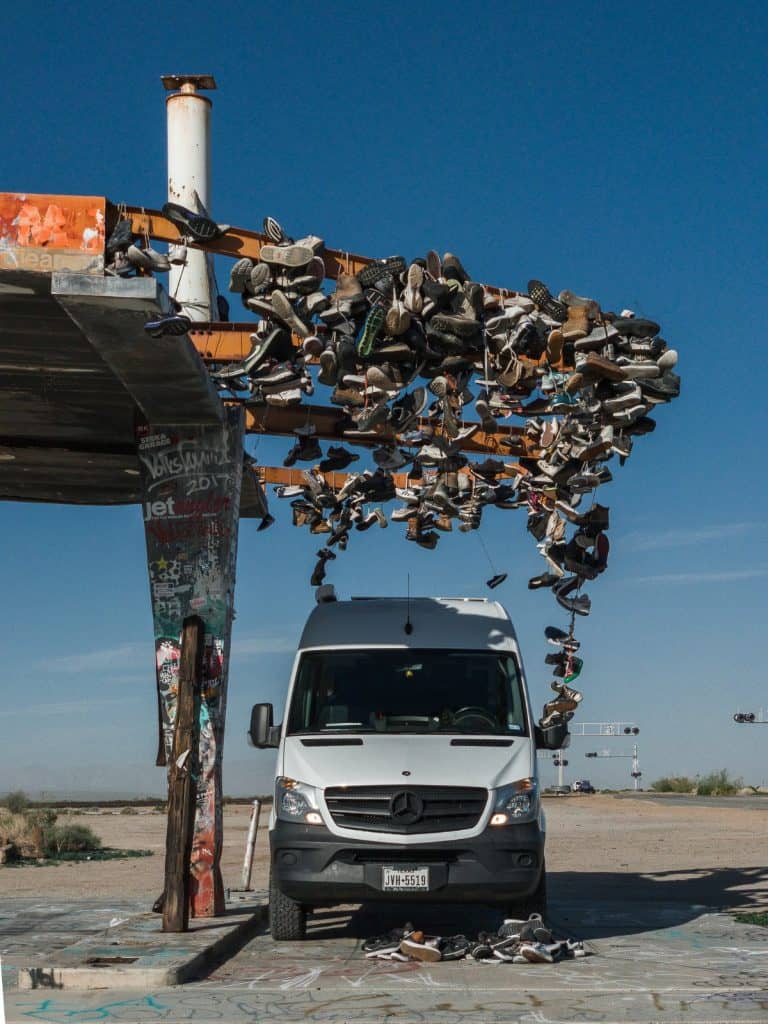 After researching and having all (so we thought) available options denied, we acquiesced to the idea of foreclosing on our house, which, in Illinois, can take up to 18 months. Throughout this time, my mom needed (typical to aging) help and we were the closest family in proximity, so our plan was to look for an apartment between my work and my mom. However, within the span of 9 months her health took an unexpected turn and she passed away a few months later. Our need to stay in Illinois evaporated, causing us to re-evaluate the timeline for our vanlife dream. Serendipitously, we also learned that we were able to do a short sale on our townhome. Hmmm. Interesting… but our vanlife dream is still just that – what to do? We made some short-term living plans to finish out our time in Illinois with friends and family, spent more time with family in South Carolina, and took advantage of the ability to spend extended time with Stephen's family in South Africa. Then, we headed back to the Chicago area, and within a week were the proud owners of a Sprinter cargo van – our future Ubu.
What was that transition like?
Honestly, we are not the couple who enjoyed the learning curve of the build process. We fought pretty much every day and it definitely took a massive toll on our relationship. That, in combination with everything taking twice as long and learning every step from scratch, meant that we "drove into the sunset" utterly exhausted and pretty traumatized.
The first few months we just felt like we were recovering from the build, kind of walking around in a daze. It was also a huge learning curve, heading out from the Midwest; we were staying every night in RV parks and figuring out how to use our Nature's Head composting toilet – afraid to poop in it for the first few months — hahahahahaha. Plus learning how to share such a small space… We both had lots of opinions about how things should work and butted heads often.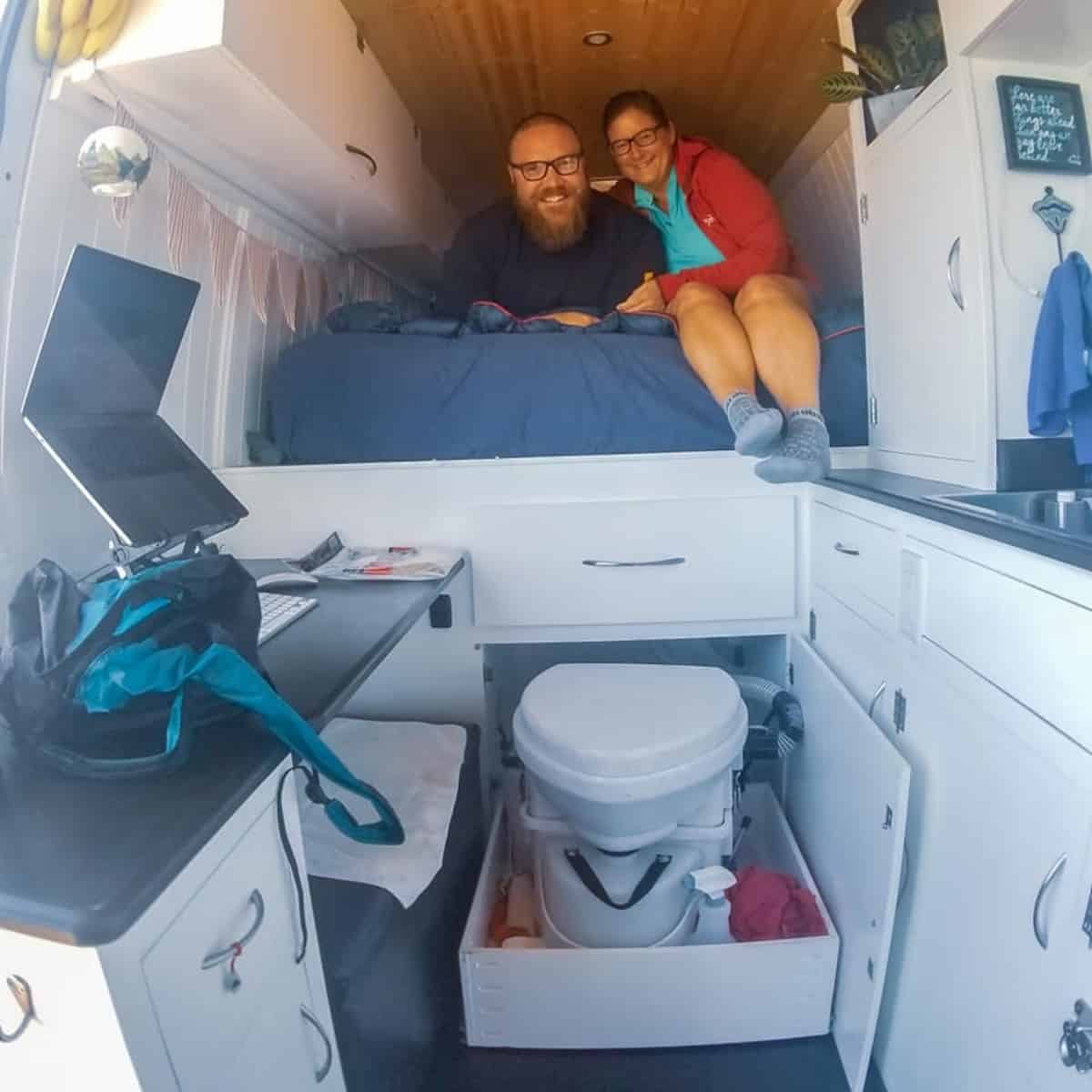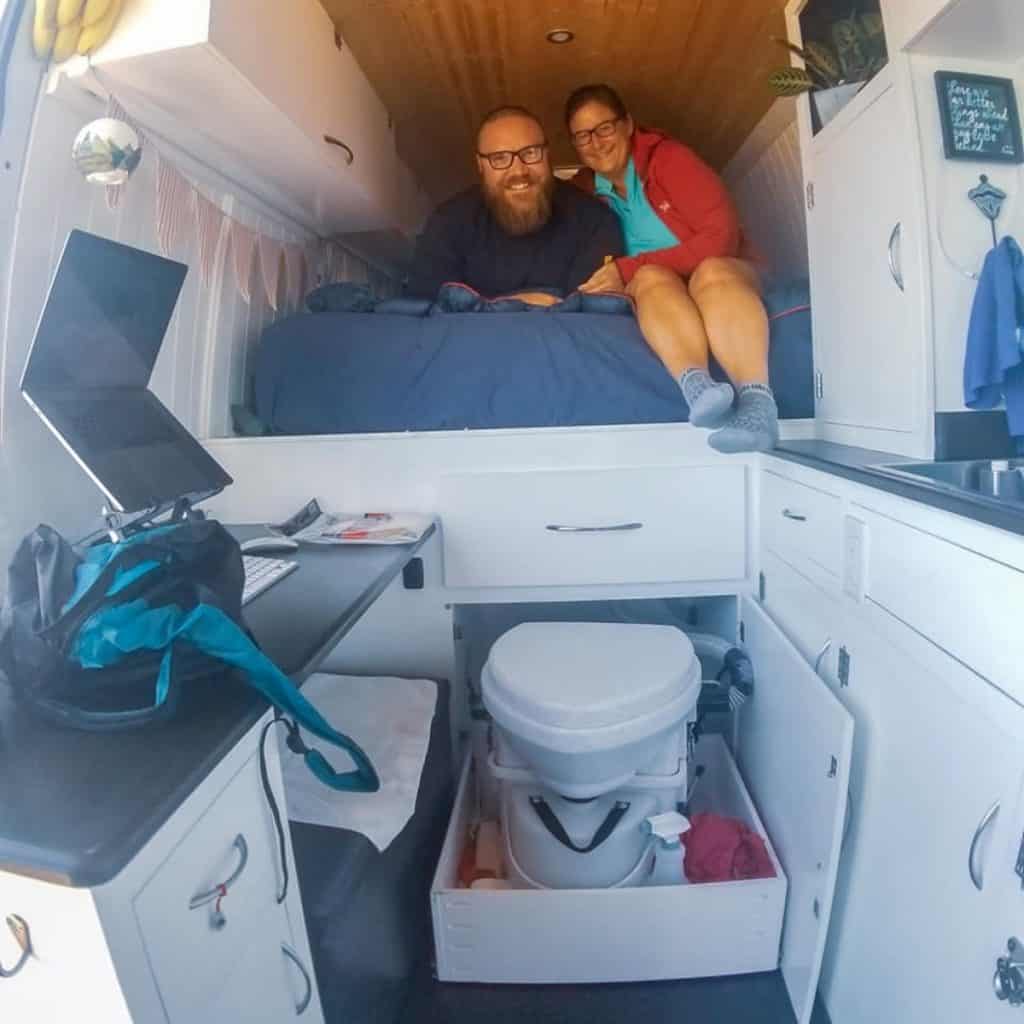 Despite all this, Stephen fell in love right away. He is built for this lifestyle. He loves figuring things out, he loves researching new things, he loves constant change. For me, while I was telling people I loved it, inside I was secretly having a lot of doubts… I felt like the shared tiny space, on top of my own exhaustion from the build and personal issues I was working through, made the adjustment process difficult for me. I would struggle when we didn't know where our next sleeping spot or shower were coming from. I'm a recovering OCD neatnik and adjusting to sand blowing in the doors and garlic explosions from a hot pan could send me into a tailspin. I missed the comforts of our house.
Thankfully a lot of this changed when we discovered the RTR in January 2018; I had my mind blown meeting so many solo women travelers and learning vanlife hacks. It was a transformative experience for both of us, but me in particular. We learned how to make 25 gallons last ten days instead of four, set about making our own cleaning products, visited Algodones for new glasses, and, with few exceptions, never paid for a camping spot again. We were off to the races.
What is your favorite part about this lifestyle?
Freedom — there's no other way to say it. This lifestyle isn't glamorous but it pays in space — ironic right? Even though we're in 80 square feet we're constantly overwhelmed with space. Space to move at a slower pace with our bodies and minds. Space to be able to internally listen and not be bound by other people's schedules or expectations. If one of us has a day where the world feels too big and we need space to hide away it's an incredible kindness to be able to fall into that place without guilt or shame.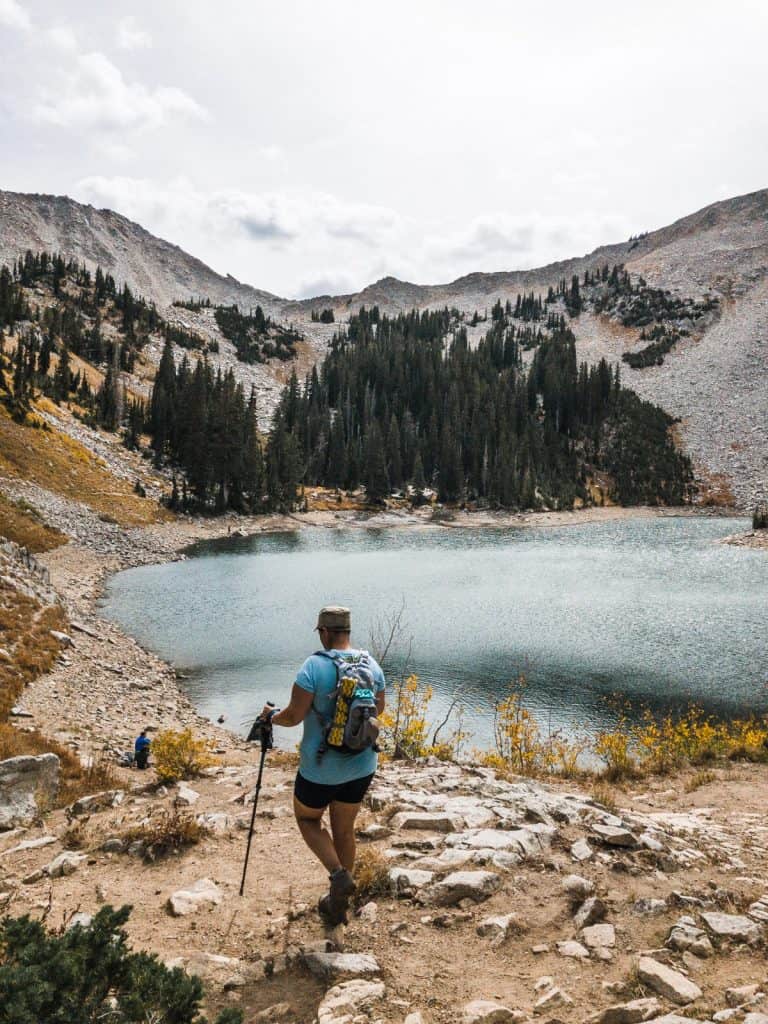 Being able to embrace these natural rhythms has been so healing to both of us. There's space for truth and vulnerability in our relationship. Having the gift of time we can sit with each other's messes and work through big emotions and hard places; in the past we wouldn't necessarily have had the emotional capacity to do that. It's still on us to make good use of this freedom and space and truthfully that's not always the case. Sometimes we still waste time watching Netflix shows or silly YouTube clips — heaven knows we can always read more and do more exercise but… and this is key for us, the space is there. We're walking more boldly in it every day. And as we learn to be kinder to ourselves and embrace this incredible gift, it's changing us to our very core. We know that sounds super airy fairy but it's the truth. We're such different people from when we set out on this crazy adventure and forever thankful for what we're getting to experience and learn about ourselves.
What is your least favorite part about this lifestyle?
For Meghan, it's definitely not having on-demand showers whenever I want. I hate to admit it but I have to do some serious inner dialogue to get myself to work up a serious sweat with no shower afterward…work in progress. But apart from physical logistics, the hardest thing about this journey so far has been the realization that "wherever I go, there I am."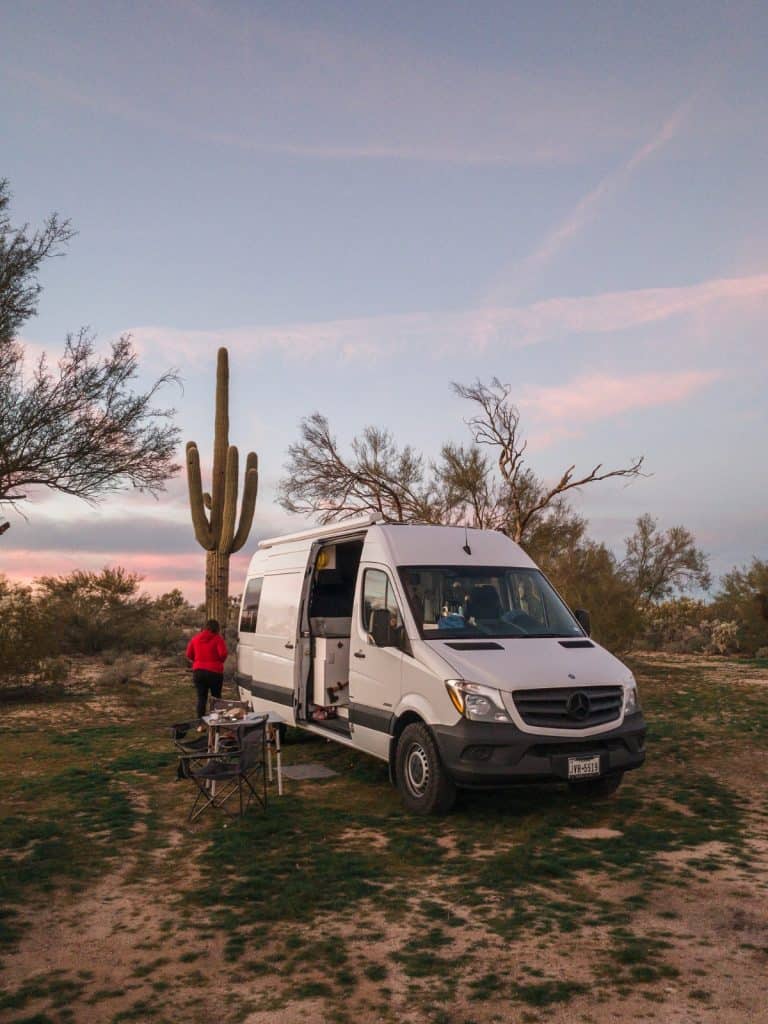 All Meghan's OCD struggles and self-judgments and anxiety did not magically fade away just by hitting the road. Stephen's desire to drink too much and struggles with depression did not disappear. In fact, these things probably got worse because we had less distractions keeping us from dealing with our own shit. We also felt more shame about being anxious or depressed when our life feels pretty sweet. But that is part of the journey too, displaying self-compassion, learning to be with whatever shows up, and trying to learn to embrace our shadow selves.
What do you do for income on the road?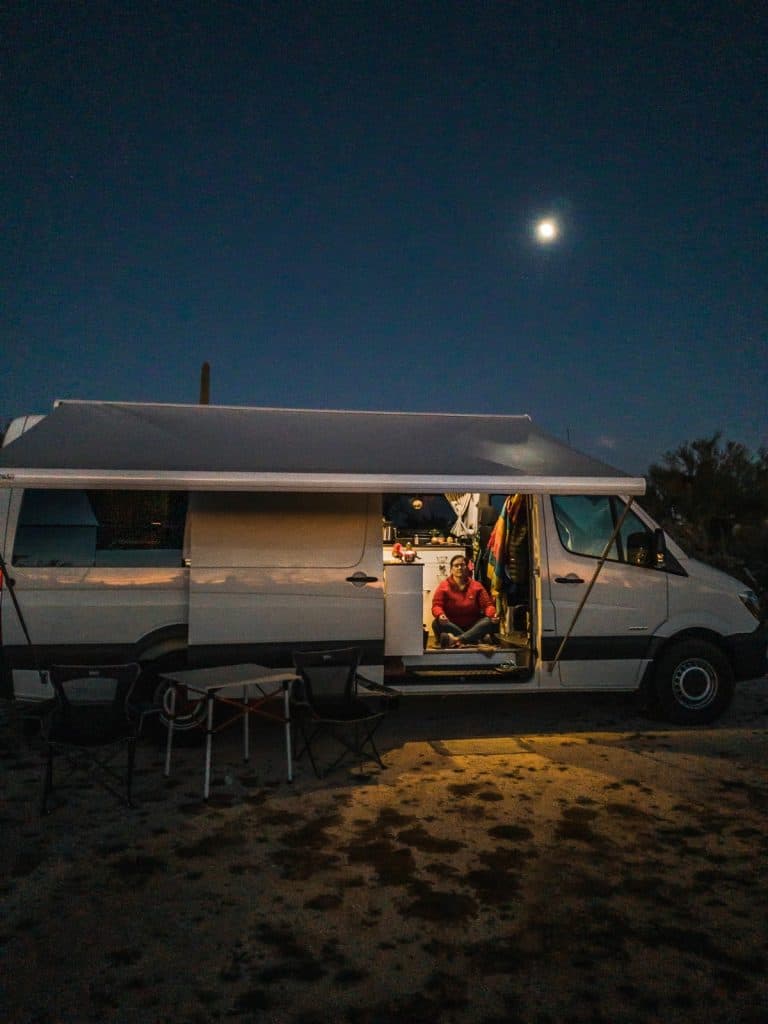 Meghan is an LCSW by trade. However, due to legalities of licensure and practice, she titles herself a life coach on the road, skyping with clients and integrating Somatic Experiencing techniques to help people recover from trauma and manage anxiety. Stephen is a graphic designer and freelances on the road, doing book covers and logo designs. He also just taught himself web design so he could design our website. Remember how I said he loves to research stuff? Yeah, that. It pays the bills; we don't live a lavish lifestyle by any means but we sure are a whole lot happier. Work less; play more – a minimalist's dream.
What have been your favorite location(s) thus far, and why?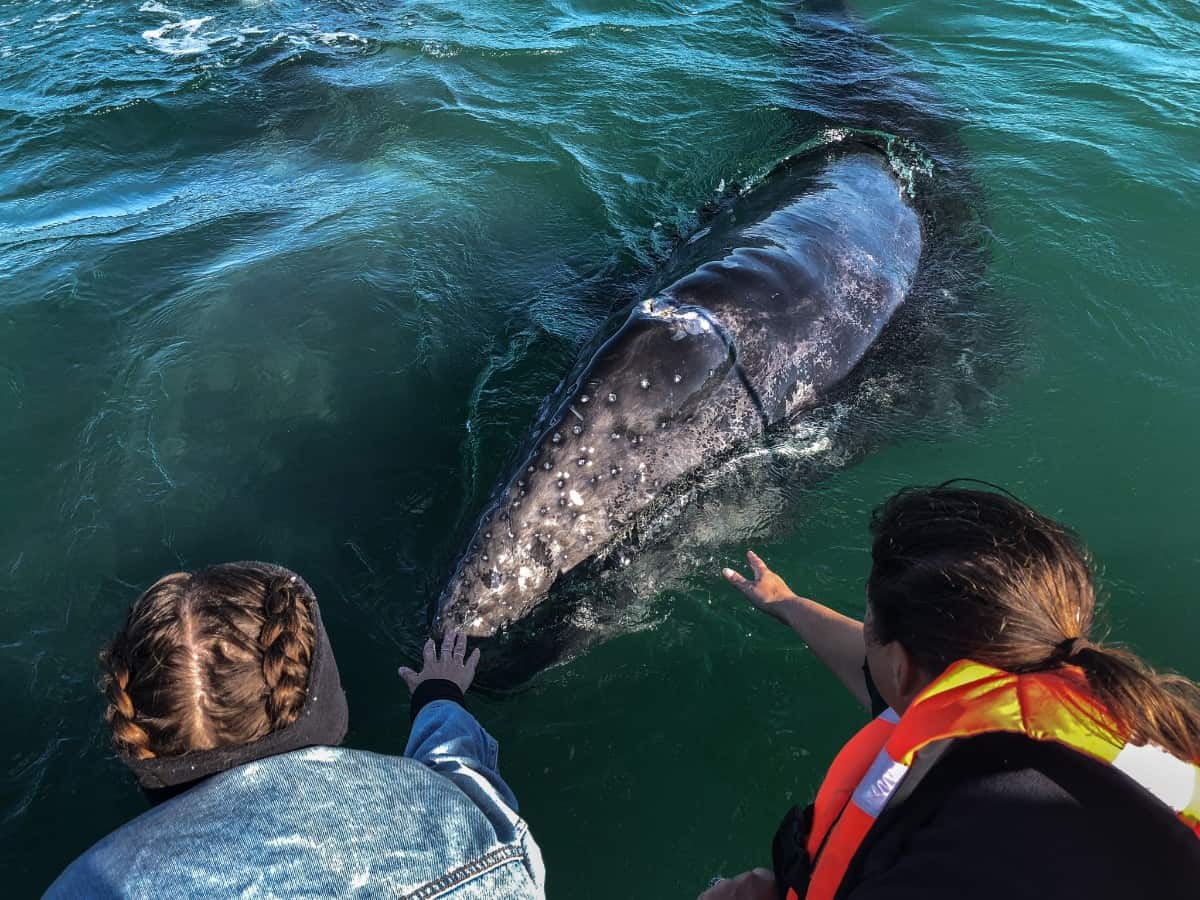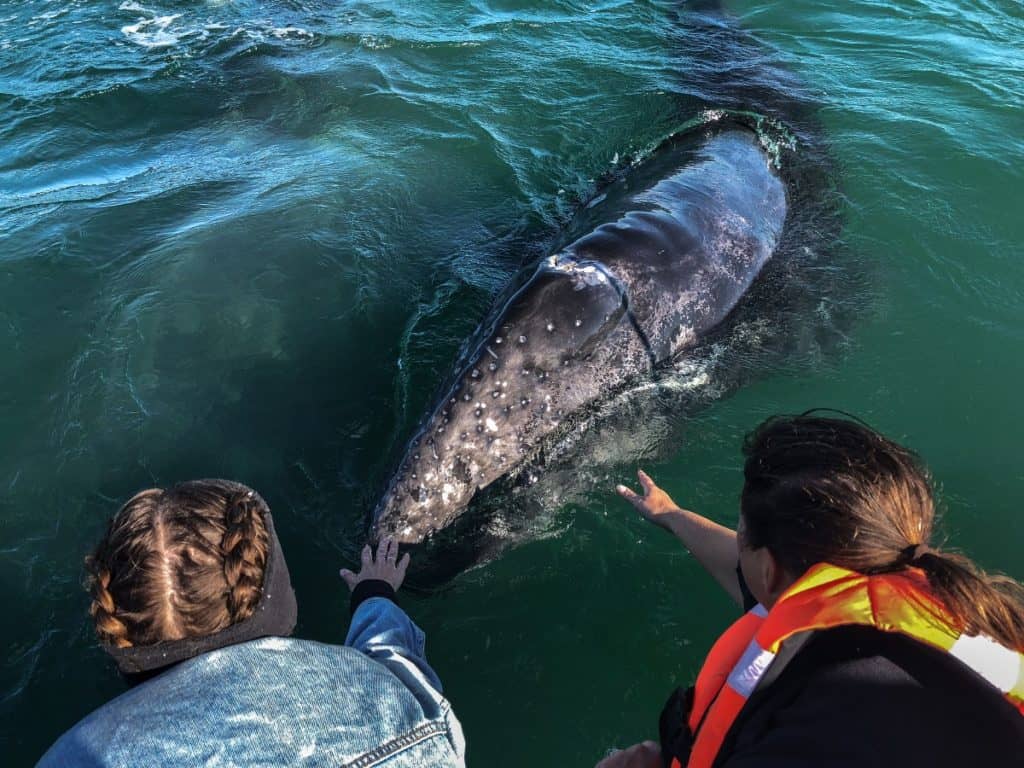 Ummm, we petted baby whales in Guerrero Negro, Baja. Once-in-a-lifetime experience. So spiritual. So indescribable. We also loved Yosemite and Yellowstone, the first for the grandeur of its granite and waterfalls and history, the second for its diversity of wildlife and geothermal wonders. (Who knew the earth had so much to say?) We also spent the better part of six months slowly making our way up the West coast from Baja to San Juan Island, and everything from San Francisco northward just completely blew our minds. The northern Pacific coast is stunning. When we got to San Juan, we saw more whales – Orcas this time – which apparently come closer to shore there than anywhere else in the world? So again, overwhelmingly beautiful. We've had some pretty epic travel locations thus far – and there's still so much to see!
What is your favorite meal to make?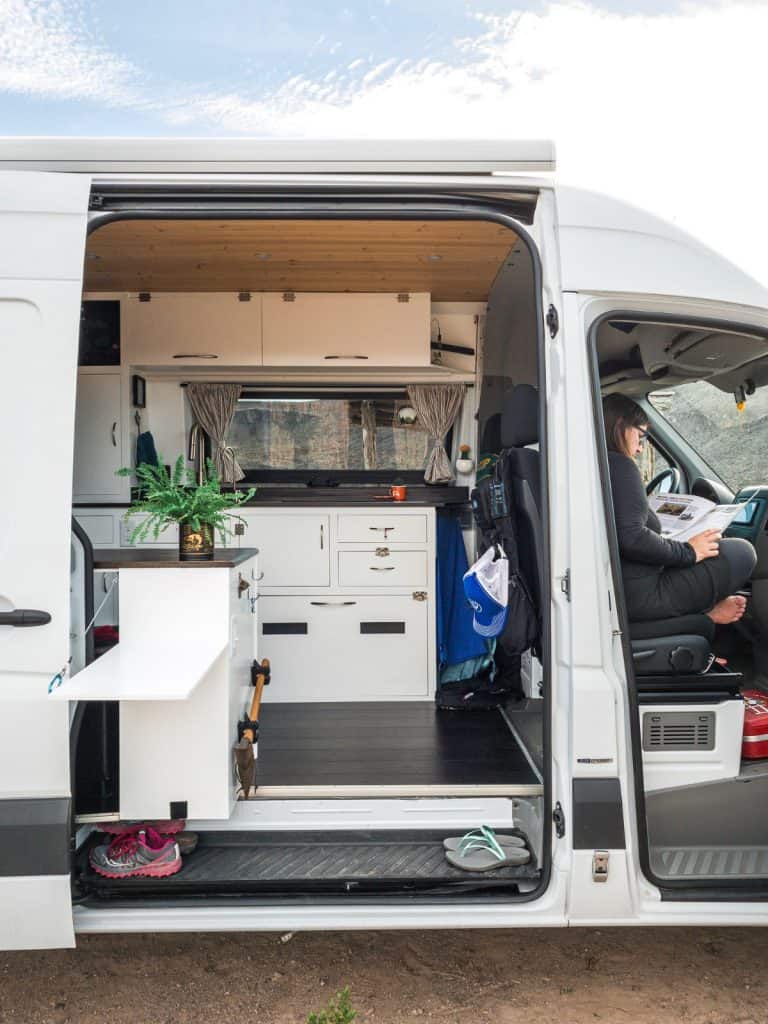 Anything in our instant pot. That little beauty has been a game changer. We don't have an oven in our van, but now that we have our "magic pot," we don't miss it. This thing can roast chicken, make perfect hard-boiled eggs, and cook rice like a dream. We like to make taco bowls and salads, also "stewy" things (like, layering potatoes and meat and carrots and cabbage). Stephen makes a mean omelette, it's a little bit of a shlep to make – but it tastes so good! You haven't lived if you haven't tasted Meghan's wickedly good guacamole — easy to make and bonus for cleanup — one dish!
What are some things you brought with you that you use nearly everyday?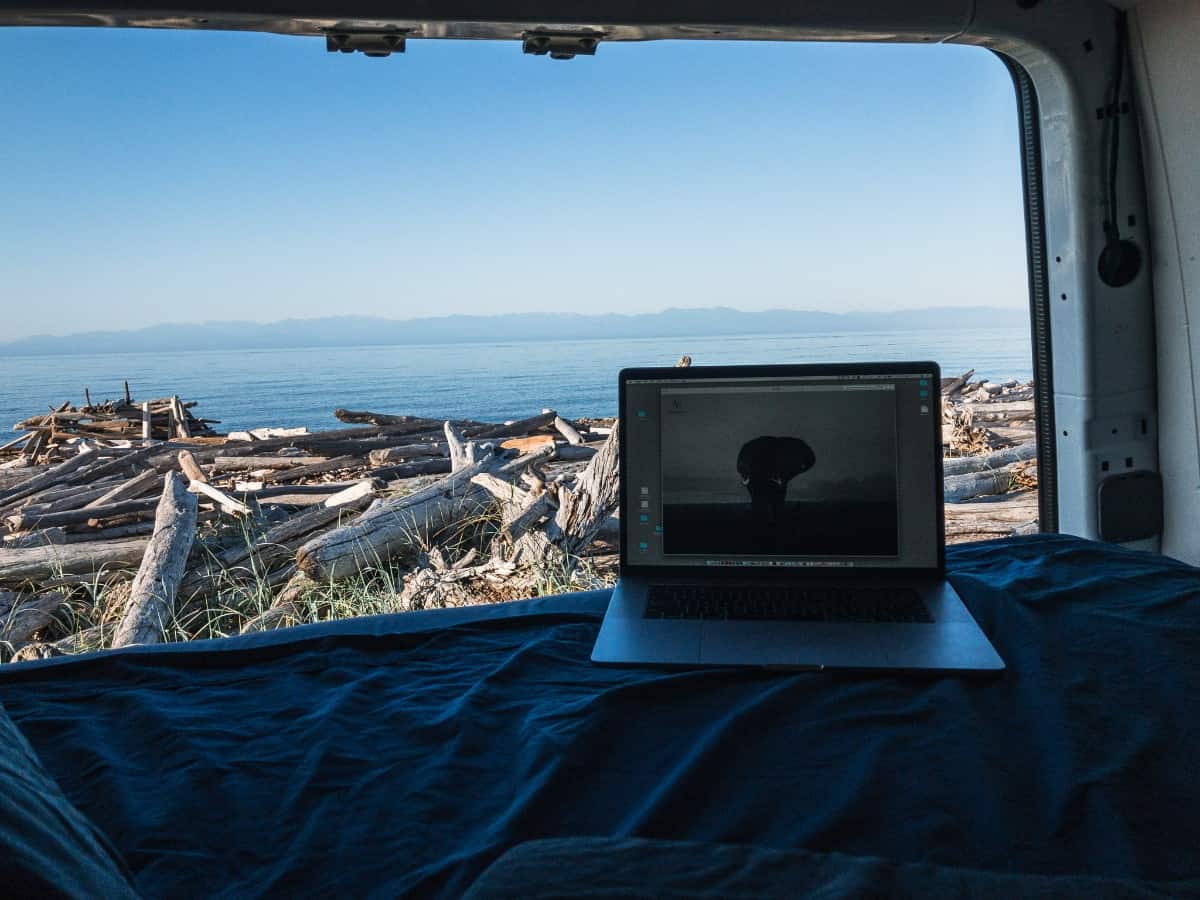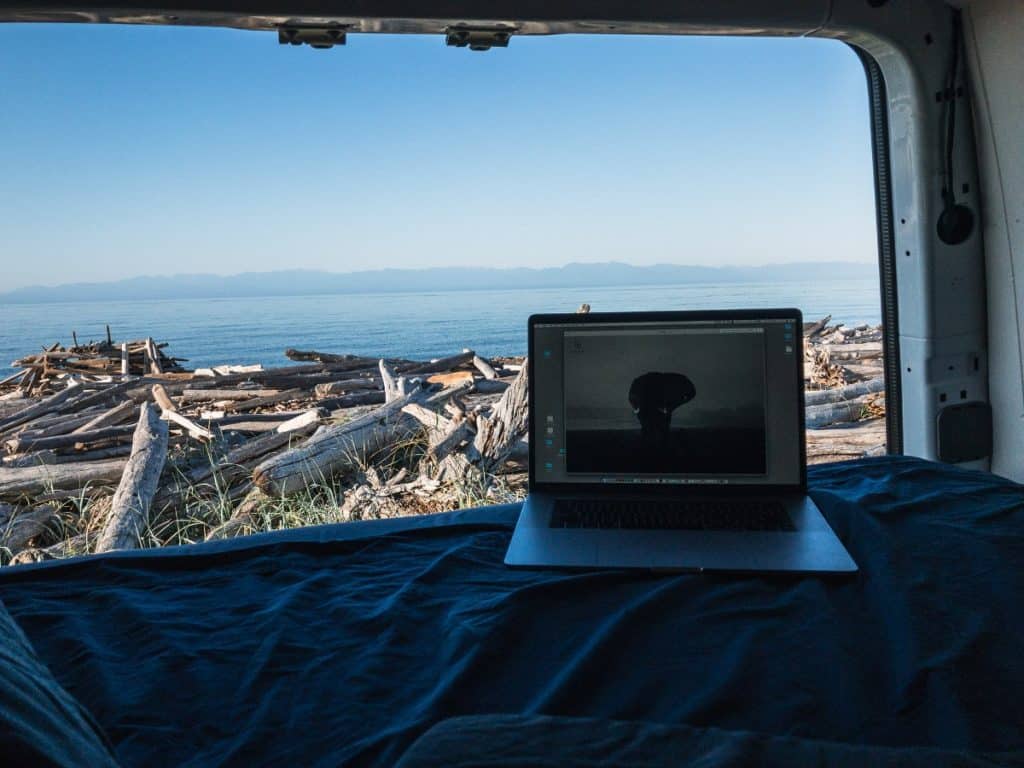 Our instant pot! Bahahahaha. Although we didn't bring it, we bought it on the road in November 2017. We use our French press every morning for coffee happiness. Stephen figured a way to force espresso grind for a little extra caffeinated magic. We love our Rumpl blanket – it moderates temperature like a beast. We are also really glad we brought our good knives from home – we use those every day to cook of course. And our Kindle – books unfortunately take up a lot of van space. Meghan brought a tiny highland cow stuffed animal with her as a silly/homey keepsake… Ironically, we've discovered it makes a great phone holder if we are watching something together in bed, so "Wee Beastie" has been a surprisingly useful little guy to have around.
What are some things you brought with you that you ended up never or rarely using?
Like many people, too many clothes. Otherwise, we did pretty well. We rarely use the window covers we had made, partially because they are a pain to deal with, partially because we've chased "never ending spring", and, partially because we are too lazy to drag them out of the garage space and put them back when we're done (pain to deal with). Stephen brought his drone along from his photography days but it hasn't seen much use. I keep on telling him to hold onto it because he's going to change his mind about it. He also has bags of photo gear that don't see the light of day. All his photo work, including editing, is done on his iPhone these days — minimalist much? Ha!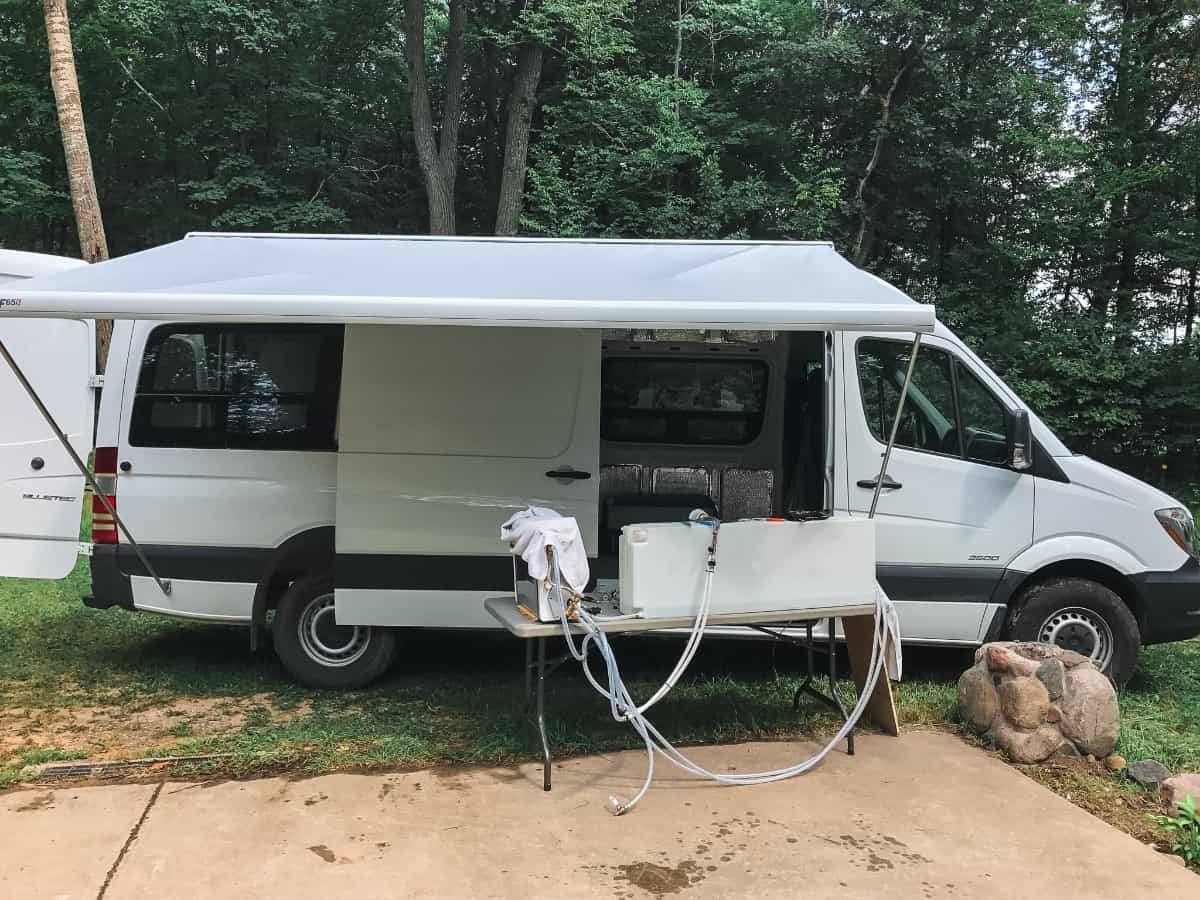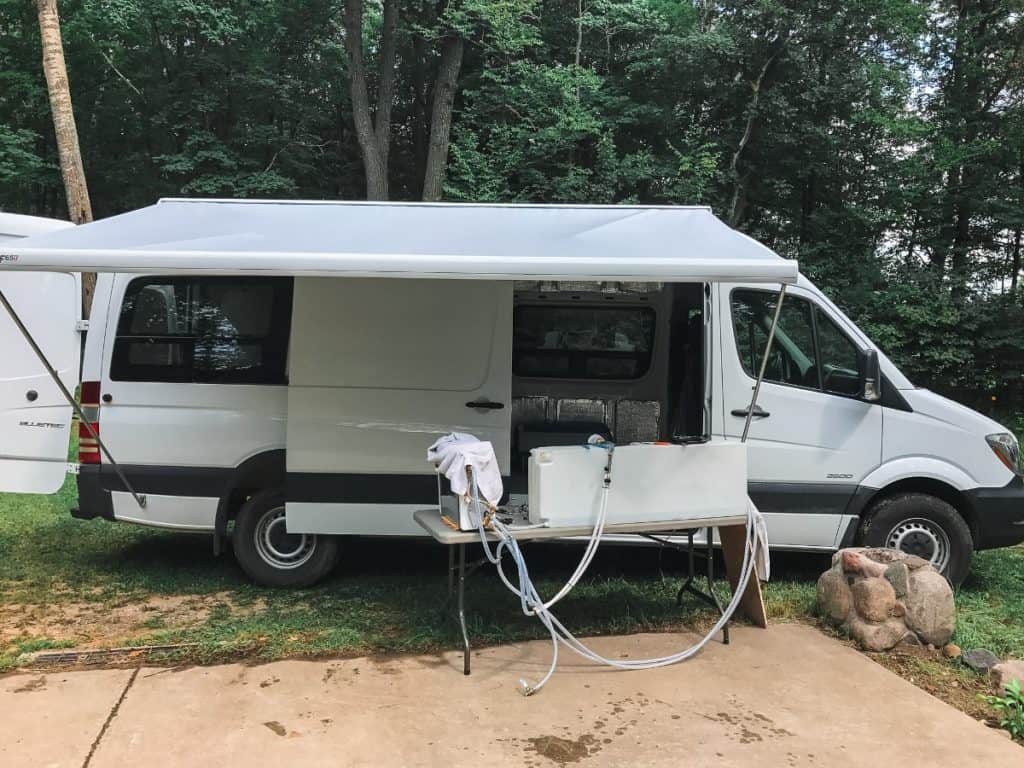 Sadly we rarely use our (outdoor) shower. Here's what we discovered pretty quickly: when we have abundant water and it'd be easy to shower, we are often around too many people or it's illegal to dump (even the biodegradable stuff). If it's legal to go to ground with our grey water and easy to shower, we are generally in the middle of nowhere and trying to conserve water like crazy so we don't want to waste it on a shower. They're kind of overrated anyways.
Is there anything you miss from your former lifestyle?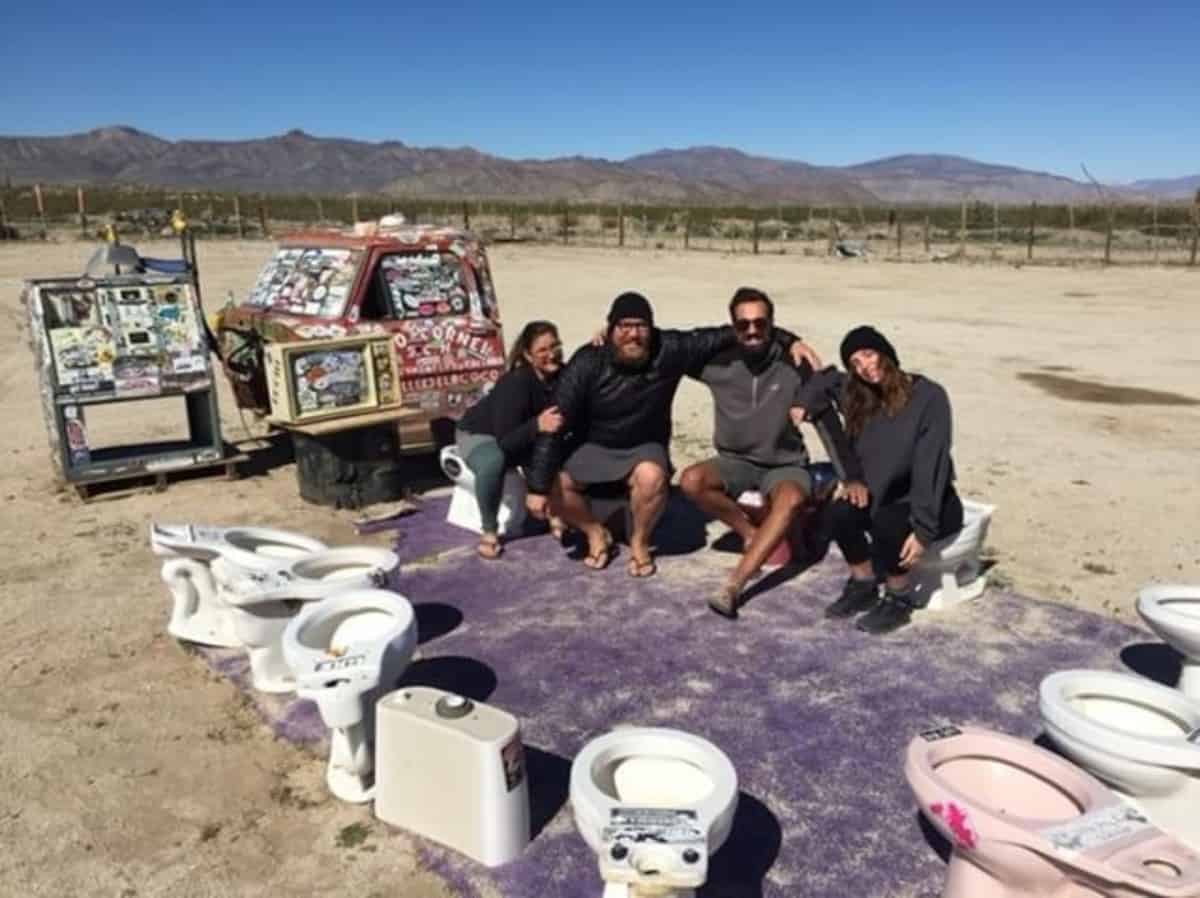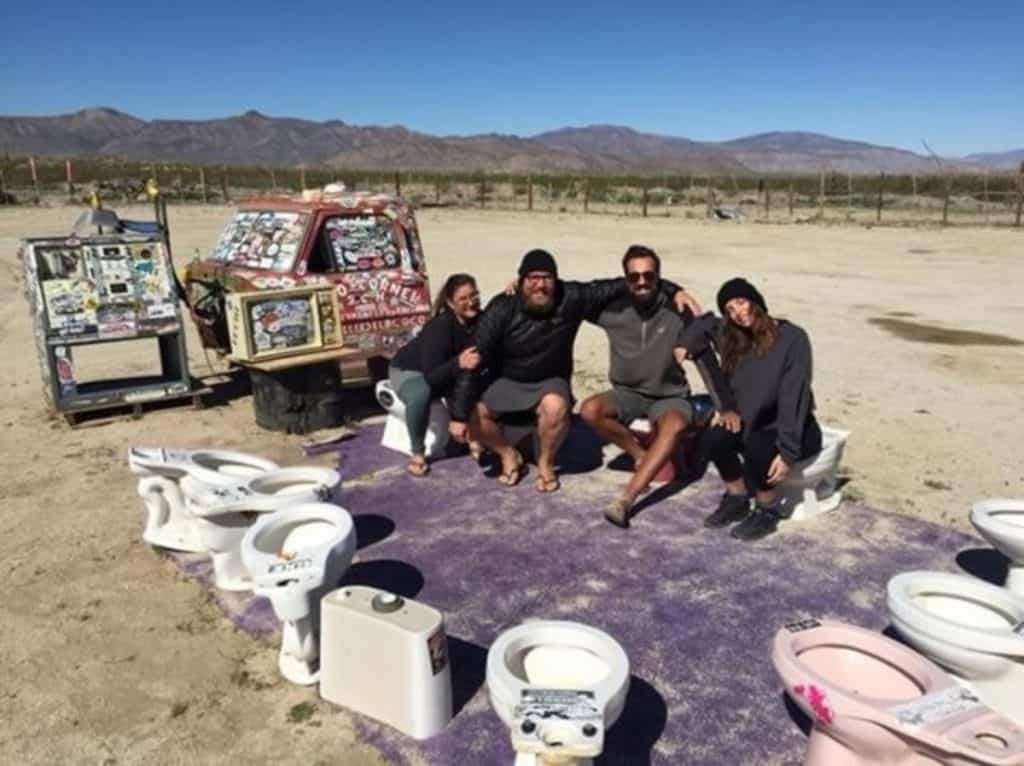 I already mentioned the shower thing. Otherwise, occasionally I miss a big 'ol comfy couch to curl up in. But mostly, just our friends and family that are on the wrong side of the Mississippi. It is hard missing holidays and family events and we are still figuring out how to balance this with the beauty and grandeur of this beautiful country.
What things do you do in your free time? What are your favorite activities?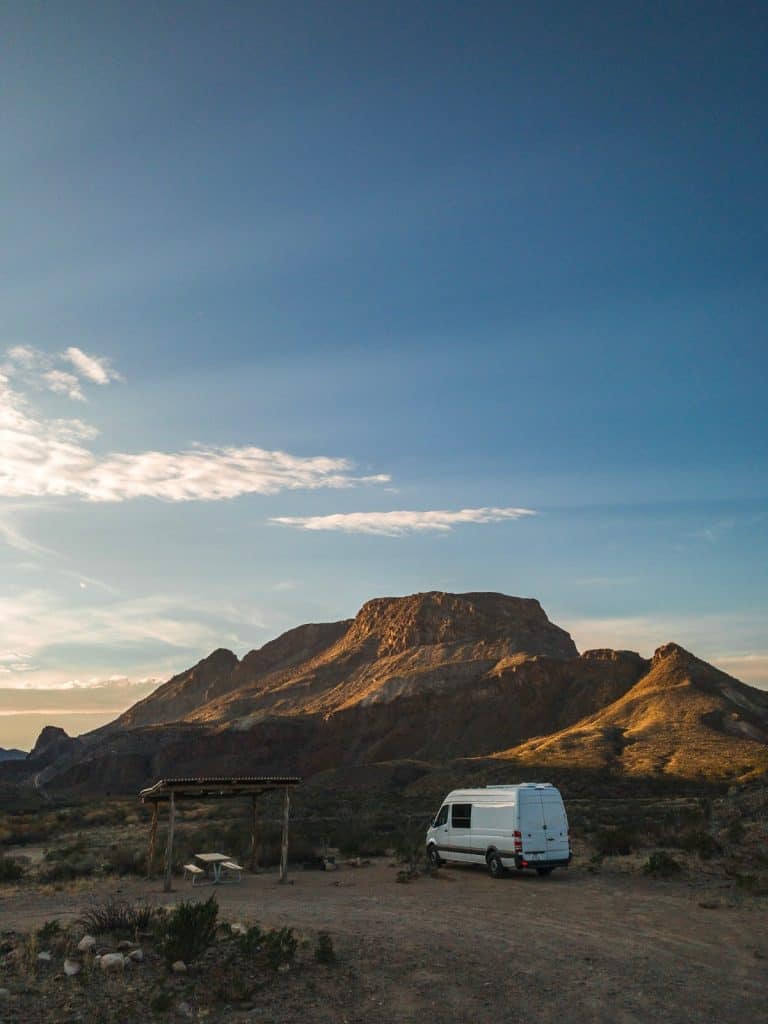 We enjoy waking up slowly together, taking time to make coffee and sit with it. We usually sit in the front seats and chat and do some reading and meditating. This kills a good couple hours sometimes. We love hiking in new places and Meghan loves reading for pleasure, while Stephen loves reading to research either learning new (photography/photo editing/design) skills, or problem solve. Meghan is also a huge history buff so she will go out and explore whatever area we are in if there's anything historically significant about it. We love to ride our bikes and explore although we need to do more of that. Lately we've been getting into yoga practice. Sometimes we're total slobs and binge-watch Netflix shows.
What advice would you give someone considering this lifestyle?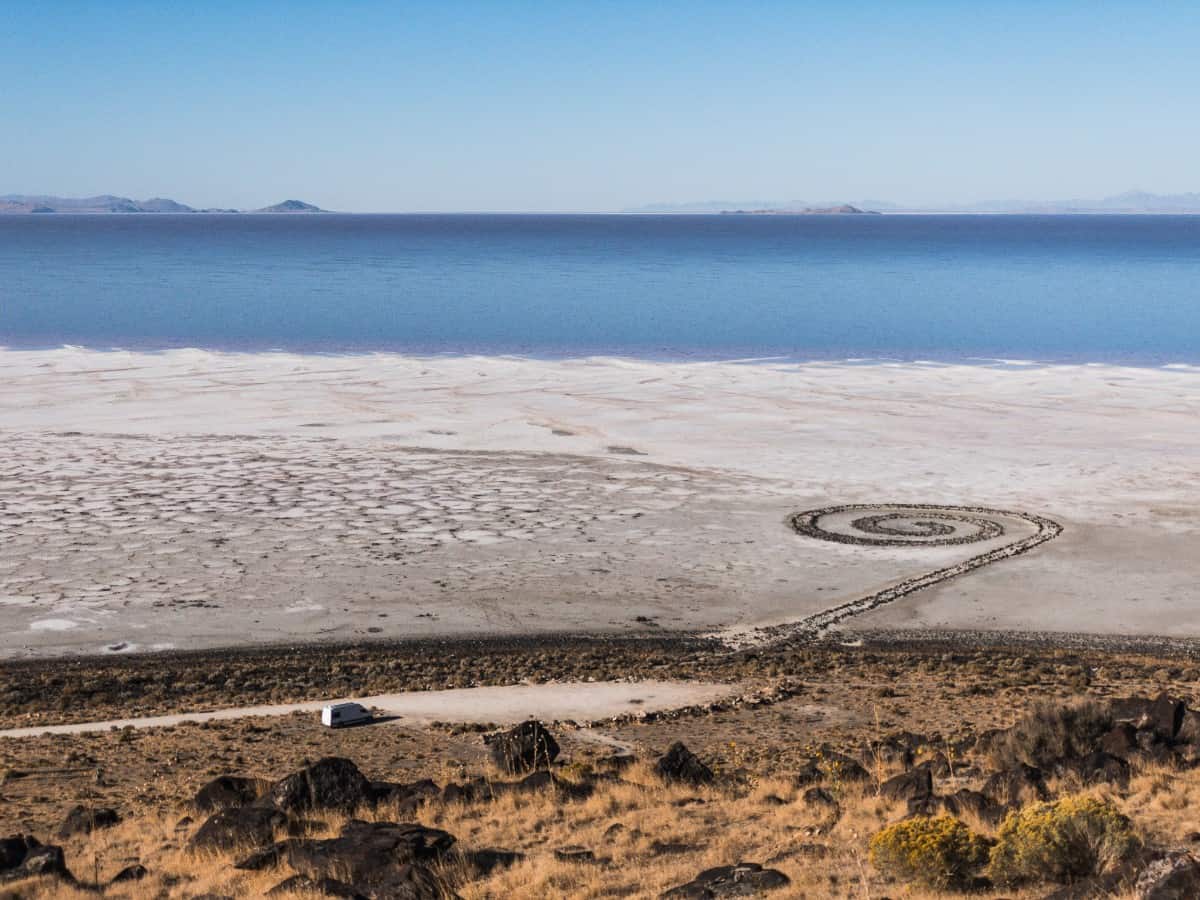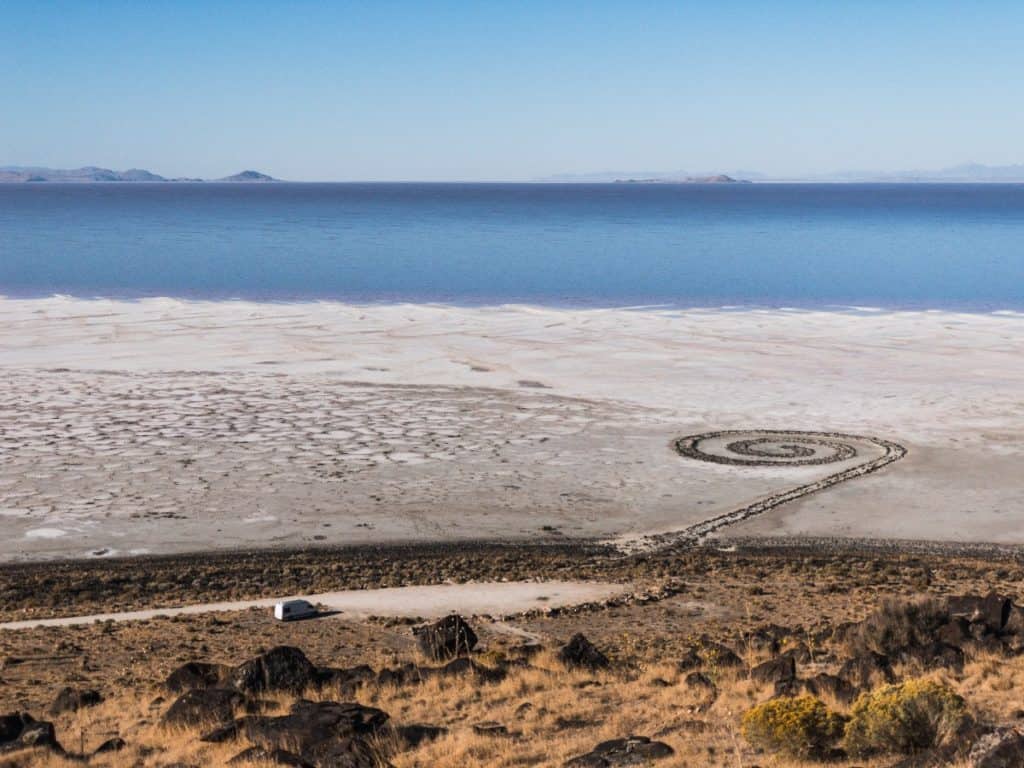 Quit your job. Sell your stuff. Get on the road. In all honesty, a very real reminder for us came from meeting a fellow van traveler who had been on the road a few more months than us… We met him at the RTR in January 2018, and that April he was diagnosed with cancer. He died in September, very quickly… we talk about him often and his spirit of adventure and generosity. He was very young, 40ish, and left a legacy of having pursued adventure and his passions, cut short too quickly. His life, and his death, are powerful reminders to us about embracing the beauty we are offered every day. Stephen often tells people that he's never been happier. This life is changing us every day and the only regret we have is that we didn't do it sooner. If you're thinking of taking the plunge, DON'T wait — jump in with both feet in a way that will force you to lean into it and not allow for an easy retreat. Our transition was hard, the build was hard, the learning curve was a little overwhelming. But, we promise, if you push through, it will be so worth it.
As far as traveling about, we have found, like many, that some of our best encounters, whether with people or places, have been unexpected surprises. Planning is good and needed at times, but we often stumble onto great experiences and get great advice from local grocery store cashiers and coffee shop baristas.