If you're thinking about doing a DIY van conversion, you've probably considered a Sprinter van at one time or another. Sprinter van conversions are some of the most popular vehicles for #vanlife due to their long wheelbases, high roofs, 4×4 option, and availability on the used van market.
Sprinter vans were the earliest "Euro-style" vans to be sold in the US, first hitting the market in 2001. You'll find them as both Sprinter cargo vans and passenger vans, and sold as Mercedes Sprinters, Dodge Sprinters, or Freightliner Sprinters (the badge on the front is the only difference between these Sprinter vans).
The high cost of new Sprinter vans puts them out of reach for many vanlifers. But because Sprinters have been available in the US for much longer than Ford Transits or Ram Promaster vans, if you're on a budget it's possible to find older used Sprinter vans with plenty of miles left in them.
Read More: Compare Sprinter vs Transit vs Promaster for Van Life
And you can get a ton of miles out of Sprinter camper vans if you treat them right. Most Sprinter vans have diesel engines that get better gas mileage and last longer than gasoline engines. A Sprinter van with 400,000 is considered barely broken in. (Mercedes introduced a gasoline engine to the Sprinter van in 2019). If you're buying used, 2006 and earlier Sprinter vans (the legendary T1N Sprinters) are highly sought-after. This was before Mercedes introduced DEF emissions systems to the Sprinter engine, which some say affected reliability.
Sprinters come in high and low roof models and three different wheelbase options (144″ wheelbase, 170″ wheelbase, and 170″ extended wheelbase), offering the perfect blank slate tons of space inside for designing creative custom builds. There's even an all-electric eSprinter beginning with the 2024 model year.
This roundup of fun and practical Sprinter van conversions should inspire you when building out your own van life vehicle.
Read More: Why I Chose a Sprinter Van for Vanlife
Build Your Van
The Ultimate Van Build Guide
Planning a van build? Read our free guide. We cover just about everything you need to know – from planning, to insulation, to solar and electrical, to picking appliances, to essential tools. Get started today so you can get out there on the road!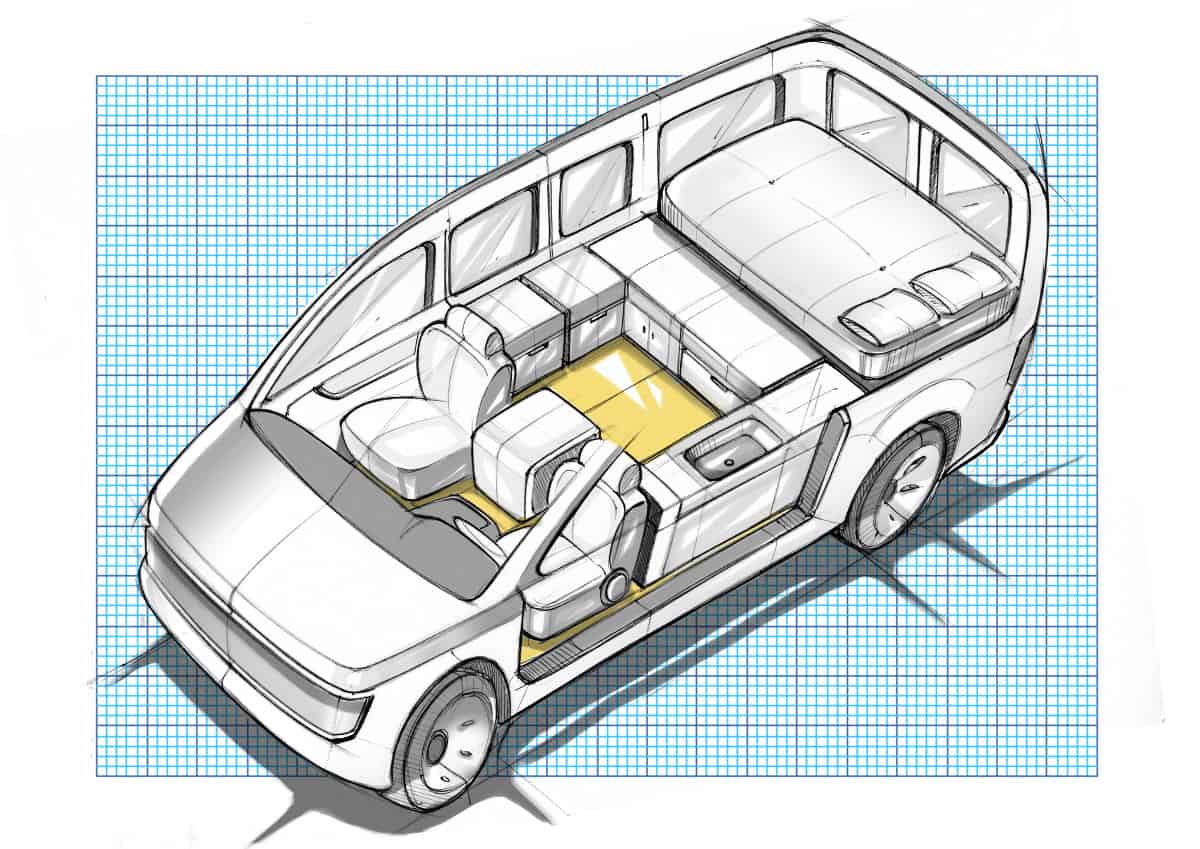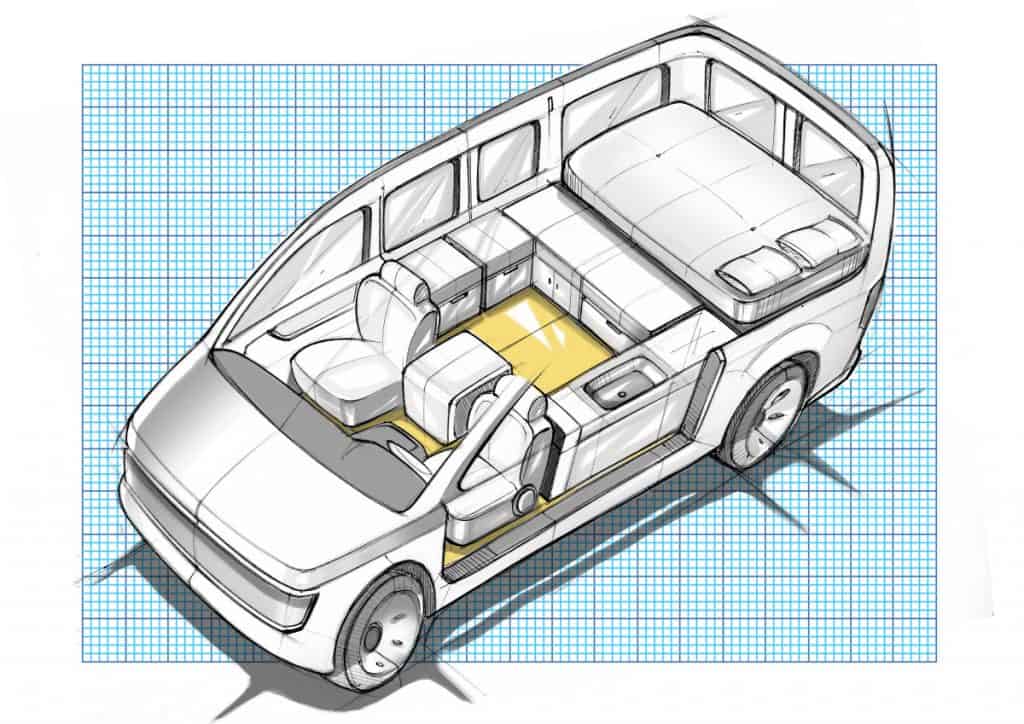 1. This Sprinter camper conversion with a murphy bed from @tioaventuravan
Mariajosé and Chase built out a 2016 Mercedes Sprinter van with a 170″ wheelbase and high roof for full-time van life with their two dogs. They have upgraded the van's cab, including installing a bulkhead for storage and USB charging ports.
The couple decided to build the van kitchen unit in two sections. There is a sink area with a cabinet and counter space behind the driver's seat. A partition separates the two areas, creating a cozy nook. They have an induction cooktop and additional counter space by the door on the other side. We love this kitchen setup for anyone who won't be traveling solo because it allows two people to cook comfortably. The kitchen also has an impressive slide-out pantry that fits a lot of snacks and canned goods.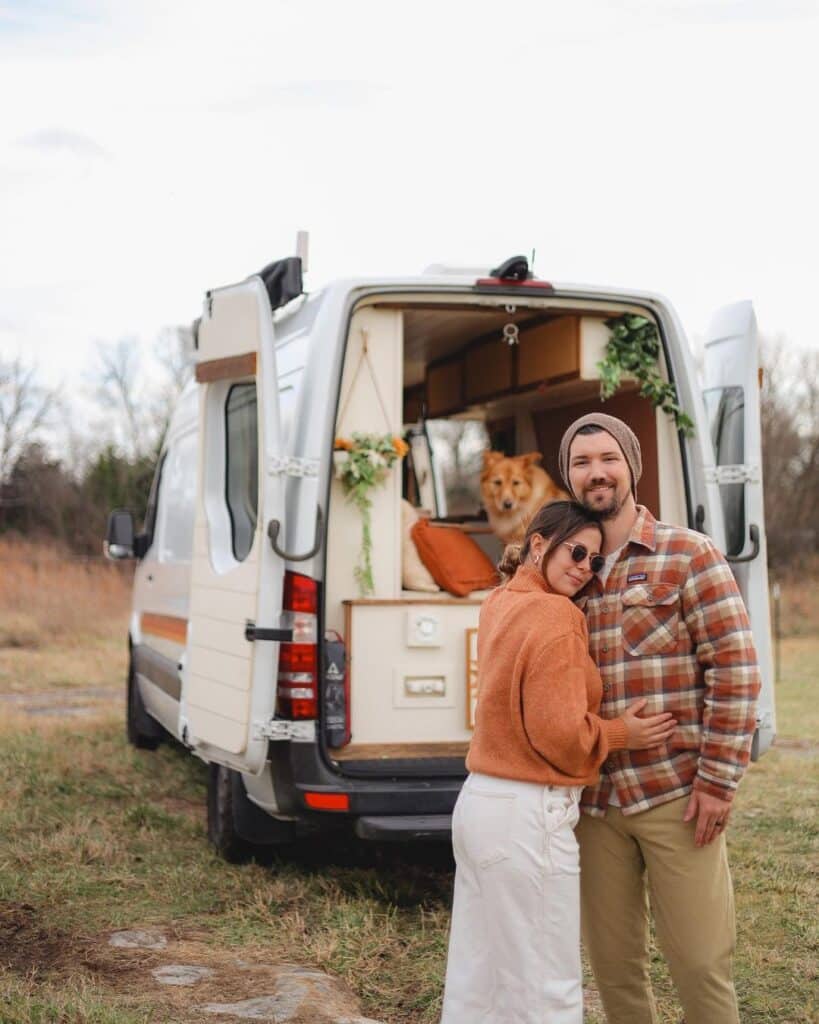 Their Sprinter van has a fully-tiled wet bath with a shower and composting toilet. The shower has two shower heads that are connected to a 48-gallon fresh water tank, which is perfect for when the couple is camping in remote areas.
For storage, they have overhead cabinets, dresser drawers, and bench seats that hold their clothes, shoes, and kitchen equipment.
A lounge area with an L-shaped sofa in the back also acts as a workspace. On the wall across from the sofa is a TV that is also used as a secondary monitor for work. To set the space up for camper van bed mode, they unlock the locking mechanism that keeps the bed upright during the day. Then, they pull down the wall, which comes down onto the bench seat. They then have a full-size bed that runs lengthwise across the camper van. In bed mode, there is access to small cubbies, charging stations, laundry chute, and additional storage.
2. This creative DIY Sprinter van conversion from @thewildlandersoffgrid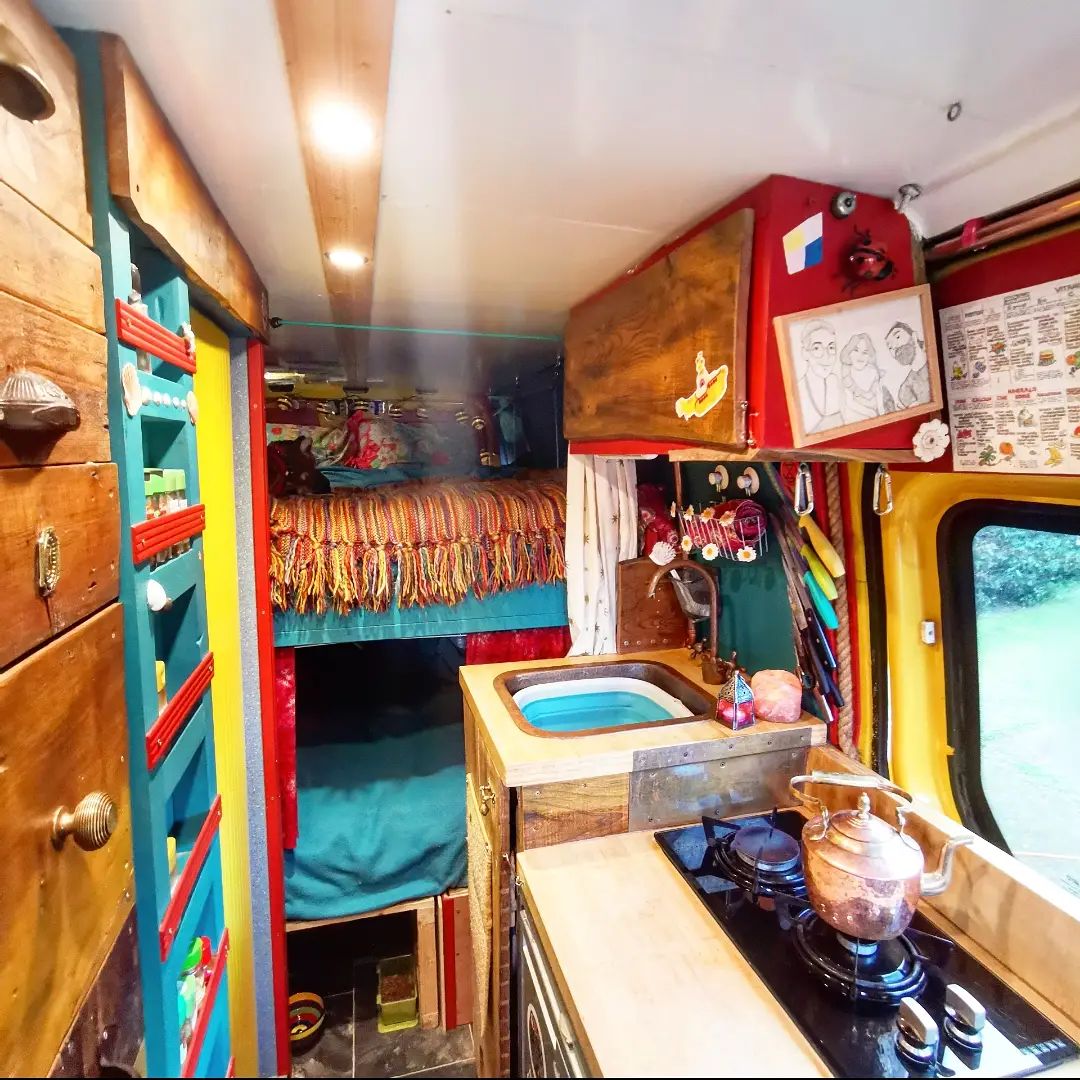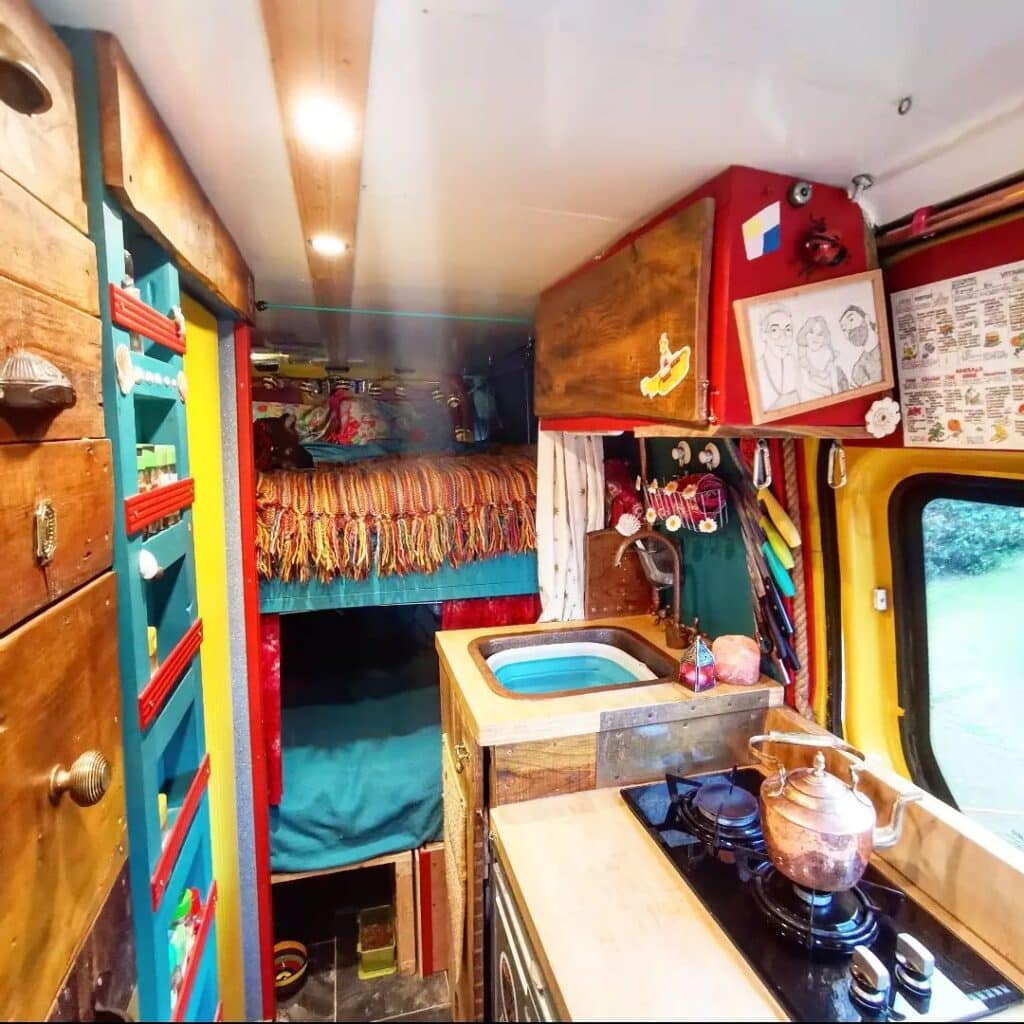 Missy, Dom, and their daughter, Rosie, built out a 2013 Sprinter van camper, with a 170″ and high roof, in about nine months for full-time van life travel with their pets.
Dom was already familiar with woodworking so he was able to create many unique features, like a wooden storage box by the side door entry that flips up to cover the foot well.
Two boat winches ratchet a full-size bed to the ceiling of the Sprinter van's interior. The bed lowers for sleeping, creating a bunk-bed-like setup with the sofas below. When the top bed is raised, there is access to the lounge space beneath it, with two sofas and a wall of storage drawers Rosie painted herself. Under the benches, the family storages additional items and gear.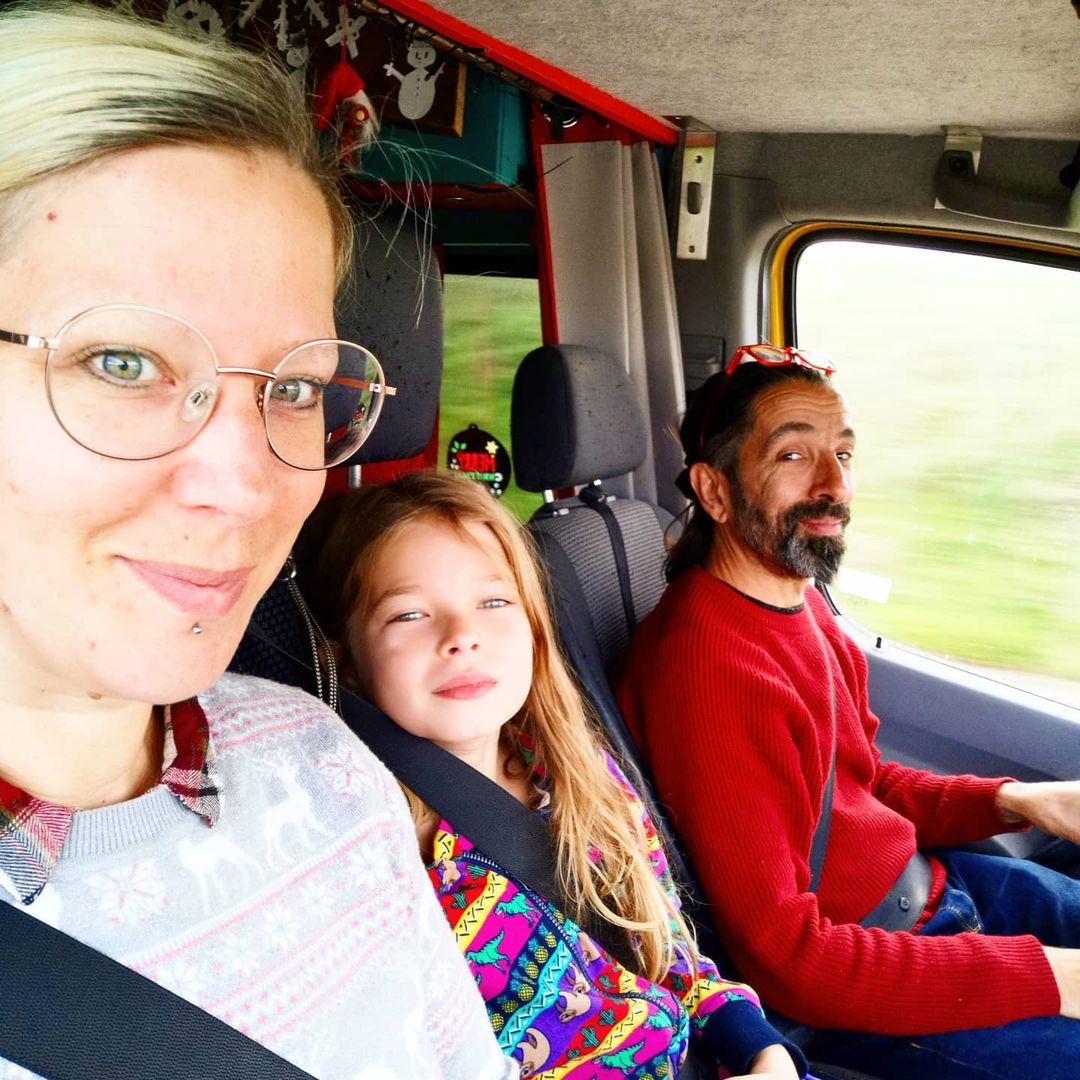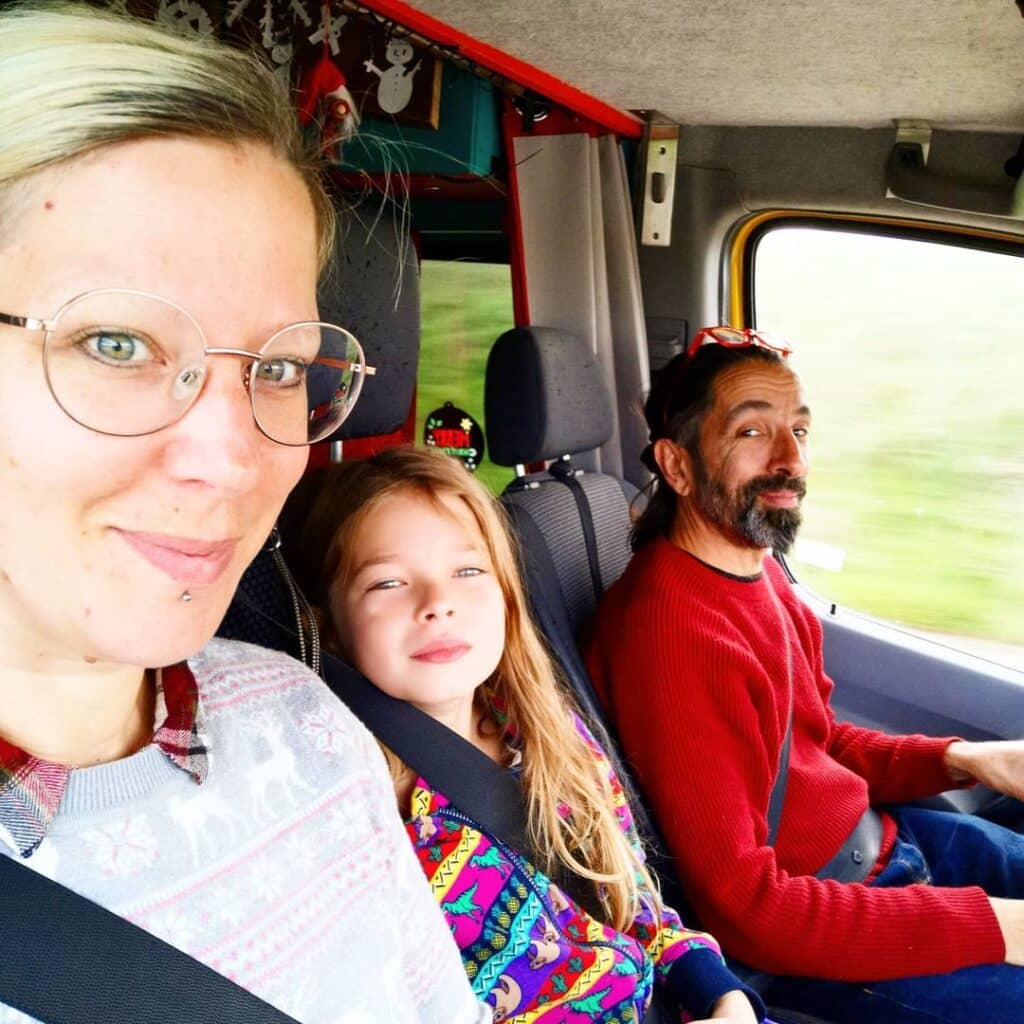 The two front seats can swivel around to use the table behind them for dining. The bulkhead provides plenty of storage.
This Sprinter van conversion has a bathroom with a composting toilet. While they didn't install plumbing for a shower, the bathroom is fitted with a drain that drains into a gray water tank, allowing the family to use portable shower solutions within the bathroom.
3. This standard roof Mercedes Sprinter camper van from @louisthevan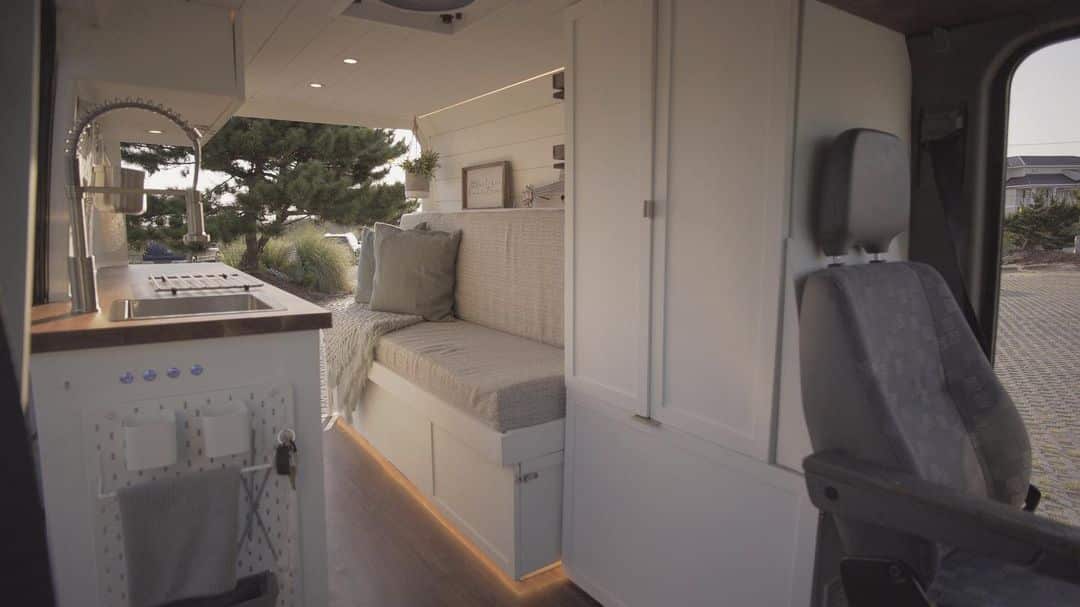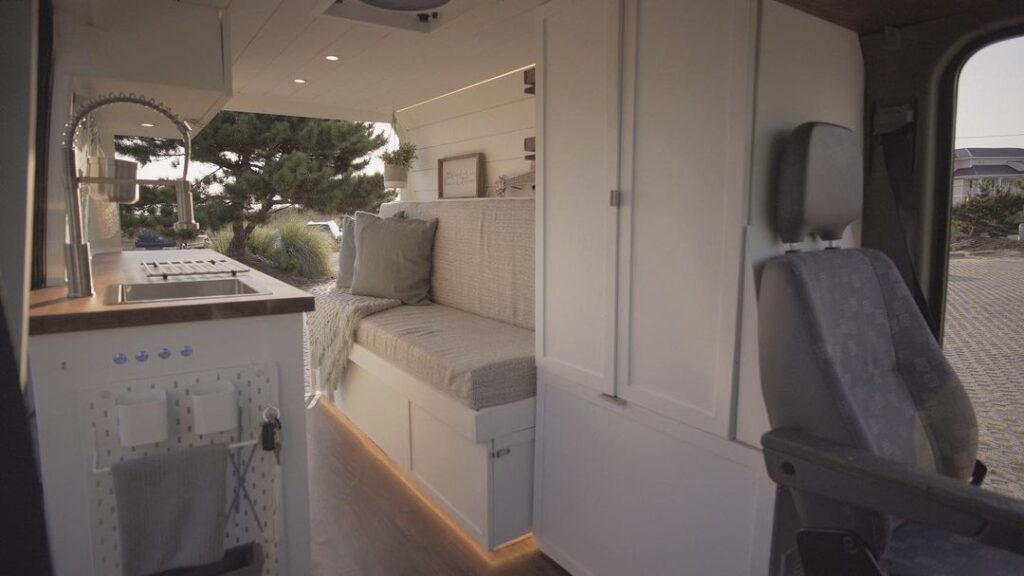 Seth and Scarlett converted a standard roof 2004 T1N Mercedes Sprinter van for full-time van life as they travel across the country.
The passenger seat is on a swivel mount, which immensely opens up the space. There is some overhead storage in the cab. Hooks that flip up when not in use adhere to the space above the side door for hanging towels and other items that need to be dried.
Between the driver and passenger seats, there is an air conditioning unit. A litter box for the couple's cat sits under the air conditioner when not in use.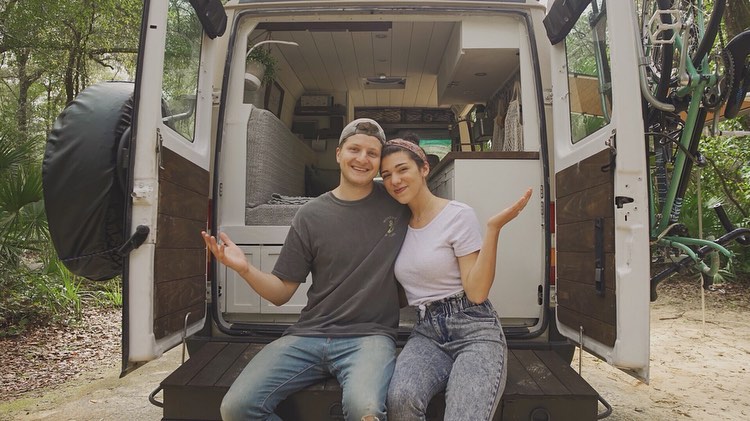 Behind the driver's seat is a closet for hanging clothes and shoes. Beside the closet is a pull-out drawer for folded clothes that are stored in packing cubes.
The Sprinter van's light switches are located on a cabinet by the side door entrance. The switches control lighting on the kitchen cabinets, the main overhead lighting on the van's ceiling, LED light strips on the bottom of the cabinets and the edges of the ceiling, and a reading light in the back of the van.
A bench seat runs lengthwise on the driver's side, across from the kitchen. Pull-out tables on drawer slides in the kitchen cabinetry allow the couple to sit on the bench seats and access tables for eating and working. The bench pulls out into the space between it and the kitchen cabinets when in bed mode.
4. This eco-friendly Sprinter van conversion from @aimless.amber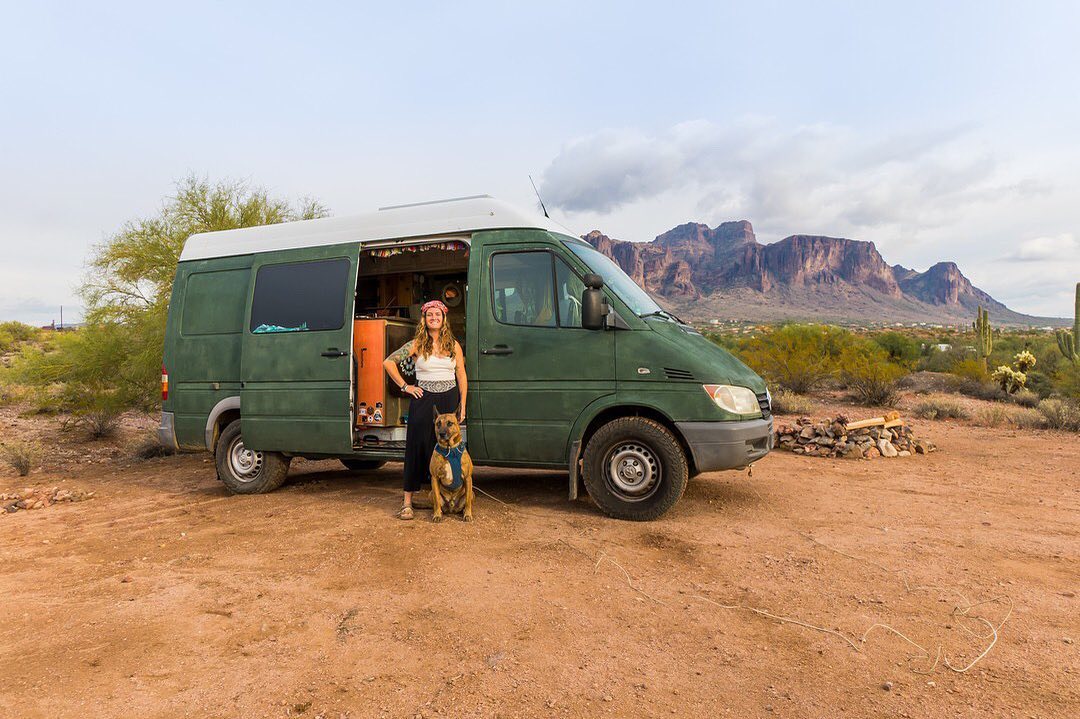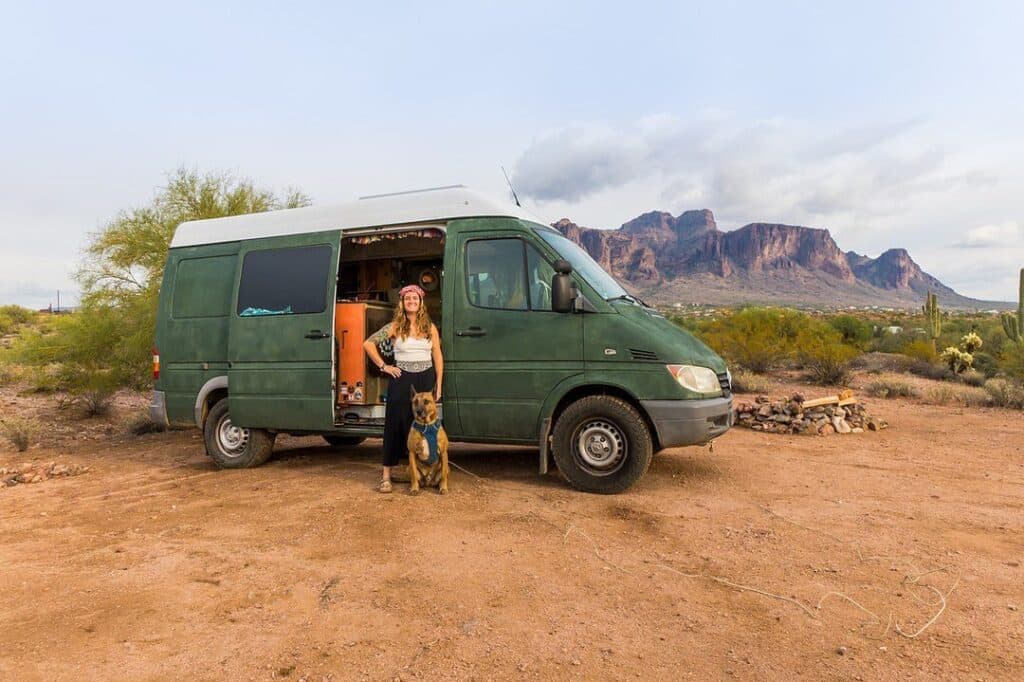 Amber built out a 2006 high roof T1N Sprinter camper van herself to live in full-time. She built it out in about three and a half weeks while off-grid on BLM land.
Both the driver and passenger seats are on swivel seats. The bench seat, table, and flip-up countertop behind the front seats make it very easy for three people to sit down and enjoy a meal together.
The bench seat stores a composting toilet, which is accessible when the seat cushion is removed, and the seat's base is flipped up on its hinge.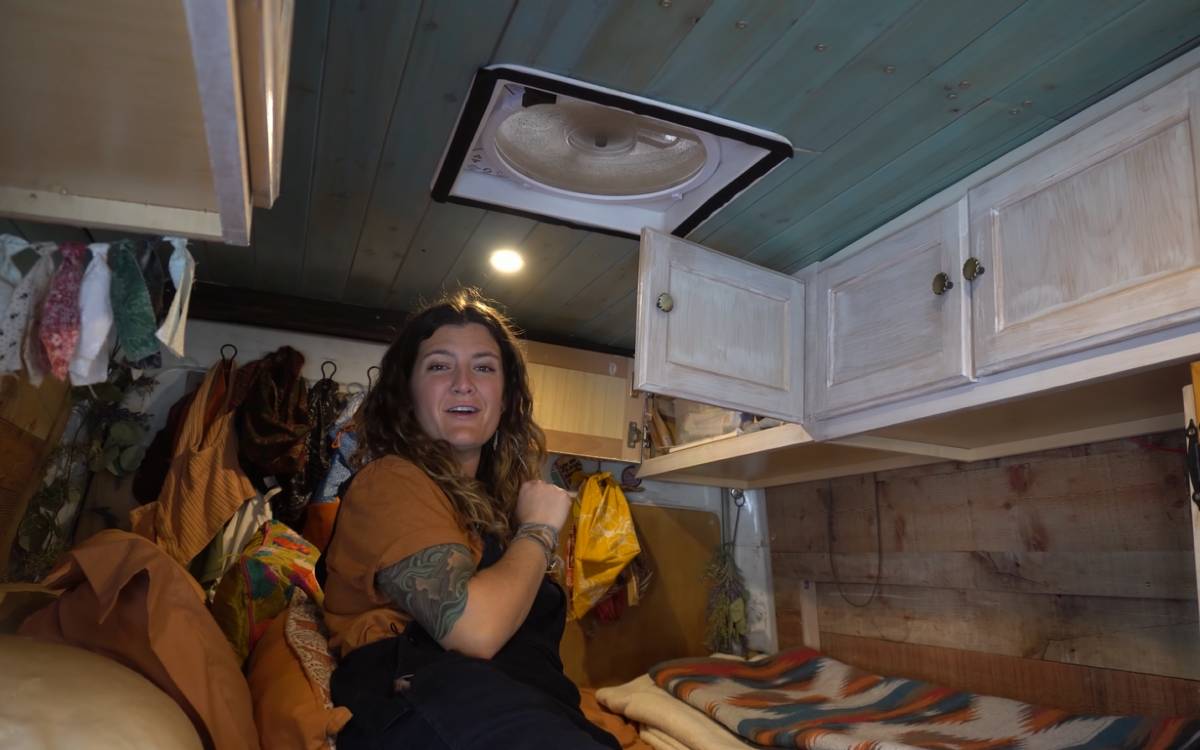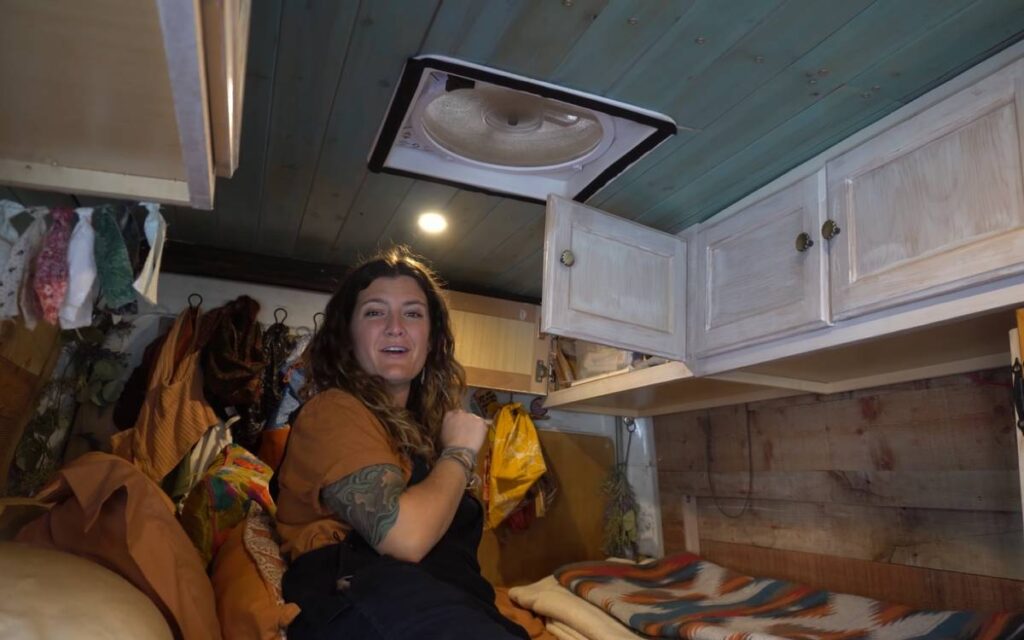 Amber installed windows behind the driver's seat and by the side door to maximize natural light in her Sprinter van camper. She bought and installed cabinets that run along the side of the van and provide a lot of storage.
Her bed is a full-size mattress fixed widthwise in the back of the camper van conversion.
The kitchen has a 2-burner propane stove inset into the counter and a chic hand-painted sink beside it, adding style and personality to the build. A lot of the materials Amber used, she got secondhand, making it an affordable, eco-friendly Sprinter van conversion.
5. This van life Sprinter build with a bulkhead wall from @thewholeworldornothing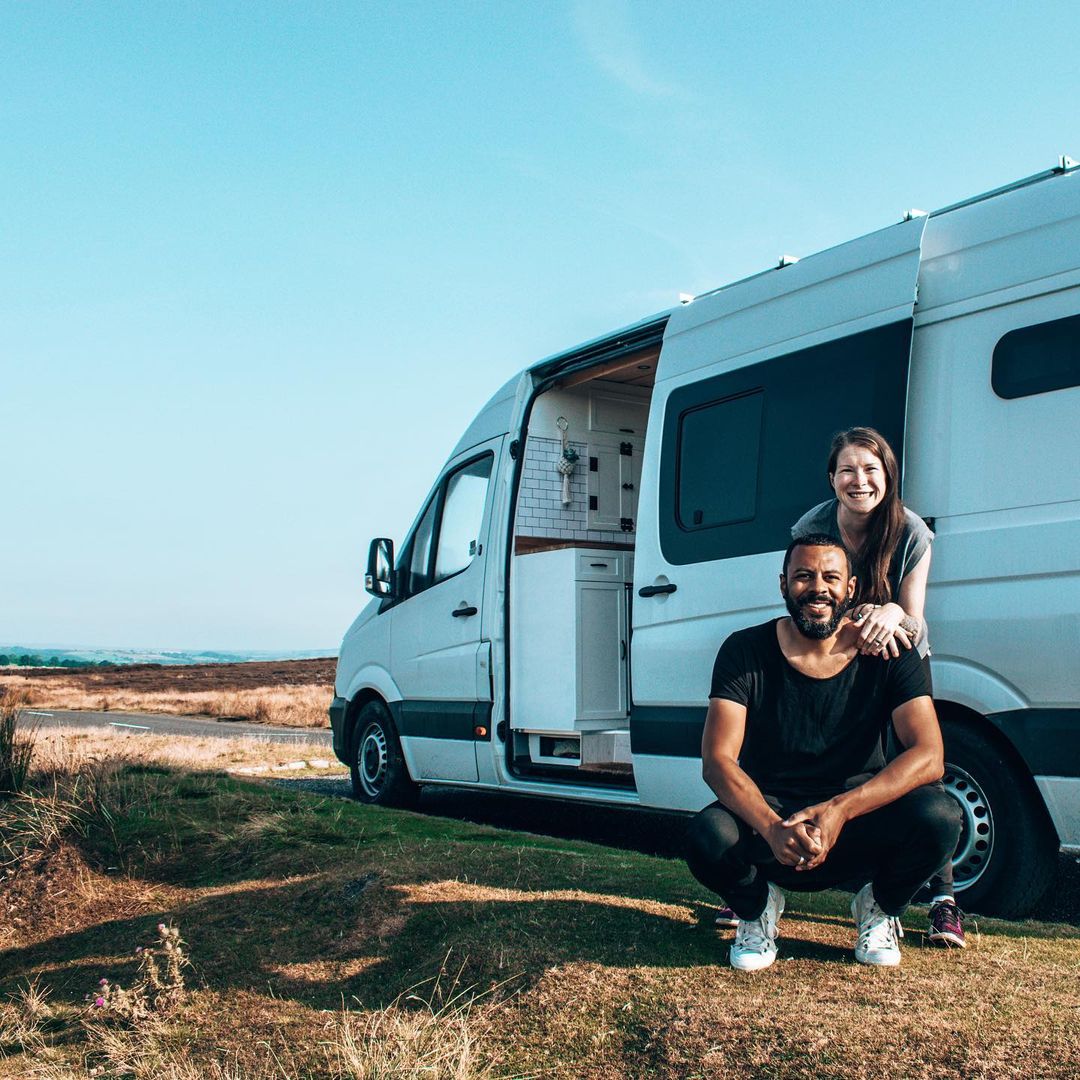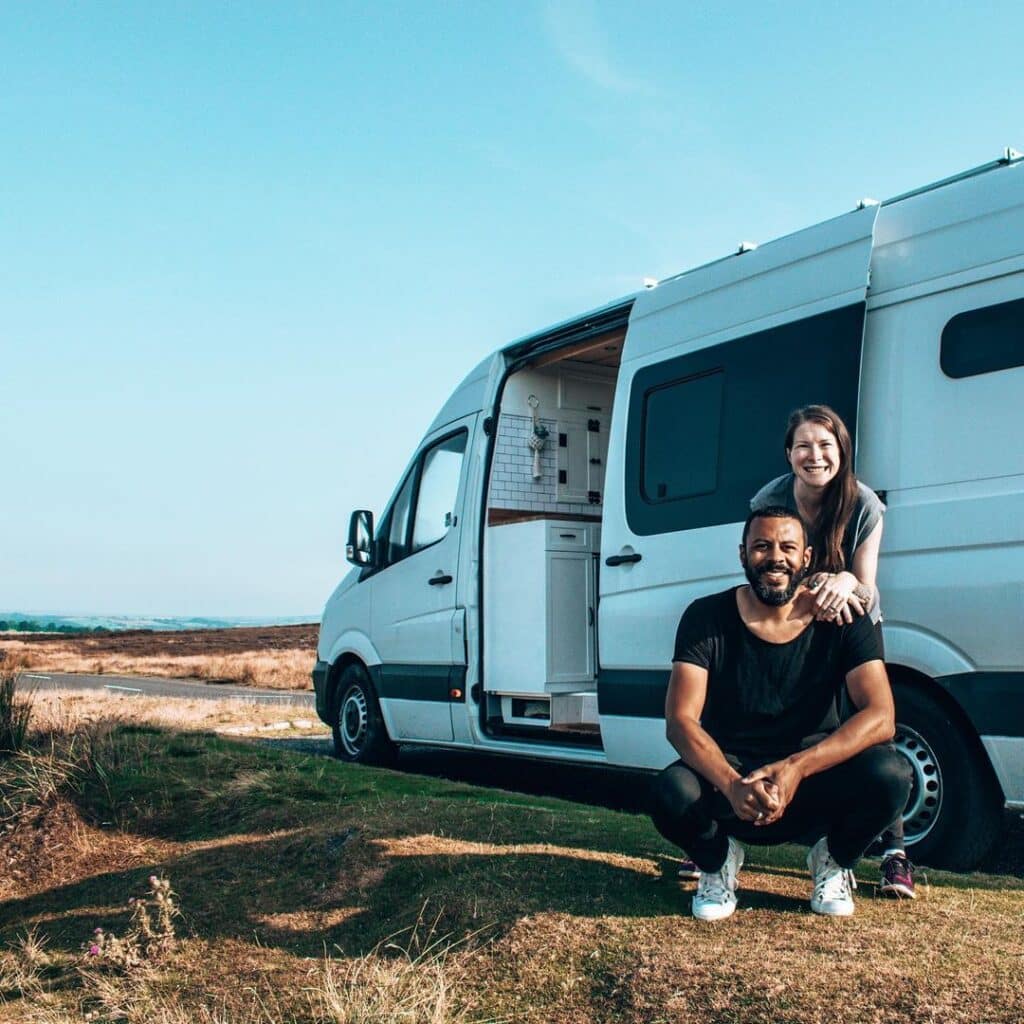 James and Sarah converted a 170″ wheelbase Sprinter van themselves to live in full-time while traveling the UK.
One of their unique decisions with their camper van build was to separate the living space from the cab with a bulkhead wall. This separation helps with insulation and gives the living space a homier feel. The wall also provided more space to build the van's kitchen and bathroom spaces.
The partition wall includes an overhead storage compartment and a window hatch that allows access to the cab in an emergency.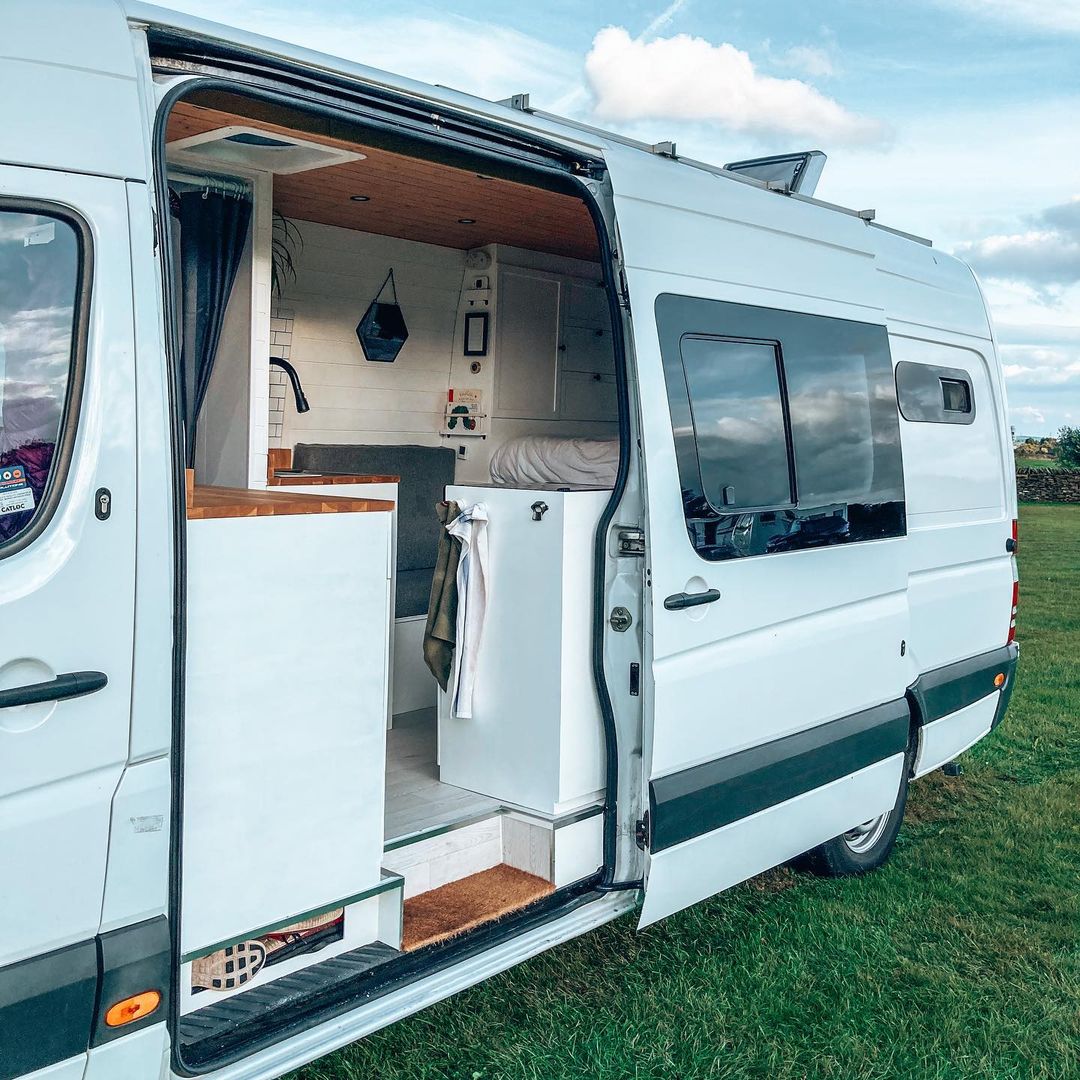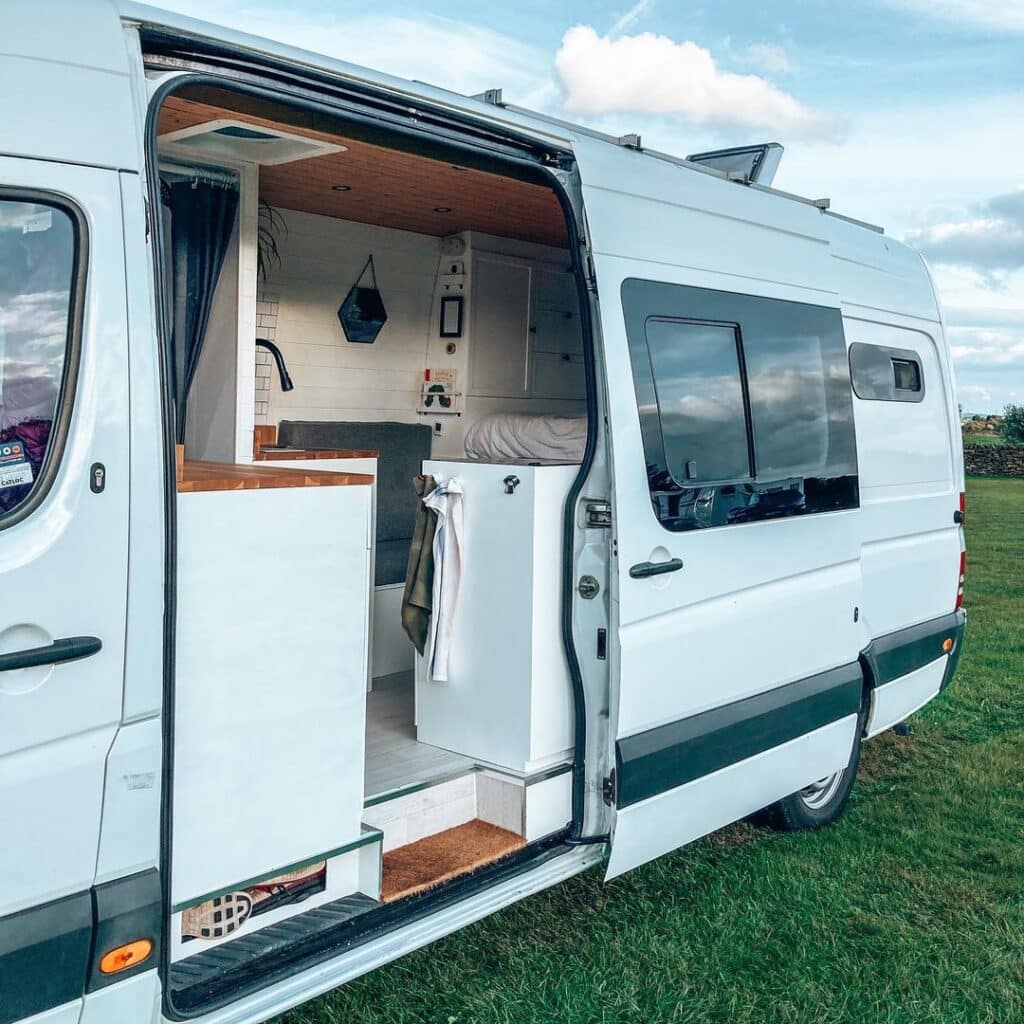 Because James frequently cooks, his Sprinter conversion needed to have all the conveniences of a larger kitchen. The sink, stove, and fridge are all near each other for easy access to everything, spaced out in a triangle with enough room between each so it doesn't feel crowded. The stove has three burners and an oven. The fridge is a front loader with a small freezer.
The camper van has a wet bath with hot running water and a portable toilet.
Beyond the kitchen is a lounge area with bench space the couple uses to eat, work, and relax. A table is stored on drawer slides and slides out into the lounge area for a dinette layout. The area also converts into a sofa/guest bed.
Behind the lounge area is a full-size fixed bed with a closet and drawer system running along one wall for clothing storage.
6. This high-security Sprinter camper conversion from Ady and Teresa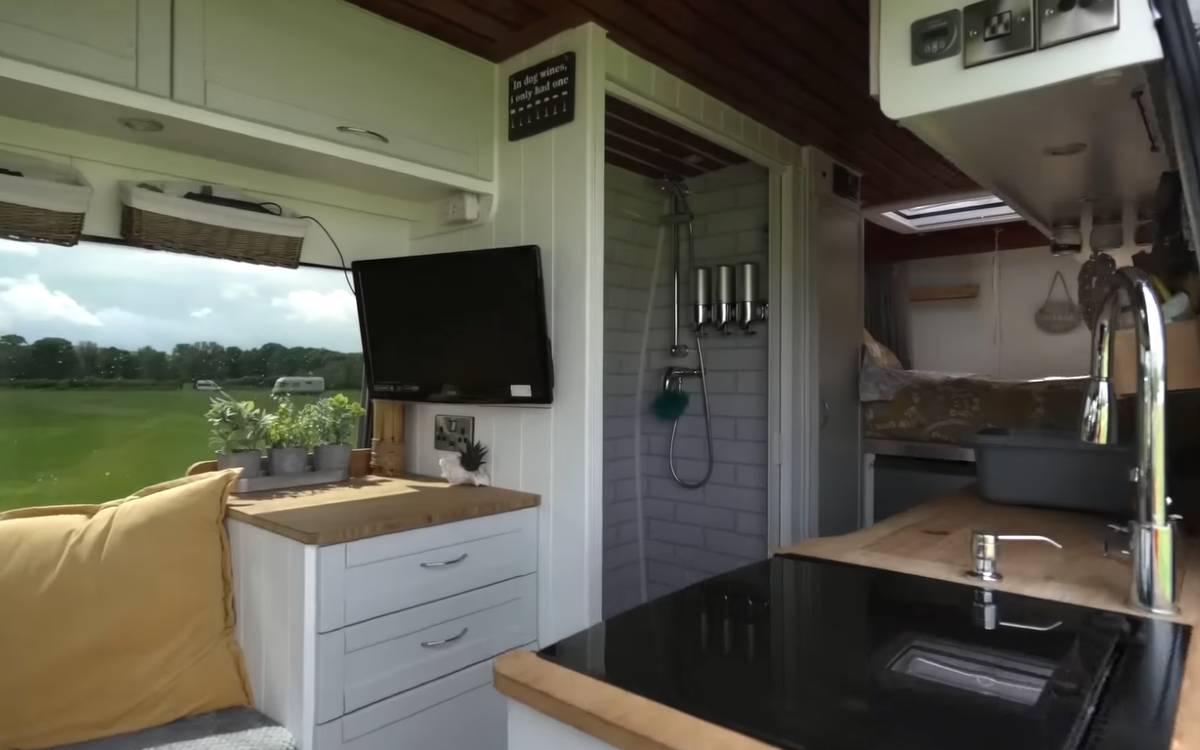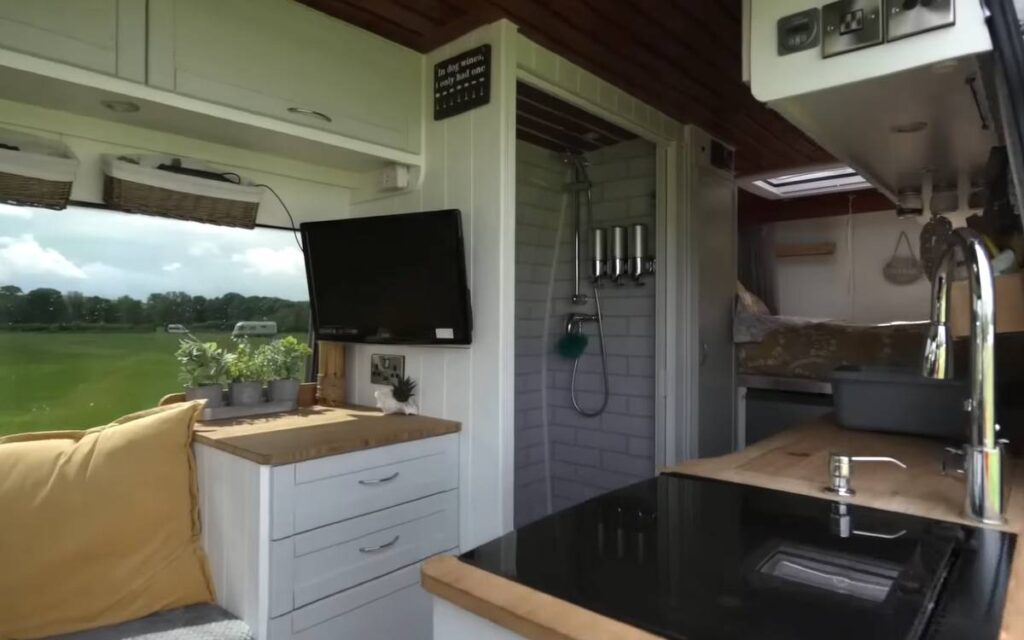 Ady and Teresa built out a 2015 Mercedes Sprinter high roof passenger van with a 170″ wheelbase. The couple is in their 60s and saw this project as an investment in their retirement. The van will be used for their long-term van life trips.
The front seats are both on swivel mounts, opening up the living space and providing an area to eat and lounge. There is also a bench seat behind the driver's seat.
This Sprinter camper conversion has a shower with hot running water. A portable toilet is in a cabinet beside the shower space. The toilet can be pulled directly into the shower from the cabinet, which we think is a convenient storage solution for this space.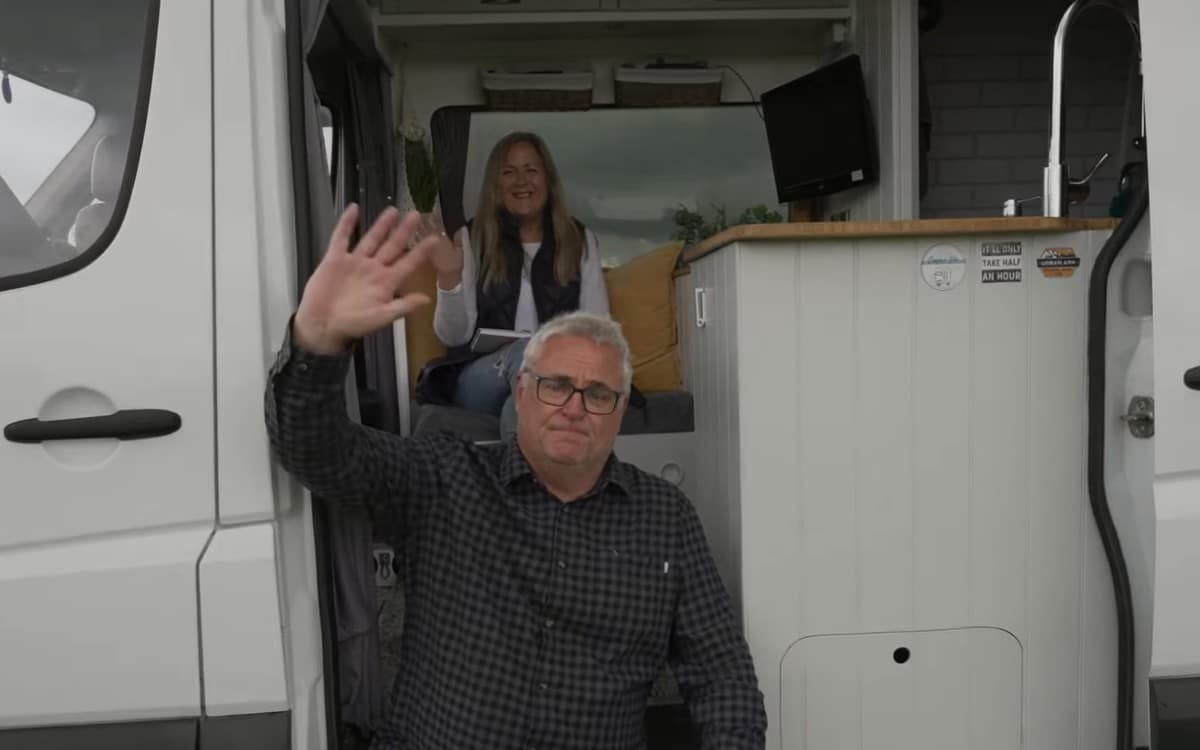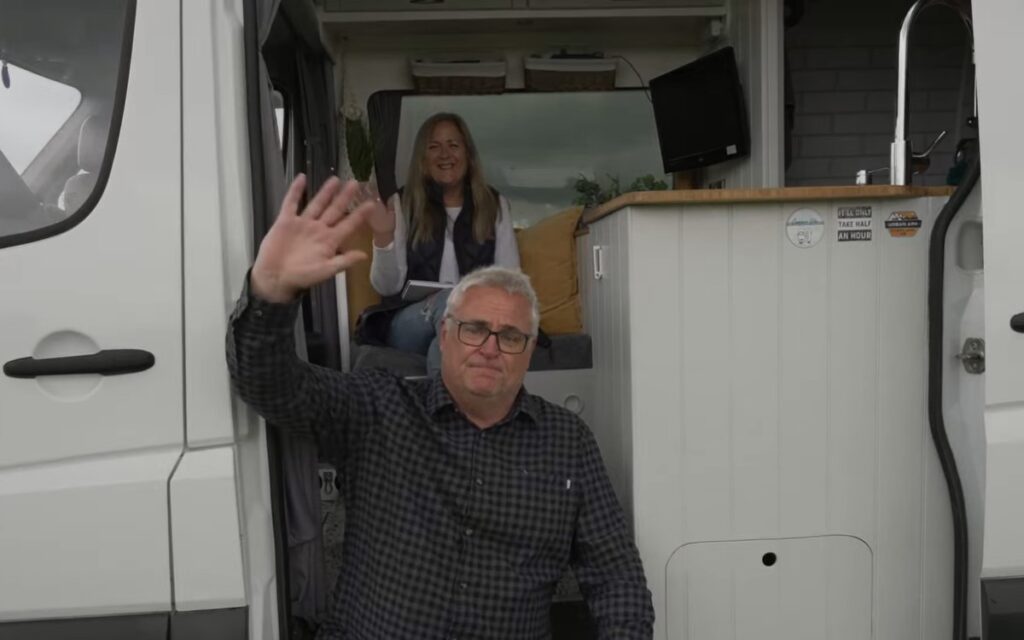 By the side door, there is a range built-in with a 4-burner stove and an oven. Next to the oven is a deep sink with a cover that can be used as a cutting board. Ady advises anyone thinking about building out a van to think of every aspect like a Swiss army knife – everything needs two or three uses, or you'll quickly run out of space.
For security, Ady installed 4-way cameras around the Sprinter van's exterior, with a monitor inside to view the footage.
The bed is fixed in the back with a skylight, with plenty of storage in the garage for the electrical system, water storage, and other gear.
7. This DIY Sprinter van conversion with a motorized bed from @benzson_the_van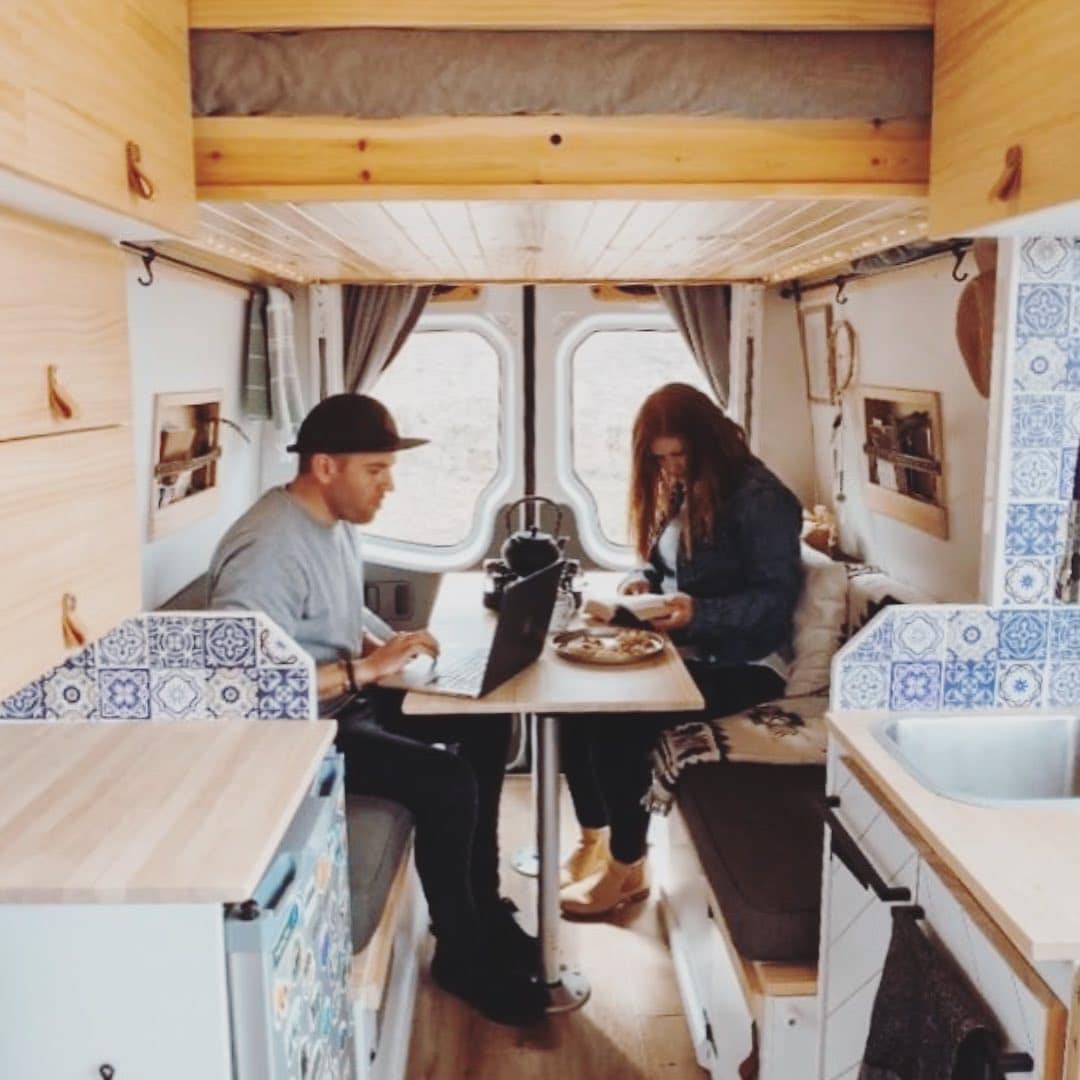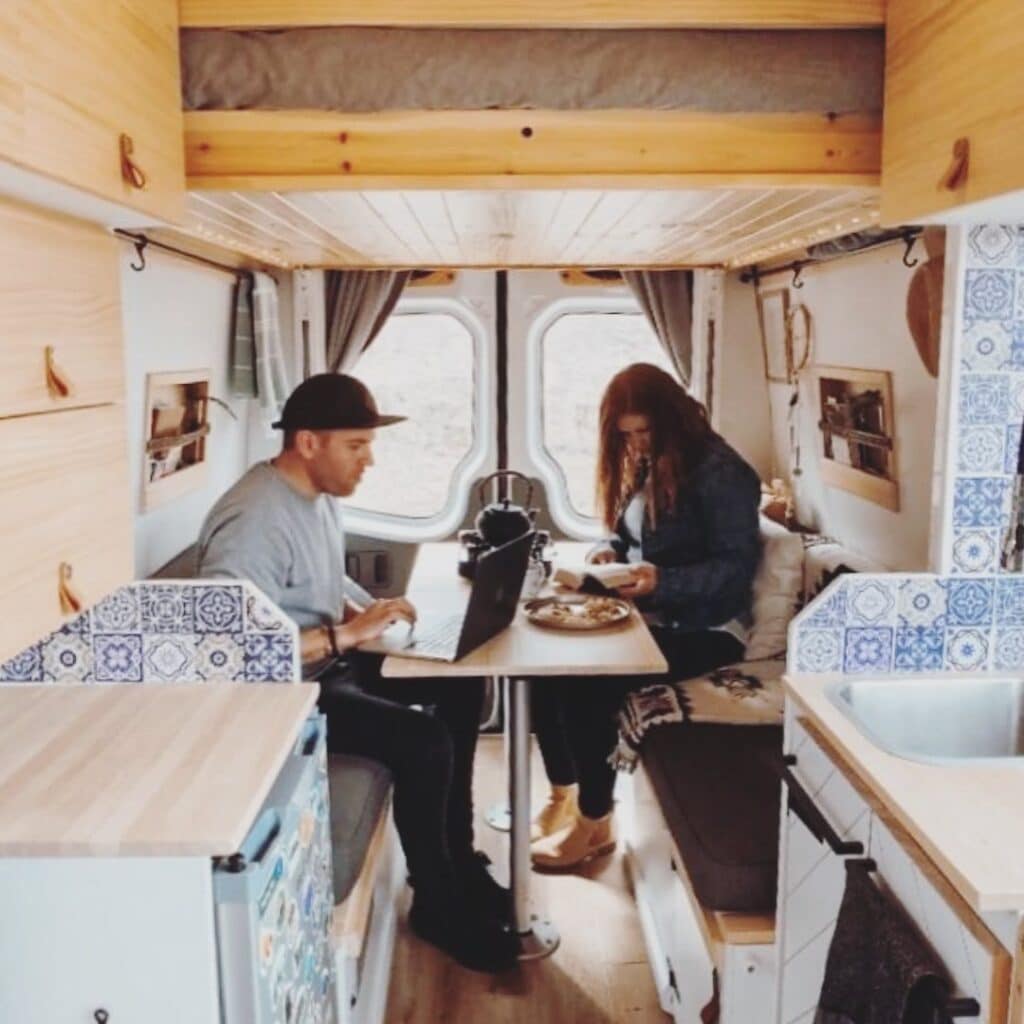 Cam and Em converted a 2008 Mercedes Sprinter with a 144″ wheelbase and a high roof. They built out their camper van conversion in bits and pieces over two years. The couple had lived in a few other camper vans, so they built their current converted van around must-haves based on past experiences. One of the essentials for their new DIY build was a bed that didn't have to be packed away daily.
Behind the driver's seat is a two-seater bench that folds down from the wall and allows the couple to accommodate two other people on the road.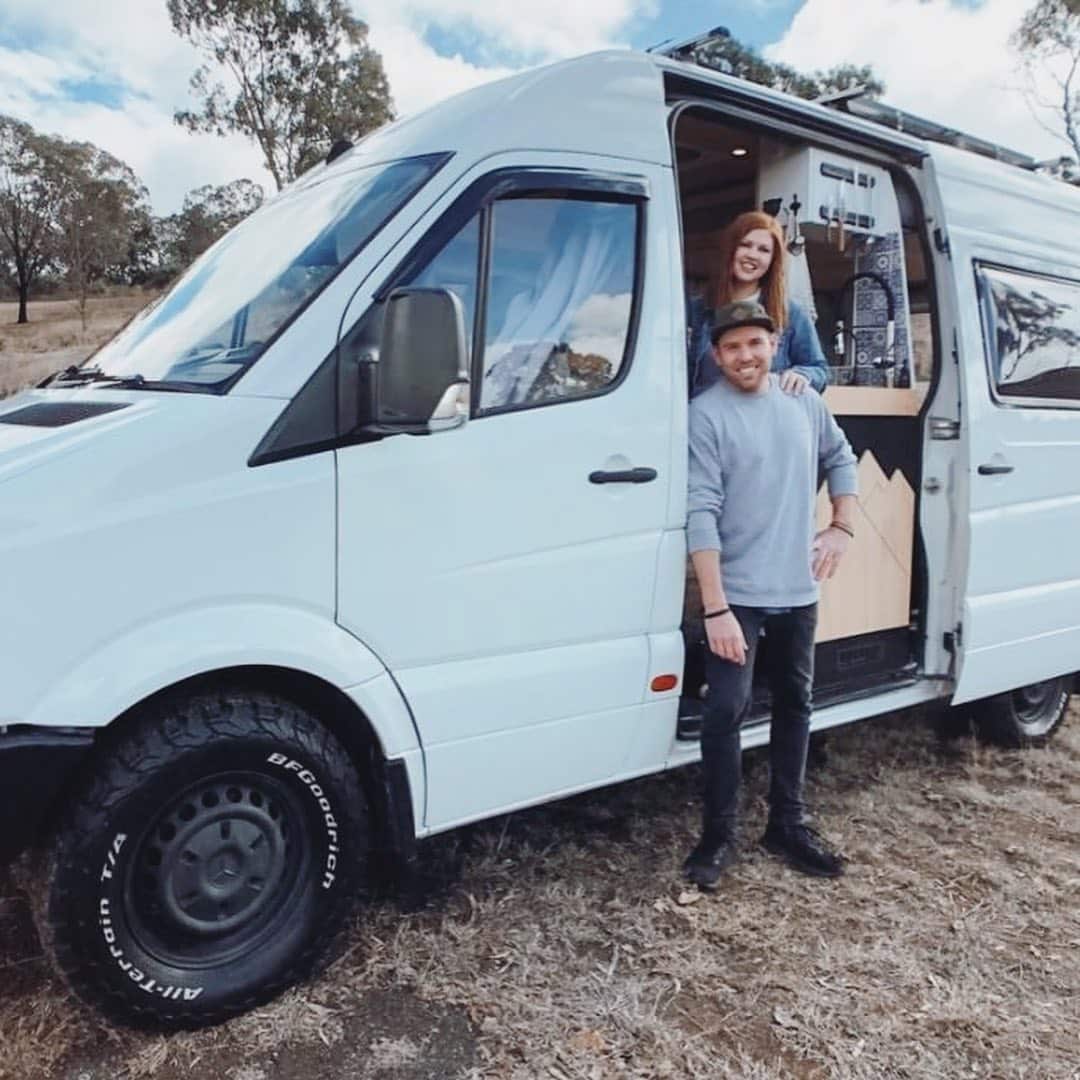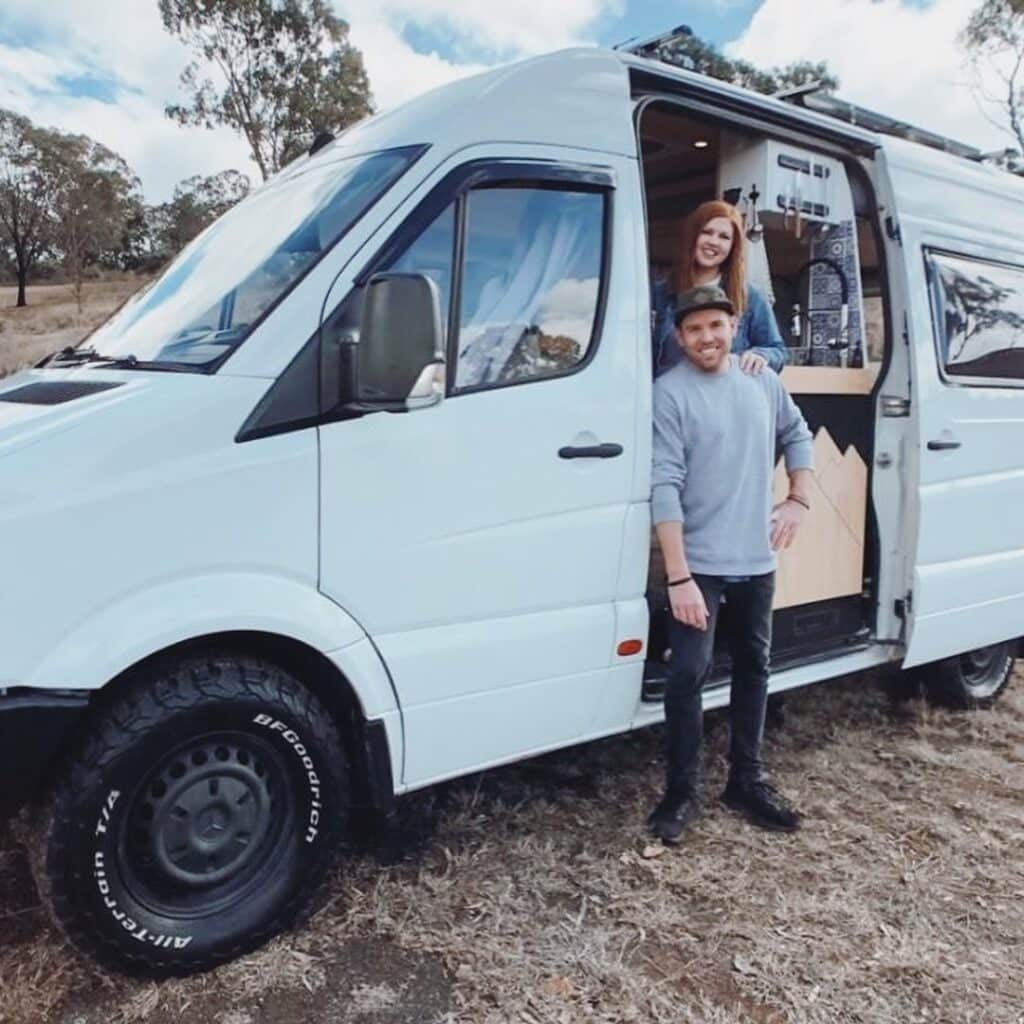 The lounge area in the back of the van has bench seats that store a toilet, water tank, DIY camper van electrical system, and table setup. Two table mounts screw into the floor. The tables can be latched together to create one big table which can seat up to 8 people.
An electric motor lifts the bed up to the ceiling during the day. The bed can be lowered at night over the lounge area, already made and ready to go. The bed is about the size of a full and runs lengthwise along the van. The bench seats in the lounge can also be used as guest beds if the bed isn't lowered, creating a bunk bed-type setup.
8. This work-focused Mercedes Sprinter camper van conversion from @yukonvan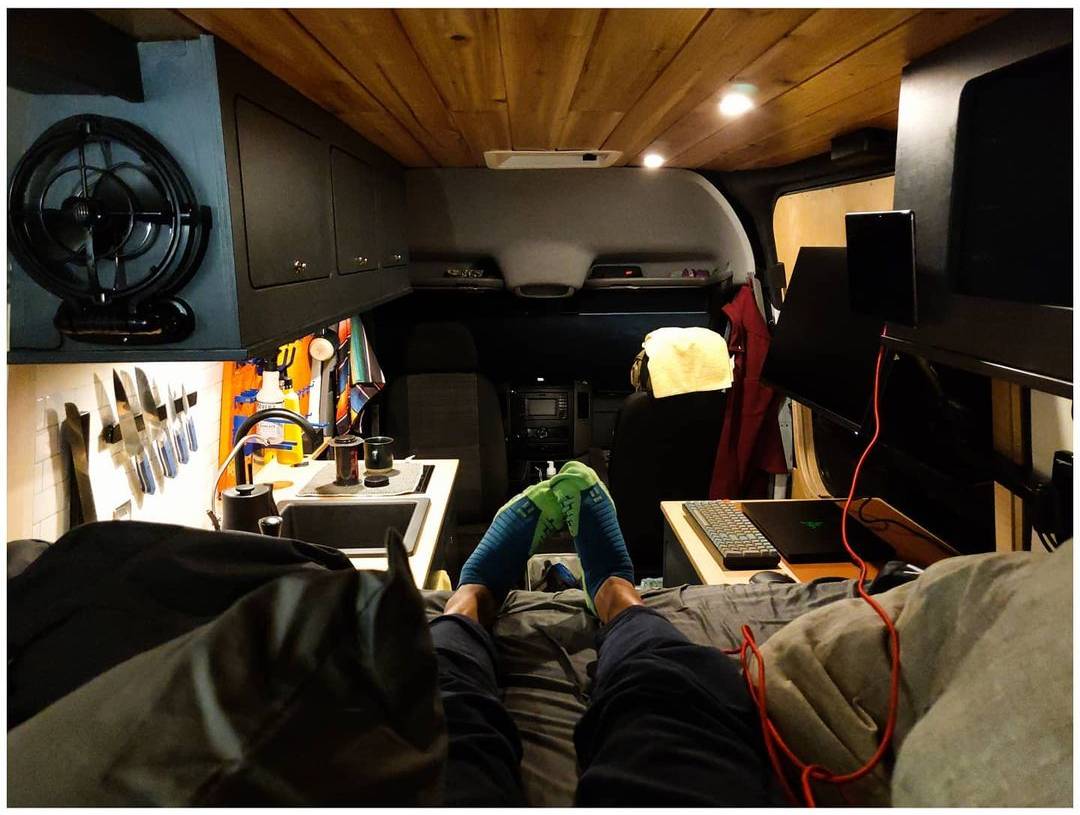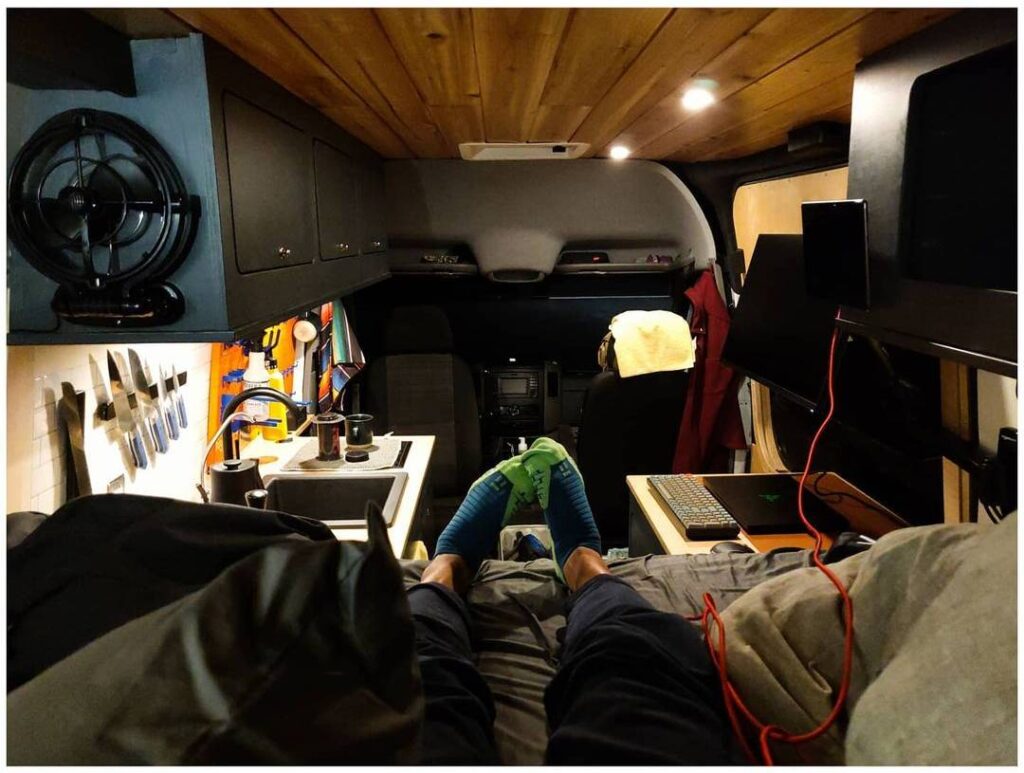 John converted a 2015 Mercedes Sprinter van with a 144″ wheelbase and a high roof into a DIY campervan for full-time van life and to work out of on the road.
Because John does mobile IT work out of his Sprinter van, there needed to be an efficient solar system installed on his custom van. He has 600 watts of the best campervan solar panels on the roof and opted for tilting solar panels to optimize conditions and get as much sun as possible. There is a battery monitor by the side door entrance so that John can see how much power he has available.
John's favorite feature of his Sprinter van conversion is his workstation, set up by the side door entrance. This includes a standing desk, a 27″ monitor mounted on an articulating arm, keyboard, laptop stand, and two laptops.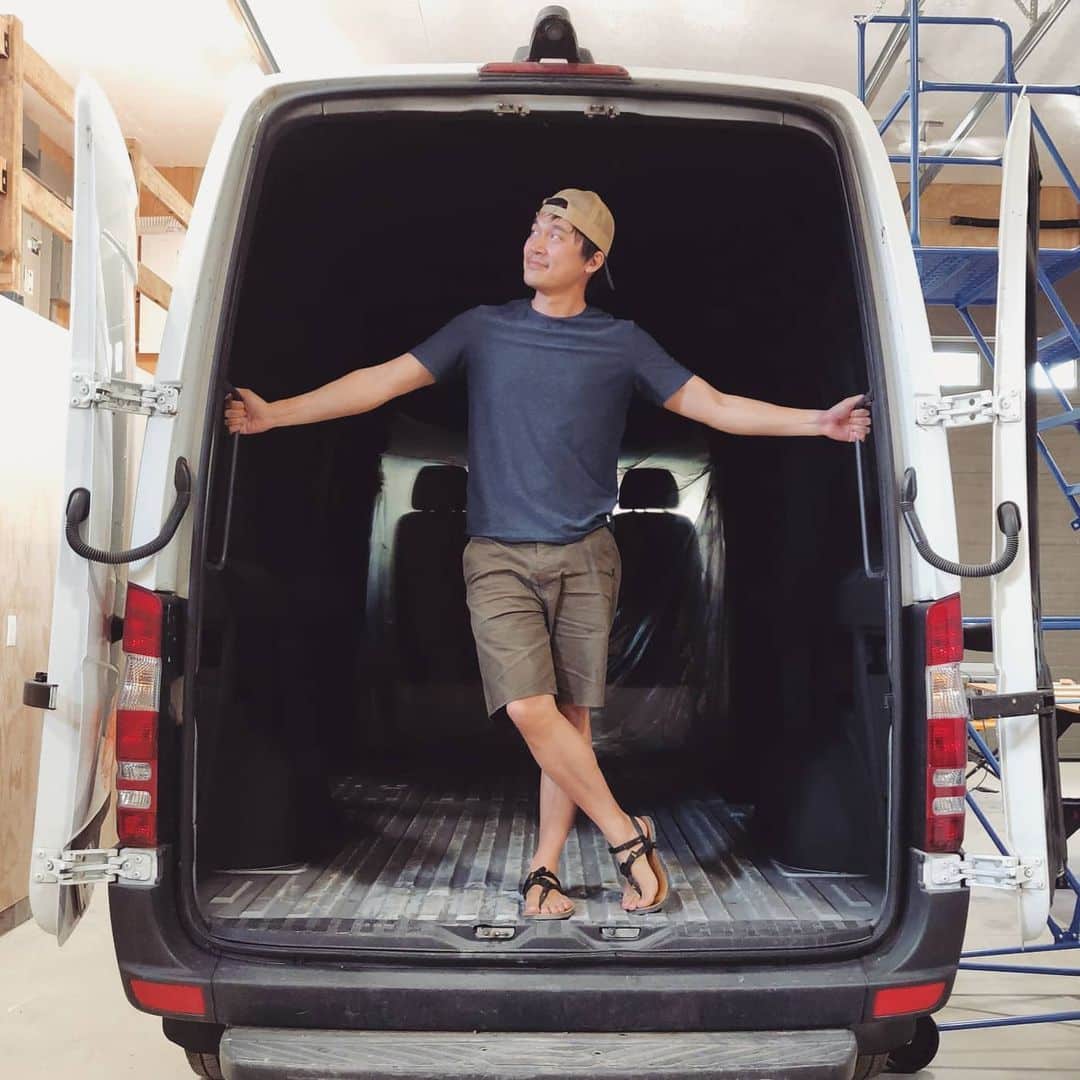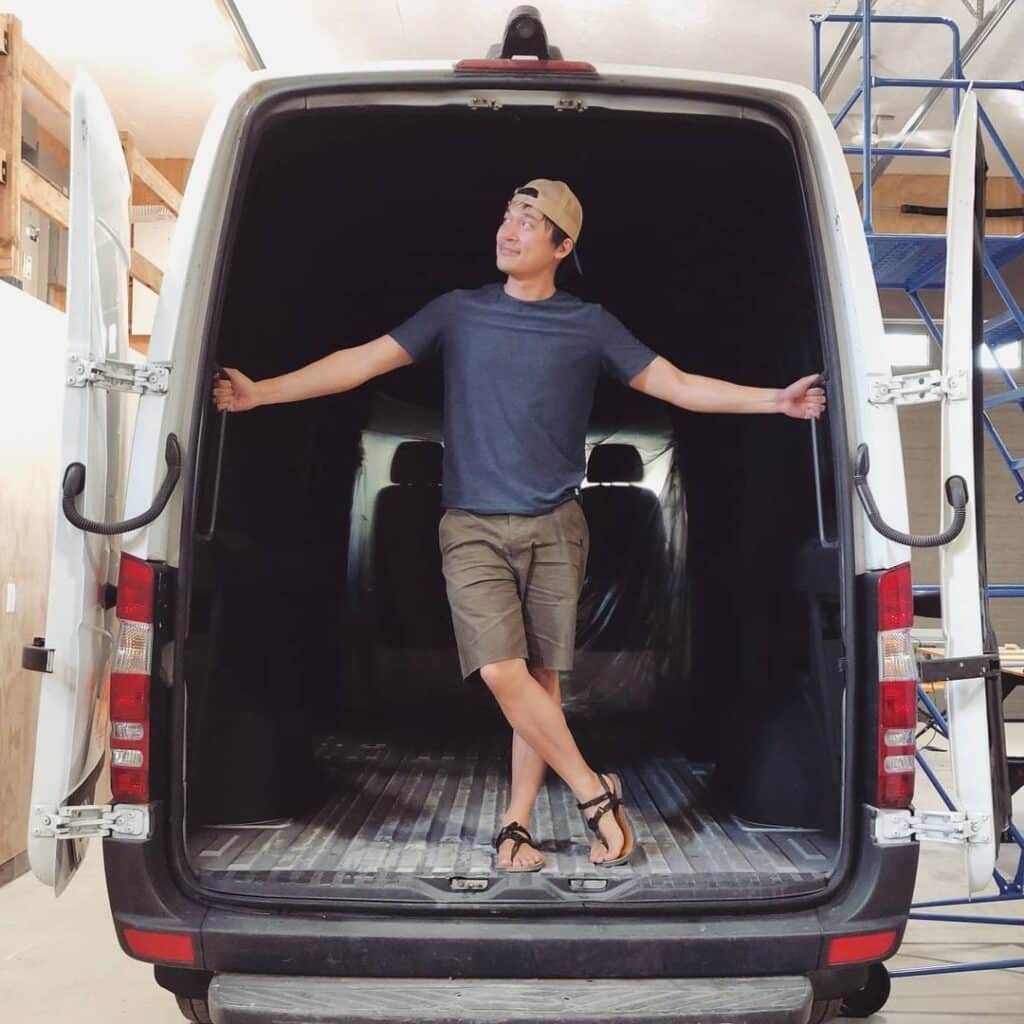 The kitchen has an induction cooktop, a sink with running water, a hot water tank, and plenty of storage for pantry items and kitchen tools and appliances. Additional countertops pull out from the cabinetry to provide more space in the kitchen when cooking.
Both the driver and passenger seats are on swivel mounts. When John wants to eat or sit down and work, he sits in the driver's seat. With the seat facing the living space, he can pull out one of the additional counters and use it as a table.
9. This tiny home Dodge Sprinter conversion from @sonnysideup.co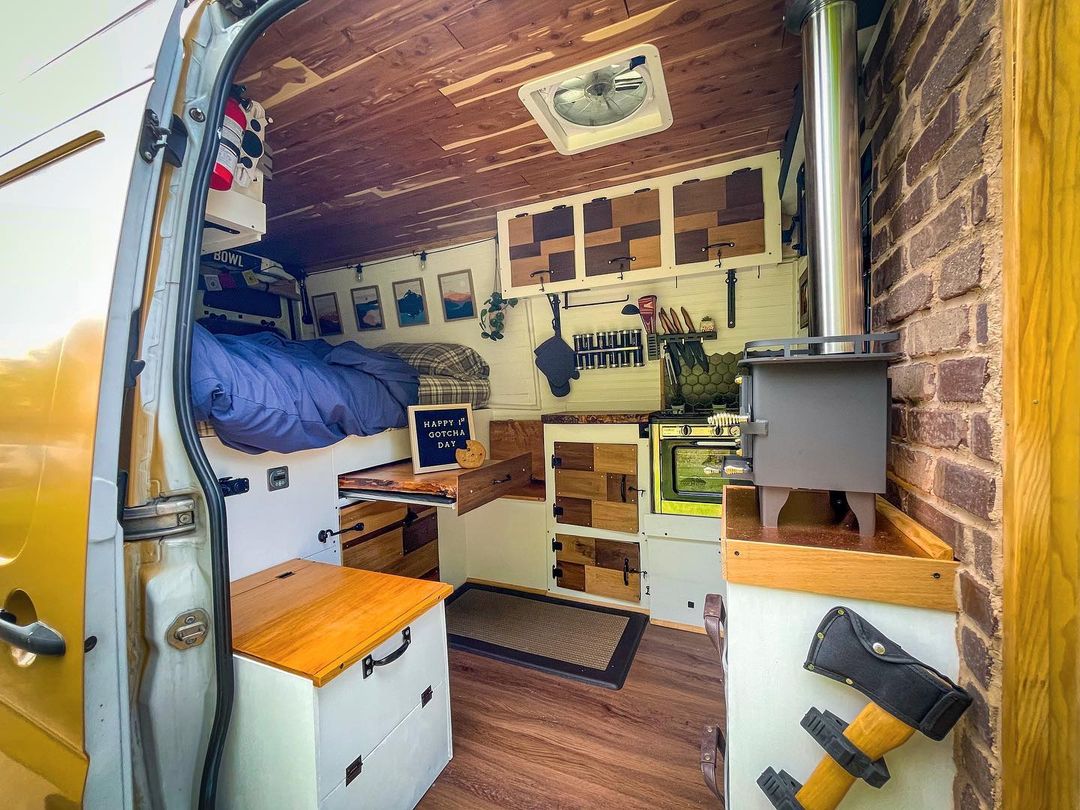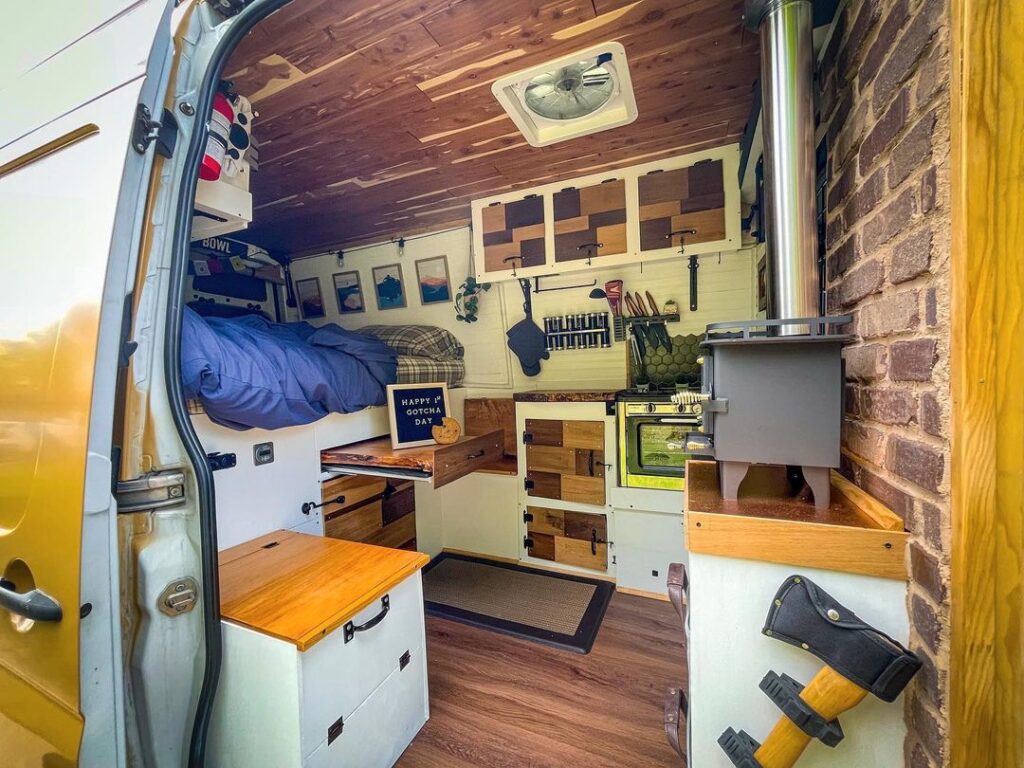 Jamie lives in her 2007 Dodge Sprinter van full-time in Denver. She loves camping and jumped into van life to get out in nature more often.
Her Sprinter cargo van build is uniquely designed, with a yellow exterior and a tiny home atmosphere inside. Jamie installed a bulkhead wall using real brick, giving the space a cozy feel. The cab can be accessed through the sliding barn door that separates it from the living space. Artwork is adorned in frames along the walls.
The side door entrance has a bug screen, allowing Jamie to keep the door open in the summer without bugs getting into the van conversion. A cubic mini stove by the entrance heats the van using little logs.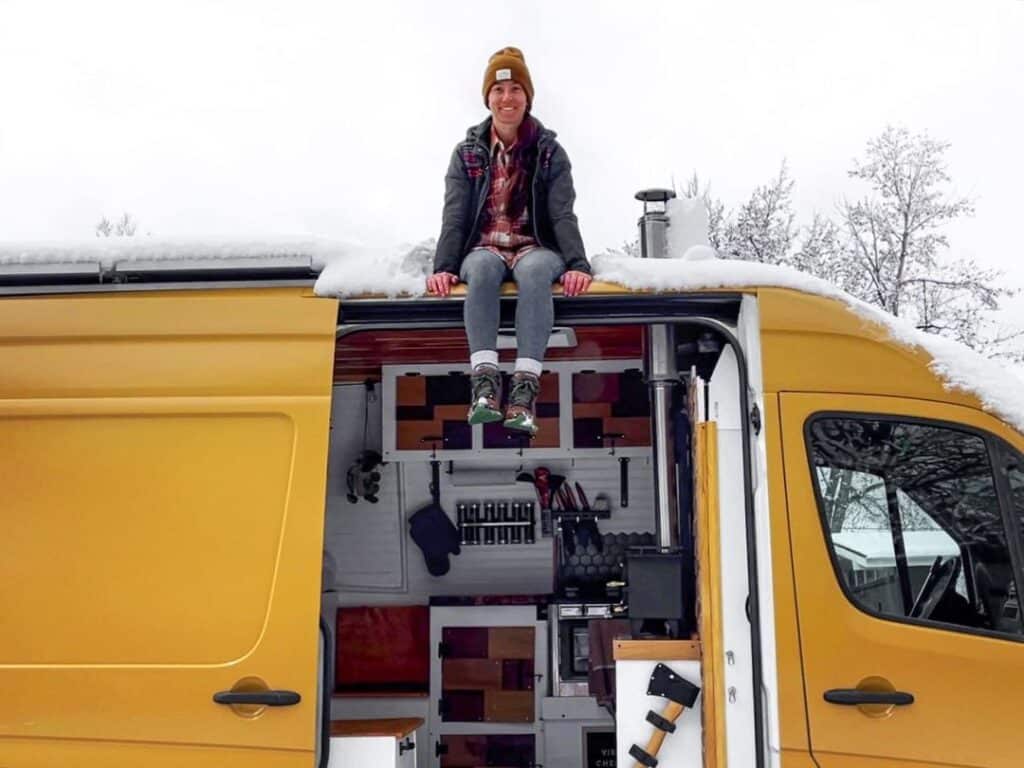 The kitchen features black subway tile and has a 3-burner stove and oven combo. A Dometic fridge/freezer combo slides out from under the bed when needed. Above the fridge is a pull-out table that converts the bench seats into a dinette setup.
Jamie has a 10″ full-size memory foam mattress running widthwise across the back of the van. It is fixed and provides a large garage that can be accessed from outside. Cabinets run along the passenger side of the bed for storage.
10. This professional Mercedes Sprinter conversion from Lauren and David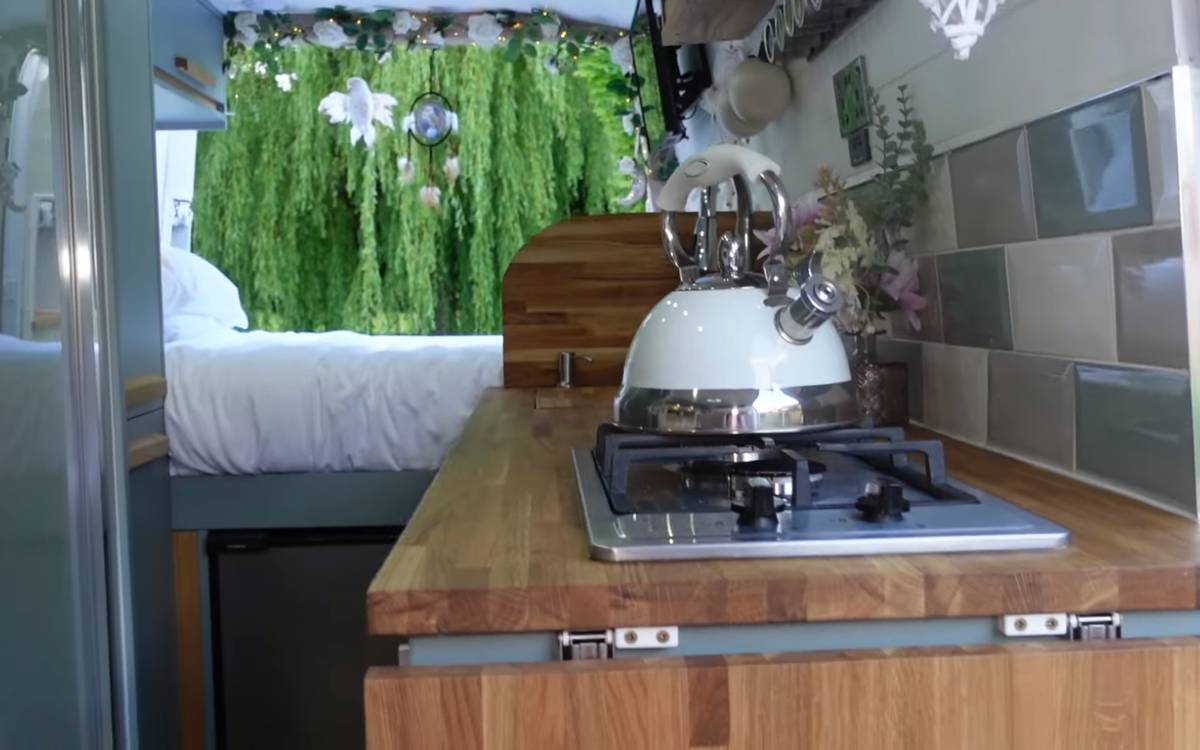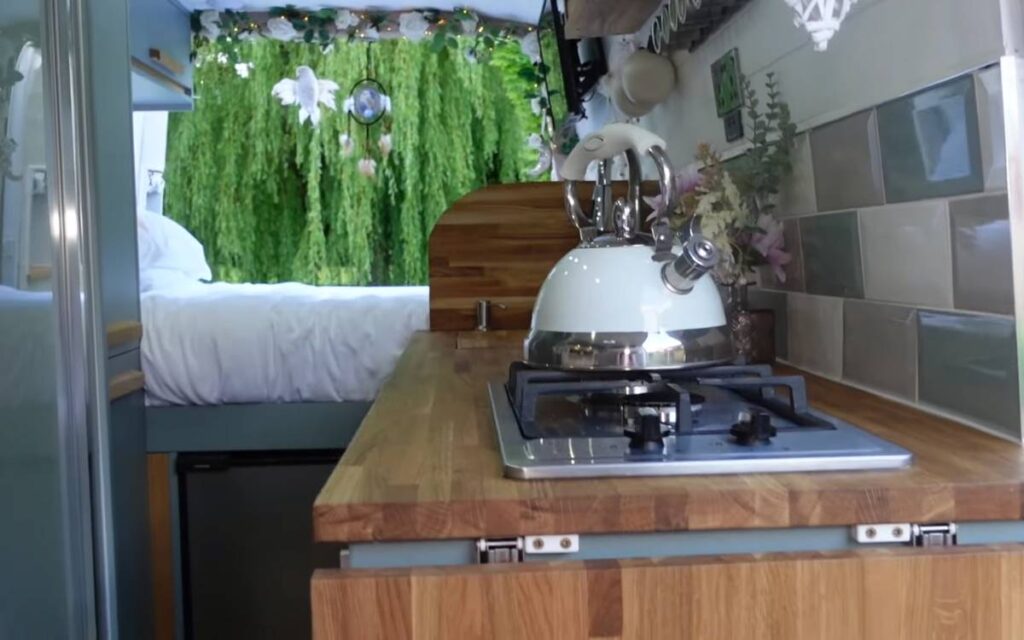 Lauren and David had their Sprinter van professionally converted into a camper van so they could travel in it full-time. Their custom build has a unique layout that includes a lounge space by the side door entrance to the living space.
The living space is sealed off from the cab with a bulkhead wall. The wall enables an L-shaped sofa to fit comfortably alongside it. There is a window on the other side of the lounge space, meaning the couple can enjoy lovely views on either side of the camper van when the side door is open. We love how much natural light this allows into the living space. There is also a flip-up countertop by the side door, creating a space for working or cooking.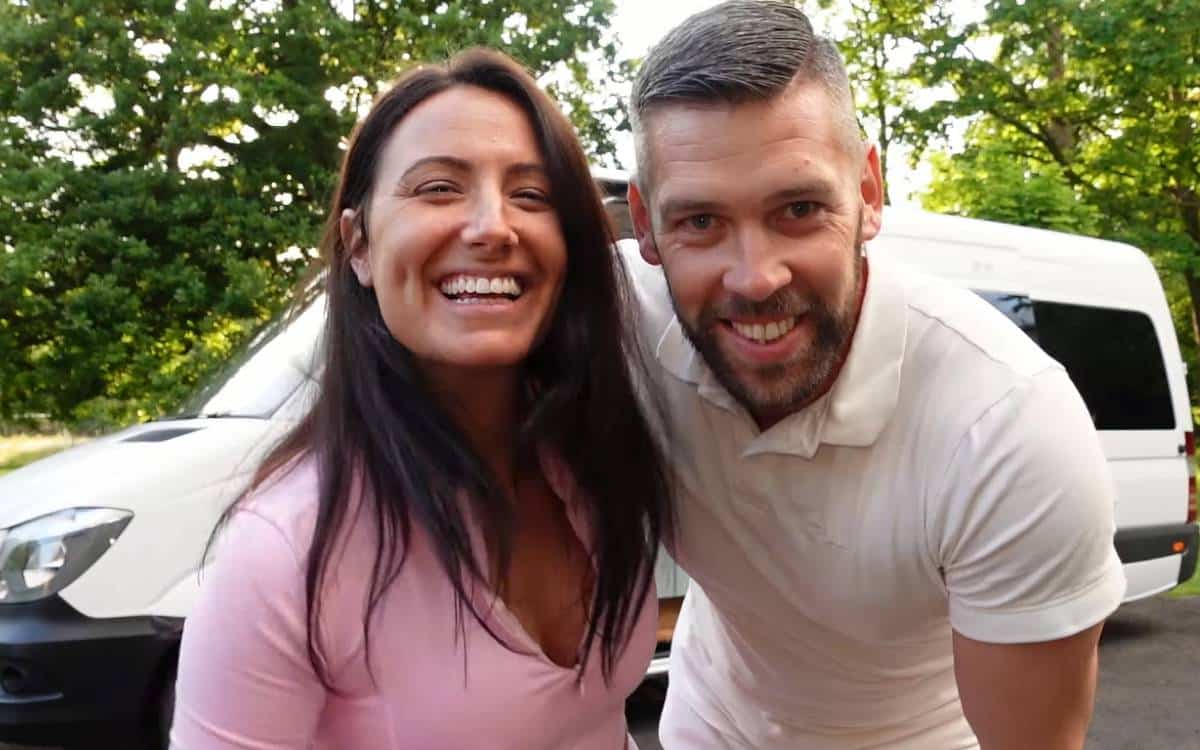 There is overhead storage that extends into the cab from the bulkhead wall and cabinets that line the space above the sofa. The sofa can also be converted into a double bed to sleep guests. A table can be slotted in to enjoy meals in this area.
In the kitchen, there is a gas stove and oven combo. The sink has a fitted cover which creates additional counter space when the sink is not in use. The van's bathroom has a shower, toilet, and full-length mirror. The bed is fixed widthwise across the bed, with storage cabinets for clothes running along one side.
11. This Mercedes Sprinter DIY build on a budget from @vankookz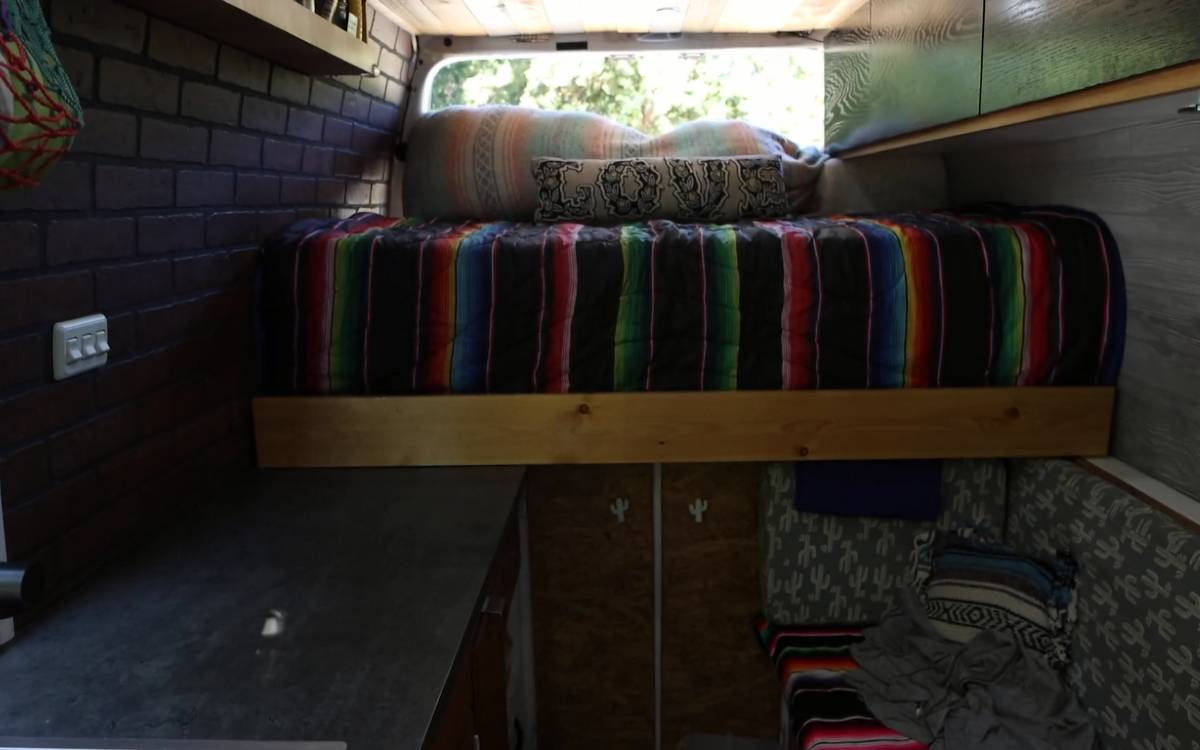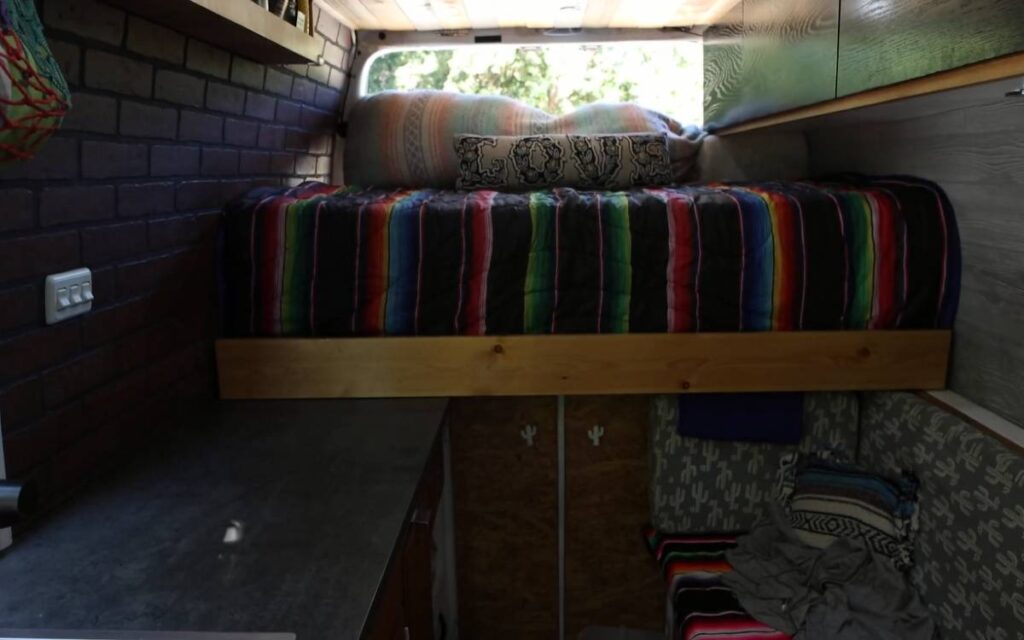 Kevin and Dani converted their 2007 Mercedes Sprinter van on a budget and have lived in it for three years (so far).
They built the cabinets themselves, opting to make slide-out drawers within the cabinets to keep their items organized and easily accessible. Their composting toilet is stored in one of the cabinets and can be slid out when needed.
From the side door entrance, there are kitchen and lounge spaces. Because of the placement of the sink by the side door, they can simply turn the faucet to face outside and pull the attachment out for an outdoor shower solution.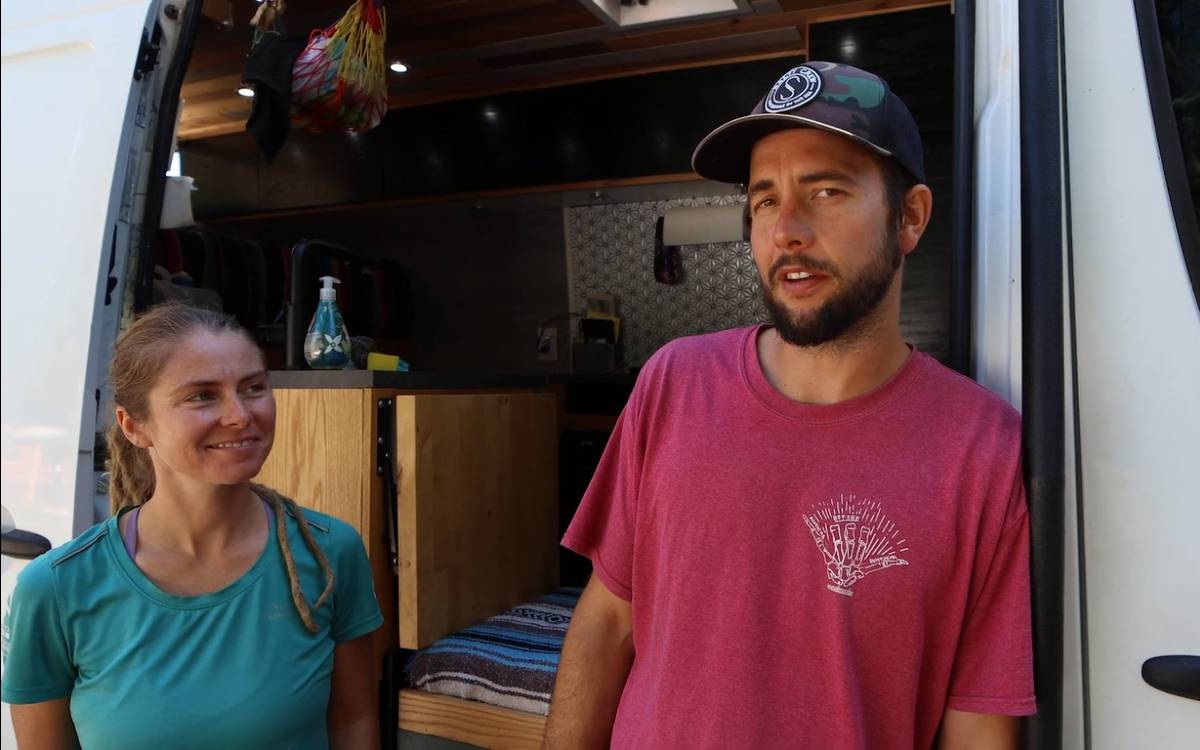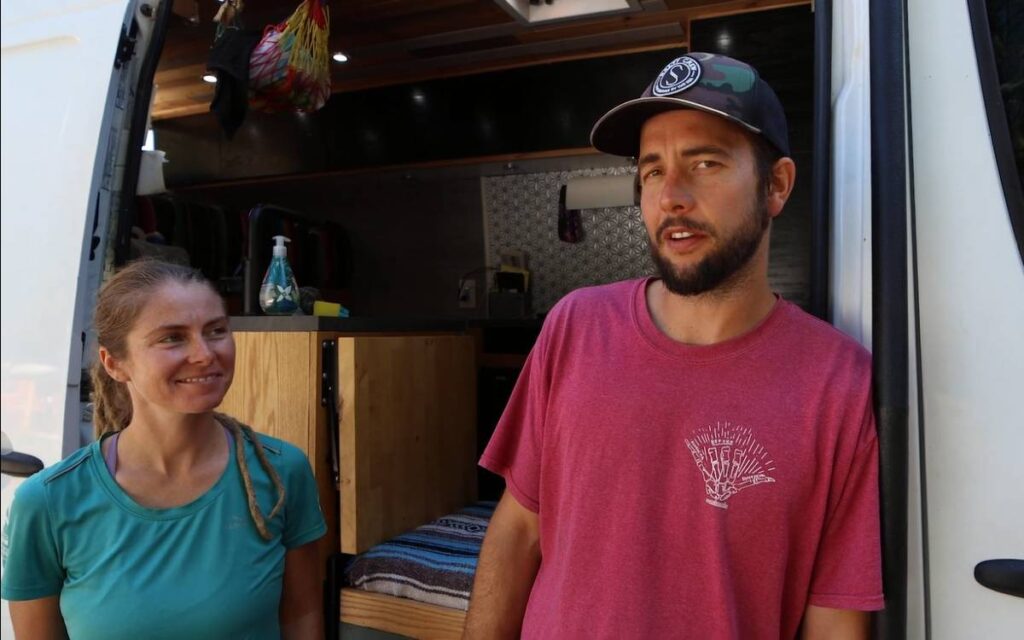 The bed is on a raised platform, providing plenty of garage storage for Kevin and Dani's bikes and gear. The bed frame has slats that extend into the kitchen/lounge space like a drawer. The mattress is cut into two pieces, so the second mattress piece can be placed in the space once the frame is extended.
This is a great budget bed solution, especially for people choosing between a fixed bed and a convertible dinette for their van conversion. It gives you the best of both worlds – more living space during the day without requiring much work to set up your bed at night.
12. This $1200 minimalist Mercedes Sprinter van conversion from @sergeiboutenko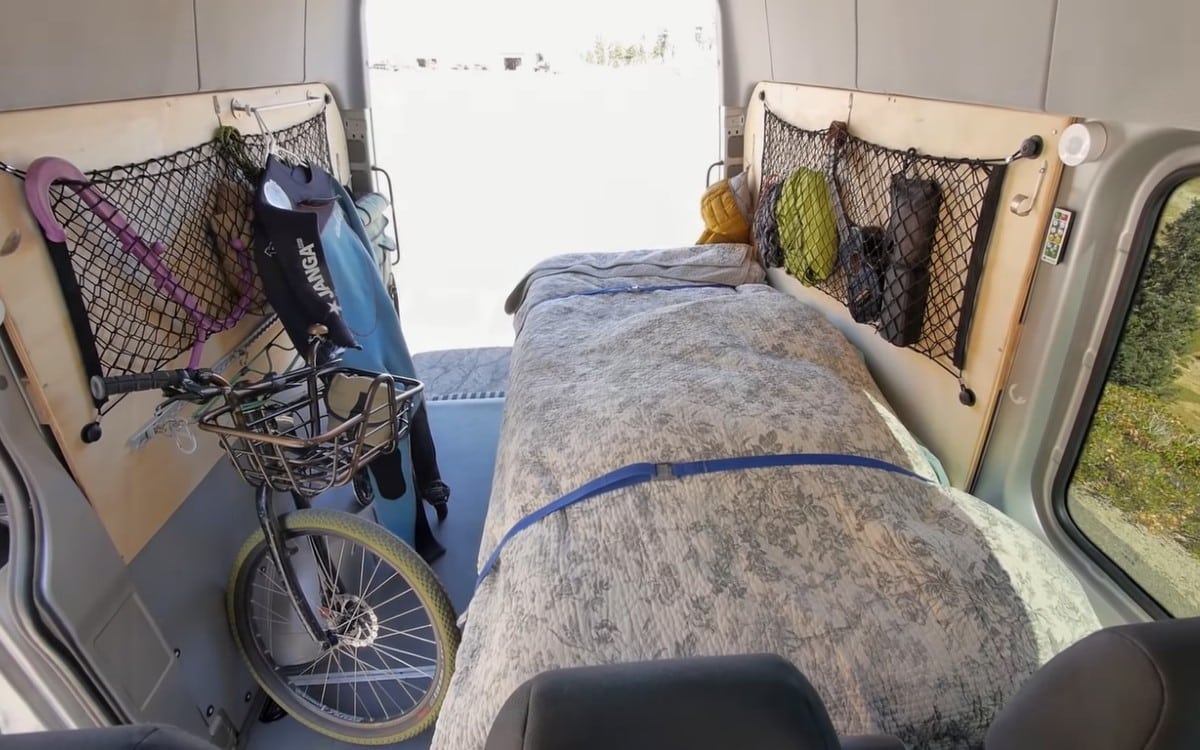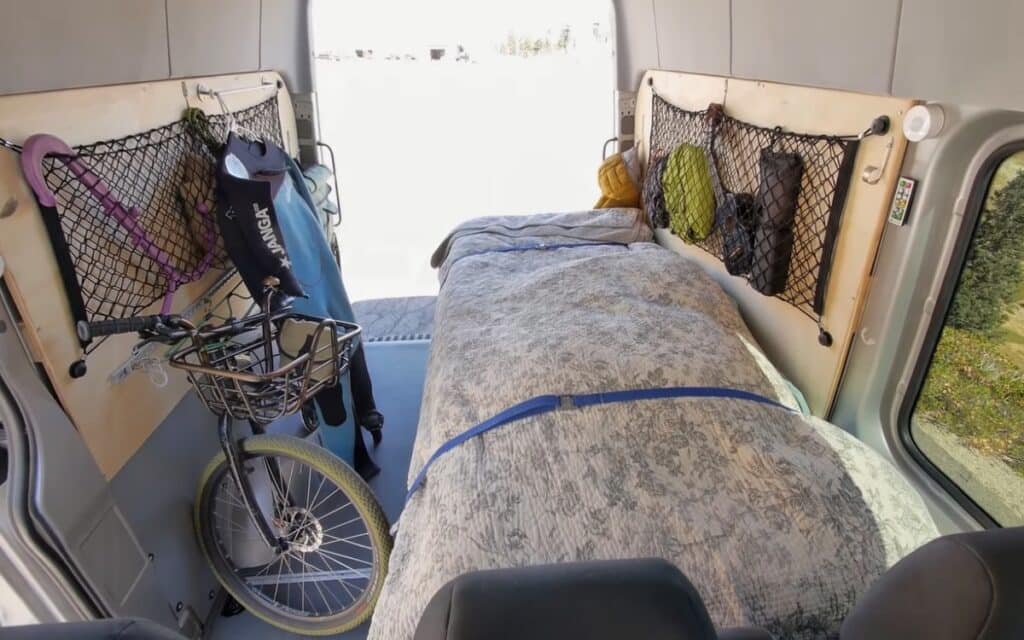 Sergei built out his Sprinter cargo van conversion for work and van life adventures. He was spending a lot on hotels during book tours and film assignments, so he decided to convert a Sprinter van to save some money. Professional Sprinter van conversion companies were outside his budget, so he built his own van into a custom build.
Sergei opted for a minimalist layout for his Sprinter van conversion, spending only $1200 on the build. He needed a layout that wasn't permanently built-in so that his van could transport book shipments. Because of this, everything is removable.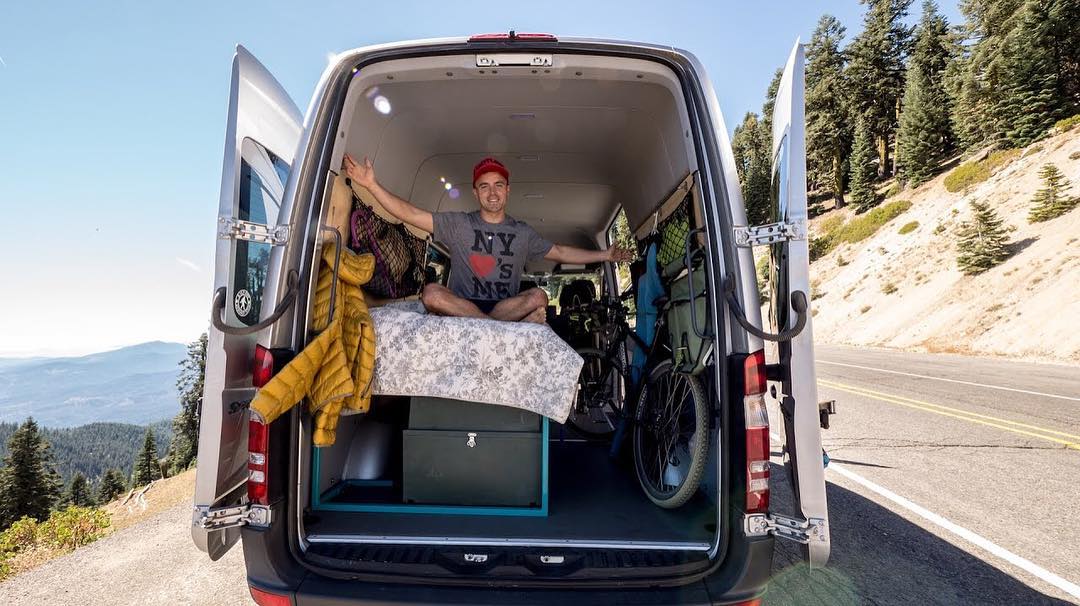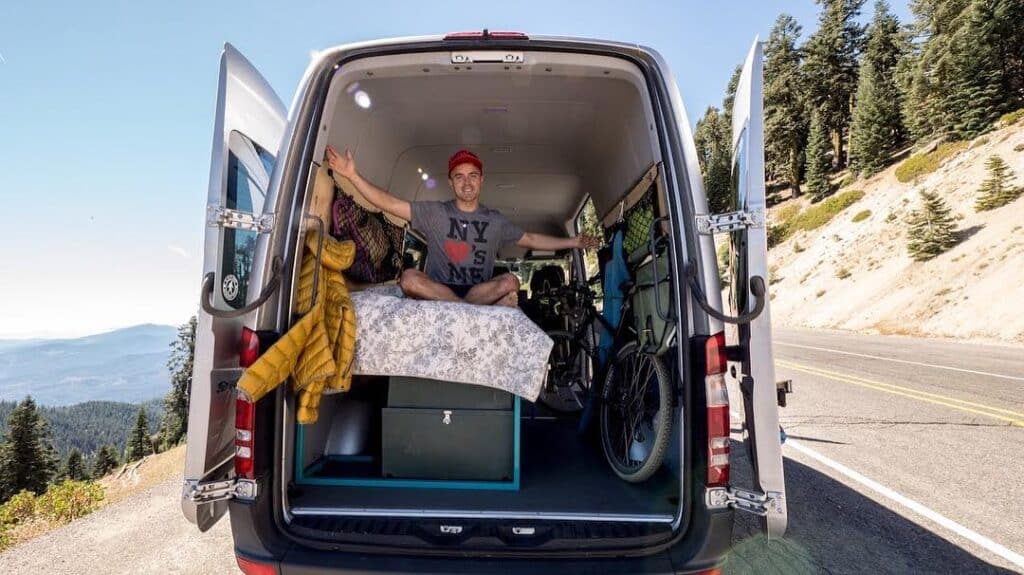 The bed is plywood with a metal frame, which anchors to the floor to prevent it from sliding around while driving. Sergei found an inexpensive twin-size mattress to go on top of the frame. Under the bed frame, there is space for storage. A couple of large crates that hold camping and emergency gear are stored in the space.
For the kitchen, there is a portable camp kitchen that fits in a plastic box with a stove and dishes all packed within it. Sergei can cook out the back of the van or on any nearby table.
For insulation, Sergei installed plywood along the sides of his Sprinter van conversion. The plywood walls also allow for storage hooks and nets, with a tether track that easily holds his bike in place.
13. This cat-friendly Sprinter van conversion from @the_moosecaboose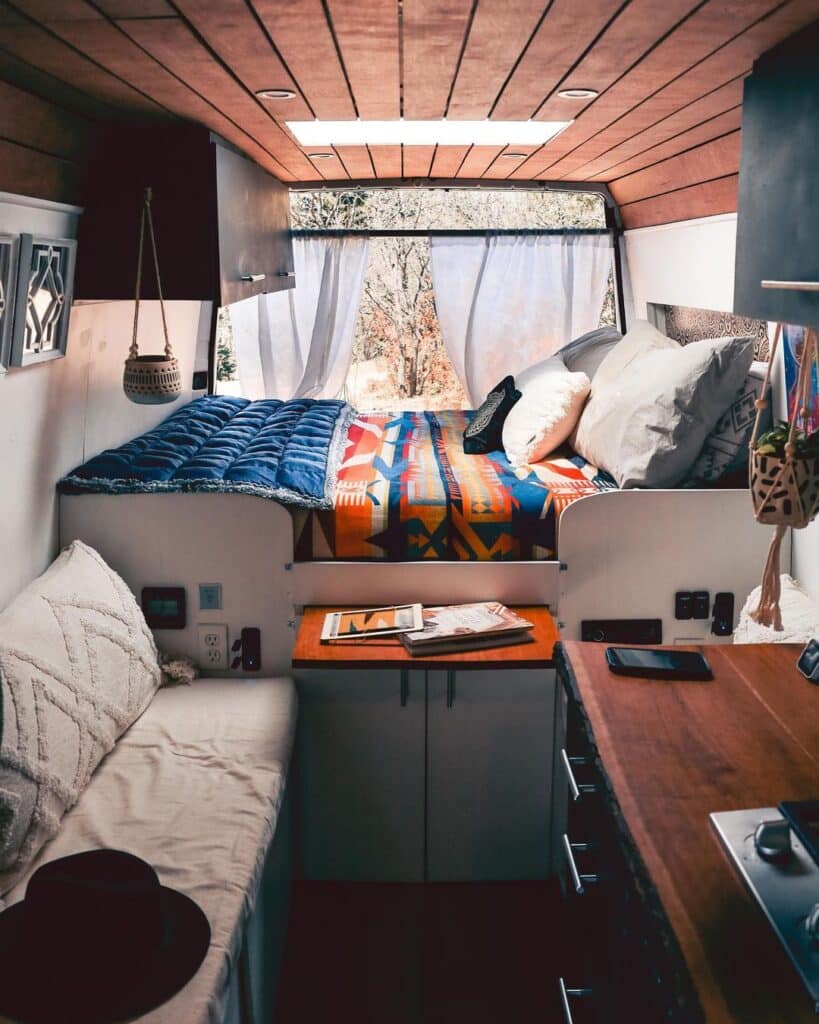 Ellie spent about two and a half months building her 2005 Sprinter van conversion for full-time van life with her cat, Moose.
Moose loves joining her on all their adventures. He has an automatic cat food feeder. His litter box is in the back of the van, accessible from a hole Ellie cut into one of the bench seats in the lounge space.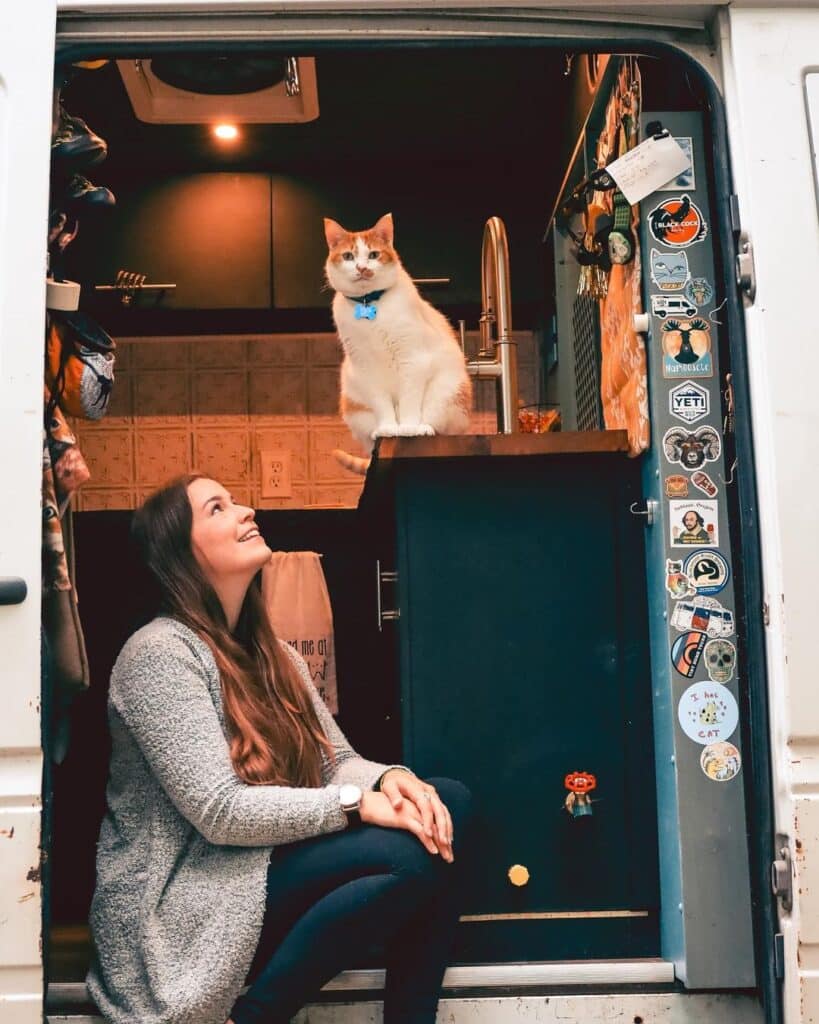 Ellie opted for a bulkhead wall separating the cab from the living space, allowing her to build an L-shaped kitchen by the side door entrance. The kitchen unit is behind the passenger seat, with a sink and a 2-burner propane stove installed on the counter. The fridge is on a slider drawer that can be pulled out for easy access.
There is a large bench in the lounge area on the passenger side that stores a cassette toilet and a smaller bench on the driver's side. A dining table pulls out from the fixed bed to create a dinette space. The space can also convert into a guest bed. A radio and a speaker system can be controlled from this area.
Build Your Van
The Ultimate Van Build Guide
Planning a van build? Read our free guide. We cover just about everything you need to know – from planning, to insulation, to solar and electrical, to picking appliances, to essential tools. Get started today so you can get out there on the road!