We are super stoked to introduce you all to Pete, Tay and Snoop from Always the Road! They are an incredibly talented and totally hilarious family of three, who are not only great musicians, they are also as handy as it gets. They built their beautiful home on wheels with their own two hands! Enjoy checking out their story!
Build Your Van
The Ultimate Van Build Guide
Planning a van build? Read our free guide. We cover just about everything you need to know – from planning, to insulation, to solar and electrical, to picking appliances, to essential tools. Get started today so you can get out there on the road!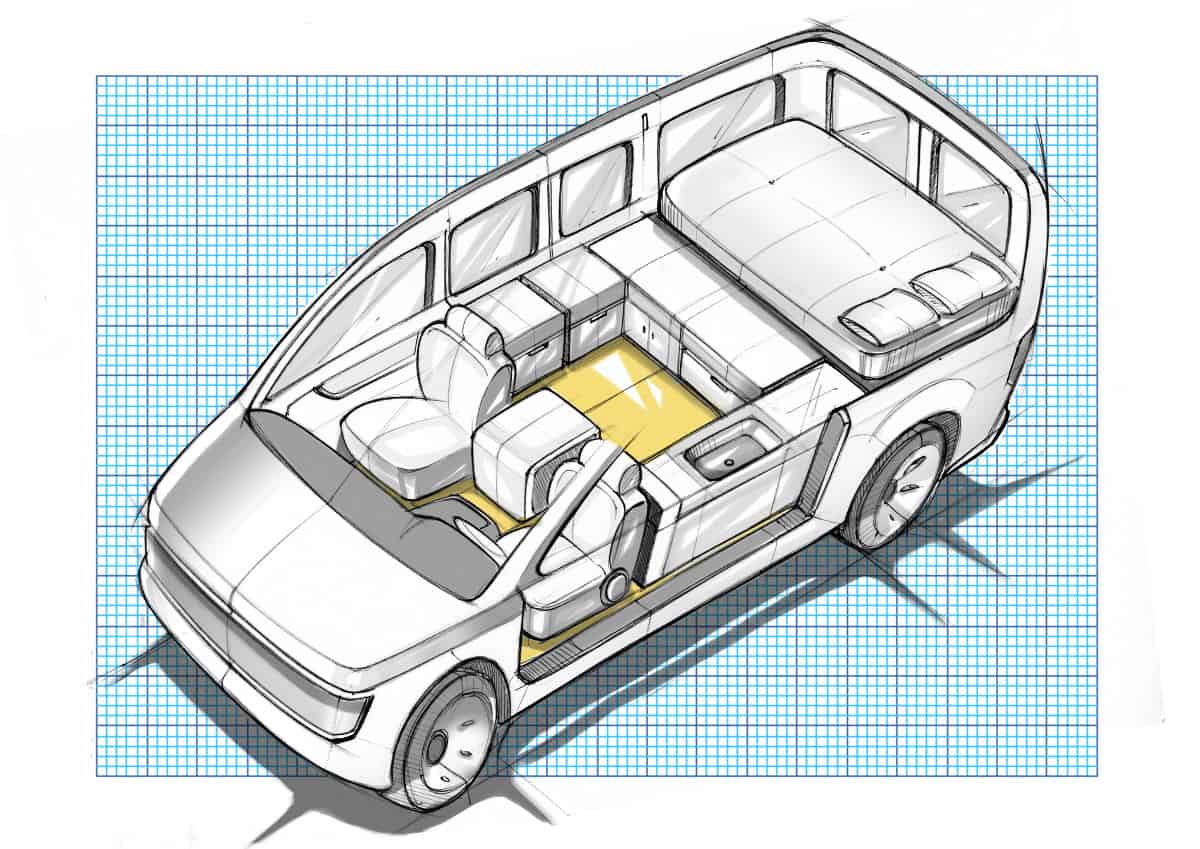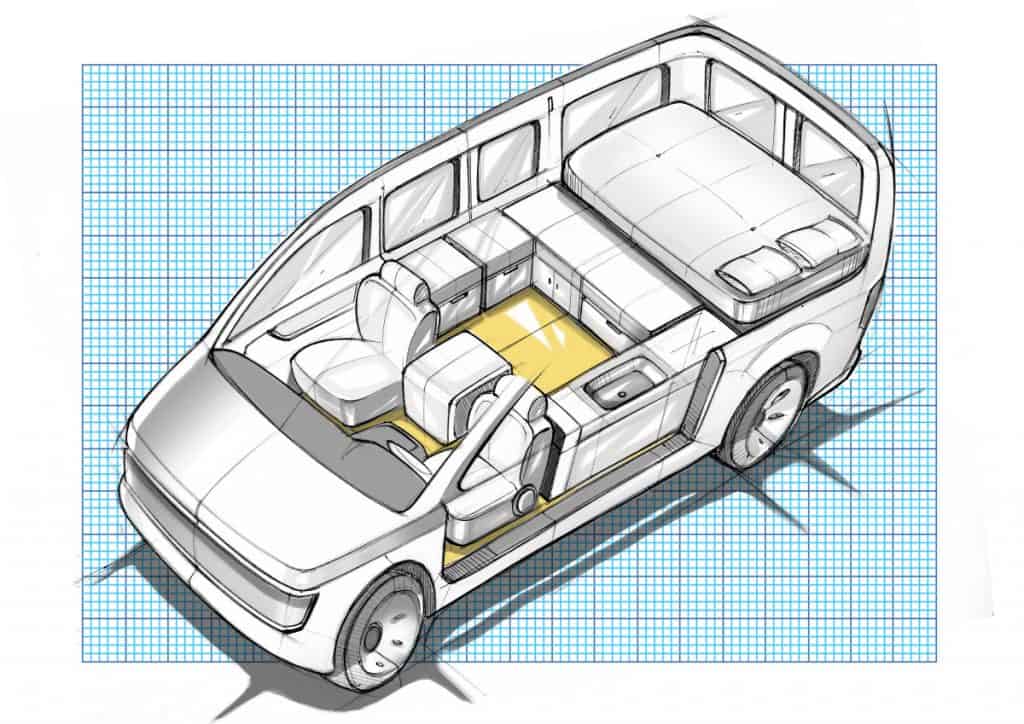 So, where are you from?
Taylor is from Menomonie, WI and Pete is from Dodgeville, WI.
Where are you currently located?
We are currently located in Dodgeville, WI while we build out a second Sprinter van camper conversion.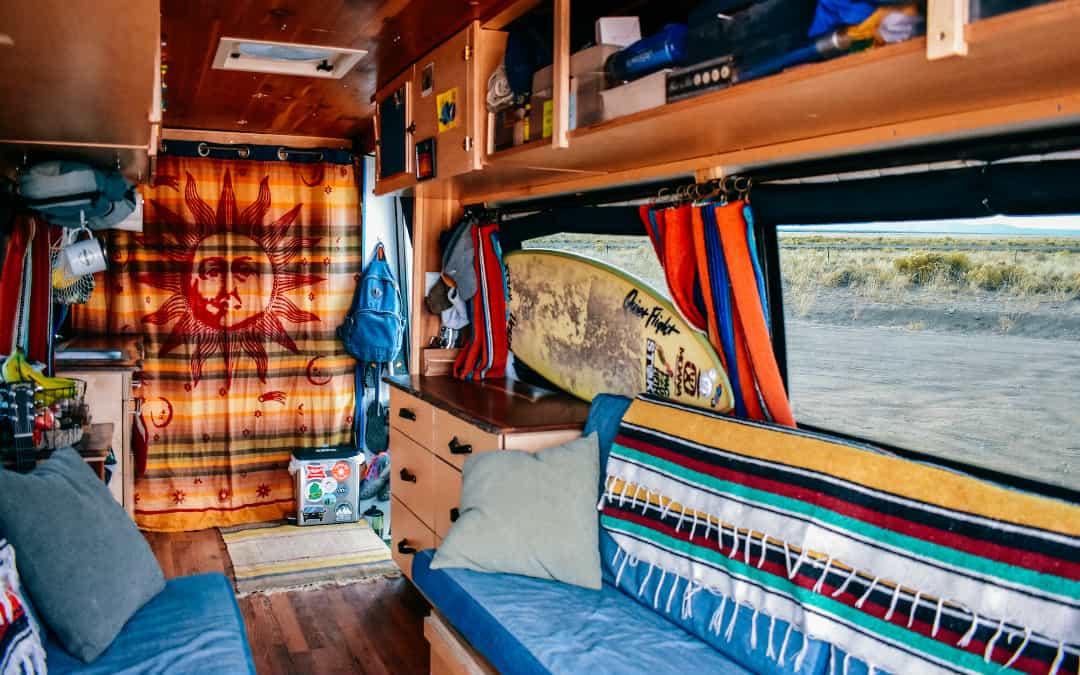 What are you traveling in? Did you build the interior yourself, or did you buy it pre-built?
We are living in a 2004 Dodge Sprinter 158" wheelbase. After we bought it, we gutted it and built out the interior ourselves.
How long have you been living in this? Do you live in it full time or part time?
We've been living in our van full-time for a year and a half now.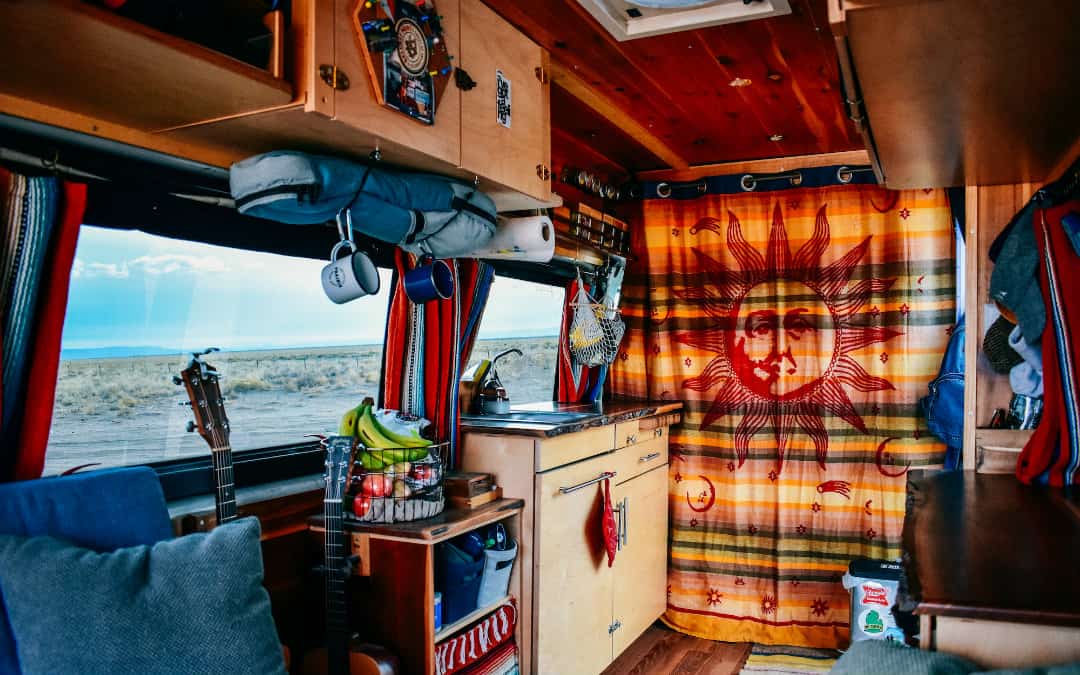 What made you want to choose this lifestyle? What was that transition like?
We both travelled a lot before we met each other and when we were in college we decided to take a year off and backpack Southeast Asia. We really fell in love with the nomadic lifestyle and it just worked for us so well. After we graduated we decided that we wanted to continue pursuing a traveling, nomadic lifestyle that would allow us to explore our own country and create a life for ourselves on the road. The transition was surprisingly easy since we didn't already have established careers or own a home. Our biggest obstacle was building out the van.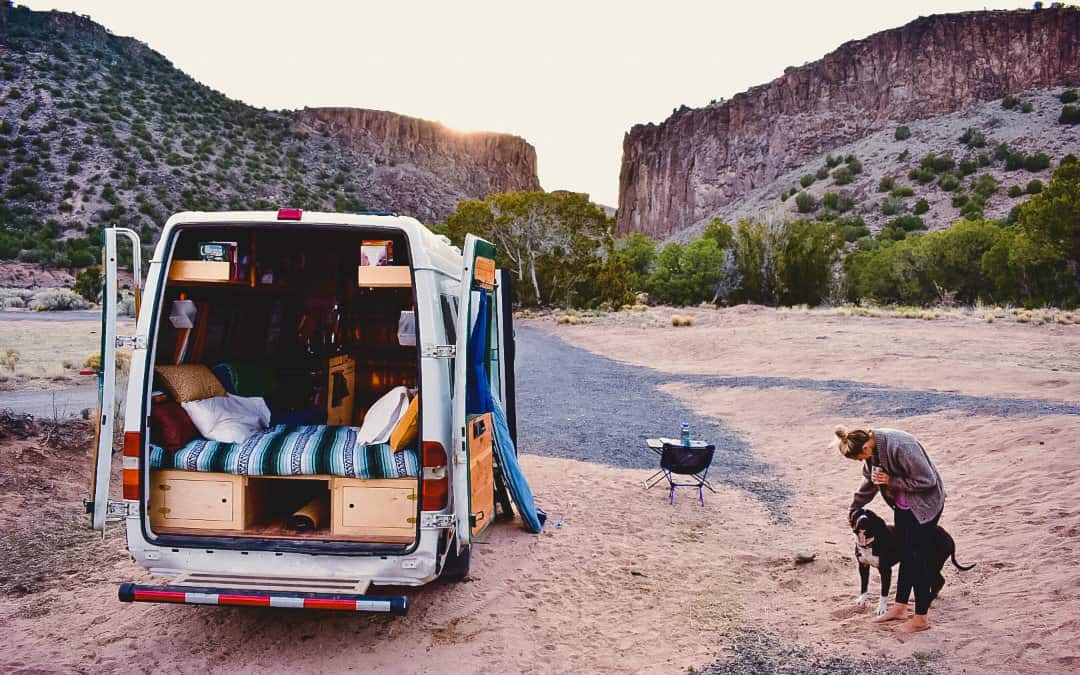 What's your favorite part about living the van life?
Our favorite part about this lifestyle is without-a-doubt the people that we meet on the road. We've made lifelong friends in a matter of days. It's so easy to form real, meaningful connections with people you meet on the road because there's no need to be anything other than yourself. You dive deep and get to the good stuff when you meet strangers and before you know it, they're no longer strangers.
What is your least favorite part about van life?
Least favorite part is probably never knowing when your home is going to break down. One of the biggest stressors in this lifestyle is vehicle maintenance, but it's just what you sign up for when you decide to live in a van!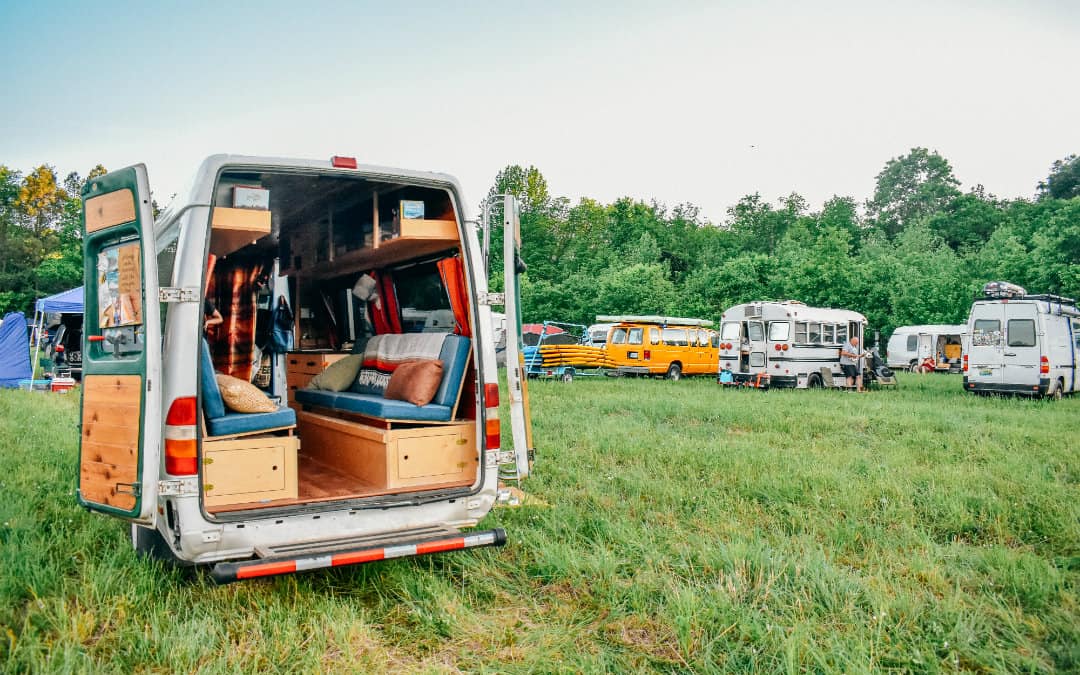 What were you doing in life before you decided to do this?
We were both college students going to school and working full-time.
What are your favorite features of your van? Anything specifically unique?
We love our bed/bench system in our van. When the back is in benches we can entertain about 8 people and when it's a bed, it ends up being roughly the size of a king-size mattress. Plenty of room for us three!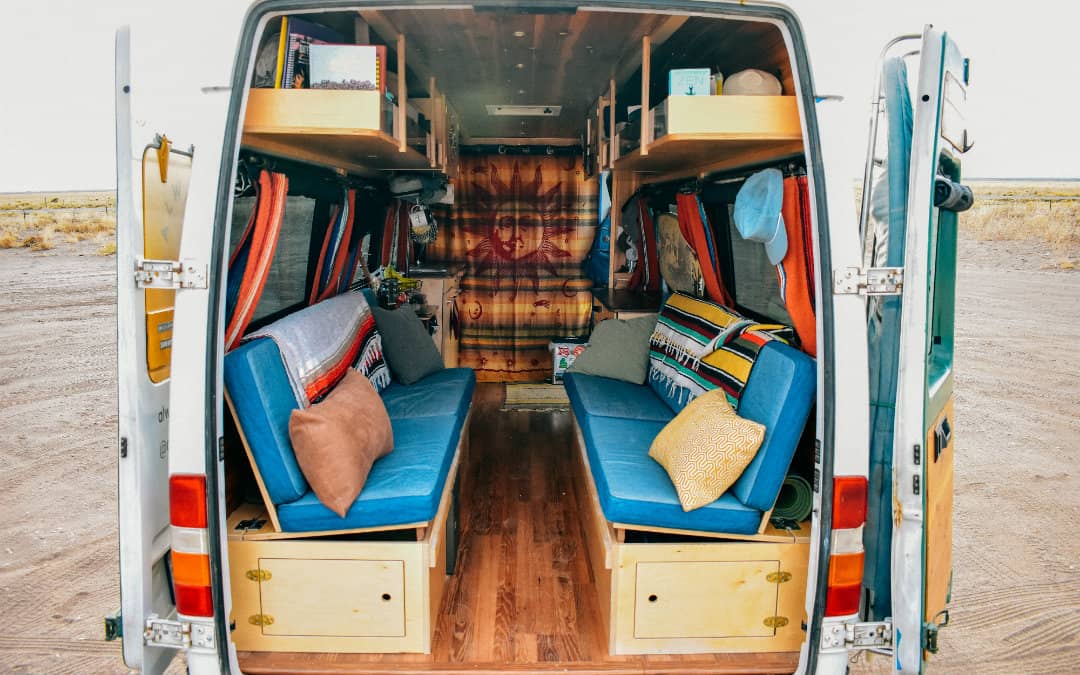 What do you do for income on the road?
Lots of stuff! Farm work, affiliate marketing, sponsored social media posts, selling our Conversion eBook and Acoustic Album on our website, various freelance remote work, selling photos. We do whatever we have to in order to make this lifestyle a reality.
What have been your favorite locations thus far, and why?
It's so hard to choose favorite locations because they're all amazing, but a few that stick out to us are Joshua Tree, Sedona, and Big Sur. We've spent a lot of time in Joshua Tree and we've really fallen in love with the desert. Every time we go there we always end up meeting the greatest people too! We've made quite a few memories there. Sedona is just all-around a great vanlife destination because of the endless supply of incredible hikes and places to explore. And Big Sur, well that's just one of the most beautiful coastlines we've ever seen!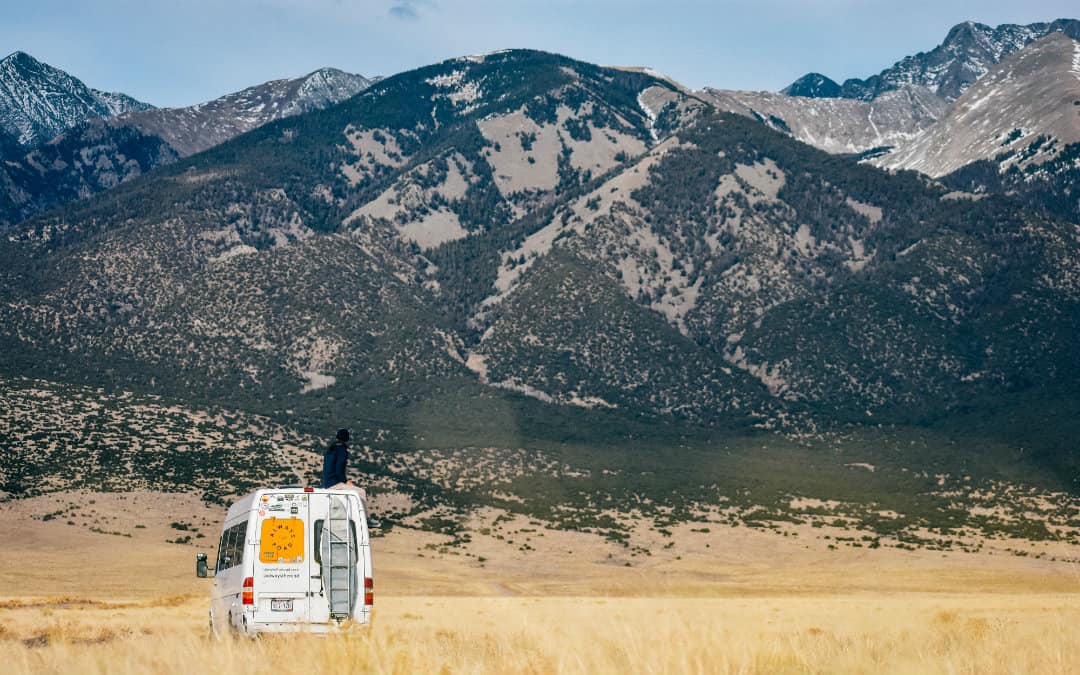 What are some things you brought with you that you use nearly everyday? What are some things you brought with you that you ended up never or rarely using?
Our french press, broom, guitars, and collapsible tupperware are just a few things that we use every. We try to get rid of everything that we don't end up using frequently. A few things we've gotten rid of are a mirror, a blow dryer, and half the clothes we originally packed! We also hardly use our camp shower, but that's more situational.
Read More: 101 Van Life Essentials You Don't Want to Forget
Is there anything you miss from your former lifestyle?
I think that we are in agreeance that the things we miss the most are the consistency of a hot shower and an address for getting regular mail.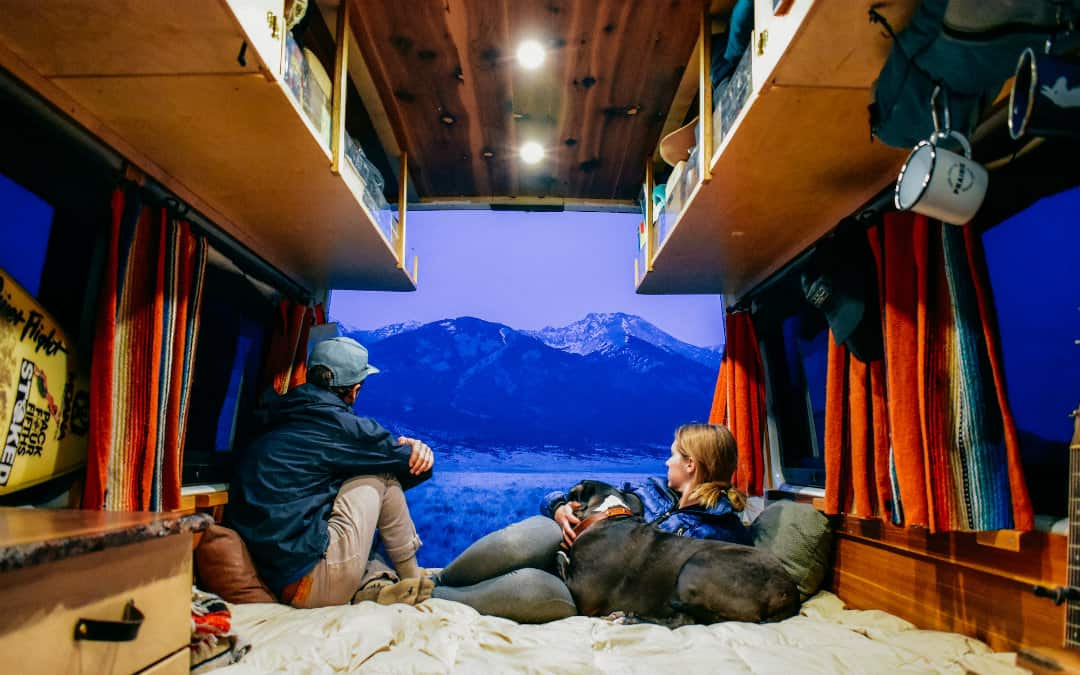 What do you do in your free time? What are your favorite activities?
Reading, playing/writing music, yoga, hiking, climbing, writing, taking photos, and exploring local spots wherever we're parked.
What advice would you give someone considering traveling full time in a van?
To truly enjoy this lifestyle it's so important to embrace uncertainty. Rolling with the punches and following opportunities is the best way to fully experience all this crazy, unique lifestyle has to offer.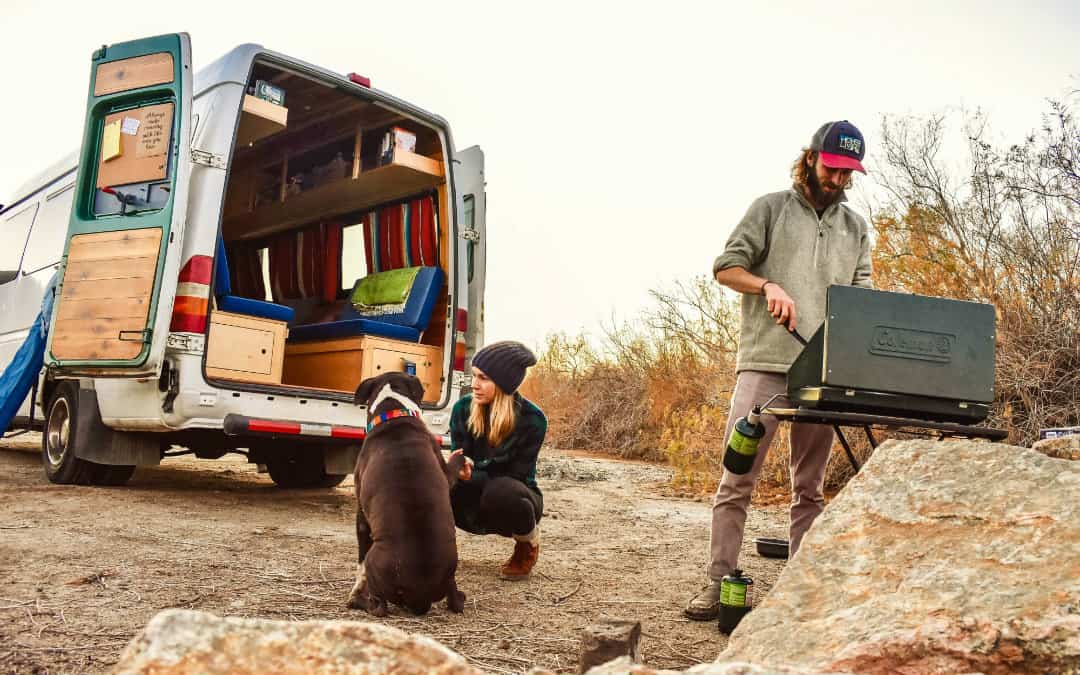 What's your favorite meal to make in the van?
We make what we call "veggie bowls" which actually contain meat, so we should really think of another name! But they consist of ground turkey, onions, sweet potatoes, broccoli, green beans, zucchini, brussel sprouts, and quinoa topped with a little organic goddess dressing and nutritional yeast.