Van life is far from the effortless, picturesque endeavor social media makes it out to be.
Living in a vehicle can be liberating. It can also be disheartening and downright dangerous if you don't think it through all the way before hopping into the driver's seat.
There's a lot that can go wrong on the road, both physical and mental. This article is a brutally honest guide to all the van life mistakes that may cause you to crash and burn (and how to avoid the worst-case scenarios).
1. Setting Your Van on Fire (and other van issues)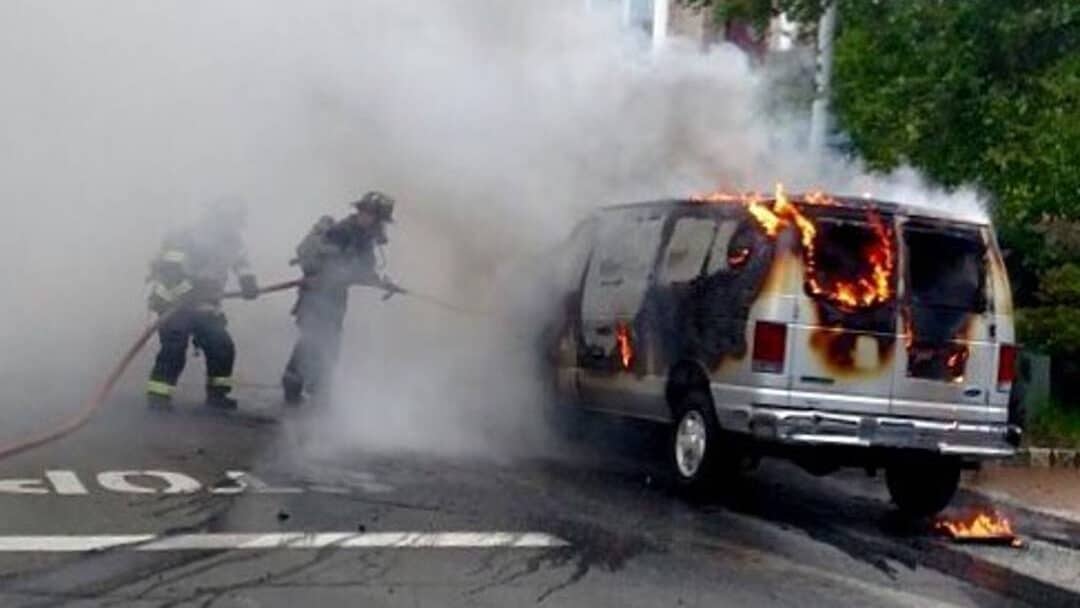 This happens more often than you think. And there's more than one way to set your van on fire.
In older, poorly maintained rigs, gasoline can pool in the carburetor and combust (don't ask how I know this.)
Improperly installed or maintained propane systems and van life electrical setups are also common fire hazards.
I'm not saying there's a "better" way to set your house on fire, but having done it two different ways, I will say that carburetor fires are significantly easier to bounce back from. But in an ideal world, you won't set your van on fire at all.
So how do you prevent your rig from going up in flames?
Get a professional mechanical inspection before you buy your van
I know. A good deal is a good deal, and in this economy, it doesn't take much to convince yourself that you should spring for that absolute STEAL of a van.
I hate to break it to you, but it's just a bad idea to buy a van without having it inspected by a mechanic. Especially if the van is older or seems like a really good deal.
Despite what the seller tells you, they may not be aware of issues with the vehicle. Taking their word for it or leaning on the last time they had it serviced is not proof that it's mechanically sound. And buying a van with issues can be catastrophic for you, especially if you're on a budget and can't afford expensive repairs.
So what should you do? Bring that mechanic friend with you when you look at the van. Or take it to a shop for a pre-purchase inspection. Or if it's far away, hire a traveling mechanic service to check it out for you.
Mechanical inspections give you an overview of current and pending issues so you can make an informed decision on the vehicle you're about to spend money on.
For the love of all the red dirt in Sedona, please do NOT buy a vehicle from any seller who refuses or gets defensive at the idea of an inspection. There will ALWAYS be another van. Save yourself the headache.
Have an inspection performed on the camper van systems as well
You wouldn't buy a sticks-and-bricks home without an inspection, and a vehicle home is no different. Having the propane and electrical systems inspected by a professional before taking your rig on the road is essential to your safety.
Because of road vibration, vans are tiny earthquakes on wheels. This means that things can bounce around and come loose over time. You should have major systems checked out before you buy your van, and also recheck them annually to make sure that there are no new leaks or dislodged components presenting a hazard to your life on wheels.
Checking your systems regularly is also important for DIY van build outs.
Stay on top of preventative maintenance
One perk of buying an older, less expensive rig is that you can DIY most maintenance. Doing your own maintenance cuts out a major expense and can be incredibly empowering, especially if it's not something you've ever done before.
You may not have the time, energy, or capacity to do your own van maintenance. However, if you pursue the DIY route, it's a good idea to schedule annual tune-ups at a trusted shop to make sure there's nothing you're missing.
If you rely on auto shops for maintenance, plan for things like oil changes and tune-ups on the road. Call ahead to find shops that can accommodate your rig. This will save you last-minute scrambling and is a good habit to get into.
Whether you DIY your maintenance or rely on professionals, traveling with spare parts can save you time, energy and costs. Being prepared for mechanical issues is a good habit to get into when your primary residence is a vehicle.
2. Getting Stranded in the Middle of Nowhere
Breakdowns in van life are inevitable. Even if you meticulously maintain your vehicle, you WILL break down at some point.
Flat tires, overheating, snow conditions, and accidents are all constant hazards of the road, and thus, of van life. Here's what you can do to make breakdowns less stressful and catastrophic when they happen.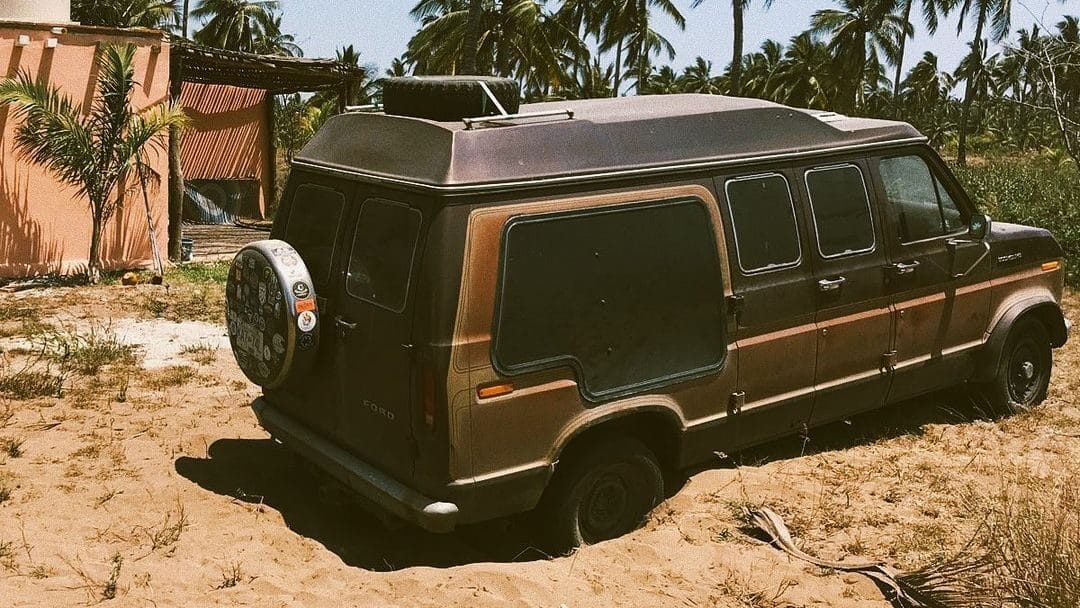 Get a Good Sam membership and KEEP IT CURRENT
If your vehicle of choice is a standard-sized rig (think minivans or SUV campers) and you have no plans to hit the back roads on your van life adventures, AAA is more than suitable for your needs.
However, if you're planning to go off grid and are traveling in an RV, cargo van, high-top van, or skoolie, AAA is inadequate. AAA has many restrictions on where they will operate, and their network of tow trucks often can't accommodate larger vehicles.
Good Sam is a better option for roadside assistance because they cater to RVs. Meaning their network of service providers can handle anything from a class B (cargo van size) to a Class A (tour bus/full length skoolie size). And they do so with the best attitudes EVER.
Good Sam also understands that you may take your rig off the beaten path and will do their best to assist you wherever you are (though restrictions may apply depending on service providers).
Keep a repair manual on hand
Just as breaking down is an inevitability of van life, so is running into difficulties getting your rig serviced. This is especially true if you drive an older vehicle, or one with more niche components and repair processes (looking at you, VW and Mercedes owners.)
Keeping a manual with diagrams of your vehicle's wiring, engine, and other components can make diagnosing and performing repairs easier for any mechanic you come across. This can get you on the road faster and allow you to travel with confidence knowing that wherever you land, you'll be able to give your mechanic a bit more insight into your vehicle's inner workings.
Be aware of your vehicle's dimensions
You need to know exactly how tall, long, wide, and heavy your rig is for so many things, tow trucks being the most important. It also pays to have the dimensions of your vehicle on hand if you need to be towed to a mechanic's shop.
Some shops may not have the clearance, space or equipment to handle vehicles that are larger than average, and being able to call and ask before being towed to one can save you time, money and stress.
Hope for the best, prepare for the worst
You can do everything right and still end up in a sketchy or unfortunate situation. Having an emergency kit is a great way to cover your bases in the event of a breakdown in the middle of nowhere.

Your emergency kit should include:
Copies of important documents (IDs for everyone in the vehicle, proof of insurance, title and registration for the vehicle, etc.)
Non-perishable snacks like granola bars and jerkies
Road flares
Flashlights
Satellite phones (especially if you're a frequent off-gridder)
Fully charged battery banks (for phones and devices)
Vehicle jump starter + jumper cables
Basic mechanic tool kit + gloves
Tow straps
Be aware of your vehicle's limitations
One of the easiest ways to avoid disaster is to be mindful of your vehicle's limitations. If you don't have a 4×4 or high-clearance vehicle, going down roads marked as 4×4 only can damage your vehicle and/or put you in a dangerous situation.
How do you avoid getting stuck? Plan ahead by checking road conditions on iOverlander and Google Maps, and listen to road signs.
3. Not Installing an Adequate Van Power System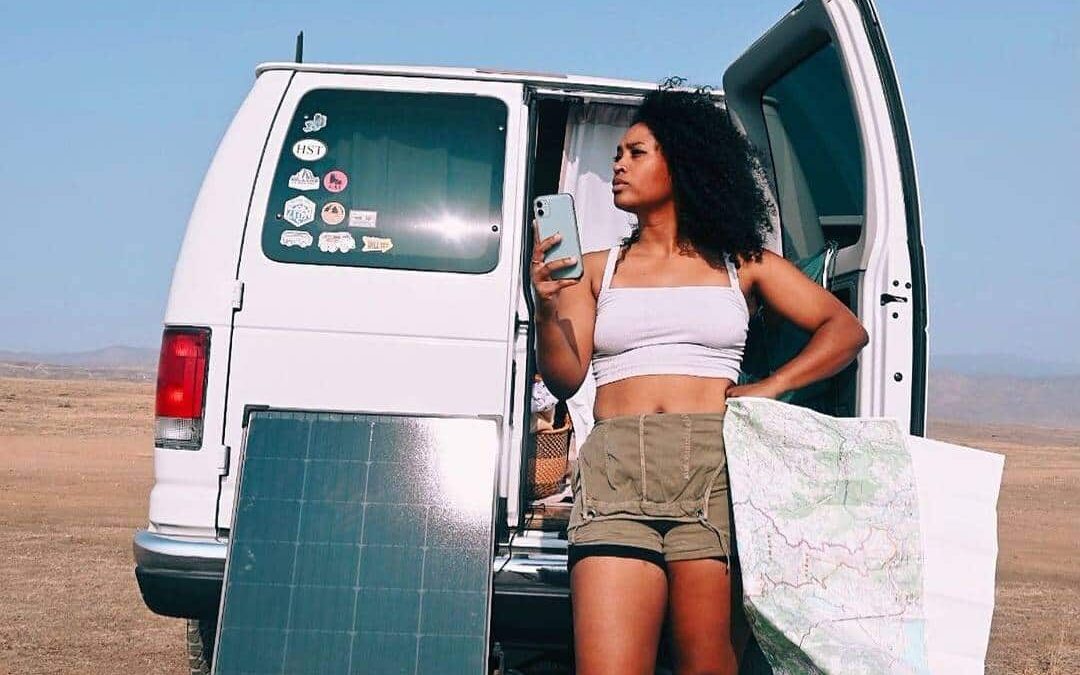 Electricity is essential for modern life. While you can get by with a limited power system in your van, it's not ideal.
Here are some things you can do to avoid having power problems on the road.
Don't buy "pre-wired" rigs
Buying a rig that already has an electrical system can open you up to a range of issues. It may not have enough solar panels or batteries for full-time nomads, which could leave you scrambling. Or whoever installed may have wired it incorrectly, which is a safety hazard.
It's a good idea to have a professional install and review your electrical set up for a few reasons:
Troubleshooting. As nomads, we become accustomed to our rigs' quirks and we may forget to pass that info on to the new owners.
Peace of mind. Electricity can be dangerous. Whether you're installing a new system or taking on a secondhand setup, it's reassuring to have a professional seal of approval on the job.
Forecasting. A professional can assess your system's limitations and warn you of issues that may come up or components that may need to be replaced.
Having a pro install your electrical system removes the stress and headaches of attempting to figure out solar math and photovoltaic systems, and ensures that your electrical system is safe and adequate.
Professional installs may be out of your budget, or you may just want to DIY your electrical system for fun. If that's you, be sure to check out our epic guide to DIY solar electrical for van life.
If you choose to DIY your system, it's a good idea to consult with an electrician who has experience with off grid solar to make sure you're on the right track, and have them inspect your system after installation to ensure there aren't any safety issues.
4. Having (Avoidable) Tire Issues is a huge van life mistake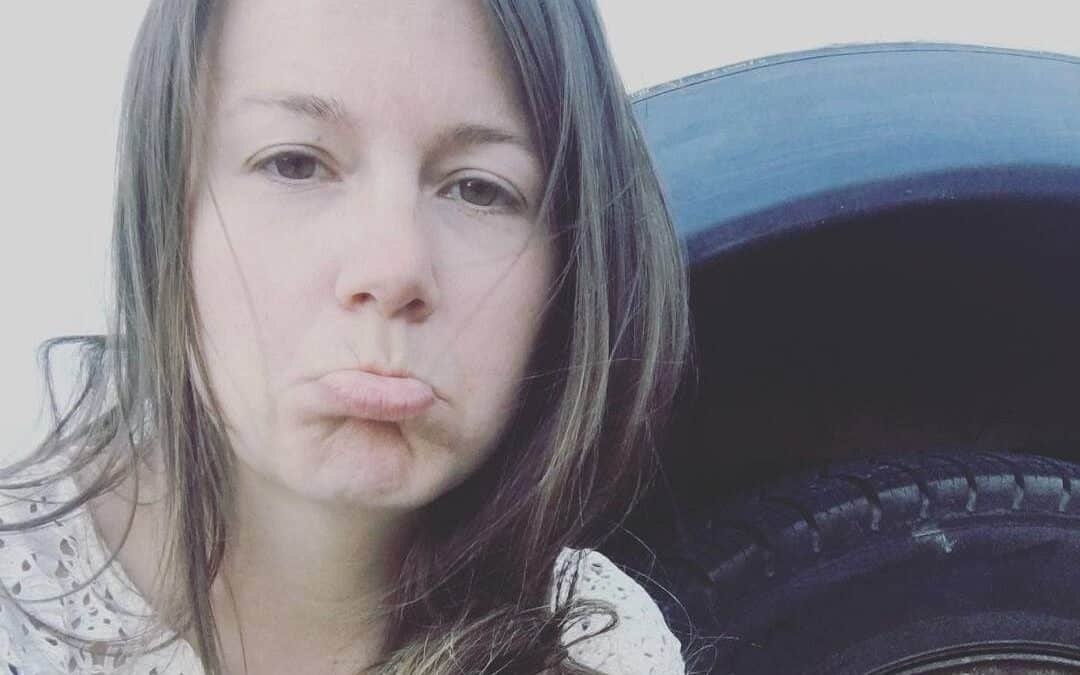 I had my first blowout while driving through Dallas. This was a terrifying experience, and my insurance insisted that I take my vehicle to the closest shop. As soon as I picked it up a few hours later, I lost the two rear tires the shop had just replaced because they were unfamiliar with the vintage interlocking lug system that came standard on my rig.
The shop tried to have me pay for new tires and the labor to replace them. Because of my insurance (and the fact that I was dating a lawyer at the time), I disputed this, and the shop covered the labor, replacements, and third-party review of the work without charge.
This was an overwhelming and stressful ordeal, and I had significant anxiety about driving my rig for a very long time after.
Luckily, there are a few ways to avoid finding yourself in a similar situation.
Check your tires regularly
It's easy to neglect checking your tires, but it's vital (and a very easy way) to avoid issues. Check your tire pressure at a minimum, and also inspect the tread, tire age, and look for general signs of wear.
You should check your tires every 2-4 weeks and before setting out on extended journeys. So if you're parked up on BLM land, aim to check your tires before you head to the next spot.
Elevation and temperature changes affect the air pressure inside your tires. Check your tires when you arrive at your destination to be sure that they're not under or over-inflated.
It's best to check your tires when they're cold and before they're exposed to direct sunlight. Carrying a portable tire pressure gauge makes this easy, and you can also get a 12V air compressor to top off your tires if needed.
Get tire maintenance done at reputable shops and/or dealerships
Having tires serviced at mom-and-pop tire shops may feel like a wonderful way to support local businesses, but it can cost you in the long run. Many smaller shops are ill-equipped for the niche tire sizes that vans and other rigs require, and it may be difficult to rectify any issues with the work.
If your insurance insists you go to the nearest shop, document everything, and stay nearby to supervise the work if you can. Get copies of reports and receipts, and note any comments the mechanics make on the state of your vehicle.
If anything goes awry with the work, having all of this documentation will make it easier for your insurance company to assist you in a claim, or for you to get your money back for any damages caused by the shop.
Know your tire size before traveling
Some vans/RVs/skoolies have uncommon tire sizes. When you've just had a blowout, It's a pain in the ass to discover that your 16.5-inch tire is both rare and sold out from every supplier in a 30-mile radius (ask me how I know).
There are a few things you can do to prepare for this issue.
Know your tire size. This allows you to call ahead to see if your tire size is in stock, and order them if needed.
Swap your tires to a more common size. This isn't always an option. But if it is, the upfront cost of a new set can offset the cost of special-ordering your tires, and save you a bunch of time waiting around for them to come in.
Always keep your tire information, repair manuals, and service records in a readily accessible binder so you can quickly access it in an emergency.
5. Running Out of Money on the Road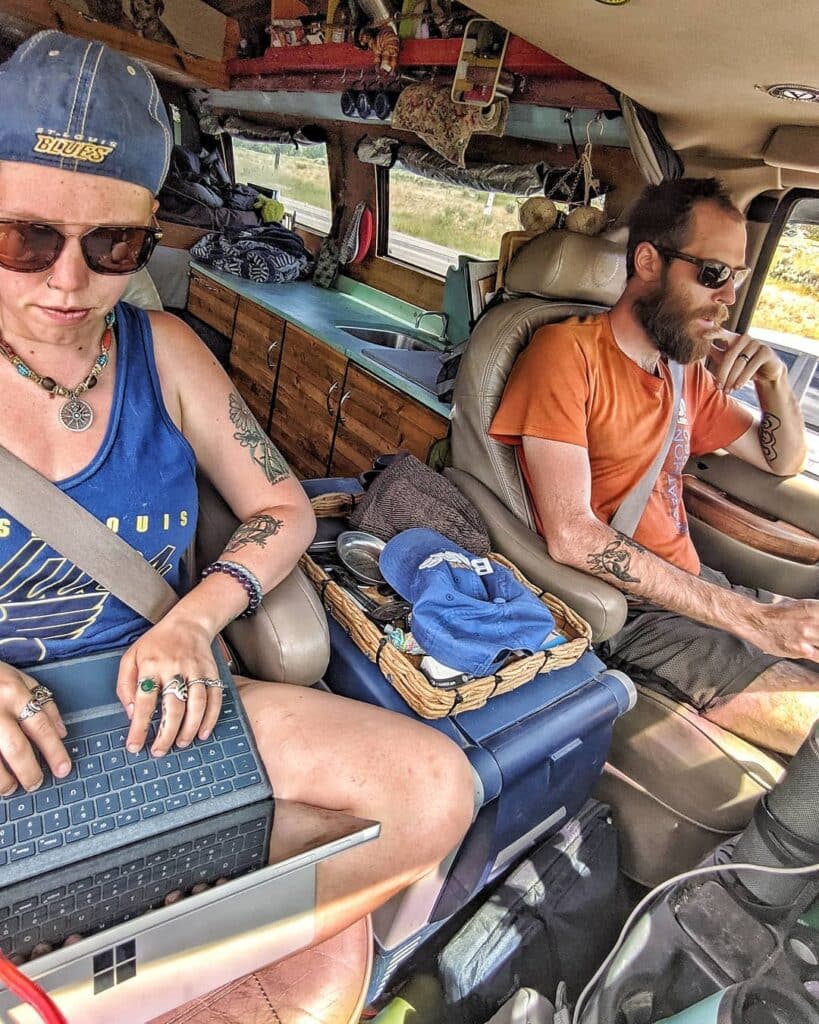 Most articles on van life fails are about folks who weren't financially able to live out the glamorous lifestyle depicted on social media.
I disagree that this is a "fail." But it's frustrating to feel like you're doing vanlife "wrong" when imagery of luxury vans, picturesque locations, and general ease and comfort is being shoved in your face.
Here are some ways to keep the adventure alive as you adjust to this alternative lifestyle.
Secure a remote job BEFORE you hit the road
The digital nomad era is upon us and it seems like everyone either is or aspires to be some sort of freelancer, influencer, or blogger.
While it's possible to do these things, personal brands take time to build. Securing a stable remote job for a company that has consistent hours is a smart way to get started with van life since you can make money to fund your travels while you build your brand.
Travel within your means (or make travel work for you)
You probably won't be glamping out in the wilderness right away. If you have a digital nomad job, you may need to plan your travels around reliable internet access or working specific hours.
Some easy ways to find reliable accommodations while you begin your digital nomad life are staying at RV parks or becoming a camp host at state and national parks.
Camp hosting is technically a job. But it's usually part-time hours, which allows plenty of free time for remote/freelance work and creating travel content to build your brand.
This is actually one of the cheapest and easiest ways to travel. You'll have to move a little slower, but it's a great way to reduce your van life costs. 
Read More: 101 Van Life Essentials You Don't Want to Forget
Don't travel full-time until you have a consistent cash flow
When you're planning your van lifestyle, believe exactly 10% of what you see on Instagram, and do not compare yourself to ANY influencers.
Behind every gorgeous photo is a series of struggles, shit going wrong, things falling apart, mental breakdowns, and hundreds or thousands of dollars in unexpected expenses.
Traveling slowly is an easy and wonderful way to get your adventure in while you secure consistent cash flow.
These days it's easier than ever to keep income flowing on the road. Here are a few of my favorite ways to keep cash in the bank (and gas in the tank):
Odd jobs. House sitting, dog walking, and window artistry are a few that I've done in the past
Temporary work. Apps like Wonolo make it easy to pick up day shifts while on the road and get paid quickly.
Seasonal gigs. Resort, tourist, and destination towns all have busy seasons. Hospitality and service industries almost always need help during these times, so you can plan your travel accordingly and follow the money.
Freelancing. This one does not offer as immediate a payout as the others, but with a good portfolio and solid set of services, you can use websites like Upwork and Fiverr to make money while you travel.
6. Being Miserable in a Van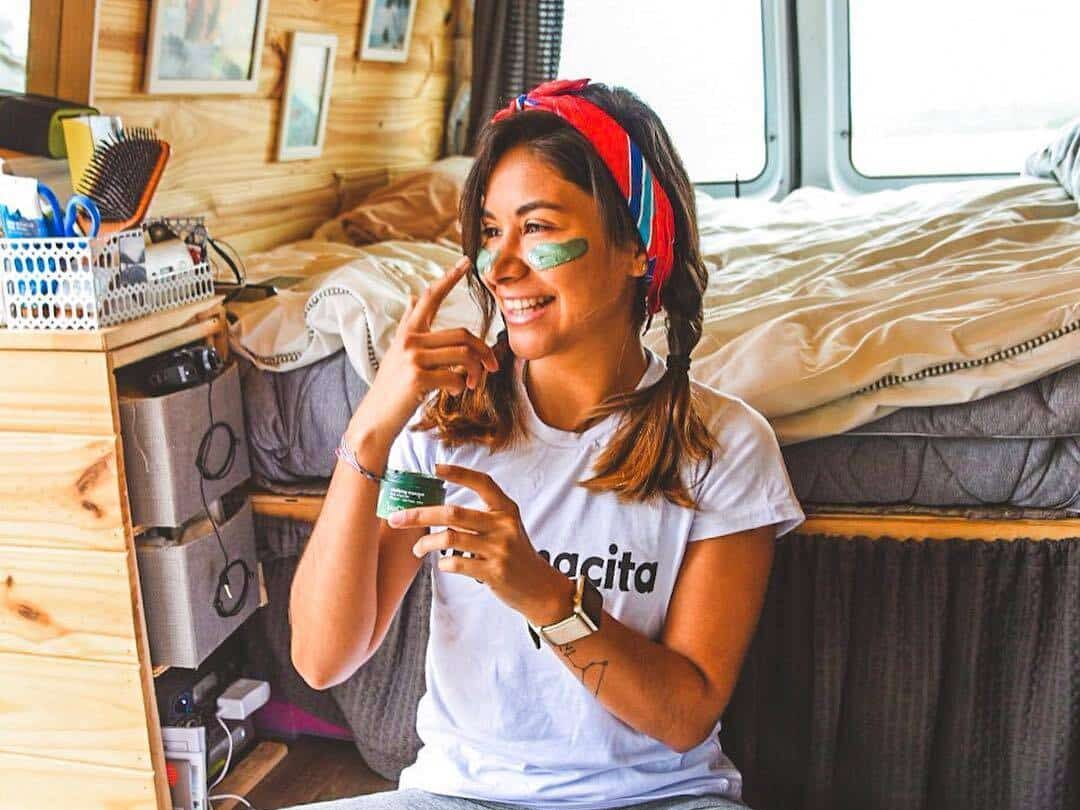 Another common van life "fail" I came across while researching this piece was that many folks expected to be happier in a van.
Living in a tiny space and constantly being on the move can be disastrous for your mental health. Everyone has bad days, but there are some tried-and-true methods to keep the "vanlife blues" at bay.
Travel Slowly and Establish Routines
Before you move into your rig and hit the road, consider the moments and elements of your daily life that bring you the most joy.
Is it your morning coffee? Your sunset jog? Your skincare routine? Think of ways to downsize and take these things with you on the road.
Move slowly for the first few weeks after hitting the road. Allow yourself time to adjust to living in a tiny space and implementing your new travel-sized routines. Establish boundaries with yourself around the things that you consider non-negotiables.
For example, if you know you need to go for a jog at sunset to feel balanced, build your travel days around being parked with enough time to lace up your sneakers by sunset.
When vanlife FOMO comes knocking, remember that the road isn't going anywhere. The version of you that's clocking 7-hour driving days will thank the past you that learned to incorporate joy and routine into a lifestyle where everything is always, always changing.
Do things that you genuinely enjoy, even if they don't align with the "vanlife" ideal
Too often folks lament the time they spent chasing hikes, sitting in traffic at National Parks, and waiting to get into the packed attractions showcased on everyone and their mothers' Instagram pages.
But you don't have to do that.
If you like hiking, backpacking, winter sports, or any other popular activity, that's awesome. I encourage you to go after that with passion. If, like me and many other nomads, your idea of a good time outside is swinging in a hammock alternating between napping and reading a book? Well, friend, that's just as valid.
The whole point of van life is to chase your joy and get away from obligations and societal pressures. Don't recreate them yourself once you're on the road.
You do not have to do a single thing that doesn't bring you exuberant, soul-splitting joy (except paying taxes.)
7. Setting Yourself Up For Driving Anxiety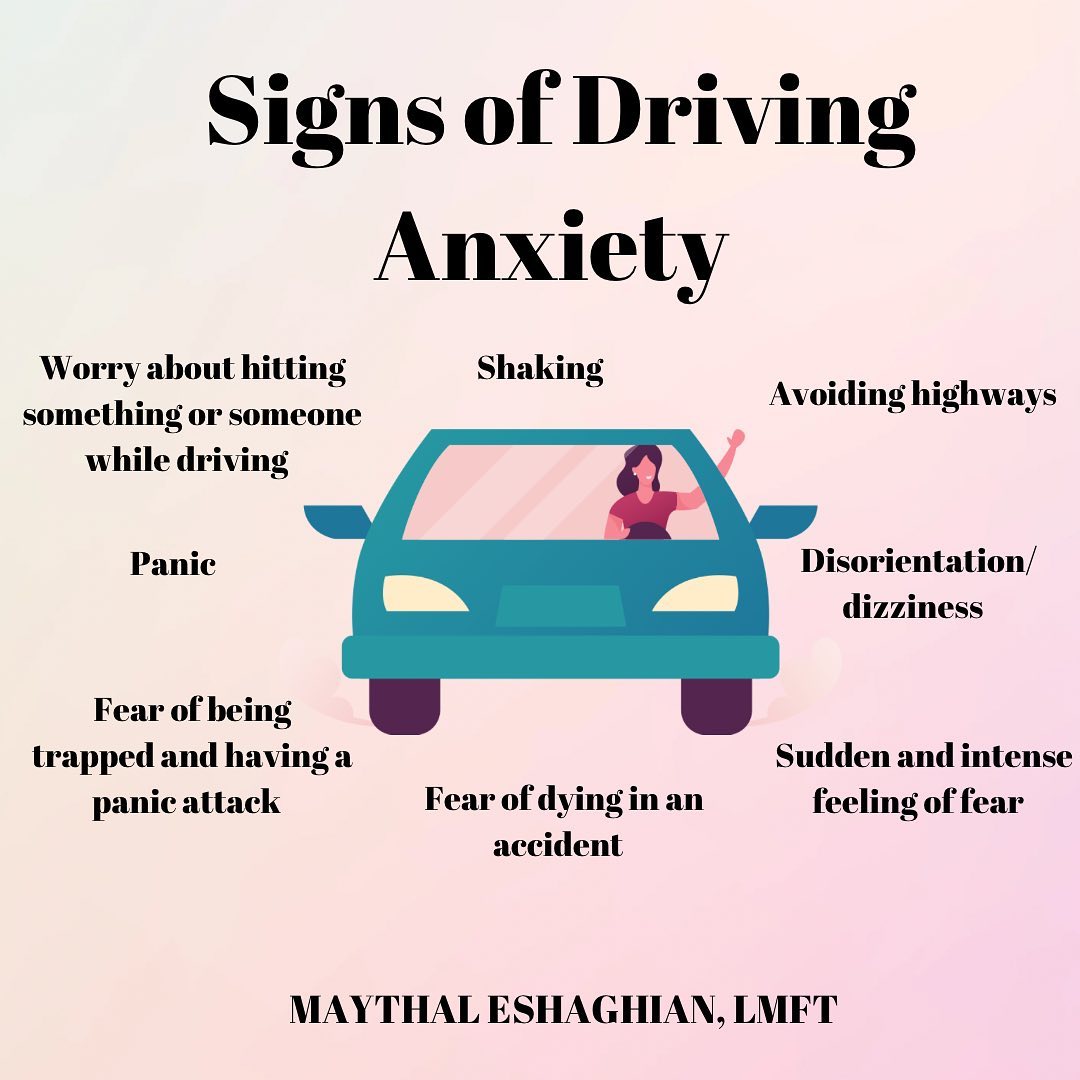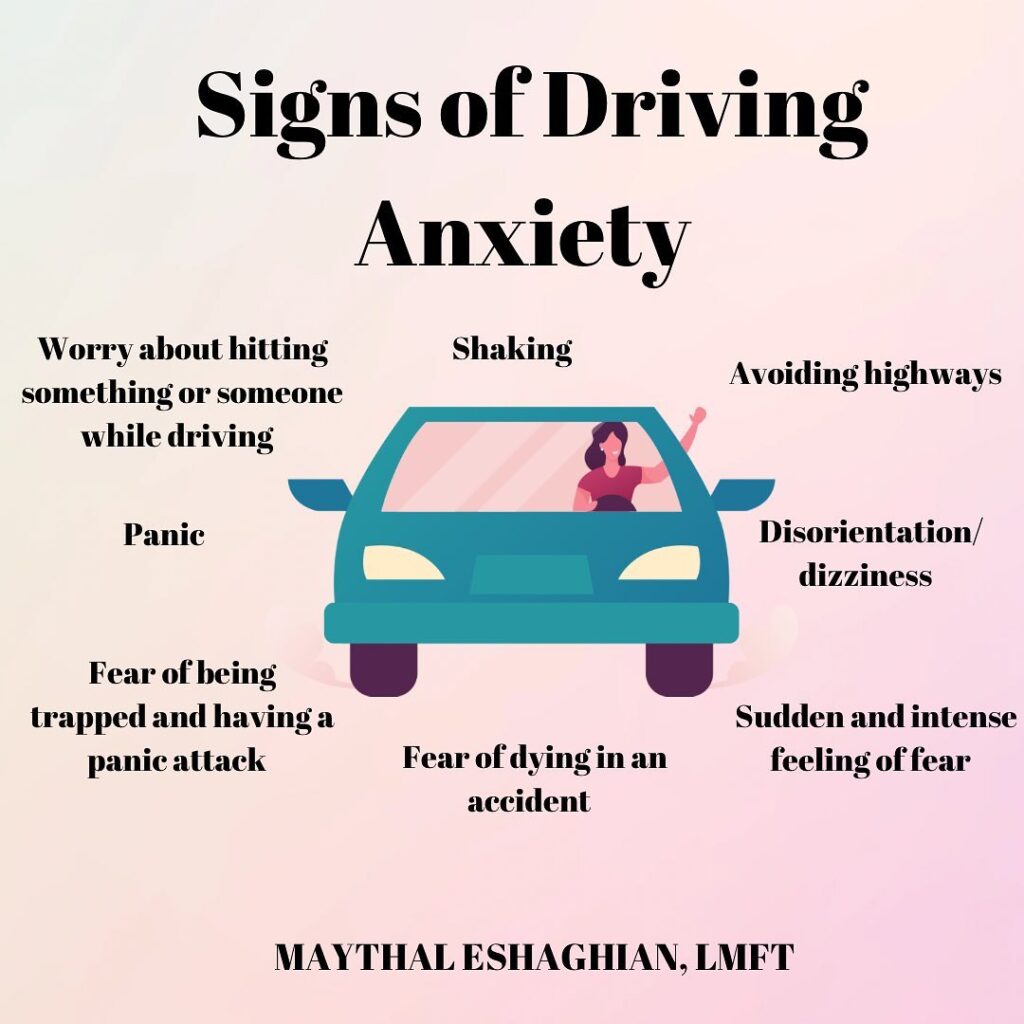 Driving a large vehicle is stressful on its own, but when the vehicle is also your house, the stakes feel infinitely higher. Add in traversing new areas, unfamiliar terrain, and ever-changing weather and it's easy (and very common) to become stressed out driving your home around.

Here are a few simple things you can do to ease driving anxiety:
Download offline maps. Google Maps offers this feature for free. For those of us with larger rigs, there are apps like TruckMap that outline the best routes for high clearance and extra-long vehicles. Downloading maps to your phone can keep you on the right path when driving through a dead zone.
Purchase physical maps. Physical maps are just great to have on hand and they serve as very cool (not to mention van-friendly) souvenirs.
Make drive days fun. Travel by day to eliminate the stress of navigating road conditions and finding a spot to park at night. Compile offline playlists of your favorite songs and audiobooks, and stock up on your favorite snacks. These little things go a long way.
Take as many breaks as you need – if you need to stop every hour (or more frequently) to calm your nerves, do that. You're in control of your house and your peace. No one knows better than you what you need to be safe and comfortable.
Don't Rush Your Drive Days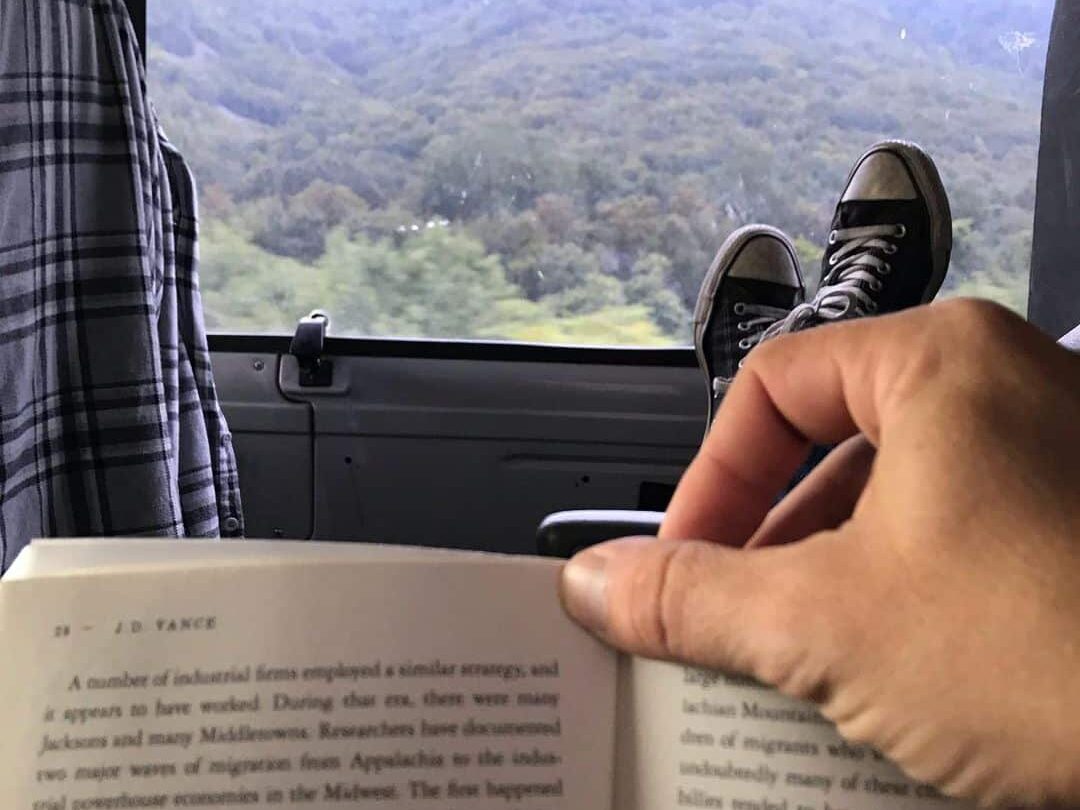 I am a firm believer that a rushed morning is a bad morning, and I have yet to be proved wrong. This is especially true of drive day mornings.
Your morning sets the tone for the day. If you've got a day of driving ahead of you, starting it stressed sets the vibe for your drive. This can make it easier to get lost, overwhelmed, and frustrated, which we absolutely do NOT want to be on the road. I have a separate "drive day" morning routine, and I recommend you establish one for yourself as well.
Here are some things I do before I hit the road:
Route planning. Before I leave, I take 10-20 minutes to plan rest stops and driving breaks, plot the cheapest gas on my route, check for detours and road closures, and check the weather.
Eat a legit breakfast. If I get into a stressful situation, it's always less shitty when I'm running on more than Red Bull and Flamin' Hot Cheetos.
Pep talks. Run through some affirmations focused on driving or personal ability. You can do this!
Once you pull into camp, you may still have some jitters from driving. It took me a solid 4 months of regularly driving my house to be able to hop directly into another activity after driving. While I battled driving anxiety, I also built in a post-drive wind-down routine to help calm my nerves.
Try some of these at the end of your next drive day and see if they help:
Eat your favorite dinner. You can prep this the night before or pick something up on your way into camp, so dinner is a treat and requires minimal cleanup. Whatever it is, make sure you enjoy it! You deserve it!
Catch the sunset. After a long day of driving, get outside. Stretch your legs and take in your new backyard. Taking a walk with my dogs to catch the sunset has long been one of my favorite ways to do this
Journal. One thing that's helped me the most is pretending I'm an explorer and journaling my adventures in a "captain's log" of sorts. It's silly, and very effective at allowing me to detail my harrowing journeys at sea (read: incredibly benign travels down well-paved highways)
Watch a comfy show or read a book. I like to download offline versions of shows and movies, and I also keep DVDs in my rig so that I can relax into something entertaining and comfortable when I arrive at camp. I also keep an entire library of books on board. Driving days require lots of decision making and it's very nice to turn your brain off at the end of a long drive.
Perhaps the most important thing to keep in mind about driving anxiety is that it happens to everyone. Be kind to yourself, and just keep rollin'!
8. The Van Life Mistake of Unrealistic Expectations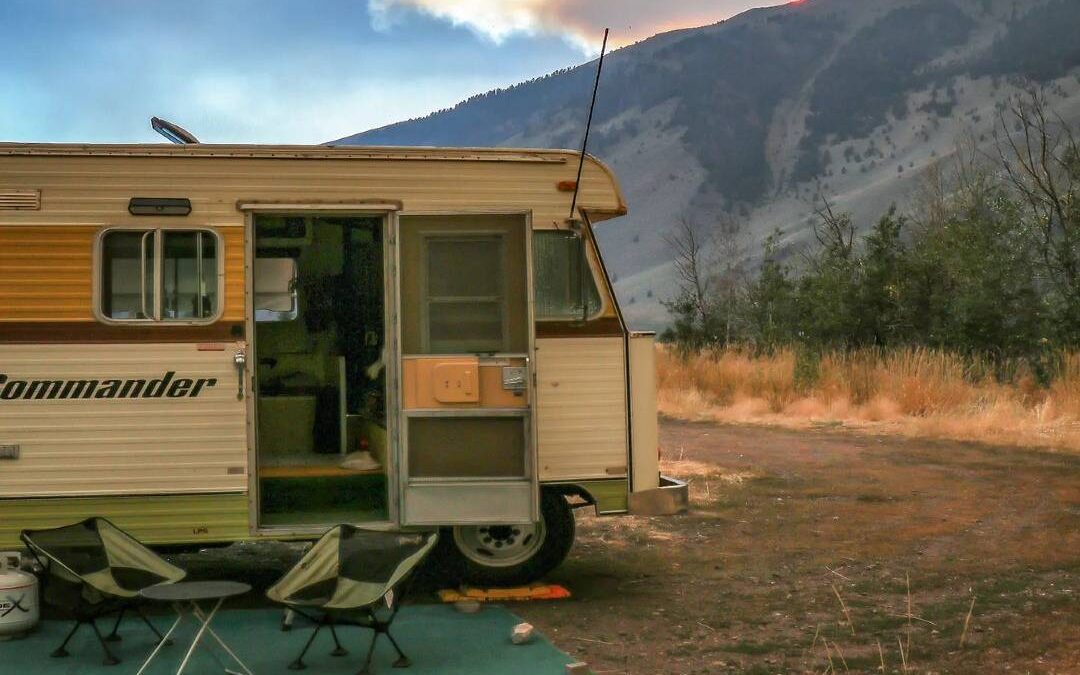 The reality of van life not living up to unrealistic expectations is at the core of most of the people "failing" at van life that you read about.
Many influencers portray only the best of their experiences. This makes van life seem like an easy, carefree lifestyle that will solve all your problems.
The truth is, moving into a vehicle will not make your life any easier. It can actually make it harder. Transitioning to nomadic life is about choosing your particular brand of hard.
The best thing you can do is be realistic with yourself before making the switch.
We don't always interrogate our desires, especially when they seem as common or "harmless" as vanlife may seem. When people tell me they want to live in a van, I ask them why so that they can hear themselves say the reason out loud.
Choosing van life is an incredibly personal journey. But there are some bad reasons for embarking on this lifestyle.
If your ONLY reason for wanting to live in a van is one of the following…. maybe think a bit more before making the leap.
Wanting to be an influencer
The internet is volatile. Moving into a van to become an influencer places a lot of control in the hands of other people and systems (followers, algorithms, etc.) and is a recipe for disappointment and overwhelm more often than not. You can do all the "right things" and there's no guarantee that things will work out the way you want them to.
Treating vanlife as a cure for mental health.
It's a common misconception that van life makes depression, anxiety, OCD, and other mental health concerns easier to manage. But these things will follow you into the van, and living in such a tiny space might even make them worse.
Studies have shown that transient living can wreak havoc on the nervous system over time, leading to compounding mental health issues. And when things are less than ideal in your nomadic life, friends, family, and community members can find it difficult to express empathy for you because your life "looks perfect" or you "chose" this path.
The things that help with mental health struggles on the road are the same things that help when you're stationary–professional treatment plans, medication (where applicable), community, and support systems.
TLDR; Living in a van won't cure your depression. You'll just be depressed with a view.
Your partner's been begging you to
Many van lifers have "cute" stories about how one partner planted the idea of moving into a van and harassed the other until they were on board.
Personally, I do not find these stories cute. It veers towards being controlling.
Moving into a vehicle is a large and incredibly personal decision. Don't allow anyone to coerce, pressure, or harass you into it.
Manage Your Expectations Before Making the Switch
Vanlife is one of those situations where you can't know what you don't know about it until you get there.
Here are some things you can do to minimize the shock of transitioning to a nomadic lifestyle and help you keep realistic expectations.
Identify your "why"
Is rent an issue? Are you feeling "stuck" in your daily life? Are you lacking community support or are you simply craving adventure? Hoping to save up for a house or go back to school? There are millions of things that can lead people to van life, and identifying what's driving you will save you headaches on the road.
When you haven't showered in a week and you're struggling to find a parking spot, remembering your why keeps everything in perspective. It also takes the edge off the shitty moments by reminding you why you chose van life.
Identify your main gripes about pre-van life
Doing this will allow you to ask yourself honestly if moving into a vehicle will solve the issues you're dealing with, or at least make them more manageable. You can also more objectively assess the trade-offs you'll be making.
Rent stress is a common example. Paying rent can take a mental toll, but unless you've secured a remote or vanlife-friendly job, moving into a vehicle may bring a different type of financial stress into your life.
Set realistic (and kind) goals for yourself to ease the feelings of failure, stress, and irritation that come with getting into vanlife.
Test Drive Vanlife
There are many camper van rental companies offering vans, skoolies, RVs, and overlanders for rent. Take this opportunity to try out life on the road before you commit to it.
If you can swing it, do it for an extended period, like three weeks. This is longer than the average road trip and allows the novelty to wear off a bit. While you're out, imagine it's not a vacation, but your real life.
As you travel, keep a list of the things you absolutely HATE about living on the road. Add to the list as things come up. You don't have to share it with anyone else. This list is just for you.
Doing this is helpful in a few major ways:
Provides an outlet. Your frustrations and feelings are valid, and keeping notes can help you process them during and after the trip.
Creates a safe and honest space for reflection. After you return from your test run, you'll be able to look at your note and consider the things that you didn't enjoy about life on the road. You'll be able to discern whether they're deal breakers, minor issues that were compounded because of the stress of the road, or things that you just need more time to get used to.
Keeps you realistic – When we want things, it's easy to convince ourselves that they're easier or more enjoyable than they really are. Our brains are also prone to creating highlight reels of our experiences, even if we were kinda miserable in the moment. This list can save you from over-romanticizing the adventure after the fact and help you make a more realistic decision about whether vanlife is right for you.
Some other things you can do to make your van life test-run less stressful and set yourself up for success:
Plan your test run 4-6 months before making the switch
If you can afford it, taking a test run allows you to get into a routine and determine if you really want to commit to van life. You can travel the whole time or just take extended trips, but you'll be able to familiarize yourself with van living, constant travel, and the logistics of daily life like filling up water, emptying your tanks, finding trash cans and recycling, and hunting down public showers on the road. Store your belongings instead of selling them all immediately.
Moving into a van and deciding it's not for you is one thing. Getting stuck in a lifestyle you hate because you literally sold everything you owned and can't afford to start over is another beast entirely.
Keep a storage unit for the first 6 months of your van life adventure. You can store your belongings in case you decide to go back to more traditional housing. If you decide to stick with van life, you can always sell belongings as you travel for extra cash on the road. Arrange for a soft place to land
Disclaimer: This is not a privilege that everyone has, and I am intimately aware of that fact.
Discuss with relatives and friends to see if there is somewhere that you'd be welcome to crash for [insert your time frame] if van life doesn't work out. If that's not a possibility, try to set aside some money for a short-term rental or other accommodations if you want out. Consider it your exit strategy or an insurance policy for betting on yourself.
If neither of those is an option for your situation, look for state parks with volunteer park host opportunities where you can remain stationary to ease the stress of constant travel and gain time and energy to devote to getting to the next stage of your life.
9. Rushing to Do Vanlife with a Partner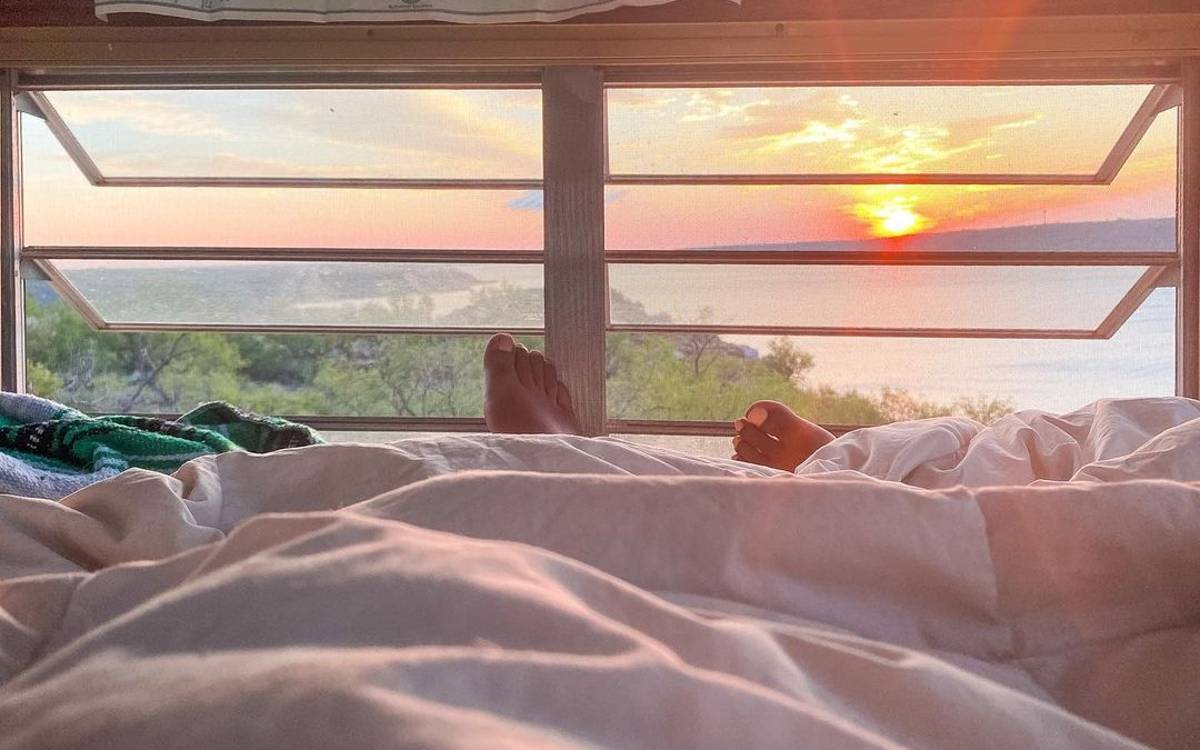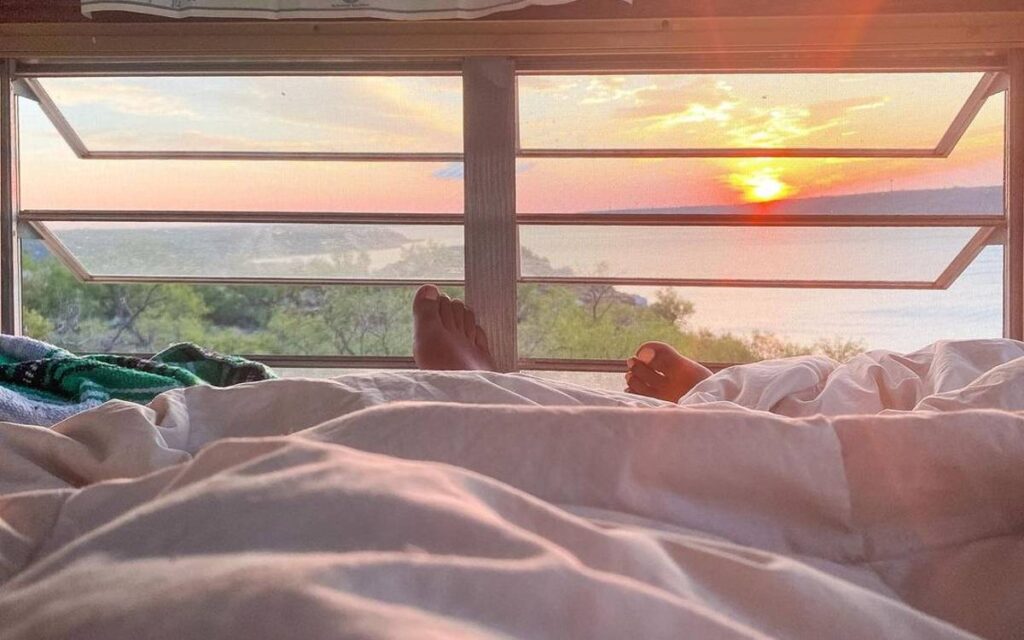 Many people seem to think that you cannot do vanlife by yourself. Or that if you're in a relationship, you need to drag your significant other into this lifestyle with you.
This makes no sense. If you're dating someone and rent a house instead of an apartment, would that mean that your partner needs to move with you? Probably not. Getting into van life has the same vibes, with less space.
Living in a tiny space is a unique and personal decision. If you and your partner choose to do it together, that's fine, but it is not a joint lifestyle by default.
If you feel you cannot do vanlife without another person in tow, maybe now isn't the time to do vanlife.
Vanlife with a partner may be a bad idea if:
You just started dating. Constant travel is stressful, tiring, and irritating. Living in a tiny space with another person combined with that kind of pressure can bring out the shadows of most folks' personalities. Figure out how you problem solve, resolve conflict, and deal with anger/frustration before committing yourselves to living in a tin can together.
You have never shared a living space before. In a van, you're likely going to see–not just smell or hear, but SEE–your partner poop. You will know what they smell like after not showering for an extended period. You will discover whether they're a clean or messy person. And there will be no doors, dividers, or separate areas for you to retreat behind. If you've never lived with this person before, you won't know how all of this might affect you.
One person is more "into" vanlife than the other. It's a terrible idea to coerce your partner into doing anything, let alone giving up their creature comforts to live in less than 80 sq feet. You know what coercing people to do things is a great idea for? Building resentment. That's about it.
You are struggling with communication. Living in a tiny space can be stressful, especially when it's a shared tiny space. It forces communication about things and issues you may have never expected discussing in a relationship. If you're struggling with open and honest communication before you get on the road, it's likely that moving into a van won't make it easier. You and your partner should have a solid foundation of trust, honesty, and communication before sharing a tiny space and navigating road life together.
A few tips for vanlife with a partner that can make it easier on everyone:
Test drive vanlife together
If you're planning on moving into a van together, it makes sense to try the lifestyle out together. Before you hit the road, the communication required to align schedules, destinations, expectations, and the things you each plan to bring with you are great indicators of how you'll navigate living on the road together.
While traveling, you'll be able to experience each other frustrated, lost, confused, and tired, and see how you solve problems as a team. Living and traveling in a vehicle full-time can make or break your relationship. Remembering that it's you and your partner against the issues is a great mindset to keep.
The limited time frame of a test run can make it easier to keep that in perspective. It also gives you something to look forward to if it's just not working out.
Get on the same page as your partner
I cannot stress this enough: if you have to convince someone to move into a van with you, you probably should not be moving into a van together.
It doesn't matter how much money you will save. It doesn't matter if you think that you'd be an amazing influencer couple. If you are not on the same page before moving into a van, it will be unnecessarily rough.
If both of you are eager about the idea and are fully on board, go for it!
Here are some conversations to have:
What to do if one or both of you wants out
Who will handle which chores
How often you'll check in and reevaluate
Who will do most of the driving
How you'll structure your travels
How you'll manage your finances
Consider unique arrangements
If you're dead set on van life and your partner is hesitant, that doesn't mean you shouldn't do it (unless, as discussed earlier, you feel you literally cannot do vanlife on your own.) It also doesn't mean that you need to break up.
It means that van life is YOUR dream, not Y'ALLS dream. I encourage you to consider creative and unique arrangements that allow you to realize your dream while respecting your partner's autonomy and desires.
Here are some creative ways I've seen van life work for couples:
One partner keeps a home base. The other one travels in a van and returns when they're homesick, missing their partner, or at agreed-upon intervals.
One partner flies and visits the traveler. This gives "baecation" energy and is a lot of fun if funds and work schedules permit.
Traveling in tandem. Maybe the idea of sharing one van is the deal breaker. If you have the budget for it, traveling together in separate vans can be a lot of fun. It gives each person their own space, which comes with more privacy, autonomy and the ability to adhere to personal routines, while still sharing space and time together. Think of it like a road-life-roomie situation.
10. Letting Your Ego Drive the Van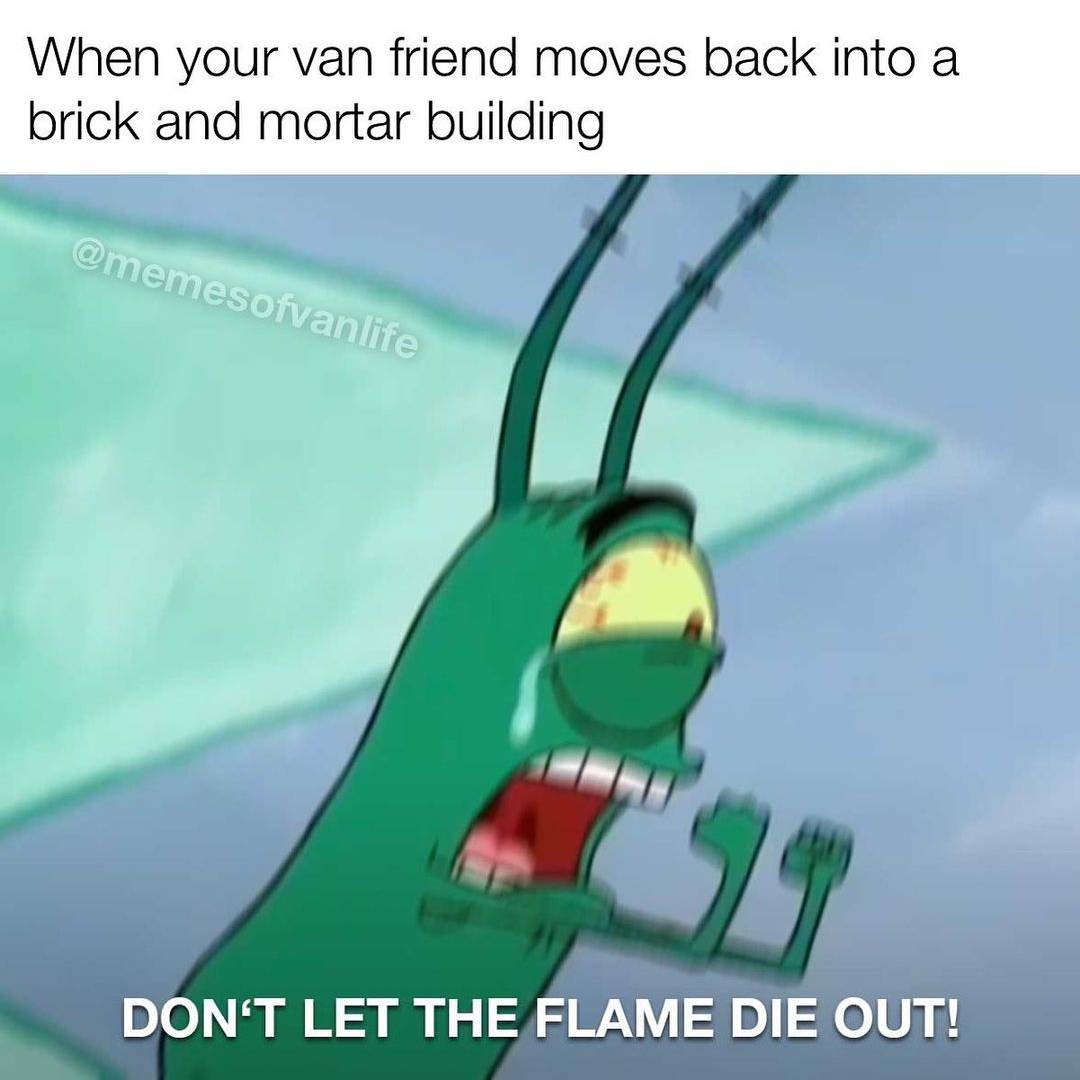 You, the fully fleshed-out individual with a brain, emotions, and reasoning skills, should always be in the driver's seat. Letting your ego drive is a situation you should do your best to avoid.
What does ego driving look like?
Ego driving is when your pride or concern with what others think of you and your decisions control your adventures.
A common way your ego can take the wheel is by sticking with vanlife long after you're no longer happy doing it because you're afraid of what others will think of you. This can be especially troublesome if you've attempted to become an influencer.
Other ego traps include:
Traversing roads you lack the experience to navigate to catch "bucket list" views or experiences.
Participating in high-risk activities (base jumping, high lining, winter sports, etc.) with minimal training to keep up appearances.
Neglecting your mental health to stick to a travel timeline or idea of what you "should" be doing as a nomad.
Forcing a relationship on the road to work because you're afraid that you won't be able to continue on your own.
Traveling outside of your means without a steady stream of income to keep up the appearance or illusion that you're crushing it as a "digital nomad."
How do I keep my ego in the backseat?
In the nomadic community, there's an understanding that places have vibes, and that at any moment the wind may shift and tell you it's time to go somewhere new.
The easiest thing you can do to check your ego is to keep that same mentality with the lifestyle at large. Get comfortable with the idea that at any point you may wake up and decide that you don't want to live on the road anymore. And–get this–it doesn't make you any less of a vanlifer, adventurer, or person.
With the glamorization of vehicle dwelling on social media, it can be very easy for vanlife to become just another rat race. Van-fluencers, six-figure conversions, and jet-setting "luxury nomads" make it difficult to resist the urge to compare your journey to that of others. Falling into this pattern is the quickest way to tie your identity to the nomadic lifestyle, which is letting your ego drive your experience.
Vanlife is a great opportunity to practice detachment: from people, possessions, experiences, and, of course, ego. The ability to lean into the ebb and flow of the world around you is one of the greatest gifts this lifestyle affords those who tackle it. Taking that with you as you navigate nomadic life is the best thing you can do to ensure that no matter what happens, you don't fail at vanlife.