The ultimate list of van life essentials helps you choose the best multi-purpose items for comfort, convenience, and safety. This list of 101 must-have items to pack for van life ensures you have everything you need to live in a van, plus a few extras to make van life fun and enjoyable.
Once your van build is done and you're ready to hit the road, it's time to pack! This can be a fun and stressful time. Outfitting your van is an adventure in itself. You don't want to overlook any van essentials, but you also have limited storage space.
When my boyfriend and I started full-time van life, we wrestled with what to bring. Neither of us is a minimalist, and there's only so much room to live in a van. We tried to balance simple living and an ideal level of comfort.
We also dreaded forgetting anything important. All our possessions were locked away in storage units. If we needed something, it would mean either a long trip to Atlanta to get it or spending some of our limited funds on buying a new one. (Which happened a few times, I'll admit.)
I assembled this list of top van life essentials (and some "nice to have" items) to streamline the process for you. From a fire extinguisher to camping chairs, you'll find all the tools you need for van dwelling. Many items are multi-purpose, conserving precious space so you can pack a lot of living into your tiny house on wheels, no matter what size van you own.
101 Van Life Essentials
Many of these items are things I found useful for full-time living in my high-roof, 159" Ram Promaster van. Your lifestyle, needs, and storage space are unique, so use this as a guide to creating your list of van life essentials.
Van Build Essentials
If you plan on building your own van, we recommend reading our detailed guide on converting a van into a camper for all the ins and outs. But here are a few van build essentials that you really don't want to forget, including some that you might overlook.
Portable Power Station / Solar Generator. You need electricity in your van, and these devices simplify that process by packing everything you need into a compact box. These are about as plug-and-play as you get. Hook up some solar panels, and you're ready to go! (If you're more DIY-minded or have specific needs, you can also install a full vanlife solar electrical system).
Solar Panels. Whether your van's solar system consists of a power station or a full electrical setup, you need solar panels to charge it up. You can mount solar panels on top of your roof or throw some portable panels in the back of your van to set up at camp.
DC-DC Charger. Having the capability to charge your batteries via you van's alternator can be a lifesaver. That's where a DC-DC charger comes in – this is an essential device for keeping your electrical system topped off no matter the weather.
12V Portable Refrigerator. Having a refrigerator in your rig is a game changer when it comes to cold food storage. You won't have to worry about ice or water logged food, and you'll be able to stay off grid for longer. You'll need an electrical system first, but the best 12V refrigerators don't draw much power.
Insulation. Whether you use sheep's wool (our favorite), Thinsulate, or rigid foam board, having a properly insulated van makes a huge difference in your day-to-day comfort.
Ventilation Fan. A roof vent fan not only vents your cooking fumes. It also helps keep you cool by sucking out hot air and promoting airflow, and prevents condensation from building up and causing problems. We recommend going with a MaxxFan for the built in rain cover. Some vanlifers even install two – one for inflow and one for outflow.
Camper Van Awning. Shade is important in hot weather, so why not make your own? A good awning is a major upgrade to your livable space, and helps keep the sun off your van.
Cooking and Food Storage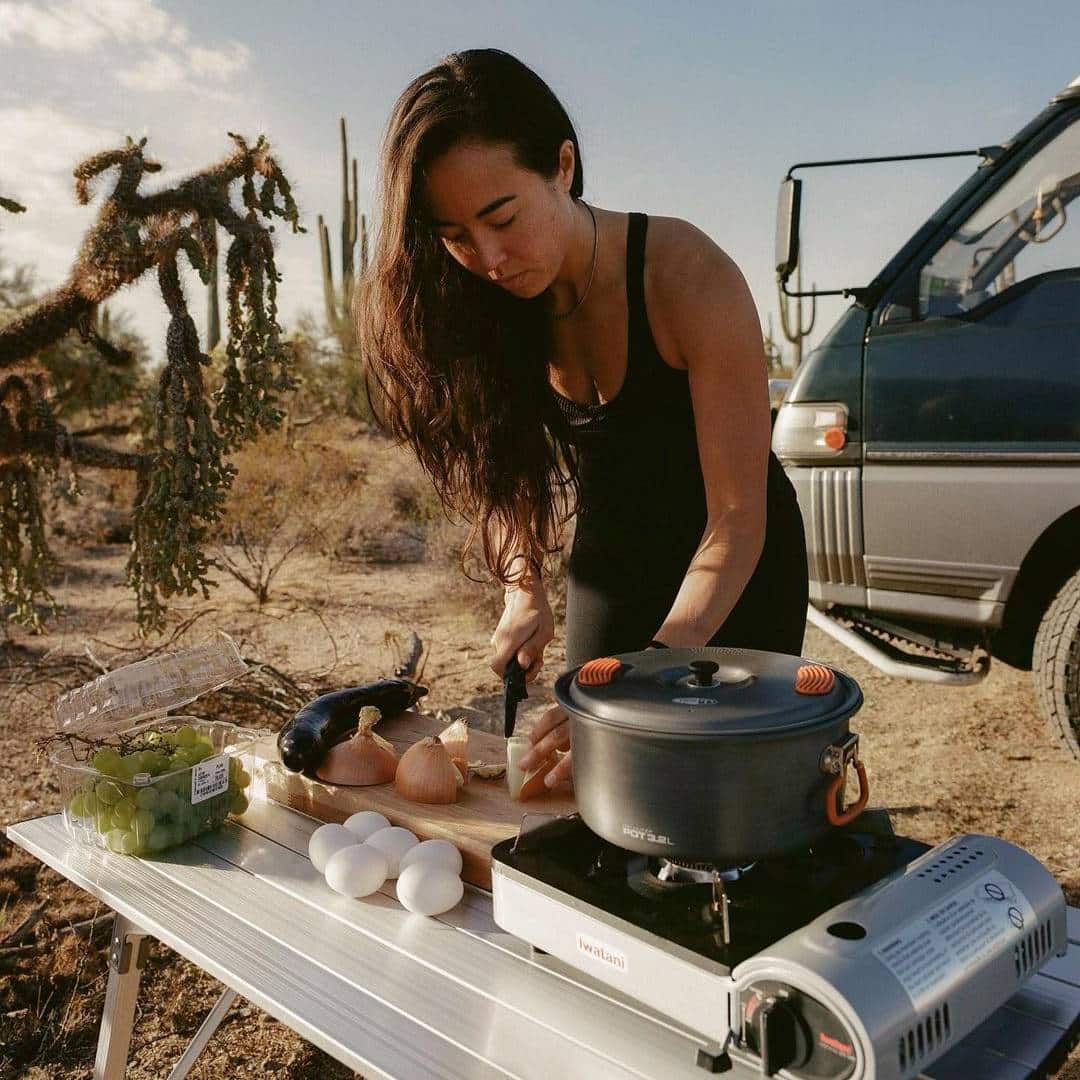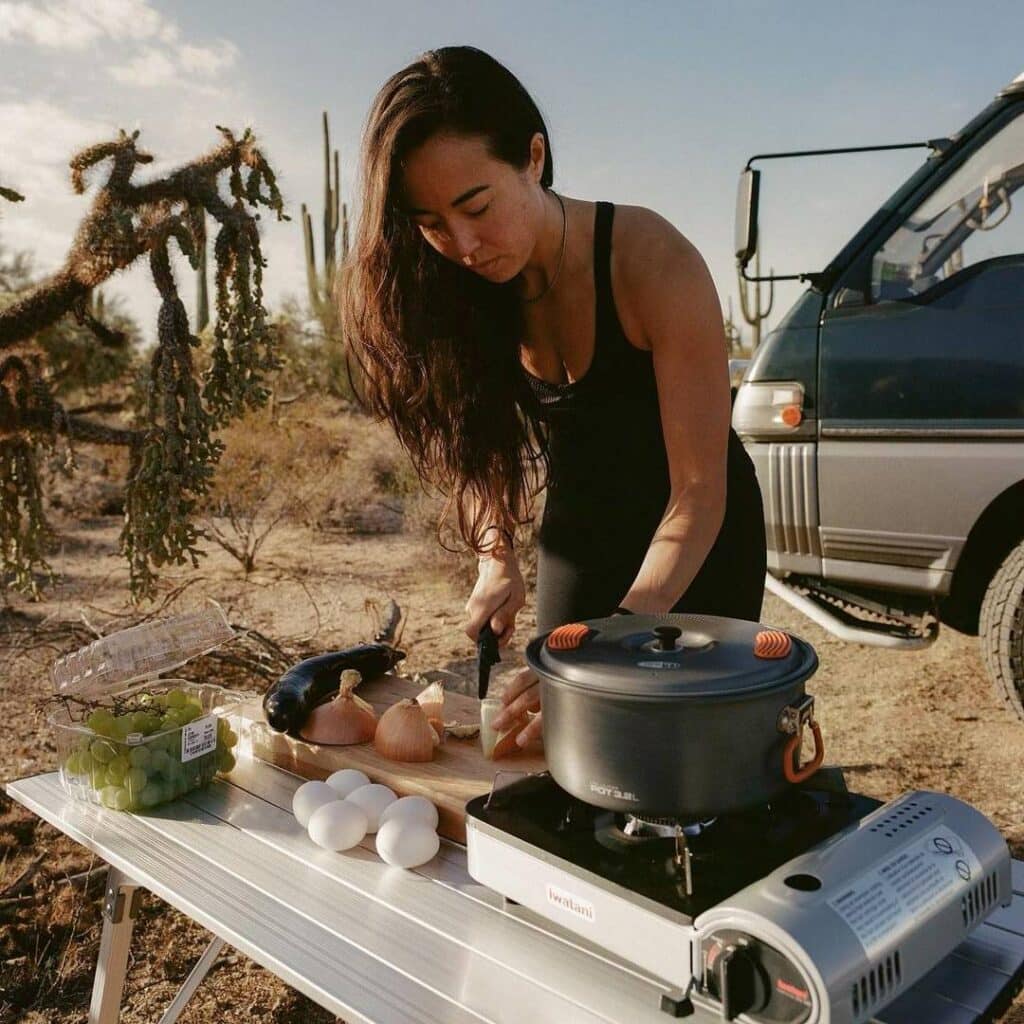 Cooking in a camper van can be a real challenge if you don't have the right equipment. Fortunately, you don't need to spend a lot. Bring things from home or outfit your van kitchen at discount stores and thrift shops, if necessary. Of course, if you're a backcountry gourmet, feel free to go all in!
Stove – Lots of van lifers chose an induction cooktop. The sleek look, quick heating, and smooth surface make induction stoves convenient, but they require a fair amount of power. Instead, I chose the small, portable Kovea Cube stove for my camper van. Butane fuel is safe to use indoors, with less risk of dangerous carbon monoxide than a propane camp stove. (I also carry a 2-burner Coleman stove but only use it outside.)
Lighter – Any lighter will do, but the long ones are best for van life. Use them to light your stove and ignite outdoor fires.
Hot Mat / Pot Holder – These inexpensive little squares and circles keep you from burning yourself AND surfaces in your van when you put down a hot pan. Silicon is easy to wash and highly heat resistant.
Cookware – You can get by with a single multi-purpose pan–a large, high-sided pan is a good pick–but I recommend both a saucepan and a frying pan, with lids for each. Cast iron is indestructible and can be used on fire and your stove.
Coffeemaker – Do you live for your morning cup of Joe? Choose a durable, easy-to-clean coffee pot. An Aeropress makes top-notch coffee, and it's compact and quick to clean. A 6-cup Moka Express pot brews a strong cuppa on the stove, and Bialetti recently introduced an induction-friendly version. A french press is also a great choice.
Colander – Sure, you can rinse food and strain hot water off your spaghetti without a colander, but they sure make life easier. A collapsible one tucks away in a small space, while a more decorative one can double as a fruit bowl.
Food Storage – From leftovers to planned overs and even breaking up large packages, you need food storage. Get some nesting food containers and reusable or biodegradable food storage bags. Foil, plastic wrap, and waxed paper also come in handy for cooking and storing food.
Fuel – Before you venture into the backcountry, fuel up with extra cans of propane or butane if you use them. Walmart, REI, and many outdoor stores carry these, but sometimes they run out. Better to have a few in reserve, just in case. (I keep 2-3 extra butane cans in the drawer next to my stove, they're that compact.)
Cooking Utensils for Your Camper Van
These little van life gadgets fall into the "easily forgotten" category, which can be a real nuisance. When it comes to van life kitchen essentials, think about your style of cooking and what you love to eat. Then pack the kitchen utensils you'll use the most.
Kitchen Knives – You probably don't need a complete knife set, but it's helpful to pack a few different types. Start with a small paring knife, a good-sized butcher knife, and a medium slicer. Although they can break, ceramic knives stay sharp, so you won't need to pack a sharpener.
Vegetable Peeler – My cheap old-school peeler makes fast work of peeling potatoes, carrots, and other veggies. You might want something fancier, but as with anything in van life, consider how much space it requires.
Cheese Grater – Box-style cheese graters can be a bit big for van life, so go with a flat, handheld grater. Or have a little fun with this cute and tidy Barry grater – it gobbles up shredded cheese until you're ready to open it up.
Can Opener – Because you'll probably have cans to open. Get one that doesn't leave sharp edges, so you can open and recycle your cans without getting hurt. You can pick up a small smooth edge can opener at Walmart for about $10.
Bottle Opener / Corkscrew – You may also want a bottle opener/corkscrew combo and a utilitarian churchkey opener that pierces cans. I packed my easy-to-use Rabbit wine opener, and we can pop tops with a carabiner that doubles as a bottle opener.
Spatula / Scraper / Tongs – Bring a few kitchen utensils for maximum versatility. Silicone won't scratch non-stick cookware or melt in your pan, a long-handled flipper is essential for grilling over a fire, and tongs grab things (like corn or spaghetti) that like to get away.
Serving Pieces: Spoon / Fork / Ladle – Large wooden spoons are handy for cooking and serving. A metal ladle dishes up soups and stews, and a big fork has all kinds of uses, from flipping steaks to serving veggies. These kitchen essentials are worth the space.
Kitchen Scissors – Bring heavy-duty scissors for opening packages and cutting up food or other van life essentials like zip ties, velcro, and tape. Good scissors seem to have endless uses.
Cutting Board – Wooden cutting boards are beautiful but require a little more work to clean and maintain. If space in your van is at a premium, look for low-profile cutting mats that take up almost no space.
Van Dining in Style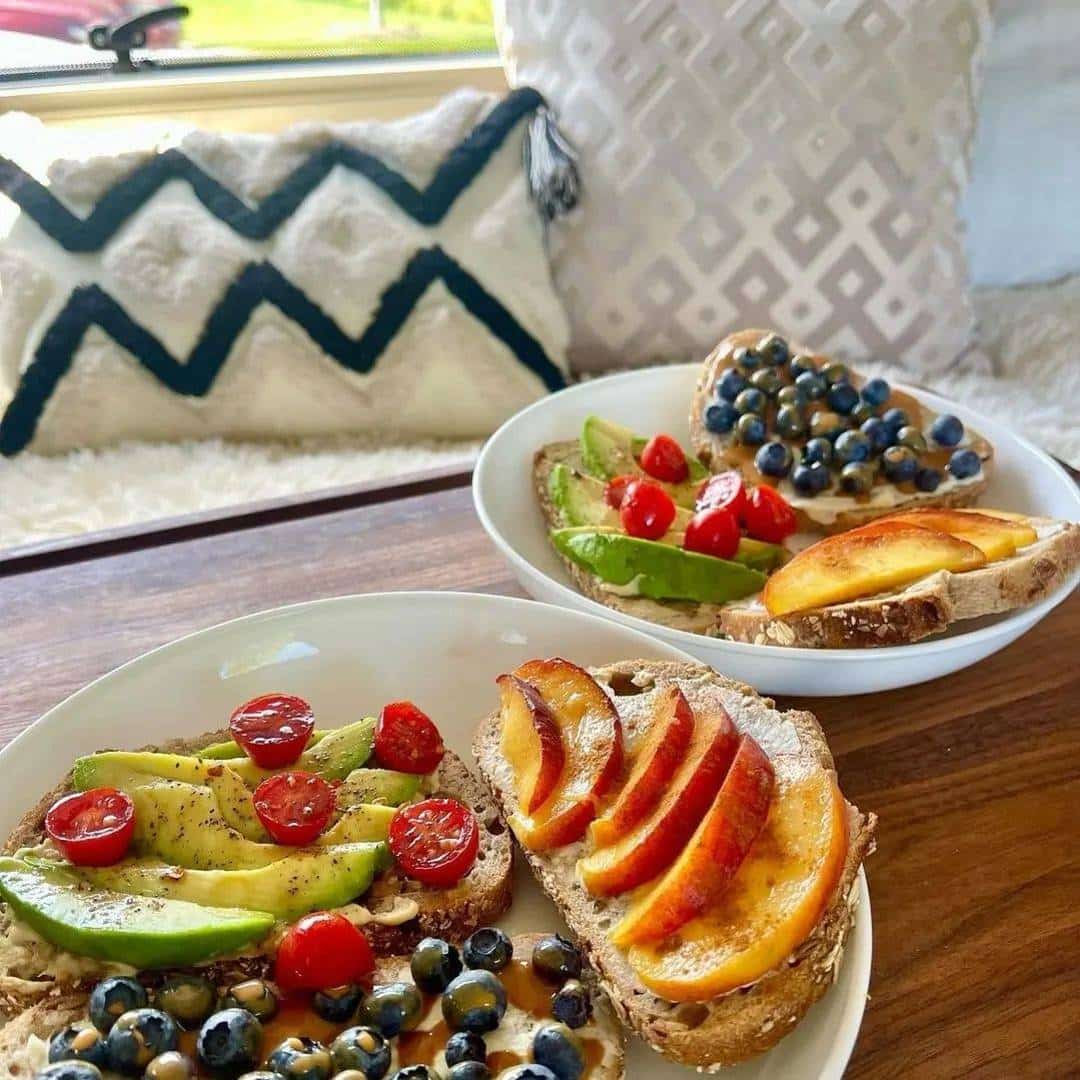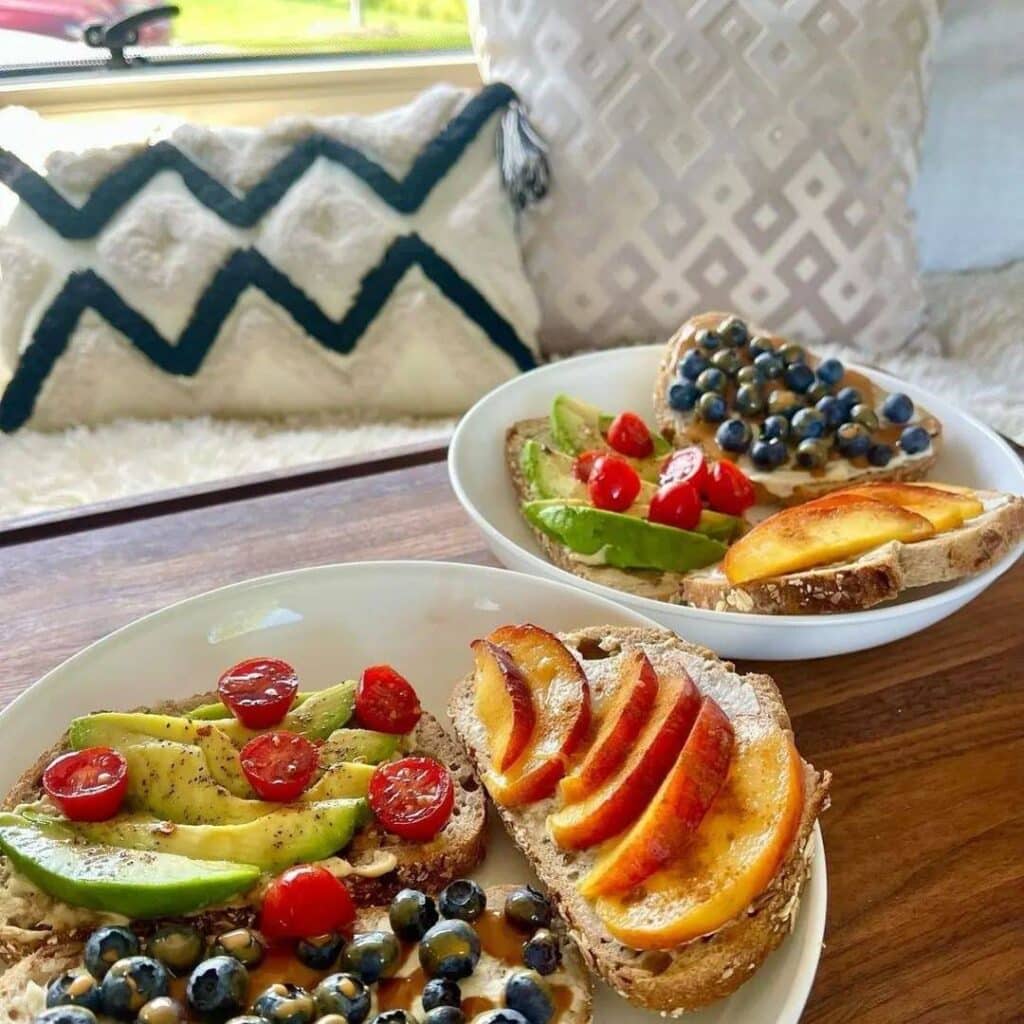 That lovely meal you just cooked in your camper van will taste a lot better on "real" dishes. Of course, you can opt for easy cleanup with paper plates and plastic forks, but there's a lot of waste to tote around until the next trash bin appears.
Plates and Bowls – Melamine dishes don't break easily, making them perfect for van life. They come in many colors and styles, from old-school cafeteria dishes to Tuscan chic. Get full-sized plates and smaller dishes that work as serving dishes, too. Wooden bowls are lovely for snacks and clean up with a quick rinse.
Cups & Glasses – From Yeti tumblers for cold drinks to highballs for cocktails, pack a selection of (hopefully unbreakable) vessels to drink from. Don't forget insulated water bottles and something for hot drinks like coffee or hot cocoa.
Flatware – Inexpensive forks, knives, and spoons won't break your heart if they get lost, which can happen during your van life adventures. I bought a flatware set just for the van and a compact organizer tray that takes up very little space and reduces rattle along the way.
Van Life Accessories for Sleeping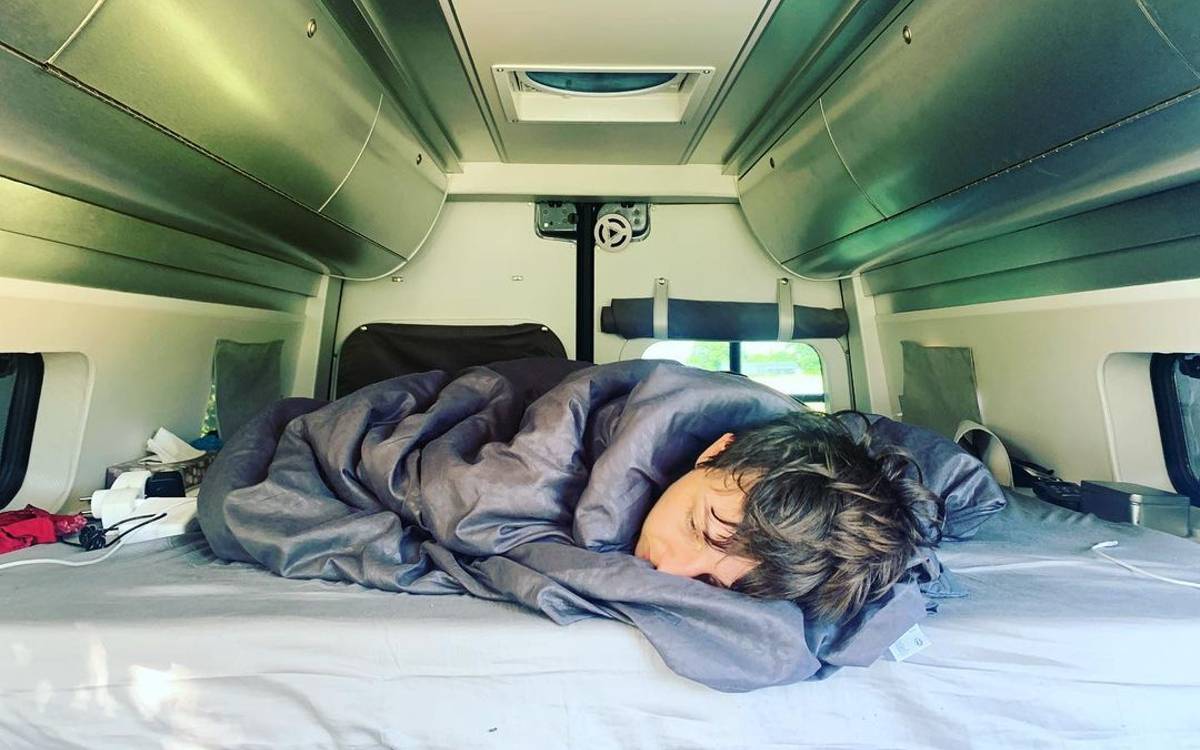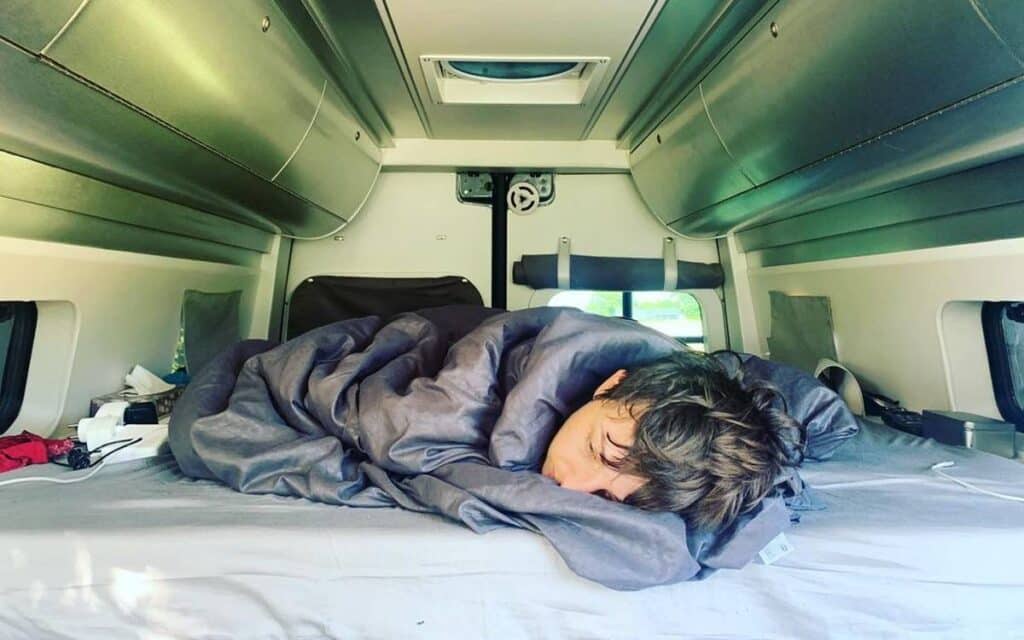 Nothing contributes to joy on the road for a van lifer as much as having a great night's sleep. My Zinus mattress gets most of the credit for my restful sleep, along with these van life essentials for sweet dreams:
Bed Linens – Don't skimp on quality sheets or pillows. They get so much use in a van that they're worth the extra cost, especially if your bed doubles as a sofa or lounge. Pick a comforter or even a sleeping bag that keeps you warm on cold nights and cozy year-round. I love my down duvet, and there are plenty of excellent down alternatives.
Throw Blanket – A small, washable throw blanket or two can be much more versatile than a large bed blanket. You'll find yourself using it by the campfire to cozy up in your (swivel) seat, and as a wrap on cool mornings. (Who has room for a robe?)
Ear Plugs and a Sleep Mask – Even if you hate ear plugs (I do!), there will be nights when the neighbors or the critters make too much noise. Block it out along with all the annoying little LED nights you didn't notice until your first night in the van, and you'll be a happier camper.
Sleep Aids – If you still have trouble sleeping in your van, you may want to turn to sleep aids like Melatonin, Midnight, or Chamomile tea. I keep a supply on hand just in case and try to stick to a good bedtime wind-down routine.
It's Dirty Out There – Personal Hygiene for Van Lifers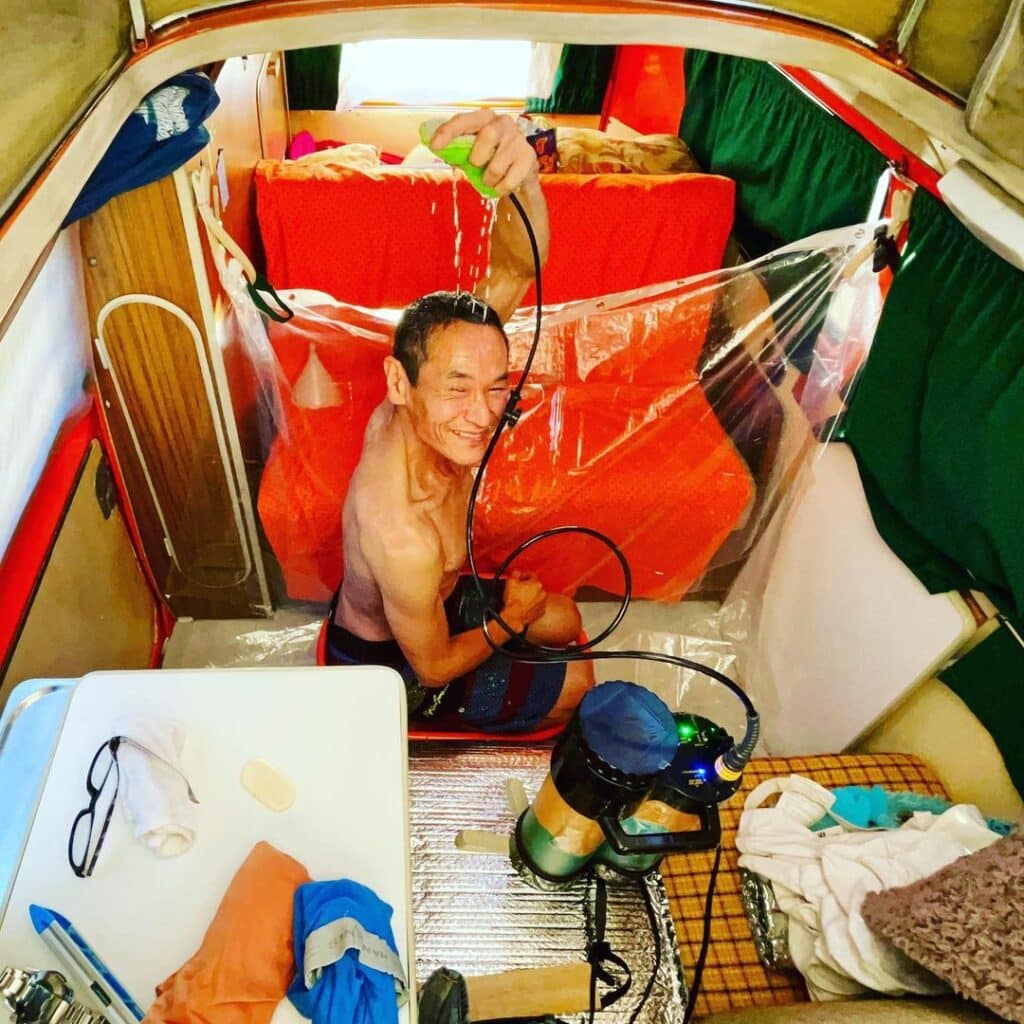 Unless your van has a built-in shower or a portable camp shower like the Nemo Helio Pressure Shower, van dwellers entails embracing a new definition of clean. You don't need to stink if you remember to pack all these essentials:
Towel – A beach towel is a practical choice if you only bring one towel. Use it for showering, as a spare blanket, and relaxing on the beach. For a little more luxury, pack a travel towel and washcloth. These rinse out easily and dry quickly.
Bath Caddy & Shower Shoes – Using a campground shower or Planet Fitness to wash up as many van lifers do means toting your stuff around. Be ready with a little caddy, tote, or ditty bag. Shower shoes are also essential for keeping away icky things, seen and unseen.
Baby Wipes – Since I'm often far from a shower, a "bird bath" is my next favorite cleanup trick. Baby wipes dispatch dirt in a flash. If you want to save money and enjoy a more spa-like experience, warm up some water and freshen up with your washcloth and natural soap like Dr. Bronners.
Toothbrush & Toothpaste – I know you'll want a whole host of toiletries. Bring that shampoo and conditioner, razor, lotion, and hair goo. Just remember your toothbrush (pack an extra, they like to walk off) and toothpaste to keep your smile bright.
Toilet Paper – This needs little explanation, whether you have a portable toilet or not. If you'll be pooping in the woods, get toilet paper that's biodegradable or pack it out. (In that case, bring a little trowel, too.)
Keep Van Living Clean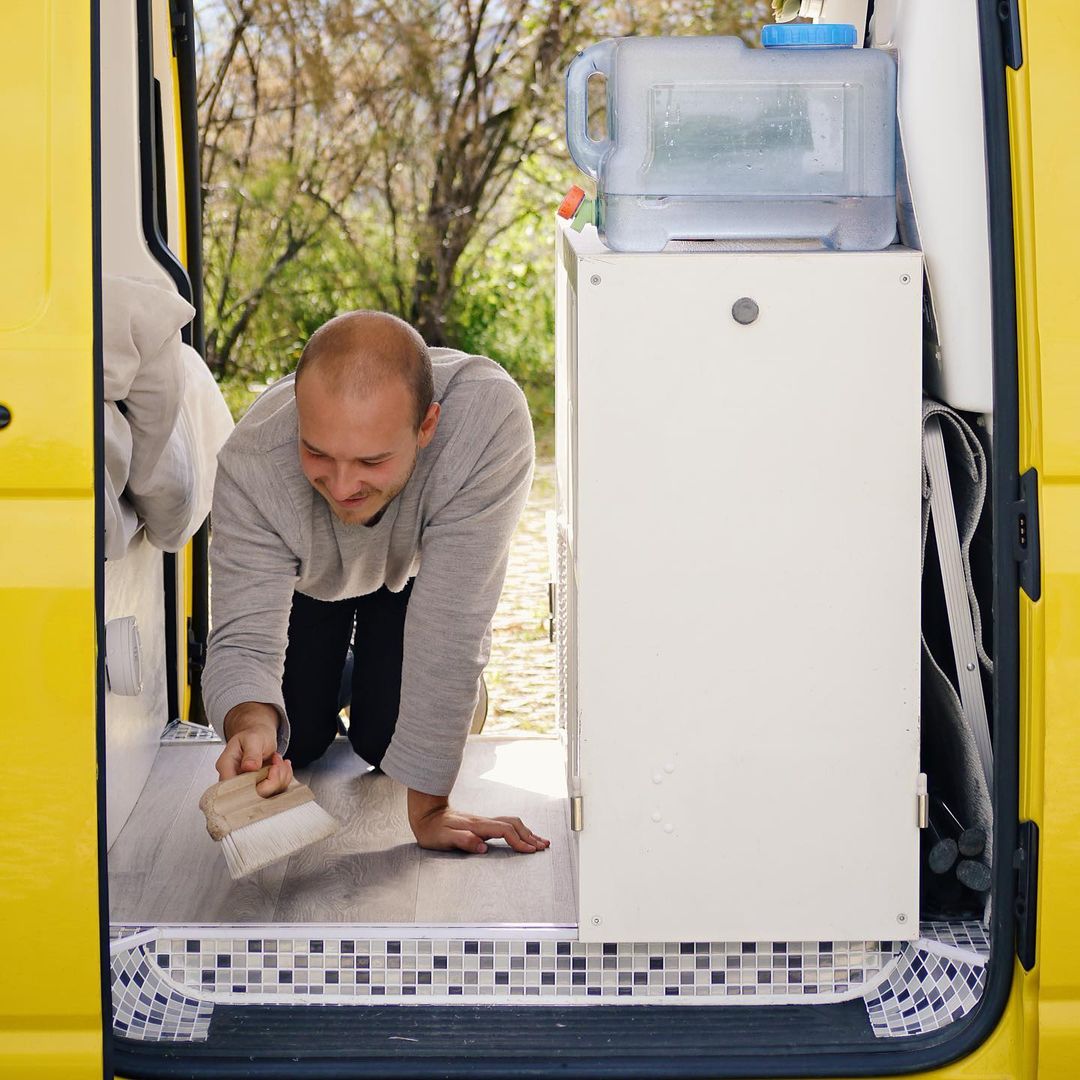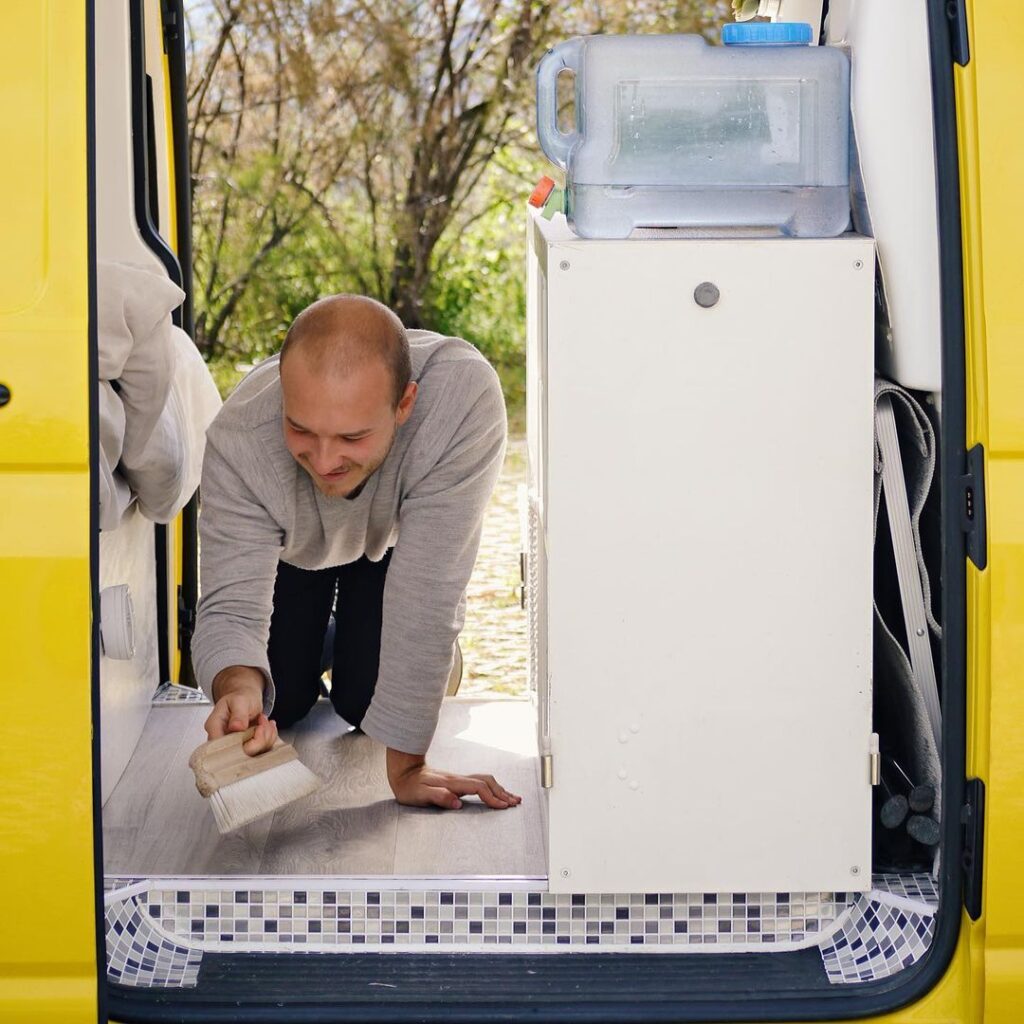 Mess happens. From spills to dust to dishes and dirt, daily chores are part of van living. The trick is to keep ahead by cleaning up a little every day. These van life essentials for cleaning speed up the not-so-pleasant tasks, and thankfully the small space makes them quick jobs.
Scrubbers and Sponges – Everyone has a favorite tool for dishwashing. The ones you choose for your van should clean thoroughly and dry fast. Reusable Swedish dishcloths can replace soggy sponges AND paper towels. For tough jobs, get a Skoy Scrub to clean without scratching.
Dish Towels, Drying Mat / Dish Rack – Add a hook to keep a dish towel handy in your van kitchen. If you prefer to let your dishes air dry, a low-profile dish rack and absorbent drying mat don't demand much space. A roll-up, over-the-sink dish drying rack needs even less.
Lysol Wipes / Alcohol Wipes – For small cleaning jobs or when you need to sanitize surfaces, a little pack of germ-killing wipes is helpful.
Rubber Gloves – Nitrile gloves keep your hands clean during dirty jobs like emptying black water tanks. They save your skin from paint and adhesives, too.
Rags, Scrub Brush – In addition to your kitchen towels and scrubbers, you'll inevitably need to clean something grimy or greasy. That's a job for odd rags, a solid scrub brush, and a good degreaser.
Sweep and Vac – Use a small broom and dustpan combo to banish spills and dirt. A compact rechargeable mini vacuum gets into cracks and crevices under seats and inside cabinets. Keep up with this, and less sand will sneak into your bed!
Van Life Apparel: What Clothing to Pack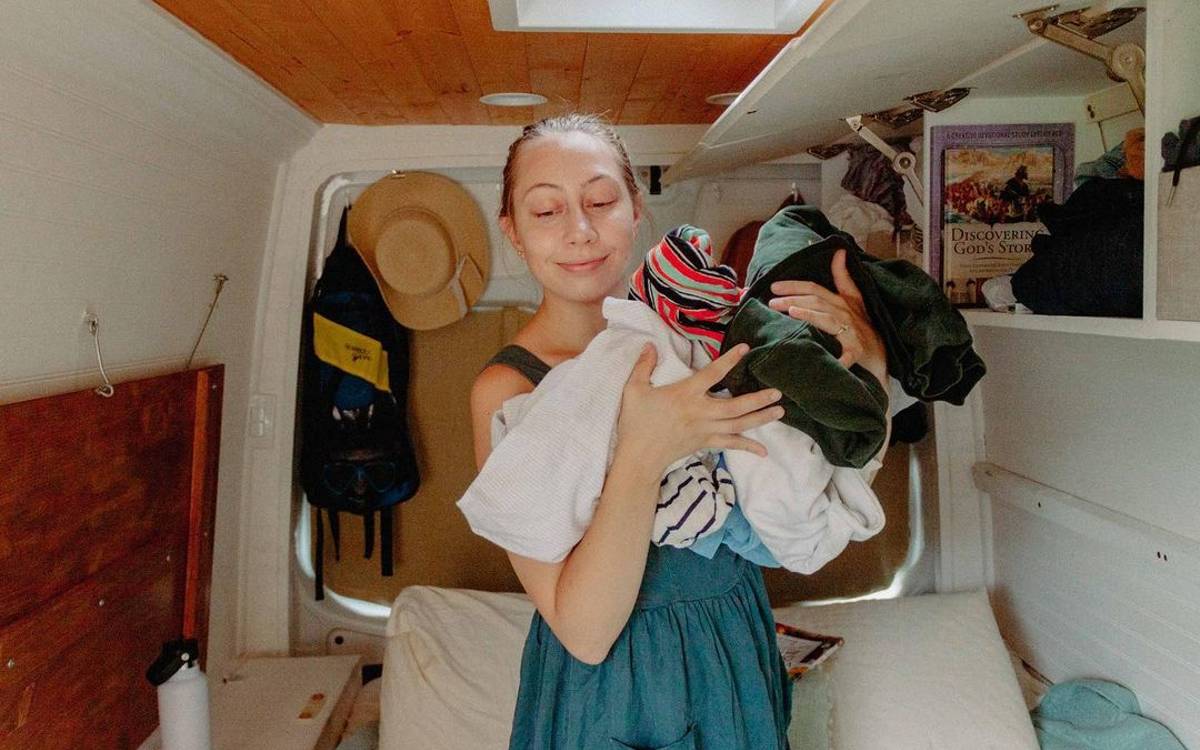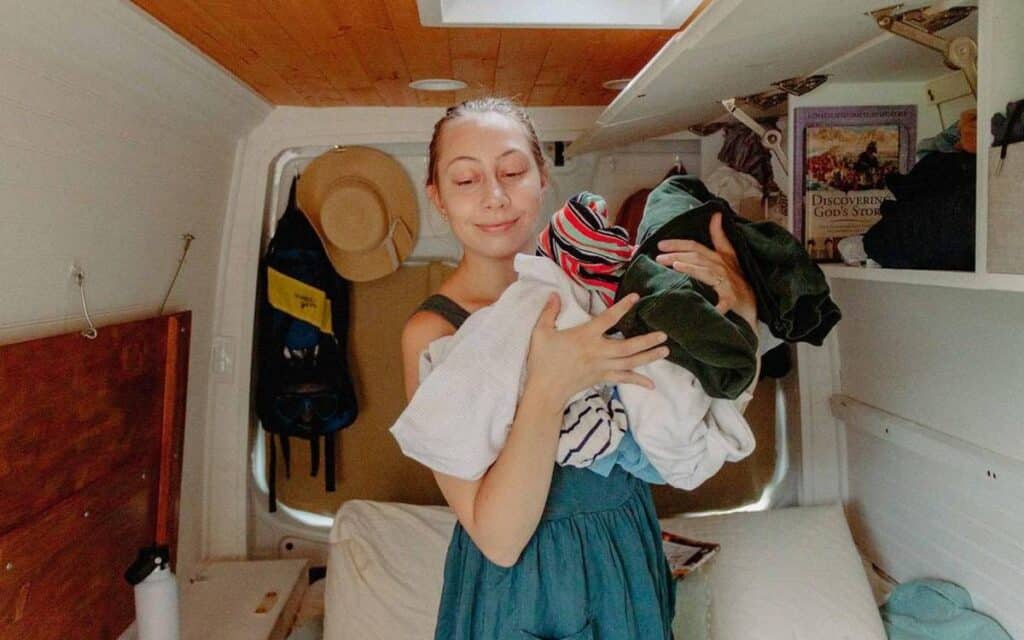 With limited space, packing for full-time van life is all about editing, so you have all the essentials and not much more. If you don't have the luxury of switching out clothes with the season, build a flexible wardrobe of items you can mix and match or layer for different looks.
Your clothes work hard on the road, so aim for quality when deciding what to take. At a minimum, you should include these staples:
Casual Clothing – Pack wash-and-wear clothes forwarm and cool weather. Grab a couple of sweaters, pants, and t-shirts/tanks and shorts for warmer days.
Sleep clothes and underwear – You might like to sleep in the buff, but you never know when you'll have to exit your van quickly at night! Be prepared to throw something on if you need to.
Bathing Suit – or something that can double as swimwear, like lightweight shorts and a sports bra.
Outerwear – Choose 2-3 coats and jackets in different weights, like a windbreaker, fleece, and a puffy. Responsibly sourced down packs up small and insulates well, and synthetic down alternatives get better all the time.
Accessories – These van life accessories are key to extending your wardrobe in cooler weather. Gloves, a hat, and a scarf can add comfort and style to your winter wardrobe. Alpaca and wool will keep you warm, even when wet.
Rain Gear – Instead of relying on a cheap travel poncho, bring a decent raincoat to keep you dry (and warm) in inclement weather. Add rain pants if you'd like.
Something Dressy/Black – It doesn't hurt to be prepared with something suitable for an unexpected wedding or a more somber occasion. Plus, you might want to dress up for a lovely dinner out now and then. Look for packable fabrics that don't need ironing.
Footwear and Socks – Pack your favorite casual, all-around shoes plus some walking or hiking boots or shoes. Bring something a little nicer but still comfortable, like loafers or Mary Janes. Crocs or Chacos make excellent shoes for the shower and watersports.
Space Bags or Storage Cubes – Eagle Creek and Sea to Summit make soft storage cubes that fit in van-sized cabinets to organize your clothes. Vacuum bags save space, especially when storing bulky items and seasonal clothing (or your window covers).
Put Dirty Laundry in Its Place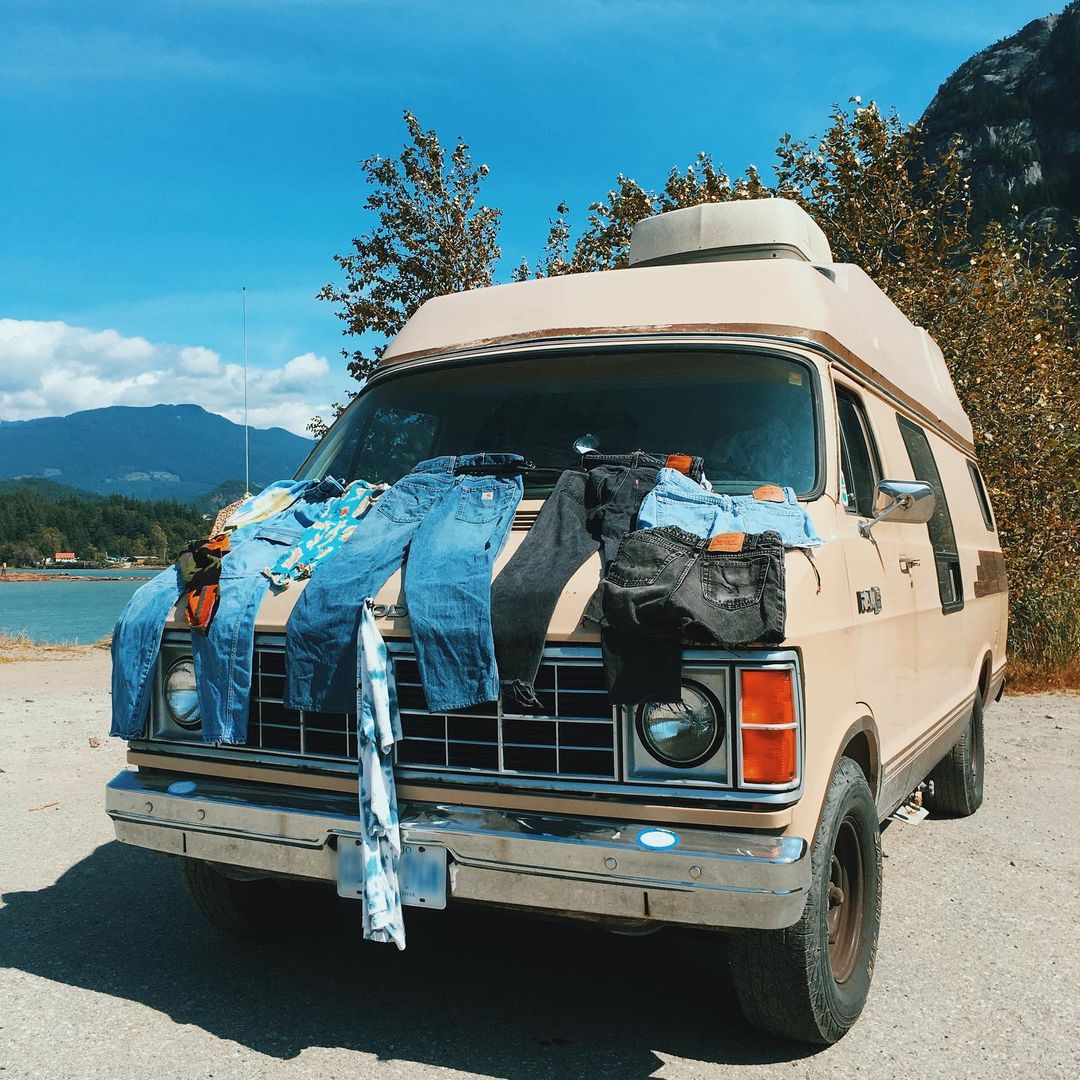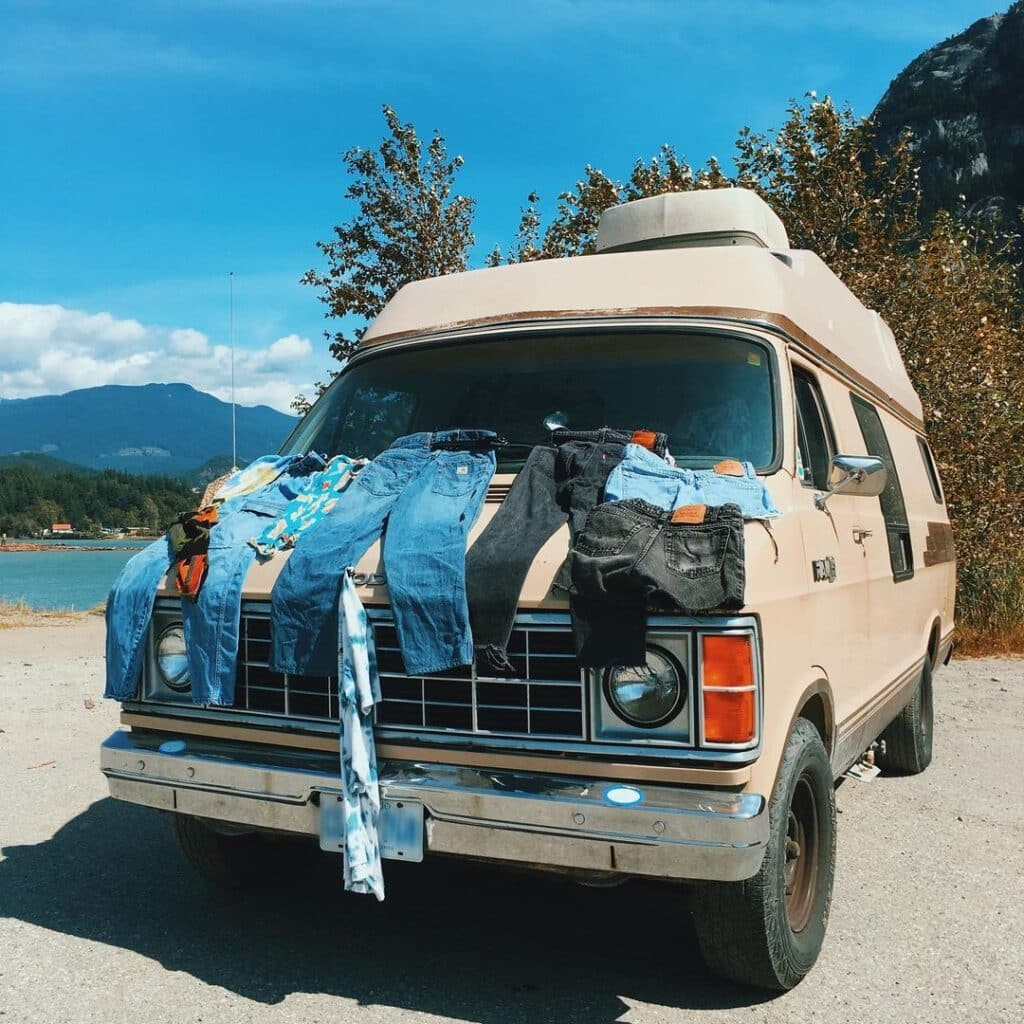 You can hand wash your clothes or drop by a laundromat every week or so. Some campgrounds even have laundry facilities. Commercial machines can be hard on your clothing so if you have lots of delicates or technical fabrics, you may want to do them yourself.
Laundry Bag and Tote – Instead of a bulky basket, toss your dirty laundry in a folding tote or mesh bag to keep it separate from your fresh items. You can use the same gear to transport clothes and linens on laundry day.
Laundry Detergent, Bleach, Stain Stick, and Dryer Sheets – Bring your own supplies. Choose your favorite brands in small packages and you'll save a lot of money compared to high prices for the single-use packages sold in the laundromat.
Wash Bucket and Clothesline – Fill a collapsible bucket (which has many uses) with warm water for handwashing, and use it to soak stains when needed. Elevate your hand washing with a Scrubba "hand washing machine" that packs up to fit in tiny spaces.
Van Life Storage & Organization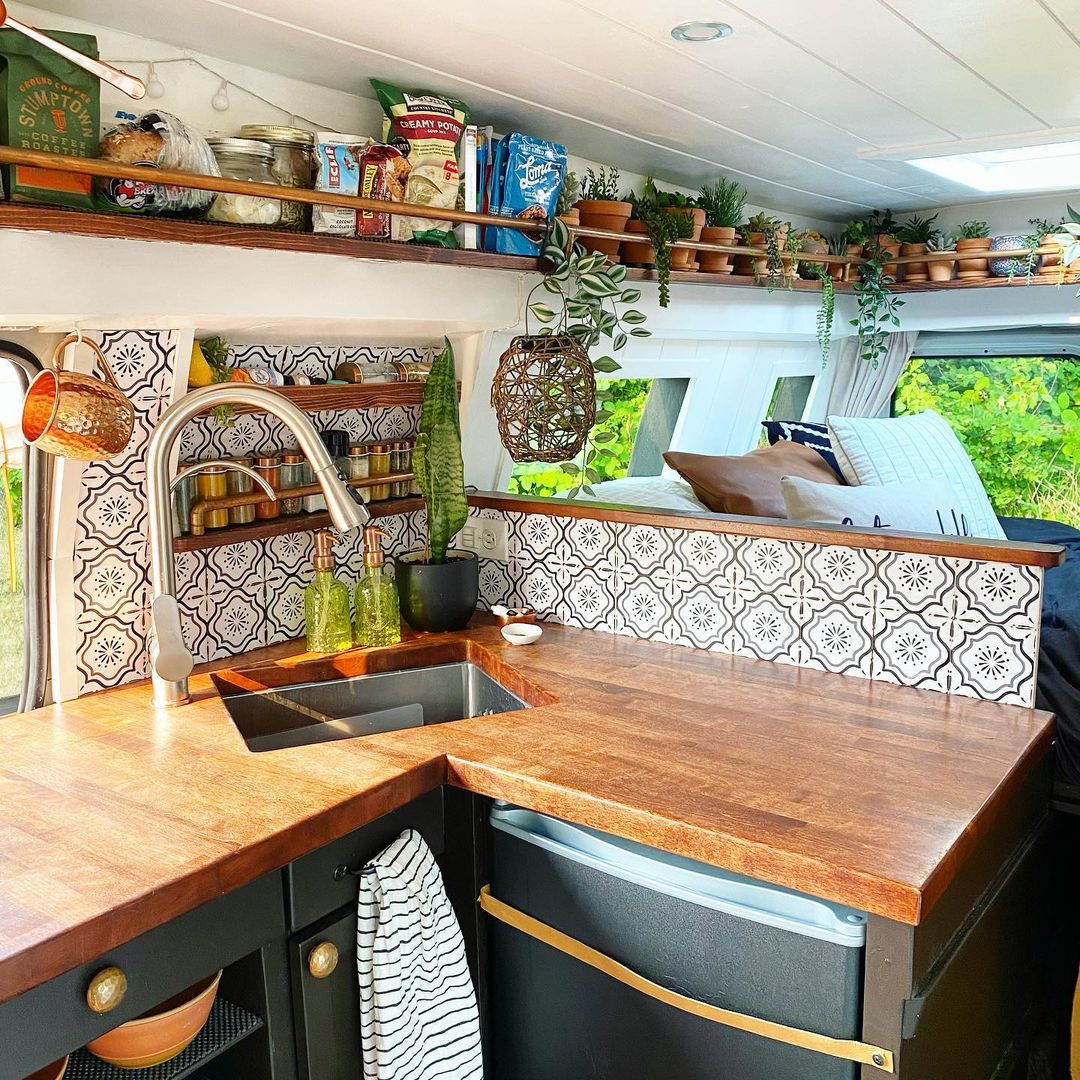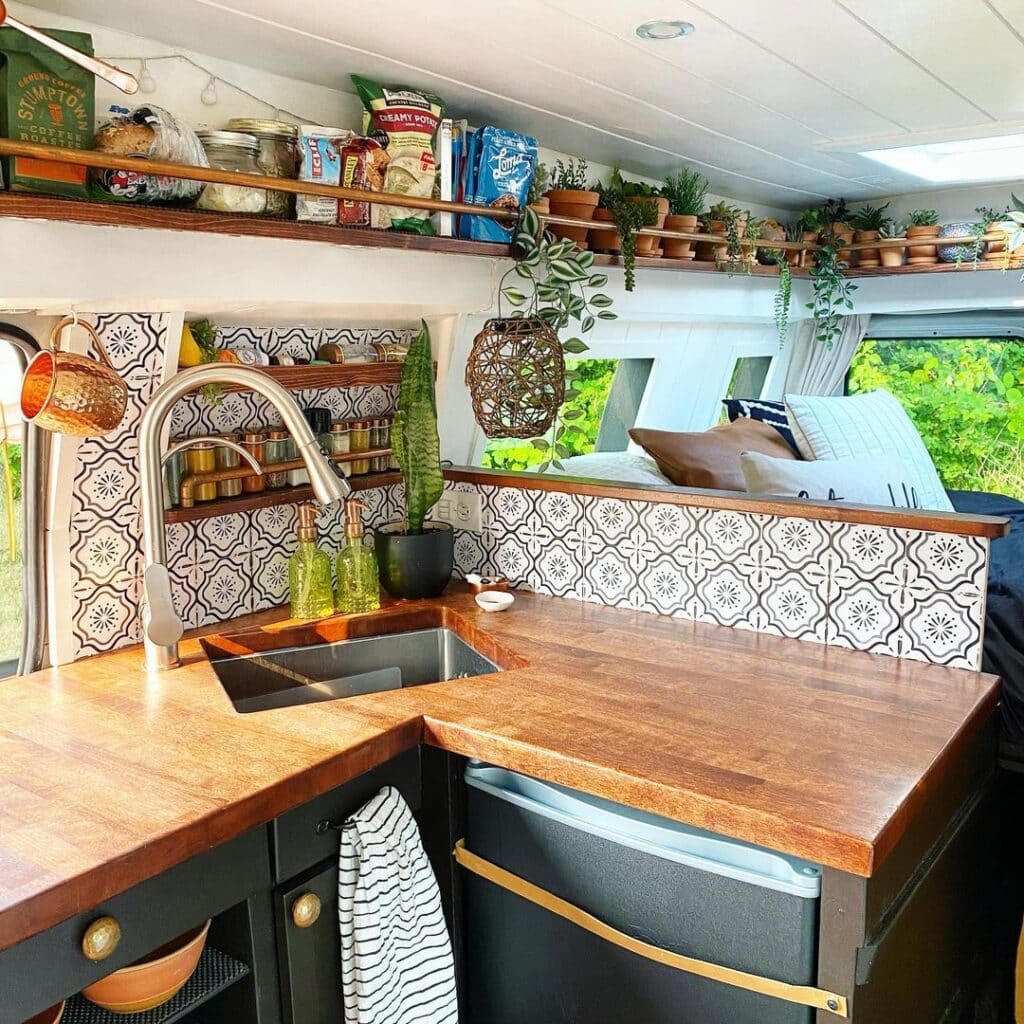 Tiny living can quickly become overwhelming when stuff is everywhere. That's one thing I overlooked when starting my full-time van life adventure. It wasn't long before I decided to make the rounds of Target, Tuesday Morning, and Home Goods to snag some organizers.
Trash Can – This little over-the-door trash bag holder is perfect for van life. All the other trash bins we tried were too big and bulky to keep in a cabinet. This one holds trash bags or grocery sacks and hides away to keep odors at bay.
Storage Bins – From big Rubbermaid totes to corral clutter in your van's garage to clear plastic refrigerator bins, containers in all sizes save the day. They keep items from rolling around or falling out of cabinets on the road, keeping things organized and findable.
Baskets – Fabric baskets are attractive and functional van life accessories. Use them as a home for items like dog toys, blankets, and towels. More structured woven baskets hold snacks in place while traveling, protecting chip bags, bread, and fruit.
Shelf Dividers or Bookends – Even shelves suffer from the effects of a road trip tossing things about. Clear acrylic bookends come to the rescue, keeping shelves and cabinets in order, with things exactly where they should be.
Safety & First Aid for Van Life
Staying safe on the road takes a little more than your basic first aid kit. Van lifers can encounter all kinds of issues and need to be alert and prepared. Prevention is a van life essential. Add these items to your packing list and you'll sleep better at night.
First Aid – Assemble a van life first aid kit with a variety of bandages, gauze, and an Ace bandage. Include small bottles of alcohol and hydrogen peroxide, pain relievers, stomach remedies, and allergy meds in your emergency kit. If you use an EpiPen, be sure to bring it.
Fire Extinguisher – Make room for a fire extinguisher rated for Class A, B, and C fires. Place one near the living area for cooking fires and one in the cab or near your batteries for electrical fires. Make sure the fire extinguisher is readily accessible, so you can reach it when seconds count.
Carbon Monoxide Detector – A battery-operated carbon monoxide detector offers peace of mind, night and day. If you use any kind of gas stove or heater, a CO detector is a must-have piece of van life gear. Install it near the floor and test it periodically.
Interior Locks – Vehicle locks are not fail-safe, and you may want some extra theft-prevention devices. Look up some simple security hacks that can keep you safe at night and protect your valuables when you're away from your van.
Alarms – Security alarms and cameras deter theft and can be monitored remotely via your phone. Some require wifi or Bluetooth, so shop around to find a system that works for you whether you have internet in your van or not.
Exterior Lights – Motion-activated exterior lights can help you see what's outside in the middle of the night. They also add a little ambiance in the evening. Attach these solar-powered lights with magnets and place them wherever you like.
Headlamp – Not just for backpacking, a quality rechargeable headlamp illuminates nighttime tasks and unlike a flashlight, it's hands-free! Headlamps are van life accessories you can use to cook in the dark, find your way to the bathroom, or peer under your van if there's a problem.
Fun and Games or Just Hanging Out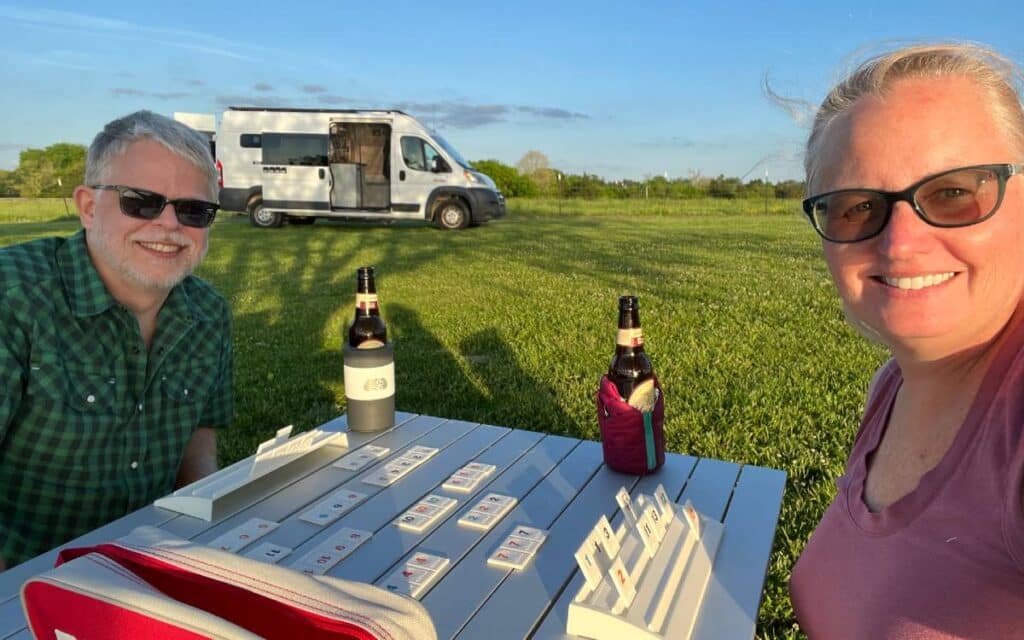 Van life ought to be fun; otherwise, what's the point? Bring all the gear for your favorite activities, as well as some games and gadgets that take chillin' to new highs. Since fun is definitely essential, add some of these items to your van life packing list:
Bikes – You don't have to be a hardcore cyclist to enjoy exploring on two wheels. While more a luxury than a van life essential, bikes are fun and get you around if you need a break from driving on your road trip. Be sure to pack a lock, water bottle, and tire pump, too.
Games – They're not just for rainy days. Travel versions save space so you can create a cache of games and invite other van lifers to play. Our favorites include Rummikub, Qwirkle, and chess, but nothing beats Uno or a deck of playing cards for portability.
Outdoor Fun – Frisbee is cheap, easy, and portable. Tennis racquets don't take up much space, either. You might even find space for a folding kayak or inflatable paddleboard!
Hammock – Try an Eno Doublenest or an ultralight Sea to Summit hammock for napping or lounging around with a good book. (You are bringing some books, right?)
Bluetooth Speaker – Enjoy some tunes or podcasts inside or out with a wireless, rechargeable speaker. Have a dance party when the mood strikes, if the neighbors won't mind.
Relaxing Outside Your Van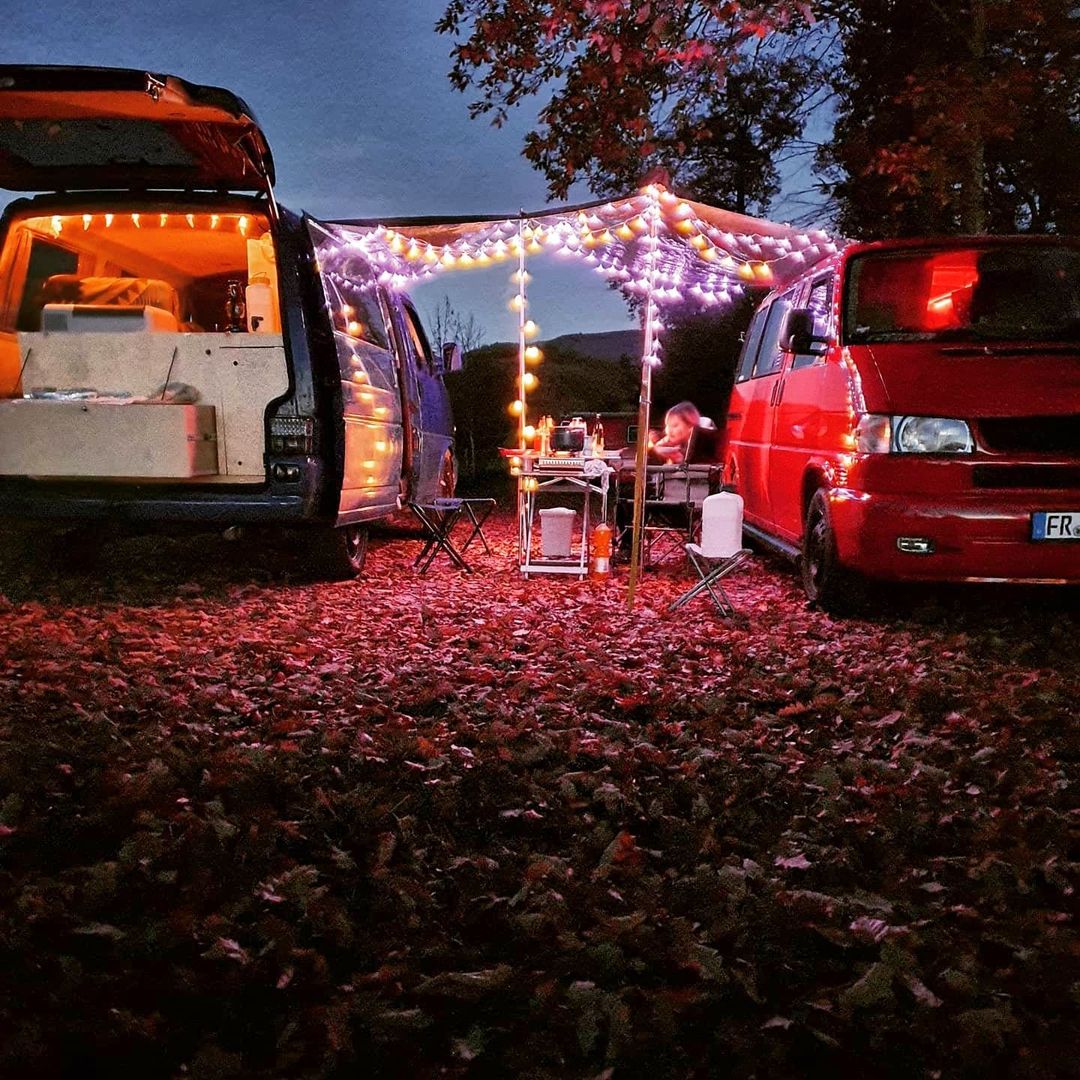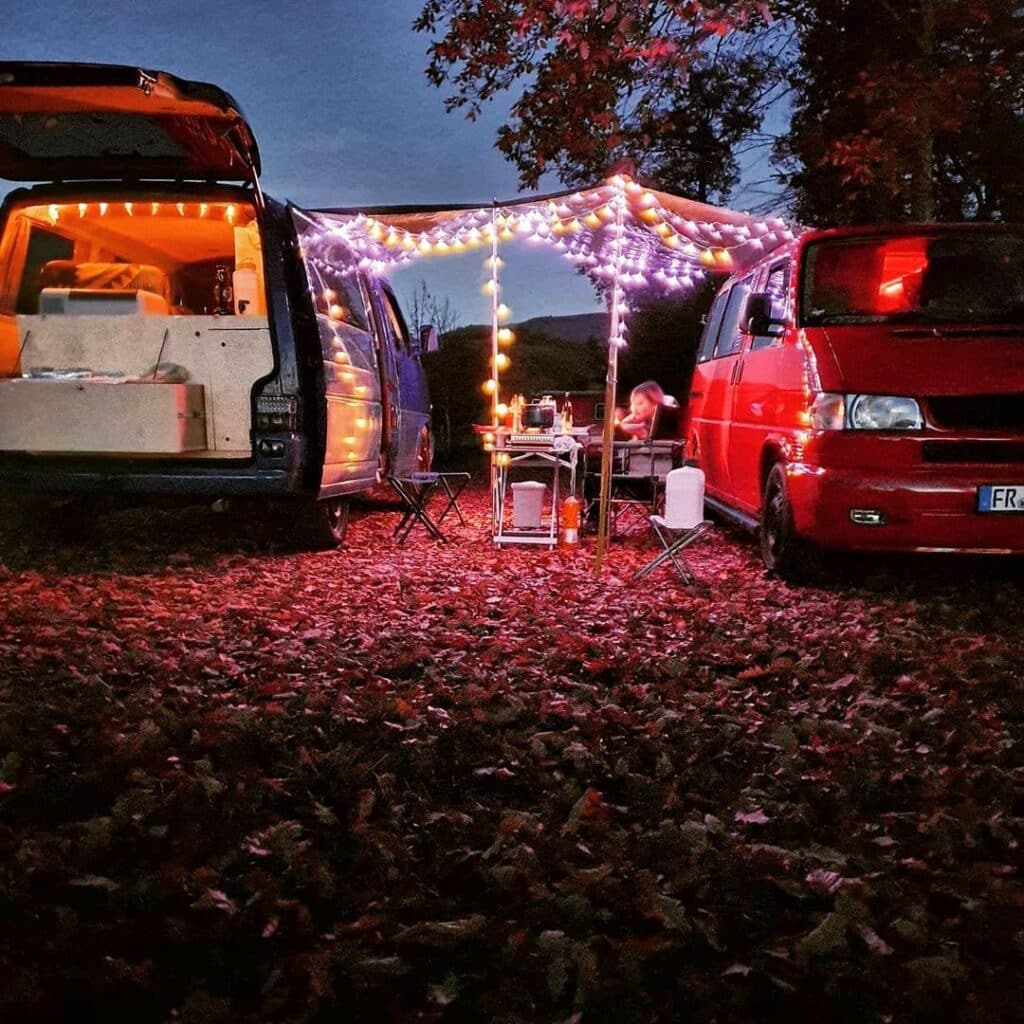 You might think van life is about living IN a van, but really you're living OUT of a van. Maximize the experience by bringing along van life accessories that turn the outdoors into a big, cozy living room.
Fire Pit – This used to be pure luxury, but now many parks are limiting open fires and removing fire circles for safety reasons. Bring a collapsible fire pit and enjoy a campfire (as long as rules allow it).
Camping Chairs – From lightweight backpacking chairs to large camping chairs for sky gazing, it pays to find room for a chair or two. No more sitting on damp logs or dirty ground.
Tables – Lots of places van lifers camp don't come with picnic tables. Bring your own folding table for food prep and games, or a side table for drinks. Then you can enjoy outdoor living wherever you are.
Sand Mat – I wasn't sold on RV mats until I camped with friends who had one. Sand mats and outdoor rugs are a game-changer for keeping dirt out of the van. They add a homey feel to your campsite and fold up into a convenient tote-style storage bag.
Lighting – Savor the evening van life mood with some battery-operated fairy lights inside or out. For task lighting, a solar-powered Luci Light or camp lantern does the trick, and a lantern stand helps bathe your outdoor kitchen or game table in light.
Insect Repellent– Bugs are a fact of van life. To keep the insects away, use a combo of things like inexpensive citronella candles, bug spray (I like No Gnats), and devices like a Thermacell that create a "zone of protection" around camp.
Jug of Water – Nothing fancy here; just an empty milk jug will do. Use it to put out campfires or wash down muddy feet when you don't have access to water. It also comes in handy if your camper van radiator suddenly needs water!
Van Life Essentials for Traveling Pets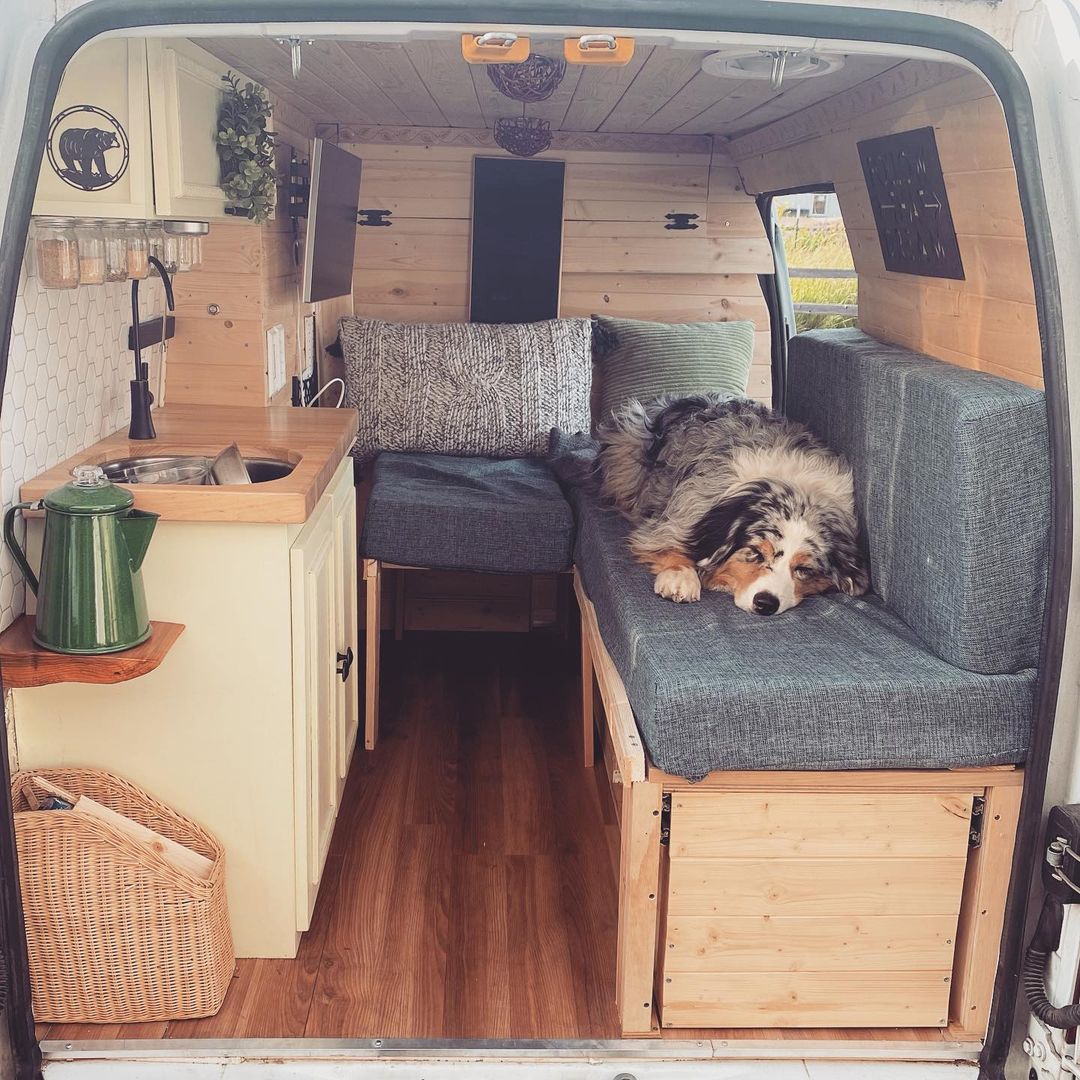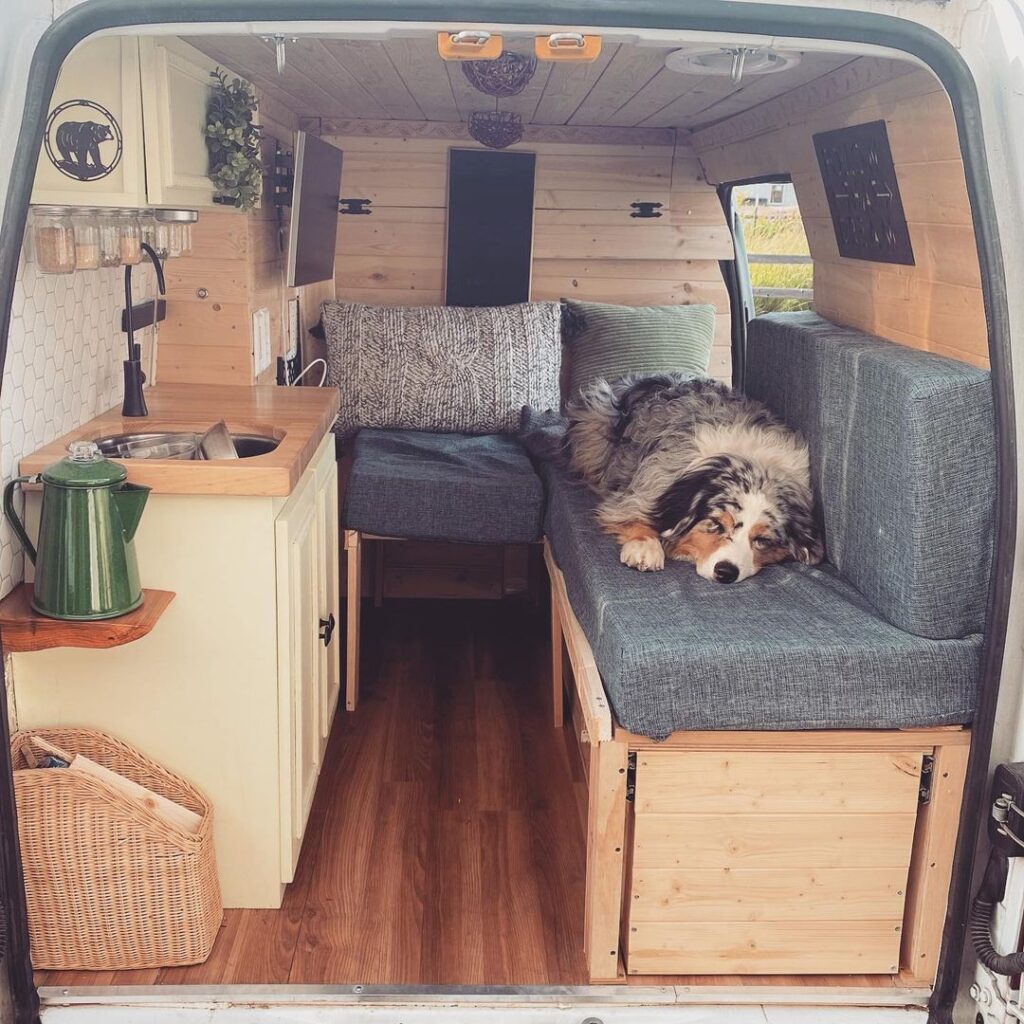 Taking a road trip with pets adds a new dimension to van life. In exchange for sharing their affection and amping up the fun meter, they have their own list of van life essentials:
Bedding, Blankets, and Warm, Snuggly Things – Keep your furry friend cozy with a travel bed and throw blanket. When it's cold out, pets can get chilly, too, so have a sweater or something else to wrap them in.
Leash– If your pet pal is a canine, bring a durable 6' leash or two. Lots of places require this length, and many parks prohibit extendable leashes on trails. Add a holder for poop bags so they're within reach when you need them.
Dishes & Food Storage – Fido needs to eat somewhere, so bring a water dish and food bowl for the van, as well as a travel dish if you plan on hiking or exploring together. A good pet food storage container is a must for van life since pet food bags get messy.
Safety Gear – Just like people, pets can be injured in accidents. A pet seat belt that attaches to a harness will keep them safe. If Snowball ventures out on the water with you, add a doggie PFD/life preserver to your list.
First Aid Kit – Get a pet-specific first aid kit or add items like tweezers, eye wash, and iodine pads to your own first aid kit. An emergency rescue harness is a lifesaver if an accident happens on your outdoor adventures and you need to carry your pet a long way on foot.
Travel Kennel or Pet Carrier – Even if you plan to spend almost all your nights in the camper van, you'll want a travel kennel for staying elsewhere. They're often a requirement in pet-friendly hotels. For small pets, a carrier is a necessity for trips to a vet.
Toys and Treats – Pack a few of your pet's favorite playthings. Look for toys that wash off easily, since they'll inevitably attract dirt, inside or outside the van.
Temp Sensor – A wireless temperature sensor can alert you via your phone if it gets too hot or cold in your van while you're away. There are many brands to consider, like Waggle. Some require Bluetooth or a cell signal, so research before you buy.
Van Repairs and Maintenance on the Road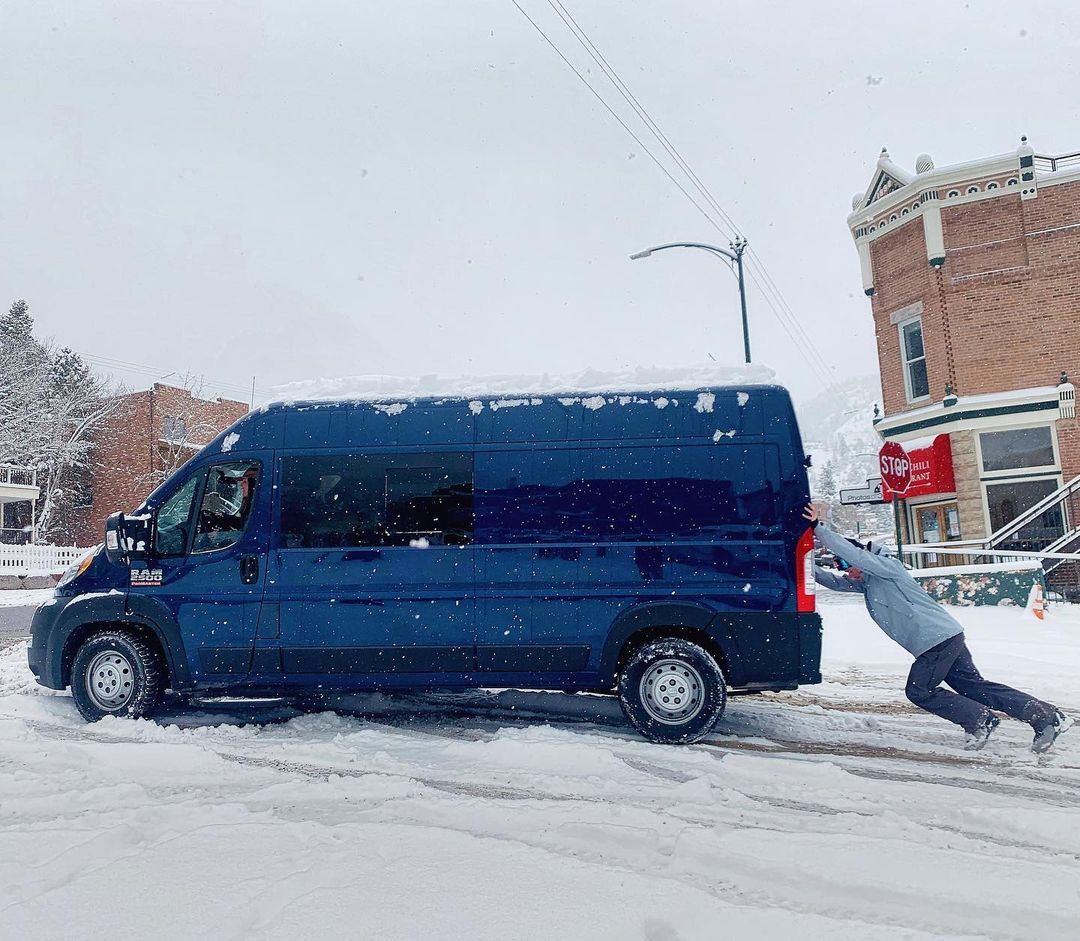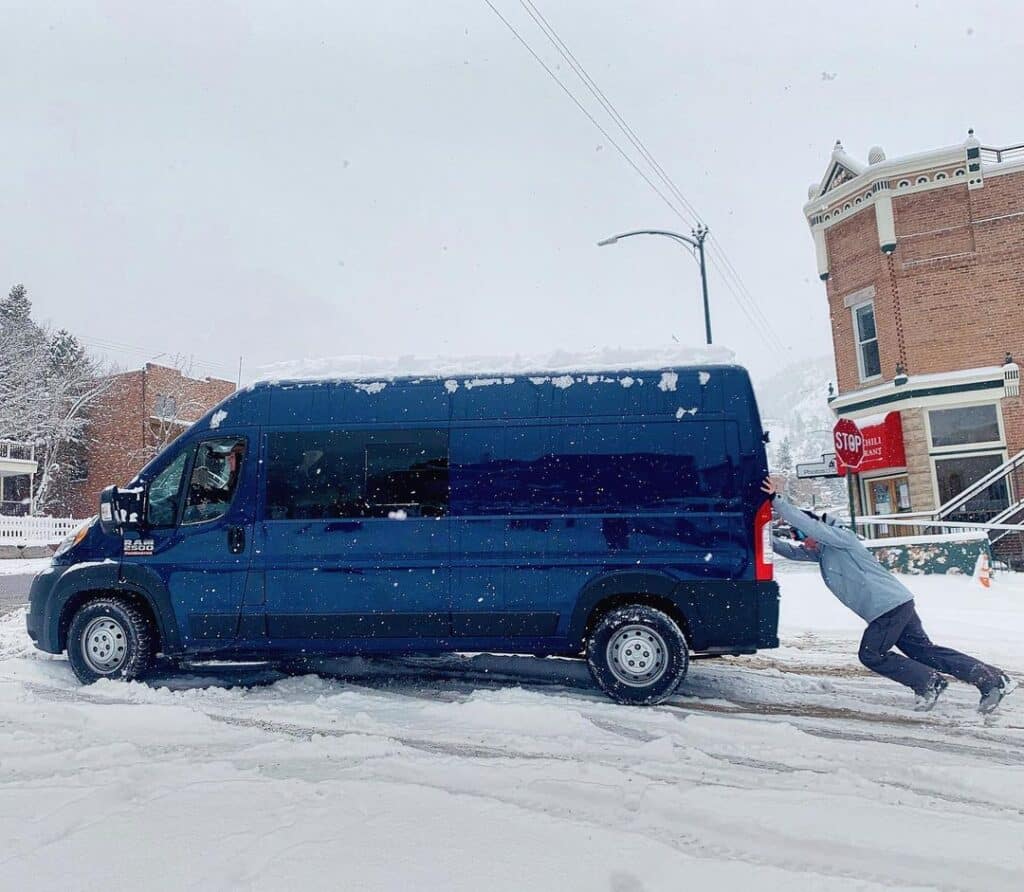 Full-time van life demands a degree of self-sufficiency. Even if you're not off-roading, endless bumpy miles can rattle your van conversion, making things inside vibrate, fall, or wear out. When they do, be ready to make impromptu field repairs.
When your van puts you in a jam, a roadside emergency kit is critical. It can mean the difference between getting back to your van life adventure quickly or being sidelined waiting for a rescuer to fix a flat tire or get you unstuck.
Toolkit – Carry a basic van life tool kit with various (SAE and metric!) wrenches and screwdrivers. Include a hammer, a rubber mallet, plus a few screws, nails, and fasteners. Add assorted adhesives (glue, tape, caulk), zip ties, and velcro.
Amp Meter – To check your batteries and troubleshoot electrical problems, pack a small battery-operated AC/DC amp/volt meter.
Portable Air Compressor – Keep your tires at the optimal inflation level, which varies with weather and driving conditions. For enough power to quickly inflate van tires to full PSI, choose a portable air compressor that attaches directly to your van battery.
Traction Boards – Get unstuck all by yourself! You can strap large ones to the outside of your van, but I prefer a folding style like Go Treads that tuck away into a corner of my van garage. These also double as leveling blocks for uneven campsites.
Portable Power Station – Go with a versatile portable charger like the Mophie Powerstation that includes jumper cables. Then you can give your own van a boost or help fellow van life nomads out of a bind.
Folding Shovel and a Small Saw– Use the shovel to dig out tires, trench around a tent, or extinguish a campfire. The saw makes quick work of removing fallen branches and cutting up found firewood.
Water Hose – Handy for filling your water tank, washing your van, and cleaning muddy pets (or feet). Look for a lightweight, expandable water hose that takes up hardly any space.
Extension Cord – If you'll be in campgrounds or even a friend's driveway, a heavy-duty extension cord takes some burden off your batteries and solar setup, and connects you to shore power.
Essential Documents for Van Living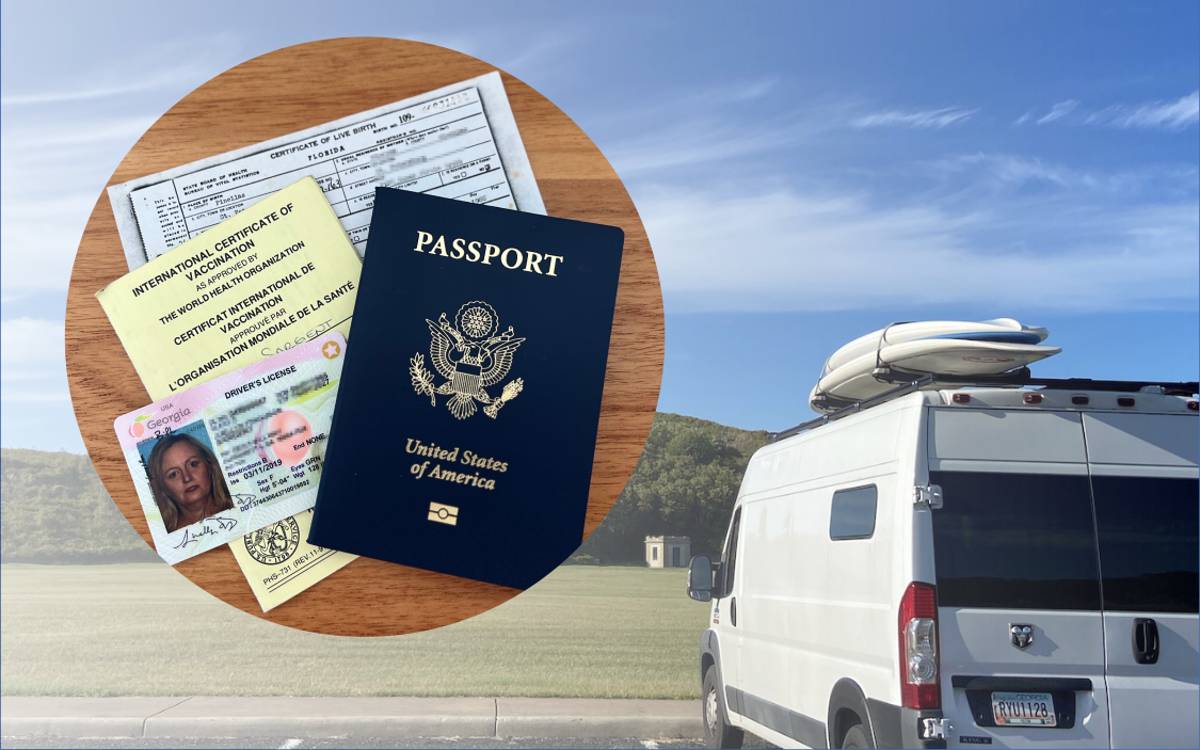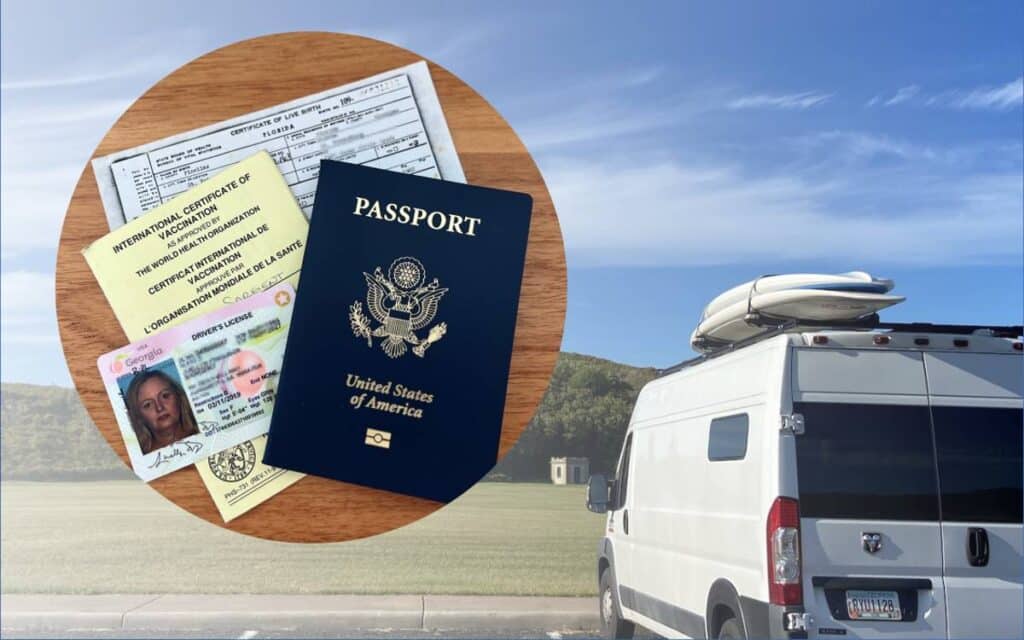 When you trade a traditional home for van life, papers you might normally keep stashed away should come along. If you're worried about how much space this will take, don't.
Technology helps keep these van life essentials organized with app-based access to insurance cards, for example. Scan important papers to a file on your phone (or better yet, the cloud) in case they get lost or damaged.
Vehicle Papers – You'll need proof of insurance, registration, and your title if the van is paid off (loan papers if it's not). For roadside emergencies, have your AAA card, Good Sam travel assist, or other roadside service membership available.
Personal ID – Make sure your driver's license is current (renew early if you need to). Bring your passport even if you don't plan to cross borders; it serves as a definitive ID. There may also be times you need a birth certificate and vaccination records.
Medical Info – Compile a contact list of your care team members, including your doctor and dentist. Write down your medical history and any medication you take, as well as any you are allergic to.
"In Case of Emergency" (ICE) – Create a printed list of emergency contacts and leave it where first responders can find it. Also, flag those contacts in your phone. Consider getting a RoadID if you'll be adventuring outdoors or if you have medical conditions that you'll need to alert people to in a crisis.
Vet Records – If you have pets, bring their shot records and veterinary contacts. Many vets and pet boarding facilities require proof of rabies and other vaccinations.
Cash for Emergencies – How much cash to carry is a matter of personal choice. Instant access to $300-500 can make a huge difference if you need urgent repairs or find yourself in a pinch in an out-of-the-way place.
Credit and Debit Cards – Scan your cards or make copies of them in case they get lost or stolen. This makes it much easier to get replacements if you need them (and I hope you won't).
Lock Box or Travel Safe – Find a spot in your van where you can hide a small safe or lock box and store your papers there. For the best protection, look for one that's fire-safe and waterproof.
Odds and Ends: Your Van Life "Junk Drawer"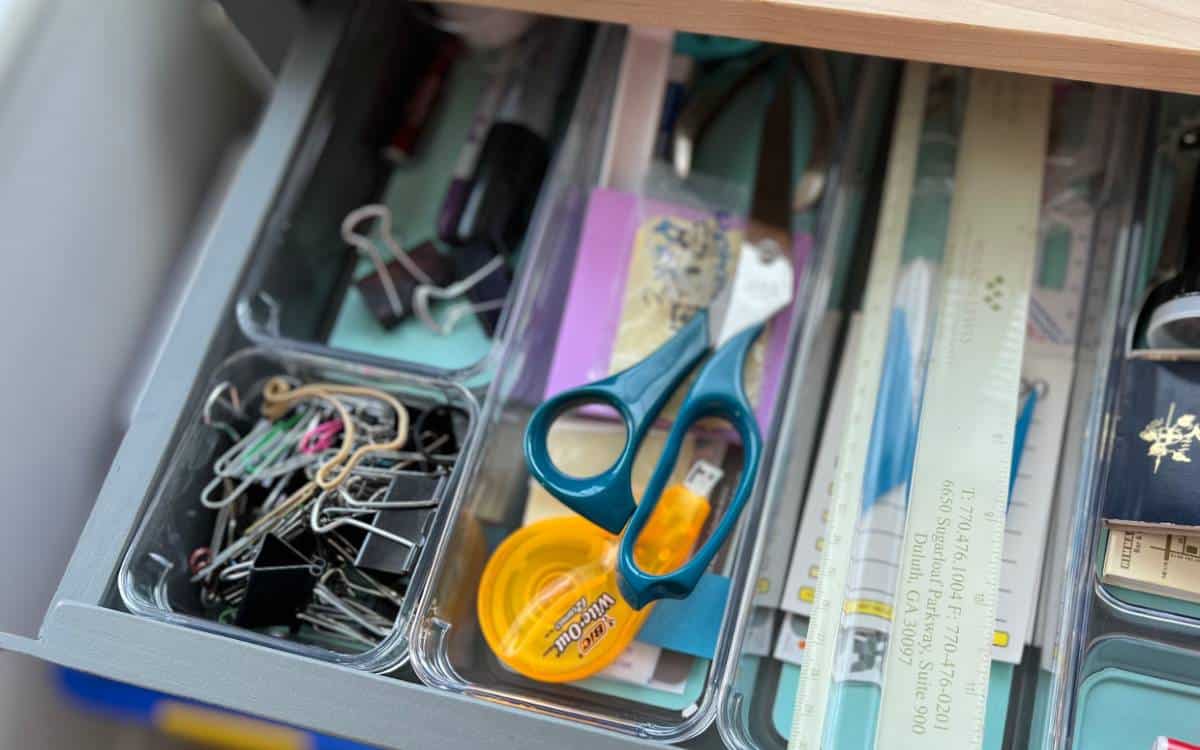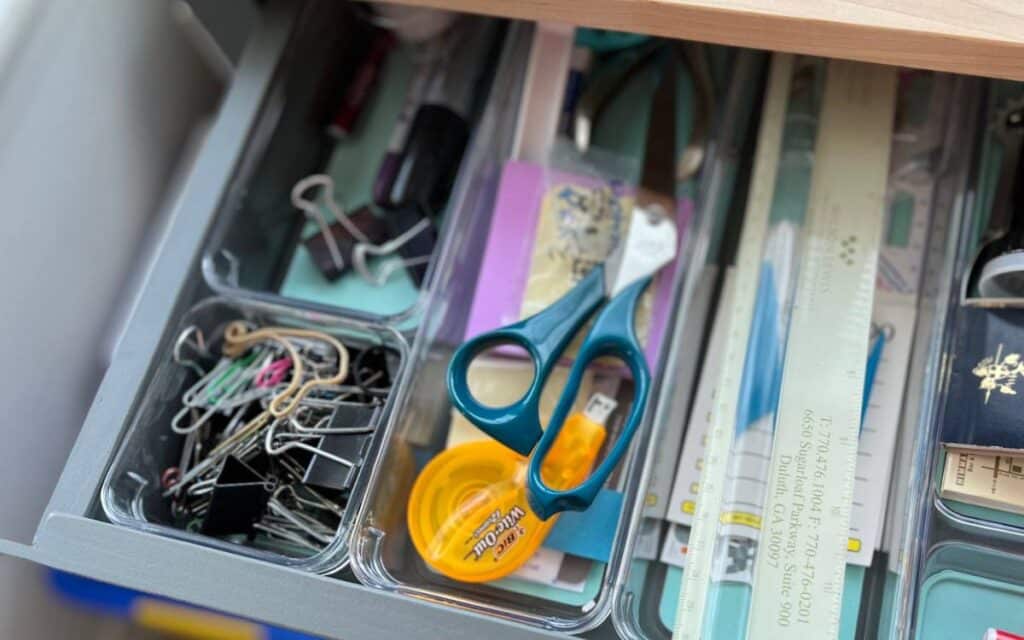 No matter how well you plan your packing and preparations, you're bound to discover handy items that didn't make your van life essentials list. Frequently, these are odds and ends we take for granted at home.
A little "junk drawer" of sorts saves a lot of time and hassle when you need something. It's worth it to pack a few extra things when you live in a van full time.
Stuff to Write With – A few pens, a pencil, and a Sharpie or two. A big fat permanent marker is handy for reusing shipping boxes, so you can black out old labels.
Mail Supplies – Stash away a few First class stamps and 2-3 business envelopes. Pick up some postcard stamps if you like to send notes to friends so you won't have to wait to find a post office.
Sewing Kit – Make quick repairs to clothes and gear with assorted thread and sewing needles. A thimble helps with thick fabric, and bent upholstery needles work for cushions and seats.
Batteries – Check your electronics and gather a handful of extra batteries in all the sizes you'll need. There's no frustration like not being able to use an important piece of van life gear because the batteries died unexpectedly and you don't have replacements.
Office Supplies – Use sticky notes and a little notepad for reminders and shopping lists. Scissors, tape, a few paper clips, bulldog clips, and rubber bands also deserve a spot on your van life essentials packing list.
Reusable Shopping Bags – Not just for shopping, these have endless use for toting things from here to there. I use one for recyclables and another as my shower bag.
Clothespins or Chip Clips – Indispensable for keeping snacks fresh and hanging things up to dry. If you forget these, use a bulldog clip instead.