It's about time to introduce you all to another exciting couple living this crazy vanlife lifestyle. They are MAK (Mary Ashley Krogh) & Owen (Chikazawa), AKA @bound.for.nowhere! When we chatted they were staying in a Walmart parking lot in Rock Springs, Wyoming. "Glamorous, I know!" From there they are heading up towards the Tetons and Yellowstone. We're just going to let you guys read their story so that we can hop off and make this delicious-sounding salad they tell us about! 
Read More: Why We Chose a Badass Truck Camper for Van Life (Bound for Nowhere)
Build Your Van
The Ultimate Van Build Guide
Planning a van build? Read our free guide. We cover just about everything you need to know – from planning, to insulation, to solar and electrical, to picking appliances, to essential tools. Get started today so you can get out there on the road!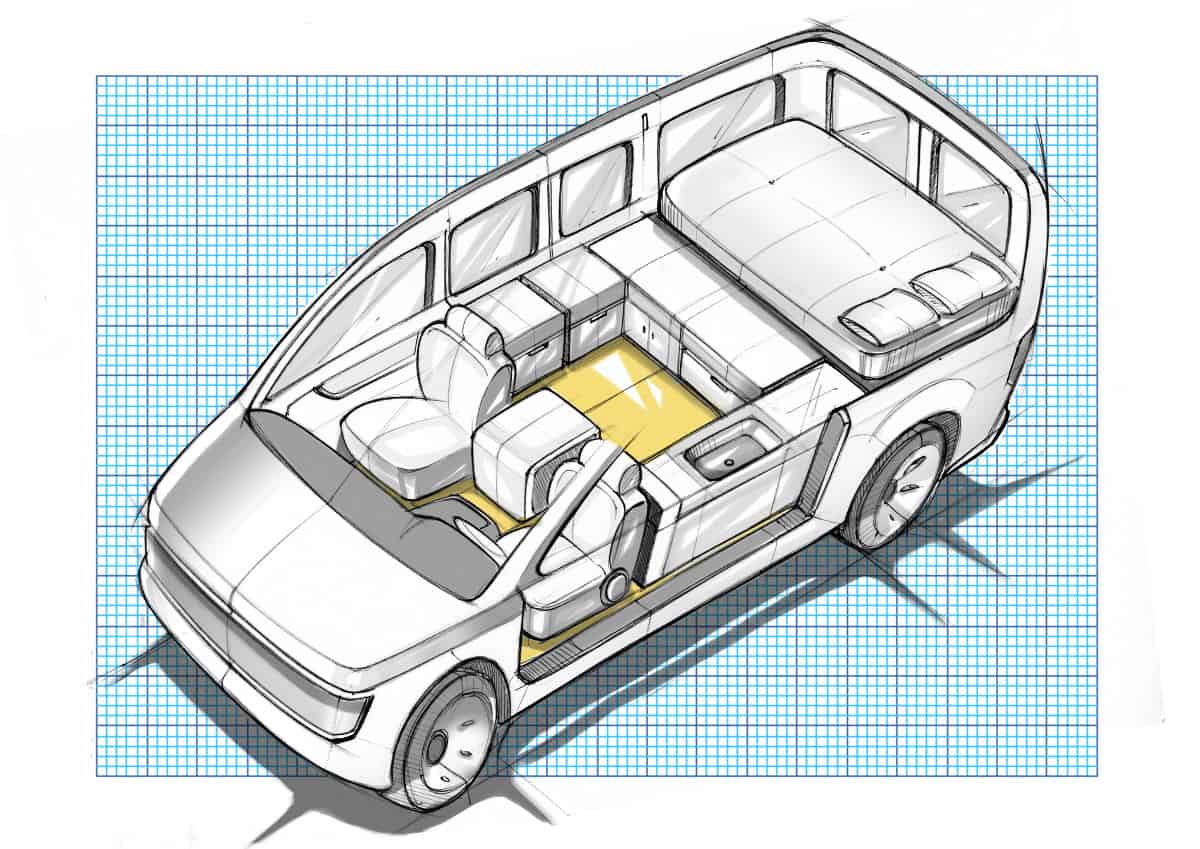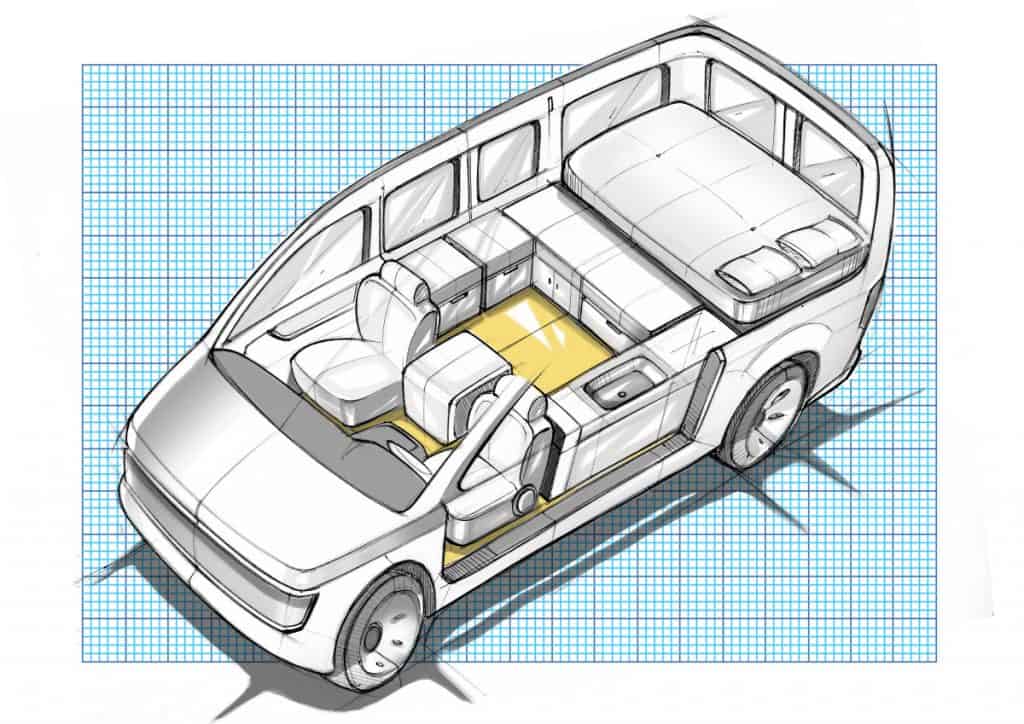 What are you traveling in? Did you build the interior yourself, or did you buy it pre-built?
We are traveling in a 1985 VW Vanagon named Stanley. He is a Westfalia, so he came with a kitchen, two beds and a pop top. Though we did not physically build out the interior, the van is totally new from a mechanical standpoint. We focused most of our time and money making sure that Stanley runs as reliably as humanly possible while we are on the road!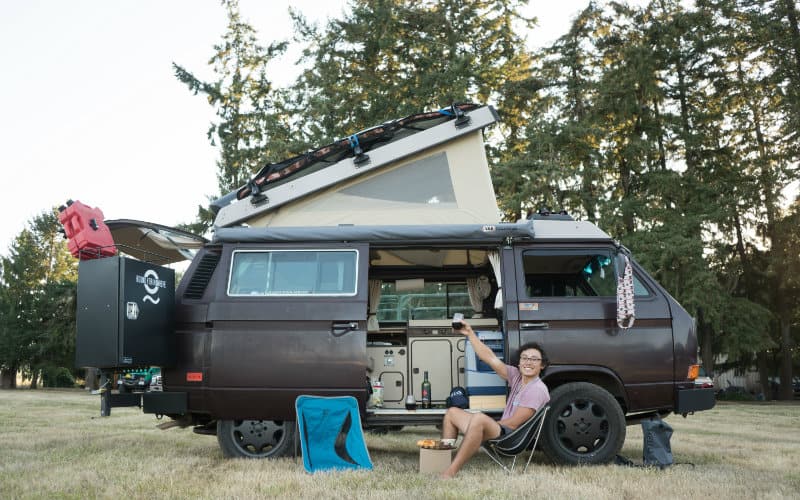 How long have you been living in this? Do you live in it full time or part time?
We are totally full time on the road. We left our home in Atlanta, Georgia on April 19th, 2016. So we have been on the road for a little over a year now!
What made you want to choose this lifestyle? What was that transition like?
We have lived on the road before, and we did it out of the desire to see as much of the country as possible. Last time we went for about 6 months in a Honda Element camper conversion and just went on what we had in our savings account. Unfortunately, the savings account didn't last nearly as long as we wanted it to.
Long story short, we came off the road and couldn't get it out of our heads. So, here we are 4 years later living the 2.0 version of life on the road, picking up where we left off, enjoying as much of the country as humanly possible. Thankfully, we are moving a lot slower this time, so we can really dive in and enjoy the places we visit without feeling the sense of rush we did last time.
Since we have been on the road before, the transition was really easy for us. We took about two and a half years to plan and execute being on the road this time around. We were so ready to be back on the road that it felt like a relief.
What's your favorite part about living the van life?
Our favorite part of living on the road is that we get to choose where we wake up every morning. We really love having that freedom. It also needs to be said that we love all of the incredible people we have met along the way!
What is your least favorite part about van life?
Our least favorite part is probably the breakdowns that we have had. It is such a bummer when you're stoked about something you're on your way to see only to be stopped dead in your tracks due to a breakdown.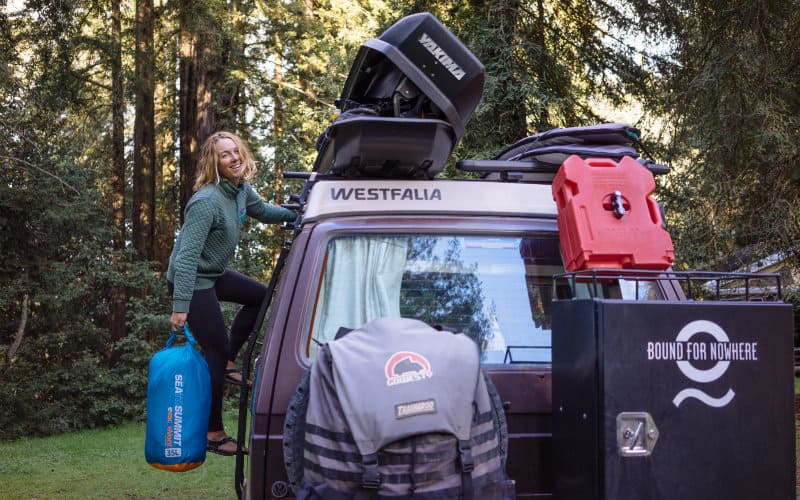 What were you doing in life before you decided to do this?
We owned (and still do actually) a traditional house in Atlanta and both worked 9-5s at different design studios.
What are your favorite features of your van? Anything specifically unique?
First and foremost, the light that comes into the van. I don't know if it is because we work in the realms of design, but good light is something that is so important to us. It really can make a space feel so much more comfortable and conducive for work.
When we first got the van, the curtains were dark and dingy, and there was a ton of dark brown. We knew that we were going to need to fix that situation. We had some new lighter curtains made, and removed as much stock brown from the van as possible. Now we have the most magical mornings and golden hour light in the van!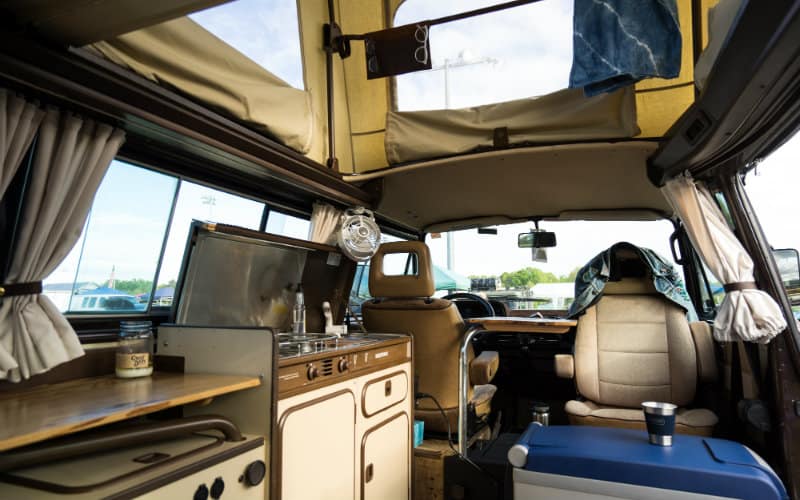 What do you do for income on the road?
We both are "full time" freelancers. I (MAK) am an illustrator and graphic designer (MAK's Website). Owen is a motion graphics designer (Owen's Website)!
What have been your favorite locations thus far, and why?
Baja California! Hands down, Baja is a place that combines so many of our favorite things. The surf is amazing, the people are kind, it's wall-to-wall breathtaking desert, and it's incredibly remote. Baja is the perfect place to check out (because there is hardly any cell phone, service) and find a beach all to yourself!
We also really fell in love with the Moab, Utah area. In addition to surfing, we also love to hike and rock climb. Moab is a place where you can do both at the same time. Moab is like a big playground for outdoor sports. If you have never been… we highly recommend it!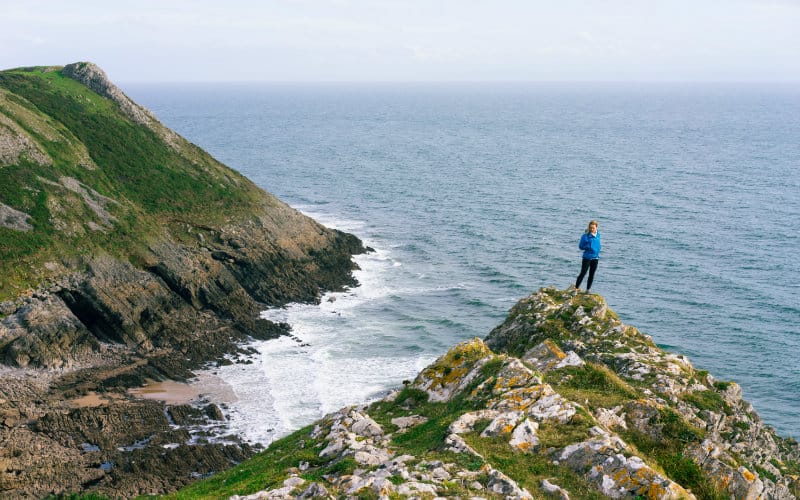 What are some things you brought with you that you use nearly everyday? How about things you ended up never or rarely using?
Quality camping chairs is at the top of our list of things that we use everyday! We love a good sunset and there is nothing better then pulling up a comfortable chair that can pack small when it's time to move onto the next location. We recommend the Alite 2 Legged Monarch Chair.
Here is a quick list of other things that we use and recommend for daily use: collapsing camping table, playing cards, film camera, hatchet, and Eagle Creek Packing Cubes for keeping our clothes organized!
As for things that we brought that we rarely use, we have a well stocked medical kit with first aid stuff and assorted cold remedies in it. We are glad to afford it the space in the van, but also glad that we rarely have to crack it open!
Is there anything you miss from your former lifestyle?
We get asked this a lot actually, so we have thought about it extensively. The best answer we can come up with is an oven and our juicer. If that is all that we miss, I think that we are doing pretty well!
What do you do in your free time? What are your favorite activities?
What a great question! You are right, we totally do have a lot of extra time on our hands, especially when the weather is bad. We have a good number of things that we do with our free time such as play a lot of cards (ie. rummy, uno, phase ten, ect.) We also have started reading a lot more than we ever have before. We both bought Kindles so we don't have a ton of books taking up space. I (MAK) have started drawing more simply for the pleasure of it and not just for work! It is also really nice to be camped in an unknown area, take off on foot, and explore, just because we can!
What advice would you give someone considering traveling full time in a van?
Owen and I both have the same advice: Pick a reliable vehicle to take on the road. There is nothing worse than being held back by your vehicle. When you take the leap into vanlife, you have eliminated so many things from your life that could potentially hold you back. When you have a major breakdown the very thing that has given you all of this freedom becomes the thing that is holding you back. Let us tell you first hand, it is the worst.
What's your favorite meal to make in the van?
Again, Owen and I have the same favorite meal! Maybe there is a reason we do so well living in such a small space together 😉 We both love a Greek Farro Salad that I like to make. It is a refreshing meal, that is still filling and makes very few dirty dishes. Which, if you didn't know, is the objective of just about every meal…create as few dishes to clean as possible!
Greek Farro Salad
1 cup farro
1 large cucumber
1/2 red onion
1/4 cup parsley
2 Roma tomatoes
1/2 lemon
salt and pepper to taste
1/4 cup feta cheese
Boil the farro for 10-12 minutes in large pot. As the farro boils, chop the cucumber, onion, tomatoes and parsley. When the farro is finished, strain the grain and let cool for a few mins.
Add the veggies into the farro. Squeeze the fresh lemon on top of the salad and add salt, pepper, and feta to taste.