The best part about #vanlife is that there is no right or wrong way to do it. There are countless variations, and everyone will bring their own personality and style to it.
In this week's installment of Gnomad Homies, we sat down via Skype with Allison and Dustin (and their hilariously adorable husky Cody) of the Road Abode.
Allison and Dustin hail from Naples, Florida. They have known each other since high school, kept in contact throughout college, and started dating soon after. As Dustin puts it, it's a story of the "friend zone gone right." Now they're companions on the exciting adventure of van life.
When we spoke with them, they were visiting family in Florida for the holidays.
Build Your Van
The Ultimate Van Build Guide
Planning a van build? Read our free guide. We cover just about everything you need to know – from planning, to insulation, to solar and electrical, to picking appliances, to essential tools. Get started today so you can get out there on the road!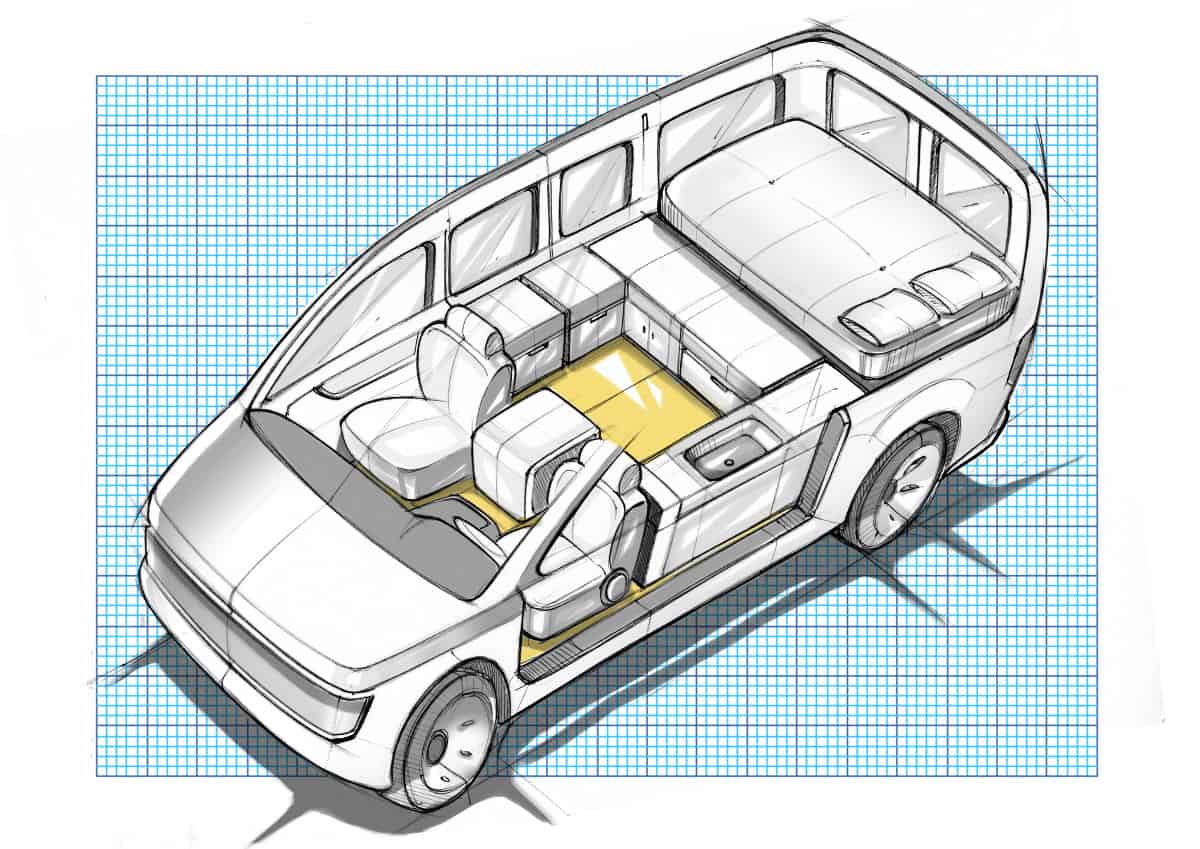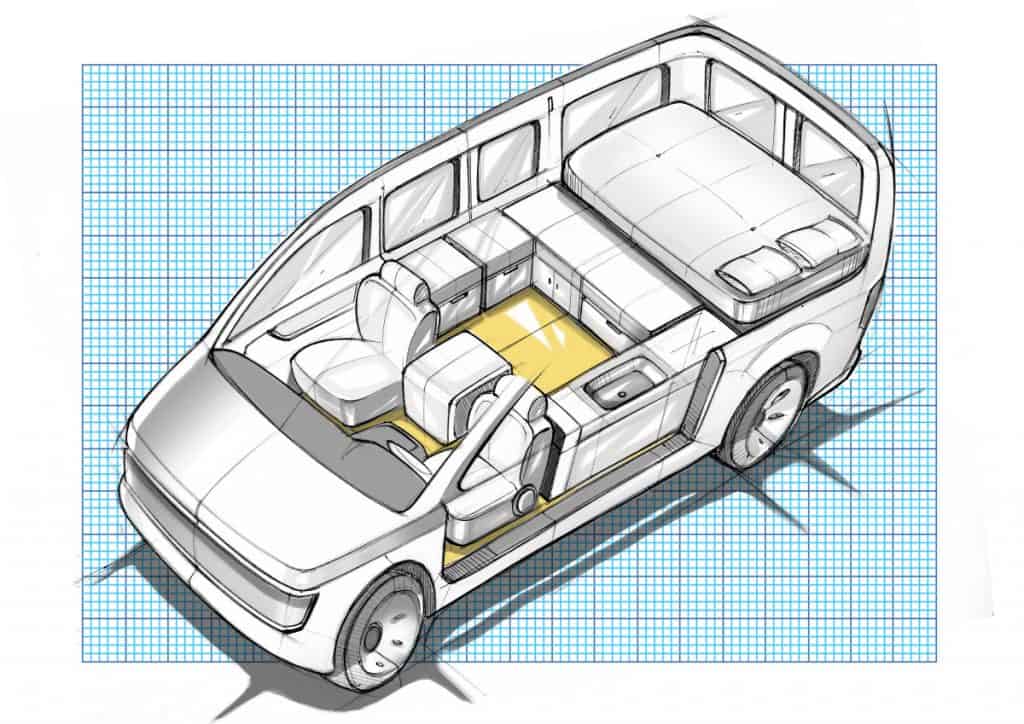 What are you living and traveling in? Did you build the interior yourself or did you buy it pre-built?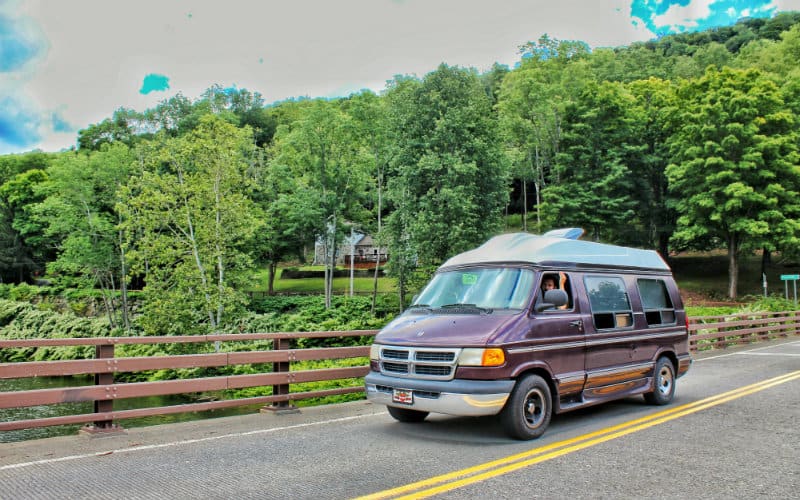 We are traveling in a 2002 Dodge Ram 1500 high top conversion van. We converted our van into a camper ourselves with almost no experience. We actually want to get into furniture building after this experience.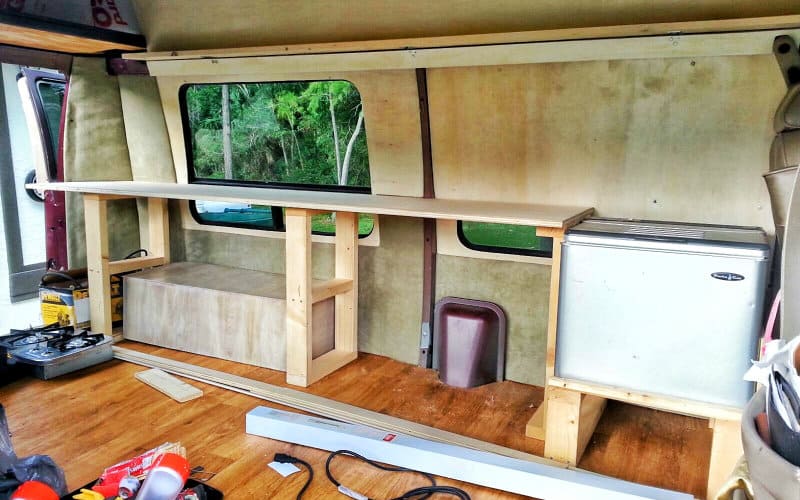 It's very addicting – building something and having it look decent enough and thinking "Oh wow, I wouldn't need to buy that in the future – I can just make my own!"
How long have you been living in your van? Do you live in it full time or part time?
We began renovating it in the summer and hit the road in July. We stayed with family as we were building it, but now that it's finished we live in it full time.
What made you want to choose this lifestyle? What was that transition like?
The plan was not originally to live in the van at all. We wanted to camp in it a little bit during the build but, again – it was originally just to get our tiny house from place to place, not to intentionally live in the van itself full time.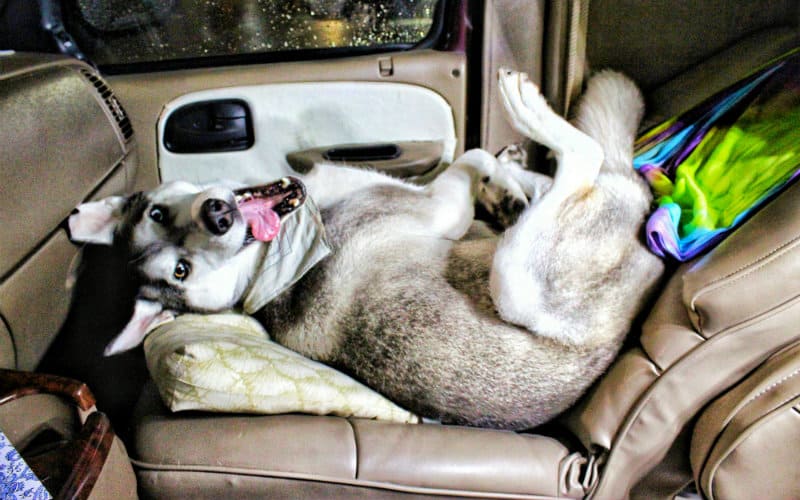 Then Cody (our husky) came into our lives, and our apartment complex would not allow him nor could any family members take him in, which was another indicator that we should change the plot. If we move into our van, we could keep our dog – and not pay rent anymore!
It was pretty dramatic how hectic and crazy everything was with our lives before we moved into the van, and once we were in it everything just seemed to slow down and was finally calm.
What is your favorite part about this lifestyle?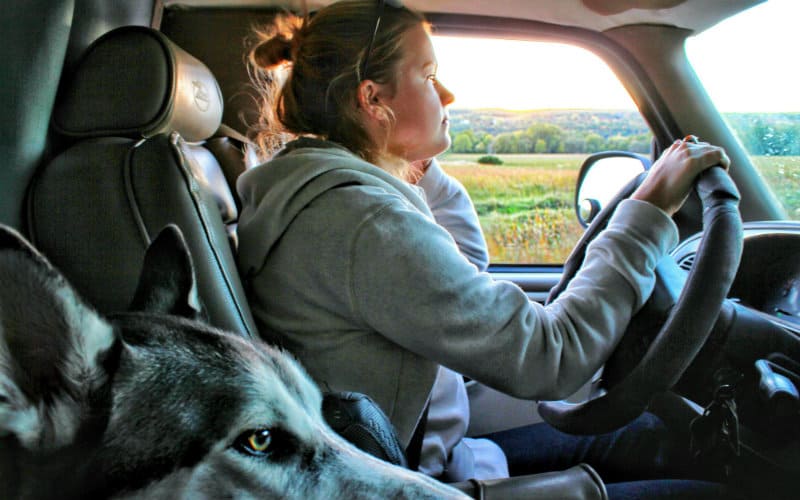 The freedom and flexibility of it. The simplicity of having the things that you need and nothing more. Everything is within that 50 square feet, or whatever. Definitely the adventures and places to see. We've seen so many places that we didn't even know existed. There is sort of a trio of favorites, having the free time and the combination of that and having the flexibility to go on adventures.
What is your least favorite part about this lifestyle?
A big one for us would be not being able to garden. We love gardening, and it's not really a possibility while on the road. It's also difficult not being around family and friends, we are very close with both. We got pretty homesick a few months in.
Then there's the typical dog issues – shedding in the van, and a lot of places don't allow dogs, like state parks. It seems to be a little more difficult having a dog. Hair collects into crevices, then just the whole idea of having a wet dog in the van. You use a towel but then have a towel that smells like a wet dog (we have our "wet dog towel").
Advice: Take out all the carpeting in your van! As soon as the carpeting gets wet it stinks and the smell doesn't go away.
What are your favorite features of your living situation? Anything specifically unique?
We sleep right next to our kitchen, which we love. We created an 8-foot long counter next to the bed that is extremely handy. We also have a portable shower for our faucet with a really long hose and running water. We made a lip on the edge of our counter to stop drippage, which is also very helpful. Since part of the countertop runs alongside the bed it really helps to keep everything dry. With the counter right next to the bed we can make coffee while in bed!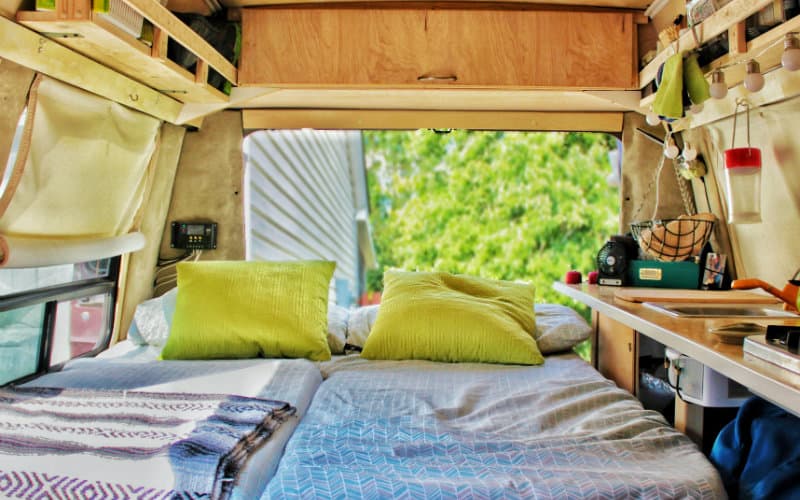 We also made a big table, which was an important priority for us. It's made out of 3/4″ birch. We're both able to sit at the table and eat, or work, or paint, and have plenty of space. When we don't need the table we just take it apart and it turns back into a bed.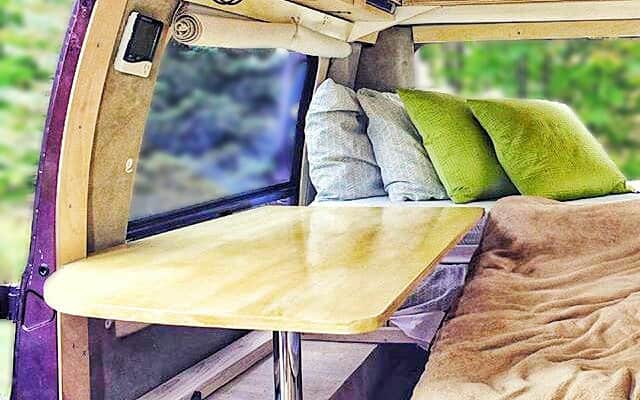 What do you do for income on the road?
I (Allison) get commissioned work as a painter, and freelance. I'm also in the works of getting an Etsy shop together. We have savings from odd jobs and whatnot and didn't spend much so we were able to save. We treated this whole trip like a vacation as far as planning and saving.
If you want to work on the road, figure out your skills and experiences first so you are ready to go. Places are looking for certain skills or software knowledge or experience, so having that already definitely helps. We plan on earning our savings back when we're done traveling.
What have been your favorite locations thus far? Anywhere else you still want to go?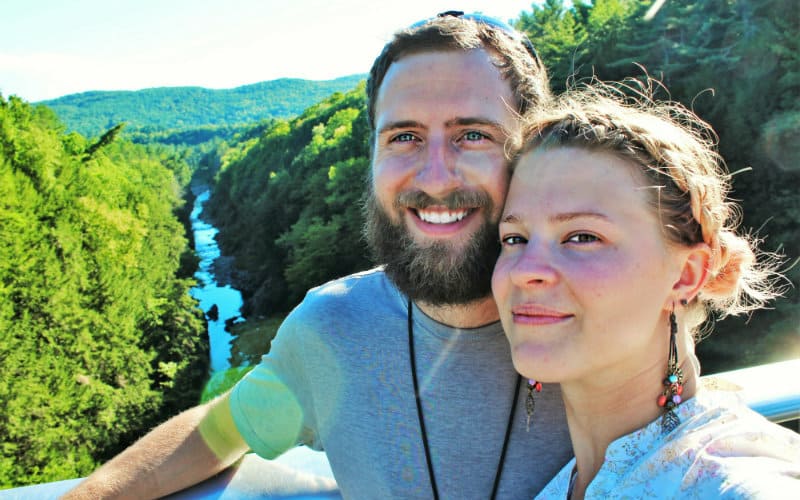 The Fingerlakes, Watkins Glen State Park in New York, Elephant Rock State Park in Missouri. Mark Twain National Forest was surprisingly awesome. Ithaca, NY. New Hampshire, White Mountain National Forest, swimming holes, gorges, etc. Beautiful in the fall. Acadia National Forest in Maine.
We've never been to the Rockies, Montana, or the Grand Canyon. We would like to go out west because the mountains are calling. We would love to go to Bryce Canyon, Zion National Park and the Tetons. After being on the road and really seeing what we want to do–we want to start our tiny house project, with the option of hitting the road. We want to keep having adventures and have a mobile option if we want to take off.
What are some things you brought with you that you use nearly everyday?
Aeropress coffee maker. This is the best coffee maker ever. We cannot rave about this enough. It's really easy to use and makes great coffee. We also bought a camping toaster that we use all the time. We make bagels and toast almost every day and it can also toast naan bread.
The exhaust fan is important too! We use it all the time. The fan and our vanlife solar electrical system are probably our most essential items.
What are some things you brought with you that you ended up never or rarely using?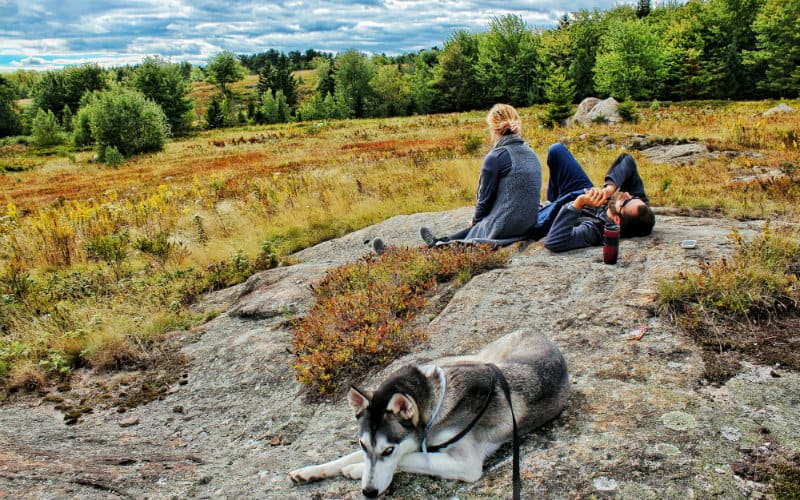 We ended up not using our camping chairs. We never felt the need to sit on chairs. We'd always sit on rocks or grass. We brought a sewing machine with us for repairs but never used it. Anytime we may have "needed" it, hand-sewing would do the trick. We brought some tools that we ended up not using too much, like sander, jigsaw, and drill. But it was nice having tools handy in case someone needed help with repairs or a build.
Is there anything you miss from your former lifestyle?
Again, the possibility to garden, and see friends and family. We are very close with our friends and family. We would like to have the option to settle down, to have a home to come back to.
There were actually things we thought we would miss but we really didn't at all. We ended up being totally fine with the bathroom situation. We did not need a portable toilet. You just need to be adaptable and once you get used to it, it's not a big deal at all. You can always find a bathroom situation whether it is a gas station, Walmart, port-a-potty, or the good old fashioned woods. We got a membership to Planet Fitness which opened up possibilities as far as showering is concerned (and getting in a good workout!).
We didn't really miss wifi much at all since there is so much free public wifi everywhere. If you have an online job wifi is probably a bigger concern, but for what we were doing it was fine.
What do you do in your free time? What are your favorite activities?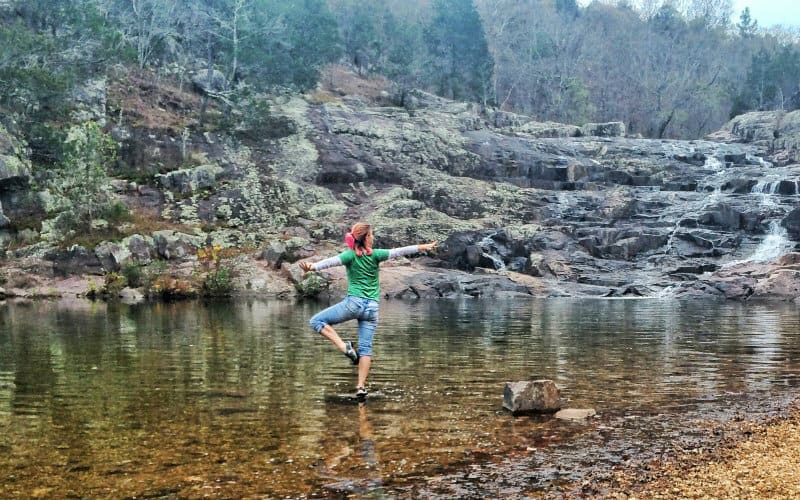 Being on the road takes up a lot of our free time. There's no major downtime. You're either driving, cooking, hiking, or exploring. Free time keeps changing, you're in a new place, figuring out where you can go, getting to know new people, finding cool places to eat, especially local restaurants. We don't have any adventure hobbies like rock climbing or mountain biking. We did our regular activities, just more intensely. We like trying to meet new people.
What advice would you give someone considering this lifestyle?
Ventilation! Ventilation, windows, all of the above. If there's not good airflow, moisture and heat will collect. It just gets too hot. You need to vent humidity out. Simon Stiles of Finding Simon has a lot of videos talking about moisture problems. Windows in general are a big plus for us as well. It makes you feel outside at all times. Solar power is also a necessity.
"Anyone can do it, you don't have to have a certain lifestyle, nor do you have to do it forever." ~The Road Abode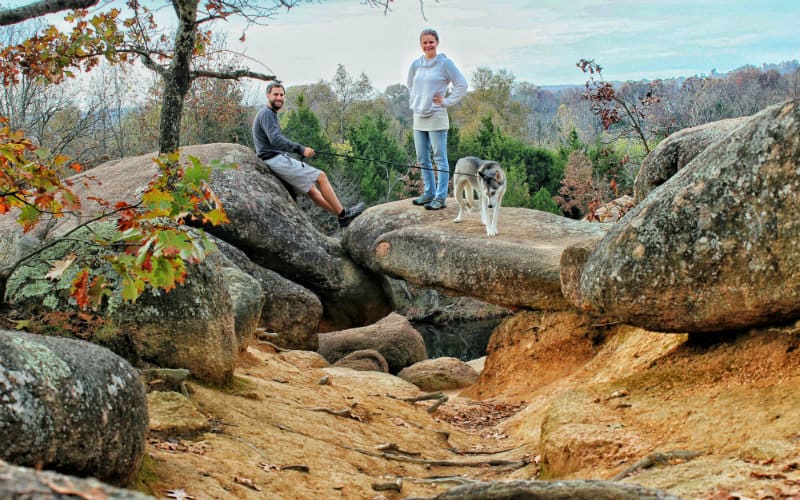 Anyone can do it, you don't have to have a certain lifestyle, nor do you have to do it forever. Don't worry about too much, and don't think so hard. It's not really that complicated. You have gas stations and rest areas to go to the bathroom and places to park overnight in your van. Once you're on the road, you realize where you can park such as 24-hour restaurants and stores like Denny's, IHOP or Walmart. Some people ask the employees if they can park there, but most places don't care. Some Walmarts won't let you park, but most will.
Don't let parking and bathrooms stop you from doing vanlife. It's really not the biggest issue. Time things or have a schedule. Always make sure to go to the bathroom before leaving places at night, and make sure you can go in the morning. You're going to make it, and you're certainly going to survive. It's easy to find food and places to stop.
Walmart also has great water refill stations, it's like $0.37 per gallon for fully filtered, purified water.
What are your favorite meals to make?
We have a few favorites actually. Oatmeal is easy and versatile. We love making curries–Indian, Japanese, or Thai. Trader Joe's is awesome. They actually have great affordable frozen meals and stir fry. We make what we call "Van Mash," which is essentially collard greens and black beans stir fried in butter, then layered on top of mashed potatoes.