We're Dustin and Noami of @irietoaurora. We've been on the road for nearly four years in our 1985 Volkswagen Westfalia Vanagon called Irie.
We all know the iconic VW Bus from the 1960's and 70's. Well, this is its big brother (or big sister in our case). It still has that classic VW flat nose, with the front seats right over the front tires, and the engine is still in the back. Oh yeah, it also has a pop-top!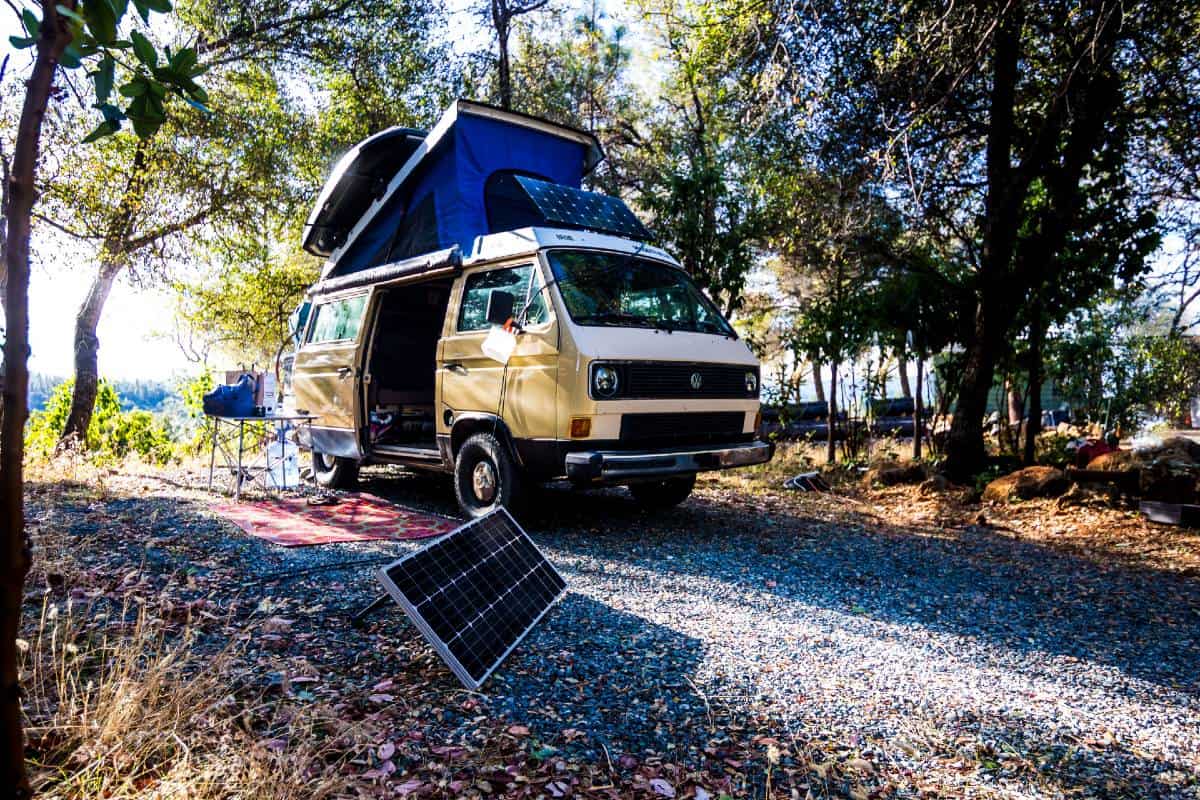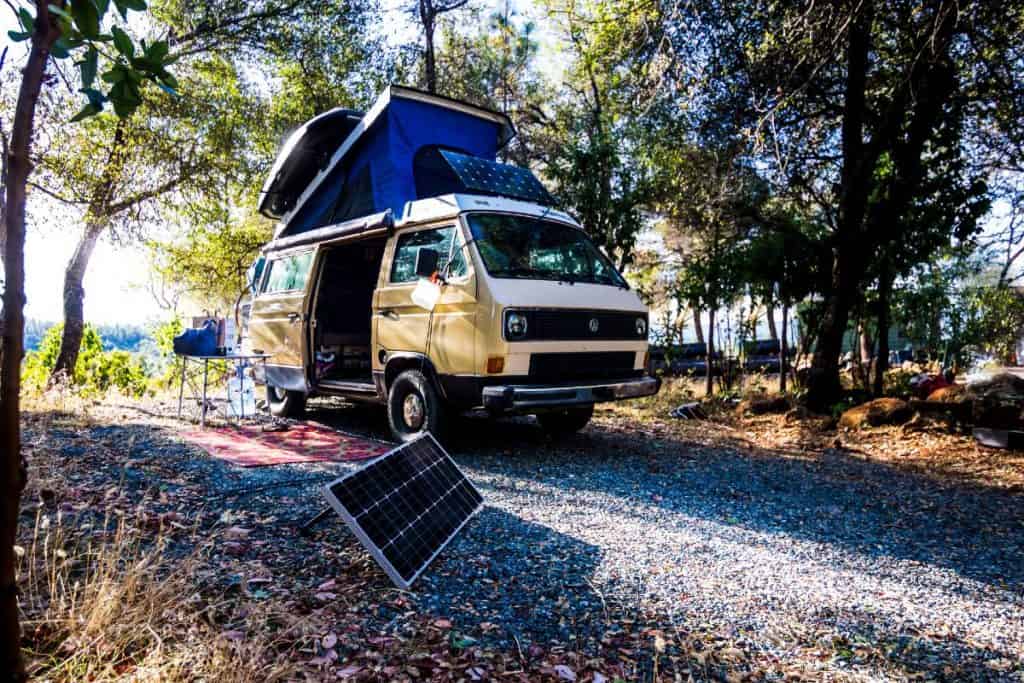 We made the decision to move into a van in January 2016. We considered starting from scratch and building out a rig, but we knew if we took a year to get on the road, we might talk ourselves out of it. So we needed something already built out and ready for life on the road, but we had no idea what that would look like.
Searching for a Van to Live In
We started in the same place everything begins – on Google. A Google search of "campervans" brought up images of every type of rig you can imagine, but the ones that popped up most frequently were VW Westfalias.
Neither of us had ever seen a VW Westy in person, but of course, we knew of them from books, television, and the hippie culture of old. We were immediately drawn to this classic symbol of American counter-culture.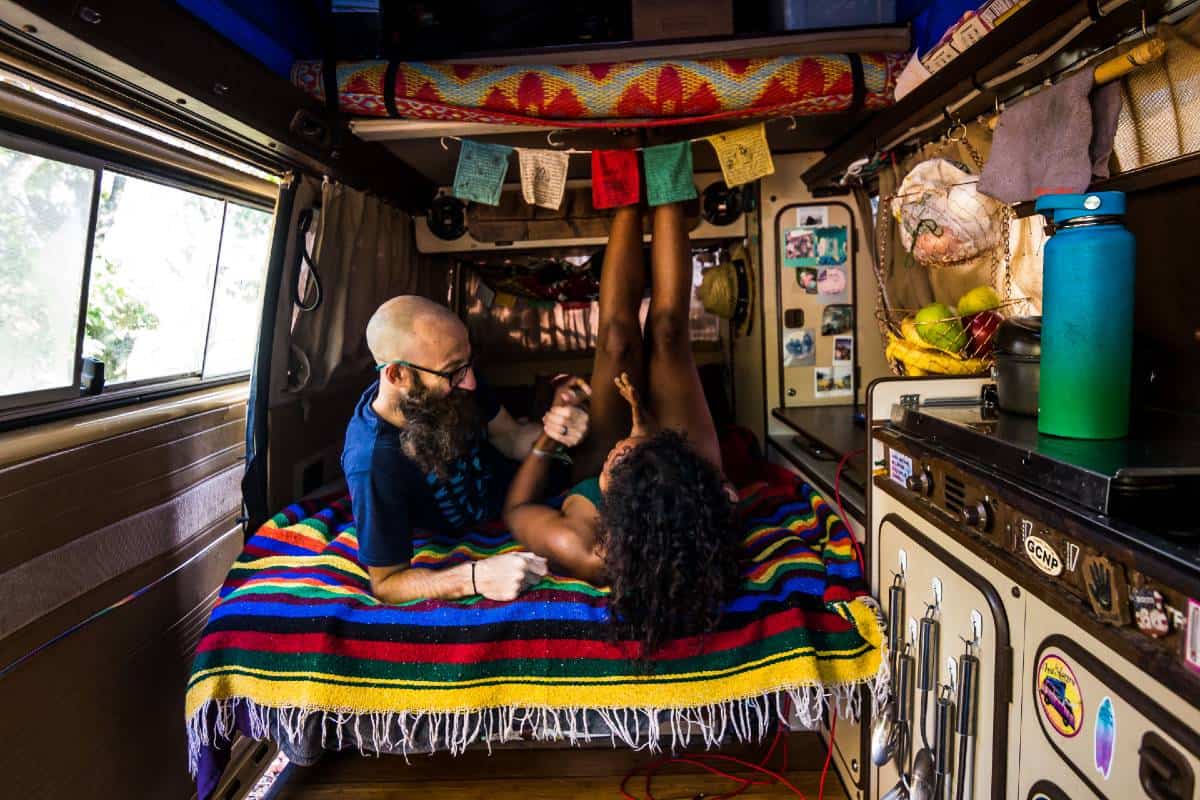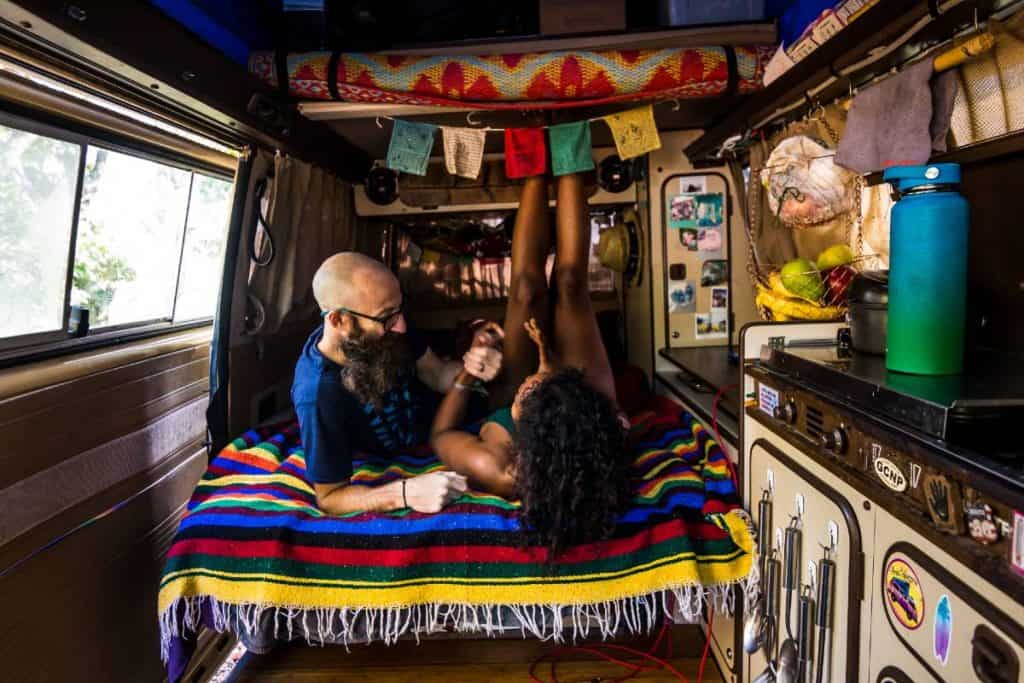 Having never actually set foot inside a Westy, let alone driven one, we knew we had some homework to do. So we turned to the next obvious place, Craigslist. What we found explained our personal lack of Westy sightings: there simply weren't any for sale within a thousand miles of our New Orleans home base.
Determined to see our Westy dream through, we booked flights to Denver to check out some Colorado Westies. The first one we saw was a classic 1970 VW bus, and it solidified our feelings that a Westy would be our future home-on-wheels.
What is a Volkswagen Westfalia Camper Van?
The VW Westfalia (or "Westy" for short) is a Volkswagen bus that was converted into an innovative VW campervan by Westfalia-Werke, a German RV company. Westfalia converted many different vehicles for Volkswagen from 1951 until 2003. But the most iconic Westfalia conversions were based on the VW Vanagon (made from 1979 to 1992).
Westies were designed to be the perfect campmobile. The interior of the Westy is surprisingly spacious with loads of storage, and it's ready for life on the road with all the basic necessities – two-burner stove, sink, a fridge, a couch that converts into a bed, and even a second bed up top. We can actually walk around and stand up tall when the top is popped. And no space is wasted, which is ideal for a tiny home. It's truly an intelligent design.
After test-driving a half-dozen vans in Colorado, we didn't find one that was the right fit for us. So we returned home to New Orleans and kept looking. Finally, one popped up right in our backyard in Mobile, AL, less than two hours away.
Her name was Walden at the time, and she was a part-time home for a Professor who had just moved with her from San Francisco to take up a new post in Mobile. Irie was passed down to him from his father, so she had a lot of sentimental value to him, and she was well taken care of. He even lived in her on a six month cross-country roadtrip.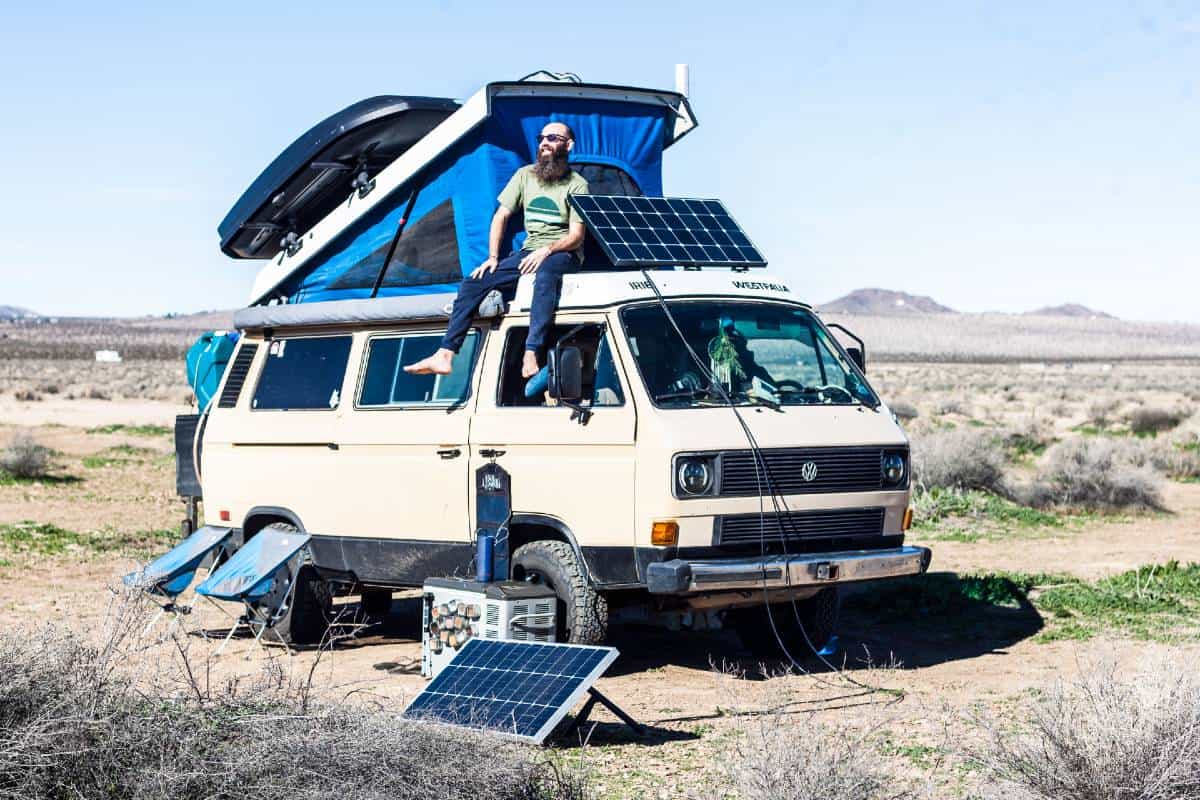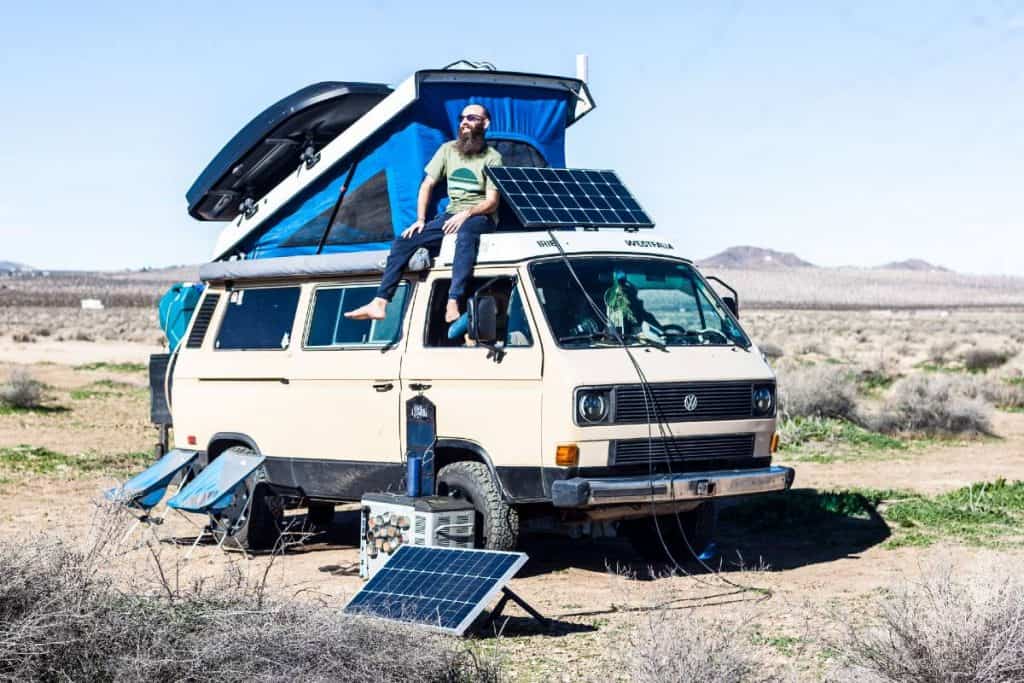 She was mostly mechanically sound and came with many perks, like a 50-watt solar panel and 35-Ah auxiliary battery (which we thought was all we needed at the time). She also had a marine fridge, a propane furnace, a pelican case on the roof for storage, and even some dishes, tools and spare parts. We paid $10,000 for her (well below the asking price) and we were ready to hit the road.
6 Reasons We Love Our Westy
The Pop-top
One of our favorite features is the pop-top. It gives us room to stand up tall, which is essential if you're going to be living in your rig full time. It allows us to stand up and cook and move around without hunching over all the time. It extends our interior space to a whopping 80 square feet (of course, that includes the front cabin and the entire "upstairs" area).
The pop-top also contains an extra bed, meaning friends can visit and spend the night. And one of the coolest things about our pop-top, the canvas is bright blue (this was a big selling point for Noami), and we've yet to see another Westy with a blue pop-top.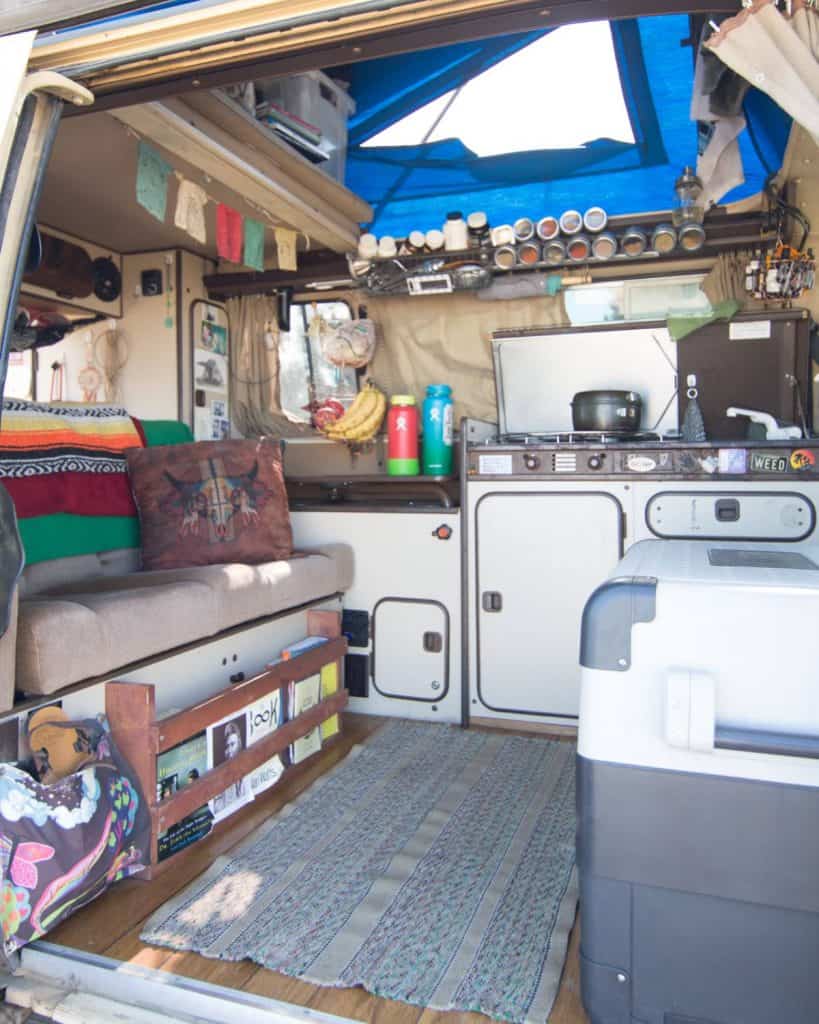 So Much Storage!
The Westy is designed very efficiently – not an ounce of space is wasted. There are a total of seven cabinets, cubbies and closets, plus a large storage space under the bench seat.
We've also made a few modifications for enhanced storage. Originally there was an air conditioner unit in a box above the bed, often referred to as the "headbanger." Our AC didn't work, so rather than try to fix it, we pulled out all the parts and converted the headbanger to storage. We added a rocket box on top to store our outdoor gear and toys – backpacks, camping gear, bow and arrow, spear gun, etc. We also have several secret storage compartments, but I won't tell where.
Awesome Interior Features
We mentioned the stove, sink, fridge, and all the storage. But the interior keeps on giving. We're big fans of the slide-out table. We both work remotely and having a permanent table is ideal – we can easily fit two computers and work side-by-side. And the front seats swivel, so we can turn them around when we're parked and really open up our living room.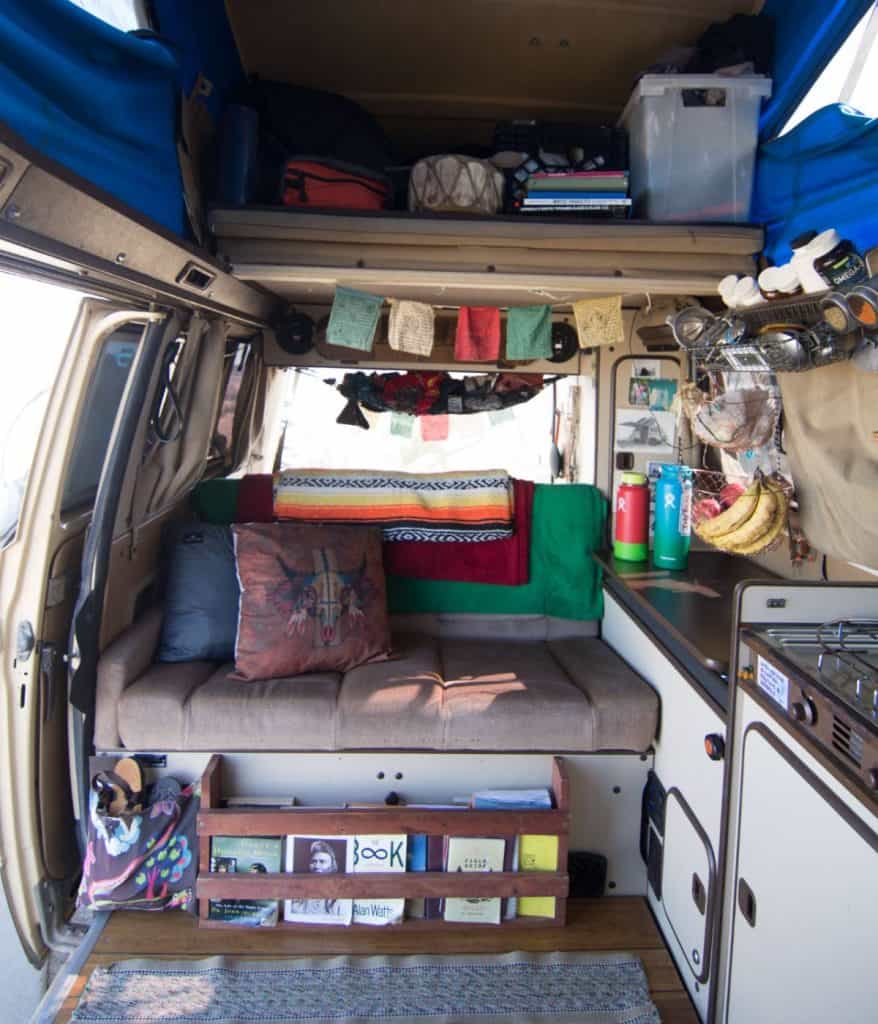 Easy to Maintain
Being a pre-computer vehicle, our van is fairly easy to work on. Which is a good thing because we have to work on her a lot! There are no specialty tools required so we can literally carry every tool we need to take the whole van apart and put it back together again, which I'd say we've come pretty close to doing over the past four years. And now we're confident that there isn't anything that could break that we can't fix.
It's a Real Head-turner
We love seeing the faces of children light up as we drive by. Of course, they don't remember the nostalgia of the "hippie bus," but there's something about the Westy that just screams "fun" to a child. Then, of course, there are the old-timers who remember the "hippie bus." And they love to regale us with tales of the time they owned a Westfalia, or knew someone who had a Westfalia, or took a cross country road trip in a Westfalia. (Honestly, that part's more of a love/hate thing).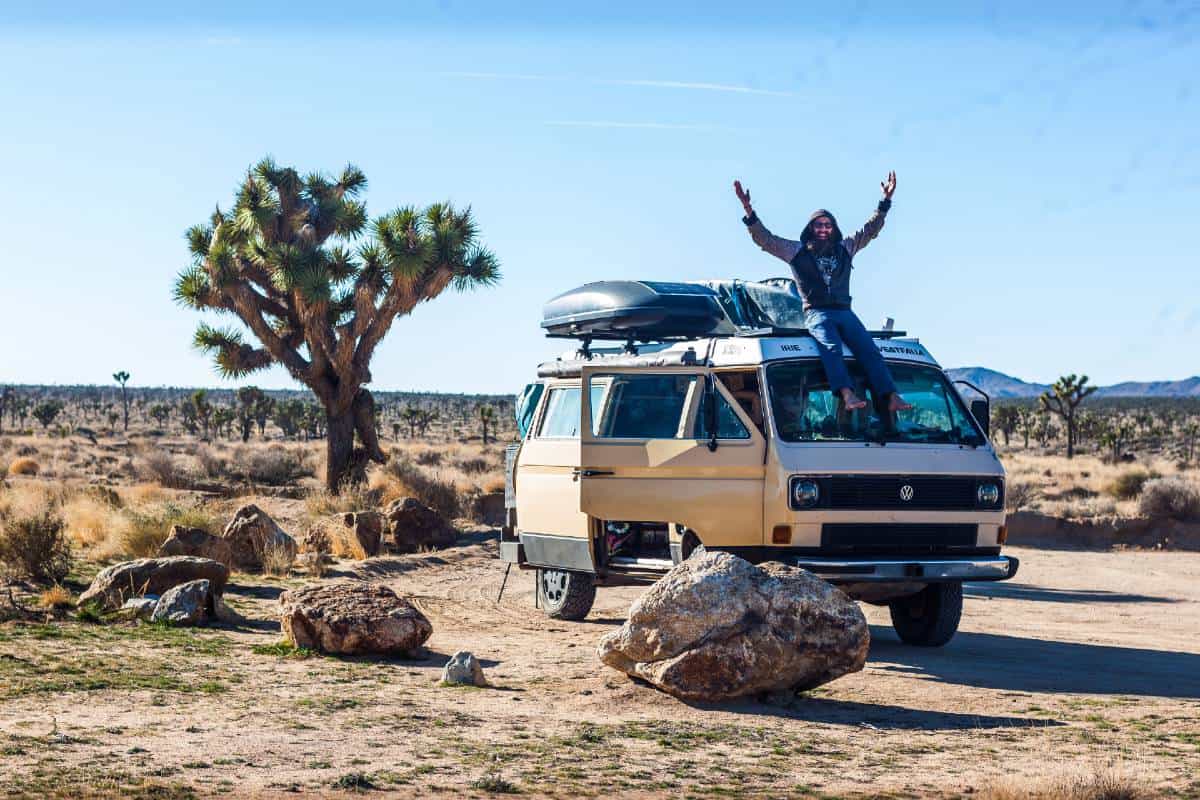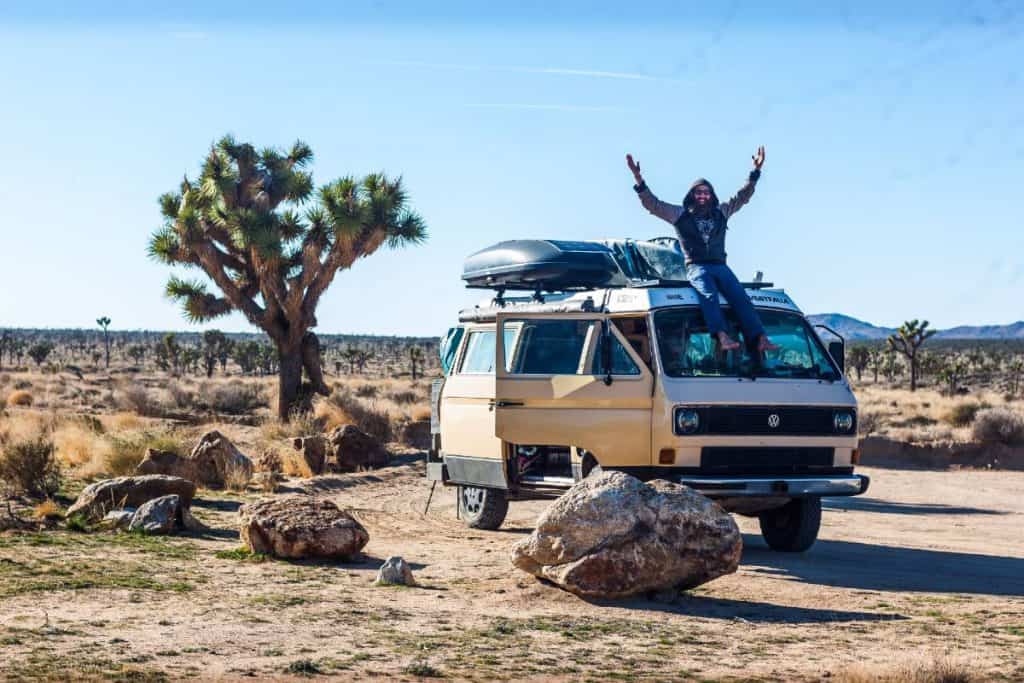 It's a Workhorse of a Vehicle
For a 35-year-old, two-wheel drive, under-powered vehicle, she can go almost anywhere. Our home is the outdoors and all our favorite places lie well beyond where the pavement ends. So we constantly take our rig off-road and often in remote places where we're unlikely to find a tow truck or even another vehicle to pull us out. And, fortunately, we've rarely gotten stuck. She really is a workhorse.
6 Things We're Not Crazy About
Frequent Breakdowns
The Germans knew what they were doing when they built the Westy, and German parts are famously durable. But I don't think anyone expected these vans to be on the road for 30+ years. And in our experience, it's not if something will break, but when.
We've had breakdowns in some of the most epic places: a mountain in Oregon on Christmas day, a beach in Baja Sur, the California coast, Rocky Mountains in Colorado… I could go on. But all the breakdowns have proven how resilient we are and taught us to always take things in stride.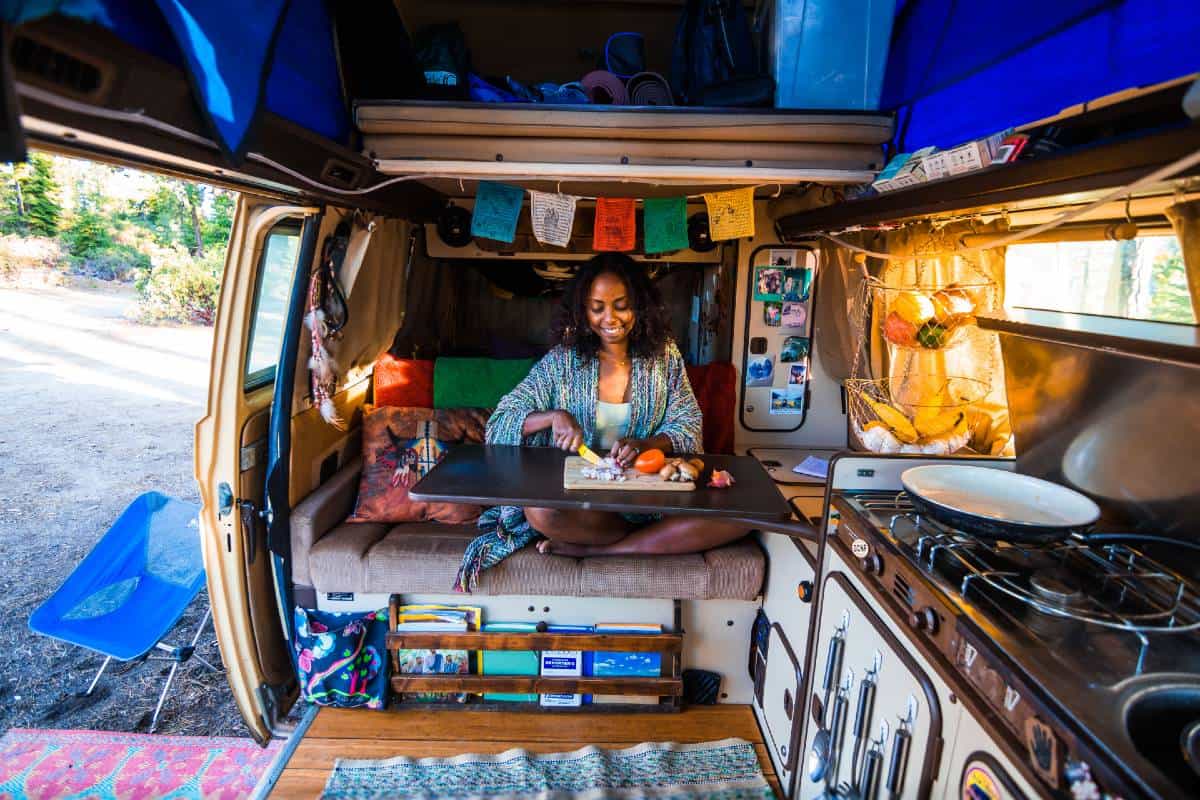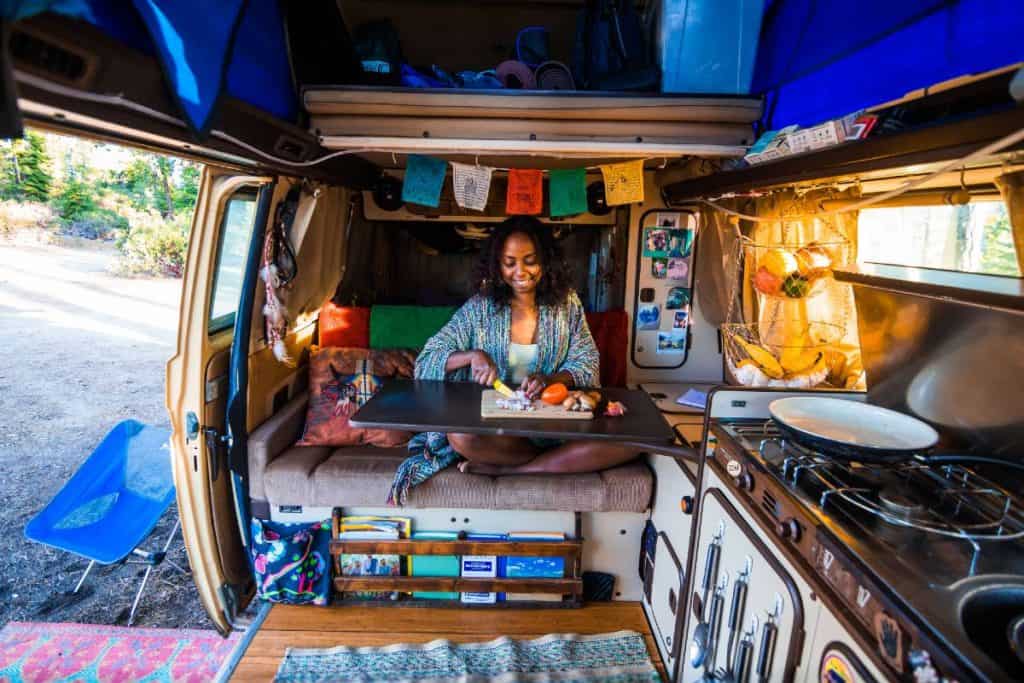 Expensive and Hard-to-find Parts
Our old girl is a German beauty, but those old German parts are expensive and hard to find – you can't just walk into any Napa and pull a part off the shelf. So when we need a replacement part, that usually means we're stuck for at least a few days waiting for it to be delivered to the nearest town.
Fortunately, the fine folks at GoWesty in SoCal have made a business of sourcing hard-to-find Westy parts and even re-designing and manufacturing parts to be better than the originals. I don't know what we'd do without them.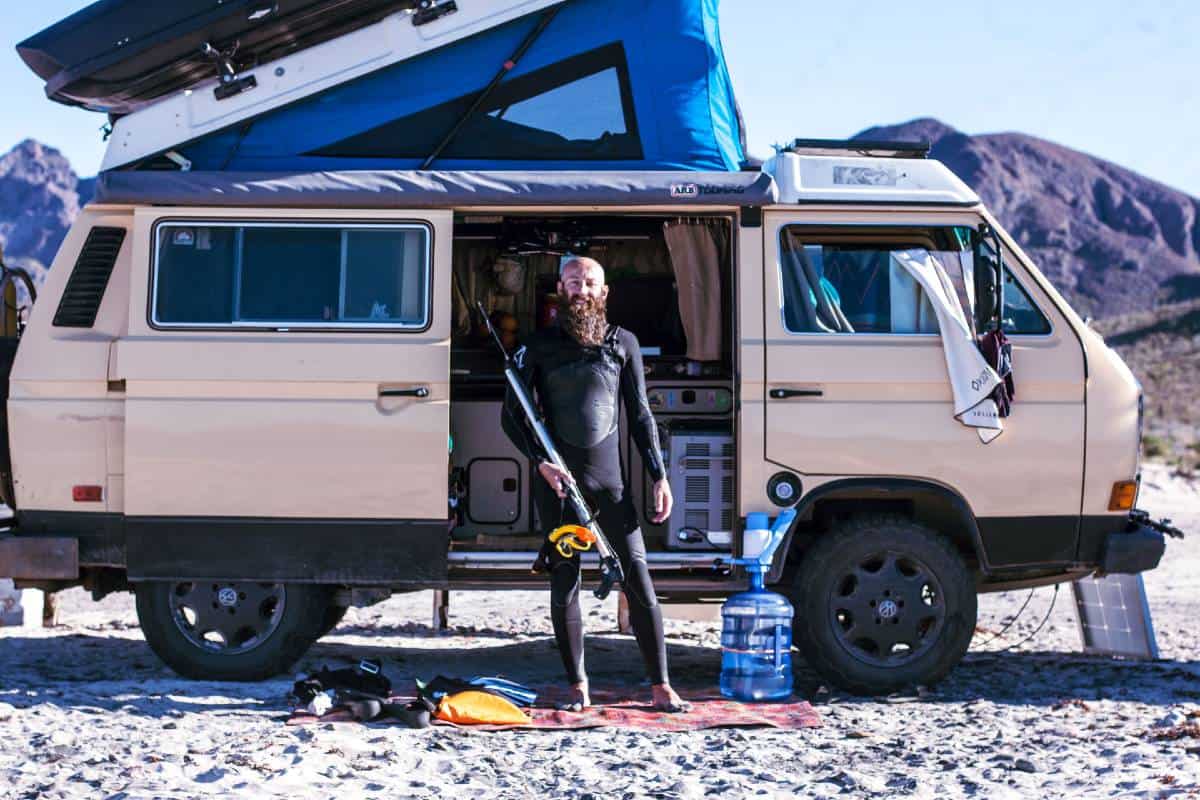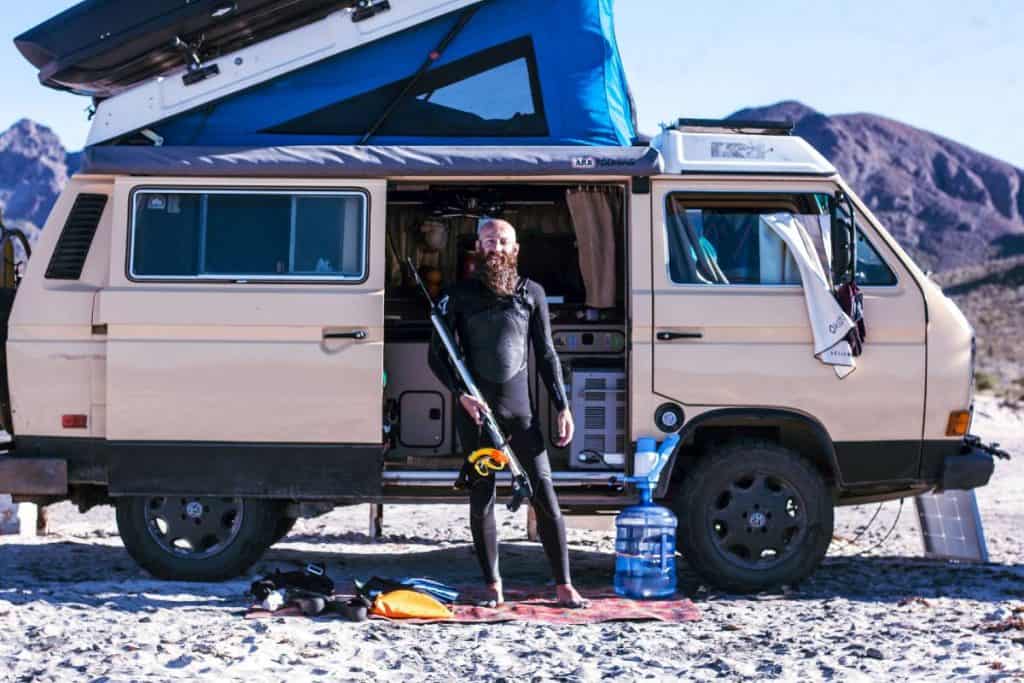 Headaches
Seriously, we hit our heads all the time. Maybe this is just a product of living in a van, but I swear I've nearly knocked myself out more than a few times. The pop-top helps, allowing us to stand up straight, but there are still plenty of head hazards in our rig. I should be made to wear a helmet.
Lack of a Permanent Bed
One thing that is more of an inconvenience is the lack of a permanent bed. Our couch/bench seat pulls out to form the lower bed and the upper bed requires us to pop the top. So no matter where we sleep (we usually opt for the lower bed) we have to fold up and put our bed away each morning, and fold it out again each night.
Poor Fuel Economy
As I mentioned previously, our rig is heavy, under-powered, and 35 years old. It's also not very aerodynamic. We get around 15 mpg, which is not great, but it's also not the worst. And since we swapped from paying rent to paying for gas, we're not sweating it.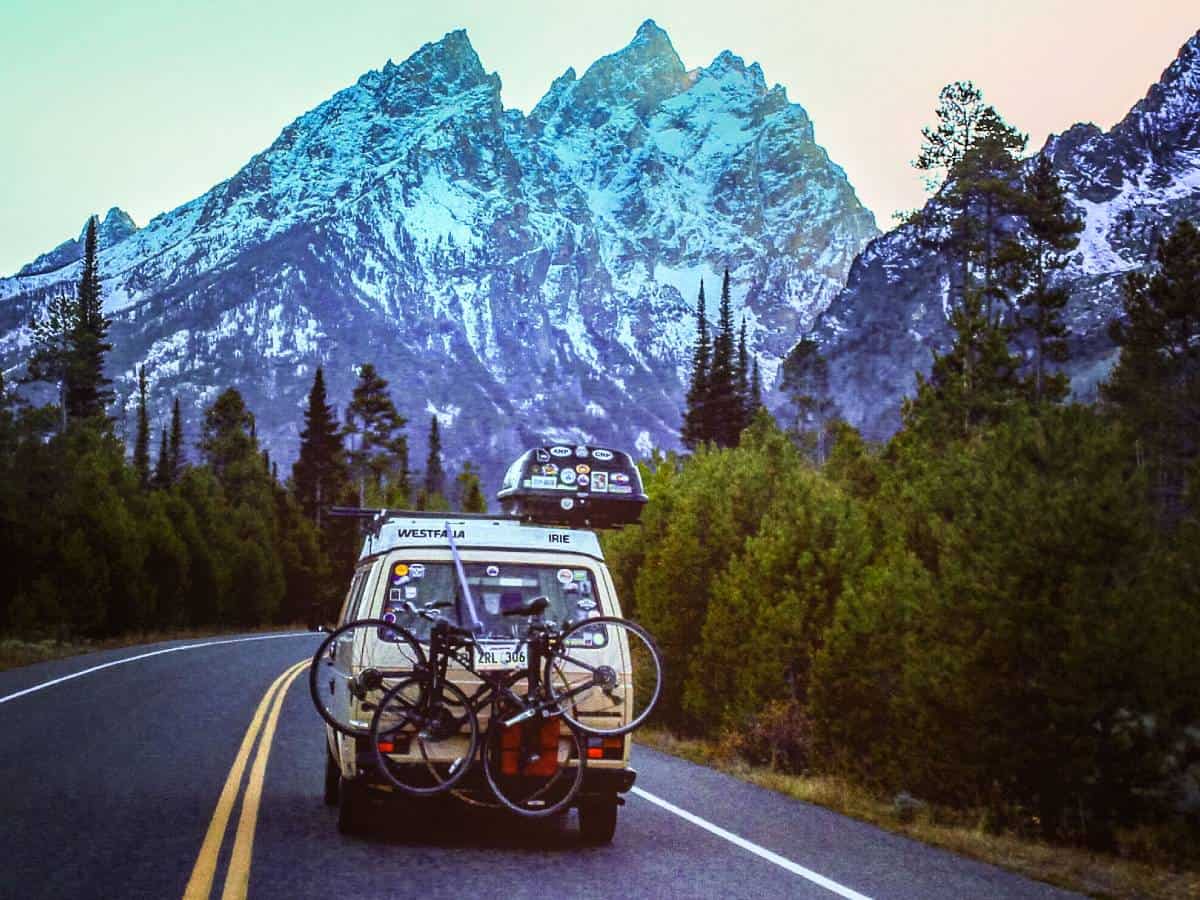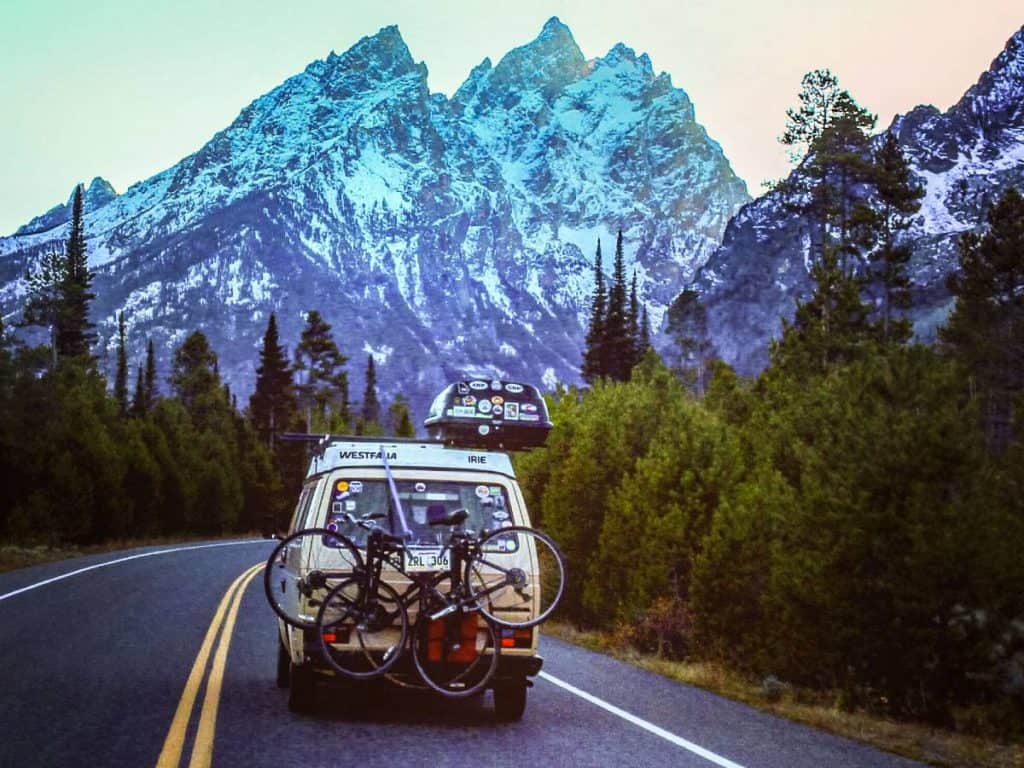 65 MPH Top Speed
We don't go fast. Honestly, I considered putting this in the "Awesome Things" section, but I think most people would see it as a drawback. Our rig is heavy, 5,000+ lbs, and we have a 4-cylinder engine topping out at 113hp (thanks to the new engine from GoWesty. Before that we had a whopping 85hp). So our top speed is a comfortable 65mph. But this pace has taught us patience. We can't get anywhere fast, so why hurry? It forces us to slow down and enjoy the journey, whether we like it or not.
A VW Campervan Can Be a Great Choice for Vanlife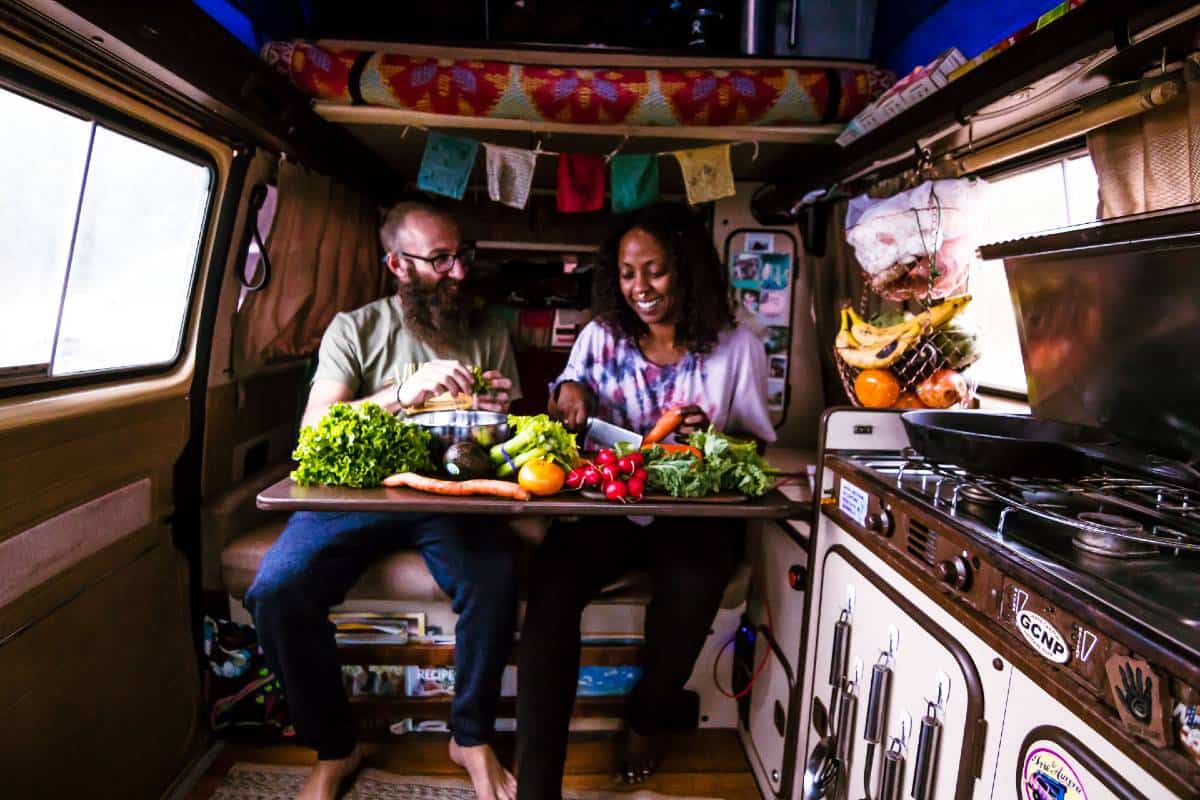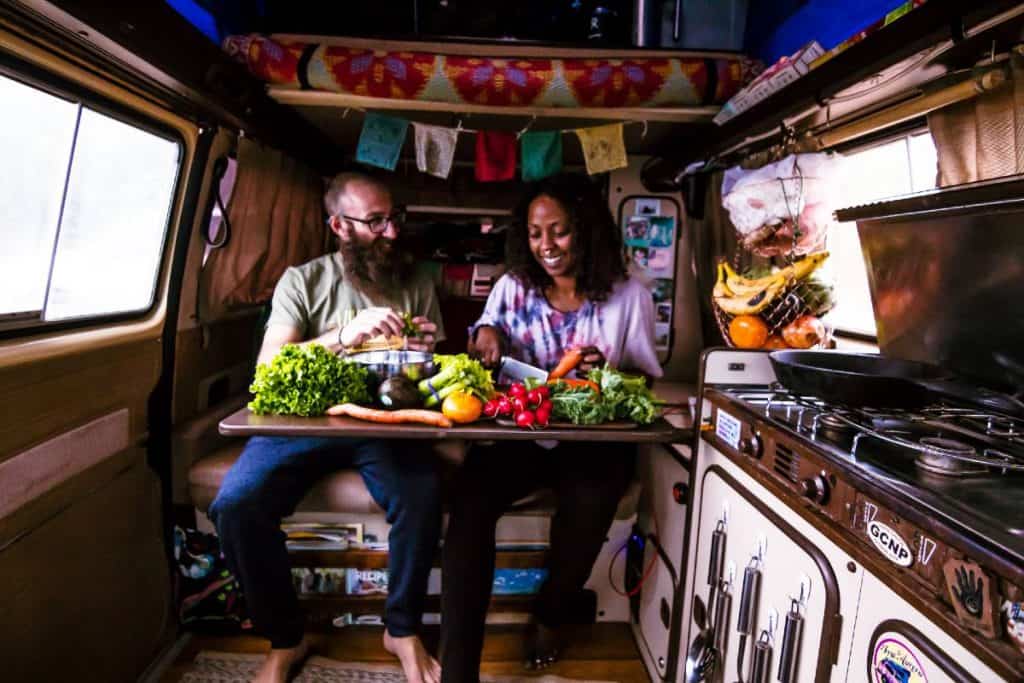 If you haven't figured it out by now, I'll just tell you, we love our Westy. With all her quirks and deficiencies when compared to a "modern" vehicle, there are just so many intangibles that make it our favorite choice for life on the road. There are times we wish we had more space, and as our family grows we may have to upgrade to a larger rig. But for now, you'll find us cruising the open road in our little tan Westy with the bright blue top.
Read more in the "Why I Chose My Van" series…