I wish I could say that we're on our first rig since going on the road three and a half years ago. We're not even on our second. We're actually living out of rig number four!
The thing is, when you live on the road, your car is your mode of transportation, your office, your bedroom – it's everything, so it can be really hard to ignore the feeling that it's not working for you, when or if it arises.
That's why we've tried so many different homes on wheels. It's all been in an effort to find the perfect home and car for us, and we've been unable to settle for anything less than that. It just took a little bit of trial and error to figure out exactly what that was for us.
Our Current Rig – A Flatbed Truck Camper
We now have a 2019 Toyota Tundra 4×4 with a flatbed Four Wheel camper. That is the simple way to put it, but I will break it down into the truck and camper to more easily list the features.
The truck is a 2019 Toyota Tundra SR5 4×4. We removed the front bumper and installed a high clearance steel bumper, which is home to our winch and light bar and also serves as a strong anchor point if we ever need to do an off-road recovery.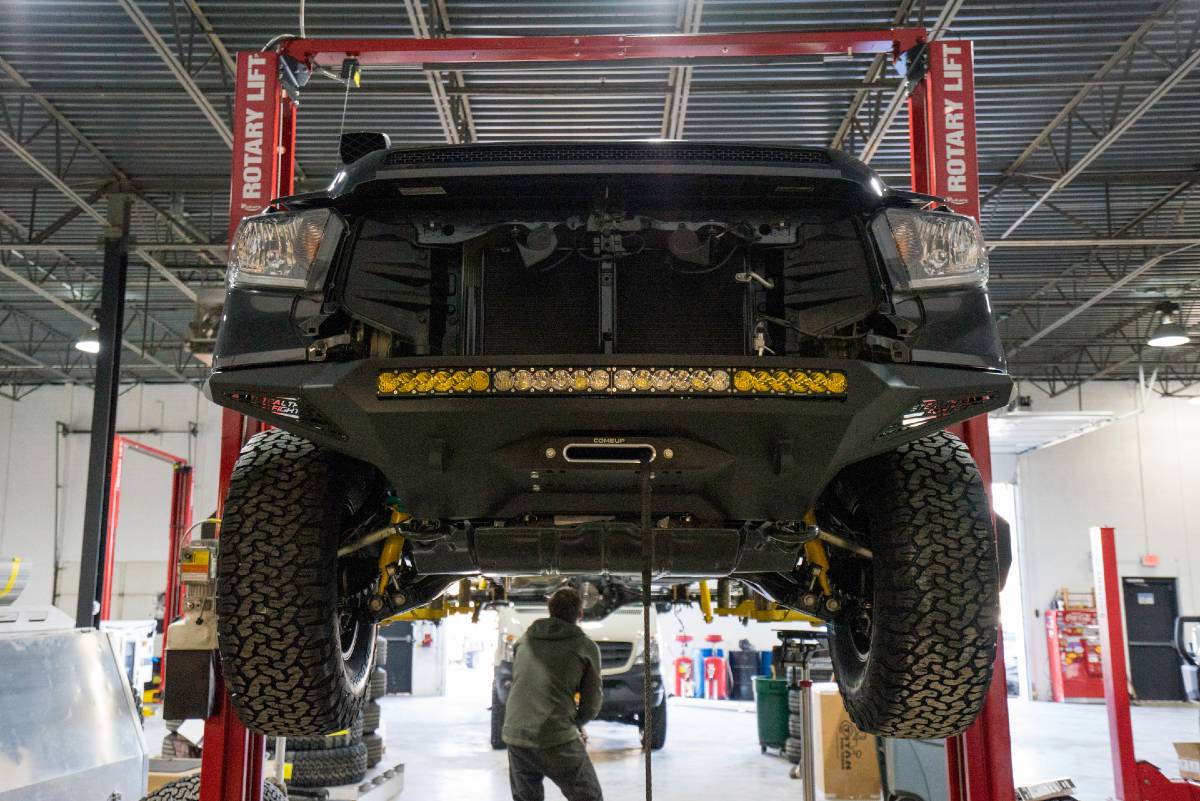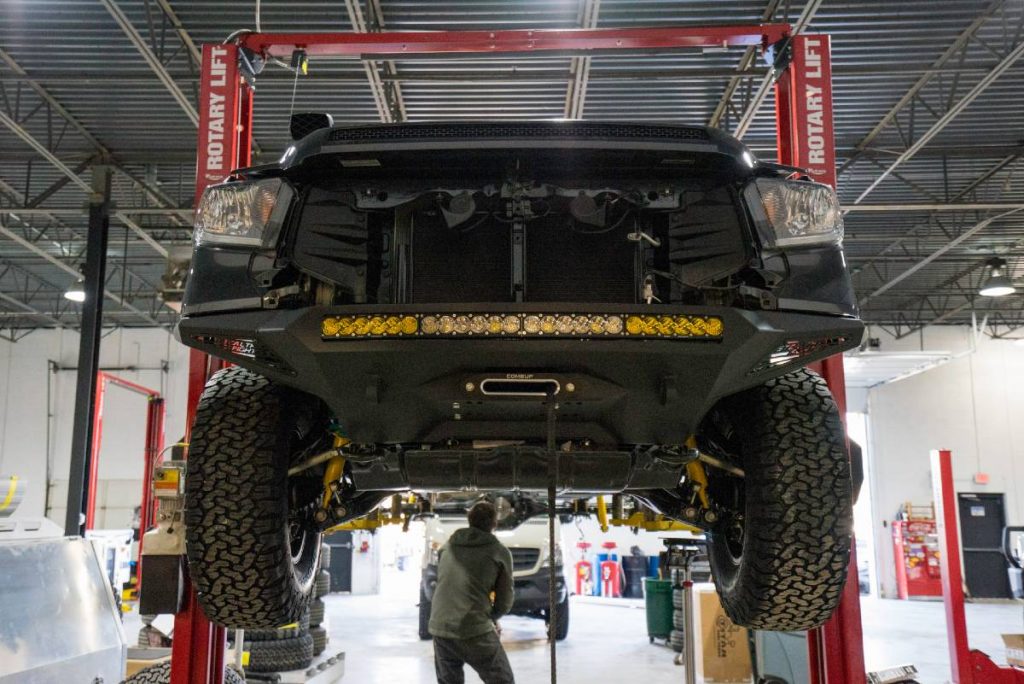 We also installed stronger 17" wheels and 33" all-terrain tires. On our passenger side, we have a snorkel for pulling cleaner air into our engine when we're in desert environments and the occasional deep water crossing. The truck has an added rear differential locker in it for the occasional extreme off road environments we find ourselves in.
In preparation for the flatbed camper, we removed the bed of the truck and installed a Norweld flatbed. We chose this one because the wheel wells are made up of storage boxes, one of which holds our air compressor and another that is a spare water tank. Last but not least, we have an overhauled suspension to compensate for the fulltime weight of the camper.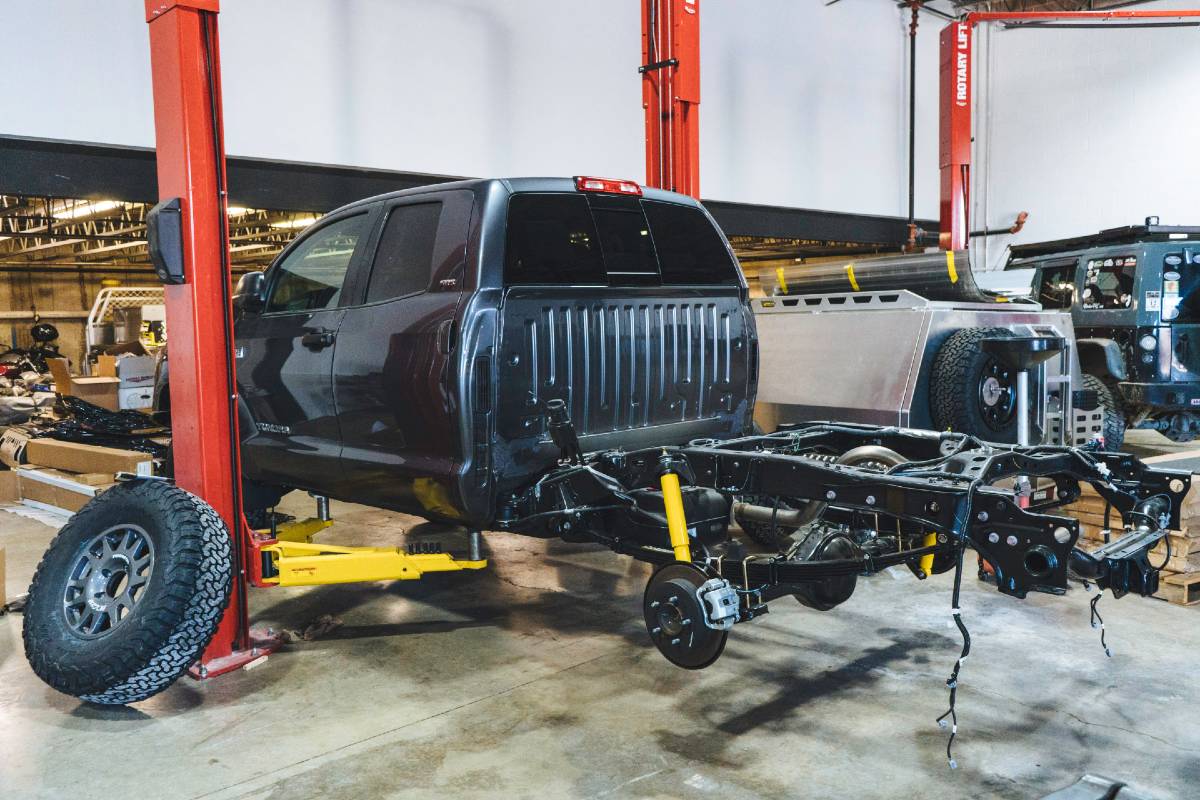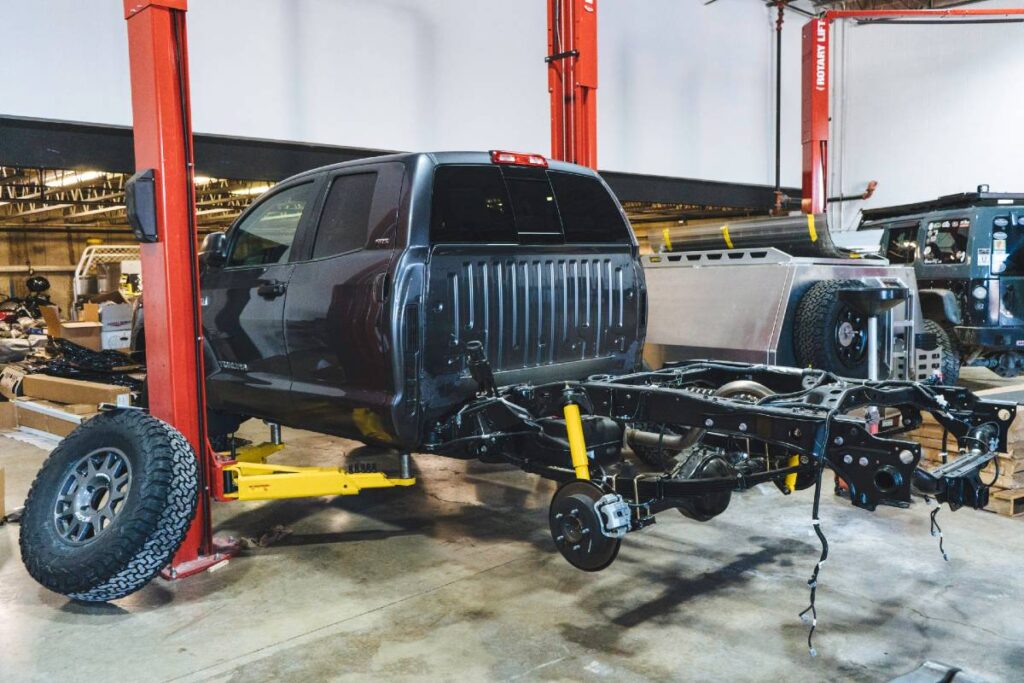 The camper is a 2019 Four Wheel Camper Hawk flatbed. Hawk refers to the middle size campers that fit on the smaller full-size trucks like our Tundra. The camper has a queen size bed with under-bed storage and a rear dinette that turns into a single bed and a shower. Under the rear dinette, each bench seat has storage that goes all the way to the bottom of the camper. The kitchen area consists of a two-burner stove, sink, propane heater, and hot water heater.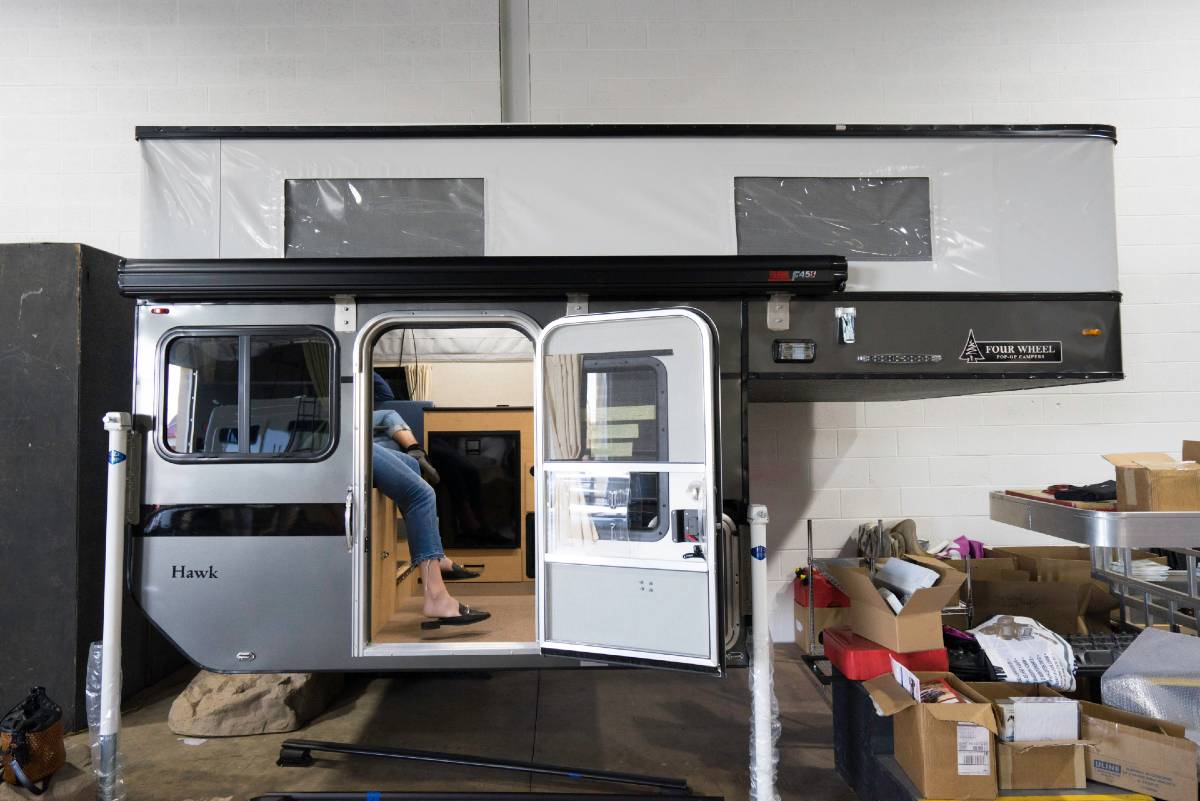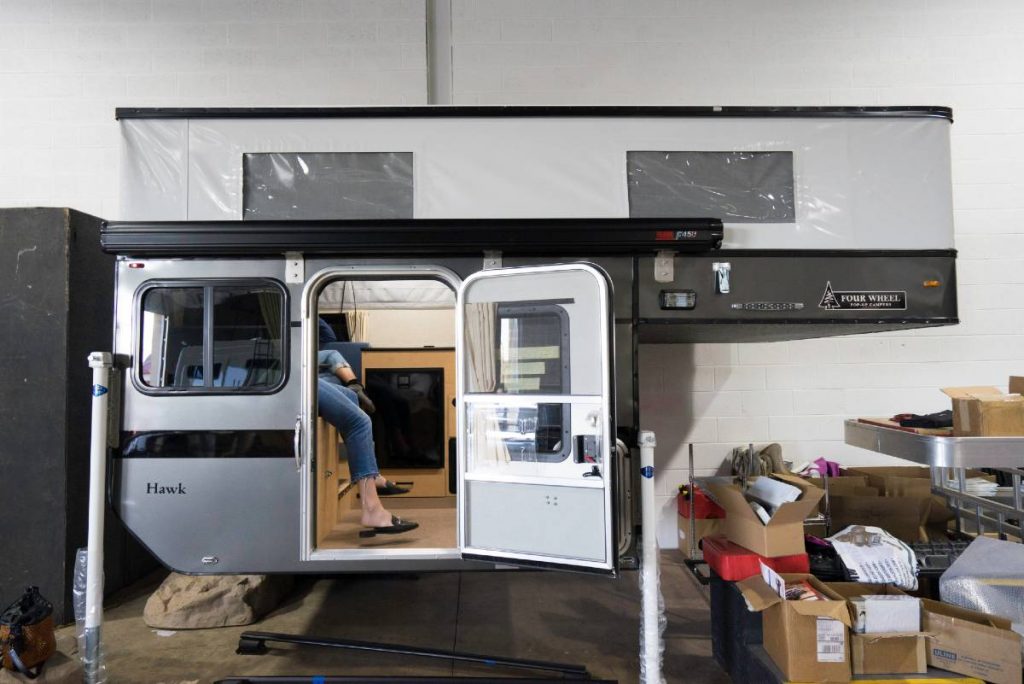 We have the capacity for 20 gallons of water and 6 extra gallons in our hot water heater. Our camper is powered by two 120 watt solar panels, two 100 amp-hour lithium batteries, and a 600-watt inverter. In addition to the indoor shower, we also have the option to hook up our shower head outside! There was an option for a small cassette toilet but we opted out of it for a space to put our cat's litter box. We also have exterior LED downlighting, an 8ft awning, and a detachable table that hooks right into the flatbed. That table is great for cooking outside!
Why We Chose a Truck Camper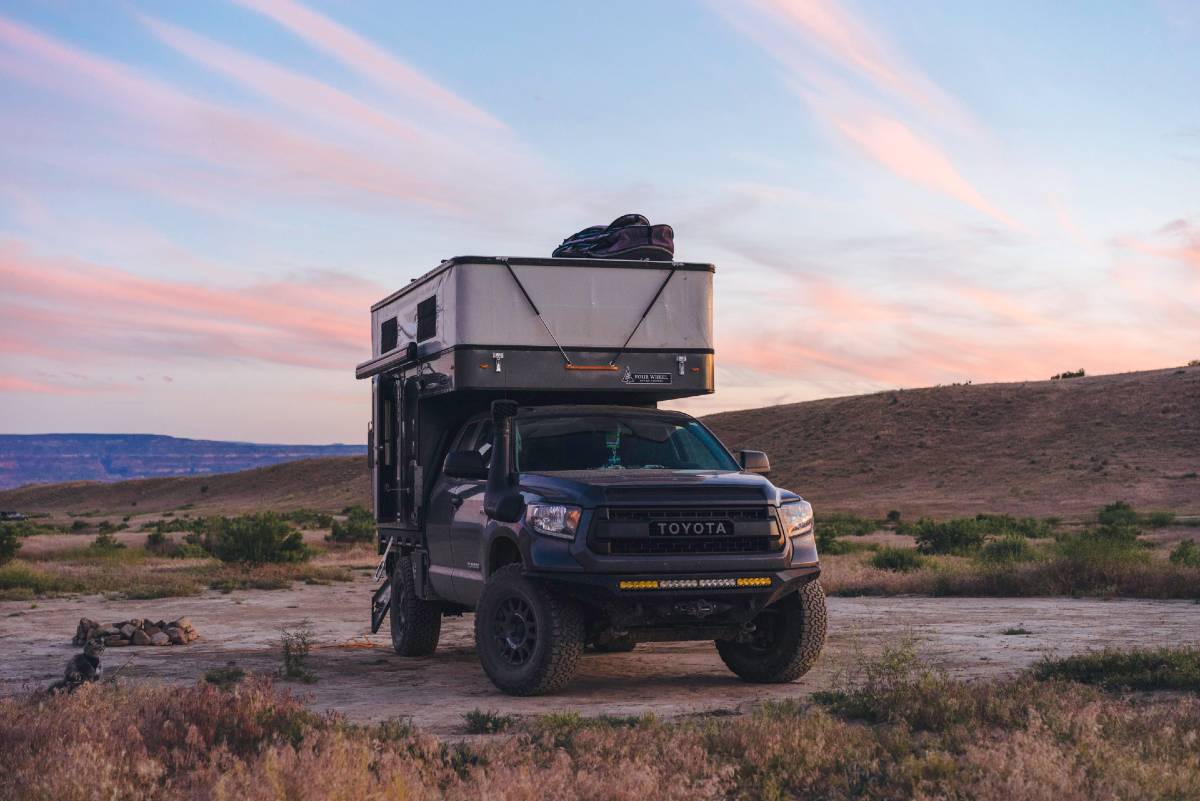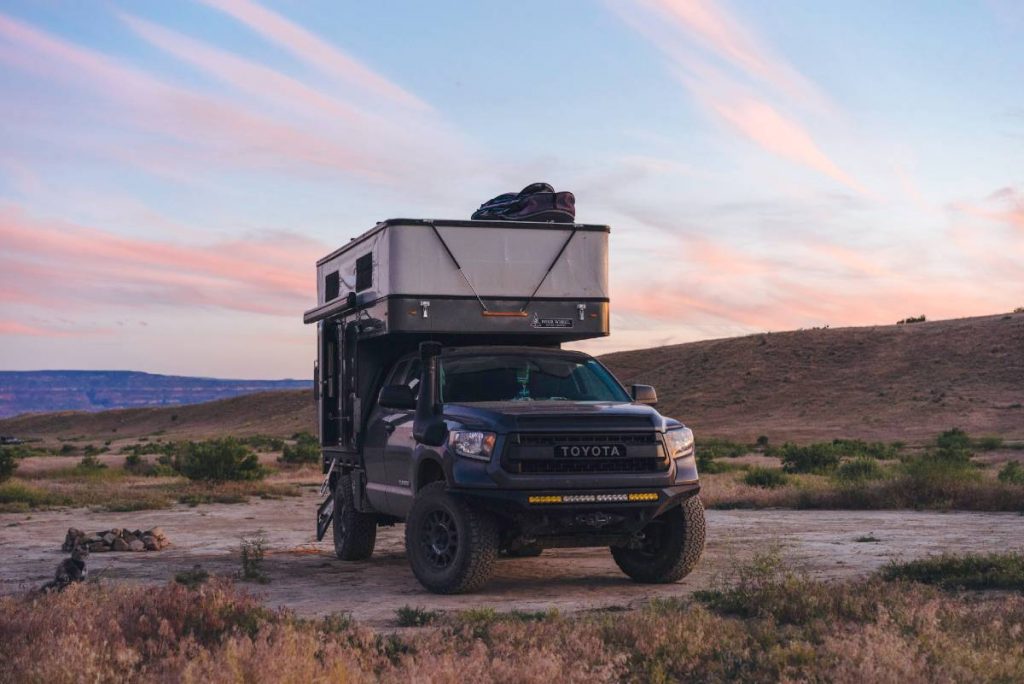 There are so many reasons why we chose this rig, but the driving reasons (pun intended) behind our decision were reliability, off-road capability/safety, and comfortable workspace. In the past, we've had old vans that left us high and dry more times than we care to recount.
Our first home on wheels was a 1985 VW Vanagon that ended up needing three engines, two transmissions, three clutches, a new radiator, and nearly drained us of every dollar we had. It was then that we realized that if we were going to live out of a vehicle we needed to put our money into something that would take care of us for a long time to come.
Life on the road is stressful enough, even without the stress of whether or not our rig was going to make it to our next destination.
Over time we've realized that we like driving on rough 4×4 roads and seeing where they take us. In our previous rigs, we didn't have proper safety or recovery gear to feel comfortable getting to many destinations that lay at the end of those rough roads. We've also had our fair share of close calls where perfect strangers, more prepared than ourselves, had to help us out of sticky situations.
As flashy as some of our off-road equipment looks (ie. snorkel, winch, etc.) they're insurance for our safe passage and those we cross paths with in remote locations. When we were planning this new build, we wanted to be sure that we could return the favor and help anyone in need of help that we come across on our travels.
We've already had to use our winch to recover our friends from the mud. See! Already coming in handy!
Our work funds our travels, so investing in a vehicle that made our work from the road easier and more comfortable was a huge priority. We felt that Four Wheel Campers, specifically the flatbed models, were perfect for just that!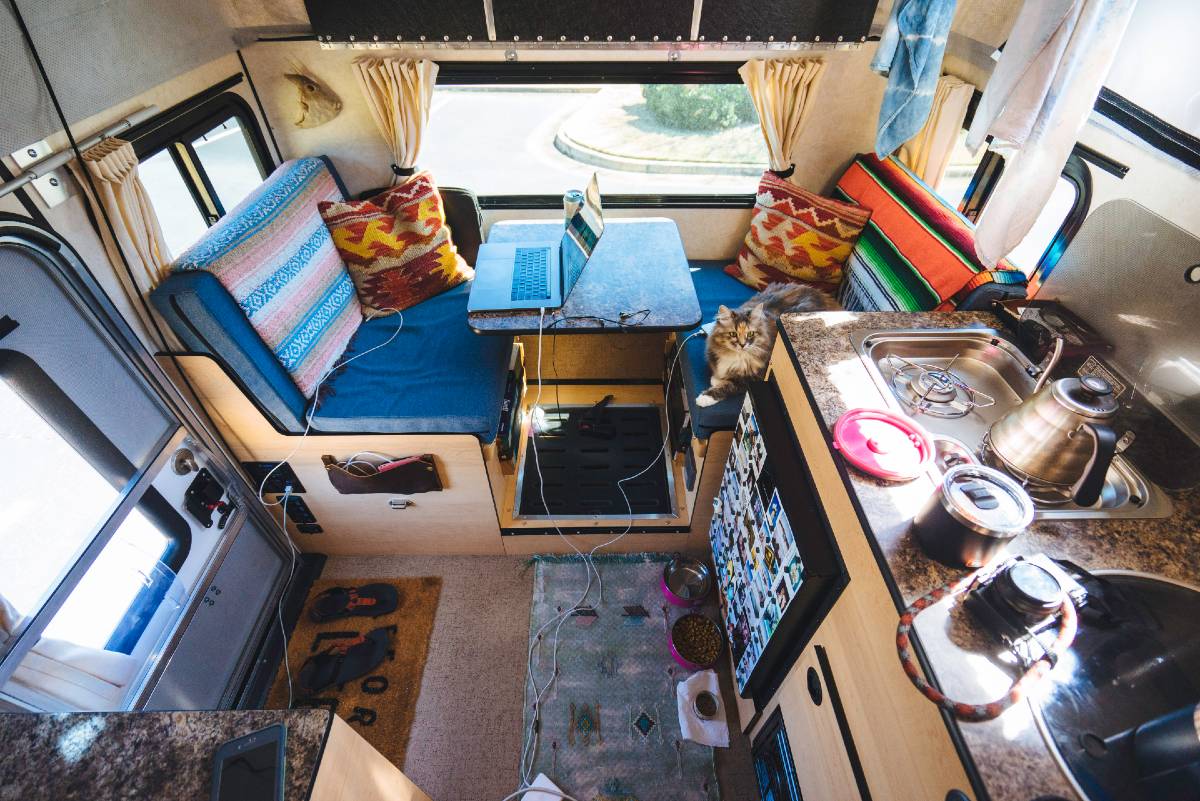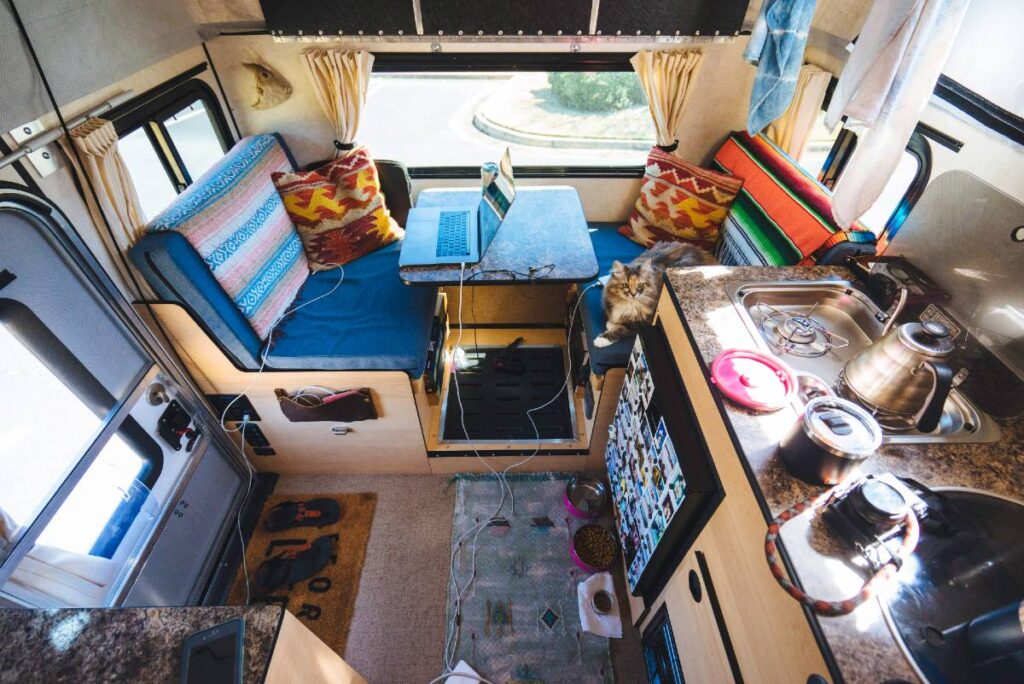 In the past, we haven't had a comfortable place to work, so that resulted in us spending most of our work hours in coffee shops and libraries and thus kept us closer to towns and cities than we prefer to be. There is also something so satisfying about completing a workday with a beautiful view in the middle of nowhere.
We purchased the truck and the camper new. The truck came from a Toyota dealership in Florida, the camper came from the factory in Woodland California, the flatbed trey came from Australia, and the whole build was put together by an overland shop in Philly called Main Line Overland. In total, our build was right at $100K.
Yes, that's a lot of money, but we look at it as our house, and our monthly payments are FAR less than rent would be just about anywhere! We also have learned over the last three and a half years that our life on the road is worth investing in, which made it all worth it.
What We Love About Our Adventure Rig
1. Incredibly Off-road Capable
Now that we have 4×4 capability, a rear locker, and all the other off-road accessories, we truly can go anywhere we want to. It feels like the world is our oyster! We also really love finding quiet and remote places, and with this rig we can venture into the unknown with the confidence that we have the truck to make it safely.
2. Comfortable Living Space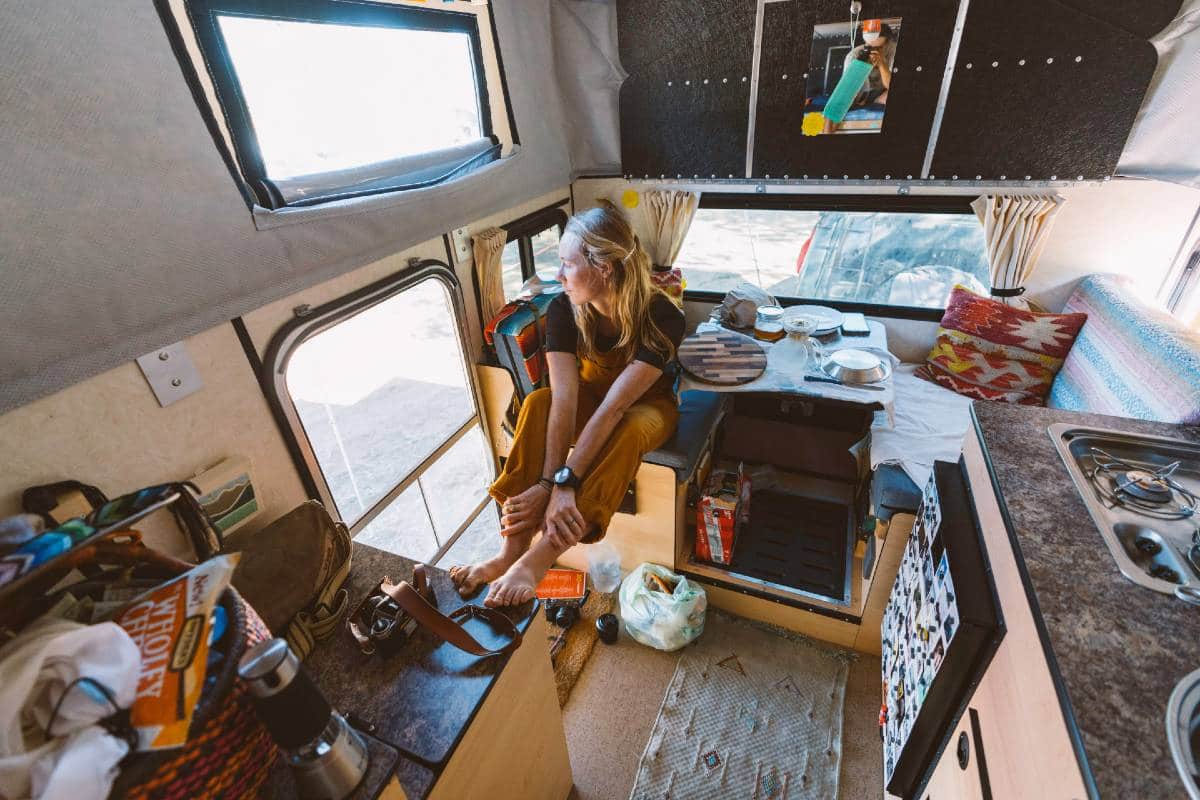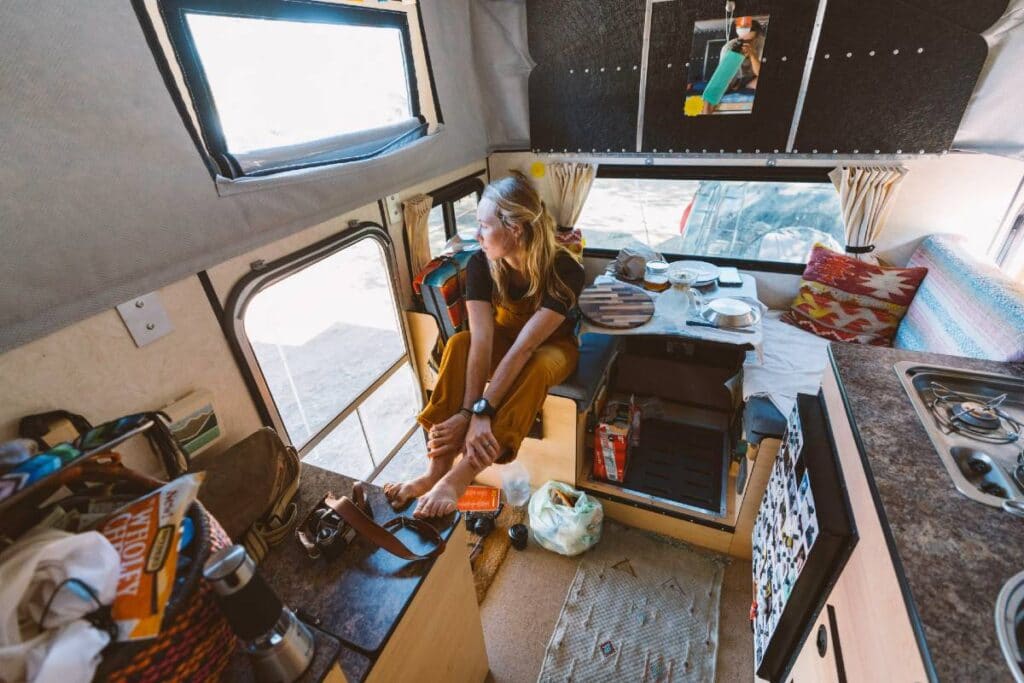 We love the floor plan of our camper. It makes it so easy to accommodate guests and makes day to day life really comfortable. We like that our camper has allowed us to feel like we're thriving and not just surviving on the road!
3. We Didn't Have to Build It
In the past, we've built all three of our other vehicles. As much as we've enjoyed the build process and all that it's taught us, it takes a lot of time and energy. The last build that we did took us off the road for 9 months. When that was over we realized that our time is worth something.
When it came time to start this build we decided to turn it over to professionals and travel up until the day that it was ready. It was so nice to know that everything was done by people who know what they're doing and that we could use that time to keep doing what we do best!
4. Truck and Camper Both Have a Warranty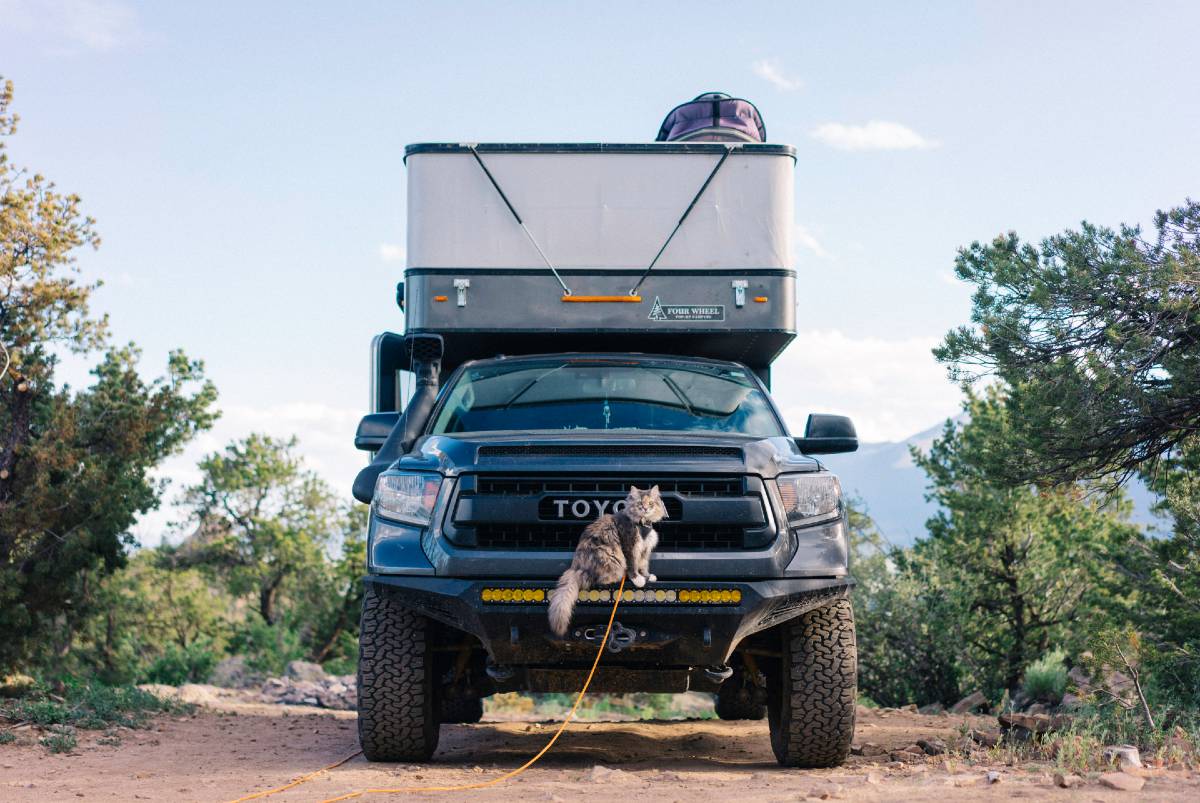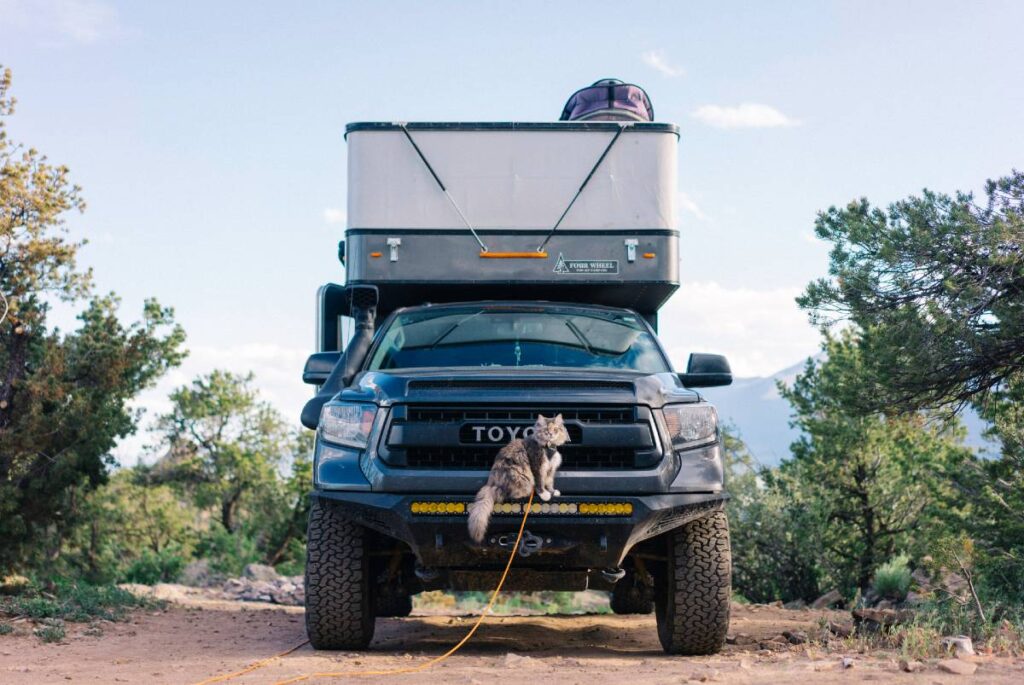 We've never owned a new vehicle before this. As scary as it was to buy something new, it's nice to have warranties on everything. Our truck has a 7 year /100,000-mile warranty and the camper came with a 5-year warranty. It's satisfying to have some security in such a large purchase, and repairs won't come out of our pocket for the first few years!
5. Comfortable in Any Weather Condition
Our old Vanagon was a Westfalia, and sadly the top couldn't be up when it was either too windy, raining, or cold. As soon as the top was down, neither one of us could stand anymore and it made our living conditions cramped and uncomfortable.
We love the pop-top because it gives us the ability to open up our space when we're in camp without having the added height while driving down the road. The Four Wheel Camper pop-top is made to be tough and work in all weather conditions. It's been so nice to not have to worry about our top being up no matter the weather!
List of Not-so-awesome Features
1. No Pass-through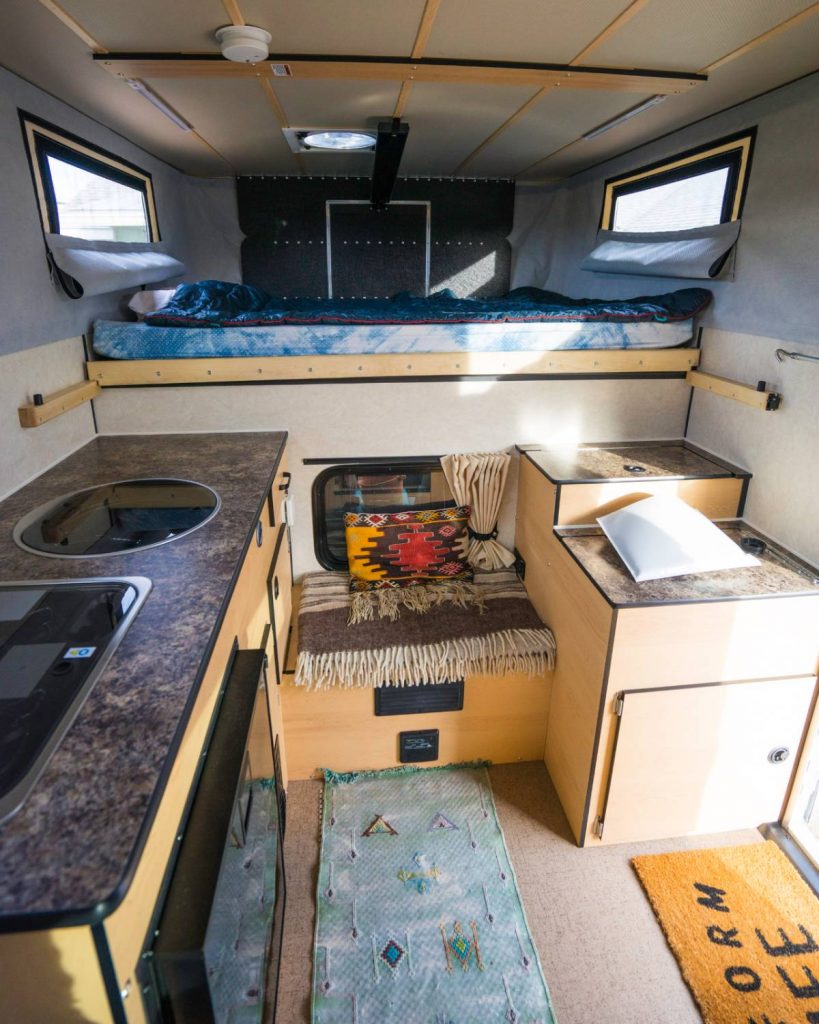 I think the reason why it took so many different rigs to settle on one is that we had a hard time letting go of the pass-through from the driver and passenger seat into the rest of the rig.
We had a pass-through in our Vanagon and Sunrader Toyota RV and wished we had one now. We just realized that if we gave up that feature it opened up a world of great camper options to us, and thus we ended up without one. The pass-through is great for bad weather as well as doing a quick escape from camp.
2. Bad Gas Mileage
Sadly, our new rig has the worst gas mileage of any we've ever had. Going into it we knew that it wasn't going to be the best because of the final weight of the vehicle, though it has ended up being better than we expected it would be. We were hoping for 10 MPG and have ended up with 11-12 MPG. And we have an amazing 38-gallon gas tank, which gives us over a 400 mile range!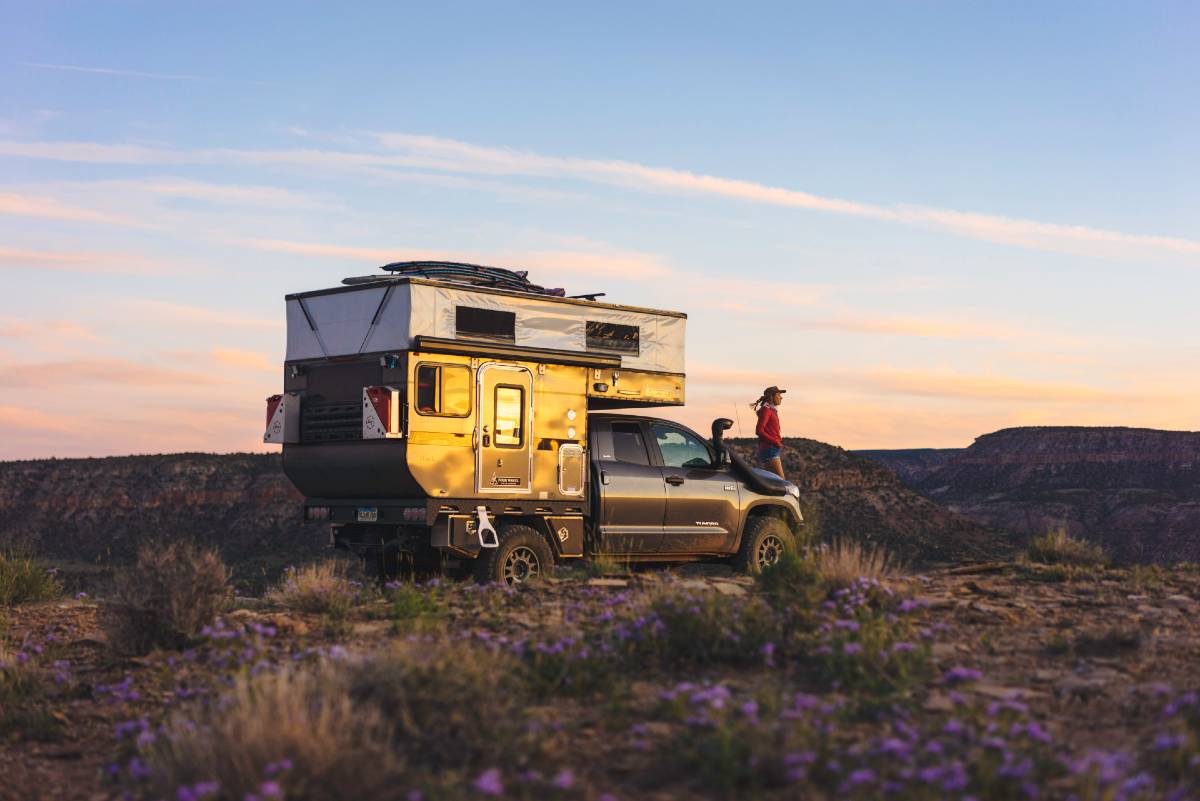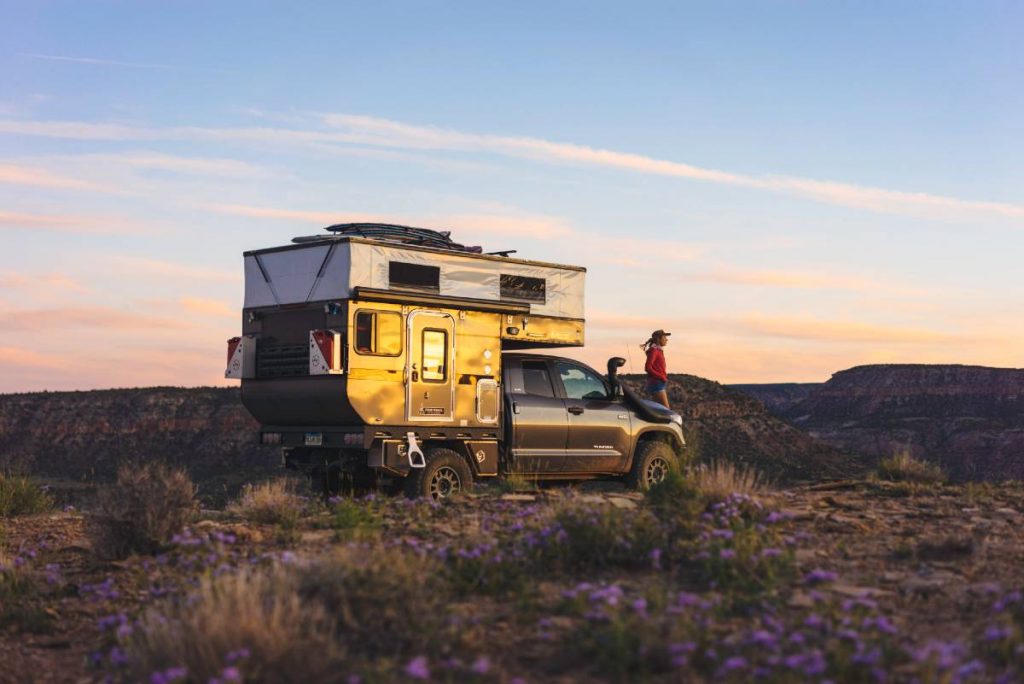 3. Bigger Than We Wanted to Be
We've always aimed to be as small as possible with all of our rigs because it's better for stealth camping as well as narrow roads with heavy brush coverage. In order to compensate for the weight of the camper, it forced us into a full-size truck and thus caused us to be a bit larger than our preference.
Final Thoughts
Though there are a few things that we don't love about our new rig, the positives FAR outway the negatives. As much as we regret having to switch between four rigs, we absolutely feel that they've all taught us what we wanted and how we travel.
If it wasn't for all of the previous rigs, we'd have never felt comfortable purchasing this camper truck combo. Now that we're six months into living in our new rig we couldn't be happier with how comfortable and capable it is. This truck is an investment in our life and future on the road!
Read more in the "Why I Chose My Van" series…