When you need electricity on the go, few things are easier than throwing a portable power station in your camper van conversion.
Bluetti makes portable power stations (also called "solar generators") aimed at the camping, RV, van life, and home power backup markets.
The Bluetti AC200P stands out as an interesting option for nomads who want an easy alternative to a DIY campervan electrical system, without compromises. With a 2000Wh battery, a 2000W inverter, and the ability to drop right into a DC electrical system, the AC200P can serve as your van's power hub with little effort.
In this Bluetti AC200P review, we thoroughly test this power station to see how it withstands the conditions of full time van life.
Note: Bluetti was kind enough to send us an AC200P for this review. However, our thoughts and opinions are our own, and the content of this post is not sponsored by Bluetti in any way.
Bluetti AC200P Review Summary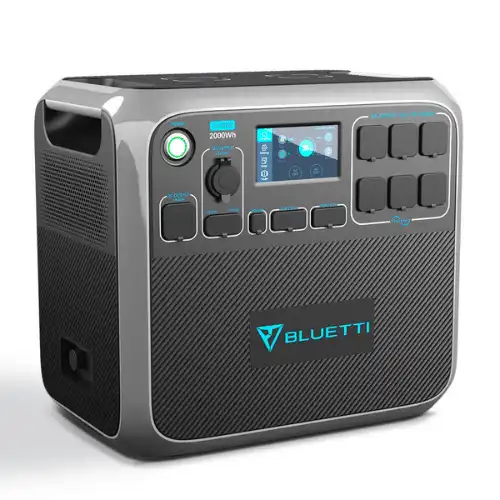 Why we liked it: 2000Wh (167Ah) of LiFePO4 batteries, a 2000W pure sine wave inverter, MPPT charge controller, and a variety of output ports make the Bluetti AC200P actually capable of powering a camper van for full time living. This solar generator can accept a huge 150V of solar input, and Bluetti's use of aviation plugs for both charging input and 25A DC output means you can drop this into your van's electrical system without worrying about wiring coming loose from crappier DC plugs. And the pricing ends up being cheaper than many equivalent DIY systems.
Note: The AC200P needs at least 35V of solar input, so you'll need minimum two panels wired in series or a higher voltage solar panel to kick off charging from the sun.
Who should use it: Van lifers and RVers who want an all-in-one-solution for their rig's power needs. Also a good option for those who want light-duty home power backup, or a ton of portable power. Weekend campers should go with something smaller and lighter.
Pros
Large battery capacity that can sustain full time nomadic travel
Ultra-secure 25A aviation plug makes it easy to route power around your rig
Tons of output options and several charging modes
Can accept up to 150V and 700W of solar input
Detailed menu system with tons of helpful info
Cons
LCD display doesn't have sleep mode and is tough to see outdoors
No easy way to charge from solar and alternator at the same time
It's a bit too heavy to be truly portable
Large phantom power draw in standby mode
About the Bluetti AC200P Solar Generator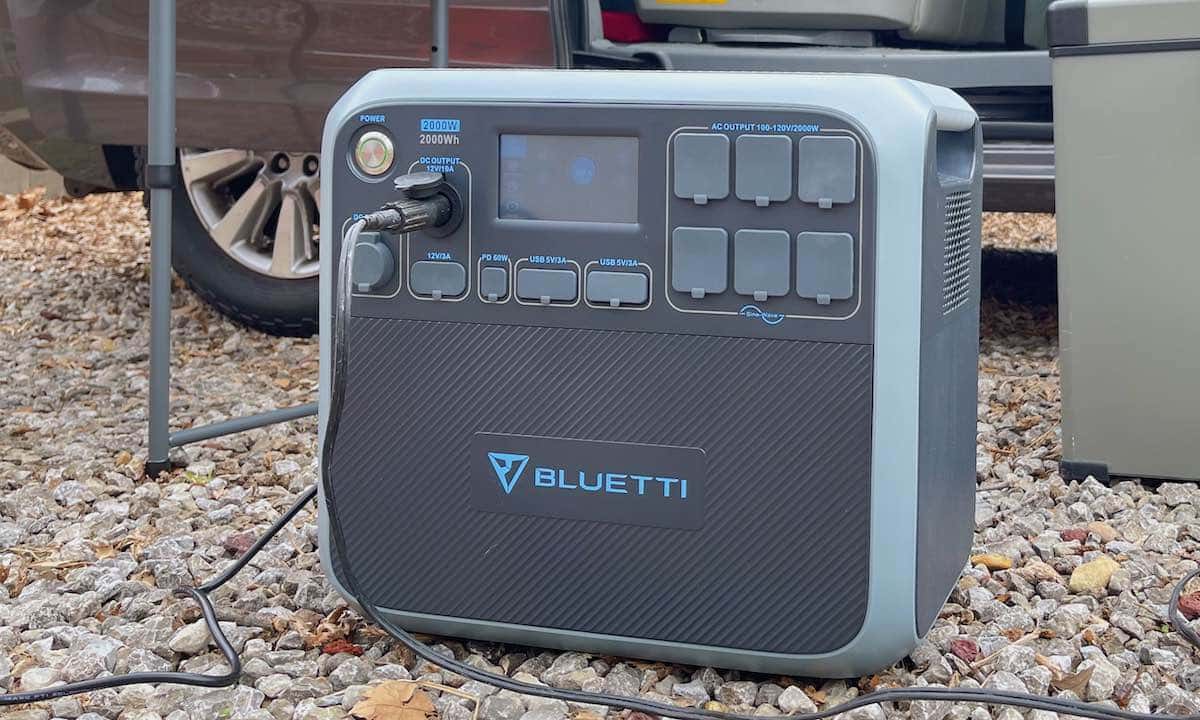 Battery & Capacity
The AC200P features a massive 2000Wh lithium iron phosphate battery (LiFePO4). 2000Wh is the rough equivalent of 167Ah of 12V batteries, but since it cuts off the discharge at 90% DOD (depth of discharge) the usable capacity is closer to 150Ah (2000Wh / 12V = 166.67Ah equivalent x 0.9DOD = 150Ah usable capacity).
The battery technology in this Bluetti solar generator is exactly what you want in a van life power station. The AC200P features lithium iron phosphate batteries (LiFePO4 or LFP), which is the best type of lithium battery for off-grid usage.
Many other portable power stations use lithium NMC batteries (nickel manganese cobalt), which are inferior for applications like van life, RVs, and off-grid cabin installations. Lithium NMC batteries are lighter with a higher energy density, but they're not a good choice for long-term usage because they don't last nearly as long (only 500-800 cycles), and they have a higher chance of overheating and bursting into flames (rarely, but still).
In contrast, LFP lithium batteries last much longer. The LFP batteries in the AC200P are rated for 3500 cycles to 80% capacity, which can easily sustain a decade (or more) of full-time usage before you might need to think about replacing this unit. LFP batteries are also wildly safe, and there's zero risk of fire or explosion. You could toss the AC200P on a bonfire and the battery would not ignite.
The downside of LFP batteries is that they are heavier and have a worse energy density than NMC batteries. But in real-world usage, the benefits far outweigh the minimal drawbacks.
Output Ports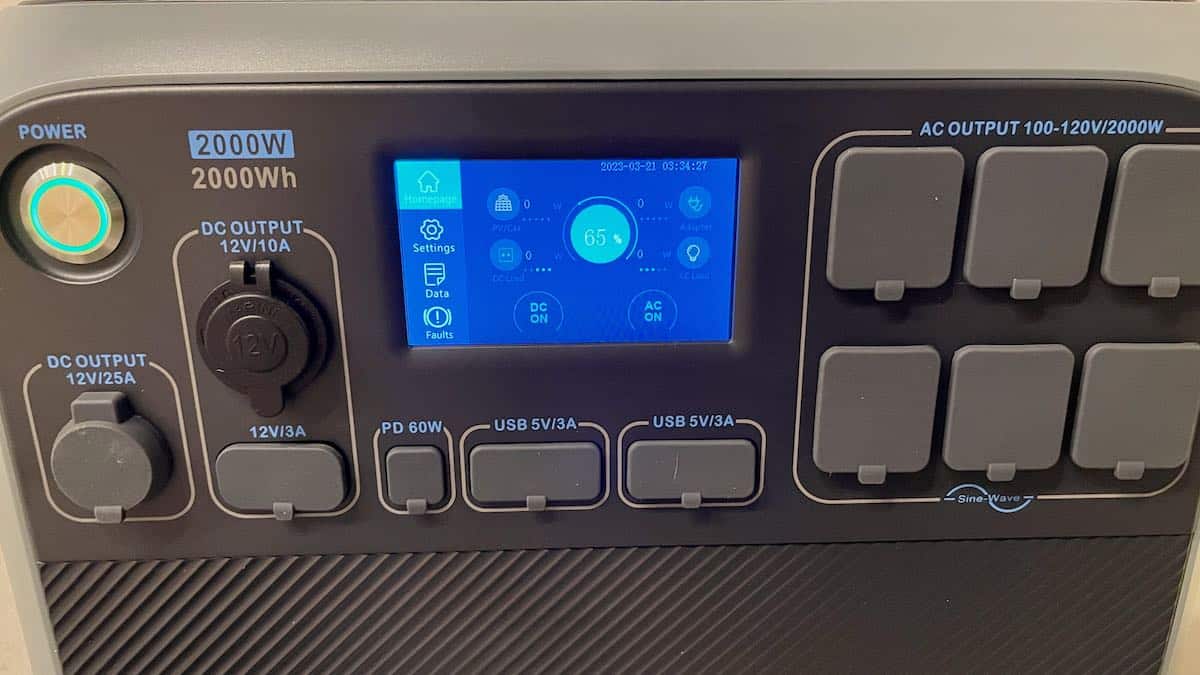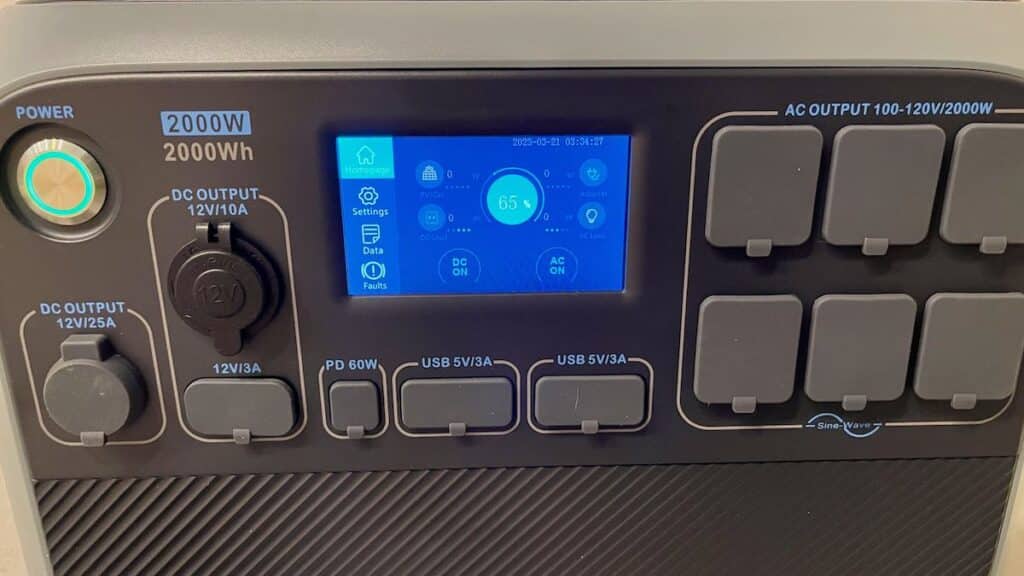 The Bluetti AC200P offers an impressive variety of output ports for powering devices including phones, laptops, refrigerators, fans, blenders, and just about anything else you can think of.
For AC power, there are a whopping six three-prong AC outlets that provide up to 2000W of continuous power with pure sine wave output.
For DC power, there are
12V/10A cigarette lighter plug
(2) 12v/3A 5.5mm plugs
12V/25A aviation plug
The aviation plug is a notable feature (Bluetti calls it an RV plug). Aviation plugs are electrical connectors with screw collars that create a firm attachment that won't come undone when you're driving down a bumpy forest road. You can plug an accessory cable into this port and run it to a DC fuse box to power the rest of your rig – much better than relying on the shitty connection from a cigarette lighter plug.
For USB ports, there are
60W USB-C port with power delivery
(2) 5V/3A USB-A ports
On top of all that, the Bluetti AC200P also has two wireless charging pads built into the top. Each of these wireless charging pads outputs 15W, which is equivalent to high-end wireless charging units like Apple's MagSafe Charger.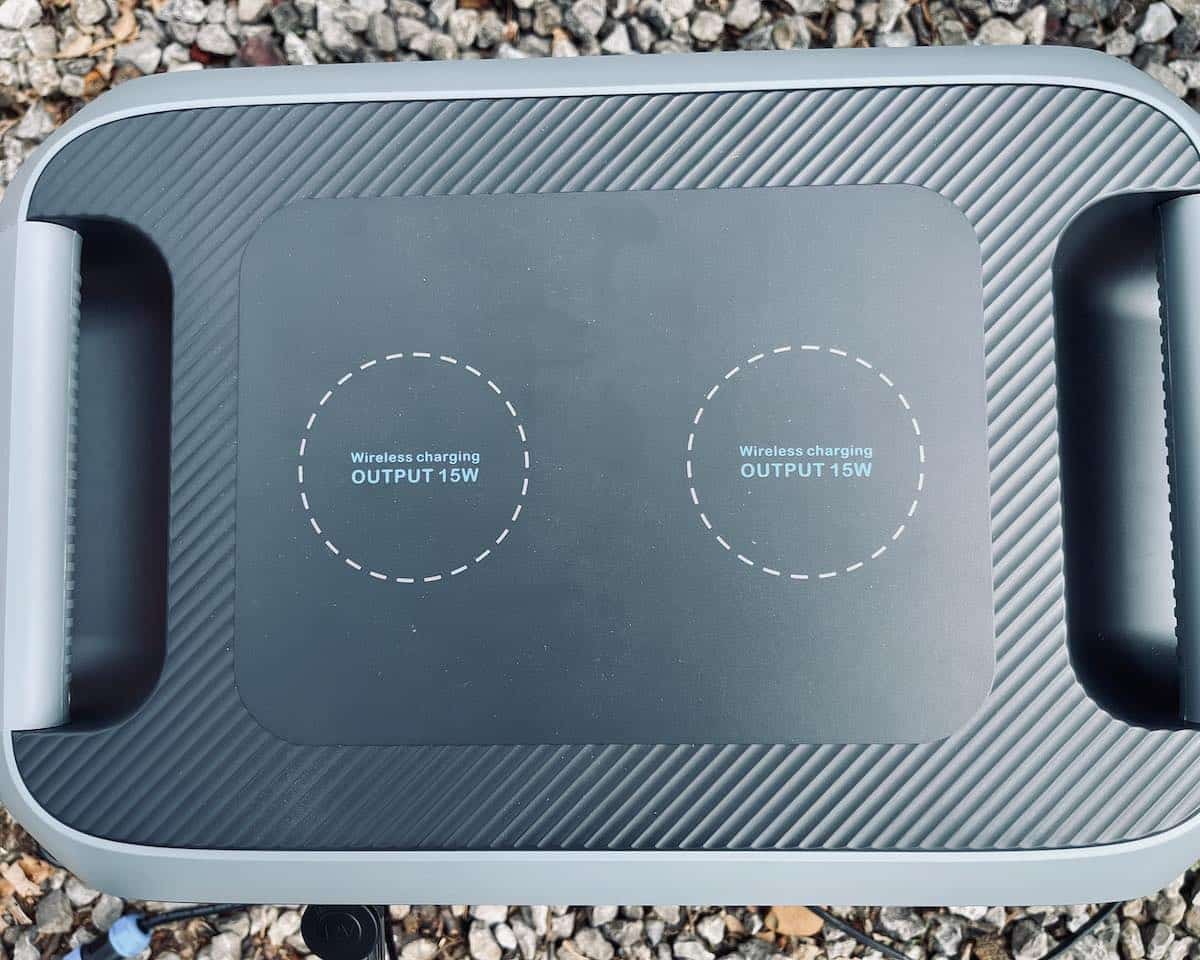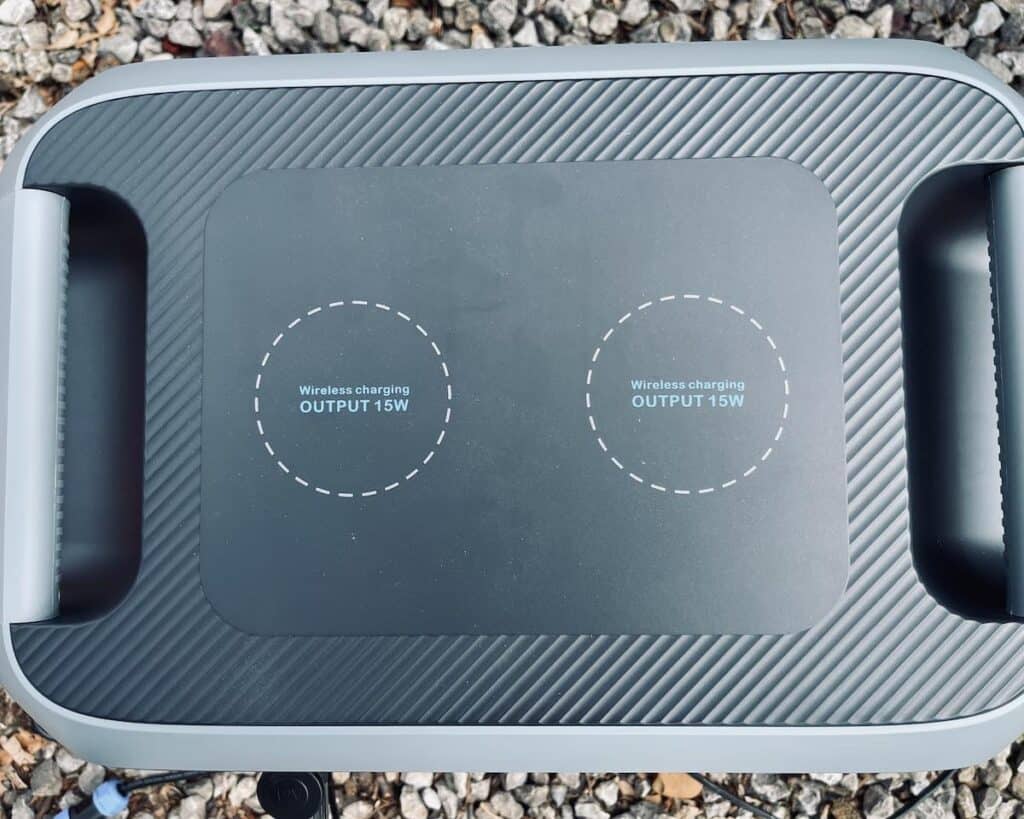 Pure Sine Wave Inverter
Behind the AC power output is a high-quality 2000W pure sine wave power inverter. This AC inverter is capable of 2000W of continuous power, with a 4800W surge to accommodate the increased wattage when you first start something like a blender.
The inverter in the AC200P can run at 2500W for up to two minutes before shutting down, which provides some extra flexibility.
Input Ports & Adapters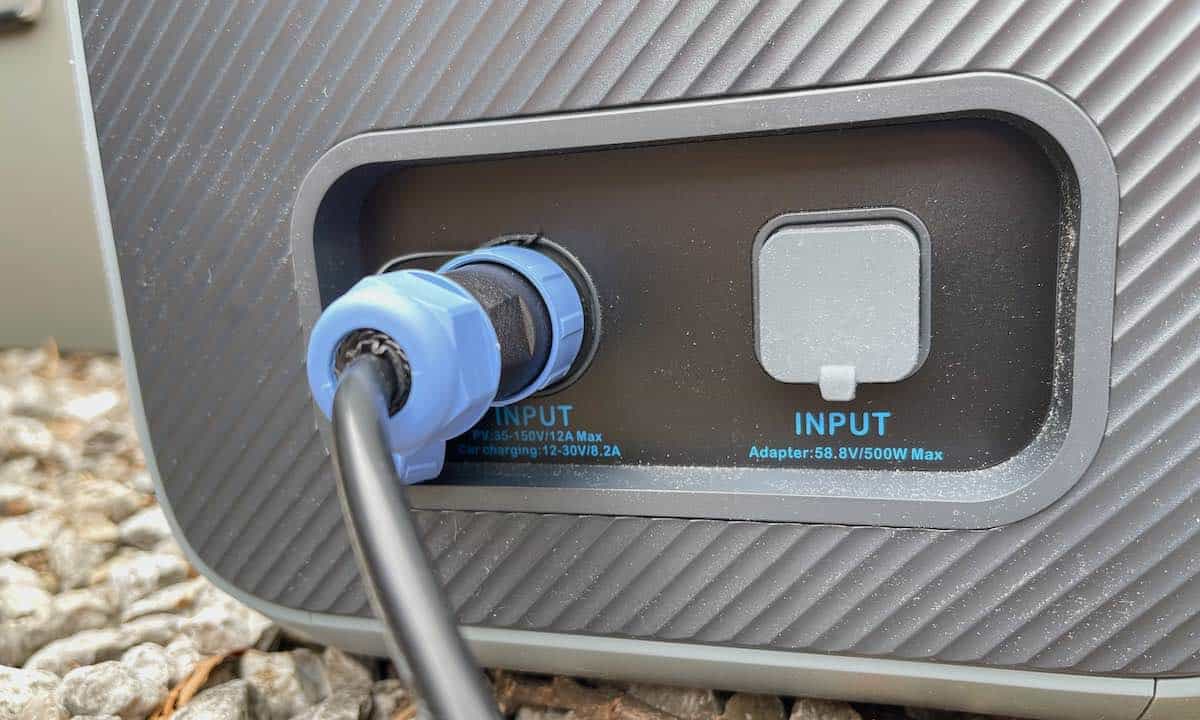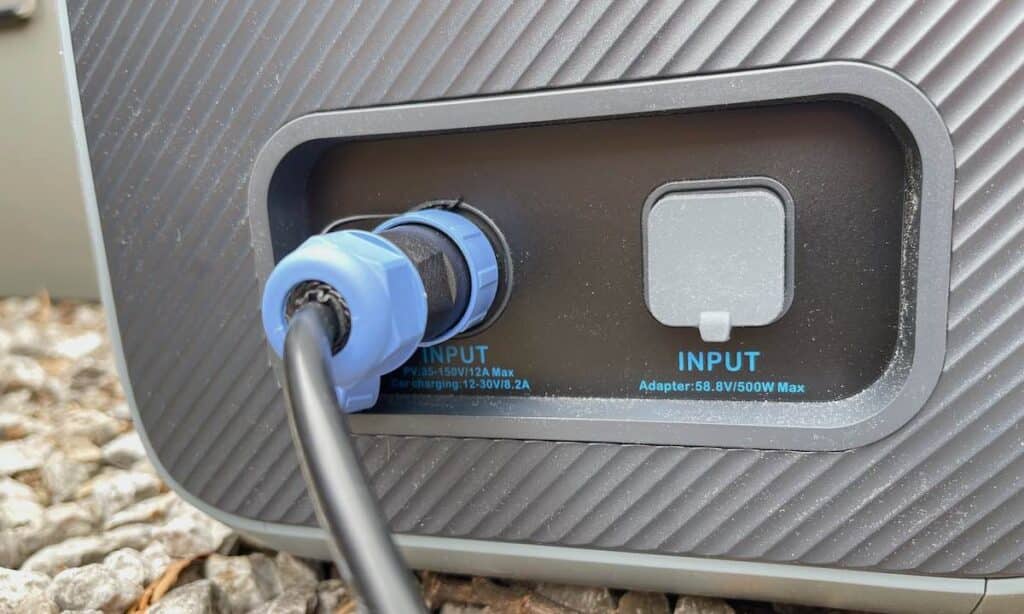 The AC200P has two input ports on the side, one for AC input and one for DC input (car charging and solar).
Aviation plug (DC input). This plug functions as both a solar input and an input for car charging. The unit comes with an aviation-to-XT90 cable that plugs into the unit, an XT90-to-MC4 cable for solar, and an XT90-to-car charger cable.
8mm plug (AC input). For AC charging, simply plug the included AC wall charger into the 8mm port on the side of the unit.
Display & Menus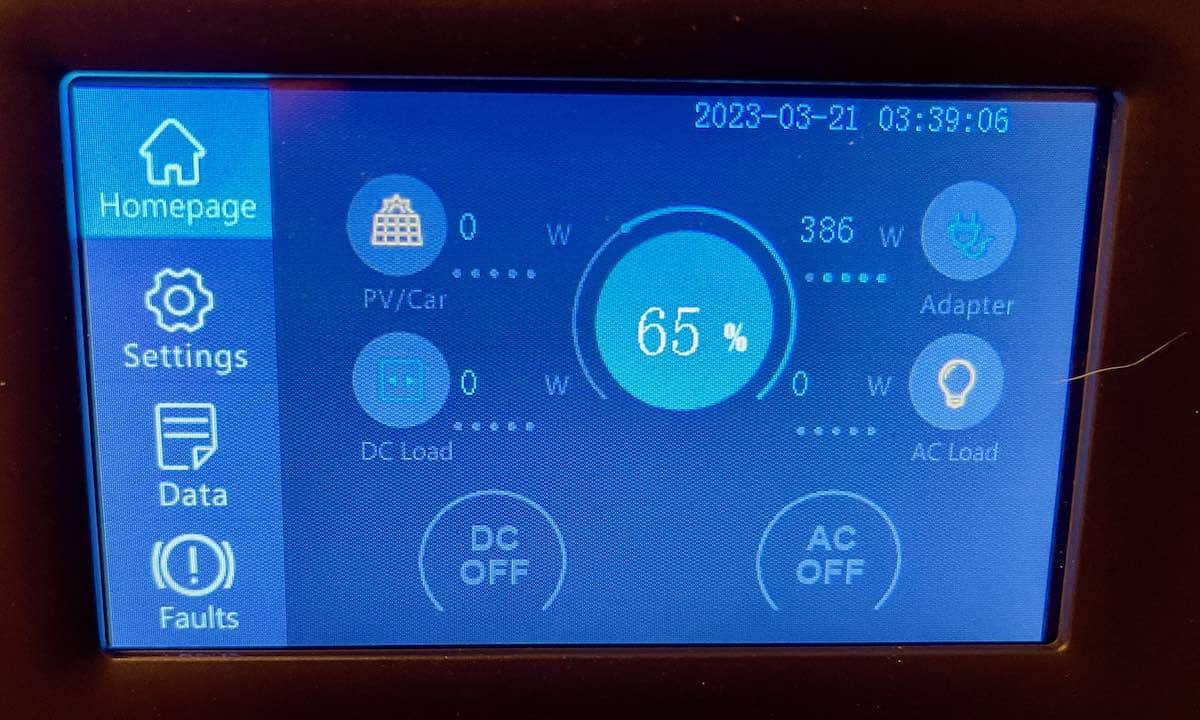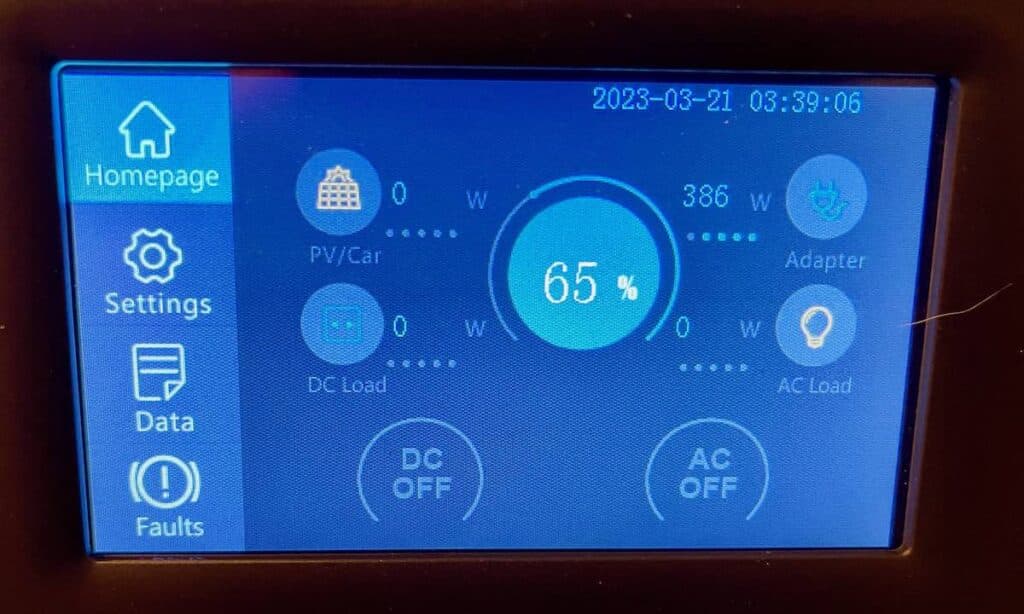 The Bluetti AC200P features a color LCD touch screen that shows you a ton of information. The homepage shows you the battery SOC (state of charge), the charging wattage from both AC and DC, and the load wattage from AC and DC, and allows you to turn off/on the AC/DC loads.
But that's not all – the AC200P has an extensive menu system that allows you to dig into all kinds of data and settings, including information on battery health.
Form Factor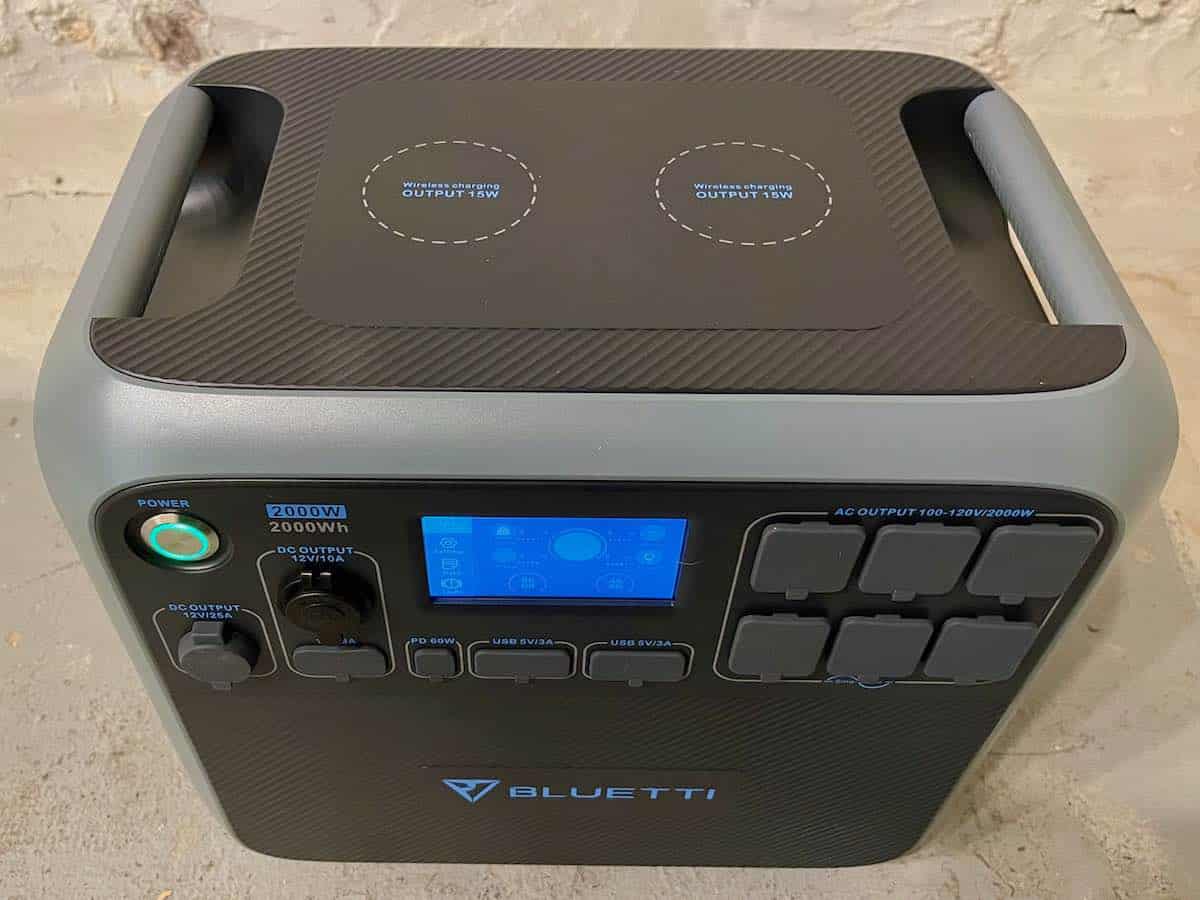 The Bluetti AC200P is relatively big, bulky, and heavy, which is in line with its enormous capacity. Here are the specs:
Dimensions (LxWxH): 16.5″ x 11″ x 15.2″
Weight: 60.6 lbs
Although Bluetti calls the AC200P a portable power station, the weight and size are at the top end of what is portable. It has two comfortable handles on the top, but 60 lbs is a bit much for most people to carry for long periods. This isn't an issue if you're using this as the electrical hub for your rig, but if you plan to cart this around, consider getting the wheeled trolley.
The AC200P is constructed of durable hard plastic and feels solid. Everything about it exudes quality, from the adapter cables to the outlet covers to the power button.
Warranty
Bluetti offers a 48-month warranty on the AC200P.
Pricing & Value
The Bluetti AC200P is a good value for the features and specs. The specific price changes frequently, and it's often on sale.
In the Box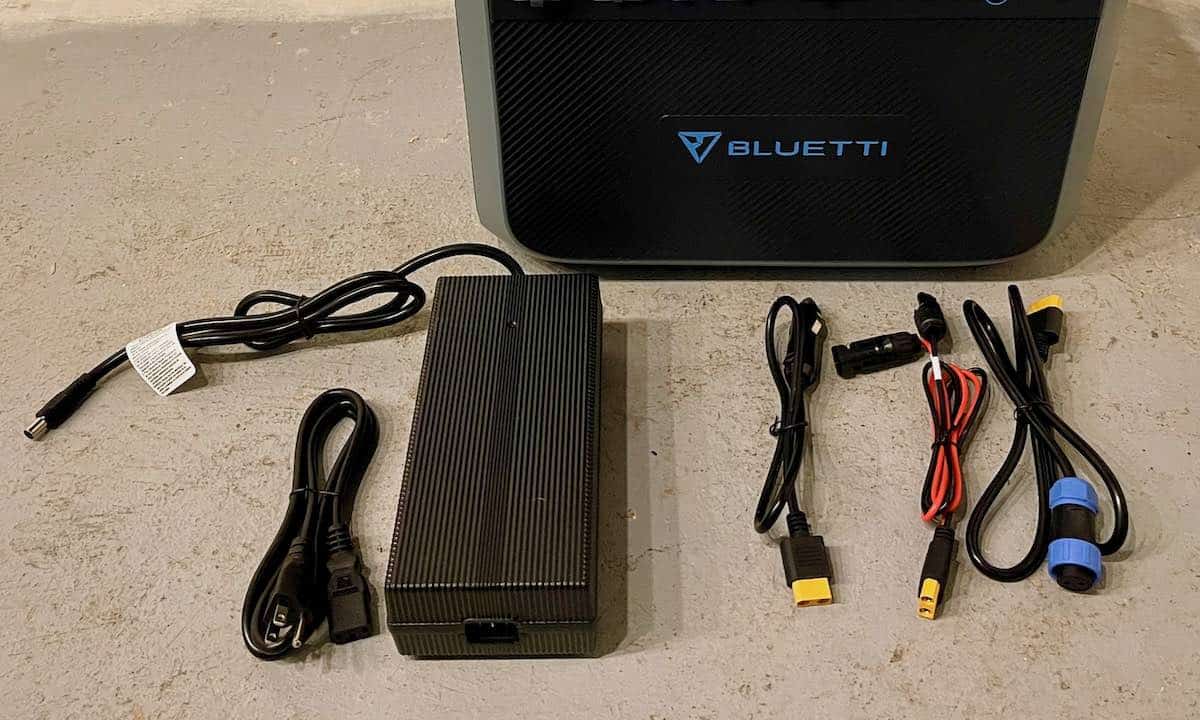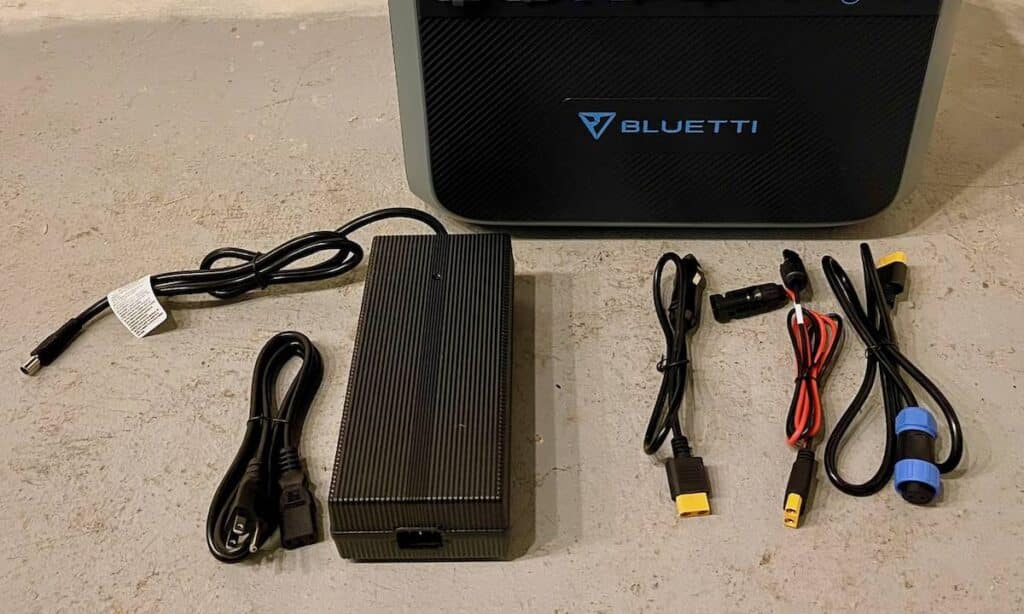 The Bluetti AC200P comes with most of what you need to power your rig (except for solar panels), but it is missing some vital accessories you might need to buy.
Here's what's included:
Bluetti AC200P power station
AC adapter
MC4 solar charging cable (MC4 to XT90)
Car charging cable (car to XT90)
XT90 to aviation plug (DC input)
Handy carrying bag for the cables
User manual, warranty card, and certificate
That's everything you need to power up and charge the AC200P.
So what's missing? The main thing that's missing is an aviation output cable for connecting the AC200P to your rig's DC fuse box. If you're using this as the hub of your electrical system rather than a purely portable unit, you'll need Bluetti's 25A aviation to XT90/Anderson connector.
The other vital component that's missing is solar panels, but you'll need to buy these separately, regardless.
Read More: The Best Solar Panels for Van Conversion Power Systems
Charging the Bluetti AC200P
There are several ways to charge the Bluetti AC200P.
AC adapter (400W). The included wall charger charges the AC200P in 5.5-6 hours when plugged into a standard wall outlet or fuel generator.
Solar (up to 700W). The AC200P includes an MC4 solar charging cable that can recharge from solar in 3.5-4 hours, assuming good conditions (prime sunlight, ideal solar panel orientation, and low temperature).
12/24V car outlet (100W/200W). Plugged into a standard 12V car outlet, the Bluetti will recharge from zero in about 10 hours (20 hours for 24V).
There are even ways to charge using multiple sources at once for added flexibility and faster charging.
Ac charging + solar (up to 1100W). You can double up the max solar input with connection to an AC wall outlet for faster charging. The AC200P will charge up in 2.3-2.8 hours in ideal solar conditions.
Solar + solar (up to 1200W). What, even more solar? With the optional DC Charging Enhancer, you can connect another 500W of solar and charge up your Bluetti in 2.1-2.5 hours.
Dual AC (800W). With the optional dual adapter, you can charge the AC200P from two AC outlets in 3-3.5 hours.
Charging with Solar Panels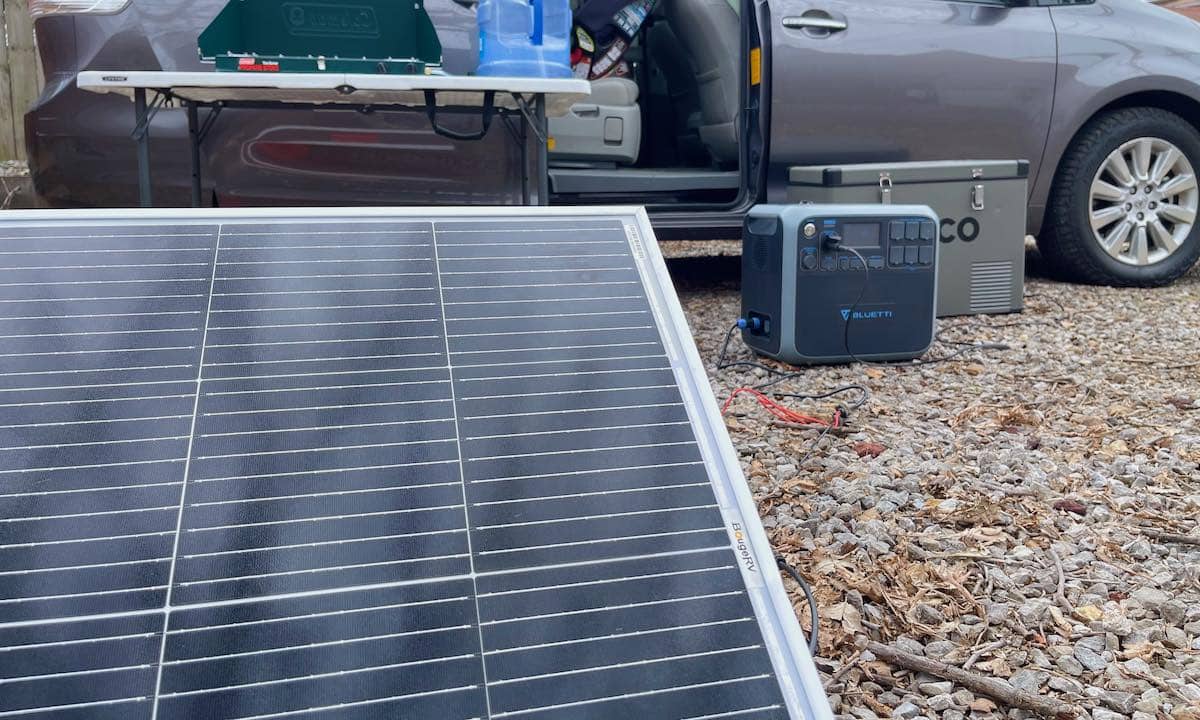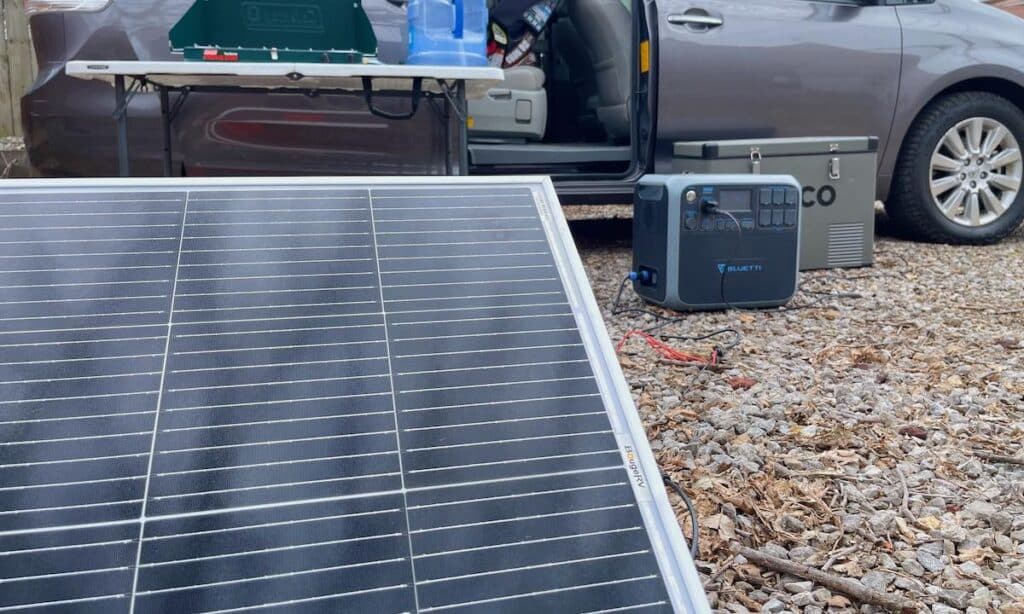 If you're buying this Bluetti solar generator for van life, chances are you're going to use solar as your primary charge source. And there are a few things you need to know.
The Bluetti AC200P needs a minimum of 35V solar input. Unlike lower capacity power stations, you can't just plug in a single solar panel and be good to go.
Most 12V solar panels have an open circuit voltage (Voc) of around 20V-24V, which is not enough to get the AC200P going. That means you'll need at least two solar panels wired in series to charge the AC200P, or a higher voltage panel like Bluetti's PV350 portable solar panel.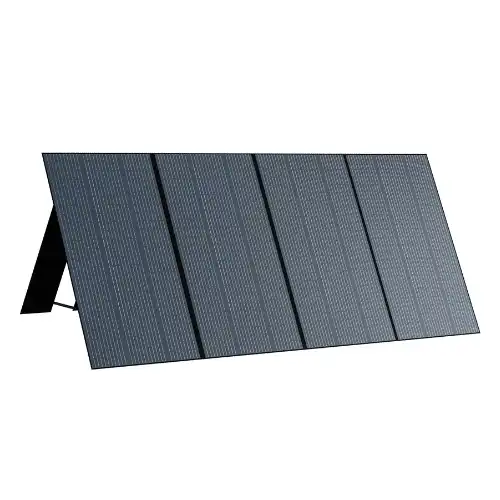 You'll probably want to use multiple solar panels with this solar generator regardless, but either way, you'll need to pay attention to your solar panel voltage.
The AC200P can accept up to 150V of solar input. Again, you'll need to watch the voltage here when wiring up your solar panels because you don't want to exceed this number. Remember that the voltage increases when wiring solar panels in series. If your plan is to way overpanel, you may need to employ series-parallel wiring to avoid going over 150V.
The AC200P can use up to 700W – but you can overpanel to make sure you hit that. As long as you don't exceed the voltage limit, you can attach as many solar panels as you want to the AC200P. If your panels output more than 700W, the AC200P will only use 700W for charging. This means you can overpanel to make sure you're hitting the maximum power input even when conditions aren't ideal.
You can use any solar panels to charge the AC200P. You don't need to use Bluetti solar panels if you don't want to. Any portable solar panels will work, as long as they have MC4 connectors or you purchase an adapter. If you're full time on the road, you'll probably want to mount solar panels on your van's roof and plug those into the AC200P.
We tested the Bluetti AC200P with our BougeRV 180W 9BB solar panels, and they charged it up flawlessly.
What Can You Power with the AC200P?
With its variety of output ports and strong AC output from its 2000W inverter, the AC200P can provide power to just about anything you need.
The battery capacity is plenty to fully power a typical van life rig with ventilation fans, a 12V fridge, lighting, and electronic devices.
And the pure sine inverter has enough continuous wattage (2000W) and surge wattage (4800W) to run most AC appliances, including coffee makers, blenders, and power tools.
Even though the AC200P has a large battery storage capacity, it's not big enough to power heavy loads like an air conditioner for more than a few hours. If you need to run an air conditioner full time, you'll most likely need to plug in at a campground.
Important Note: If you're using the AC200P as the primary hub for your van or RV, make sure you disable eco mode. Eco mode shuts down the AC200P if its power output is less than 50W for over 4 hours. 12V refrigerators often use significantly less than 50W when the compressor isn't running, and you don't want the AC200P shutting off while you've got a fridge plugged in.
What We Liked About the AC200P Power Station
While writing this Bluetti AC200P review, we were mildly blown away by its capacity and versatility. Bluetti designed the AC200P as an electrical hub capable of sustaining an off-grid campervan or RV, and it delivers on that intention. Here's everything we liked about it.
Enormous battery capacity
The sheer size of the Bluetti AC200P compared to most other power stations makes this thing very suitable for full-time van life.
The DIY electrical system in our first van had a similar battery capacity – we had 310Ah of AGM batteries with 155Ah usable capacity, compared to the AC200P's 150Ah. We had more than enough power for full-time living, including powering a 12V refrigerator and running our vent fan 24/7.
If you have very basic electronics in your van, you can get by with that other solar generator with a 1000Wh battery. But smaller portable solar generators will struggle to keep up with the demands of full-time road life compared to a purpose-built DIY electrical system.
But the AC200P has enough battery life to fully replace your campervan electrical setup, and you don't need to stress about wiring anything other than your solar panels and some lighting.
Real DC outputs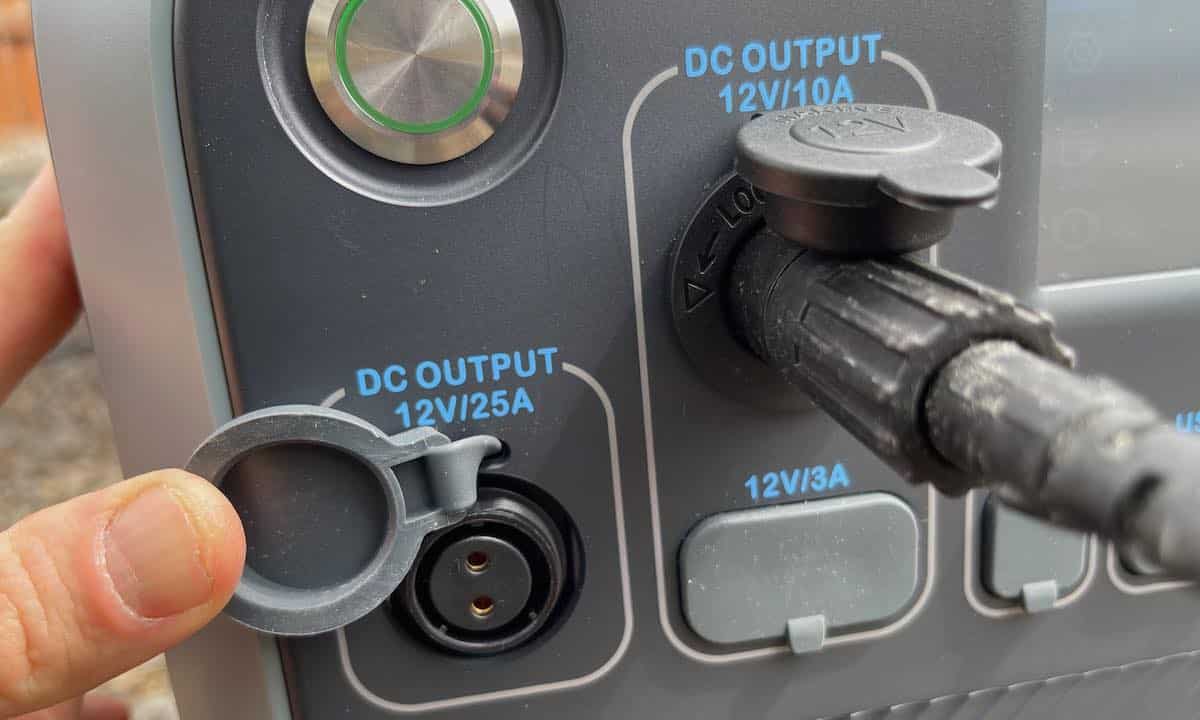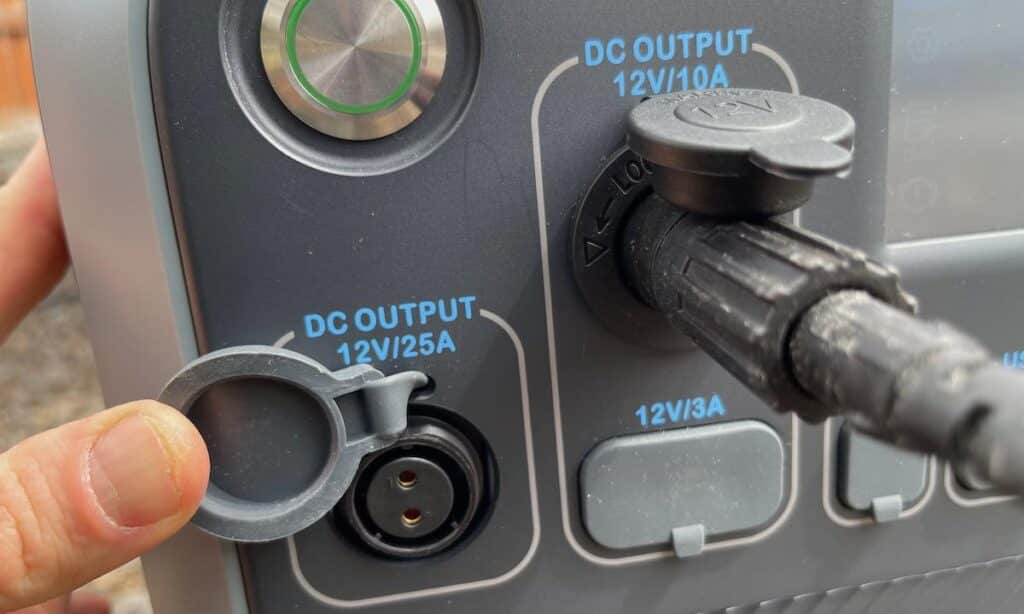 Most other solar generators include pretty weak DC outputs. If you buy something like a Jackery Explorer 1000, you'll only have 10A DC output power available. And this power output will be from a 12V cigarette lighter plug that's prone to coming loose in rough road conditions. Good luck reliably powering a 12V refrigerator like this.
But not the AC200P. This thing includes legit outputs that can plug into a permanent RV electrical installation.
The 12V aviation plug (Bluetti calls it an RV plug) is rock solid and provides a crazy 25A of output. You can run this into a DC fuse box and use it to power everything in your van.
On top of that, you have a 12V cigarette lighter port and two 5.5mm outputs. And all these DC outputs are regulated, so you'll have consistent voltage no matter where your Bluetti's battery is at.
These killer DC output ports make the Bluetti a real option for full-timers, vs a toy for weekend campers (we're not hating on weekend campers at all, but full-time nomads have different needs).
Tons of other output options
Aside from being able to drop right into your van's DC power system, the Bluetti AC200P has a ton of other output options – from AC outputs to USB ports to wireless charging – that add to the versatility.
Having a full six (!) AC outlets means you shouldn't have to run any AC wiring around your van – the AC200P has you covered.
Ability to take huge amounts of solar input
The Bluetti AC200P can accept a whopping 150V of solar input. This means you can plug in up to six of our top-recommended BougeRV 180W 9BB solar panels without exceeding this voltage limit. This voltage input limit is one of the highest out there of any power station.
Although the AC200P can only use 700W for charging, you can overpanel to make sure you get a full 700W. In our example above, six 180W solar panels equal 1080W of solar input. But you'll rarely pull the full rated wattage from a solar panel, so to get 700W you need more than 700W of solar panels. Even if your solar panels generate more than 700W, the Bluetti will only use up to 700W for charging.
What does all of this mean? It means the AC200P can take as much solar power as you can throw at it.
Solar input is a huge limitation of many other power stations that prevents them from being legit options for full-time nomads with robust power needs. The Bluetti AC200P doesn't have that problem.
Robust menu system
If you like to nerd out on every detail of what's going on in your electrical system, you'll like the Bluetti AC200P's menu system.
The AC200P allows you to dig into things like input and output Voltages and Wattage, as well as advanced battery data like Voltage, current, and even the Voltages of the individual battery cells. This allows you to analyze the operation and health of your AC200P's battery in ways that other solar generators don't allow.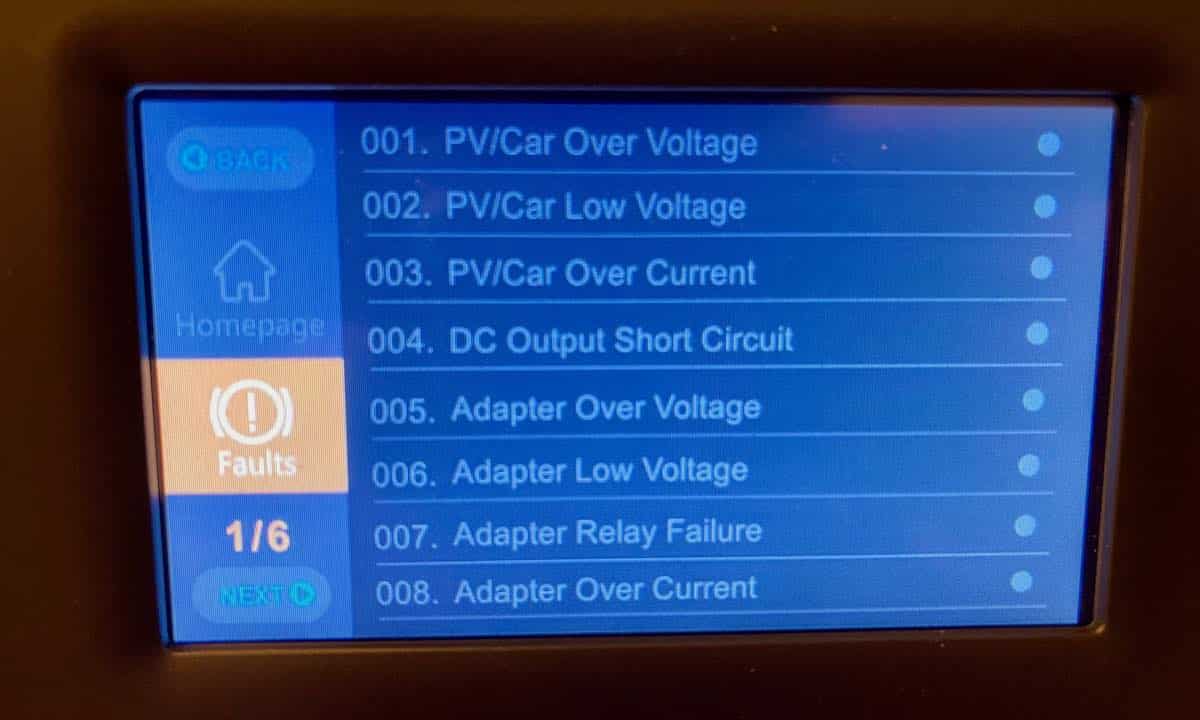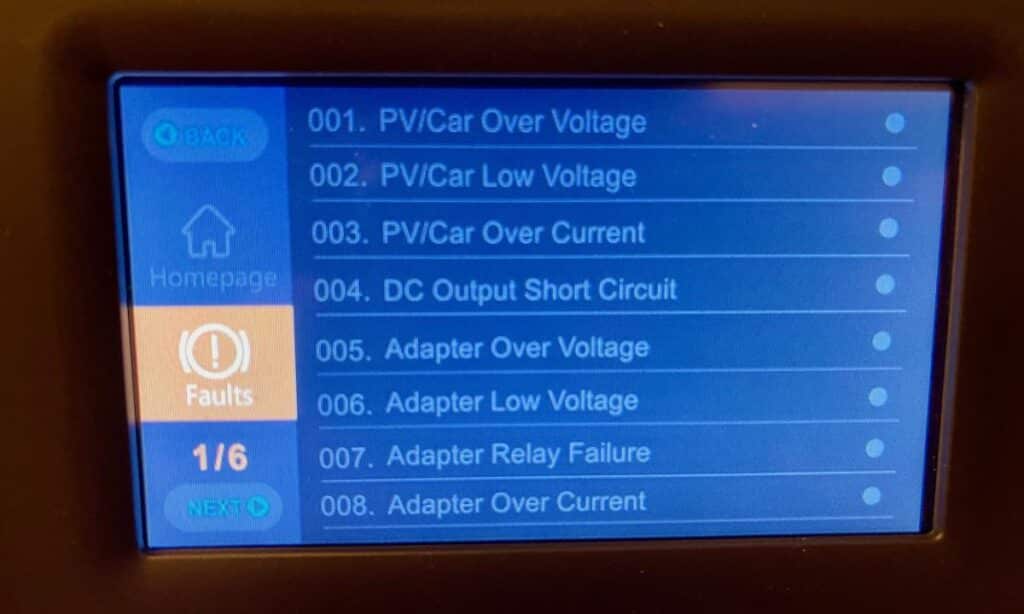 There is also a detailed fault menu that will tell you exactly what's happening when something goes wrong. With the AC200P, there's no scratching your head at a vague error buzzer. The fault menu will tell you what's causing the error so you can address it.
All of this is in contrast to other popular solar generators that only show you battery SOC, and input/output wattage.
The Best Possible Technology
Bluetti didn't skimp on the technology included in this power station. The AC200P features everything you want to look for in a power station, including:
MPPT charge controller. MPPT solar charging technology is the most efficient and will charge your batteries the fastest.
LiFePO4 battery technology (LFP). LFP batteries are safer and last longer than other types of lithium-ion batteries.
Pure sine inverter. This type of inverter provides cleaner output and can run sensitive electronic devices.
Many other solar generators out there skimp on some of these features, often the battery technology. But not the AC200P.
Portable enough to add tons of flexibility
Purpose-built electrical systems are tied to your van or RV. But what if you need electricity away from your rig?
The Bluetti AC200P can accommodate you – just disconnect it, pick it up, and go. The AC200P weighs a touch over 60lbs, which isn't light, but it's also not too heavy to carry. And two carry handles on either side provide a good grip.
Although you won't want to cart this thing around regularly, being able to pick up and move this self-contained unit adds a ton of flexibility to your electrical situation that built-in systems just don't have.
What We Didn't Like About the Bluetti AC200P
As good as the Bluetti AC200P is, there were a few things we didn't like about it. Here's an overview of the issues, annoyances, and downsides of this solar power station.
Issues with the LCD Display
The LCD display is kind of dim, which makes it difficult to see in bright sunlight. This shouldn't be a problem if you keep this thing in your van, but if you want to use the AC200P outdoors, it could become an issue.
There's also no sleep mode for the display. If you're charging or discharging the AC200P, there is no way to turn off the display. This is super annoying for full-time van lifers. You will need to run a fan and charge devices overnight, and the display puts out enough ambient light to make it tough to sleep (at least, if you like it dark at night, like us). The power button also remains illuminated at all times.
This is one of our biggest pet peeves with electronic devices, and we wish more companies would recognize the importance of limiting unnecessary light like this. In the past, we've resorted to dismantling 12V outlets just to disconnect the LEDs. To block the light from the AC200P, you would either need to tape on a flap that covers the display or tuck the unit away in a cabinet.
Complicated Menu System & Settings
This is both a pro and a con. The menu system on the Bluetti AC200P shows you a ton of information and allows you to adjust some minute settings. However, if you're not tech-savvy, this could become overwhelming.
The information displayed on the AC200P is not nearly as simple as other popular solar generators, and you'll need to learn your way around the settings for some basic functions.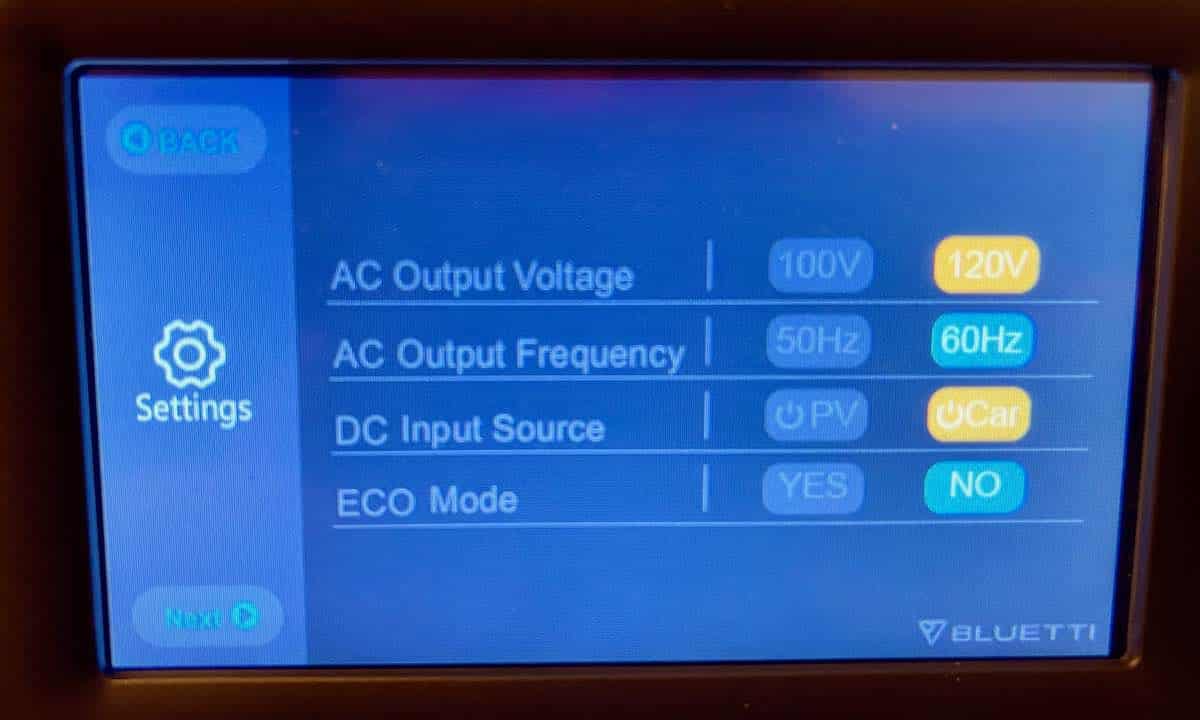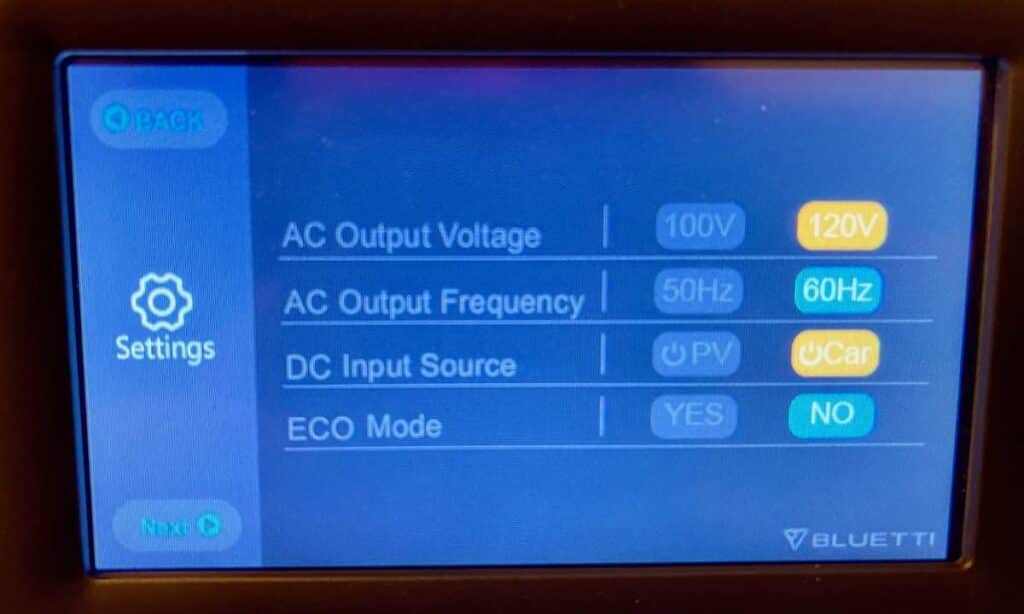 For example, when we first tried charging the AC200P with solar panels connected, we kept getting overvoltage faults. After several minutes of double-checking our solar voltage and messing with the panels, we figured out that the AC200P was set for car charging, which maxes out at 24V.
To use solar charging, we needed to open a menu and change the DC charging setting to PV (photovoltaic). Not the end of the world, but an extra step that you don't need to worry about on more basic portable solar generators.
Can't charge from solar & alternator at the same time
Despite all the combo charging variations that Bluetti includes in the AC200P, there's no direct way to charge from solar and the car charger simultaneously. That means you lose out on the extra charging capacity of tapping into your van's alternator while driving, which is easy to do with a DIY system and DC-DC charger.
The way around this would be to wire a separate inverter to your starting battery and plug the Bluetti's AC charger into this to take advantage of the dual solar/AC charging. However, you would need to remember to shut this down when you stop driving to prevent draining your starting battery or rig up some kind of relay to automatically cut the connection when your engine is off. So yeah, a bit complicated.
Large phantom power draw in standby
Several other Bluetti AC200P reviews have noted that the Bluetti drains a large amount of power when it's just sitting idle, and we saw this as well.
In our testing, the AC200P lost about 10% of its capacity overnight just sitting in standby, DC outlets on, and no loads connected. We're not sure if the always-on LCD screen is draining the battery or if it's phantom loss from an inefficient BMS, but this is kind of a lot.
This does not appear to be an issue when the power station is off. And luckily the AC200P has enough capacity to sustain these losses, and enough solar charging ability to make up for it during the daytime.
It's not all that portable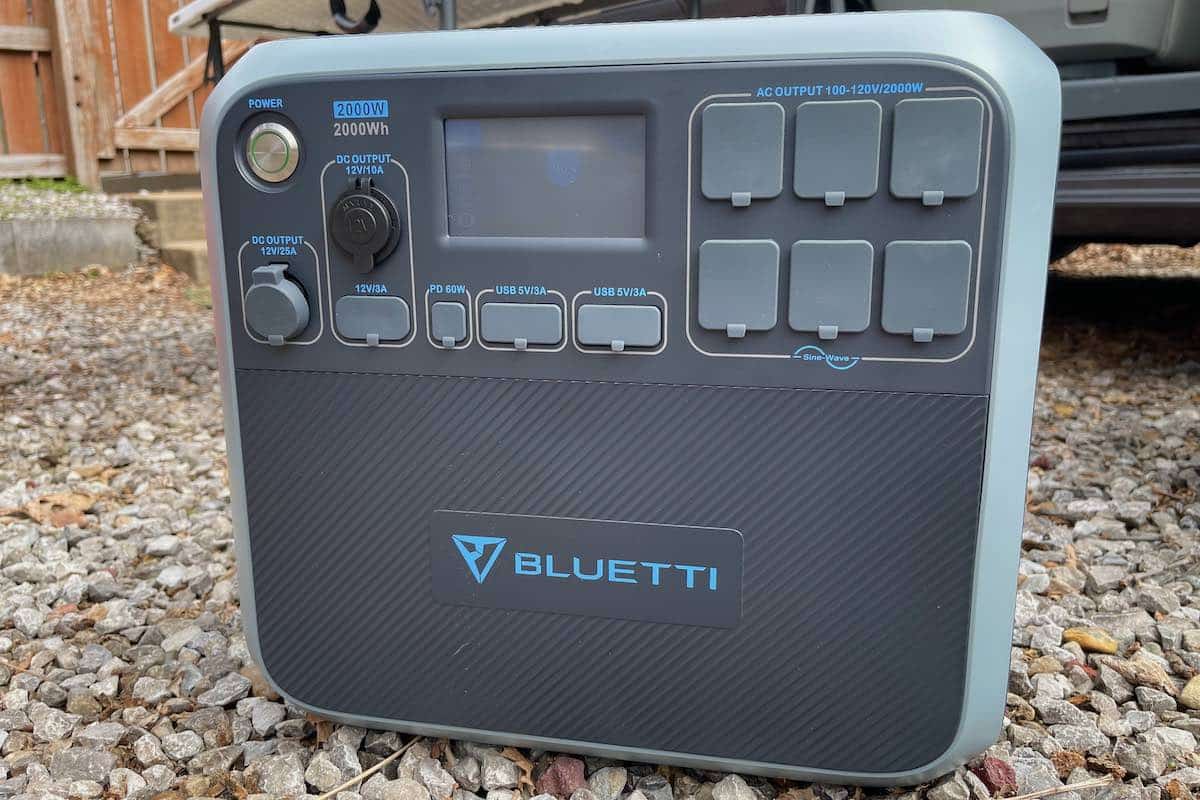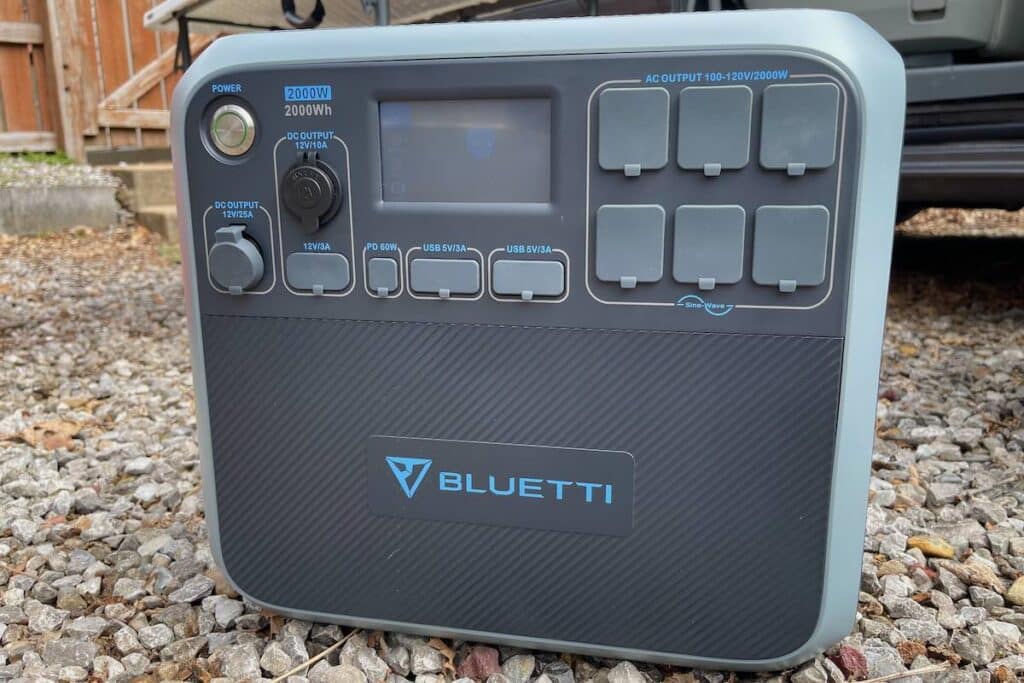 The AC200P shines as a stationary, plug-n-play hub for your campervan vs as a portable solar generator. While it's entirely possible to carry the AC200P from place to place, and the handles are well-designed, it's also not a lot of fun carting around a 60+ lb power station.
If you want something really portable, consider getting a smaller unit. But if you need the massive capacity of the AC200P, Bluetti sells a trolley cart for wheeling it around.
It's not expandable
Although the AC200P is plenty large enough to sustain life on the road, you better be damn sure you won't need more power down the line because this power station is not expandable (this is an issue with most portable power stations on the market).
If you're looking for something that can grow over time, Bluetti also sells the AC200Max, which is essentially an AC200P with the ability to attach expansion batteries. If you're looking for an expandable solar generator to use as a home backup for a power outage, take a look at the Bluetti AC300.
Should You Get the Bluetti AC200P?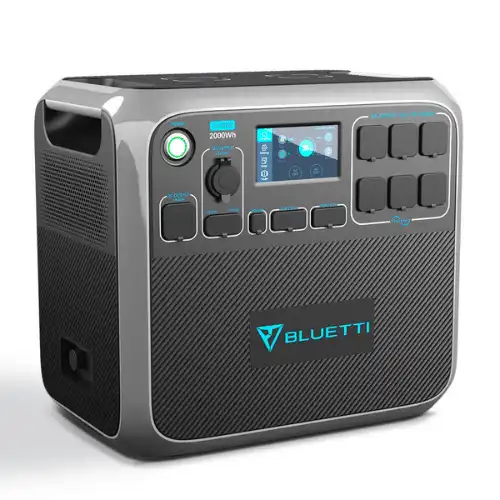 The Bluetti AC200P is a top-of-the-line power station for van life, RV life, and even light home backup use.
If your goal is weekend camping, the AC200P is probably overkill. You just won't need the features and capacity of the AC200P, and there are better options that are lighter and easier to carry.
If your goal is to have a drop-in option for powering your rig, the AC200P is an excellent choice. It has more than enough storage capacity and flexibility for most uses, and the secure output ports and DC amperage make this a real option to serve as the main electrical hub of your campervan or RV.
The AC200P is not cheap by any means. But it's a pretty good value compared to other solar generators. And its cost compares favorably with installing a DIY system.
It would be pretty difficult to cobble together your own electrical system with a 2000W inverter, MPPT charge controller, 150Ah of battery capacity, and all the wiring and connectors you would need for much less than Bluetti is charging here. And you would still need to wire everything, which adds time, effort, and the possibility of doing something wrong.
DIY systems allow you to customize every aspect of your system and tailor the capacity to your needs. If that's what you want, then go with a DIY system. But if you want a plug-n-play solution, the AC200P is the best out there.
FAQ
Is Bluetti Worth the Money?
Bluetti portable power stations are worth the money. They are more affordable than overpriced and over-hyped competitors like Jackery, and are far more suitable for life on the road.
Is Bluetti Better than Jackery?
In our opinion, Bluetti products are better than what Jackery puts out. Bluetti uses high-quality lithium iron phosphate batteries whereas Jackery uses lithium NCM batteries, which just aren't as good for solar generators. Bluetti units also feature robust output ports and more solar input capacity, and they are cheaper than Jackery's offerings.
Jackery products tend to be lighter and easier to carry around, so if you're looking for a solar generator for weekend camping they can be a good option. However, Jackery products are overpriced. And for more robust use cases like full-time van life, RV living, or off-grid dwellings, Bluetti products offer far better choices.
How long will the Bluetti AC200P last?
The Bluetti AC200P features high-quality LiFePO4 batteries rated for 3500 cycles to 80% capacity. That means you can fully discharge and recharge the AC200P every day for over 9 years before the usable capacity drops to 80% of full capacity, and the battery will continue to function even after that. It's safe to say that the AC200P can last for more than a decade.
Can the Bluetti AC200P be expanded?
Is Bluetti a Chinese company?
Bluetti does source and produce many of their products in China, and may have Chinese employees. However, the company is headquartered in Las Vegas, NV.