It's incredibly important to keep your space organized when you live in a van. You may not have many belongings, but in a small space things can quickly get out of hand if you don't have a good place to put everything. That's why planning your storage areas and using every available inch is so vital.
When we sold nearly everything we owned and built our van, we designated spots for the things we brought with us. We kept daily use items within arm's reach and reserved harder to reach areas for things we don't use as frequently. And we tried to maximize every nook and cranny in our van, making use of areas that are typically dead space.
In this post, we go over the best space-saving storage ideas from our van build. If you're looking for ways to maximize the space inside your van, we hope these give you some inspiration!
1. Underneath the Bed Platform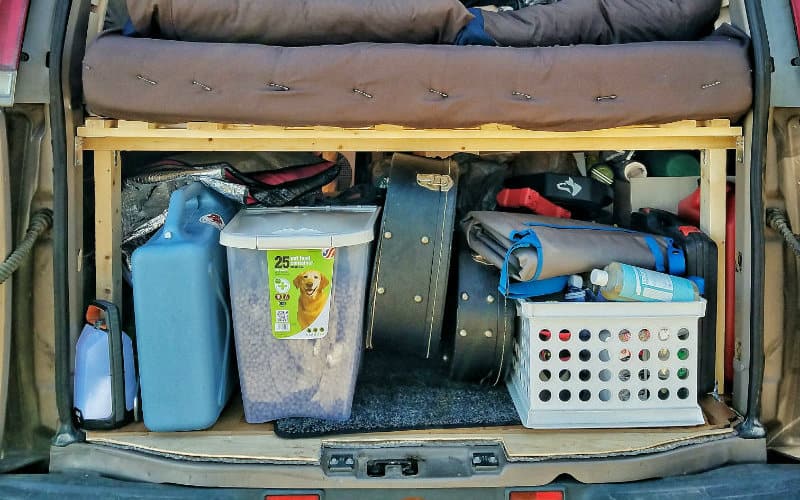 We built our bed platform tall enough to have plenty of storage space underneath. The bed is two feet above the floor of the van, which easily allows us to store all of our bulkier items. Instruments (guitar, banjo, mandolin, and ukulele), tools, a telescoping ladder, extra fuel for our stove, our battery box, extra dog food, shower stuff, gas can, spare water jug, extra solar panel on a folding stand, and all of our camping/backpacking gear. You name it, it's under there.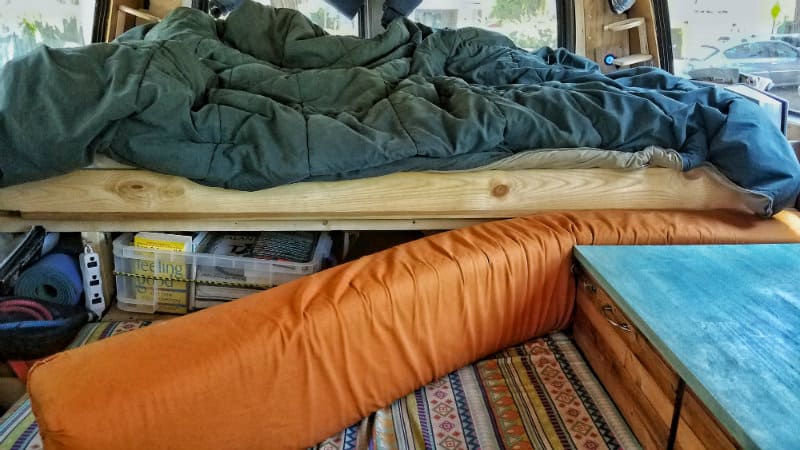 Because of the way we built our pullout bed frame, we can also access this underbed storage from the main living area inside the van. All we have to do is move the back cushion out of the way. We may not be able to get out the guitar without opening the trunk, but it's easy to grab the ukulele and mandolin for an impromptu jam sesh while it's raining outside.
2. Bedside Storage Shelves and Cup Holders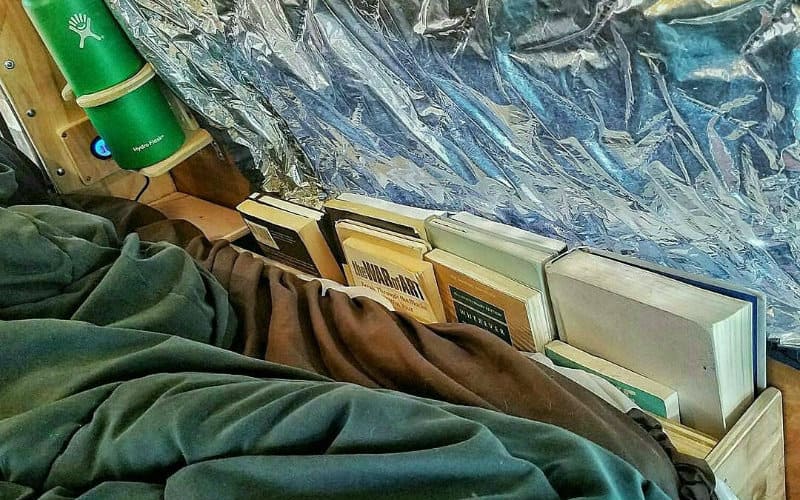 When we're laying in bed, we like to have easy access to our books, phones, and water bottles. So we built storage shelves in the space between the bed and the van's walls that hold everything we need nearby. We even built sweet wall-mounted cup holders that let us keep our water bottles close at hand.
We built the shelves out of ½" birch plywood screwed down to the support frames for the bed. The shelves sit a few inches below the sides of the bed frame, allowing us to snugly set things in there so they won't tip over or move around.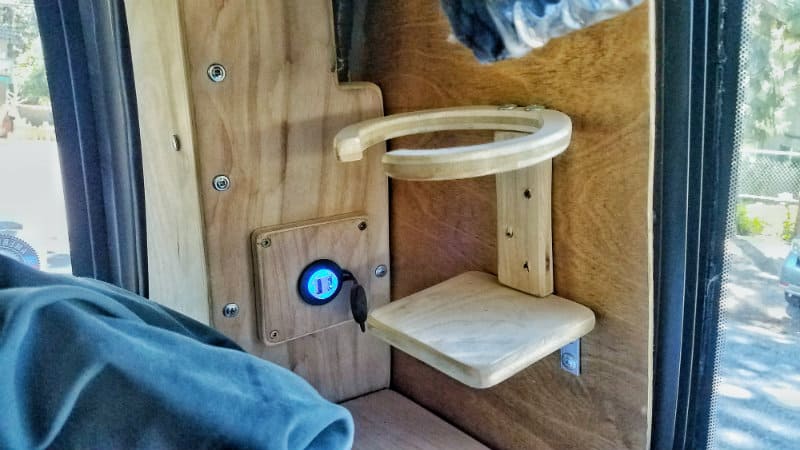 The cup holders are also made out of ½" birch plywood, which is much stronger and sturdier than typical plywood. We cut a square platform and a horseshoe-shaped piece with a jigsaw, and screwed them both to a rectangular support piece using 1-⅝" self-tapping screws. Then, we screwed the support pieces directly to the walls, and added 1-½" angle brackets underneath for extra stability.
3. Front-Access Storage Compartments Over Wheel Wells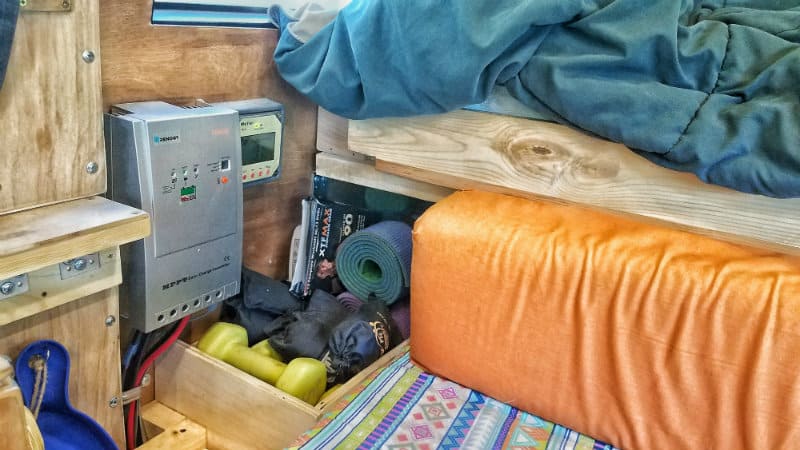 The space around the wheel wells can be tough to put to good use, and it's very easy for it to end up as dead space. In our van, we decided to build front-access storage compartments above each wheel well. One side holds all of our workout stuff – yoga mats and accessories, weights, resistance bands, jump rope, and XTF90 DVDs. The other side holds our GoPro and miscellaneous camera gear.
To build these, we once again used ½" birch plywood, cut to fit the gap between the bed frame support legs and the walls. The plywood shelf sits directly on top of the wheel wells, secured using 1-½" angle brackets attached to the wall on one side and the bed frame on the other.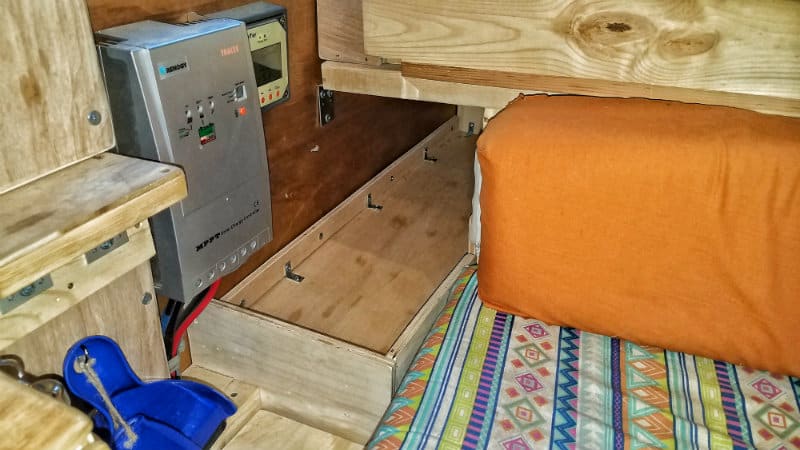 We boxed the shelf in on all sides – in the front, we added a plywood lip to our storage bench, and added a sidewall and a wall in the rear. The rear support wall is another piece of birch plywood, bracketed to the wall, floor, and shelf.
These storage compartments are great for tucking things out of the way, while also allowing us to access them quickly and easily.
4. Flip-Top Storage Bench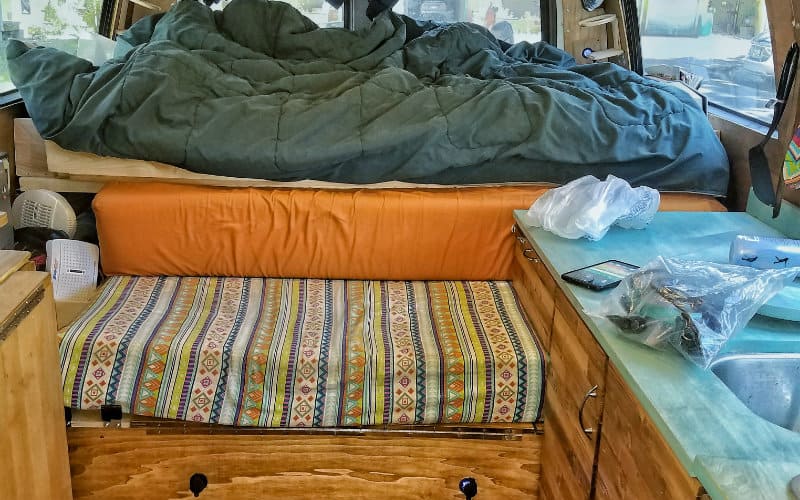 Our bench has a hinged flip top that lets us access the space underneath it. This area is home to a lot of the items we may not need on a daily basis. Things like our shoes, our "extras" box (which is filled with spare items or things we may need for repairs), batteries, paper towels – and anything else we don't need immediate access to. There's also a separate compartment that holds all of our electrical components.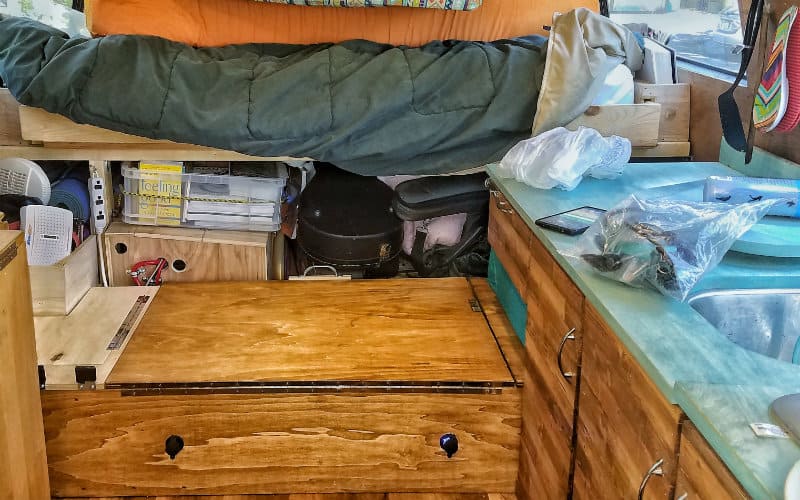 The storage bench integrates fully into our layout design. The cushions are actually pieces of our mattress, and they fit into the bed frame when it's fully extended.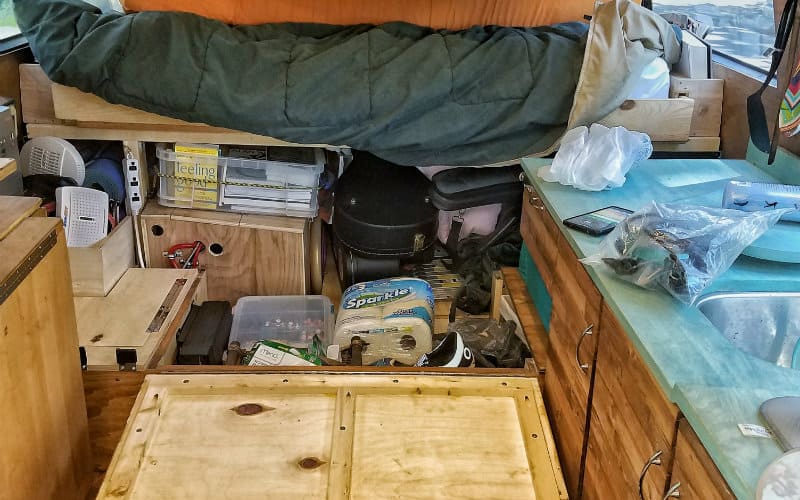 The bench also works in concert with our kitchen cabinets to save space and maximize storage. It's always important to think about how everything fits together when designing your van. It can be like a big game of Tetris sometimes.
5. Front and Back Closets Under High Topper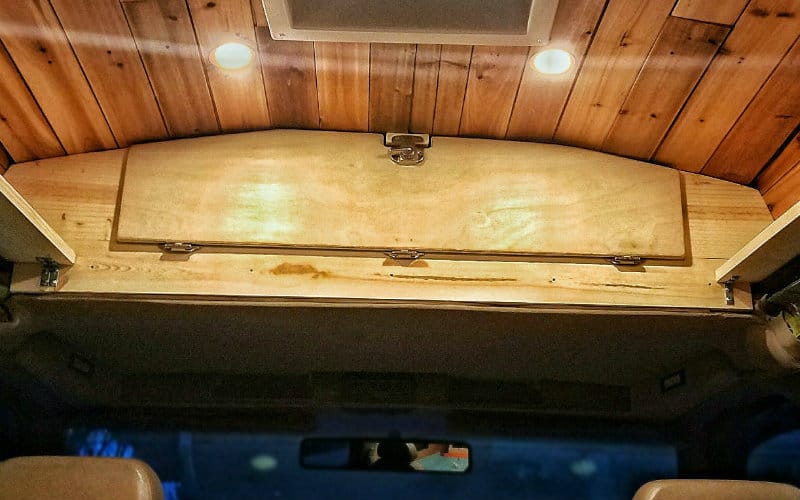 Our conversion van originally had a media center with TV/VCR above the front cab and little storage cubbies above the rear bench seat. When we gutted the van and ripped all this out, we discovered spacious shelves in these areas that were perfect for storage. So we decided to build a pantry over the front cab and a closet for our clothes in the rear.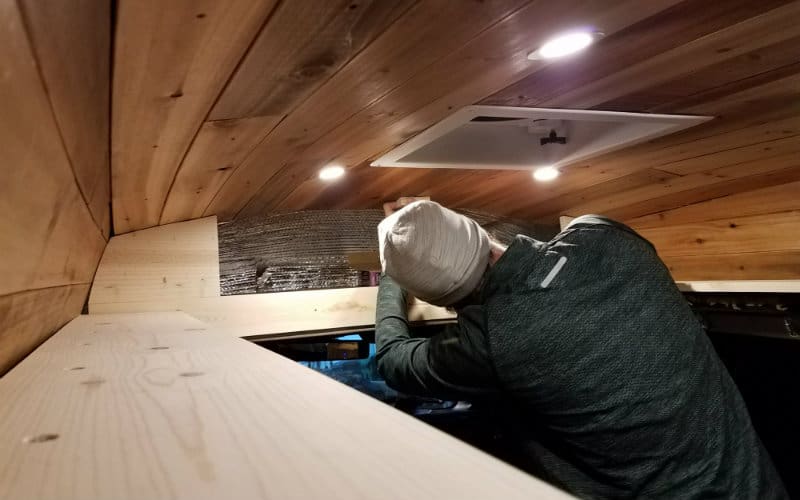 To turn these into storage areas, we first insulated them by lining them with reflectix and foil tape. The shelves were already framed with wood, so we were able to screw 1×3 facing directly to the frame. The facing also creates a lip to the shelf, which prevents things from sliding out while driving.
We used pieces of 1×8 lumber cut to shape with a jigsaw to frame out the sides, and attached them using flat mending plates and 1-½" angle brackets. Finally, we built doors out of ½" birch plywood and an assortment of cabinet hinges, latches, and sliding window sash locks.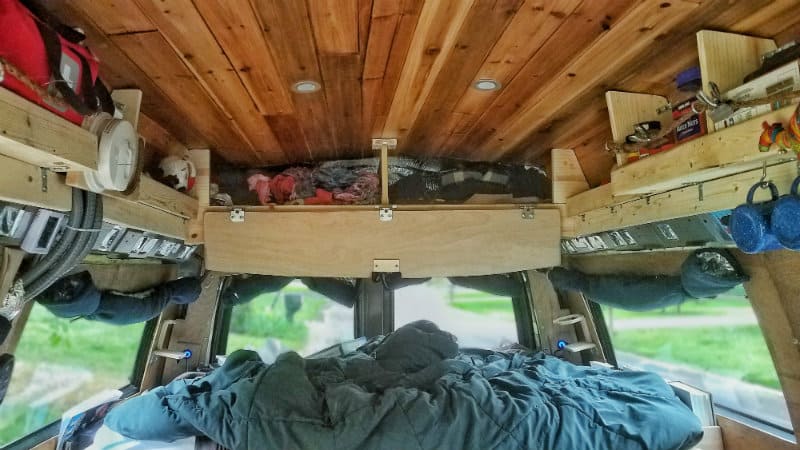 Our pantry and closet have a ton of storage space for food and clothes, and they don't take away from the usable living space inside the van. Although this idea applies mostly to high top conversion vans, you could also build something like this in a sprinter or other high-roofed vehicle.
6. Overhead Shelving Down Either Side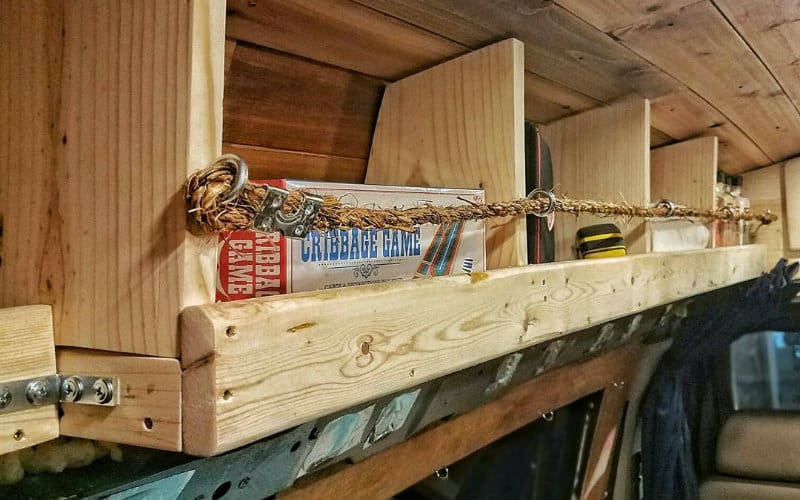 The lip where our high top connects to the van body created a natural shelf that was perfect for attaching more robust shelving. We used 1×8, 1×6, and 1×4 lumber to make shelves of different widths. We cut the lumber to length, and screwed it directly to the lip using 1-⅝" self-tapping screws, countersunk into the wood so the shelves would be flat. Our trusty flexible shaft bit holder made this MUCH easier.
We also added dividers to separate the shelves into easily-organized sections. To keep things from falling off the shelves we screwed 1×3 lumber onto the front, and strung rope through some #6 screw eyes that we screwed into the dividers.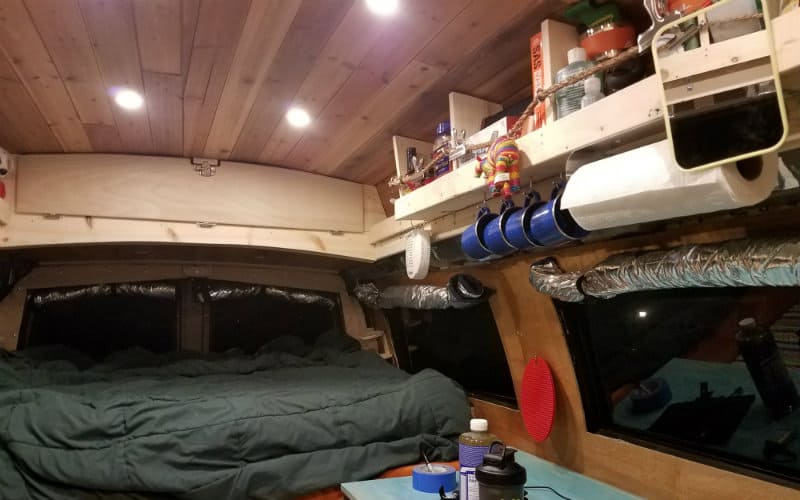 Our shelves hold many things we use on a daily basis or need quick access to, including spices, dish soap and scrubber, travel games, and first aid kit. The only downside is that the shelves need to be pretty full to prevent things from falling over, but overall they're a great way to keep things organized and within reach.
7. Storage Boxes Attached to Doors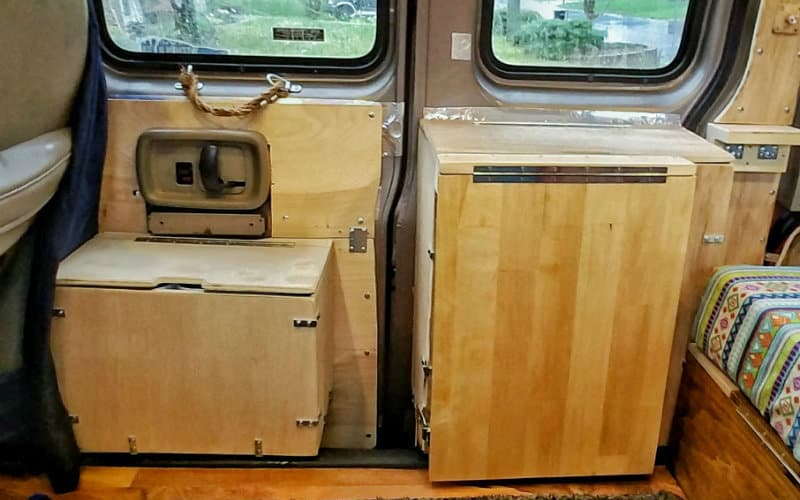 In our quest to maximize storage and eliminate dead space, we noticed that when the side doors were closed there was a ton of empty space above the steps into the van. So we decided to fill it by building storage boxes and attaching them to the doors. These storage boxes make great use of otherwise wasted space. One side holds our trash and recycling bins, while the other side houses our pups' food and accessories.
We built these boxes out of ½" birch plywood. When we gutted our van, we removed the original plastic coverings from all the doors. So our first step in adding storage boxes was to cover the doors with plywood panels. We then cut 1×2 nailers and screwed them vertically to the door metal through the plywood. These nailers gave us somewhere to attach the ½" birch pieces, which we then reinforced and built into boxes with 1-½" angle brackets.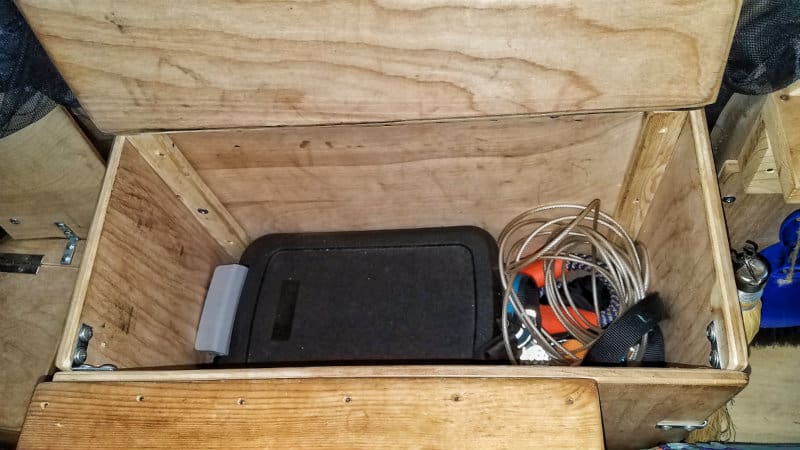 Because of these storage boxes, we have somewhere out of the way to hold stuff like trash and recycling. And we further make use of unused and unusable space in our van. The only downside is that they reduce the size of the opening when only one door is open. But having the extra storage space is worth it.
8. Kitchen Cabinet Shelves and Drawers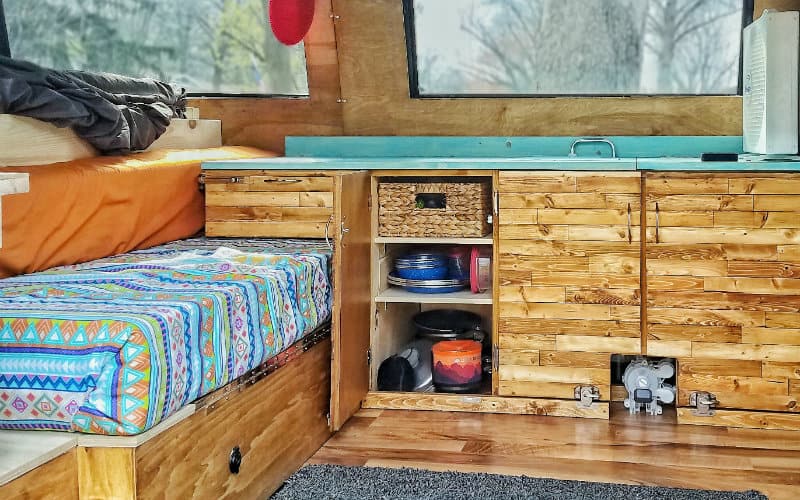 We store a lot of stuff in our kitchen cabinets – stove, fresh water tank, waste tank, extra fuel, fire extinguisher, knife set, emergency pee bottle, and cleaning supplies. We also turned one of the compartments into a storage area for all of our kitchen stuff.
We added shelving to this compartment, and on the top shelf we put in a makeshift drawer made out of a rectangular basket that holds all of our cooking utensils and silverware. Below that is another shelf that holds our plates, bowls, and tupperware. Then the bottom part is where we store our pots, pans, tea kettle, and toaster.
9. Shoe Racks on Backs of Seats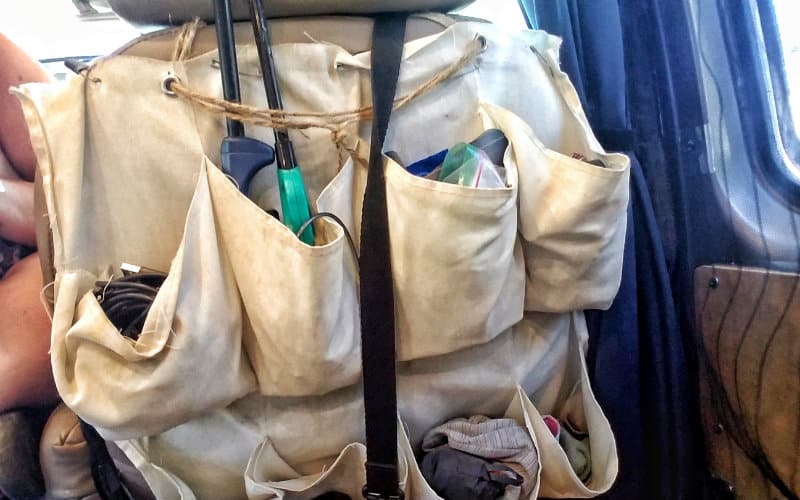 There are a quite a few small things that we want to keep organized and be able to access easily. Things like dish rags, lighters, ziploc bags, safety pins, reusable grocery bags, hats, and camping knives. In the midst of selling all our belongings, we decided to keep a hanging shoe rack that we had because we thought it would come in handy in the van. And we were right.
To store and organize our small items, we cut the shoe rack into smaller pieces, added eyelets to the top, and tied them around the headrests of the driver and passenger seats using twine. To keep them flat and strengthen the hold, we also safety pinned them to the backs of the seats. They work perfectly, and they let us hold a bunch of useful things that might otherwise be hidden away in a box somewhere.
10. Knick Knack Tray On Top of Fridge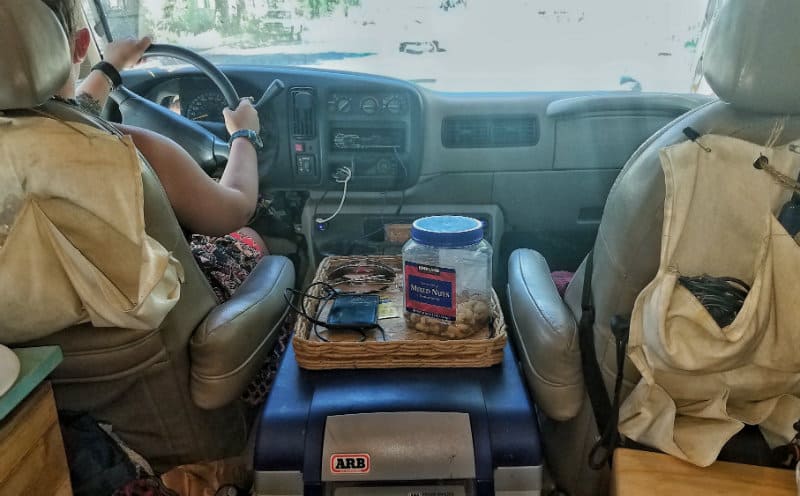 When planning our van kitchen layout, we decided to put our 50-qt ARB fridge in between the driver and passenger seats. This was by far the most space-efficient location, and it also added a nice table to rest phones, keys, snacks, cables, and other knick knacks. To prevent everything from sliding around, we bought a tray from a thrift store and attached it to the top of the fridge with velcro.
It works perfectly to hold anything that we need in reach while driving. And when we're stationary and need to get into the fridge, we just place the tray on one of the seats.
11. Storage Platform for Extra Solar Panel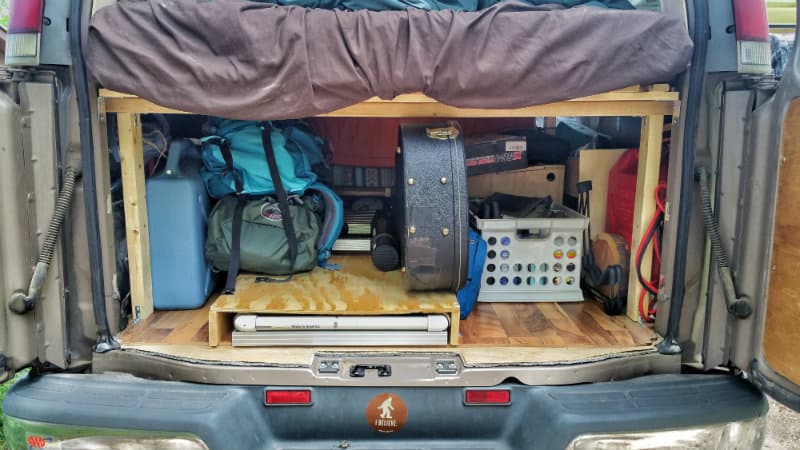 When we were planning our electrical system, we decided to buy a 400-Watt solar panel kit from Renogy (enter code GnomadHome for 10% off).
But we could only fit three of the panels on our van's roof, which left us with an extra panel. With some innovation and some help from the internet, we built a folding solar panel mount out of PVC so that we could roll out the fourth panel for some extra juice while boondocking.
But where to store this solar panel so that it's both accessible and doesn't take up too much space? We decided to build a platform out of plywood screwed to a 1×4 frame, that we then attached to the floor in our van's trunk using 1-½" angle brackets.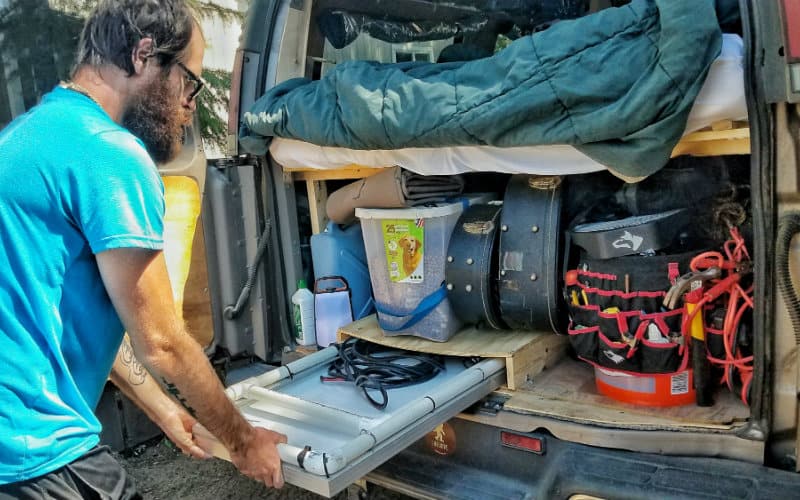 Now, we can easily access the panel as needed, and all the rest of our stuff just sits on top of the platform. We gained another solar panel and barely lost any storage space in the trunk.
Now Get Your Shit Organized!
Everything is amplified when you live in a small space. It's easy to let things get cluttered, and that's especially true if you don't make good use of all the available storage space in your van. We hope the storage solutions we came up with give you some ideas and inspiration for your own build.
Questions? Concerns? Want more detailed instructions on how to build something we talk about here? Let us know in the comments!
For even more van build guides and vanlife updates, be sure to follow us on Instagram @gnomad_home and on Facebook. We have some truly exciting developments coming up. Cheers!