If you are considering a car rather than a van for your #vanlife camper conversion, take a look at the Honda Element.
The Honda Element is an incredibly versatile vehicle that has developed a cult following among outdoors enthusiasts. It has a boxy shape, the interior is already fully modular and easy to convert, and it comes in all-wheel drive so you can get to those backwoods camping spots.
While Honda Element camper conversions are excellent options for full-time van life if you don't need much space, they're even better for part-timers. If you're mostly planning on weekend or seasonal camping trips, Honda Elements are great daily drivers that are easily convertible to small camper vans.
Build Your Van
The Ultimate Van Build Guide
Planning a van build? Read our free guide. We cover just about everything you need to know – from planning, to insulation, to solar and electrical, to picking appliances, to essential tools. Get started today so you can get out there on the road!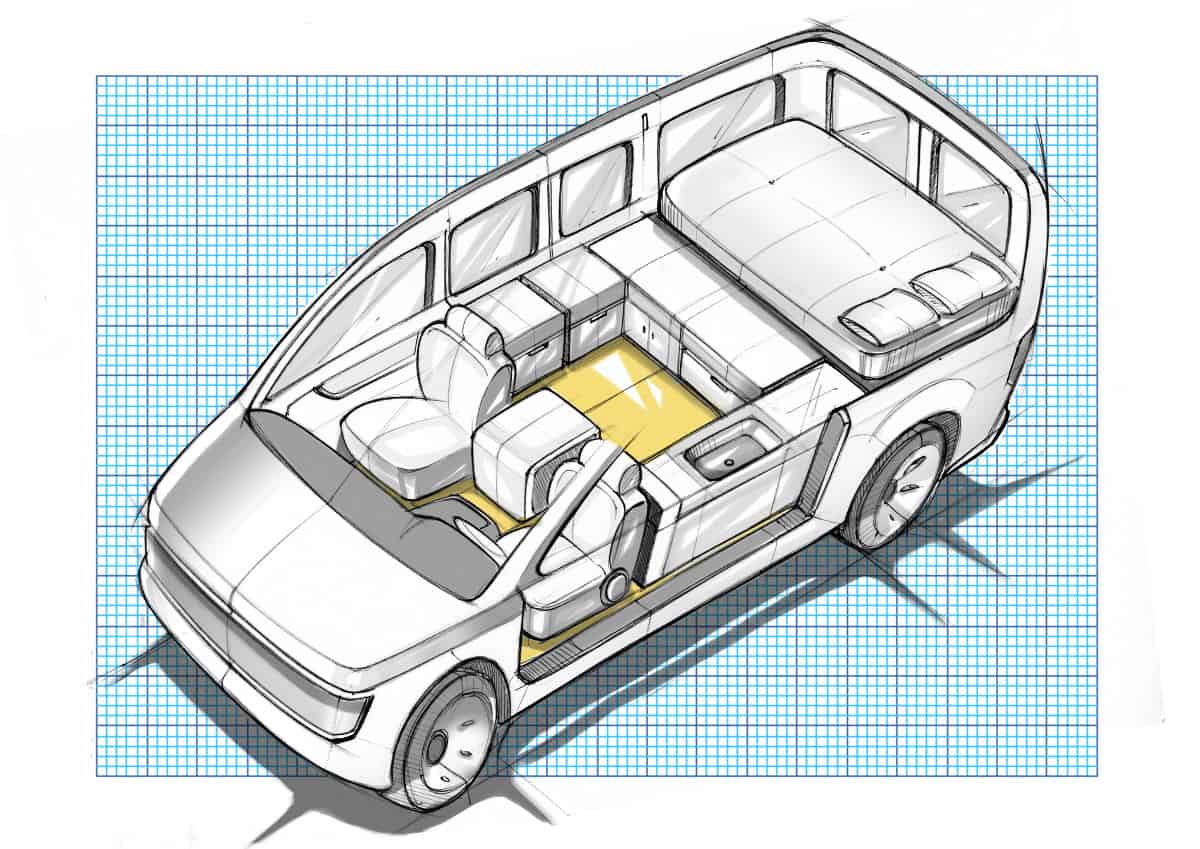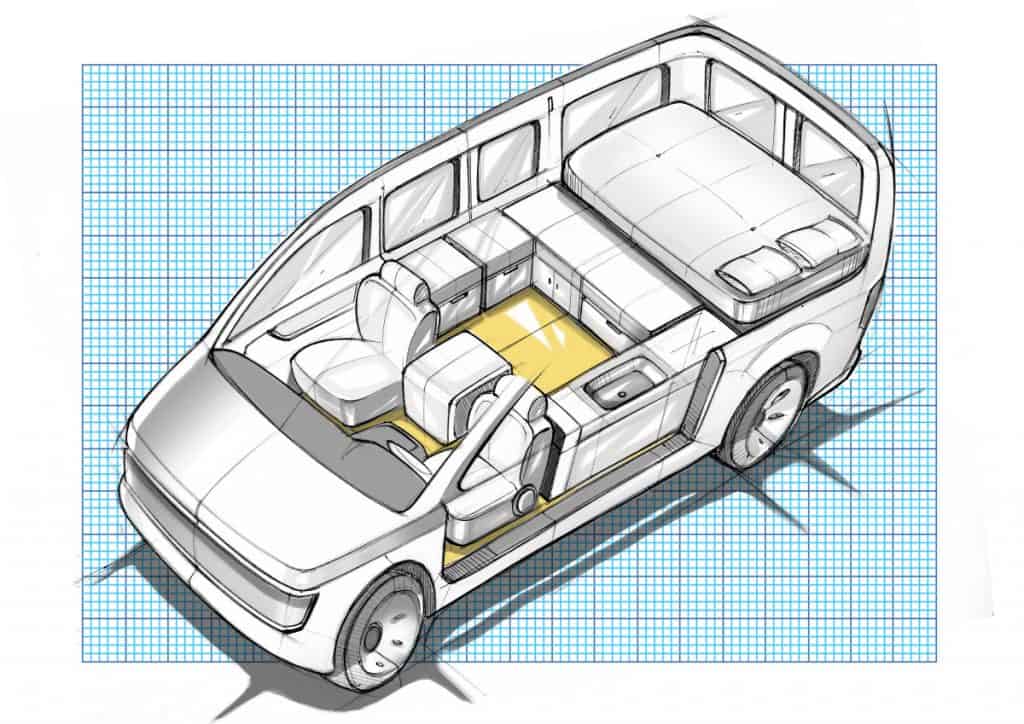 What is the Honda Element and Why is it So Badass?
The Honda Element is a compact crossover SUV that combines features of SUVs, cars, and pickup trucks to attract a target audience of active, outdoorsy people. It is a distinctive vehicle because it is both a rugged daily driver and an all-around adventure vehicle that can carry all your gear.
The Element has many dog-friendly and camping-friendly features, such as
Bi-parting side doors that help with loading gear
A tailgate-style rear door, just like a pickup truck
Easily stowable and removable seating, so you can transform the vehicle from a passenger carrier to an open cargo area in no time
Rubberized interior (no carpeting), which makes cleaning out mud and dirt a snap
Optional all-wheel drive helps with poor weather conditions and driving down bumpy forest roads
In 2007, the Element came out with a dog-friendly package that included a pet restraint system, ventilation fan, load-in ramp, and other cool additions for dog owners. These features make the Element a great option for vanlife with a dog.
Honda Elements were manufactured from 2002 through 2011, with model years spanning from 2003-2011. Honda discontinued production due to lagging sales, but the vehicle has developed a cult status, and due to Honda reliability there are still a ton of them on the road.
Pros and Cons of Honda Element Campers
Pros:
Spacious interior. With the rear seats removed the Element's 130 cubic feet of cargo space rivals that of larger SUVs. That's a whole lot of space for your camper conversion!
All-wheel drive options. If you plan on sleeping in your vehicle in rugged and remote areas like National Forests, an AWD Element can get you there.
Decent fuel efficiency. The Honda Element averages 20 miles per gallon with city driving and 24 miles per gallon on the highway. Not great by today's standards, but still better than a lot of cargo vans.
Conversion kit options. Several companies make kits to convert your Element into a camper. With these, you can skip the DIY build and get on the road faster.
Stealth. With a good set of window coverings, the Honda Element is a great vehicle for parking overnight in residential areas without getting "the knock."
Cons:
It's discontinued. 2011 is the newest Honda Element on the road, so you'll be looking mostly at used higher-mileage vehicles.
Older vehicle. Because the Element is an older vehicle, more automotive repairs may be required. Be prepared to do a thorough inspection before purchasing, and plan for regular maintenance to keep it on the road.
Harder to customize. The Element is not quite as much of a blank slate as an empty cargo van. You'll either need to work around some things or remove some things.
DIY Honda Element Camper Conversions
These Honda Element campers are excellent examples of all the cool things you can do with this unique vehicle.
1. This dog-friendly Honda Element camper build by Christina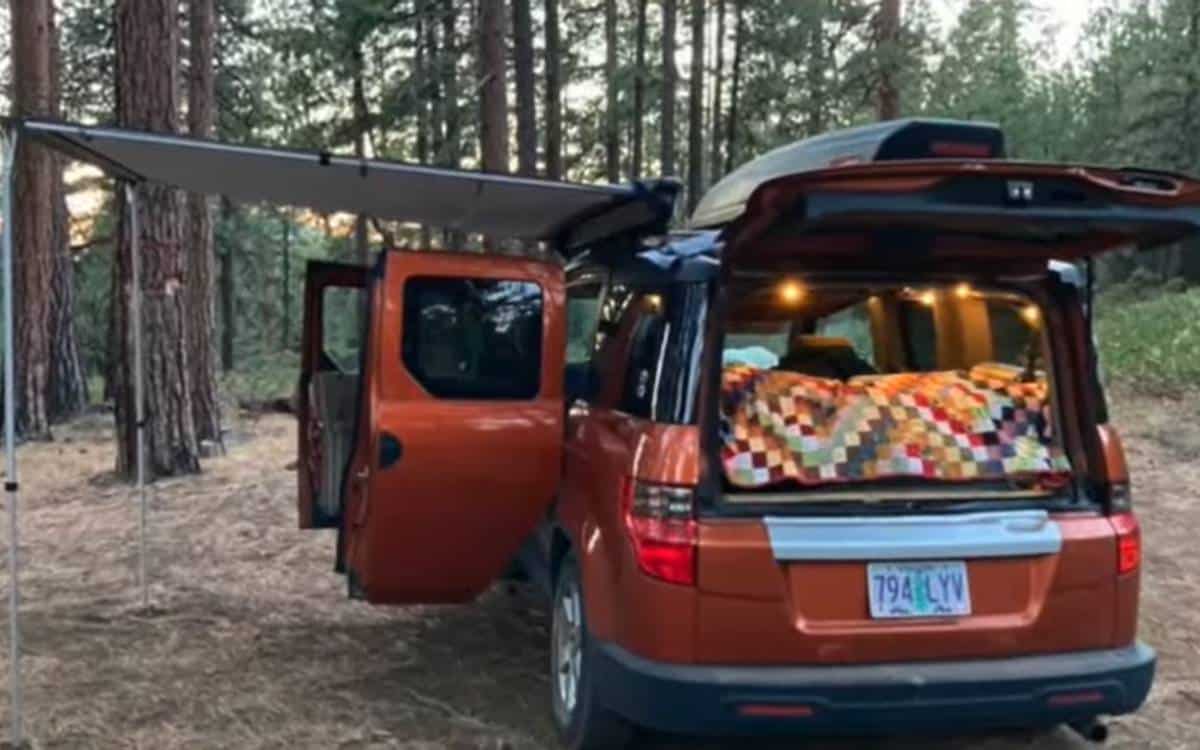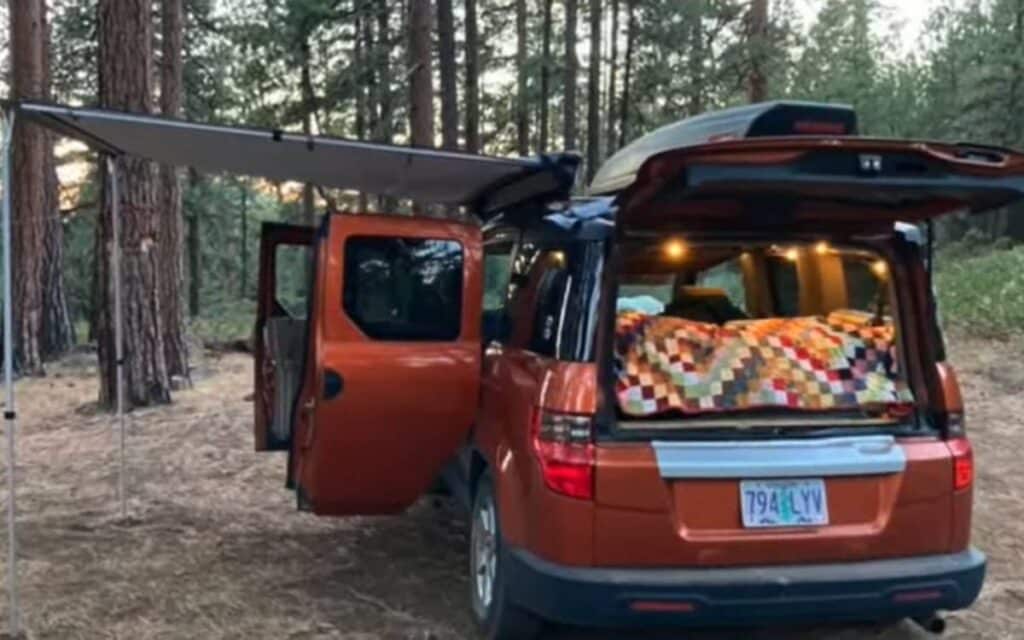 Christina lives full-time in her 2009 Honda Element camper conversion with her fiancé, Quinn, and their two dogs.
They put their kitchen setup in the back of the Element camper, complete with a Yeti cooler, 20-liter water tank, and a camp stove on a heavy-duty slide-out drawer. The sleeping platform takes up most of the living space, with storage underneath for bowls, bags, utensils, and other kitchen items.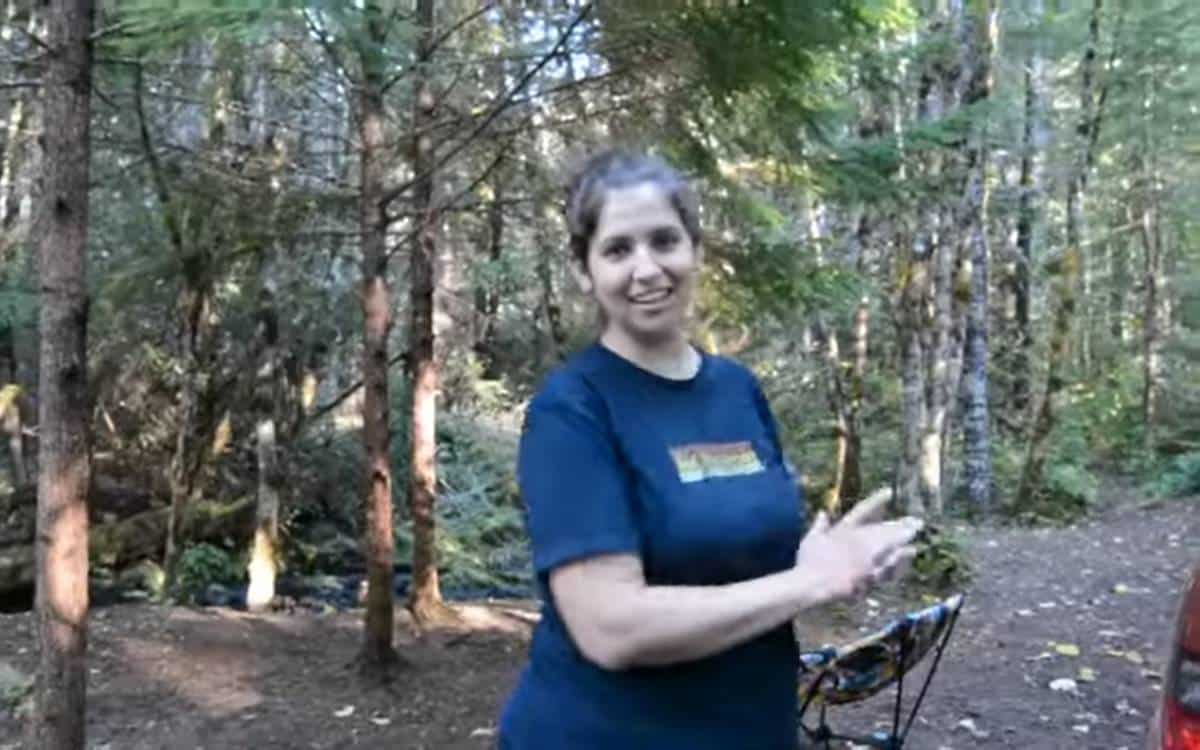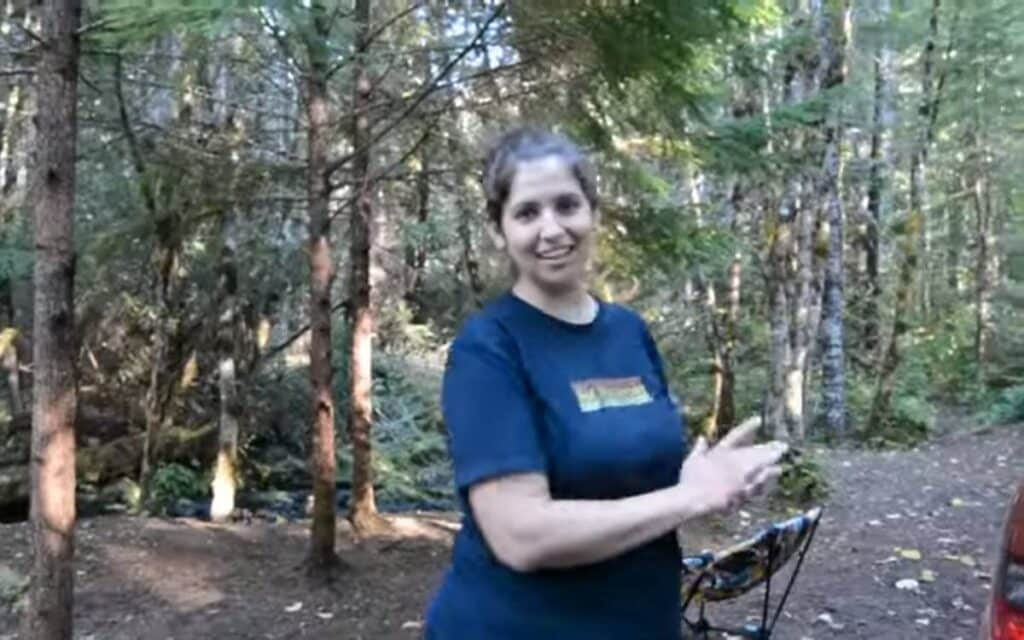 At night, Christina and Quinn move the front seats forward and extend their bed frame into a full-size bed. An awning and a storage box for extra clothing and dog supplies are attached to the roof. They keep a 100-watt solar panel in their camper conversion when it is not in use.
2. This practical Honda Element camper conversion from @timetogrowup.travel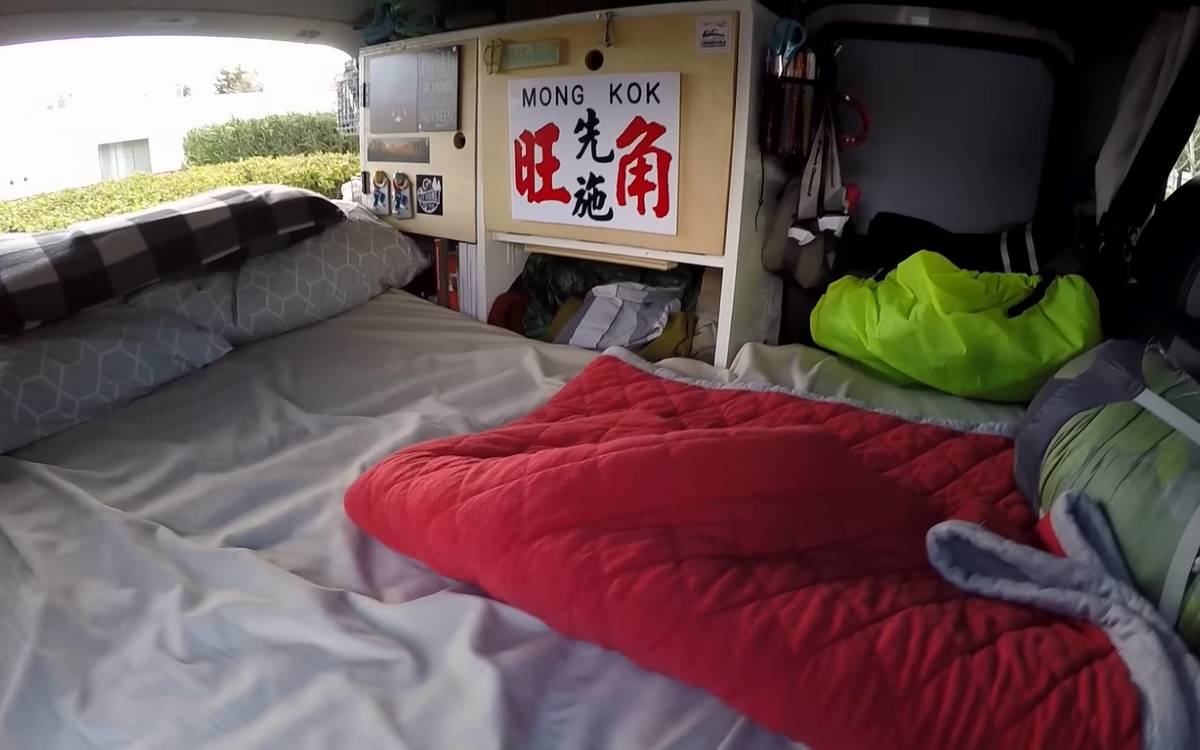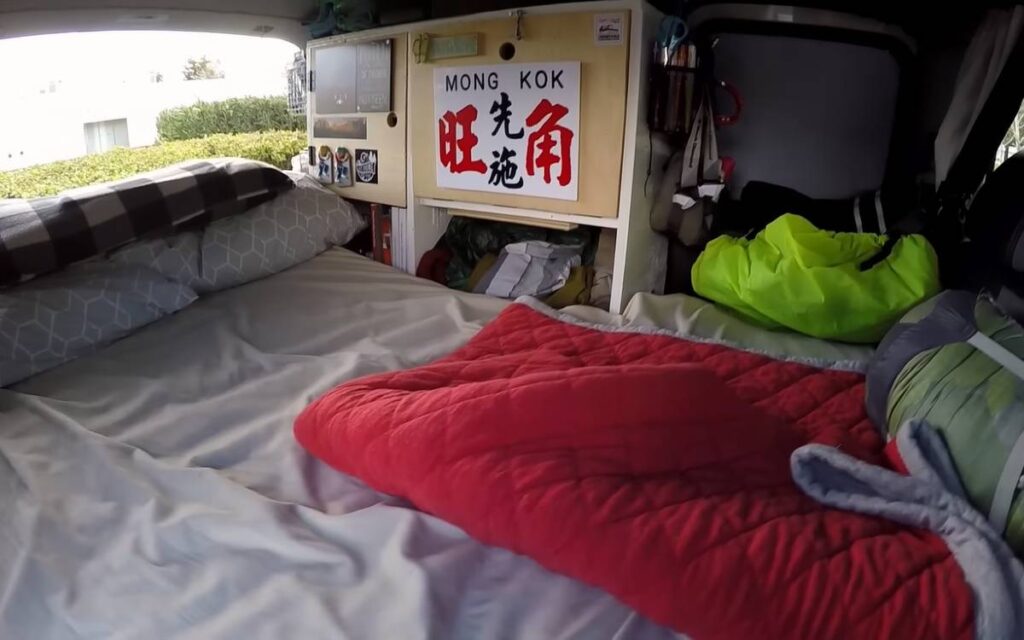 Phil and Vanessa converted a 2004 Honda Element into a DIY camper conversion for full-time Element van life.
The kitchen in the back of this DIY Honda Element camper features a folding table that holds their camp stove. When the couple needs more workspace while cooking, they use the lowered tailgate.
Their sleeping platform extends via a hinge when the driver and passenger seats are pushed forward. When the seats are in drive mode, the platform legs stay against the backs of the seat for access to the storage space. Phil even thought of cutting out a door on the platform to easily access items stored beneath the bed in hard-to-reach places.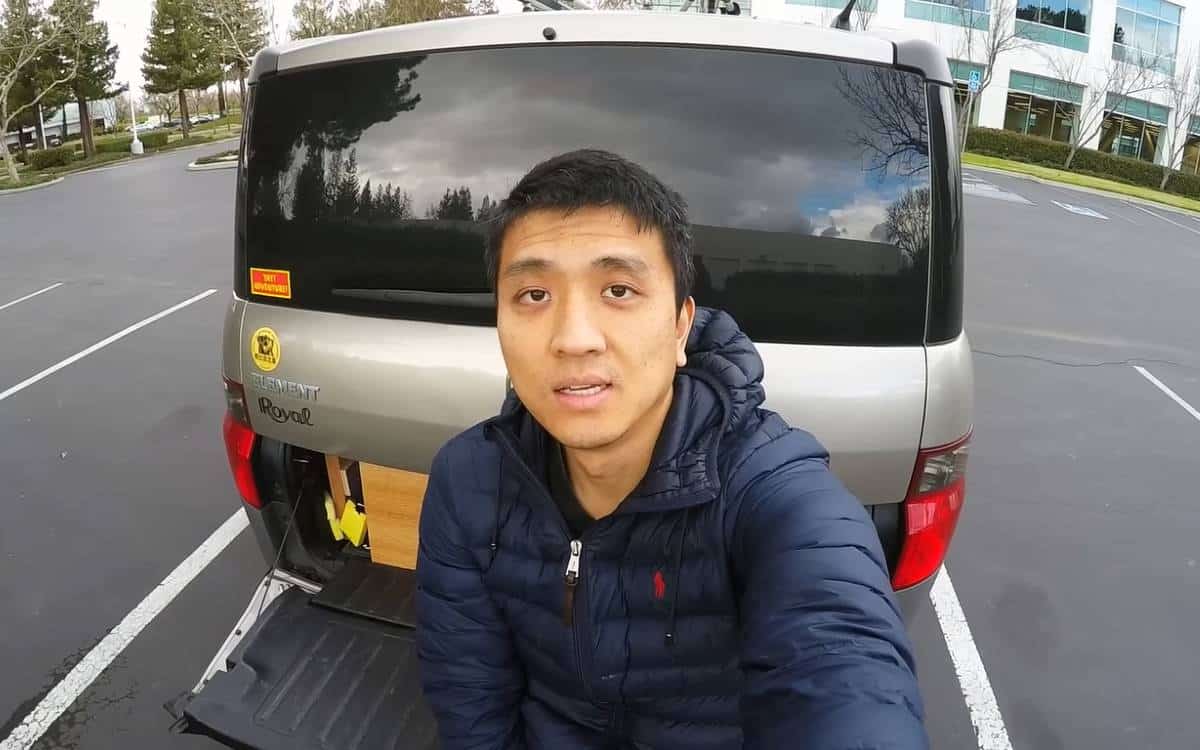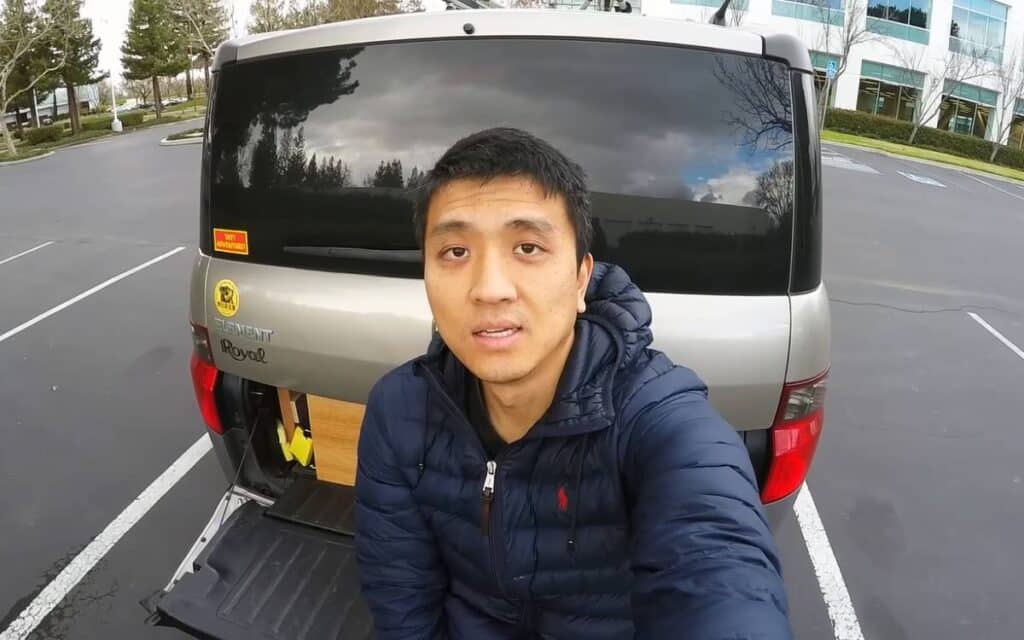 Driver's side storage cabinets hold the couple's extra stuff, and one of the doors even doubles as a table. Phil and Vanessa use curtains and window covers for stealth and privacy when they're inside their Honda Element camper.
For their van life electrical setup, they have a Goal Zero Yeti portable power station that charges via the 12-volt outlet when they're driving.
3. This Honda Element micro camper with DIY furniture from @sagetraveling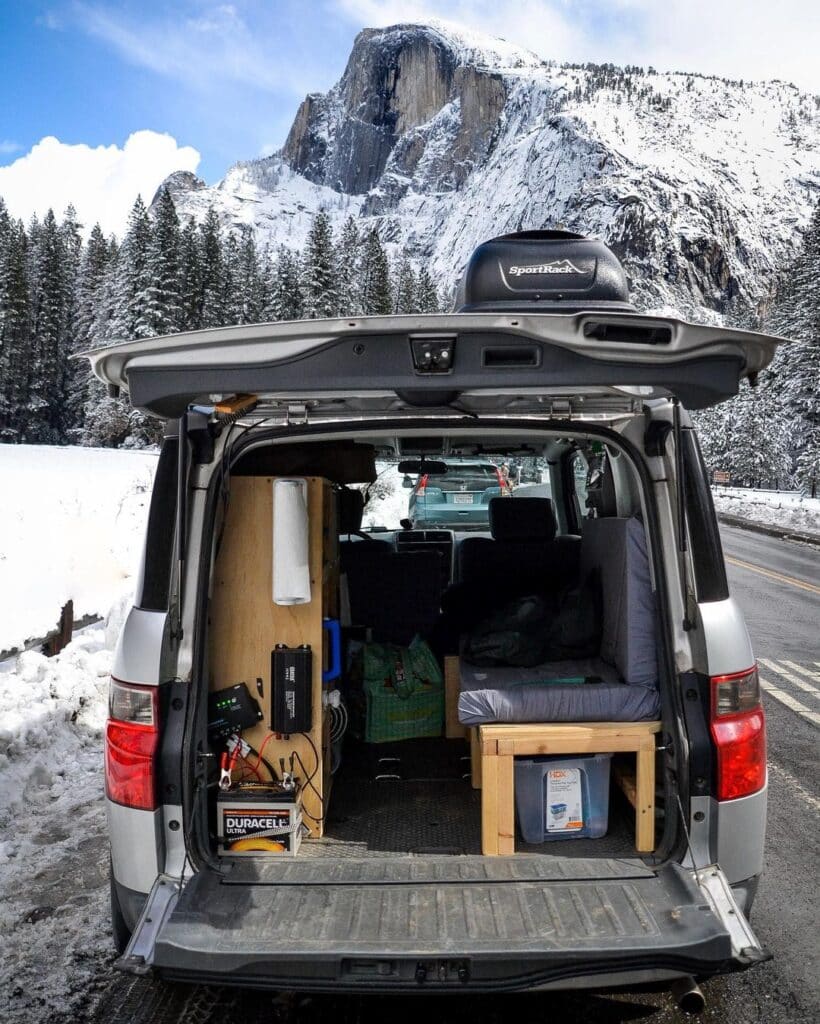 Sage has lived in his 2006 Honda Element camper conversion with his dog for more than a year. This is his third DIY Honda Element, and he's changed the layout along the way.
The interior of this Element camper features shelving and a bench/bed platform, which Sage put together with ½ inch plywood, drywall screws, wood glue, and zip ties.
The shelving runs along the driver's side with cubbies that store clothes, cooking equipment, and food. Handy bungee cords keep items secure inside the cubbies when driving down bumpy roads.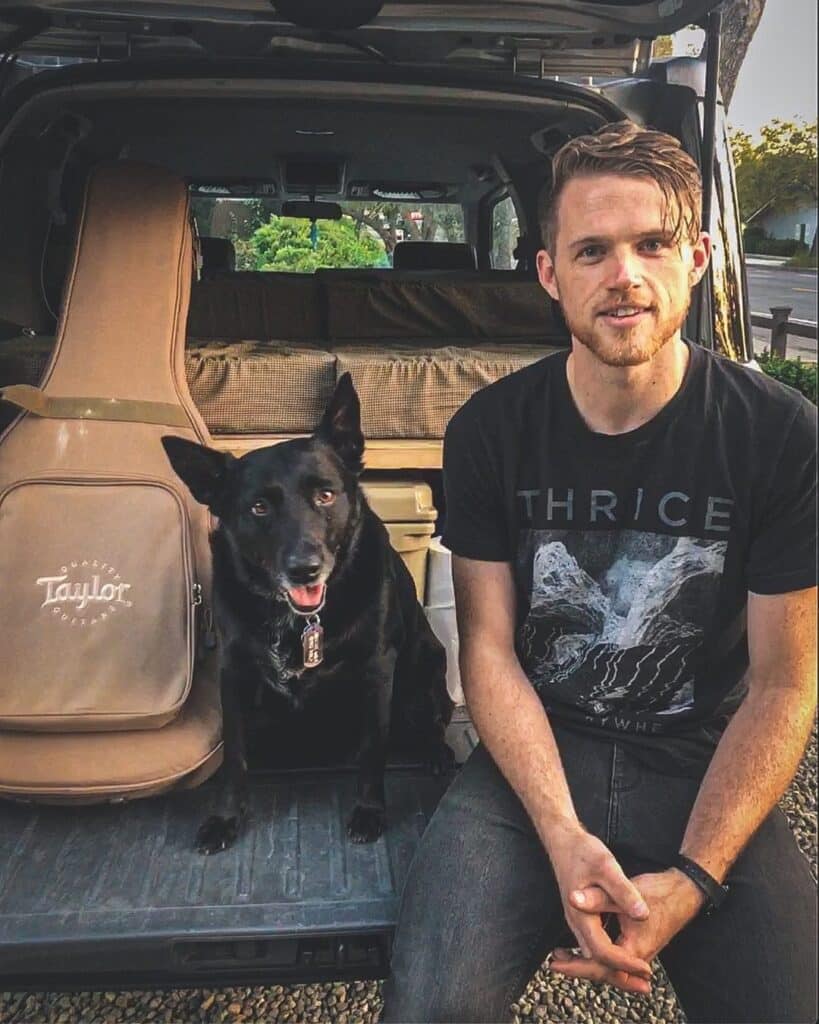 The bench provides storage space with a shelf that slides out to access items, a great DIY alternative to installing drawer slides. The front of the bench has a separate storage compartment that Sage uses for holding dirty laundry.
For power, there is a Goal Zero power station that charges with a 160-watt Renogy solar panel mounted to the roof of this Honda Element camper conversion.
4. This no-build Honda Element camper from Kenji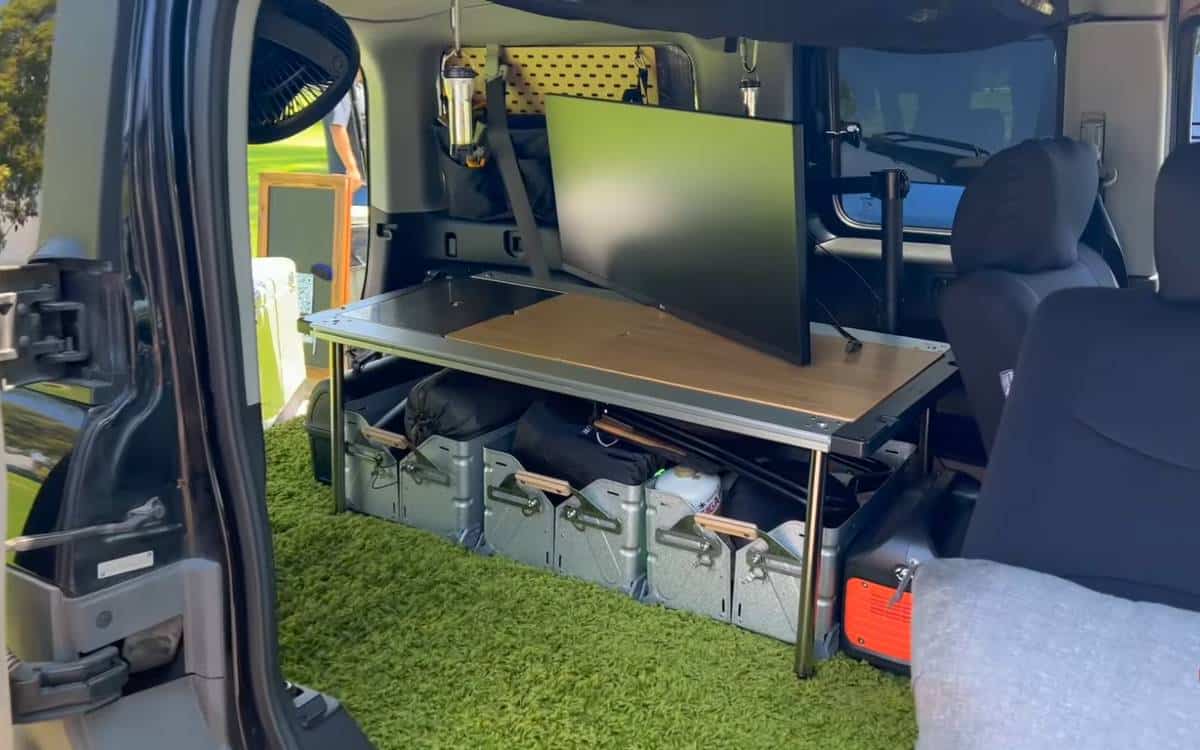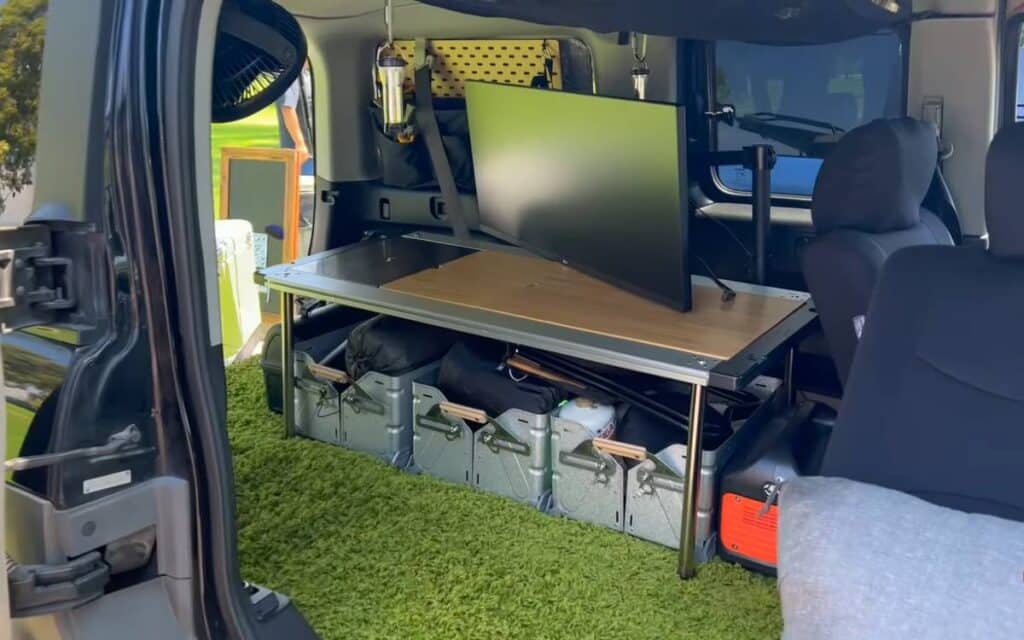 Kenji converted a Honda Element to live in full-time. He opted for a no-build design, which uses practical products to turn his Honda Element camper into a home.
The passenger seat is on a swivel mount so that he can face outside or towards the interior. The swivel seat makes the living space more open while allowing Kenji to transport another person safely.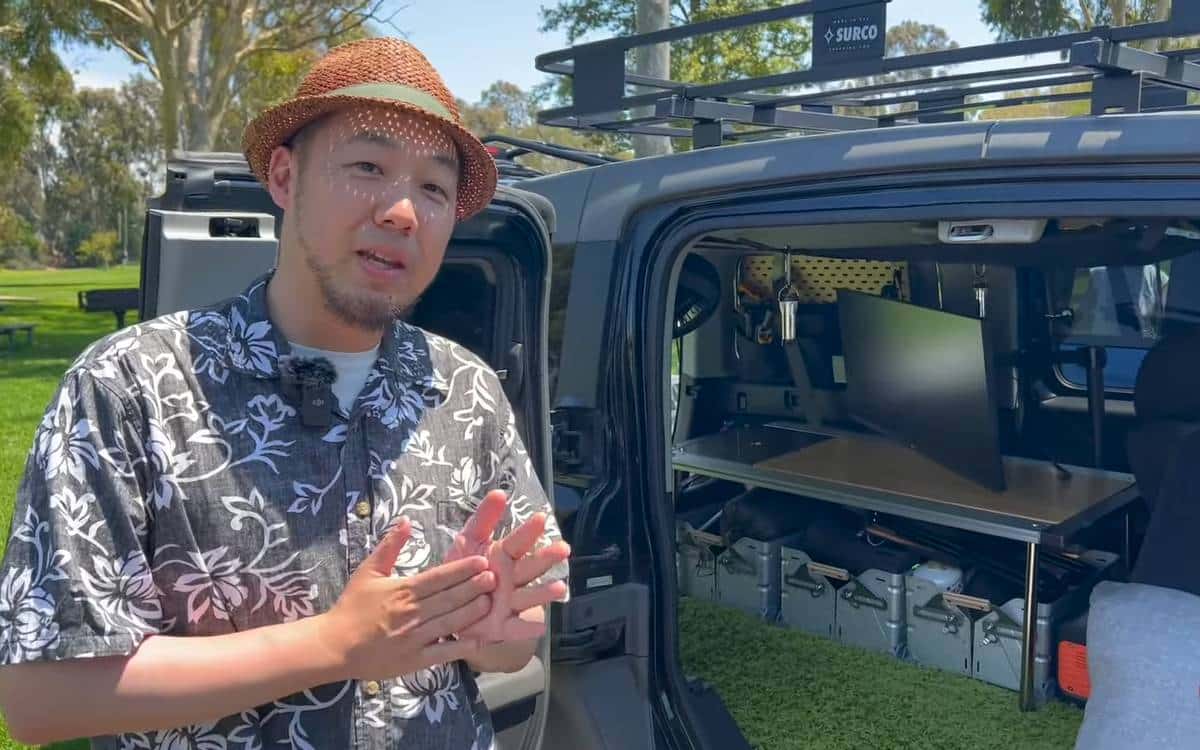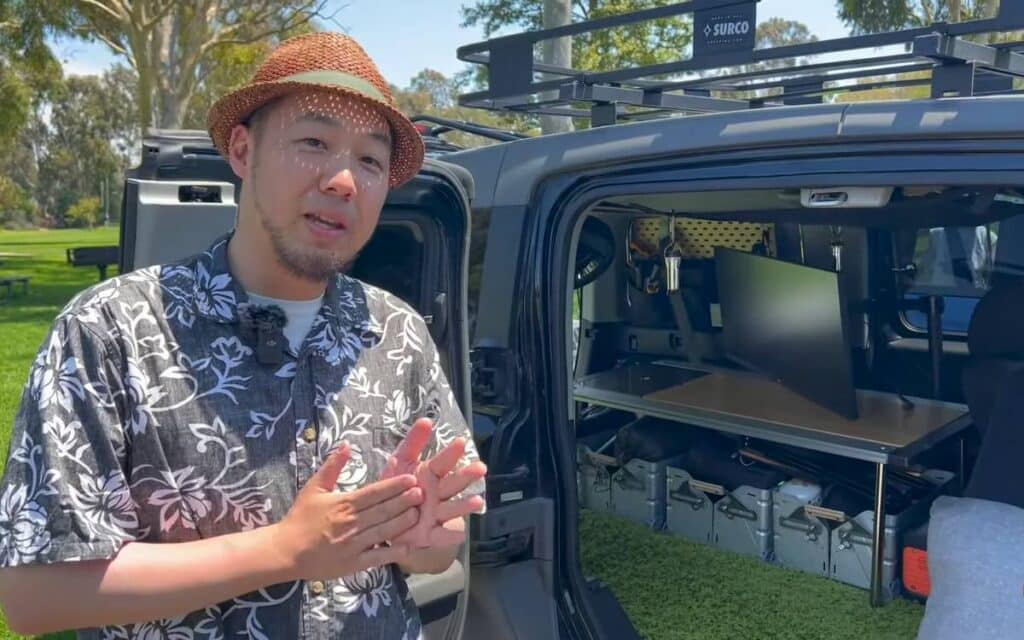 A camping table with adjustable legs behind the driver's seat provides a surface to cook and work on. Pegboards on the wall hold hanging pouches for tools, utensils, and other small items.
Kenji uses a Jackery power station to power his computer monitor and other devices. He has a cargo net on the ceiling that allows for extra storage without comprising too much head space.
5. This Honda Element camper conversion with a pop-up tent from Charis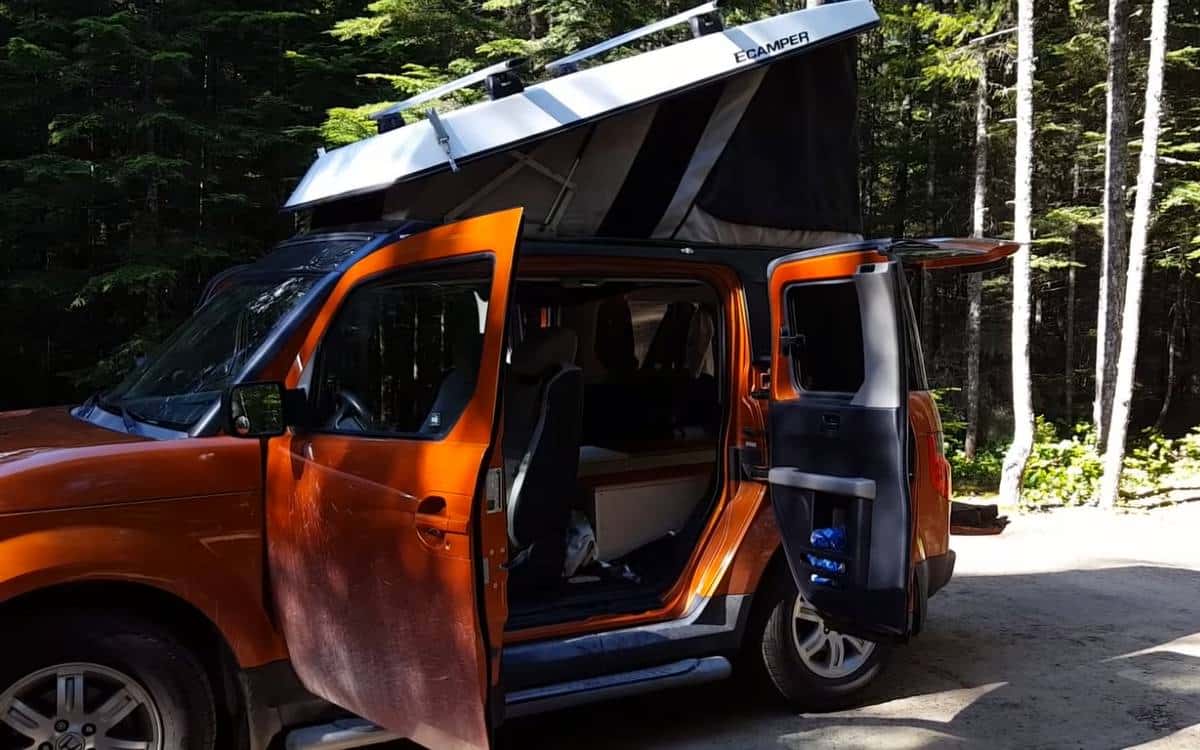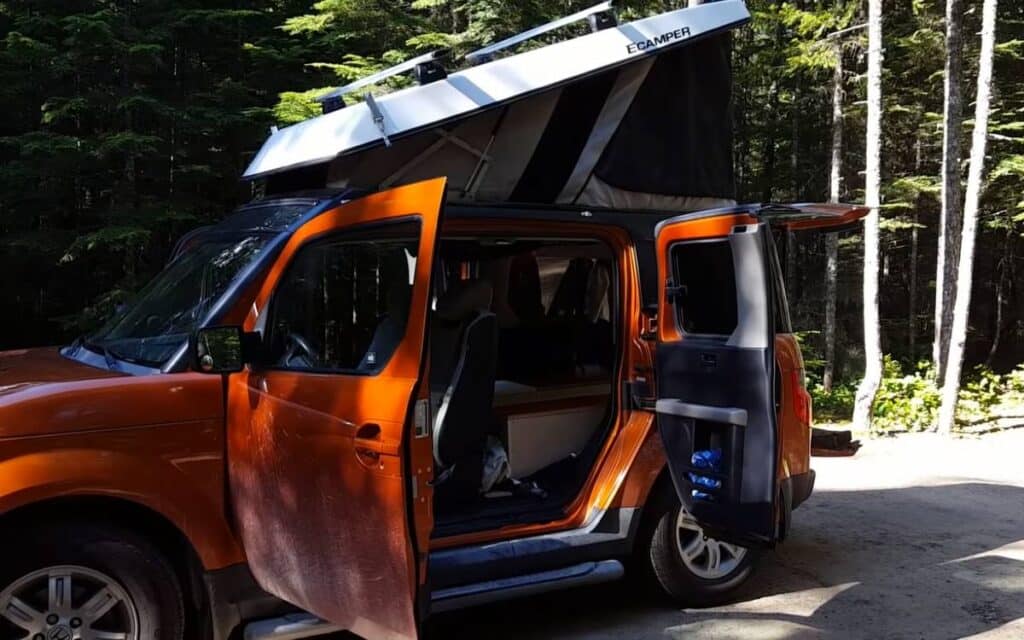 Charis built out her Honda Element into a DIY camper conversion with a pop-up tent that comfortably sleeps two people.
Two custom wooden boxes stretch down both sides of the Element camper. Charis plans to build a platform bed that will be as wide as the storage boxes on either side. She laid down a foam pad and carpeting for comfortable and cozy flooring.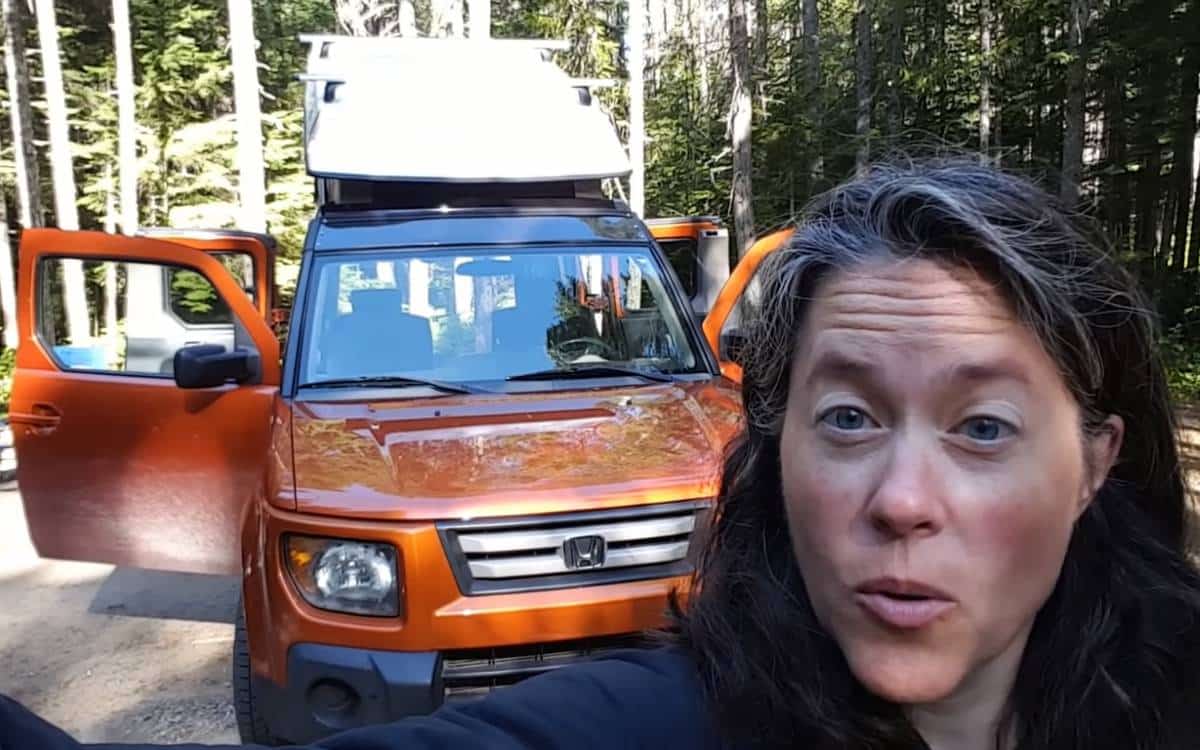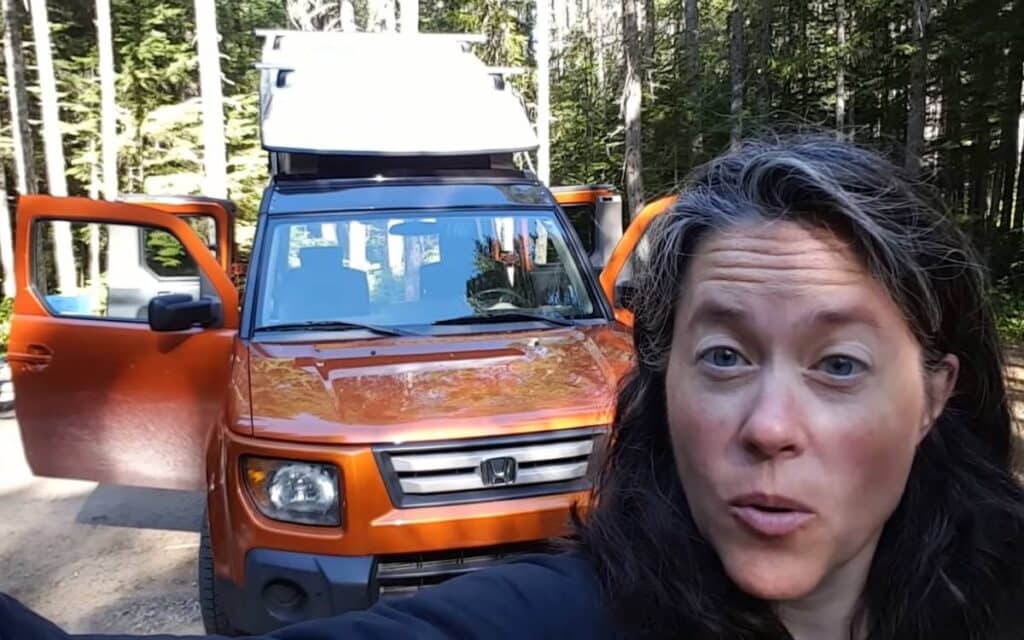 Reflectix on the back windows helps with insulation. Charis strung bungee cords in a crisscross pattern by the driver's side rear window to store her pillow out of the way during the day.
She removed the armrests from the front seats to fit a cooler in the space between the seats. Charis uses a hand pump attachment for her water system to turn her 3 ½ gallon water jug into a sink.
6. This stealth Honda Element camper conversion from @readysetelement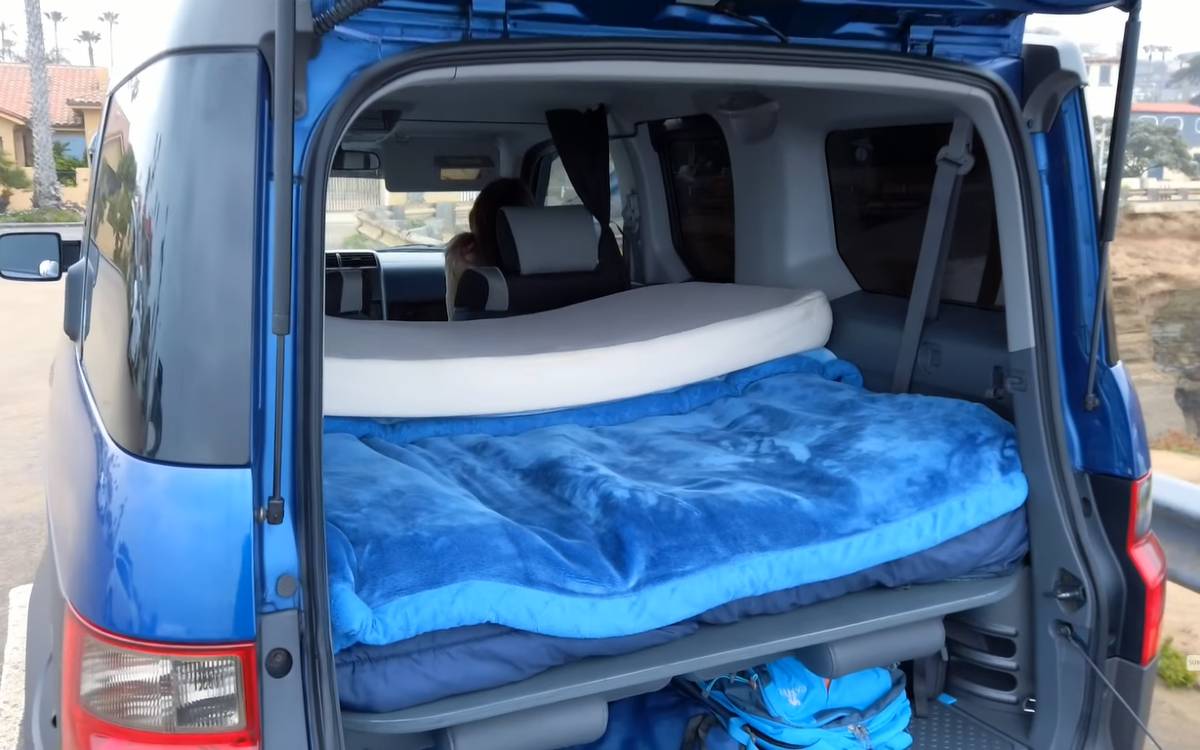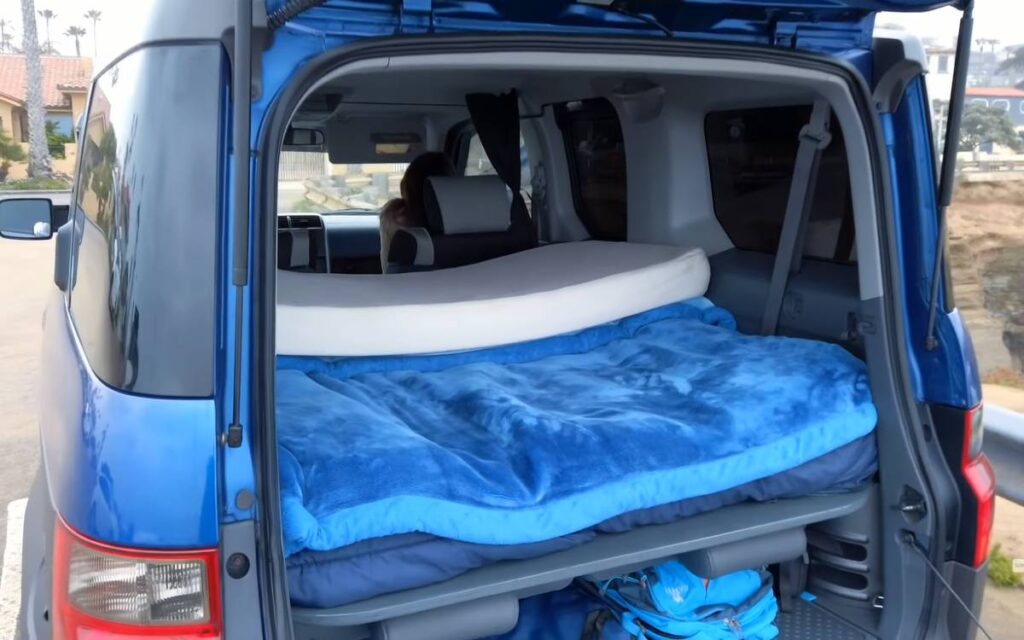 Wilson did a simple no-build conversion to create his stealth Honda Element camper that he uses for weekend city camping with his partner. The Element is a great vehicle for stealth camping due to its small size and unobtrusive appearance.
Their bed setup is a platform with holes cut into it, which allows the trifold mattress to breathe. Blankets, pillows, and a sleeping bag keep the area warm and cozy. The platform takes up the living space behind the driver's seat and passenger seat.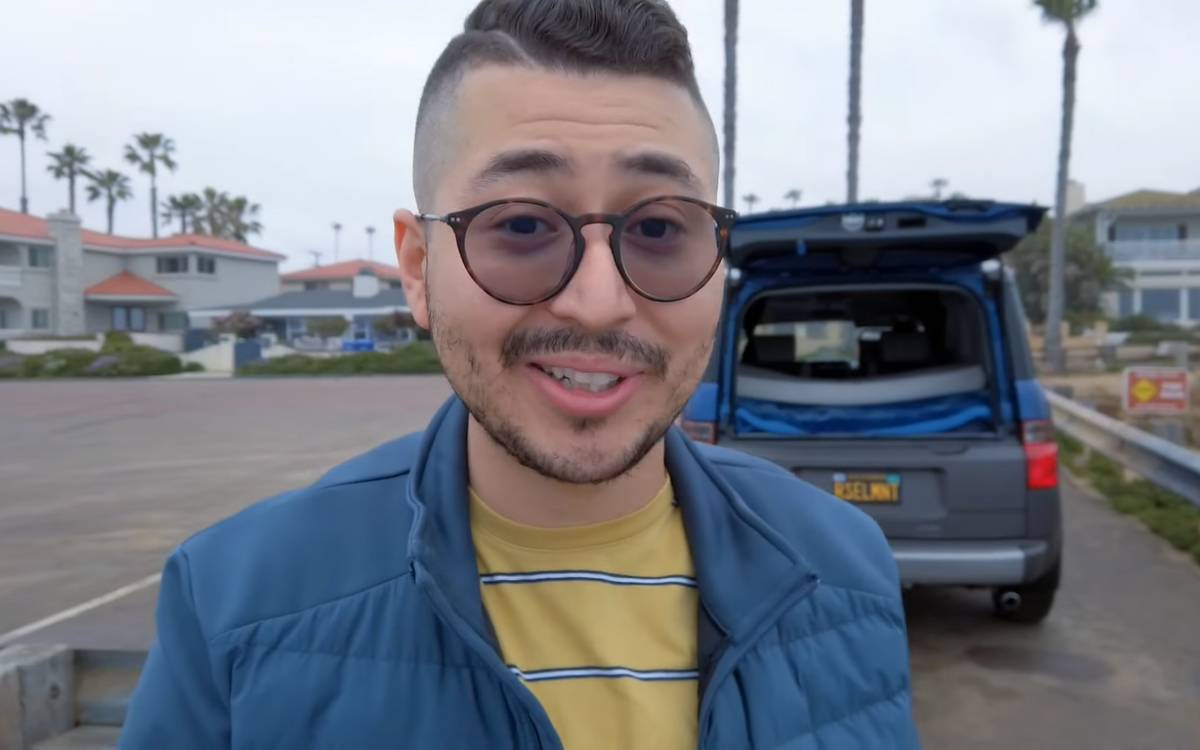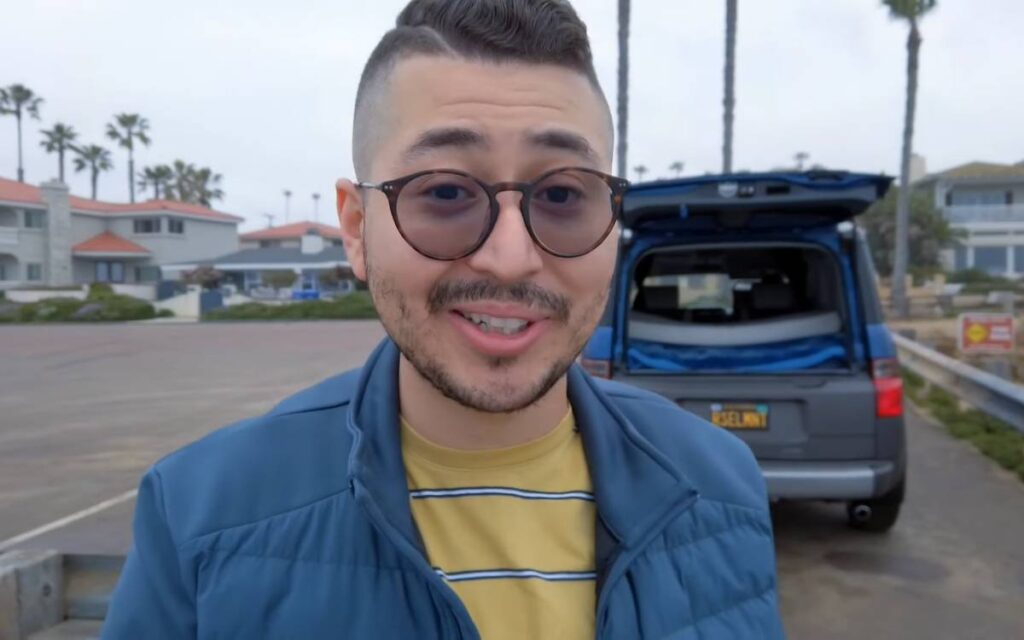 Curtains separate the front and the back of the Element for privacy. Rain guards on the front windows allow them to lower the windows for airflow and to reduce condensation build-up at night.
They have a Jackery power station to charge and power their devices.
7. This low-platform Honda Element camper build from @amyismakingstuff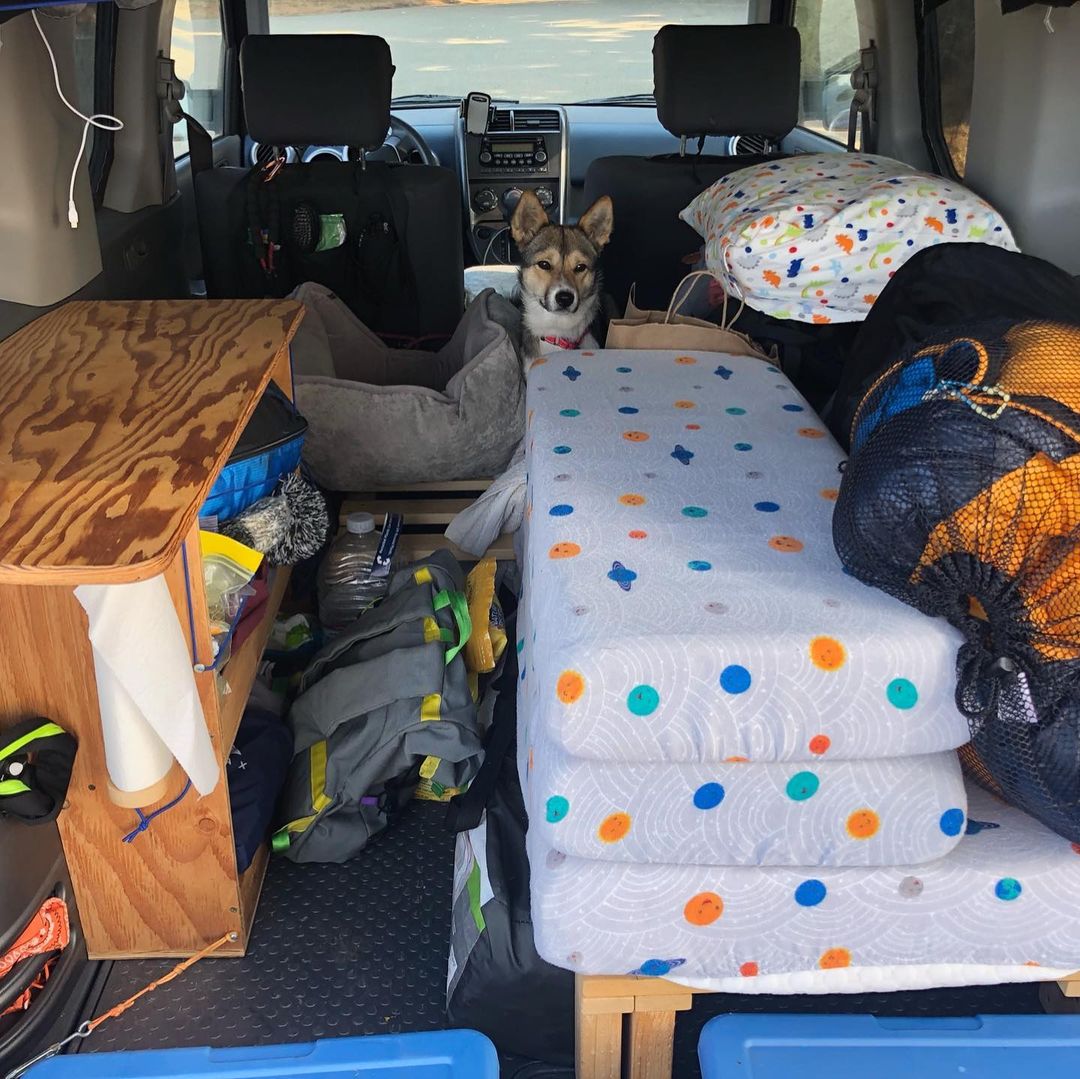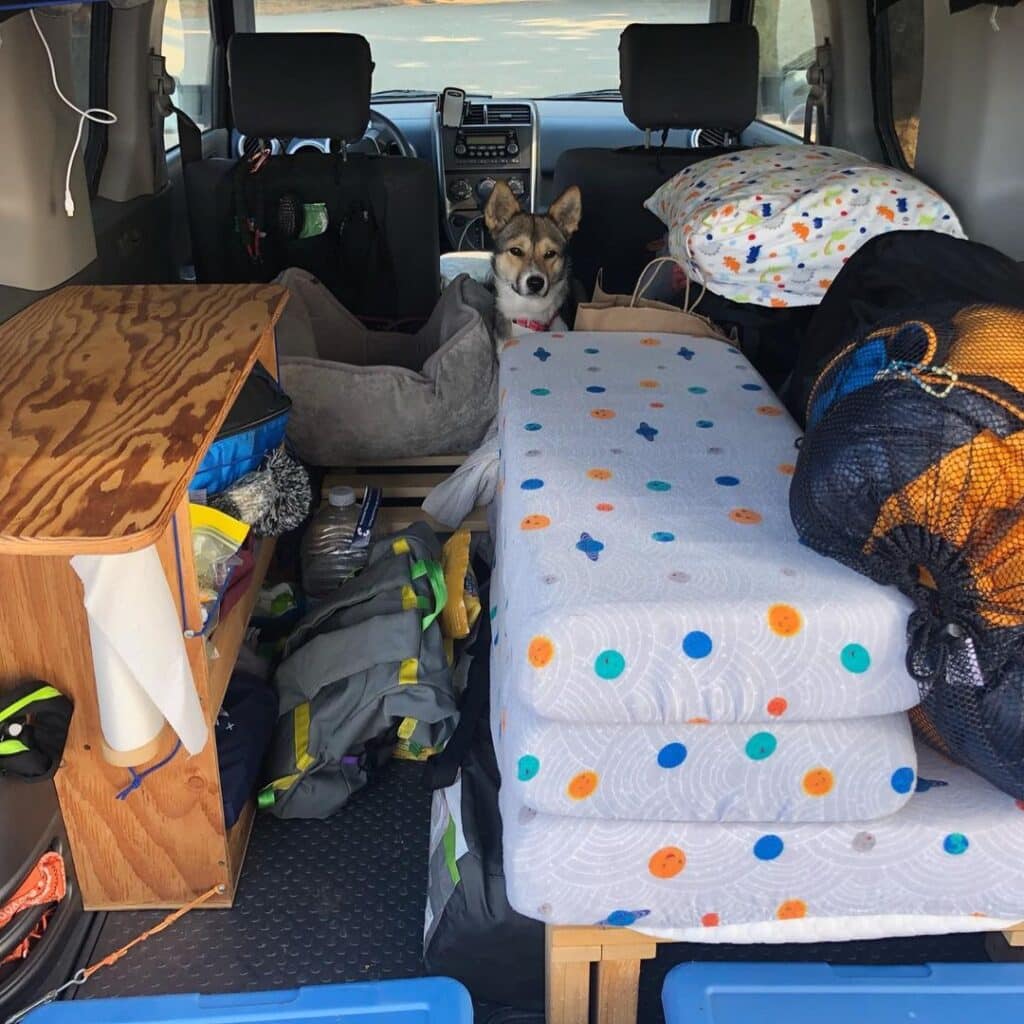 Amy converted her Honda Element camper for weekend camping trips. She opted for a low-platform bed, allowing her to sit comfortably inside the SUV. The main tradeoff with the lower bed is that there is less storage space.
She custom-built the platform and shelving so that she could easily secure it for spontaneous camping trips in her Element camper. She removes the build components when she needs her vehicle to be her daily driver.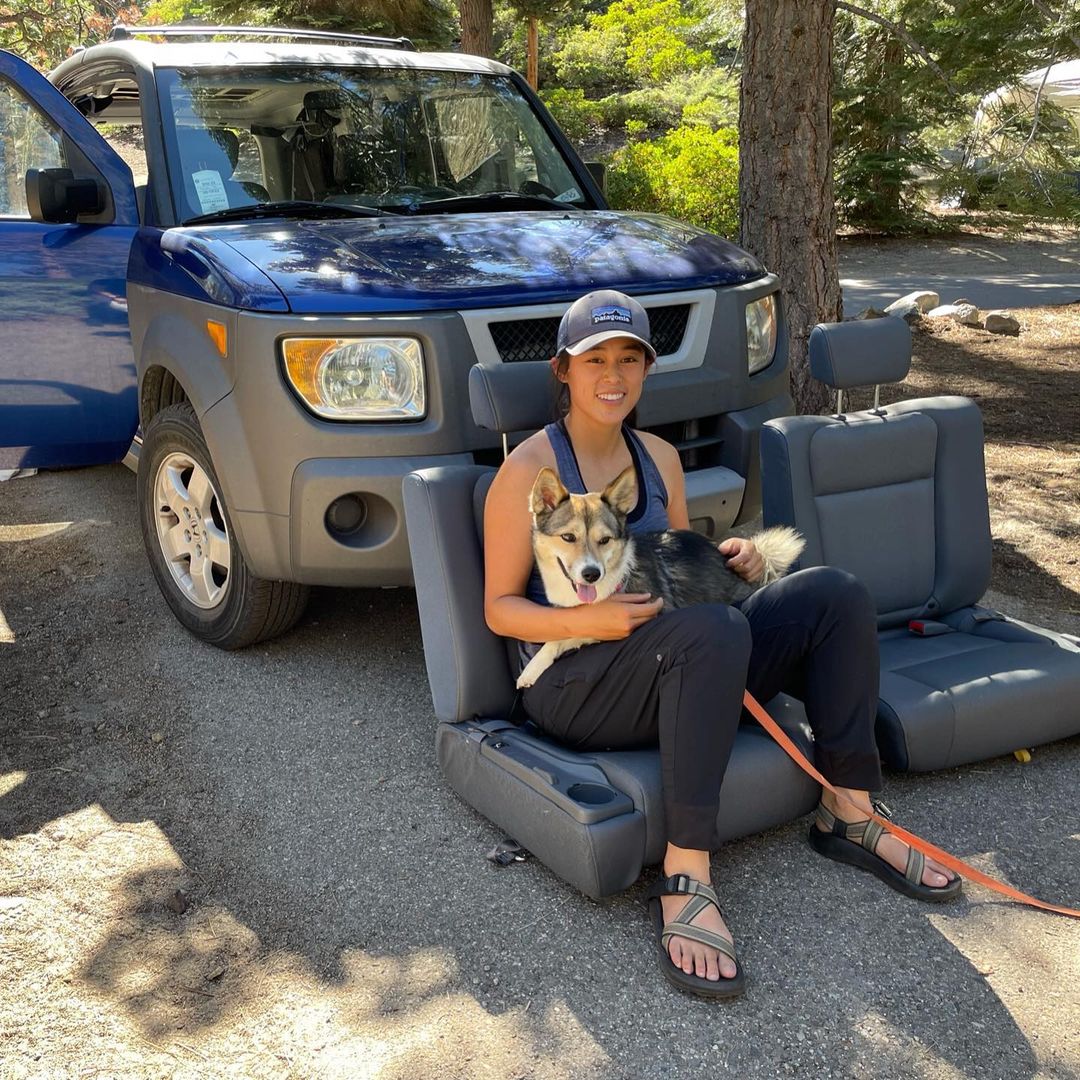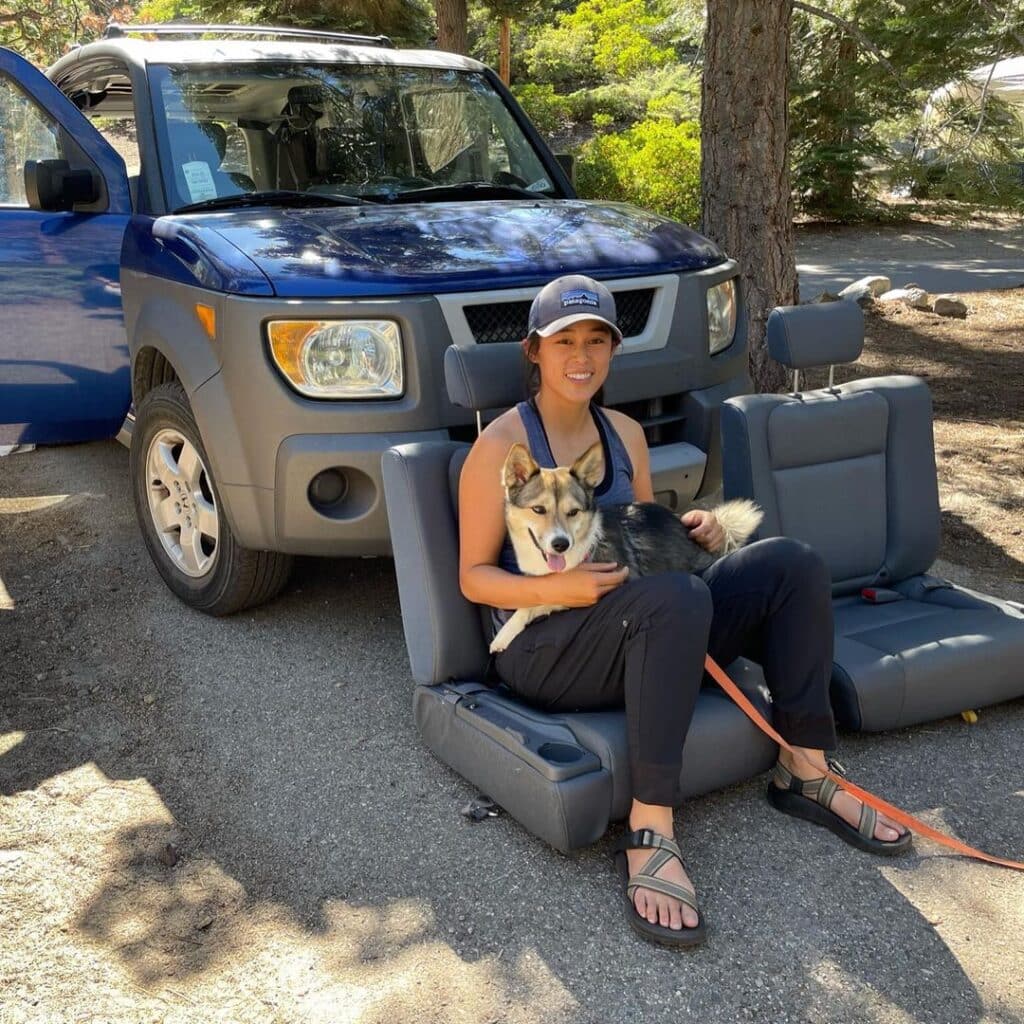 The shelving has counter space so Amy can set her laptop there and work inside the van. The bed frame has slats that extend into the remaining floor space and expand the sleeping area.
The windows have Velcro bug netting and curtains that help with airflow and privacy. Amy also created a cover for the moon roof and a cutout that holds her iPad, so she can watch movies while lying in bed.
8. This minimalist DIY Honda Element conversion from Hao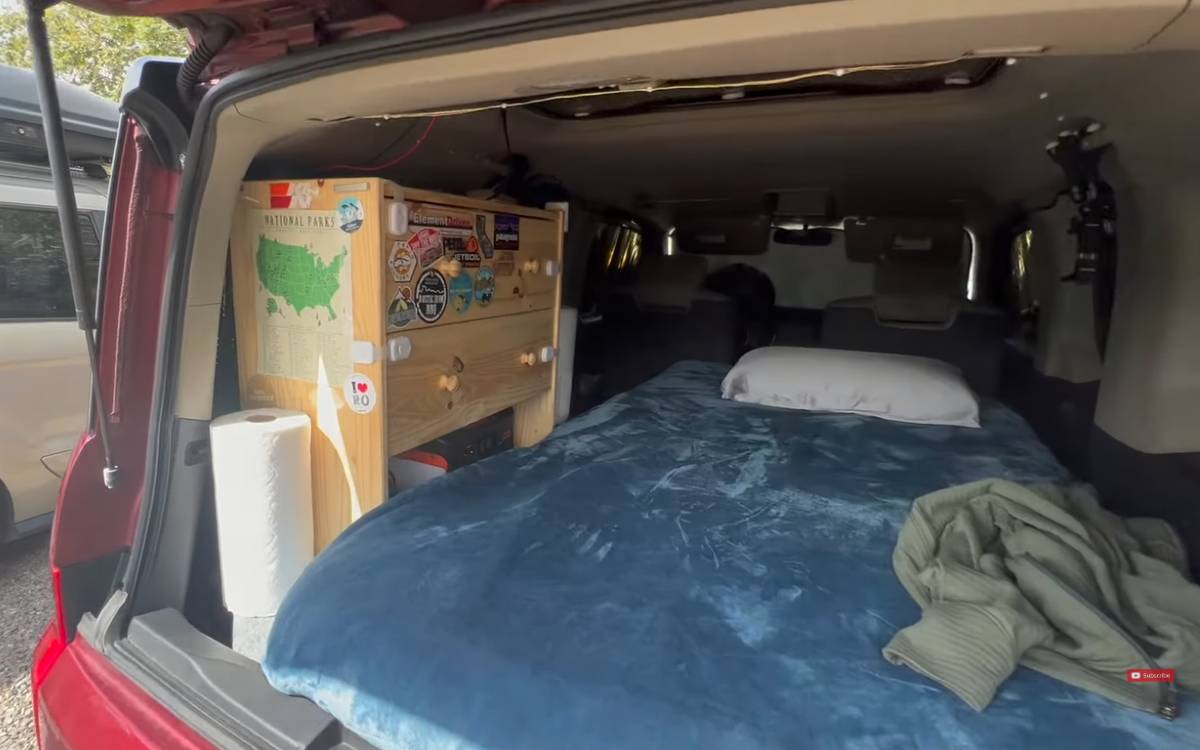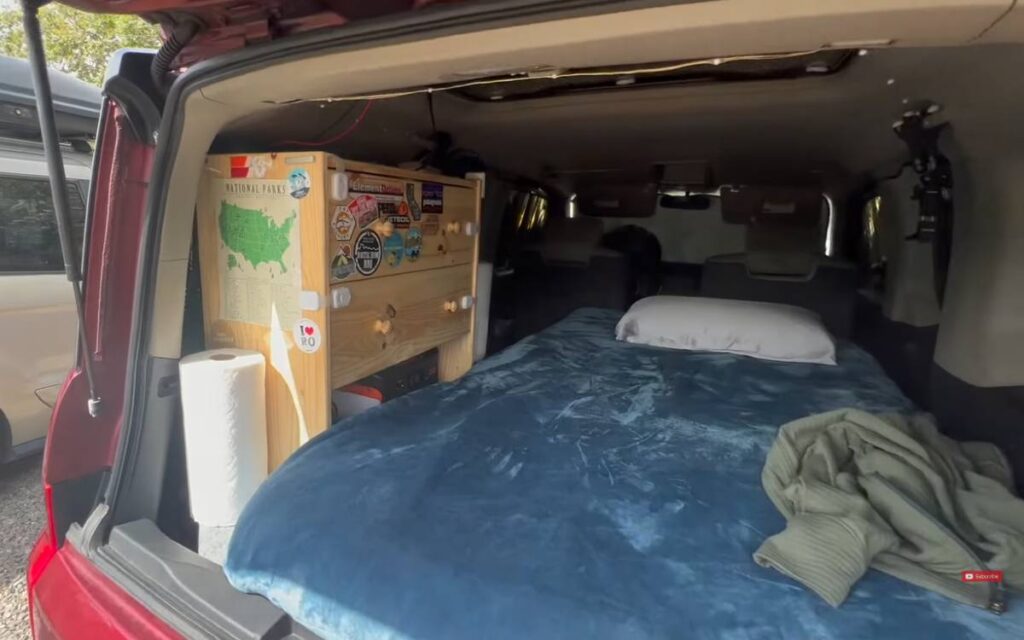 Hao converted a 2008 Honda Element camper to live in full-time. The central part of his build is a bed platform made of ¾ inch plywood, which he wrapped in carpeting. Table legs support the platform, a solution that doesn't require advanced carpentry knowledge to build.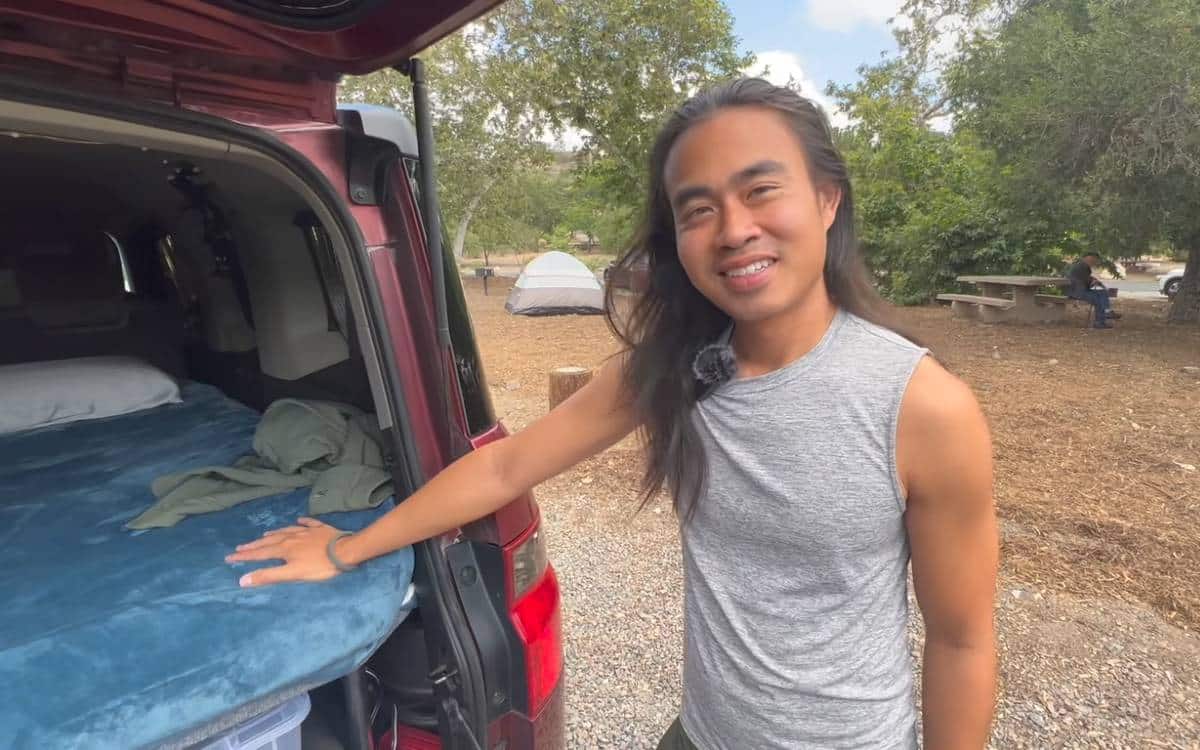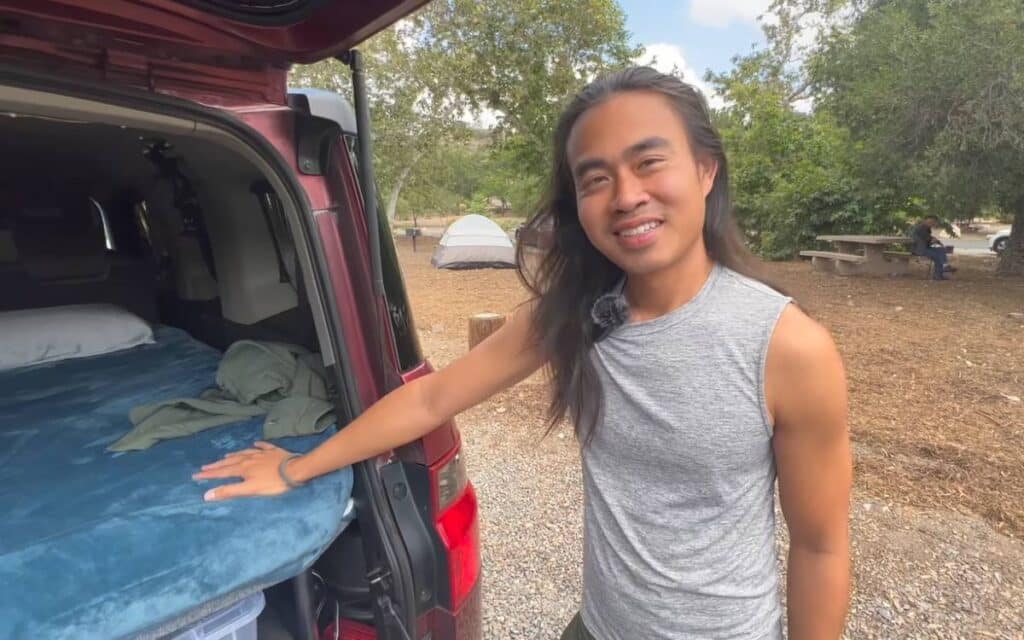 Hao has plastic storage bins underneath the bed platform that hold everything from food and snacks to winter clothes and camping gear. There is an IKEA dresser on the driver's side for additional storage, and Hao left out the bottom drawer to provide space for his Jackery power station. The Jackery connects to a solar panel on the SUV's roof.
There are string lights strung along the ceiling, and commercial-grade window covers that block out the sun and provide privacy at night.
9. This budget Honda Element camper build for two from @dayswespend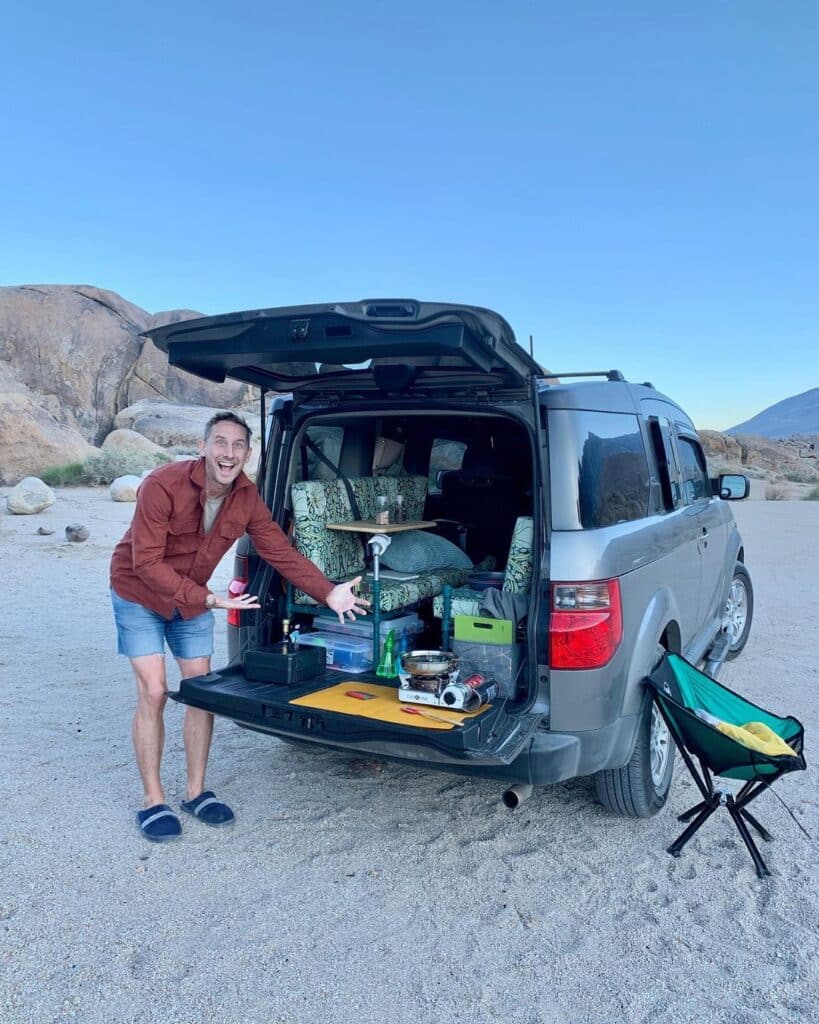 Shawn and Lainey built out a 2008 Honda Element camper conversion for road trips and stealth camping. The whole build cost them about $1300, including the camper conversion itself and some minor mechanical repairs on the vehicle.
Because the price of lumber was very high when they were building their Element camper conversion, the couple opted to use dunnage racks. A dunnage rack is commercial restaurant shelving that is a strong, lightweight, and affordable building material for all kinds of DIY projects.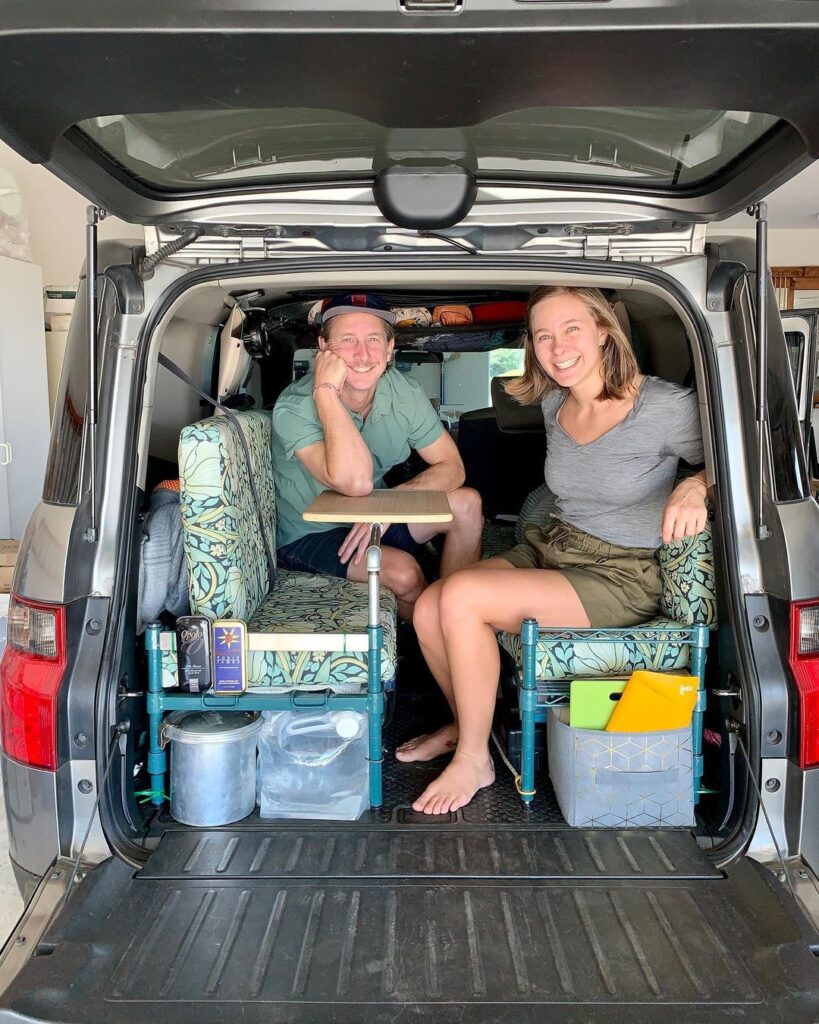 Shawn and Lainey used the racks in this Honda Element camper build to create bench seating on the driver and passenger sides. They secured the racks with zip ties so they could easily convert their Element into a daily driver. They use slats created from paint stirrers to connect the benches at night. By rearranging the pillows, the setup transforms into a comfortable bed that sleeps two adults.
For power, they used a Goal Zero power station to power their 12V fridge and smaller power banks to charge their phones.
Honda Element Camper Conversion Kits
1. This modular conversion kit from Fifth Element Camping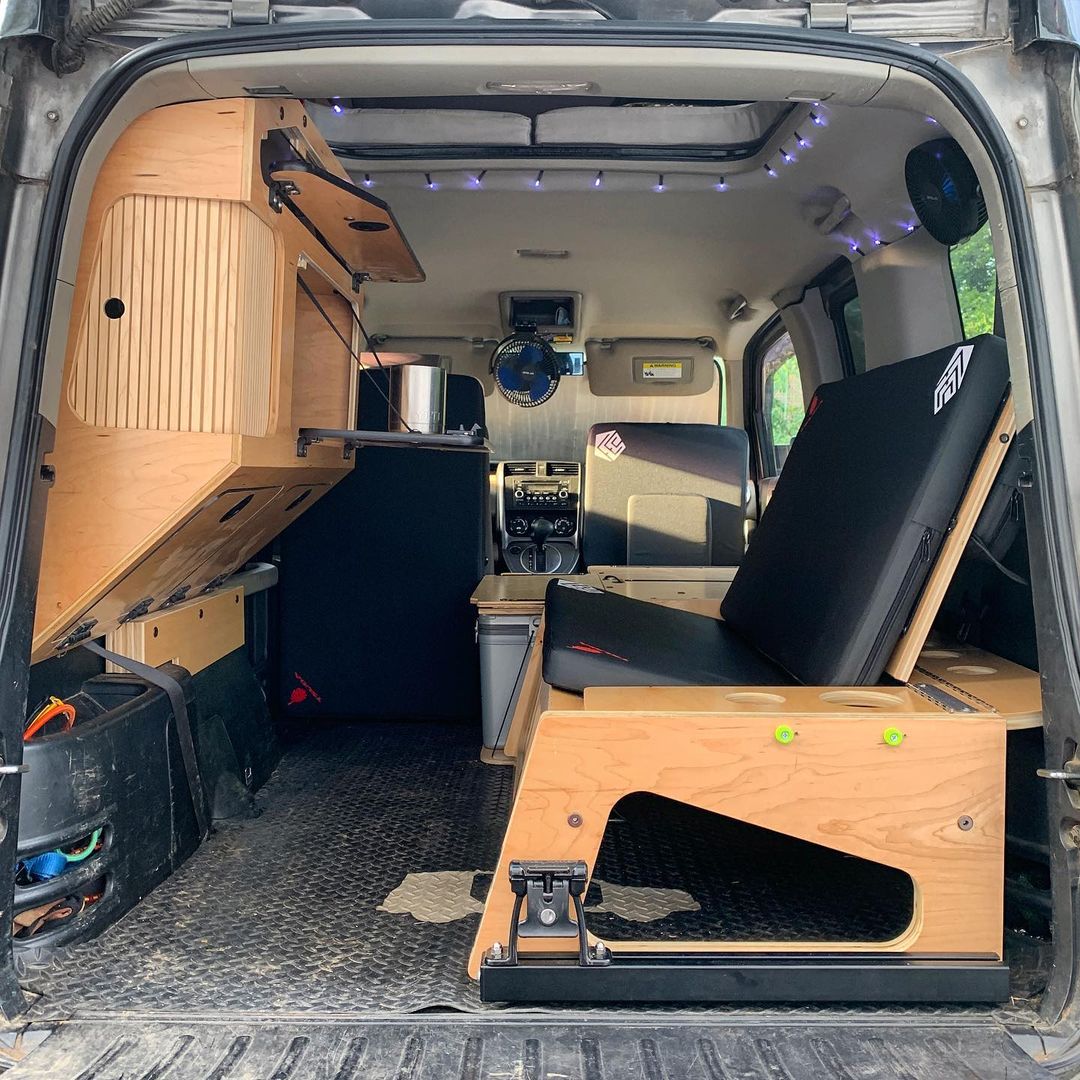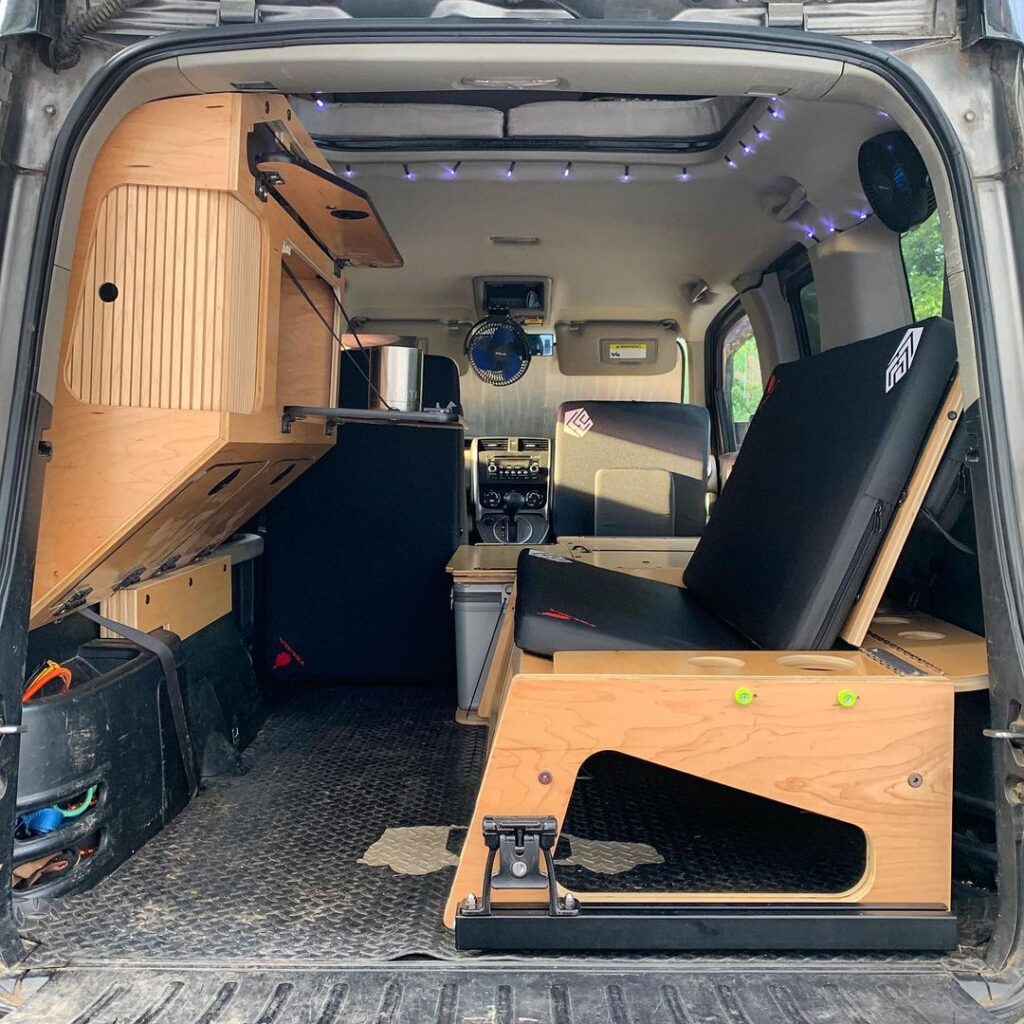 Fifth Element's Micro Camper System for the Honda Element is an excellent alternative for those who aren't able to build their furniture.
This unique and functional Honda Element camper conversion kit is handcrafted in Asheville, North Carolina, out of wood, eco-friendly sealer, and stainless steel hardware. The system can convert your Honda Element into a camper for two people. The Micro Camper System kit takes just a few minutes to set up, and it is easy to remove, requiring no permanent modifications to your SUV.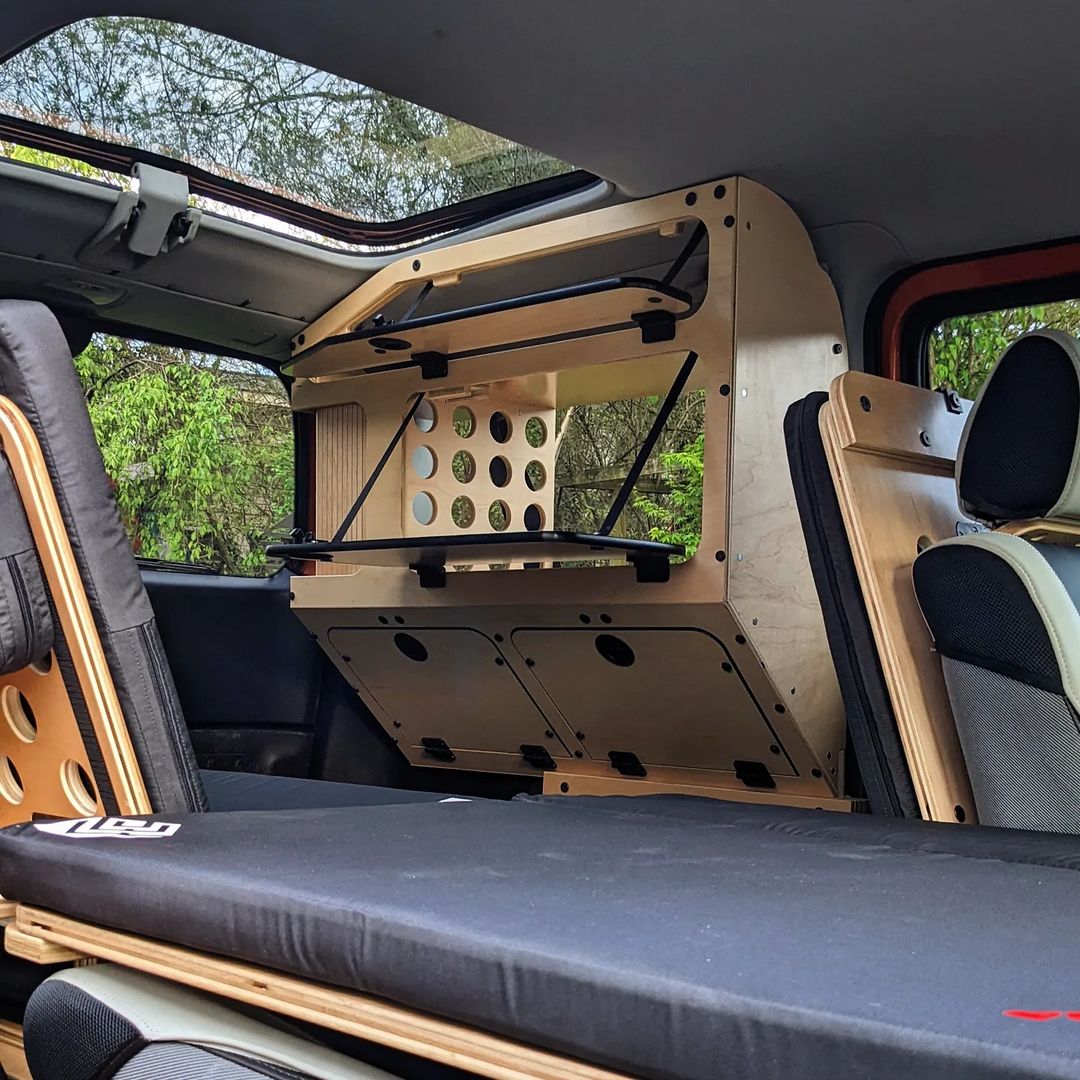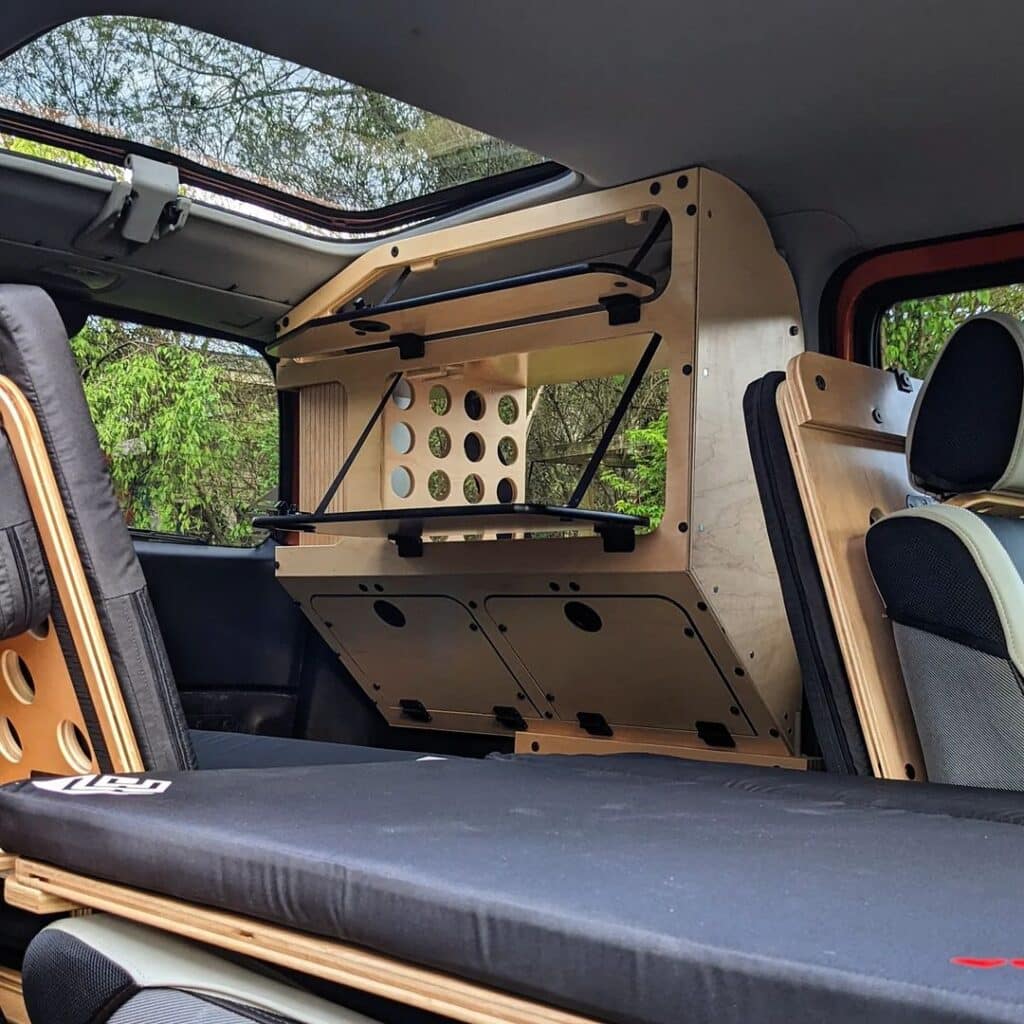 Components from Fifth Element Camping are available for purchase individually or in packages. The components include a bed/bench, a cabinet, console/trays, and a kitchen/side table, with additional add-ons for bike mounts and custom cushions.
2. This conversion kit with interlocking design from Freeway Camper Kit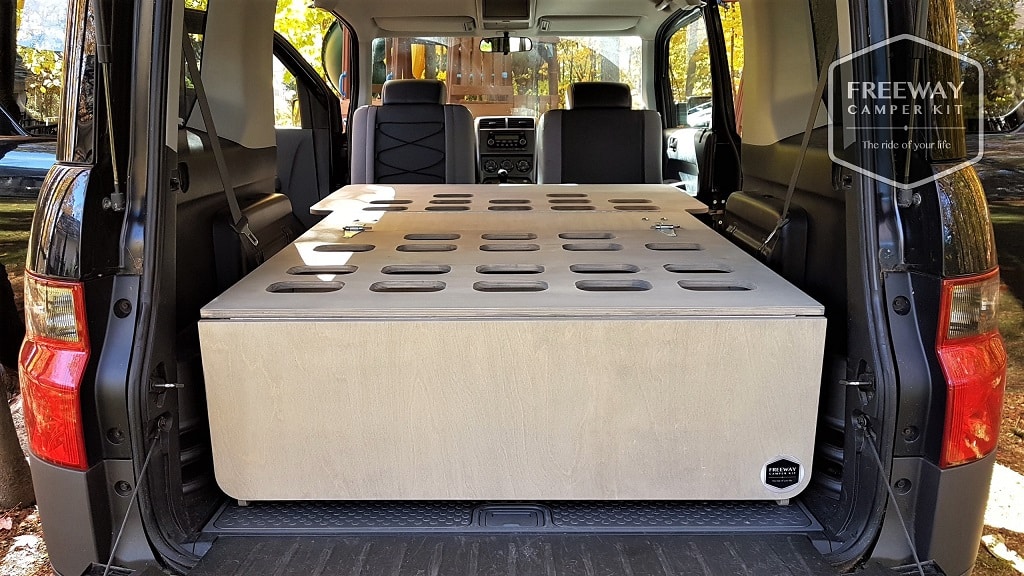 Freeway Camper Kit is another Honda Element camper conversion kit for people looking to take the guesswork out of a DIY camper conversion.
No tools are required to assemble this kit, which can easily be assembled, removed, and stored – making it a fantastic option for weekend campers. The conversion includes ample storage space underneath the bed platform.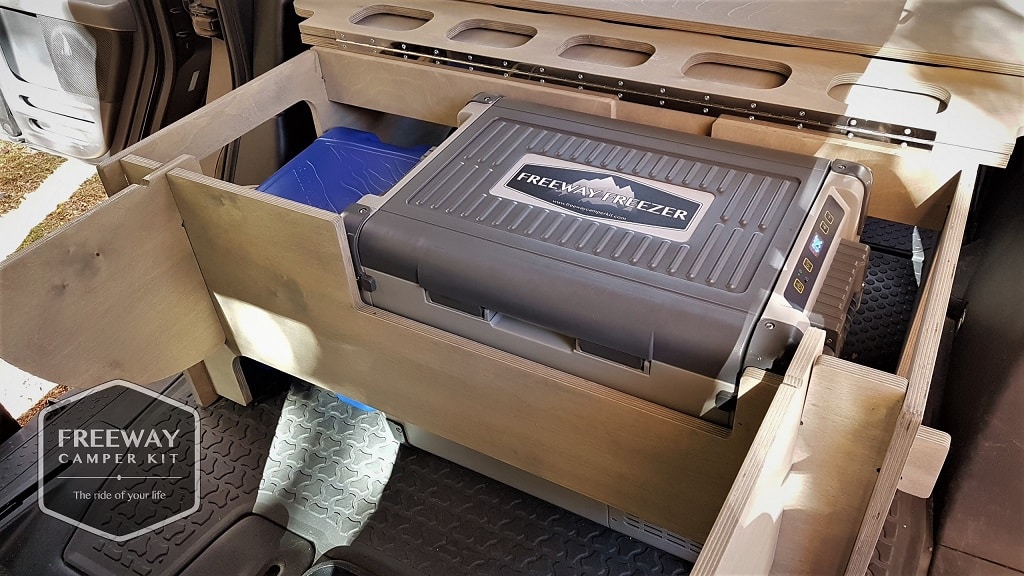 Kits come in various wood finishes, with options for a raw wood finish or the ability to choose your wood tint color. You can choose whether or not to purchase your mattress and cover from Freeway Camper Kit. Add-ons also include a 37-quart refrigerator/freezer that you can purchase with your kit.
3. This conversion kit with a pop-top from Ursa Minor Vehicles
Ursa Minor Vehicles has an ECamper conversion option that expands the interior living space of the Honda Element with a pop-top accessible from the vehicle's sunroof.
Ecamper conversions have an interior height of 78 inches with the pop top, meaning most people can stand up. These camper conversion kits also include LED lighting and a 7×4 mattress with washable covers. The pop-up has gas spring-assisted hinges, which make it easy to open and close. It is made from a durable, water-resistant canvas and has zippered screen windows. The bed can be accessed from both inside and outside of the Honda Element camper conversion.
Ursa Minor Vehicles has two conversion facilities in Portland, Oregon, and San Diego, California, that can install the ECamper onto your Element.
Honda Element FAQ
Is the Honda Element a van?
Though its spacious interior is comparable in size to smaller cargo vans like the Ford Transit Connect, the Honda Element is not a van but a compact crossover SUV.
Why did Honda stop making the Element?
Due to decreasing sales, Honda discontinued the Element in 2011, with model years ranging from 2003 to 2011. Why were sales so low? Well, the Element was not an affordable option for its target audience. Combined with the vehicle's low fuel economy for a daily driver, customers preferred the similarly classed but more fuel-efficient Honda CR-V.
Is the Honda Element coming back?
Honda has not officially announced that the Element is coming back. Despite being discontinued over ten years ago, the vehicle's cult following hasn't lost hope that it will make a comeback one day.
What are some alternatives to the Honda Element?
If you like the idea of a microcamper for your van life adventure, there are plenty of other vehicles to consider.
Small cargo vans like the Ford Transit Connect, Ram Promaster City, Mercedes Metris, or the older Chevy Astro are great options.
Minivan campers are another interesting option. The Toyota Sienna comes in All Wheel Drive and has lift kits and other off-road accessories. The Dodge Grand Caravan has stow-n-go seating for the middle and rear seats, allowing you to quickly convert it from kid hauler to gear hauler. The Honda Odyssey, Kia Sedona, and Chrysler Pacifica are other options.
SUV campers can be built on just about any vehicle base. Common options include Toyota 4Runner, Toyota Sequoia, Subaru Outback, Subaru Forester, Honda Pilot, Ford Flex, Chevy Suburban, Chevy Tahoe, and Jeeps.
Build Your Van
The Ultimate Van Build Guide
Planning a van build? Read our free guide. We cover just about everything you need to know – from planning, to insulation, to solar and electrical, to picking appliances, to essential tools. Get started today so you can get out there on the road!