We've spent a total of three years living full time in our van. After living in our van for this long, we've learned a lot about what works and what doesn't, the worst vanlife mistakes to avoid, and what's essential to have on the road. We love our van, but there's so much you just can't foresee before hitting the road. We have a list of tweaks and upgrades to make when we're stationary for the holidays, and we're pumped to knock them out and write about them here.
But for everything we would do differently, there's something else we would keep (including some unintentional features that ended up being really useful). Here's our list of 5 things we would change about our van build, and 5 things we would never change.
5 Things We Would Change About Our Van Build
1. Install an Awning Right Away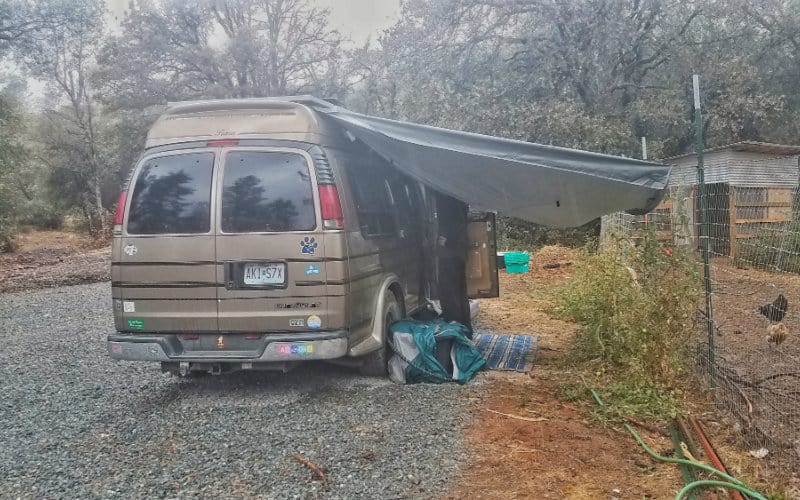 Adding an awning to our van has been on our list of upgrades for months. Awnings are great for all types of weather. They provide shade in the sun and shelter in the rain, and they drastically expand the usable living space of any van.
Since we like to DIY everything, we made the decision to wait on an awning until we were stationary long enough to design and build our own. But after a year on the road, we realized it would be much less hassle to just install an ARB awning on our van.
If we had to do it again, we'd install this awning before hitting the road, rather than going a year without reliable shade.
2. Get a Maxxfan Deluxe (Instead of a Fan-Tastic Vent)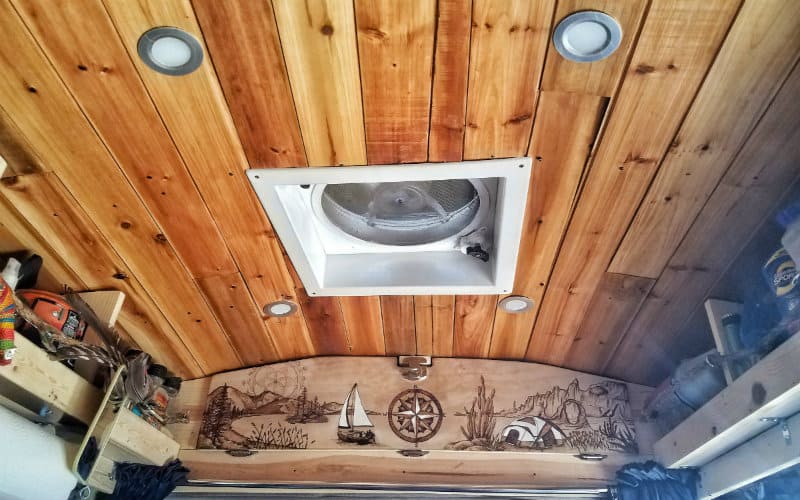 We've already written a detailed blog post about our experience with the Fan-Tastic Vent 7350. It's a fine product, but the lack of a built-in rain cover is a fatal flaw. You need ventilation in all weather when you live in a vehicle, and the lack of a rain cover means the Fan-Tastic Vent is pretty much unusable if there's any rain. Sure, Fan-Tastic makes an aftermarket vent cover, but it's a bit pricey and it adds a lot of bulk.
The Maxxfan Deluxe has a low profile built-in rain cover, and it's cheaper than the equivalent Fan-Tastic vent. Fan-Tastic (and parent company Dometic) makes quality products that we use in our van, but until they produce a vent fan with a built-in rain cover it's a no brainer to go with a Maxxfan Deluxe instead.
3. Install a Roof Rack for Mounting Our Solar Panels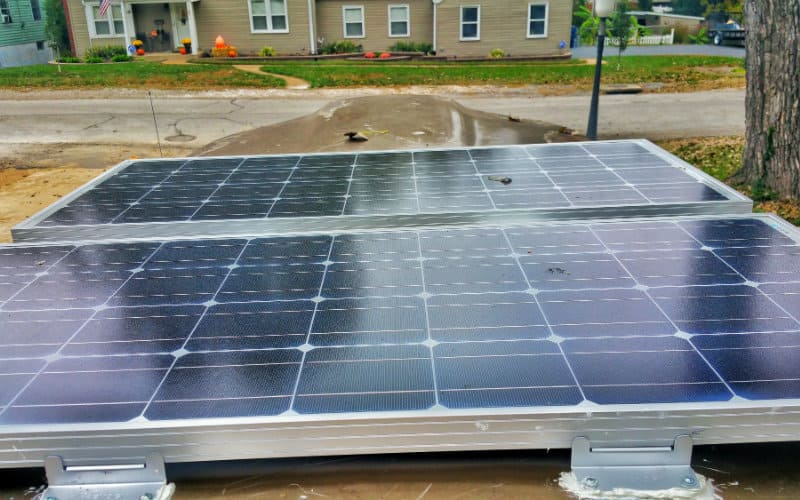 When we hooked up our solar, we mounted the panels directly onto our van's fiberglass topper. Doing so was a huge pain due to the weird shape of our high top, and we had to come up with some creative solutions. It works fine, but after living with it and seeing other people's setups, we'd mount our van solar panels on a roof rack if we did it again.
Having the solar panels permanently fixed to our roof means it would be a pain in the ass to take them off if we needed to. It means we lose out on roof storage – we can't exactly slide a surfboard underneath our solar panels like we could a roof rack. It also provides a spot to attach things like awnings and road showers. And a roof rack would give us a flat, easy surface to mount our solar panels instead of the crazy curves of a fiberglass topper.
Note: It can be tough to find suitable roof racks for high top conversion vans, and roof racks in general can be kinda pricey. This may not be an ideal option for everyone.
4. Soundproof the Van During the Insulation Process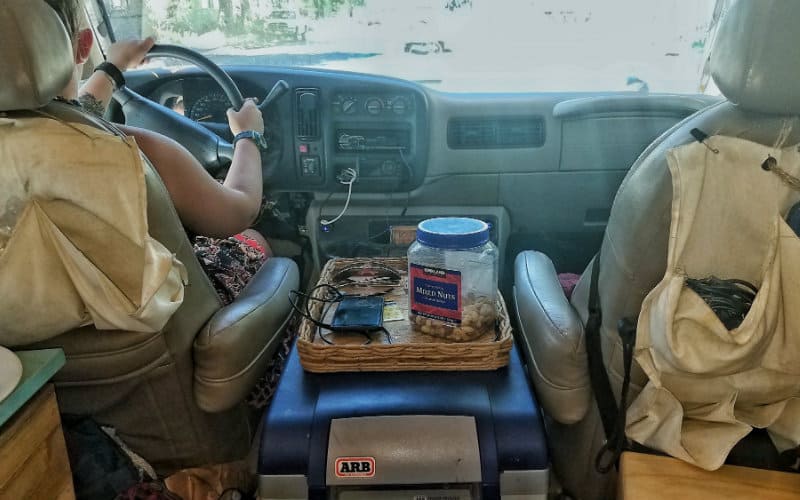 We didn't add any soundproofing to our van during the build process, and we really wish we had. From day one on the road we've had issues with road noise, which makes it difficult to carry on a conversation or listen to a podcast while driving down the highway.
If we had to do it again, we'd add a layer of soundproofing material right off the bat during the insulation process. This is another one of those upgrades we made after a year on the road, when we had to replace our subfloor. While we were at it, we also removed our van's rear air handler unit, which had been taking up space and driving us nuts.
5. Better Clothes Storage Solution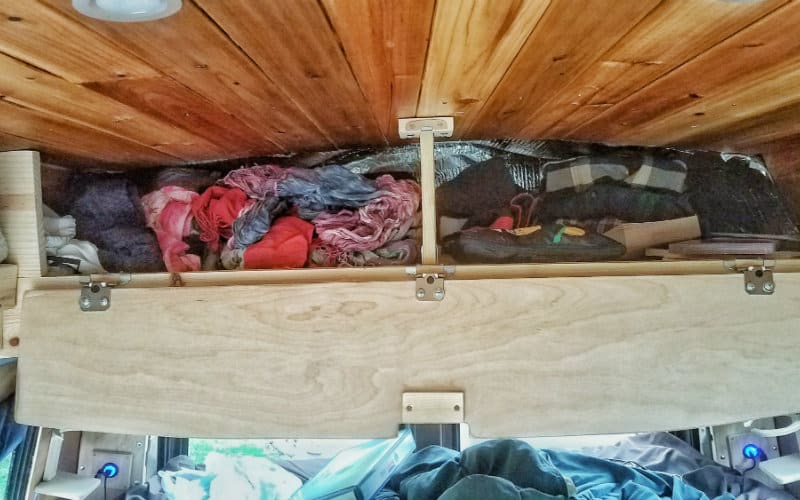 The best thing about high top conversion vans is all the overhead storage options. Once we gutted our van, we discovered tons of empty space above the cab and above the rear that's perfect for storage cabinets. We keep our food above the cab, and our clothes closet is in the rear above our bed platform.
The food storage works great, but our clothes storage has turned out to be less than ideal. When we first hit the road we just stacked our clothes and shoved them in there, but that got messy quickly. The closet is very deep but not very tall, which makes it tough to access the stuff at the back.
We then picked up a couple of clothes organizer bags that work better, but it's a pain to pull out this huge bag every time we need a pair of socks.
Update: We've since bought a set of smaller packing cubes that let us organize our clothes and make them a lot easier to access. It's been working well so far!
5 Things We're Keeping No Matter What
1. Manual Foot Pump Water System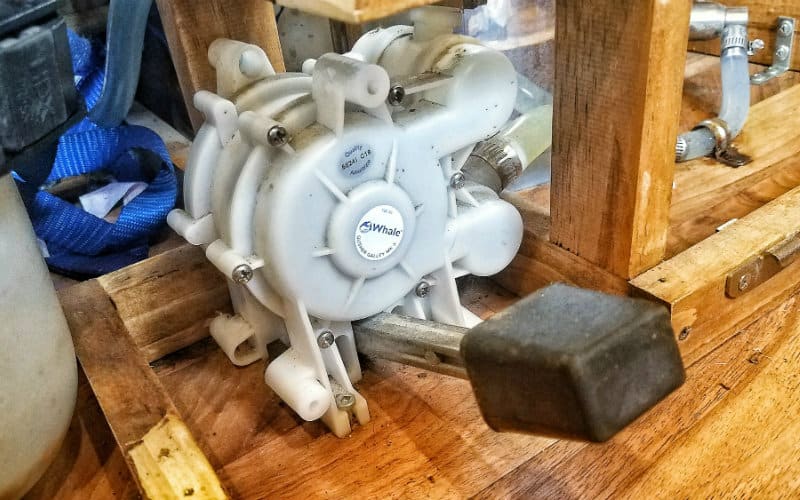 We can't rave enough about our foot pump water system. It's easy to install and easy to use. It really helps us pay attention to conserving our water supply, and the foot controls make it simple to wash dishes with both hands. This foot pump is made for marine use, but it's also perfect for vanlife.
We highly, highly, highly recommend incorporating a foot pump into any van build. It's much more convenient than a hand pump, and it's easier to hook up than an electric pump. We love it so much we're planning on installing one whenever we eventually build a tiny house on a badass piece of property somewhere.
2. Legit Solar Power Setup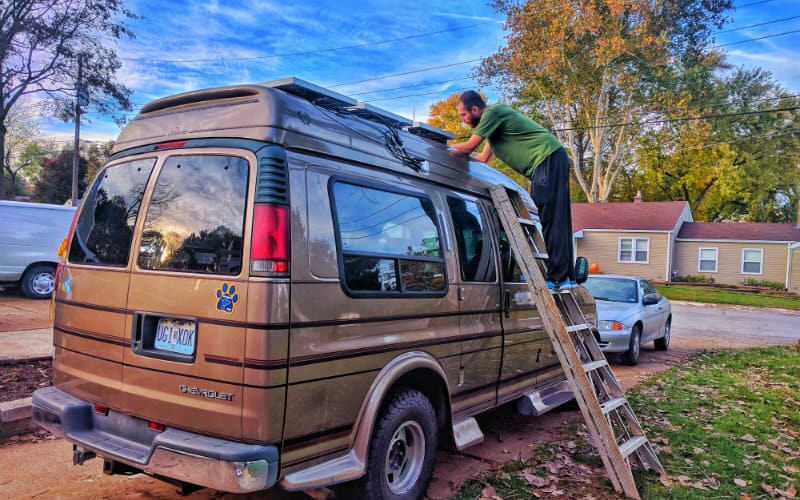 We didn't want to constantly worry about electricity on the road, so we decided to go big with our van life electrical system from the very beginning and bought a 400-Watt Premium Solar Kit from Renogy. With 300-watts of solar on our roof (and another 100-watt panel on a portable PVC frame stashed in the trunk), we have much more capacity than most vandwellers.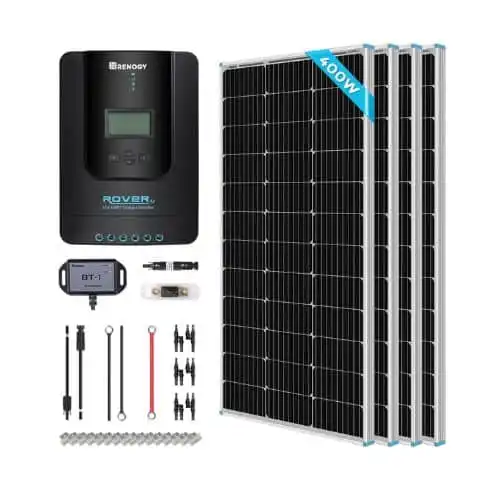 And it's definitely come in handy. Many other vanlifers with less capacity constantly have to worry about keeping their fridge running or looking for a place to plug in, but we rarely do. We're 100% off grid, and we can keep our fridge running and blast fans all day and night without having to worry too much about our battery voltage.
But even with this much solar, we do have to pay attention to energy consumption when we're in the forest or in overcast weather for more than five days or so – which is another reason we're glad we don't have a smaller system.
Read More: 9 Best RV Solar Panel Kits That Are Actually Legit
3. Exposed Metal from the Van Frame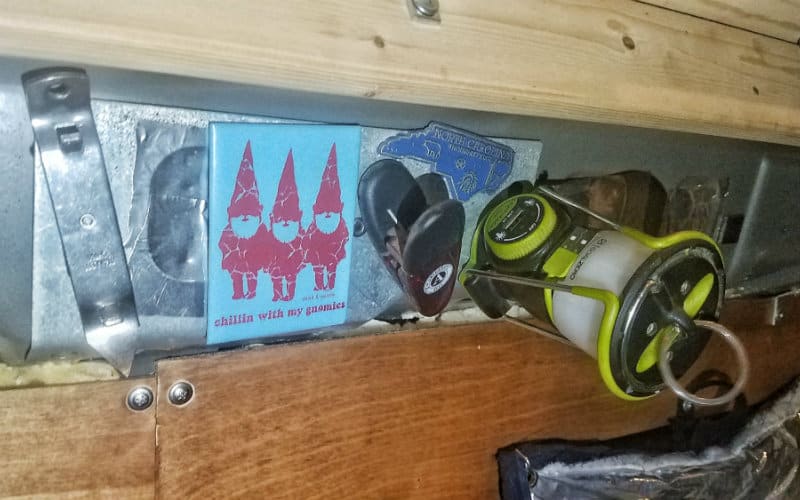 This was one of those unintentional features that ended up being awesome. After working on our van for months and delaying our departure date several times, we were ready to leave some things unfinished and just hit the road. So we decided to wait on covering up all of the exposed metal from the van frame, thinking we would slap some plywood on at a later date.
But the metal turned out to be really useful for sticking things to. Now our exposed metal holds up a variety of things like our magnetic bottle opener, Goal Zero lantern, magnetic clips, an AccuRite thermometer, and souvenir magnets we've collected on our travels. We're thinking of covering it with some nicer looking sheet metal eventually, but either way the exposed metal is here to stay.
Update: We actually decided to insulate this area and cover it up with fabric. The ability to magnet things was super convenient, though!
4. A Seat That's Also a Drum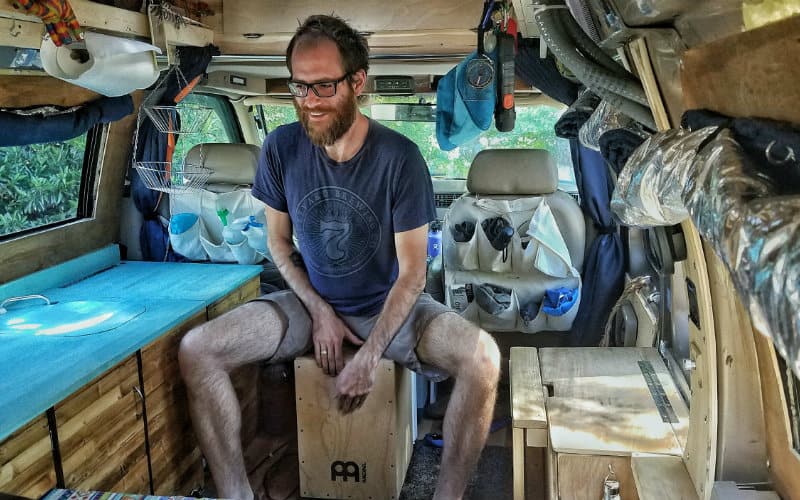 Our van's kitchen counter is too low for standing but too high for sitting on the floor, so we knew we needed something to sit on while cooking and washing dishes. We love jamming and playing music, so we figured if we need a seat it might as well be a drum too – which is why we picked up a Meinl cajon box drum to use as our seat.
Our cajon is the perfect height for our van, and it lets us rock out whenever we want. It comes in handy during impromptu drum circles at Descend on Bend and any other time we're playing music with a group of people. It also serves as a repository for the various stickers we've collected on the road. If you're musically-inclined and need a seat for your van, consider picking up a cajon!
5. Reflective (and Insulating) Curtains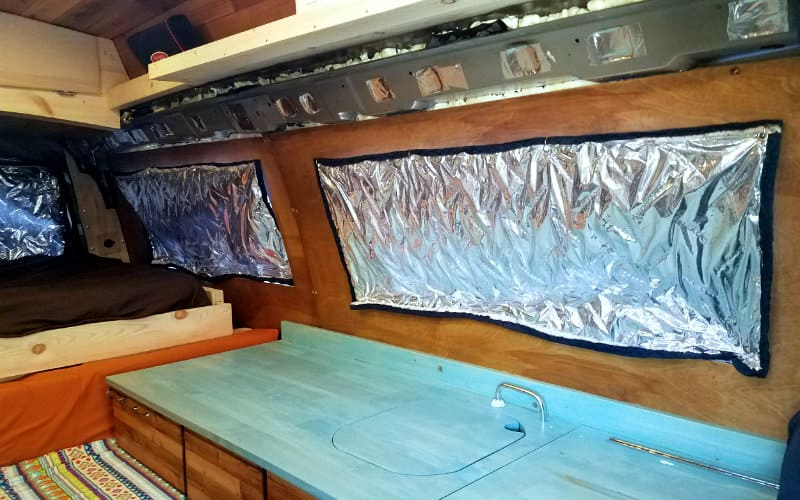 Jayme handmade reversible curtains that have Insul-Shine reflective batting on one side and man, are they the shit! The reflective surface acts as a radiant heat barrier, and depending on the weather we can deflect sunlight away from the van on hot days or trap heat inside when it's cold.
It makes a noticeable difference, and really helps keep our van comfortable in any season or climate. We are planning on making some improvements to how they attach to the windows, but having reversible reflective curtains is easily one of our van's favorite features.
Vanlife (and Life in General) is Always a Work in Progress
Perfection, as the saying goes, is the enemy of the good. If we had waited until our van was absolutely perfect in every way, we would have never hit the road. And that's what vanlife is ultimately about – getting out there and creating your own existence instead of sitting around waiting for permission.
The great thing about a DIY van build is that you can always change, tweak, and upgrade. What works for us might not work for you. That awesome idea you had during the build process may turn out to be a total headache, and that random mistake may turn out to be one of your favorite features.
There's a lot you won't know about your van before you live in it – so just get out there, experience the awesomeness of the road, and make the changes you need to when you can!
Thanks for reading! We've loved having you all with us on our journey over the past year, and we're stoked for many more years of nomadic living. For more van build guides, vanlife tips, and awesome travel photos, don't forget to follow us on Instagram @gnomad_home and on Facebook. Cheers!