We are super stoked to introduce you all to the entire crew behind @letsplayrideandseek!
This amazingly vibrant and entertaining family is made up of Natalie and Abigail Rodriguez. They travel with their dogs Bear, a pitbull mix, and Peluche (pronounced pay-loo-chay, which means teddy bear in Spanish. They usually just call him luche for short) a Volpino (spitz).
They are originally from Charleston, SC. They both lived there for over 10 years and used it as their home base. Abi grew up in PA and Natalie grew up in SC and Minnesota. We hope you enjoy their interview as much as we did! Read on to hear all about their build and adventures!
Build Your Van
The Ultimate Van Build Guide
Planning a van build? Read our free guide. We cover just about everything you need to know – from planning, to insulation, to solar and electrical, to picking appliances, to essential tools. Get started today so you can get out there on the road!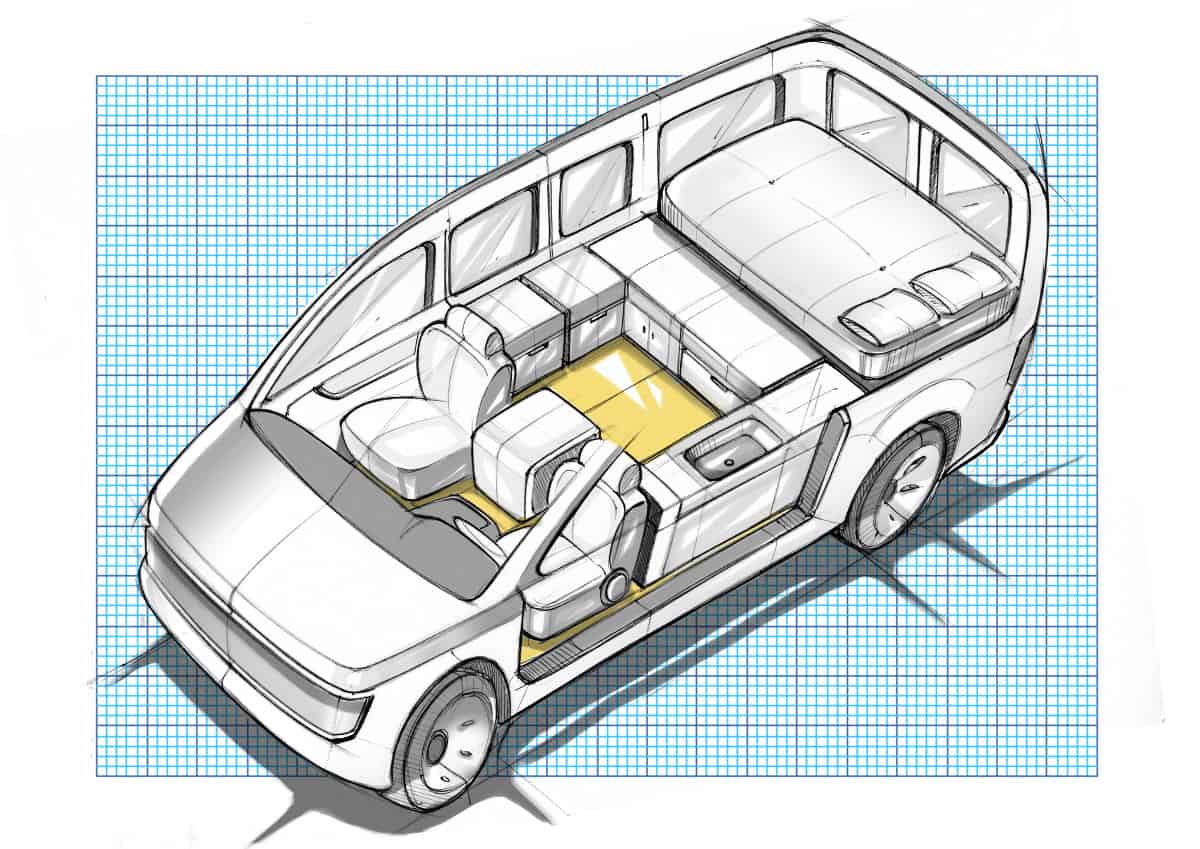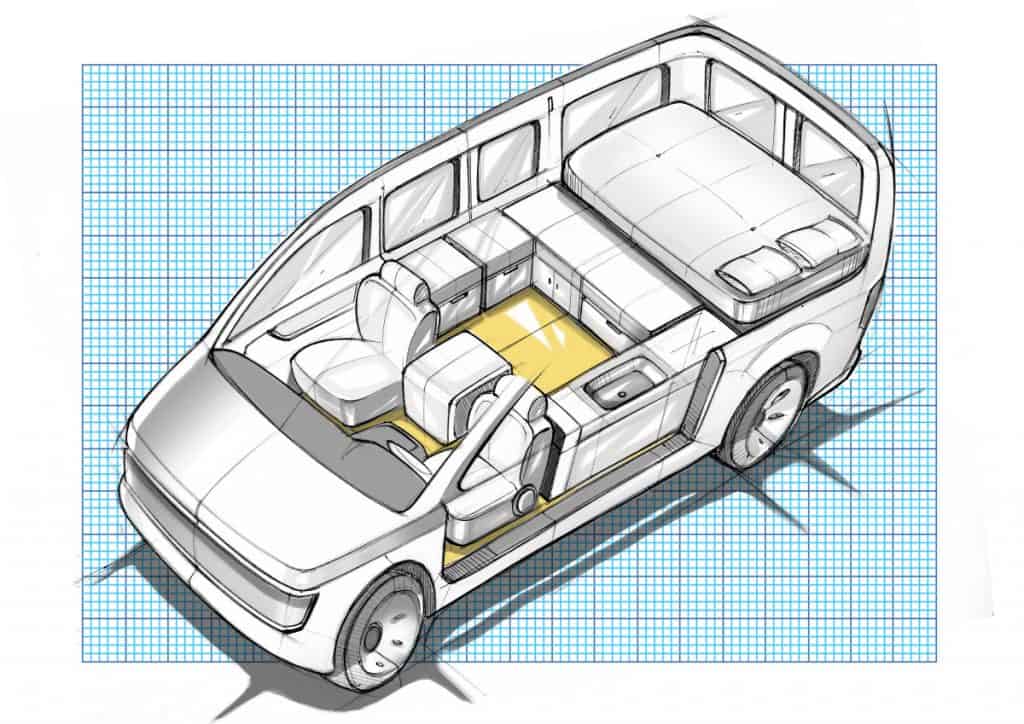 Where are you currently located?
We are in San Diego getting ready to cross the border to spend part of winter in Baja
What are you living/traveling in?
A Sprinter Van named ToWanda.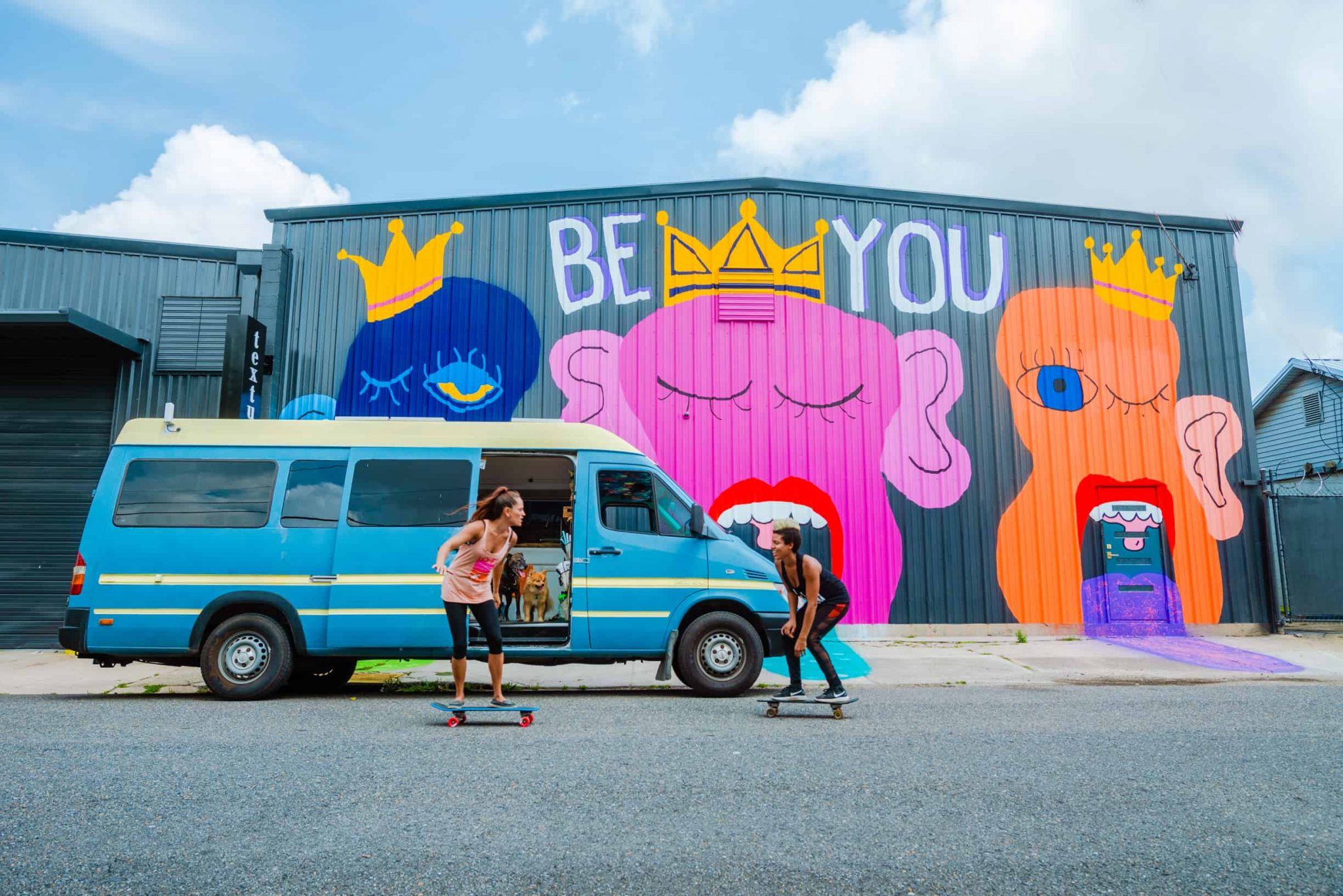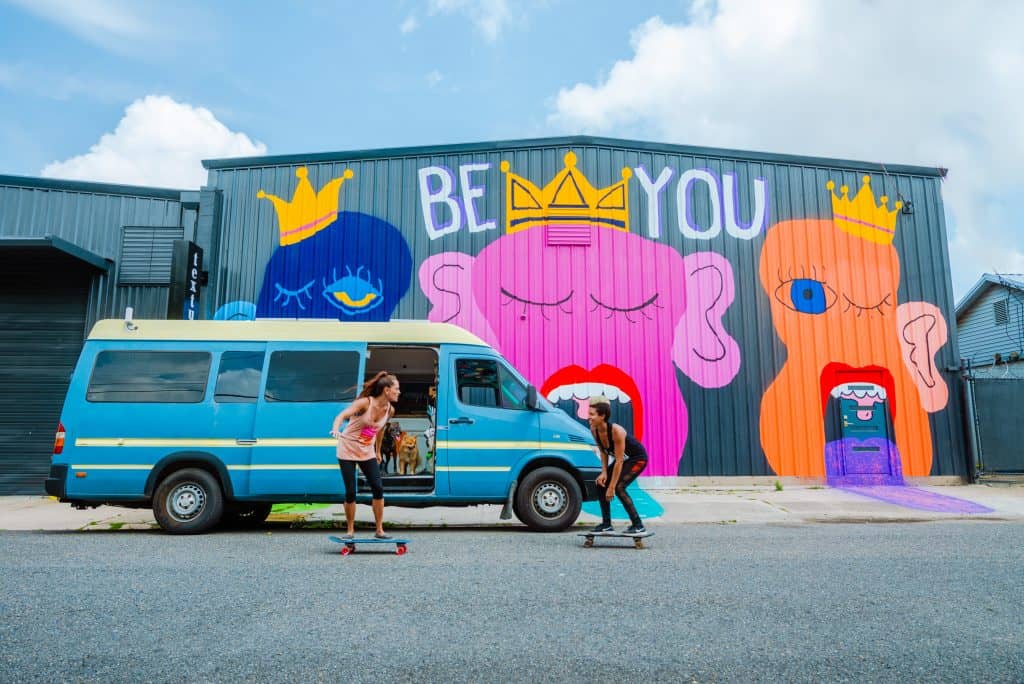 What specs can you tell us about your rig?
It's a 2004 Sprinter Van 2500, high top, 170" wheel base. We found it for sale at a towing company in Charleston. We were actually at the towing company looking at another van we saw for sale on Craigslist, but when we mentioned why we wanted the van, the guy showed us this one. Although it's old, it had a new engine put in with only 40k miles on it! It was actually listed on Craigslist for 9k which was out of our budget (around 5k) so we weren't even considering it. But we counter offered and eventually struck a deal of 6k and bought the van in August of 2017.
It was previously used as a prisoner transport vehicle, a passenger van with a lot of windows. We loved the windows offering us lots of natural light and that we could give it a new purpose in life as our freedom vehicle. It's a diesel Mercedes engine and gets about 20-23 MPG.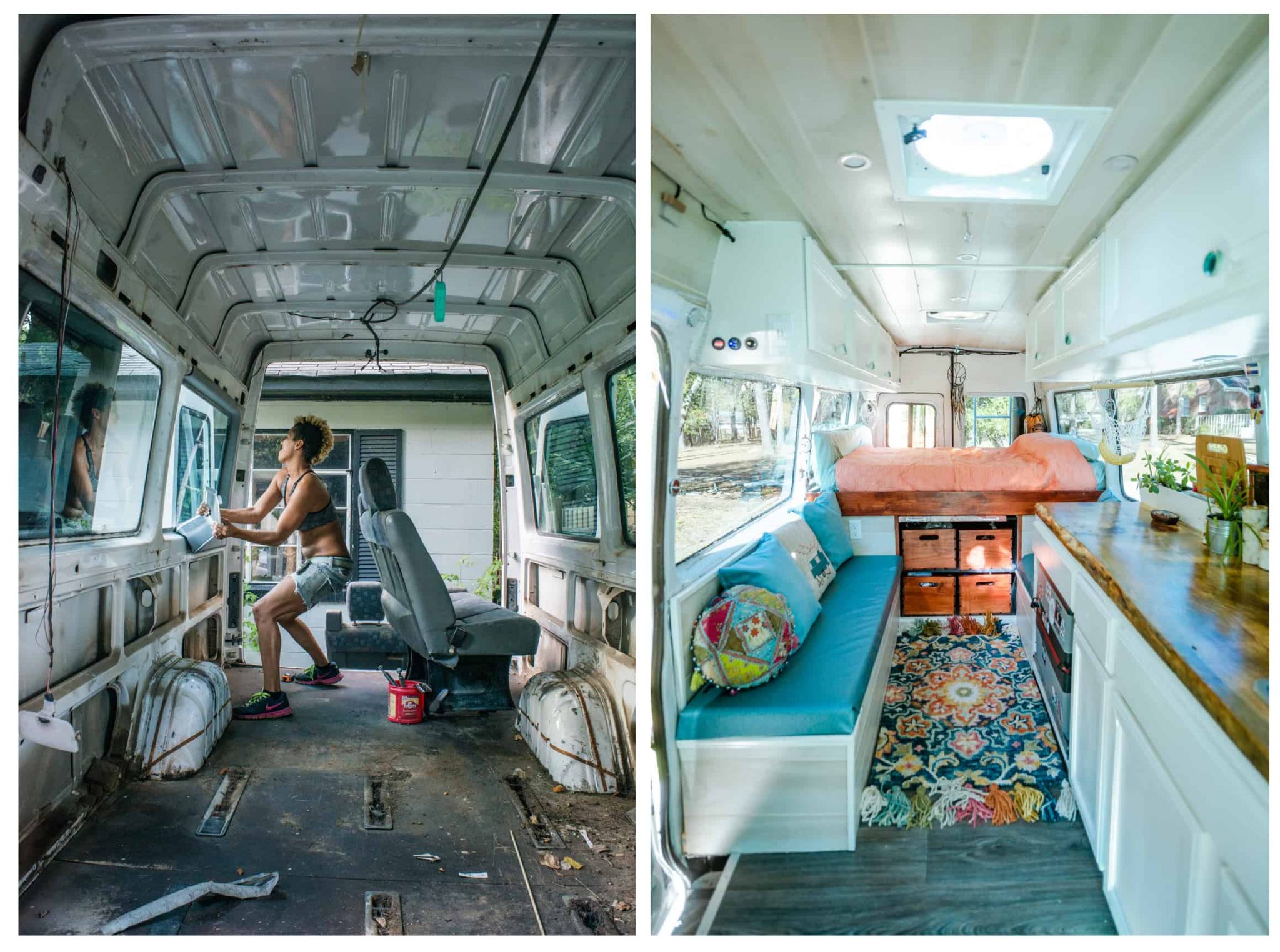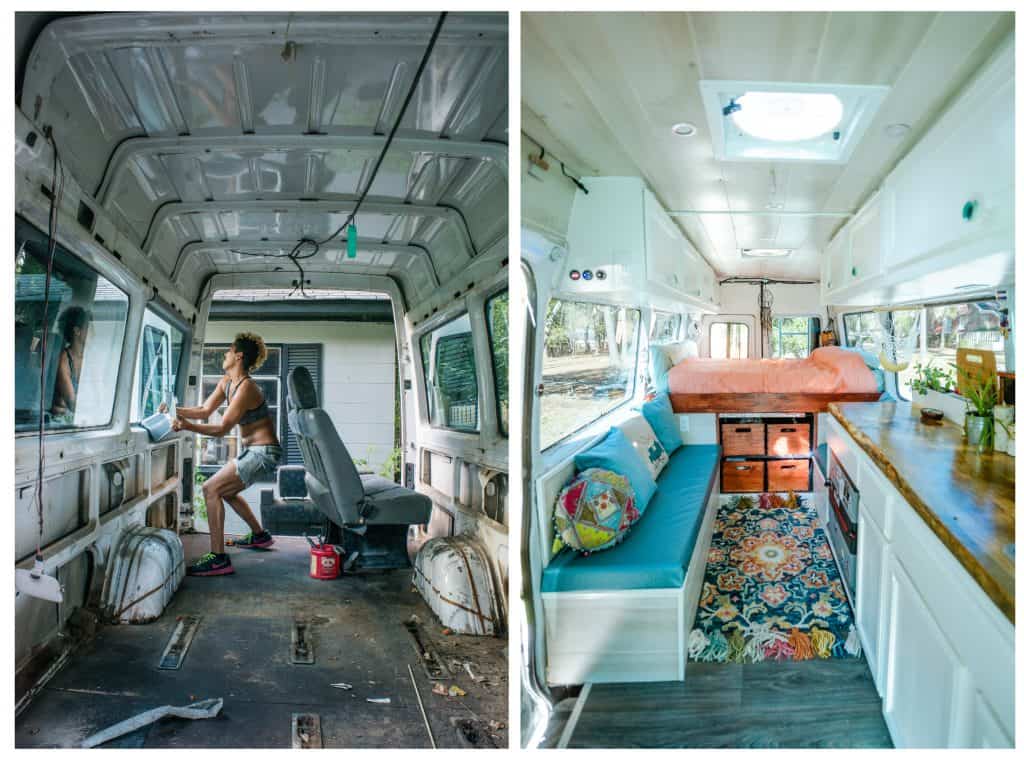 For our DIY campervan electrical system, we have:
Three 100 watt HQST solar panels on the roof that connect to an MPPT solar charge controller, 2 deep cycle batteries, 2500 watt Aims inverter and Blue Sea Systems fuse panel. We charge our phones, laptops, Instant Pot, Vitamix, fans, lights, water pump, and fridge via this solar electrical system.
For our kitchen, we have:
Our 12V refrigerator is a Whynter 45qt. We've got a 15" sink and swivel faucet. In our garage, we installed a Shurflo pump and tank accumulator, that drives water from our 33 gallon fresh water tank up to our faucet. Underneath the sink We also installed a water filter so all the water coming through the faucet is clean and safe to drink. We DIY'd a 6 gallon grey water tank out of large PVC piping that is outside mounted underneath the van.
We use the Dometic Origo 3000 stove (Note: since discontinued) as our cooktop. It uses denatured clean-burning alcohol. Our live edge wood countertop was a gift from our friends at Timberworks!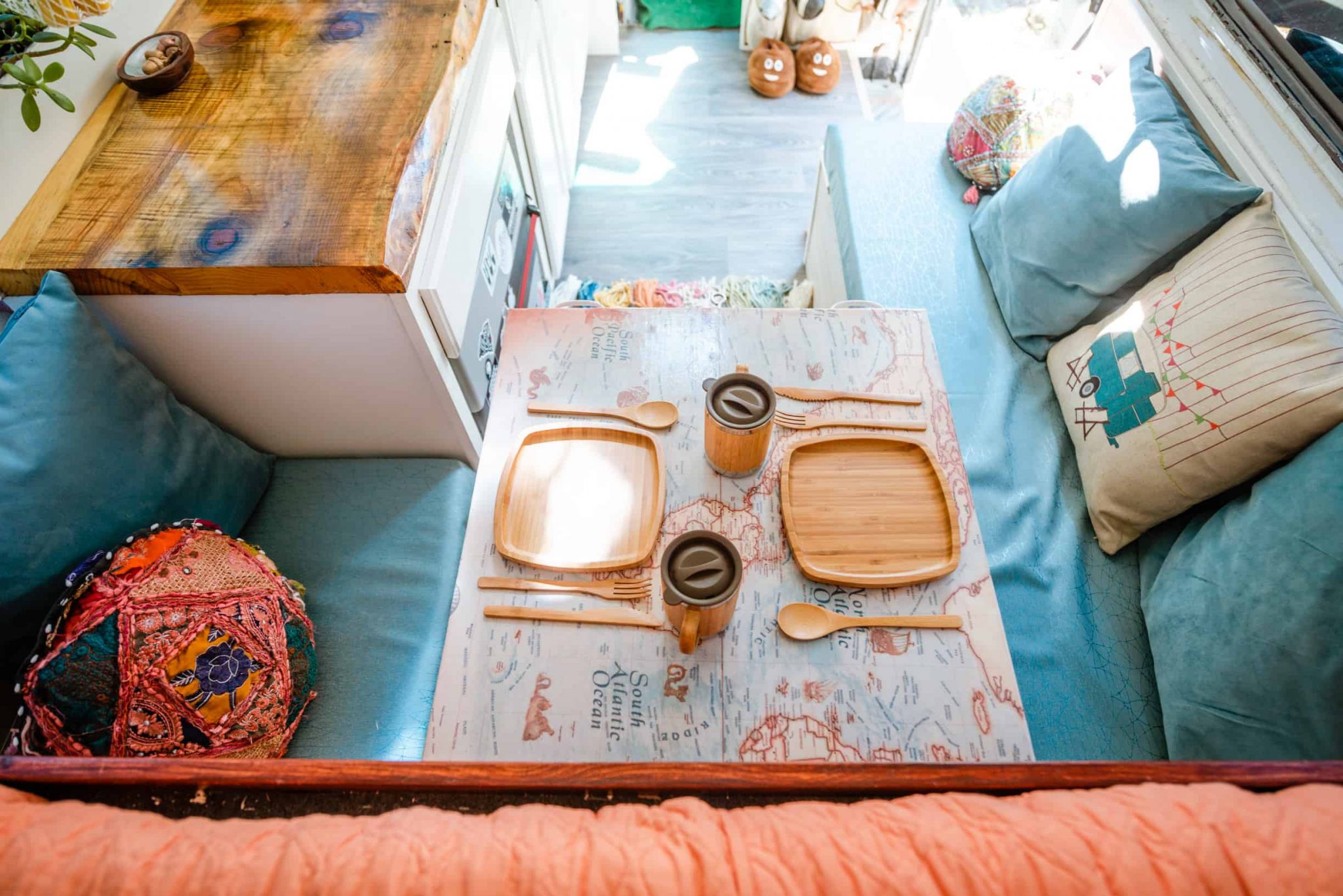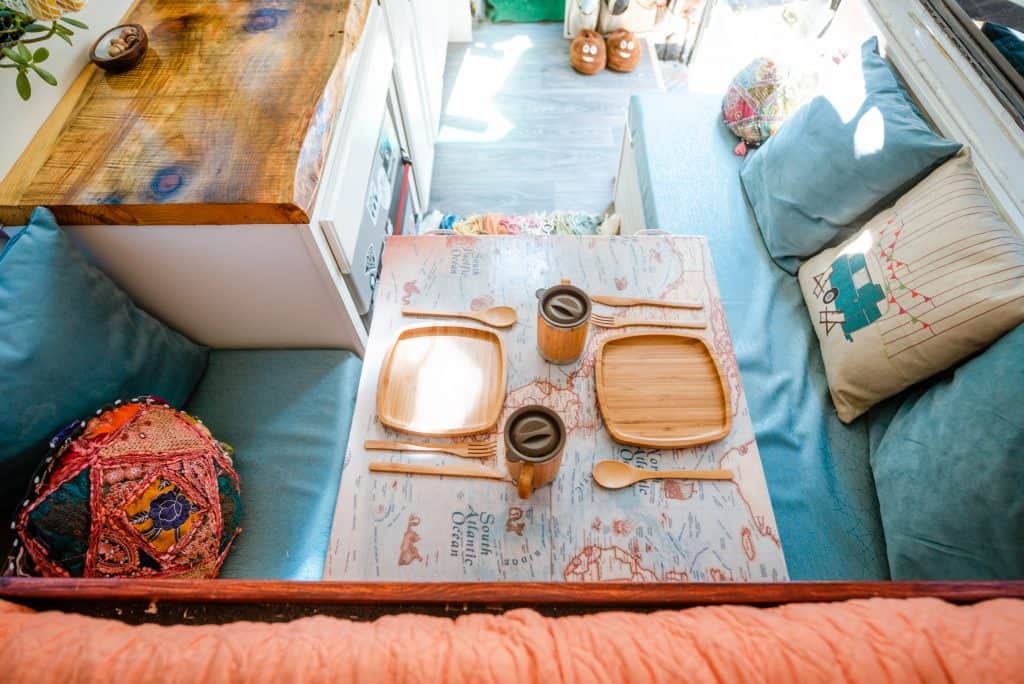 For our lighting and ventilation:
We have 8, 12 volt hardwired LED lights mounted on our ceiling controlled by separate dimmer switches, one for the bedroom and one for the living room. We also have 12 Volt hardwired LED color changing strip lighting operated via a remote control. We use these more frequently as it gives a more ambient light source.
There are two ceiling vent fans. One is a Maxx Air and the other is a Fantastic fan. (Both wedding gifts explaining the different brands) They both are controlled by remotes and each have temperature and speed control as well as rain sensors. They also can circulate air in or out. There is also a smaller Sirocco 12 Volt fan mounted over our bed that swivels and has 3 speeds for those hot, muggy nights.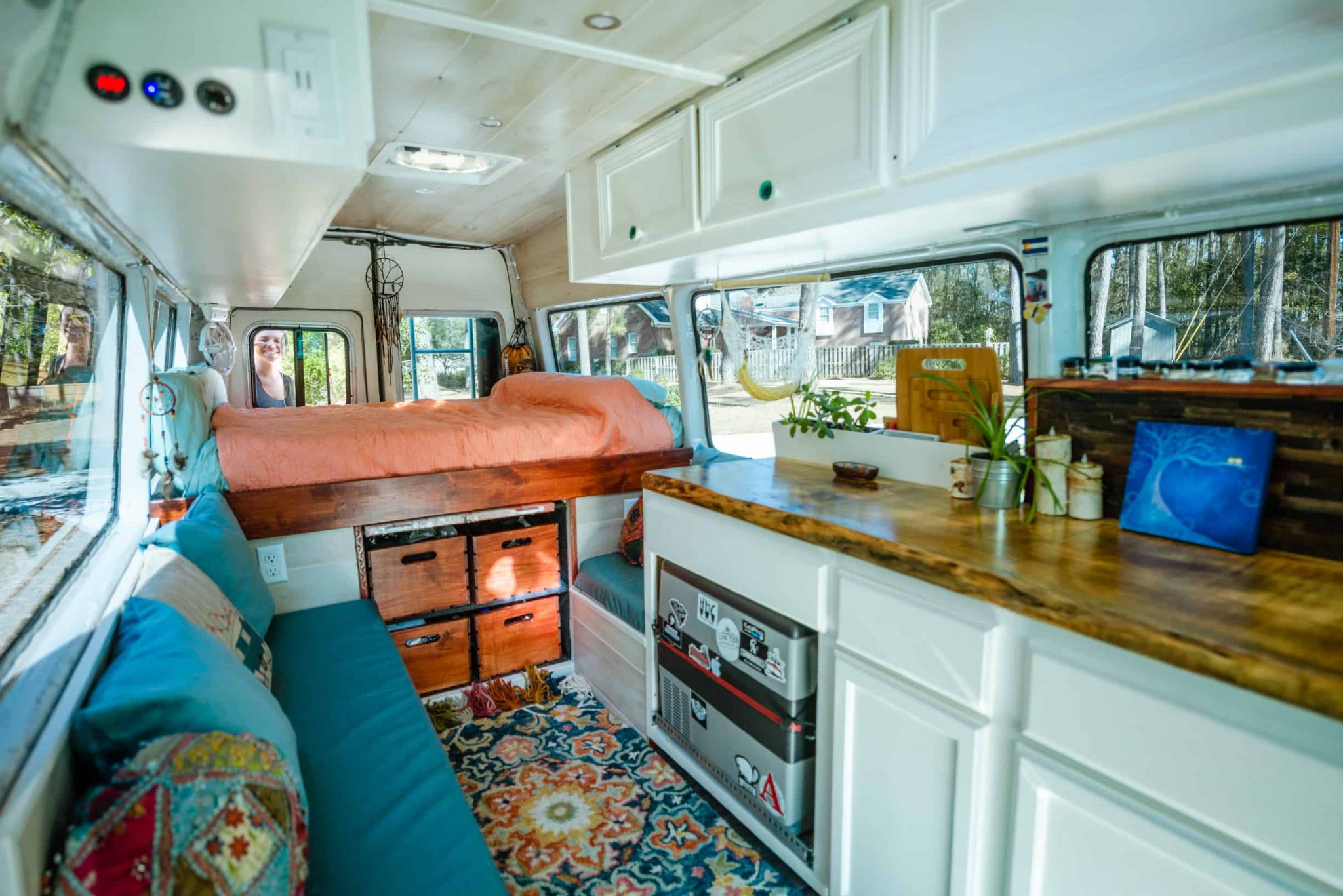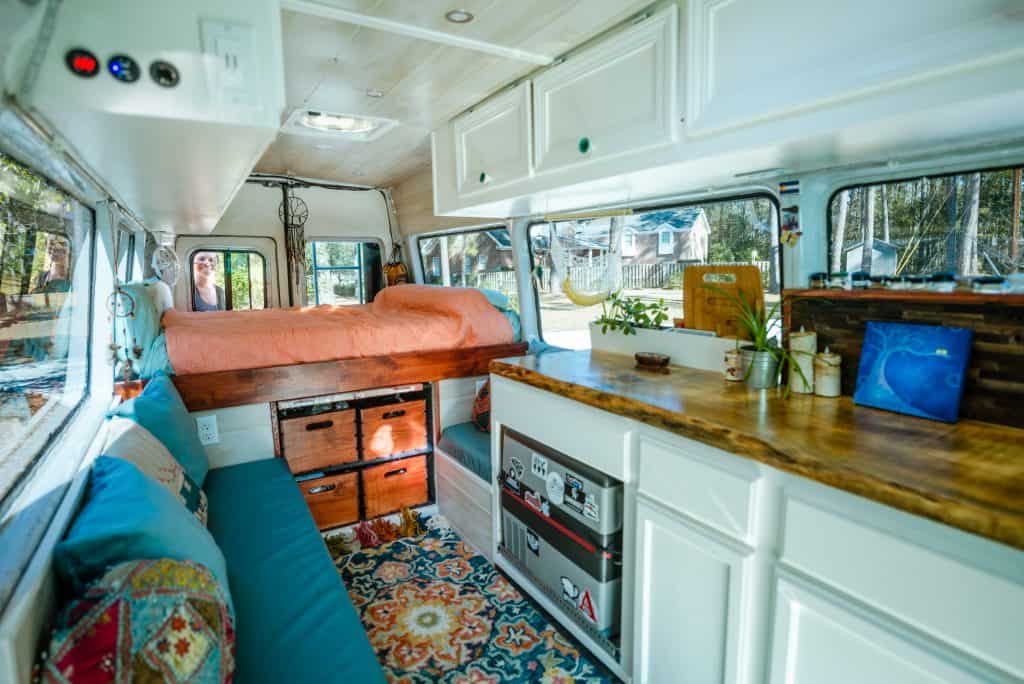 Other tech in our van:
We have a WeBoost 4G-X Drive cell booster that has an outside and inside antenna that helps give us better cell service in rural and poor reception areas.
Up in the cab, we installed a Pioneer GPS system which comes in handy because it operates on satellite and works when we don't have cell service.
We also installed a backup camera.
Safety items:
Of course we have a battery operated smoke/carbon monoxide detector!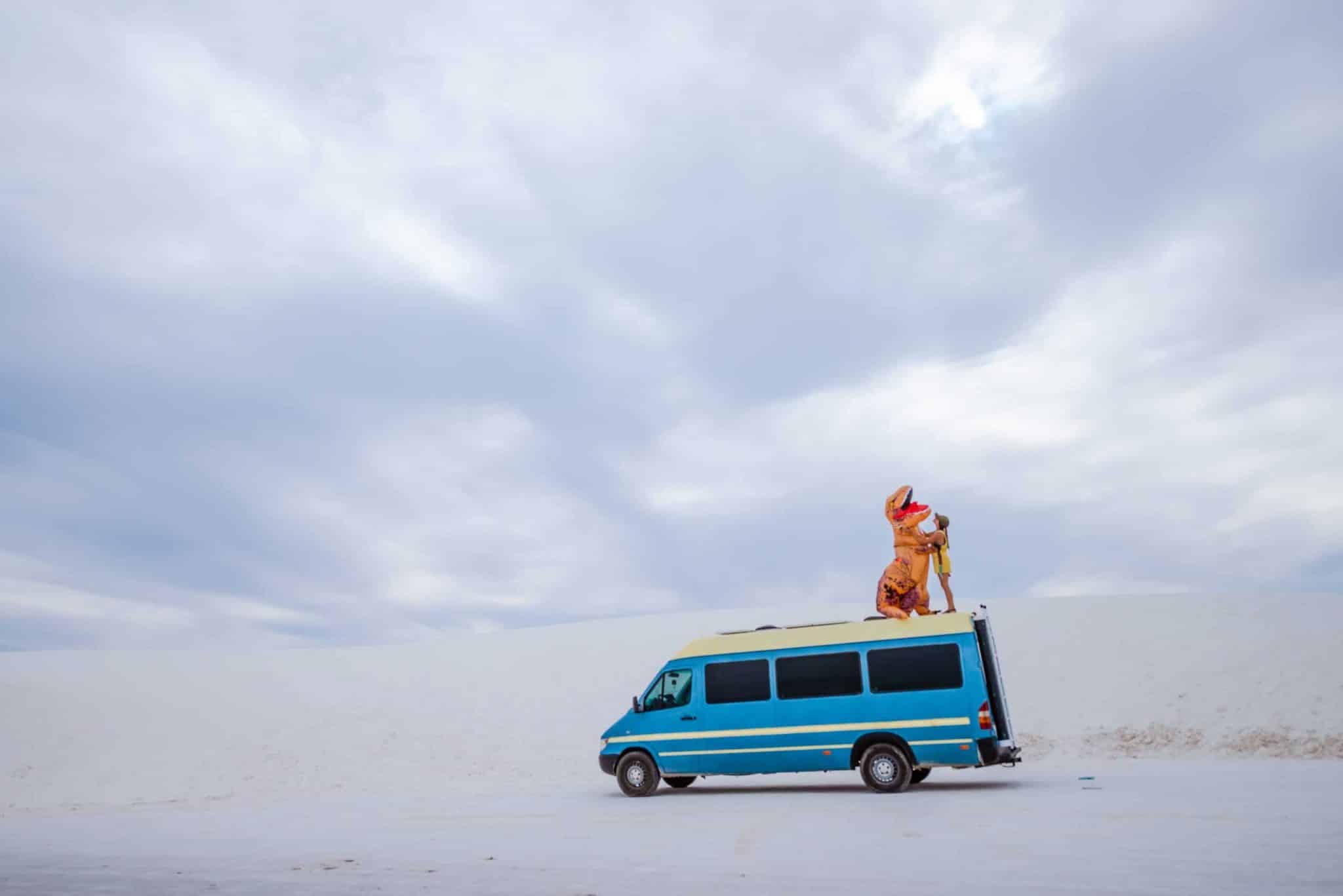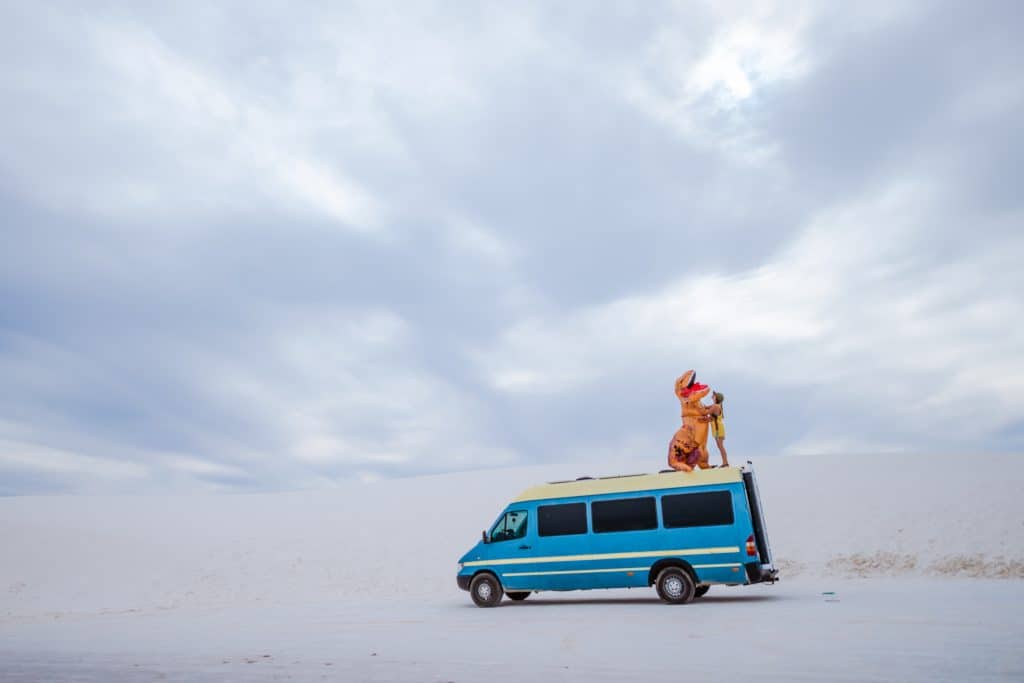 Did you build the interior yourself?
We built it out ourselves (with the help of a few dear friends and family). As we mentioned before, we purchased the van as a passenger vehicle that transported prisoners who did roadside work. Therefore we had to rip out all the seats, a cage that once held landscaping tools, the flooring, and ceiling. Once it was gutted and cleaned, we built her from the ground up! Our most proud undertaking was painting the entire van in Raptor Liner- a tintable and sprayable, heavy duty truck bed liner.
Do you live in it full time or part time? How long have you been living this way?
We live in it full time. We moved in February 1st, 2019 and have been on the road ever since!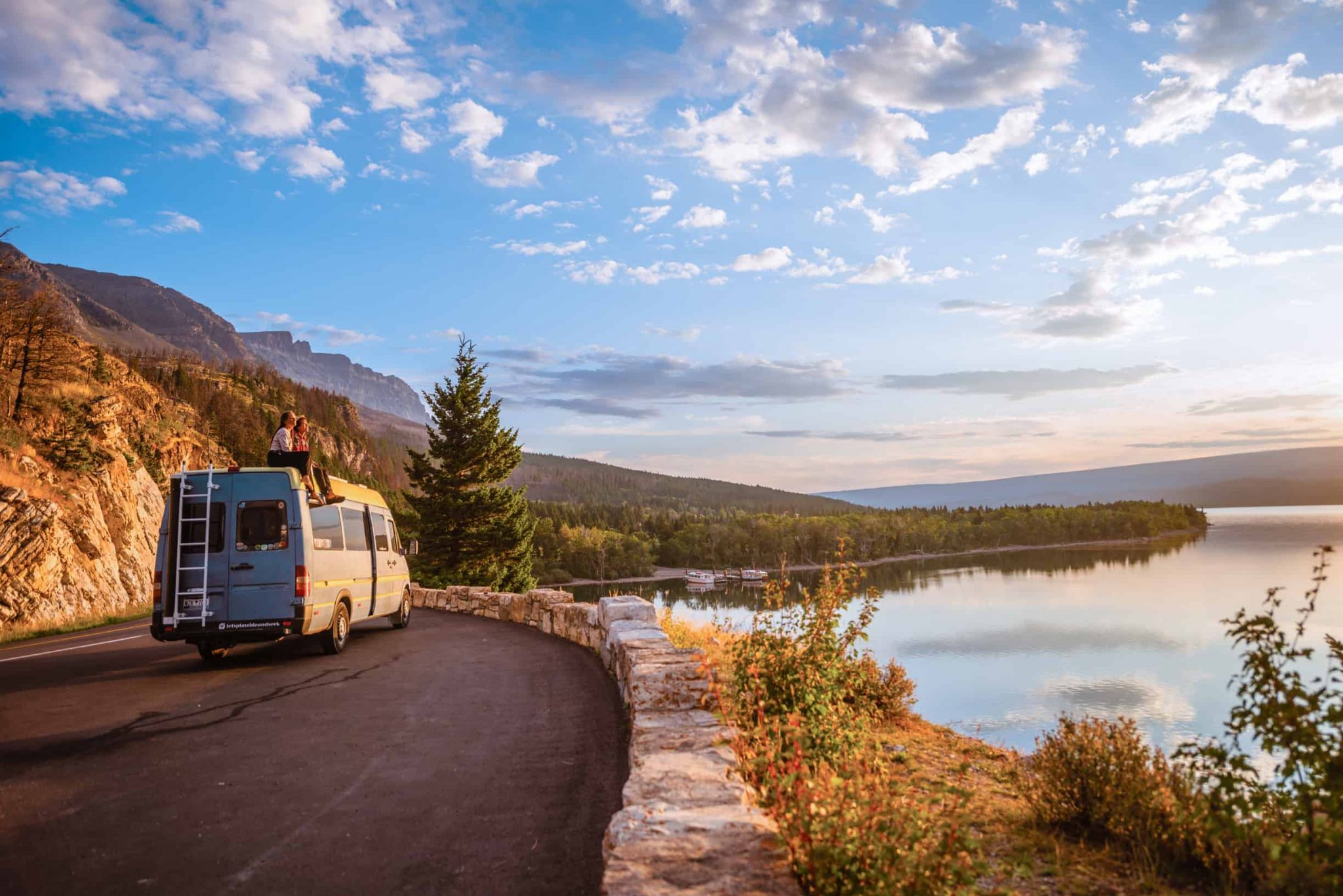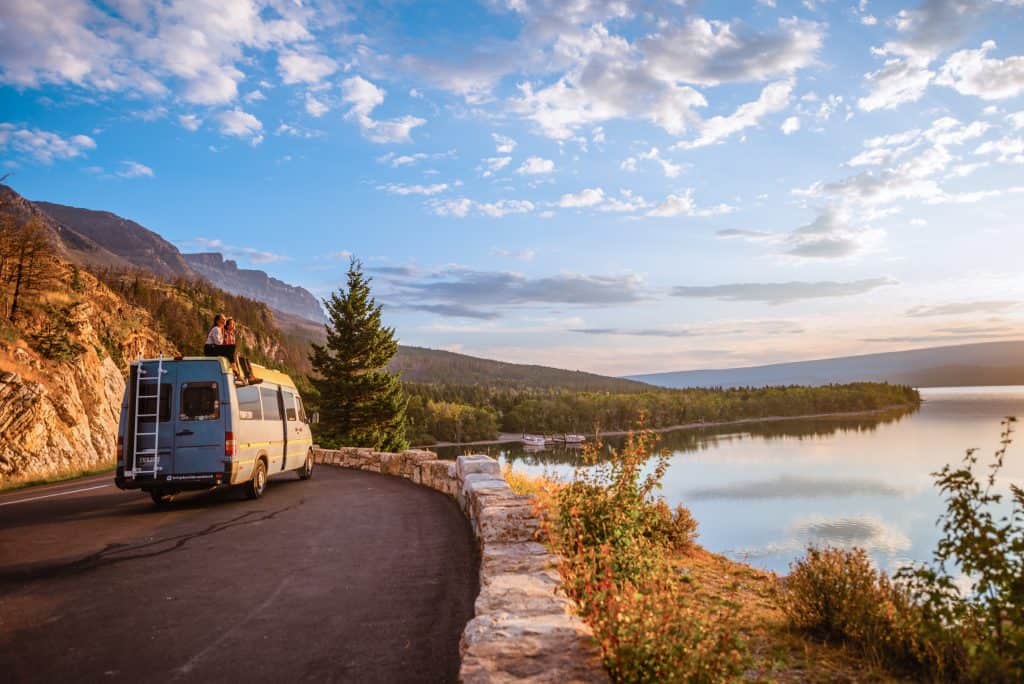 What were you doing before vanlife?
Prior to living our dream, We both had full time jobs and rented a place in Charleston, SC.
(Abi):
I am a self-taught professional photographer and ran my own business. I specialized in boudoir portraits but did everything from weddings to real estate and I even had my own studio in Charleston. I'm also a certified Pole Dance fitness instructor and taught classes at a local studio.
(Natalie):
I am a chef and worked (prior to leaving) as a sous chef at a southern cuisine restaurant. I also did some personal chef and catering work.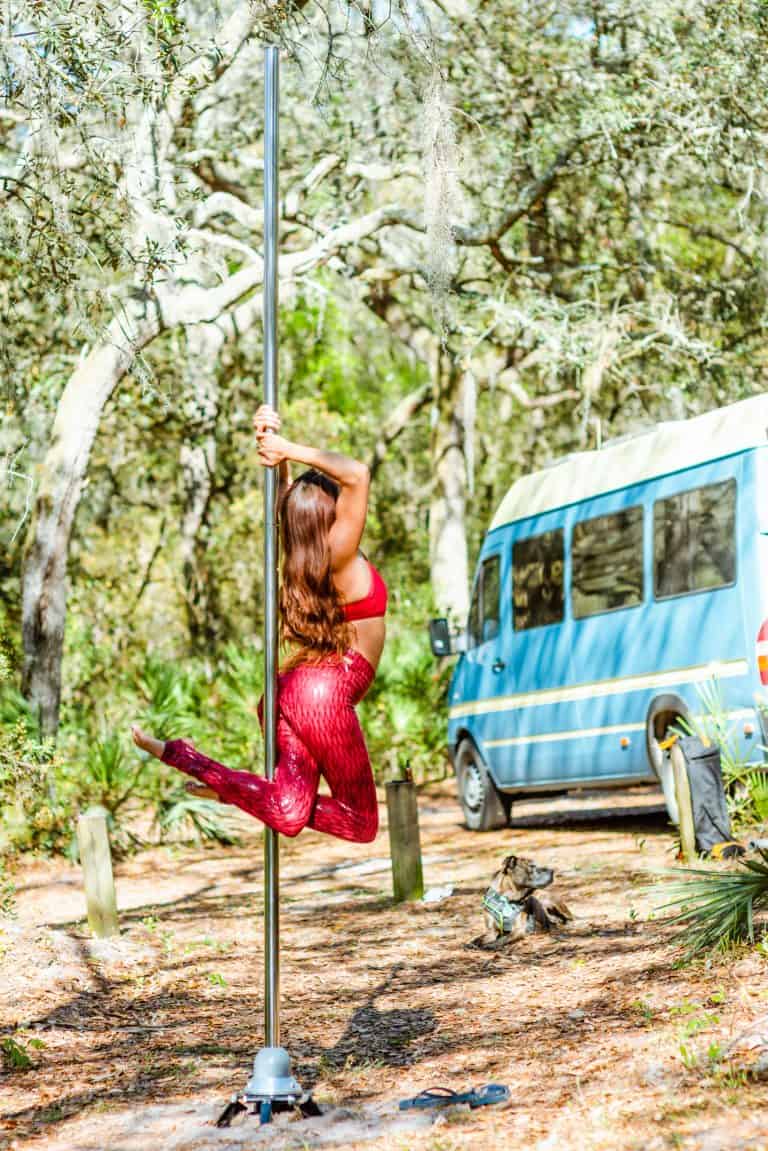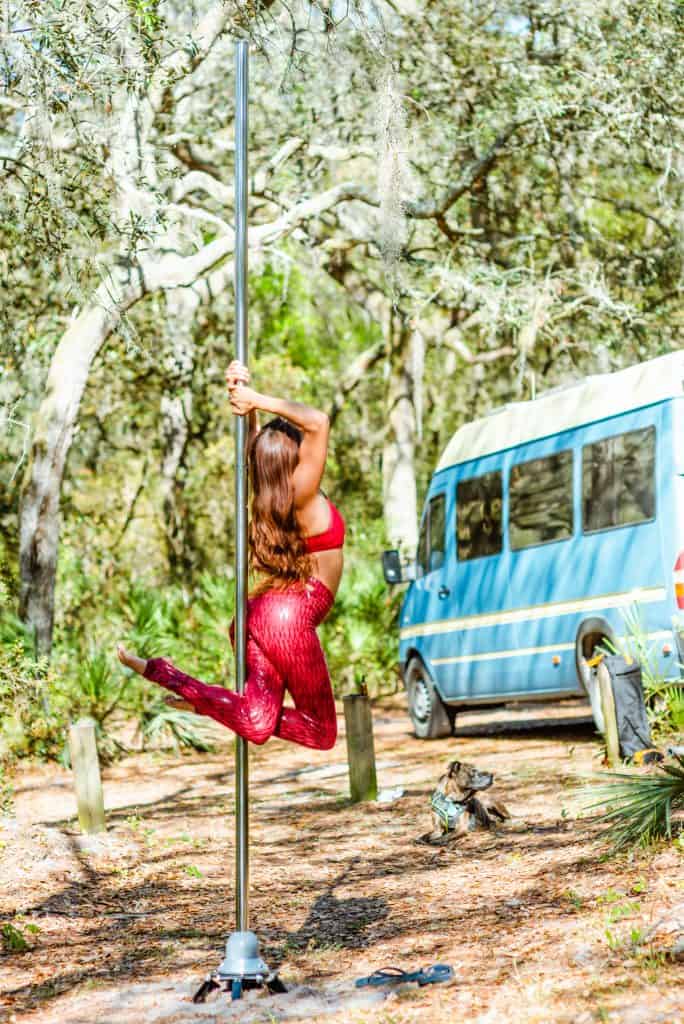 What made you want to choose this lifestyle?
I think to truly answer that, not only for the reader but also ourselves, is to go way back. Abi and I both grew up with humble beginnings. Growing up with less, in regards to material possessions and luxuries, leaves you with appreciating experience. It really gives you an appreciation for what you DO have.
(Abi):
The biggest reason for me in choosing this lifestyle is my passion for travel. Growing up queer in a small town where I didn't fit in made me yearn to see the world. I took advantage of exchange programs in college and studied abroad in both Ecuador and Italy. Once you encounter wanderlust, it's hard to go back to a "normal" life. It was always a dream for travel to be a huge part of my life so living vanlife was a no brainer for me. Yes was the answer right away.
(Nat):
I moved a lot in my teenage years and early twenties so constantly changing my scenery and eventually craving that lifestyle along with not caring about materialistic thrills is what ultimately credited me to the initial idea. Luckily, Abi shared the value of minimalism and the love for travel equally, so it was meant to be and the journey to living vanlife was born.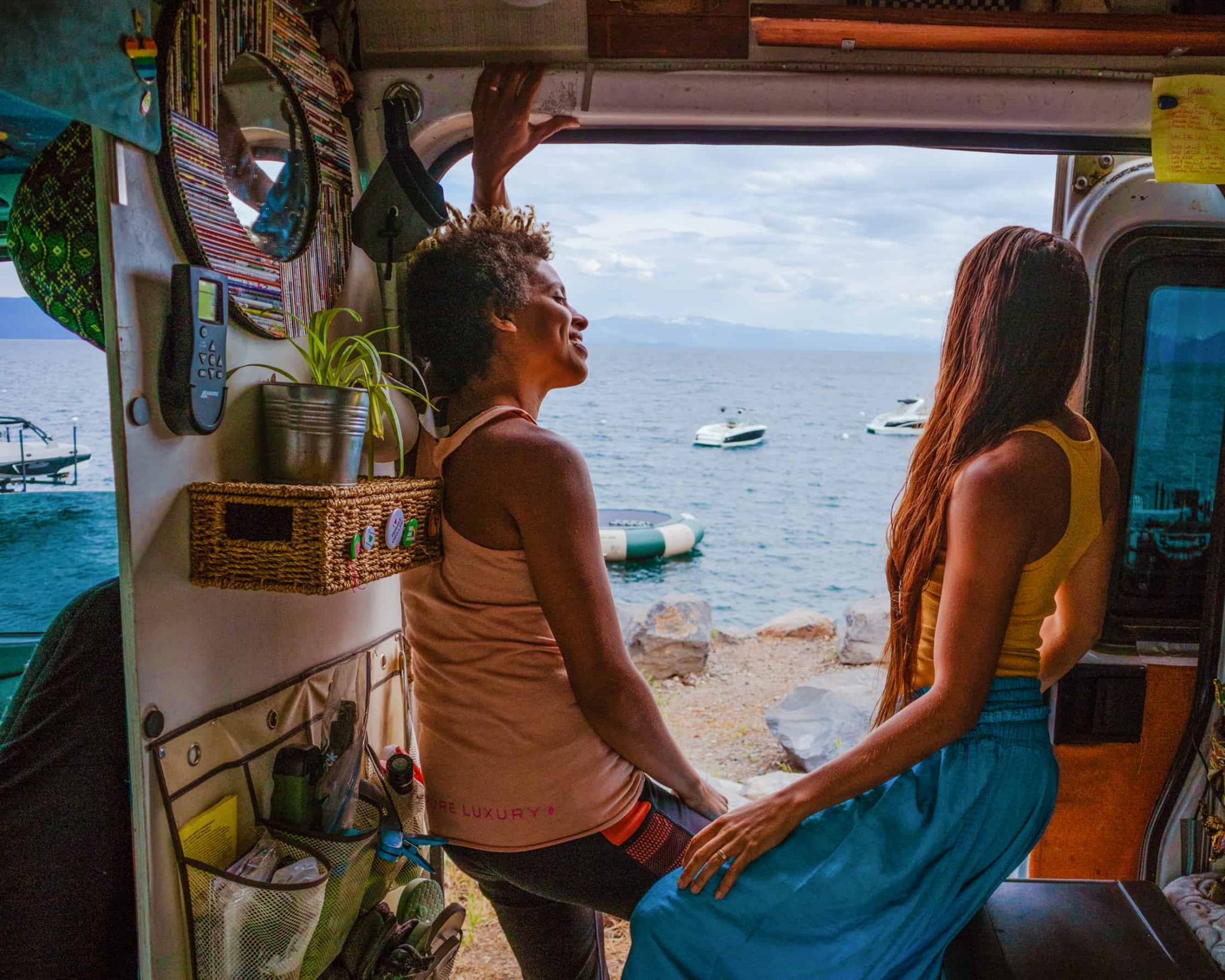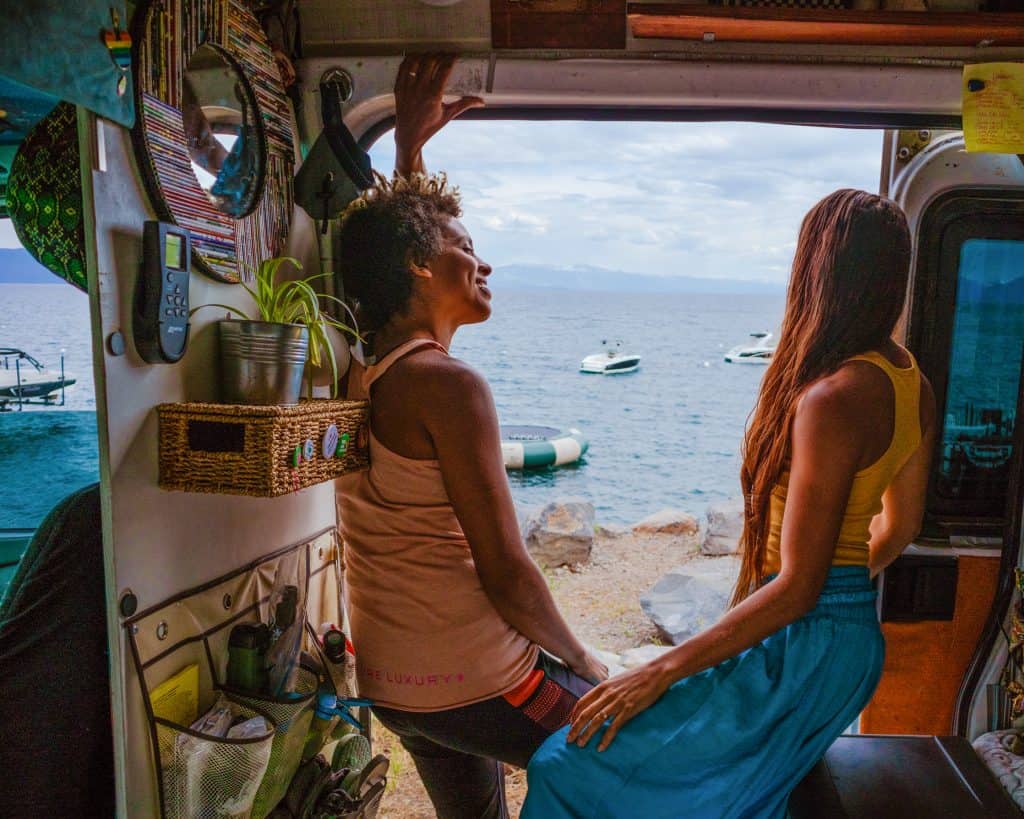 What was that transition like?
In short: selling everything was easy for us, building the van while working full time jobs was the hardest part!
At the time we bought the van we lived in a 3 bedroom house, so we sold nearly everything and downsized to a 1 bedroom apartment in a friend's backyard to save on rent while we built out the van. This apartment only had a mini fridge and a hot plate, so that helped us adjust to what we'd be working with when we lived in the van.
It took us all of 2018 to build out the van. We both worked full time and on our 2 days off, we worked on the van. This was the hardest part… we were overwhelmed with work and never had any free time. The only thing that kept us going was knowing that at the end, we'd have a home and all the free time we could want!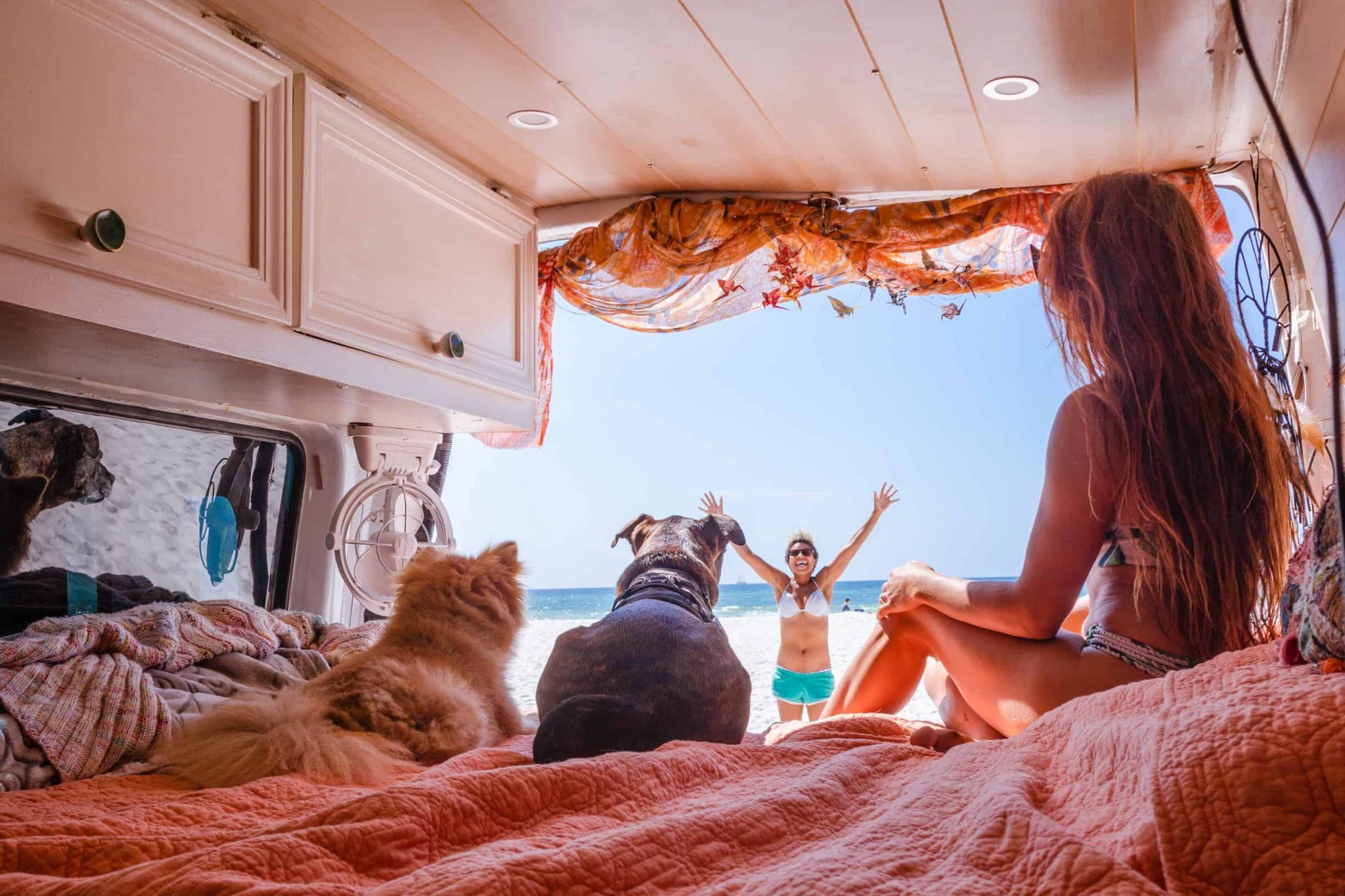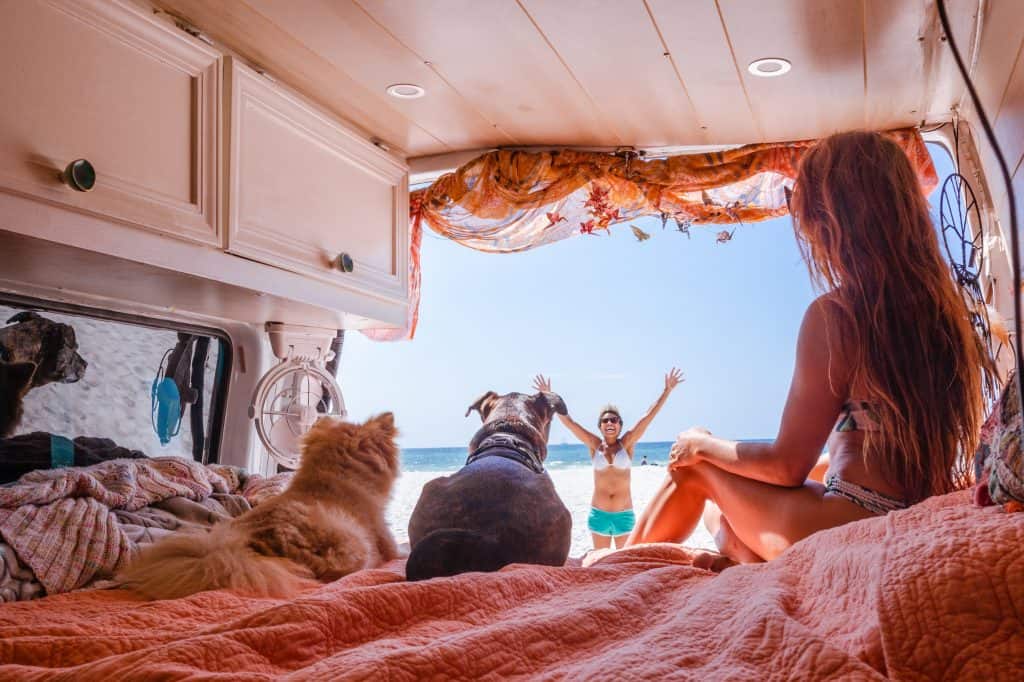 (Abi):
I really value my free time and previously would set aside time to take a walk in nature, paint or read a book. I had to give up most of this free time during the transition. During the year we built the van, I picked up a serving job at a restaurant in order to make extra cash for our build and future travels. Lack of free time while working constantly on top of all the van-building research I was doing was the toughest part of the transition for me.
(Nat):
The transition was easy in regards to knowing in the back of my mind I would soon be done with the current work lifestyle I was in. I won't say I didn't enjoy my work. I did, in fluctuation. I decided to go get a culinary degree and I decided to work in the 100+ degree humid, dog-eat-dog kitchens of Charleston.
It was me who subjected myself to screaming chefs that constantly expected more than my best effort. It was me that worked 60 plus hours with no break at various points, sometimes opening (6am) through closing (2am). It was me who worked my way up the chain of command in every male-driven kitchen and managed a staff upwards of 20 people below me, trying to gain respect.
I had a decent salary for the field. I even did the corporate dance and had a 401k, full benefits, and paid vacation leave. However, I was ultimately losing my sanity and my self respect. I was constantly pleasing someone else and not myself. And worst of all, I never spent time with my wife.
Learning about vanlife and seeing an opportunity for new experience, personal growth, travel, and an overall clean slate lit me up. It was all I needed to turn my disdain for work into a catalyst for a new way of living. It became all about saving money to make this dream a reality.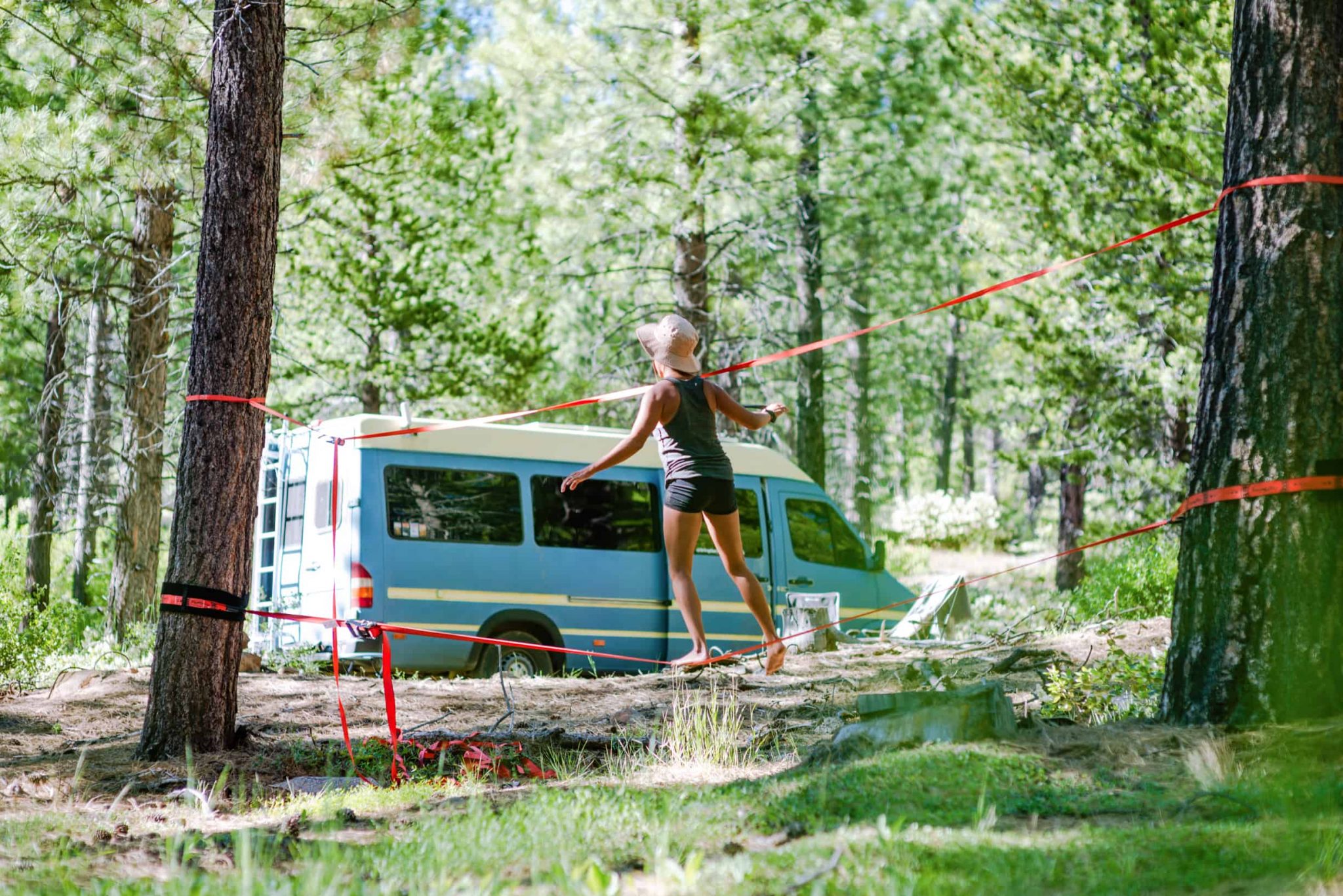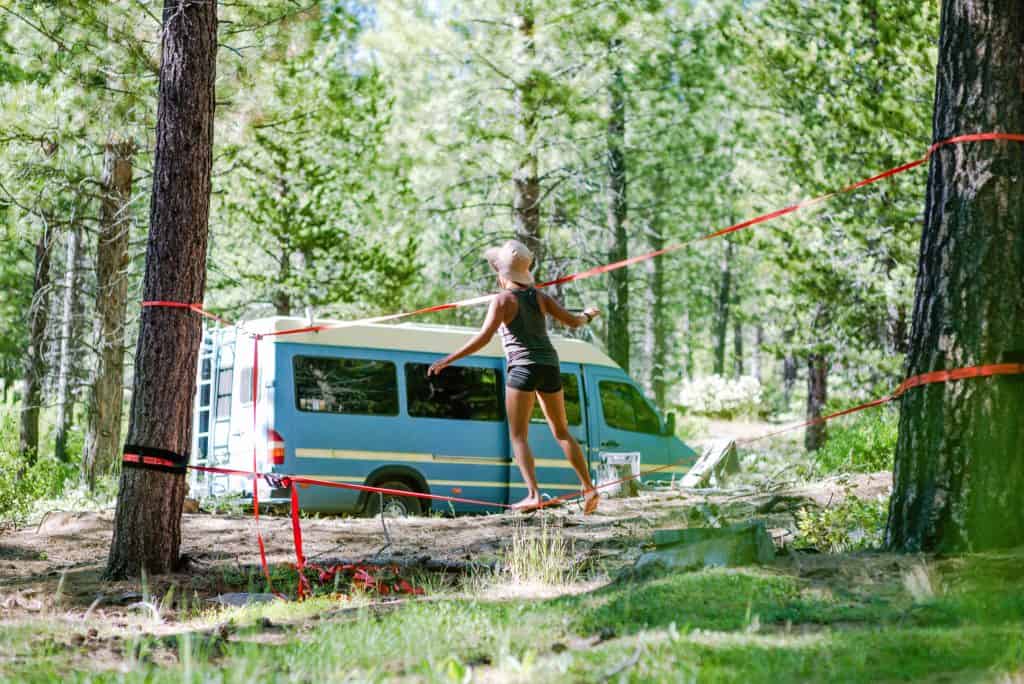 What is your favorite part about this lifestyle?
(Abi):
I love the freedom it gives. I love to travel but I'd always been on trips with itineraries.
I absolutely love that we can pick up and go wherever we want without any itinerary or plan.
Also, having my bed and all of my belongings within reach at a moment's notice is amazing!
(Nat):
The unknown. I have always held myself back in so many avenues of my life. It has been quite debilitating at times. I struggled with (still, occasionally) anxiety and panic attacks for 15 years of my life. Most of it deriving from losing my mother at 12 years old, my grandfather the year before and my grandmother the year after. They were my rock and my mother was my best friend and safe haven.
Having that cut off and not having my father in my life really made those losses paramount. It led me to feel confused, scared (in fear), and less than. I've had to do a lot of soul searching to get myself to a point of recognizing my value. As I've made worlds of progress since being that scared little girl, it has been the last 6 months living vanlife that has truly cast the mirror of self worth.
Living each day in unknown territory, with unknown expectations and realizations, has allowed for unending possibility. I have time to get to know the real me, flawed and exposed. I have the time to grieve a loss that has been a closed wound when it needed to breath. I have the time to create me. It has been the blessing of a lifetime and I am beyond grateful to live this way. I've learned the very important lesson that courage is fear, holding on a minute longer.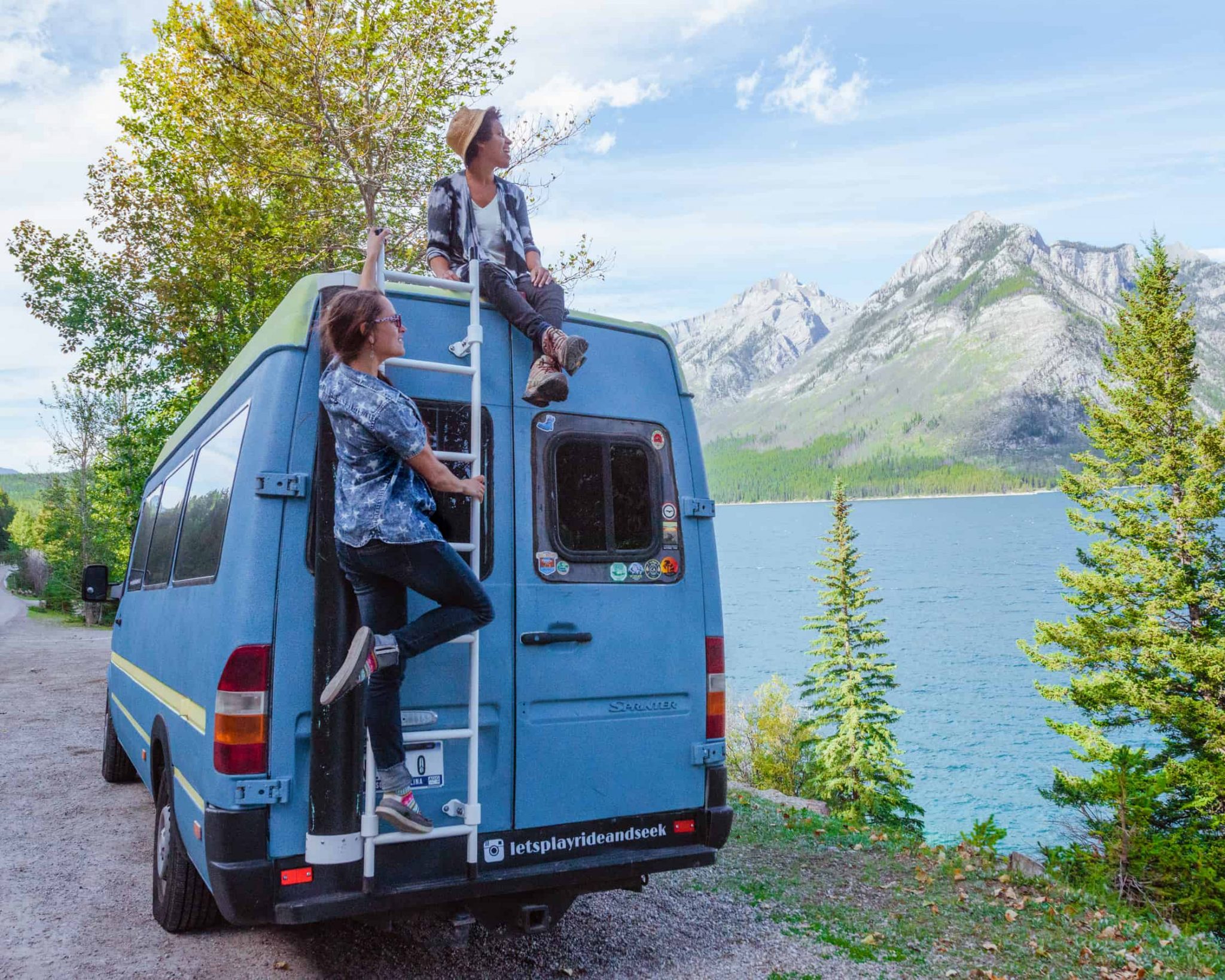 What is your least favorite part about this lifestyle?
(Abi):
Having mechanical trouble. With a vehicle, there is always a possibility of it breaking down or needing repair. When that vehicle is your home, you're left a bit homeless when it's in the shop.
(Nat):
Having to check the 'comes-with-the-territory' frustrations.
Opening cabinets and having everything fall out after a bumpy ride
Needing something from the house while driving but Abi is tired of having to be the one to get it for me since she's always the passenger.
Having to plan certain meals according to the weather because we need ample solar power to run certain kitchen appliances (Vitamix and Instant Pot are life).
I could go on I'm sure but these are only tiny frustrations in comparison to the amazing experiences we have. We mostly laugh about them.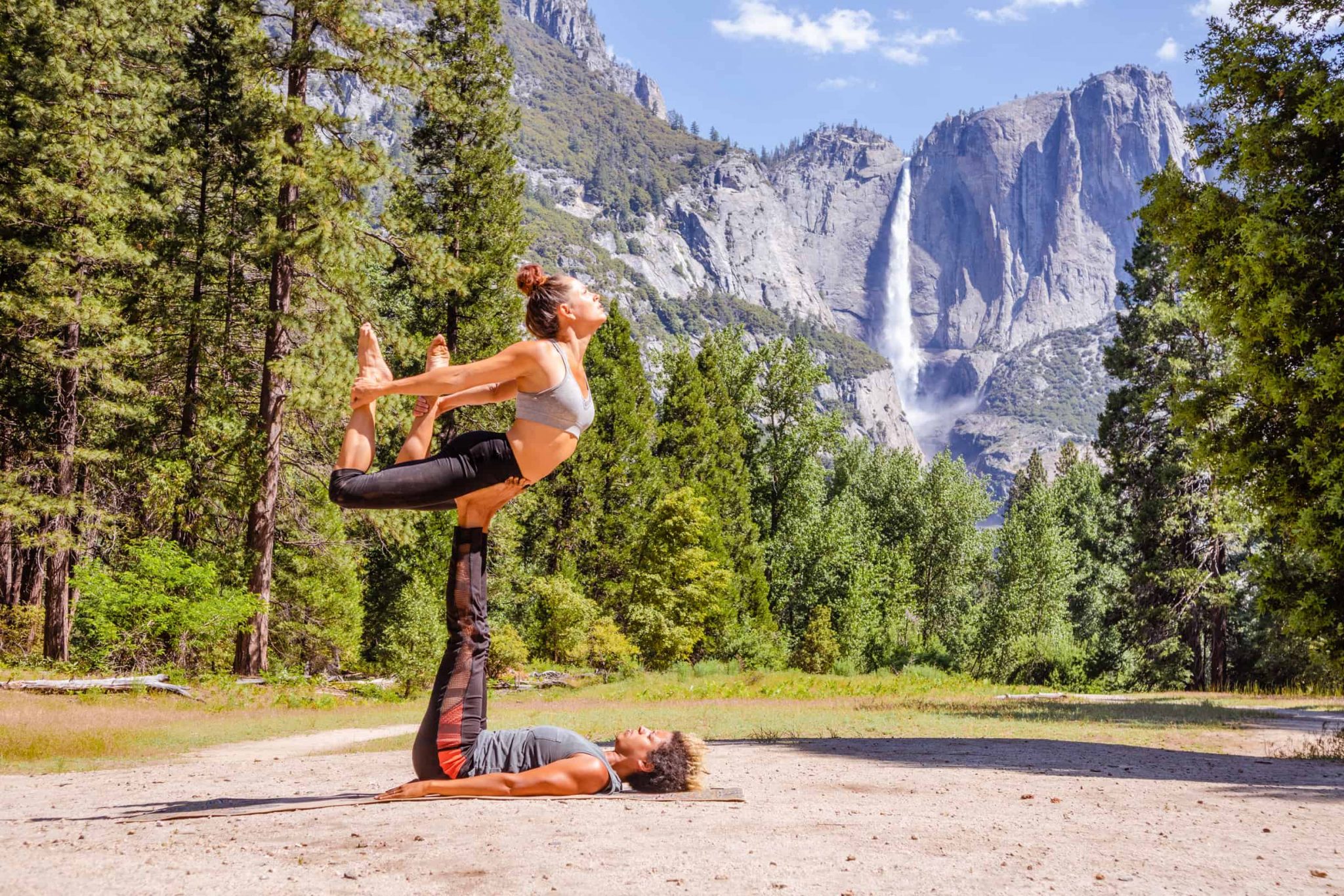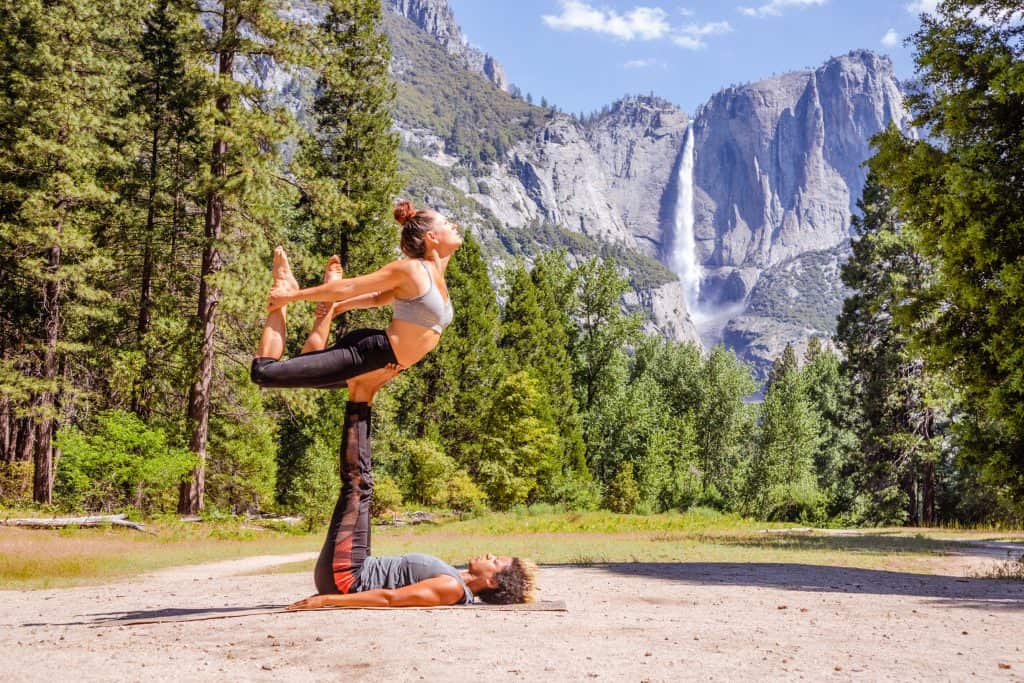 What do you do for income on the road?
We are still figuring that out (and open to suggestions :). Fortunately we saved enough funds beforehand to survive a year on the road without working, but since we plan to do this indefinitely, we will find a way!
Abi has been able to book a few photo shoots on the road and she actually flew to Charleston in October for a solid week of photo gigs, including a wedding. She also sells stock photography online.
We do plan to make a book together of Abi's pictures and Natalie's writing.
What have been your favorite location(s) thus far, and why?
This is a tough one since we are constantly exploring this year. However, a few highlights definitely stand out:
Big Bend National Park in Texas- you get desert, limestone mountains, granite peaks, canyons, hot springs and the Rio Grande all in one park. Also they offer primitive roadside camping in the park for very cheap ($12 for a permit, up to 14 days!!!) was a huge plus.
Portland, Oregon- Super open minded/progressively kind. All walks of life are welcome. We never felt more comfortable being gay. The food, the bike friendly commute, the landscape, the people. It felt like it could be home.
Glacier national park in Montana- all the wildlife, plus it completely took us by surprise and surpassed our expectations.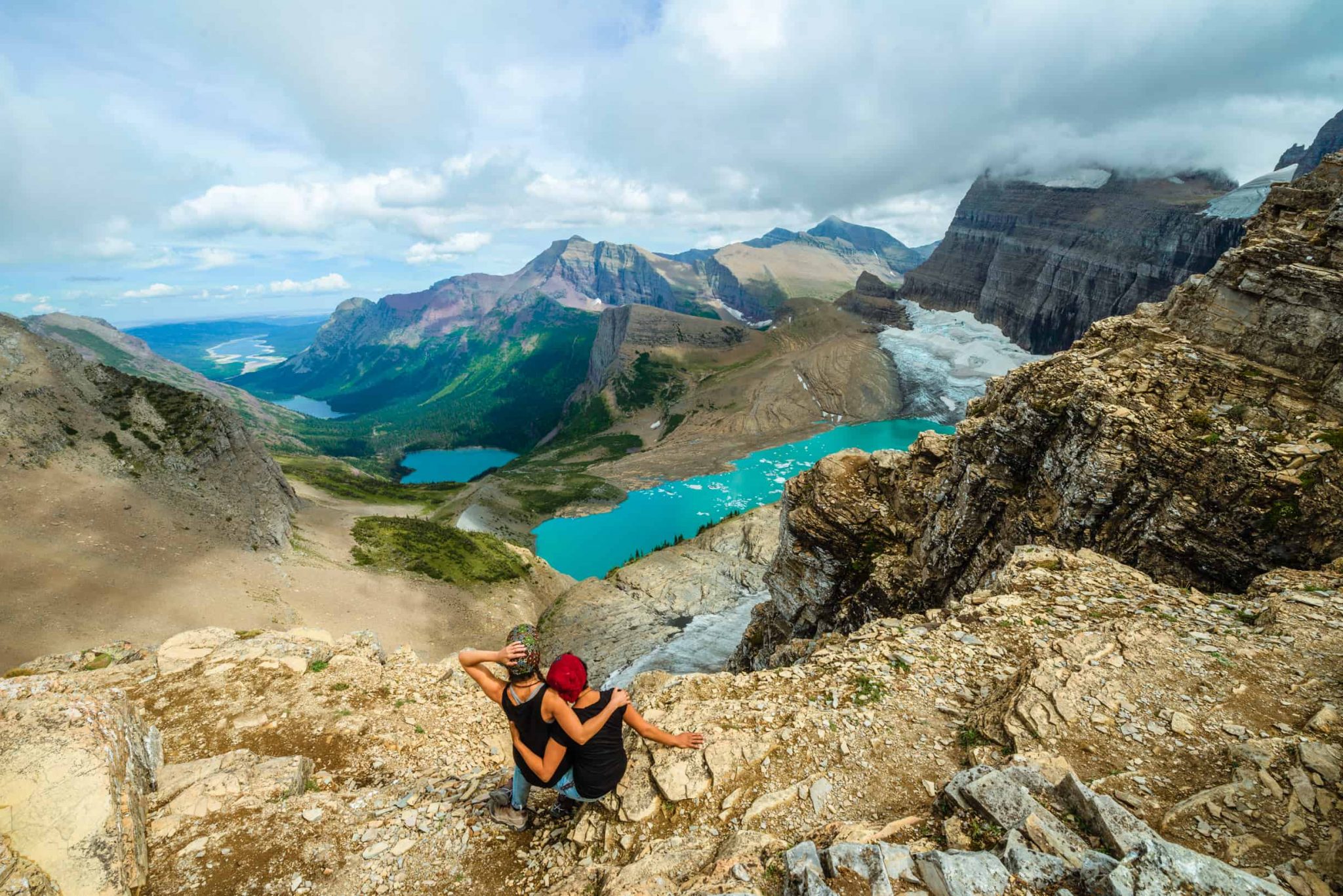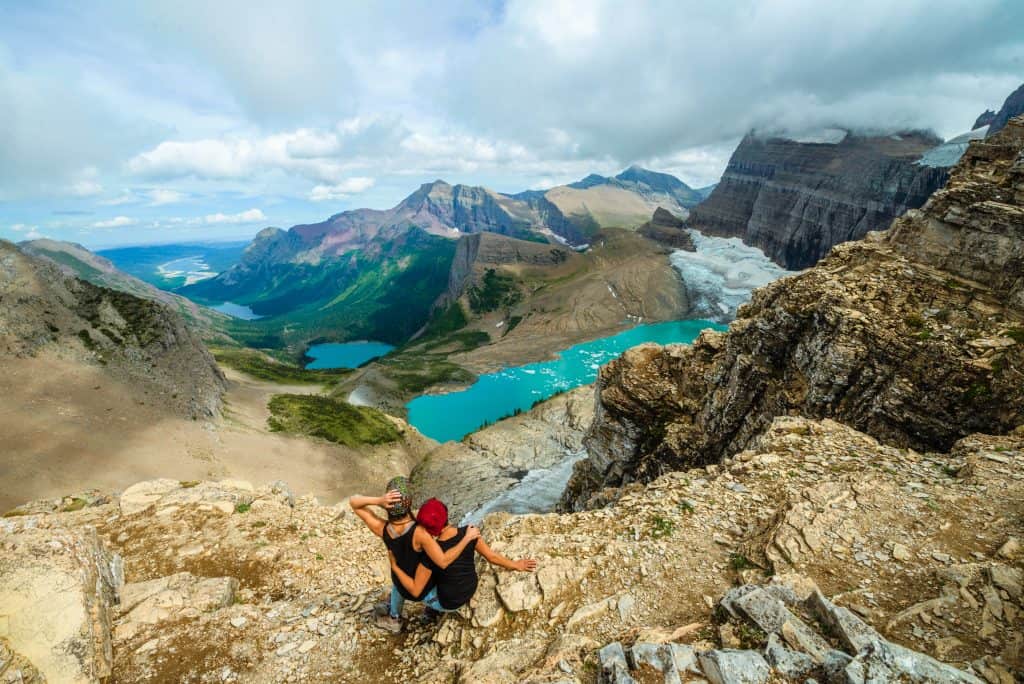 What is your favorite meal to make?
Ah, this is a tough one but the quick answer is rice and beans! I am half Puerto Rican and I grew up in my grandmother's kitchen which ultimately led me to a career in food. We always had rice and beans as a staple along with bold Latin flavors. Also, Abi got me into eating a lot cleaner so now that we eat mostly vegan, I've focused my repertoire around plant based fusion foods with a concentration of Latin, Asian, Italian, and middle eastern influences.
I'd say tacos, doctored up ramen, salads, and heavy veggie dishes are staples.
One of our favorite all time van meals was one I made just the other day- African peanut stew, bisque style with raita (an Indian yogurt-cucumber sauce) and maple curried peanuts!
One of the most memorable van meals- I made a smoky potato stew over a camp fire in Ocala National Forest in Florida. The flavor was amazing and we shared it with a friend we made at camp that night. Unfortunately while trying to retrieve the potatoes from the fire, the aluminum foil ripped and it fell in. Needless to say we all laughed from hearing the crunching and the ash in our mouths! It didn't deter my spirit as our friend Paul said he doesn't normally eat any vegetables and said is was an amazing meal. Great memories!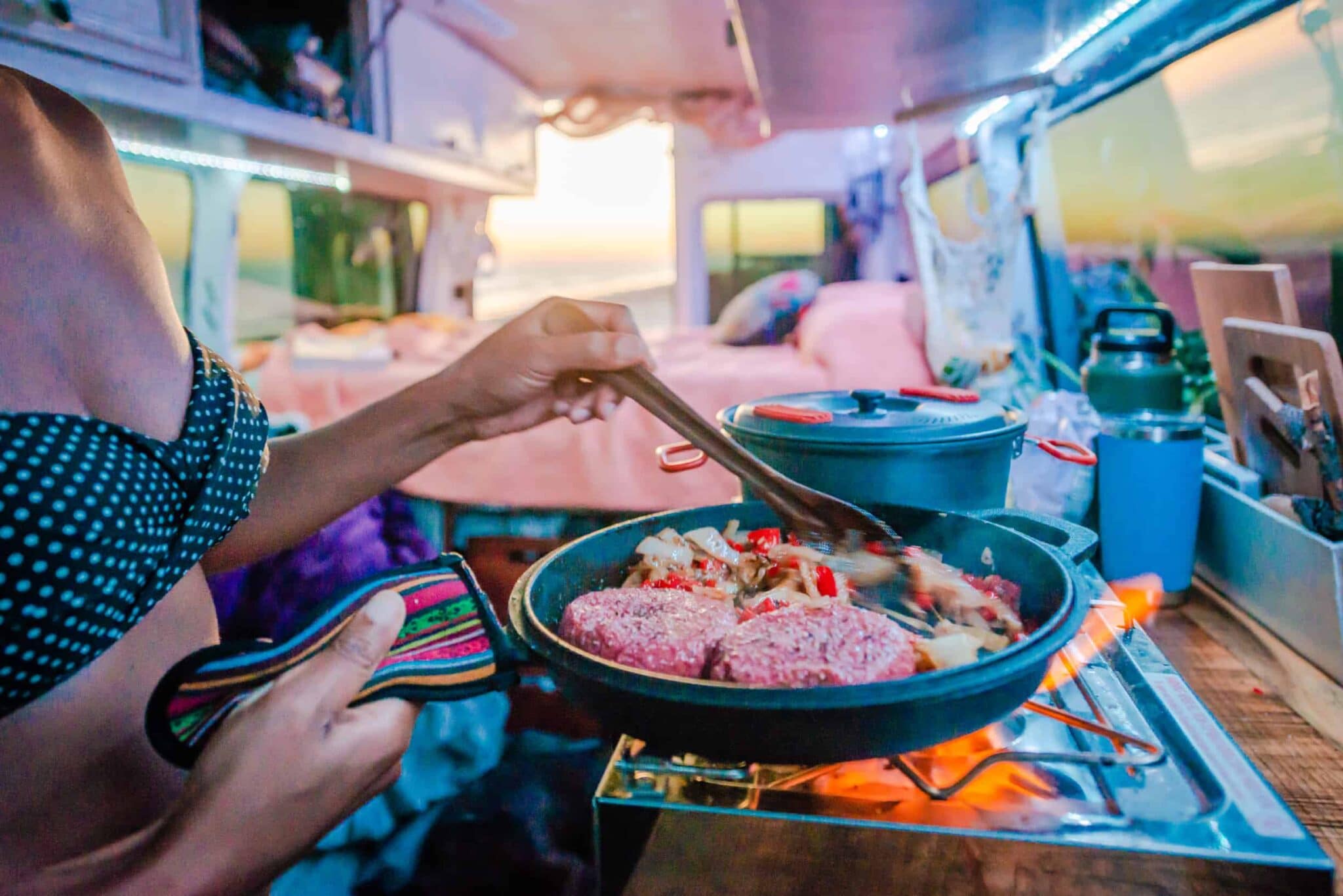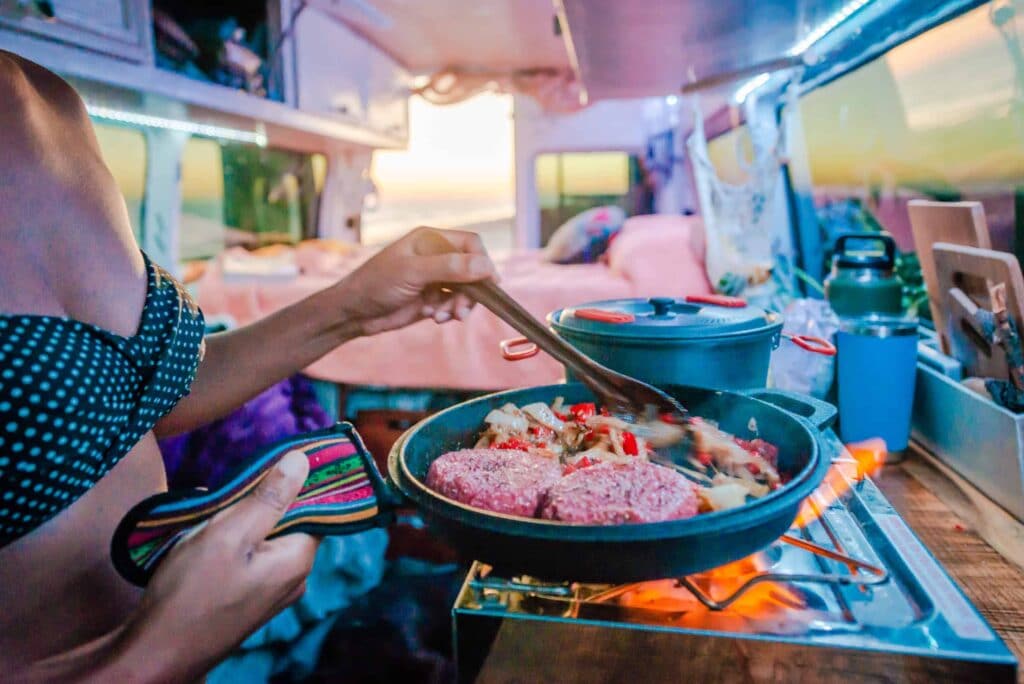 What are some things you brought with you that you use nearly everyday?
(Abi):
Definitely my cameras, tripod and laptop. We see so many beautiful places, I'm always taking and editing pictures!
Also, I had originally left behind a kettle, thinking I'd just use our 1 pot to boil water for coffee. I ended up purchasing a mini kettle along the way and I use it daily.
(Nat):
My chefs knife that was a gift from my last chef, Thad Stuckey.
The coffee mugs we purchased, well all our main kitchen stuff really. I cook, ALOT 🙂 Aeropress is life.
My journal.
What are some things you brought with you that you ended up never or rarely using?
(Abi):
My studio light kit. I booked some shoots but they've all been outdoors so I haven't needed them at all and they're just taking up space in our "garage".
I also have a portable outdoor pole that ended up being harder to set up then we thought so I've only used it twice so far.
(Nat):
My skateboard. Mainly because we are in National Parks or forests without paved roads.
My nice clothes- we rarely dress up. On the occasion in cities we go on dates though, and then I'm able to throw down on the swag!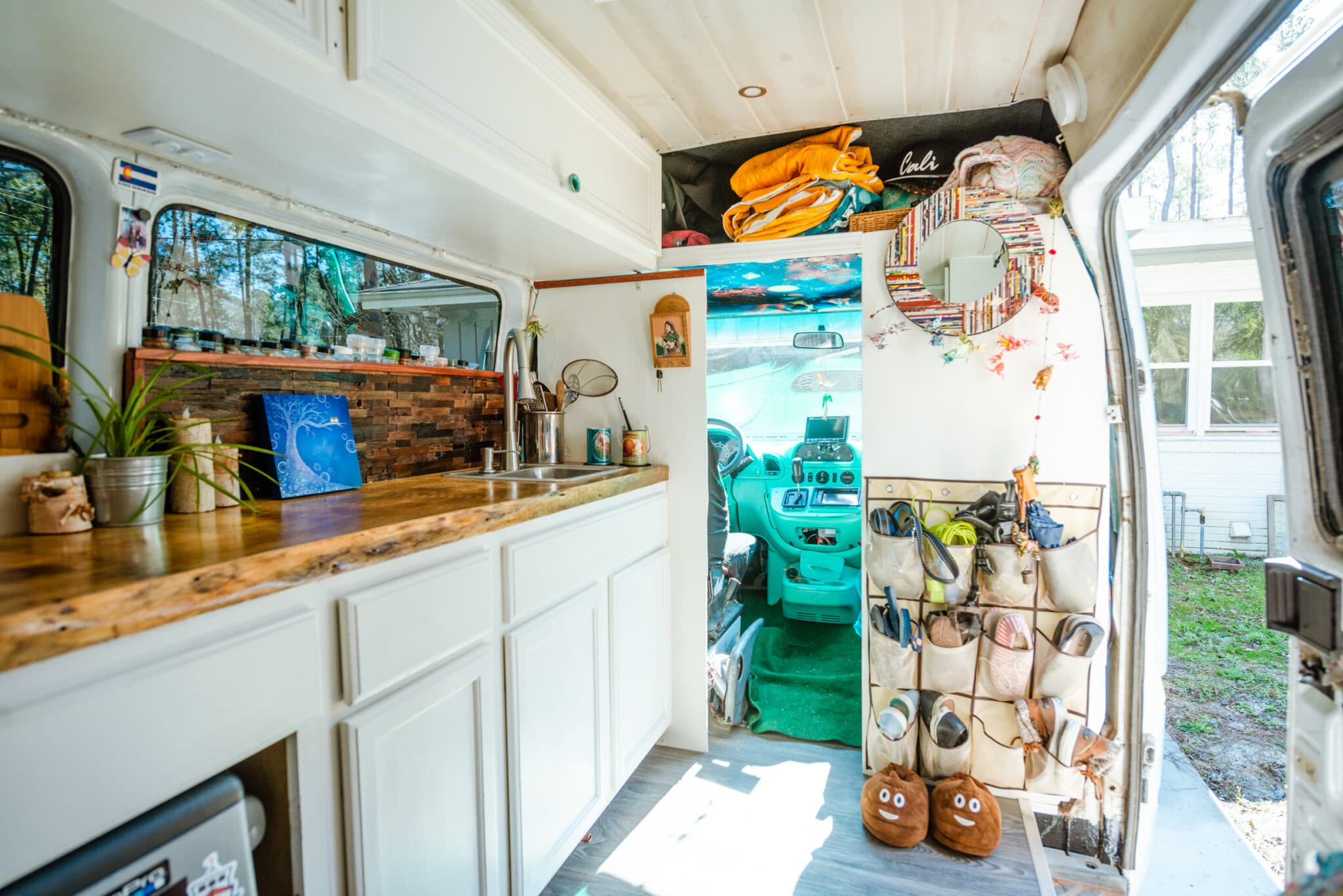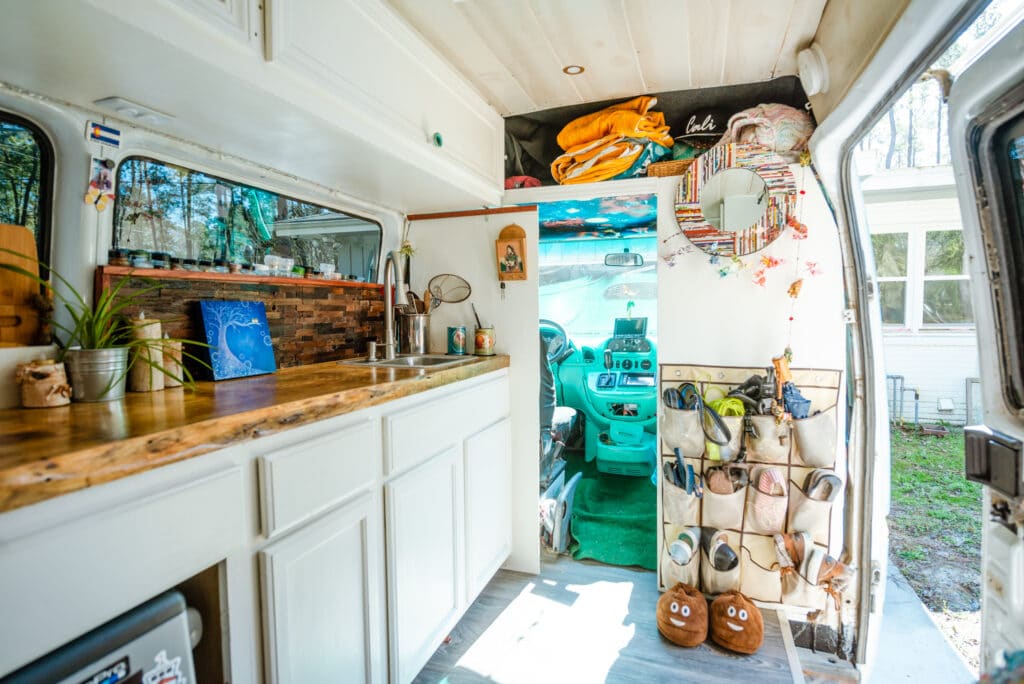 Is there anything you miss from your former lifestyle?
(Abi):
Amorous Dance Pole & Fitness, the studio where I danced and taught. I probably averaged 8 hours there a week, so I really miss having that fitness routine and fun with my pole friends.
(Nat):
A proper baked pizza. Face to face convos with friends and family. A hot, guaranteed shower.
What things do you do in your free time? What are your favorite activities?
All the food! We both love to cook and spend time making our meals.
Our favorite activities are hiking, yoga, slacklining, and generally exploring parks, both National and state. We also love paddle boarding and biking, though we've only been renting them so far. We'd love to add a board and a bike to our adventure kit someday!
When we're in more of a chill mood we love to read, write/journal and paint/draw.
And of course, we're big into capturing our travels and sharing our pictures/videos/stories on social media and our website.
What advice would you give someone considering this lifestyle?
We would immediately say, stop considering and do it! Take whatever steps are necessary to create the life you yearn for.
Everyone has an innate need to find joy in life. Travel and exploration not only provide wanderlust fulfillment but it allows one to grow internally, whether through challenging the social constructs in which they grew up or facing the unfought battles within.
We advocate for positive personal growth and minimalism. If you follow our Instagram, Natalie tries to create a feed that inspires viewers to live their life to its fullest potential. Having come from very little, we both strived to change our lives into one that is enriching and full of love and experience.
You've got one life and all the opportunity to fall in love with it, so press start on those dreams! Because re-try's are always easier than regrets.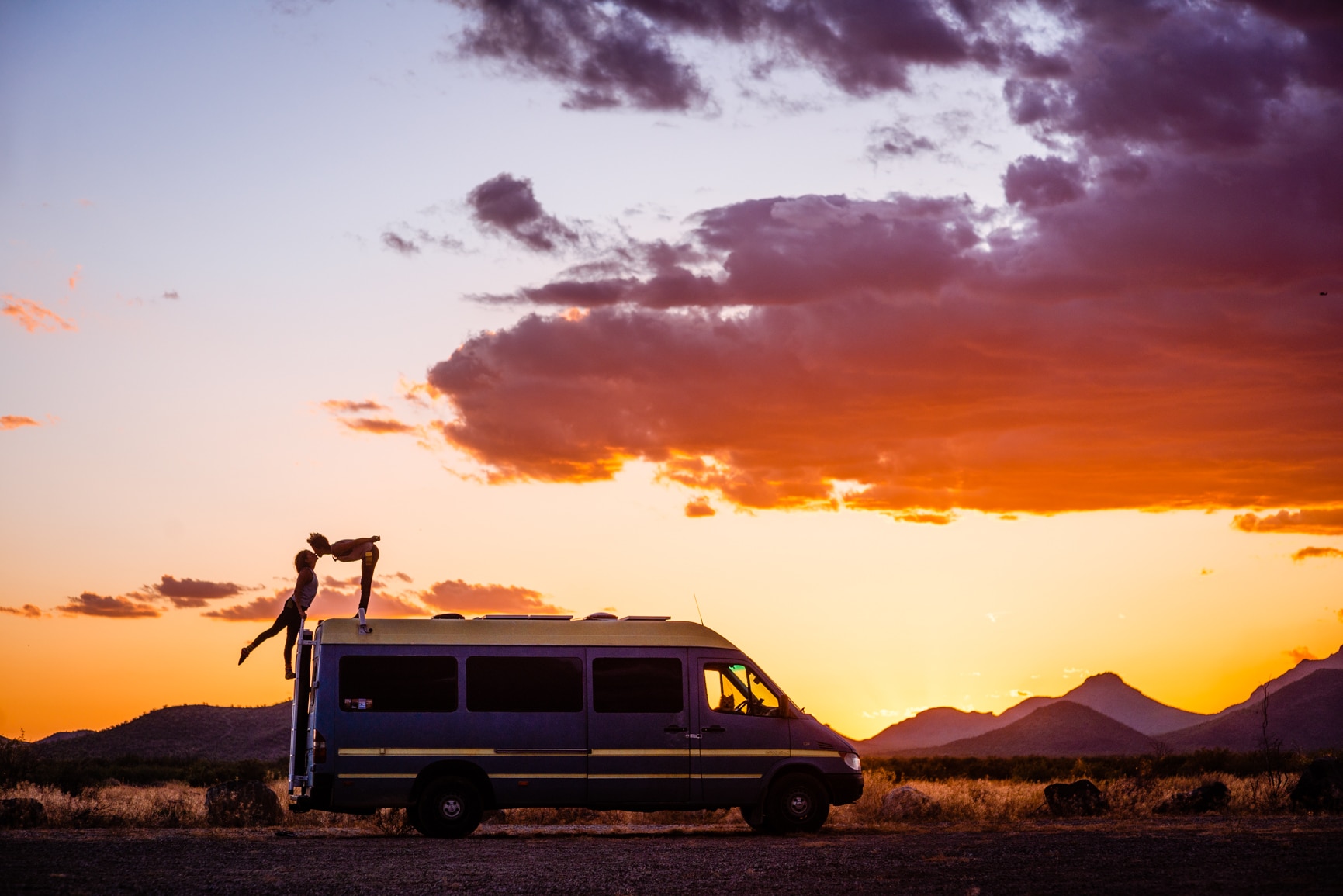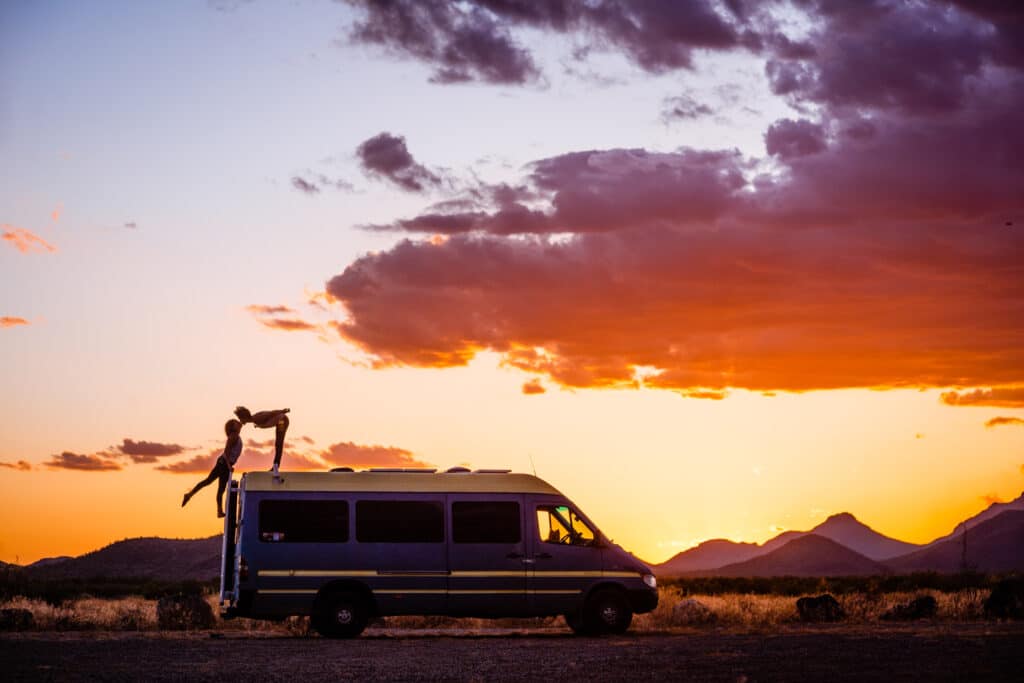 But wait! That's not all!
We recently started an Instagram account called @VanlifePride .
Vanlife Pride celebrates the queer vanlife community and provides a platform for them and our allies to connect. We strive for acceptance through visibility. Our eventual goal is to host an annual VanLife PRIDE gathering.
Like many others, when we were first interested in the van-dwelling lifestyle we did a lot of research online. We scoured Instagram and YouTube for ideas and inspiration. We found a lot of helpful information but what we didn't see were many people like us, an interracial lesbian couple.
As an interracial couple, the diversify vanlife movement tugged at our hearts and inspired us. It was encouraging to see so many POC vanlifers come together and we loved being virtually introduced to so many new and diverse faces. We began to have a thought… "what if there was also some sort of platform for our LGBTQ community?"
When we realized there was no such platform yet, we felt compelled to act and create something for our community to enjoy.
Within days of creating the account, we received many positive, thankful messages and discovered so many LGBTQ nomads that we knew we were on the right path.
We're so happy to be a part of the important diverse-vanlife movement and we really hope that our contribution helps add to the growing awareness and visibility of the rainbow of souls proud to live an alternative lifestyle.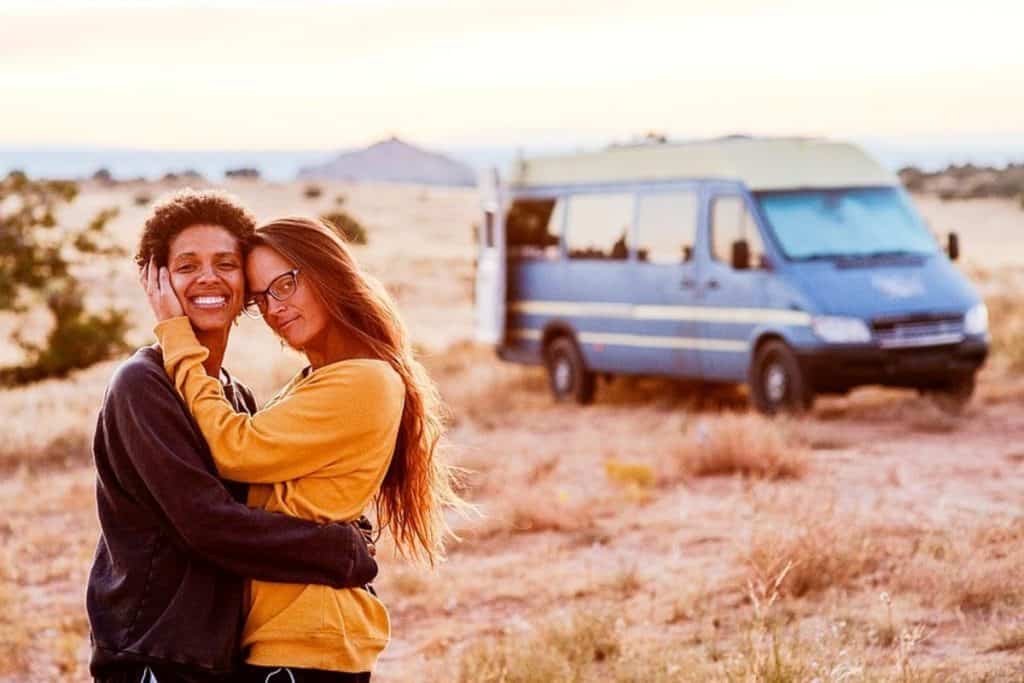 Also, I (Abi) would love to mention a personal photography project I'm currently working on!
It's called The White Sheet Series and it's about empowering women through artistic portraits. It's a simple concept with a heartfelt message: you are beautiful as you are. The images feature women with only a sheet of fabric, free to express themselves with it however they choose. My aim with each portrait is to collaborate with my subject and give her a voice, a platform to stand up and declare that she is beautiful and proud to be a woman.
So far my project includes 3 vehicle-dwellers (5 if you include Natalie and I). I'm always looking for participants and love to meet and collaborate with other nomads.
You can find out more about the project, and see the images, on our website, Instagram (@whitesheetseries) and Patreon (www.patreon.com/whitesheetseries).