Are you interested in living #vanlife but can't throw down for a full-size camper van conversion? Well, it's totally possible to convert your current daily driver to a badass camping rig. Even if you drive a smaller car like a sedan or hatchback, you can convert it into a camper.
Sometimes referred to as "micro campers," cars converted to campers have significantly less space than full-sized vans, minivans, or SUV campers, so there are often interesting and creative solutions to the everyday challenges of living out of a vehicle.
But small car camper conversions also have a lot of benefits. You won't need to buy another vehicle (or if you do, it will be much cheaper than a van), cars get better gas mileage, and you'll be more encouraged to practice minimalism. The build-out process will also be much simpler and cheaper – so you can get out there on the road sooner!
When it comes to building out a car, we've found some clever, space-saving designs to inspire your next build. Whether you're planning on weekend car camping or full-time life on the road, these practical and affordable car camper ideas should get your wheels turning.
Read More: Gnomad Homies: Casa de Civic
Build Your Van
The Ultimate Van Build Guide
Planning a van build? Read our free guide. We cover just about everything you need to know – from planning, to insulation, to solar and electrical, to picking appliances, to essential tools. Get started today so you can get out there on the road!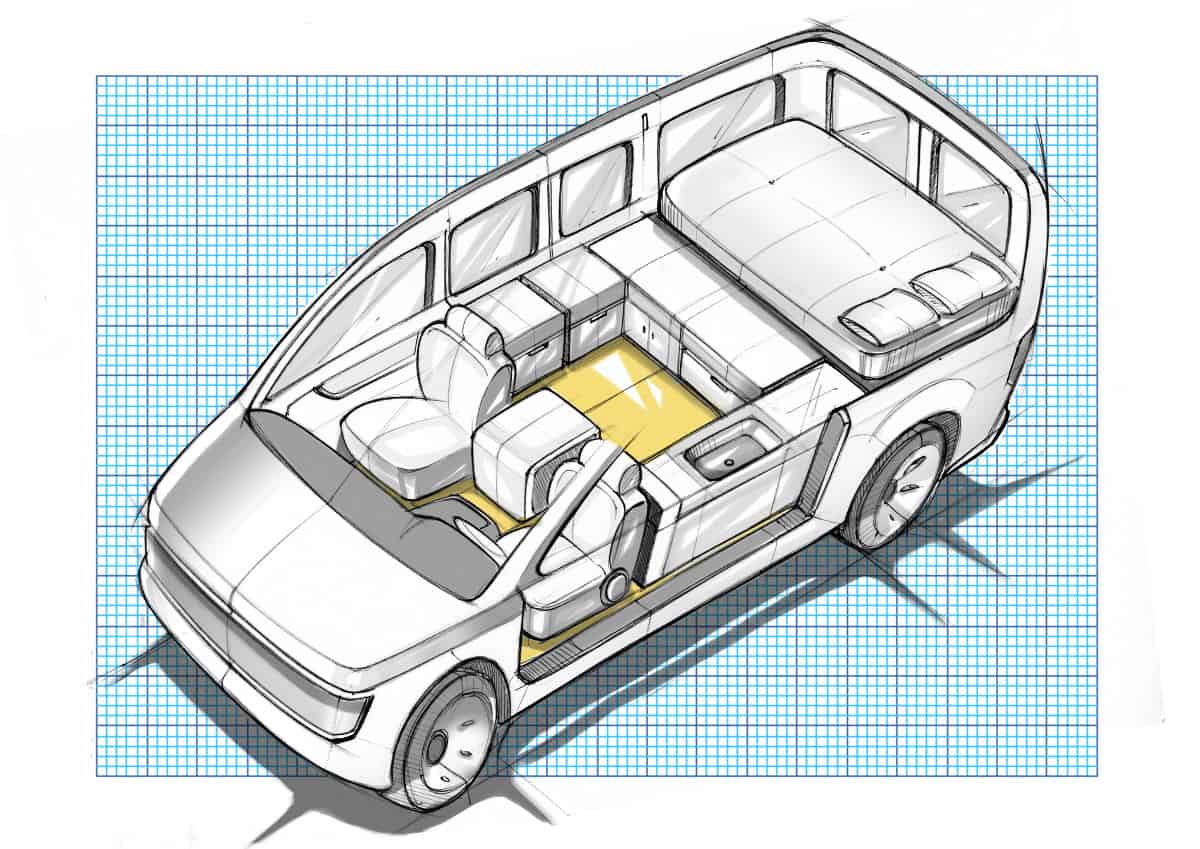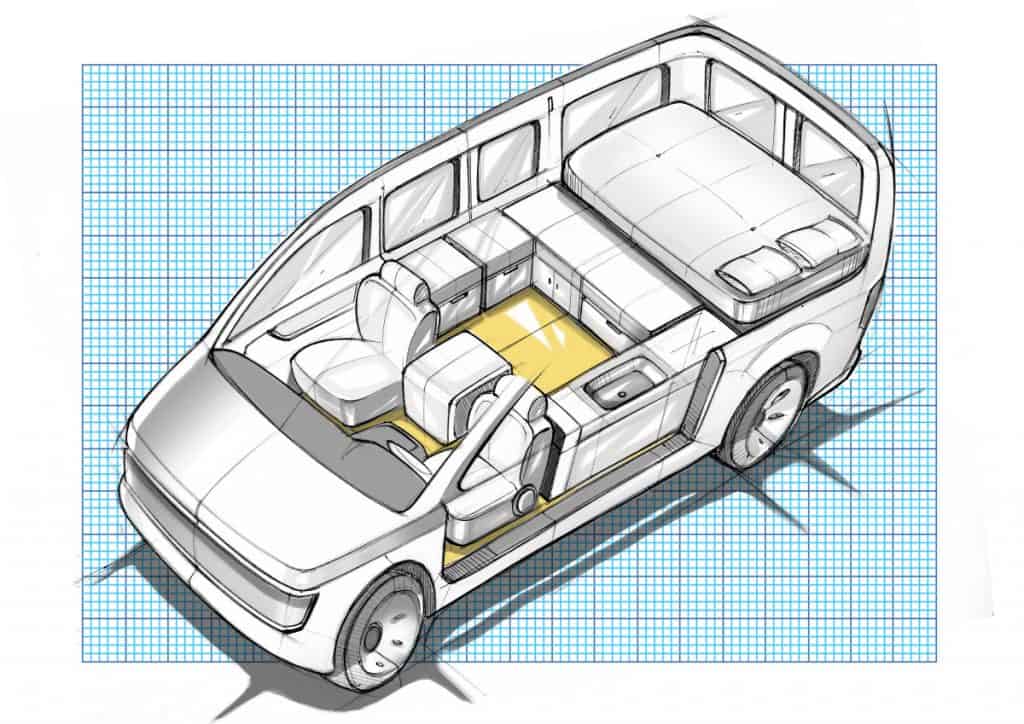 1. This car camper conversion with running water from Joey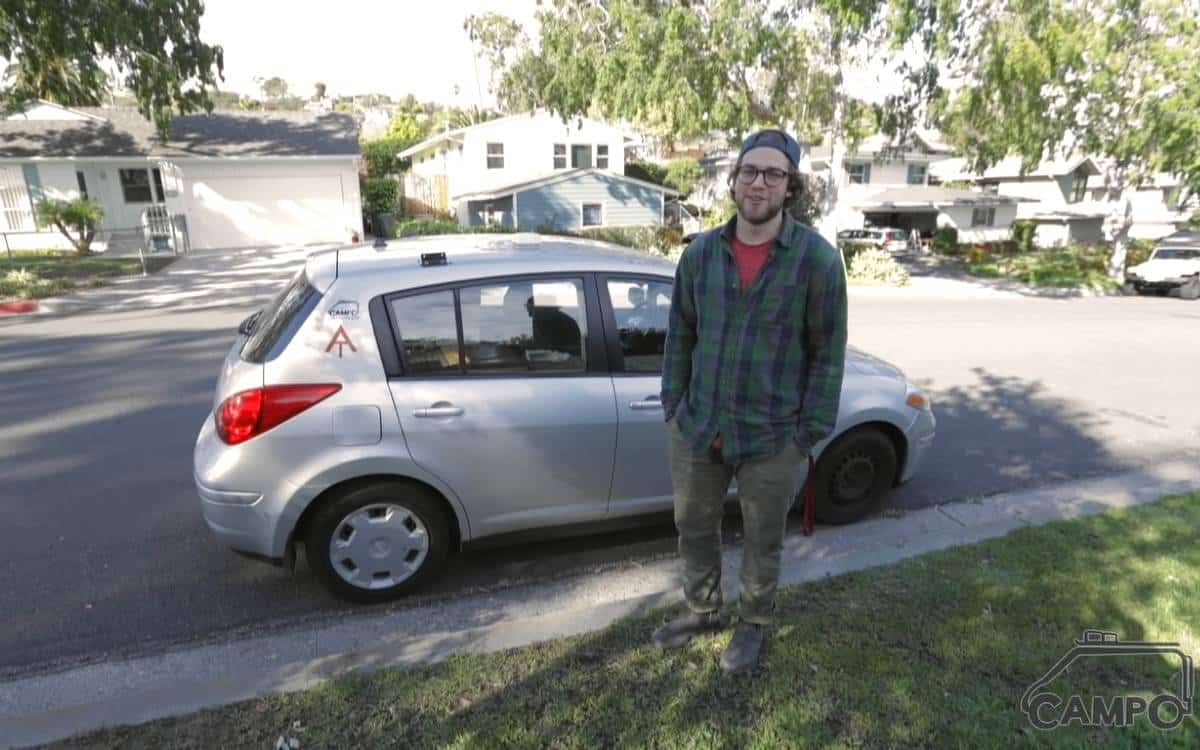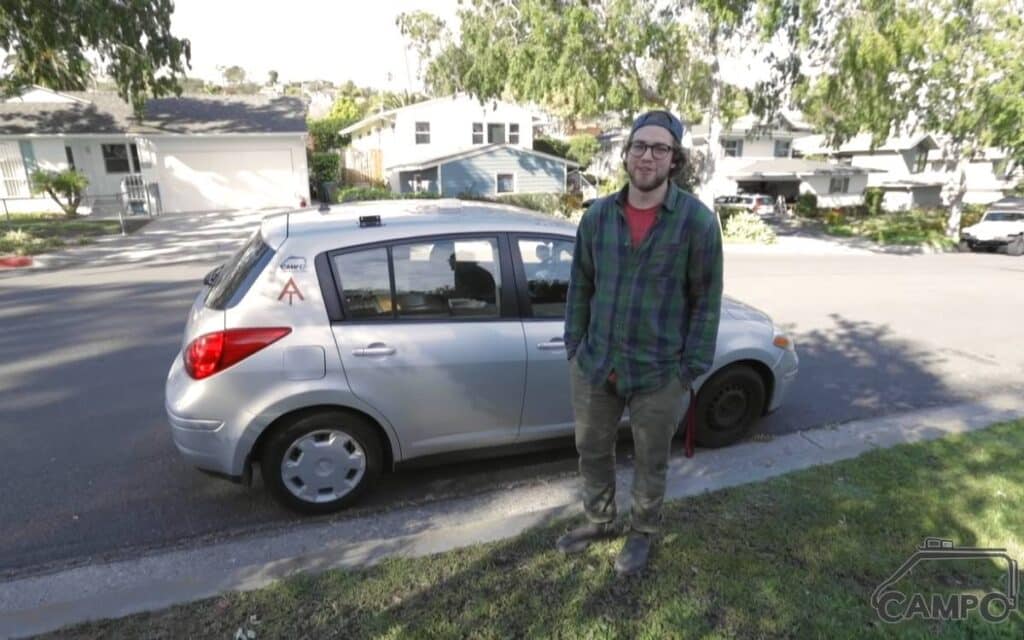 Joey lives in a 2007 Nissan Versa, which he converted into a solo camper car. In the back seat, there is a living room and kitchen area. He sits in the rear passenger side and can pull out a table on drawer slides for a cooking prep workspace. Behind the driver's seat he has a sink made of an IKEA bowl.
The water for the sink runs through a two-valve system that drains into a gray water tank beneath the sink. Beside the sink is a cabinet that Joey uses to store some dry food. There is a spot next to the cabinets with cords that he uses to charge his devices. When Joey is cooking, an exhaust fan pulls heat and fumes out of the car camper.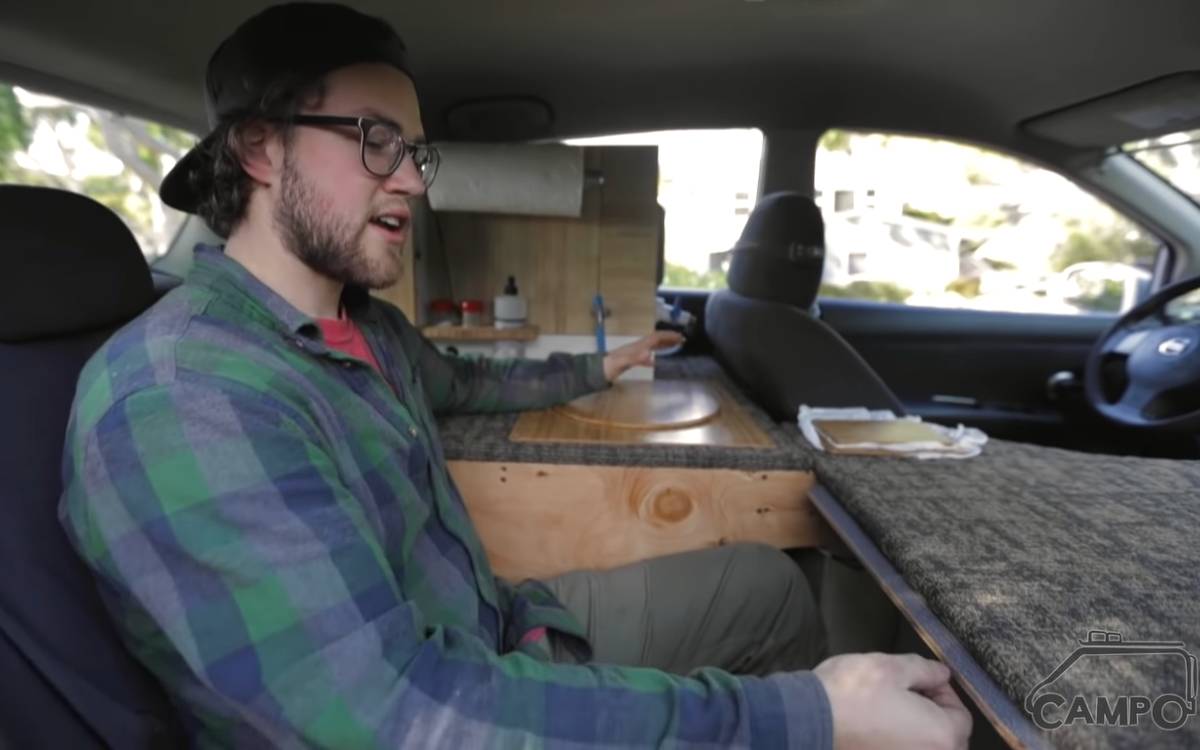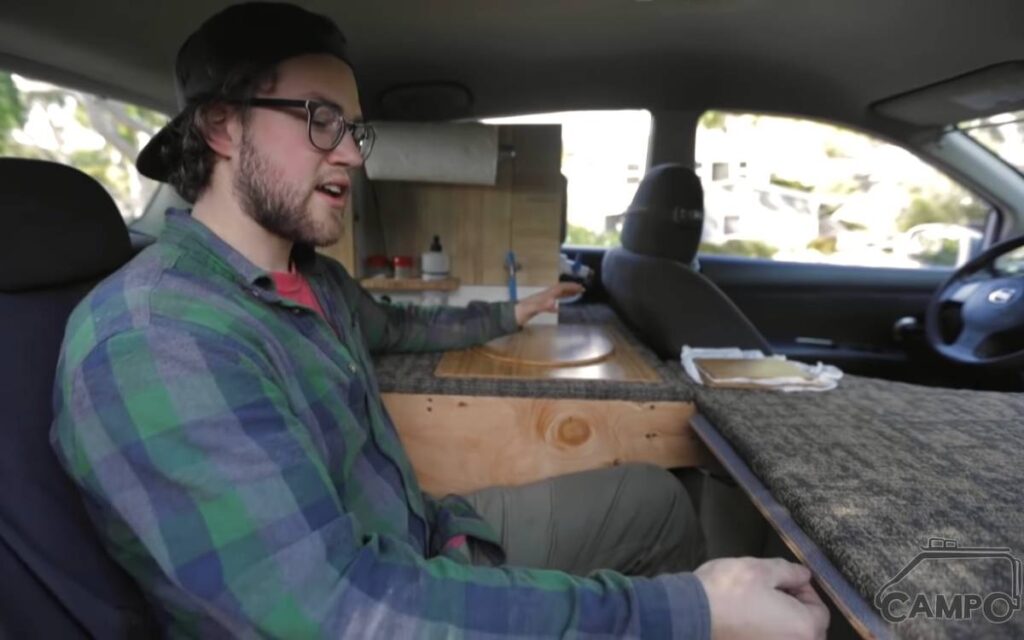 Joey opted to remove the passenger seat and install a table in the space. The table can seat two people, thanks to the legroom underneath that allows him to swivel and turn to the additional seat on the rear passenger side. Under the table, there is also room for food storage and the electrical system.
He has his clothes, sleeping pad and blankets, laundry bag, and backpacking gear in the back. We love the quick and easy bed setup of this car camper conversion. Joey pushes his passenger seat down to create a flat surface extending the length of the car (about six feet long). He then adds a camping mat and sleeping bag to create a comfortable sleeping platform in his car camper.
2. This car converted to a camper with great products from @nikkidelventhal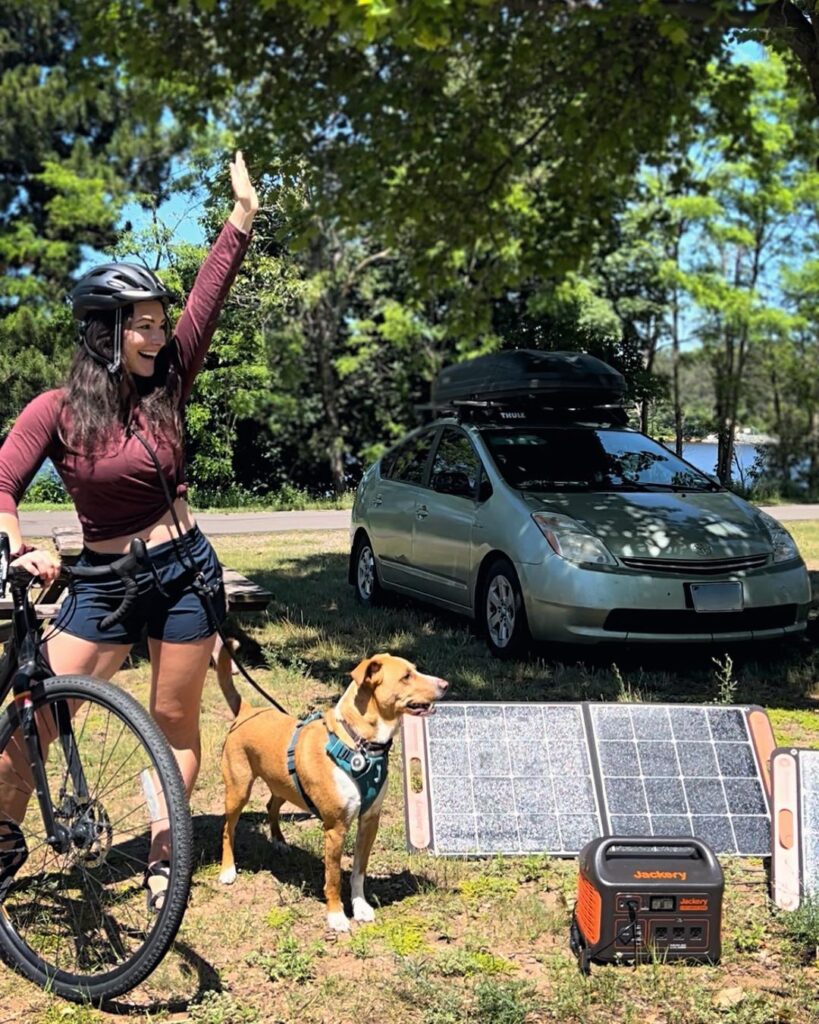 Nikki lives in her 2006 Toyota Prius camper conversion with her dog, fittingly named Camper. She removed her back seats and added a roof box and bike rack to her car. Nikki has lived in her car camper conversion for more than year. Over time, she found some great products and tools that have brought comfort and convenience to car camping in her Prius.
She recommends getting a quality cooler to store food in. Nikki made sure that her cooler fits nicely between the passenger seat and back seat because she always has the base of her bed in mind. For her sleeping setup, she has a mattress that she cut to fit perfectly in the back of the car. The Prius has a spacious hatchback, leaving a comfortable amount of legroom for sleeping lengthwise in the backseat.
She keeps smaller items for the kitchen and camping in storage containers. It is handy to keep the dimensions of your larger items in mind when doing a no-build camper conversion.
The rooftop storage box holds Nikki's fun gear like her standup paddleboard, popup tent, and other camping equipment. With her back seats removed, she replaced them with storage boxes that created a base for her bed. The boxes also act as the car's primary storage solution.
3. This homey car camper conversion from @alyssavanilla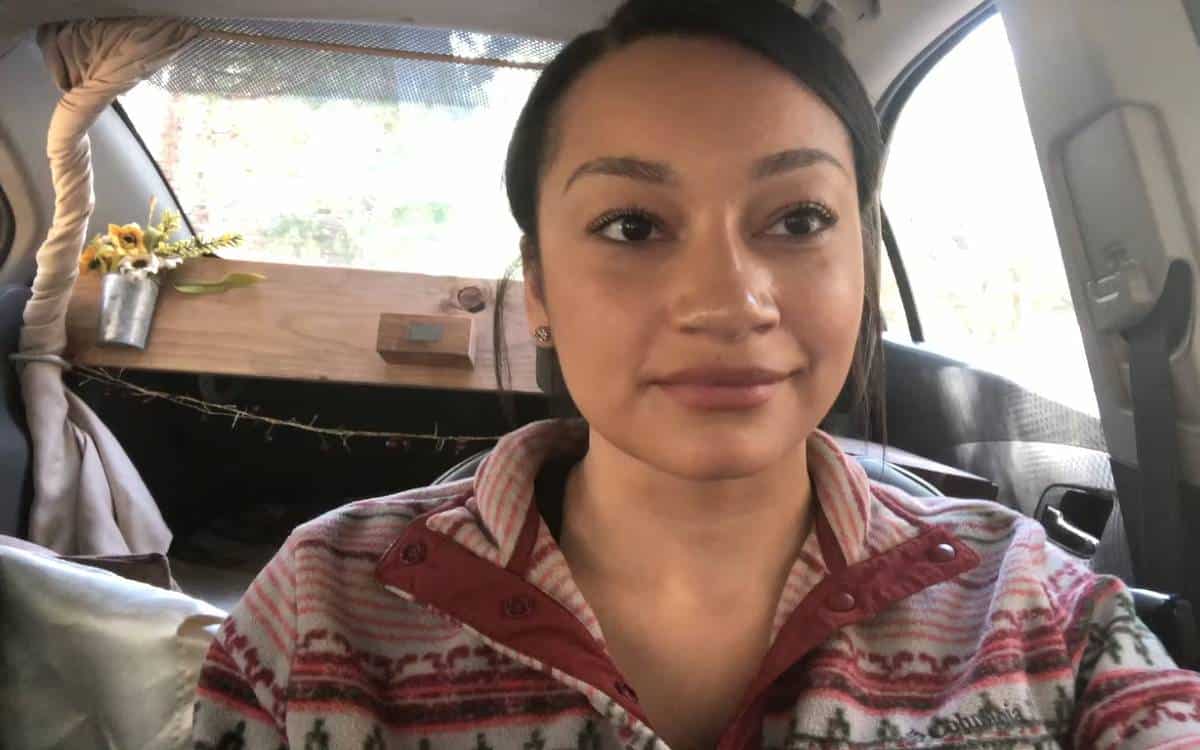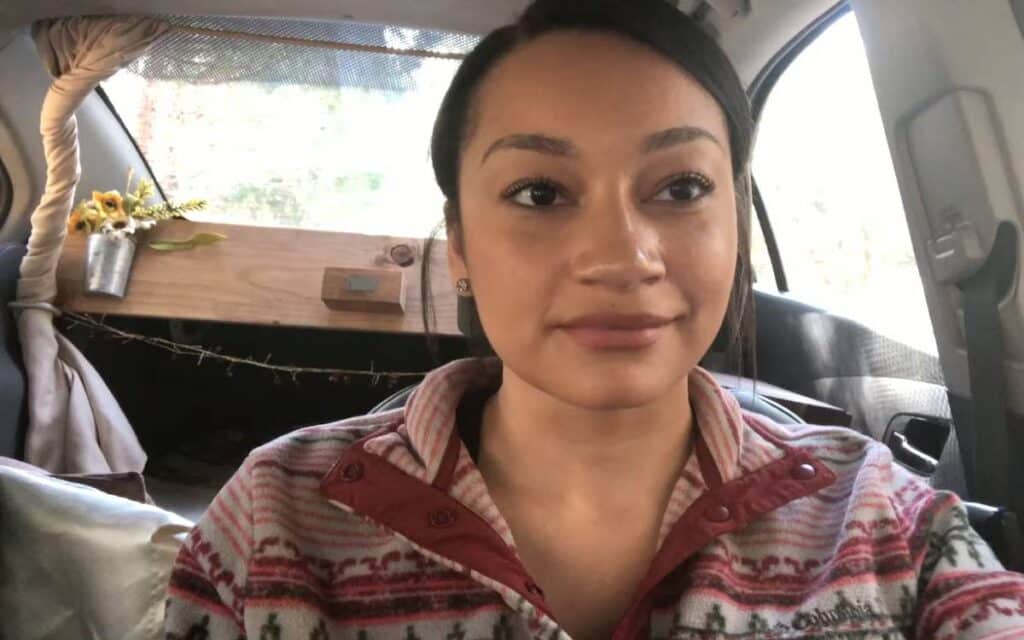 Alyssa converted her 2013 Chevy Sonic into a camper with help from a friend. She didn't want to feel like she was sleeping in a car with a gray interior, so she incorporated many wood elements to create a cozy, homey feel for her car conversion.
She has her bed running lengthwise behind the passenger seat, with the backing of the backseat removed. This setup comfortably accommodates her 5'6″ frame. Beside the bed, Alyssa has a wood 3-drawer dresser that holds her clothes, and a wooden crate for snacks and small miscellaneous items like books and notebooks.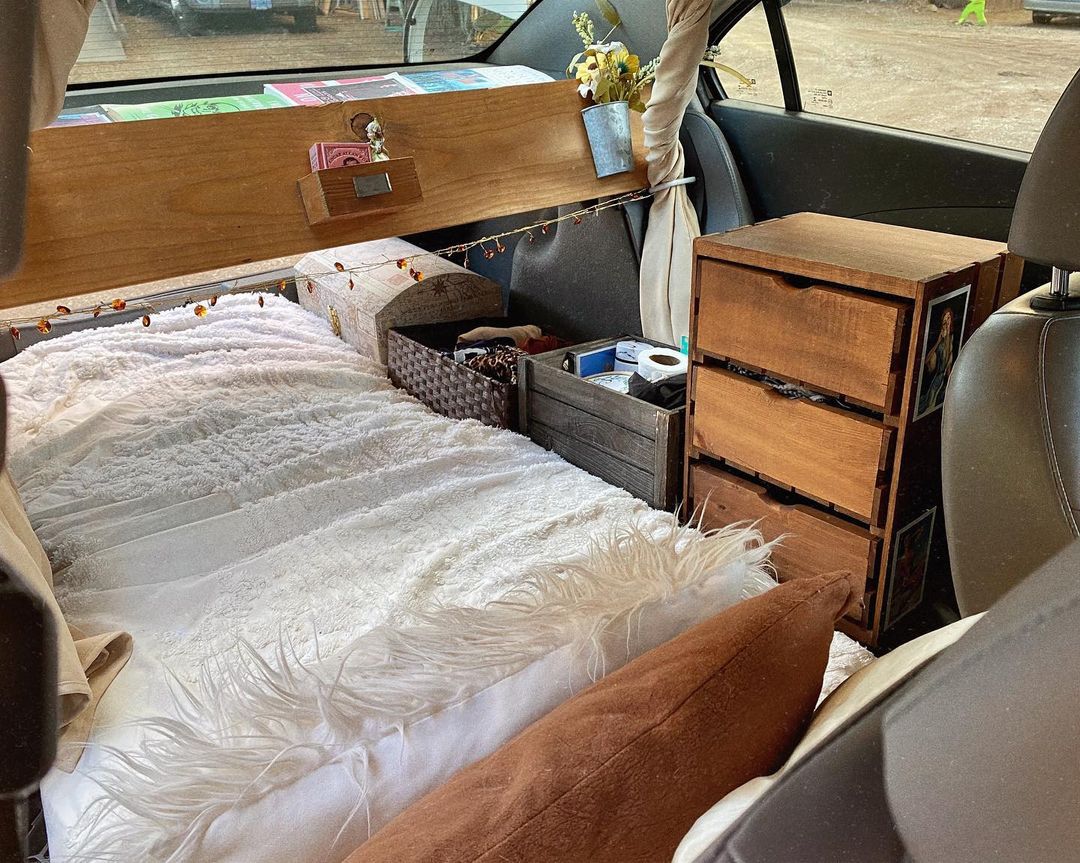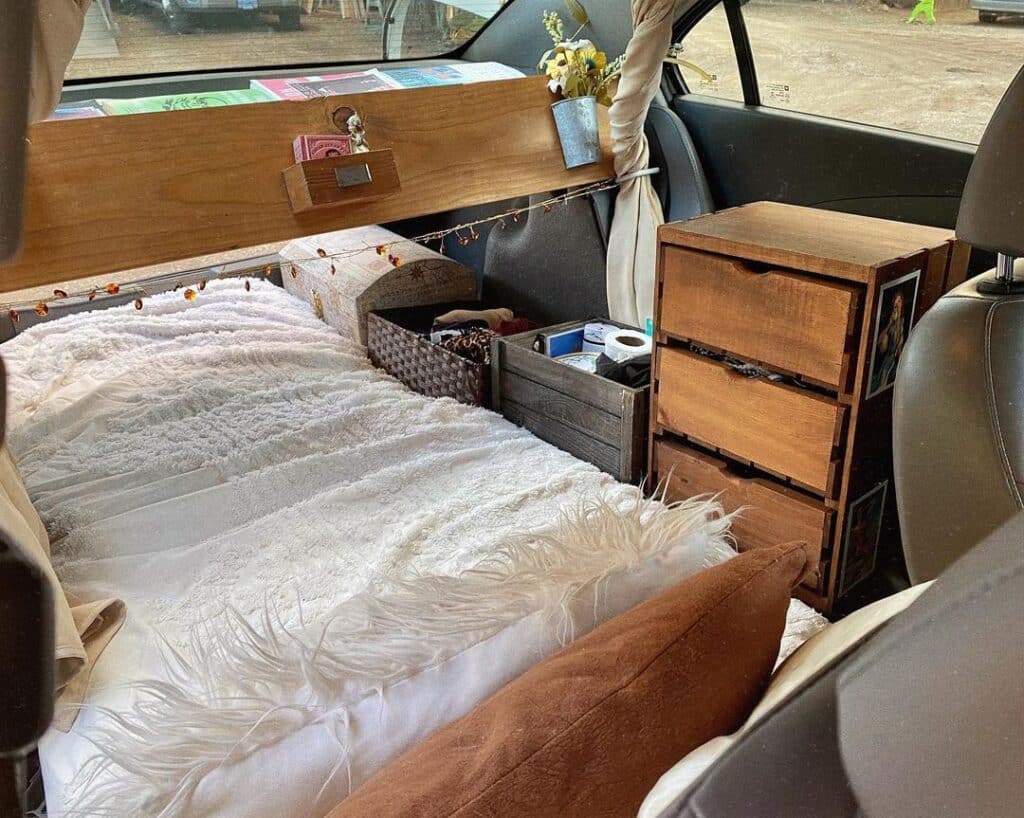 Alyssa installed a wood panel in the back seat area to create a lip that keeps items from falling from the section under the rear windshield. The wood panel adds to the homey aesthetic of the car.
For décor, she added flowers, a scratch-off map of the US, and curtains extending across the rear windshield. There are window covers with Reflectix that provide insulation and privacy for the rest of the windows when she is parked. This simple car camping build is perfect for anyone traveling solo and without much gear.
4. This transformative car camping conversion from Andrew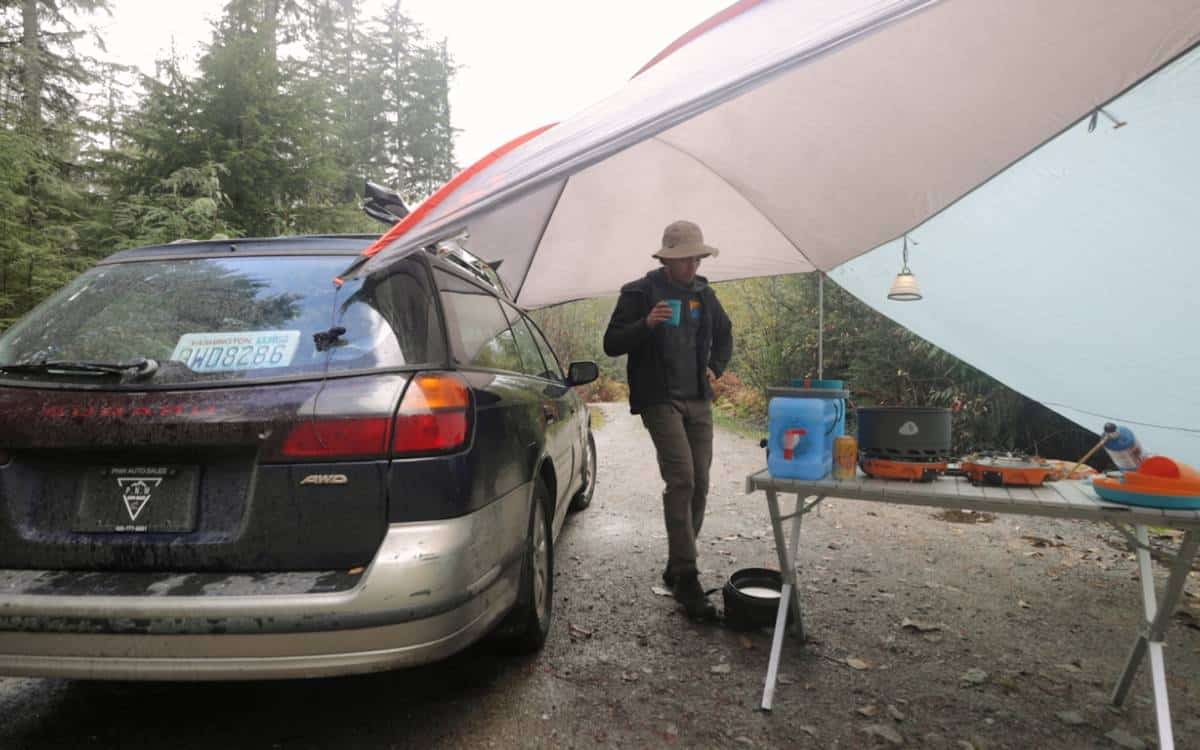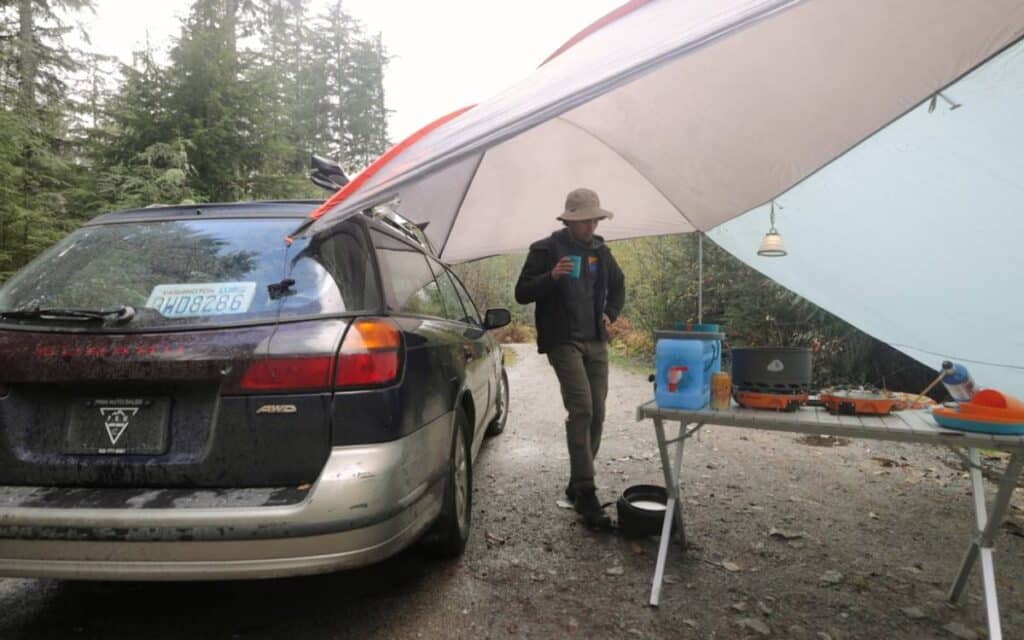 Andrew needed his car camper to function as his daily driver and be able to sleep himself and, at times, another person. He needed storage space for all his essentials, and the setup had to convert to and from a standard car layout without much hassle. He achieved all that in this fantastic DIY car camper conversion with his 2000 Subaru Outback.
This build centers around the bed, which extends from behind the front seats to the back of the car. Andrew cut and built the base using plywood and carpet. With the rear seats folded down, the base pieces can be lined up and installed over the folded seats and secured with pins. We think this is pretty cool because it's so easy to transform.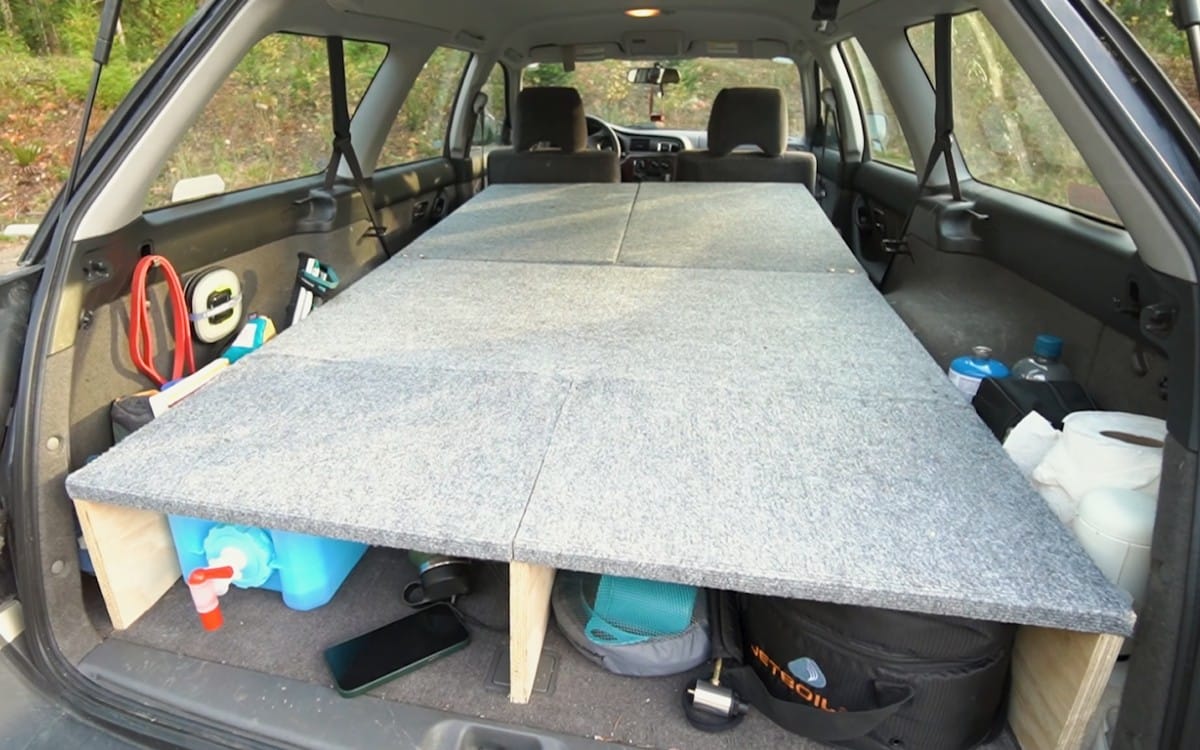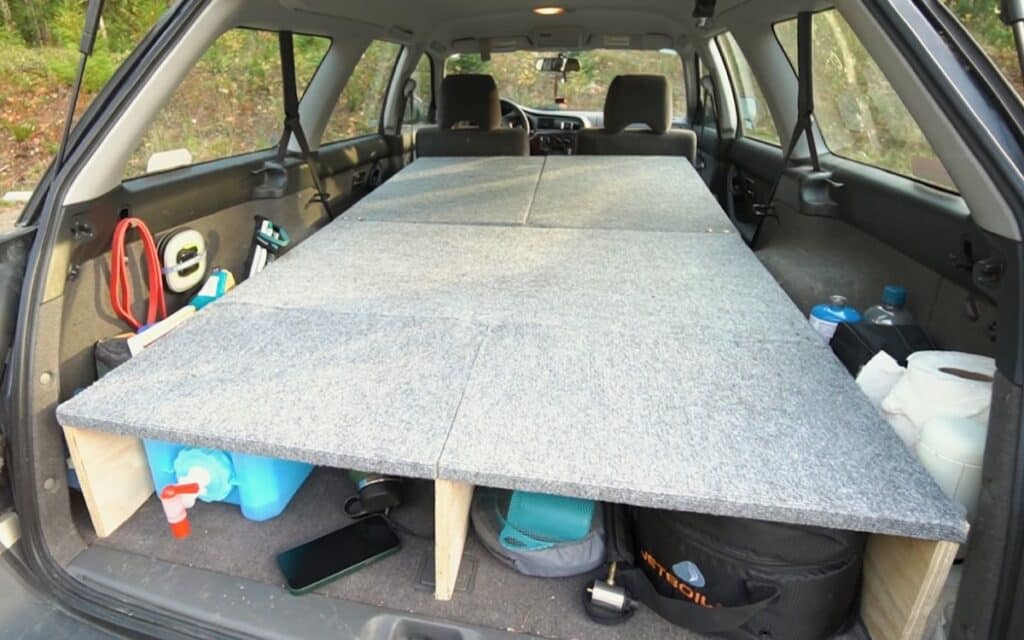 If Andrew is car camping solo, he can configure the back to only sleep himself, which leaves room for extra gear. If he is going to drive in the city or wants to seat people in the back seat, it's easy to remove part of the bed panel and lift the backseats up and into place.
The storage boxes in the trunk remain in place at all times, so Andrew can store gear without having to remove it for each transition. Andrew used piano hinges for the storage box lids for easy access.
An awning and a portable table expand the living space, creating an excellent camping setup for anyone looking for more space with their car camper conversion.
5. This minimal car conversion from @mothernateur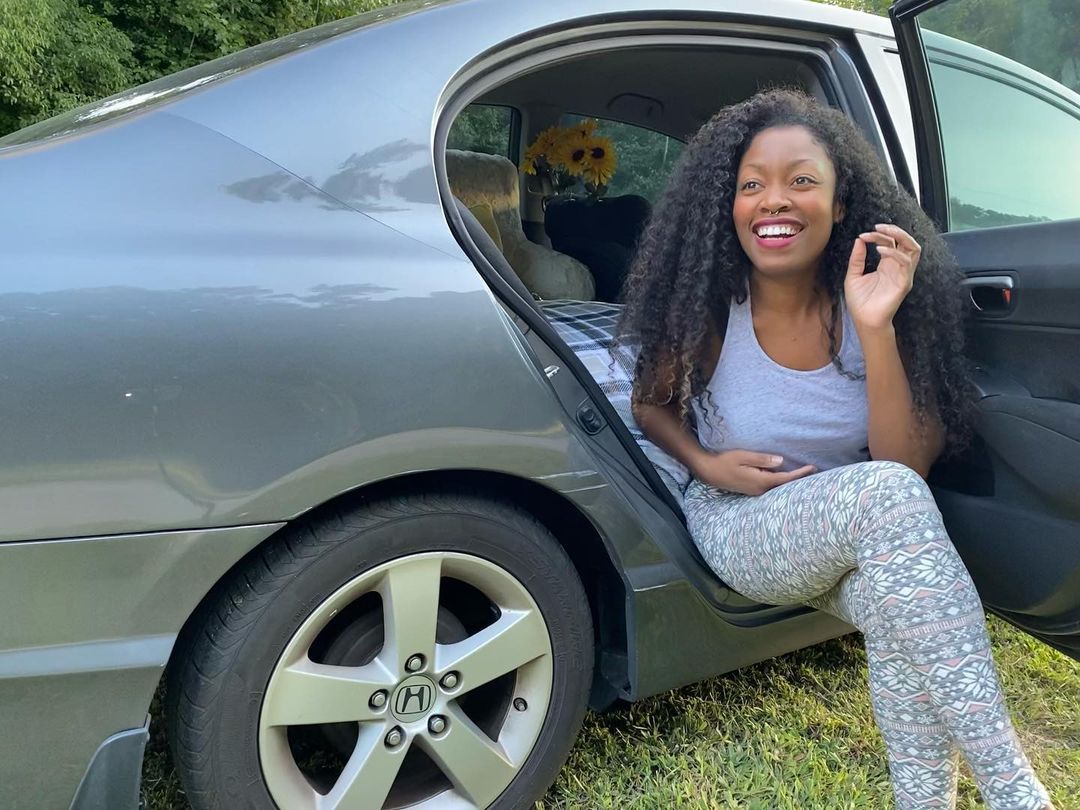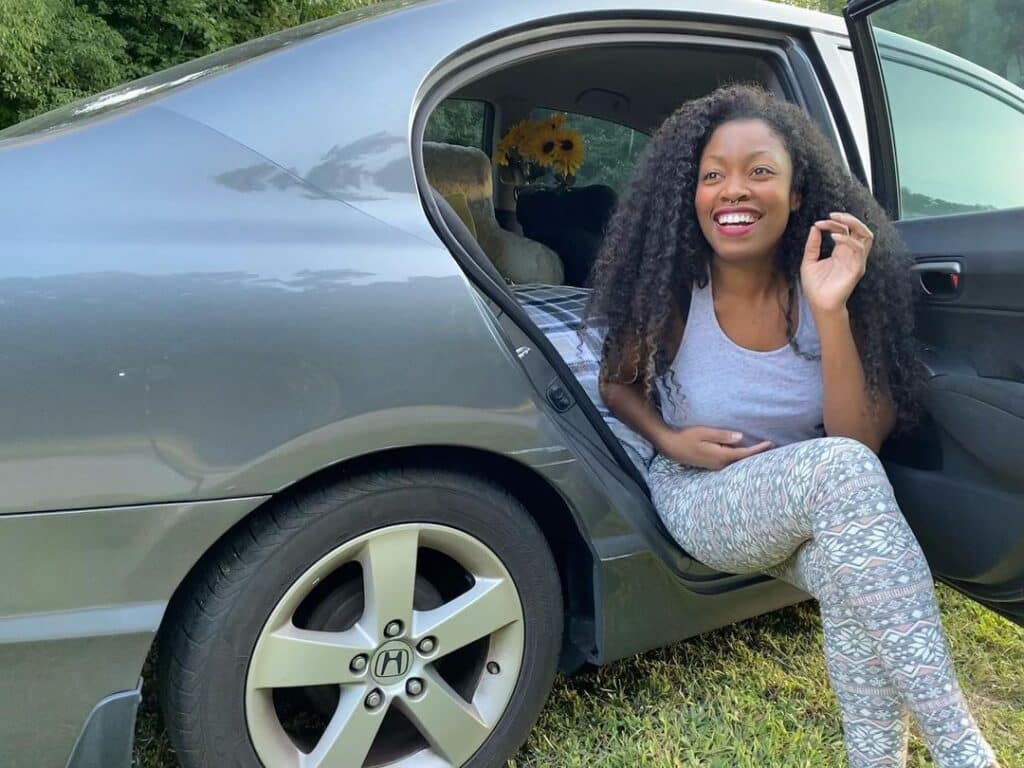 Nate used to live in a high-rise apartment, but she never felt at home there. She has since been able to create a home for herself in her car. Her car camper is a simple no-build conversion. Nate is a minimalist, so there isn't much clothing or outdoor gear to store in her car.
The trunk of her car acts as a garage, and most of her belongings fit with room to spare. Here, she stores water, toiletries, and cooking equipment.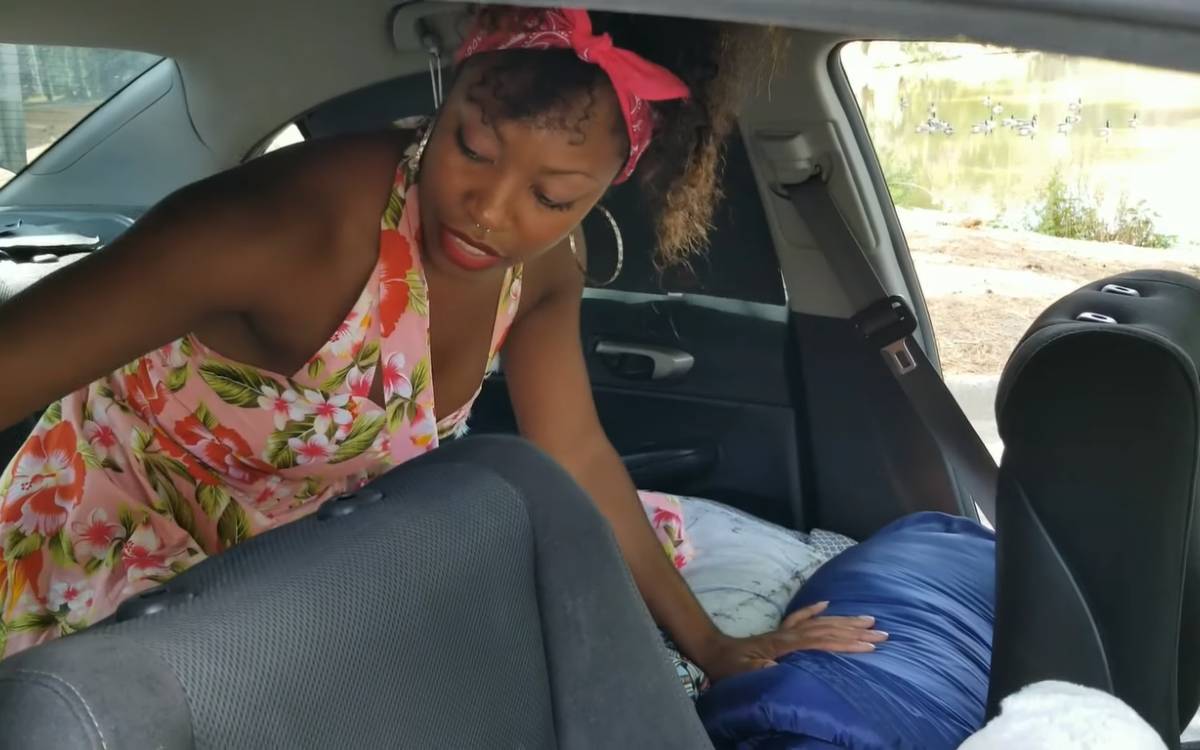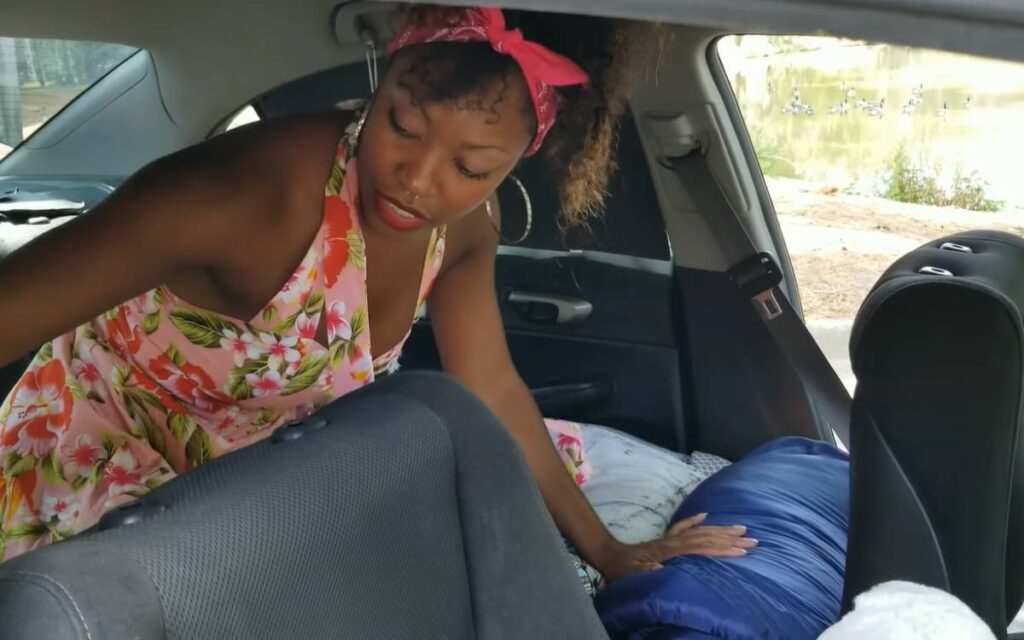 Nate made sure she could convert her car camper into a sleeping space entirely from inside the car. First, she puts her window coverings up for privacy and then hops into the backseat.
She wedges a sleeping bag between the back seat and the driver's seat to create a place to rest her feet and stretches out against the back seat to sleep. This makeshift bed is an easy solution for people who want to keep all their car seats in place for their car camper conversion.
6. This $100 sedan camper conversion from Smiley Outdoors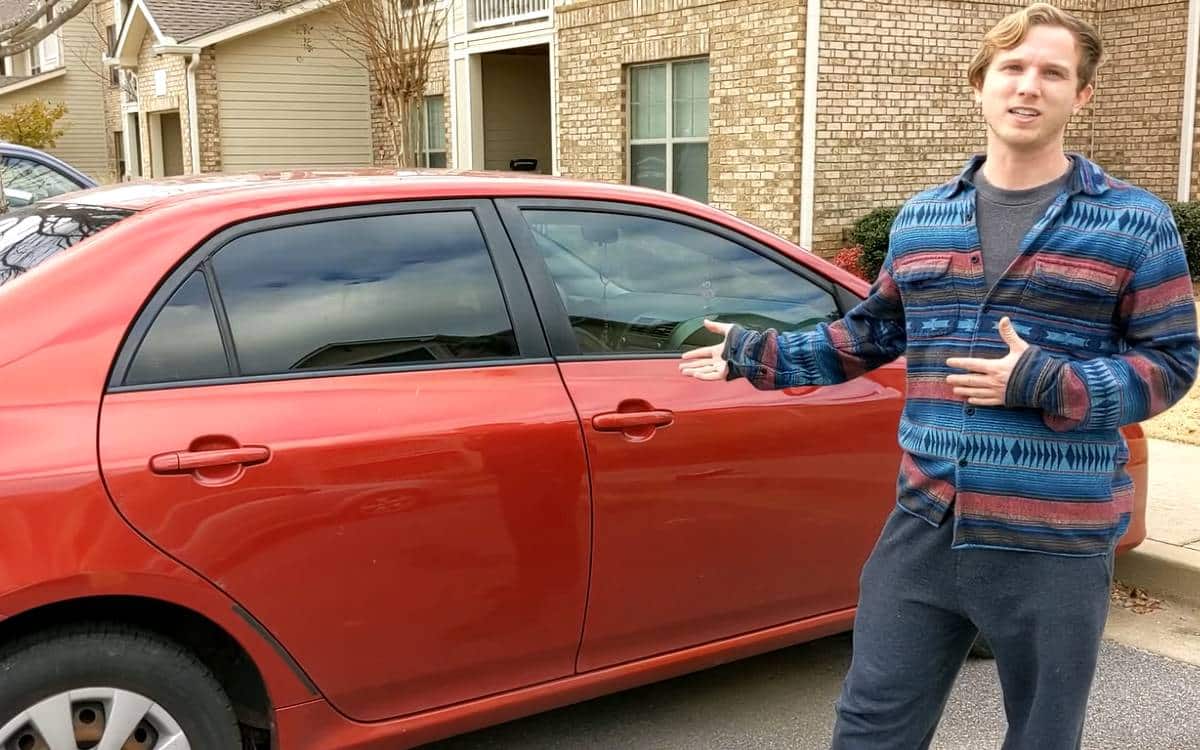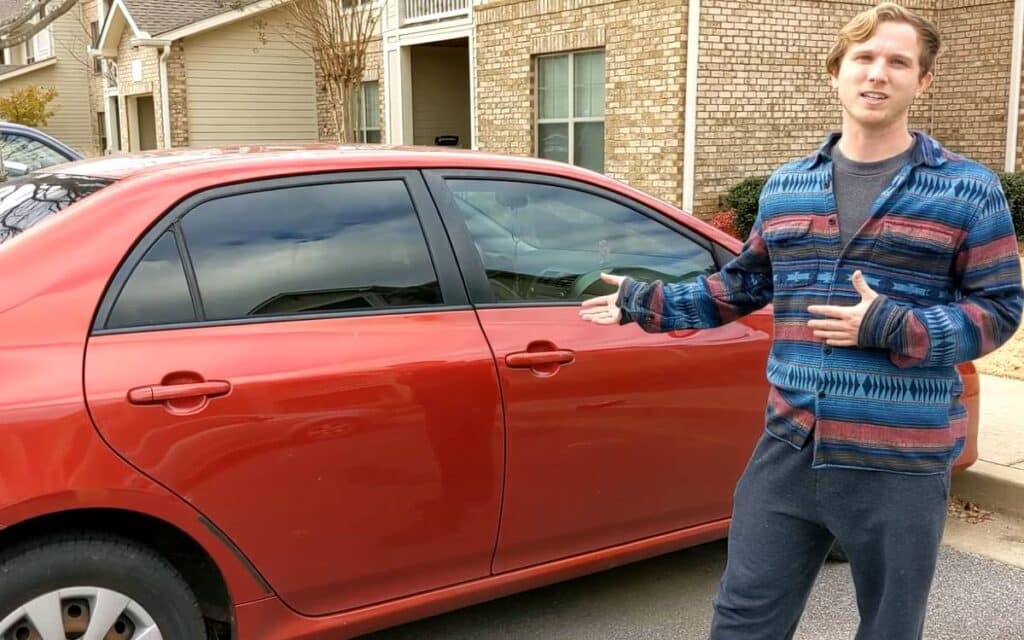 Smiley Outdoors took an ordinary Toyota Corolla and converted it into a micro camper for under $100. If you're planning a solo road trip on a small budget, this might be the car camper conversion idea for you.
Smiley removed the backseats and tucked the seatbelts off to the side to create uninterrupted access to the trunk.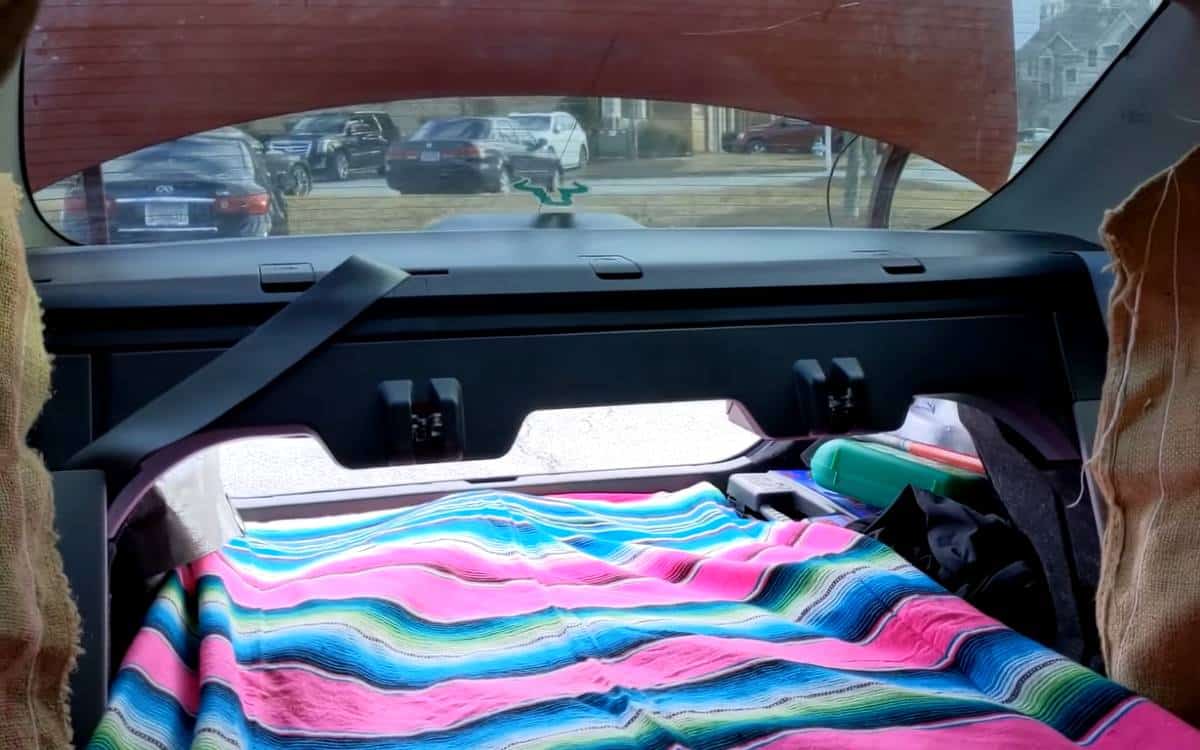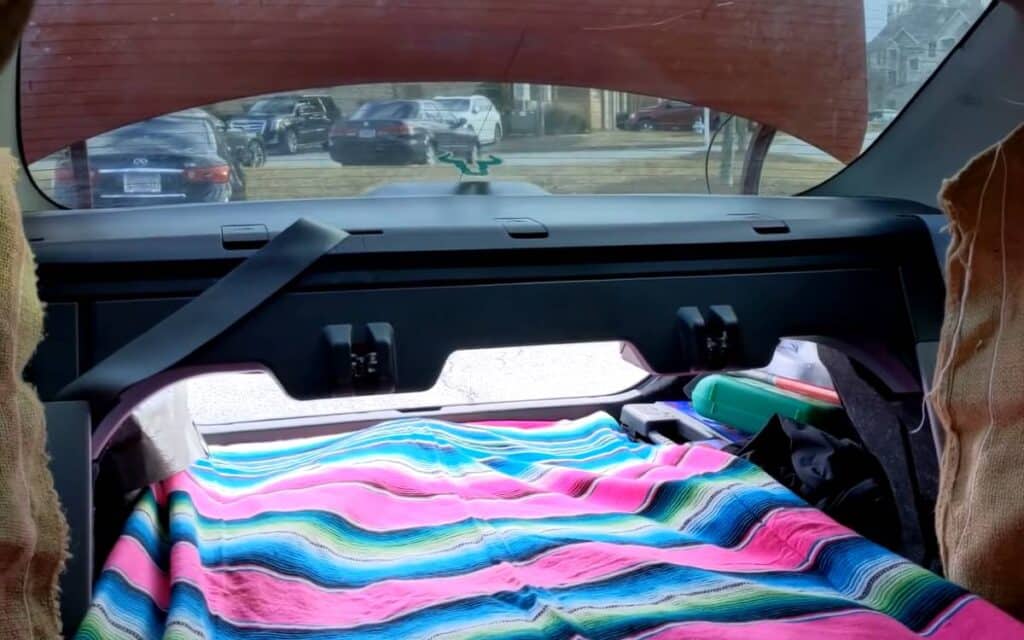 He then measured to help him figure out the amount of plywood he would purchase for the base of the sleeping platform. He used a twin-sized mattress topper foam, blankets, and bedding to create a comfortable sleeping solution for his car camper.
He got free coffee bags from a local coffee shop, which he used for his window covers with a combination of binder clips, a wooden dowel, and a sunshade to create privacy. This simple setup was a quick and inexpensive solution to get on the road quickly and start traveling.
7. This quick car camper build from Kiersten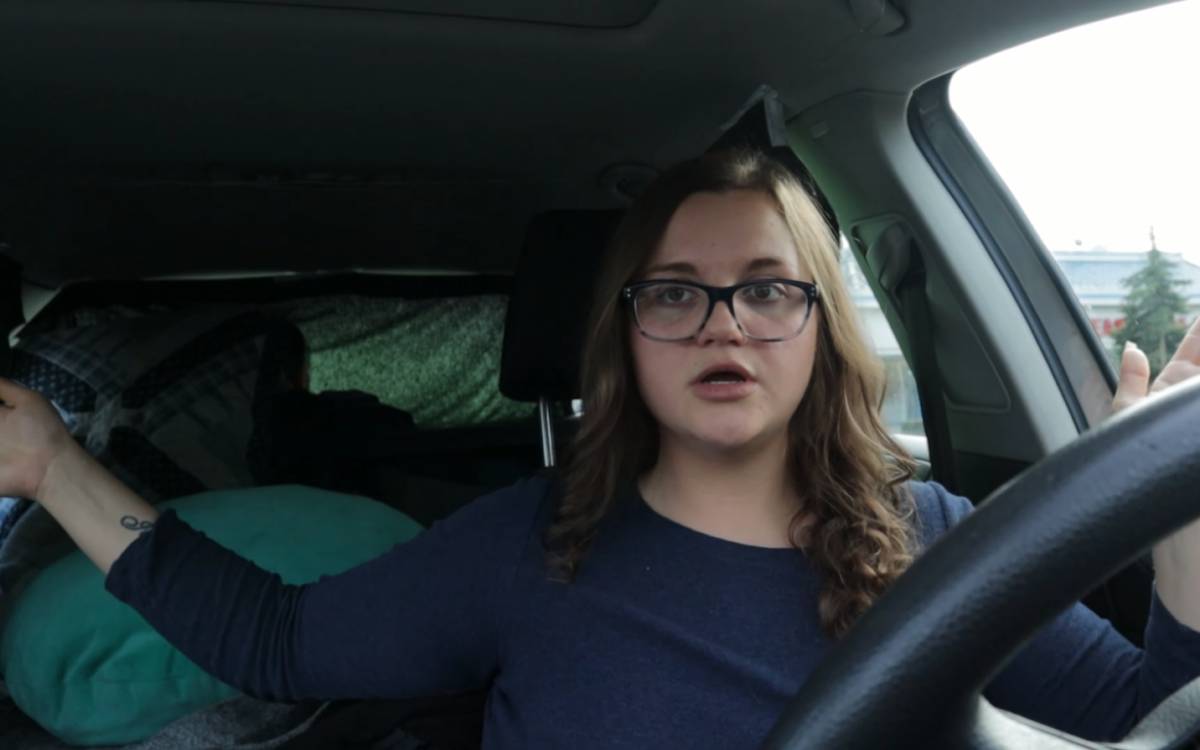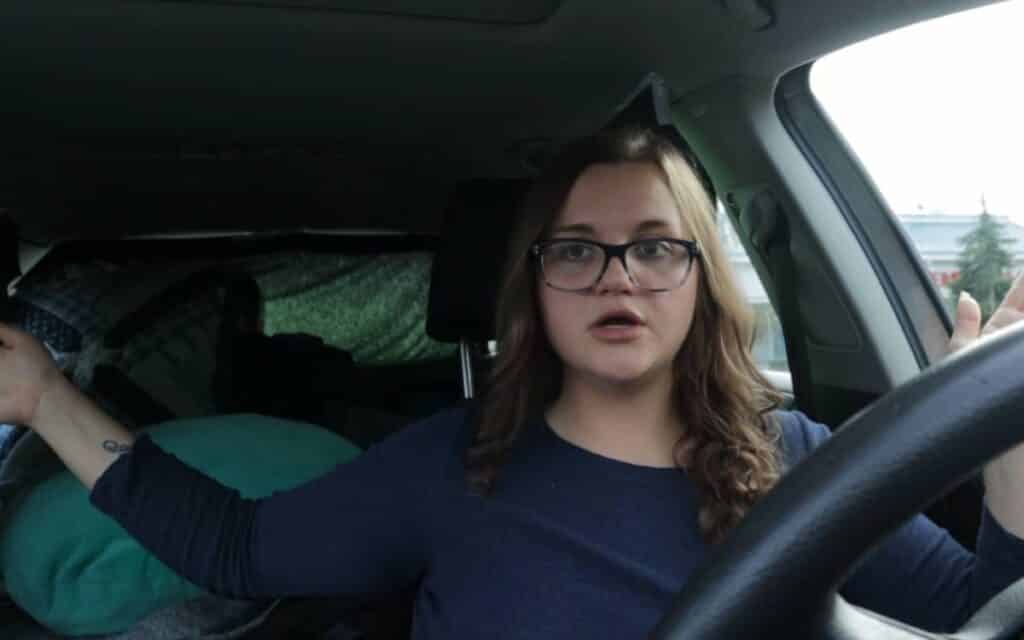 Kiersten converted her Volkswagen Golf into a DIY car camper with help from a friend so she could live in her vehicle full-time. Though she is considering building out a camper van eventually, a car camper was an excellent solution for her to live on the road right away.
Kiersten and her friend removed the passenger front seat and built a plywood platform to create a flat surface for the bed, which extends into the back seat. They also moved the back seats for extra legroom.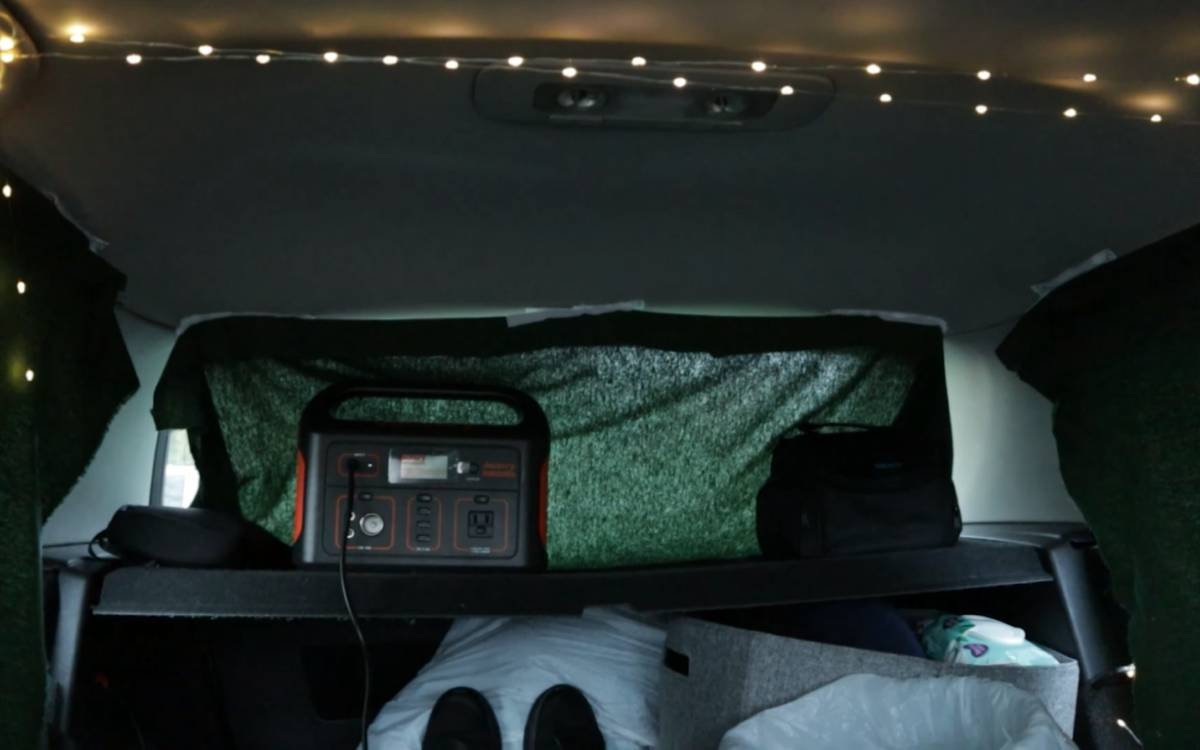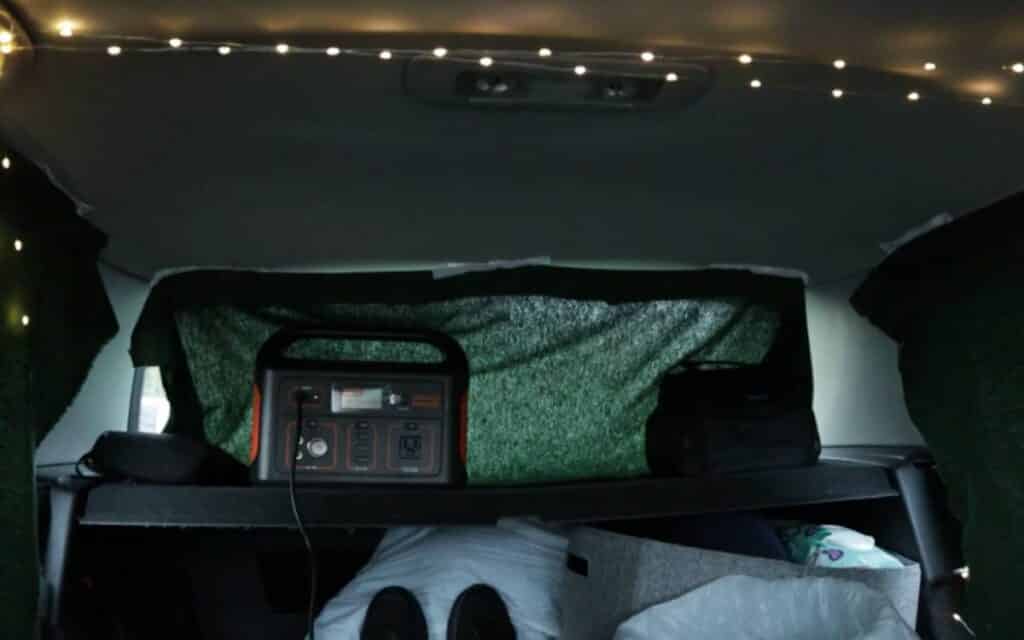 They made curtains from blankets and attached them to the car camper with Velcro for privacy. Battery-powered string lights wrap around the interior to provide light at night.
Because Kiersten chose to remove the passenger seat, there is plenty of storage space in the trunk of the car. She uses bins and bags to store her everyday essentials.
With a gym membership, Kiersten has access to showers. She keeps a gym bag with all her toiletries and a towel so that she is ready to go once parked outside a gym. Kiersten has a trash can and a place for her dirty laundry in the back of her car camper conversion.
While there are changes and upgrades she wants to make down the road, this car rv conversion allows Kiersten to sleep comfortably and safely for the time being.
8. This car camping rig with a rooftop tent from @cjexplores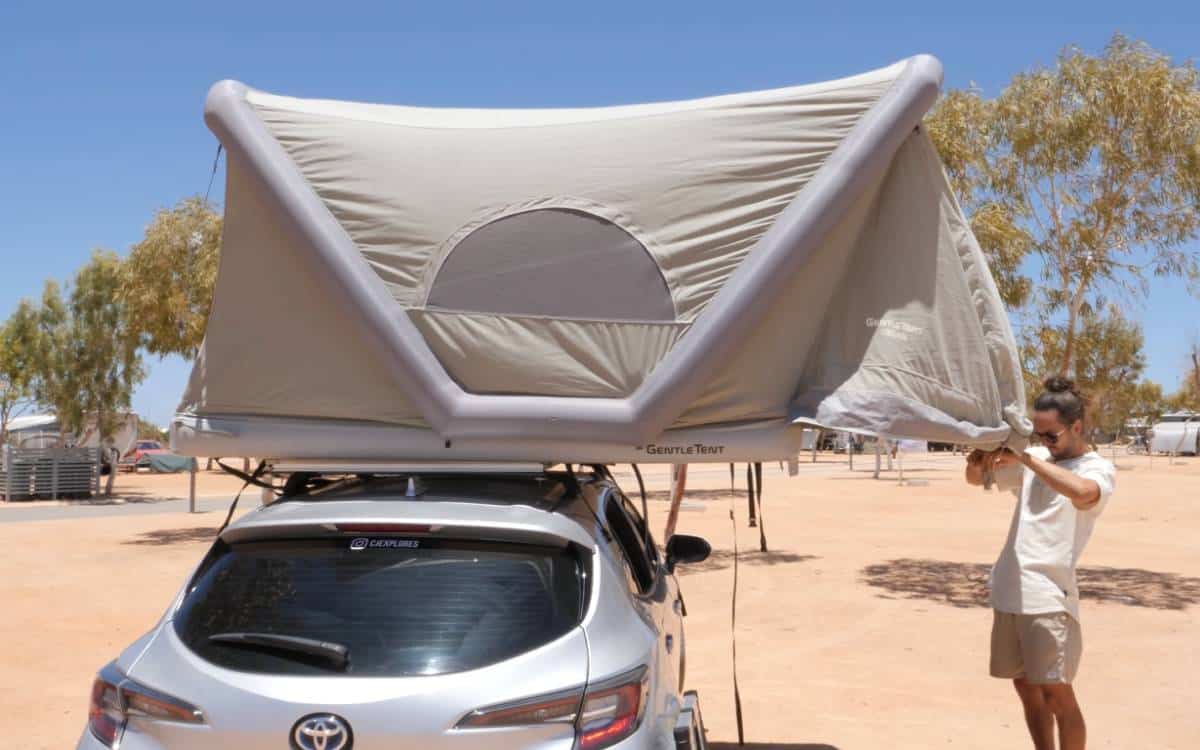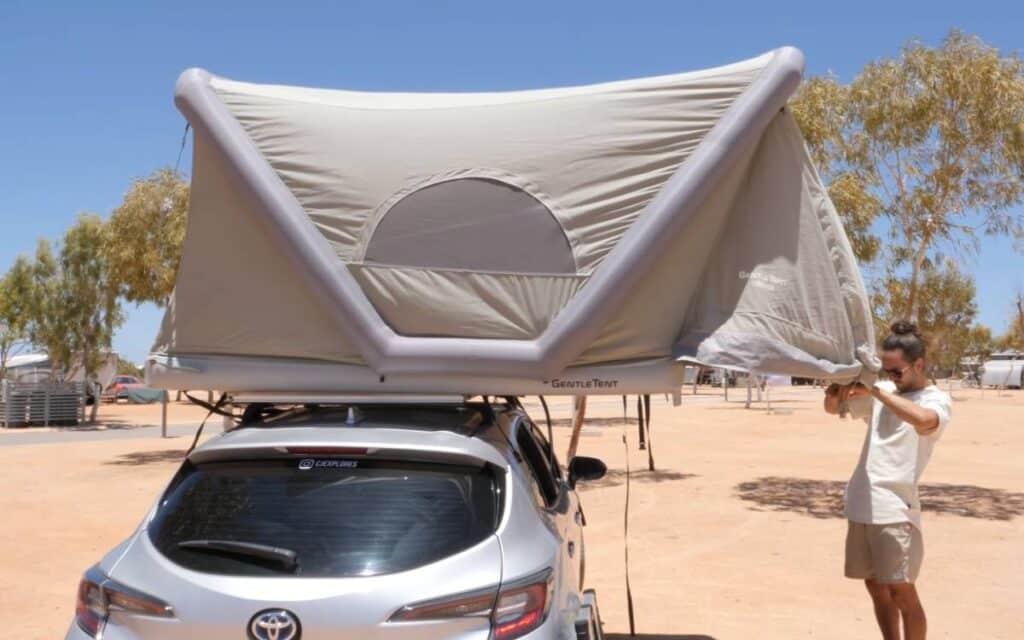 Cory and Charlotte converted a Toyota Hatchback to live in full-time while traveling around Australia. They fit a lot into this car camper build, including a sleeping area, a shower setup, and plenty of storage – thanks to the rooftop tent they installed, which left a lot of space in the trunk of the car.
They rigged the front seats to include small cubbies for drink holders, small items, and magnetic phone mounts.
The backseats are folded down to create a large cargo area. A net across the ceiling stores smaller items and attaches by the grab handles.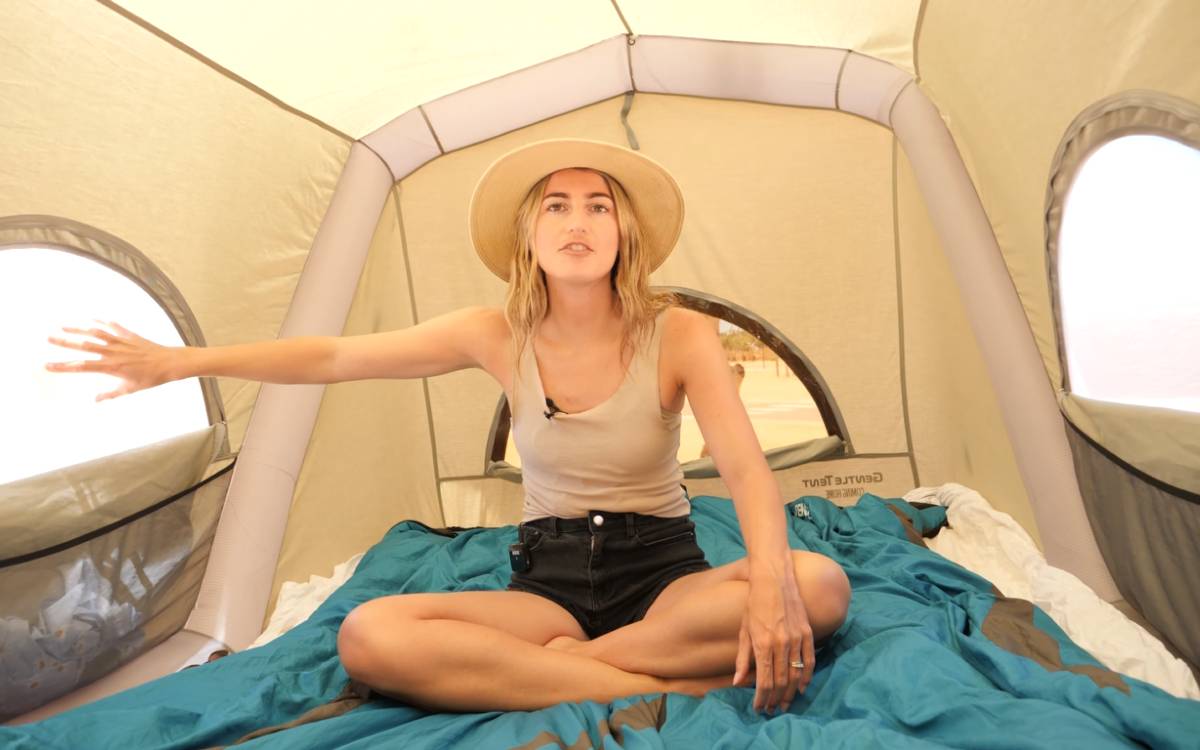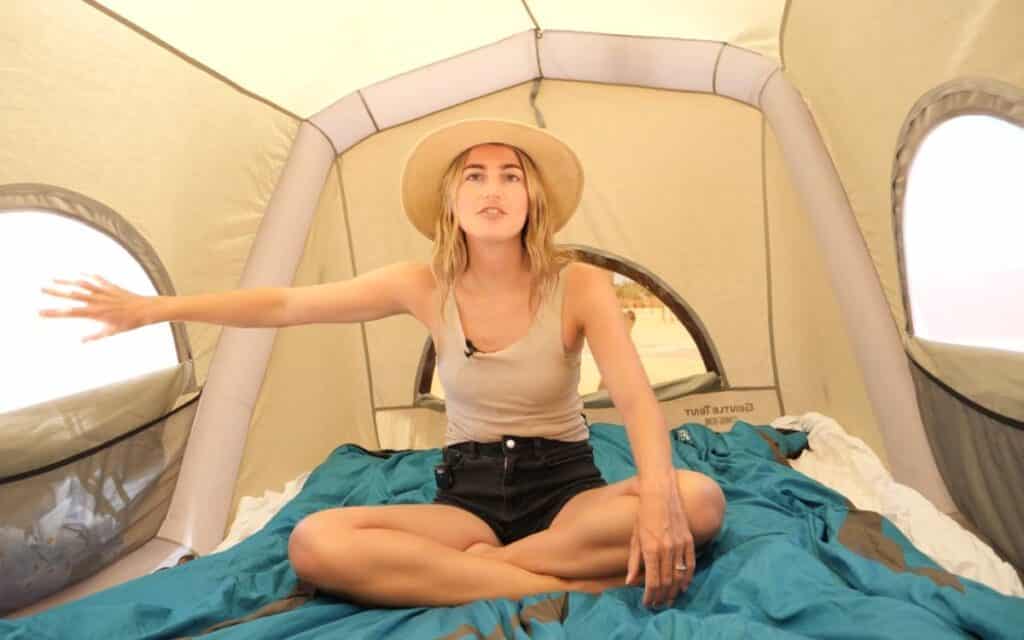 The shower system includes an 11-liter jug, shower pump, and garden hose. The couple also uses this setup to fill up water bottles and do dishes.
Cory and Charlotte have their kitchen in the back of their hatchback camper conversion. It is on a table that slides out of the hatch to create a spacious outdoor kitchen space.
For their sleeping setup, the couple has a rooftop tent. The tent inflates like an inflatable paddleboard, using an air pump powered by the car's battery. The tent comfortable sleeps two people, includes screened windows for air circulation and pockets for storage, and stores on the roof when not in use.
9. This fuel-efficient camper car build out from @hoboahle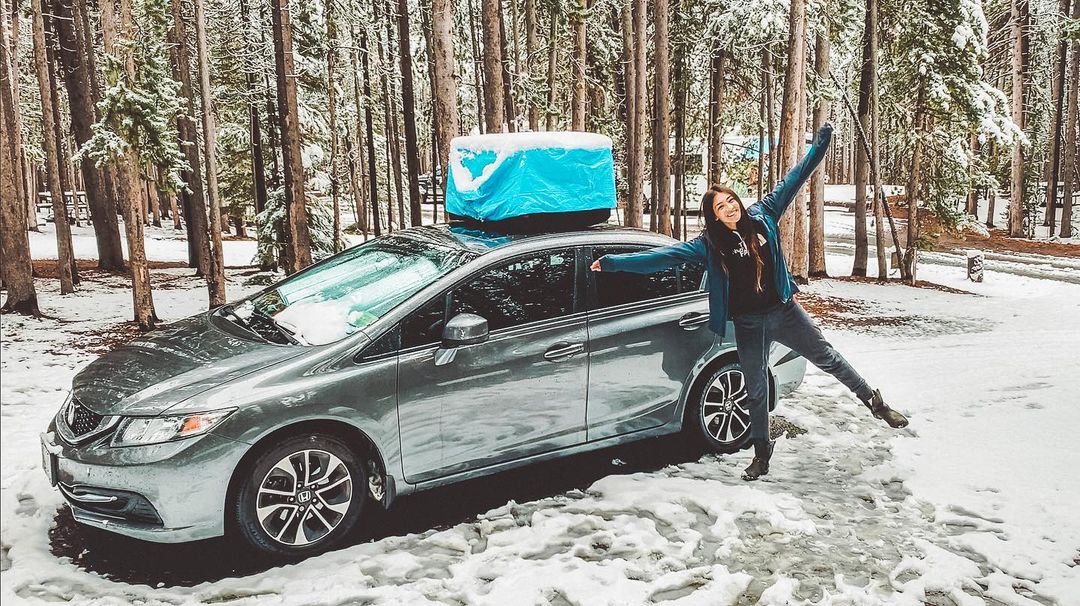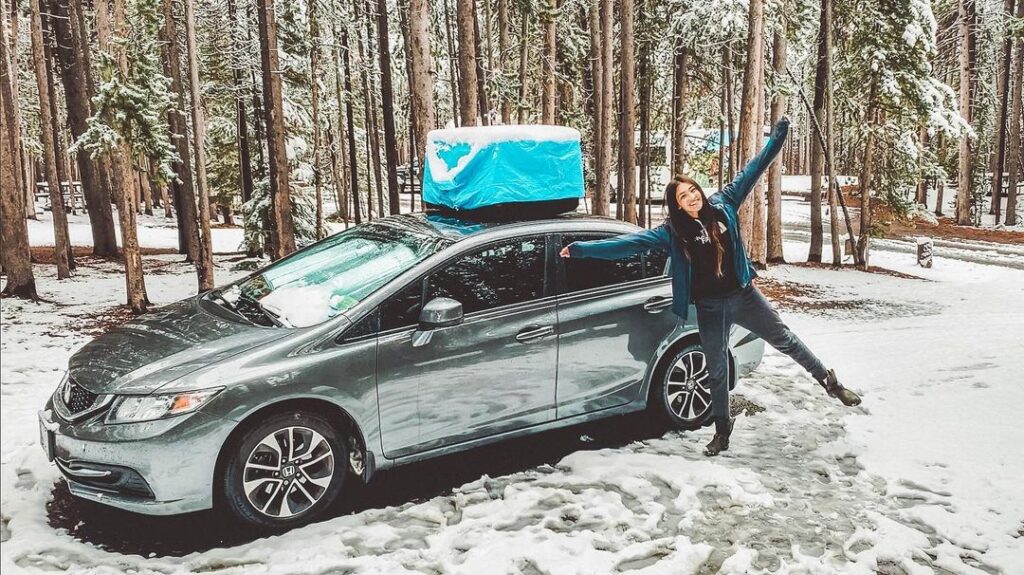 Ahlexandria converted her Honda Civic into a sedan camper. She enjoys traveling in the Honda Civic to save on gas versus driving her campervan conversion because the Civic averages 35 miles a gallon despite the weight of the build and all the gear she is carrying.
The car has two modes: drive mode and sleep mode. When in drive mode, all of Ahle's stuff is in the back seat and trunk areas. When the car is in sleep mode, most of the space behind the front seats converts into a sleeping area that comfortably sleeps two people lengthwise in the backseat and trunk. Ahle moves things up to the front seats when the car is in sleep mode.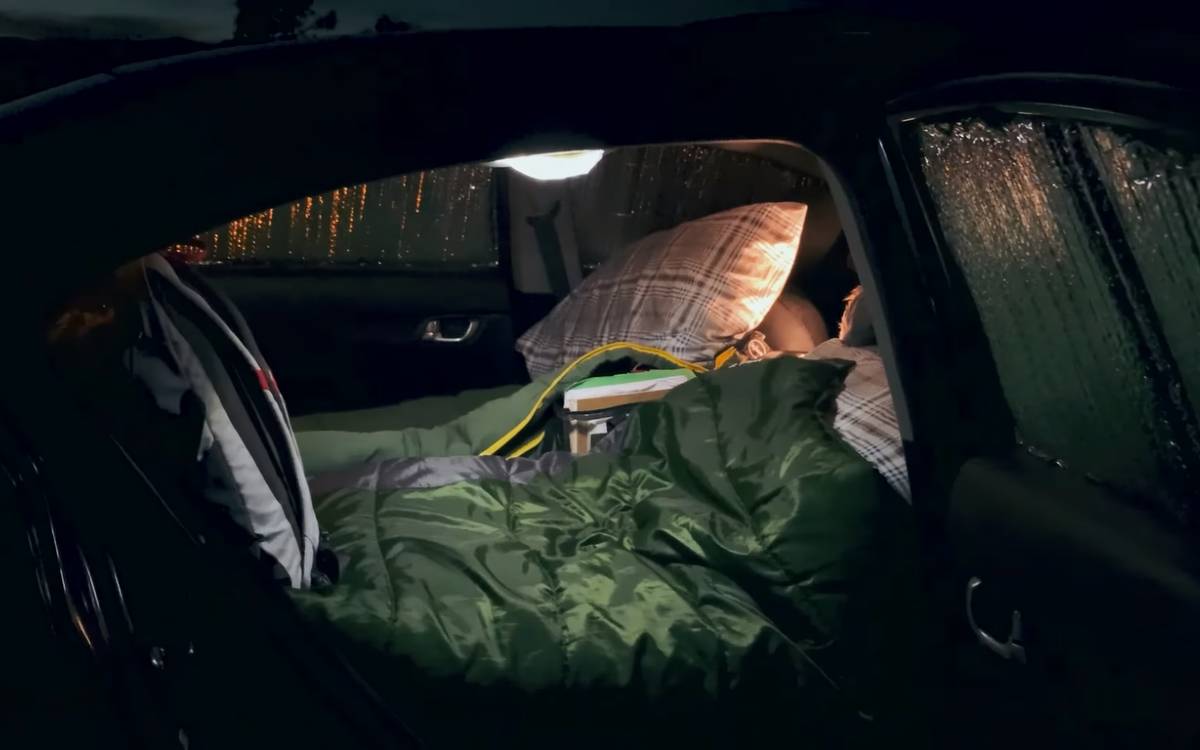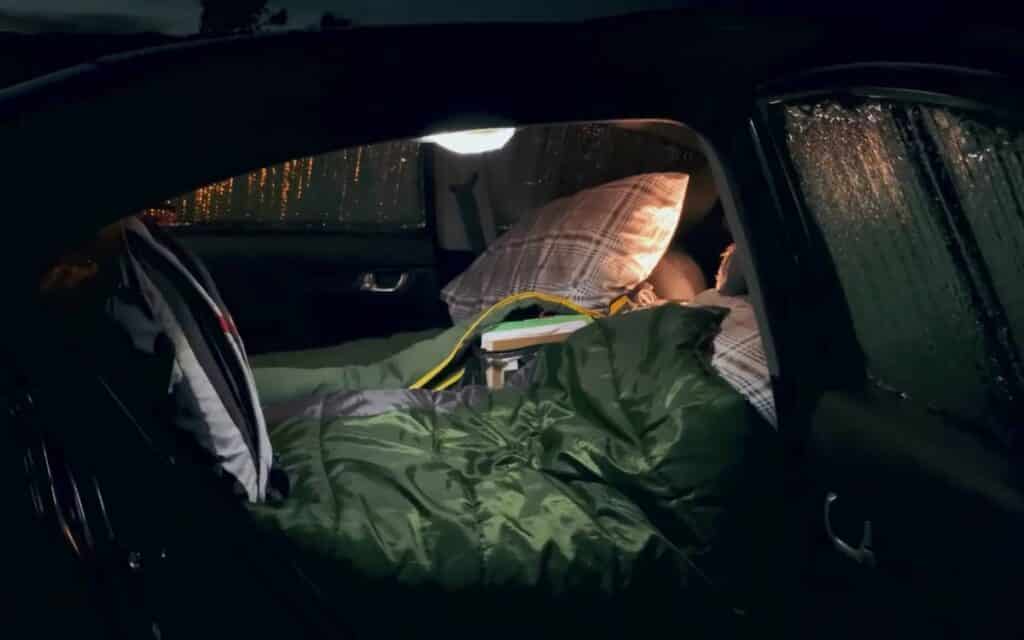 She removed the back seats and built a plywood platform for her bed, which she makes comfortable with pads, pillows, and blankets.
Window covers made of Reflectix and black fabric create privacy and insulation in this car rv conversion. At night, lights can be on inside without being seen outside, providing security and stealth.
10. This thoughtful car camper conversion from David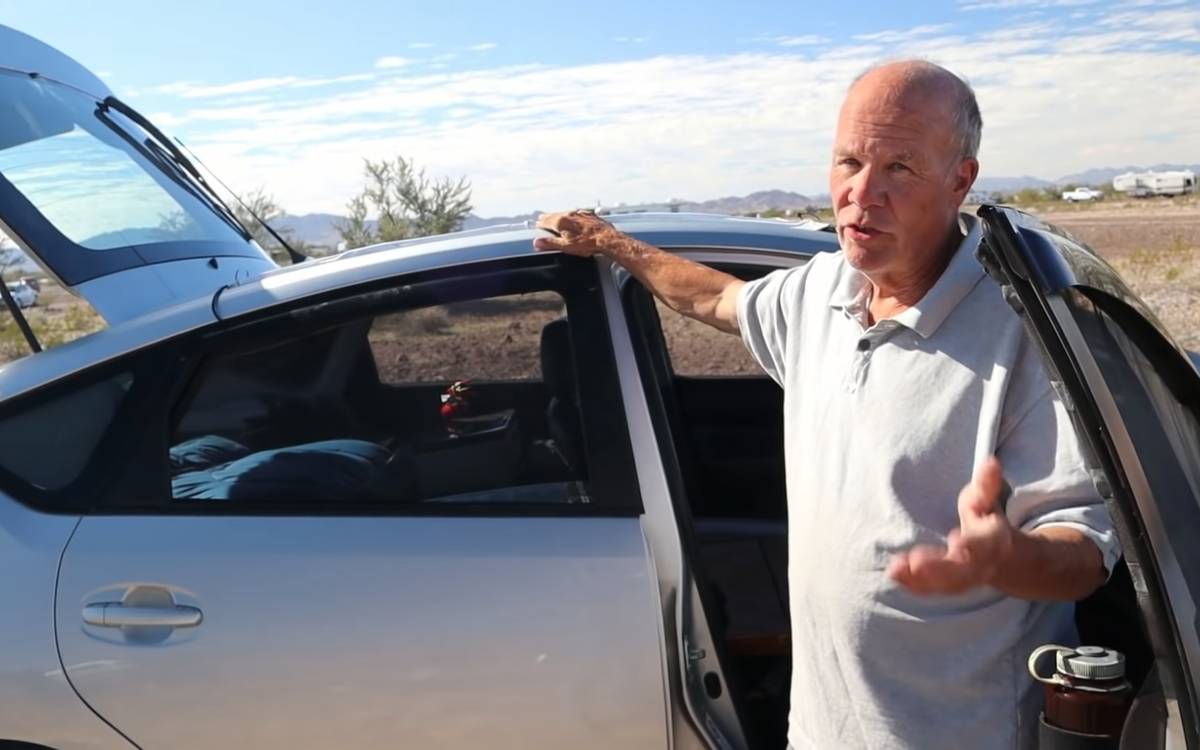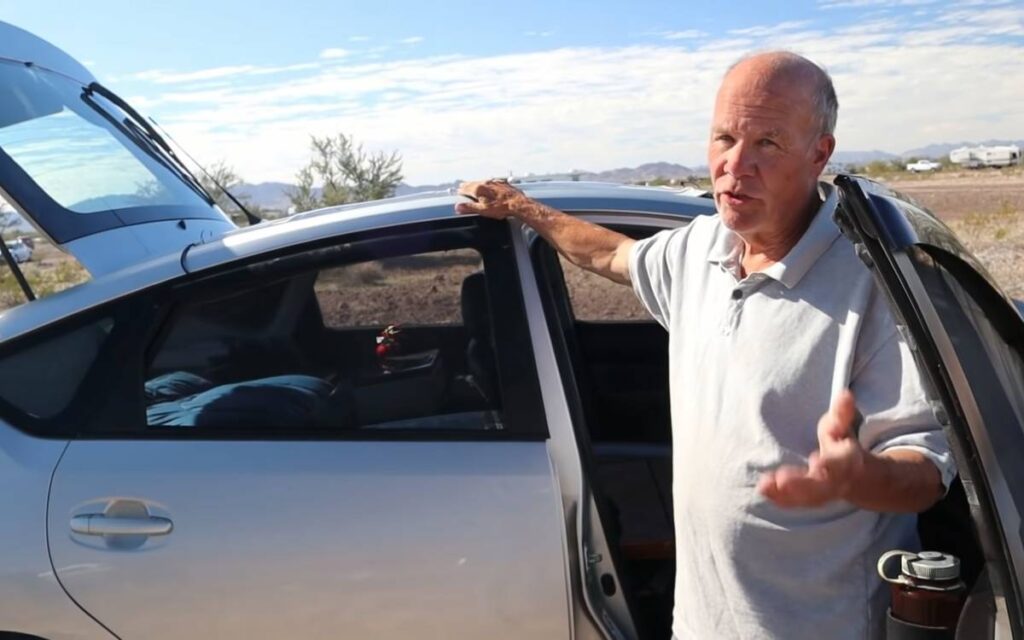 David has lived full-time in his Toyota Prius for six years. He loves that his car camper provides him with stealth and excellent gas mileage. Through a lot of trial and error, David has found a setup that he is very happy with living in long-term, with everything he needs self-contained.
One of the changes he made to his car was removing the passenger seat and replacing it with a table that acts as a desk, kitchen counter, and part of the base for his bed. He uses an induction stove to cook his meals.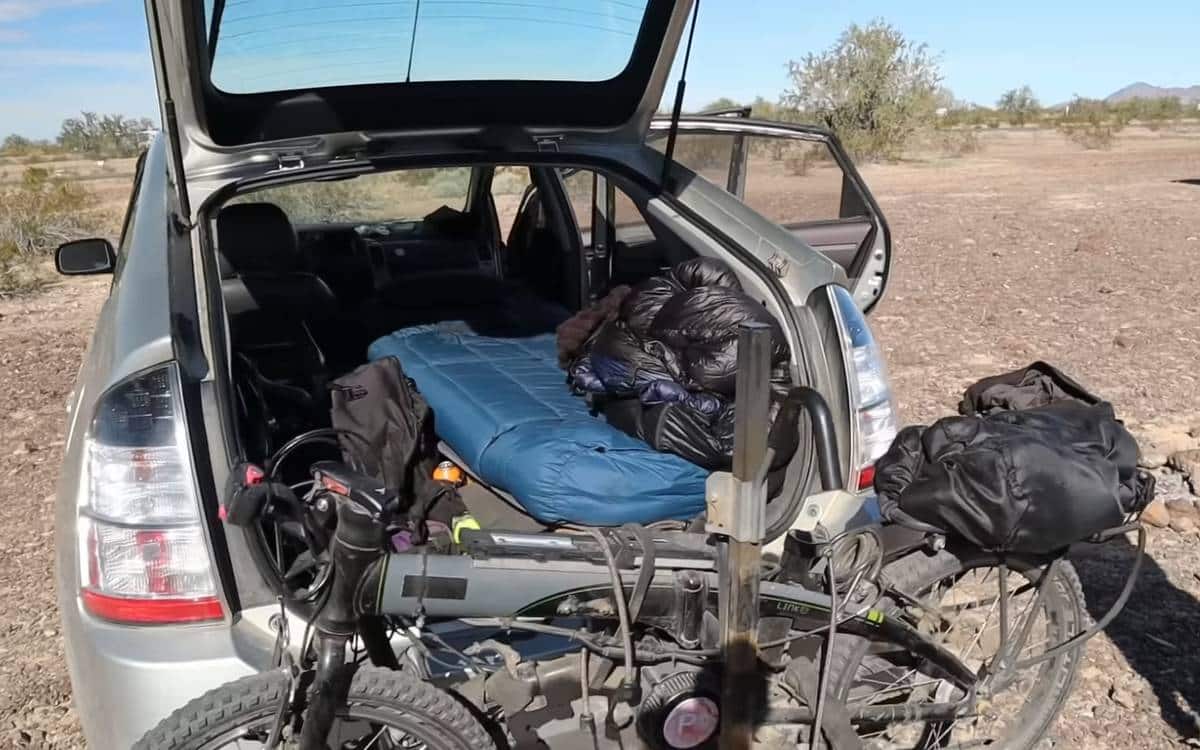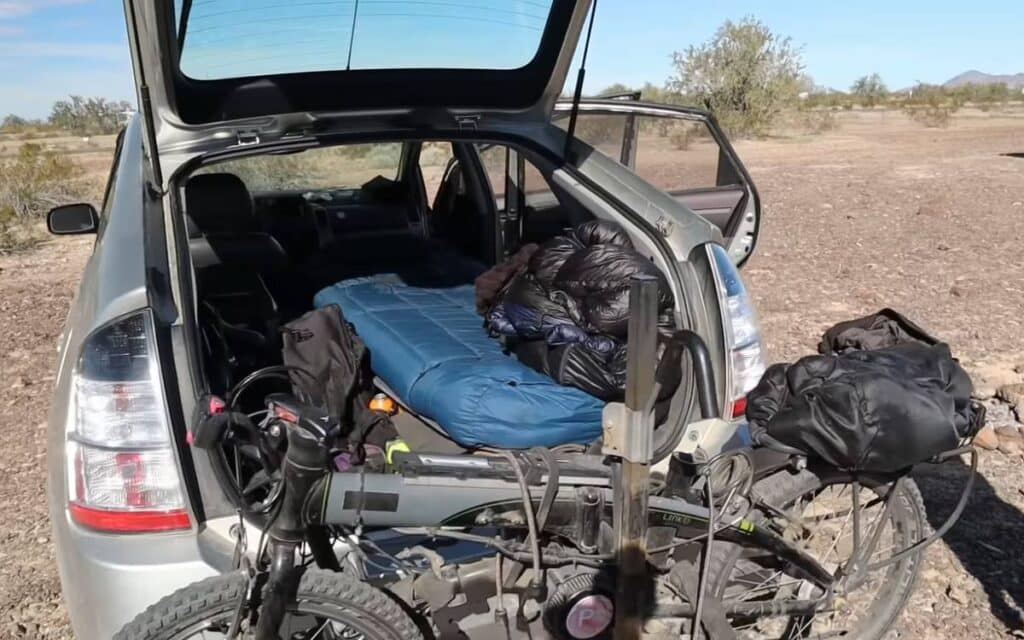 Over the bed platform, David has tried various bedding options and ended up choosing a couple of different sleeping bags that provide a self-contained bedding solution that keeps him warm even on cold nights.
He has two flexible solar panels on the roof of his car, which charges his bike battery and powers his freezer. His bike sits on a bike rack on the back of his Prius, and the freezer is behind the driver's seat.
David purchased mesh window screening to keep bugs out of his car, which he secured with small magnets around the metal in the window frames. He uses polar fleece as the material for his window coverings.
Build Your Van
The Ultimate Van Build Guide
Planning a van build? Read our free guide. We cover just about everything you need to know – from planning, to insulation, to solar and electrical, to picking appliances, to essential tools. Get started today so you can get out there on the road!