One of the many perks of van life is being able to cook inside your van. Whether your mindset is "Dude, I just want to eat!" or "Let's make a delicious home-cooked meal," there's a kitchen layout that will fit your camper van and your budget.
As you plan your van kitchen, it's important to consider your needs and finances, as well as how the kitchen fits into your tiny home on wheels. Large, extended-body cargo vans offer a lot more space to work with than you'll find in a Chevy Astro Van.
No matter how much space you have, you've got plenty of tasty options. Campervan kitchens run the gamut from super simple to fully equipped, regardless of whether you drive a Ram Promaster van or a Ford Econoline.
Here's a look at the best camper van kitchen ideas we've seen, so you can choose the layout and necessities that are best for your DIY van conversion.
What's Your Camper Van Kitchen Vibe?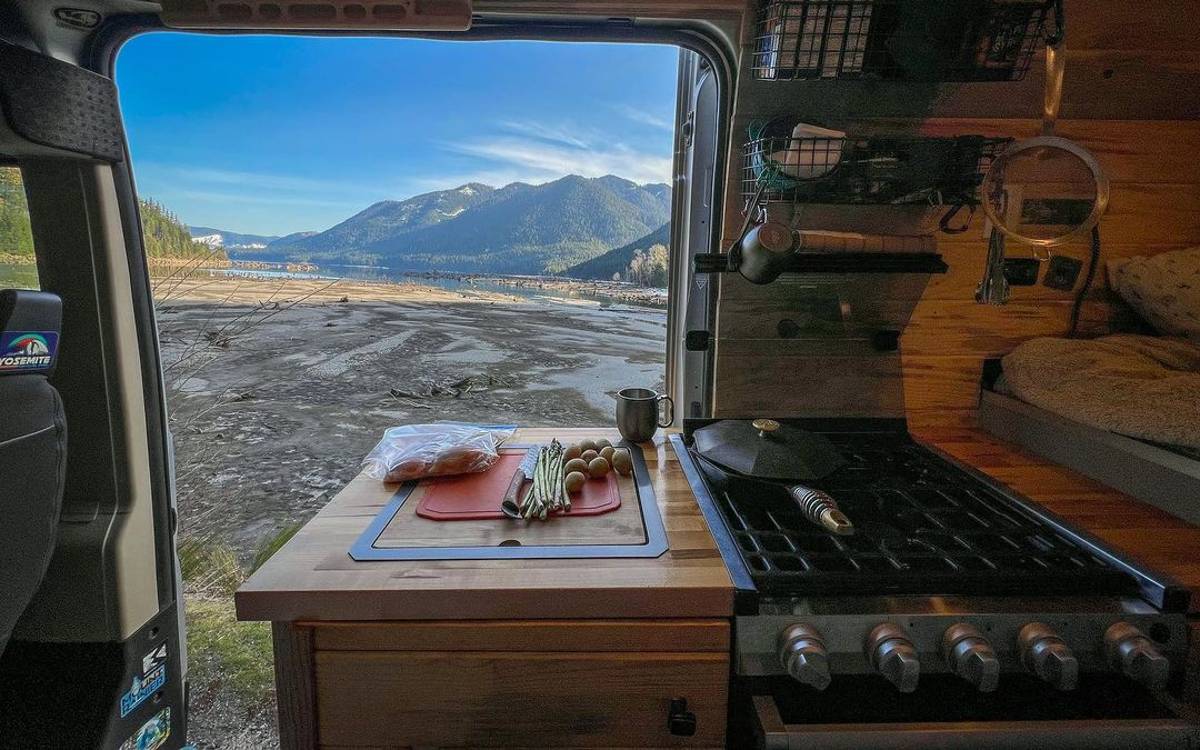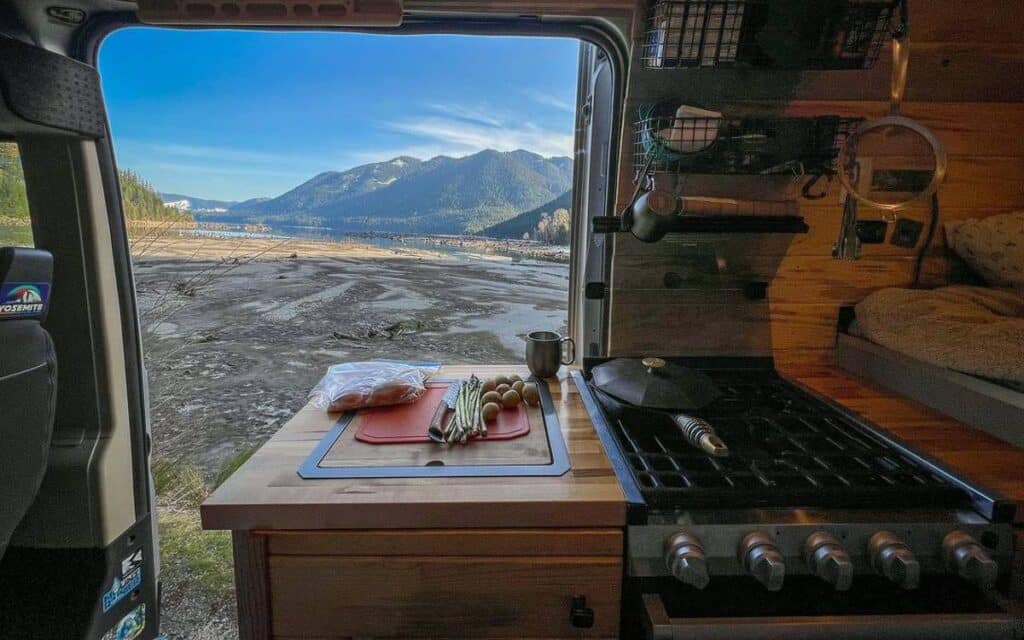 Before you pull the trigger on purchasing anything for your campervan kitchen let's think about the entire kitchen and how you'll use it. You're in the driver's seat with how you approach your design and layout, so let's make sure it suits you perfectly!
Read More: 101 Van Life Essentials You Don't Want to Forget
What Kind of Van Chef are You?
What, how, and who you cook for will play a big part in determining what kind of kitchen you need. Are you solo, a van life couple, or a family? A full-time van lifer or weekend adventurer? Do you prefer cooking inside or at an outdoor kitchen at the back of a van? (The only downside of that is bad weather!)
Don't cook much? A microwave, a small sink, and a way to heat water might do. That won't take up much space, but you will need a solid camper electrical system to nuke your food.
If you enjoy cooking or want to make healthy meals on the road, you'll want a campervan kitchen that does a little more. At a minimum, running water and a stove of some sort will get you through.
Can't live without freshly baked treats? You could opt for a portable camp oven and bake outside, or go all in with a gas- or propane-fueled range.
If you have a simple build and prefer to cook like you're camping, consider a collapsible kitchen unit. Also called trail kitchens, these kitchen units are easy to set up when you need to cook, and pack away when not in use.
In a Campervan Kitchen, Space Matters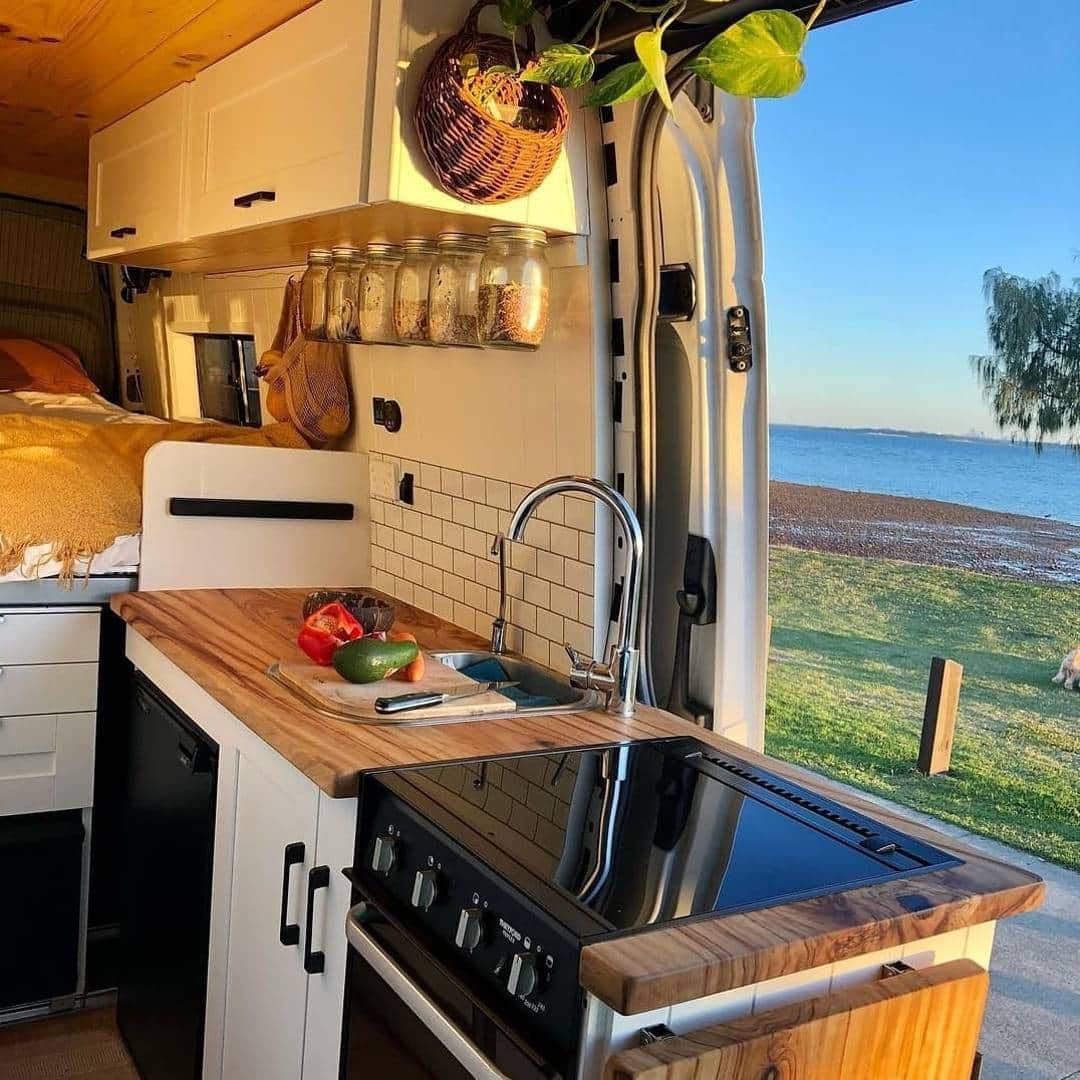 When listing out your favorite camper van kitchen ideas, think of the space as more than a cooking area. Give some thought to how you'll use the full kitchen space for meal prep as well as how you'd like the area to function when you're not cooking.
Should the galley countertops double as an office workspace? Will your Murphy bed unfold on top of your cabinets? Does your kitchen sink double as your shower?
Also think about playing with the size and placement of the cabinets and kitchen appliances. A standard kitchen cabinet is 24" deep (25" with the counter) and that might be half to one-third the width of your van.
Could shallower cabinets (18-20″ deep) work? Do you only need them on one side of the van? Is there room for you and your partner or guests to pass each other in the galley? Do some calculations to be sure.
What about the kitchen location within your van? Are you OK with blocking access to the front seats to put an extra wall behind them for the kitchen? Do you like the idea of a van kitchen by your side door? Does cooking at the back of the van appeal to you?
Whatever you choose, multifunctional camper van kitchen ideas and layouts offer incredible flexibility to maximize your use of space. Choose your campervan kitchen design wisely and you'll create an area that is both practical for prepping meals and a pleasure to use for a number of other purposes.
Campervan Kitchen Essentials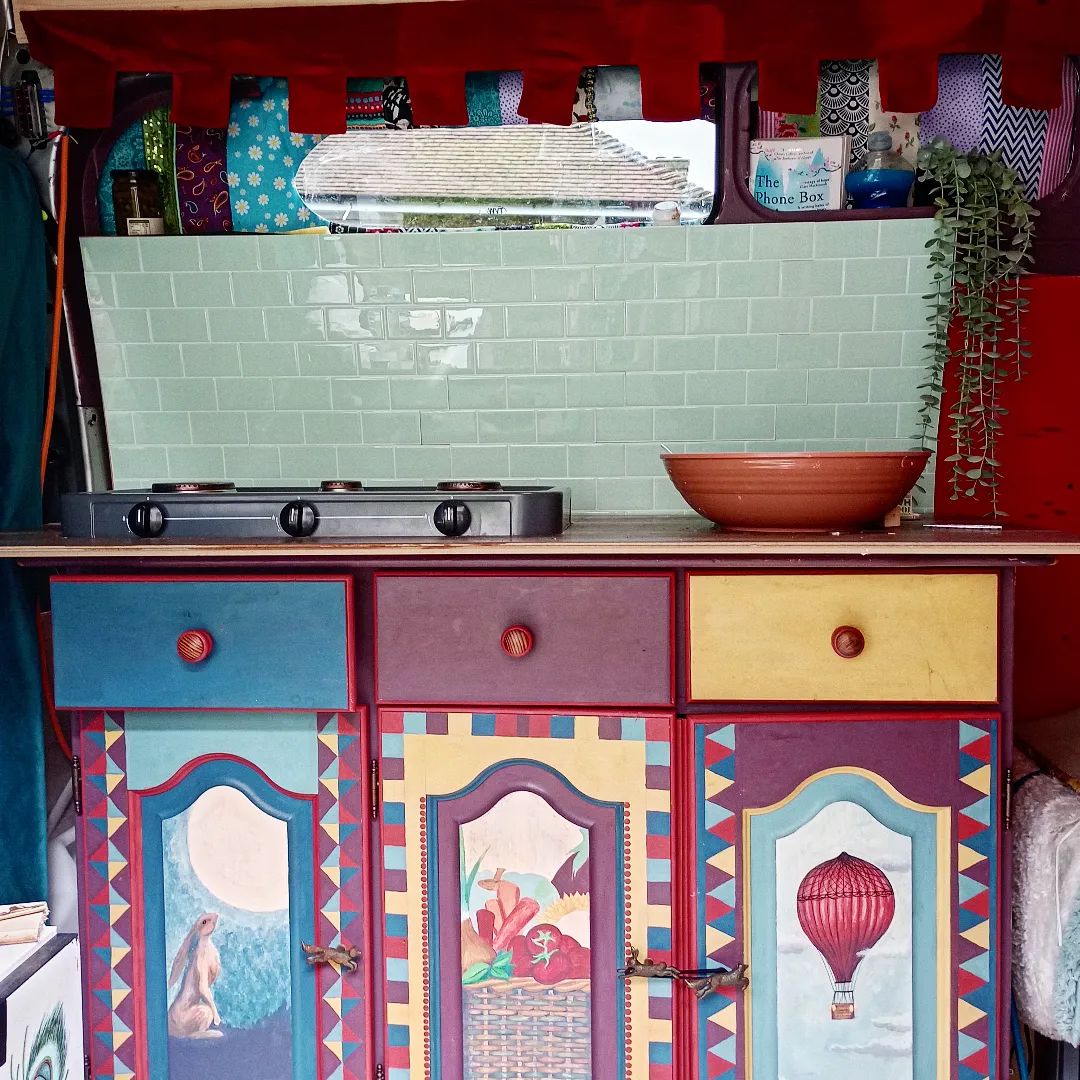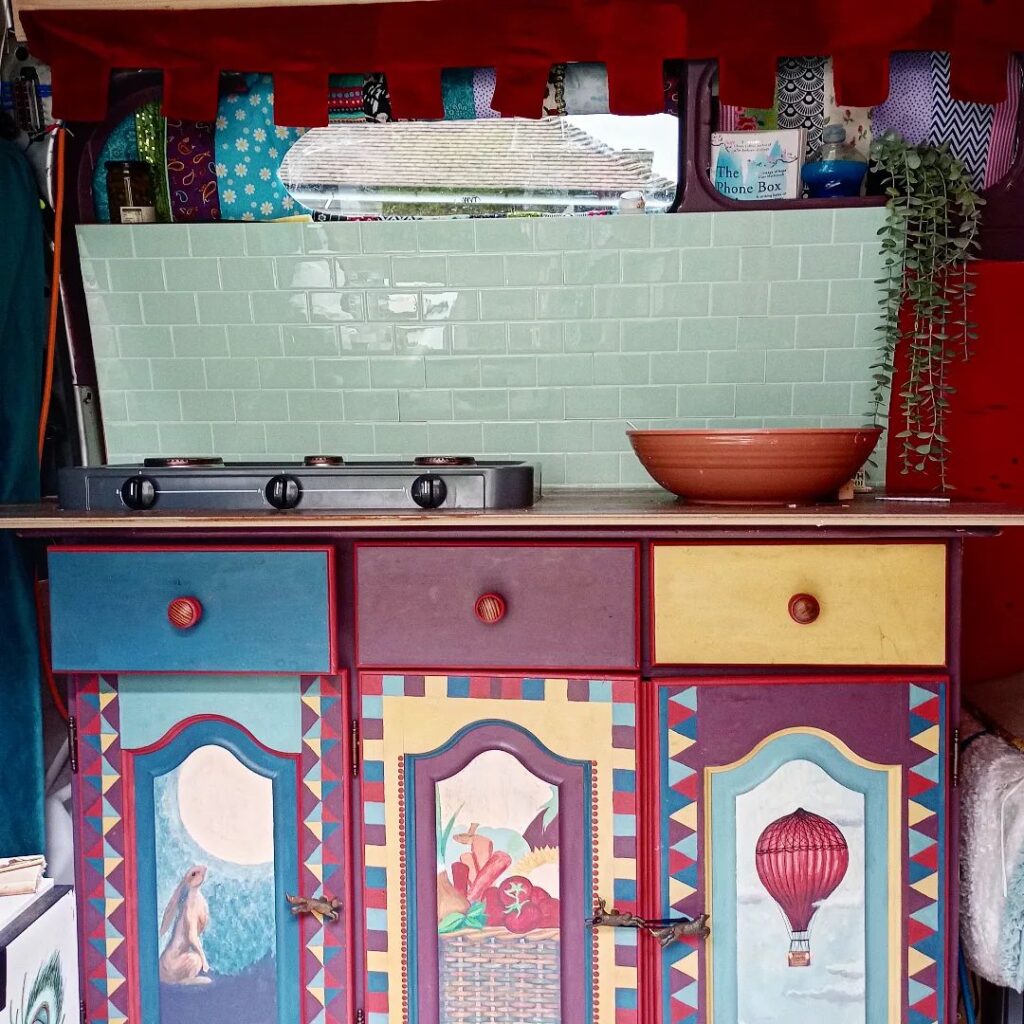 While your definition of "kitchen essentials" may differ from someone else's, there are a few basic things to plan for in your camper van kitchen design. These include kitchen appliances as well as methods for storing food, cleaning up, and stowing all your kitchen stuff.
Major van kitchen features include:
Water System for Campervan Kitchens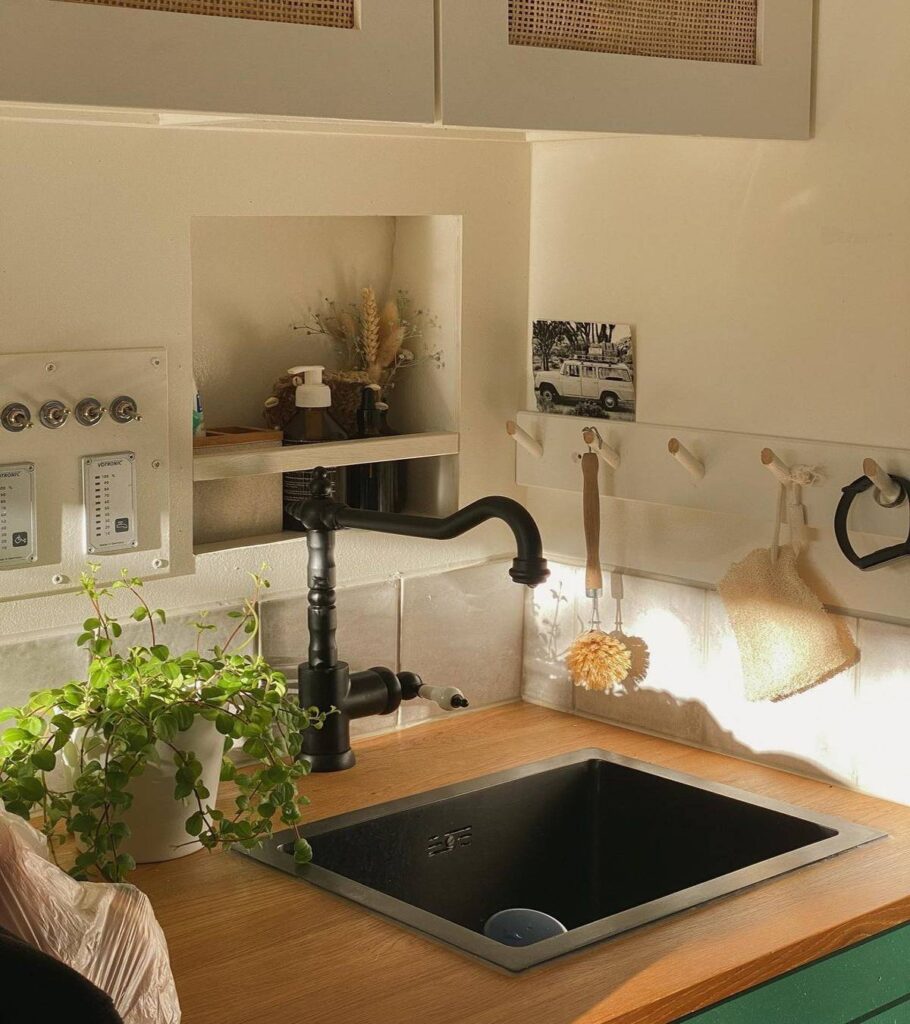 From a collapsible bucket to a fully plumbed sink, you'll need access to water for food prep and kitchen cleanup. Most van kitchens include a sink with a faucet (a sprayer is nice, too) that drains into a gray water tank.
Fresh water can come from a gallon jug, a sturdy water container, or a large freshwater tank. If you install a tank in your van conversion, you need water lines and a foot pump or electric pump (possibly with an accumulator) so you don't have to wait for the water to flow.
Adding a filter to your water system can ensure your health and safety while living van life, especially if your water comes from sketchy sources. If you're venturing off grid in that 4×4 Sprinter van, you'll need a big fresh water tank or a good filter system.
For hot water, the easiest route is to heat it up on your stove. You can also install a small hot water heater if there's room, or use an electric kettle to heat water for tea or washing up (again, you'll need a legit electrical system for these options.
Cooking in Your Van Kitchen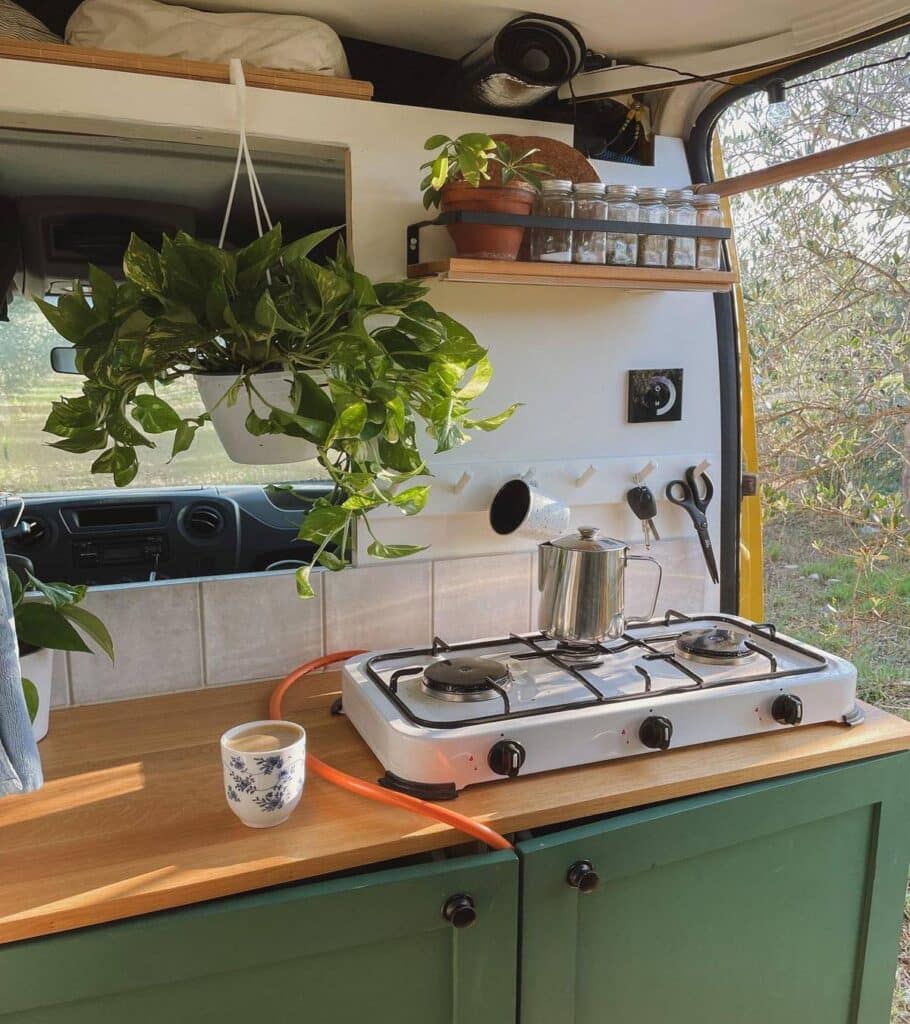 A one- or two-burner camp stove can do double duty to cook food inside or out and can often be purchased for less than $100. If you prefer more permanent kitchen appliances in your van conversion, a two-burner stove or induction cooktop is a popular choice.
If your version of cooking includes baking, look at ranges from Dometic, Furrion, and other brands. These incorporate an oven and a cooktop, running on propane, alcohol, or even electric (12V or 120V). Budget at least $500-$700.
For quick and easy meals, consider a microwave or toaster oven. While not as common in campervans, these are must-have kitchen appliances for some van lifers. If that's you, look for models that are compact and energy efficient.
How you'll power your cooking is an important decision for van life. Some fuels require venting to be safe, and electric appliances demand adequate battery power to work well.
Refrigerator / Freezer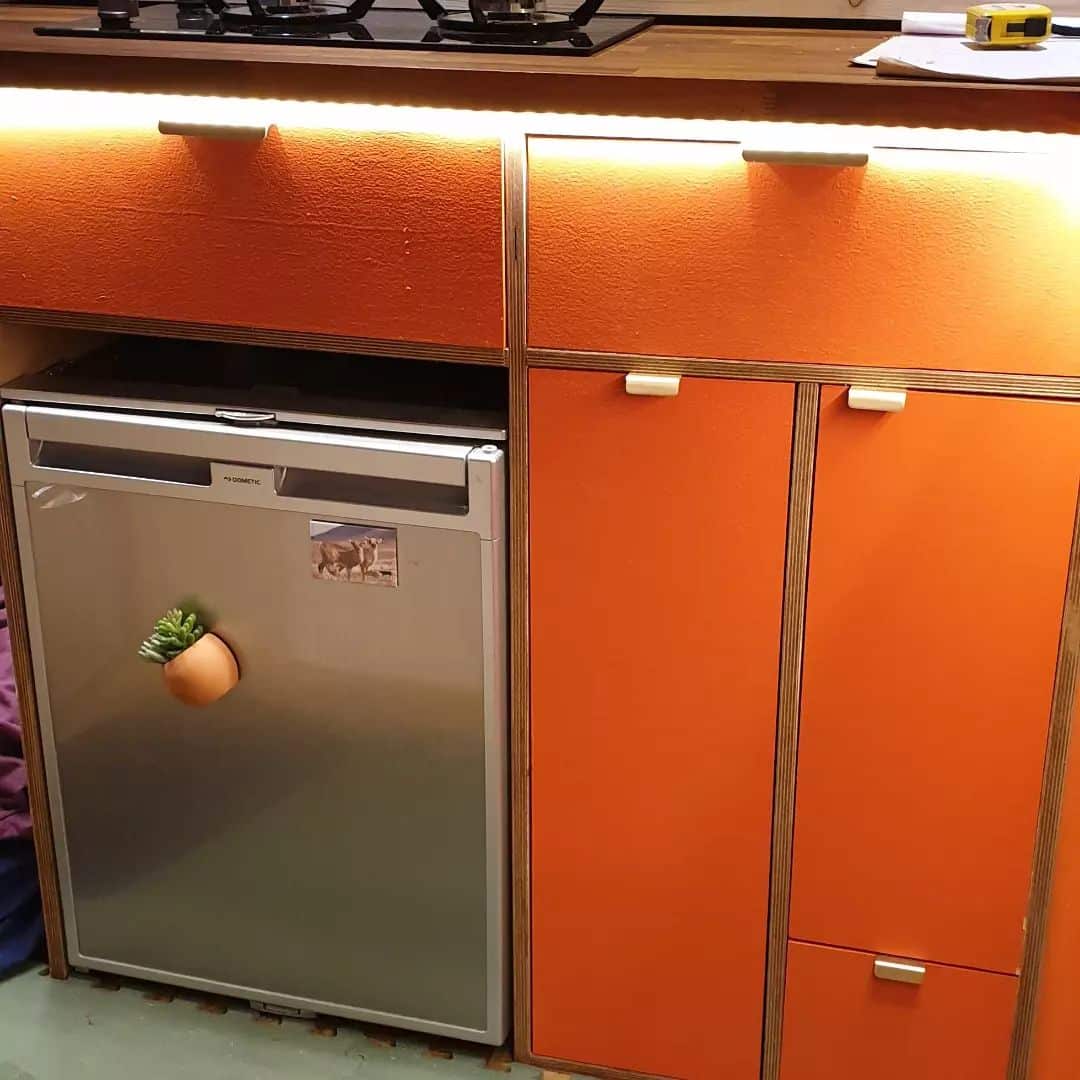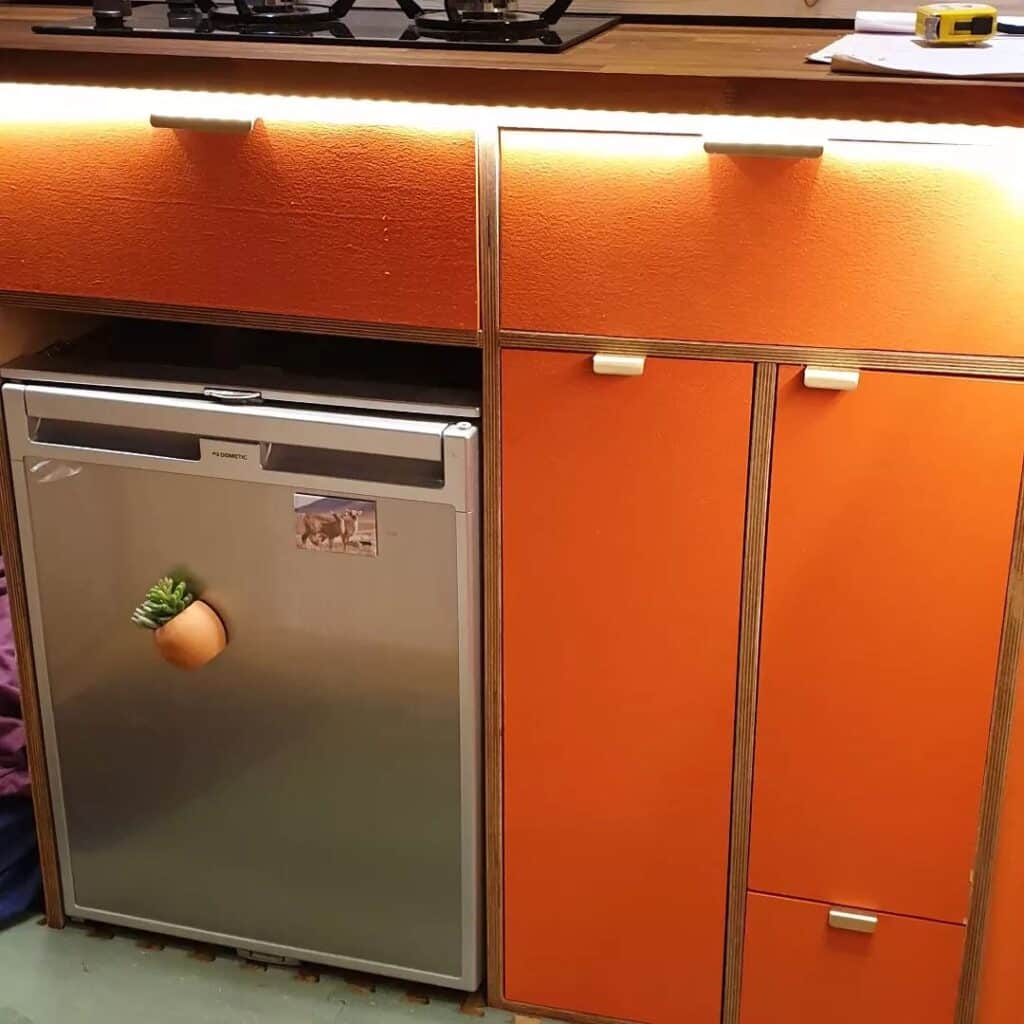 Unless you plan to shop on the daily, keeping food fresh and beverages cold is a must. If you enjoy ice in a cold drink (or ice cream for dessert) you might want a freezer (or a dual-zone fridge) in your camper van kitchen, too.
Chest-style coolers work well in small spaces, but if you don't want to deal with the hassle of replenishing melting ice, consider going with a 12V portable refrigerator. You can buy van refrigerators that are small and compact, all the way up to dual-zone fridge/freezers.
Top-loading fridges fit well under bench seats or into large drawers, making them a go-to style for van life. If you're like me and prefer a traditional upright fridge, you can choose an inexpensive AC dorm fridge or a purpose-built DC truck fridge or RV refrigerator.
The fridge form and size you select will impact your campervan kitchen layout as well as decisions about your electrical system and solar power. It's best to make those decisions with your campervan kitchen layout in mind.
Van Life Kitchen Storage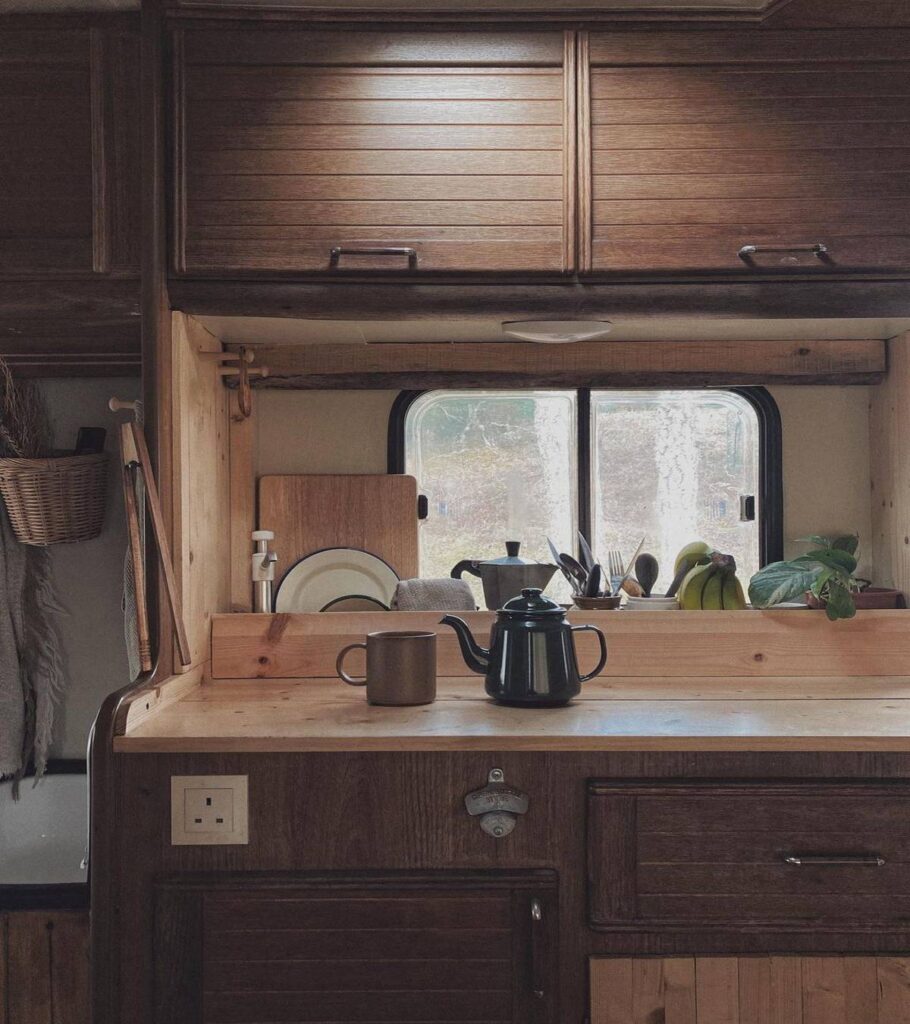 Camper van kitchens of all sizes need storage options for food, dishes, pots and pans, and utensils and cooking accessories. Many van kitchen layouts include both base cabinets and overhead storage for these items.
Many lovely Instagram posts feature knives magnetically attached to the backspace, spices hovering in under-cabinet racks, and fruit in hanging baskets. That may look good when you're camped, but the only downside is that these items may not stay put when you're riding around on Interstates and bumpy roads.
Plates, pans, cutlery, and cooking accessories are prone to slide around and rattle incessantly while driving your camper van, so securing kitchen gear is vital for safety (and your sanity).
Incorporating space-saving storage baskets, drawers, and organizers into your camper van kitchen design will keep things in place, provide easy access, and reduce damage. Small choices make a big difference: a fruit hammock is better than a fruit bowl, and your sink insert can double as a cutting board when it's not extending your counter space.
Kitchen Designs for Everyone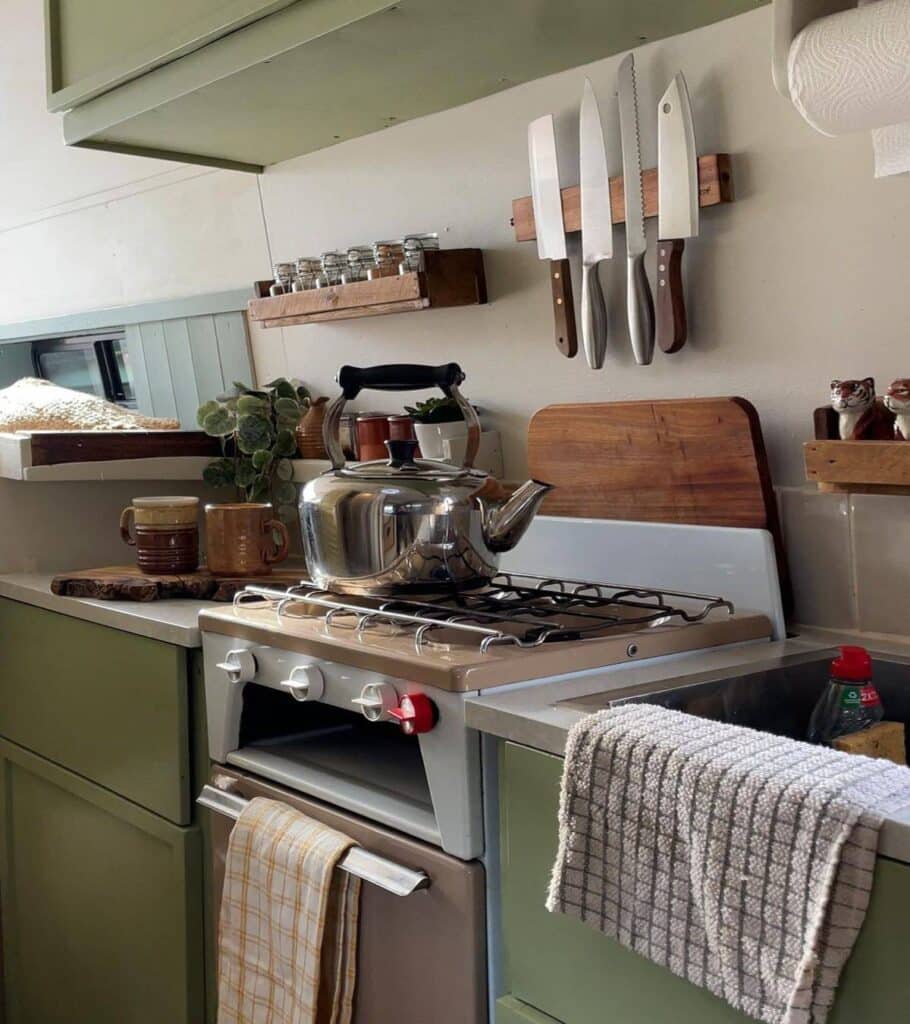 Now that I've given you plenty to think about as you plan your dream campervan kitchen, how about some design inspiration? I've rounded up examples of some of the most popular, most practical, and most innovative campervan kitchen ideas I could find.
1. Top Designs for Camper Van Kitchens
There are a few tried-and-true kitchen layouts for camper vans, although they take shape in numerous ways. Use these camper van kitchen ideas as inspiration, and take galley design cues from these examples of the most popular kitchen layouts for van life.
In-Line Galley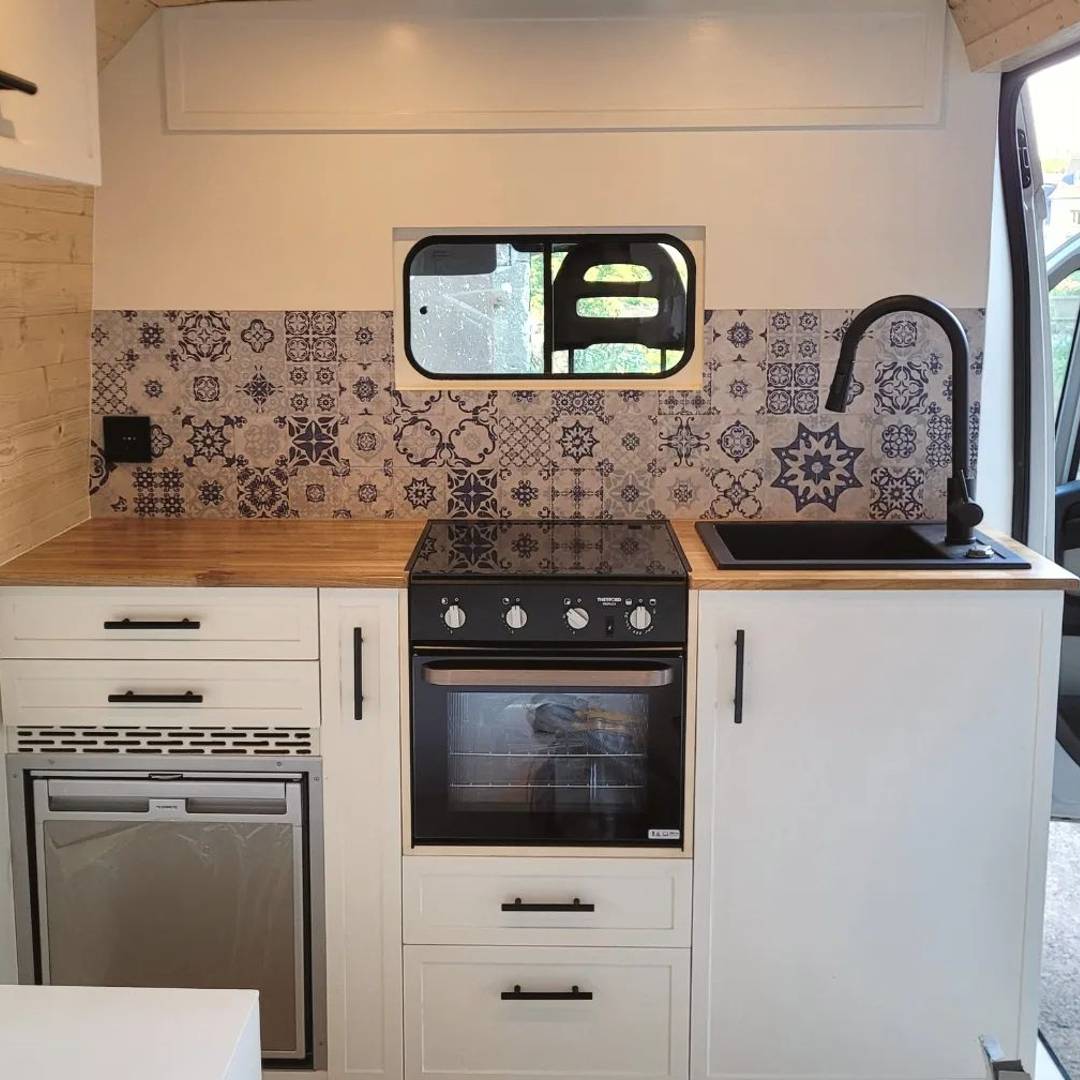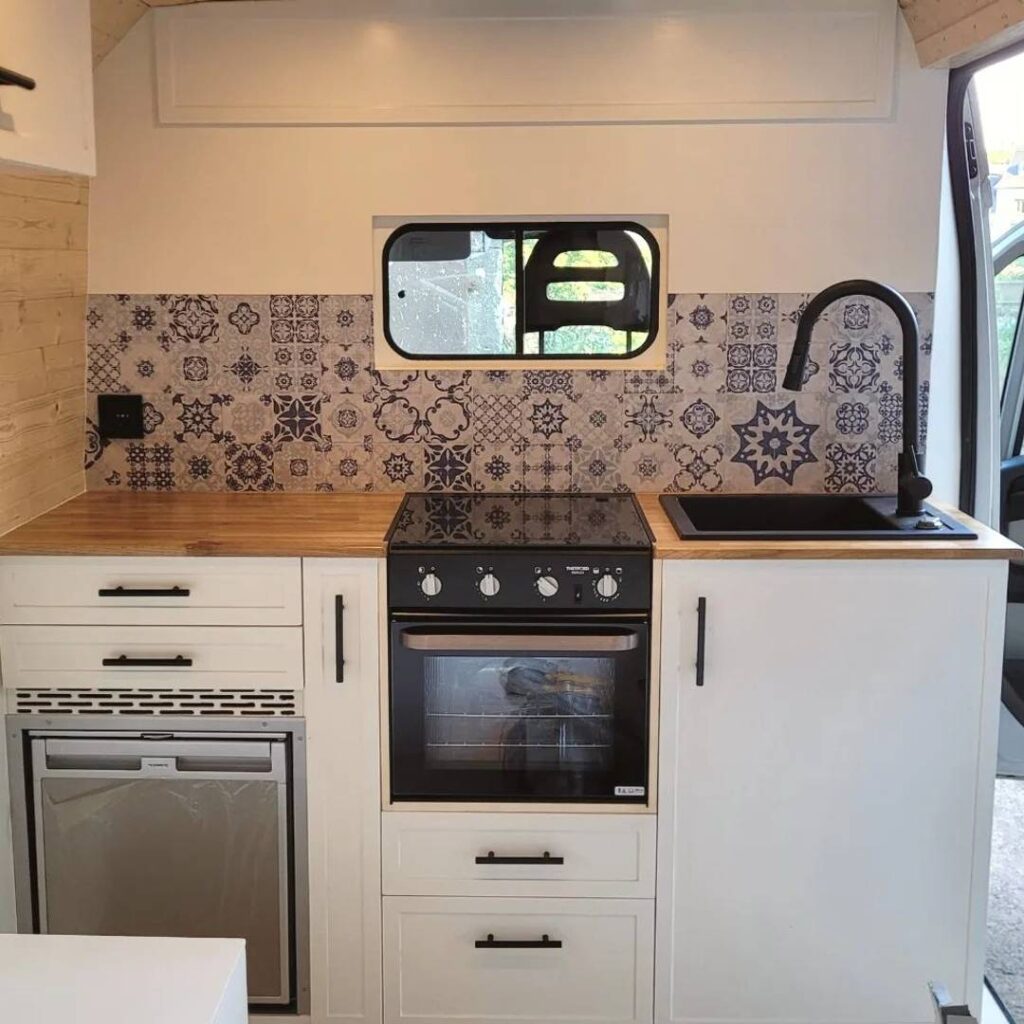 The simple in-line galley is one of the most ubiquitous campervan kitchen layouts for cooking inside a van. It's usually located behind the front seats, near the side door, offering easy access to the outdoors.
This galley kitchen from @wanderadventures shows you can have it all on one wall: a sink, fridge, and even an oven. Sarah and Giles are admitted perfectionists, and the hand-built cabinets in their van conversion make it all fit together perfectly.
Space is at a premium in this lateral layout. To make the most of it, the couple chose a Thetford Triplex oven with a glass top to cover the burners, creating more counter space.
L-Shaped Kitchen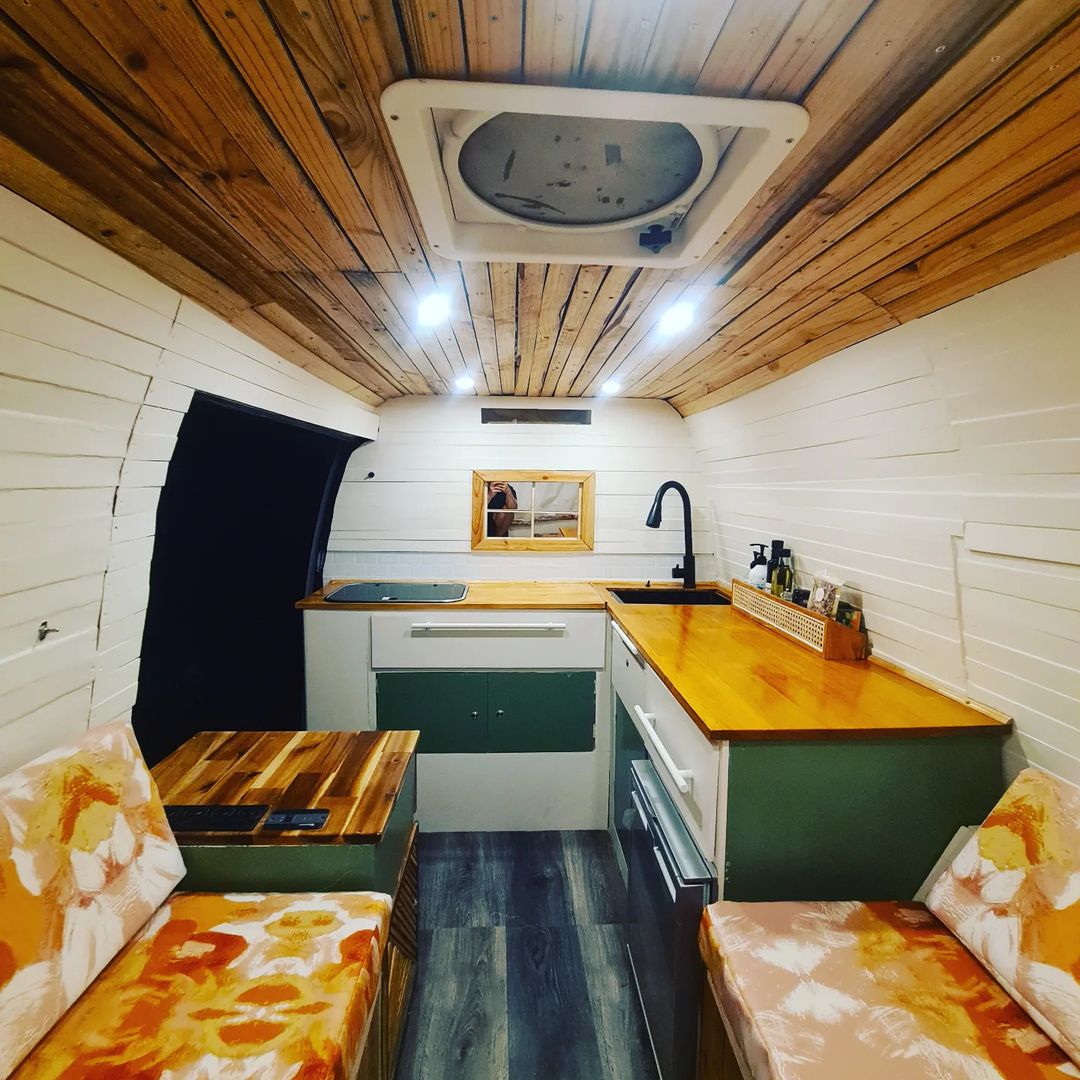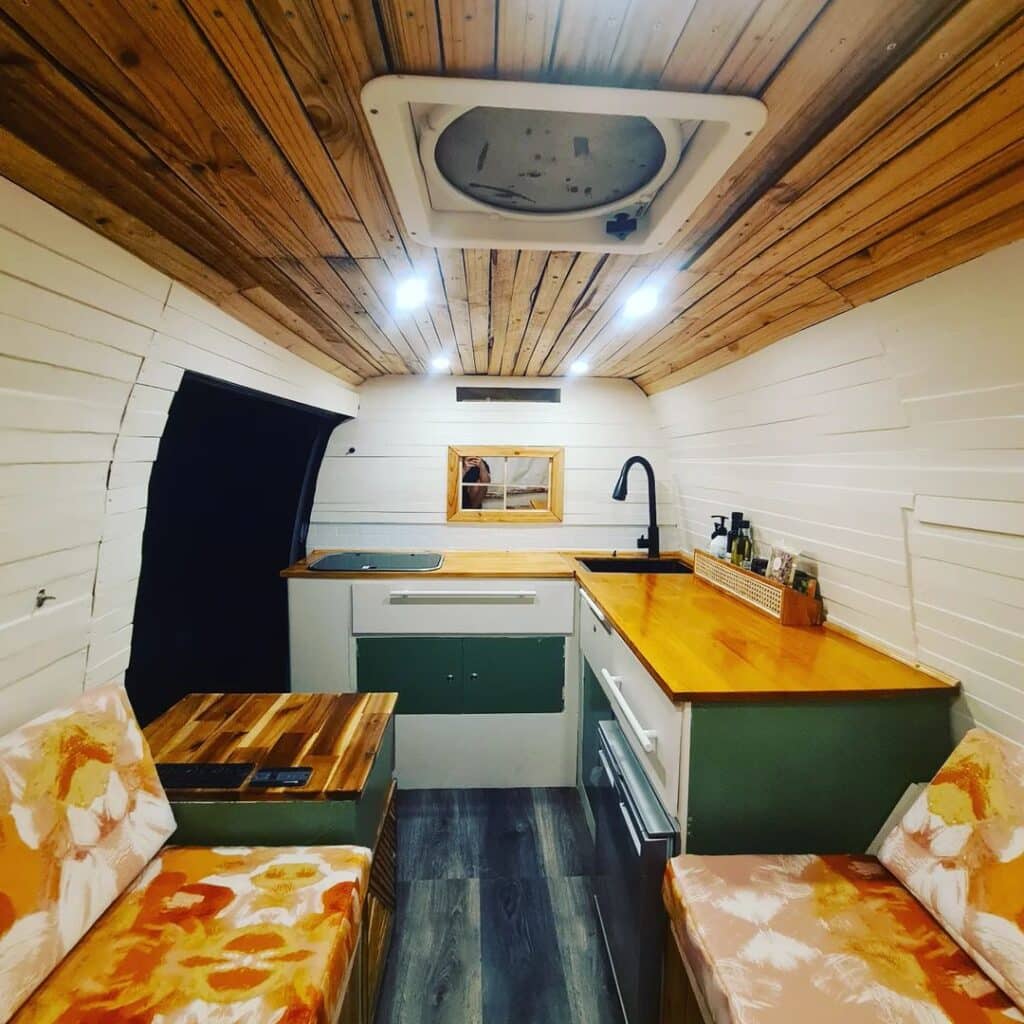 L-shaped kitchens are another popular choice for a campervan build, especially when there's a wall behind the front seats. Instead of the corner becoming wasted space, @ausvan_adventure used it to tuck in the sink, leaving a long expanse of multi-use counter space.
Placing the stove right by the side door of this Toyota HiAce conversion allows odors to escape while the chef enjoys the view. Along the side of the van, running front to back, is a larger cabinet with a sleek counter and a chest-style fridge stored below.
Multi-Depth Counter Space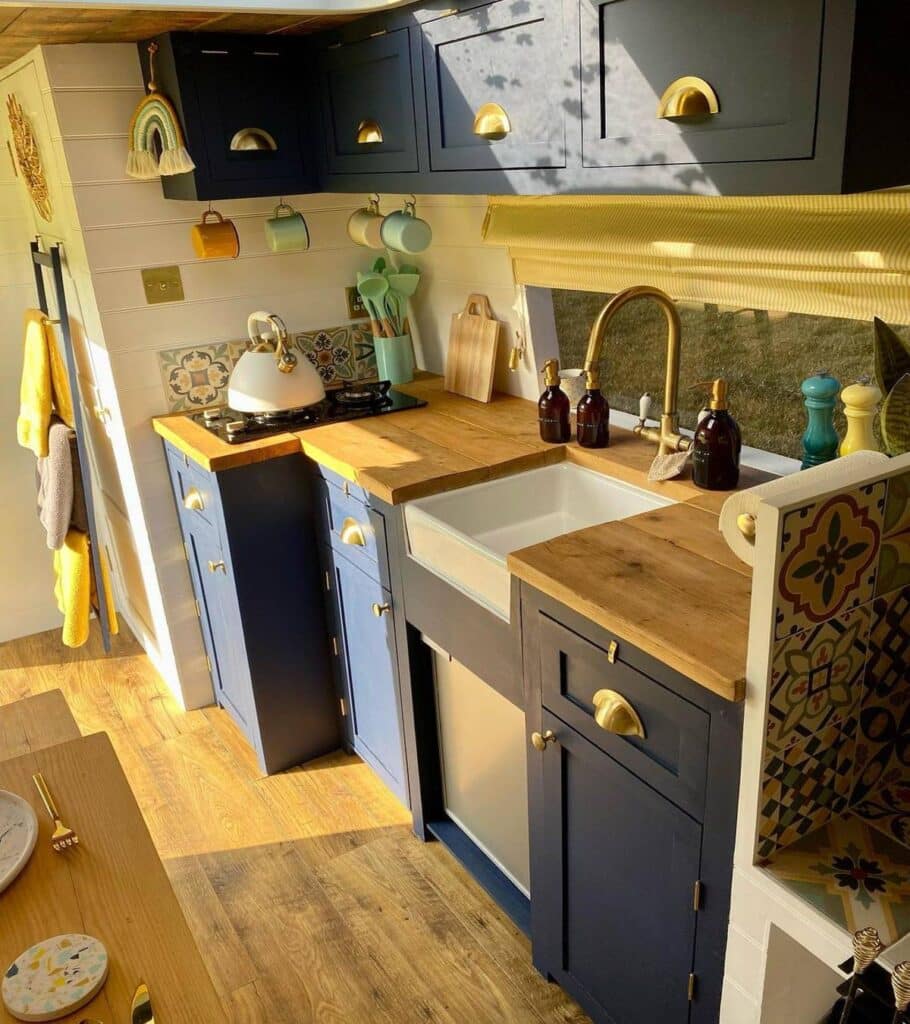 Making room for a cooktop in a tiny van kitchen is a creative endeavor. This campervan kitchen design from @our_life_of_projects saves space with cabinets that aren't as deep as the 24" standard you find in home kitchens, giving the van kitchen a small footprint.
A kitchen counter bump-out on the left end of the kitchen made space for the stove, and there's still a spot for the farmhouse sink with a small fridge underneath! Decorative tile protects the siding from heat while cooking. Natural light from the window behind the sink makes cleanup time more pleasurable.
To finish it off, deep blue cabinets with a gold faucet and hardware lend a touch of elegance to the kitchen layout in this Sprinter van conversion.
2. Unique Campervan Kitchen Ideas
Want to express yourself with a distinctive look? DIY van builders are a creative lot. They use uncommon materials to conserve budget, reduce waste, save weight, and simply to create a personalized look. Add in a fresh take on space planning, and you've got a foolproof formula for a great van galley design.
There's no need for your own van kitchen to be bland or boring when you can take design inspiration from these innovative approaches to van kitchens: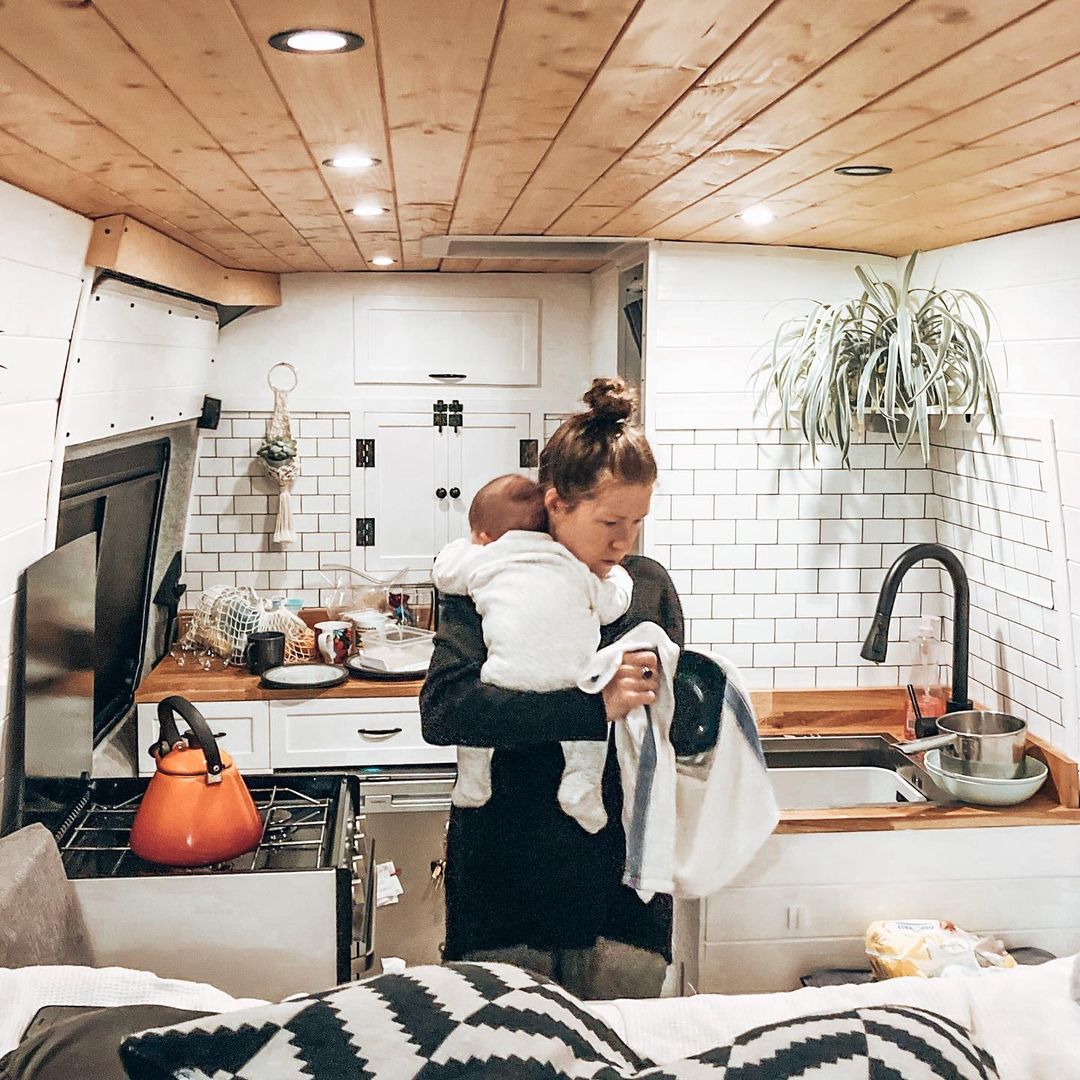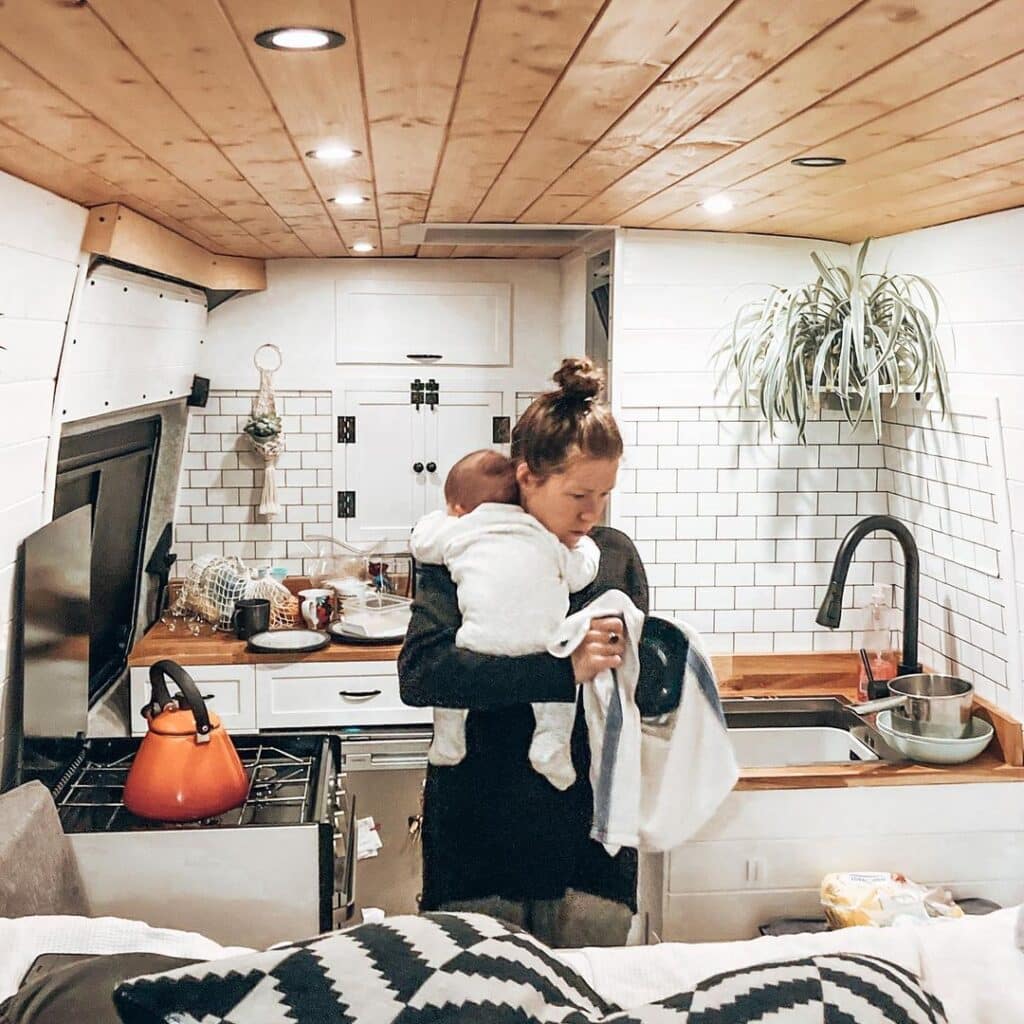 When you need space in your van conversion to cook food for a growing family, why not build a van kitchen that features a practical work triangle?
Back in 2021, full-time van lifers Sara and James @thewholeworldornothing introduced their baby to van life from the start. With a growing child on board, using space in their Sprinter van wisely meant all the difference between living comfortably and feeling squeezed.
This 3-part kitchen places the sink, stove, and fridge on different walls. Situated right by the sliding door with a pass-through to the cab, the kitchen offers plenty of counter space and a nice workflow – all wrapped around a full-onboard shower!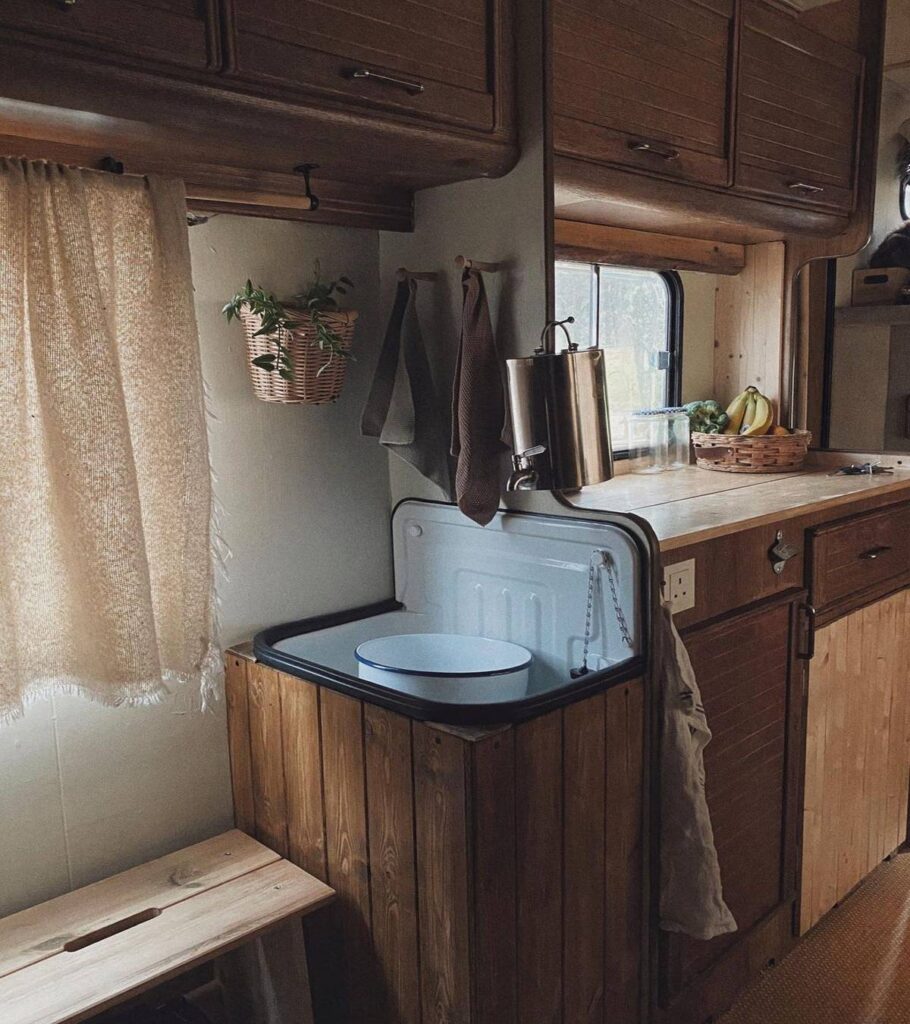 When @thiscabinvan renovated the van kitchen in their 1989 Talbot Express, they replaced the old sink and switched to a stowable camp stove to increase usable counter space.
Without an onboard shower, their campervan kitchen often does double-duty as a washing-up station. They added an old-fashioned deep sink across from their woodstove to use as a wash basin.
A little extra storage behind the counter holds dishes and kitchen gadgets. Overall, the design showcases their unique style and creates a practical – and pretty cool – place to clean up.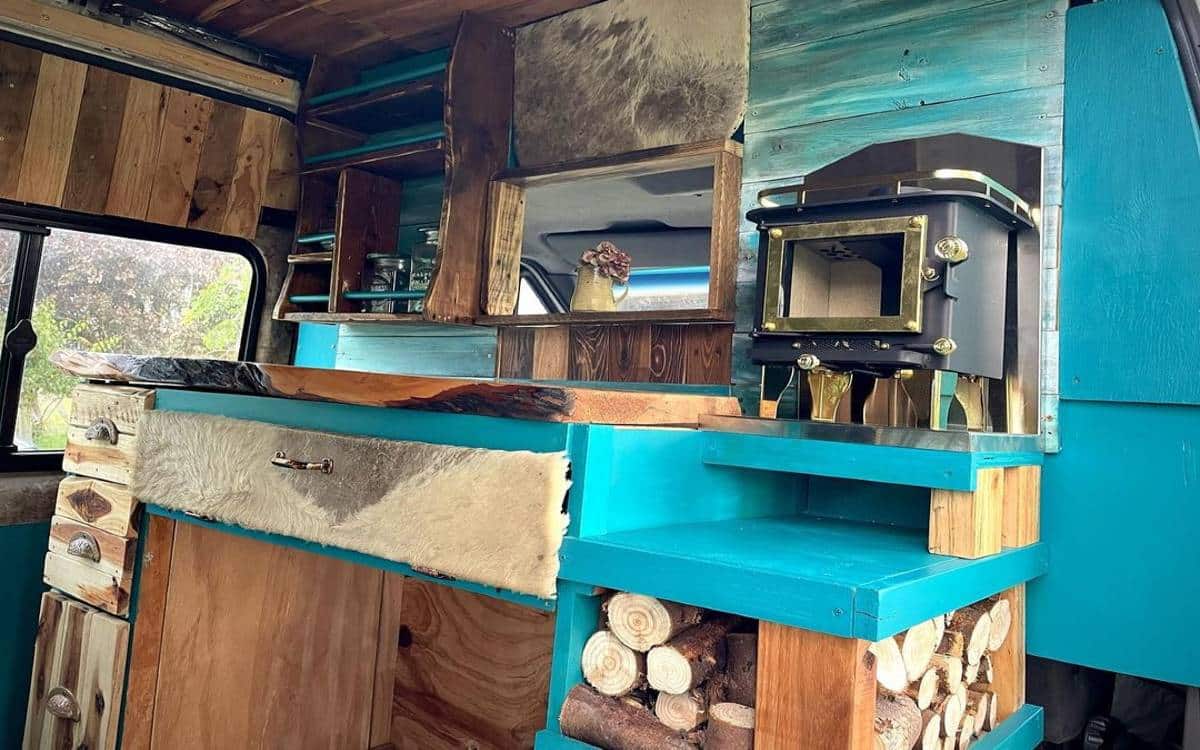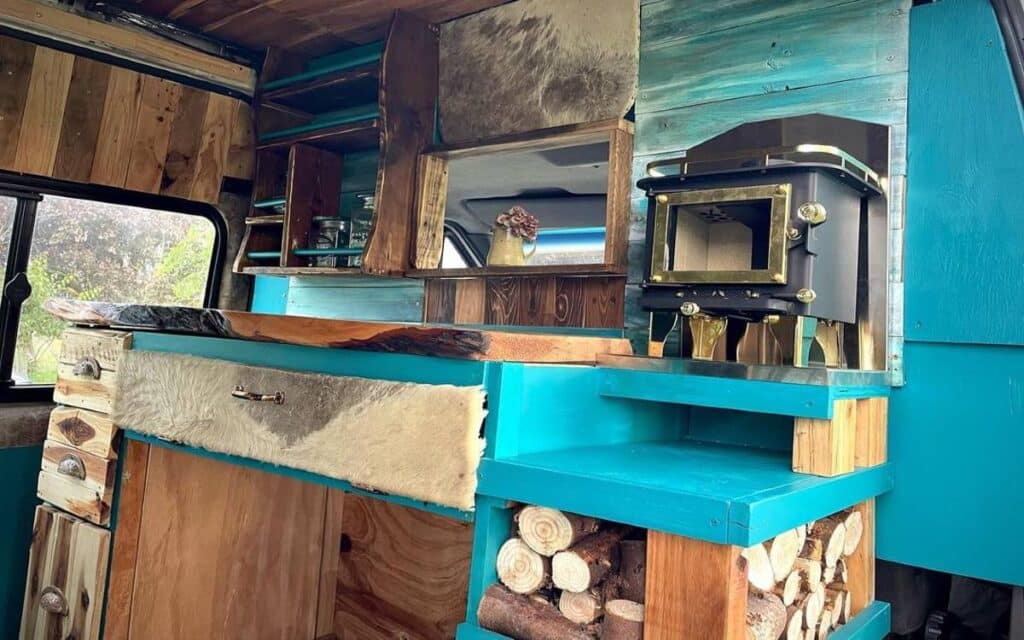 One of the most distinctive kitchen designs I've seen is this artistic creation from @ostsonne89. With a real cowgirl-chic vibe, this van life kitchen includes storage space for wood, a tiny wood stove, and a fur-covered drawer front. Tones of vibrant blue and rich, dark wood give the van kitchen a cozy feeling.
Ostonne built the kitchen unit in a Ford Transit conversion behind the front seats, spanning the width of the van. Using wood to handcraft cabinets, she built shelving above the counter to hold kitchen items. Thick wooden dowels hold things in place.
Below the cabinets, handmade drawers with rustic pulls are practical for storing smaller items like kitchen utensils.
3. Space-Saving Van Kitchens
Don't let a small van or the need to squeeze other features into limited space discourage you! These compact designs fit the entire kitchen in a small space without sacrificing function or style.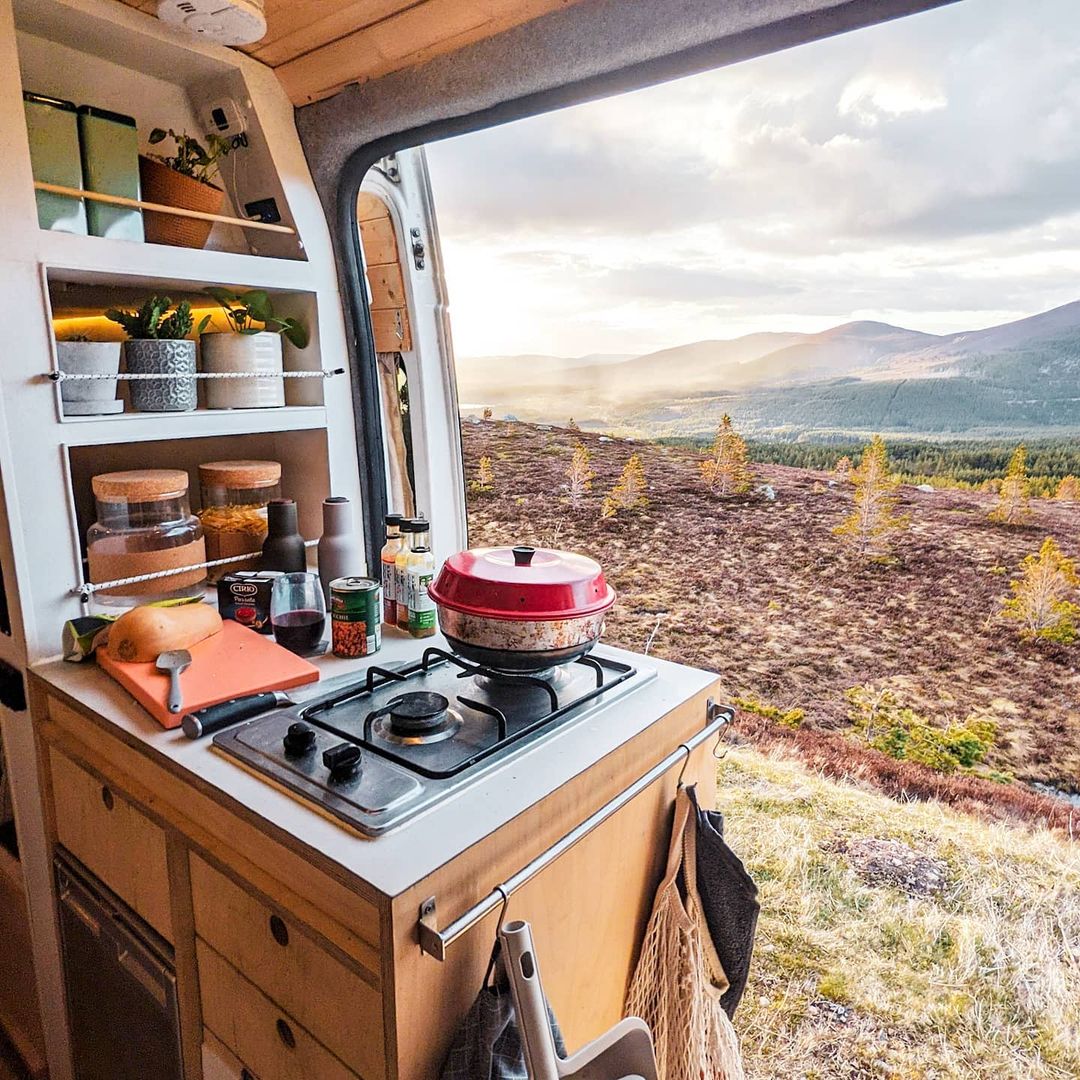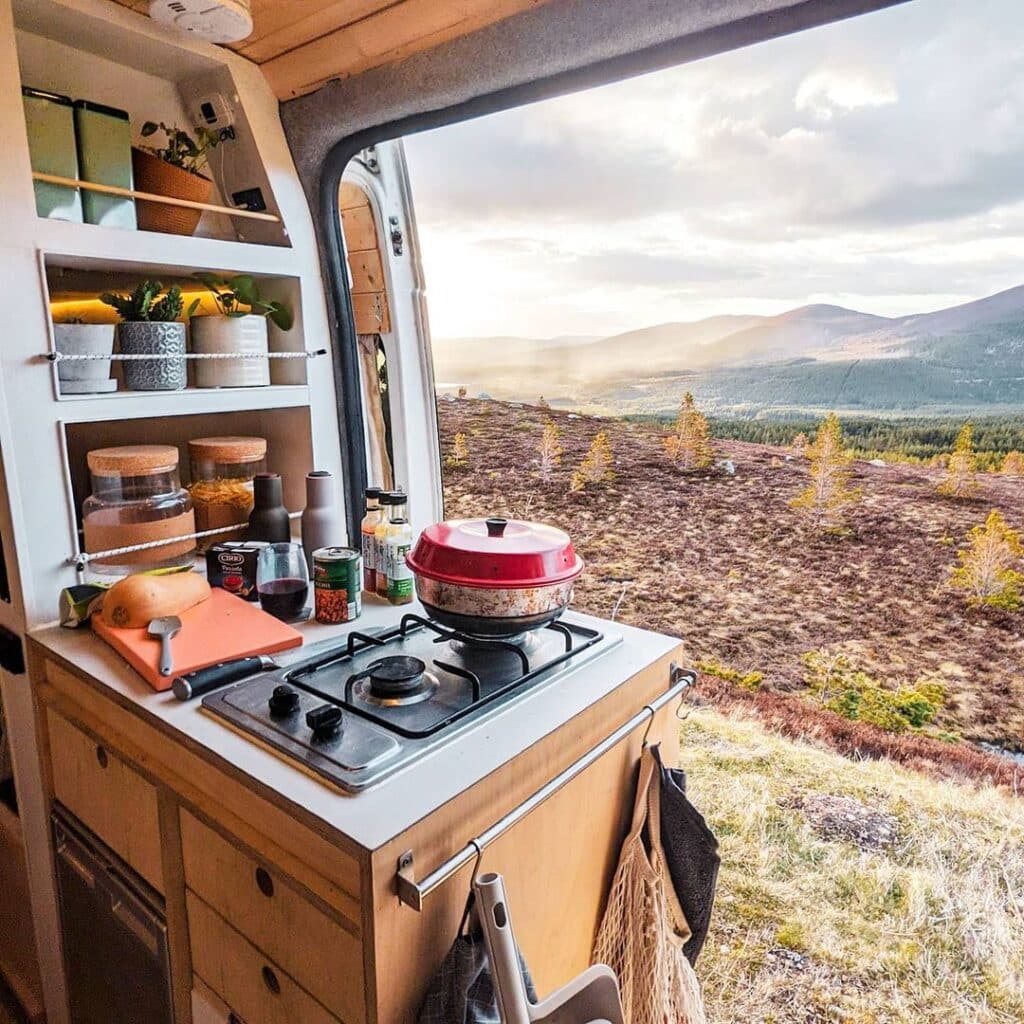 The compact galley-style kitchen from @whitevanplan uses both sides of the van. The cooking area with secure storage fits neatly by the door, offering "cooking with a view" that makes van life delicious.
The sink area is directly behind it, on the opposite wall of the van. A rail is attached to the end of the cabinet next to the door. This is the perfect place to hang frequently used items like a dustpan and shopping bag.
Owners Verity and Michael turned this Fiat Ducato into a campervan during the COVID lockdown. They've been traveling the UK and Europe full-time and their van kitchen features everything you need for van life: a cooktop, small fridge, deep sink, and plenty of storage space.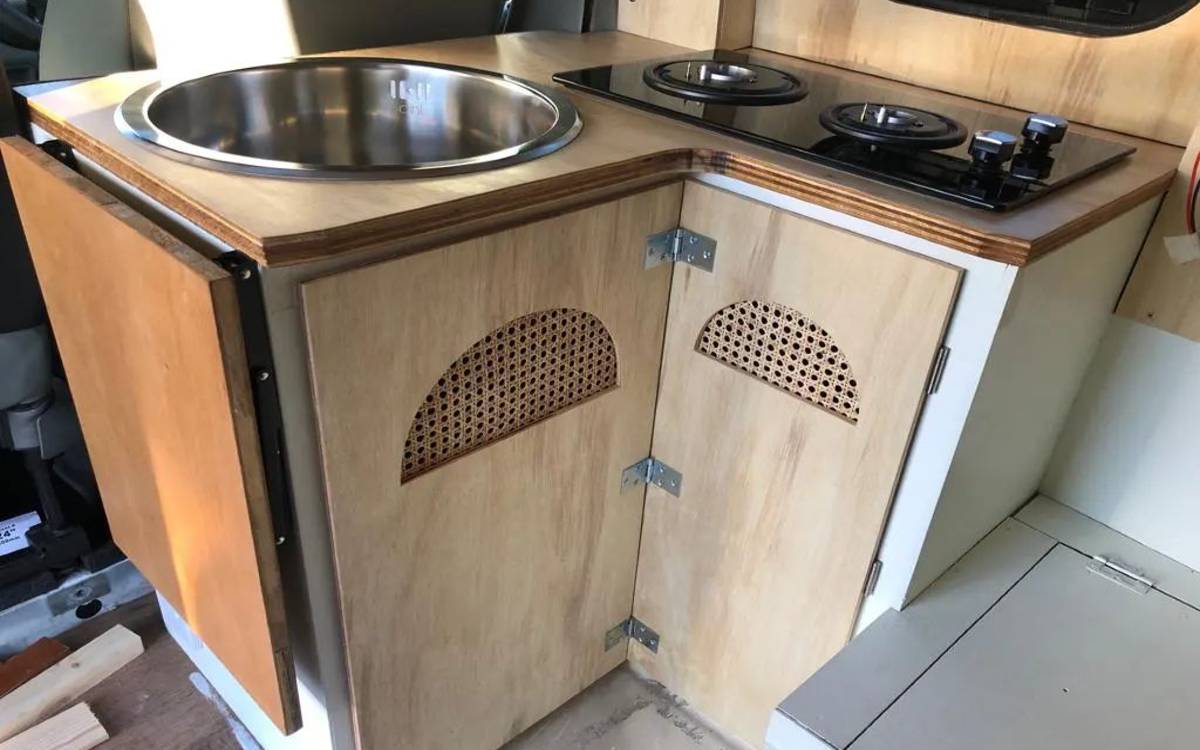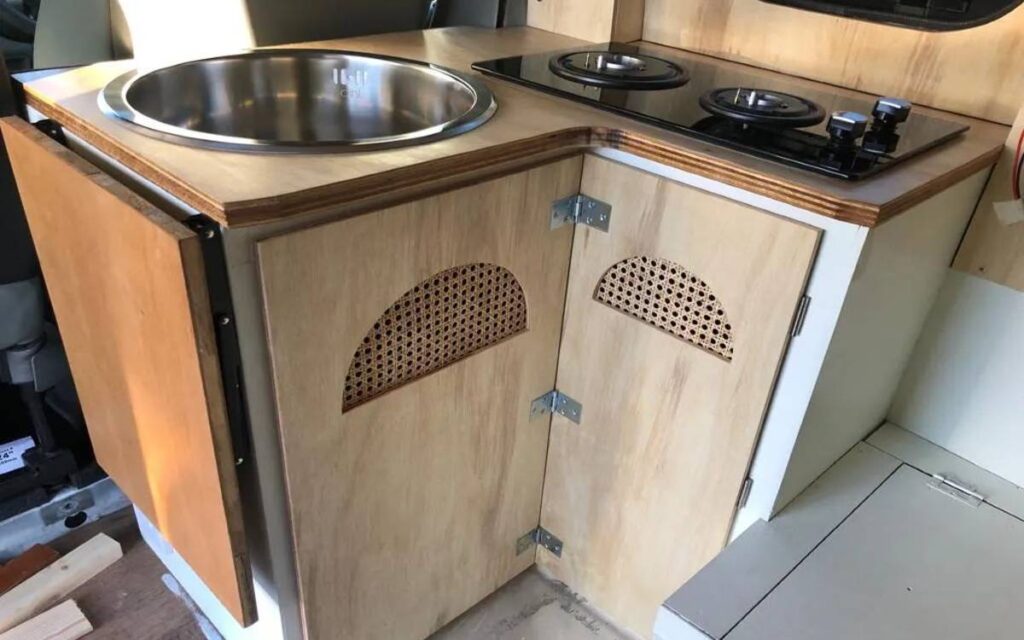 Who says a tiny kitchen can't be functional? @0steph_and_olivia0 tucked their DIY van kitchen into a little spot behind the passenger seat. The sink and stove fit neatly together, right under a window for ventilation.
A hinged cabinet door gives easy access to the deep corner cabinet. The half-moon cutouts on the doors match the rest of the van cabinets, allowing ventilation for items stored inside while providing a decorative touch.
Embracing a popular trick to expand counter space, this van kitchen features a drop-down counter extension. When locked in the up position, it nearly doubles the areas available for preparing meals.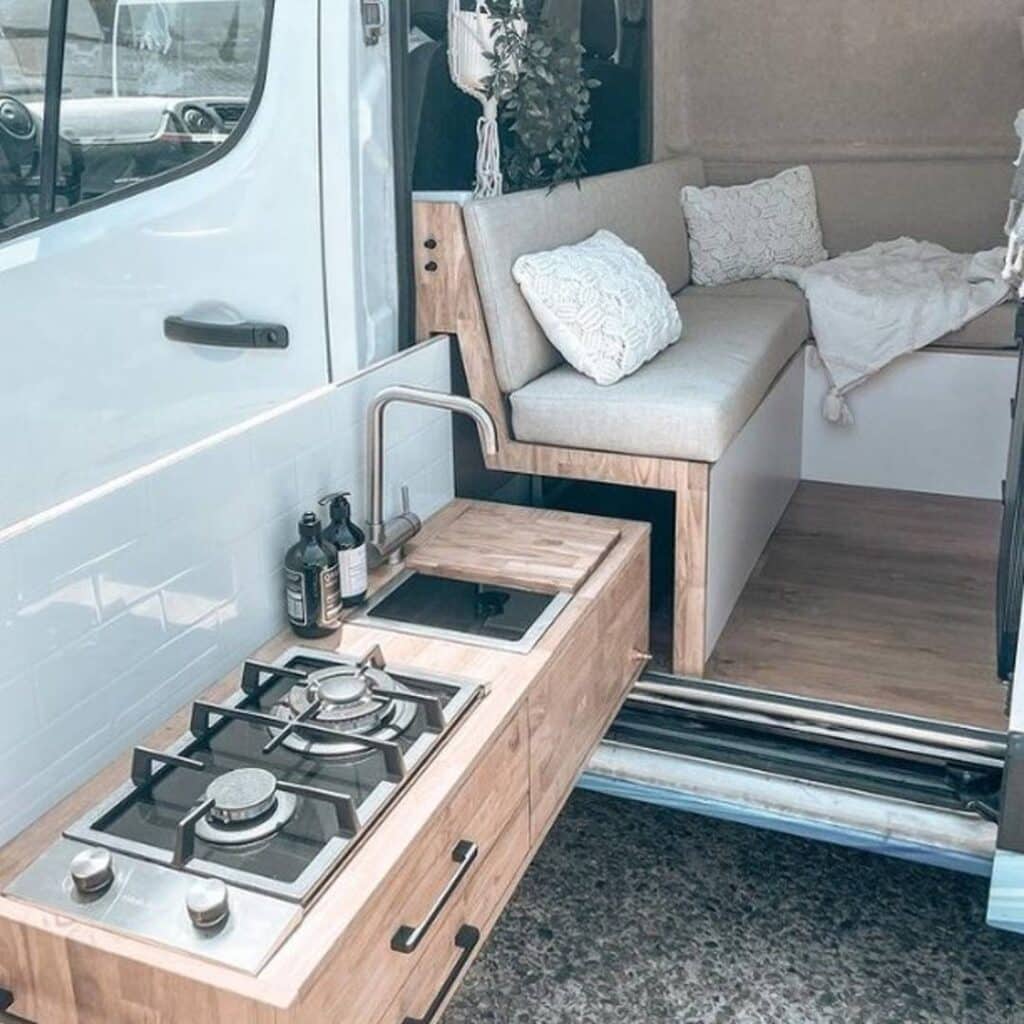 This genius idea for a slideout kitchen unit hides right beneath a bench seat, nestled behind the driver's seat of this Ford Transit campervan. The slide-out kitchen has a stove, sink, and faucet, which cleverly tucks away when the van kitchen is stowed.
While cooking inside would be cozier on cold, rainy days, this campervan kitchen concept from @raymakercampervans would work well for outdoor enthusiasts on balmy weekends away.
If you're not sure about putting a kitchen outdoors in the back of the van, this side location is a great alternative. Add an awning and the side-door location is a little more weatherproof, and easily accessible from inside the van.
4. Camper Van Kitchen Ideas for Budget Conversions
Sure, you could spend thousands on custom-built cabinets for your van kitchen, but you don't need to. These examples of affordable ideas for budget camper van builds prove that you can cook up great meals without spending a bundle.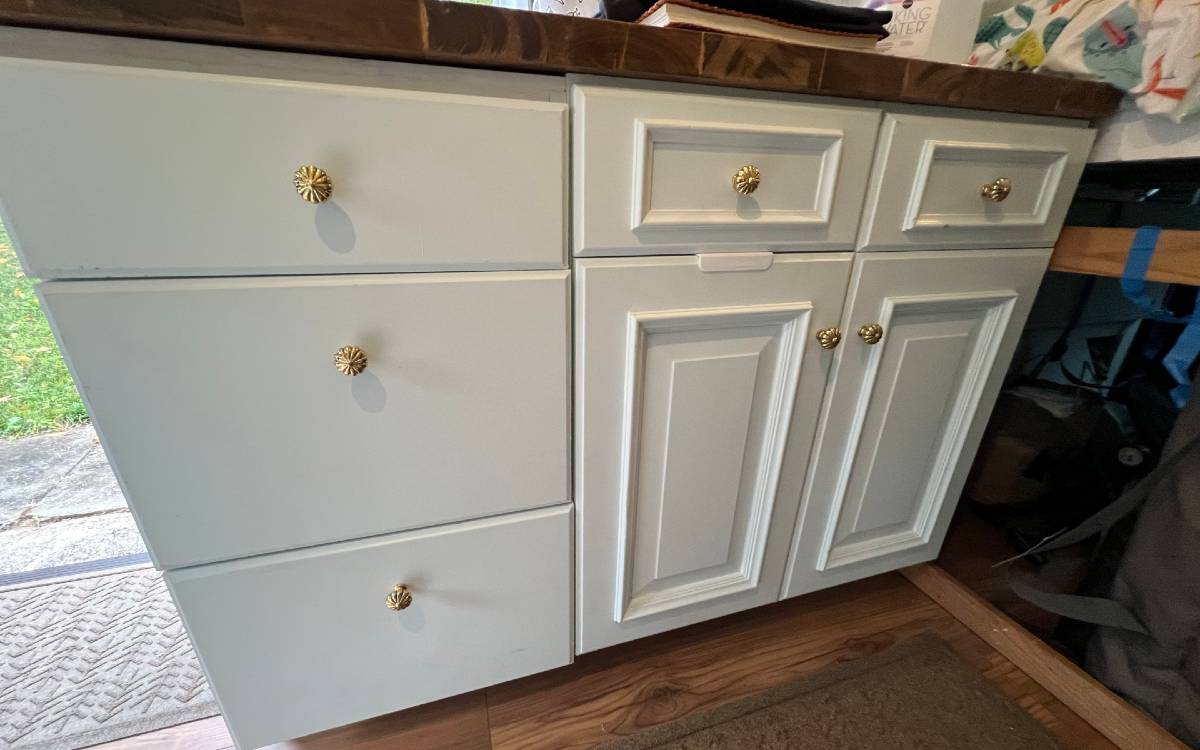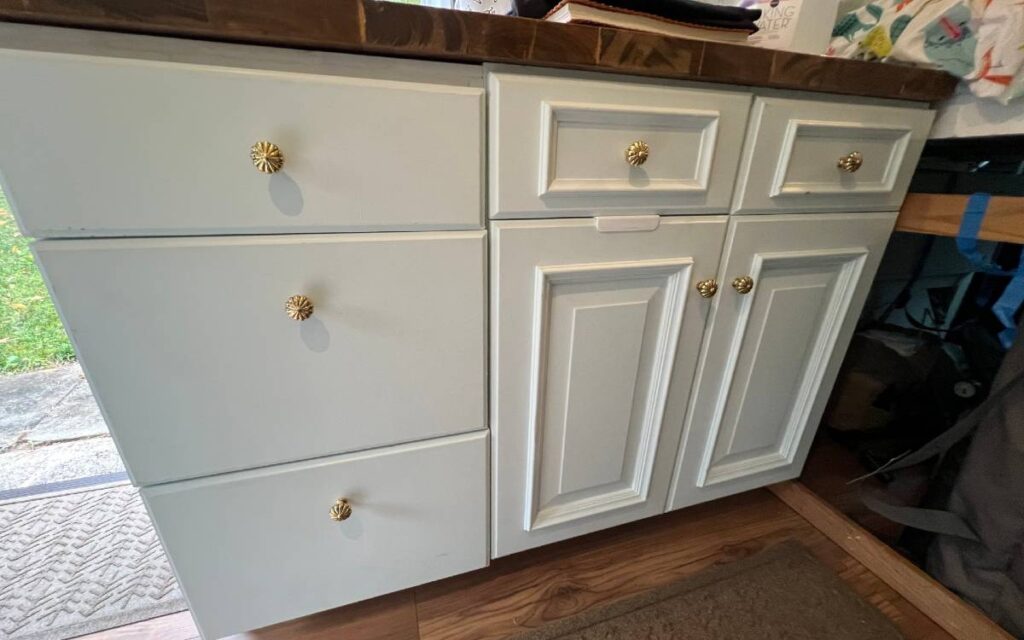 In my own van build, upcycled cabinets saved both work and money. At $30 each from a used building supply company, even plywood would have cost more! The solid brass knobs – also secondhand – finished the look for the simple in-line galley in my Promaster campervan kitchen.
With the money saved, I splurged on solid wood countertops with herringbone design and covered the extra cost of a lovely (and naturally antimicrobial) copper sink.
Linking three cabinet units does sacrifice a little space because each one has ½" thick sides. But these solid, well-built cabinets were of much better quality than I could have made for my own DIY campervan kitchen, and I love the deep drawers that hold all my pots and pans.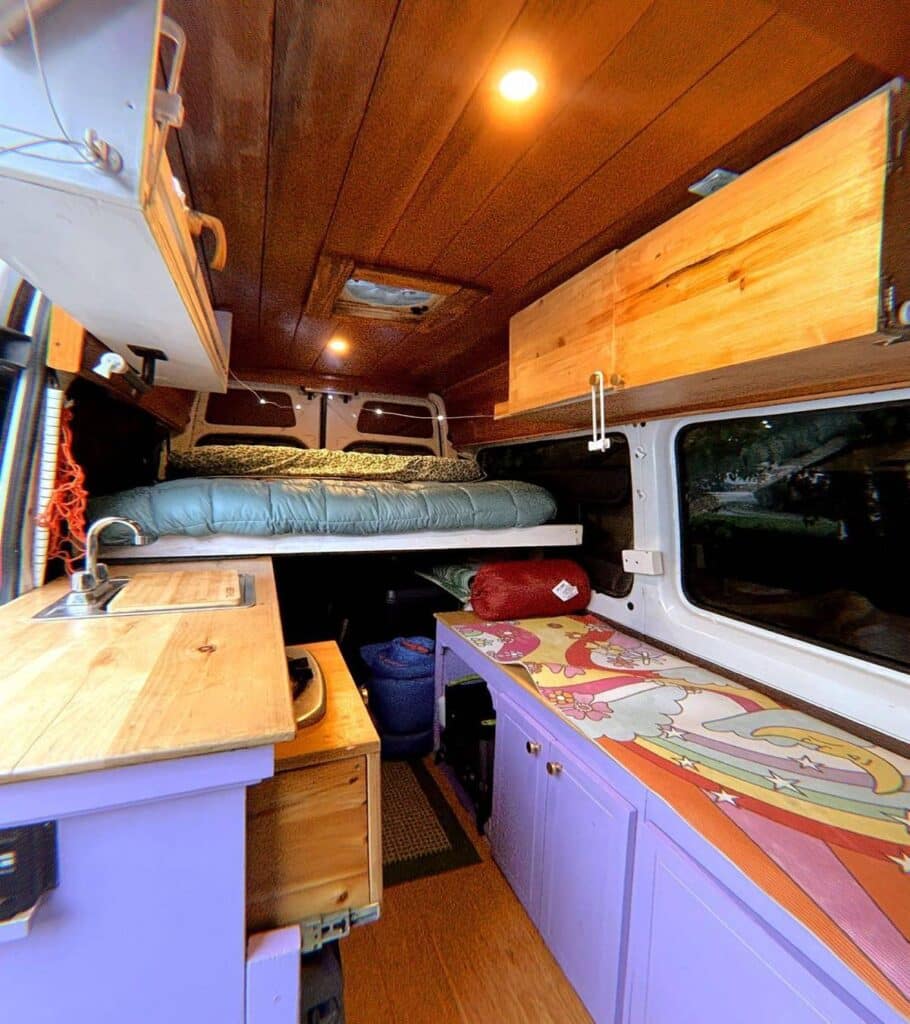 A super handy pull-out stove drawer saves countertop space in this budget campervan kitchen. Instead of a cooktop affixed to the counter or finding a place to keep a portable camp stove, this gas stove stashes away when not in use.
The curtained sink cabinet is an inexpensive alternative to heavier cabinet doors. The finished van kitchen from @onemorevanfam includes wood countertops and a pop of purple to pump up the style. Hanging hammocks store fruit while on the road.
Owners Cam and Bailey travel in their Sprinter van conversion with dogs Zoey and Meatball. They cook up good eats like soups, fluffy nut pancakes, and veggie burgers in their vibrant van kitchen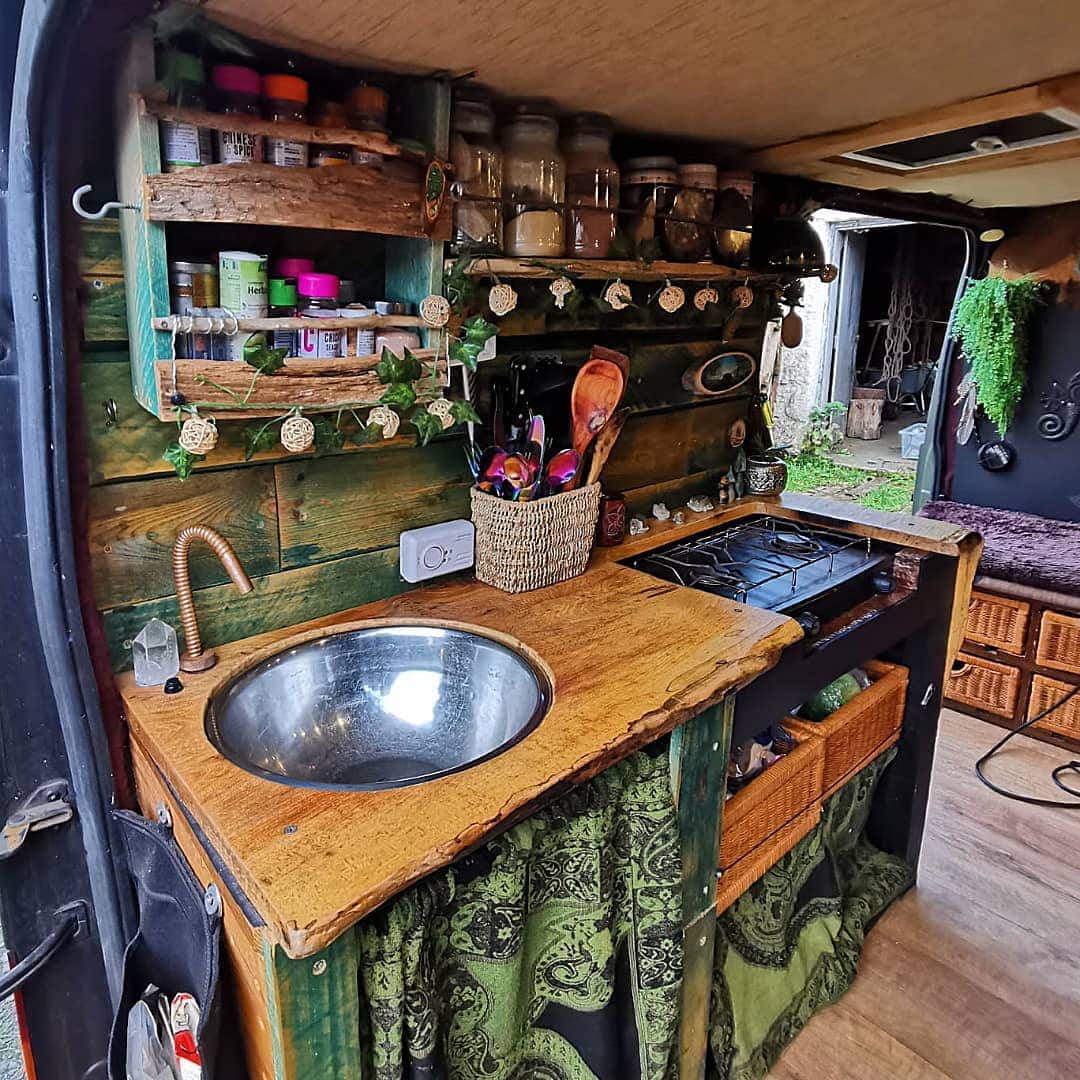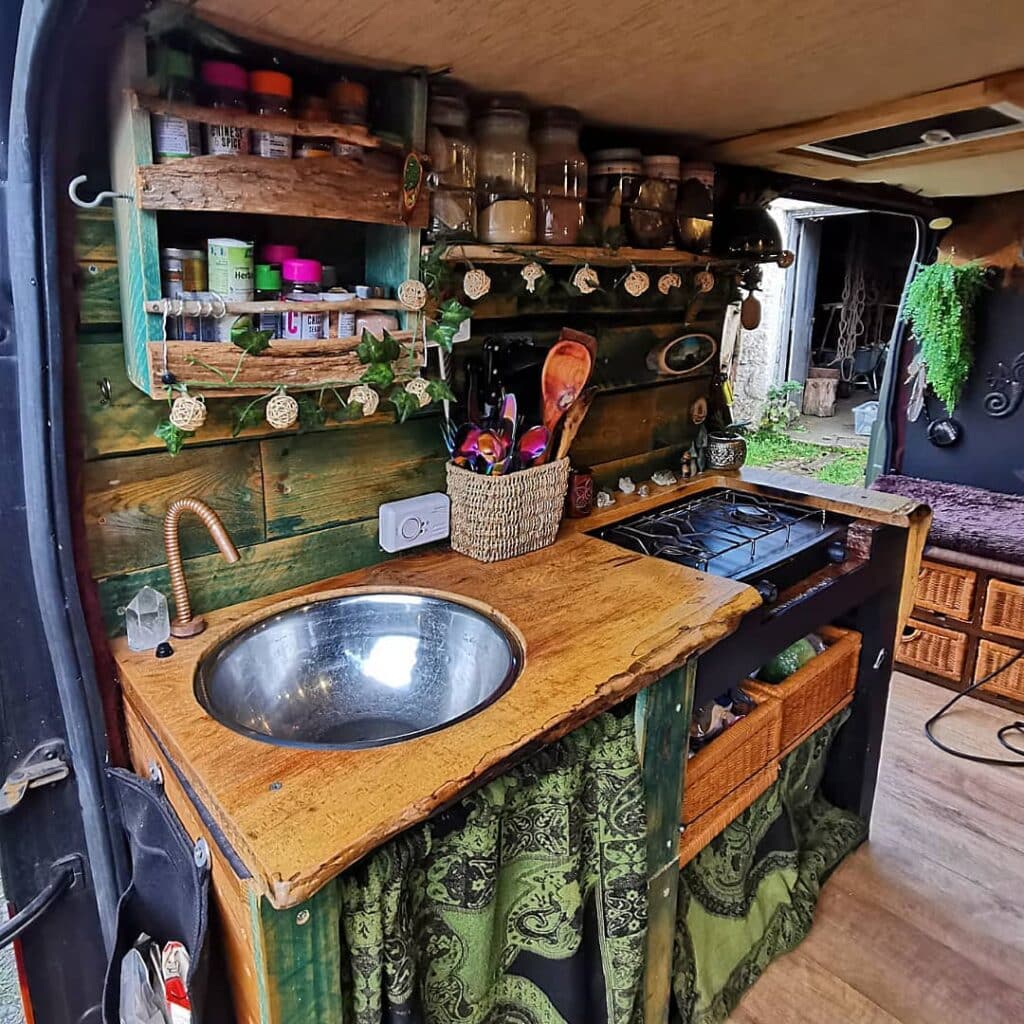 When it comes to campervan kitchen ideas, creativity is free, but the results are priceless! Using natural materials, baskets for storage, and fabric for doors let @little_bronze_leaf build a dreamy green van kitchen on a shoestring.
This little kitchen oozes earthy style from top to bottom. Artist/owner Lisa infused her campervan conversion with echoes of the nature-inspired crafts she sells while traveling.
Open shelving and hooks above the counter store spices, food, mugs, and other items. The camp stove sits just below counter height, in a spot where it's both secure and easy to remove for outdoor cooking.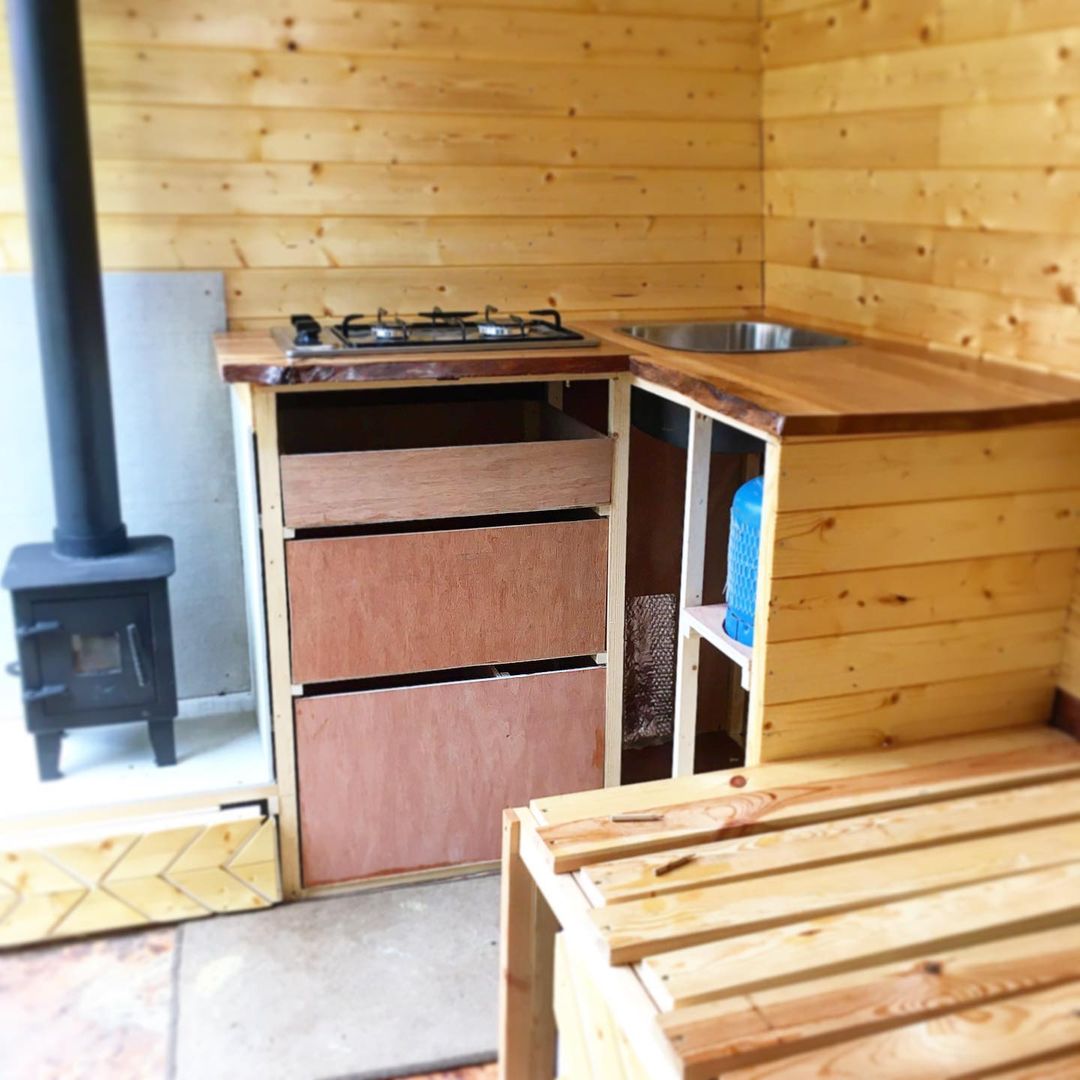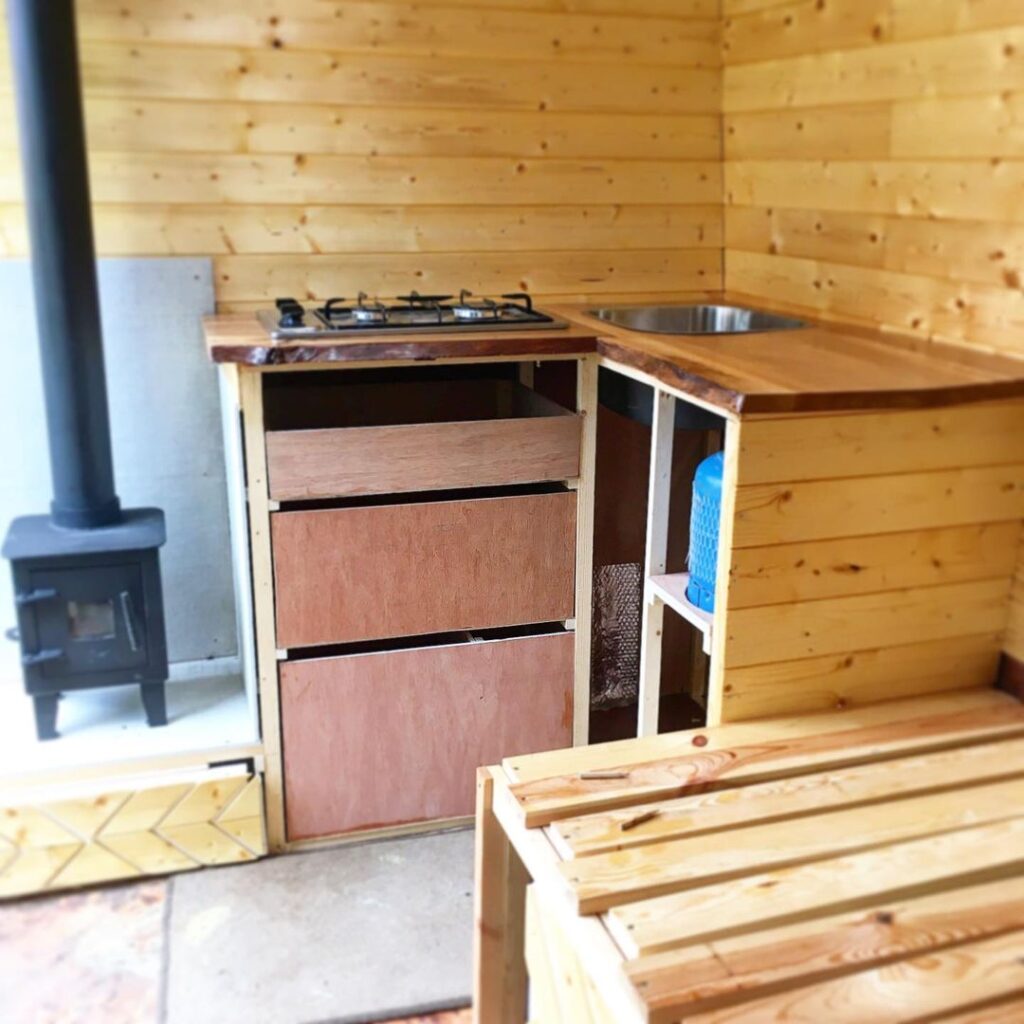 Simple DIY cabinets and countertops are the core of this affordable van life kitchen-in-progress. Add water tanks and a simple sink, and this is a functional yet tiny kitchen for @vanwithoutaplan.
A gourmet galley wasn't the goal for this outdoor lover, but a practical place to cook was. The owner accomplished that with this basic but multifunctional kitchen.
The beauty of a self-built campervan is that you can design the van kitchen around your own priorities. This build is an adventure van, pure and simple, so it needs lots of space for gear, rest, and recovery. The wood stove for warmth on cold days is a bonus that extends the van's usability throughout the seasons.
5. Distinctive Camper Van Kitchen Styles
Sleek and Modern Kitchen
The soft, neutral color and clean lines of this contemporary van kitchen make it feel much larger than it is. When Astrid and Jaron of @our_orbit_vanlife converted an old yellow Mercedes van into a camper, they created extra counter space with a drop-down extension and clutter-free kitchen design.
The white walls and black accents give this van kitchen a soothing, modern energy. Flush-mounted doors and drawer fronts add to the sleek design.
A subtle pattern in the matching wood of the van floor adds interest, while the cabinets and counter are all business.
Warm and Inviting Van Kitchen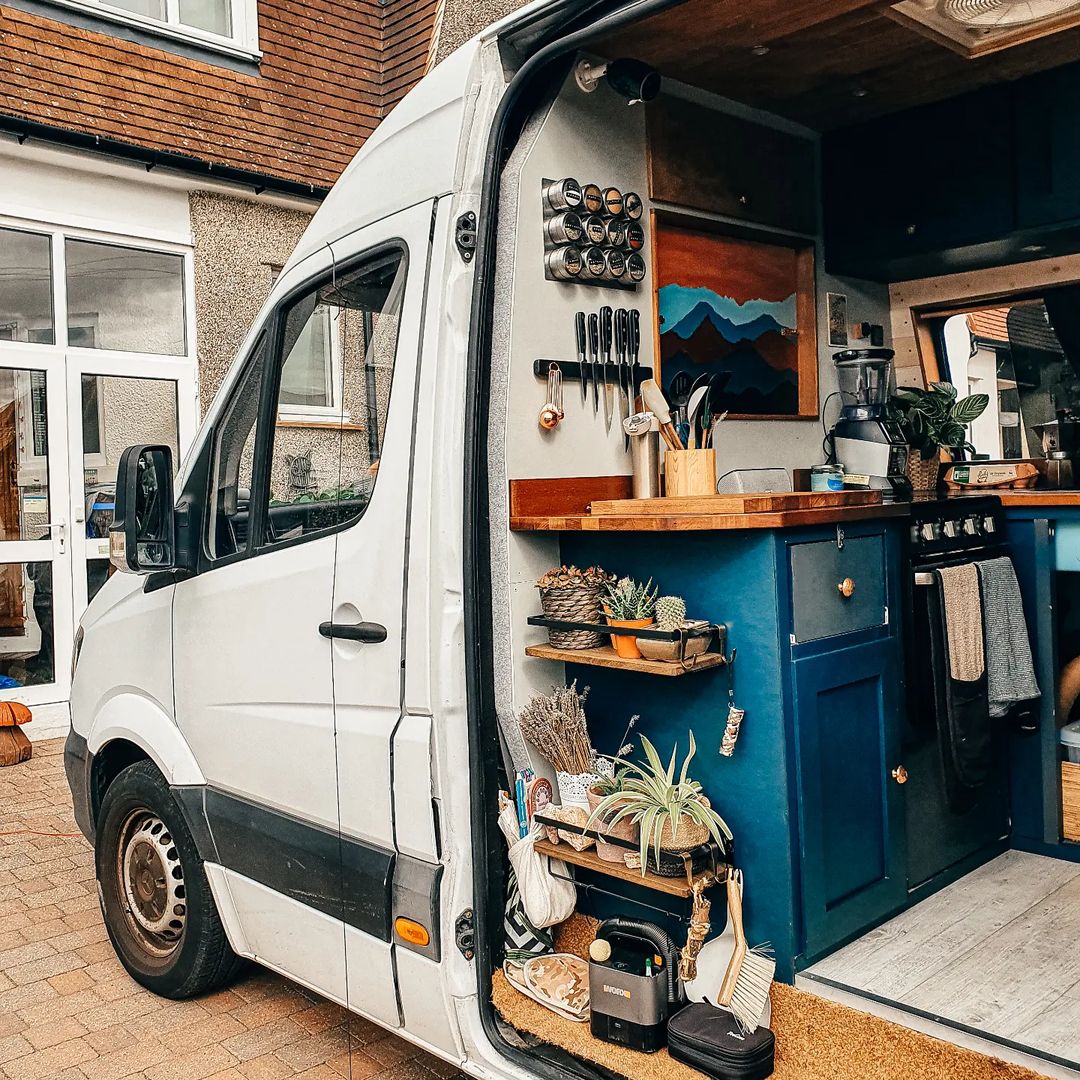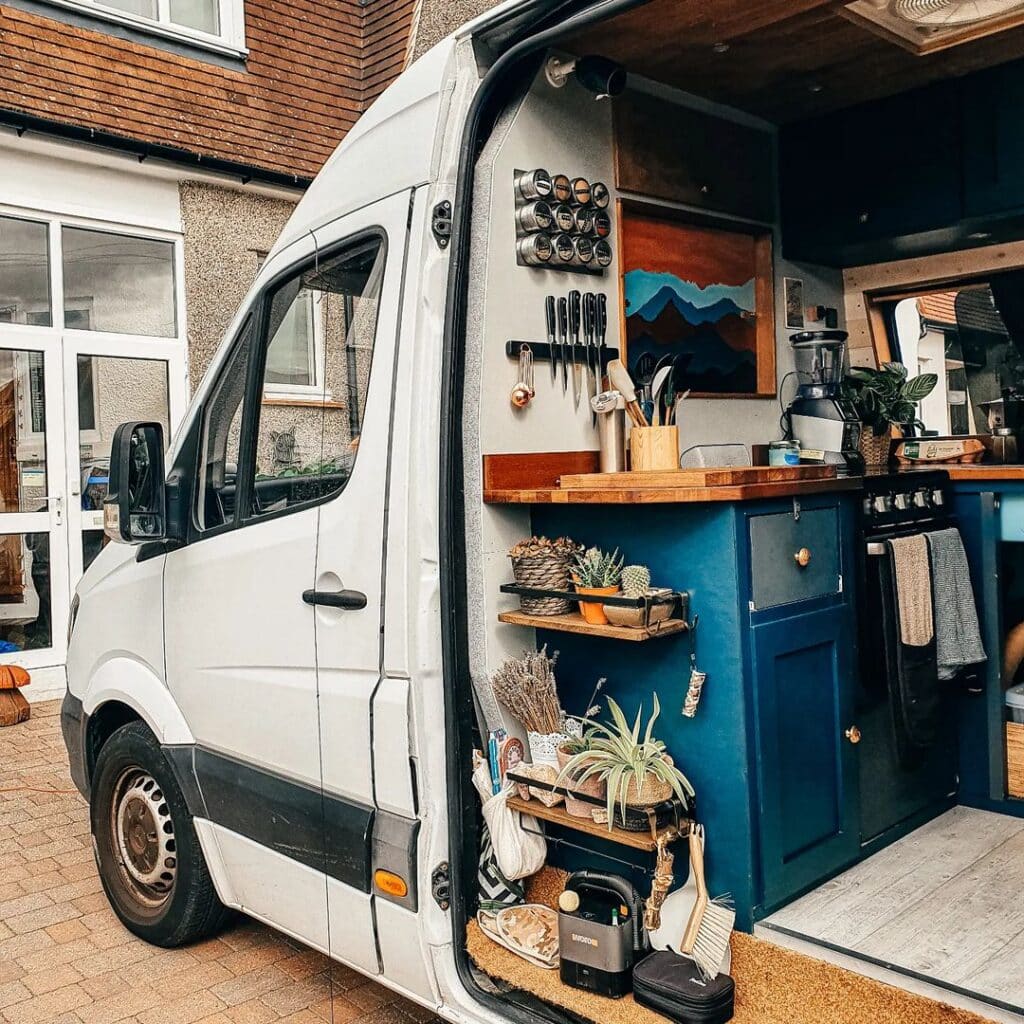 Looking for a warm and cozy kitchen? Our_Luna_Adventure nailed it with this L-shaped van kitchen tucked behind the cab of their Sprinter van. Somehow Arla and Josie made room in this small space for a full stove/oven combo. A wooden top creates a flat surface when the stove is not in use.
Deep colors and rich textures make this camper van kitchen feel homey and inviting. There's a small fridge under the counter, which is stained a rich color that adds warmth.
Shelves at the end of the cabinet (by the sliding door) are a great place for plants. Pot holders and other items hang from wide S-hooks on the shelf rails. This area of the van kitchen makes a wonderful cat perch, too!
Gourmet Chef's Kitchen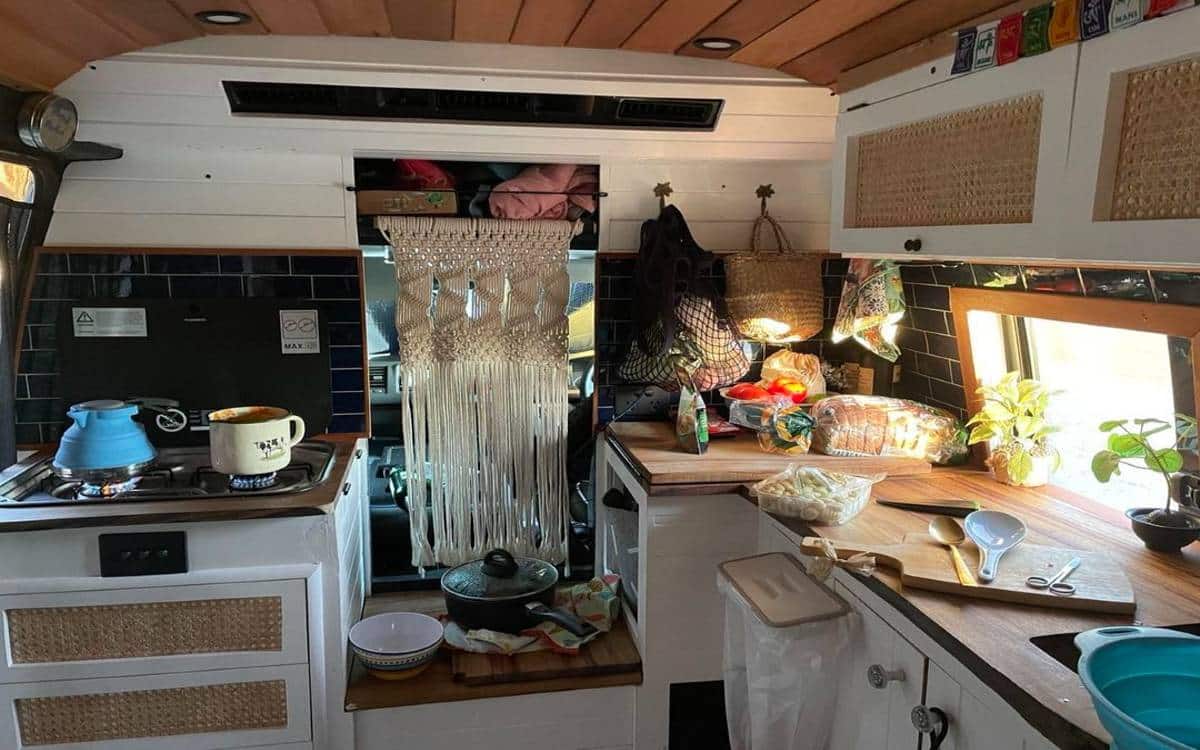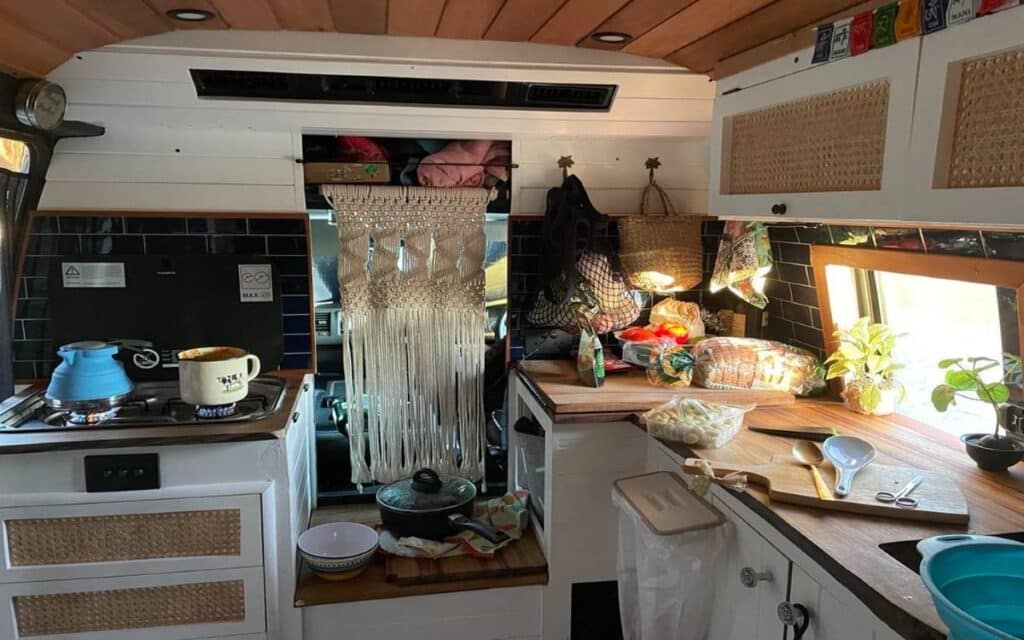 If you love cooking, you might think there's not enough room to work culinary magic in camper van kitchen units. Annie @vanlifecook proves otherwise with this L-shaped, multi-level kitchen. Cabinets and counters of varied depths and lots of storage make this campervan kitchen highly functional.
This van kitchen is positioned across the van behind the front seats. The low section of cabinets in the middle allows Annie to step through from the cab and doubles as a seat when not in use.
These van life gourmets even make pizza on the road, using a portable oven they set up outside the van in good weather!
Outdoor Camper Van Kitchens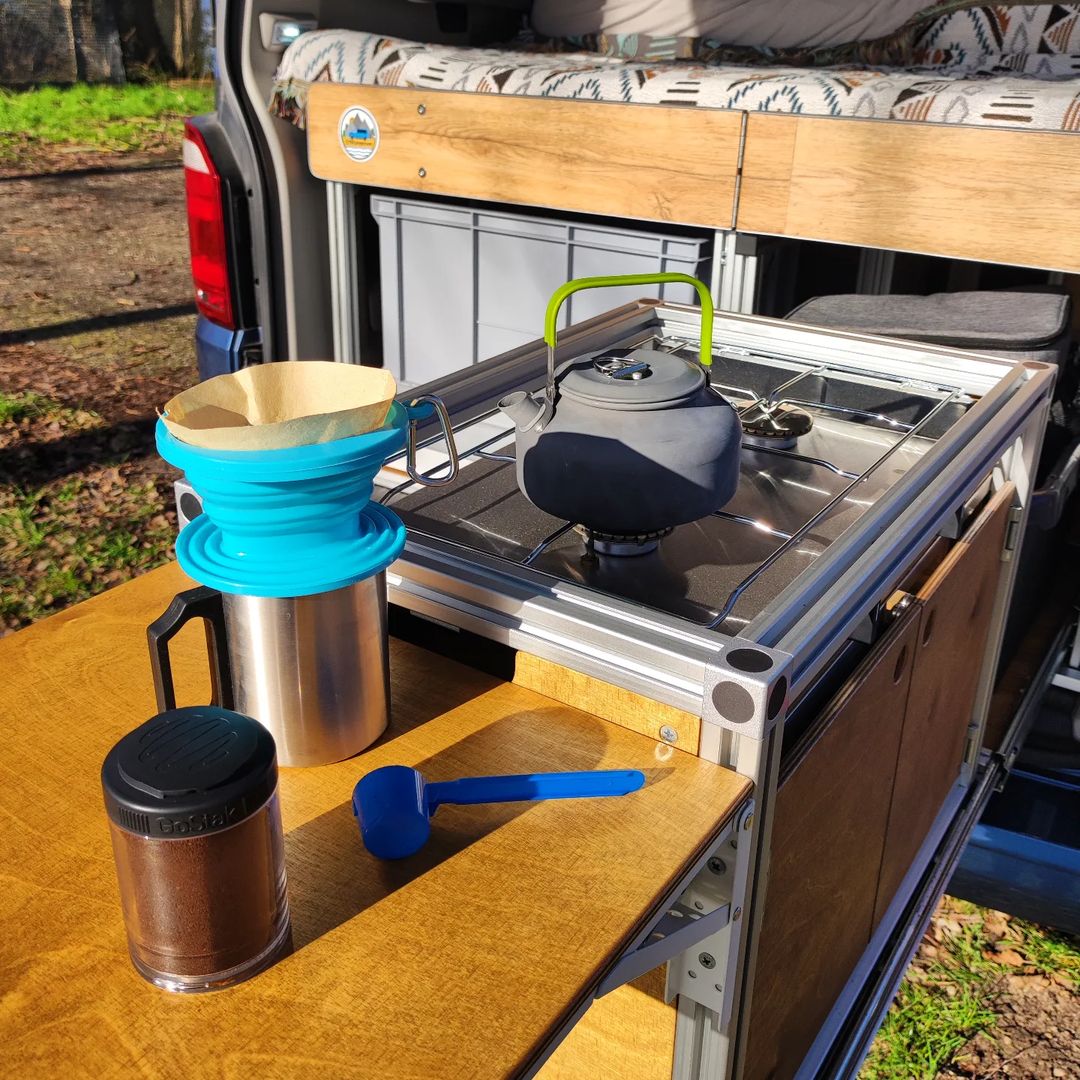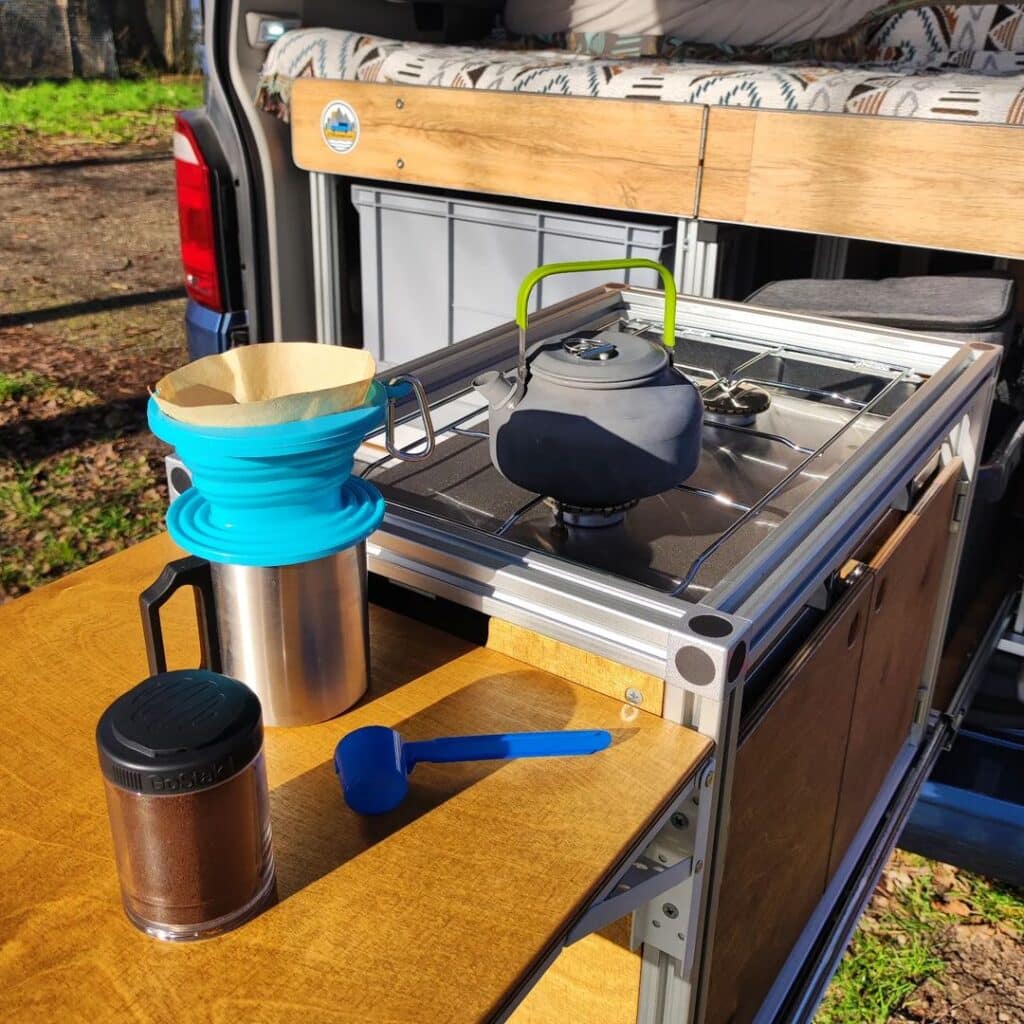 If you're saving space or simply love being outside, an outdoor kitchen system for your campervan conversion could be the perfect solution. This pull-out kitchen in the back of the Volkswagen van build by @T6vampervan makes cooking outside a breeze for an outdoor enthusiast.
The kitchen fits under the convertible bed at the back of the van. It includes space for a Dometic top-loading fridge, a small sink, and a stove. A pop-up counter serves as a workspace for preparing and serving meals.
This is a wonderful solution for small camper vans because it uses space that would not be readily accessible from inside the van. This highly flexible van build can be configured to hold a bike inside as well!
Rustic Camper Van Kitchen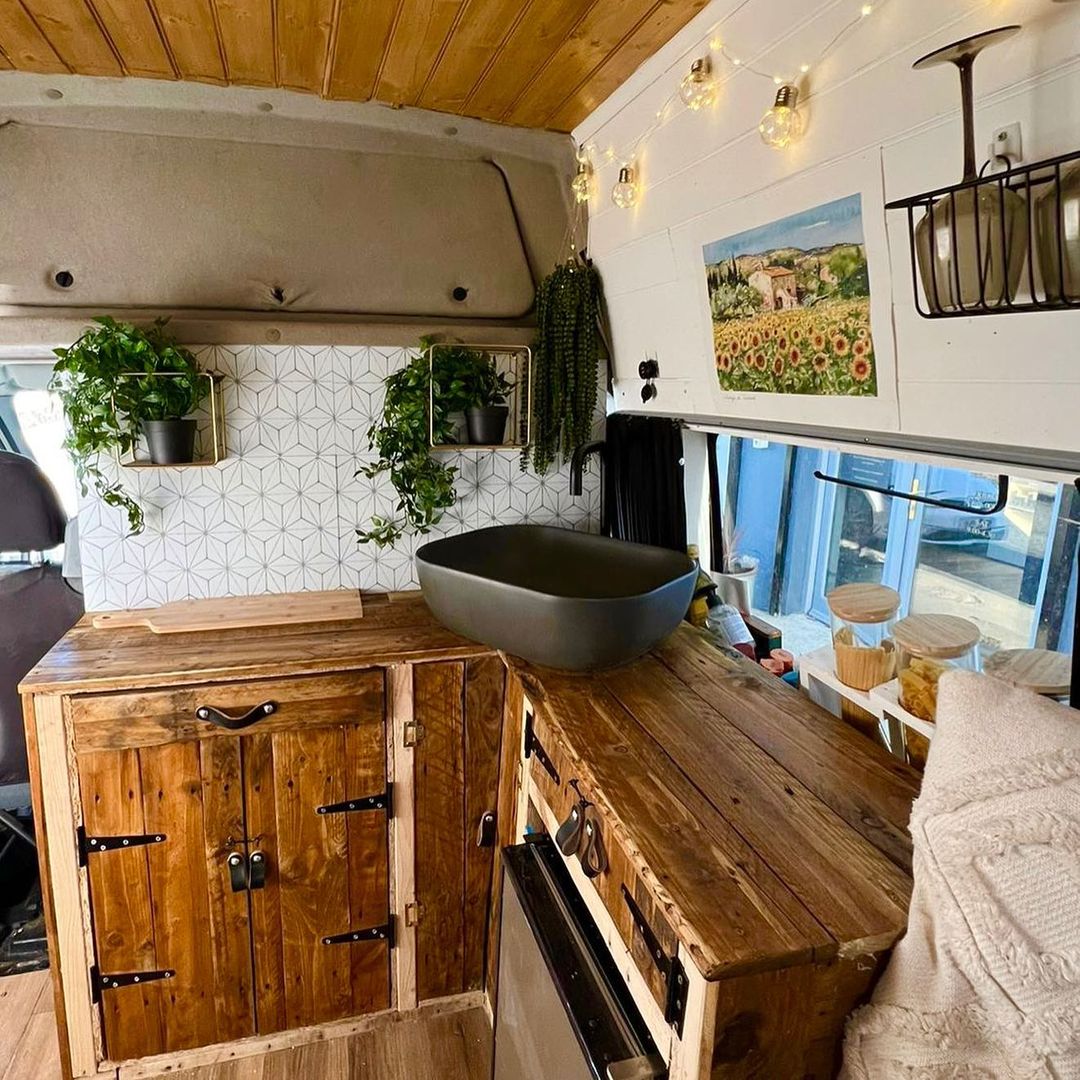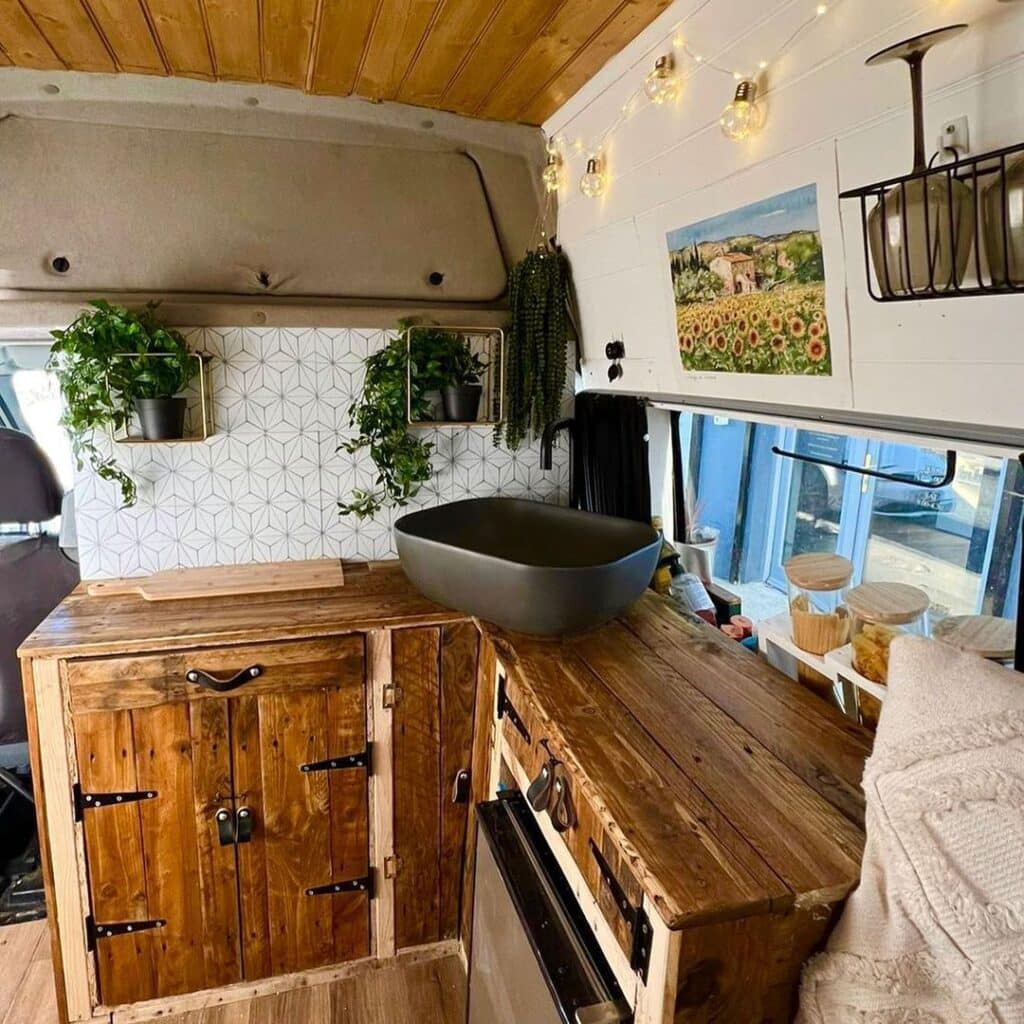 Invoking the feel of the wild west, this rustic campervan kitchen re-do from @where_to_wander showcases handmade cabinets with a rich wood finish and iron hardware.
This is the second round of van kitchens for Ailieen and Enda. They started with a basic kitchen unit from Ikea that had open space beneath the counter to hold a fridge, but not much storage space.
When they remodeled, they expanded the cabinets and counters to an L-shaped configuration. The corner kitchen location allows room for a super cool vessel sink (retained from the first kitchen iteration) while maximizing the extra counter space used in the van build for food prep.