The Ram Promaster cargo van is one of the top options for a DIY camper van conversion – right alongside the better-known Sprinter van and Ford Transit.
It's not just the DIY market that's been saturated with interesting Ram Promaster conversions. Professional builders and RV companies such as Sportsmobile, RoadTrek, Wayfarer Vans, and Winnebago use the Ram Promaster as the base for awesome vanlife vehicles. (Note: if you want an electric campervan, get ready for the upcoming Ram Promaster BEV).
What makes Ram Promaster vans so great for van life?
Ram Promasters are the widest of the most popular vans, with just over six feet of interior width. This adds a lot of possibilities for creative mobile interiors, including the ability to add a width-wise bed.
The Promaster has a squarer interior than the Ford Transit and the Sprinter. This means there are fewer curves to work around when installing walls and a ceiling.
It's affordable compared to the Mercedes Sprinter.
The Promaster's V6 engine can be serviced by just about any mechanic, parts are easily available, and there are plenty of dealerships throughout the US.
Read More: Compare Sprinter vs Transit vs Promaster for Van Life
Building out a Ram Promaster camper van for life on the road has plenty of advantages. But there are some downsides as well.
The Ram Promaster is only available in front wheel drive. There is no available AWD or 4×4 option.
Promaster interior height maxes out at 76″, almost 6″ shorter than the tallest Ford Transit. Once you add insulation and a ceiling, this could be a bit short for taller van lifers.
Door handles and other plastic pieces are poor quality and may break on the road.
All in all, the Ram Promaster is an excellent base for custom van conversions. If you're searching for some ideas for your DIY van build, we've gathered together some exciting and innovative Ram Promaster camper conversions to inspire your project.
Read More: Why We Chose a Ram Promaster for Vanlife
Build Your Van
The Ultimate Van Build Guide
Planning a van build? Read our free guide. We cover just about everything you need to know – from planning, to insulation, to solar and electrical, to picking appliances, to essential tools. Get started today so you can get out there on the road!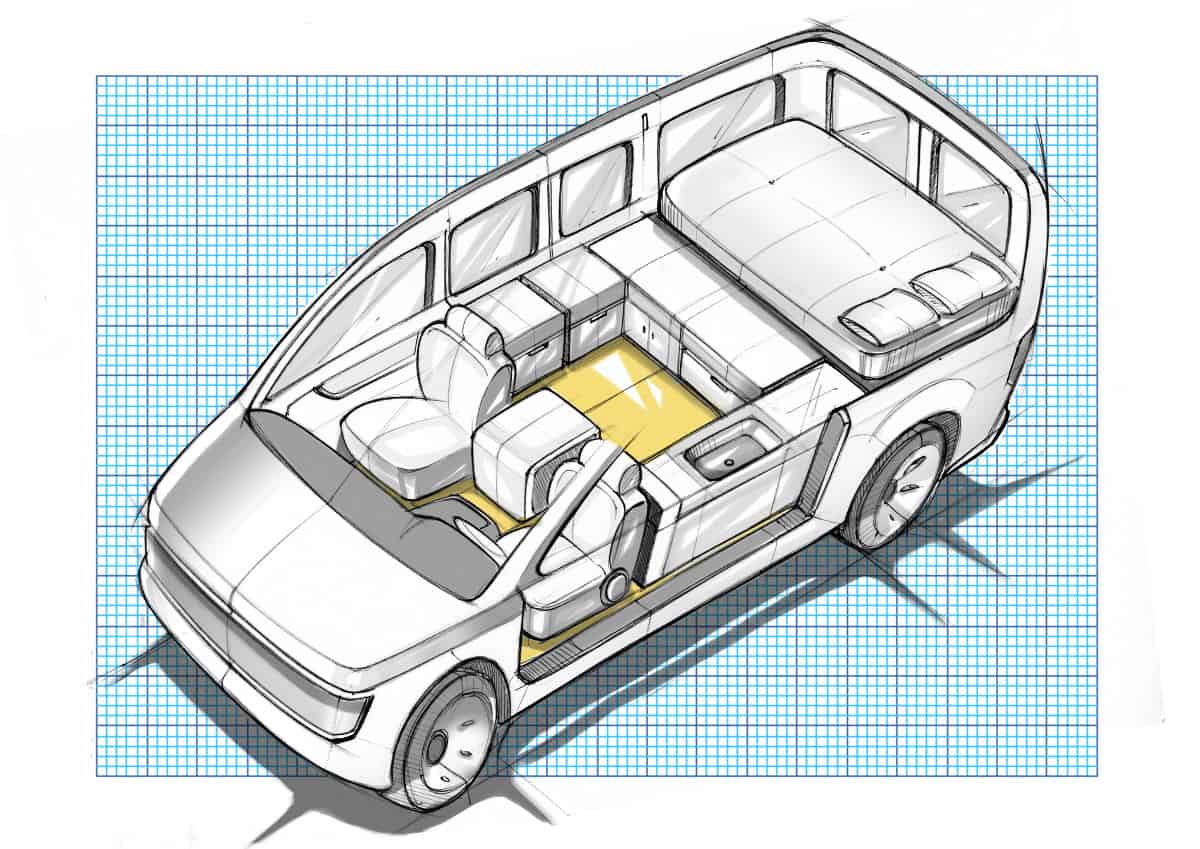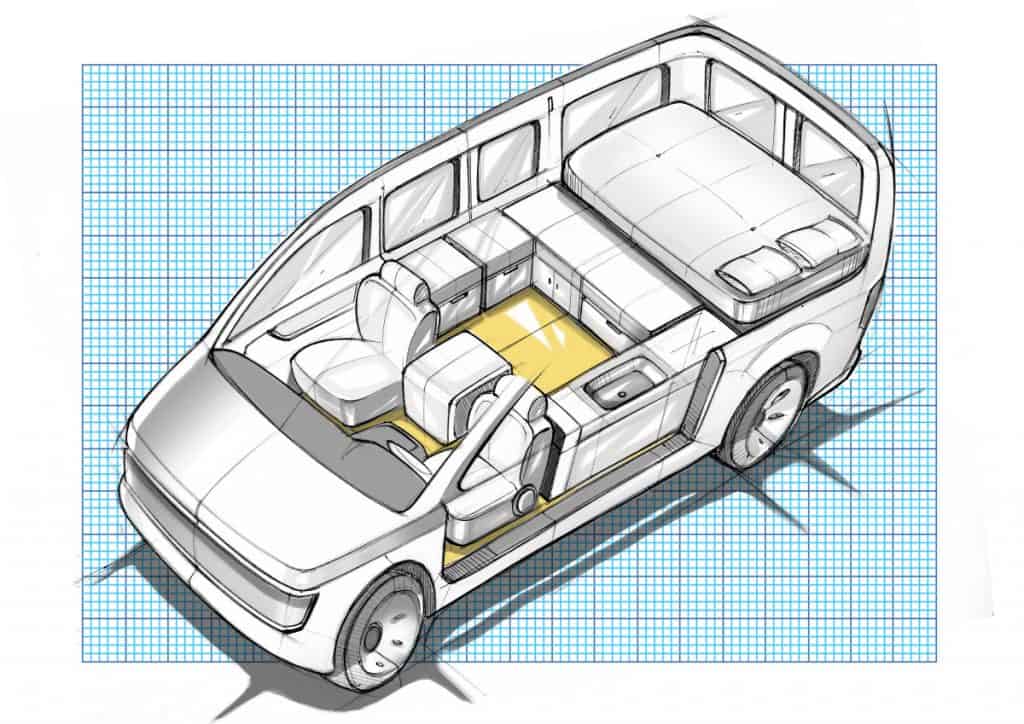 1. This space-efficient Ram Promaster van build from @rolling_resilience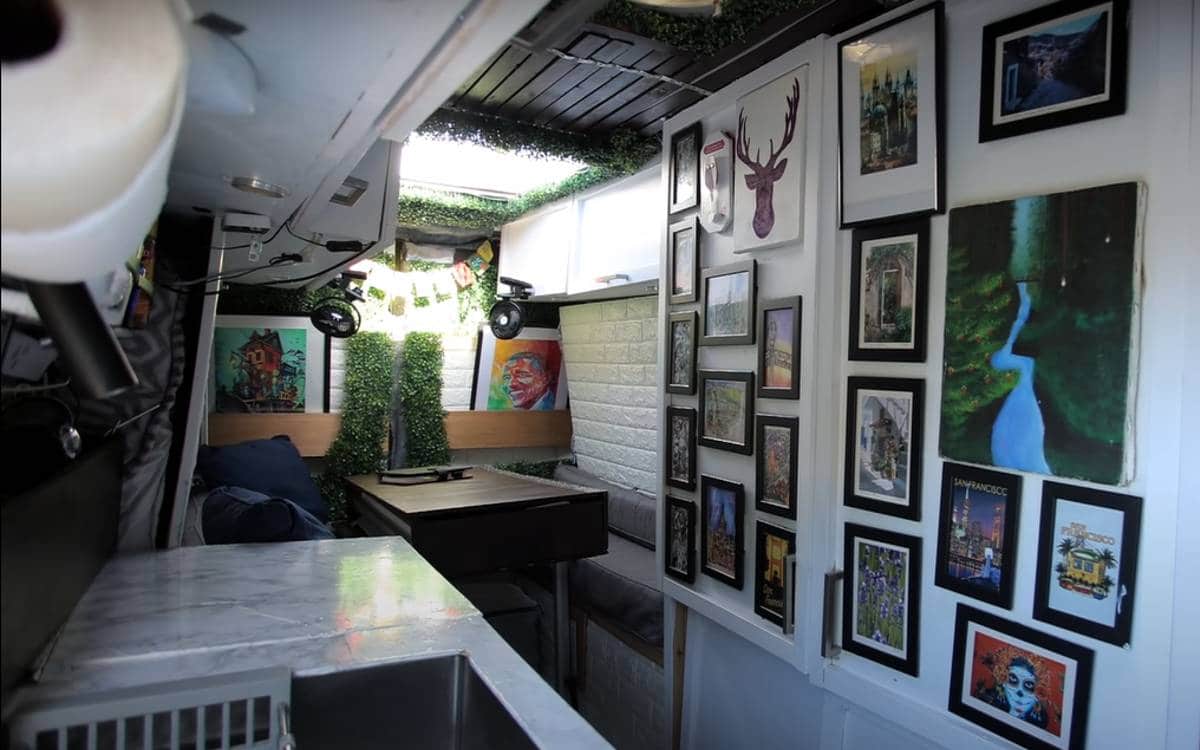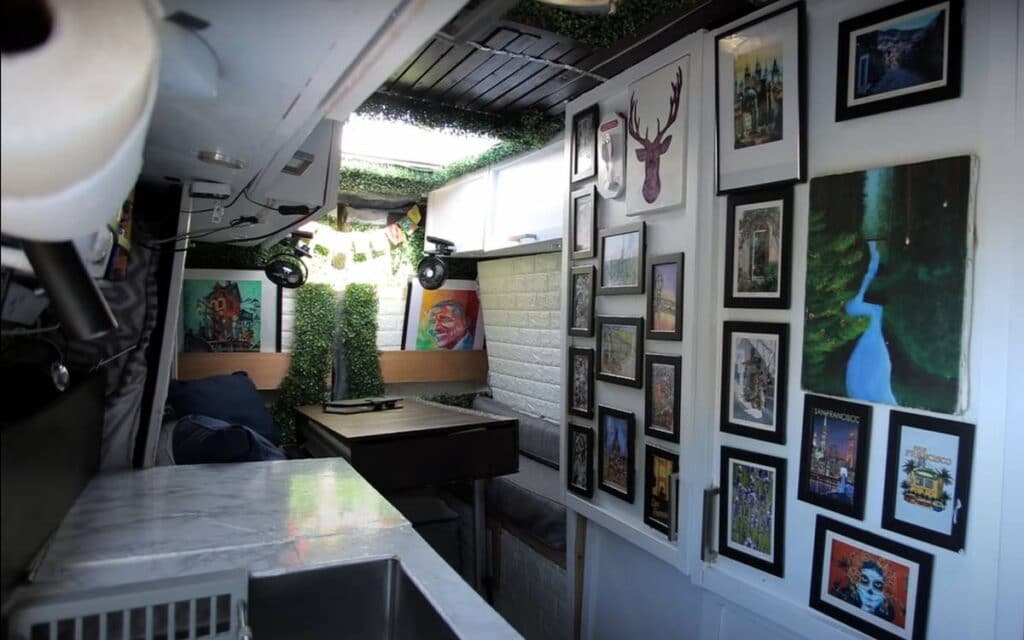 Claudia turned a 2017 Promaster with an extended 159″ wheelbase and high roof into a custom camper van to live in full-time. She used her design knowledge from her business to create a home that maximizes space as efficiently as possible. Her van build includes a wet bath, full-size closet, a kitchen with an oven and stove, and a dinette / Murphy bed conversion.
This multipurpose Promaster camper can double as an office by swiveling the passenger seat and using a flip-up counter extension as a desk. The extension also creates more space in the kitchen for cooking and food prep.
Closet space was a huge priority for Claudia, so the built a larger storage area behind the front seat of her Ram Promaster camper conversion. The closet doors feature her art collection, which is attached to the doors with a combination of glue and double-sided tape so that everything stays in place while the van is in motion.
Claudia included a wet bath with a nearly full-size shower and a composting toilet. The bathroom door swings outward and has storage boxes fixed to it that hold her bath products and cleaning supplies.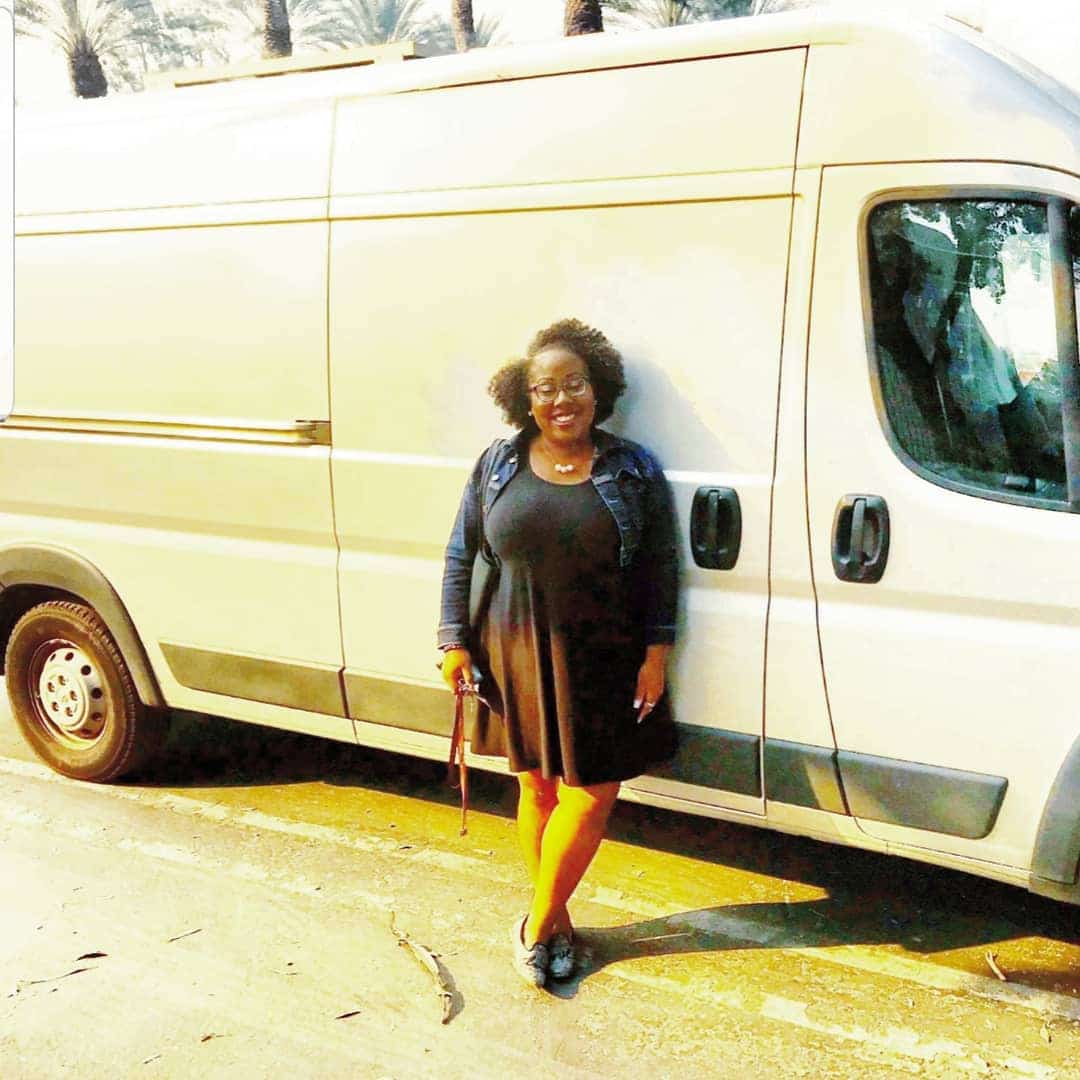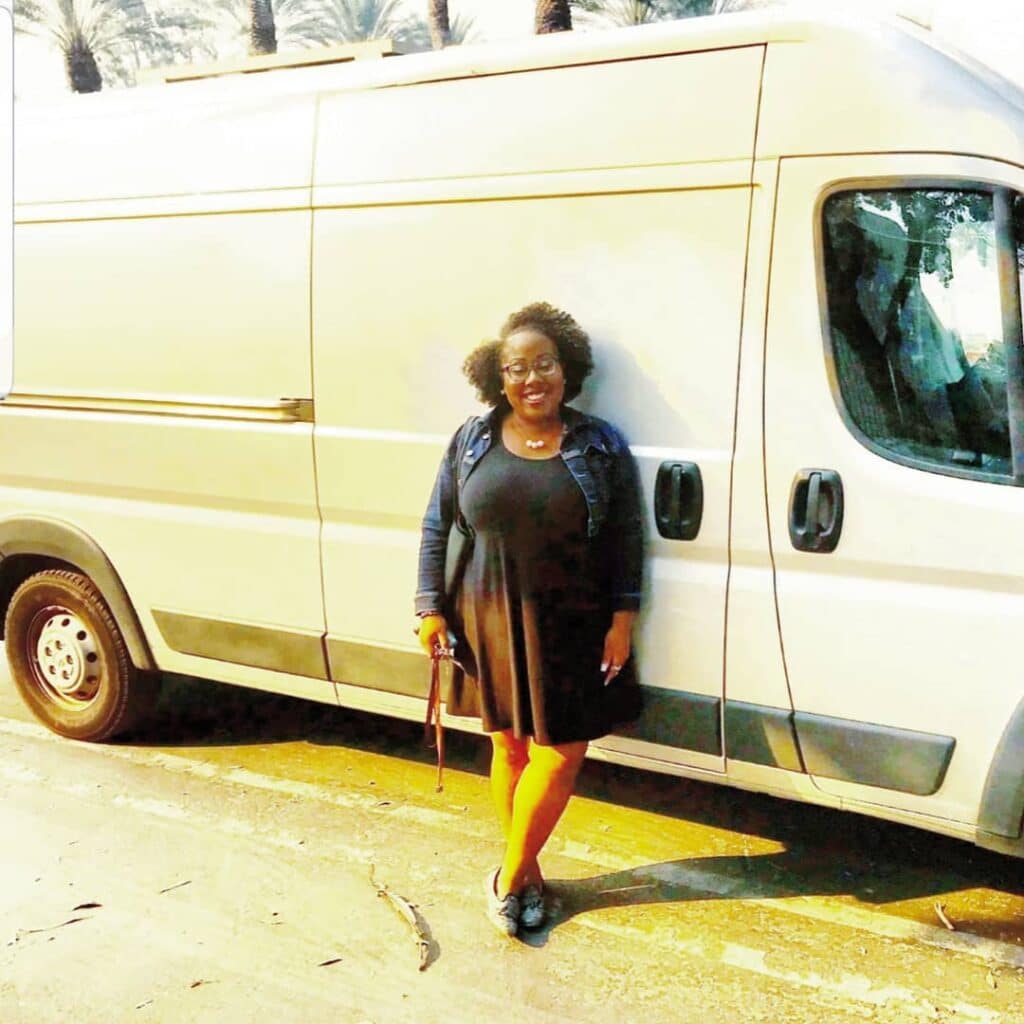 The kitchen includes an oven and three-burner stove hidden under the countertop. The counter lifts up to reveal the stove and stays out of the way while she's cooking.
In the back of the living space is a dinette set up for working and eating. Because Claudia wanted a bed that doesn't require too much daily effort, she has a Murphy bed – with a queen mattress split in half that comes down from each side of the dinette area.
Claudia loves that she has her own space and can travel alone in her Promaster van conversion. For her, van life means self-care. Traveling in a van helps Claudia experience the places she visits more like a local. She goes to grocery stores and laundromats and has more time to take in each place than those on vacation.
2. This luxury Promaster van build from @antoinetteyvonne
Antoinette Yvonne has a 2019 Ram Promaster with a 136″ wheelbase and a high roof. She's added tons of upgrades during her year on the road, including all-terrain tires and an upgraded electrical system.
This Promaster camper van has an awning that expands the usable living space during the day. A light switch at the side door lights up the entryway, and there is a flip-up table that extends the counter space in her kitchen. The passenger seat is on a swivel that allows her to transform the entryway into an additional workspace while using the extended counter as a desk.
For comfort and safety, Antoinette Yvonne opted for a wet bath, complete with shower and portable toilet.
The kitchen in this Promaster conversion has a large farmhouse sink with a cover that creates more counter space. A 2-burner induction stove, air fryer, and a large 12-volt fridge.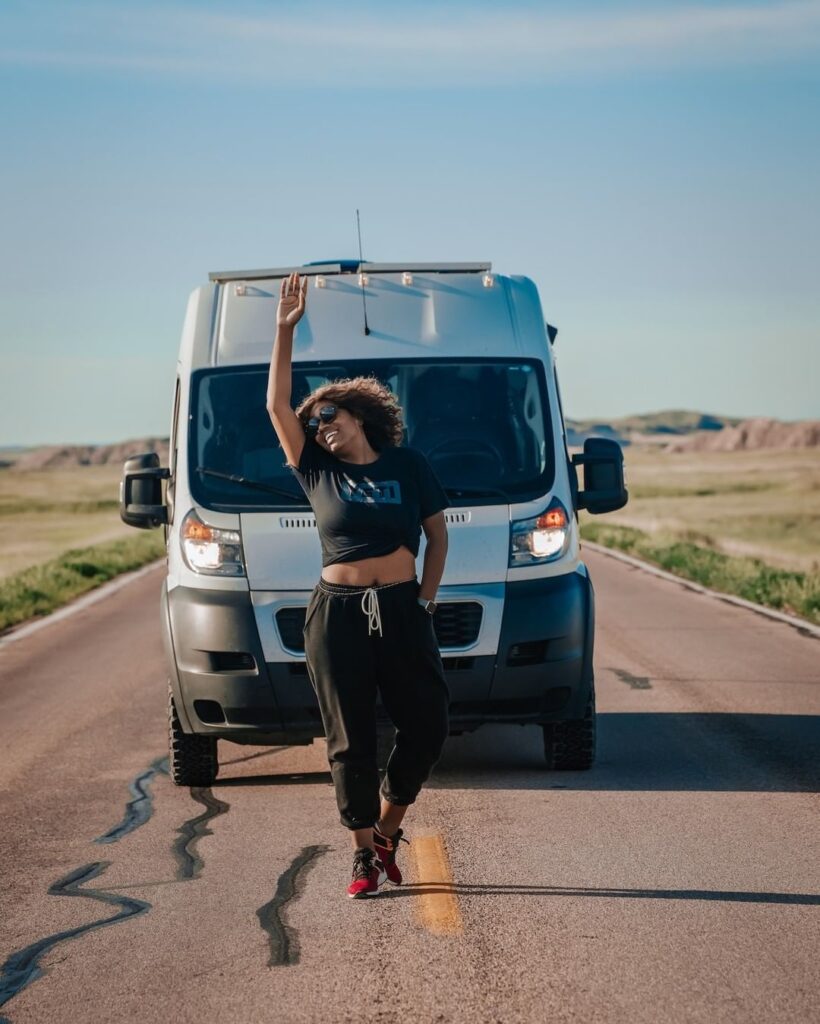 She has a bed in the back that converts into a dinette area, maximizing the available space for sleeping, eating, and working. The benches in this area also serve as storage space.
Antoinette Yvonne recommends that aspiring van builders make their build their own. You'll see many great ideas online, but at the end of the day you have to build a layout around your needs and wants.
3. This no-build Ram Promaster camper from @mybigtinyhouselife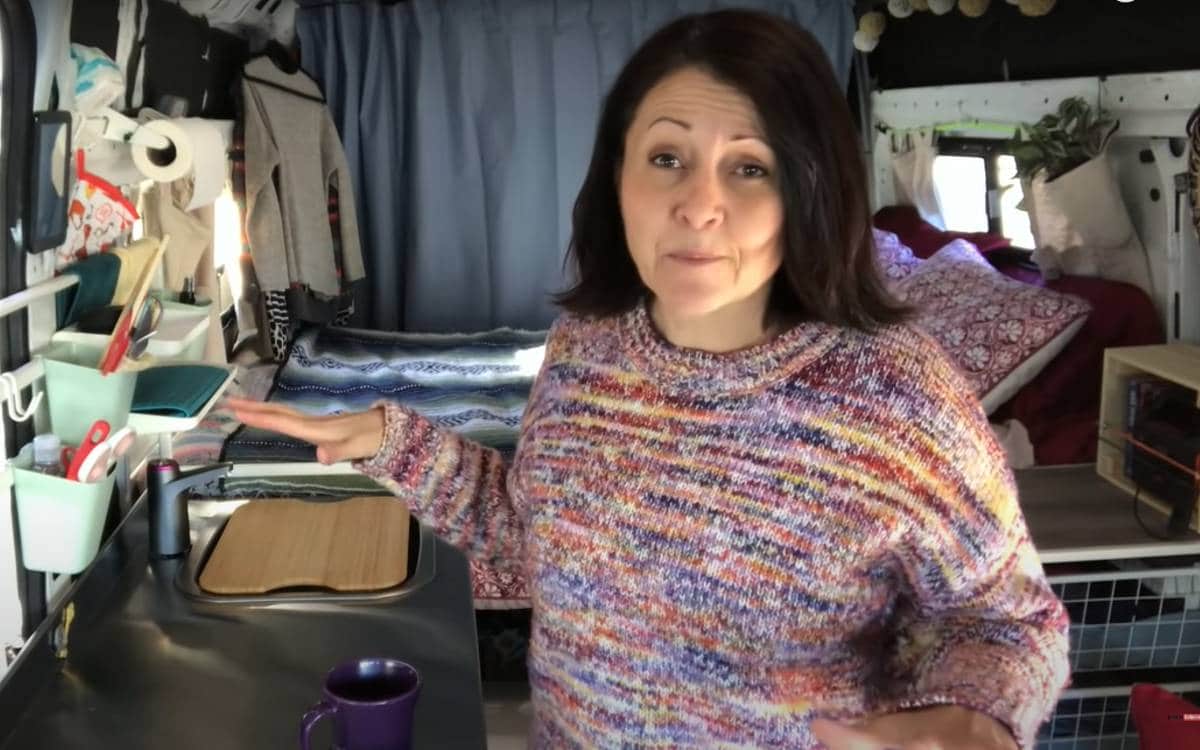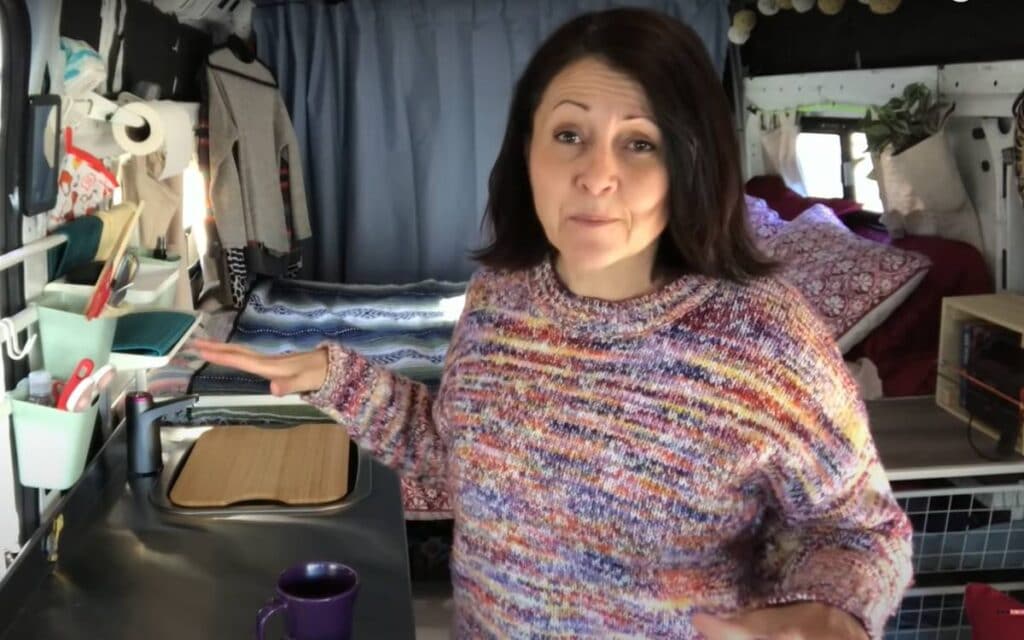 This innovative and simple no-build Ram Promaster camper conversion by Adelina from @mybigtinyhouselife uses some great finds from IKEA.
Adelina repurposed an outdoor IKEA bench into a comfy perch by adding cushions, pillows, and a throw blanket. The bench provides additional seating, and space to keep blankets, sheets, towels, and small miscellaneous items.
The lightweight kitchenette unit from IKEA has compartments for a toothbrush and paper towels, counter space for a stove, and fresh water and gray water tanks underneath. A slim rolling cart stores spices and serves as a pantry. Next to the pantry is a plastic 3-drawer dresser with latched drawers.
Adelina uses bungee cords to secure all her furniture while driving.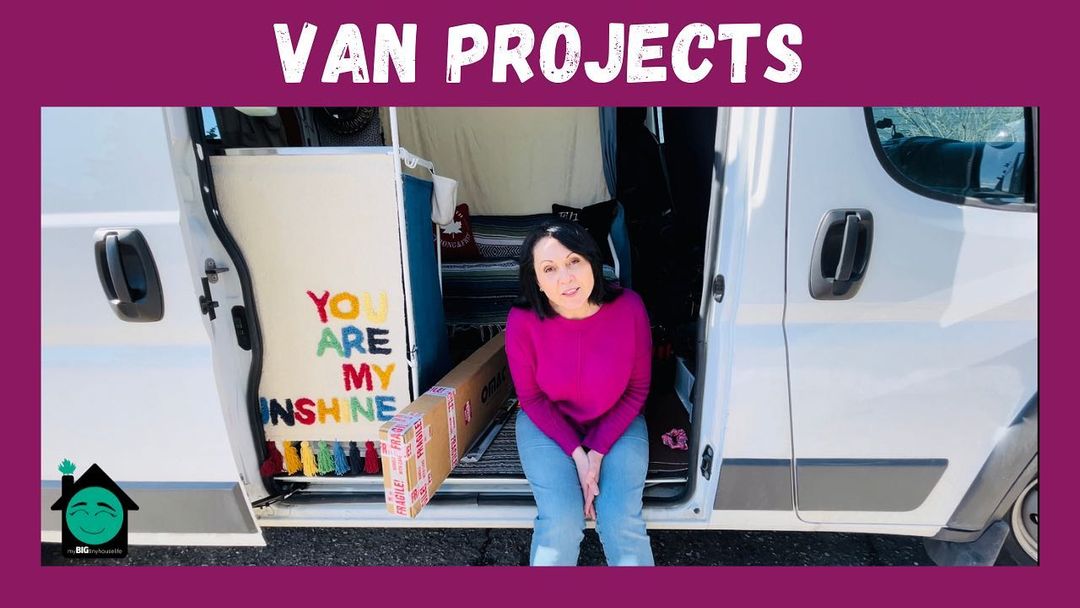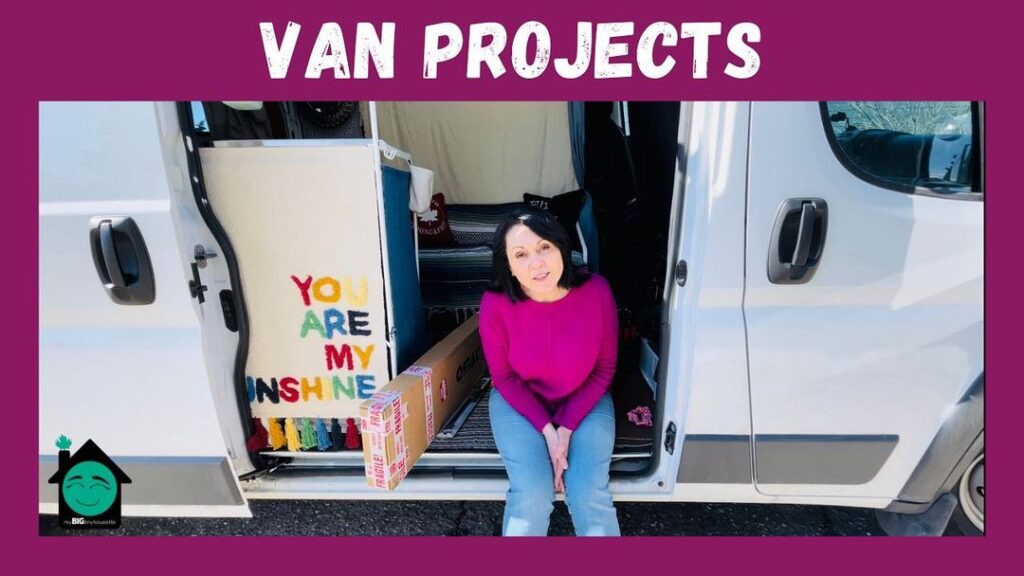 For power, this Promaster camper van has a small Jackery power station. For lighting, she has a bright light that lights up the van, as well as string lights and battery-powered LED puck lights. The LEDs are magnetic and can easily be placed anywhere on the ceiling. The van has a heater to make winter trips more comfortable.
Adelina likes to rotate the passenger side swivel seat and prop up her feet on the driver seat. With the addition of a lap desk, this space quickly becomes an area to eat and work. She keeps the lap desk in the overhead cab storage space when not in use, along with the sun shade for her windshield, screens for her windows and sliding door, and a butane camping stove.
4. This tricked-out Ram Promaster conversion from @luna_thebadassvan
Van lifers Alex and Forrest converted a 2019 Promaster camper van with a high roof and 159″ wheelbase, which they live in full-time with their two dogs. They see their van, Luna, as an investment in their futures, and because of that, they approached this camper van build with the perspective of first-time home buyers.
And this Promaster camper conversion is filled with little touches that add functionality. A cabinet by the side door features a water connection for an outdoor shower system, making it easy and convenient to hose their dogs off. This Promaster van conversion is lifted, so there is a step at the side door to help with getting in and out.
The two swivel seats up front mean the cab can double as a dining area. Their table also swivels for quicky transforming the space for eating and working. Behind the driver's seat is a bench seat with seat belts to buckle up their dogs while driving, and there is a Dometic fridge and freezer combo underneath.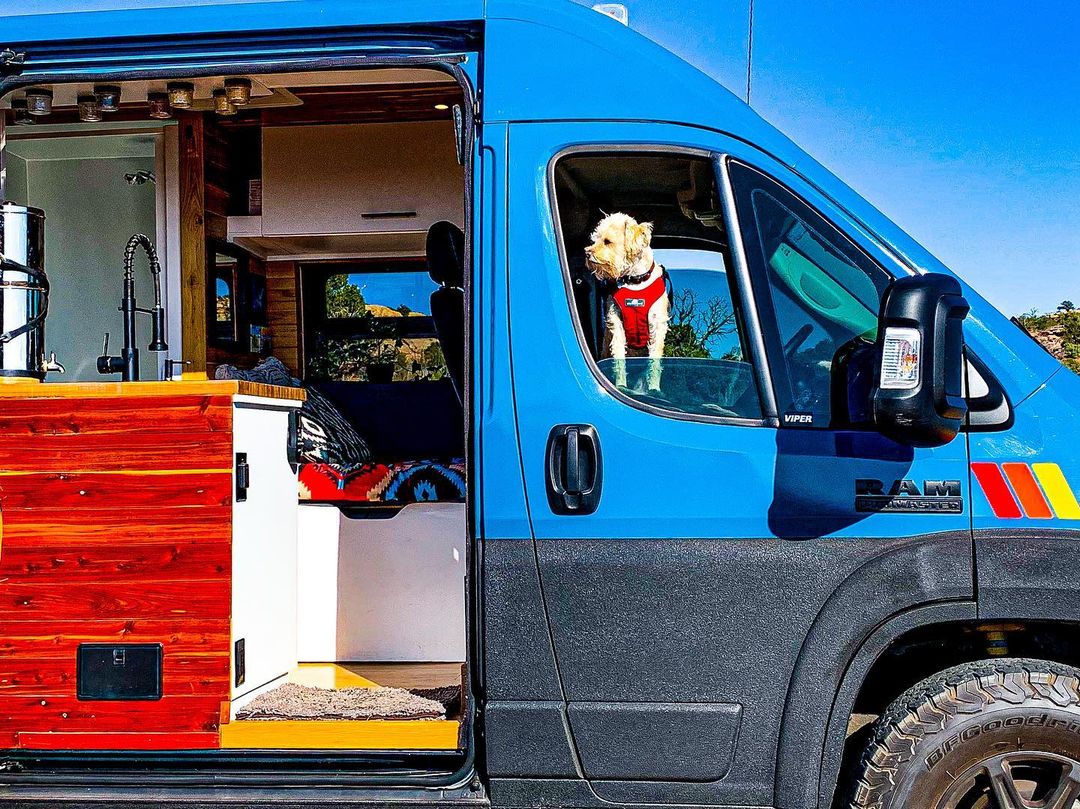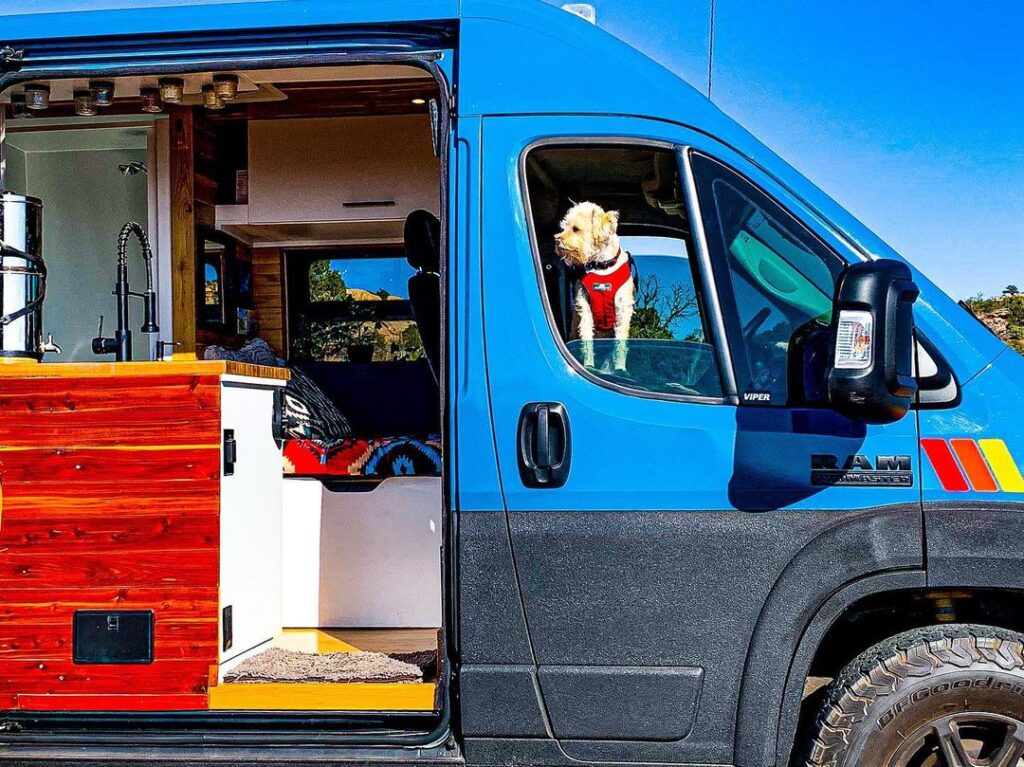 Alex and Forrest installed C.R. Laurence windows above the bench seat and in the bedroom for help with airflow, lighting, and creating a homey-feeling layout.
The kitchen includes a deep sink with a faucet that can swivel to be used out the side door. There is also a filtered water dispenser and space to stash cooking devices like an induction stovetop, Instant Pot, and air fryer, as well as toiletries, cleaning supplies, trash can, and dog food.
The van's wet bath includes a low-flow showerhead and a composting toilet. The raised, fixed bed platform in the back is in-between a full and a queen-sized bed, and creates tons of garage space accessible from the rear doors.
For some additional sweetness, they painted the van's original blue exterior a reflective white and applied Raptor liner around the bottom. They also added new struts, shocks, a 3-inch lift, and new tires for off-road driving.
Freedom, minimalism, and investing in their future are significant factors that brought Forest and Alex to the van life movement.
5. This four-season Ram Promaster camper van build from @whereskevinroemer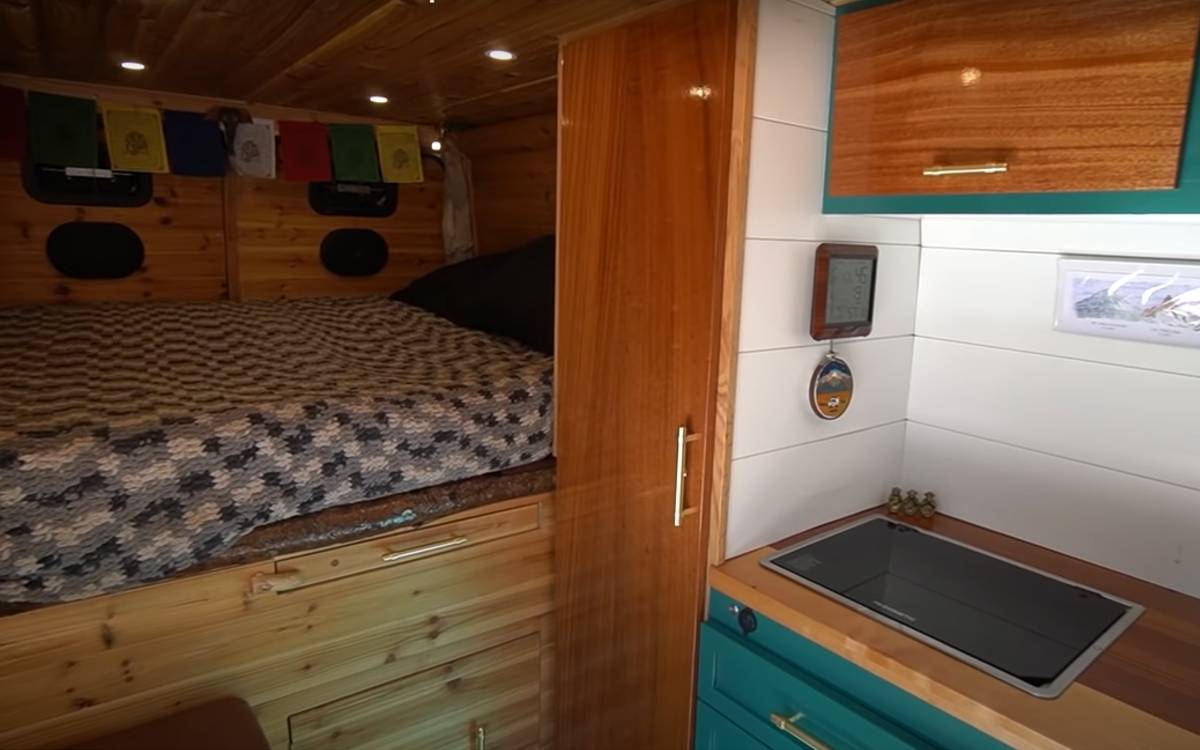 Kevin built his DIY camper van conversion in a 2018 Promaster high roof van with a 159″ wheelbase. He designed his build all four seasons in mind, so it is well-insulated behind the wood paneling walls and has a heater. Thermal insulated curtains separate the cab from the living space while providing temperature control and stealth.
This is one of the more beautiful Ram Promaster conversions we've seen. There are unique touches throughout the van, including driftwood accents and components made of lumber straight from the sawmill.
For the kitchen galley, Kevin repurposed old countertops from his parent's home. A set of cabinets above the kitchen store his pantry items. The bench by the entryway houses a larger Dometic fridge, which slides out across from the kitchen. Beside the bench is a table on a drawer pull-out that slides under the mattress when not in use.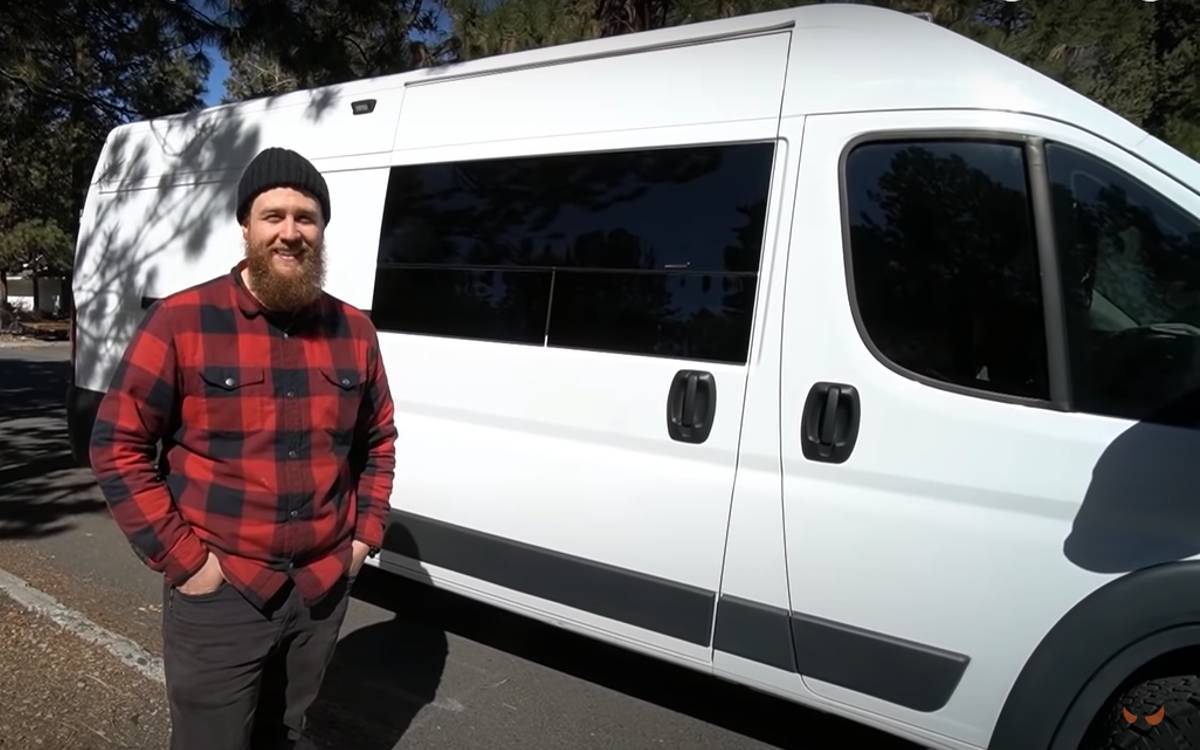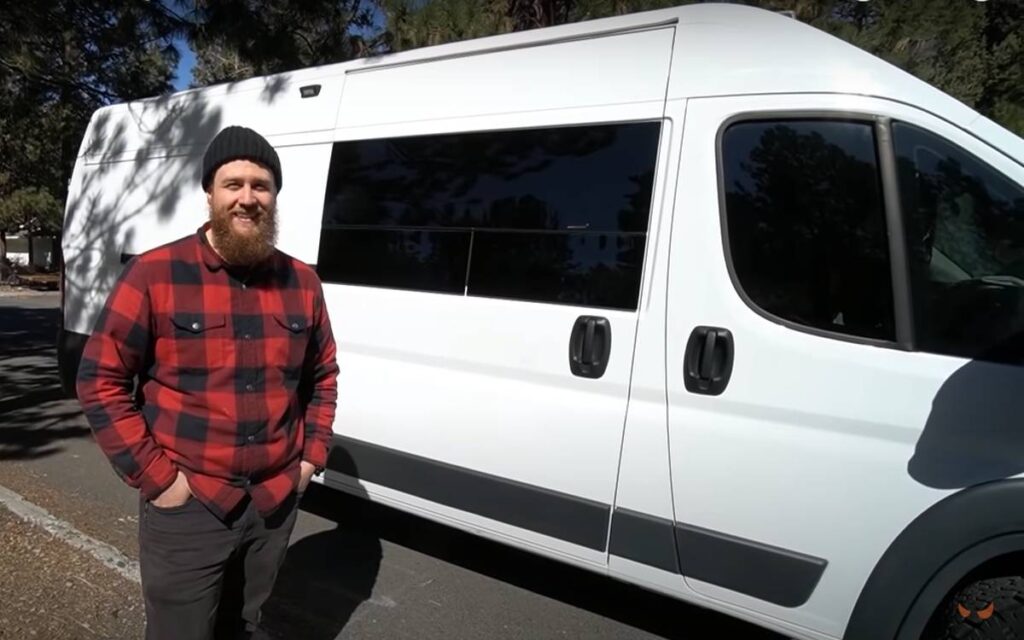 A control panel above the bench controls the van's lighting, power, and hot water heater. Another switch by the kitchen controls the water pump.
A full-height closet next to the kitchen stores all of Kevin's clothes and some other belongings.
The queen-sized bed is on a raised platform that provides plenty of garage space underneath. The mattress runs width-wise across the back of the vehicle. Under the mattress, a removable panel allows access to the solar system, which is located in the garage.
Kevin recommends traveling in your campervan during the conversion process to get some real-life perspective on your layout and what you'll need to make the living space comfortable for your lifestyle.
6. This short, off-grid Ram Promaster camper van conversion from @clarity.offgrid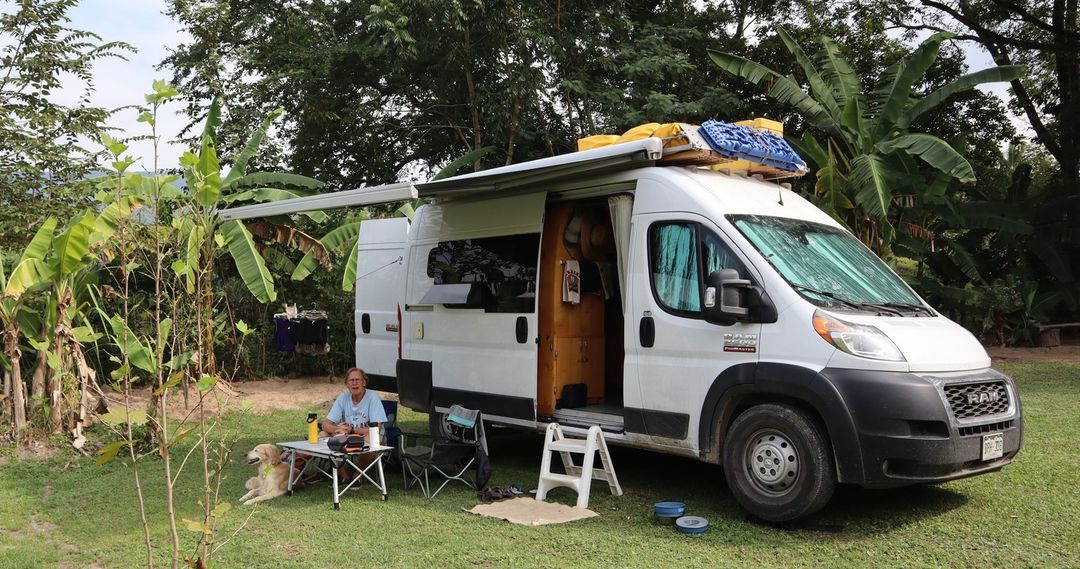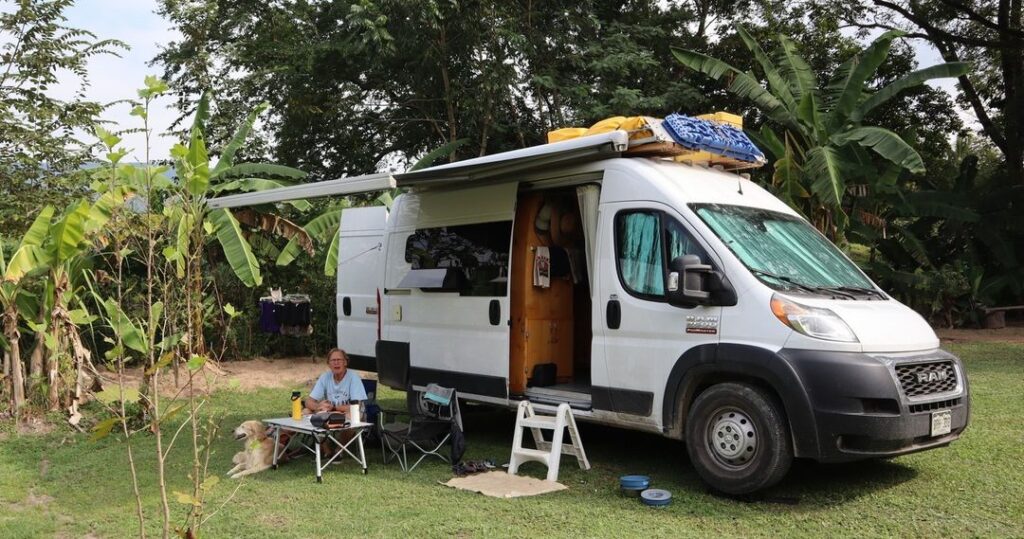 Matt and Kristina have been traveling in their 136″ wheelbase Ram Promaster conversion van, Clarity, for almost a year. They chose the shorter wheelbase because it is easier to maneuver and street park than the 159″ wheelbase.
To make the best use of their living space, Matt and Kristina put both the driver and passenger seats on swivel mounts. They also have a table on a swivel, which makes it easy to transform the cab into a dining space and office. They can also raise the table to provide more counter space while cooking.
LED puck lights on the ceiling provide plenty of light, and they're controlled with a switch and a dimmer. Additional under-cabinet LED lighting provides extra illumination while cooking.
Matt and Kristina's camper van kitchen includes a sink with hot water heater, a built-in spice rack, and a 3-burner stove. When not in use, the stove is covered by a section of countertop that easily flips up for cooking.
Matt installed an indicator light for the gray water tank, which is a super useful addition. The light turns on when the tank is ¾ full, allowing plenty of time to dump their gray water before it overflows.
The rear fixed bed platform is a double-sized bed that extends width-wise across the van. The bedroom area includes windows at the head and the foot of the bed, providing excellent airflow at night. A cabinet underneath with pull-out drawers allows access to the garage from the interior.
Matt and Kristina have an awning that helps create a nice outdoor living room. Throw out a rug, camping chairs, and a table, and they have another place to spend their time while parked.
7. This budget Promaster camper build from @linnea.and.akela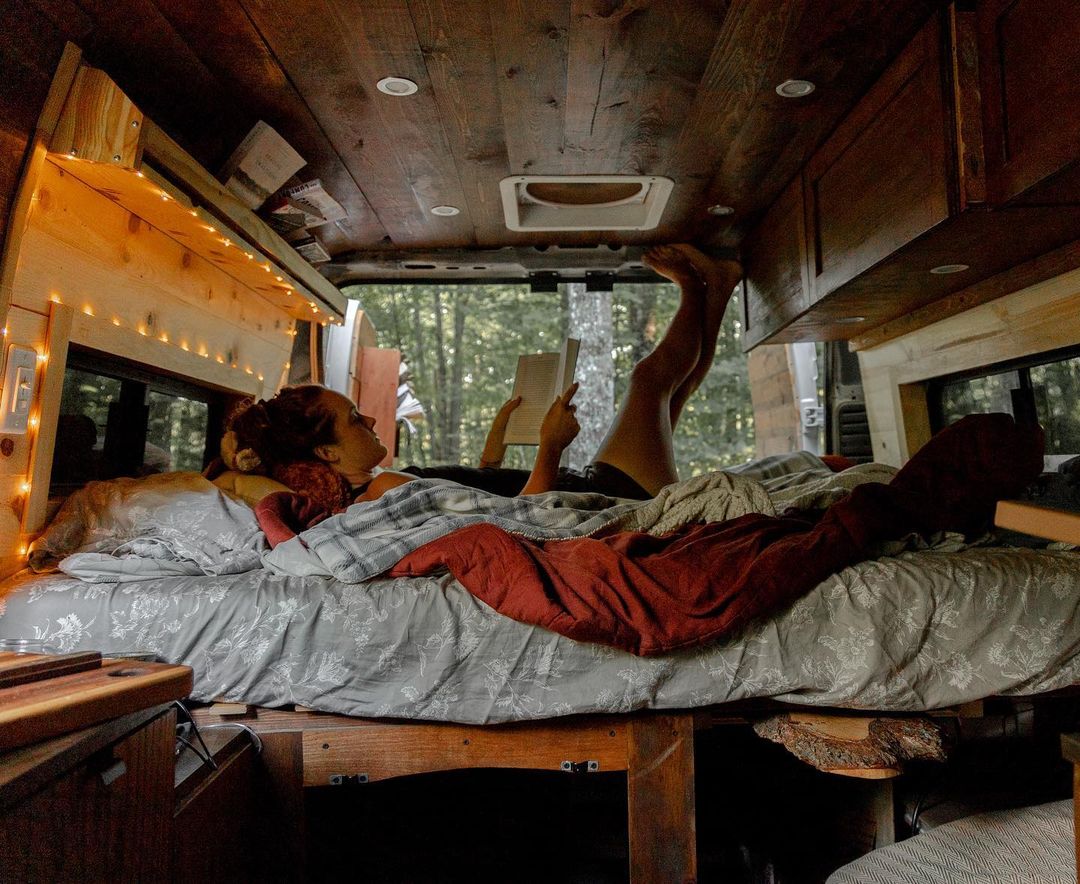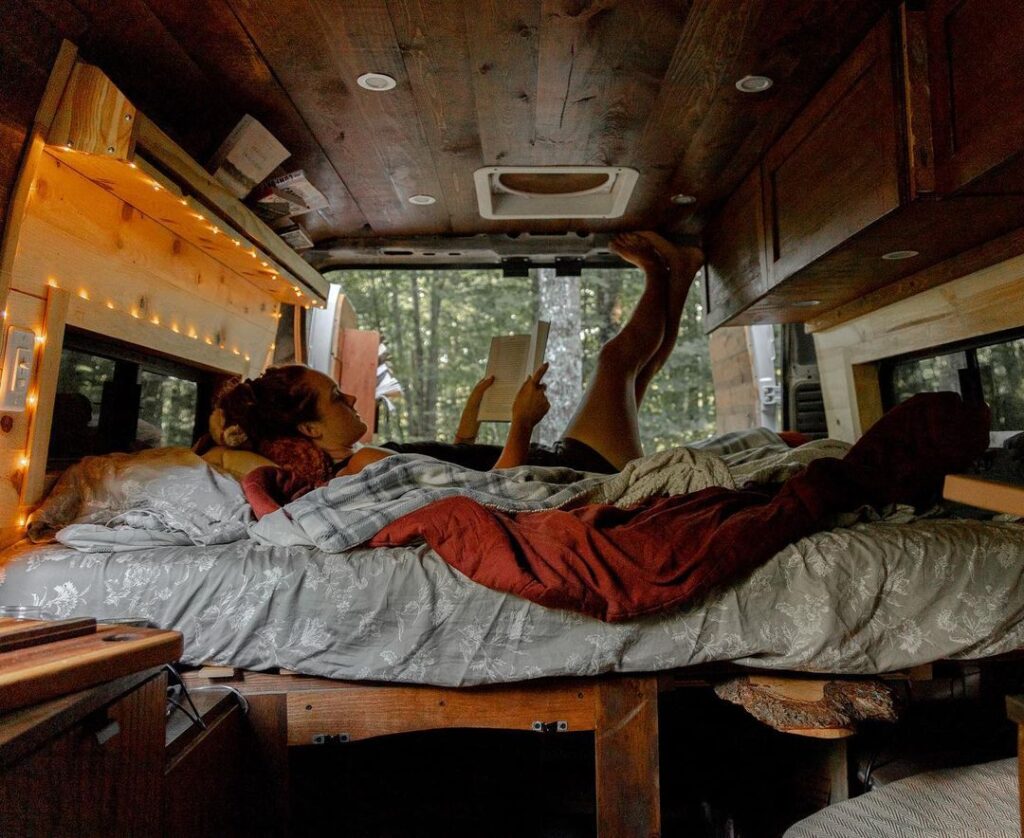 Linnea and her dog, Akela, live full-time in a 2016 Ram Promaster conversion with a 136″ wheelbase and high roof. Linnea did the build entirely by herself and kept her budget low by shopping secondhand whenever possible.
Van conversions are all about flexibility. A swivel seat in the passenger side provides seating in the living space. A counter on a pull-out drawer slide extends above the fridge to provide a workspace and eating area.
Linnea installed a partition behind the front seats, which helps the cab and kitchen feel more like defined areas. She built a three-drawer dresser underneath the kitchen counter that stores her pots, dry goods, and toiletries.
Linnea also has a camping stove that she stores in the overhead bin above the cab. She decided on a small sink with a foot pump and removable water tanks. However, she wishes she had installed a larger sink, since it's difficult to wash her dishes in her current sink.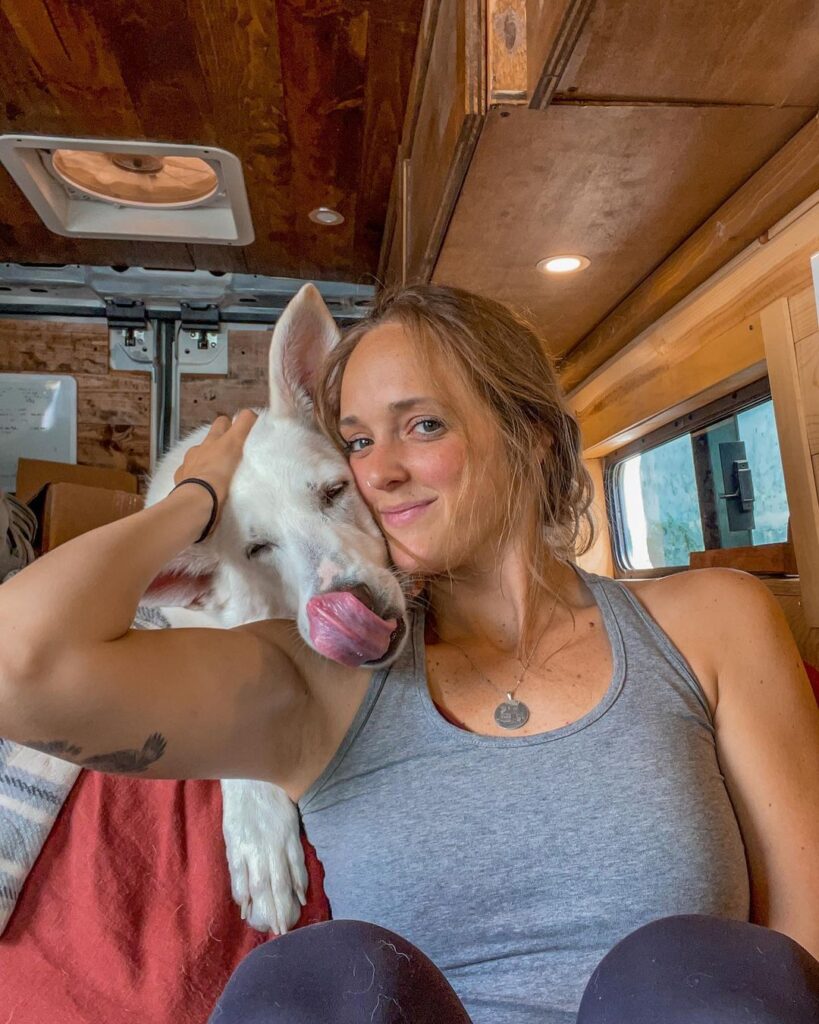 Between the and the kitchen partition, there is a small space for Linnea to store her shower tent and a couple of van conversion solar panels.
Linnea built a space under the fixed bed for Akela, who enjoys having a cozy spot of her own. She can add a kennel door to this setup when Akela needs to be secured. The bed is raised to maximize space in the garage, where Linnea stores her electrical components and camping gear. Windows at the head and foot of the bed provide airflow.
Linnea enjoys backcountry experiences, which is one of the factors that brought her to a smaller camper conversion. She believes if you have the time and capacity to learn the skills needed to do a van conversion, you can make all kinds of creative mobile interiors.
8. This simple Promaster conversion from Bart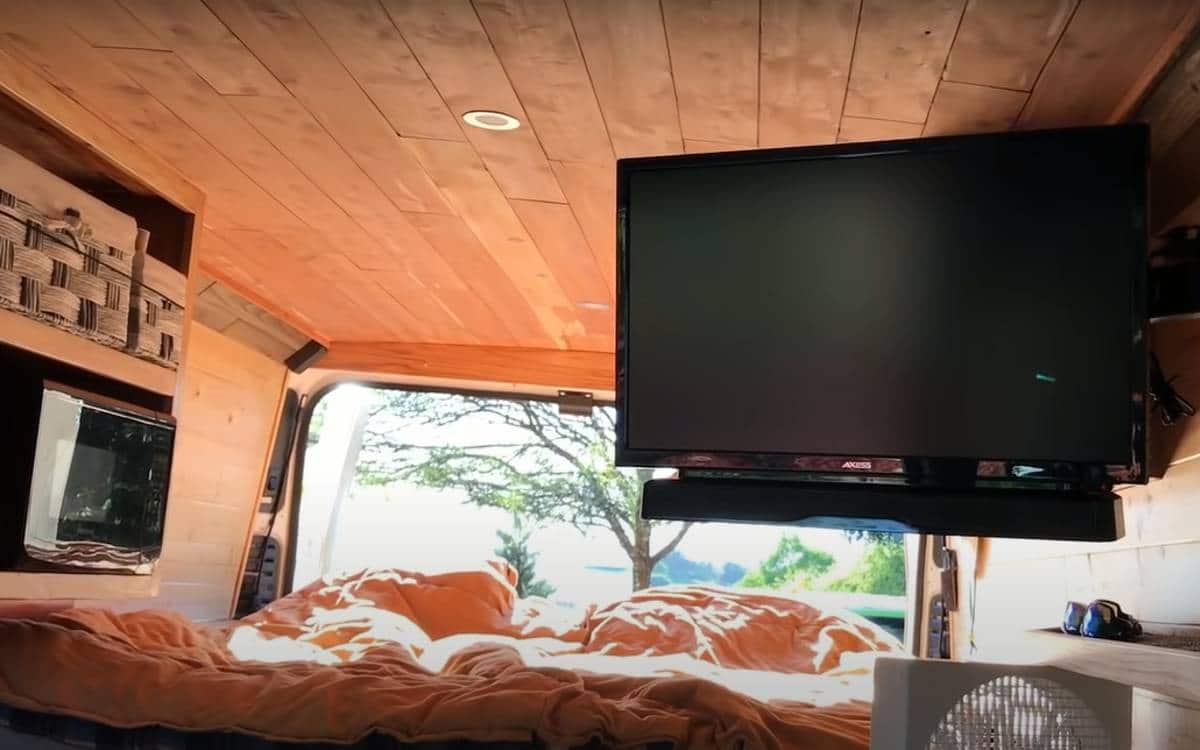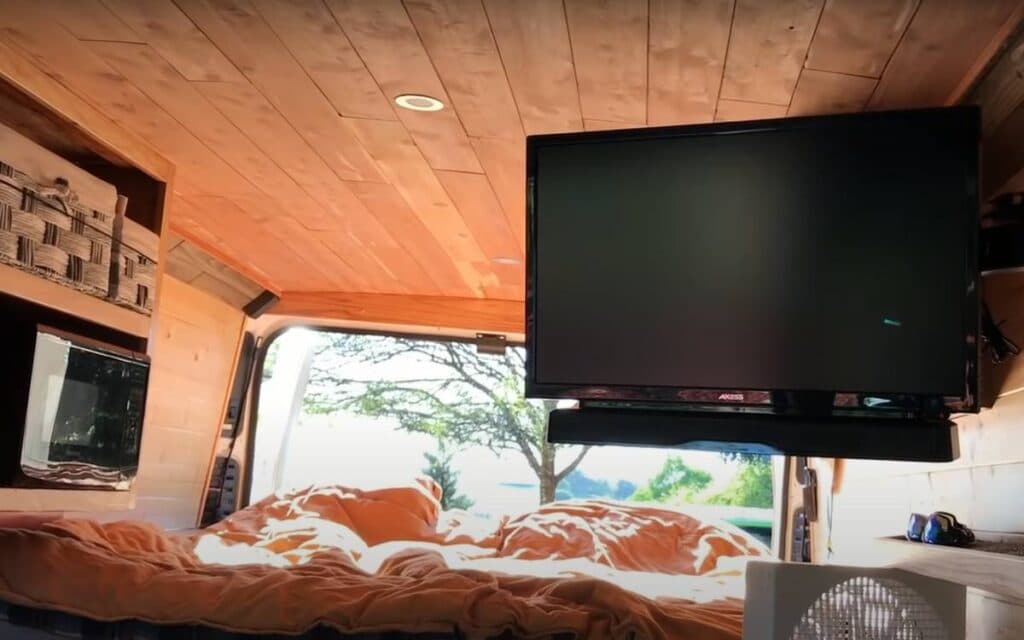 Bart converted a 2017 Promaster with a high roof and extended 159″ wheelbase to travel in with his wife.
His build includes a full electrical step, with solar panels on the roof and a control panel in the entryway. The control panel has monitors and controls for lighting and power, and there are outlets, hooks, and shelves distributed around the interior.
Both the driver and passenger seats are on swivel mounts.
Bart chose a top-load fridge to conserve power and cold air. He built an open-air enclosure for the fridge to ensure a lot of air circulation to keep it from overheating.
A TV is swivel-mounted to the wall so Bart can watch TV from anywhere inside the van.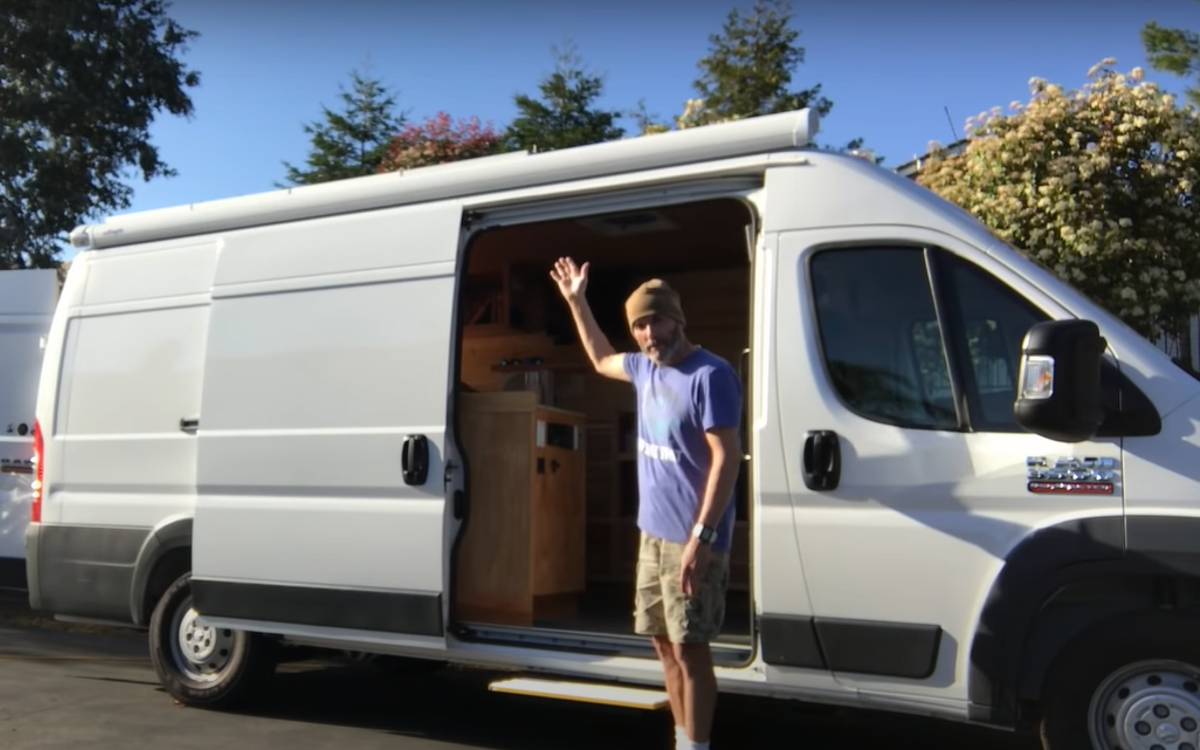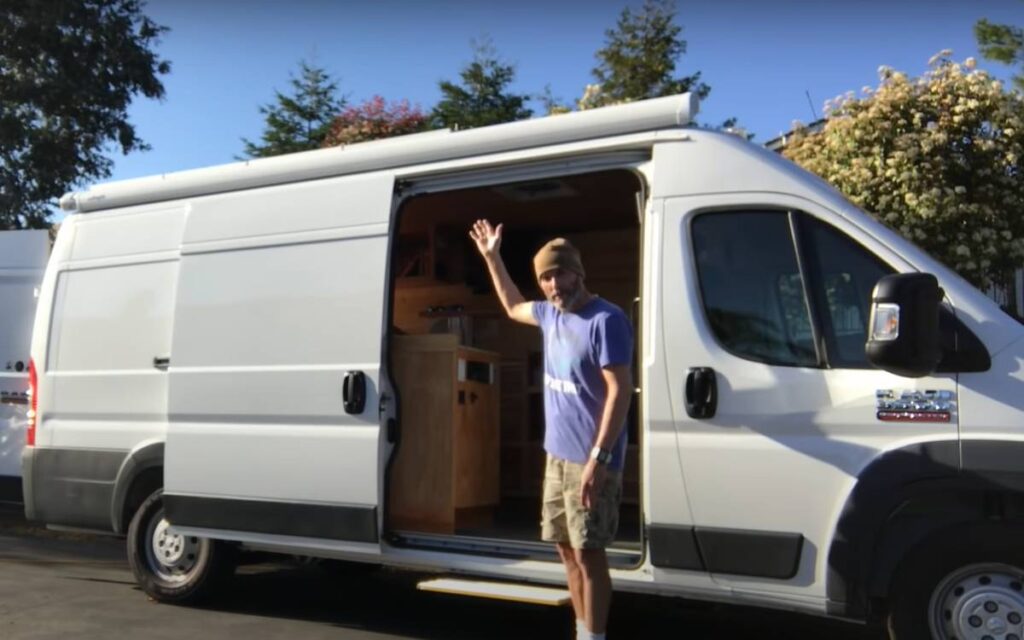 On the kitchen counter, there is an induction cooktop for cooking inside the van. He also has a camp stove for cooking outside, which he uses more frequently. An awning extends from the side of the van when parked, providing a shaded outdoor space.
The raised bed has a pull-out step for help getting in and out, and the spacious garage underneath has large drawers and room for the electrical components.
Bart kept his build simple, without running water, a heater, toilet, in-van shower, or dining area. He enjoys backpacking and didn't feel it was necessary to incorporate these elements into his van conversion.
9. This low roof Ram Promaster camper van conversion from @adventure_time_loui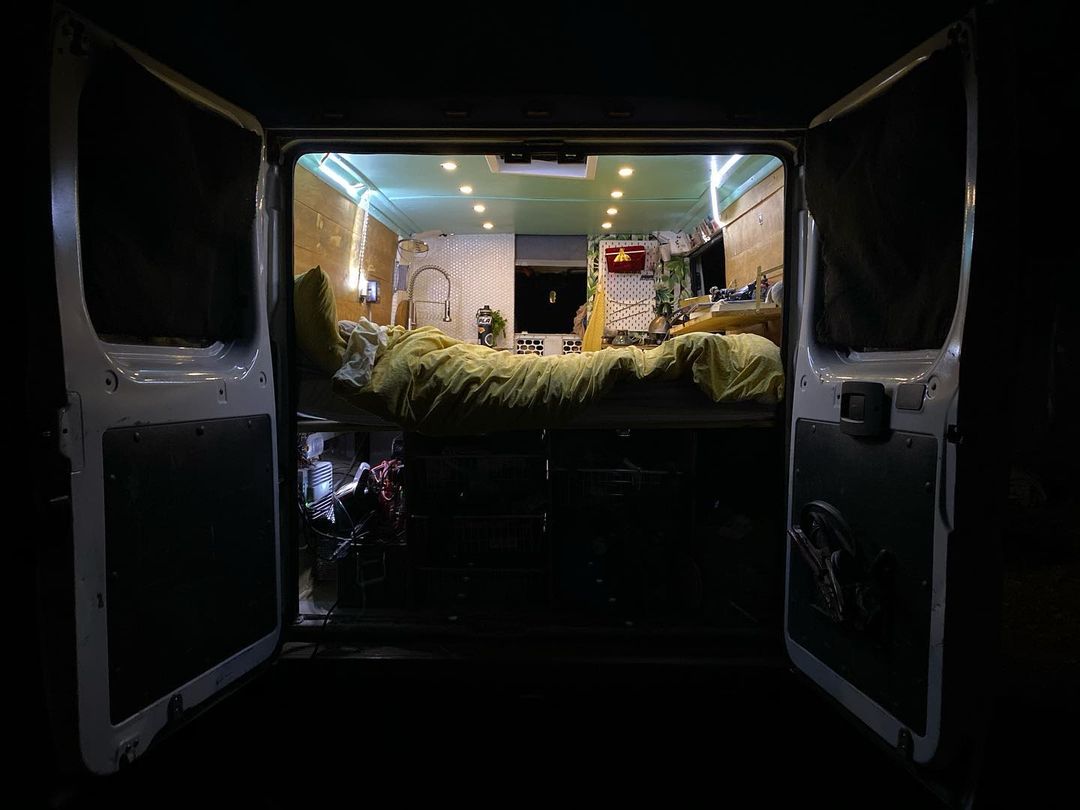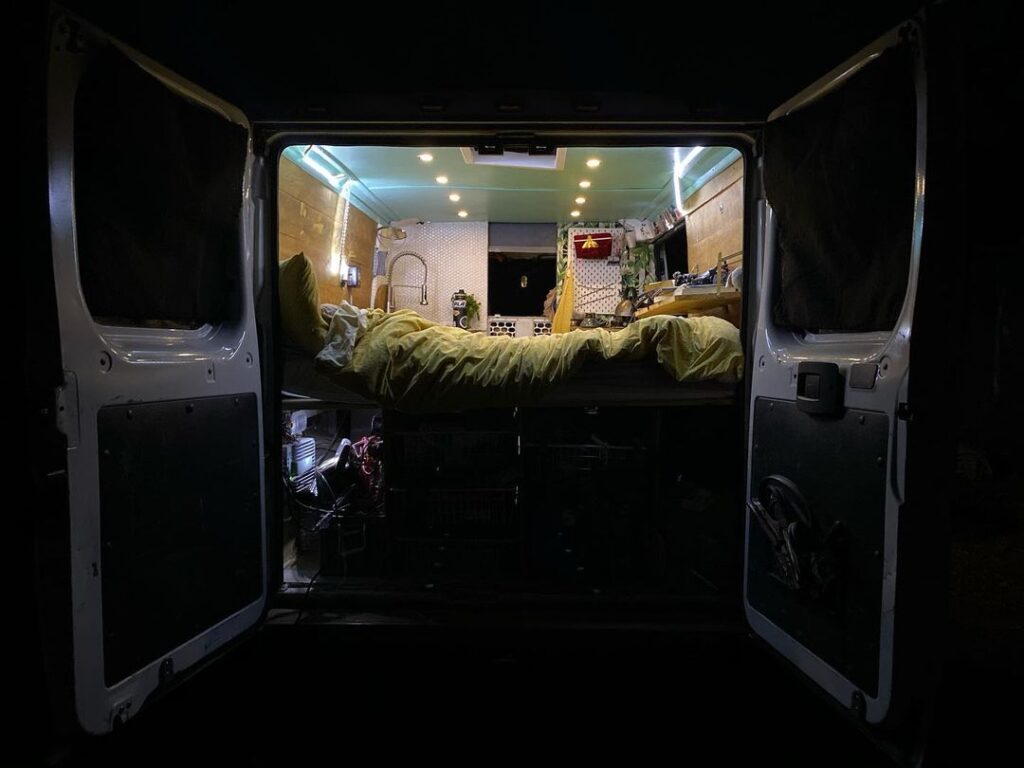 Loui converted a 2014 Ram Promaster into a DIY camper van. She chose a low-roof van with a 136″ wheelbase and travels in it with her dog, William.
Loui uses the cab and the space behind the seats to store miscellaneous items like hand sanitizer and window covers. Partitions separate the cab from the living space, which can be completely sealed off with a curtain for privacy and to help with insulation. Loui added a peg board to the partition closest to the side door and decorated it with knickknacks. A pop-up table is also attached to this partition to provide additional counter space.
In the kitchen, there is a faucet with running water, and a 6-gallon fresh water jug and a 6-gallon gray water jug under the sink.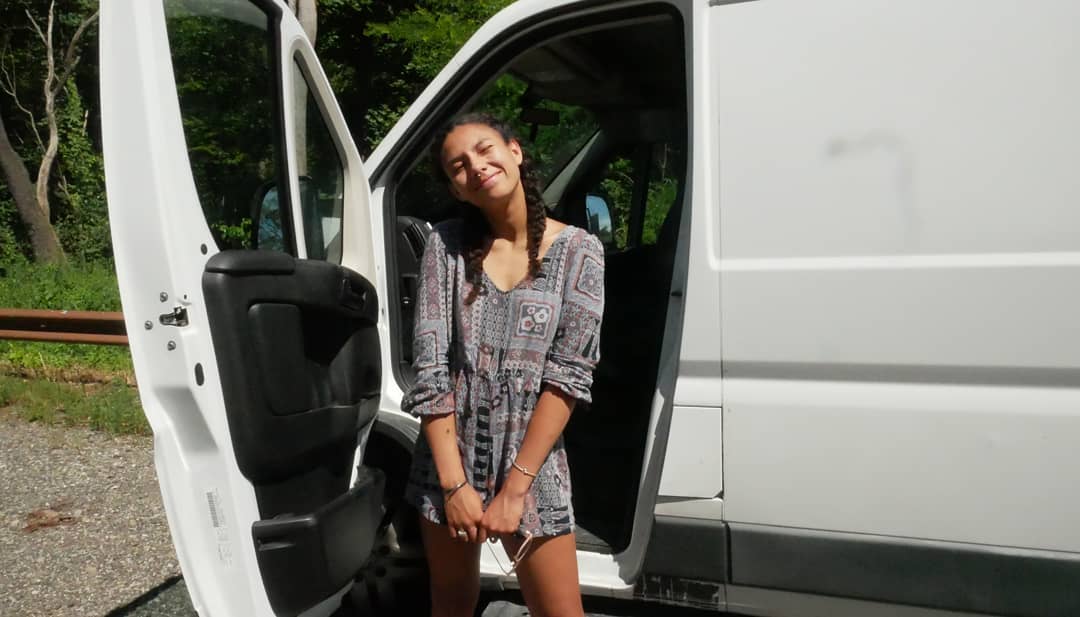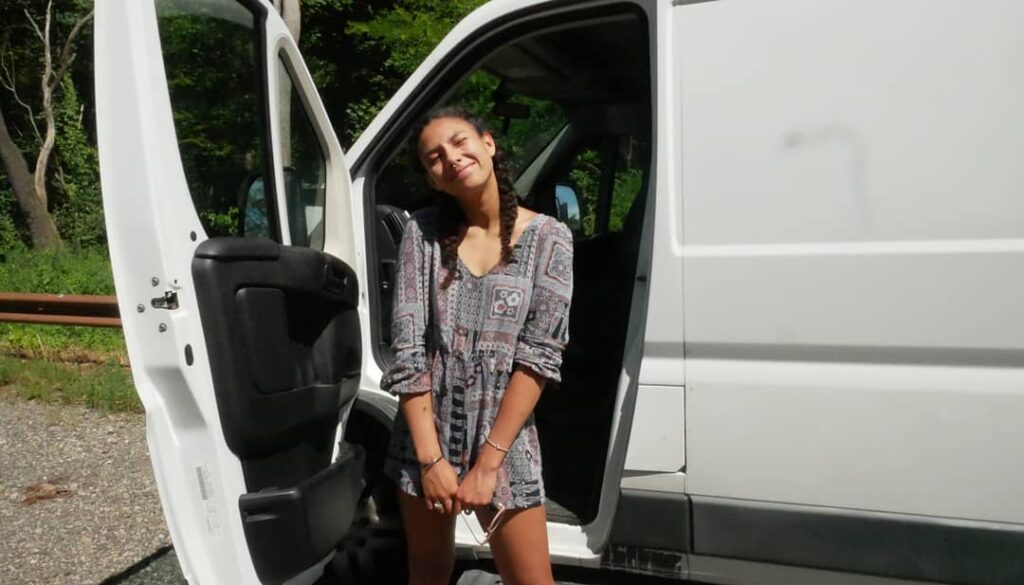 The bench beside the kitchenette holds pots, pans, food items, and kitchen appliances. The cabinet by the side door stores dirty laundry and William's food.
The full size bed extends width-wise across the back, and there are wire baskets on drawer slides underneath that store clothes and smaller items. The rear garage has another set of wire basket drawers next to the electrical components that store tools and winter clothes.
Loui aspires to build a nomadic community while on the road and looks forward to making new connections.
10. This transformative Ram Promaster conversion from @emsvanlife
Emily has a 2014 Promaster with a high roof and 159″ wheelbase. One of the unique things about her build is the transformative space behind the front seats that serves many purposes. It is a living room, dining room, guest bed, bathroom, and office space.
The area is usually in couch mode with a six-foot-long seating area. The middle cushion can be replaced with a mounted table for dinette seating. The section nearest the driver's seat stores the van's composting toilet. Emily loves the flexibility of this space and how easy it is to change from one mode to another. She wanted a Nature's Head composting toilet in her van, so she built the bench to accommodate those dimensions.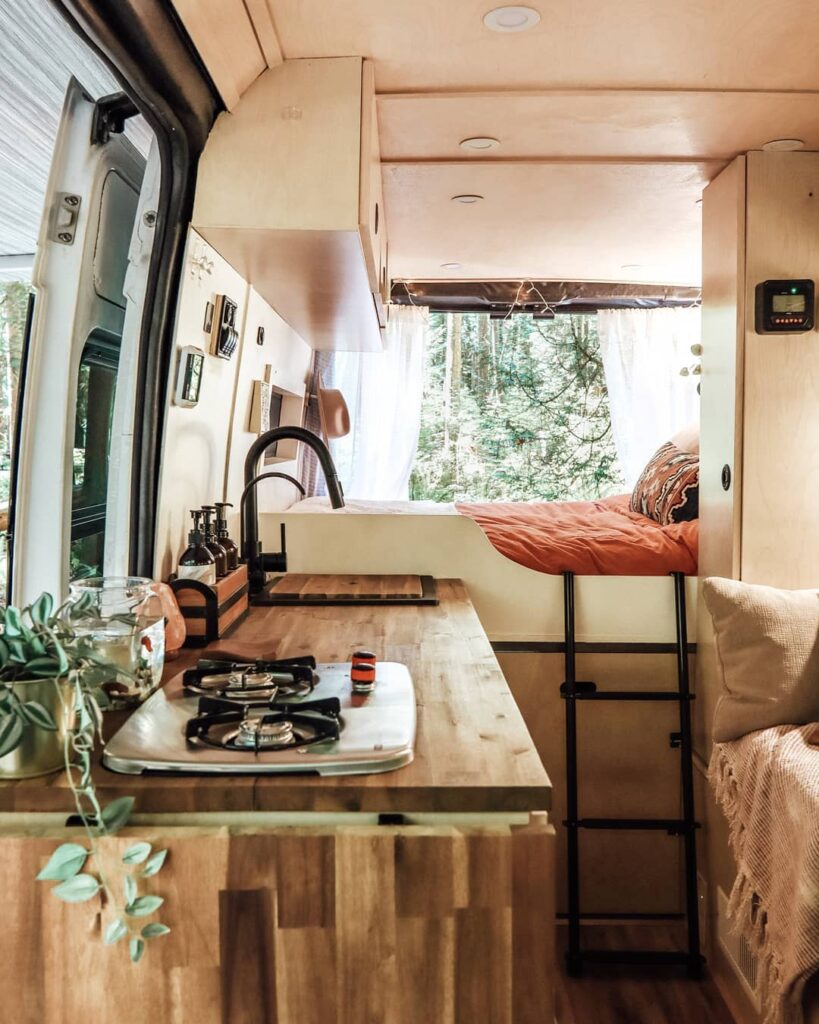 On the other side of the bench is a closet that Emily uses to store her clothes and heater. It also provides a partial partition between the living room and the bedroom. The bed is raised and fixed, and a small door provides access to the garage. The mattress is full-size and fits width-wise across the back. There is a slider window by the foot of the bed, with cabinets above it that hold extra clothes.
An awning extends from the side of the vehicle and easily doubles the living space. A ladder on the back allows Emily to hang out on the roof for even more usable space.
Emily has always lived in small spaces, but transitioning to van life wasn't easy. It helped that she started in a family member's driveway, which gave her time to gauge how long her water and power lasted with regular use before heading out on the road.
11. This chic Promaster van camper from @blixandbess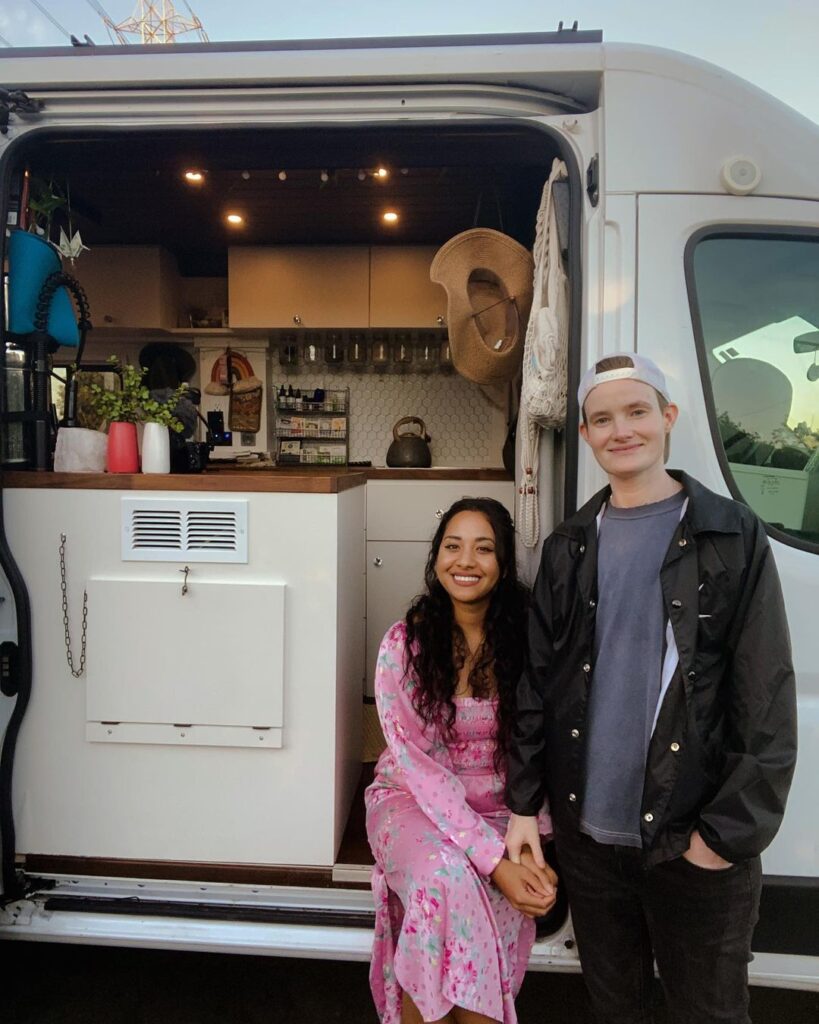 Blix and Bess travel full-time with their two dogs in a 2019 high roof 136″ wheelbase Ram Promaster camper van.
The couple uses the cab to store small everyday items, and a curtain separates it from the living space. There is also a hanging storage compartment on the back of the passenger seat, which is on a swivel mount to provide additional seating in the living space.
The kitchen has a two-burner propane stove attached the counter. There is a cabinet for dishes and another one for a pantry, with screw-top spice jars attached underneath for easy access while cooking.
They have a C-Head composting toilet on drawer slides stored in a cabinet behind the driver's seat when not in use.
There is a step by the dinette area with a lid that comes off to access the couple's shoe collection. They keep their main clothing in cabinets above the dinette and stash off-season clothing inside the benches. The dinette converts into a bed at night by removing the table, placing it in the gap between the benches, and rearranging the cushions.
Because they chose a dinette/bed setup, the garage has less space than vans with a fixed bed. However, they can still store power components, a water tank, and a heated outdoor shower setup within the benches.
Blix and Bess love that their Promaster has allowed them to travel in a way they didn't think was possible. They are learning more about van conversions and van life as they go!
12. This Ram Promaster camper van tiny house build with a bed-lift from @shaninavan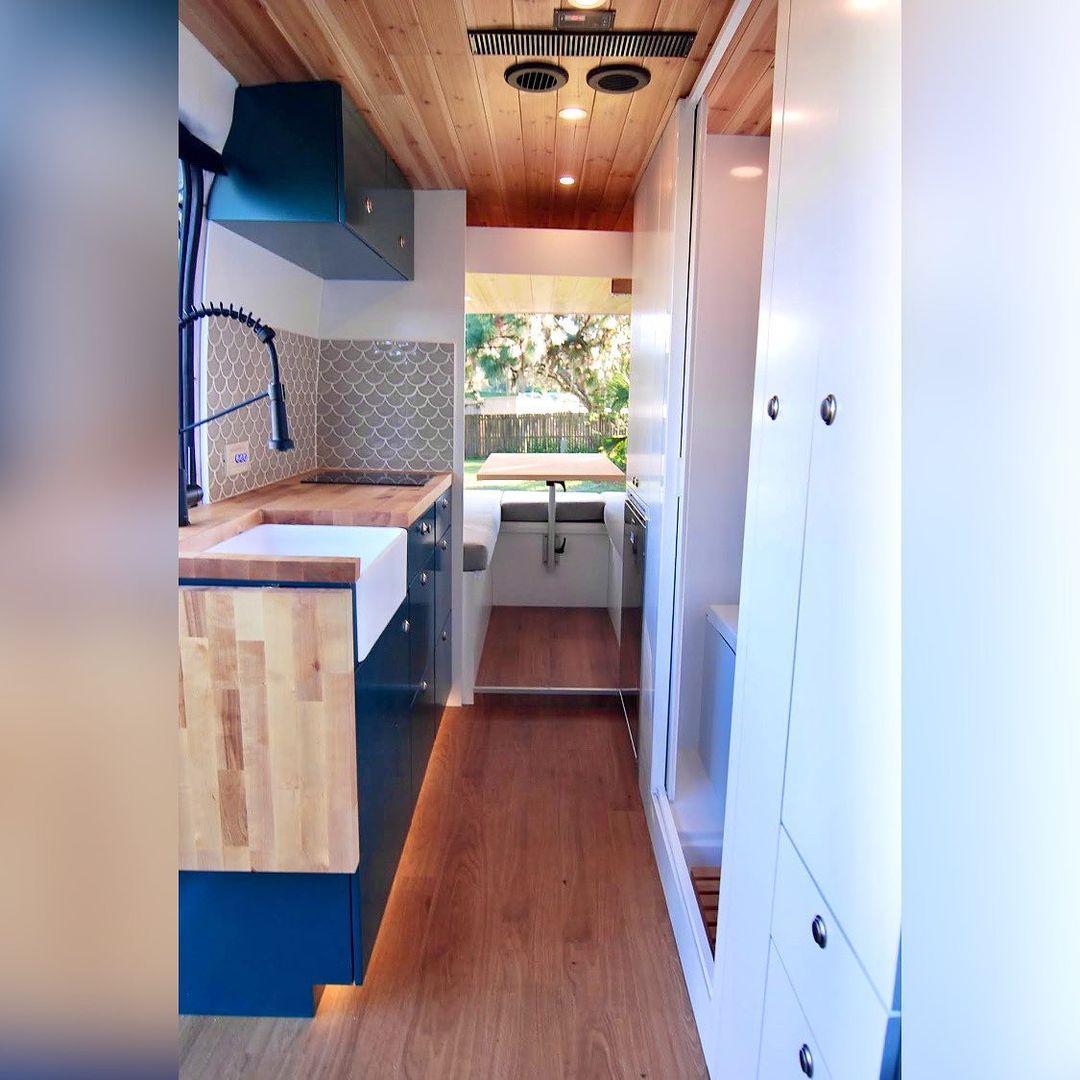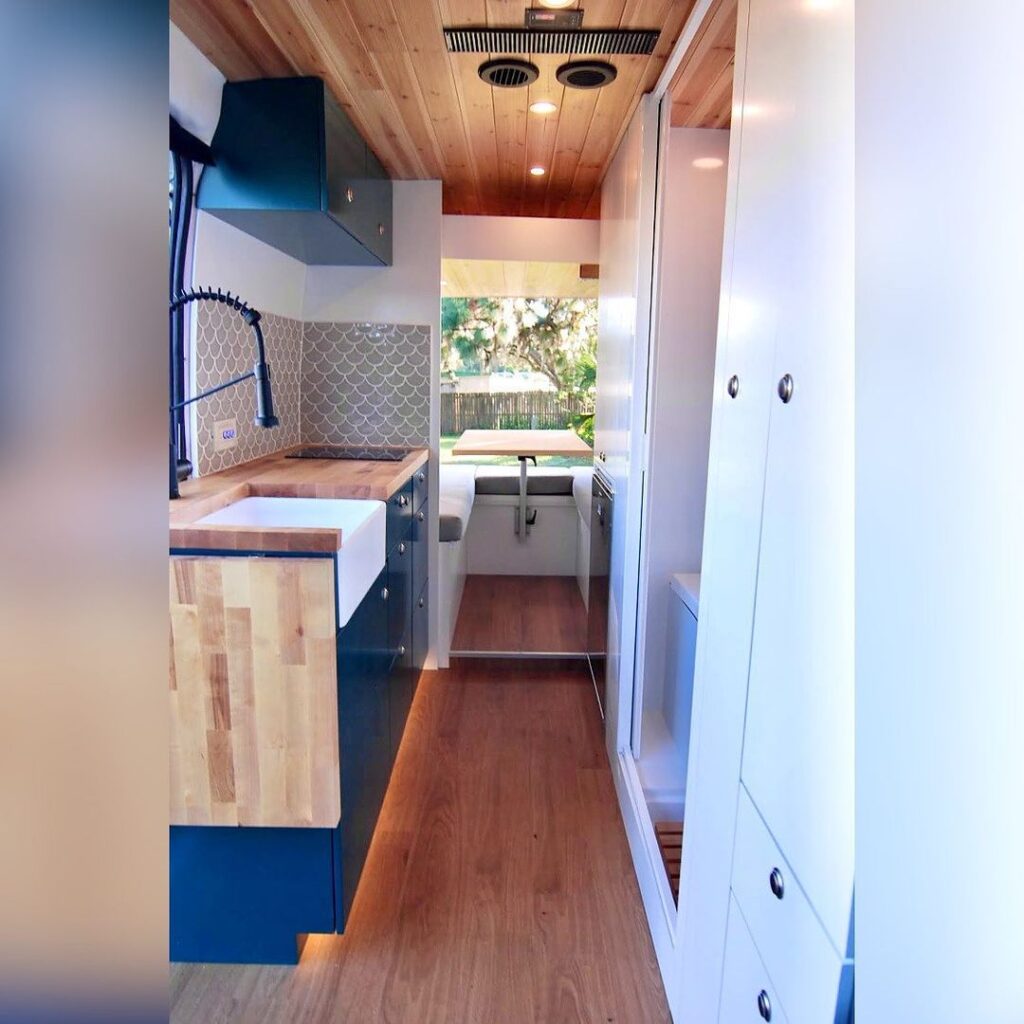 Shannon and her dog, Greycie, live in a Promaster van with a high roof and extended 159″ wheelbase. Shannon is an interior designer and was able to use her skills to design her van build. Her industry knowledge shows with this innovative build, which includes a kitchen, shower, and an elevator bed, amongst other features.
In the kitchen, Shannon has a farmhouse sink and a faucet that can swivel outside the van, thanks partly to its placement by the side door entryway. There is a pop-up counter on brackets that expands the cooking area. She added vibrant green cabinets and scallop tiles for a cute and creative appearance.
Because she doesn't have a large garage, Shannon included space in her layout for a clothes closet and a general closet for skiing equipment and other outdoor items. Some storage is accessible from the rear, but it is mainly reserved for the electrical and water systems. When the back doors are open, a table on a slider can be pulled out for dining and working outside.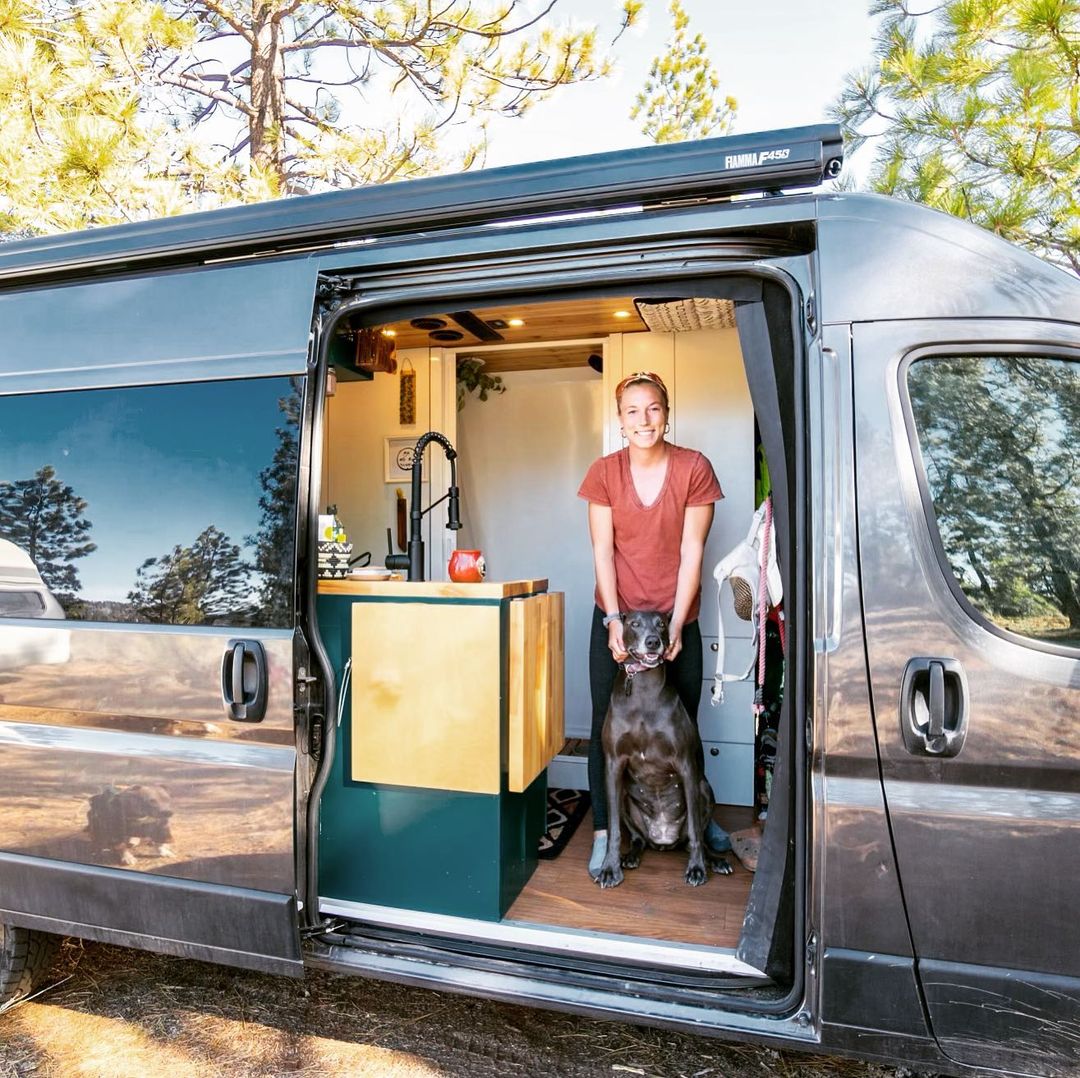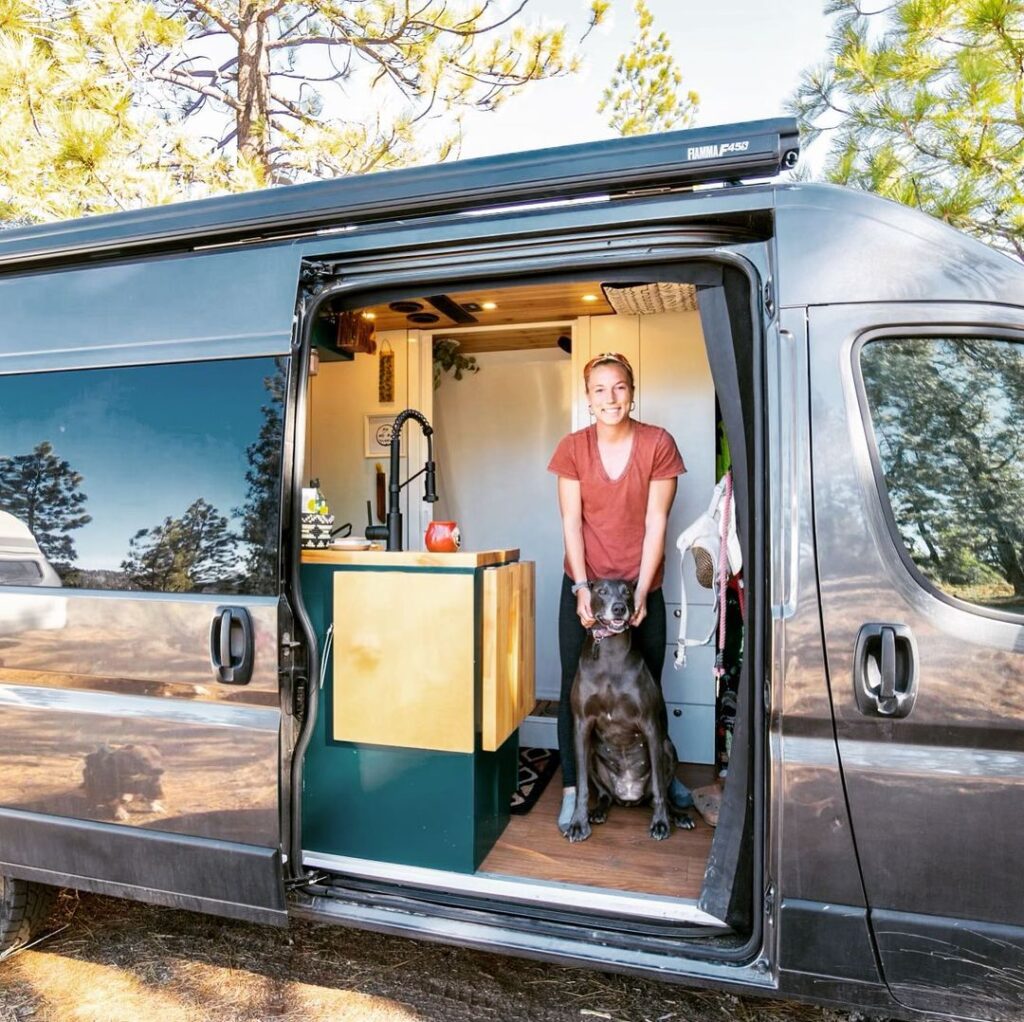 The van has a dining area in the back of the living space with large windows on either side. A table on a swivel mount can be removed and used as a support when converting the dining area into a bed. However, it is not Shannon's everyday sleeper.
So she doesn't have to convert her sleeping sitution every night, she opted for a EuroLoft Bed Lift System. The EuroLoft is an electrical lift that moves the mattress up to the ceiling above the dining area when it is not in use. This setup also allows her to host friends overnight.
Shannon's passion for designing small spaces and maximizing their functionality led her to start her own design business, Tiny Living Designs. Customers can purchase her van's design, get a custom van designed for them, or schedule time for van design advice.
13. This DIY Ram Promaster conversion from @carrielynnconrad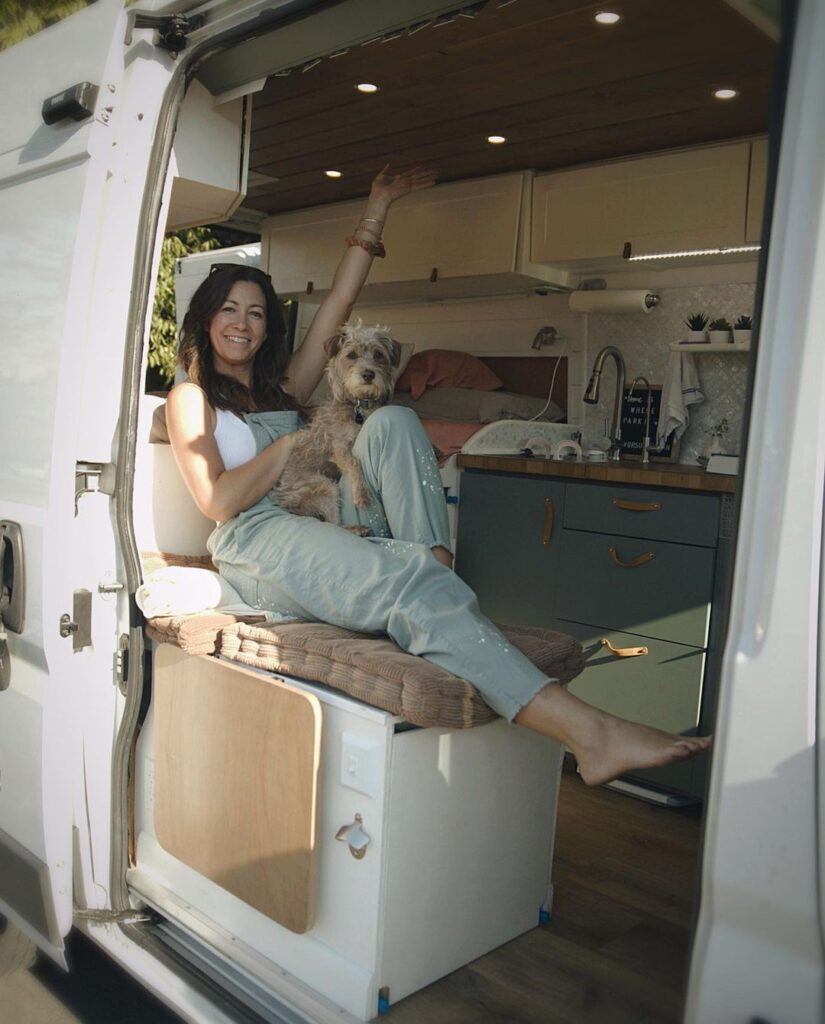 Carrie is an artist who designed and converted a Promaster with a high roof and 136″ wheelbase to live in with her dog, Ziggy.
This is another one of those Promasrter van conversions with reurposed items from IKEA, including cabinets and counter. The upper cabinets store food, and magnetic strips keep large utensils in place against the kitchen wall.
Carrie grew up on a boat, so she was familiar with tiny living before moving into the van. She understood the importance of ample storage and a large sink, so she made sure all of the space was used to her advantage – storing pots, pans, trash, and other essentials.
For safety, Carrie has extra locks on the outside, hidden weapons, and a place where she always puts her keys in case she needs to leave somewhere quickly. Her roof rack was assembled with stealth in mind, and she opted not to add windows to maximize her privacy.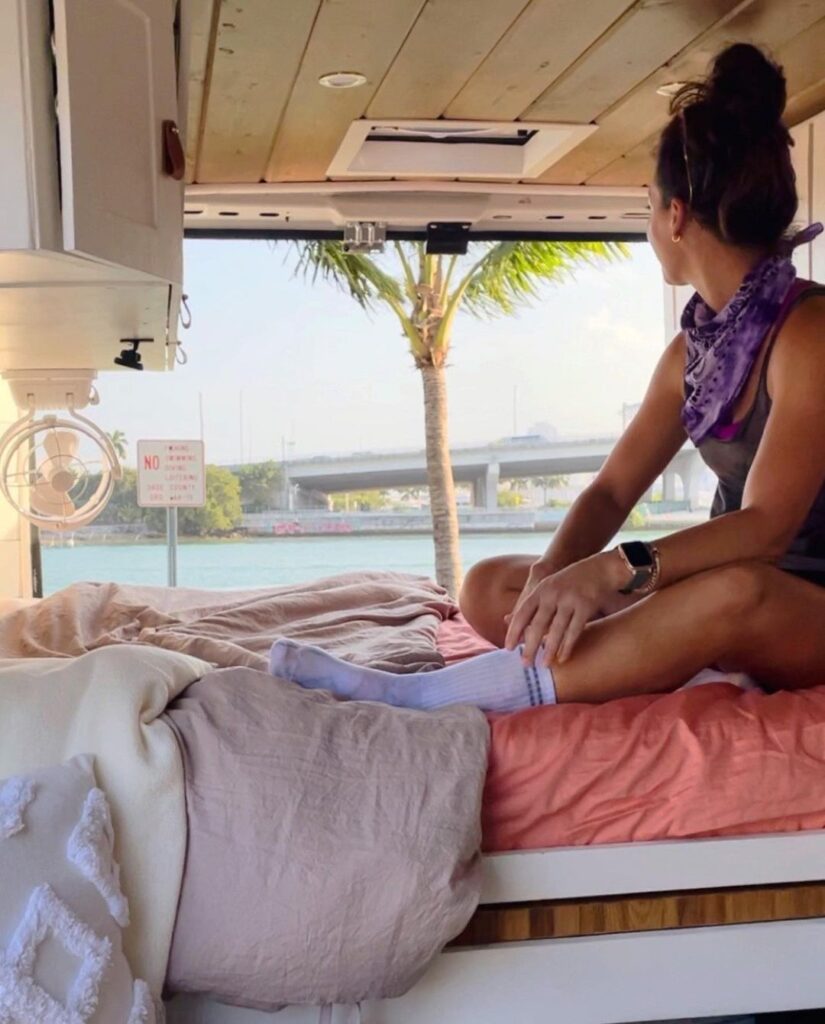 Carrie has a full-size fixed bed with cabinets on either side for clothes and other items. A slide-out table and bench seat transforms this area into a convenient dinette setup.
Her garage stores her tools, longboard, snorkeling gear, propane, and water tank. She has a heated outdoor shower mounted on one of the back doors for when she is in more remote areas. However, she usually sticks with showers at fitness centers.
Carrie put a lot of effort and energy into this build. She feels a lot of pride in what she was able to accomplish doing it by herself. She recommends that any future DIY van builders do their research – and tons of it!
14. This inspiring Promaster van conversion from John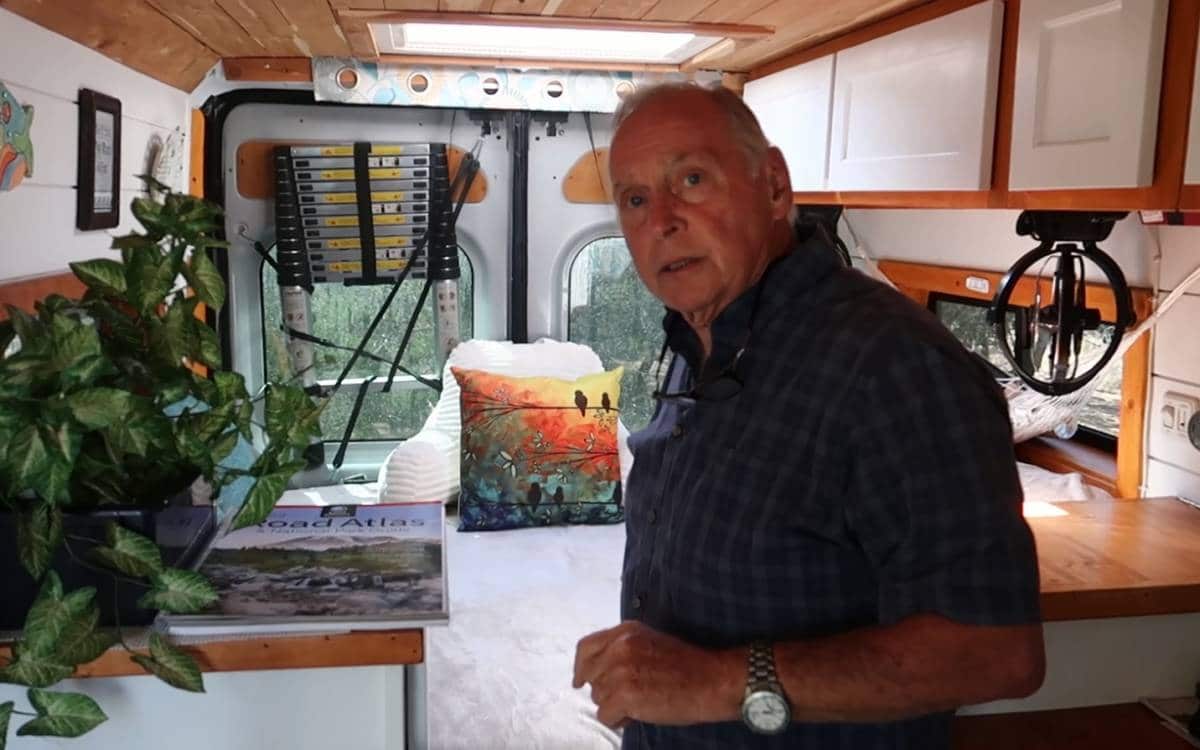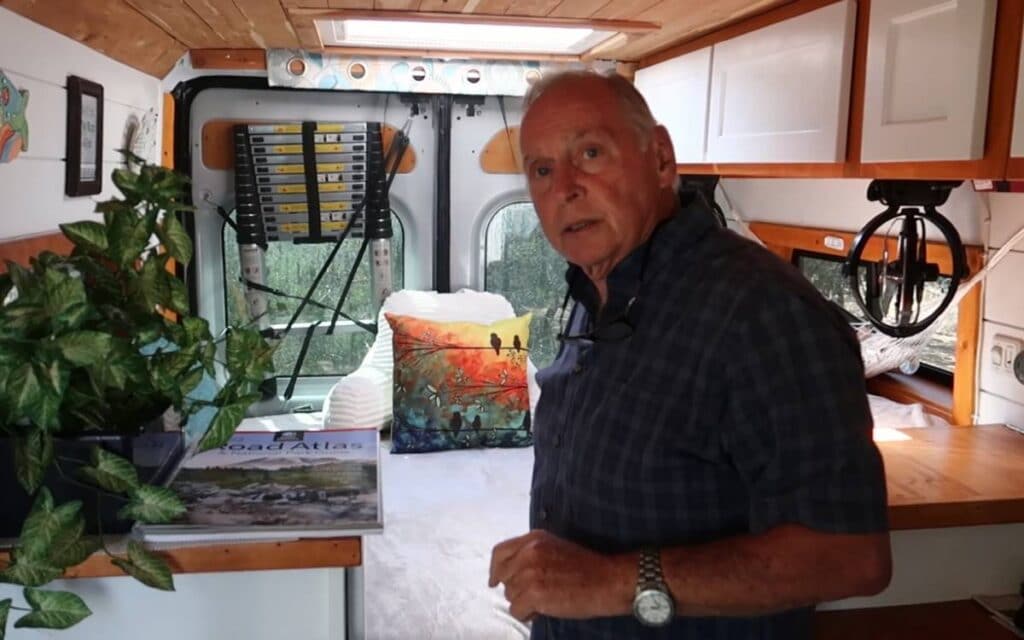 John is in his 70s but he still travels in his Promaster 159″ wheelbase van. He enjoys boondocking, so his van includes many features that make his self-sufficient camping experiences convenient and enjoyable.
His van has all-terrain tires, enabling him to easily drive and park on unpaved paths. The van also has an awning, which provides shade when he is set up in remote areas.
Behind the front seats is a fridge/freezer combo that's larger than you will typically see in a van. The larger fridge allows John to store enough food for up to a week without issue. Along the entire length of the van's interior on the driver's side, there are cabinets with hydraulic arms that store everything from pantry items in the kitchen to clothes in the bedroom.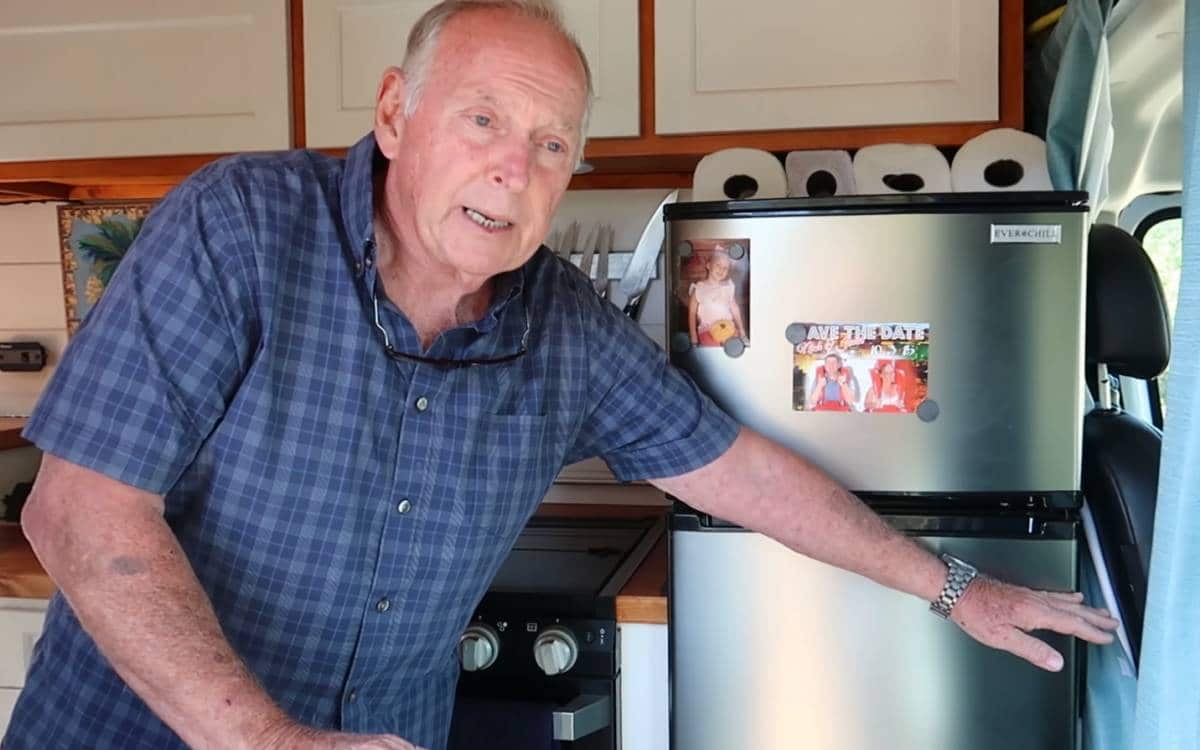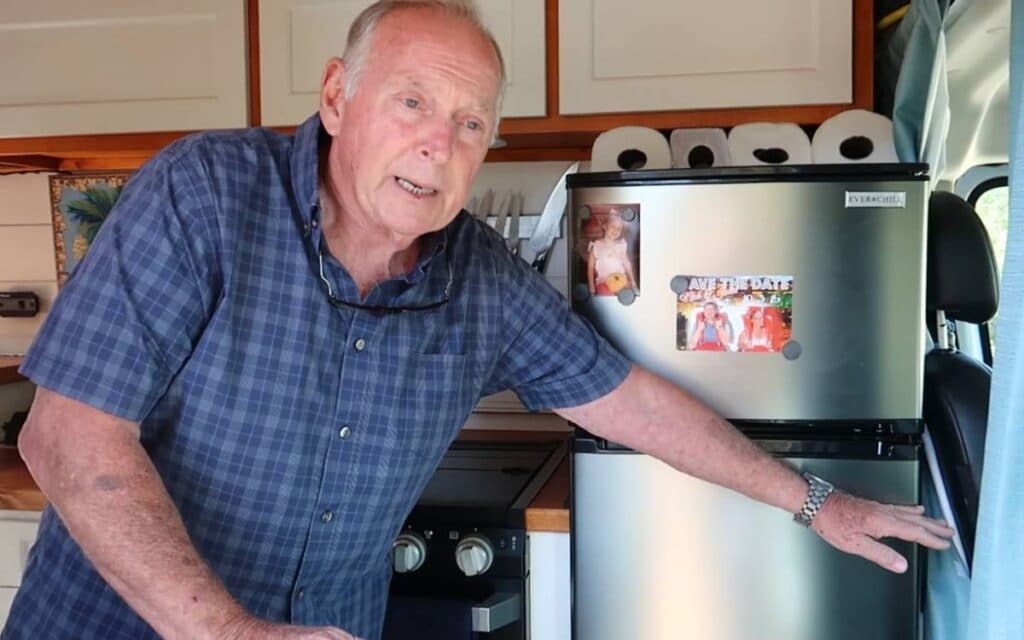 There is a large skylight above the dinette/bedroom conversion combo. The skylight provides a lot of light to the van, and in conjunction with its side windows and fans, the van gets fantastic airflow.
John has an aluminum ladder stored in the van, which he uses to access the rooftop deck.
The kitchen has a 3-burner stove and oven combo, Instant Pot, and toaster oven for convenient cooking options. In the center of the van conversion are a couple of closets on either side – one for clothes and one for general storage. There is a composting toilet stored in a cabinet by the sink, and an outdoor shower system rigged up out the back.
John encourages anyone considering this lifestyle to consider minimalism to make the best use of your van's space.
15. This creative Ram Promaster camper van conversion from @vanhalla_adventures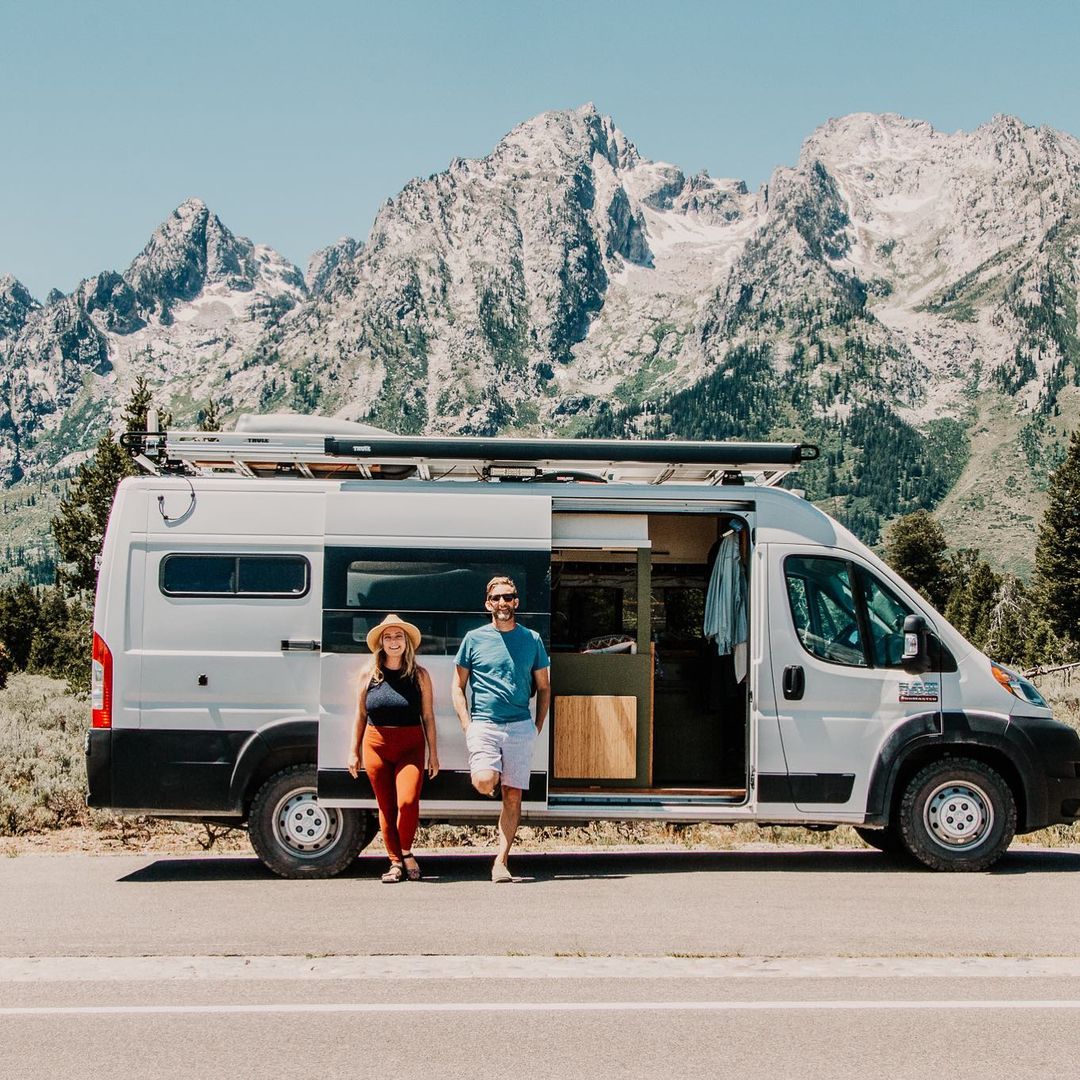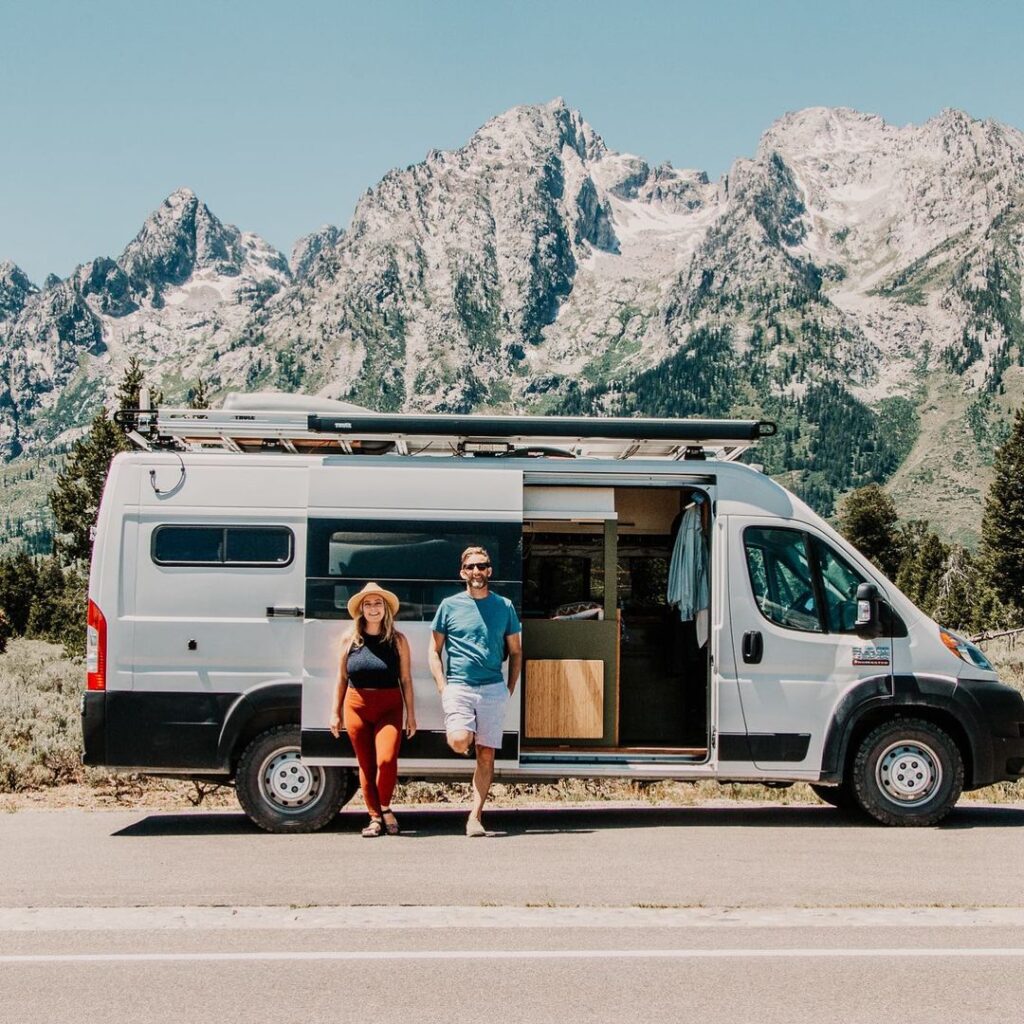 Crystal and Brian converted a 2019 Promaster high roof van with an extended 159″ wheelbase. It took them about nine months to complete this conversion with the help of friends and family, then they hit the road to travel full-time.
The kitchen is Crystal's favorite part of the build. It's unique because it has walls grouted with white subway tile on both sides of the counter, and there is a large window behind the sink that provides plenty of light. They keep fruits and veggies in a dedicated space by the window. The cabinet doors are on gas struts and store spices and other pantry items.
A nook across from the kitchen is a transformative space for dining, working, and relaxation, with a swivel-mount table that seats two people. When they want to convert the space into a couch, they just move the table between the seats and rearrange the cushions. A removable seat back fits into notches to extend the couch into a sleeping platform. The bench seats also provide more storage.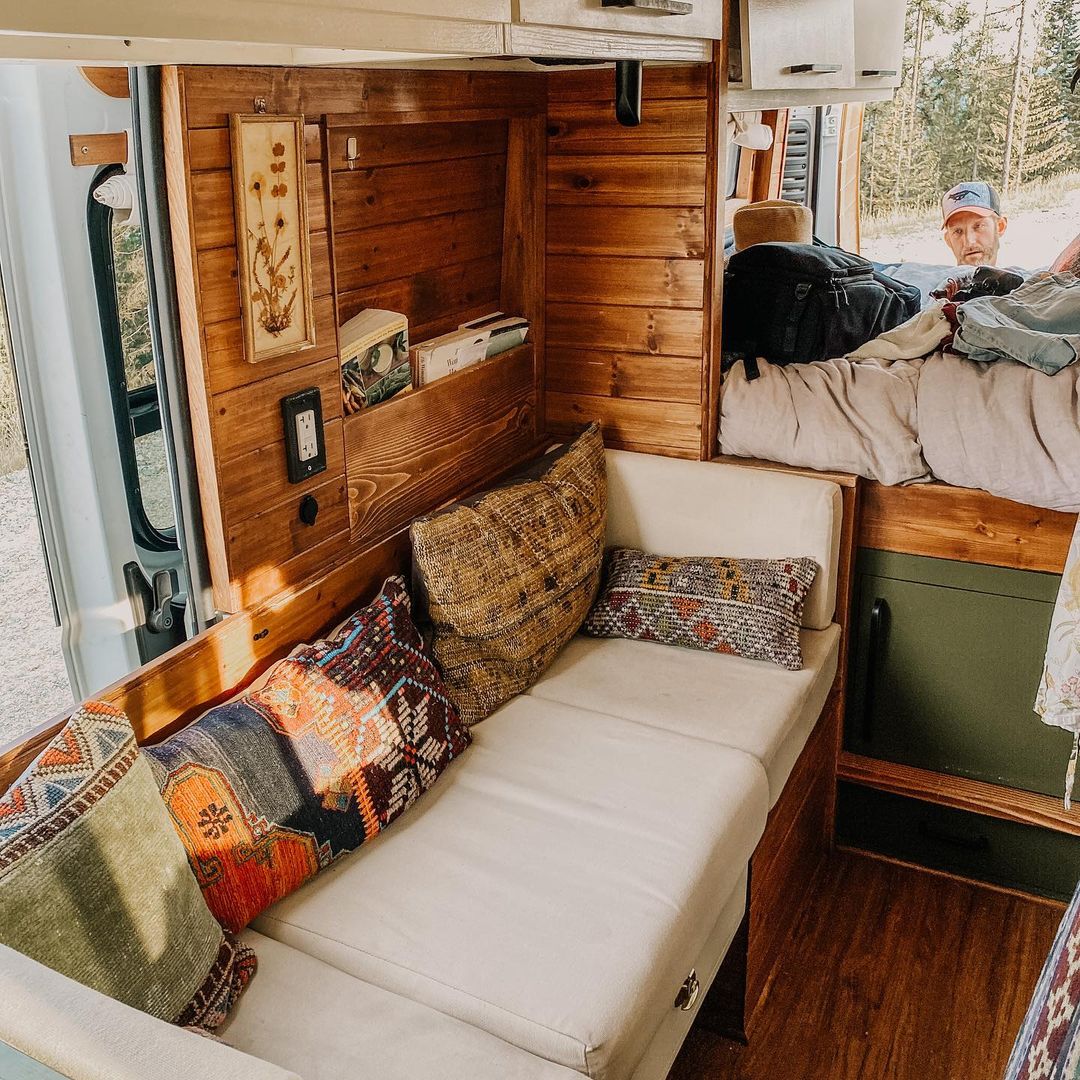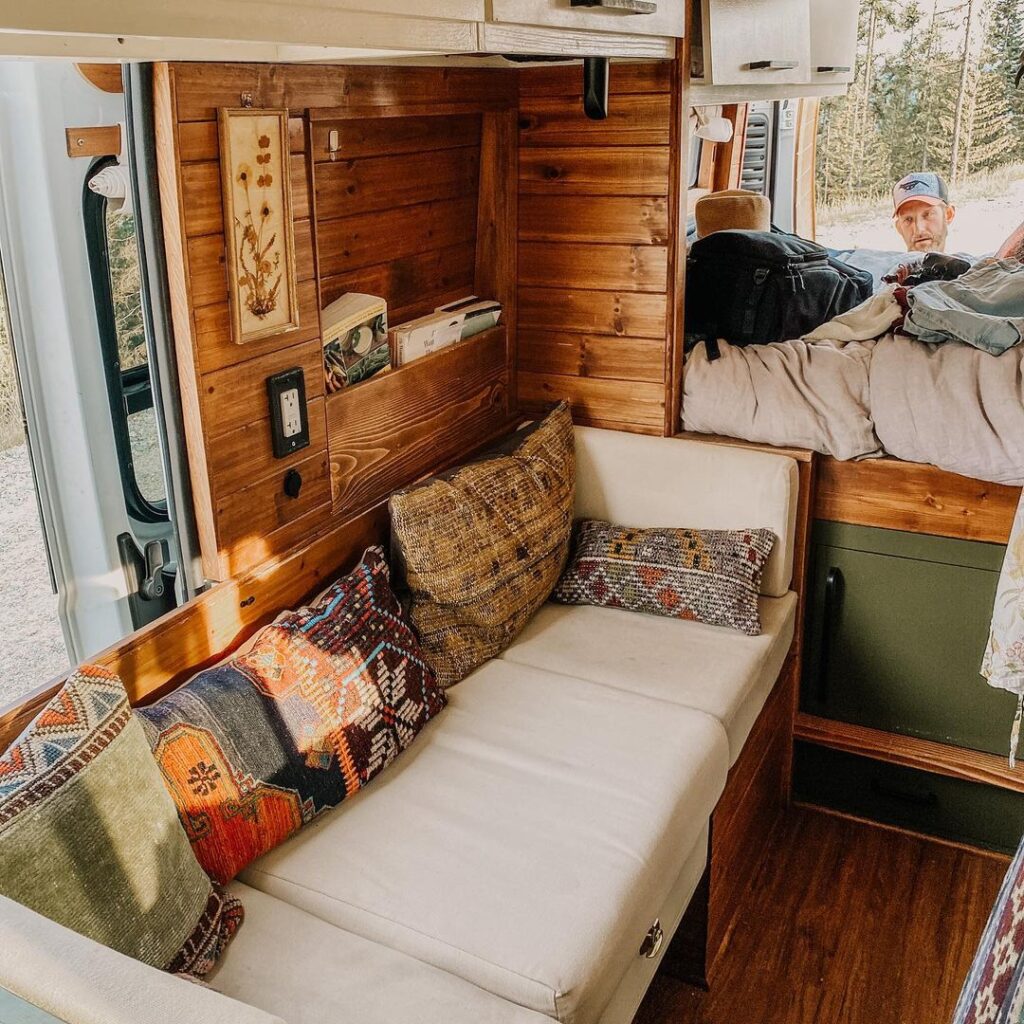 This Promaster conversion has a wet bath beside the kitchen, with built-in shelves, a mirror, a shower head, a composting toilet, and a clothesline for hanging up wet towels and bathing suits to dry.
The rear bedroom area includes a width-wise bed, reading lights, cabinets for clothes, and little nooks to place beverages, books, and other small items. A large garage holds plenty of storage bins, the van life electrical system, tools, and a laundry basket for dirty clothes that's accessible from one of the bench seats.
Crystal and Brian encourage others to step away from the norm and live a simpler life, even if they aren't yet sure where to start. They share their journeys through Vanhalia Adventures.
Build Your Van
The Ultimate Van Build Guide
Planning a van build? Read our free guide. We cover just about everything you need to know – from planning, to insulation, to solar and electrical, to picking appliances, to essential tools. Get started today so you can get out there on the road!